Business Meeting Thursday 21 March @ 18.30
Thu 21st March 2019 at 18.30 - 20.30
Business Meeting Thursday 21 March @ 18.30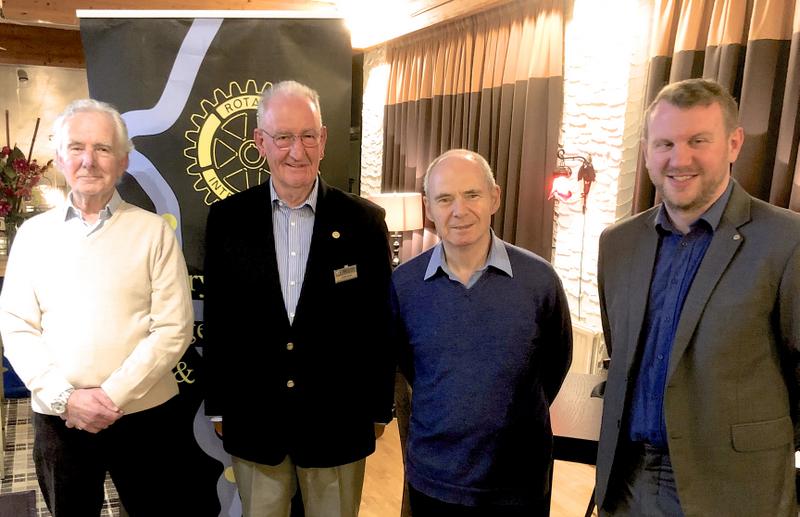 Business Meeting Thursday 21 March @ 18.30
Craig Mair's Induction to Rotary
At the Club's monthly Business Meeting, Past President George Morrison introduced Craig Mair who was to be inducted that evening as a new member of the Club. Craig, George said, was already well known to the Club as a speaker who has a wide range of historical publications to his credit, and through his involvement with the Skelpit Lug band that has played regularly at the Club's winter concert. President John Kilby then formally welcomed Craig as a member of Rotary and presented him with his Rotary name badge and pin. He also welcomed two visitors to the Club: Henry Twohig and Malcolm Cheyne, Round Table Chairman.
Sally Shiels told members about an innovative project that has been launched in Bridge of Allan. Tea's Company is a new community café project that has opened its doors to welcome all local residents who can enjoy a free cuppa, a slice of cake, some company, conversation and music. The venue for the project is the Honeyman Hall in the Parish Church Bridge of Allan. The café, which is open on Mondays between 2pm to 4pm, offers an opportunity to make new friends in congenial surroundings.
This initiative is supported by the Bridge of Allan Community Council, together with the Parish Church and the Bridge of Allan Co-op and is hosted by a team of locally recruited volunteers.
President John Kilby thanked Sally for giving the Club information about this new initiative, and, on behalf of the Club, he wished it every success.