Nursing in the NHS, Football Coaching and Preventing/Treating Ebola in Africa
Thu 14th March 2019 at 13.00 - 14.00
Dr Steve McSwiggan 14th March 2019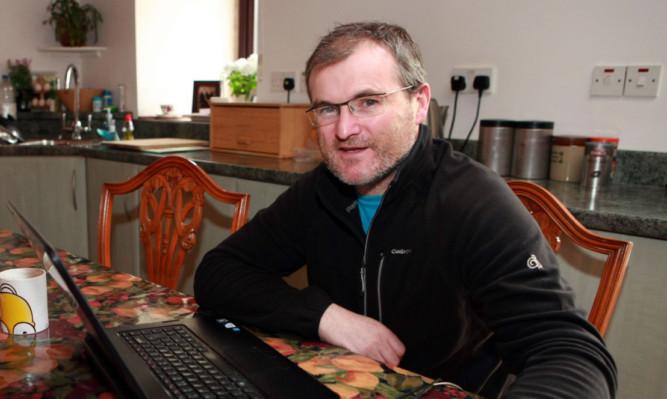 'I wasn't ready for all the deaths' – Tayside man spent six weeks fighting Ebola in Africa
"Only a third of those we treated came out alive."
These are the words of a Tayside man who recently spent six weeks fighting the deadly disease in West Africa.
Dr Stephen McSwiggan, 44, works at the University of Dundee as the senior clinical trial manager at Tayside Medical Science Centre.
He has more than 20 years' clinical experience, but he said he was not prepared for the scale of the tragedy or the number of patients he would personally see die.
"I don't think any amount of work in the UK can prepare you for the sheer level of mortality," said Stephen.
"It's like going into a war zone. In one hospital near where I was working nearly 20% of the staff died of Ebola.
"People didn't know what they were dealing with."
Part of the work Stephen did was assisting local nurses and treating dying patients. That meant he watched children being orphaned in front of his eyes.
"Most days somebody died," he said. "A lot of children were orphaned. One nurse, Elizabeth, started taking children home because they couldn't stay in the clinic and they didn't have anywhere else to go.
"So far she's caring for 27 children."
Stephen explained that the maternity cases were some of the hardest to handle, as nearly all the babies died as did most of the mothers.
He said: "That's really difficult to witness. It's tragic for them and very demoralising if you're looking after a woman going through that.
"You do everything you can, but it's pretty grim."
When the current epidemic started, people who were working with burials or in healthcare were affected first, as Ebola spreads through direct contact with body fluids like blood.
In Liberia, where Stephen was stationed, 3,605 people have died of the disease so far the highest number in any single country and 40% of the worldwide total.
As a volunteer with international aid organisation Medecins Sans Frontiers, Stephen's role was to help trial a new drug and help treat patients.
To do this he had to wear a full-body protective suit.
Stephen said: "Getting undressed involved more than 20 steps. You had to take clothes off in a certain order and wash your gloved hands with bleach between every step.
"You are very aware that you could contract Ebola and there's no treatment specifically for it yet, which is the reason we were trialling the drug to try to come up with something that improves the survival rate."
The drug they were testing, brincidofovir (BCV) has been used to treat Ebola patients in New York, Dallas and Nebraska.
Although the trial is only in its early stages, there is a glimmer of hope.
The medical team have a make-shift wall covered in the handprints of patients who have survived the worst of the disease and are able to leave without running the risk they will infect or re-infect their friends and family.
"The wall is a wonderful thing," said Stephen. "Every time a patient comes out of the clinic there was a lot of happiness and joy.
"Before we left, the 500th survivor was released from the complex."
Having now returned to his home in Tealing, Stephen is under a temporary low-level quarantine but insists he has not brought the disease back with him. "I don't want to be causing any anxiety for my patients or colleagues," he said.
"I'm not a risk to other people you're only a risk if you've got symptoms but I can't afford to get anything like the flu, which looks similar early on and could cause panic. So I'm keeping out of everyone's way."