Jill Adams - QV School - WW1 Project Thursday 13 June @ 18.30
Thu 13th June 2019 at 18.00 - 20.30
Jill Adams - QV School - WW1 Project Thursday 13 June @ 18.30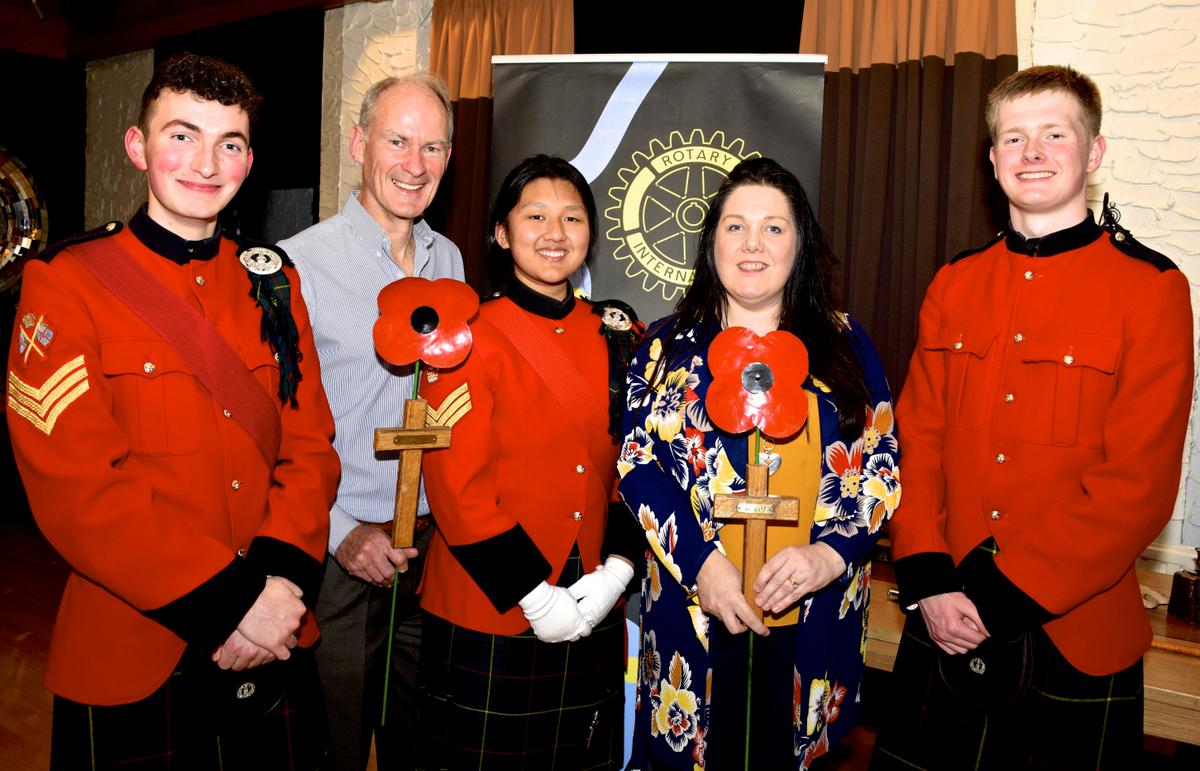 Jill Adams - QV School - WW1 Project Thursday 13 June @ 18.30
Funded as a memorial to Scottish soldiers who died in the Boer War, Queen Victoria School was opened in 1909 with its initial intake, in the main, pupils whose fathers had died in that conflict. The School chapel is a dedicated war memorial, the only one in the country in use every day. It contains a memorial to seventeen boys from the School who died in World War One. On Thursday, Rotarian Jill Adams and Interactors (junior Rotarians) from the School, Christian McBrearty, Anjipa Malla and Steven Rae, gave a moving presentation about a project to learn more about those seventeen boys.
Undertaken over a number of years, the aim was to complete the project in time for the commemoration in 2018 of the end of the War. One particularly poignant discovery they made was that, of the four boys who had received the School's colours from the King at Balmoral, only one survived the War. Another was the story of a mother whose three sons were killed in the War. The youngest pupil from the School to die was, ironically, Young Watt. He enrolled as a drummer-boy aged 14 in 1914, and died in 1916. Another boy, William Tinlin, on his way to Gallipoli with the Scots Guards, died when the train they were in crashed at Gretna Green with 500 killed. James Stevenson who had joined the School from Ireland had then been orphaned; he joined up, rose to the rank of sergeant but was killed in 1917.
The project was successfully completed in time for the 2018 commemoration. For that, the school created what was described as a "weeping window", a net with seven hundred poppies that was hung from a first floor window on the front of the School. In addition, as a special commemoration, a wooden cross was made for each of the seventeen pupils who had died. The wood for these crosses was reclaimed from dining-room furniture that would actually have been used by those boys.
Jim Gardner, Speaker's Host, congratulated Jill and the Interactors on what had obviously been a long, emotional journey of research, and thanked them for telling their stories so movingly.