MKGU Rotary Club's 12th Annual Polio Plus 9 Hole World Golf Championship
On a baking hot summers evening 33 players competed for the prestigious 'Hi Pro Scaffolding' Trophy. Excellent scores were achieved by (nearly) all the teams, especially considering they only had three clubs and a putter each!.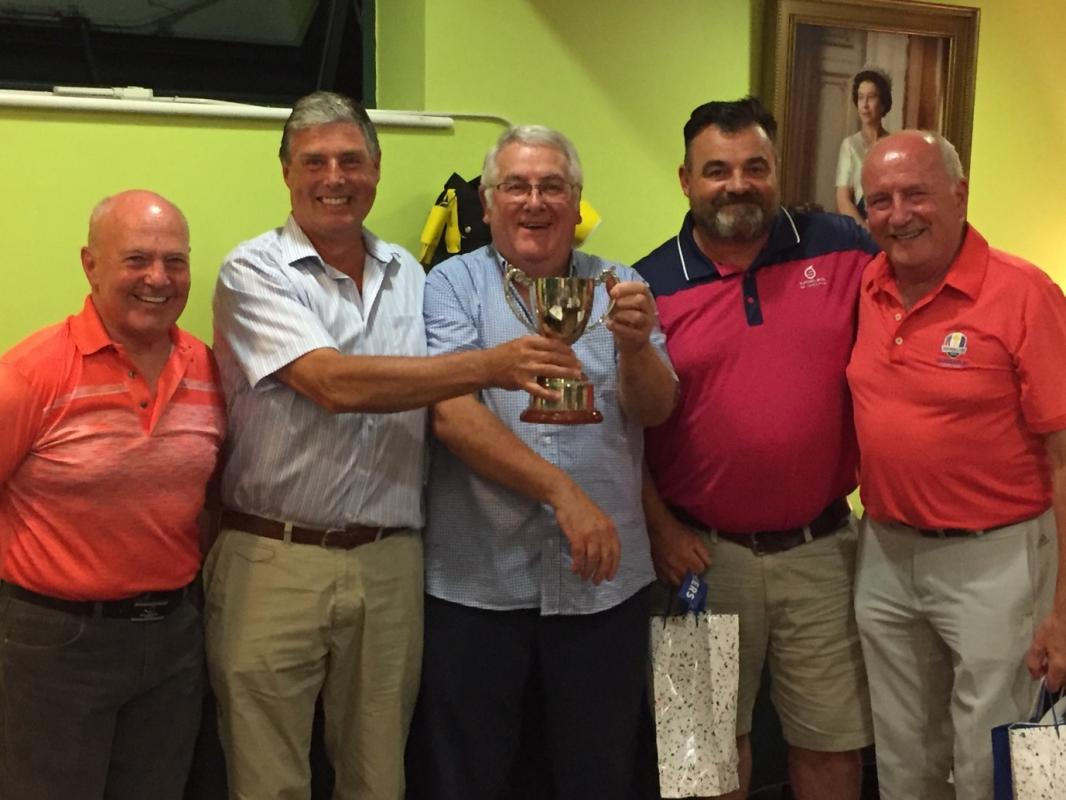 There were several stand out golfing efforts worthy of mention – an individual score of 24 points from Eddie Walsh (does he really need a full set of clubs?); an 'eagle' two from Tony Hancock; and a 'nearest the pin' from the highest handicapper in the field, Stuart Alexander.

The overall winners with an amazing 48 points were John Kelly, Roger Gillespie and Eddie Walsh (seen in the attached photo with event organiser Fred Mercer (left) and MKGU Rotary President Chris Duff (centre).

Rotarian Preston Ayres provided a salutary update on the progress of the fight against Polio around the world. The message was very clear that fundraising events such as this are very important to ensure this terrible disease will be finally eradicated.

Thanks must go to the Sponsors who donated the raffle prizes:- Richard Lally (Golf Professional); Stantonbury Theatre; The Bell Hotel, Winslow; Poplar Garden Centre; ProShotGolf Indoor Golf Centre; and Garrie Brandon (Trilby Tour Star). Special thanks also to Woburn Golf and Country Club for their Four Ball Voucher which raised £360 in the single item Auction.

After all the golf, fun and laughter the undoubted winner is the Rotary Polio Plus Charity who will receive the magnificent sum of £1,648 to help in this ongoing battle.

My thanks to all for their support.

Fred Mercer
Event Organiser
In 1979 Rotary International dedicated the organisation to eradicate Polio from Planet Earth.

Supported by the Gates foundation (Microsoft), which matches dollar for dollar on monies raised by Rotary, great inroads have been made in reducing the number of cases to very few and only in Afghanistan and Pakistan. There is hope that 2019/20 may be the year that reported polio cases might actually be zero. Nevertheless, Rotary has set no end date and will go on and on until that task is completed.

Thank you for your support of our Rotary Club in this friendly, but competitive, Golf Championship.