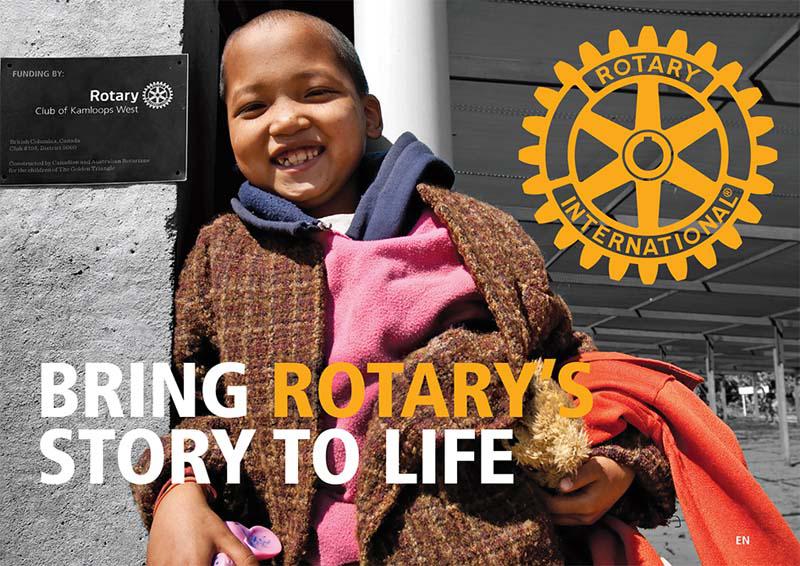 Besides our own District resources, there is a wide range of useful downloads including logos and year themes available from RI and RIBI pages which can be used to enhance your club marketing material and website pages.
Promoting a clear message of what Rotary is all about is important. On this page Clubs will find a number of resources, consistent with the Rotary 'brand', to enhance their publicity material.
District Items to borrow for FREE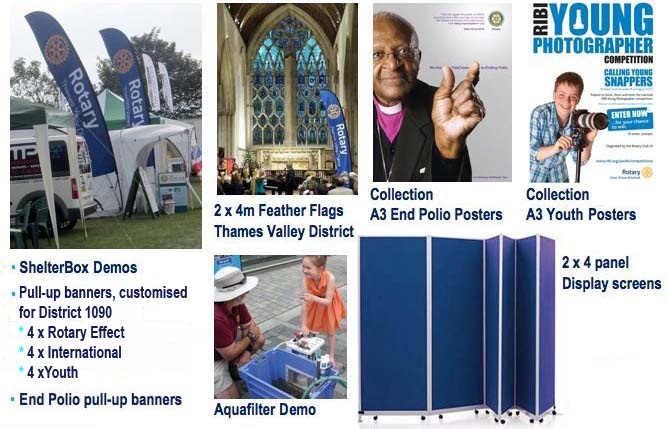 Make an impact with very smartly branded outdoor display and other items , available for sharing around the District. The large 'Rotary in the Thames Valley' feathered flags have been very well used over the last 3 years. There are now 3 sets of customised pull-up banners, Rotary Effect, International, Youth. Additionally there are 2 x large 4 panel display screens (combine to give 8 panels) and around 20 laminated A3 display posters, mainly End Polio and Youth Service.


Download the Display Resources brochure here

We have a great new 3 x 2 metre Streamline Exhibition stand with monitor for streaming videos, ideal for indoor use at special events. It is a flexible design with 3 adjoining panels so can be curved to fit in a space less than 3m long. See it in action at Turning Purple for Polio at the Oxfordshire Science Festival. There is also a vertical Literature Stand which can take A4 leaflets and comes in an easy to carry metal case.

Please contact Ros Marks if you would like to borrow any of these.

The Rotary 'box' demo kits are also very popular and can be borrowed FOC through a ShelterBox Champion or Aquabox Ambassador David Sutherland
End Polio pull up banners and leaflets from Tim Cowling (Faringdon&District)
Rotary International
Visit the Rotary Brand Centre where you can find new resources and templates to help you deliver a clear and compelling story. You will find this in the My Rotary section, which is for members only, so unless already registered, you will be asked for login details.
The Media Center is also very useful for press releases and topical videos, particularly when dealing with the media
See the Rotary Shop for a wide range of leaflets and other items
Rotary in Britain and Ireland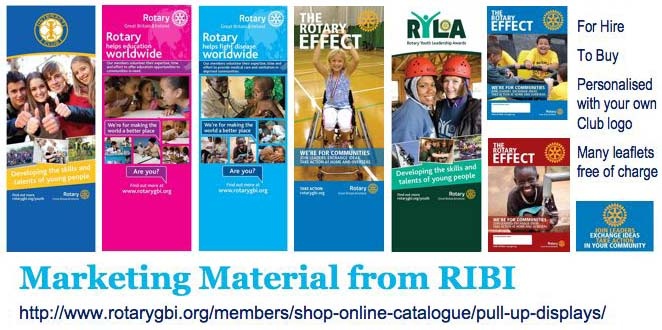 The RIBI Online Shop also has a wide range of materials, including leaflets and posters that can be personalised for YOUR club. (login required)
End Polio Now resources
Other End Polio Now material including polio story comic book can be downloaded here
End Polio pull up banners and leaflets from Tim Cowling (Faringdon&District)
Contact Ros Marks about this page: