Getting Your Message Across: 2012/13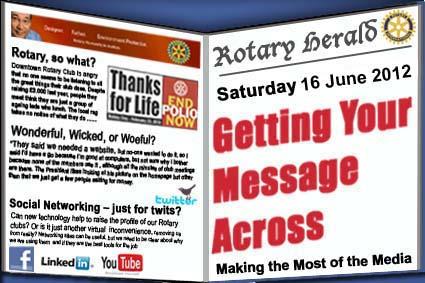 Make the most of your marketing skills to attract new members, increase revenue at events and generally get your club noticed!
Getting Your Message Across 2012 -13
Saturday 16 June 2012 
9.30am - 12.30pm
Royal Grammar School, High Wycombe
Amersham Road, High Wycombe, Buckinghamshire, HP13 6QT
Get fit for the new Rotary year with the latest workshop in the popular Getting Your Message Across series!
Keynote speaker will be Doug Wills, Managing Editor of the Evening Standard, Independent, Independent on Sunday and the i
Much has happened over the past year and more is to follow as Revitalisation of the Rotary Brand moves on apace.
At last Rotary has stopped defending the negative images the public may have and concentrated on feeding the media with positive action reports and simplifying what the message of Service above Self really means. Helped by all the great news on the polio eradication front, being recognised by governments as worthy partners, having a very dynamic RIBI President who could abseil down the Spinnaker Tower one day and speak persuasively on serious issues in the media the next. In our own District we have had DG Niall zooming around in his Poliomobile, delivering an important message with gravitas while giving us all fun in the doing, and incoming DG Judith working tirelessly on the PR front to get Rotary noticed in high places.
Our Template websites have undergone a major upgrade - a challenge for some, but affording a major improvement when you get the hang of things.
New District Facebook site and a general awareness that Social Networking is with us to stay.
Increased awareness that PR is not just getting your pic in the papers. Successful forays into the world of Radio and TV, and that real Public Relations depends on every Rotarian in every club conveying a message to be proud of.
We have a brand-new communications system in the Membership Database Extension.
Lets build on these successes and further improve our practice!
As ever, the workshop will be very much 'hands on' where sharing of expertise is welcomed. We shall endeavour to have 'experts in their field' to advise and guide on all PR, Marketing and Communication matters and there will be full internet access for those wishing to hone their web-skills.
Please download the preliminary details, location map and complete the booking form.
It will greatly help us to plan a rewarding day if you could complete the questionnaire attached and return as soon as possible.
Cost will be