The Zambia Project goes from strength to stength
The second visit by a party of Zambian students to the UK under the Libala/Wye Valley partnership is an inspirational example of how everyone benefits from young people exchanging international visits.
The second visit by a party of Zambian students to the UK under the Libala/Wye Valley partnership is an inspirational example of how everyone benefits from young people exchanging international visits.
The Parents, students and supporters of Wye Valley School assisted by the Rotary Club of Bourne End and Cookham and a District Grant were able to fund the visit of 3 teachers and 12 students ( all members of Libala High School Interact Club) to the UK for 14 days from the evening of Wednesday 20 February.

This was the second visit by a party of Zambian students to the UK under the Libala/Wye Valley partnership known as the Zambia Project. Wye Valley students will visit Zambia in 2014 and a party of Zambian students will return in 2015.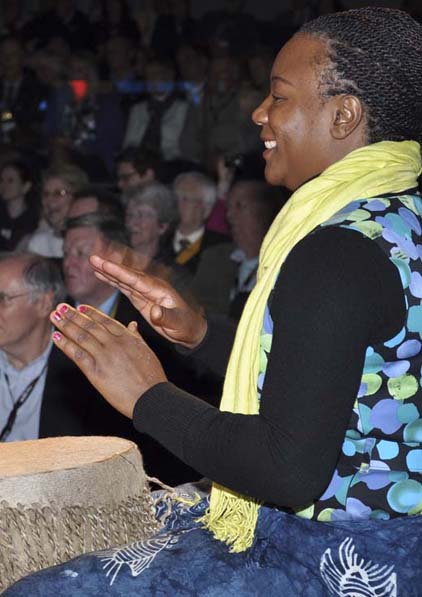 This time the mix of the group was slightly different. In addition to welcoming Patricia Zulu and Daniel Kabwela, teachers from Libala High School, both new to the project, we were also able to greet Susan Miyanda, a teacher from Libala Basic School. Her visit was made possible through fund raising by Carrington Junior School who have a Rotakids Club (Rotary ideals for 7 to 11 year olds) that is linked to Libala Basic School's Club.

After introductions to hosts back at WyeValley and an early night, the first day of the visit involved an educational tour of London and very especially an invitation to lunch with the Zambian High Commissioner. For this visit we were joined by District Governor Judith Diment. Our stay at the High Commission lasted over 2 hours and His Excellency spent time greeting and talking to every single student from both schools, which was indeed an honour. His Excellency has invited Sue Pomeroy - Project Leader and myself back to the HC to discuss the partnership further with his team. London was very cold and for our visitors the first opportunity to see a snowflake!

The following day we all visited the historic coastal town of Brighton and the sea. Again the weather was bitterly cold but by now our visitors were starting to get used to it and all had many layers on!

Saturday was a free morning followed by a trip to watch Reading play Wigan in the afternoon. (Zambians love their football!) Reading made everyone very welcome and also organised a return visit to tour the stadium later in the week.

Sunday saw a day of rest, a visit to Rotarian Colin's home for some and another early night. Monday was the first full day at Wye Valley and in the evening a trip was made to watch "Global Rock" a UK wide student dance competition where many of the host students from Wye Valley were taking part.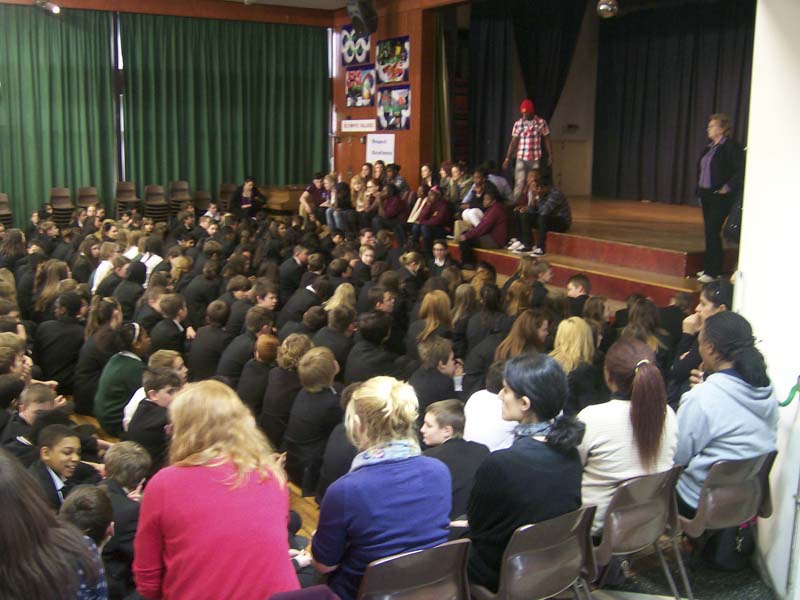 The Tuesday was spent at Carrington School where the Libala Students ran a whole school assembly and then spent the day working in individual classes and year groups. Much of this time was spent answering questions about Zambia as many of the pupils had spent some time studying the country.

On the Wednesday a small group of Students led by senior student Sean Ngabwe visited Westfield Special Needs School to meet the Rotakids Club members there and spend time with them. My Rotary Club hosted a lunch and this was followed by a tour of Windsor Castle. The evening was spent Ice-skating which made entertaining viewing although most students got the hang of it.

Thursday saw a return to Westfield by some, whilst others remained at Wye Valley joining in lessons, PE and Performing Arts as they wished. Time was also set aside to prepare for the District 1090 Rotary Conference on the Saturday. Friday continued in a similar vein. Meanwhile Susan was working with the Carrington Students, teaching some lessons and observing others.

Saturday started with a very early rise so that both Libala students and teachers and Wye Valley students could meet the coach at 6.15 am that was to take us to the International Conference Centre at Bournemouth. They were also joined at this point by a number of Rotaract Club members including Rachel, Natalie and Rosie who had visited Libala before.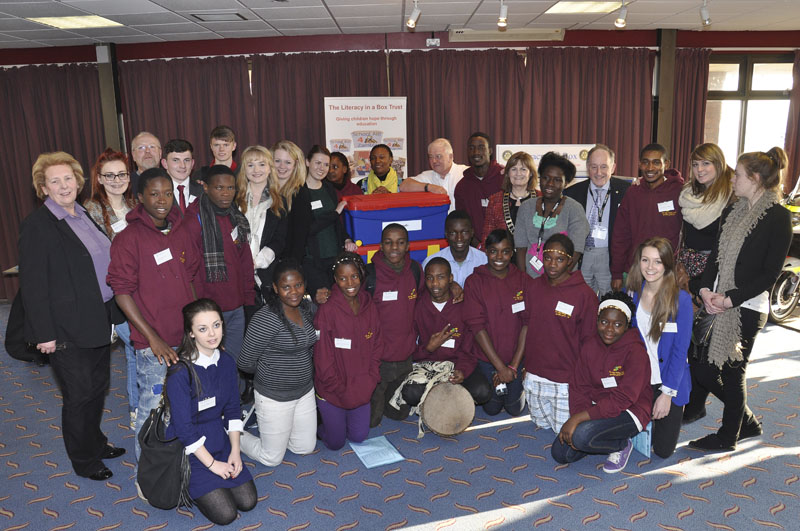 As recorded elsewhere the Conference was huge success for the students. The presentation, which lasted over an hour, included individual presentations on the project so far and what is planned next.It finished with a spectacular display of traditional songs and dances by the Libala Students that closed Conference for the day. (No one seemed to mind that we over ran by half an hour!!) Afterwards a presentation of Literacy Boxes was made which will find their way to the Luyando Orphanage, which all the schools support. In the boxes were individual educational resources for each of the 180 children who live at the orphanage. These boxes were purchased by Bourne End and Cookham Rotaract Club with generous support from the Literacy Box Trust

Sunday saw a day of rest with Monday a return to Carrington and then the Farewell Dinner in the evening. To this were invited Hosting parents and students, representatives from the Rotary Club, District Governor Judith, 4 other past and future Governors and an incoming member of the RIBI Board. We were also joined by 5 guests from the High Commission who, at the suggestion of His Excellency, brought traditional Zambian food with them for the guests to try.
All too soon it was time for Tuesday and the Final Assembly followed by departure to Heathrow for check in and an early evening flight home. One final surprise was the High Commissioner stopping off to wish every one a safe trip home.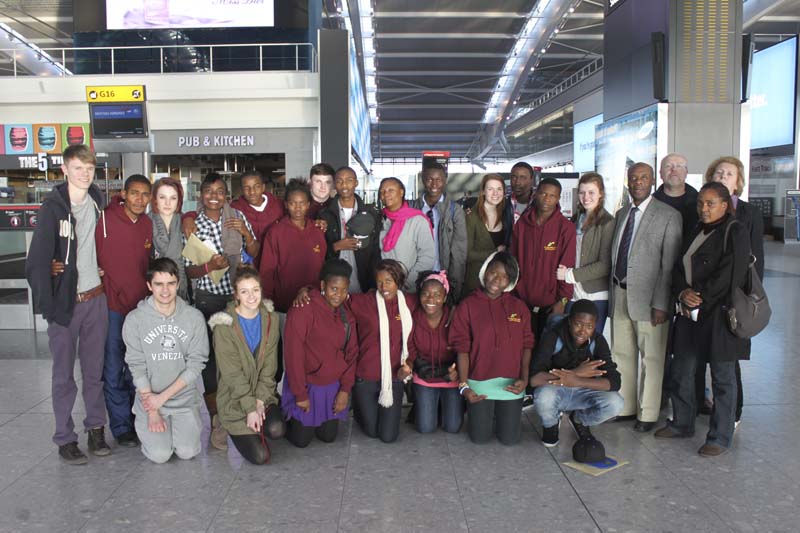 The past 2 weeks have been a fantastic experience for everyone involved. The party from Libala have been excellent ambassadors for Zambia and have made friends wherever they went. The students have been able to experience something of the sites and culture of the UK, the teachers have had a chance to see our schools in operation and I have had quite simply the best 2 weeks since I came home from visiting Zambia almost a year ago, these thoughts are also echoed by Sue Pomeroy, Head Of Sixth Form, Rotarian and Project Leader.

I also think it has been a great experience for our Rotary District and an example of just exactly what young people can achieve where ever they might live. We have had Rotakids, Interactors , Rotaractors and Rotarians involved every step of the way.

Finally, Sean the senior student has been made a full member of Bourne End and Cookham Rotaract Club and will report back regularly to his fellow Rotaractors on progress. The party was able to return home with many resources destined for the High School, the Basic Schools in the partnership and the orphanage, which we all now support.

A group of Rotaractors led by President Rachel Gerrish plan to visit in July and so the partnership continues to move forward.
MIKE WARE
District 1090 Interact and Rotaract Officer
BE&C New Generations (Youth) Chairman.
Additional photos taken by Richard Monger, Bourne End & Cookham RC