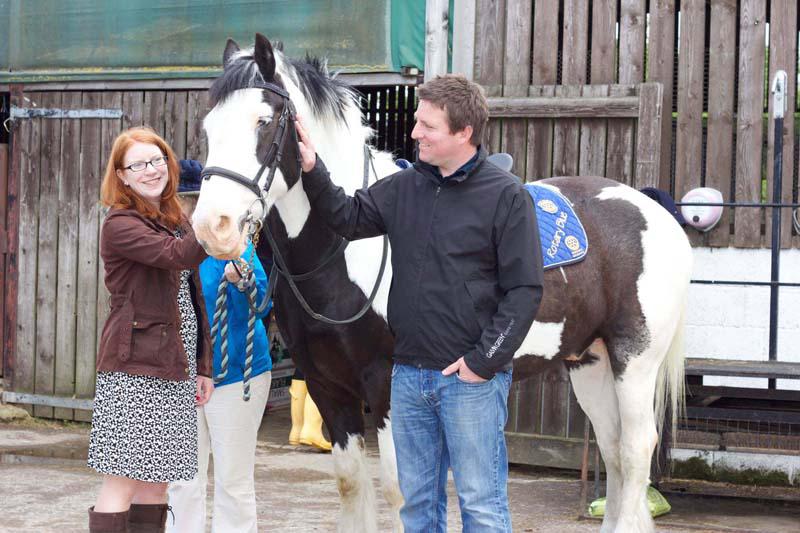 The Rotary Club of Kingham & the Wychwoods has an unusual new Honorary Member! The club has raised funds for the purchase and upkeep of a fourteen-year old horse for Riding for the Disabled.
The Rotary Club of Kingham & The Wychwoods has raised £2,700 to buy a horse named Rotary Blue to help improve the lives of local children and adults with physical or learning disabilities through horse riding. The fourteen year-old horse, which has become an honorary member of the Rotary Club of Kingham & The Wychwoods, has been donated to work with the Riding for the Disabled Association (RDA) at Durham's Farm, Moreton in Marsh.
To make sure Rotary Blue gets his oats and other essential living requirements, the club raised an additional £1,600 at the Kingham Rotary Duck Race, which took place at Easter.
Research has shown that 80% of riders experience physical improvement in 12 weeks or less and 82% of riders demonstrate improved communication. For many children the experience of regular horse riding helps strengthen the muscles in their upper body as well as helping them develop communication skills by talking with the trainers. Generally, the children visit the school once a week for the one hour therapy sessions which are delivered by specially trained volunteers.
Paul Jackson of the Rotary Club of Kingham & The Wychwoods commented: 'It has been really rewarding for all the members of our club to see the results of our fundraising as Rotary Blue joins RDA. Rotary Blue will be making a huge difference to the lives of adults and children with physical and learning disabilities by providing them with an opportunity to ride which makes all of our hard work worthwhile.'
See BBC Oxford News for the story when Rotary Blue was officially 'handed over' by Rotarians Harriet Dearden and Graham More. Note the very smart saddle-cloth!