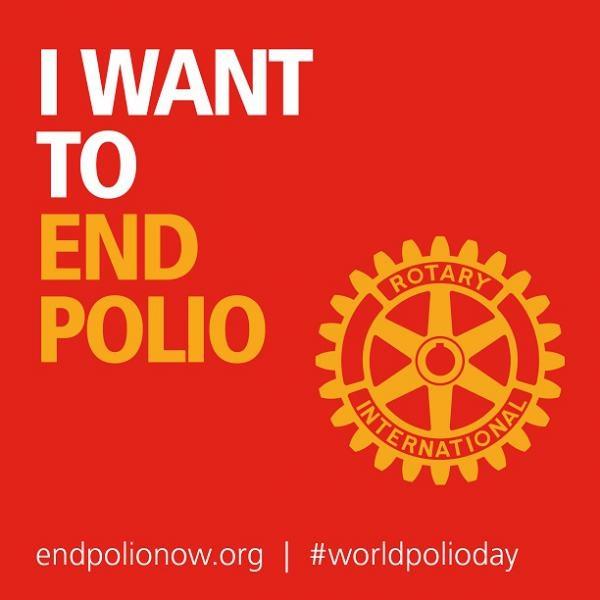 World Polio Day: 24th October 2016
As World Polio Day approached many internet newsfeeds featured what Rotary Club were doing to raise awareness and funds. CBS News carried the WHO announcement of 10 Facts about polio eradication where each fact was succinctly explained. See
http://www.who.int/features/factfiles/polio/facts/en/
The facts are:
Polio continues to paralyse children

We are 99% of the way to eradicating polio globally

There are just 3 countries which have never stopped transmission of polio

Unlike most diseases, polio can be completely eradicated

Cheap and effective vaccines are available to prevent polio

The global effort to eradicate polio is the largest public-private partnership for public health

Large-scale vaccination rounds help rapidly boost immunity

Every child must be vaccinated to eradicate polio

Polio-funded staff, strategies and resources are also used to advance other health initiatives

We can eradicate polio
RI President John Germ said:




"I have been with Rotary a long time. I have seen us conquer polio in the Americas, the western Pacific areas, Southeast Asia. I have seen us donate $1.6 billion to immunize more than 2.5 billion children. Rotary started this, as I said a few minutes ago, more than 30 years ago. We have stayed with it and we will continue to stay with it. The polio virus is persistent. But Rotary is more persistent. We will, in fact, win this battle. And when we do all of us will have made good on a promise we made over 30 years ago, to leave our children, their children and your children in a world that is polio free"
World Polio Day is a chance for Rotarians across the world to come together to fight polio. There are many ways you could mark the day. Dedicate your club meeting to focus on Rotary's work to end polio that week or hold a community fundraiser. Wear your End Polio Now pin and your crocus and encourage your friends and family to do the same.
Click here to go to a page whereyou can find more information and resources.
Contact Janet Lowe about this page: