Jingle Jam for Jabs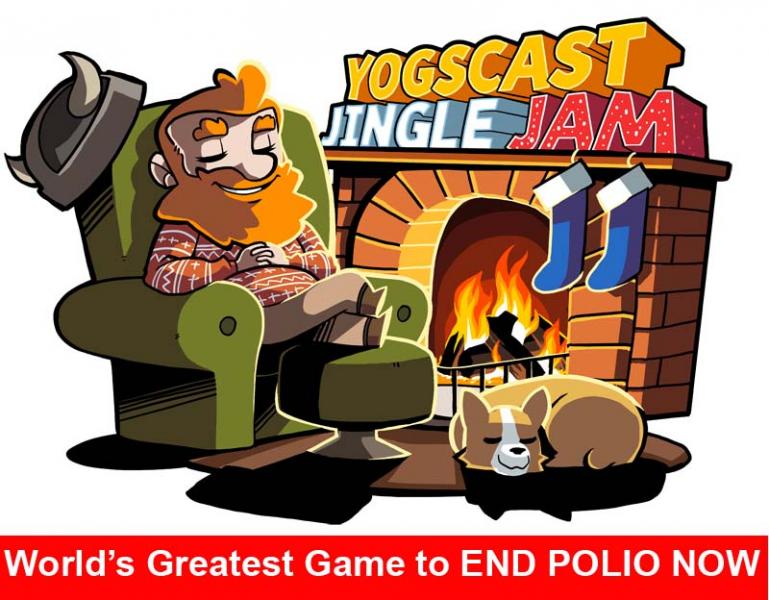 Reading Matins Rotary club teams up with Yogscast to raise a whopping £405K for End Polio Now!
When local 28 year old entrepreneur Matt Mason joined The Rotary Club of Reading Matins he was immediately proud to be part of the worldwide Rotary effort to eradicate polio. Matt developed a partnership with the UK's 'Kings of You Tube' and raised £135,000 in a Christmas Appeal for END POLIO NOW.
Matt enjoys computer games and remembered that 'The Yogscast', now the biggest You Tube video production company for games in the UK, was originated locally in Reading by Lewis Brindley and Simon Lane. He recalled that they ran a Christmas Charity Campaign each year and contacted the company, asking whether Rotary's END POLIO NOW project might be one of their chosen charities in the 2014 charity campaign.
Encouraged by club members, Matt made all the necessary links and was delighted when 'The Yogscast' informed him that END POLIO NOW had been selected for inclusion with four other charities. A livestream was broadcast on TwitchTV on 8 December when Alan Brindley of Chelmsford Rotary Club, father of Yogscast co-founder Lewis, explained Rotary's involvement in polio eradication. Each night through December The Yogscast' ran Jingle Jam events promoting the charities and their world-wide subscribers made donations in exchange for bundles of games.

Through December the donations continued to grow and over $1 million was given by 'The Yogscast' subscribers for the 5 charities.
Rotary's END POLIO NOW project will benefit by £135,000 from subscriber donations and extra sales. Reading Matins President Geoff Poland said, "Matt had a great idea and with club support made everything happen. This has been a superb effort and demonstrates how Rotary can work together with others to make a real difference."
As the Bill & Melinda Gates Foundation have pledged to give $2 for every $1 raised by Rotary towards polio eradication, this means that END POLIO NOW will benefit by £405,000 which will make a colossal impact towards their aim of finally eradicating polio worldwide.
For the latest information on Polio Eradication, see the Global Polio Eradication Initiative
webpages
See
Rotary in Reading
for more information on clubs in the Area