For information on purple jam, please go to the Purple Jam page.
For information on crocus buttobholes, please go to the Crocus Buttonholes page.
The Village Inn, Pitlessie, lit up by the Rotary Club of Howe of Fife. (Photo courtesy of Colin Nichol
www.colinjmnicol.co.uk)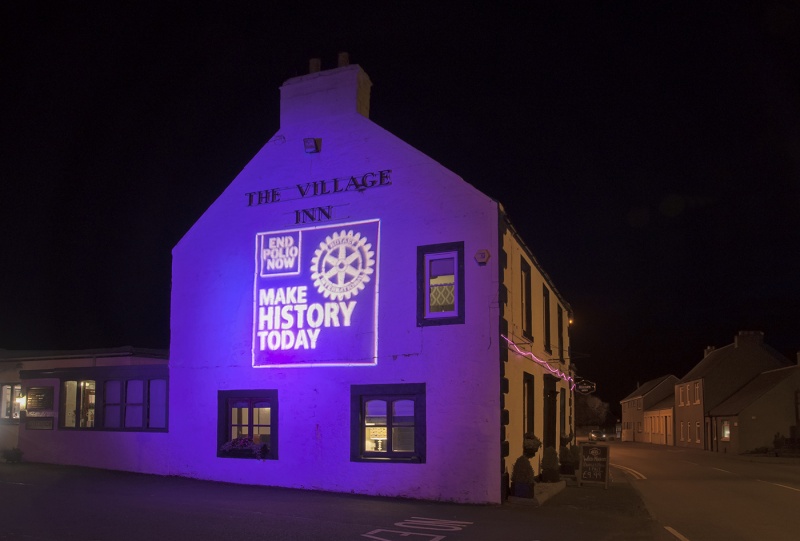 With eradication now closer than ever, Rotary International in Great Britain and Ireland's latest campaign, Purple4Polio, is designed to unite communities to engage in activities as part of the final push to eradicate polio for good. Purple4Polio aims to plant purple crocus corms all over the UK to raise awareness of the eradication campaign. In 2016-17, 7 million corms were planted.

The campaign ties in with the 100 year anniversary of The Rotary Foundation, Rotary's own and only charity, which has played a key role in making polio eradication become close to a reality, along with hundreds of other projects both in Great Britain and Ireland and overseas.


Crocus corms will again be available for planting in Autumn 2017. The closing date for orders is 31st July 2017. Each District makes one order, so Clubs must order from District 1010.


Click here for the order form. Please send it to Janet Lowe no later than 15th July 2017.


RIBI is again advertsing the crocus corms to Bloom Groups, through the Royal Horticultural Society. Clubs may find RHS Groups approaching you to ask for partnership. It is up to Clubs as to how you respond.

Rotary GBI has a full set of web pages about the Purple4Polio campaign.
Click here for a link to the public facing information about Purple4Polio. As much as possible is in the public facing area as many of our activities can involve and can be of interest to the public.

Click here for a Fact Sheet about Purple4Polio and progress towards our goal of eradication.


Here is a link to information about Purple4Polio in the members only area of the RIBI website. Internal nformation relevant to Rotarians only is in this area. You will need to login to get to this page. It has a lot of resiources, leaflets, posters etc that you may find useful in publicising your crocus plantings.