Oxfordshire Youth Orchestra @Bicester Heritage
Celebrating the Queen's Birthday and the opening of the Oxfordshire Library in Franklin's House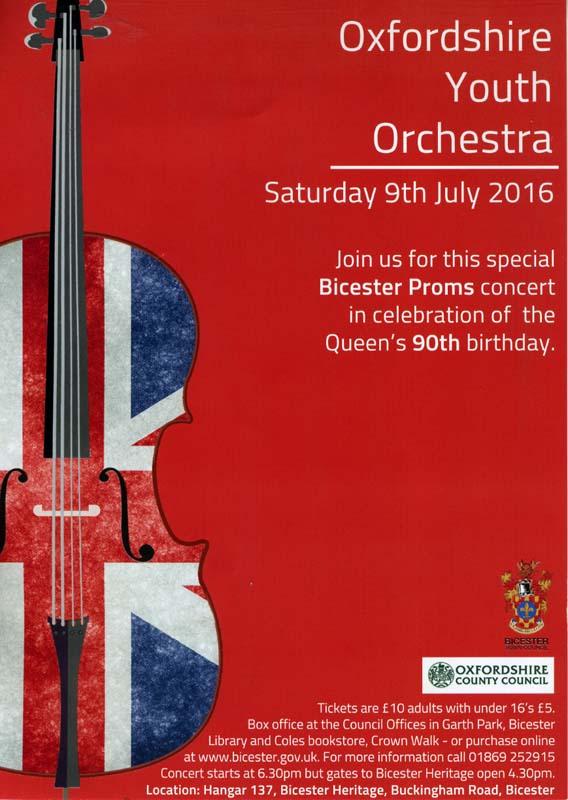 Celebrating the Queen's Birthday and the opening of the Oxfordshire Library in Franklin's House
Oxfordshire Youth Orchestra Concert
Saturday 9 July 2016 @ 6.30pm
Hangar 137, Bicester Heritage, Buckingham Rd, Bicester OX27 8AL
Delighted to be supporting this wonderful celebration of the Queen's 90th Birthday and the talent of Oxfordshire schools!
The 90-piece orchestra is assembled from the best of Oxfordshire's immensley talented young musicians. Enjoy their music in the historic setting of Bicester Heritage.
Tickets: £10 (Adults) £5 (Under 16s)
Box Offices: Coles Bookstore, Bicester Library, Bicester Town Council or online

Gates will be open from 4.30pm, so you can enjoy seeing the amazing restoration of this historic site. Bring a picnic!

Discover more about Bicester Heritage from their website
OX27 8AL
OX27 8AL