International Fellowship Exchanges
Find out more about the opportunities for international fellowship exchanges.
Find out more about the opportunities for international fellowship exchanges.
INTERNATIONAL FELLOWSHIP EXCHANGES – we have plenty of offers. Which suits you and your club?
District 1010 seems to be a really popular destination for Rotarians throughout the world to visit. We have been approached by many Districts around the Rotary world wanting to do an Exchange with us over the next three years.
1) District 9650 - northern New South Wales, Australia, the coast and far western areas;
2) District 5550 – Central Canada (Winnipeg);
3) District 5080 – Canada and USA;
4) District 5330 – Inland Empire of Southern California;
5) District 5340 - Southern California, USA and includes the city of San Diego;
6) District 3011 – India, New Delhi;
7) District 9930 – NE New Zealand – Hamilton;
8) District 9400 - Botswana, Swaziland, Mozambique and the South African provinces of Gauteng, Limpopo, North West and Mpumalanga.
We also have an offer to go to Finger Lakes District 7120, west of New York as they visited here in 2017; and an offer for one or two clubs to Exchange with Tarpon Springs in Tampa, Florida.
DOWNLOAD AN INTEREST FORM TO REGISTER YOUR INTEREST
CONTACT ME IF YOU ARE INTERESTED – Keith Hopkins District Friendship and Fellowship Chair. 0771 505 2718 keithhopkins@hotmail.co.uk
WHAT DOES A ROTARY INTERNATIONAL GROUP FELLOWSHIP EXCHANGE ENTAIL?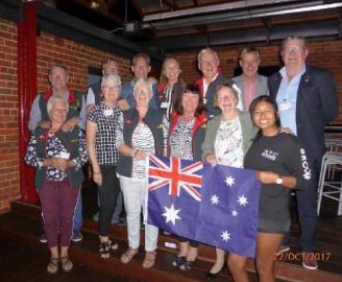 A group of up to 12 Rotarians including spouses/partners or individuals coming into this District and being home-hosted in 4 different areas for 3 or 4 days. You provide B&B freely and make them feel at home. You will have a programme to take them places within your area and this will be coordinated by a District Exchange coordinator to ensure they don't see too many castles! This ensures our guests get a true coverage of what we do and where we do it. All other costs are paid for by them. Simple activities are easily organised (walks, visits and BBQ's etc.) whereas more expensive activities need to be cleared by the Exchange coordinator so it doesn't get too expensive for our visitors.
Up to 12 Rotarians from this District including spouses/partners get to visit their country and District where reciprocal arrangements are made. Hosts get the first opportunity to go.
If there are more wanting to go than 12 a ballot will take place trying to allow at least 2 representatives to go from your area. The visit will be arranged when we know who is going. The Coordinator for the Exchange will arrange this. If we go for all Exchanges we will need a few Coordinators.
We need clubs and members to come forward and offer to get involved.
WHAT CAN I EXPECT TO GET FROM THIS?
New friends.
Great experiences of seeing things that tourists don't get to see and do.
Opportunity to meet others and see their cultures for a better understanding.
Lasting friendships which can cross over to other members of the family.
A network of people you can call on when visiting in the future.
Clubs working together in the future on projects.
A lot of fun and laughter.
Some gifts!
WHAT ARE THE PROBLEMS (IF ANY)?
The worst is getting someone who is not like you and complains! This very rarely happens and in the unlikely event arrangements are made to move them or they are told!
Do not worry about the size of your house or its tidiness. All that is asked is that it is clean!
Cost? This is not high but it will cost you and your spouse/partner money as you are expected to look after them and join with them in what you do. They pay for themselves but you will pay yours. Gifts are agreed by the coordinator so that there is no competition, all are simple and not expensive.
The cost of getting to and from the country you are to visit.
AND FINALLY…….
This District has hosted such Exchanges before and there is a core of those who have been involved.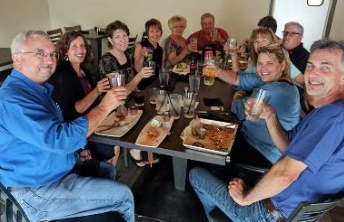 The quotes from them include –
"We have made some new friends and stay in touch not just by Christmas cards but by phone and even Skype".
"A wonderful experience and they looked after us so well when we visited."
"I would recommend this to anyone. The people we hosted were terrific and very grateful for everything we did for them."
I would ask that you volunteer to speak to me rather than wait to be asked but I will be in touch with everyone who has volunteered and given me their names and details, and every club, to ask you to help and host these visits. They will all be arranged for 2019 - 2021, both incoming and outgoing and I would like to spread them around the District including the islands.

If you haven't already done so please contact me ASAP if you are interested in hosting and visiting and we can discuss. This is not a commitment at this time.
Keith Hopkins MBE 07715 052718

keithhopkins@hotmail.co.uk