Polio Eradication - useful resources and links
District resources, links to RIBI and RI pages and to the World Polio Eradication Initiative pages
District resources, links to RIBI and RI pages and to the World Polio Eradication Initiative pages
As we get closer and closer to worldwide Polio Eradiation, it's even more important that we understand why we can't give up or slow down. If you want to be able to tell your collegues, friends, family and club members more about polio then read on...
Videos
There are some great videos available to watch, some a little dry but hugely informative, others quite fun and very easily digestible. We plan to add those that we like to this page. If you fnd others that we should add then please tell us.
There has been lots of media coverage in the few days since it was announced that there have been two case of polio in Nigeria. Dr Michel Zaffron, the Director of Polio Eradication at the World Health Organisation (WHO) conducted a live Q&A session on 12th August. This is 20 minutes long and very informative. Watch it on the WHO Facebook page
13Aug2016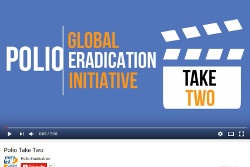 Polio Take Two is a great short animated video on YouTube. No speech but a very powerful message. Published in July 2016. Just 2min 38sec long.

The Agents of Polio Eradication was published on YouTube in April 2016. The animation won't be to everyone's taste, but it's another powerful message, and if you don't like it then think about whether you know younger people who might enjoy it. It's 2min 4sec.

In February 2016, the World Polio Eradication Initiative released a series of six short videos, just 3 - 5 minutes each. Watch all six Securing a Polio-Free World videos on YouTube. These are a bit heavy going, but hugely informative. If you are the Foundation chair or the Polio Champion (official or unofficial) in your Rotary Club then we recommend that you watch these so that you can explain some of the facts to others and help them to understand why the polio campaign and the fundraising has to be strong until the end.
Magazine and Web Articles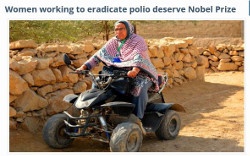 The Pakistan Daily Times has an article explaining why female health workers in Pakistan might deserve a Nobel Prize (7Aug16)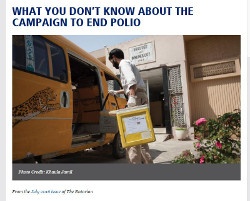 The July 2016 issue of The Rotarian had a very interesting article by Erin Biba. "What you don't know about the campaign to end polio" tells us about the huge ongoing efforts. Particularly interesting is the size of the logistical operation in 2016.
District Resources
We have some A3 posters and pull up banners that clubs may borrow for use at events.
We are also very happy to visit clubs to speak about the Polio campaign.
End Polio Now District 1090 Newsletter - August 2016
End Polio Now District 1090 Newsletter - February 2017

End Polio Now District 1090 Newsletter - April 2017
End Polio Now District 1090 Newsletter - June 2017
End Polio Now District 1090 Newsletter - December 2017
RIBI Resources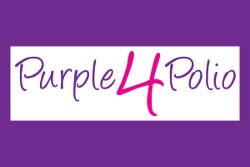 The Rotary in Britain and Ireland Purple4Polio webpages have lots of useful and interesting information.
There are posters and flyers to download and print, plus the Purple4Polio menu to inspire.


RIBI Polio newsletter - August2018

Facts and Figures
There is a weekly update of polio cases around the world on the Polio Global Eradication Initiative pages.
The Polio Global Eradication Initiative is a partnership of Rotary International, the Centers for Disease Control, the World Health Organisation and UNICEF.

District1090 Giving
details to follow very shortly

The End Polio Now team in District 1090 in 2017/18
Tim Cowling, District End Polio Now Coordinator

Joy Arnott and Gerry Cowan, Polio Team Members
Karen Eveleigh, District Rotary Foundation Chair

updated August 2018
Contact Tim Cowling about this page: