Supporting Polio Eradication across the Thames Valley
clubs across our district are doing lots to raise awareness of and funds for the End Polio Now campaign
clubs across our district are doing lots to raise awareness of and funds for the End Polio Now campaign
Please tell us how your club is raising awareness of the End Polio Now campaign. Send us some text and pictures and we'll add your stories to this page
Oxford Spires Rotary Club - Purple Hands for Polio - July 2016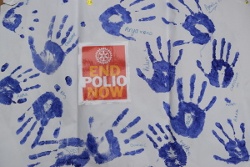 Oxford Spires Rotary Club was one of four Rotary clubs running a food stall at the Truck Music Festival in Steventon near Didcot in July. Along with Didcot, Faringdon and Witney Rotary clubs we served food for the three days of the festival and it's great when our loyal customers return saying how much they love to see all the voluntary groups there. We have been running our Dalicious food stall selling onion bhajis and lentil dal since 2008 and each year we get fantastic help from other Rotarians as well as other local charities and community groups. This year we had help from Bicester and Thatcham Rotarians and from Thatcham Interact Club.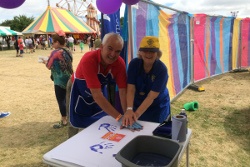 We introduced Purple Hands for Polio for the first time last year and the Purple Fun returned again this year. We thought that the idea of a purple pinkie might be a little too subtle for festival-goers, so instead we have purple poster paint, a pant tray and a paint roller, and we cover a hand in paint and ask the lovely person to give us a hand for polio. Our aim was to fill the pickles & chutneys tent with purple hands, get people talking about polio, and if lucky to get them to put a few coins into the collection bucket. We didn't raise lots of money but we think we educated quite a few people and there were lots of smiles.
Karen, Oxford Spires, August 2016
Planning for the Rotary year ahead - already in the spirit of Purple4Polio - May 2016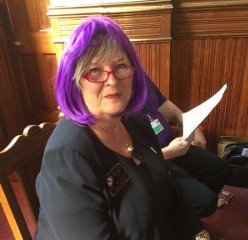 A few of us thought that it might be fun to launch headlong into the Purple4Polio initiative at the Rotary District Assembly at the Henley Christ Chuch Centre in May. We were a little unsure about how our colleagues might react to a large purple cat appearing from behind the choir as Karen spoke about the End Polio Now campaign and we didn't know how many people might politely decline when we offered around a few purple wigs acquired by Joy, but our fears were unfounded. Past District Governors wore the wigs, others joined in and people seemed to enjoy the antics of the purple cat.
We think we got the message across loud and clear - it's Purple4Polio year!
Karen, District Foundaton Chair, August 2017
Contact Tim Cowling about this page: