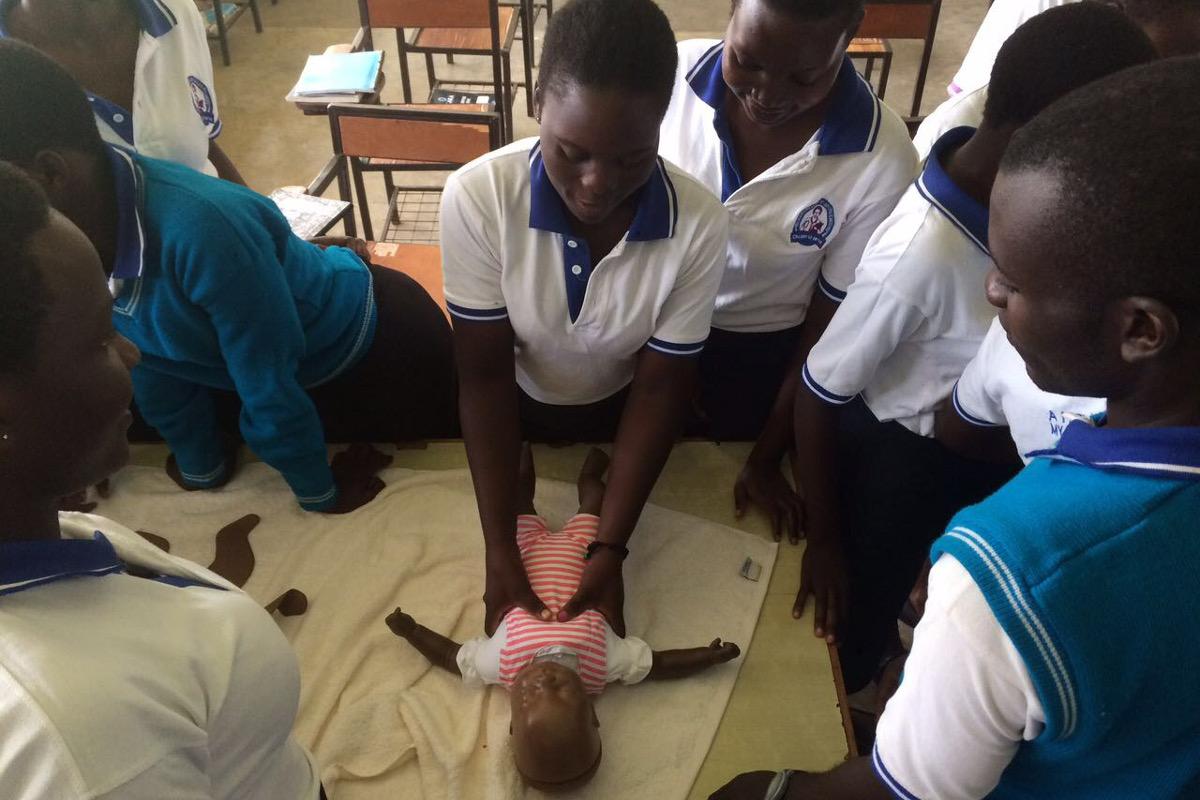 we are looking for new members to join our Vocational Training Team and to travel to Uganda for 10 days in March 2018
Return to the Foundation homepage
Return to the Vocational Training Team main page

What's a Vocational Training Team?

The Rotary Foundation supports a wide range of humanitarian projects across the globe. All fit into one or more of Rotary's Six Areas of Focus. Projects are initiated by Rotary Clubs or Rotary Districts and involve partnering with overseas clubs and other organisations. Clubs or Districts may then choose to link a Vocational Training Team to a project to enhance its reach and sustainability.

The History of our Emergency Birth Skills Training Team

In our Rotary District across the Thames Valley we set up a Vocational Training Team of midwives, obstetricians and paediatricians to provide training at a rural nursing school and the adjacent hospital in Kamuli, in eastern Uganda. The training programme was linked to the refurbishment of the hospital wards and provision of equipment for the school. Since the first visit in April 2014, there have been a further four visits by a total of eleven medical professionals from the Banbury, Hillingdon, Oxford and Reading areas.

Our Current Vacancies

We have now extended the training programme to a second hospital, Ngora Freda Carr Hospital and we completed our first training visit in April 2017. We hope to conduct a further five or six training visits, in March and October each year for the next few years. Each visit has between three and six team members.
We are looking to recruit two new members for the March 2018 visit and possibly one new team member for the October 2018 visit. The March 2018 team will be led by Dr Aisha Alzouebi, an obstetrics and gynaecology consultant from Hillingdon. The other team leader is Gillian Pearce, a midwife, currently working at Hillingdon Hospital. Both are Rotarians and members of Elthorne-Hillingdon Rotary Club.
The teams will initially focus on basic emergency birth skills, teaching student nurses, tutors, nursing staff at the hospital and staff from health centres near to the hospital. As at Kamuli Mission Hospital, it is likely that the training will then extend to paediatrics skills.

Two of our current team members are Rotarians, the others are not. This opportunity is open to both Rotarians and non Rotarians with the appropriate midwifery and obstetrics and teaching experience.

Eligibility

This is open to experienced midwives and obstetricians, working, living or studying within our Rotary District, from Banbury in the north to Hungerford in the south, Faringdon in the west to Hillingdon in the east. (see a map of our District) (link). Applicants should be available to travel from 23rd March to 1st April (and so we hope that annual leave will have been agreed in principle in advance of interviews on 27th January).

Costs and Details of the Visit

Flights, accommodation and food costs are covered by Rotary, as are the costs of some vaccinations and anti-malarial medicines. We expect that the team will fly out of Heathrow on the morning of Friday 23rd March and return to Heathrow on the morning of Sunday 1st April (Easter Sunday). The team will stay one night at a hotel near Entebbe airport, then travel to the hospital on the Saturday morning. They will provide teaching from Monday to Friday and return to Entebbe airport on the Saturday. The guest accommodation at the hospital has been recently refurbished, however it is basic and still needs some work. Some of this will have been done before the March visit. The training will be delivered to students and staff in the nursing school and follow a similar format to previous visits. Class sizes are likely to vary considerably and cover a range of abilities.

Read more about the visits to Kamuli Mission Hospital and to Ngora Freda Carr Hospital.

Application Process

Completed application forms should be sent with a CV to karen.eveleigh@yahoo.com before the deadline of 5pm on Thursday 25th January. Interviews will be held on Saturday 27th January in Oxford, but it will be possible to conduct interviews by Skype if needed. Offers to join the team will be made by Sunday 28th January and the plan is to book flights the following week.

Queries may be sent to karen.eveleigh@yahoo.com
There is likely to be at least one planning meeting in advance of the March visit.

It is hoped that those invited to join the team will also be able to visit Rotary Clubs to promote the project, but this is not a requirement.
updated 12Jan2018
Contact Karen Eveleigh about this page: