Angus clubs and friends provide water & sanitation
The lives of hundreds of people living in remote villages in India will be transformed thanks to another major international project led by the Rotary Club of Monifieth.
Monifieth Rotarians Nick Day (third from right) and Hugh Begg (second from right) along with members of Calcutta Rotary Club at the inauguration of a bore well in Nityanagar village in West Bengal during a visit to see progress on an earlier project.
This is the third such initiative in which the club has been involved to provide toilets, wells and hygiene and sanitation training in areas where there is little or none at present.

With the aid of grants from the Rotary district funds and from Rotary International almost $50,000 is being provided for the project co-led by the Rotary Club of Calcutta. The Monifieth club is also most grateful for the financial and moral support of partner clubs Broughty Ferry (formerly Abertay), Dundee, Arbroath, Inverness Culloden and Battersea Park in London.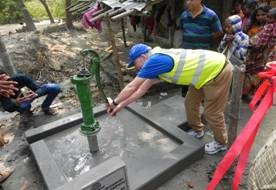 Monifieth Rotarian Nick Day inaugurates a new bore well in Nityanagar village in West Bengal during a visit to India to see progress on an earlier project

The building of 121 toilets and 13 wells in four villages in the Indian state of Jharkhand, 250 kilometres from Kolkata, will benefit over 700 people, including around 500 children. They will have clean water and proper sanitation for the first time. This will improve their health, education and productivity as well as restoring dignity and helping reduce migration from the rural area.

Stuart Robison, International convener at the Monifieth club, commented:

"Appropriately in view of the historic connection between Dundee, Angus and Bengal through the jute industry, our club has been involved in projects over many years to help disadvantaged people in that area of India. We are also proud of our strong partnership with the Rotary Club of Calcutta which provides not just financial investment but progress management on these rural sites. Of course, working to help people overseas is just part of our club's busy life. At the end of this month our main fundraising event, our team golf event over Monifieth Medal Course, will be principally in aid of Motor Neurone Disease Scotland and Angus food banks. We are eternally grateful for the generosity of the people in our area and further beyond which helps so many worthwhile causes."

FOR FURTHER INFORMATION PLEASE CONTACT STUART ROBISON. Tel 01382 739855 or email stuart.robison@blueyonder.co.uk
Contact Mick Gordon about this page: