St. Gemma's Hospice - the Lord Mayor's Charity
Black tie dinner is Aireborough Rotary's way to support his chosen charity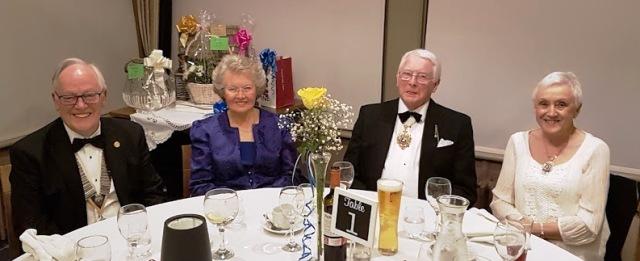 Lord Mayor and Lady Mayoress, Councillors Graham and Pat Latty were delighted to be in their own ward last Friday as guests of honour at a dinner organised by Aireborough Rotary with all proceeds in aid of St. Gemma's Hospice (Lord Mayor's Charity for the year) and Rotary Charities.
The Lord Mayor had begun the year with the aim of raising £45000, the cost of employing a single nurse at the Hospice and all attending the dinner were helping achieve that aim. All could contribute to the success of a later event in aid of the charity on 30 April when the Lady Mayoress was to make a sponsored parachute jump. His special thanks went to Barry and Lynne Bootland for organising this enterprising event.
Val Kaye became an Ambassador for St. Gemma's having seen at first hand the dedicated care given to her husband. She described the Charity's work and aims of supplying terminal care to individuals with life limiting illnesses including cancer. £6m. of the £9m. running costs had to be raised through fundraising, with tonight being just one welcome example.
Club Secretary Graham Davies explained that Club members regularly raised more than £10000 annually to help their community both locally and abroad.
In a diversity of projects over the past year more than 400 Osborne Dictionaries4Life had been donated to eleven primary schools, two robotic cats had been provided in centres for dementia sufferers, twenty Aquaboxes containing water filter pumps able to remove 99.9% of bacteria from dirty water had been sent to disaster areas and pupils from local secondary schools had been enabled to take part in initiatives including Young Musician, Young Chef, Youth Speaks and the Technology Tournament. Aireborough Rotary was always happy to welcome new members to its Tuesday or Thursday meetings with an extensive range of projects and fundraising ventures to become involved in under the byline – 'We're for Communities'.
The evening had been entitled a Carpenters Evening featuring Rawdon's Laurie Briggs and she introduced and presented through her favourite songs from the Karen Carpenter repertoire her own special tribute.
With prizes donated by Morrisons, the Wetherby Whaler, the Guiseley Co-op and Margaret Knaggs the raffle helped the evening raise an encouraging £600.
Contact Graham Davies about this page: