Exploring Ancient Egypt.... my 40 year adventure
Another fascinating journey into the life & work of Egyptologists Professor Joann Fletcher & Stephen Buckley.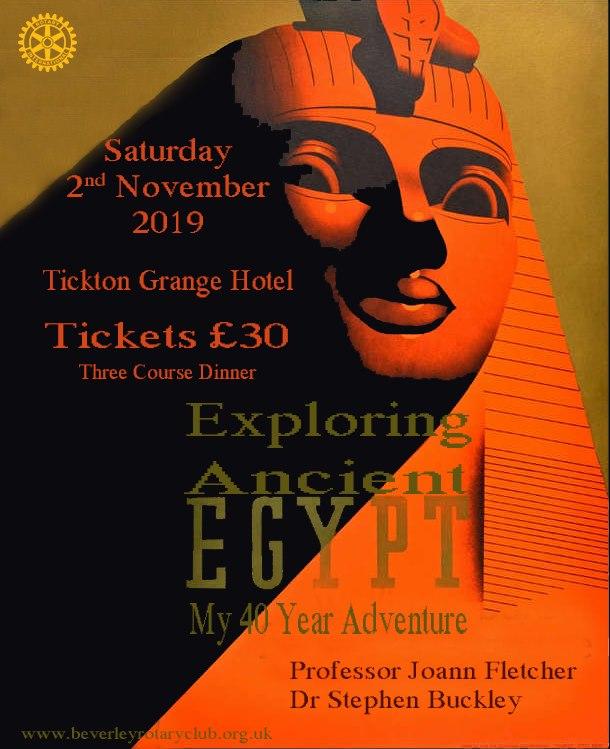 *****This event has now SOLD OUT*****
Joann and Stephen will entertain guests with stories of their adventures in their work relating to Ancient Egypt.
Joann has published a number of books and academic articles, including on Cleopatra, and made numerous television and radio appearances. In 2003 she controversially claimed to have identified the mummy of Queen Nefertiti. Stephen is part of York University's Mummy Research Team and has worked on archaeological projects in the Valley of the Kings, Egypt, the Yemeni Highlands, north-west of Sana'a, Rome, and a number of museums, before becoming a Wellcome Research Fellow in Bioarchaeology in 2004 (joint Archaeology and Chemistry) based at Archaeology's BioArch Centre.
Date : 2nd November 2019
Time : 6:30pm for 7pm
Venue : Tickton Grange Hotel, Tickton, Beverley, HU17 9SH
Price : £30 per head
*****This event has now SOLD OUT*****
Menu
Starter:
A) Yorkshire pudding with beef gravy
Or
B) Yorkshire Vegetable Soup
Main:
C) Barnsley Lamb chop, Yorkshire Lamb Sausage, seasonal veg., Roast and Creamed potatoes, Gravy, Mint Sauce
Or
D) Nut cutlet with seasonal vegetables
Dessert:
E) Yorkshire Rhubarb & Ginger crumble with custard or cream
Or
F) Fresh fruit salad
Coffee & Tickton chocolate shards


Contact Jonathan Le Vine about this page: