Template site for Rotary Clubs in GB & I

Home | tutorial home | Principles of the RIBI Template
Every club and district in RIBI can now have its own webspace within the RIBI template site (if they so wish). I have designed this for a number of reasons;
When starting this scheme in 2005, two-thirds of Rotary Clubs did not have websites.
Some of the existing websites were not current, some even displaying information (theme graphics etc) from several years ago!
Sometimes, when the club webmaster leaves the club, the domain name and the hosting leaves with him or her, so the club's site dies.
Sometimes a member leaves and there is nobody with the expertise to maintain the existing site
I wanted an easy-to-use site that anyone with an Internet connection could use to supply information about their club.
I wanted a consistent 'corporate' look, reflecting the style of the RIBI site and our Rotary branding. Whilst there are some superb independent sites out there, to be honest there are more absolute shockers! As an organisation of professional and business people, I felt that our web presence should reflect this professionalism.
I wanted a site that had all the features a club might want - more features are constantly developed, often based on requests from the clubs themselves.
I wanted our own charity - The Rotary Foundation - to benefit. If you are reading this and are not a member of Rotary, you should be aware that NO ROTARIAN BENEFITS FROM OUR CHARITY, it funds a huge range of humanitarian activities. See www.rotary.org/foundation for more details. At the time of this update (July 2012) over 1,000 clubs are using the template, raising over £50,000 EACH YEAR for The Rotary Foundation.
To gain access to the site, Rotarians must register on the database. Rotarians are only asked to provide their names, club name and email address – they can also provide a photo of themselves and additional information later, if they wish, to help everyone know "who's who".
Rotarian's EMAIL ADDRESSES ARE NOT DISPLAYED IN ANY OF THE PUBLIC AREAS OF THE SITE. Each member chooses their own unique username & password combination, so they can log in to their Club/District section (as applicable)
NB - the picture below shows the full depth of a particular page - you would need to scoll down the home page to see all this!.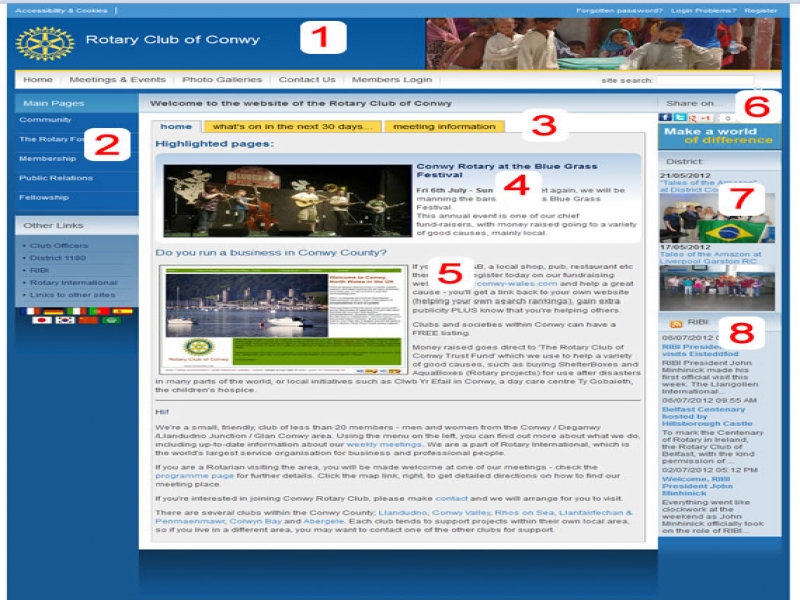 Your own club space - link your own domain name to your home page, like www.conwyrotary.org
Create your own menu, in a choice of 'static' or 'fly-out' (like these tutorial menus)
easy to use tabs, showing meeting information and forthcoming events/meetings - useful for members and the general public.
Choose your own pages that you want to highlight on your home page (optional layout - you could feature this on the right, if preferred)
Create your own homepage contents
Use social media to share information (not shown, but you can also integrate your Facebook/Twitter feed)
Display information from the district
Display information from RIBI (optional)
It is easy to use! Each club site can be administered by club members. No technical knowledge of web design is needed – anyone with a computer and Internet connection can easily maintain the site.
Clubs do not need to use all the facilities - pick and choose to suit your club; you may prefer to keep things simple to begin with.
Clubs have complete control over;
Creating their own committees
Maintaining their own club programme
Adding Committee members
Writing reports from the committees (including pictures)
A 'Members only' area in which information not of interest to the general public can be posted
Meeting information, e.g. venue details
'Charter Celebration' information – useful to advertise the event to other clubs
Writing reports on special events organised by the club (including pictures).
and much more...
Information supplied by the clubs can be displayed automatically on the district site – for example an event added to a club website can be displayed on the district site – if the district is using the system.
Each club has a contact form, which hides the destination email address. If no email address is entered by the club, the form isn't shown. Clubs can also choose the subject headings and destination addresses!
I would like to emphasise that use of the template is NOT compulsory – though I obviously hope there will be a significant number of clubs and districts who utilise them. One of the advantages of using such an integrated system is that new features can be designed and they are instantly available to every club or district. Information can flow from club to district and vice versa; the latest information about a particular project could be instantly available to clubs, without the need to go searching for it!
Another great advantage is that this is to the benefit of The Rotary Foundation! Clubs making use of the system (beyond keeping their meeting details accurate) are required to make a payment of £50 p.a. to The Rotary Foundation of The United Kingdom at Alcester. Such donations should be in addition to normal contributions! This cost is significantly less than other 'club site' templates available and all the funds go to our own charity. See the home page for the latest usage statistics and funds raised.
Rtn. Chris Sweeney
Template Designer