Future meetings and events around the district
Sun 12th April 2020 at 12.00 - Fri 17th April 2020 - 21.00 RYLA
12 - 17 April 2020: Rotary Youth Leadership Award is a Rotary programme for young people to develop qualities of leadership and good citizenship in their communities.
Sat 18th April 2020 at 09.00 - 15.00 District Assembly
To be run online using Zoom - further information will be provided to Presidents Elect
Sun 3rd May 2020 at 14.00 - 16.00 RIBI Annual Business Meeting
to be held at the NEC Birmingham during Volunteer Expo. Online participation by Clubs will be available.
Wed 10th June 2020 at 10.30 - 16.00 Kids Out
Thu 9th July 2020 at 19.30 - 21.30 District Council
18.30hrs for 19.15hrs at Reigate Baptist, Church, Sycamore Walk, Reigate, RH2 7LR
Fri 9th October 2020 at 12.00 - Sun 11th October 2020 - 13.00 District Conference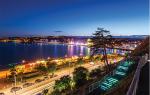 The District Conference will be held in Torquay
Sat 31st October 2020 at 10.00 - 12.00 District Council
09.15hrs for 10.00hrs at Reigate Baptist, Church, Sycamore Walk, Reigate, RH2 7LR
Sat 20th March 2021 at 10.00 - 12.30 District Council
09.15hrs for 10.00hrs at Reigate Baptist, Church, Sycamore Walk, Reigate, RH2 7LR