Completed meetings and events 2020-2021
Thu 13th August 2020 Zoom — Speaker: District Governor Rtn Nick Drake
Tue 11th August 2020 Sponsored Walk in aid of 'Seeds for Development'

Two parties of walkers from the Rotary Club of Farnham and Inner Wheel walked 5 miles through Farnham Park and nearby routes to raise funds for a charity benefiting the deprived area of northern Uganda which is suffering lost crops and great hardship.
Thu 6th August 2020 Zoom Business Meeting
Tue 4th August 2020 Zoom Meeting
Council Meeting
Thu 30th July 2020 Zoom Meeting. Speaker.
Dr Roger Jude
Thu 23rd July 2020 Zoom meeting at 2pm.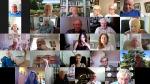 Founders of Hot Coals Theatre Company, which presents productions designed to be accessible to the deaf community, talk to the club Zoom meeting.
Thu 16th July 2020 Zoom meeting at 2pm
Speaker: Rtn Mahdi Kazamzadeh
Thu 9th July 2020 Zoom meeting at 2pm
Business Meeting
Thu 2nd July 2020 Zoom meeting at 2pm
Speaker: Rtn Alan Gavaghan
future
calendar
local events