Completed meetings and events 2017-2018
Wed 27th June 2018 - Rotary Award for Robin
Robin Dodridge is awarded a Paul Harris Fellowship for his contribution to club activities in 2017/2018
Tue 22nd May 2018 - Logo for the Purple for Polio Grand Tour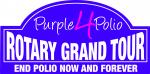 Organised by Rotary International in Great Britain and Ireland to raise money for the End Polio Now Campaign: 21st - 24th May 2018
Mon 30th April 2018 2018 Boccia Tournament: Rotary Service to the Community

This is an annual tournament organised by the Rotary Clubs of South Foreland, Deal, Dover and Sandwich for people with disabilities
read more...
Thu 26th April 2018 ChildAid to Eastern Europe
Presentation on the work of ChildAid
read more...
Thu 8th March 2018 Skillnet Group: Valuing Adults with Learning Difficulties

Lis Clayson gives a presentation on the work of Skillnet Group, helped by Peter Bland and Sam Barnard
read more...
Tue 13th February 2018 Safe Anaesthesia Worldwide

We take anaesthesia for granted in our country but in many poorer parts of the world anaesthesia may not be regularly available because of the lack of electricity and oxygen; this results in much suffering and many deaths.
read more...
Tue 23rd January 2018 - Making a Difference
Find out about how the poor in Cambodia are helped through 'Camps International' by young people such as James Sparnon
Wed 29th November 2017 Scatter Week

This is a week we try to visit other Rotary clubs. There is no meeting at the hotel.
Wed 22nd November 2017 Helping Needy Children in Uganda

This is an account of the work of the Charity 'Friends of North Kigesi Diocese' in Western Uganda. The Charity cares for abandoned children in its Children's Centre in Bucene.
read more...
Tue 7th November 2017 - President David's Chosen Charity

'Stand By Me' is a small organisation which rescues and cares for some of the world's poorest children. Colin Norford spoke of the work of the charity: it includes running the Bethany School in Ethiopia which is supported by President David.
read more...
Wed 1st November 2017 Monthly Business Meeting

This is the meeting we focus on the practical running of the club.
Tue 24th October 2017 The Bluebird Heritage Trail

Follow the Bluebird Trail to discover some of Dover Town's hidden treasures
read more...
Mon 23rd October 2017 Emma France: a passion for swimming

Would you like to swim the Channel? Emma gave us an insight into what is involved in training for long distance swimming.
read more...
Wed 11th October 2017 Channel Swimming Training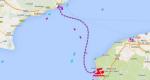 Emma France will be talking about Channel Swimming Training.
Wed 9th August 2017 Talk on Dover smART Project
Dawn Madison & Laura Graham will be discussing Dover smART Project. Spouses, Partners and Guests are welcome to visit. Please contact us if you would like to attend.
Wed 2nd August 2017 Monthly Business Meeting
This is our monthly business meeting. Please contact us if you would like to visit.
future
calendar