Completed meetings and events 2022-2023
Tue 9th August 2022 Speaker Washington Riding Centre Host Brian Franklin
Tue 2nd August 2022 Business Meeting
Members will discuss future plans
Tue 26th July 2022 Speaker Peter Curtis (North East Sport) Host Pat Emmerson
Tue 19th July 2022 Fellowship Meeting
Tue 12th July 2022 Speaker John Hutchinson Host Gordon Coxon
John gave us a talk on his successful ventures into business in the 1970's and 1980's, which he was not able to finish... so another time..........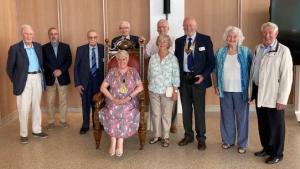 Sat 9th July 2022 Visit to new City Hall
Some members and wives met up to have a conducted tour by the Lady Mayor and her Consort, of the new City Hall building in the centre of the city. She was very enthusiastic and will be a good leader during her year in office.
read more...
Tue 5th July 2022 Club Assembly/Business Meeting
Committee chairmen and officers presented the draft programme for the year.
A G John Gardner then spoke, including his ideas for increasing membership.
calendar
district events
local events