Completed meetings and events 2022-2023
Tue 29th November 2022 Speaker. Host John McLoughlin
Tue 22nd November 2022 Speaker George Lomas. Host John Hutchinson
Tue 15th November 2022 Speaker John Hutchinson. Host George Lomas
Tue 8th November 2022 Speaker Michael Gough. Host Pat Emmerson
Michael is returning to show us a couple of videos on Mexico, with a talk.
Tue 1st November 2022 Business Meeting
Tue 25th October 2022 Speaker RI President Jennifer Jones
We watched a video of a speech she had given at a conference, which was quite personal and also majored on membership and End Polio Now.
Tue 18th October 2022 Speaker. Host Brian Franklin
Tue 11th October 2022 Speaker John Wilson. Host Allan Bailey
Our member John will give us a talk.
Tue 4th October 2022 Business Meeting
Members meet to discuss future events.

Tue 27th September 2022 Speaker D G Stephen Rose. Host Elizabeth Wortman
D G Stephen paid us a visit, which was enjoyable and informative.
read more...
Tue 20th September 2022 Speaker Brenda Dinsdale. Host Tony Wortman
Brenda returned to tell us about her experience volunteering to take in a Ukrainian refugee.
read more...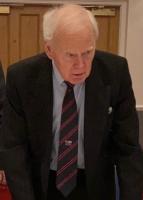 Tue 13th September 2022 Speaker Geoffrey Woods Host Keith Higgin
Geoffrey gave his 'My Job' talk
read more...
Tue 6th September 2022 Business Meeting
Members discussed future plans
Tue 30th August 2022 Speaker Tony Wortman Host John Wilson
Tony spoke about a former Rotarian Sir Nicholas Winton, who had taken a lead in organising the trains bringing children from Germany to England before the war, thus saving their lives and allowing them to live safely and grow up to have families.
Tue 23rd August 2022 Speaker Derek Potter Host John Shield
Derek came back to tell us about how tourism, especially in the far east where he has lived, can overwhelm places of natural beauty if they become subject to mass tourism. He considered that some places needed to consider Eco-tourism.
Tue 16th August 2022 Speaker Mayor of Sunderland Host George Lomas
The Mayor, Councillor Alison Smith and her husband Consort visited, following our interesting visit to City Hall. She told us about her year so far.
read more...
Tue 9th August 2022 Speaker Washington Riding Centre Host Brian Franklin
In view of a low attendance, the visit of Washington Riding Centre was postponed.
Tue 2nd August 2022 Business Meeting
Members discussed future plans
Tue 26th July 2022 Speaker Peter Curtis (North East Sport) Host Pat Emmerson
Peter Curtis from North East Sports came to tell us about the activities of the organisation.
Tue 19th July 2022 Fellowship Meeting
John Hutchinson continued his talk from the previous week.
Tue 12th July 2022 Speaker John Hutchinson Host Gordon Coxon
John gave us a talk on his successful ventures into business in the 1970's and 1980's, which he was not able to finish... so another time..........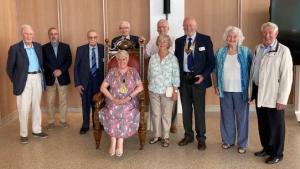 Sat 9th July 2022 Visit to new City Hall
Some members and wives met up to have a conducted tour by the Lady Mayor and her Consort, of the new City Hall building in the centre of the city. She was very enthusiastic and will be a good leader during her year in office.
read more...
Tue 5th July 2022 Club Assembly/Business Meeting
Committee chairmen and officers presented the draft programme for the year.
A G John Gardner then spoke, including his ideas for increasing membership.
calendar
district events
local events