City News August 2009
Club News Letter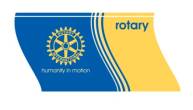 CITY NEWS August 2009
A monthly summary of current information provided for Hereford City Rotary Club members.
George We were all sorry to loose George. Over half the members attended his funeral last Tuesday. While understandably George has been less active with the club in recent years, he has a history of real effort particularly on Community Service. He was a real Herefordian, a character, and will be sorely missed.
Membership The loss of George, together with Liz's transfer to the Marches Club means we are two down after a month of the current Rotary Year. We all need to increase our efforts to bring in some new blood. In his recent newsletter, DG Stewart says this is the common issue in all the clubs that he visits. He says the traditional route to new members is still the most effective. The existing member invites someone to a meeting. If they enjoy it, they explore the possibility of joining etc. Do try to bring someone to a meeting. Any meeting will do. You don't have to wait for October 12 when Paul is encouraging us to bring prospective members as guests.
Conference A number of us have confirmed that we will be going to the District Conference in the Spring ( Colin & Shirley, Bill & Jill, Alan & Valerie, Brian & Pat, Luke plus James from Marches, Margaret & Rob) Several others are still considering. For email recipients a further attachment gives details as provided for Marches members. For non-email people it is printed on the back of this paper. Do consider joining the party.
Marches Charter This is being held on Friday 18 Sept in College Hall. 16 Rotarians and partners from City Club have signed up. If you would like to join them, let Rob know quickly as numbers are limited.