COMMUNITY & VOCATIONAL
Supporting local good causes in our community. Pauline has put together gift bags for the Christmas Smile Project. Providing gifts for those that struggle to provide at Christmas.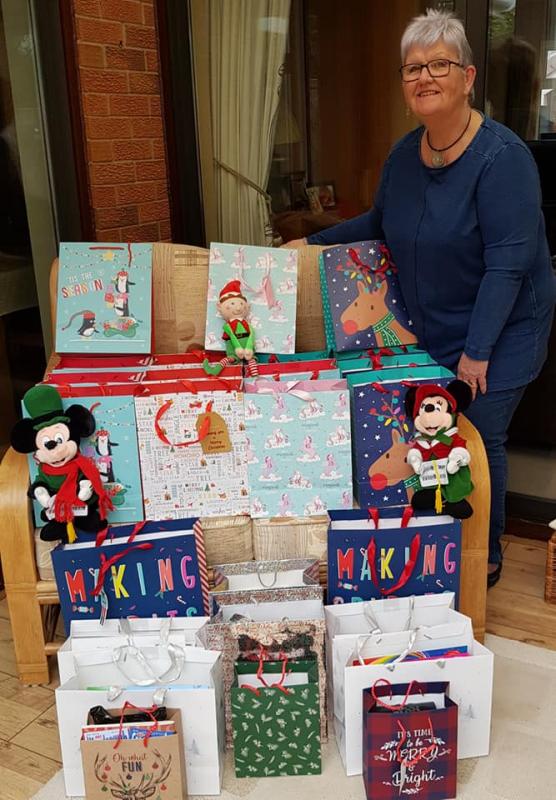 Community and Vocational
Chairman Wendy Waterson
Community and Vocational service is at the moral heart of Rotary and this is reflected in our Club programme for 2018-19. We have a core of activities to continue from previous years, while taking an exploratory look into at least one possible new aspect of our community involvement.
Our committee is generally cast in the role of spender, not earner. However, this mould does get broken once a year as we hope to take a lead in organising the Christmas Gift Wrapping in Telford Shopping Centre in the two weeks leading up to Christmas Eve. This is, though, a joint effort with Inner Wheel and a whole-club event which traditionally provides the Club wallet with a very healthy swelling: This will be confirmed in September.
Other events in our diary for the year will include:
The Community Concert to be held in March at the Haberdashers Abraham Darby Academy. This provides a magical showcase where Senior Citizens from across the Telford conurbation can enjoy the extraordinary talents of the student musicians and acknowledge the dedication of the educators who so effectively nurture those talents. The show features the schools now internationally-famous brass, jazz and show bands;
Stroke and Health Awareness Day: this is sometimes heralded as the most important community service event of the year. Formally know as Stroke Awareness Day and respricted to blood pressure monitoring, it has now expanded and since 2015 other health organisations offering advice. The venue this year is Telford Town Park in July.
The clubs annual Community Award: this takes the form of a 100 donation to the recipients charity of choice. Les Chalker is already taking a lead in seeking to identify a person who has made a significant contribution to the community in the town of Ironbridge or the surrounding area, so if you know someone whom you consider worthy of consideration, please let Les know.
The foregoing are our priorities for the year, but no doubt there will be other initiatives arising during the year which we will examine and support where possible.