Welcome to the Inner Wheel Club of Ironbridge

2017 -18 President - Christine Hollis


The Inner Wheel Club of Ironbridge meet at 7.15pm on the second Wednesday of each month (apart from August) at the Park House Hotel, Shifnal. This thriving group of women meet up for friendship and fun whilst actively supporting and contributing to various charitable activities both here and abroad. Each month we enjoy a pleasant meal and listen to a variety of entertaining and/or thought provoking Speakers before getting down to the business part of the meeting.
Examples of some of our activities - in recent years we have:
arranged concerts to raise money for Medic Malawi, the Shrewsbury Music Therapy Unit and other Inner Wheel charities
filled school Backpacks for the Mary's Meals Project
organised a Charity Fashion Show
donated a huge variety of goods for the International Rally at Lilleshall
joined with the Rotary Club at the Christmas Wrapping activities in Telford Shopping Centre
and much, much more .............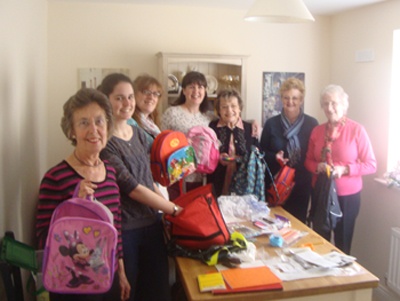 Members of the club filling Backpacks for Mary's Meals
Contact us :
Please get in touch because whereas originally, members of Inner Wheel needed to be wives or relations of Rotary or Inner Wheel members, it was agreed at Conference in 2014 that Active Members can also be "Women who have been invited to join"
So please, if you're interested in finding out more and seeing for yourself what we are about call our membership Secretary Robyn Davies e mail, robyntrebleclef@blueyonder.co.uk
What is Inner Wheel?
Inner Wheel is women in action, working together to make a difference and improve lives.
The objectives of Inner Wheel are to:
promote true friendship
encourage the ideals of personal service
foster international understanding
Inner Wheel is one of the largest women's service organisations in the world with 19,000 members in Great Britain & Ireland and over 100,000 from more than 103 countries across the globe.


We work together giving humanitarian aid nationally and internationally. We help people by extending the hand of friendship and we work on projects that are truly life changing. All this is done with fun and friendship! There is no other group like it..
A Brief History
For many years prior to 1924 when we really start our history, wives of Rotarians in many cities and towns throughout the country shared their husbands' concerns for public welfare and voluntarily supported their charitable activities. Since Rotary membership at that time was open to men only, this support was often in the background. Increasingly though, a drive was building toward finding a way for these women to express their compassion in a tangible way that was separate from the Rotary organisation itself.
So then on 15th September 1923 a group of ladies called a meeting at Herriott's Turkish Baths in Deansgate Manchester for the purpose of setting up a club of their own and 27 ladies attended. Inner wheel formally began on the 10th January 1924 when Mrs Margaret Goulding presided over a club formed of Rotarian wives. The roots of the now International Inner Wheel were established in 1934 when the Association of Inner Wheel Clubs in Great Britain and Ireland was formed.
For more details please see the Inner Wheel website www.Innerwheel.com