RIBI President's Visit
Tue 31st January 2012
RIBI President Ray Burman visits D1030
RIBI President Visits D1030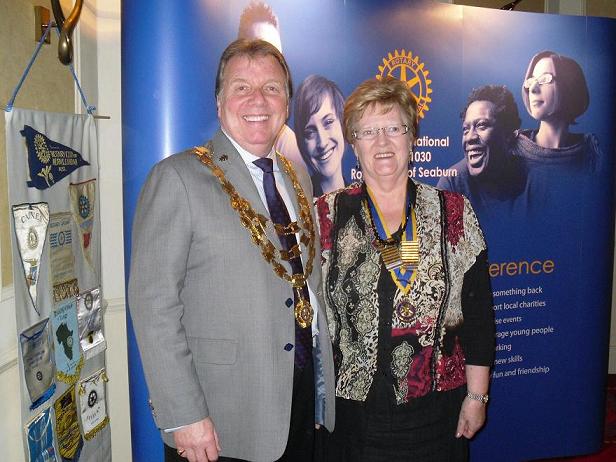 RIBI President Ray Burman with President Fidelma
Ray Burman, President of Rotary International in Great Britain and Ireland (RIBI), recently visited the North East to see and hear about the work of Rotary clubs within District 1030. On the evening of Tuesday 31st January, he attended the Rotary Club of Seaburn as the guest speaker, accompanied by his wife, Victoria.
The meeting was held at the Seaburn Marriott Hotel, and Rotarians and guests from a number of clubs were in attendance. Our own club was represented by President Fidelma & Robin; David & Marion; and Phil & Joan.
Ray spoke of his career as an officer in the Metropolitan Police Service and of his early involvement with Rotary as a member of the Group Study Exchange Team that travelled to Brazil in 1980; an experience he described as 'life-changing'.
He also spoke of his time as a rotarian and of involvement in international projects, particularly those aimed at assisting and re-building communities in Sri Lanka following the tsunami in 2004.
President Ray's enthusiastic presentation also included an inspiritional message about Rotary and the future.
View Ray's message to District 1030