Young Carers Cardiff and Vale Interact Rally Morfa Bay
3 day National INTERACT RALLY at Morfa Bay Tenby for 20 Young Carers and 4 Rtns from Cardiff and Vale Interact. Led by President Dan Jack, Paul Johnson, Jim Price (Cardiff East)and Cathy Wild St Davids club, and Soffie Jones & Jim Cardiff youth services
President Dan Jack with Cardiff and Vale Interactors and Rotary GB&I President after being presented with Certficates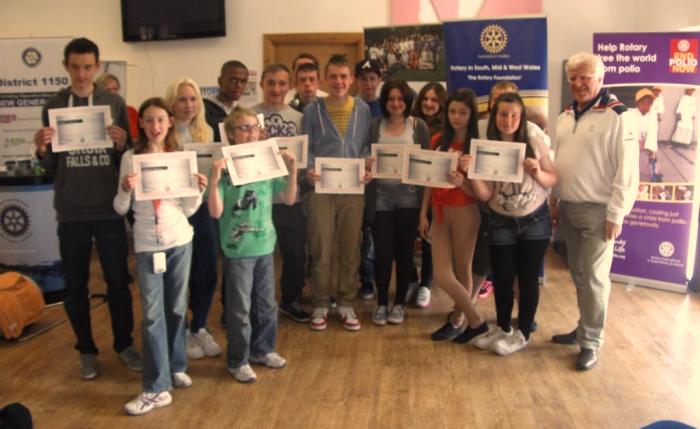 Young Carers on Cliffs above Morfa bay
Young Carers by Daniel Jack Young Carer and President of
Cardiff and Vale Young Carer Interact club
What is a young carer?
A young carer is someone who is usually under the age of 18 and looks after a family member who has a form of disability that affects them in their every day to day life. Young carers their family; stuff their friends may not do. These could include: making dinner, cleaning the house, shopping for food, medication; looking after brothers or sisters.
Young carers projects have been set up all over the UK. Young carer projects give the young carer a break by taking them on a day out. This day out could be to any place such as bowling, craft workshops, theatres etc and usually occurs one every few weeks after school. Big trips out to places like Oakwood, Speed boating and go carting would usually take place on the half term.
My name is Daniel. I am 16 and I am a young carer, I have been a young carer for five years and my mother has MS (Multiple Sclerosis), being a young carer is hard as it limits myself to what I do as I spend a lot of time looking after my mother by cleaning up making sure my brother and sister are okay and helping my mum as much as I can, I have to balance doing all of this with going to college and trying to make some spare time to go out with my friends so I can socialise and have a break. The system and support that has been set up for me and other people like me is incredible without it I have no idea how I could have coped, the outings that I go on have a huge impact on me as I can hang around with people my own age, who know what I am going through, this gives me the chance to relax and forget about the troubles of what are thrown at me. I have been on lots of outings and some of them include trips to theme parks, educational trips, fun and exciting residential stays and lots of exciting days out.
Some of the things that have been set up for young careers could not have been done without outside help from organisations such as the big lottery, the Henry smith foundation, the Rotary and much more, as young carers are a network of charities that employ over 35,000 employees to aid and help young people. Outside help from other companies allow young carers to go on trips and other things that young carers cannot supply
What has the Rotary done for other young carers and me?
Well the Rotary club have helped young carers like me for many years and have made things happen which I could not believe could be possible. The rotary club have spent a lot of time and money on young carers and without it I dont think people like me would have been able to do anything, people may think what they are doing is nothing but what the rotary club have done is inspirational as people have taken their time and effort to give to people who they barely know. Doing acts like this makes young carers feel like what they are doing is a good thing and that someone cares for people like them. Some of the things that the rotary club do for young Carers are; they have sent young carers on trips, courses and supplied them with things that people do not usually give them.
Personally for me the Rotary club have helped me by sending me on courses that will and have aided me for the future like RYLA which was amazing as the skills and experiences that I know have has helped me we everything, the rotary have let me compete in competitions like Young chef which I came second I and the confidence boost from that was amazing, they have let me go on ocean youth trust Challenge Wales and Disney land in the near future I will participate on tall ships. The rotary have also done a lot more by giving us grants, life l lessons and much, much more. The rotary have also helped set up an interact club.
In the last few months, an Interact club has been set up whose members are young carers and is starting to thrive. I have undertaken the responsibility of being the president which is a lot of work as I am trying to make sure everything is being set up and running without any problems. Although I am not doing it alone as I have an army of young carers who help me do this, also there are Rotary members who work closely and help as much as they can by doing as much as they can without interfering.
Recently 20 Young Carers from our Interact club took part in the Interact rally at Morfa Bay which aided us so much as we were able to meet other interact clubs who have been going for a few years and we were able to get information, contacts and ideas but more importantly have fun and meet new friends. At this rally we were able to say what are plans are and our expectations. We took part in games and activities which I believed helped us bond as an interact club and as a community/family. We gained a lot of knowledge and found out a lot of useful information which we have taken back and are now using.
Dan Jack
Young Carers Surfing and boarding at Morfa Bay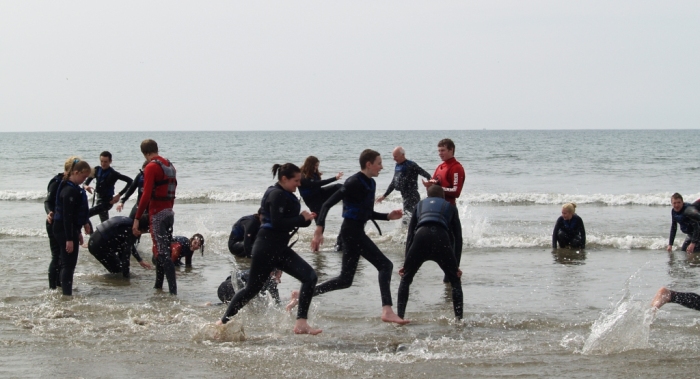 Selection of teams at Morfa bay
Ready for zip wire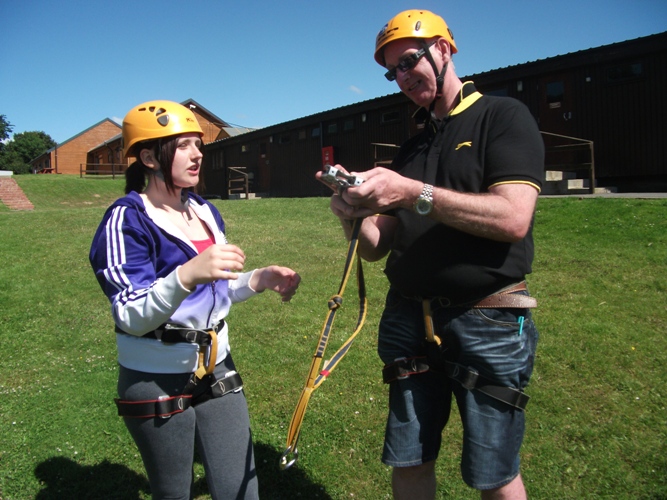 Lectures on life straw and clean water international projects