Dictionaries 4 Life
Thu 11th July 2013
Rotary provide illustrated dictionaries for Year 6 children
Show related pages
Usworth Colliery Primary School
Presentation of 'Dictionaries 4 Life'

The Rotary Club of Washington Forge was again delighted to be able to provide illustrated dictionaries to 40 pupils completing their primary education at the Usworth Colliery School.
'Dictionaries 4 Life' is a Rotary project that first started in 2007 when books were presented to Year 6 school children as leaver's gifts to stimulate an interest in language, books and reading. By using the dictionaries efficiently, children explore spellings, meanings and derivations, and individual knowledge and confidence is promoted. It should assist children with their homework in secondary education and can be used as a source of reference within the home. The dictionaries contain 1000 illustrations, 10,000 entries and 20,000 definitions and are certainly well received.
President Rob Blair and Phil Hopps presented the books on behalf of our Rotary Club. Carolyn Nicol, a member of the school's senior management team and teacher in Year 6, explained the benefits of the dictionaries and thanked the Rotary Club of Washington Forge on behalf of the children and the school.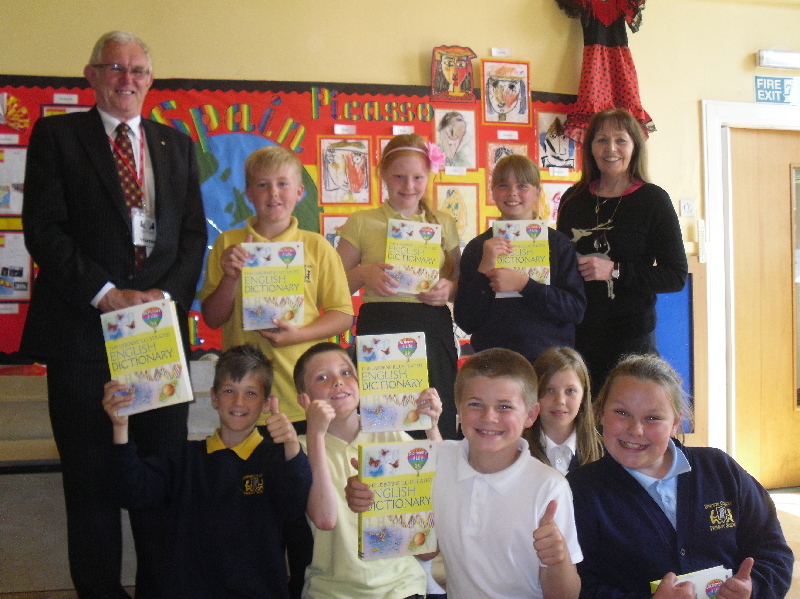 Some of the Year 6 children with the 'Dictionaries 4 Life'
with Rotarian Rob Blair and Carolyn Nicol