Latest News from Magna
All the latest news on events and happenings from our MagnaLink Magazine

MagnaLink April 2021.pdf


MagnaLink March 2021.pdf

MagnaLink February 2021.pdf


MagnaLink January 2021.pdf

MagnaLink December 2020.pdf

MagnaLink November 2020.pdf

MagnaLink October 2020.pdf


MagnaLink September 2020.pdf

MagnaLink August 2020.pdf


MagnaLink July 2020.pdf


MagnaLink June 2020.pdf


MagnaLink May 2020.pdf


MagnaLink April 2020.pdf


MagnaLink March 2020.pdf


MagnaLink February 2020.pdf

MagnaLink December 2019.pdf

MagnaLink November 2019.pdf

MagnaLink October 2019.pdf
MagnaLink August 2019.pdf
MagnaLink July 2019.pdf
6th May 2019
William Edwardes PHF BEM Ld'H 1926 - 2019
15th May 2019
Wessex Heartbeat were delighted to have been chosen alongside Myositis UK to be one of the chosen charities to benefit from the Haskins Charity event. Guests enjoyed a wonderful meal and then were given discount to shop throughout the evening to nab a few bargains in preparation for the coming summer months.
We had guest stall holders selling an array of gifts. There was also a raffle and an auction, with some great bids which helped bring in the amazing sum that was also added to the ticket proceeds.
The event was organised by The Rotary Club of Southampton Magna. President, James Lapage and Terry Pugh from Magna, were delighted that the money raised enabled each charity to receive £1000,00 each. James Lapage commented "Huge thanks to Haskins and the wonderful staff who worked so hard, the food especially exceeded all expectations. Terry Pugh seconded that and said, "It was a real pleasure to be able to work with a local company, for the benefit of local charities".
Tina Hawke from Wessex Heartbeat commented, "We are most grateful to The Rotary Club Southampton Magna, Haskins Garden Centre and all those who chose to come along for the evening. This money will help us to continue to support those living with cardiac conditions. We really appreciate the work of Rotary who tirelessly raise money for charitable causes, and we are very happy to be on the receiving end of this generous donation".
14th March 2019
You may find it shocking that it was not headline news but on Wednesday 13th March a group of 88 students were faced with a train derailment and spillage of hazardous waste. Fortunately not a real world problem but this year's task set by Rotary in the 2019 Young Technologist Tournament.
The students from Bitterne Park, Hamble, Mountbatten, Oasis Sholing. Regents Park, Romsey and Woodlands schools all met at Romsey's Crosfield Hall. To solve this rather delicate task of recovering the hazardous waste (simulated by a plastic cylinder) the teams were asked to construct a crane which could be pushed along the track, recover the cylinder and return to the start line. The materials to solve this tricky problem were nothing more than bits of wood, elastic bands, a few pulleys, an electric motor plus string, glue and a magnetic hook.
Once set the task the students were soon hard at work. Some highly innovative solutions were produced particularly considering the very limited kit of parts which the teams had to work with. Finally construction time was over and the moment of truth had arrived for the teams to test their models under the eagle eyed scrutiny of the judges.
Most teams succceeded in producing a working crane and recovery of the hazadard waste was demonstrated. While the judges retired to make their decisions the teachers' team which had been set the advanced version of the task were invited to demonstrate their design prowess. Any wish of the onlooking students to see the teachers' team humiliated by failure was entirely disappointed as they fulfilled the advanced task with some aplomb. (Reported by Chris Nixon)
The winning teams in both the Foundation and Intermediate sections were from Bitterne Park School. (our sponsored school).
Foundation team from Bitterne Park school.
Intermediate team from Bitterne Park school.
Their trophies were presented to them by the Rotary District Govenor Allan Smith.
March 2019
The Young Writer Competition was attended by 19 entries from Hamble, Sholing, Woodlands and Thornden schools.
We were very fortunate in having Claire Gradidge (above) as the judge and she was joined by Julie Ballard.
The winner was Libbi-Rose Weir from the Woodlands School.
11th March 2019
The 2019 Woodlands Rock Challenge team...
They won awards for Excellence in Drama, Visual Enhancement, Stage Crew and Entertainment.
10th March 2019
The finalists and judges for the District Final of Young Chef 2019 held on Saturday 9th March at South Downs College.
Astrid Davies from 'our' Hamble School was placed third and goes forward to the Regional Finals in Exeter. Astrid is far right in the photograph.
24th February 2019
The victorious Magna Stars quiz team at last nights End Polio Now run by Chandlers Ford Rotary Club. Thank you to Chandlers Ford for a great evening and excellent quiz master Les Heyhoe.
In the team were (left to right) Jackie, Trica, John, Angela, James and Bill. Les is presenting the winners cup to James.
22nd February 2019
James Lapage presenting a cheque for £500 from a local charitable trust to Nicola Iverson, Deputy Head at Woodlands Community College to help towards their costs in entering this year's Rock Challenge to be held at Southampton Guildhall in March.
16th January 2019
Chris Nixon writes: Last night, I attended the Youth Speaks competition organised by Romsey Test Rotary Club. The had entries from The Mountbatten School, The Romsey School and our Oasis Academy Sholing. The team from Sholing (photo below) spoke on the subject "Page by Page" about the power of books to inspire and transform lives.
Their entry was highly commended by the judges, but they failed to progress to the next round. The winning Senior entry was from The Romsey School on the subject of feminism entitled "Like a Girl"
1st January 2019
A very Happy New Year to all.
Our Haskins Charity Event has changed to 10th April, just in time for Spring...
The new event will include a raffle, a variety of stalls and a two-course meal. The price has also been reduced to just £16 per ticket. We shall ensure that tables of 8 or more are reserved in advance - this will help to ensure a stress free evening. Download Brochure Haskins 2019.pdf
Our 25th New Forest Charity Car Run is on Sunday 19th May.
Join us on the 25th New Forest Charity Car Run for an extra special fun day out with your much loved car. We start at Bramshaw Village Hall for registration and refreshments before setting off on the morning run. First car away at 10am.

The lunch stop will include a quiz and maybe a skills test where you can enjoy your picnic or purchase your lunch in pleasant surroundings.

It's then off for the afternoon run finishing at a village hall where you are treated to generous protions of tea and cake. We cover approximately 75 miles, although there is a shorter route for those with older vehicles.

Our charities this year are Tools for Self Reliance, and Assert for AngelmanUK.
Download Car Run Brochure Car Run Flyer 2019.pdf
More info on our Charities can be found on our Magna Charity 'Featured pages'.
10th November 2018
Somewhere hidden are our 1500 shoeboxes we delivered to the District distribution centre last night. An excellent result by everyone involved.
8th November 2018
What an inspiring talk,not just about how the Costa Concordia was salvaged,but about Glen Skelton and his company he built up.
As you can see, we were packed out for this excellent speaker.
3rd November 2018
1497 is the number of Shoeboxes we have sorted and packed into bigger boxes. A fantastic result all organised by the Tickners and the Laits. A big big big thank you.
These are some of the many helpers...
We have to give a very big thank you to one of our Business Partner, White & Co, for giving us the space in one of their warehouses and delivering the Shoeboxes to the District packing centre.
31st October 2018

Here are some of the students from the Sholing School planting our crocus corms.
24th October 2018
Southampton highlights World Polio Day.
The Rotary Club of Southampton Magna is trying to turn Southampton purple by helping to plant 5,000 purple crocuses at schools and other venues around Southampton to mark World Polio Day (Oct 24). The day aims to shine a light on the disease, which is completely preventable with the use of vaccines and to raise awareness of polio
The Rotary Club is working with schoolchildren across Southampton from Hamble and Woodland Schools and Oasis at Sholing to help plant purple crocus. On Wednesday 24th October, World Polio Day will also be highlighted at the O2 Guildhall, illuminated with purple light for the evening.
James Lapage President of Rotary Club of Southampton Magna, said: "Huge strides have been taken in the fight against polio over the last 30 years. However, we won't rest until the disease is a thing of the past. We hope that by spreading purple across the city we'll raise awareness of World Polio Day and encourage others to help join the fight."
Rotary Club of Southampton Magna has long been a supporter of projects to help eradicate polio. Its fundraising supports a range of initiatives including immunisations overseas. The colour purple is associated with World Polio Day because when children are immunised they have their small finger of their left-hand marked purple.
Since Rotary International and the World Health Organisation launched the Global Polio Eradication Initiative 30 years ago and now with the support of the Bill & Melinda Gates Foundation, the incidence of polio has plummeted by more than 99.9 percent, from about 350,000 cases a year to just 22 cases in 2017.
The Director General of the WHO has said that although the job is 99.9% done, 'the last mile will be the hardest' and 'the Polio virus must be left with nowhere to hide'. The crocuses will provide a yearly reminder to 'End Polio Now'
23rd October 2018
Southampton Schools to mark World Polio Day
Students at three Southampton area schools have planted almost five thousand crocus corms to help draw attention to World Polio Day on Wednesday 24th October which will also be highlighted at the O2 Guildhall, illuminated with purple light for the evening.
Hamble and Woodland Schools and Oasis at Sholing joined with Southampton Magna Rotary Club to plant the purple crocuses to support the campaign by Rotary, the World Health Organisation and the Bill & Melinda Gates Foundation to finish the job of completely eliminating Polio worldwide.
10th September 2018
Very please to announce that Magna has won the District Bowls Competition (again).
Here is the team receiving the Trophy from our District Governor Allan Smith.
13th June 2018
Wednesday 13th June was a fine and sunny day, as requested... when the 3 schools (Forest Park, Polygon and Redwood joined District 1110 day out at Marwell Zoo. 103 people went under the auspices of Southampton Magna, of which at least 58 were children.
These children certainly enjoyed their day, watching penguins swim, a leopard eat a joint of meat, while the giraffe's seemed to enjoy leaves on a branch which had been hoisted aloft, and the mischievous looking meerkats entertained us all.
A packed lunch was provided as well, and we rested just outside Marwell Hall watching the crows or ravens eat the odd sandwich crust.
A little downhill wander led us to the Road Train, but unfortunately insufficient room for us all meant making our way back to the coach and mini buses, in order the children were back to school for their onward transport home.
Believe you me I was shattered that evening as I suspect were both children and helpers alike, but in the knowledge that this opportunity offered and funded by our Rotary Clubs in District 1110 has given many youngsters a day of fun, laughter and the opportunity for many to see a selection of wild animals here on our 'doorstep' in Hampshire.
Come next year, spend a day as a companion to one of ouy choosen schools, go home exhausted but quietly pleased you played a part in Kids Out. (from John Bennett)
16th March 2018
Magna attended the Mock Interviews on March 16th. We had a great response from 2 Vocational Business Partners. Irwin Mitchell sent one interviewer and Goadsby sent two interviewers, who together with four Rotarians were part of a team of twenty six which carried out nearly 300 interviews.
Many thanks to our Vocational Business Partners for their financial and personnel support in our school projects.
7th March 2018
Chris Nixon Magna Youth Chair reports... This year's Technology Tournament jointly run by Romsey Test Rotary Club and Southampton Magna Rotary Club was held at the Crossfield Hall in Romsey on March 7th.
There were entries from 16 teams, with 8 of those teams representing schools sponsored by Southampton Magna. The Foundation Competition to design a space shuttle launcher was won by Romsey School. The Intermediate Competition task to design a space shuttle launcher with parachute was won by the Hamble School, shown here collecting their trophy from the Mayor of Romsey.
The three teams from Hamble School came first, second and third in the Intermediate section, with a team from Sholing Technical College in fourth place. A very big well done to all our school teams and a big thank you to our Vocational Business Partners for their support.
21st February 2018
Chris Nixon Magna's Youth Chair reports... Our Sholing Technical College team were at the next round of Youth Speaks held at the Test Valley School in Stockbridge. Where, in a close fought contest, they were narrowly beaten by a team from Bishop Wordsworth School in Salisbury.
The team consisted of Amelia Barnett, Amelia Veal and William Day and their subject was "80 Beats Around The World" about the universality of music. They were awarded certificates by the President of Andover Rotary.
25th January 2018
Chris Nixon, our Youth Chair, attended the Youth Speaks 2018 round organised by Rotary Club of Romsey Test and held at Romsey Town Hall.
There were teams from The Mountbatten School and The Romsey School entered in the senior team section for 14-17 year olds. The winning team from Mountbatten who spoke on "Stereotypes within Disney" comprised Elise Cambouropoulus, Erika Laee & Katrina Leah.
For the intermediate team section, for 11-13 year olds, there were entries from Mountbatten School, Romsey School and our Sholing Technology College. The winning team from Sholing spoke on the subject of "Around the World in 80 Beats". They consisted of Amelia Barnett, William Day & Amelia Veal.
Sholing team on the left, Mountbatten on the right.
The next round is at Test Valley School, Stockbridge on 21st February.
1st December
Leaflets, Flyers and Entry Forms are now available for the 24th New Forest Charity Car Run on 13th May 2018. We will be supporting The Breast Cancer Haven and the Pancreatic Cancer Research Fund.
More info on our 'Magna Charity Events' page.
9th November
We had Dave Bevis as our Guest Speaker talking about Mission Aviation fellowship (MAF). They operate 130 light aircraft flying into over 1,600 destinations worldwide. On dirt, grass, water or mountain airstrips in some of the most remote and inhospitable places, a MAF aircraft is not a luxury but a lifeline.
24th October
Magna Shoebox elves working hard...
12th October
We had Spencer Bowman from the Mettricks Coffee Shop chain as our Guest Speaker to start our Vocational Business Partners Scheme.
1st October 2017
Our Rotary @ Haskins evening is well underway with tickets at £20 each now available.
Or you can download the flyer Haskins_2017.pdf
31st August
We had a wonderful time on a "Mottisfont Stroll" organised by Jon Brazier and Brian Kingston.
This is the 'fit team', the rest of us met up at the Mill Arms for an exellent meal.
29th July
Our James Lapage met up with Richard and Tami today and gave them a walking tour of Southampton. Tami took some photo's as a momentum.
James with Tami...
and James with Richard, who is quite a tall guy...
27th July 2017
We had some visitors this evening. First up was President Elizabeth Carter and Rosemary Hall from RC Hedge End Breakfast Club. Then we had Richard and Tami Valentine from the RC of Boynton Beach Lantana, which is in Florida, USA. Richard and Tami were staying in the Novotel for a couple of days before joining a cruise ship to visit the Baltic. Richard & Tami are both Past Presidents and a wonderful couple, we all hope they have an excellent but, not to hectic, cruise. Our resident photographer was not at the meeting but Tami took a photo of Richard and myself exchanging Club Banners. Hopefully we might get a copy of the photo. Watch this space.
13th July 2017
We had an excellent speaker this evening. Jason Murphy is the Early Years & Youth Offending Manager at Southampton City Council. He gave us a wealth of information about his work with children & young people in Southampton. This fits in well with our plans to increase the involvment we have with schools and young people. Hopefully we can discuss doing some joint projects with his department in the near future.
We also had the pleasure of David and Mary Shaw from RC Thornton-Cleveleys in District 1190. They were on their way to holiday in the I of Wight, staying overnight at the Novotel. Typical Rotarians, full of life and a wonderful couple.
1st July
Shoebox leaflets are now available for distribution.
29th June 2017
Handover
John Bennett receives the Paul Harris Fellowship Award from President Chris...
Tasha Smith from the Rainbow Trust receives another cheque from President Chris...
Now it's the turn of Shaun Butler to be President of Magna
17th June 2017
Our Family Week Holiday was once again extremely rewarding for both the family, and for us in Magna to see the effect the holiday has on families. This is this years family, with John B the organiser.
Mum Niki said they had never had a day out before so a week was beyond their dreams. She had never heard of Rotary before and was not sure what part we had played in their holiday.
Isn't life rewarding...
7th May 2017
We had our annual New Forest Car Run today in the wonderful sun.
We managed to raise £1500 for The Rainbow Trust.
23rd February 2017
We had the pleasure of Lily Simpson talking about the Rainbow Trust this evening. This is one of those small charities that really needs support, it's amazing what they achieve with so little help.
24th November 2016
We have a new member, goes by the name of Sam Callaway. This is him being inducted by President Chris.
30th June 2016
Once again we change Presidents, this time David is passing on to Chris Lait. This is the second time Chris has been in the hot seat!
30th June 2016
We had great pleasure in handing over £4000 to the Community Playlink.
This is the big cheque..
and this is the 'Chocolate' version... we raised the money from our Easter Egg Raffle, hence the 'chocolate'
12th May 2016
Just to prove we do have fun and we are not all 'fuddy duddy', this is when we caught out our President 100% at the Presidents Evening. Poor David did not know what was happening, but David being David, he caught on fast and really enjoyed himself...
May 2016
While we were all enjoying life James was over in India helping out at the Polio Plus project.
18th November 2015
This is the Gregg School entertaining us at our annual Rotary @ Haskins evening.
We were raising funds for Gift of Sight.
16th September 2015
Shoeboxes collected by the staff at Haskins Garden Centre in West End were very gratefully received by President David. David is flanked by Katheryn and Jess. The boxes were full but we decided they were a bit heavy for the girls.
27th August 2015
We had the privilege of Alison joining us for dinner this evening.
Alison is from the Rotary Club of Plettenberg Bay in South Africa. Here she is with some of our members. Peter, who has a protective arm around her, has worked with Alison over the years as they have similar businesses.
26th August 2015
We have changed our domain name from rotarymagna.co.uk to rotarymagna.uk so please amend any paper work as needed.
Apart from allowing me to type less, this will save our club members a few pounds each year as these costs come out of our pockets. Which leads me into answering a question that is often asked...
In Rotary, every £ we collect goes to charity. You could say, £1 in is £1 out
5th July 2015
Handover at the Braziers.
This is outgoing President James passing the 'mantle' to President David watched in awe by...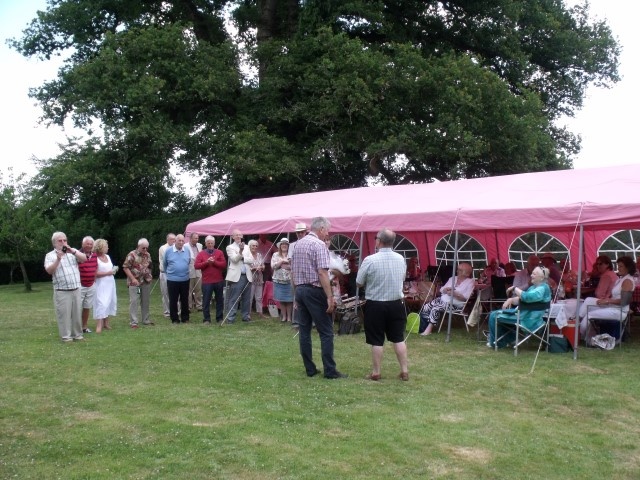 The Magna Press were also in attendance...
It was an excellent day out with plenty of sun, wonderful food and superb hosts. So many thanks to Jon and Lizzie Brazier for letting Magna take over their house and garden for the day.
2nd July 2015
We had the priviledge of two guests from Toronto this evening. Peter and Joy stayed in Southampton a couple of days prior to going on a cruise. It was a real pleasure to meet you both. Hope you have a wonderful cruise.
22nd June 2015
The Magna Hundred and friends Fathers Day Rotary Charity Bike Ride for Prostate Cancer was a huge success.
This is some of them having a well earned refreshment stop at Beaulieu. They all made Hythe safely and then some of them decided to cycle home from there...
As well as the group in the photo, Chris Edmonds, Geraint Davies, David Hobbs and Terry Ozanne had gone ahead as they were a little faster and shorter on time.
So far we have collected £1,180 which is outstanding as our target was £500. If you would like to increase our total you can go to www.justgiving.com/magnahundred.
2nd June 2015
To-day we presented a 'chocolate' cheque for £3367.14 to The Elizabeth Foundation on behalf of all those who supported our Easter Egg Competition and those who just supported us.
10th May 2015
Do you remember these...
Yes, these are the 61 Easter Eggs that we circulated around Southampton to raise money for the Elizabeth Foundation.
Well, we are really pleased to say that we have been able to send a cheque for £3367.14 to the Elizabeth Foundation to help with their work supporting infants and preschool children with hearing loss, and their families.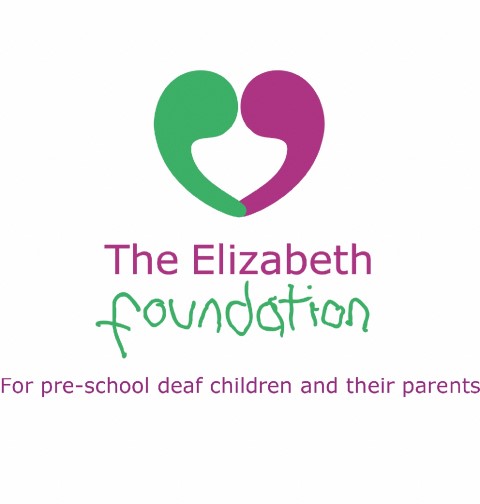 We would like to say a massive thank you to the thousands of people who bought raffle tickets for the Easter Eggs, and those who donated money without the raffle ticket.
For more information on the Elizabeth Foundation click here for their web site.
12th March 2015
Jon, Richard and Chris entered as a Rotary team at this year's Rotary Technology Tournament held at the Crossfield Hall, Romsey. The aim was to get first hand experience of how the competition is run in anticipation of Magna joining with other Southampton Rotary Clubs in the organisation of future competitions involving Southampton Schools.
19th November 2014
A great time was had by all at our annual Rotary @ Haskins event. This year we are supporting Rose Road. More info will be up coming when the total money raised has been clarified.
The Christmas Market was a great success, we may have to enlarge it for next year.
13th November 2014
Today we presented a cheque for £2400 to Honeypot, this was raised at our 2014 Car Run in the New Forest.
The event was sponsored by Turley Associates
20th July 2014
Last Thursday(17th) our new President dragged us to an activity evening at The Countryside Education Treehouse in Beaulie. We had a sumptuous buffet, and a 60's music quiz, hence the crooning in the picture. You can see President James in the background giving his all. It's a hard life in Rotary, but hey, someone's got to do it. We also raised £1000 for Rotary Foundation. Many thanks to James for organising a truly great evening.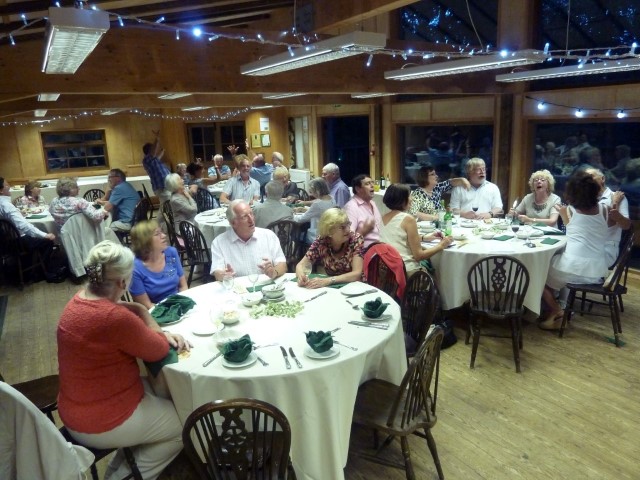 22nd June 2014 - Our new President
James Lapage took over the mantle of presiding over the Rotary Club of Southampton Magna today.
Shown here with the two Davids to assist. I'm not sure whether his outstretched arms are a plea for help, or giving forth his plans for the next 12 months... Nevertheless, we all wish him the very best for his presidents year.
11th June 2014 - Kids Out @ Paulton's Park
Rotary's raison d'etre is to be of service to the community-locally, nationally and internationally. What better way than spending a day with 57 children from two local schools from within the city of Southampton, Forest Park, Totton and Polygon.
Some 6 Rotarians from Magna and two young adults from Irwin Mitchell accompanied the teachers and staff. To support, and accompany some of the youngsters on those exhilarating rides, especially the 'wet ones' all done without a whimper, you understand, so the 'kids' could enjoy this special day out.
Some 1600 'special children' had a great day, thanks to those who meticulously plan and coordinate the whole event. From arranging ticket numbers, lunches, parking facilities for disabled vehicles and the many coaches that come from across Hampshire and Dorset.
It might be a lot of work, but to see those children's faces, their expressions, and their little hands using sign language to us, is what makes those few hours of fun all worthwhile.
The vast range of rides available at Paulton's allows 'kids' of all abilities the opportunity to experience the thrills and maybe spurred on by their classmates to leave their wheelchair in not wanting to miss out on a ride. If they needed a 'buddy' on a ride there was always Rotarian James to go down that water slide again and again.
It's a real leveller of a day, in taking part you only begin to realise the complex magnitude of most of these children's lives, and the day to day issues that their parents deal with. The patience of teachers and classroom assistances, and their understanding of each of those child's needs and the reciprocal affection they have for each other. So our few hours amongst their midst I find is very, very rewarding. A fellow Rotarian was left with a lump in his throat when one lad said to him "it was the best day of my life"
Thank you, Paultons Park. Thank you to those school officials who allow the staff and children this 'time out' and whoever organised this year's lovely weather.
This is a fine example of Rotary in the Community, we all got out more in taking part than we could have ever imagined, we went home exhausted and emotionally drained, but have already pencilled in the date for next year. Hope to see you there. JBee
7th April 2014
Over the past 25 years Magna has been carrying out Mock Interviews for 14 to 16 year olds at Schools in . This year we interviewed over 100 pupils at 3 schools, giving them practical experience of what the job interview would be like and offering advice and encouragement on honing their interview techniques.
Teachers tell us that they see a real difference in pupils self confidence, pupils are a little more outgoing after talking to 'elders', and parents are delighted with the 'life' experience their children receive.
30th January 2014
With New Year comes new resolutions. Throughout 2014, Southampton Hospital Charity has some once in a lifetime running, cycling and one-off challenges, and even a cake sale month for those who wish to take it a bit easier.
Any support is appreciated by spreading the word about our events or by getting involved yourself. Simply contact my office for more information about any of the events
Check out our new website at www.southamptonhospitalcharity.org for more information.
Regards from Donna Parsons, Southampton Hospital Charity
28th January 2014
Syrian Collection
Very many thanks to all your members who volunteered to help with the Group 6 collection at Southampton's West Quay Shopping Centre last weekend to raise money to buy Shelterboxes for the Syrian Refugees. I am delighted to say the we raised a total of £1008.16 which I'm sure you will agree is a good result when seen against the background of the current economic climate and the high number of other charitable collections being carried out at this time.
Once again my sincere thanks. Best Regards, Nick Barrett
9th January 2014
Jude Todd from New Forest Nightstop
Jude gave a very interesting talk to about 30 Rotarians last night. From starting as a volunteer, Jude now runs the New Forest Nightstop. You could feel the emotional enthusiasm she has for an obviously worthwhile career in helping young homeless teenagers in the New Forest area. If you would like to find out more for yourself go to the New Forest Nightstop web site.
2nd January 2014
Philippines - update on the good work our contribution to The Philippines Relief with the Water Survival Boxes is achieving...
The first 600 Water-Survival Boxes sent to Roxas City (one of two Government Forward Command Posts) have been distributed by the Canadian Humanity First team acting for our Rotary charity - Worldwaterworks Ltd. Following confirmation that access to clean water remains a major unmet need for many of the families displaced or affected by the typhoon a second consignment of 200 WSB's left on a flight to Manila on 18th December and reached Roxas City on Boxing Day. A further 240 boxes packed before the Christmas holidays have been provisionally held for the Philippines pending an update from Dr Daud who heads the HF team there.
A selection of photographs - courtesy of Humanity First - can be seen on the website www.worldwaterworks.org. As well as distributing our boxes the HF team has been involved in a range of other disaster response activities including weather-proofing of schools, provision of medical aid, installation of water treatment units in the larger villages. We are greatly indebted to them for their work on our behalf.
17th December 2013
Screenwash - Pics to follow
We all had a great but wet and cold session of screen washing at Sainsbury's Hedge End. Some familiar faces, some people putting notes into the bucket and some paying us not to wash their car windscreens... In the end we raised £794 of which £500 went to the voluntary services who will buy food parcels for needy families in the New Year through the Food Barn in Millbrook managed by Ian Smith. Well done to all who suffered and especially to John B who organised so well.
12th December 2013
Our Christmas Party at the Novotel Hotel had a surprise guest this year, we had Polio Bear visiting to get his passport stamped. President Keith was only too pleased to help, at the bar.
21st November 2013
Haskins Garden Centre in West End, Southampton, was another great event where we raised £890 for Southampton Young Carers and The Myositis Support Group.
We also officially handed over the Rotary Wheelchair to Haskins on behalf of District 1110 Group 6. The money for the Rotary Wheelchair was raised at last years Haskins evening.
We have already booked Haskins West End for 19th November 2014. If you would like to join Rotary and Friend at Haskins, more information will be on the web soon...