Charity Swimathon 2015
Sun 20th September 2015 at 9.00 am -
'A successful Sunday Swimathon'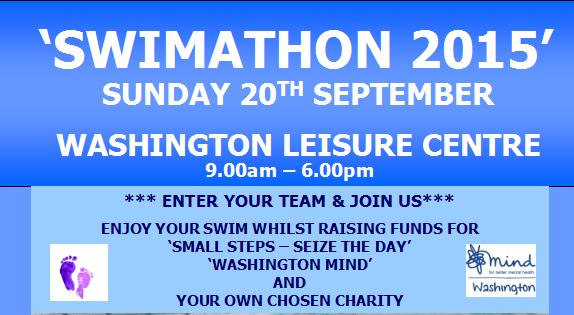 ****************************************************************
The Rotary Club of Washington Forge held it's inaugural Charity Swimathon on Sunday 20th September 2015 at the new Washington Leisure Centre.
Many thanks to all who took part and congratulations to everyone for your wonderful efforts. The Club and team members appreciate those who sponsored our swimmers and we are grateful to all those members of the public who generously made donations at the Leisure Centre on the day. Whilst we await the sponsor money to come in, all monies received will be shared amongst the following charities:
-'Small Steps – Seize the Day'(www.seizetheday-smallsteps.webs.com) – raising awareness of epilepsy & supporting families who have babies and toddlers with this condition in the North East;
· Washington MIND (www.washingtonmind.org.uk) – working in partnership with our community to promote recovery and improve mental health and wellbeing.
· Charities chosen by the participating teams (some teams have actually chosen the above charities)
Swimming teams represented the Washington Community and included:-
The Biddick Academy
Fatfield Musical Stage Society
D & P Trophies
The 'BUL' Group
'Family Matters'
Small Steps - Seize the Day
Ron & The Ronettes
We very much appreciate the co-operation and support from staff and management at the Everyone Active - Washington Leisure centre, and look forward to working with them again in the future.
So.... time to dust off your swimming costumes in readiness for 'Swimathon 2016' !!!