"‹Foulness Island Bike Ride
Sun 30th August 2015 at 08.00 - 17.00
We are delighted that once again we are able to offer the opportunity to cycle on this lovely local island that cannot normally be entered without a special pass. Raising funds for Southend Hospital"™s Keyhole Cancer Appeal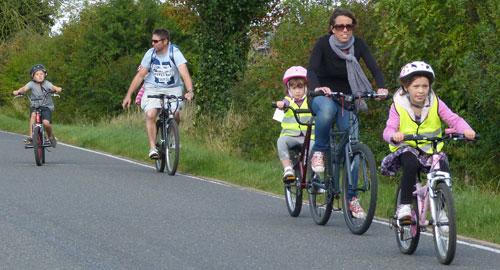 Foulness Island Bike Ride
More information is available by clicking here or by contacting . Marshalls are also needed.
This year the ride will raise money for two deserving causes. Although it was the charity for the 2014 Foulness Bike Ride, we shall once again be supporting the Keyhole Cancer Appeal with the sponsorship raised by the event. The Appeal aims to raise £600,000 for the provision of a new state-of-the-art laparoscopic (keyhole surgery) theatre suite at Southend University Hospital. Upon completion surgeons will be able to perform the latest and most complex keyhole procedures for patients undergoing cancer and general surgery. Hundreds of Southend patients are likely to benefit each year; these include people suffering with bowel and prostate cancer or gynaecological conditions. Many of these patients would have previously had to have 'open' surgery' which would have meant longer hospital stays and recovery times and greater post-operative pain and scarring.
Another beneficiary of this year's Foulness Bike Ride will be Riding for the Disabled (RDA) with the local Group based at the Rawreth Equestrian Centre and which will receive a donation from the entry fees and Rotary funds. RDA is proud to have been delivering opportunities for therapy, achievement and enjoyment to people with disabilities for more than 45 years. Groups work across the spectrum of disabilities, age range, social status and urban and rural environments. The focus of their work is to ensure that each individual has the chance to derive a direct therapeutic benefit and the opportunity to achieve their personal goal (whether that be learning a very simple skill or winning a major competition).
Enjoy refreshments at Great Wakering Primary School where the ride starts and we hope that you will visit the Heritage Centre in the former Foulness Church of England Primary School built in 1846. Developed by the local residents it contains many fascinating exhibits showing the history of life in this timeless corner of Essex. Refreshments will also be available at the Heritage Centre and Churchend Post Office Store.
The flat terrain and quiet roads make the island a perfect place for cycling. Riders of all ages and abilities can reach Churchend, the island's quiet old main village. The four mile circuit beyond the village includes a short stretch of gravelled road suitable only for touring cycles or mountain bikes with stout tyres. Three circuits round this will complete your 23 mile trip and allow you to reach the most isolated part of the island.
The area is rich in wildlife and a haven for birds. You stand a good chance of seeing avocet, geese, herons, kestrels, merlins and many other birds.
Why not get a group of your family and friends together and have a really enjoyable day out whilst giving a boost to deserving local charities.

Sponsorship
This is the most important source of money for our chosen charity. Please try and get as much support for your ride as you can. This year we invite you to submit your sponsorship online through Just Giving at no cost to you. Go to www.justgiving.com/rc-tb/ or text TBAY01 £10 to 70070.
Awards
All entrants will receive a commemorative medal on completion of the ride to recognise their achievement. The individual raising the greatest amount of sponsorship money will receive a prize in the form of vouchers for an adventure day. The presentation will be made later in the year and the winner will be publicised in the local press.

Thanks
Our warmest thanks go to the MoD, QinetiQ and to the Parish Council of Foulness for their assistance, and to the Residents of Foulness Island and Great Wakering for their co-operation and forbearance. Without them this event could not be held.