Charity Dinner - An Evening with Gary Richardson
Sat 20th February 2016 at 19.00 - 23.00
To be held at the Georgian Hotel Haslemere
An evening with Garry Richardson of the BBC
Scroll down for all details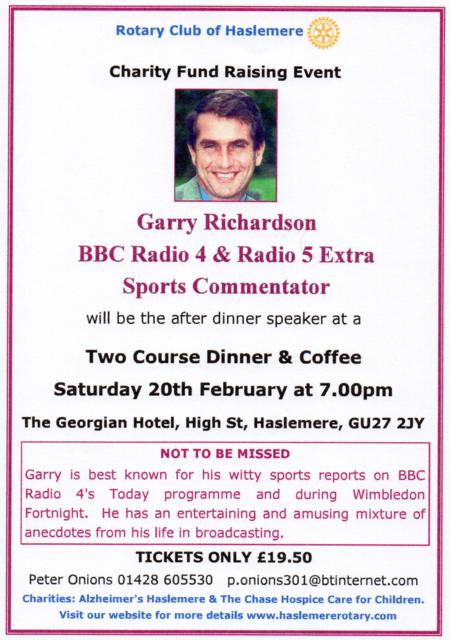 The evening will be at the Georgian Hotel Haslemere. The evening will include a 2 course Dinner and Coffee. Cost £19.50pp.
Garry Richardson is a distinguished after Dinner Speaker of long standing who will be donating his time in support of this year's supported Charities. Garry has been a mainstay at the BBC for over 40 years.
He is best known for his witty sports reports and interviews on Radio 4's prestigious 'Today' programme, and also presents 'Sportsweek' on Radio 5 Live every Sunday morning and has also presented his own comedy show - 'Look Away Now'. He is a regular contributor on BBC Television and has reported on 7 Olympics for the BBC.
In 2007, Garry was awarded radio's equivalent of an Oscar - a Sony Gold Award for his 'Sportsweek' programme.
He has also won 'Best Sports Magazine Programme' from the National Union of Journalists.
Garry's speech is an entertaining mixture of stories and anecdotes from his life in broadcasting, including a selection of his most notable interviews such as the time he interviewed President Bill Clinton in Wimbledon's royal box, in front of 18,000 tennis fans sitting under umbrellas and 10 million viewers on BBC 1.
Garry has interviewed the 'Who's Who' of sport and show business including Muhammad Ali, Sir Stanley Matthews, Tiger Woods, Ben Stiller, Ronnie Barker, David Beckham, Arnold Schwarzenegger, John McEnroe, plus many many more...
Over the past 29 years, Garry Richardson has performed to an extensive mixture of clients on the after dinner circuit. He believes that his popularity as a speaker is down to his material. As he says "All audiences will contain sports fans and even if you are not a sports fan, my stories are so general it doesn't matter"
Garry is in great demand as an after-dinner speaker at corporate dinners up and down the U.K. He has been booked over 9 times by the Institute of Directors. He also works regularly for Coutts Bank entertaining prospective new Clients in the Directors dining room.
He will speak sometimes to just a handful of guests while on other occasions audiences are much larger. For example he appeared on consecutive nights at the Grosvenor House Great Room entertaining 1200 guests at each dinner. At the Chemical Industries Dinner he received a standing ovation. Chief Executive Steve Elliott commented. "I have had many favorable comments with a Tory Front Bencher saying it was the most original and entertaining speech he had ever heard."
The following night at the Grosvenor, Garry addressed the Oil Industries Club. The Secretary of the club wrote afterwards to say "One of the best and funniest speakers we have ever had. The applause at the end showed the appreciation. I hope you leave a few spaces in your diary for a return visit" .
2015 will mark Garry Richardson's 29th year as one of the country's funniest after dinner speakers.