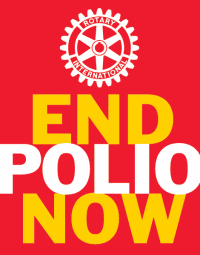 Ever since a successful pilot programme in the Philippines proved that it was possible, Rotarians world-wide have worked tirelessly towards the day when polio will no longer be an endemic disease anywhere in the world.
In 1988 there were 125 Polio-endemic countries in the world, today there are only 2. During the course of the Rotary's work the number of new cases reported has fallen from over 350,000 each year to 37 in 2016.
Worldwide, Rotarians have contributed more than US$ 1.7 billion towards this realising this dream and along the way have been helped with donations from numerous governments (including the UK), and the Bill and Melinda Gates Foundation. Partnerships with the World Health Organisation, UNICEF, and the US Centres for Disease Control and Prevention have also helped bring a focus to the work of eradicating polio.
It was once said that, "Polio is just a plane ride away." Although that remains true today, the risks of catching the disease are now greatly reduced but still remain real, and until the disease if fully eradicated will remain so.
Along with other Rotary clubs around the world our club is active in promoting awareness of the disease and continues to work to eradicate it.
(211202)