DISTRICT 1200 YOUNG MUSICIANS
Young musicians, each of them winners of competitions organised by Rotary Clubs across the District, gathered at Kings of Wessex Academy for the District final.
There were two entry classifications: vocal and instrumental. Winners and runner-up in each category were invited to go forward to the regional competition, representing Rotary across the south and south-west of England, held in Ottery St Mary.
The District competition was judged by three professional musicians: singer Linda Marshall Cole, violinist David Hedges, and singer and conductor Edward Goater.
In the vocal section, first prize went to Madeleine Perring (sponsored by the Rotary Club of Taunton), who performed songs by G F Handel and Henri Duparc. The vocalist runner-up was Lucy Buncombe (sponsored by the Rotary Club of Wrington Vale), who performed songs by Jason Robert Browning, and Harold Arlen with Johnny Mercer.
Instrumentalist winner was twelve year-old violinist Poppy McGhee (sponsored by the Rotary Club of Mendip), who performed pieces by Khachaturian and Paul Nero. The runner-up in this section was clarinetist Daisy Hickson (sponsored by the Rotary club of Minehead and the Quantocks), who payed pieces by W A Mozart and F Poulenc.
Highly commended for her vocal performance of works by G F Handel and Michael Head was Ella Corlett (sponsored by the Rotary Club of Frome).
Competition organiser Alan Reeve said, "We are all amazed and proud of the wealth of young musical talent in our Rotary district, and congratulate all the performers."
Poppy McGhee went on to win the regional final in Ottery St Mary, and will represent the region at the national finals to be held at Heriot-Watt University in Edinburgh in May 2018. Maddie Perring and Daisy Hickson were both runners up in their categories.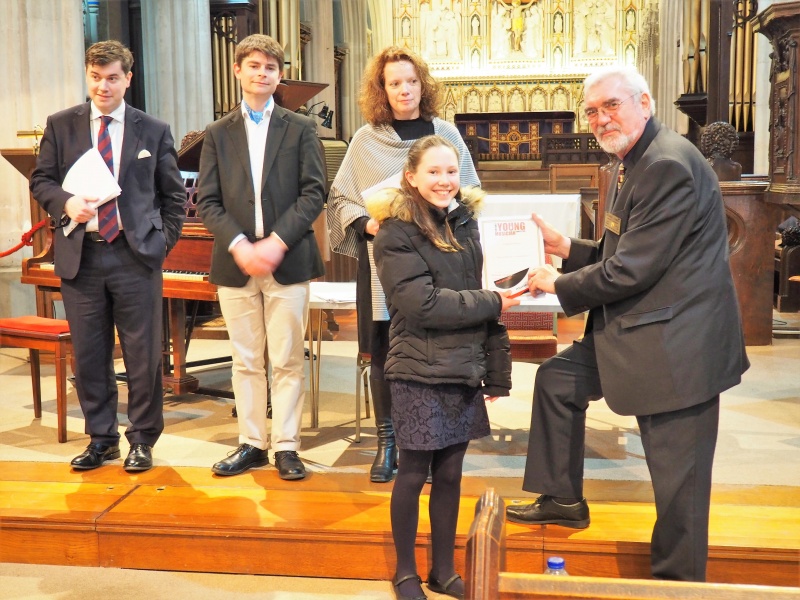 Public tribute was paid to the late District Governor Elect Roger Andrews at the outset of the regional competition.