Handover June 26th 2019
Mon 1st July 2019 at 9.16 am - 10.16 am
President Suzanne Taylor-Warren hands over to Incoming President Janet Dagys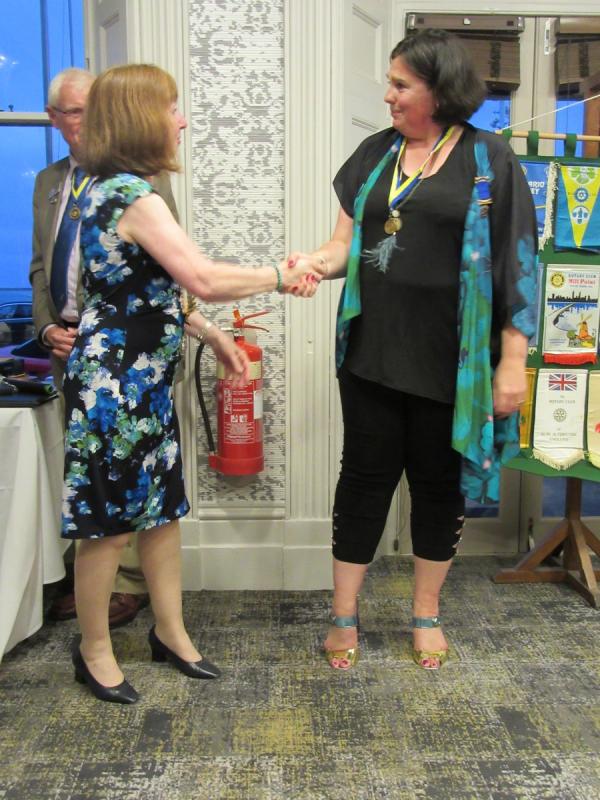 Rotary Club of South Foreland: Celebrating Success
The 'handover' from 2018/19 President Suzanne Taylor-Warren to 2019/20 President Janet Dagys took place at the Marina Hotel on Wednesday 26th June. After a warm welcome by President Elect John Glass, members, friends and guests enjoyed an excellent meal before hearing President Suzanne's thoughts on leaving office.
Suzanne thanked club members and their families for their support over the year; much has been achieved by working together. Fundraising, community events, interesting talks and visits, and a weekend away all contributed to an exciting, successful and enjoyable year. It was also a year in which club administration had been streamlined, with a smaller Club Council, project based teams instead of committees and decisions being made by members at the monthly business meetings. Suzanne thanked Council members for their hard work and guidance, and her husband Will for his loyal support. She was presented with a framed photographic memento of her year by Past President David Gilchrist.
There followed the presentation of Paul Harris Fellowship Awards to Alastair Lyon and outgoing President Suzanne in recognition of their services to the club. Alastair is a Past President and has been Treasurer for a number of years, often stepping in to fill this position when the need has arisen, as well as being involved in many club activities. His leadership and administrative skills have been an asset to the club and the way in which he has carried out his role with patience and good humour despite health problems, has endeared him to us all.
Suzanne has made a remarkable contribution to the club in a short time. With her enthusiasm and drive she has effected changes to club administration with tact, charm and humour. On top of this she has gone the extra mile for the club in her presidential year, for as a global businesswoman she has had to fit Rotary into her busy schedule, such as dropping in to run a meeting in Dover after journeying from Singapore, then on to Toronto. The use of her outstanding leadership, organisational and communication skills are recognised by her award.
After thanking Suzanne for her year, incoming President Janet Dagys said that she was proud to be taking over leadership of the club and is looking forward to a year of service, fundraising, fellowship and fun. Originally from Dover, Janet first joined Rotary in North Carolina, USA before coming back to the UK. Her chosen charity is Dover Foodbank: collecting food items each month and fundraising will be an important part of our programme in the coming year.