Official visit of DG Jimmy Johnston MBE - Visitors especially welcome
Tue 19th November 2019 at 20.00 - 21.00
Jimmy has kindly agreed to speak to us on Tuesday 19th November at 8pm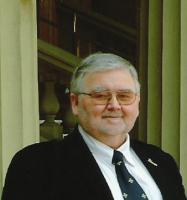 This is the postponed visit of 4th August.
Jimmy was born in Kirkconnel in 1950. The family (Mum, Dad and older sister) moved back to Glasgow in 1953 where Jimmy has remained. He is a member of Glasgow North & Bishopbriggs Rotary.
Jimmy considers himself a 'creative' and his interest is 'smart materials' – he has worked in Engineering since 1966, where most of his work was in research, modification of prototypes and design and build of test equipment, for the research and development process. He is a member of the IED (Institution of Engineering Designers
He got involved in education 1977 – 2008; where he kept a strong link to his Engineering roots, by founding and running one of the top 'young engineers' groups in the UK. Jimmy still likes doing his engineering & product research and development – he has his own registered company 'AARANDEE Ltd' and claims that nobody
can afford to pay him. Jimmy also considers himself an entrepreneur, investing in several start-up businesses with younger colleagues; some of these investments are in various stages of development & may show some ROI in the near future, while the others (well, let's just say – were an investment in R&D)…
- Club Treasurer – 10/13; 18/….
- District A.G.- 12/15..
- District Training – 12/15..
- DRFC – 15/17…
- DGN – 17/18..
- DGE – 18/19..
Jimmy joined Rotary in February 2005, shortly after his 2004 New Year Honours listing, when he was awarded an MBE for services to education & young engineers. He commented at the time of joining, that he just realised that he had been a Rotarian his whole adult life, without realising it.
He has been fully involved in volunteering since 1968, therefore can record over 50 years of continuous voluntary service.
His Rotary service since joining, serves to support his desire to continue to 'Pay it Forward'…
- Club Secretary – 08/10; 13/17; 19/….
- GSE Team Leader – 09..
- GSE District Chair – 10/13..
We very much look forward to welcoming Jimmy and hearing what he has to say.