Evening meeting: Speaker Kate Woolveridge
Wed 30th October 2019 at 6.00 pm - 9.00 pm
Evening meeting: Speaker Kate Woolveridge - "Forget-me- not Choirs". 6 for 6.30 pm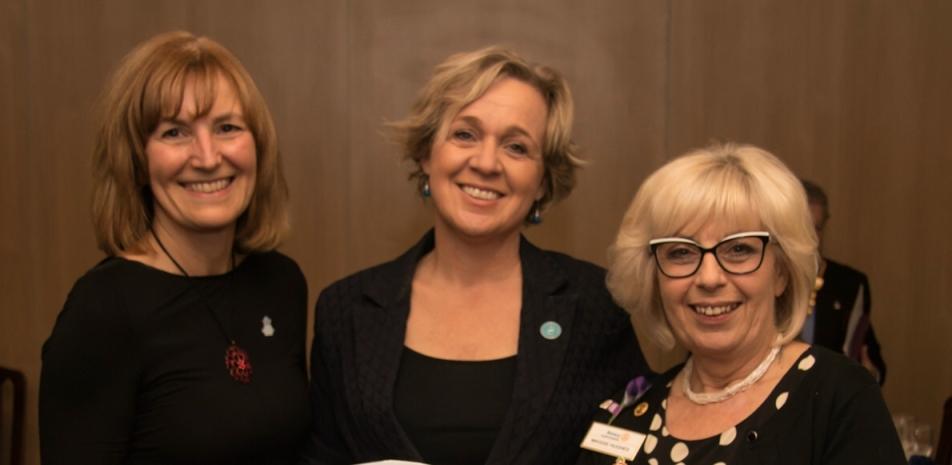 50 years a Rotarian—We celebrate with David Williams
At our evening meeting on Wednesday 30 October, we celebrated 50 years of
membership and service to Rotary of David, together with his Inner Wheel wife Sylvia. David was a very active member of the Pontypridd club. When that club closed in 2010 he decided to throw in his lot with us and has been a stalwart member ever since, particularly his years as club secretary. When he came from Pontypridd he brought with him their connections with the charity PONT, and that enabled us to carry on the partnership with the Mbale club in Uganda, which has ensured that 11,000 homes now have a supply of clean water.
As well as his club roles, David has held several District positions, including that of Extension Officer when he was instrumental in setting up the Aberaeron a'r Cylch club in 2003, the next club in South Wales after us (when he must have travelled many miles in the process).
President Maggie presented David with a long-service certificate signed by Rotary International President Mark Maloney, and he and Sylvia then cut a celebration cake which we all shared.
Forget-Me-Not Choirs
The same evening, we welcomed the singer Kate Woolveridge, who spoke to us and our guests about the work of Forget-Me-Not Chorus, working with people suffering with dementia and their families, harnessing the inspirational power of music to make a difference to their lives. We were glad to be able to hand over a donation to help them continue their good work. The picture shows left to right: Sue Phelps, Director, Alzheimer's Society Cymru, Kate Wolveridge and President Maggie
New President
The evening ended with Maggie handing over the Presidential badge to Richard Cunningham, who will be our second President of the year, until the end of February.