9th September 2021

Our first face to face meeting in 18 months!I unfortunately was unable to attend in person and it never occurred to me to join by Zoom but President Narek has this to say: -

The meeting went well. We will need to tune the use of technology so the sound of the speaker or participants via zoom is better heard.

As for the business part, the participants unanimously agreed that going forward we will: -

Have one face-to-face meeting once a month. These face-to-face meetings will continue to operate on a hybrid model to allow other Rotarians and speakers to join in. During every face-to-face meeting we will review the situation with the Covid cases, booster jabs, level of infections etc, and agree whether to retain, reduce or increase the number of face-to-face meetings per month.
We will continue with the weekly zoom meetings when we are not meeting face-to-face
We will continue with the practice of inviting speakers twice a month to attend our Zoom and/or Face-to-face meetings (in person or via zoom)
George will circulate the End Polio Now Christmas Card request form and collect orders from club members on 23 Sep.
===========================================================
2nd September 2021

There were 14 members present today.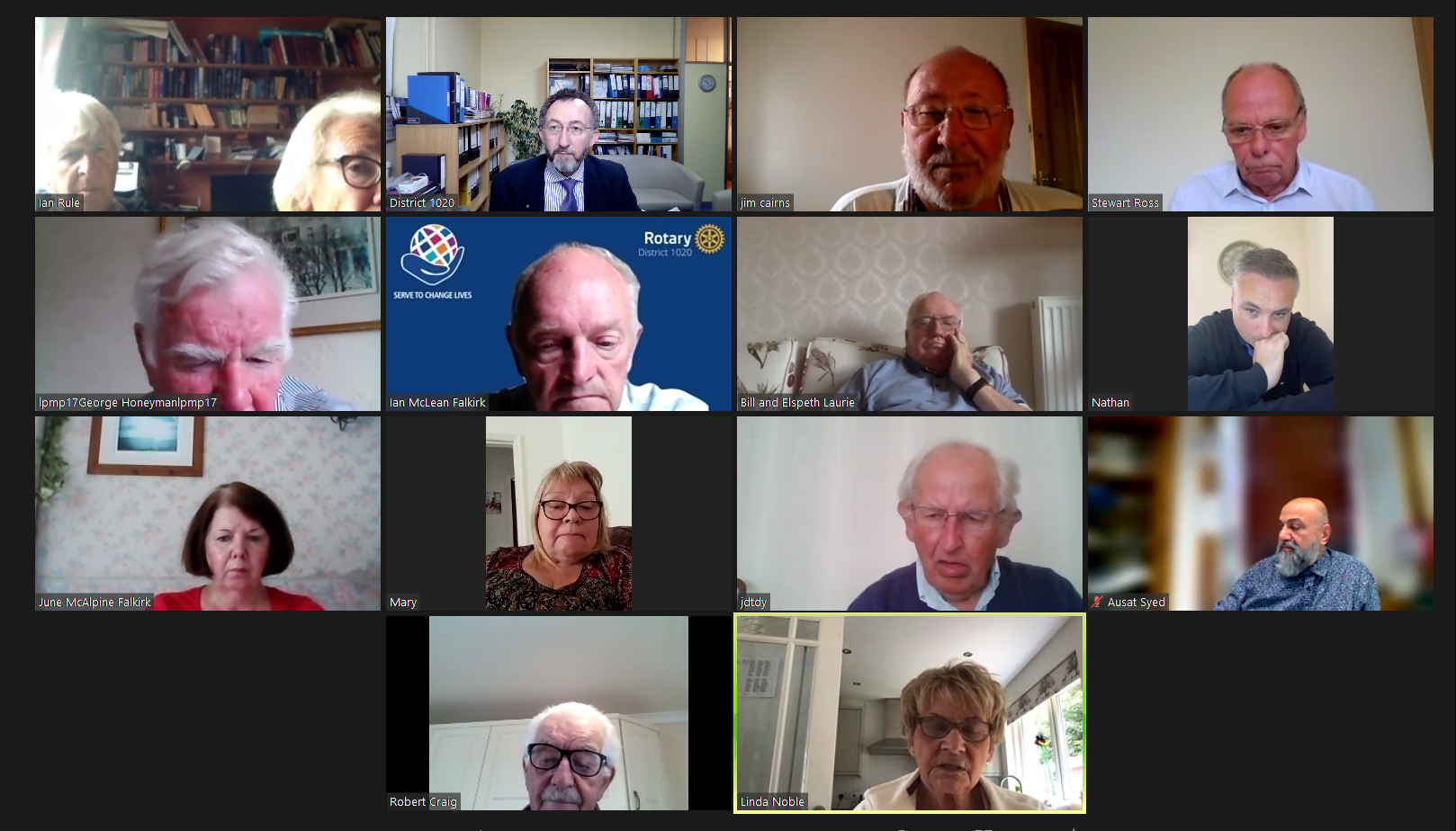 Nathan our prospective member joined us. Narek explained the meeting format pre COVID and that the face to face meetings will be similar.
President Narek asked all present to consider how our meetings, moving forward, would be conducted given the current increase in cases. Should they be weekly, fortnightly, or monthly. Should they be a hybrid type meeting or only via zoom. He asked us to think with our heads and not hearts.

Ian McLean outlined what other clubs in the area are doing and no clubs are meeting weekly. Narek is going to bring a contactless thermometer to the meeting to check the members temperature prior to joining the meeting.
Linda raised the point about still making a donation to the childrens Xmas party that the golf club runs for the disadvantaged children in the Camelon area. The Carmuirs golf club was one of the two choices for us resuming our face to face meetings. As the club had been more than helpful Linda felt that it would be a nice gesture to make a donation. This is to be put to the club next week.
Satellite club in the Braes area: - this was something that Ian was keen to pursue. Ian is to send President Narek details to allow an application for funding to be made to District.
An additional two tablets were donated to Town Break to help people with Dementia. President Narek received an email thanking the club for their donation
Recovery community: - President Narek updated the members on a recent walk which took place to remember people who have lost loved ones due to addiction..
He then updated the club about the District Council meeting. This was a hybrid meeting which took place at Peebles. The proposed merger between 1020 and 1230 district will not go ahead.
Ausat is doing a kilt walk in aid of charity.
George raised the issue of Xmas cards. Narek to check at District level.
Meeting closed at 2pm
==============================================================
26th August 2021
There were 14 of us present at the meeting although Sandy Murrison had to leave. He did however stay long enough to register his vote for the poll.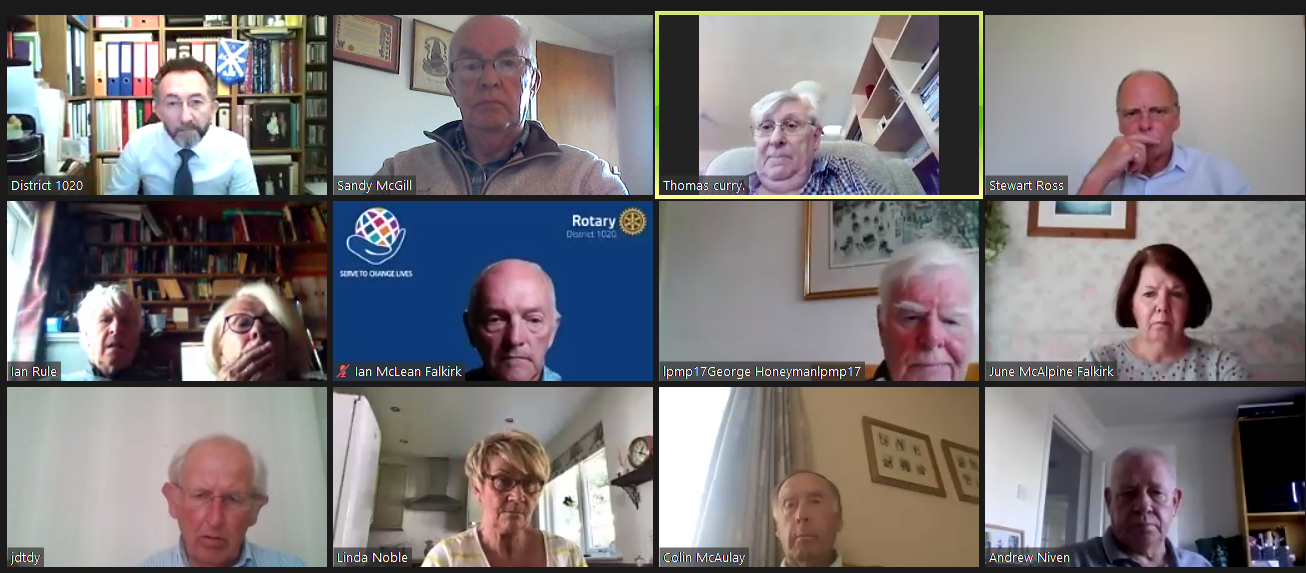 The meeting today marked a milestone insofar as we had a vote on whether or not we would return to the Park Hotel for our regular meeting. There was a unanimous vote in favour of doing so.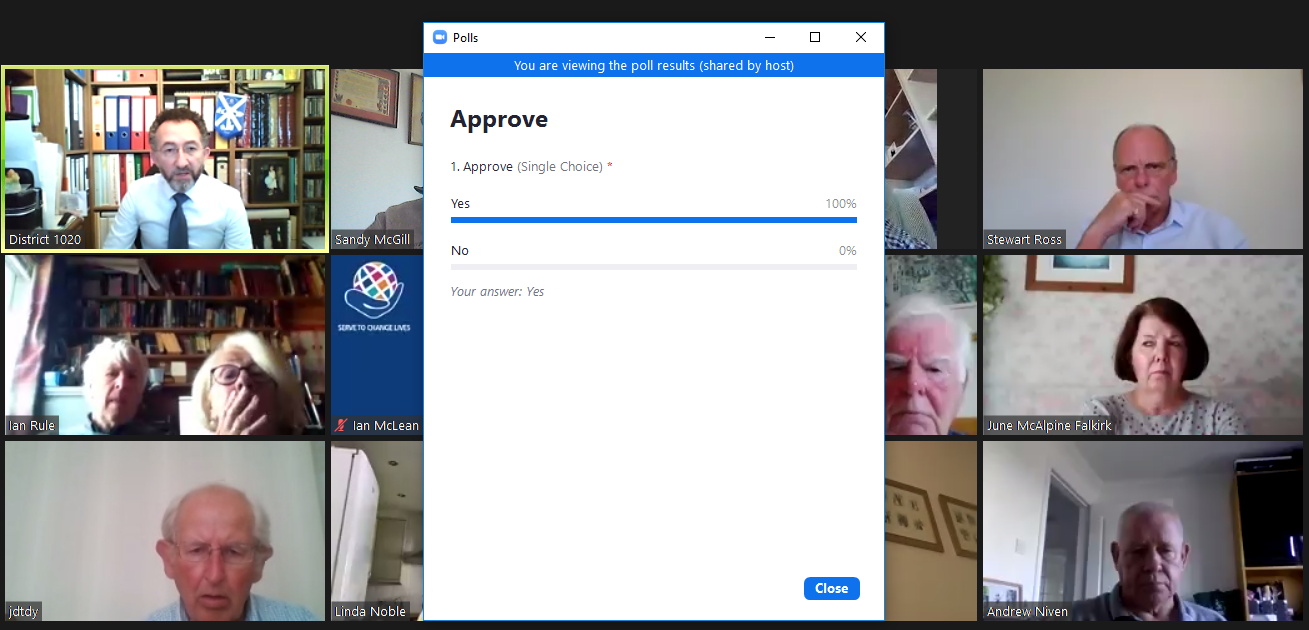 Additionally it was decided that we would return to face to face meetings on Thursday 9th September.
We also had a long chat about Saturday's Charities' Day, about the High Street Planters and the Station tubs.
Sandy McGill had got a quotation from the Falkirk Herald for placing an Advertisement. £360 would see us with a month long on-line article (We would have the services of a FH journalist to prepare the article) and we would be able to broadcast a link to that on Facebook. Then £350 would see that same article published half page in one edition of the paper. An application is currently being made to District for a Grant towards ther cost of this and other items such as establishing a Satelite Club, a Rotaract Club at the College and taking on possibly three Corporate members. President Elect Linda was confident that Nathan who visited us recently was going to join us and has other new member possibilities in the pipeline.

There were other things too but I am afraid that I have left it too long to do this and I can't remember what they were. Sorry.
=================================================================
19th August 2021
Our Club meeting today was fairly well attended considering the time of year, what with holidays and all!
President Narek opened the meeting and welcomed everyone including Nathan McDonald who joined us for the second time. President elect Linda went on to introduce Nathan properly to the members. Nathan is a Consultant Chartered Accountant. He has two teenage Children and while he stays In Falkirk still attends the Church of his choice in Cumbernauld. Rotary's work with the Community and internationally was what attracted him to us.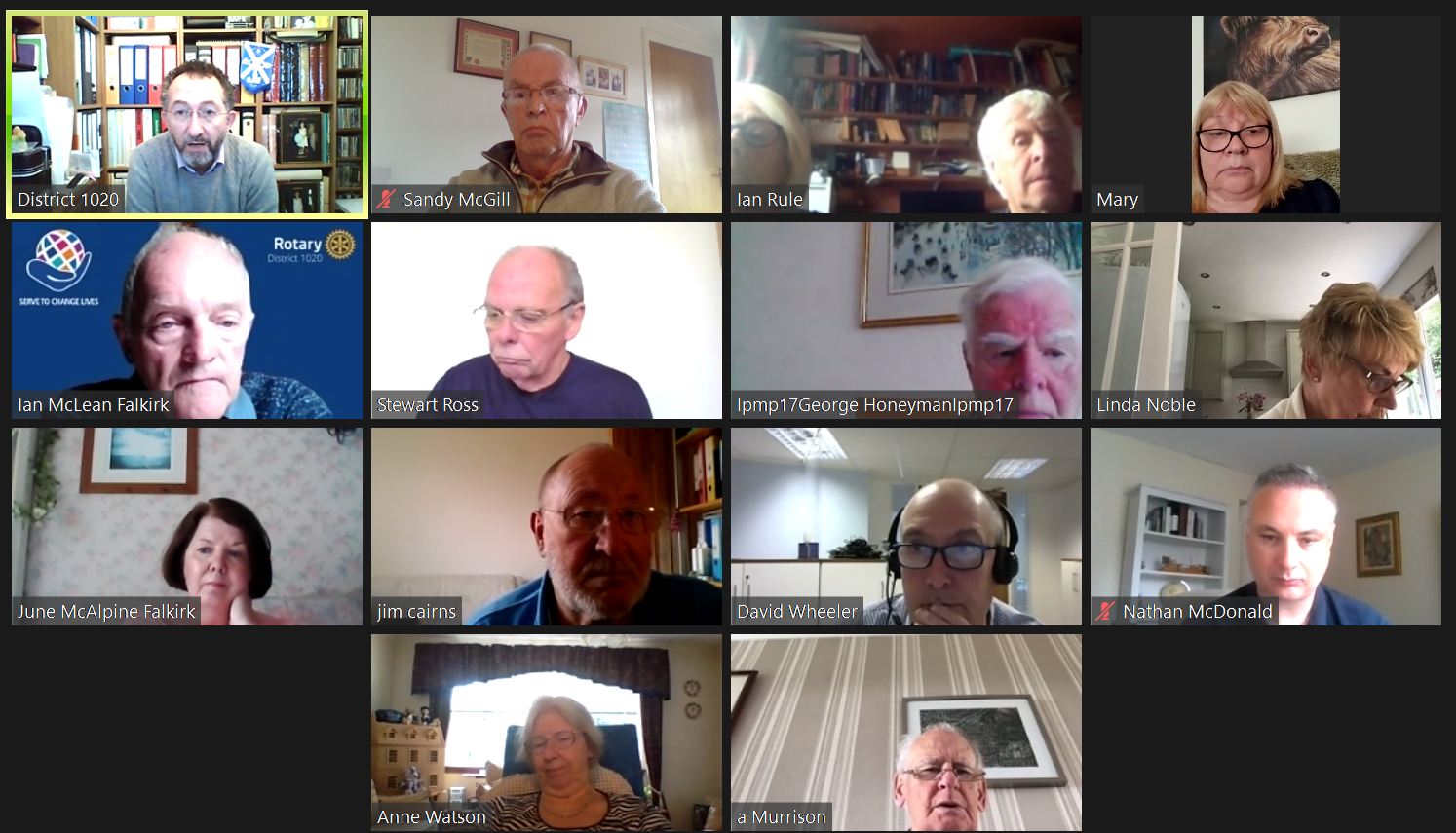 The forthcoming Charities' Day, on Saturday, was discussed at length including Rotas, Provision of coffees courtesy of George Honeyman from TUI, and H&S precautions as outlined by Secretary June.
The attendees then went on to discuss the issues entailed in returning to "face to face" meetings. President Narek indicated that he would produce a discussion document which would highlight the pros and cons of the two remining options 1) staying at the Park Hotel and 2) moving to Carmuirs Golf Club. President Narek will present the case for discussion to Council on Wednesday where it will be debated and Council's recommendation will be put to a Zoom meeting of the Club next Thursday 26th August. It is therefore imperative that as many members as possible are present next week if this monumental decision is to be debated and the decision be representative of the view of the majority of members.
Jim Cairns asked who would be attending the District Conference at Cumbernauld. President Narek, Jim, and Linda Noble were the only three he knew about. Nancy and Ian indicated that they hoped to be there. Get in touch with Jim if you feel you want to go.
The Recovery Team have now removed all of the "Tools for self-reliance" from the previous storage area. Sandy McGill asked if some photographic record could be obtained along with a transcript of how the tools are to be utilised.
Next Month is "Recovery Month" If you wish to be involved in any of the activities that ASC are organising please contact Narek.
====================================================================
14th August

I wasn't present at Thursday's meeting but Ian McLean has kindly let me have this: -
PE Linda opened meeting with a warm welcome to all 14 Rotarians.
Linda updated members on our Council's progress, re- returning to face-to-face meetings at either the Park Hotel or Falkirk Carmuirs GC. No decision has been made, but it is planned that we should attempt to consider a date in early Sept. Linda emphasized that we must be compliant as reported by RGB&I, ie Zoom arrangements to be put in place for those who are, at present, not convinced about face-to-face meetings.
Linda is in the process of meeting with a potential Rotarian who has joined us in previous Zoom meetings.
Philip Hacking's presentation :
Philip introduced his presentation by summarizing his working life to date. He qualified as a Social Worker through his studies at Moray House College of Education after which he worked for 28 years in the Borders, West Lothian, Fife and Edinburgh. Latterly, he felt that he needed a change in work and applied for a position at St Columbus Hospice, Edinburgh where he eventually became attracted to Chaplaincy. He has worked with NHS Forth Valley for over 20 years in Chaplaincy and he emphasizes that he is still learning.

He ended his talk with the line: -
"The most powerful way to connect with someone in need of help and support is to just listen!"
The complete transcript of Philip's address is available here.
==========================================================================
6th August: -
Our meeting yesterday was sparsely attended as is normal for this time of year.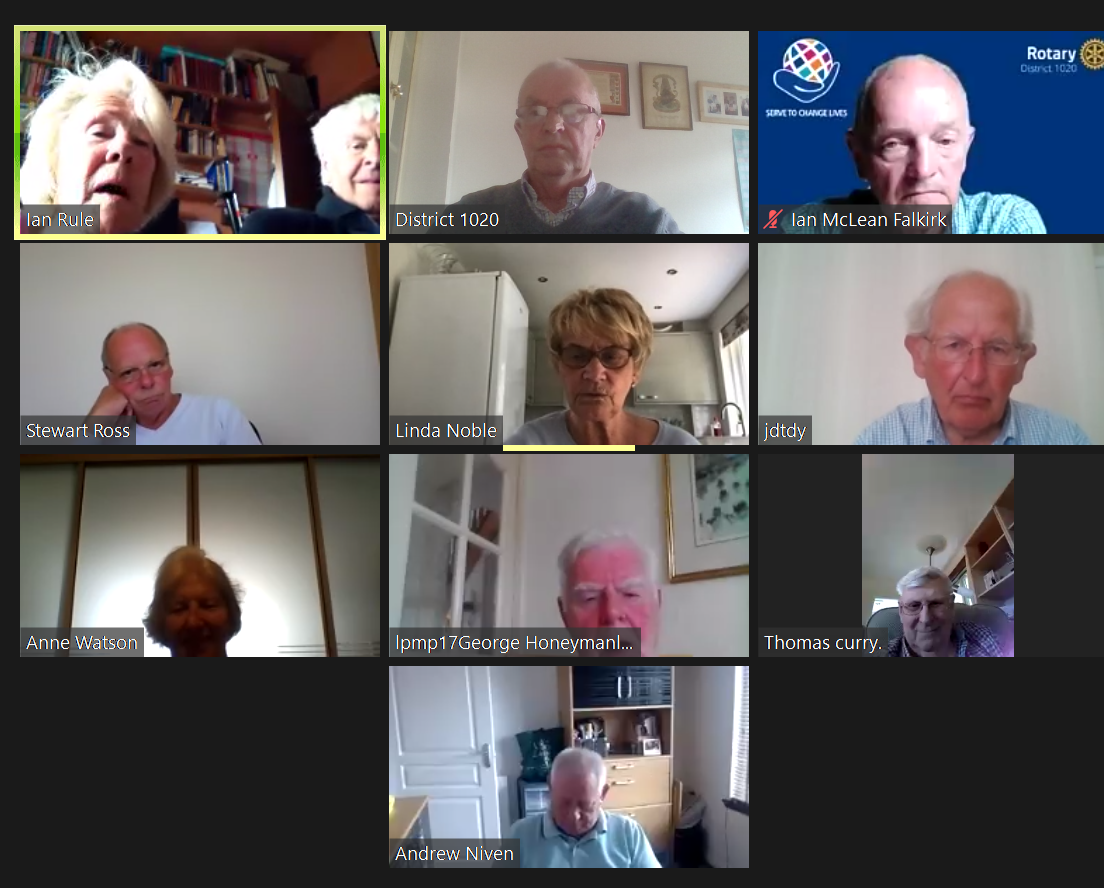 With President Narek being on holiday President Elect Linda was in the chair. She began by lamenting the passing of Robin Johnston. She asked Sandy McGill to say a few words. Sandy had followed Robin as President in 1998 and he and Diane had become firm friends with Robin and Judy. What follows is a synopsis of what Sandy had to say: -

It was with great sadness that I learned today of the death of Robin Johnston. Judy phoned about 10.00 o'clock to let me know and asked if I would in turn let you all know. Robin had been fighting a rare blood disease valiantly for the best part of 4 or 5 years and succumbed eventually this morning at 06.00.
When he first told me about his predicament he said that he had been given 2 years. He managed to double that at least. When President Narek and I visited to invest him as an honorary member he was not the strapping man that he had been. Both he and Judy joked that he was like the child in the folk song Ali Bali Bee "a pickle o' banes covered ower wi' skin.". That's the way that they dealt with this. Always totally pragmatic.
Robin joined the Rotary Club of Falkirk in 1988 having been a stalwart member of Round Table before that. Until he fell ill Robin was also a well respected Skipper with The Seagull Trust at Falkirk having introduced both Andrew and myself to the Charity.
During his 33 years in the Club Robin was always present and had served in all three of the executive capacities of President, Secretary and Treasurer. The first Rotarian in the Club's 95 year history to have done so.
He will be sadly missed not only as a good friend but also as a sage advisor on anything to do with Rotary.
Sandy then went on to ask that everyone observe a few moments silence to reflect upon and remember the Robin that each knew.
Stewart, when asked by Linda, then spoke about the Station tubs and High Street Planters. He felt that considering the time of year it would be better to wait and prepare them for winter. He was still in the admin process along with President Narek and Scotrail.

Stewart also pressed home the need for more bottles for the Charities Day Bottle Stall. He had been steadily collecting quality produce but would still like to collect about another 50 or 60 bottles. Those present acknowledged this. Those of you who were not present but are reading this are entreated to do what you can to help Stewart.

Linda expressed her exasperation at communications with the Park Hotel in relation to when we might be able to return. Investigation of an alternative venue at Carmuirs Golf Club was now complete. It was likely that this would be confirmed to the next Council meeting and after discussion with the Park Hotel the matter will be put before the Club.
Sandy had noticed a "Wishing Well" placed at Caulders' Garden Centre in Cumbernauld by Cumbernauld Rotary Club. He thought that we could do something similar. Robert Craig had suggested The Wheel as a location. George Honeyman noted that there was no facility for less ambulant people in the way of wheelchairs at The Wheel. (The comic side of that had eluded me until now!) It was decided to discuss the possibilities at the next Council Meeting.

After some amusing exchanges among the members present (Featuring images of George on a Segway) the meeting closed at 13.55
=====================================================================
29th July: -

President Narek is on holiday so President elect Linda took today's meeting. There were 15 members present and two visitors in the shape of Anne Watson and Nathan McDonald. Nathan had contacted us through the web site expressing his interest in the Club and Sandy McGill had invited him along to today's meeting.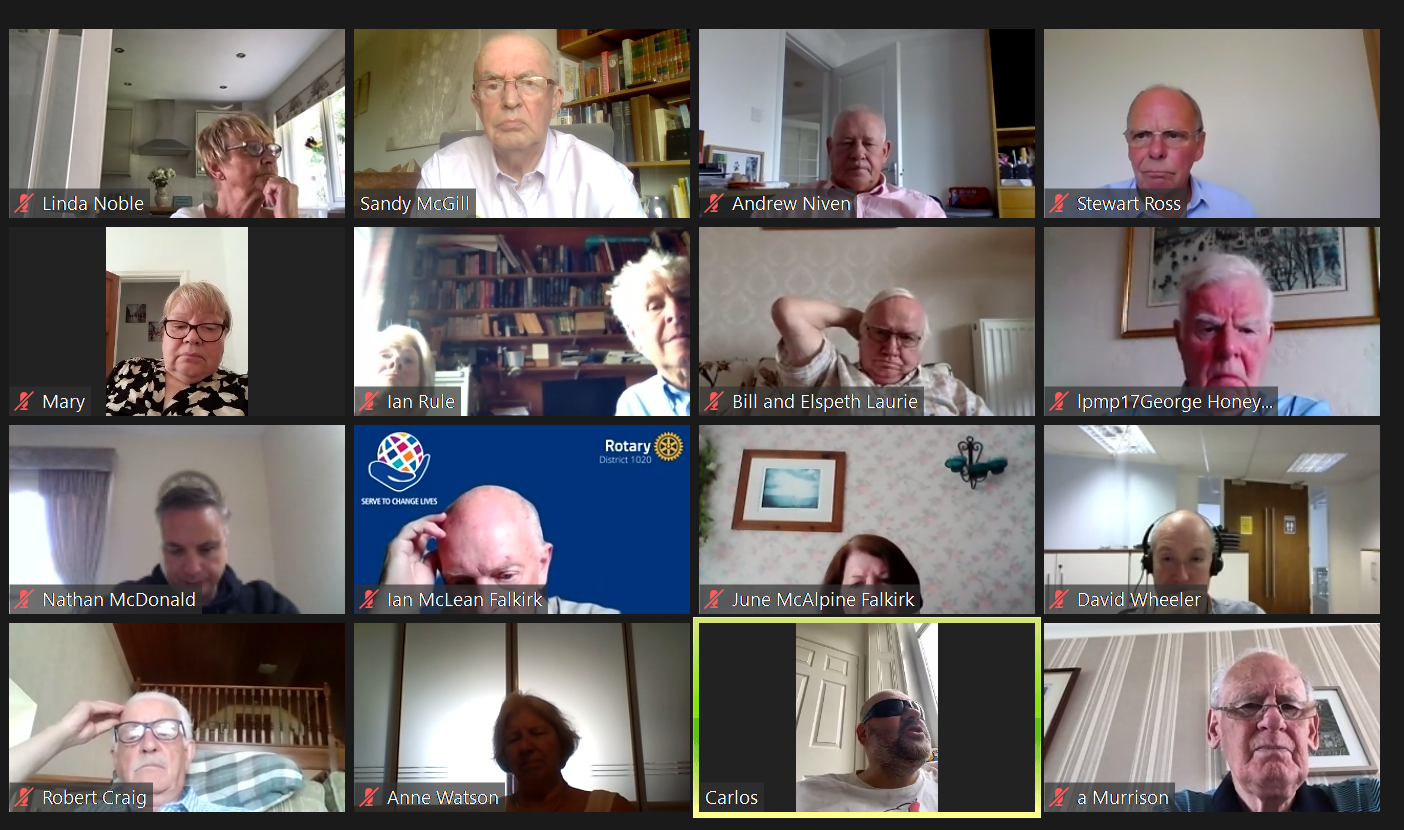 President elect Linda made the usual introductions while making reference to the birth of Sophie Robertson's baby and Margaret Johnston's funeral.
Nancy Rule intimated that the tools had been uplifted from the farmer and taken to the storage unit previously reported.
Stewart Ross reminded everyone that he was actively recruiting for the Charities Day stall both in terms of people and bottles.
George Honeyman confirmed that we would have an adjacent stall there collecting money for Sightsavers and Wateraid.
President elect Linda went on to introduce the speaker for the day. Carlos Rodriguez is 43. He was born in Paisley to a Galician father and Irish mother. He spent most of his adult life as a software developer who built globally using software for companies like Vodafone, Clydesdale Bank, Lloyds Bank and Ford Motor Company. He delighted in the fact that Luke Perry was his brother in law's brother in law. Carlos has been legally blind from birth but was able to hide the fact to most employers and people. As he approached middle age his vision got worse...
Carlos explained during his talk how his vision had become so impaired that it had forced him to drastically change his life. His mental and physical health deteriorated and at its worst he suffered from depression and weighed 27 stone. He went on to explain in detail how dogs, at Guide Dogs, were matched with their charges and how he finally ended up with "Marine" a beautiful Golden Labrador bitch. His 20k walks every day exercising himself and Marine have him down to 15 stone and in a much happier place.
Tom Curry was not well enough to attend so Bill Laurie offered the Vote of Thanks on behalf of the club. Carlos expressed his appreciation of that and offered to come back when we were meeting in person so that we could all meet Marine in the flesh.
The meeting closed at 2.00pm.
================================================================
23rd July: -

We had a good and productive, if small, Zoom meeting yesterday which seemed to reflect the nature of our regular meetings at this time of year. Most of us being on holiday! The sad thing is that Zoom meetings are not geographically constrained and you can still join in even when you are not at home!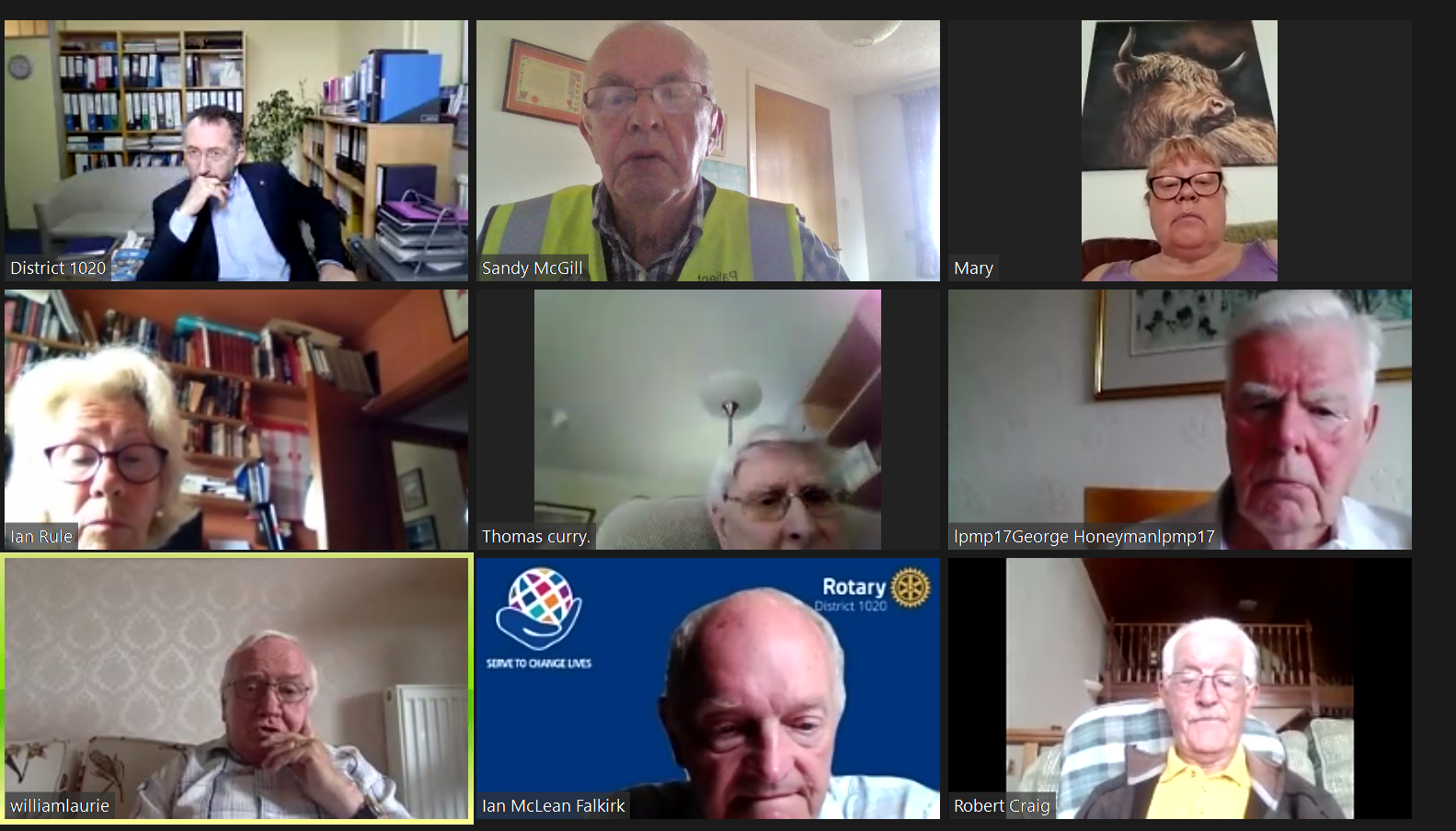 President Narek began by speaking about the sad passing of Margaret Johnston. He expressed the Club's sympathies and indicated that all of our thoughts would be with Richard the following day. He had emailed Richard earlier to the same effect.

After the usual introductions and intimations by President Narek Bill updated us on RYLA. It would appear that only one girl from Young Carers was prepared to join in with the "virtual" RYLA and since she was keen to have company the whole thing has fallen through for this year.
Bill went on to talk about speakers at our meetings and asked that members contact him with suggested speakers or indeed topics. Narek suggested that he could deliver a talk on the Culture of Islam. This was warmly received.
President Narek will be on holiday over the next three weeks during which time President Elect Linda would host the meetings. Sandy will open up the meeting failing which Narek would, and then leave us to conduct the meeting without him.
President Narek went on to encourage all of us to collect bottles for the bottle stall at Charities' Day in the High Street. As had been said previously it is expected that we will all contribute and either deliver the bottles to Stewart or let him know and he will arrange for someone to collect them. George is keen to have a side stall for Wateraid and Sightsavers but President Narek was unsure whether these arrangements fitted in with the arrangements that Secretary June had made with Falkirk BID. These things are to be ratified sooner rather than later.
The situation with regard to the Station Tubs is on track and anyone with interest in that regard should contact Narek, Stewart or June.
The tools currently stored by the Polmont farmer are now the subject of arrangements for collection and transport to a storage facility that has been identified in Denny. This is likely to take place at the beginning of August. A cash donation was agreed to be given to the charity that has organised all of this to enable proper selection repair and distribution of the tools.
Sandy McGill outlined, when asked by President Narek, his proposal that an application should be made for a District grant, to which money from the PI budget could be added, in order to place an advertisement / article in the Falkirk Herald about the Club and inviting applications for membership.
President Narek went on to extol the virtues of the St John Patient Transport Service and encouraged everyone to seek possible volunteers among their friends and family.
Ian Rule's formidable work in relation to the Rotary Jaipur Limb Centre was acknowledged by President Narek who expressed his keen desire to have that particular discipline kept within the confines of our Club now that Ian was no longer able to continue. Ian McLean echoed that sentiment and felt that there ought to be someone who could fulfil the role.
=================================================================
15th July: -
At today's meeting (excuse me I forgot to take a screen shot) we had 13 members present and one guest in the shape of Anne Watson.
President Narek began the meeting by expressing his sadness at the passing of Margaret Johnston. He asked Sandy McGill to relay his condolences and at that, everyone there said "mine too!"
He went on to tell everyone that Ronald seems to be improving and Linda Noble told how she had met Helen in the Supermarket and discovered that there would be no likelihood of Ronald getting home until some mobility aids in the way of wet room, hoists and the like were available at home.
Bill and Linda expressed concern that while they had offered virtual RYLA places to the Young Carers they appear to be "Zoomed Out!" and would far rather be involved with a proper face to face RYLA. More on this later.
President Narek then went on to introduce our speaker Professor Stuart Monro OBE FRSGS FRSE. Stuart, a member, and past President of the Rotary Club of Edinburgh was introduced as the remarkable man that he is, having been involved in the creation of "Dynamic Earth" in Edinburgh as a result of his discipline, Geology, in which he gained a first class honours degree in 1970. THis says nothing about who the man is! I didn't have enough speed or space to list his monumental CV!

Stuart, before beginning his presentation brought the greetings of Edinburgh Club President Olive Geddes to the Club.
He went on at length to tell us about Volcanoes, those that he had actually visited, beginning in Scotland at Edinburgh with Arthur's Seat and Castle Rock and travelling around the world from Iceland to New Zealand and Hawaii. He illustrated his talk with a PowerPoint presentation which included, not only some very enlightening information about Tectonic plates and their interaction but, immensely powerful and beautiful photographs and illustrations.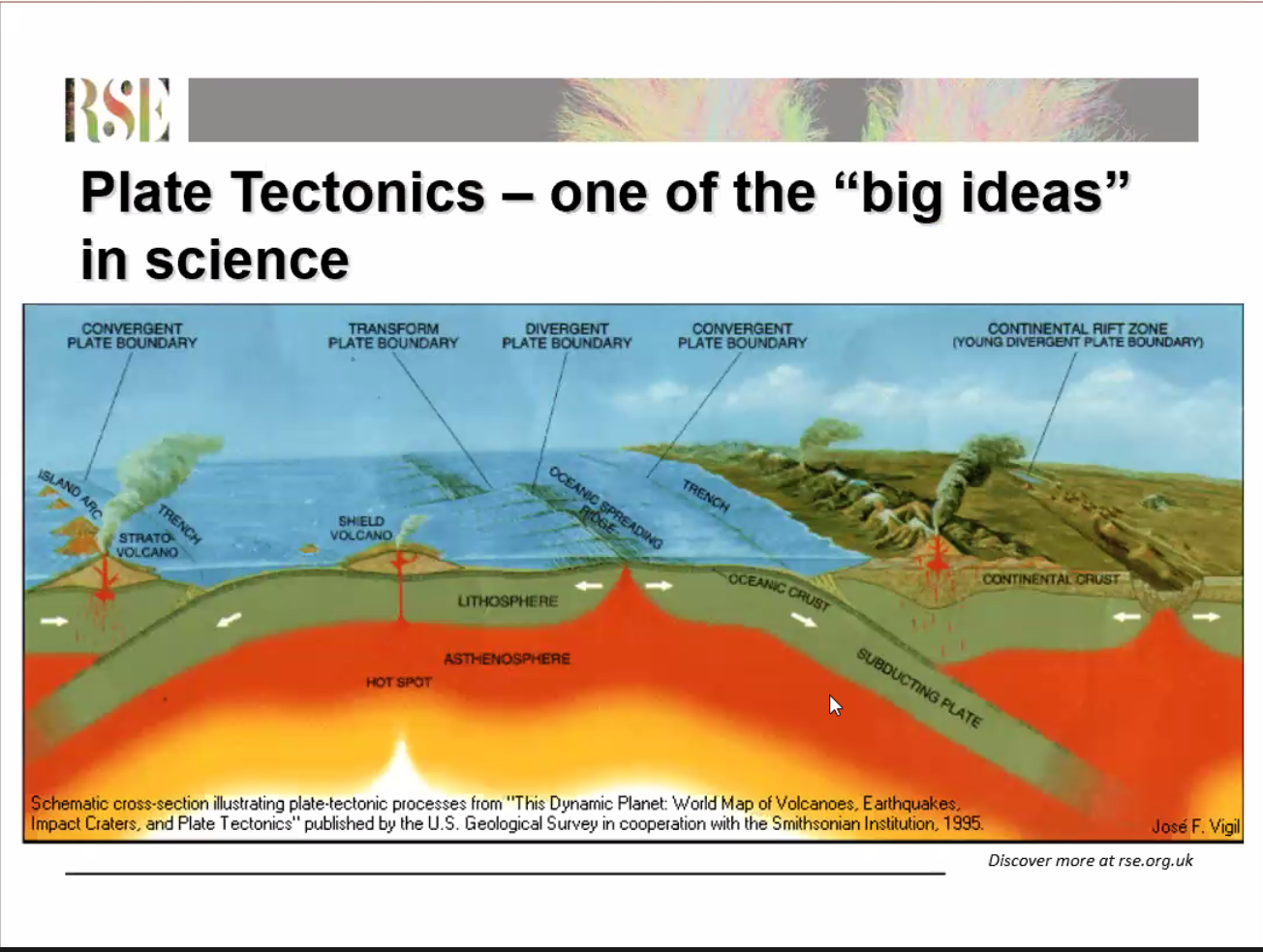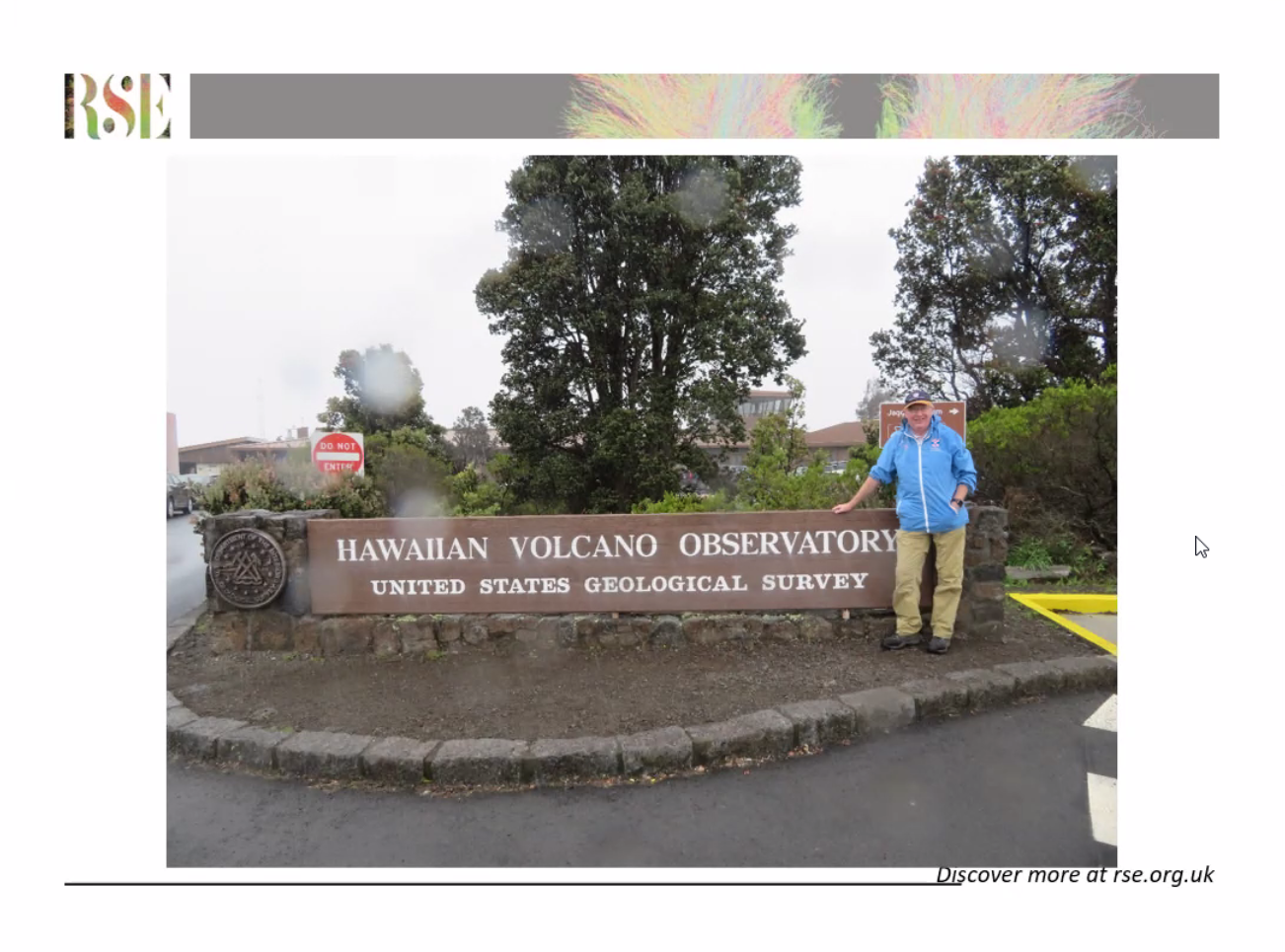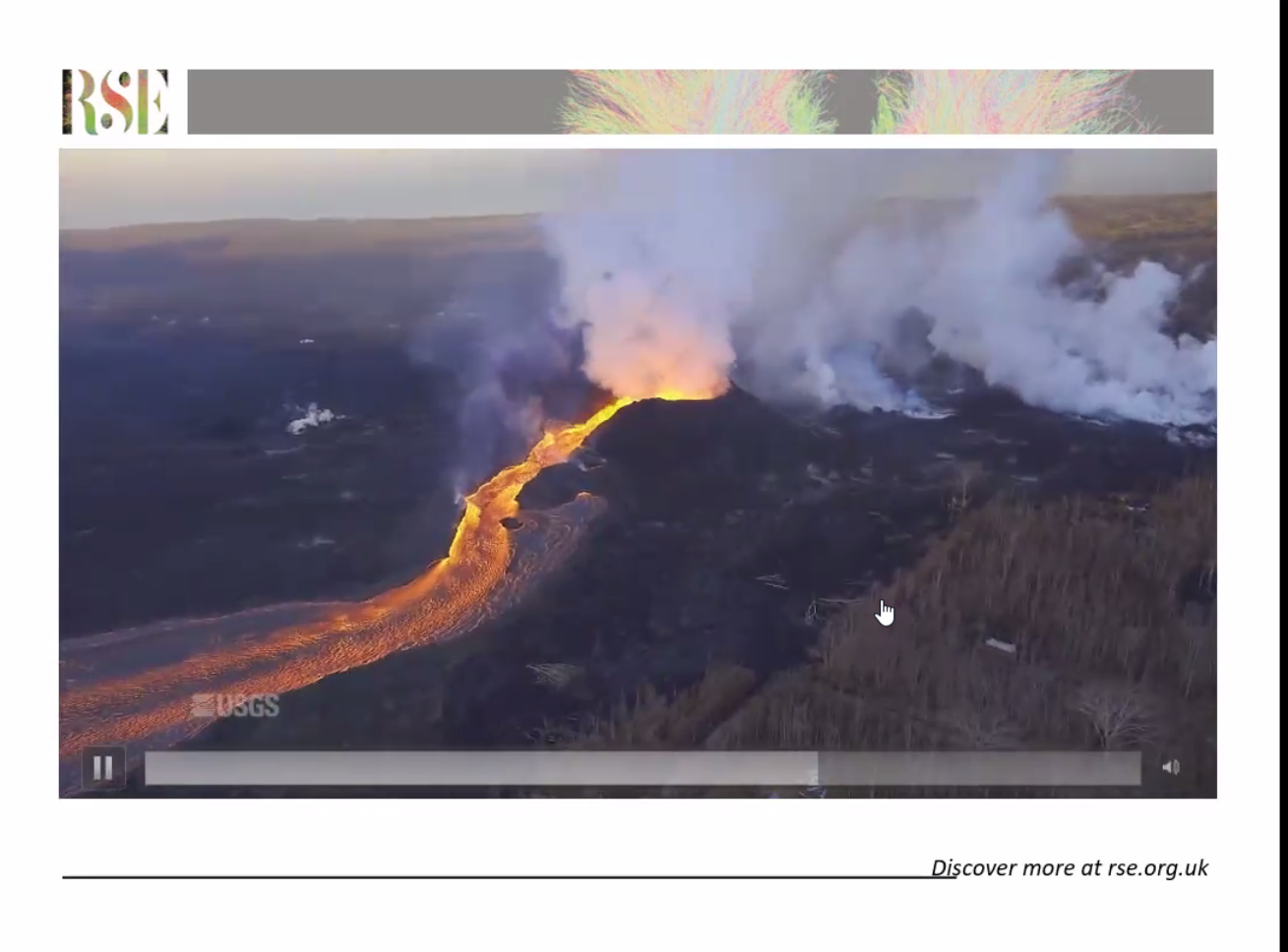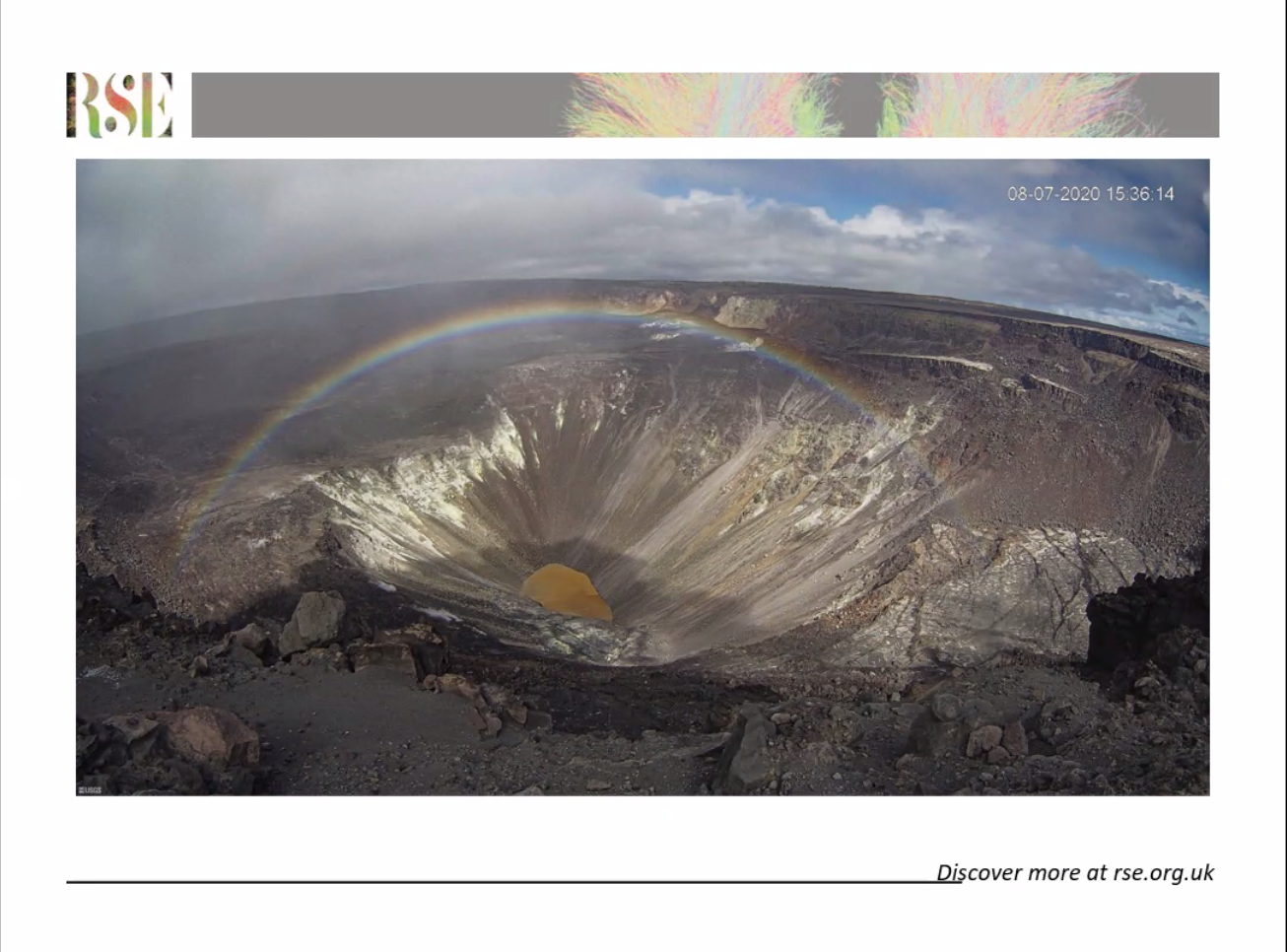 Finally, he ended up back in Scotland again remarking on the amazing Volcanic Geology that we have and pointing out that you could see it all in one small Island – Arran.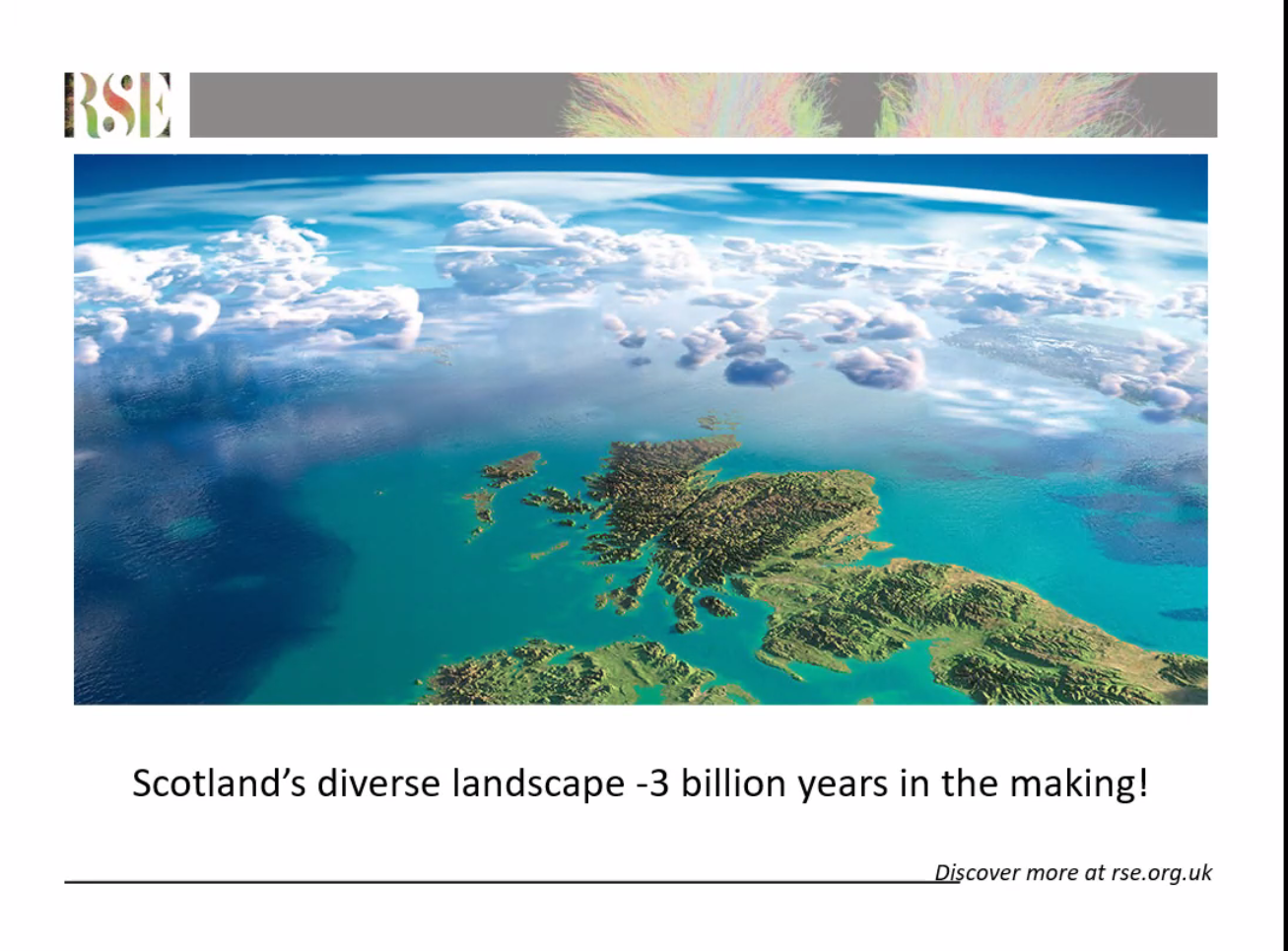 Sandy Murrison gave the vote of thanks and left no plaudit undelivered including an approbation of the Professor's studies in Aberdeen University.
President Narek Concluded the meeting with an intimation that the Tablets mentioned last week had been delivered and a letter of thanks and appreciation received. He anticipates an update on their use.
President Narek is still looking for a storage site for the gardening tools.
Secretary June and Narek are to visit Carmuirs Golf Club for a Risk assessment. It is likely with the numbers that we can bring to a meeting that there will be no charge for the room but that is to be confirmed.
Linda repeated her plea for everyone to involve themselves in the recruitment of new members.
Sandy McGill asked if the Club was of a mind to augment or match the money that RotaKids at Hallglen had raised for Aquafilter. It was unanimously agreed to match the sum and raise it to the next round number. A sum of £300 (including the £128.60 raised by them) was approved by all.
The meeting closed just after 2.00pm.
=================================================================
8th July 2021: -
We had a very productive meeting today. There were only thirteen of us there, sadly, and we missed Mary who had apologised for her absence due to suffering from Migraine.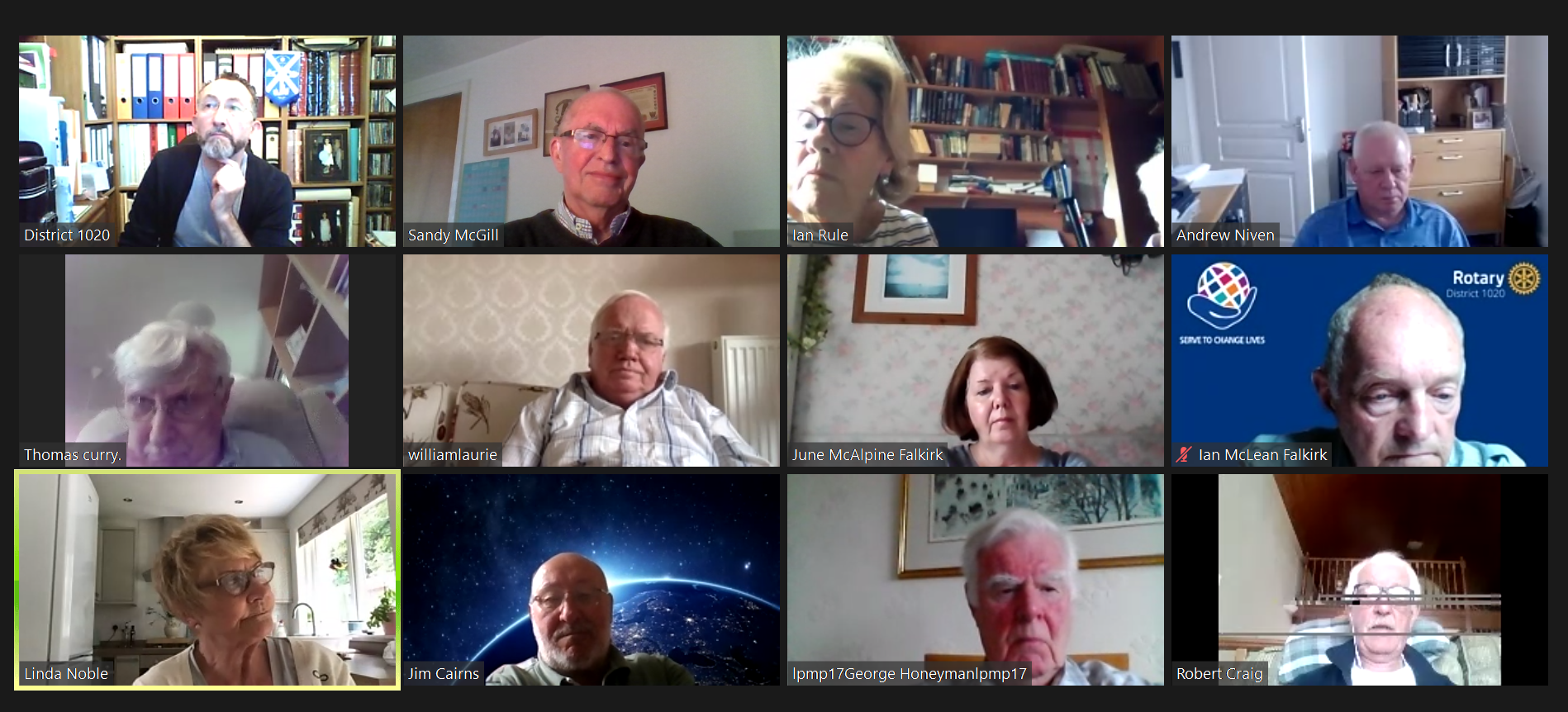 Linda spoke about her contact with Young Carers as to whether or not they would wish to participate ion a virtual RYLA. Her contact felt that they were aspiring to face to face meeting but would ask the question and get back to her. There was little time for that to happen though.
President Narek showed us photographs of the tools that will be recovered from the Polmont farmer and outlined a number of possible recipients. Some of the tools were usable, some of them were repairable and some were not. Nonetheless there will be a significant requirement for transport and storage and it was agreed that we should donate £500 for these purposes.
President Narek along with June and Andrew had visited the Coppertop with a view to assessing the venue as a possibility for our meetings as proposed by Raymond. It was considered that the nature of the fixed "booth" seating did not lend itself to our weekly meetings.
Secretary June had been in touch with the Park Hotel who had told her that the only "gatherings" that they were catering for at present were Weddings and Funerals. They did not anticipate a return to meetings such as ours for the foreseeable future.
June in her capacity as H&S chair is to assess the suitability of Carmuirs Golf Club who would be in a position to host us from possibly mid August. Council will discuss this and any proposal will be discussed by the Club before any decision is made.

President Narek had been in touch with Scotrail regarding their requirements for us tending to the Station Tubs. They had agreed that their original forms had been unreasonably restrictive and have amended them accordingly. Stewart and Narek will convene to fill out the forms and have them returned.
Charities Day is to be on the 21st August. June has information from the organisers regarding H&S in relation to the pandemic and all is ready with the exception of us accumulating as many bottles as we can.
MAKE A COLLECTION OF BOTTLES YOURSELF

AND

CONTACT STEWART WHO WILL ARRANGE TO HAVE THEM COLLECTED.
President Narek applied for and received from District two Amazon Fire 7 tablets which, it was agreed, would be donated to the Charity "Townbreak" who provide a service to people living with dementia in the absence of statutory provision.
Jim Cairns who is now involved with Newsline as their treasurer asked if anyone wished to be a "Reader" when the organisation started back again would they please contact him. Provisions are being made to limit the numbers attending recording sessions and to make the space safe for those who are present.
President Elect Linda then spoke about membership and stressed that the issue was one that concerned us all. She and George had had a very informative meeting with Jim Snedden regarding the barriers that he saw to be extant preventing his joining and she seeks to address as many of these as possible. The current District grants that were available for this were discussed and President Narek encouraged all members to speak to Linda with their ideas. George suggested that Ausat may be a conduit to contacting the Asian community in the area with the possibility of building a membership that better reflects the demographic of the community in which we live.