3rd September.
It has now been 18 months since I first began posting here. Yesterday saw the last of our regular Zoom meetings and we start back in the Park Hotel next week. The original intention here was to try and keep us together and interested. I hope that I might have had a modicum of success at that but now that we are able to interact socially there is no longer the need for this. So I will take my leave of you
(only on this page you understand)
and wish you all and our Club well for the future
So long, farewell, auf Wiedersehen, goodbye!
I leave and heave a sigh and say goodbye -- Goodbye!
==================================================================
2nd September
Yesterday's Andrew updates as follows: -
More chat today, still confused, but starting to remember a bit more. He remains in ICU just keeping a close eye on him. The hope is that he can move to cardiology within the next few days. Still making great progress.

Cardiologist came to see Andrew late this afternoon all going well he's scheduled to be fitted with an IED (implantable defibrillator) his response was "ya dancer"
That's great news but I always thought that an IED was an "Improvised explosive device" used by terrorists.
On this day: -
1666 - The Great Fire of London begins at 2am in Pudding Lane, 80% of London is destroyed. As the fire spread and raged for four days, 80 per cent of London's buildings were claimed by the flames. They included over 13,200 houses, 87 parish churches, 52 Livery Company halls, the Guildhall, the Royal Exchange and St Paul's Cathedral. In the words of the great diarist Samuel Pepys: "Medieval London is now all in dust." Miraculously there are only six recorded deaths.

1945 - World War II officially ended when Japanese officials, aboard the USS Missouri in Tokyo Bay, surrendered on behalf of their country.
1992 - Bobby Fischer and Boris Spassky begin their controversial $5,000,000 chess rematch. Fischer won a month later, 10 games to 5.
1993 - A five-hour standoff between Maryland police and a man who had killed his girlfriend is ended when a 3-foot tall remote-controlled robot enters the armed man's home and disables him with a water blast, allowing the police to enter.
===========================================================
1st September again,
I have just logged into the bank and finalised the totting up for the Charities' Day. Since the day itself I have received a number of donations and add ons and the totals end up as follows.
Bottle Stall £ 919.78
Sight Savers £ 70.88
Wateraid £ 56.43
Total £1,042.09
============================================================

1st September
I got this last night: -
Hi! its Suzanne here. Louise and I are just back from seeing Dad. He's still doing really well off the ventilator and has managed to have a little to eat and drink. He is full of cheek and I asked him why he put his mashed potato in his soup and he said "do you not put potato in your soup like". Fair point Dad. Such a huge improvement.
Shop on AmazonSmile at https://smile.amazon.co.uk/ch/SC013426, and Amazon donates to Rotary Club Of Falkirk Trust Fund, at no cost to you.
On this day: -
================================================================
31st August #3
And this: -
Met with the cardiologist they still don't know why this happened. As soon as it's possible they'll move to a cardio ward and more investigation maybe some kind of pacemaker. He's very confused and short term memory is not good but he was able to be a bit cheeky!
31st August #2
This from Gillian: -
Amazing news off the ventilator sitting up can't understand yet time or why or how. Best result his nurse has ever seen thank you everyone your prayers, love and positivity has made a huge difference to Andrew and me.
===========================================================
31st August
Gillian has established a Whatsapp group to which she sends updates about Andrew.
Yesterday she said: -
Andrew is responding really well. They reduced sedation and amount of ventilation. He was awake and knows where he is. They've increased the sedation again as he's a bit agitated. This is amazing the best possible step forward in the right direction- about 10% of patients admitted from out of the hospital respond like this. Much more positive today. I'll let you know more later.
And then later: -
Just back still doing well, blood pressure is up so increased sedation and ventilator to help with that. Had echo scan no detail on it yet hopefully tomorrow .
All really encouraging then.

On this day: -

1986 - Television presenter Paula Yates was married on this day to pop star Bob Geldoff. What neither of them knew at the time was that Jess Yates, the presenter of a religious programme called Stars on Sunday, and known affectionately as "The Bishop", was not Paula's real father.
That honour fell to another television presenter – Jess's good friend Hughie Green, who hosted Opportunity Knocks, the forerunner to today's popular tv talent shows across the world.
The fatherhood revelation exploded like a bomb at Green's funeral in 1997. Noel Botham, a former journalist and drinking friend of Green's, stunned the congregation when, in a eulogy, he announced that Paula, one of Britain's most famous celebrities was actually Green's love-child.
1994 - The Pentium computer defeats Gary Kasparov.

1997 - Diana dies in a car crash in a road tunnel in Paris.
==============================================================
30th August
Gillian says : -
Andrew is stable and they have confirmed yesterday afternoon that it was not a clot but probably a heart issue. An abnormal heart rhythm that didn't pump properly that caused a cardiac arrest. They are also treating an infection in his lungs. He will have an ECHO today and that will tell them more about any damage to his heart. She promises to keep us updated.
Then Gillian's son came across this: -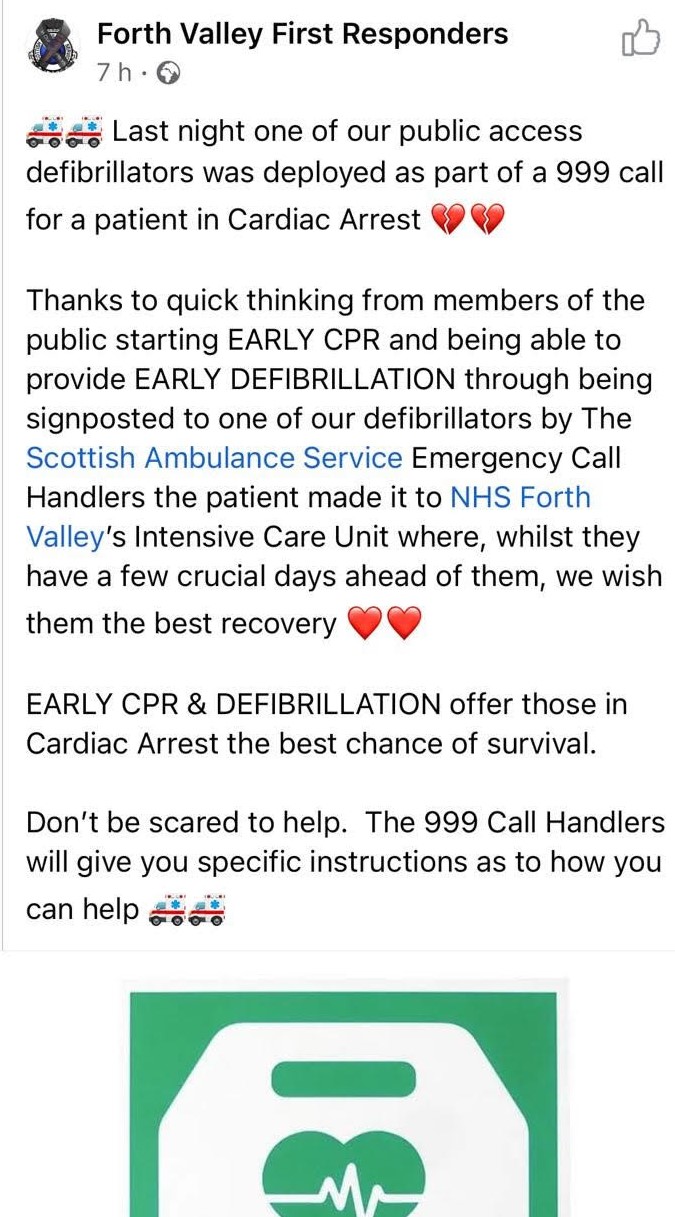 Isn't it Ironic that Andrew was, this week, to begin the process which would lead to him being CPR coordinator for St John Scotland Central Area.
On this day: -
1146 - European leaders outlaw the crossbow, intending to end war for all time.
1791 - The British Ordnance Survey (mapping agency) was founded. As its name would suggest the topographic mapping was done for military purposes initially in an effort to maintain superiority of the English troops over the Scottish clans.

================================================================
29th August
Really sad news about Andrew today. We can only wait and see what transpires.
Yesterday I got a negative result from my PCR test so was able to go to the BBQ. Too many other kids about for any meaningful photography. This is my son in law and youngest grandchild having a go at the archery.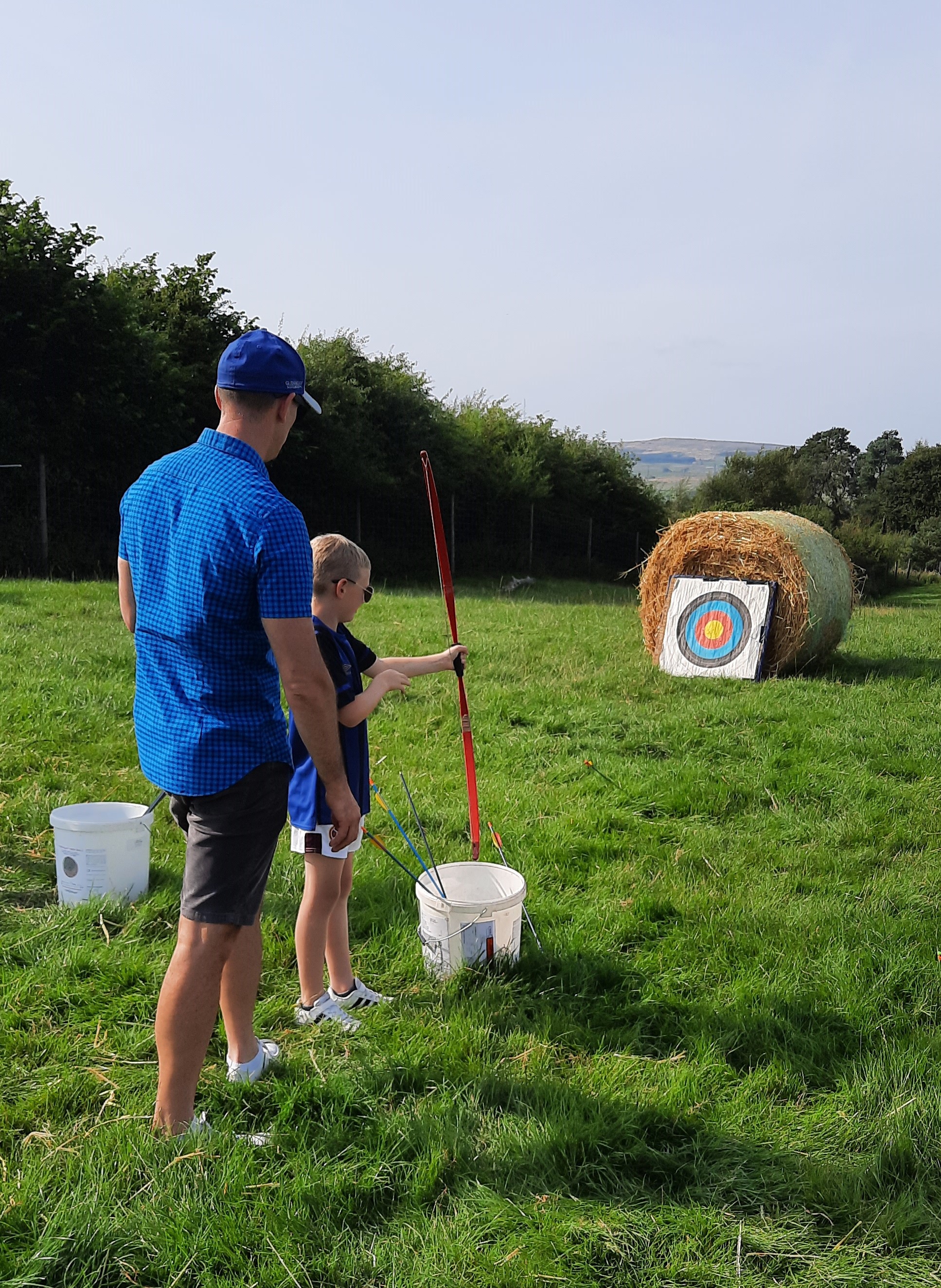 And I was intrigued with this group of year old deer congregating underneath the only tree for miles!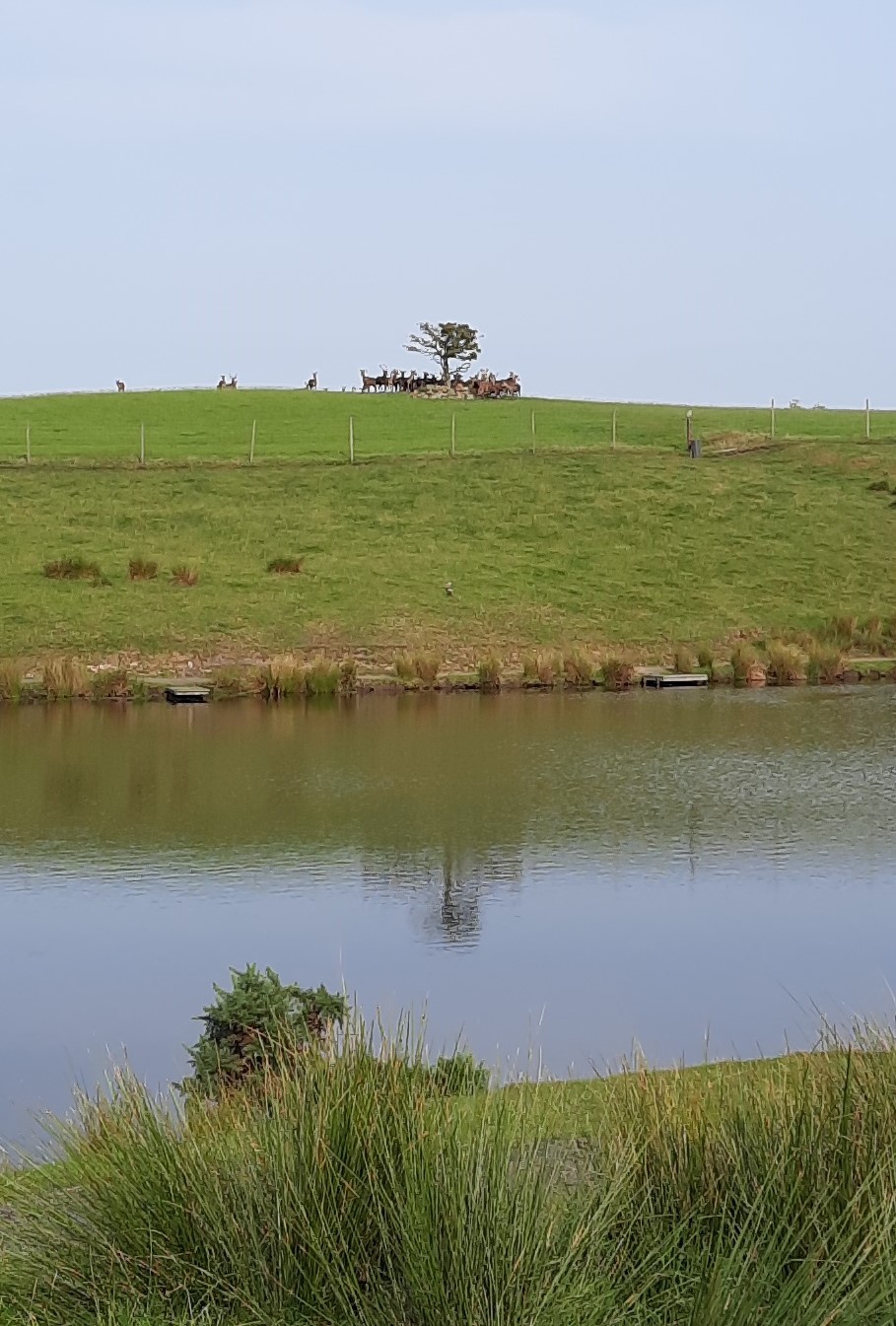 On this day: -
1833 - The United Kingdom's historic first Factory Act became law on this day – and it was much needed. By today's standards the reforms were modest and in any case applied only to the textile industry. The principal provisions of the Act declared that:

* Children under the age of nine must not be employed in textile factories.
* Children between the ages of nine and thirteen must not work more than eight hours and must be provided with an hour lunch break.
* Children between the ages of nine and thirteen could only be employed provided they also had two hours of education each day.
* Children under eighteen years of age must not work after 8:30pm and before 5:30am.
* Children between the ages of fourteen and eighteen must not work more than twelve hours a day and they must also be given an hour lunch break.


No rules were put in place to protect adult male workers, and only four factory inspectors were appointed to enforce the law across the whole country!
1883 - Seismic sea waves created by the Krakatoa eruption create a rise in English Channel 32 hrs after explosion.
1895 - Eleanor Rigby was born! A tombstone with the name Eleanor Rigby is in the graveyard of St Peter's Parish Church in Woolton, Liverpool, where Paul McCartney and John Lennon spent time during their teenage years sunbathing. Just a few yards away from Rigby's tombstone is another with the name McKenzie on it. The names Eleanor Rigby and Father McKenzie were used in the Beatles' 1966 hit song, Eleanor Rigby, written primarily by McCartney. While McCartney claims he just made up the names for the song, he says the coincidence could be a product of his subconscious.
==============================================================
28th August.
Yesterday I transported a patient from the Renal Unit to his home in Falkirk. I got a text from him soon afterwards to tell me that he had just been told that he had tested positive for Covid. Then I got an email from the Renal Unit saying the same thing. I booked a PCR test last night and am testing regularly with the LFT kit.
All of this in an effort to allow me to attend my neighbour's annual Staff BBQ this afternoon.
E&O hold the event every year although they didn't last year for obvious reasons. There will be the BBQ of course but there will be Clay pigeon shooting, Archery and a bouncy Castle for the kids. There might even be a Fly casting competition, who knows? it will be like a mini game fair.
Here
is the latest Screen Memories and
here
are the answers.
On this day: -
1837 - Pharmacists John Lea & William Perrins manufacture Worcestershire Sauce.
1850 - The first performance of Richard Wagner's famous opera Lohengrin is given by Franz Liszt.
1963 - Martin Luther King Jr. delivers his "I have a dream" speech at the Lincoln Memorial Washington DC.
1992 - A man in USA had his 1962 Corvette which was worth $1,300 stolen in 1971. On this day in 1992 he recovered the car which was then worth $25,000.

=====================================================================
27th August
Yesterday was a monumental day! It was decided that we would return to our regular meetings at the Park Hotel on Thursday 9th September. That's 19 months after we stopped doing so.
Also Yesterday I popped my laptop into JTec because it was becoming terribly slow and often just refused to do anything. My hard drive was goosed apparently! I now have a new hard drive which is twice the size of the last one and it literally flies! Whoopee!
And then there was the result of my biopsy. I have prostate cancer and will as a result require to undergo some form of treatment which is to be decided at a meeting of the various disciplines next Wednesday. There is a possibility for either surgery or radiotherapy but I don't know which yet. Consequently you may be hearing a bit less from me after next week. "Whoopee" I hear you say.
Anyhow that won't deter me in the short term.
On this day: -
1883 - Krakatoa, a volcano, west of Java in Indonesia, erupts with a force of 1,300 megatons and kills approximately 40,000 people.
1896 - Britain defeats Zanzibar in a 38-minute war (9:02 AM-9:40 AM). Shortest recorded war in history.
1928 - Kellog-Briand Pact, 60 nations agree to condemn 'recourse to war for the solution of international controversies'. What happened????
If you are more fortunate than others it is better to build a longer table than a taller fence.
anon
========================================================================
26th August
I am getting all nostalgic now. We watch a lot of those antiques shows on the tele. Fairly often they will come across a thing like a sugar shaker that is actually a "Pounce shaker". All of a sudden I am reminded of the breadth of media that I have experienced during my career. By "media" I mean the plural of "Medium" and by "medium" I mean the thing that I have used to display the product of my profession at different times.
Initially, when I began in Wilson and Wilson in 1961 by far the biggest part of my work consisted in the production of Deed Plans. These were drawings that would be attached to a Title Deed displaying the nature location and size of the subjects being "disponed" in the "Disposition". Invariably they would be headed "This is the plan referred to in the Foregoing Disposition" or "...Foregoing Excambion." If there was to be an exchange rather than a sale.
I would, with others, require to visit the subject property and measure the extents of what was being sold. I would then require to access a library of Ordnance survey maps held within the office and trace onto the Plan the location of the subjects. This part would be a quite a small scale maybe 1:1250 or 1:2500. Then I would draw what I had measured at a larger scale of maybe 1:200 or thereabouts depending on the size of the area.
The point of all of this is that we had in front of us at the time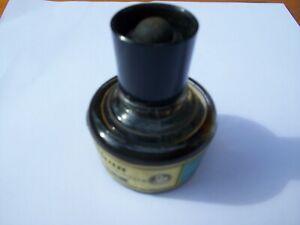 several bottles of ink in varying colours, primarily black but also yellow, green brown blue and most importantly red. The red ink was to outline the extent of the subjects and the other colours identified, common areas, rights of way and the like.
These inks would be applied to a "ruling pen"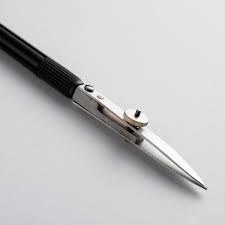 This would be done by the little rubber bulb on the top of the lid of the ink bottle pushing ink through a dropper between the blades of the pen. The width of line that one could draw was altered by turning the wee screw on the nib. The drawing would be prepared on "Linen". This was a fine linen that had been starched and was obtained in a roll from which sufficient would be cut for each drawing. I can still remember the regulation size - 14
7
/
8
" x 9
3
/
8
" with a 2" border all the way up the left hand side for binding. The surface was glossy! And this is where the pounce came in! Pounce is nothing more than finely ground chalk which when applied to the linen after drawing absorbed the excess ink and prevented smudging. Kind of like blotting paper.
The only way that one might correct errors in this process was by finely picking the ink from the surface of the linen with corner of a 7 o'clock razor blade. Now who remembers them?
============================================================
25th August
It was 46 years ago that we came to Muir Rig. We had been married 7 years beforehand and had begun our married life together in Cumbernauld. Four or five years later we moved to Stenhousemuir to a brand new detached three bedroom house with an attached garage, Proper yuppies we were! Then for some reason or another we upsticks, buy a residential caravan and park itg in a field with a derelict cottage in it. Over the next 18 months we would proceed to build the Muir Rig that we know today. Peter was three and Wendy only one.
One of the first things that we did was plant a Rowan berry in the ground just to the north of what was to become our living room window.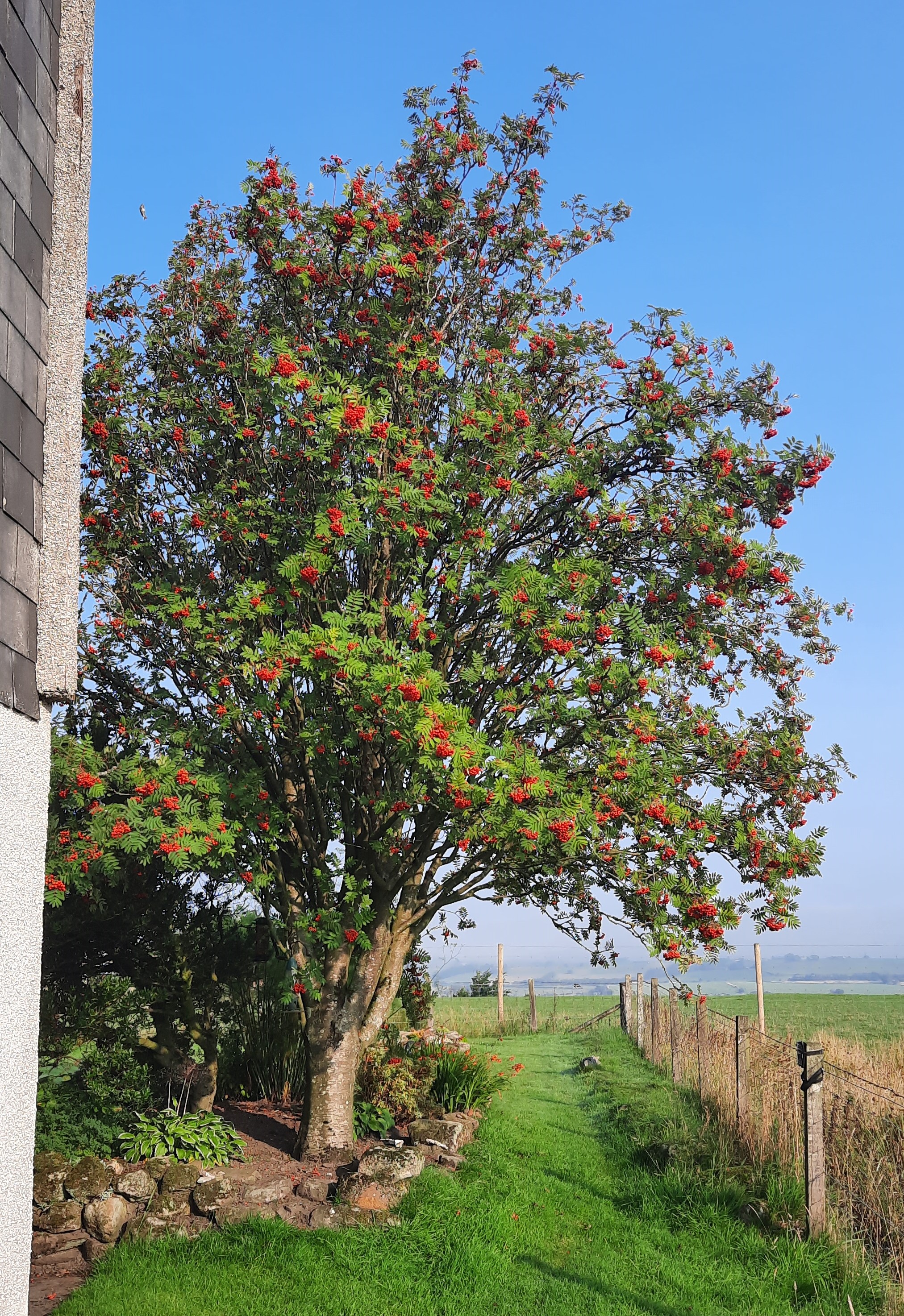 We watched that rowan grow over the years, Rowans are supposed to keep witches at bay. "Stuff and nonsense" I say! But do you know the peculiar thing? In all of these 46 years we have never at any time been bothered by witches!!! Creepy intit?
24th August #2
It's amazing how things happen out of sync. I should have delayed my blog today and included the following: -
Firstly from Judy Johnston.
Judy phoned me this afternoon to ask me to pass on to the Club her grateful thanks for the cards kind words and support that she received from Club members during the run up to the funeral and on the day itself.
Then I got this from David: -
Hi Sandy,

I met with Helen Mochrie on Sunday and she was able to tell me that Ronald got home last Thursday. All of the necessary work in their house was completed (hoists, hospital bed, shower room, etc.) and they are both delighted that he is back home. Naturally, I sent our best wishes from everyone at the Club. Helen reads all of the emails (mostly from you) which relate to Rotary and relays these on to Ronald.

Helen passed me an envelope which I haven't opened yet which contains a donation in relation to Charities day as she wasn't able to get along.
And then this from Gordon: -

Sandy,
It must be that day in the year again. Four ants nests producing lots of winged ones with the remainder rushing around madly. I was alerted to this by the sight out of the window of a hen blackbird pecking energetically at the ground and then leaping about pecking at herself, presumably because she had been invaded by ants.
Stay safe.
============================================================

24th August
It's 24
o
C outside at present. Really warm. I've just returned from Falkirk having banked the proceeds of the Charities' Day. I went yesterday but arrived there at 16.02 to discover that they shut their doors at 16.00.
I have a great wee italian recipe book and with some of the stuff that our neighbour gave us we had Minestra con zucchini for dinner last night. OK it's just a plate of soup but it is very filling. Vegetarian too; well it would have been if I hadn't made it with a chicken stock.
Here
is this week's Screen Memories Quiz and
here
if you need them are the answers.
George tells me that Ian McPherson from Grangemouth Rotary Club died on the 8th August. I was surprised that it was not circulated via District. I don't know anything else.
On this day: -
79 - Believed until 2018 to be the date of the massive eruption of Mt. Vesuvius which buried the cities of Pompeii, Herculaneum, Oplontis and Stabiae, killing untold thousands. Latest evidence suggests the eruption took place on October 17th.
1482 - he town and castle of Berwick upon Tweed were captured from Scotland by an English army. The border town has remained English ever since.
1947 - The first Edinburgh Festival was held.
1975 - The first ever nude performance in a British opera took place at Glyndebourne.
================================================================
23rd August
I have just had another visit from my ever so generous neighbour - This time Marrow, Curly Kale, Cavolo Nero, Courgette, Cucumber, Swede, Potatoes and eggs.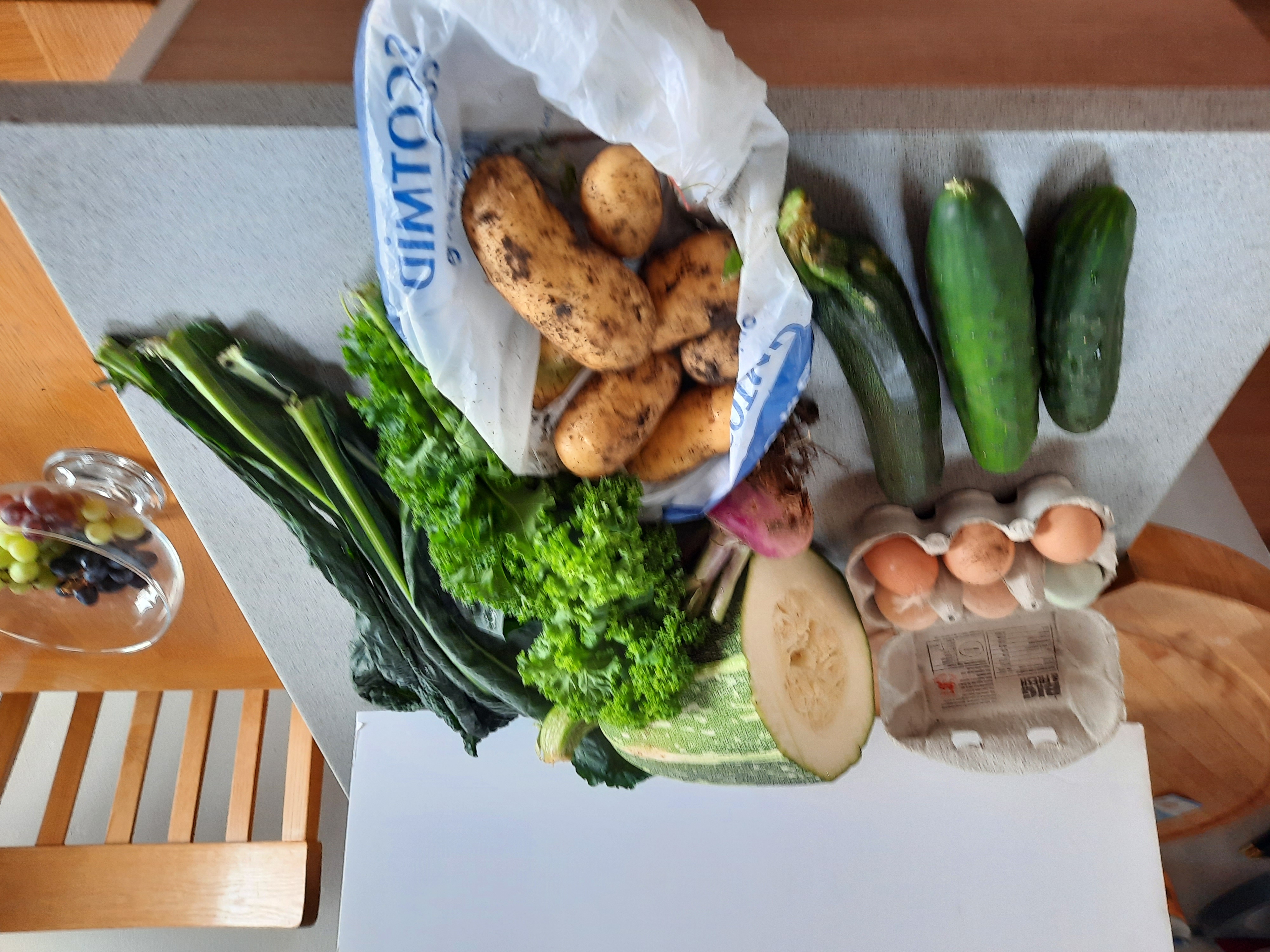 And then later - this! An absolutely enormous cauliflower!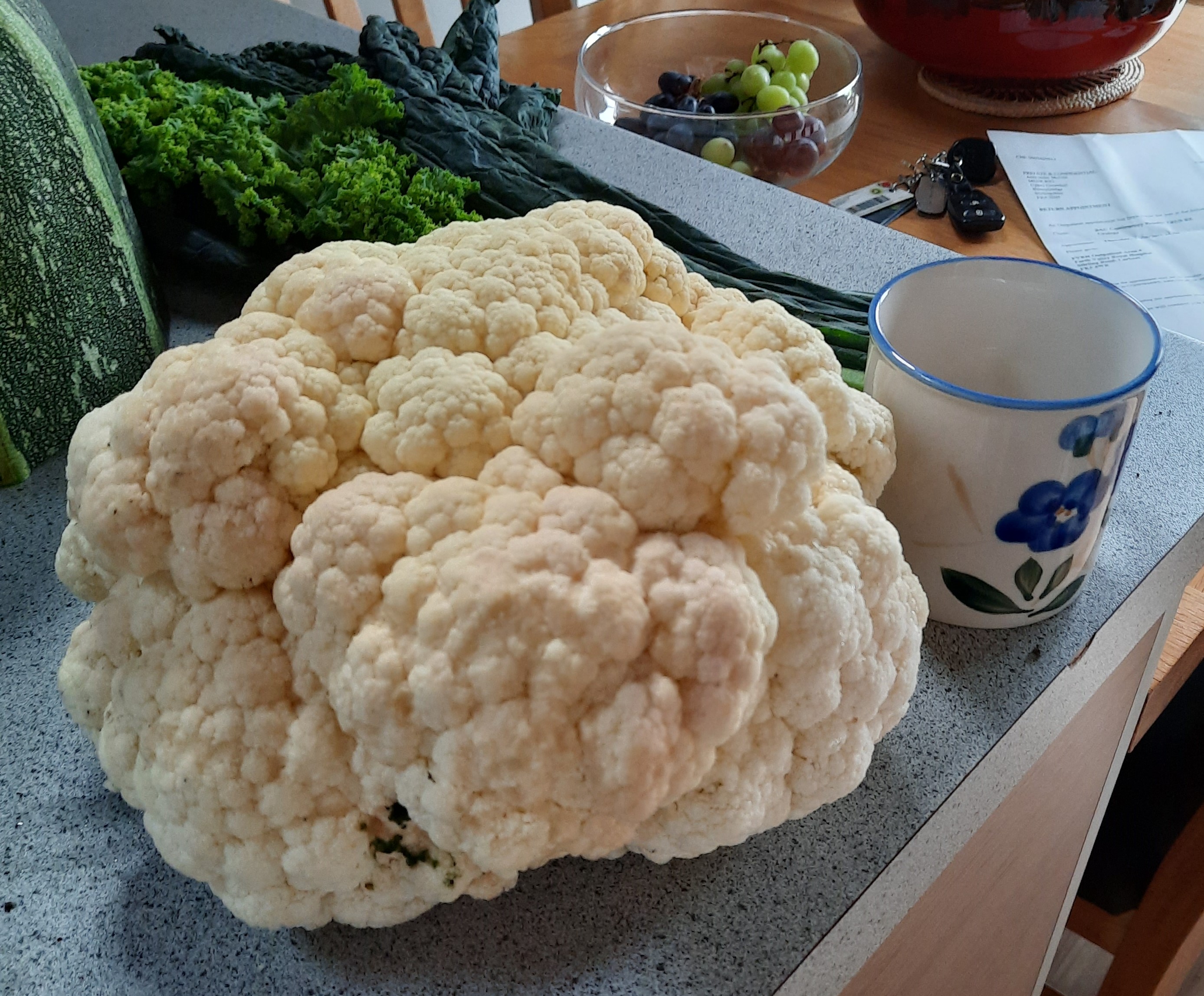 Anne Watson has let me have this: -
"Hi Sandy
You mentioned pre-fabs some time ago and it brought back memories of long ago which written down don't seem as interesting as in my head but here they are.
After WW 2 local authorities were pressed to build social housing to give employment and to house families from poor housing.We were in Stirling County as opposed to Falkirk Burgh which had its own house building projects in Cameron and Windsor Road
I lived with my family in a country cottage with no gas or electricity and a single cold tap in the scullery, by 1948 we were a family of 5, all cooking done on a coal fired range and water heated in a copper in the scullery When we were given a new build house in Shieldhill life changed dramatically especially for my mother, we had electricity and a proper bathroom with hot water It was a very happy home. Many of our neighbours came from the demolished miner's rows. There were several types of houses, traditional, timber and what all the children wanted, pre-fabs which had a fridge so you could have ice cream anytime not just when the van came round.
The pre-fabs were an amazing use of space and although they were meant to be temporary they lasted for many years and were much loved by the people who lived in them
I thought this might interest you professionally. The houses are still in good condition after 75 years. I visit my childhood friend and neighbour and the house is very little changed although many are owner occupied now."
Regards
Anne
On this day: -
=================================================================
22nd August #2
Some more photographs courtesy of Bob Spears: -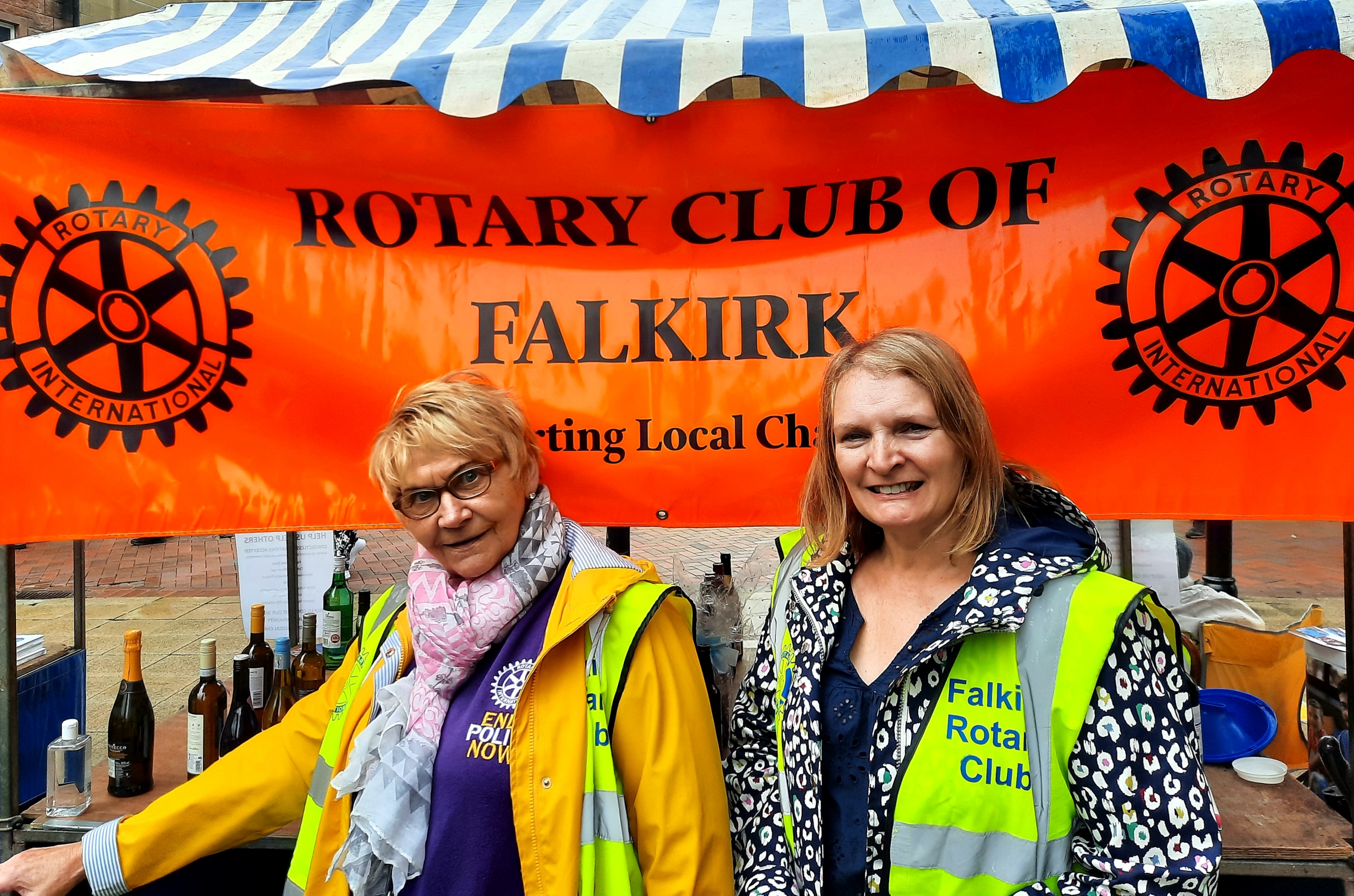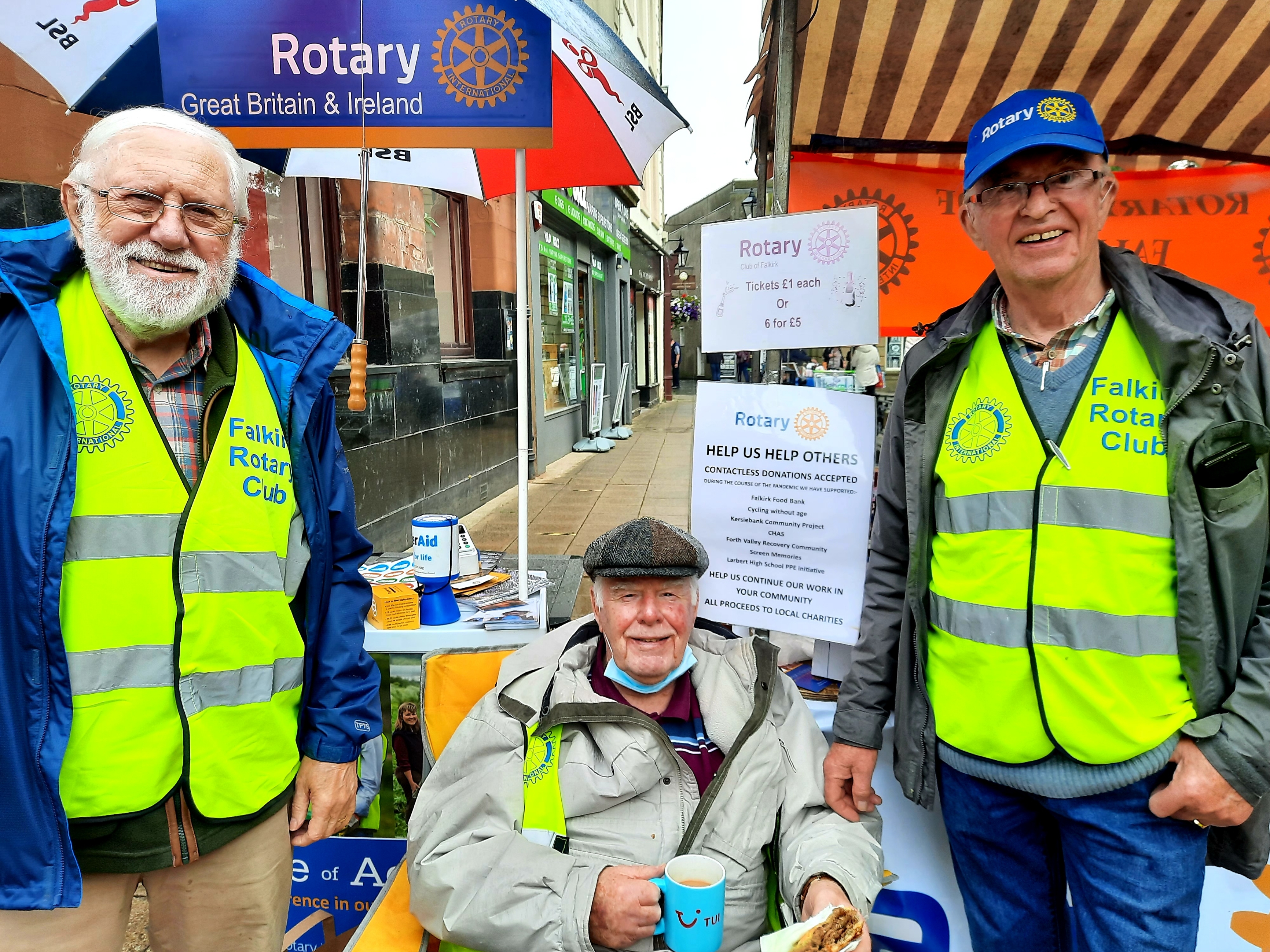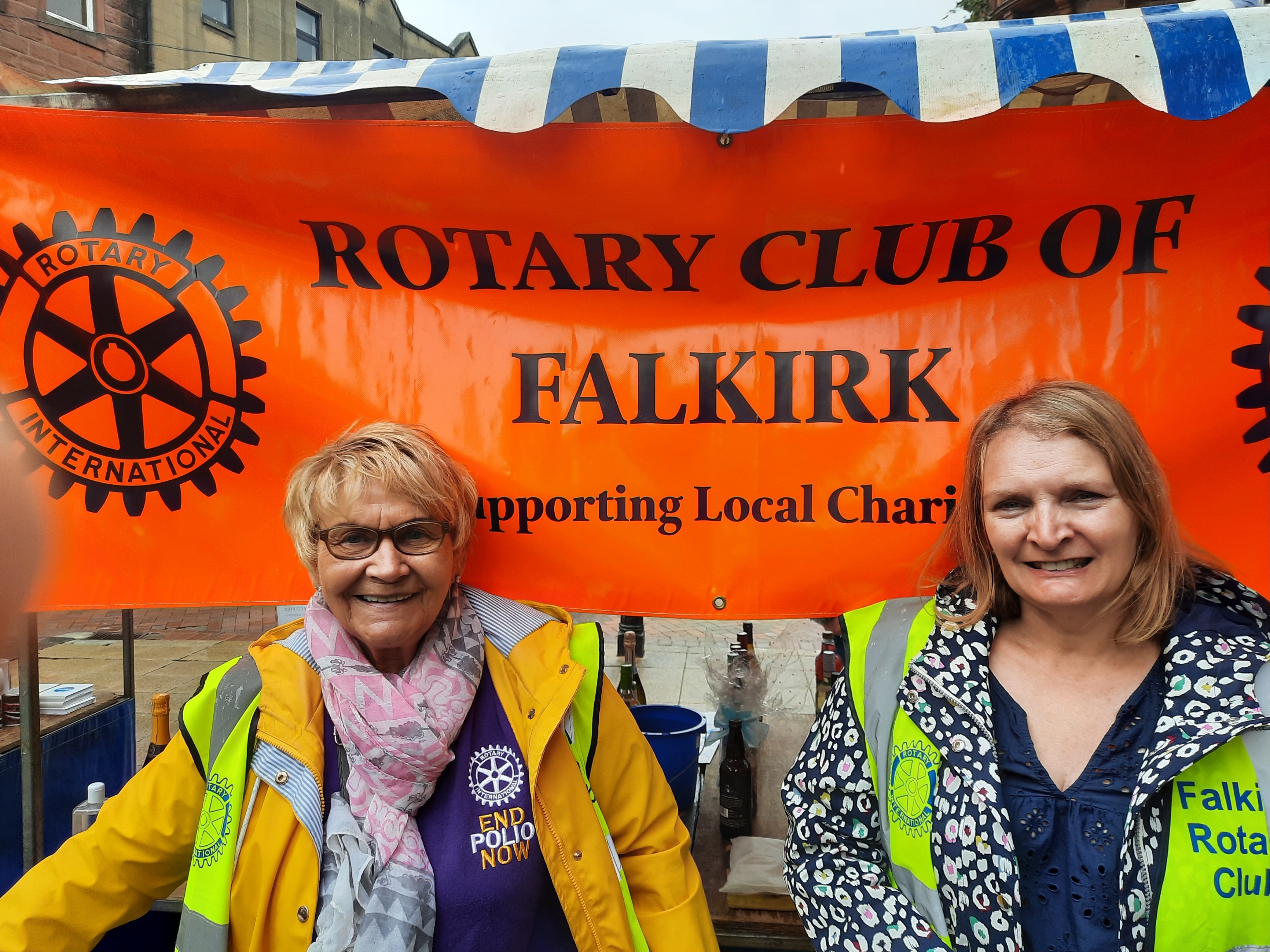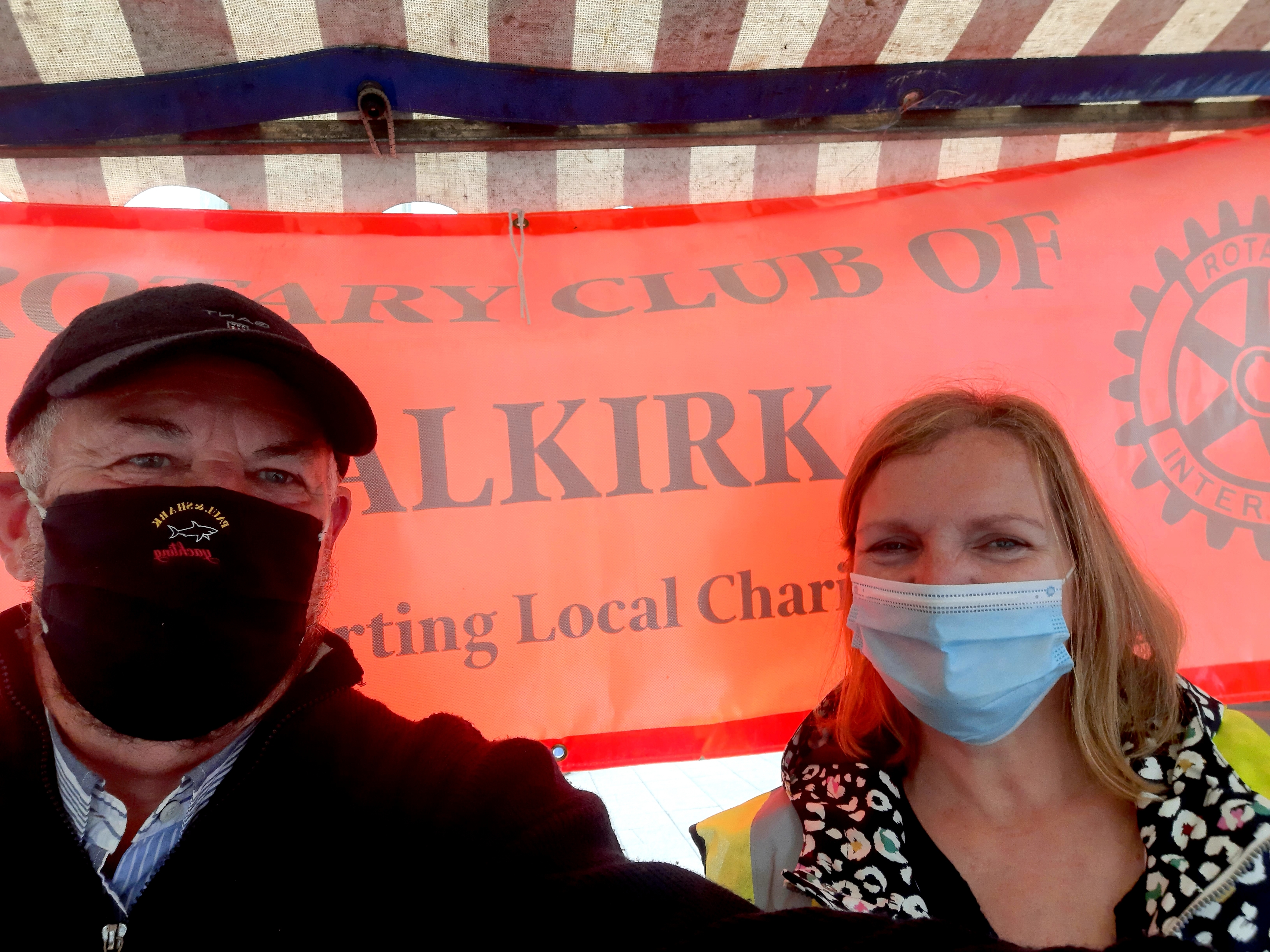 22nd August
You'll like this!
Yesterday, while we were raising awareness, spirits and cash, there was a young man about 13 or 14 years of age whom I persuaded to donate towards George's Sightsavers box. He didn't do it willingly but was encouraged by his pal. After having donated his 20p he turned to his pal and remarked "I think I've just been scammed!" before turning to me and saying "This is a scam isn't it?" Of course I replied to him negatively but he persisted! "If this is a scam I want my money back!" I turned to the stall and handed him a Sightsavers leaflet. He took it and glanced at it. "I'm gonie phone them and if this is a scam I want my money back! In fact if this is a scam I want twice my money back!" to which I replied if this is a scam I'll give you ten times your money back" He wandered off into the distance still muttering "If this is a scam....."
And now for the bit that you will like. While I counted the money yesterday I came across a Greek Drachma and suddenly realised that that was what the lad had put in the box! He was winding us up totally and succeeded brilliantly! He and his pal must have been laughing all the way home!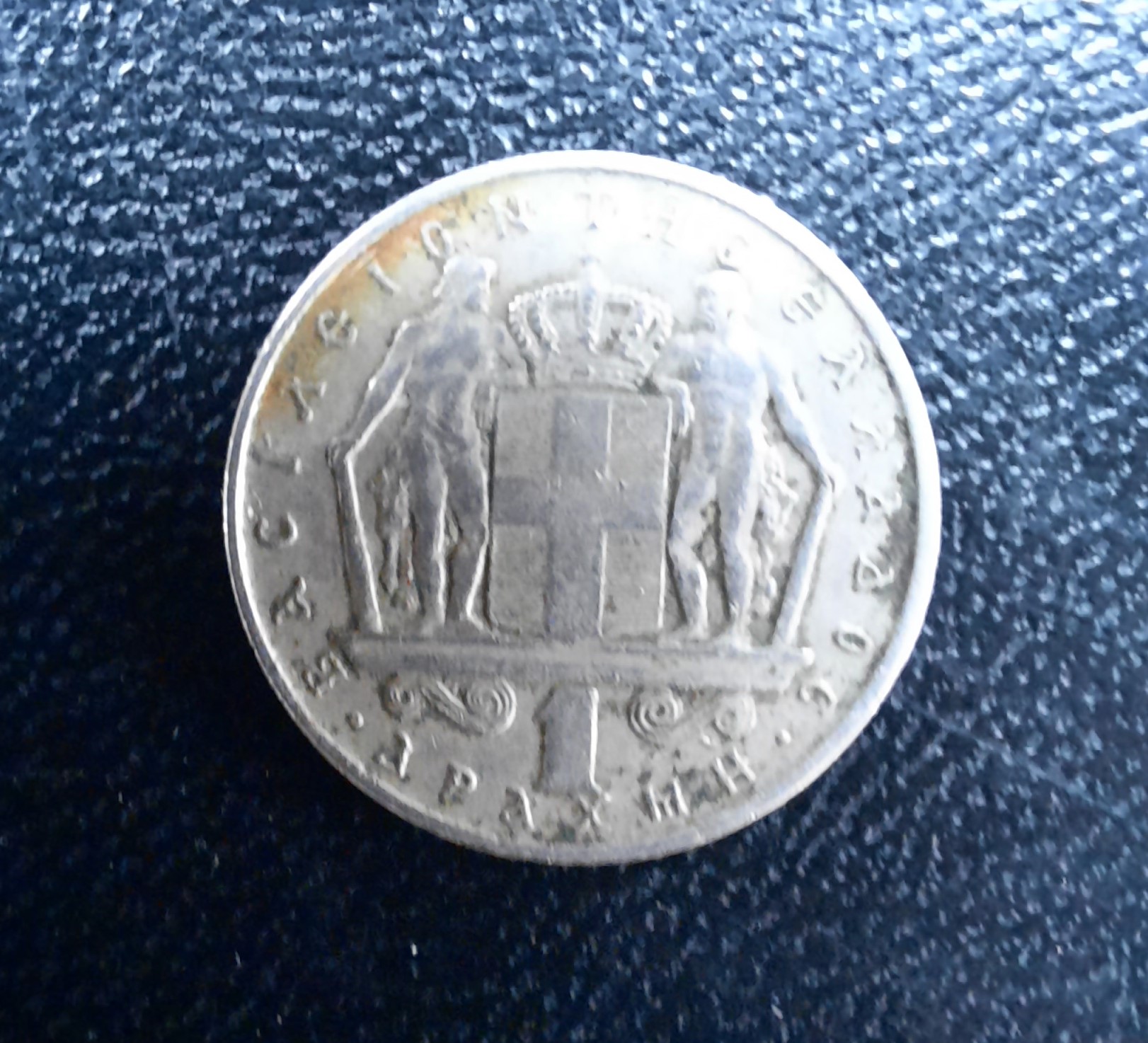 On this day: -
565 - St Columba reports seeing monster in Loch Ness.
1849 -The first air raid in history; Austria launches pilotless balloons against the Italian city of Venice.
1989 - British Telecom launched the world's first mobile phones.They had a very limited operating range that restricted their use to 100 yards from a public base station.
=================================================================
21st August
It's the 21st of the month again! That's the time when I entreat you all to donate to the foodbank a portion of what you've been saving on your Rotary Lunches. We should all be proud of what we have done for the Foodbank during the Pandemic.
We had our annual Charities day today. OK it rained a wee bit but we had fun. For the first time in 18 months we were together doing what we do. Raising awareness, spirits and money. Today despite the rain and the pandemic we raised £875 on our bottle stall. That's a result in my book. Stewart put a whole pile of work into that and deserves our grateful thanks for the success that he achieved.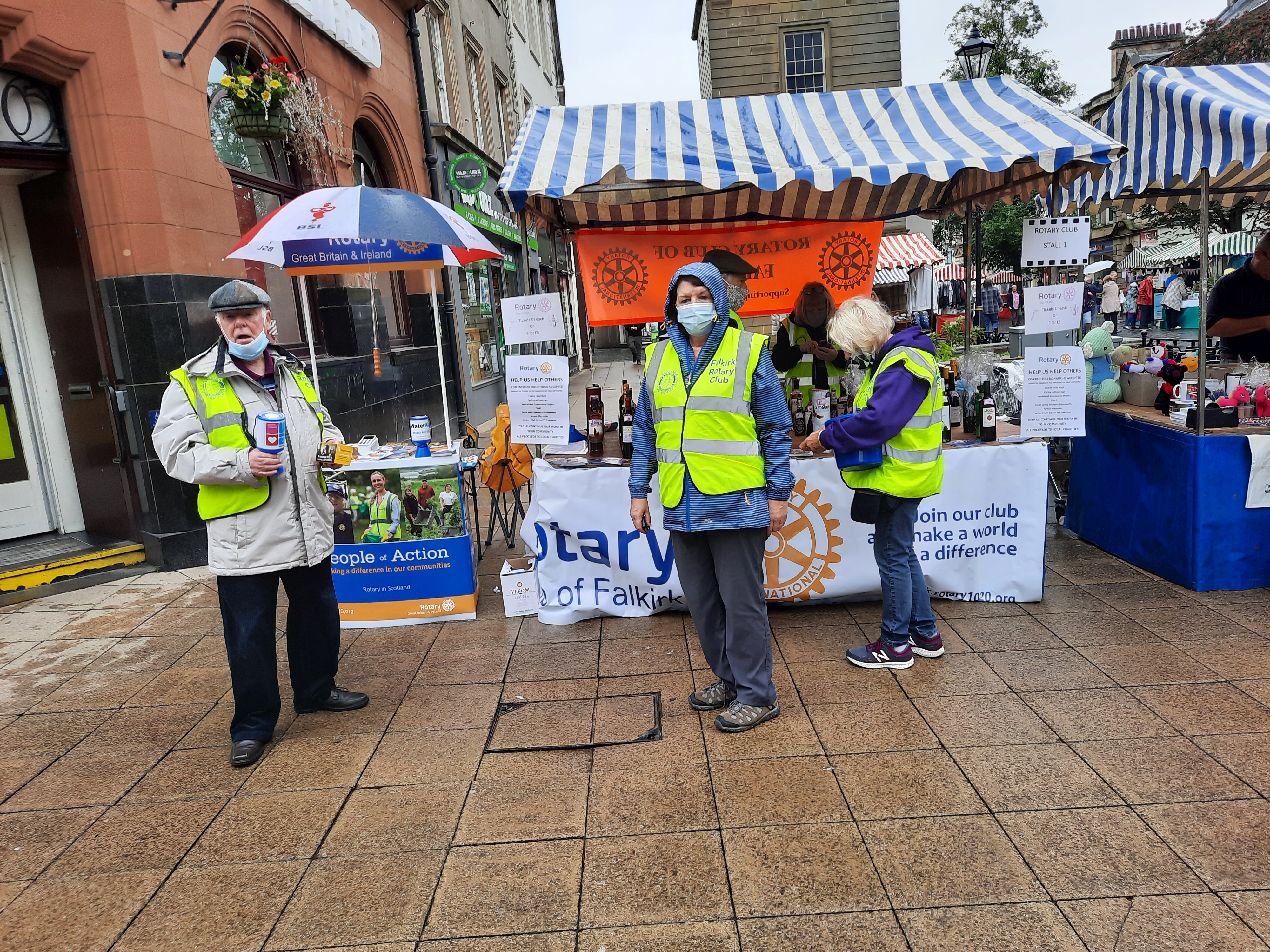 And it doesn't count the money that George raised for Water Aid - £44.31 and Sightsavers - £70.88. All in all a great success I say.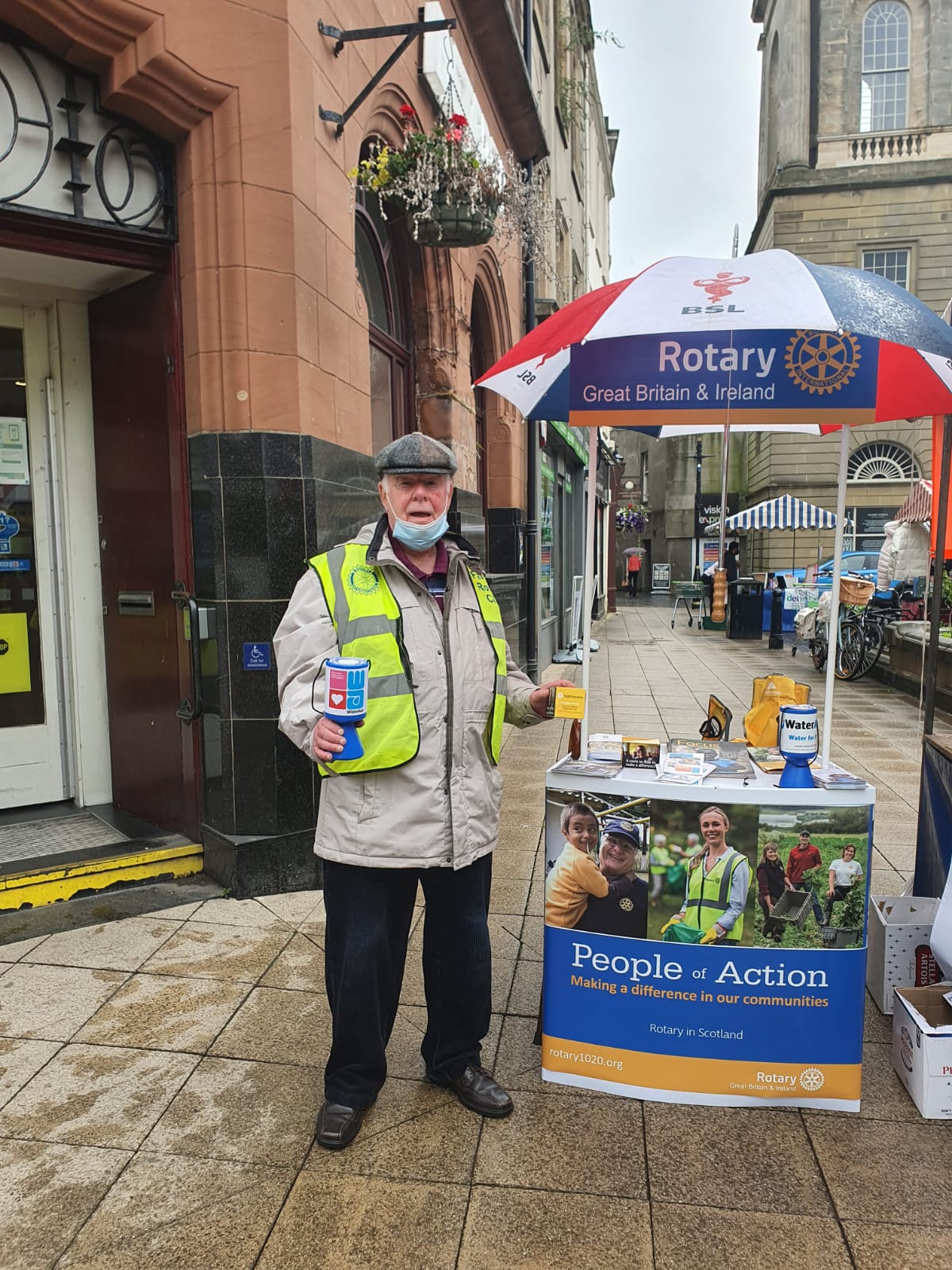 I didn't count the 1967 Greek Drachma nor the Malaysian one Ringgit note which together would have raised the figure by about 30p. But taken together, our total for the day has edged just over £1000.00. Well done to everyone!
============================================================
20th August
It's Charities' Day tomorrow and the weather doesn't look good. But you know what they say! No such thing as bad weather only inappropriate clothing!
Linda has been busy again for the Food Bank: -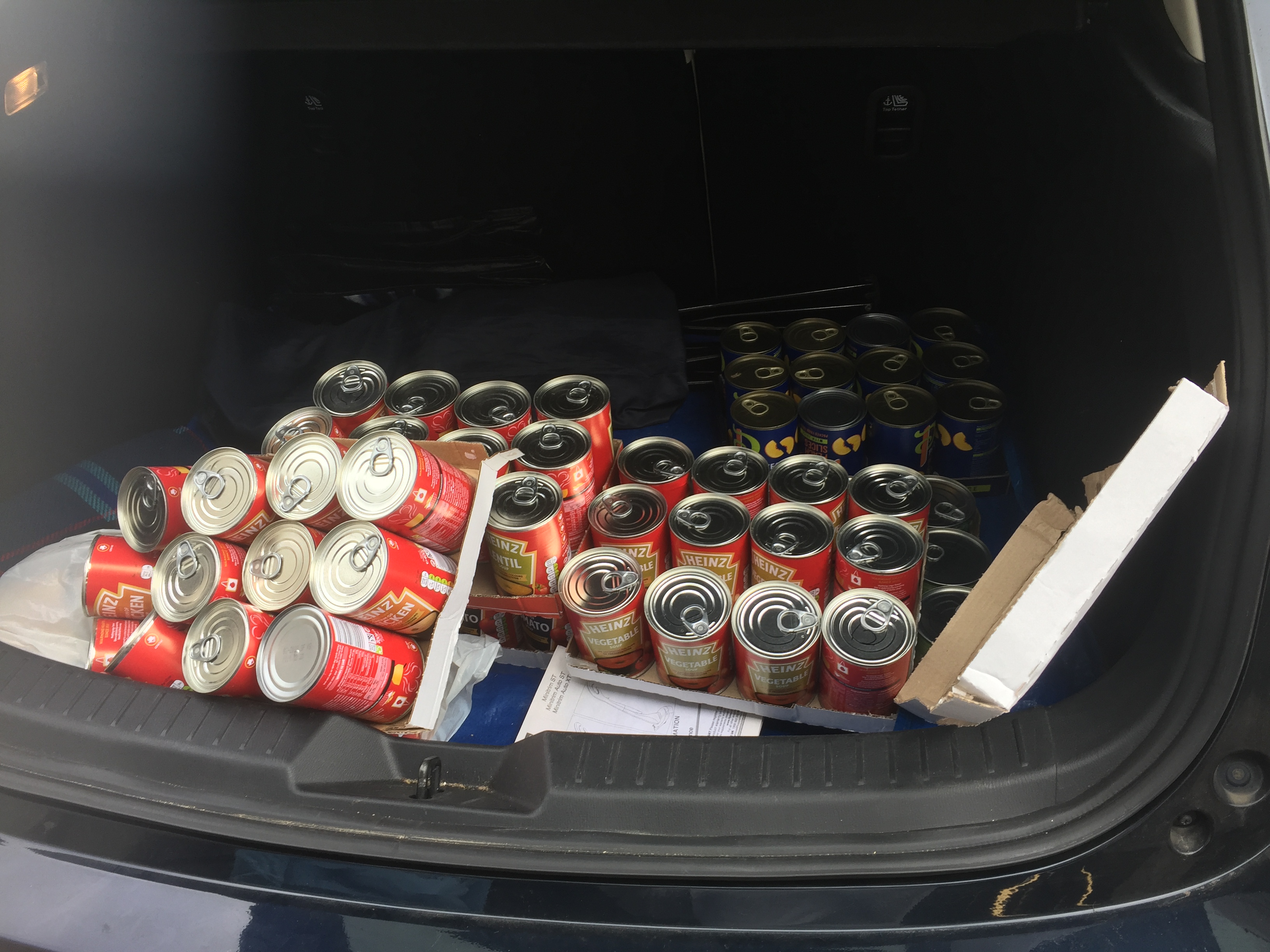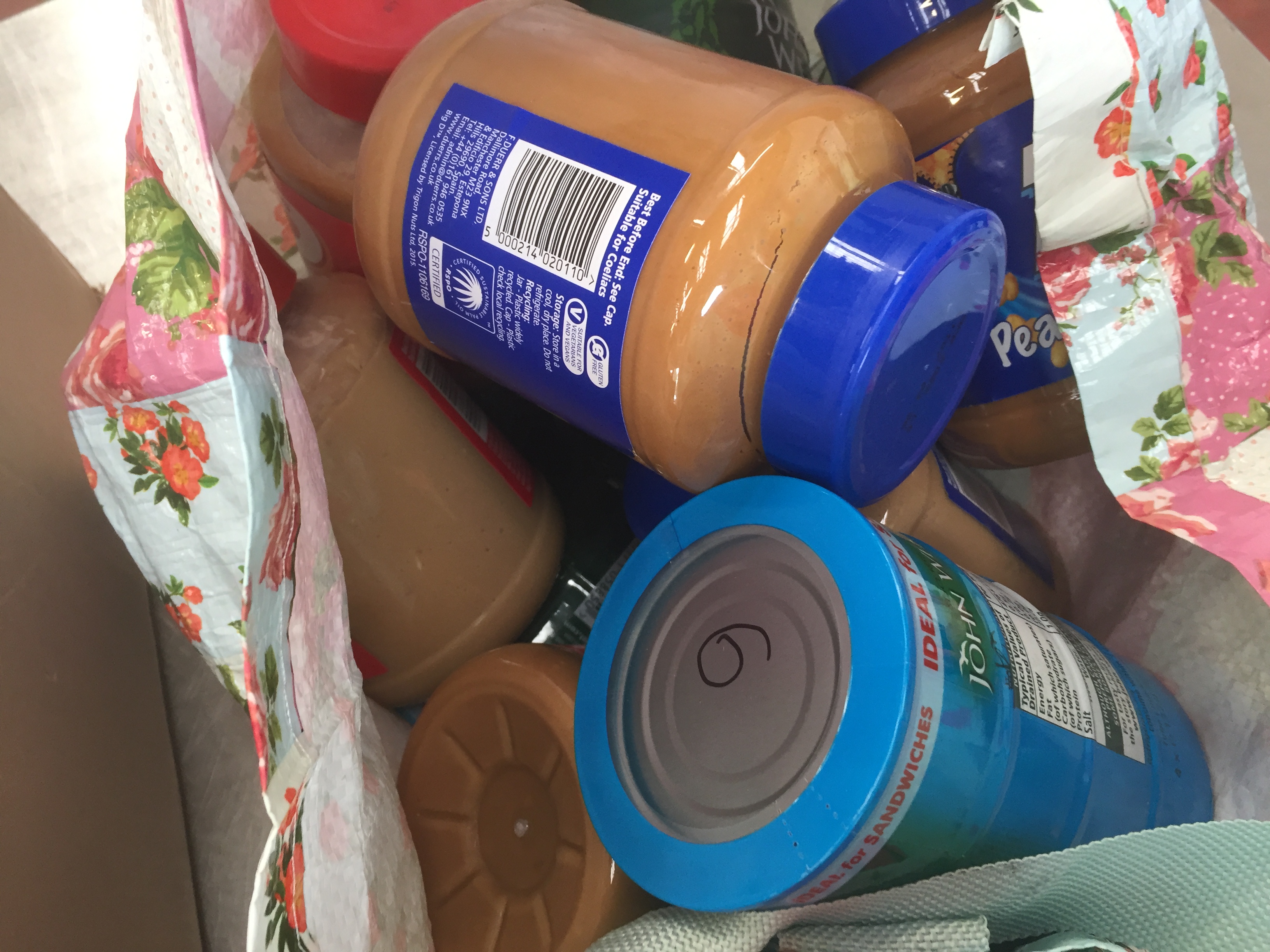 On this day: -
1672 - Johan de Witt, former Grand Pensionary (Prime Minister) of Holland and his brother are lynched by an angry mob who ate their body parts, including their roasted livers.
1888 - Longest US men's single tennis tournament match! Palmer Presbrey defeats T S Tailer, 19-21, 8-6, 6-1, 6-4, an 80 game 1st-round contest. It took the best part of another 100 years before the authorities got the message and introduced "the tie breaker"
1913 - Harry Brearley of Sheffield cast the first stainless steel.
1940 - Winston Churchill delivers his now famous speech saying of the Royal Air Force, "Never in the field of human conflict was so much owed by so many to so few"
1956 - Calder Hall, Britain's first nuclear power station, began operating.
1989 - In London, the pleasure cruiser Marchioness was hit by a dredger, the Bowbelle, on the River Thames - 51 people attending a party on the boat were killed. The formal investigation put the time elapsed from the instant of collision at 1.46 a.m. to complete immersion of the Marchioness at a mere 30 seconds.
=====================================================================
18th August.
Yesterday I visited FVRH for a TRUS Biposy. The MRI scan that I had for my prostate showed "abnormalities" and apparently the only way to be sure is to have the biopsies done. All the way through the procedure I was priveleged to being distracted in conversation with a delightfull student nurse, a colleen from Tipperary, whose job, I am sure, was to do just that. I will discover the outcome on the 26th August.
The other day I was cutting the grass and I accidentally ran over a stump of a small willow tree that had died. The result was that the blade holder boss on my lawnmower broke and I couldn't finish the job. The new piece has arrived and I have fitted it this morning so I am off to finish cutting the grass.
On this day: -
1948 - Jockey Lester Piggott, aged just 12, rode his first winner on only his seventh ride.
1969 - The Woodstock Music and Arts Fair the legendary rock festival near Bethel, New York, that attracted some 400,000 fans—ended
1993 - Two 10-year-old boys are charged with the abduction and murder of two-year-old James Bulger in Liverpool.
=================================================================
17th August
Sorry about yesterday I had a busy day. The morning was occupied at a Seagull trust Crew Training day. The afternoon was St John's turn with a patient from Sauchie.
I hope that you have all supplied bottles to Stewart by this time! Bottle stalls don't just pop up by themselves! It takes a lot of planning and organising. I am looking forward to Saturday. It will be a first step back on the road to some sort of normality.
On this day: -
1661 - It was the party to end all parties. Held in a magnificent new château, the 6,000 guests, including a king, were handed gifts such as diamond brooches for the ladies and thoroughbred horses for the men. A spectacular fireworks display took place in glorious gardens and a play, especially written for the occasion by the playwright Molière, was performed.
But the French king who was supposed to be flattered and impressed by it all, Louis XIV, was appalled. He had already been tipped off that the host, his finance minister, Nicolas Fouquet, had amassed his vast wealth by cooking the books. Fouquet, after a thnree year long trial, was imprisoned and died there 16 years later. The guy who got Fouquet's job was the guy who tipped off the KIng.
1743 - John "Jack" Broughton, English bare-knuckle boxer published a set of rules to control boxing and introduced boxing gloves. The new rules forbade hitting an opponent when he was down, kicking, gouging, head butting and grasping an opponent below the waist.
1896 - Mrs. Bridget Driscoll of Croydon, Surrey, became the first pedestrian in Britain to die after being hit by a car. It is said she froze in panic at the sight of the oncoming car, which was travelling at just four miles per hour.
1957 - Baseball player Richie Ashburn fouls and hits fan Alice Roth twice in the same game at bat playing for the Philadelphia Phillies, 1st hit breaks her nose, 2nd one hits her while she is on the stretcher.
========================================================
15th August
It's beginning to get a wee bit airy outside these days. As I write this the outside temperature is 12.9°C.
I've been back at the bookshelf again but nothing is grabbing my attention. So I have been trawling through boxes of old photographs. This one dates back to 1953 when an eight year old me was pageboy at the Camelon Mariners' Day.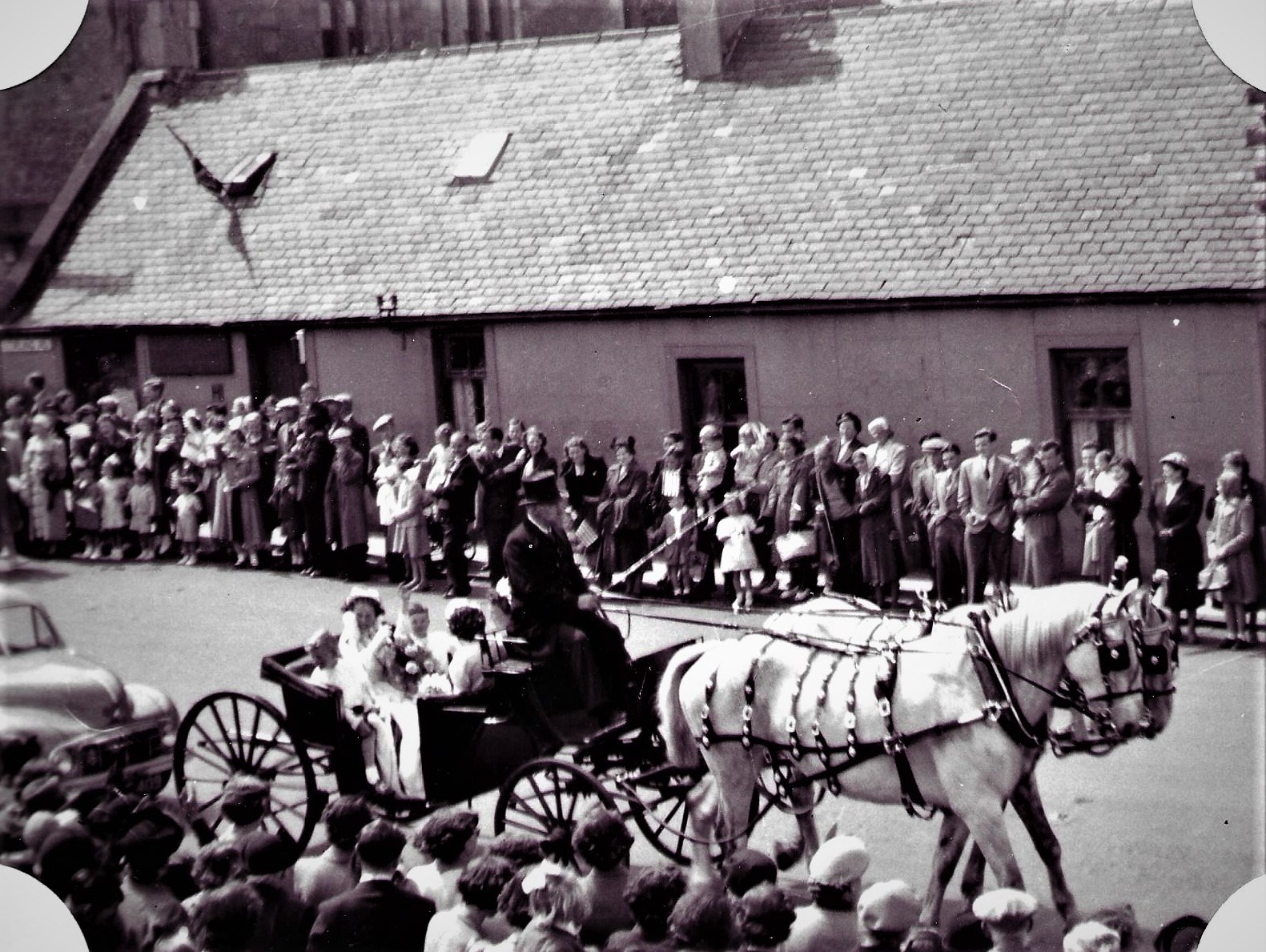 That's me waving to my dad as he leaned out of the front bedroom window to take the photograph. The locus is the top of Stirling Road in Camelon facing west. The single storey building belonged to Andrew Mungal who was an electrician with whose daughter Jean I walked to Carmuirs Primary School each morning. The Queen was Irene Davis and the other pageboy was Brian Burt. Believe it or not it was John Struthers who let me have this. There is no record of it among my father's stuff.
There is another cutting from the Falkirk Herald that shows us in a different formation ( I'm on the Queen's right in this and we all have our back to the Coachman.) Curiously it's a different pair of horses too. The cutting is not likely to be contemporary because the caption mentions the year.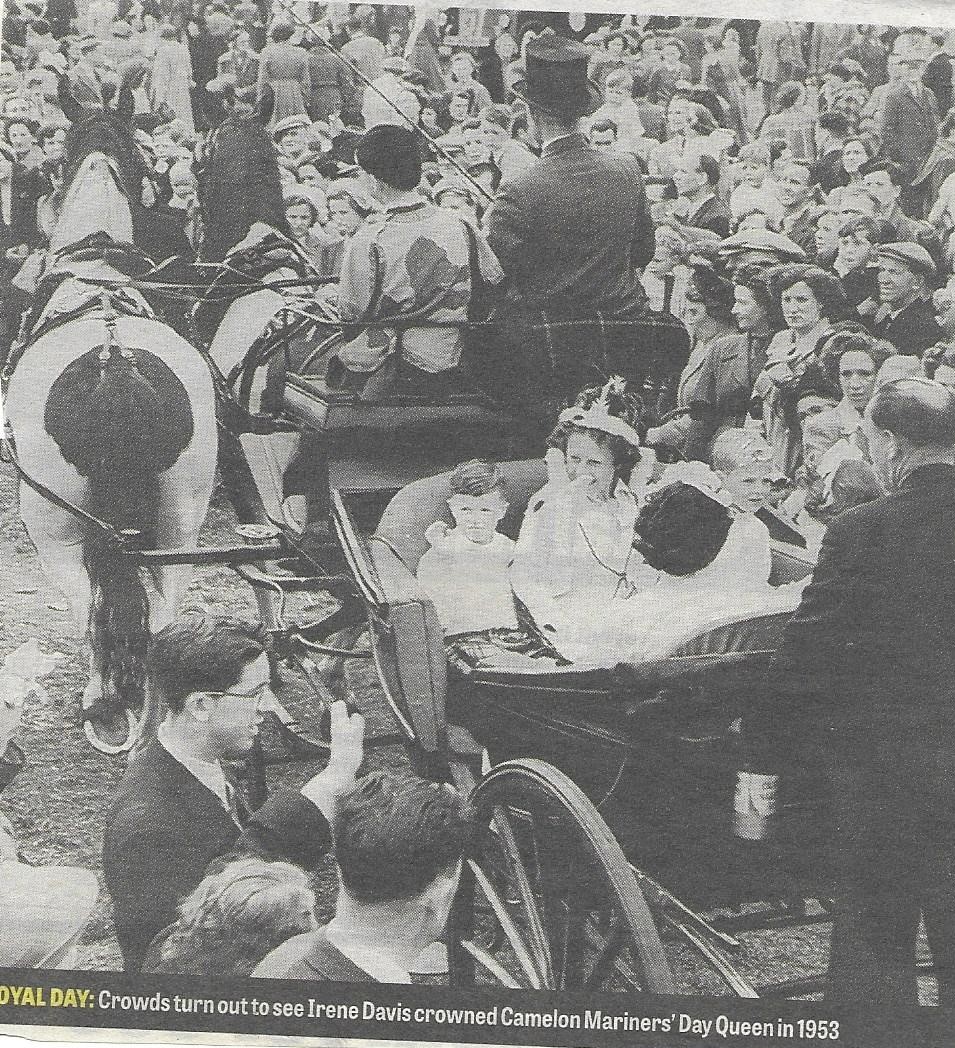 I also notice the precisely accurate apostrophe in the "Mariners' Day" Not often you see that these days.
On this day: -
1847 - Charlotte Brontë sent her manuscript of Jane Eyre to a publisher in London on this day from the little railway station near her home at Haworth in the north of England. Fearing prejudice against a female author, Charlotte chose the pen name of Currer Bell. Her almost apologetic note to the publisher, Smith, Elder & Co, read:

"I now send you per rail a MS entitled Jane Eyre, a novel in three volumes, by Currer Bell. I find I cannot prepay the carriage of the parcel, as money for that purpose is not received at the small station-house where it is left.
"If, when you acknowledge the receipt of the MS, you would have the goodness to mention the amount charged on delivery, I will immediately transmit it in postage stamps."

The novel had already been rejected five times, but Smith, Elder & Co. decided to take a chance and quickly found they had a controversial hit on their hands.
1941 - Corporal Josef Jakobs was executed by firing squad at the Tower of London at 7:12 a.m. making him the last person to be executed at the Tower for treason.
1950 - It's Princess Anne's birthday.
1963 - The execution of Henry John Burnett, the last man to be hanged in Scotland.
1971 - Controversial horse rider Harvey Smith was stripped of his £2,000 winnings and a major show jumping title for allegedly making a rude V-sign gesture.
1987 - Caning was officially banned in British schools (excluding independent schools).
==================================================================
14th August
I have just spent half an hour on the telephone with my sister and her husband in New Zealand. I haven't spoken with them for ages and we had what one might call "a rare blether!".
I have only just realised that many of the hinds have been quite late in delivering their offspring. I noticed this pair this morning.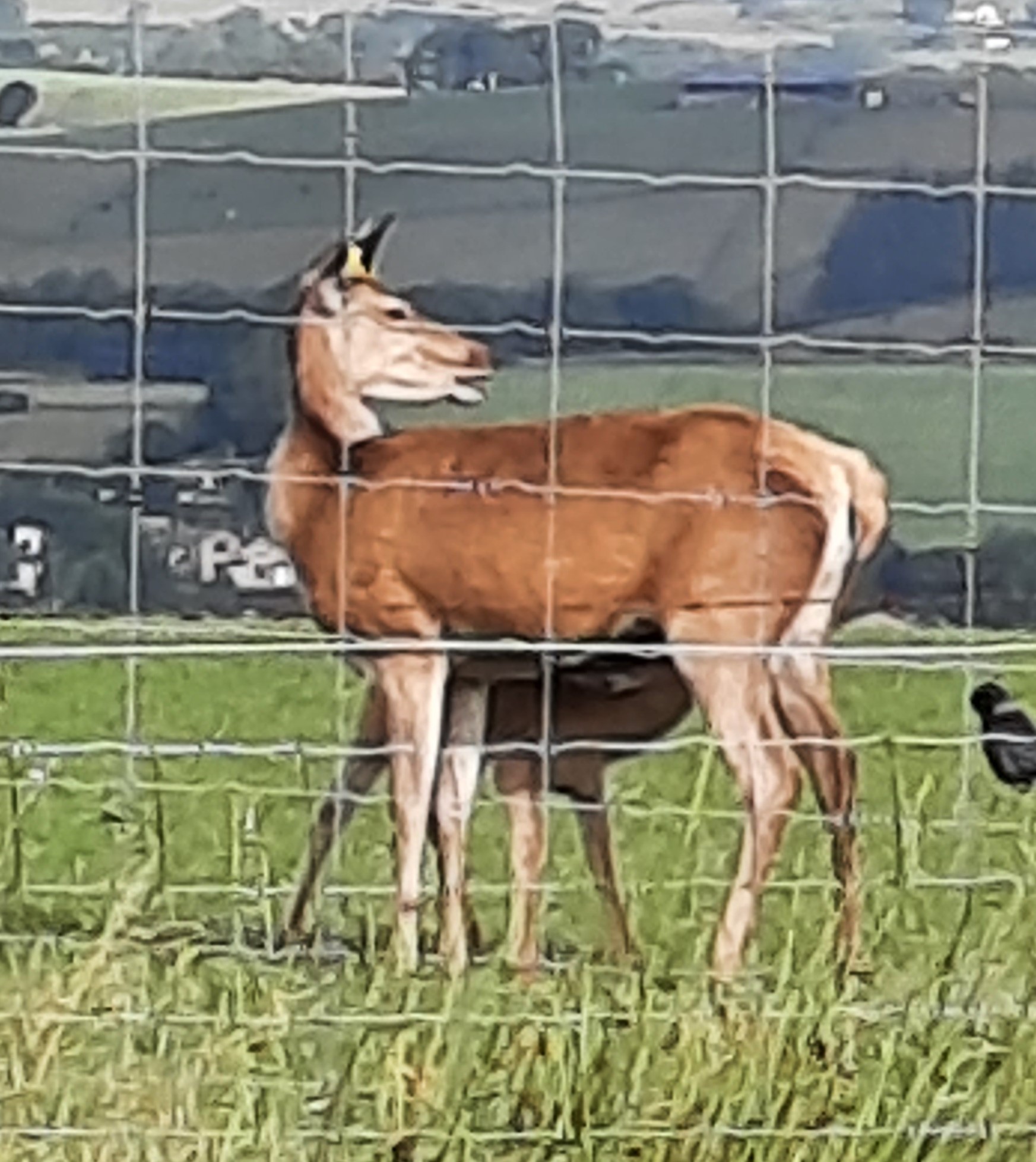 And after having been fed: -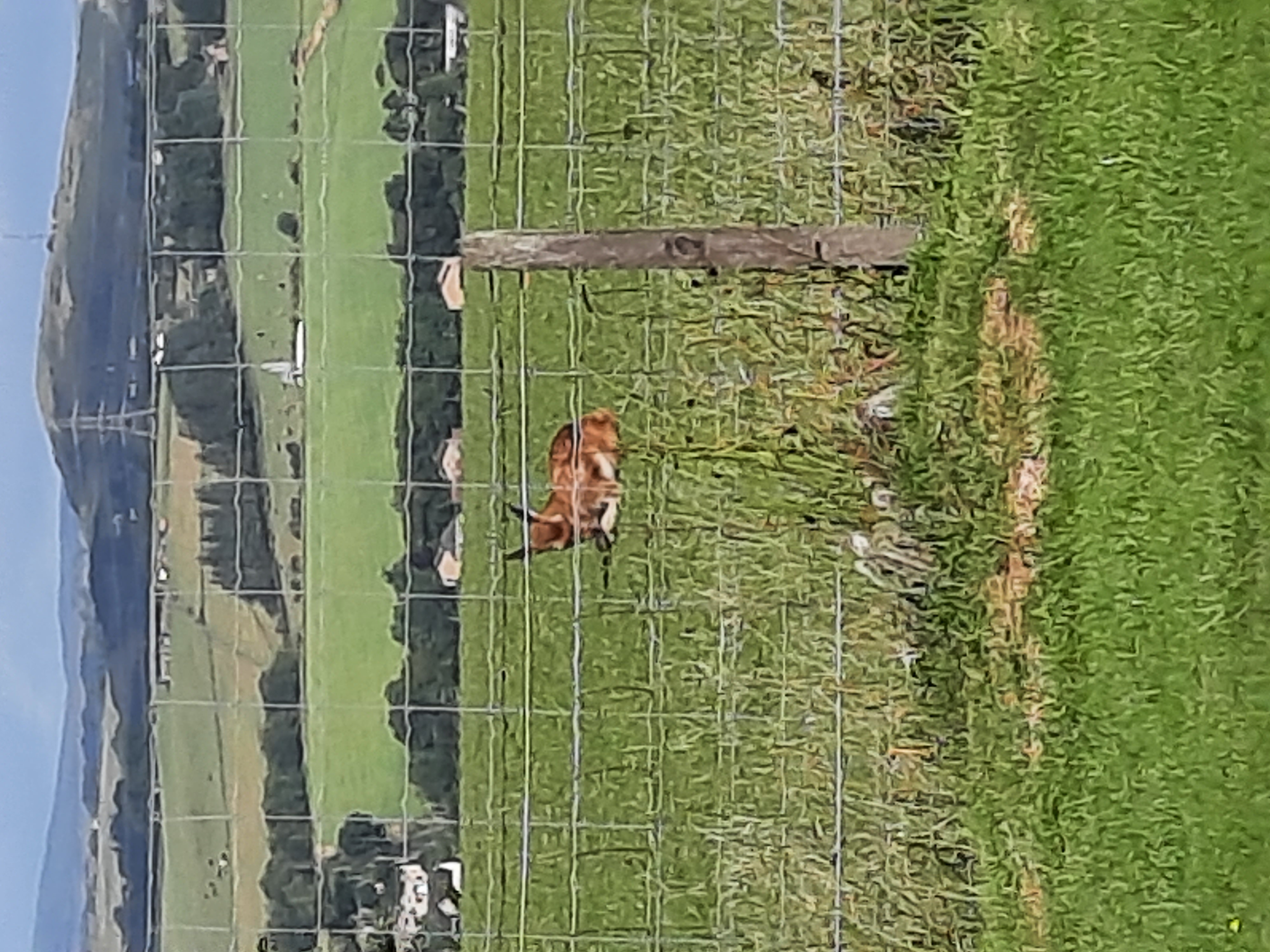 Anne Watson has let me have this: -
Hi Sandy
We have been having a bad time lately with seagulls , They dive bomb the cat and make a mess of the deck and patio doors. Last week all was explained when 3 fluffy grey chicks were spotted walking down the side of the dormer on my neighbours attic conversion they march up and down like wee soldiers while mum hovers above. It seems that she nested on the flat roof and has managed to hatch her brood through sun and torrential rains I have been trying to get a photo of them but they merge into the background
YIF
Anne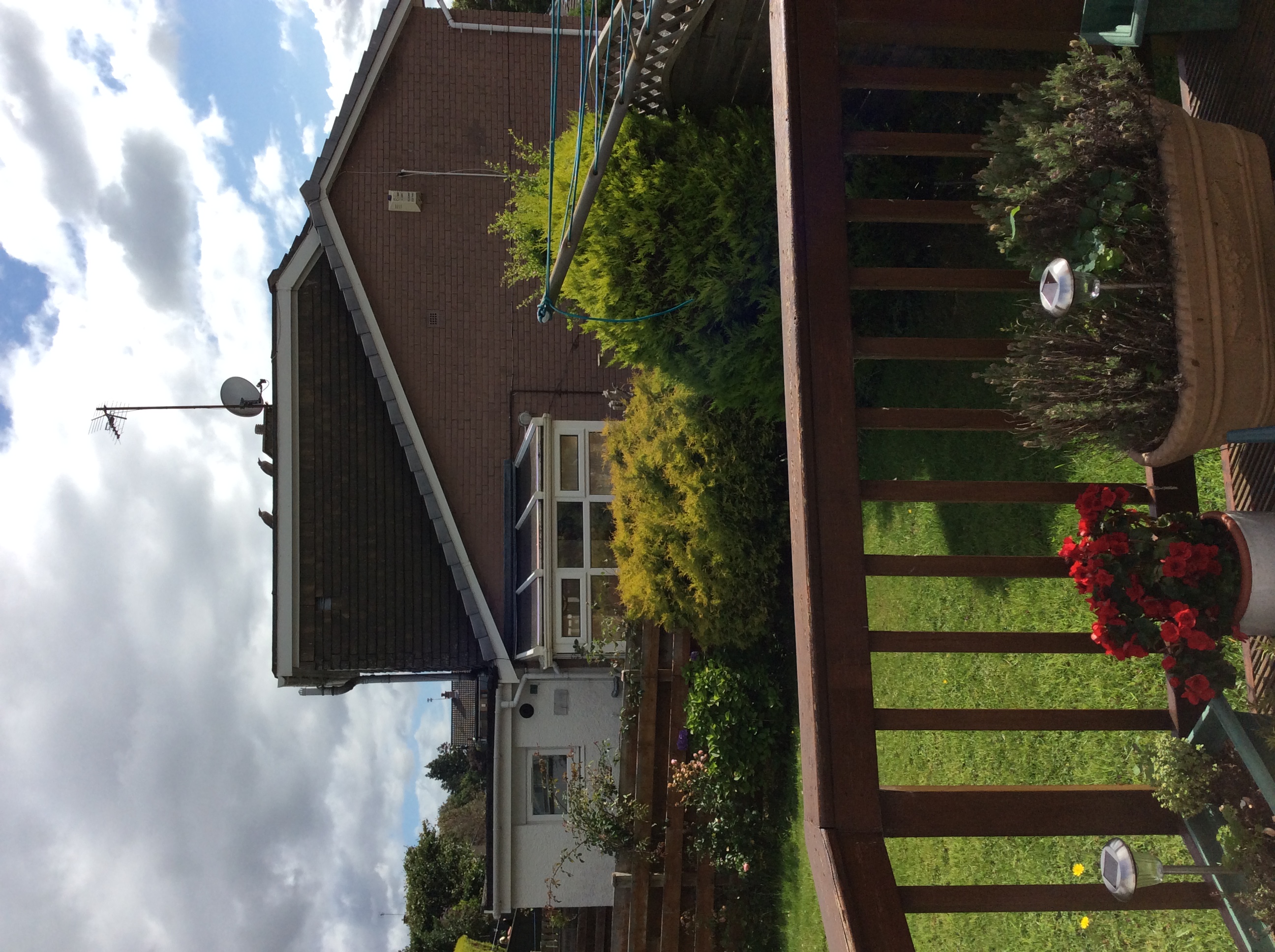 AND
This is a picture of our handover in Dollar Park in front of The Acer we planted for our 50th in 2009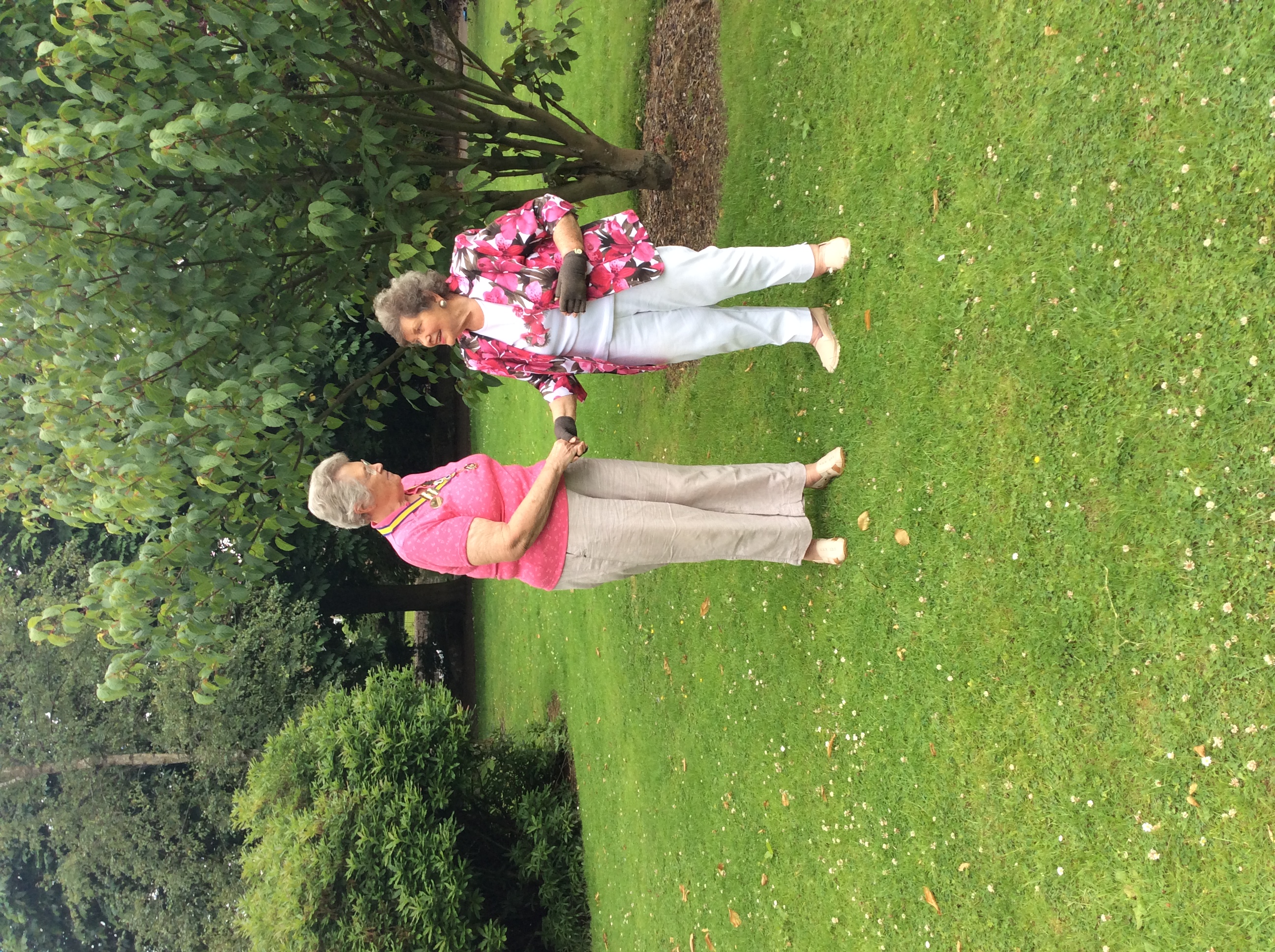 ====================================================================
13th August
Sorry about yesterday! Busy day! And the Glorious Twelfth! There's nae Grouse up here though so that went by without comment. I had a patient to transport in the afternoon so I missed the Club meeting but Andrew sent me a Screenshot: -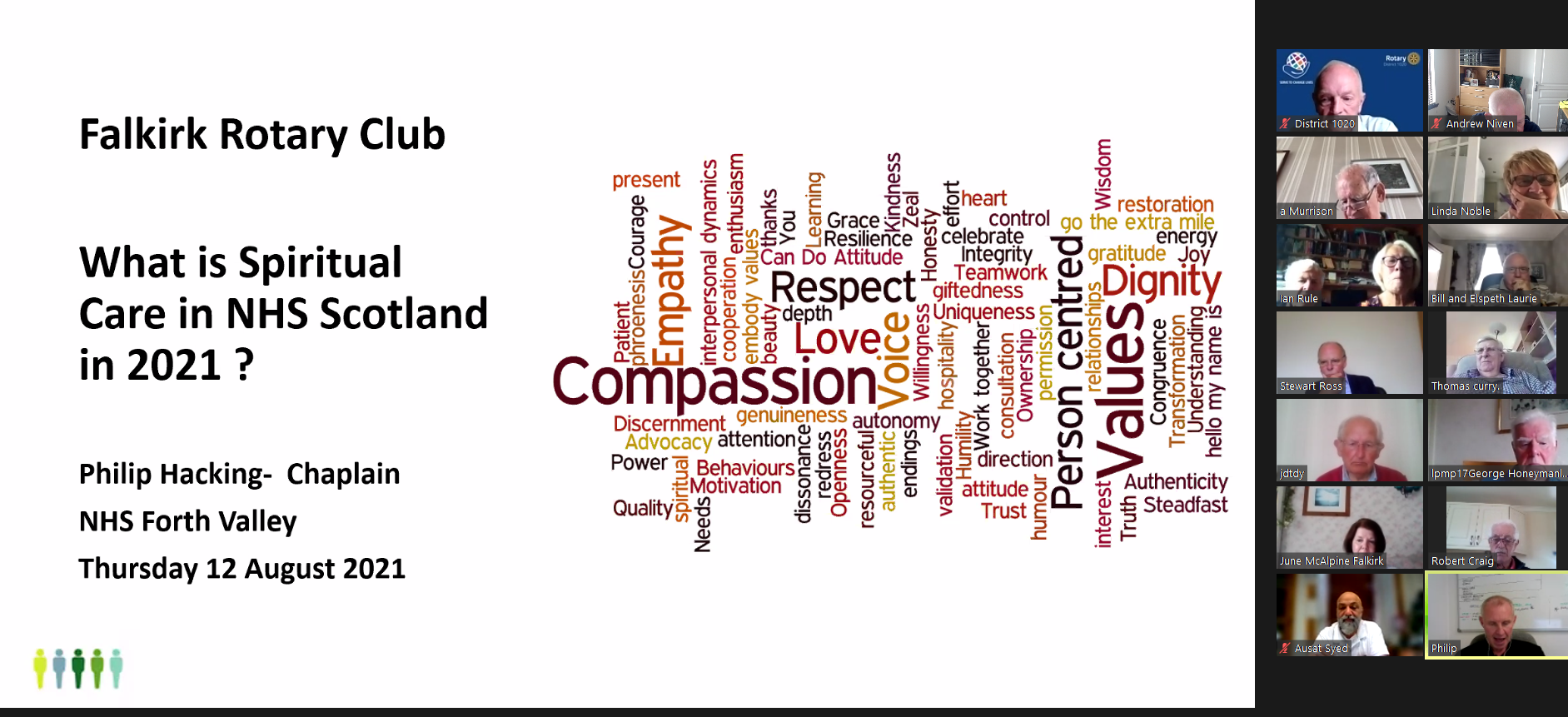 Because I wasn't there I haven't put anything on the "Club Meeting" page. But one of my neighbours, a fermer!, posted this on Facebook and I thought it was hilarious.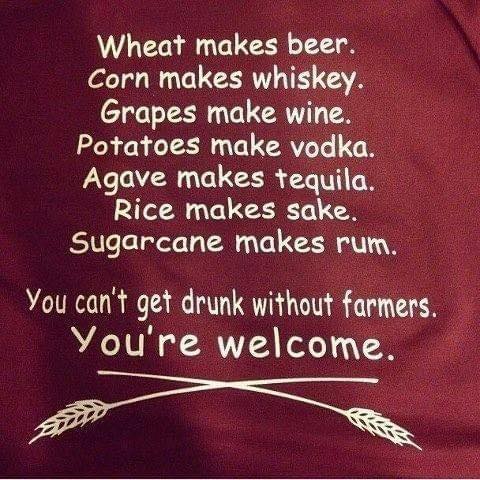 And he missed out Barley makes Whisky!
John's father had three sons Larry, Curly and ???
On this day: -
1930 - Invention of stainless steel by Harry Brearley of Sheffield.
1941 - The world's first plastic car is unveiled to the public by Ford. It was composed of a steel tubular frame with plastic panels attached and ran on hemp fuel. The engineer who created it claimed the plastic panels were made from soybean fiber in a phenolic resin, although others say it was likely a combination of soy, hemp, wheat, and flax. The exact formula has been lost. One of the reasons why Henry Ford was interested in developing this vehicle was the shortage of steel due to World War II. He also felt the car was safer than steel cars and because it was 25% lighter, it was more fuel efficient.
1942 - The "Manhattan Project" commences, under the direction of US General Leslie Groves, its aim - to deliver an atomic bomb.
1961 - Construction of the Berlin Wall begins in East Germany.
And if you said "Mo!" to the question above you're wrong! John's father's third son was John!

====================================================================
11th August
I'm still scouring the bookshelves for stuff to write here. The latest discovery is a book of my Dad's! I have known it since I was but a boy and have never actually read the title until now!
Published in 1937 "The Pocket Book of First Aid in Accidents & Chemical Warfare" by E.M. Cowell D.S.O, F.R.C.S., Eng. Colonel A.M.S.T. sold for one shilling! Here is the Author's preface: -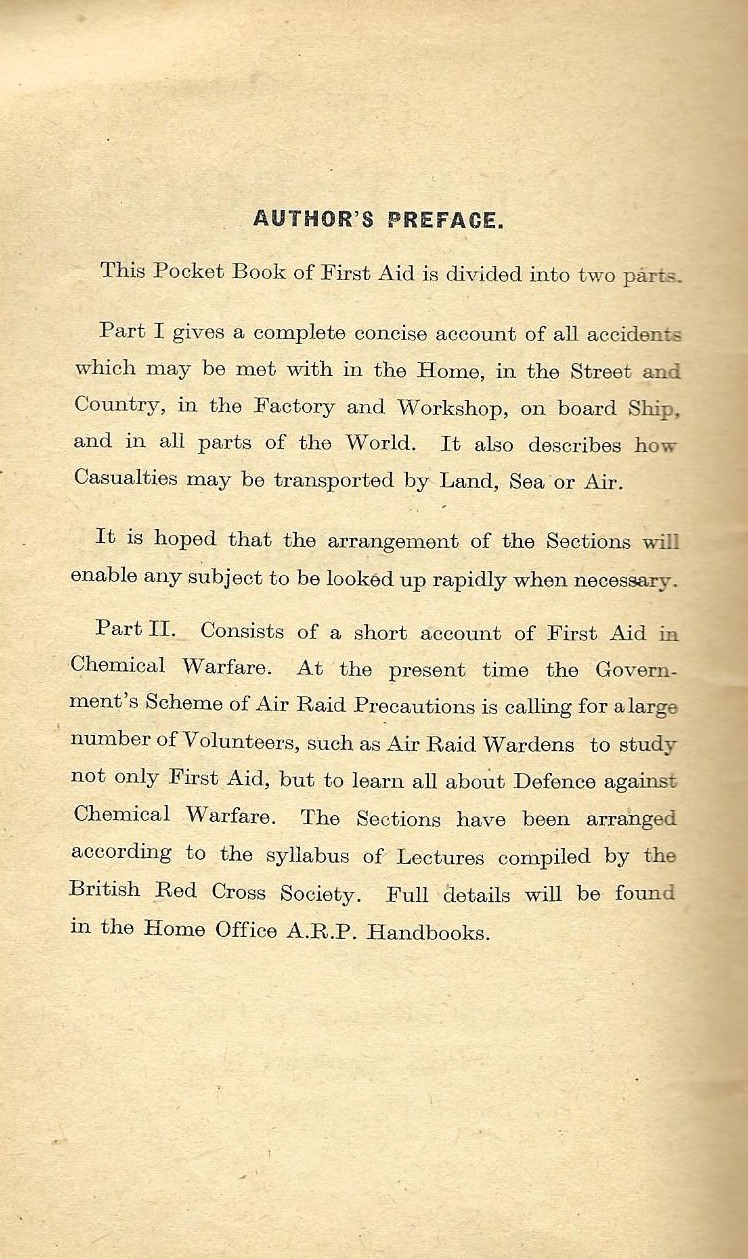 This self proclaimed "A Complete Concise Account of all accidents...in all parts of the World" is about A5 in size and something like 3mm thick! It is as it says - "The pocket Book".
It was right alongside "Scottish Place Names" by George Mackay which lists Prestonpans as "Priests living by the saltpans" and Camelon as "Crooked Pool" I was amused to see that it also confirmed my recollection that Cumbernauld derives from "The confluence of the waters". I always was led to believe that this was as a result of the fact that there are two burns in Cumbernauld, at one point only metres apart. One, the Red Burn, Flows east into the Bonny Water, then the Carron and then the Forth while the other flows in the opposite direction westwards ending up in the Clyde. The book however refers to a burn in the old village that "joins another nearby". That's not nearly as interesting.
Lymph - To walk with a lisp!
On this day: -
1909 - The first recorded use of the new emergency wireless signal SOS.
1965 - Six days of rioting begin in Los Angeles after the arrest of Marquette Frye. 34 people were killed with $40,000,000 in damage.
21-year-old African-American Marquette Frye was pulled over for reckless driving. After administering a field sobriety test, the officer placed Frye under arrest and radioed for his vehicle to be impounded. Frye's brother, Ronald, a passenger in the vehicle, walked to their nearby house, and brought their mother, Rena Price, back to the scene of the arrest. A scuffle ensued in which Price was shoved. She then attacked a police officer. Rumors began to spread that the police had roughed up Frye and kicked a pregnant woman. Angry mobs started yelling and throwing objects at the police. The crowd continued to grow after the arrest of Frye, his brother, and his mother, and continued to grow through the night and next day. When the rioting erupted, 2,300 National Guardsman and 16,000 law enforcement personnel were called in. The streets of Watts turned into a war zone. It is estimated that between 31,000 and 35,000 adults participated in the riots. Over the six days of rioting, there were 34 deaths, 1,032 injuries, 3,438 arrests, and over $40 million in property damage.
1968 - Fifteen Guinea Special - last main-line steam passenger train service in Britain. Selection of British Rail steam locomotives make a return 120-mile journey Liverpool to Carlisle, before having their fires dropped for the last time.
1984 - During a radio voice test, US President Ronald Reagan jokes that he "signed legislation that would outlaw Russia forever. We begin bombing in 5 minutes."
=================================================================
10th August
While looking through the bookshelves I came across a few books that I'd forgotten about. One of them is "A Dustbin of Milligan". Spike Milligan I suppose is an acquired taste but his humour always made me laugh.
The way his mind worked was not always evident when spoken out loud but it makes perfect sense when written down. Phrases like "What's that on the road ahead?" can be more easily understood in the context of his humour when written like "What's that on the road? a head!"
Or - "How do I get out of this room?" "Turn the knob on your side!" "I don't have a knob on my side!"
One of his stories centred on a man who had phoned the Police. When they arrived he said "Thank Heaven you have arrived!" to which the Policeman responded by raising his eyes heavenward and saying "Thank you Heaven!"
He advanced on the bearded detective and thrust the Ransome note under his nose! "Why have you thrust a ransome note under your nose?" enquired the detective.
I recall a TV skit that he did where he went to cross the road but spied, in the distance, a double decker bus! He instantly returned to the footpath, dropped his trousers and pants and put on a clean pair of underpants before walking out in front of the bus as it arrived.
There are holes in the sky
where the rain comes in.
The holes are small!
That's why rain is thin!
His gravestone is figured in Irish Gaelic which translated says "I told you I was ill!" KInd of like Marcel Duchamp "D'ailleurs, c'est toujours les autres qui meurent"
After all it's always the others who die.
On this day: -
30AD - There are two widely held beliefs about Claopatra, the legendary Queen of Egypt, who is said to have died on this day. First, that she was beautiful; and second, that she met her death by clutching a poisonous snake to her bosom.To Egyptians, the asp was a symbol of divine royalty and Cleopatra believed that she would become immortal if she died by allowing one to bite her. However, a number of historians have cast doubt on this account of the Queen's death, believing that she used a poisonous ointment or a vial of poison to commit suicide. As Plutarch admits: "The truth of the matter no one knows."
1793 - Louvre Palace officially opens in Paris as La Musee Central des Arts.
1842 - Britain passed the Mines Act - forbidding women and children from working underground.

Now that's just sexist and ageist!

1966 - Convicted murderer James French is executed by electric chair for murdering his cell mate. When discussing his pending execution with a reporter, he asked "How's this for a headline? 'French Fries.'"
French had killed a motorist who had picked him up while hitchhiking in 1958. Even though he requested the death penalty at his trial, he was given only a life sentence. In 1961, French treated his cellmate to a steak sandwich from the prison canteen and then allowed him to go breakfast. When he returned, French strangled him to death with a towel. French again requested the death penalty and this time it was granted.
==================================================================
9th August
I have been searching my bookshelves for something by way of inspiration for today's ramblings. I lifted a copy of "The Merry Muses of Caledonia" and scanned through the contents for something that would be acceptable to publish here! Nae Luck! For those of you who are unfamiliar with the publication it is a collection of poems and songs either written or collected by Robert Burns but not suitable for polite society. They were recited or sung in the company of his male confrere while attending the "Crochallan Fencibles". A fraternity of his drinking buddies.
The foreword goes like this and is the most presentable bit in the book: -
Say, Puritan, can it be wrong
To dress plain truth in witty song?
What honest nature says we should do;
What every lady does ... or would do!
Then I lifted an old book from 1944 entitled "Planning our New Homes". The book belonged to a colleague who died and I found it in an Antiques Shop some time later. It still has his unmistakable signature on the fly leaf. While skipping through that, a clipping from the "Illustrated Carpenter and Builder" 1951 fell out and landed at my feet: -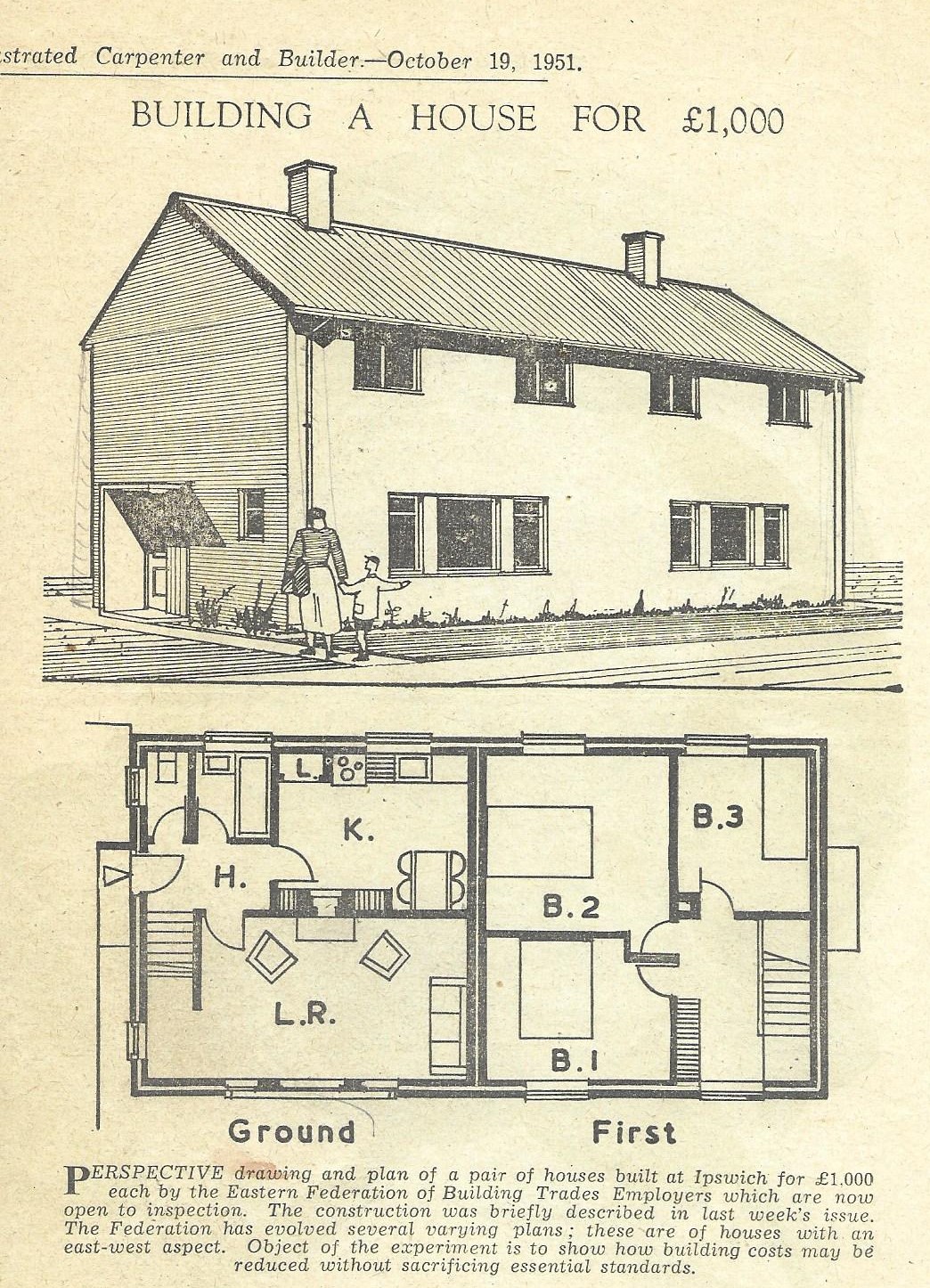 On this day: -
1483 - Opening of the Sistine Chapel in the Vatican.
1969 -

Five people, including actress Sharon Tate, were found murdered in the wealthy Bel Air suburb of the city Los Angeles, California, Cult leader Charles Manson and several of his followers were later convicted of the killings.

1974 - U.S. President Richard Nixon resigns. Four days earlier, he had admitted his complicity in the Watergate cover-up. Vice President Gerald Ford is then appointed President, with Ford giving Nixon a full pardon the following month. This is the first and only time in U.S. history that someone became President without having been elected either President or Vice President. Ford had become Vice President after Spiro T Agnew resigned.
1975 - Inflation in the UK hits 24%
2012 - Seventeen year old Austin Weirschke won the US National Texting Competition for the second time and held onto the title of fastest texter. He won $50,000 in prize money and stated that he would put the money towards college.
============================================================
8th August
It's been so long since the start of this pandemic that I have actually forgotten what normal is! My phone keeps reminding me about what I was doing 4 years ago by displaying photographs that I had taken at the time.
Four years ago on the 8th of August Diane and I decided that we would visit Rothesay. We'd never been there before. We only stayed over one night in a pretty dingy hotel on the front but the main point of the visit was Mount Stuart.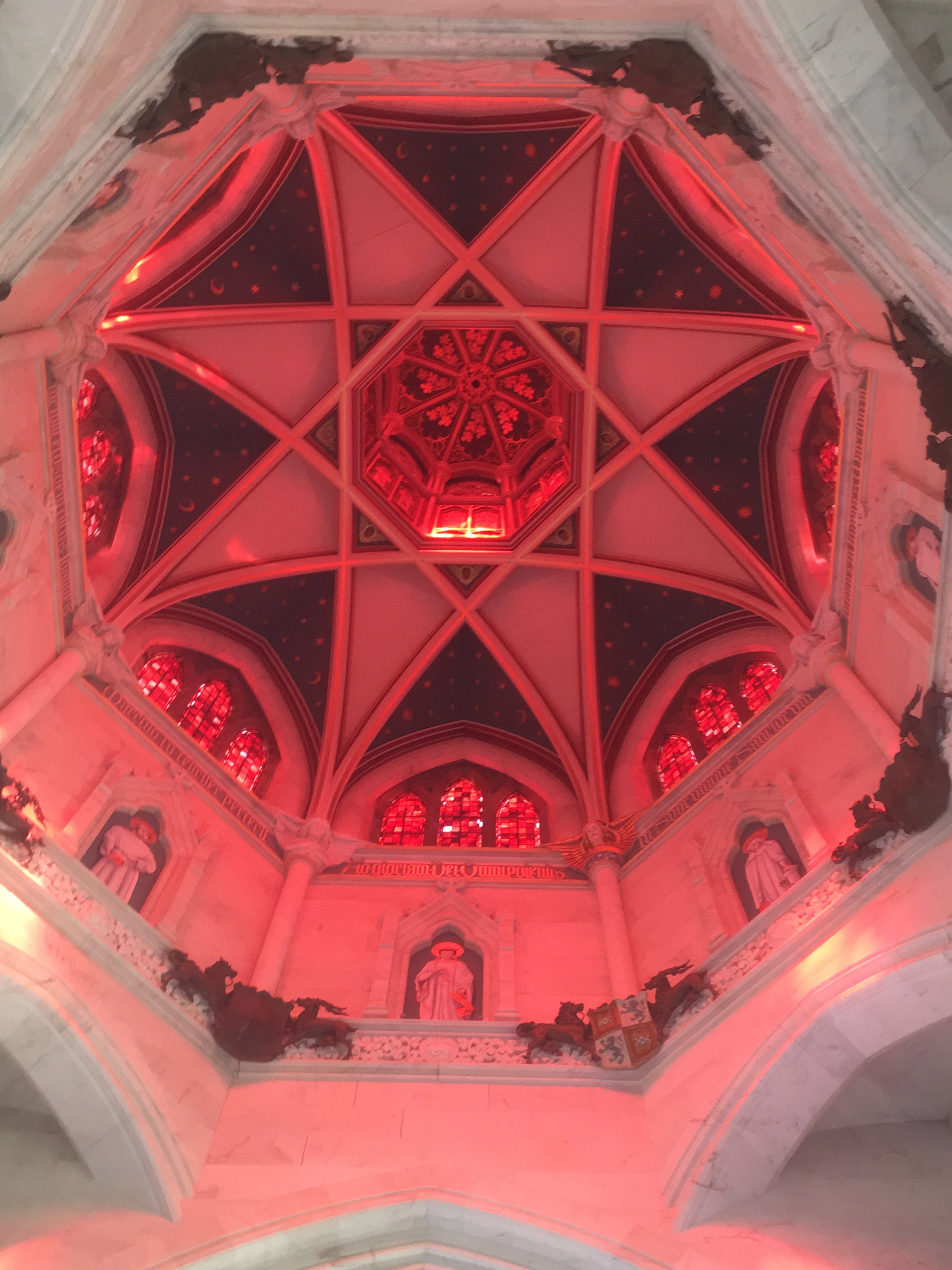 These photographs, which my phone pinged at me, are of the chapel which is a tiny part of the house.
The Web site says: -
"Mount Stuart's architectural journey is a story in itself. The original house was built in 1719, but was severely damaged by fire in 1877. Most of the contents survived, along with the wings of the building. These were incorporated into the house you see today, which was built in the late 19th century. The Georgian architecture of the wings presents a striking contrast to the otherwise Victorian design, providing a completely unique architectural blend. Taking a moment to absorb the sheer beauty of the building is an unforgettable part of the Mount Stuart experience. And that's before you've stepped through the door.
Inside, design inspired by astrology, art and mythology dazzles. See a map of the stars on the ceiling of the Marble Hall. Take the spiral staircase to what is believed to be the world's first domestic heated swimming pool. This house is filled with innovations – from an early telephone system to the Victorian passenger lift"
The house was built by the 2nd Earl of Bute in 1719 and after a fire in the late 19th Century was renovated by the third Marquess of Bute who made his millions selling Welsh coal to the world. Most of the interior is constructed with imported Italian marble. The house and gardens are definitely worth a visit. But most importantly I had forgotten that that was the sort of thing that we did! We need to get back into form again.
On this day: -
===============================================================
7th August
Michael is back off holiday!
here
is this week's "Screen Memories" and
here
are the answers if you need them.
I have a plague of moles in the garden. They never seem to exist on the brown bits! It's always in the middle of the grass! There's one at the back, one at the side and one out front. I am assuming that there are three different moles because they are quite far apart. I read somewhere that there will only be one mole in a run at any one time but I'm sure that can't be correct! There's got to be a family there. Otherwise how do they proliferate? Now there's an aliteration for you - a Proliferating plague of pests. Or maybe a monumental mountain of moles!
On this day: -
1428 - Valais witch trial proceedings begin in Valais Canton, Switzerland. The first organized witch trials.
1711 - The first race meeting was held at Ascot, established by Queen Anne, thus giving them the status of 'Royal Ascot'.
1876 - Geertruida Zelle was born on this day. Abandoned by her parents, grew up to marry an abusive husband, divorced him and resorted to sell her body to maintain her children. She slept with both sides of the warring factions in the first world war and because of that she was labelled and executed as a spy. you'll probably know her better as Mata Hari.
1947 - Kon-Tiki, a balsa wood raft captained by Norwegian anthropologist Thor Heyerdahl, completes a 4,300-mile, 101-day journey from Peru to Raroia in the Tuamotu Archipelago, near Tahiti. Heyerdahl wanted to prove his theory that prehistoric South Americans could have colonized the Polynesian islands by drifting on ocean currents.
============================================================
6th August #2
I was too quick posting the previous blog! Look what I discovered when I went to our facebook page: -
Gordon McInally (S. Queensferry) who was DG during my first term as President, is to be President of Rotary Internaional 2023/ 2024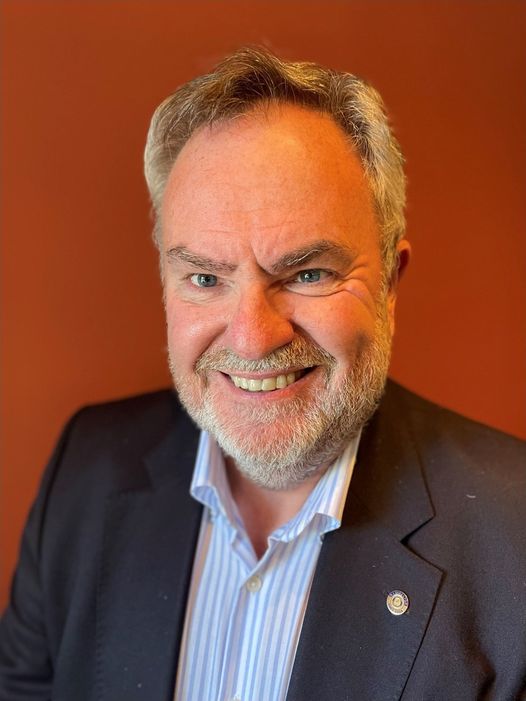 6th August
Having posted the content of our weekly meeting on another page there's not much left to say here. I visited both Gillies and Tom yesterday. They are both, for very different reasons, keen to encourage visitors. It was Tom's contension that this daily blether lifted his spirits that has encouraged me to fill something in here today.
But, as I said to Tom, I always sit for ages racking my brain (such as it is) for content. So for want of something better I decided to investigate whether I had properly used the word "racking" in the last sentence. According to the Merriam Webster Dictionary
("since 1828")
: -
"While the nouns rack and wrack have very different origins, the former from Middle Dutch rekken meaning "to stretch" and the latter from the Middle English word for shipwreck wrak, the verb forms are often conflated, especially in the phrase "to rack/wrack one's brain." Merriam-Webster supports that either usage is fine, but if you want to be extra careful, keep wrack for boat- and storm-related imagery."

So you might say that I was perfectly cowrect!
On this day: -
1661 - The Treaty of The Hague is signed whereby the Dutch Republic sells New Holland (Brazil) for 63 tonnes of gold to Portugal.
1809 - Alfred Tennyson, English poet was born. He is the second most frequently quoted writer in The Oxford Dictionary of Quotations, (after Shakespeare). Tennyson wrote a number of phrases that have become commonplaces of the English language, including "Better to have loved and lost than never to have loved at all", and "Theirs not to reason why, theirs but to do and die".
1890 - At Auburn Prison in New York, murderer William Kemmler becomes the 1st person to be executed by electric chair.
1945 - Atomic bomb dropped on the Japanese city of Hiroshima by the US B-29 Superfortress "Enola Gay"
1964 - Prometheus, the world's oldest tree aged at least 4,862 years old, is accidentally cut down in Nevada, USA.
===========================================================
5th August
Diane and I visited Caulders Nursery at Old Inns in Cumbernauld the other day. The one that used to be Dobbies. Diane was keen to buy Anemones. In the end she didn't buy any of these but came home with an Agapanthus! The Lily of the Nile! None of that is of any note except that it does fill up some space. The point to this story is that while we were there I saw something else.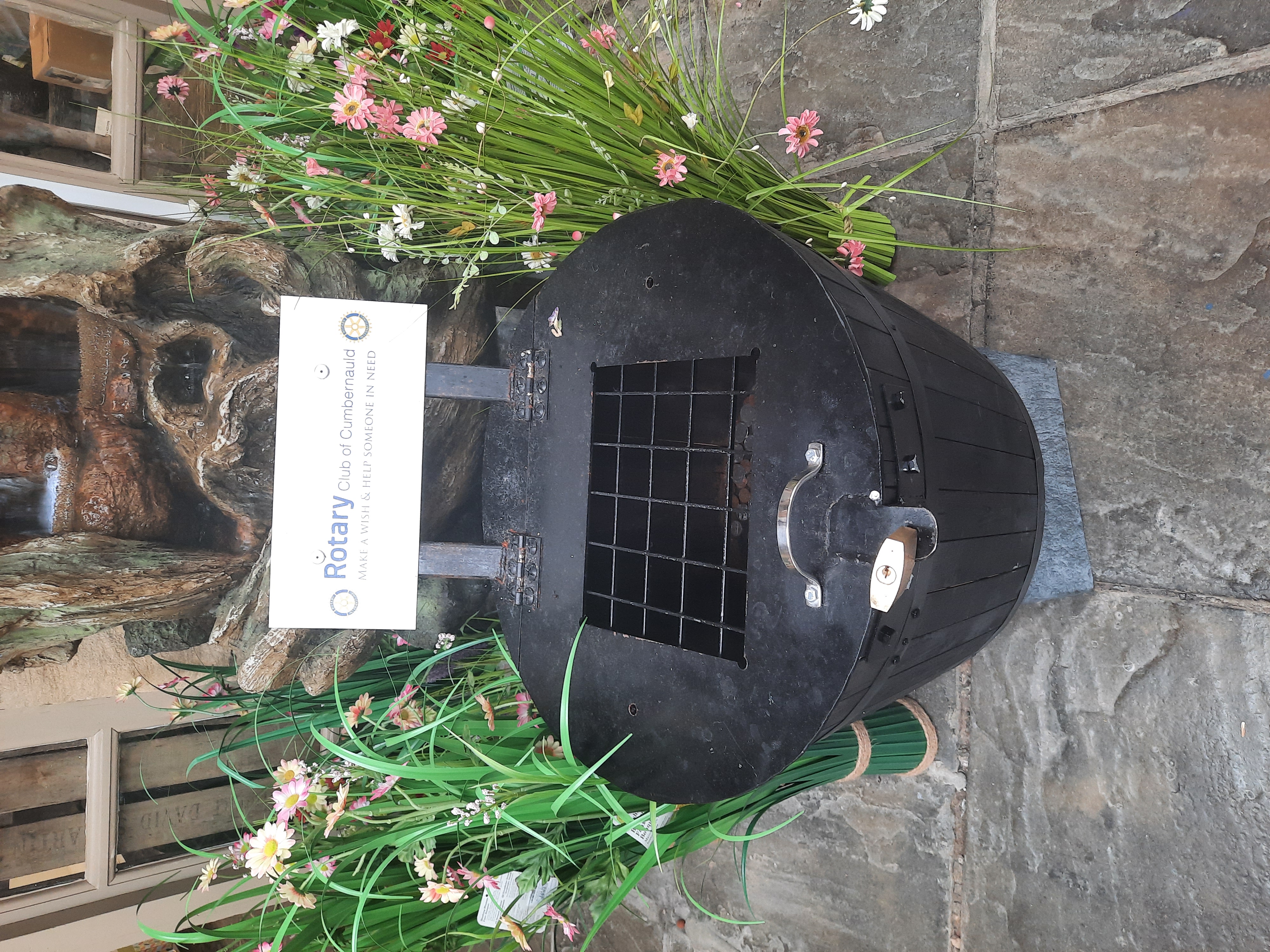 I thought that we might be able to do the same sort of thing somewhere. Then it dawned on me that Torwood Garden Centre is in Larbert's area and Klondyke is in Grangemouth. Barring B&Q or the Range there is no similar facility in our area. Maybe we could do it in the Howgate Centre. Any ideas?
On this day: -
=============================================================
4th August
This is Membership month! We are all encouraged to bring someone along!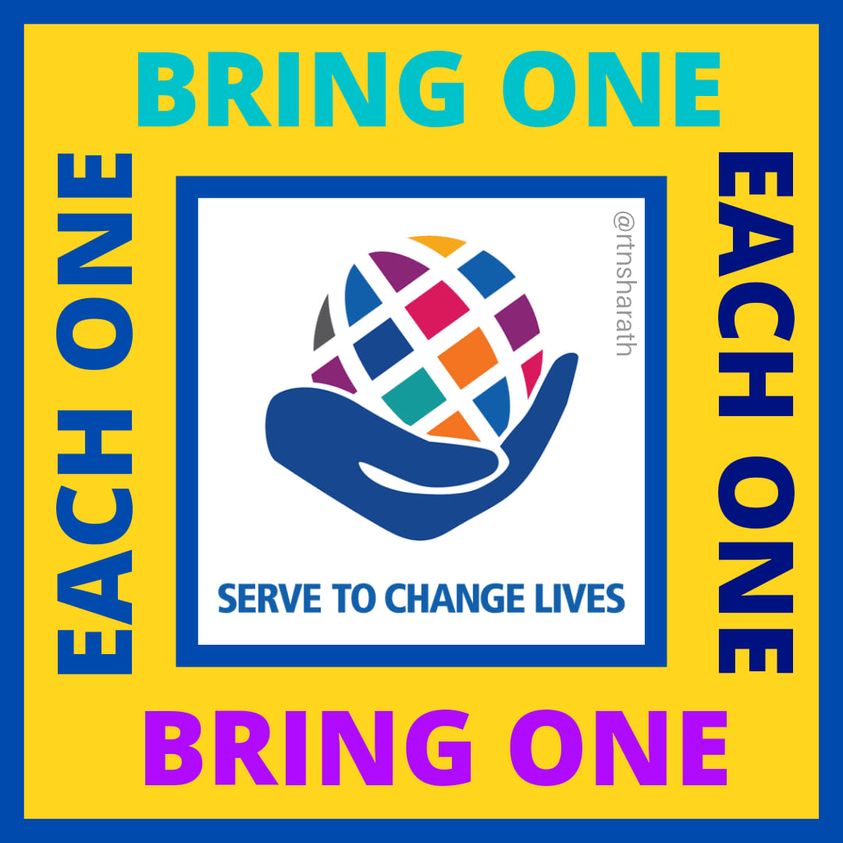 President Narek and his family are in Portsmouth at the Docks Museum.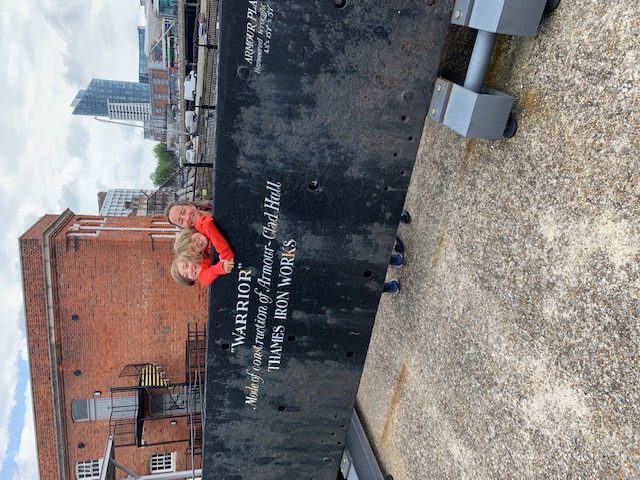 A chip off of the old block I would say: -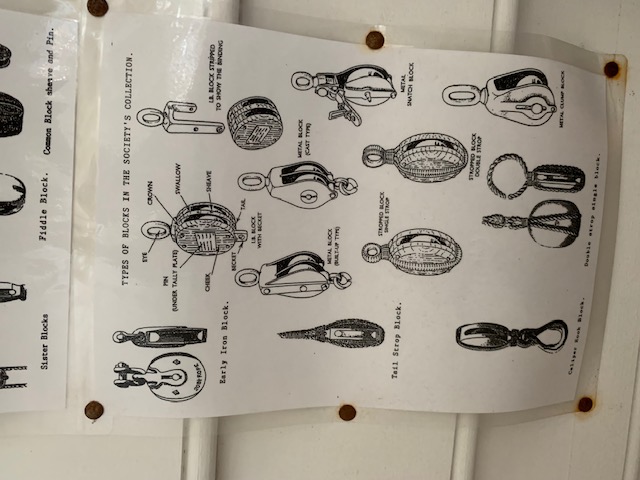 But it's just the same old drill!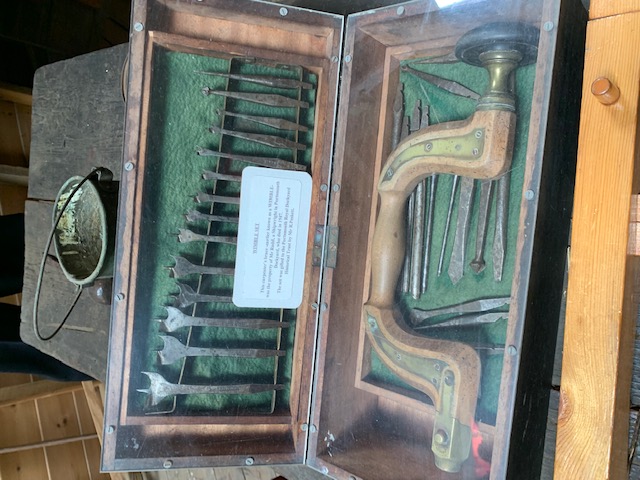 Nonetheless I think that they have nailed it!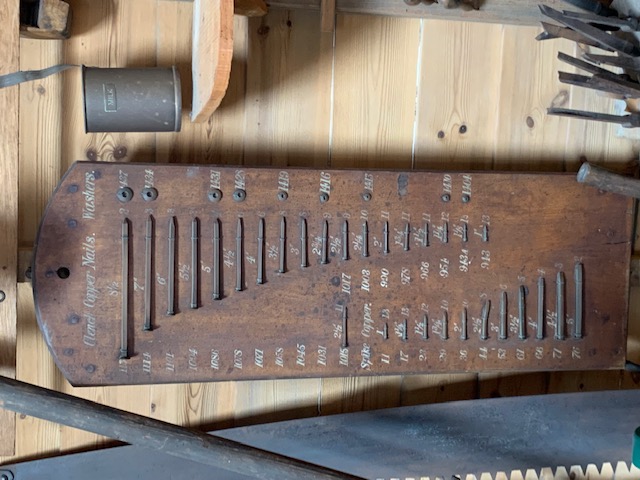 Enough Enough I hear you say!
On this day: -
1693 - Date traditionally ascribed to Dom Pérignon's invention of Champagne.
1704 - Gibraltar was captured for the British by Admiral Sir George Rooke.
1989 - On this day the first Bond movie to be released that did not bear the name of one of the Ian Fleming novels! It was the sixteenth Bond movie to be produced but which one was it?
2012 - The annual stinging nettle-eating competition, started in 1986, was held at The Bottle Inn pub at Marshwood near Bridport in Dorset. The current record at the event for the most amount of nettles eaten in one hour is 76ft (23m).
==================================================================
3rd August
Two or three years ago we were in Los Angeles visiting my nephew and his wife. Myles and Roxanne stay in the Northern suburbs of the city but have a holiday home at Big Bear to the East high in the mountains. Big Bear is a Ski Resort and they can quite easily be sunning themselves on Malibu beach in the morning and skiing in the afternoon. Anyhow we went to Big Bear and Roxanne was at pains to show me her latest kitchen gadget which consisted of a Sodastream! "Acchh!" says I, "We had wan o' they things in the 1970s! they are auld hat them!". She was suitably and appropriately cowed!
For the uninitiated a "Sodastream" is a countertop contraption that aeriates water.
Imagine my surprise when, a couple of years later, we were visiting Hopetoun House and I had the tables turned on me when we were introduced to the very first "Sodastream" circa latter half of the 19th century!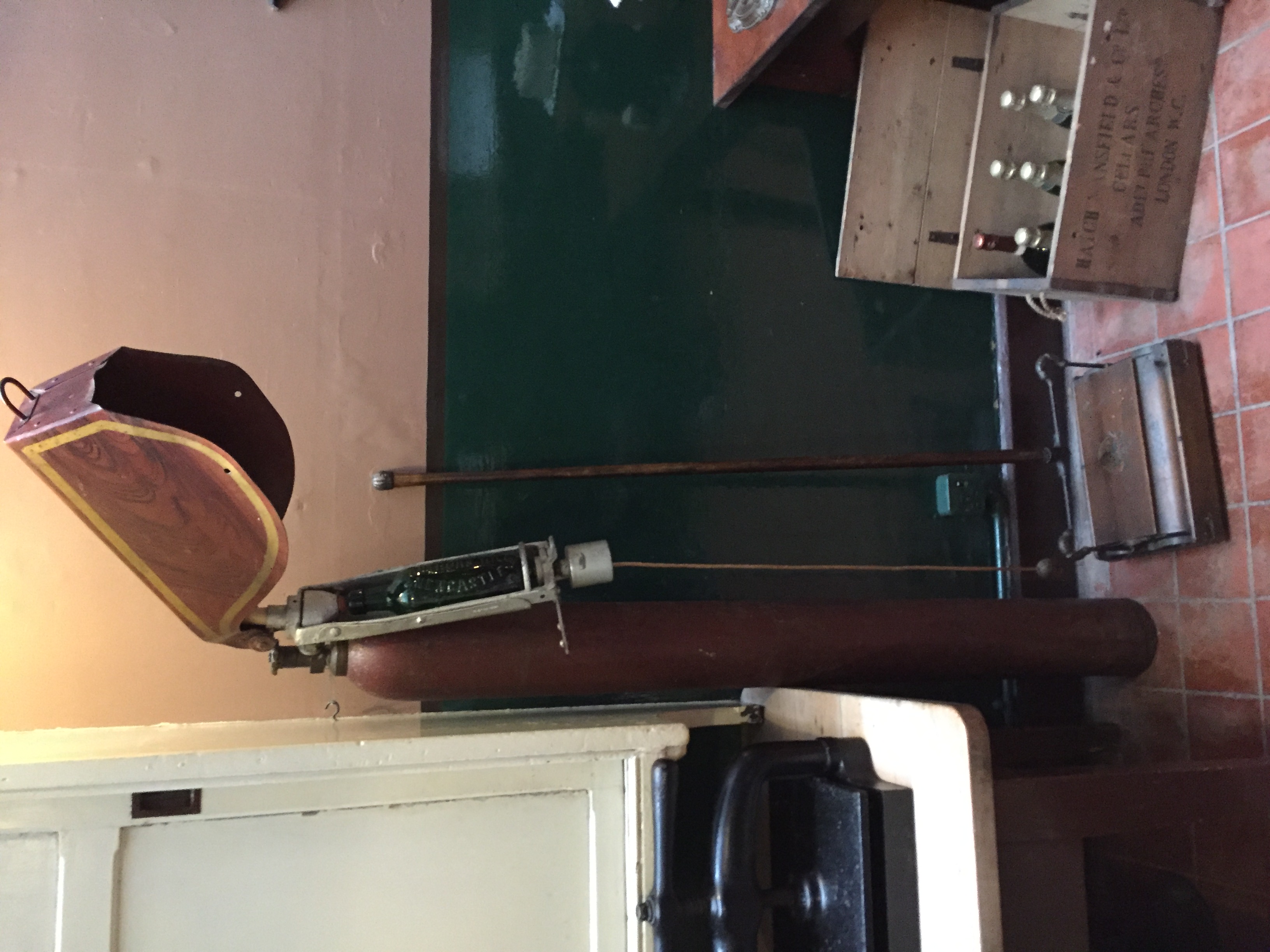 Our District esteemed District Secretary Ian Starkey has posted this on Facebook! I like it!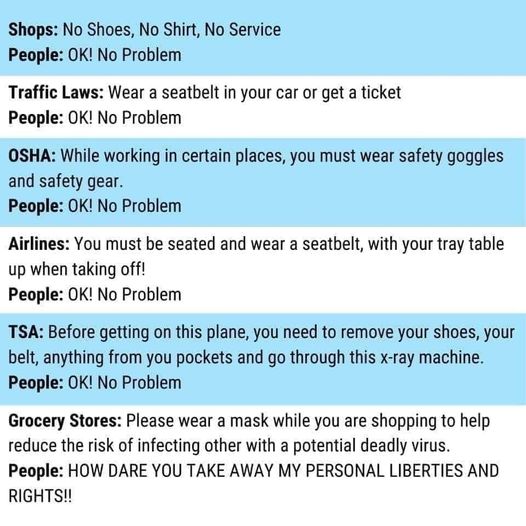 On this day: -
1936 - The black American track star Jesse Owens upsets Adolf Hitler's theory of Aryan superiority by winning a gold medal in the 1936 Summer Olympics held in NAZI Germany and known as "Hitler's Games". He won in the 100-metre dash with a time of 10.3 seconds and went on to win a total of four gold medals.
Shortly before the Olympics, the founder of what would become the Adidas shoe company persuaded Owens to wear a pair of his company's shoes. This was the first sponsorship for a male African American athlete.
1958 - USS Nautilus passes underneath the icecap at the North Pole.

===============================================================
2nd August #2
I have only just had an email from Sophie. Sadly too late to include in Rotary Calling but with some monumental news to confirm Linda's intimation on Thursday. Charlotte Rankine was born on Tuesday the 27th of July weighing 7lbs 9oz. Sophie says that this makes Robert and Mhairi Great Grandparents! I believe that they were always great grandparents but that's different. This is historic! The first child ever to be born to a serving Falkirk Rotarian. Here are the photies she sent: -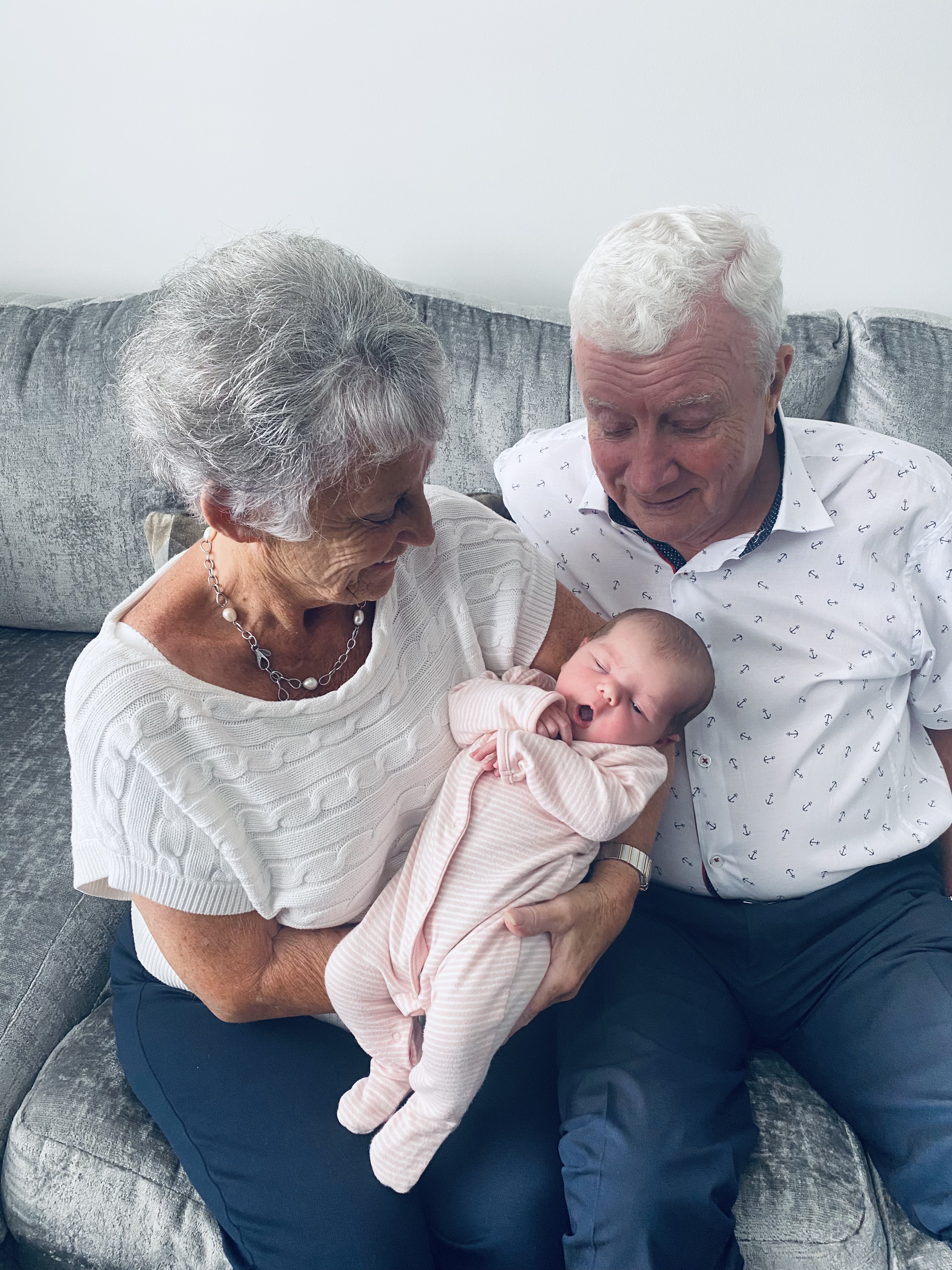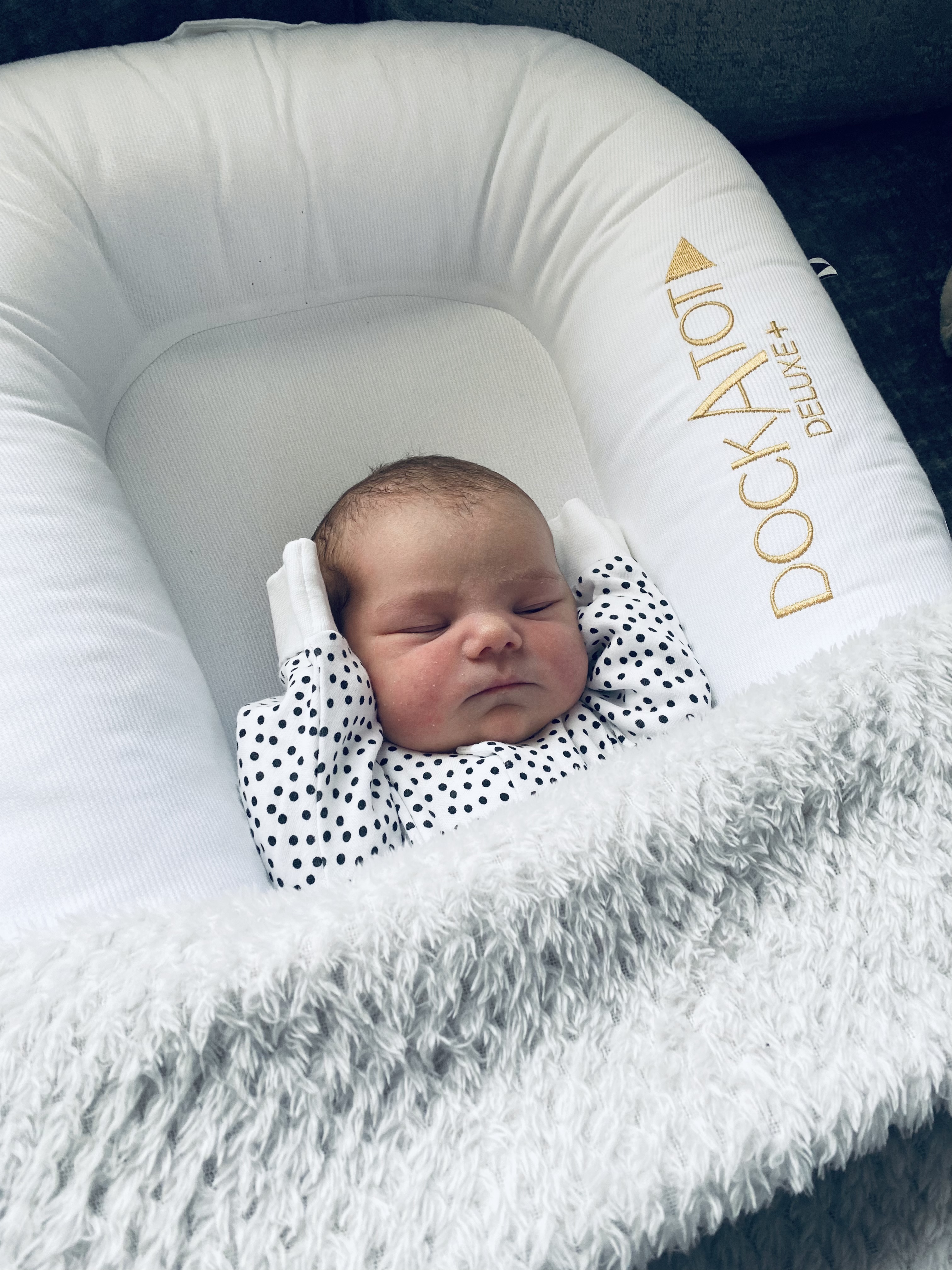 2nd August
I was looking for something to fill the last wee corner of Rotary Calling and came across an article about Beechams Pills. I put the wee bit in and then realised that there was much more to it. So apologies for repeating it but here goes: -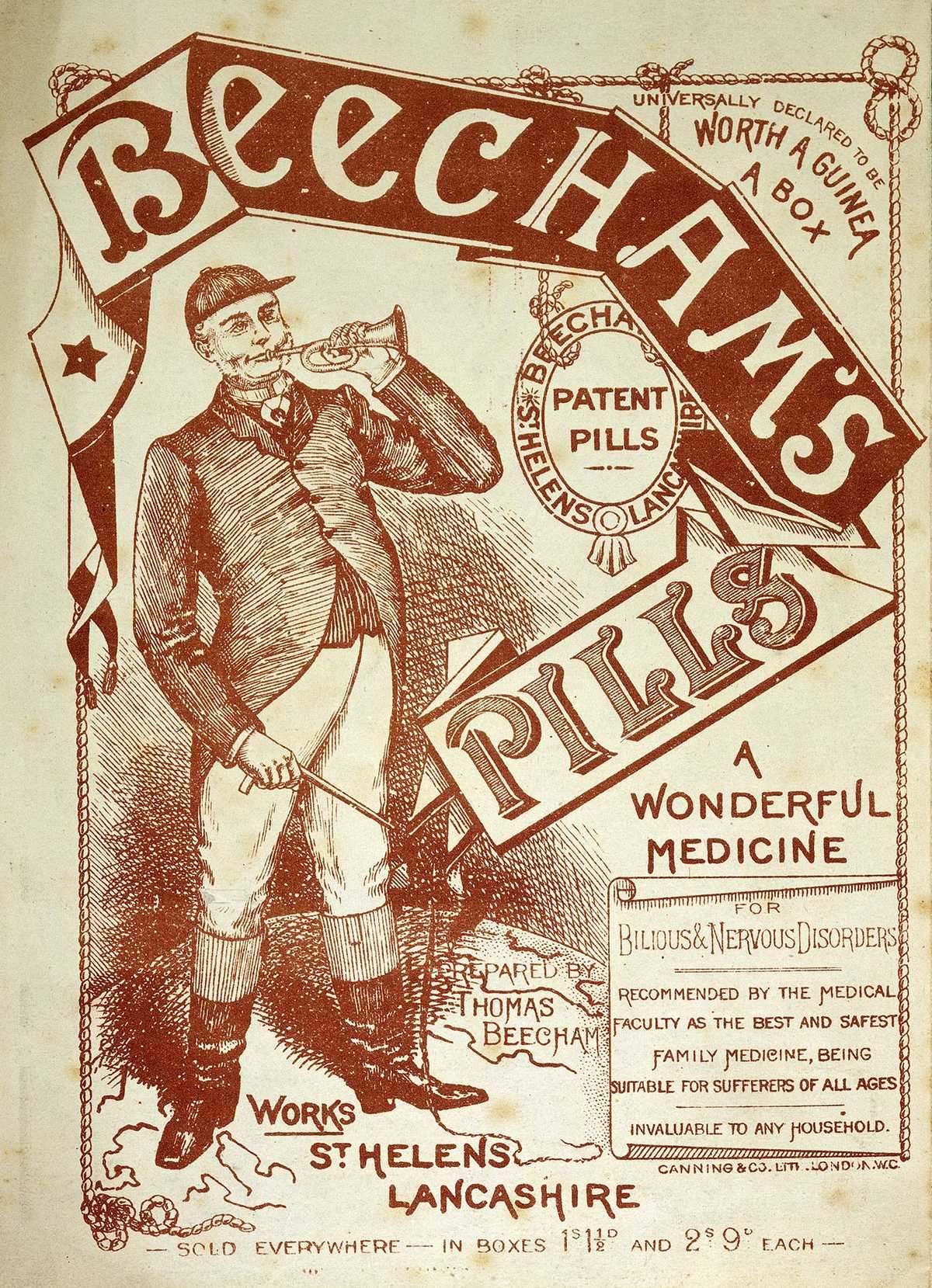 The world's first advertising slogan – "Beecham's Pills: Worth a Guinea a Box" – appeared in early August 1859. A fantastic amount for a pick-me-up box of pills. They actually sold for a fraction of that, of course, but the notion that they could be worth a guinea was highly contentious.
In fact, in 1912, the British Medical Association investigated the pills and concluded that they were made of 40 per cent aloes, 45 per cent ginger and 15 per cent powdered soap!
It all started in 1840 when Thomas Beecham set out with a bag of remedies to make his fortune in the cities of northern England. He had worked on a farm and developed an interest in herbalism while tending animals.

Pride of place amongst his stock of "cures" were the pills that he had named after himself and were presented at first as a simple laxative. But the medicine quickly gained a reputation for curing all sorts of ailments and disorders and the business thrived. In 1859 Beecham built a factory to cope with the demand and Beecham's Pills began to be exported across the world.

Thomas, a devotee of self-promotion and salesmanship, decided in 1894 to further boost the appeal of the pills by hiring the services of a Scottish poet named William McGonagall.

What ho! sickly people of high and low degree
I pray ye all be warned by me;
No matter what may be your bodily ills
The safest and quickest cure is Beecham's Pills.

They are admitted to be worth a guinea a box
For bilious and nervous disorders, also smallpox,
And dizziness and drowsiness, also cold chills,
And for such diseases nothing else can equal Beecham's Pills.

They have been proved by thousands that have tried them
So that the people cannot them condemn.
Be advised by me one and all
Is the advice of Poet McGonagall.
================================================================
30th July #2
I picked this up on facebook! any takers?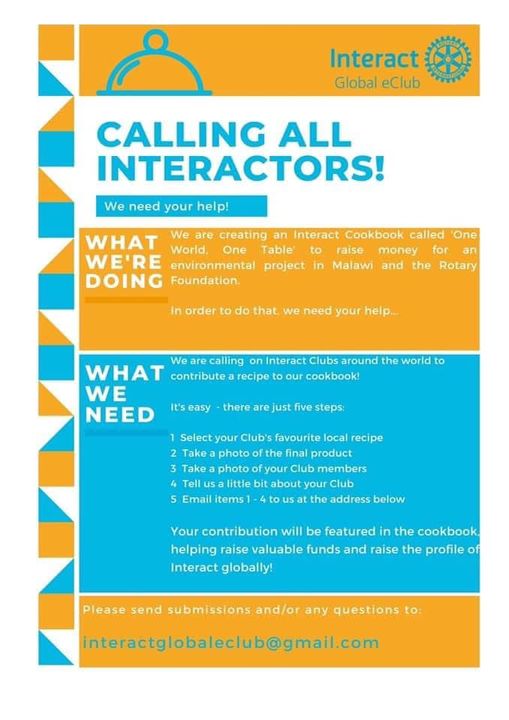 30th July
I began this much earlier. I had just begun, in fact, when Diane brought me through a cup of tea and two fresh pancakes with butter and blackcurrant jam. You have no idea how much mess can be created on a laptop keyboard when one drops such a pancake onto it and it lands face down. It has taken me ages to clean up!
Yesterday we visited Logan and Sheena for afternoon tea. It's the first opportunity we have had for a blether for ages. When we returned home this was on our doorstep: -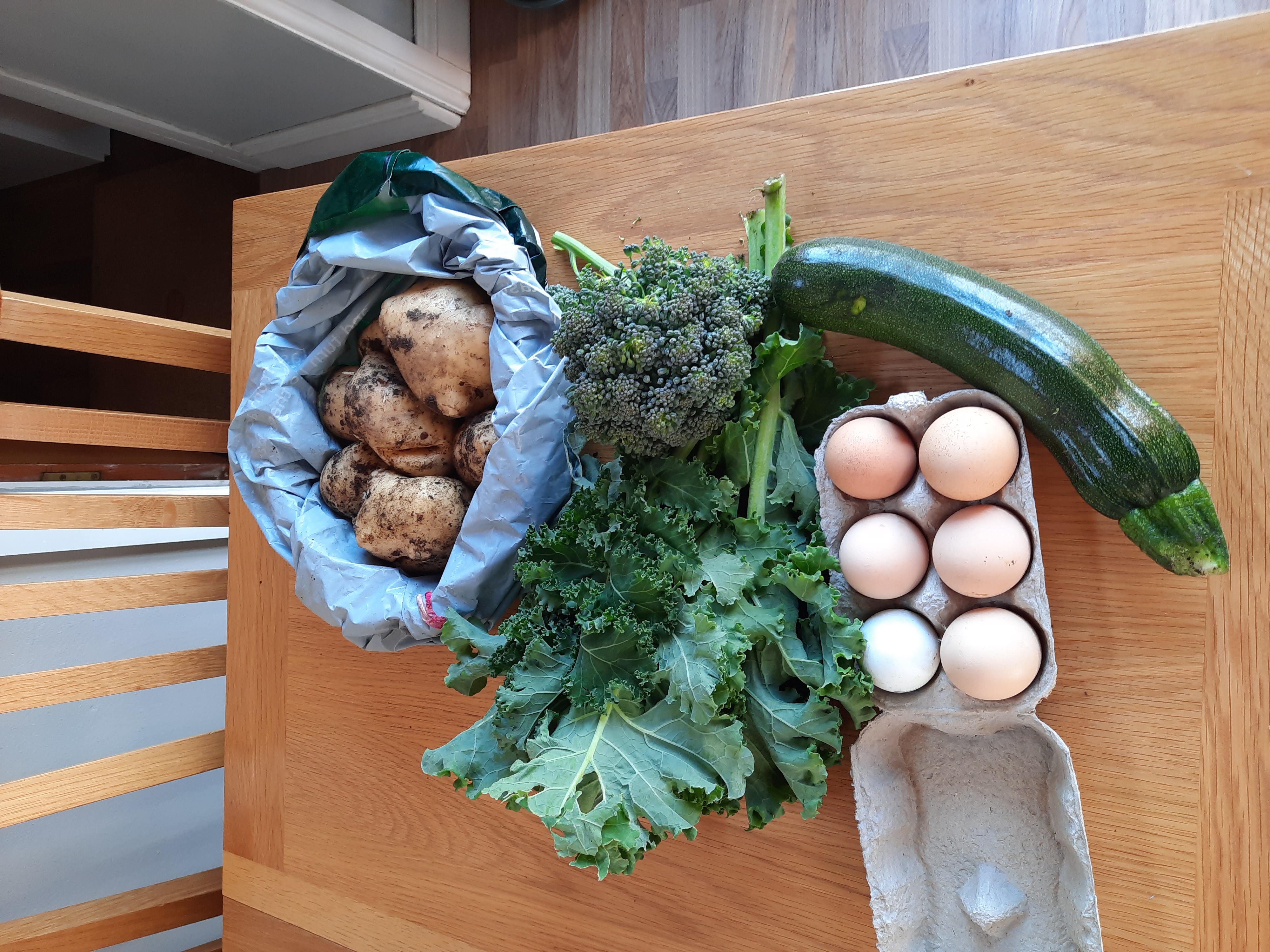 While we had been out I had gone shopping and had the makings of a mushroom Stroganoff but when we saw what Alison, our neighbour, had delivered we decided to have a Brocolli, courgette, kale and potato Frittata. It was delicious.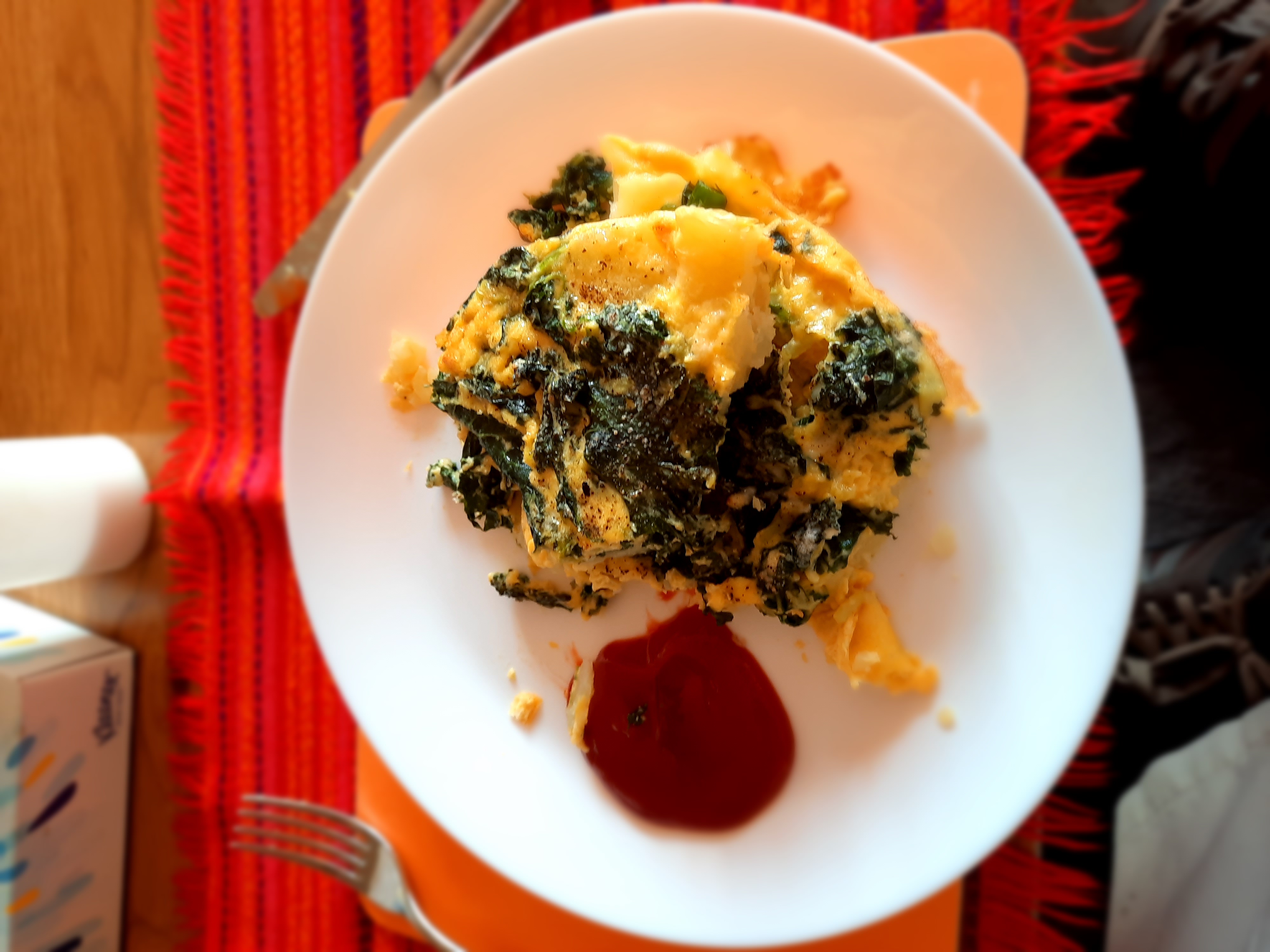 The only thing that we had to add was some cheese. Otherwise it was all there. That's the kind of neighbour to have.
On this day: -
===============================================================
29th July
Lots of stuff today, firstly though what happened to all of that rain and Thunder and Lightning that was forecast? My water butt was all but empty and the pond was beginning to show signs of evaporation so I had hooked up a hose to the waterbutt so that the pond would remain topped up from the overflow but nothing much has happened.
There were some Canada geese came by. I think that these have become resident. I am sure that I have shown them to you before but this is the first time that I have seen them from the Livingroom window. maybe they were looking for some water.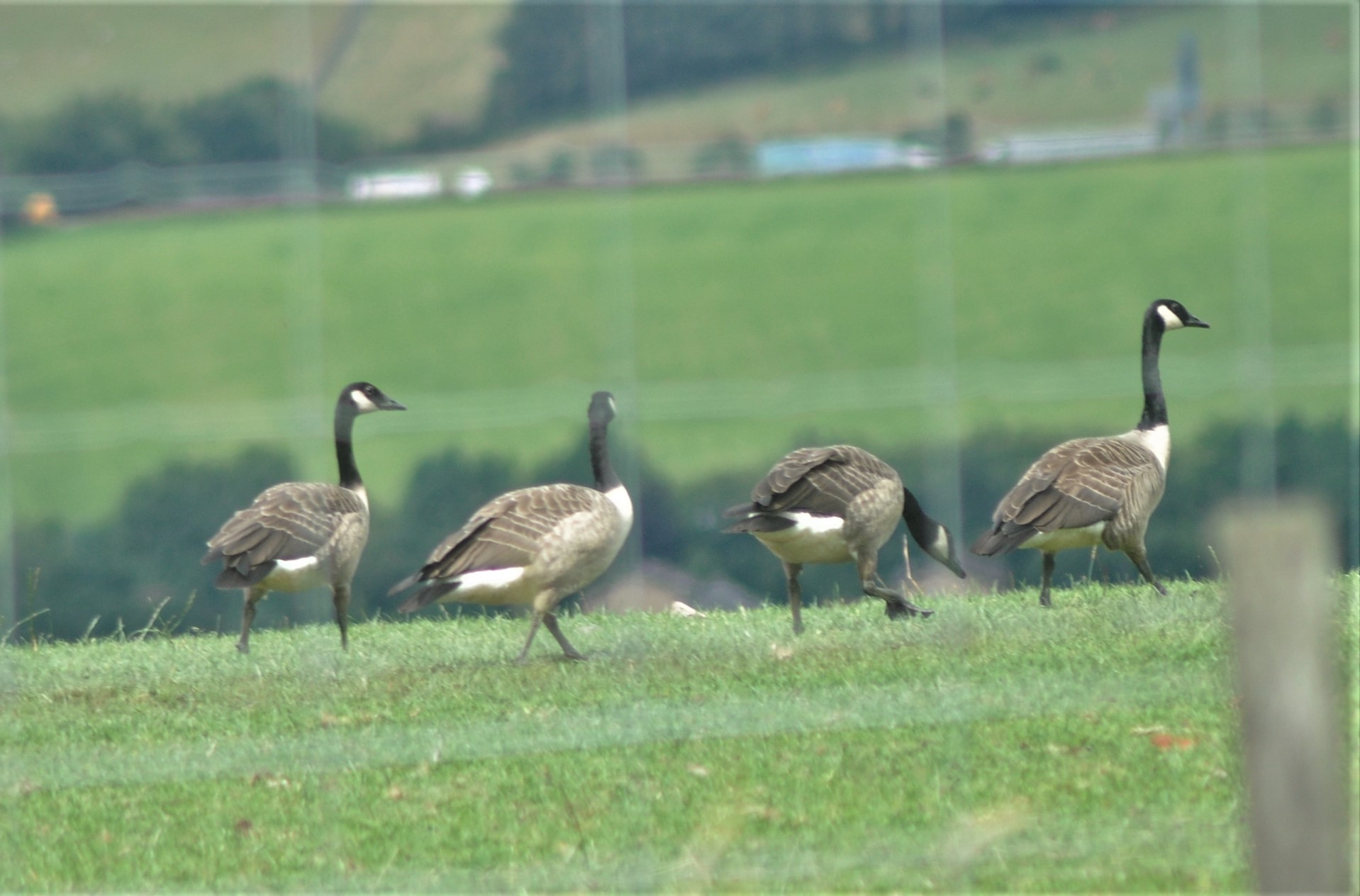 And then there were the ducks! Normally they would be waddling about in the mud. After years in Brisbane Glen in Largs I have come to call what they do while waddling in the mud as "guddling" but there is no mud! Which I think explains this. I only saw them at this for the very first time the other day and they were at it again this morning. They are walking through the long grass and seem to be feeding on the seeds of the tallest of it.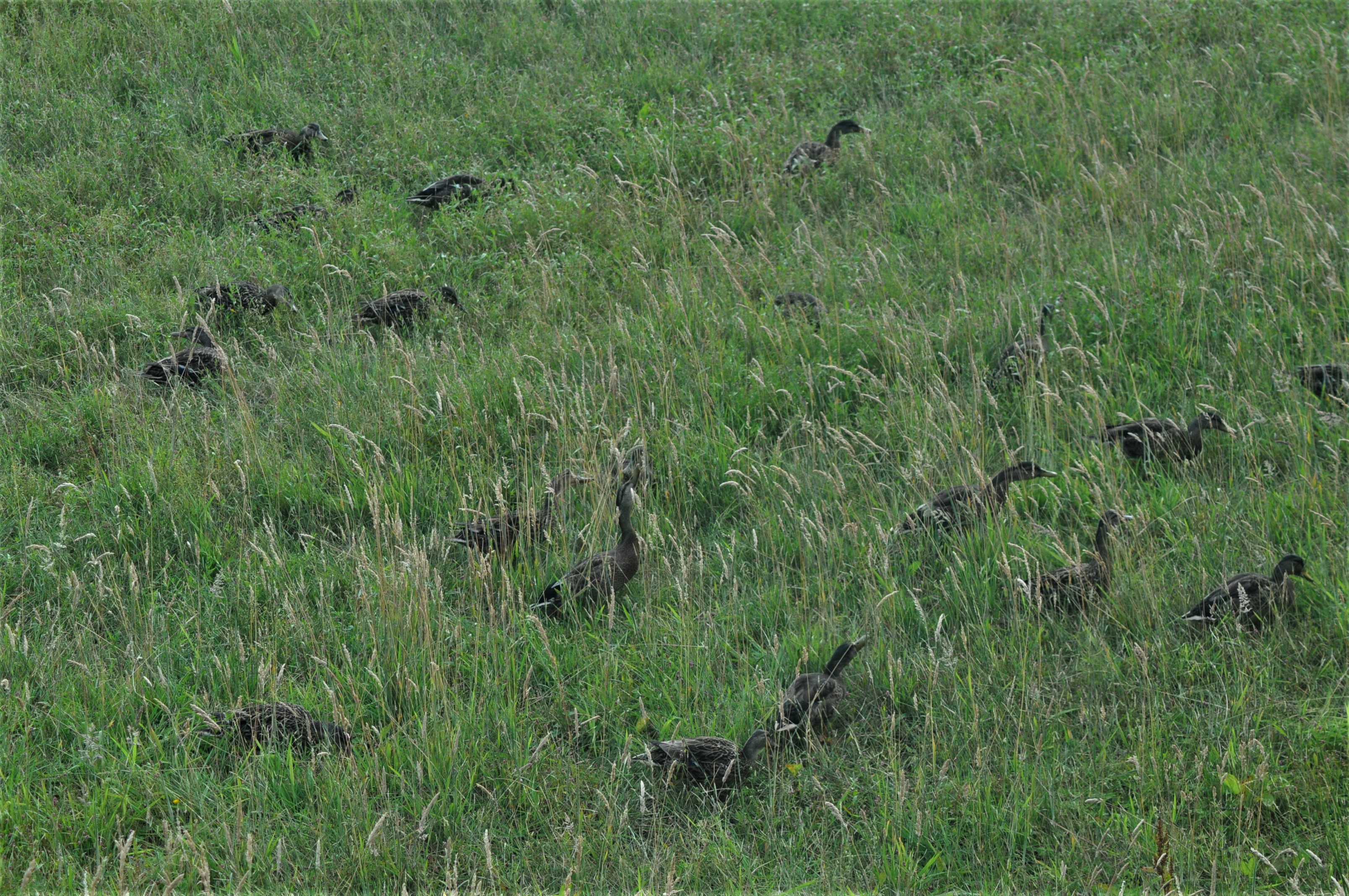 On Tuesday I talked about the Darien venture and how Scotland was prevented from trading with English colonies. Gordon sent me this in explanation- interesting!: -
The maritime act preventing Scottish ships from trading to English ports was the first attempt in Britain to establish Cabotage, which is the requirement for a nation to allow only its own vessels to carry goods between its own ports. It is now widespread.
When I was still working, GB cancelled Cabotage since the EU banned it. However many EU countries still had it because they had it in their regulations since before the start of the EU and had not got round to cancelling it yet. A case in point was a Dutch chemical tanker which went from Grangemouth to Newport and back for several years carrying Benzene and Benzene Concentrate. The Master explained to me that we were mad to cancel our Cabotage laws so quickly. Netherlands kept being told to do so by Brussels but kept making excuses that they didn't have space in their Parliament at present but would do so as soon as they could. So although he could trade on the British coastal trade, a British vessel could not trade on the Dutch coastal trade. There was another case where a British company sold all their ships to Dutch owners who then traded them on the British coast with far east crews carrying the same cargoes that the British owners had been carrying with British crews.
Incidentally, the distance from Grangemouth to Newport is almost the same whether you go by the Pentland Firth or the English Channel, so the ship sometimes went clockwise and sometimes anticlockwise, usually depending on using the tide effectively. He even used to go through the Corryvrechan if conditions were favourable.
On this day: -
1588 - The Battle of Gravelines - Spanish Armada damaged and scattered by the English fleet. Now who knew that's what the battle was called? Many of the Spanish ships had to "cut and run" to escape the English fire ships at Calais. Meaning to make a cowardly retreat, the phrase "cut and run" that we use today originates from the navy and in literal terms means to cut the anchor line and sail downwind, leaving the anchor behind.
1956 - In case you missed it, 65 years ago today Ecurie Ecosse shocked the motoring world by winning, at their first attempt, the Le Mans 24 hour race in their second hand Jaguar MWS 301, beating Maserati, Porche, Ferrari, Aston Martin et al. The car cost £3,633 in 1955, and in 1999 sold for £1.7 million.


Gordon.
==============================================================
28th July
I was reminded recently about trying to get my dad's telephone disconnected when he died. The customer-service rep told me that since the account was in my dad's name, he'd have to be the one to request termination of the account. The fact that he was dead didn't sway her. Then a solution hit me. "If I stop paying the bill, what will happen?" I said. Then she replied "Well, we would turn off the service but that would ruin his credit score!."
The things listed under, about the influence of JS Bach on many modern composers, reminded me of the fact that I have long harboured an annoyance at Eric Carmen and his 1975 single "All by myself". It has been covered by many artists since; artists like
Celine Dion, Shirley Bassey and, er, John Barrowman. It
is a great song but it has been totally unapologetically plagiarised from the second movement (
Adagio sostenuto
) of Sergei Rachmaninoff's (circa 1900-1901) Piano Concerto No 2 in C minor Opus 18.
I kind of knew that JSB was ringing bells but couldn't quite catch on then I realised that my business partner of 40 years was John (Jack) Stevenson Berwick.
On this day: -
1750 -Johann Sebastian Bach, the master of sublime Baroque music, died on this day. Celebrated for the choral and sacred music that he composed nearly 400 years ago, Bach has had a surprising impact on modern pop charts, influencing stars such as Paul McCartney and Lady Gaga. According to Paul McCartney, Bach's Bourrée in E minor lent its shape and harmony to the opening of "Blackbird", by The Beatles. And a piccolo trumpet plays lines from Bach's "Brandenburg Concerto No. 2" in the orchestration of the worldwide Number One hit, "Penny Lane".
Other Bach "borrowings" in Beatles' songs includes "All You Need Is Love", where his Invention No. 8 in F rings out during the final orchestral section.
His four-part chorale O Sacred Head Now Wounded inspired Paul Simon when he was writing Bridge Over Troubled Water, and a reworking of Bach's "Jesu, Joy of Man's Desiring" opens Lady Lynda by the Beach Boys.
1945 - "Elevator girl" Betty Lou Oliver survives falling 75 stories after fog causes a US bomber plane to crash into the Empire State Building, breaking the cables supporting the elevator she was operating. This remains a world record for the longest survived elevator fall
1976 - Tangshan Earthquake, 8.2 in magnitude kills over 240,000 Northern China in the largest loss of life from an earthquake in the 20th century.
2005 - The Provisional Irish Republican Army call an end to their thirty year long armed campaign in Northern Ireland.
2021 - Team GB take another gold in the pool winning the mens 4x200m freestyle relay in a fraction of a second short of a new world record.

=======================================================================
27th July
This morning I watched for the first time a Rugby sevens match between New Zealand and Canada. WOW! What a frantic sport. I hadn't realised just how manic the game would be but great entertainment just the same.
And another Gold in the Pool. Thomas Dean and Duncan Scot between them take Gold and Silver in the 200m freestyle and not an Australian nor an American in contention.
On this Day: -
==================================================================
26th July
We've been watching the Olympics! Isn't it amazing what you can learn! I mean if I saw a guy on his own with two oars in a rowing boat in the middle of a loch I would have said that he was rowing! Now that seems to be sensible doesn't it? But I'd be wrong! Apparently when you are rowing you only have one oar! like the guys in the boat race. They are rowing. On the other hand if you have two oars, one in each hand then you are sculling! Seemples!
Didn't Adam Peatty do well! 57.37 for 100m Breaststroke and a full two thirds of a second ahead of the silver medallist. His best, which is the current World Record, is 56.88 set in South Korea two years ago.
On this day: -
=================================================================
24th July,
Time marches on doesn't it!
We were watching one of these Antiques shows yesterday and witnessed an "expert" lift, for examination, a "pair" of binoculars! Now having only one eye binoculars are not much use to me so I have a "monocular".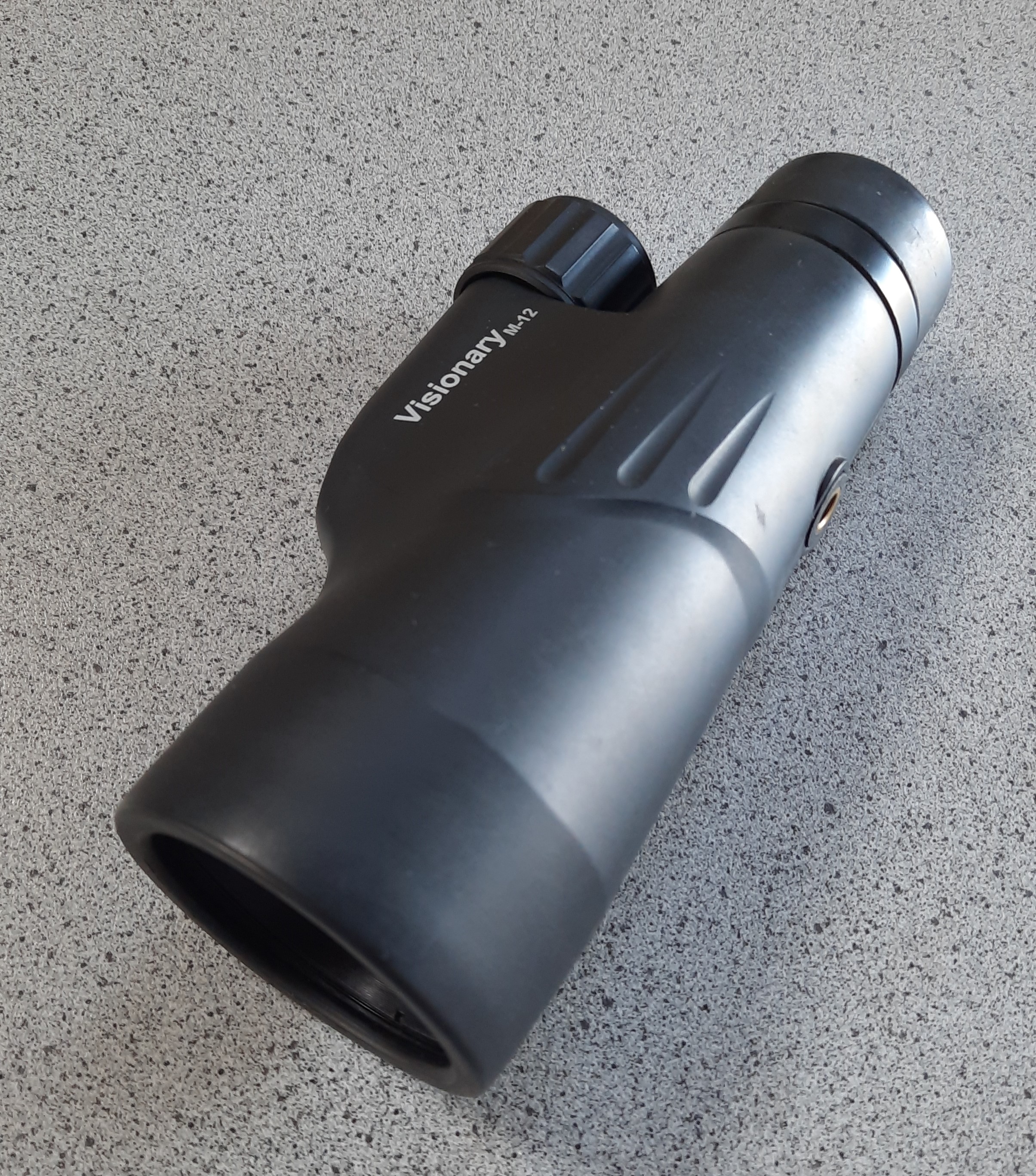 But when I was watching the show I thought, surely a "pair" of
"Bi
noculars" would consist of four monoculars! I thought, if its going to be a pair of anything, it should be a pair of monoculars. Otherwise it's just a binocular!
Or am I being pedantic again?
(That, by the way, is an excellent example of a rhetorical question.)
On this day: -
1851 - This was the day when citizens of the United Kingdom were allowed light and air in their homes without having to pay for it. The long-hated Window Tax had finally been scrapped. Imposed in 1696, it was a banded tax, so that the more windows a house boasted, the more its owner would pay in tax. Inevitably, property owners and developers did what they could to avoid the levy. The rich built new houses with the minimum number of windows, while the poor in their tenement housing simply bricked up the windows, making their cramped, dark dwellings even more gloomy. In the darkened tenements, the bricked-up windows came to be known as "Pitt's Pictures" – a scathing reference to Conservative Prime Minister William Pitt the Younger, who enthusiastically supported and extended the Window Tax.
1943 - Operation Gomorrah: RAF begins bombing Hamburg (till 3rd August), creating a firestorm and killing 42,600 people.
22nd July
One of my star drivers has just phoned to say that she won't be able to continue. I have spent the last hour trying to rejig things.
This weather is something else! I was returning from my nurse appointment today and was interrupted by the road being closed to allow the transfer of young bucks across the road. It took about 20 minutes during which time my neighbour who had also been stopped came across and apologised for not having delivered eggs that she had promised me. I had forgotten that she had said that but she went to say that she will deliver eggs and vegetables when she gets a chance. That's the sort of neighbour to have.
On this day: -
================================================================
21st July
Good grief, It has been a week since I was last here! It never even occurred to me.
It's that time of the month again when I remind you all to contribute some of your saved lunch money towards the Food Bank.
Lots of things have been happening in my life not least of which was stocking up with winter logs again. We did manage yesterday to have a wee trip out though. It was the occasion of my six monthly visit to the Princess Alexandra Eye Pavillion in Edinburgh to have my eye polished. I would normally have parked in the Quarter Mile car park which accepts card payments but it had a big sign up saying it was full. The street parking is ludicrously expensive so I left Diane in the car with a £1 coin. If she saw a Traffic Warden she would go to the machine and purchase 12 minutes of parking time. The machine didn't accept cards you see! We had no cash except for the £1 that I keep in the car for putting in Supermarket Trolleys.
In the end I emerged from the Pavillion to see Diane striding from the car towards the ticket machine. She had only just seen the Warden and was on her way to purchase a ticket. So we simply returned to the car and made off towards the Gyle where we could park for free and have lunch. As it was the lunch cost us £11! If we'd stayed at Quarter Mile to eat, like we would normally have done, the parking alone would have cost us £16.
On this day: -
1776 -Abigail Adams, wife of President John Adams, took an active role in politics and became known as a prolific letter-writer. On this day she wrote to her husband describing reaction to the Proclamation for Independence being read out at Boston, Massachusetts: "Last Thursday, after hearing a very good sermon, I went with the multitude into King Street to hear the Proclamation for Independence read and proclaimed.
"The troops appeared under arms, and all the inhabitants assembled there (the smallpox prevented many thousands from the country), when Colonel Crafts read from the balcony of the State House the proclamation.
"Great attention was given to every word. As soon as he ended, the cry from the balcony was, 'God save our American states,' and then three cheers which rent the air.
"The bells rang, the privateers fired, the forts and batteries, the cannon were discharged, the platoons followed, and every face appeared joyful.
"After dinner the King's Arms were taken down from the State House, and every vestige of him from every place in which it appeared, and burnt in King Street.
"Thus ends royal authority in this State. And all the people shall say Amen."
1796 - Robert Burns dies!

1969 - Neil Armstrong becomes the first person to step on the Moon at 2:56:15 AM (GMT).
============================================================
14th July,
I rose early yesterday! 06.30 saw me showered and shaved eady to head for Coupar for 09.00 to help Wendy at a Photoshoot. Diane was babysitting the kids while Wendy and I were at the Pool. When I got home at lunchtime Diane and the kids were nowhere to be seen! So I made my lunch and then took a walk along the road. I have always been extremely aware of my surroundings since being discharged in 1979 from Ward 7 at Falkirk and District Royal Infirmary. I had been incarcerated there for 14 days without natural lighting while they removed my left eye and was gobsmacked by everything I saw when I got out. Trees, bees, fleas even grease! It's amazing what is always around us that we take for granted.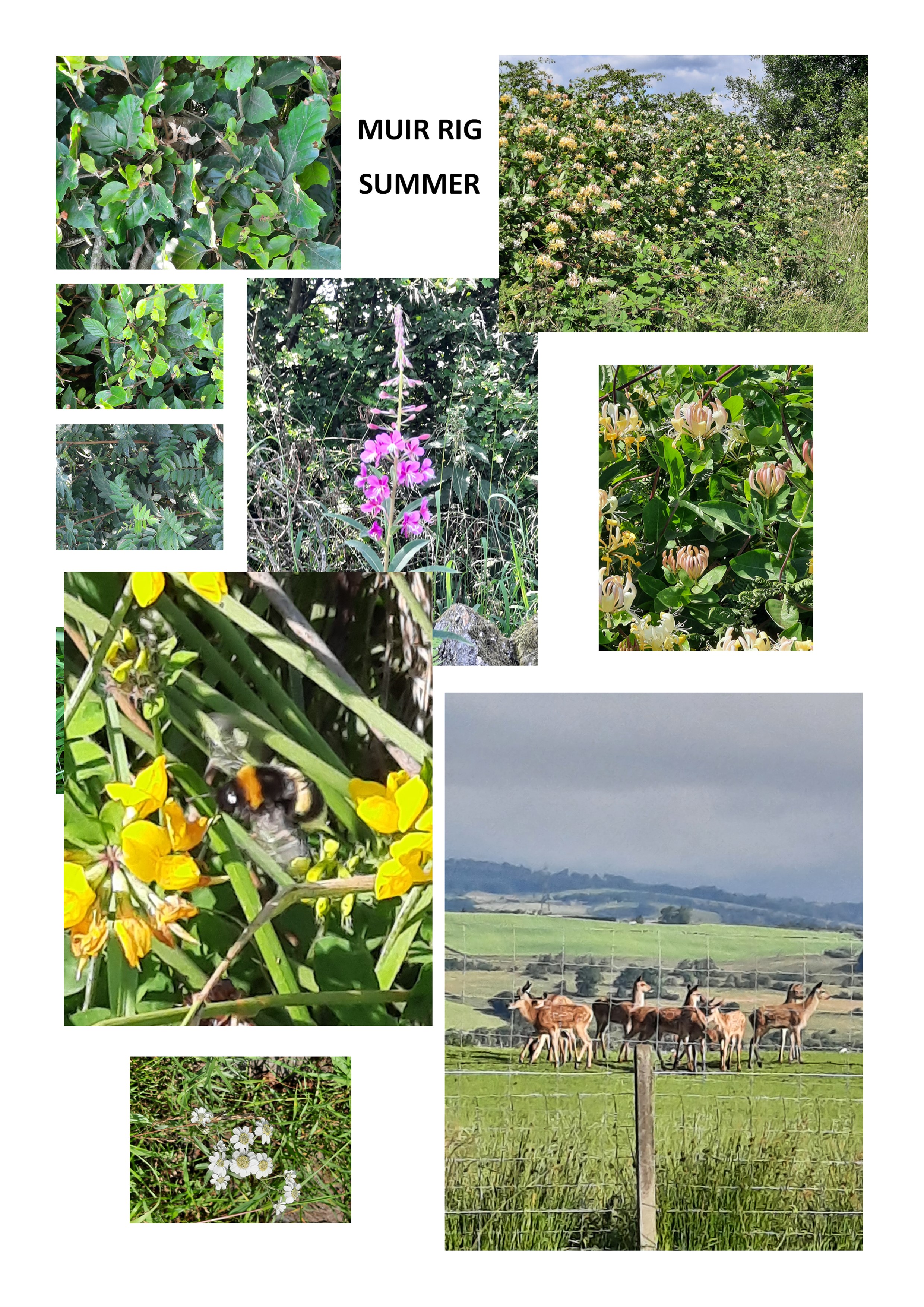 While the phalanx of Fawns was taken this morning, the others were taken during my walk along the track. I was so engrossed when I reached the road end (with my blind side to the left while I took photographs) I failed to notice an approach from that side. "Hi!" took me by surprise because there was no other sound. I turned to my right to see, disappearing into the distance, no ordinary athlete. A total lower limb amputee sat on a carriage no more than 450mm square and 150mm high propelling himself at speed with what could only be described as two ski poles. He was gone before I could gather my senses.
The place where he passed me is about 105m above sea level and the main road at Allandale (the direction from which he had come) is about 60-65m above sea level. Over the course of about a mile from Allandale up to where I stood there are some seriously steep hills totalling therefore about 50 metres. That's the best part of 170 feet. I wish I had been quick enough to respond to the guy (I assume he was a guy! Maybe not! It was just the voice that left me with that impression.) And Impressive is the word.
On this day: -
=====================================================================
12th July #2
Just in case you don't watch the Club Facebook page Linda has been shopping again, this time for small tins of meat, custards, puddings toothbrushes and microwaves. This brings our total since the start of this pandemic to £6,557 which represents 3.628 tonnes of produce. (not including the microwaves)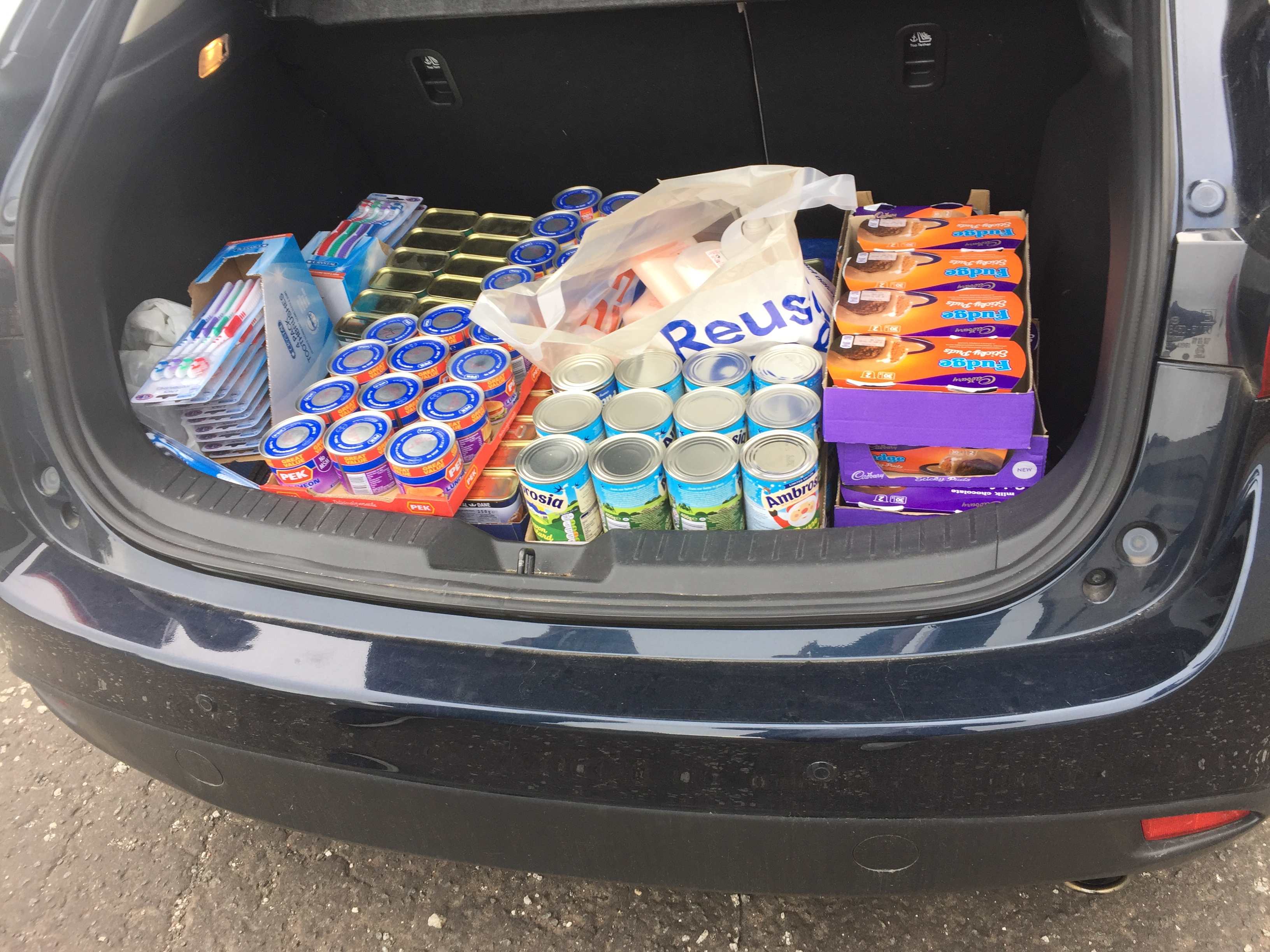 12th July
I was really sad last night when I heard the news that the English Football Team had failed to win the EUFA Euro 2020 Competition.
(I give it it's proper title just in case anyone didn't know it was happening.)
My sadness stems from the fact that we now have to continue to endure interminable references to a 55 year old victory.
I don't know if you are interested but did you ever wonder where the three lions on English Heraldry came from? Author and historian Eugene Byrne explains on the BBC History site the origins of England's royal arms and the three lions – or 'leopards' – upon it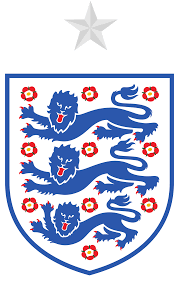 "Medieval bestiaries comprised both real and mythical creatures, and the medieval intellect wasn't interested in our modern post-Enlightenment taxonomy. Hence the yarn about a heraldic painter [someone who designed coats of arms] who visited the royal menagerie in the Tower of London and protested that the caged lions are not lions. "I know what lions look like," he says. "I've been painting them all my life."
Generally speaking (and there are many exceptions in different traditions), a lion rampant (standing erect with forepaws raised) was a lion, while a lion walking with head turned full-face (passant guardant) – as in the English royal arms – was a leopard. It's important to note that 'leopard' was a technical heraldic distinction; there were no spotted felines on any coat-of-arms in the Middle Ages.
Like all heraldic animals, the leopard carried some symbolic meaning; it was thought to be the result of an adulterous union between a lion and a mythical beast called a 'pard' (hence leo-pard). Believed to be incapable of reproducing, leopards were sometimes (but not always) used for someone born of adultery, or unable to have children – a senior clergyman for example. The English royal arms included the three lions from the time of Richard I (reigned 1189–99) onwards (with a few early gaps).
The English usually referred to them as leopards until the late 1300s when they started calling them lions. French heralds continued to call them leopards, and, during the Hundred Years' War, the French sometimes referred to the English as 'the leopards'."
This article was first published in the December 2012 issue of BBC History Magazine.
It was an emotional wedding! Even the cake was in tiers!
And the bird that was afraid to fly? ......CHICKEN!
On this day: -
1997 - Malala Yousafzai is 24 today. Famous for her human rights advocacy for the education of women in her native Swat Valley in the Khyber Pakhtunkhwa province of northwest Pakistan, where the local Taliban had at times banned girls from attending school.

On the 9th October 2012, as she tried to board her school bus, she was stopped, asked for by name and shot three times, including once to the face. The assassination attempt, blamed on the Taliban sparked a national and international outpouring of support for Yousafzai.

Despite the attack and continued death threats from the Taliban she has continued to advocate for worldwide access to education especially for young girls and women.
===================================================================
11th July
I was trawling through all sorts of stuff today looking for some inspiration for today's blog and came across this newspaper cutting: -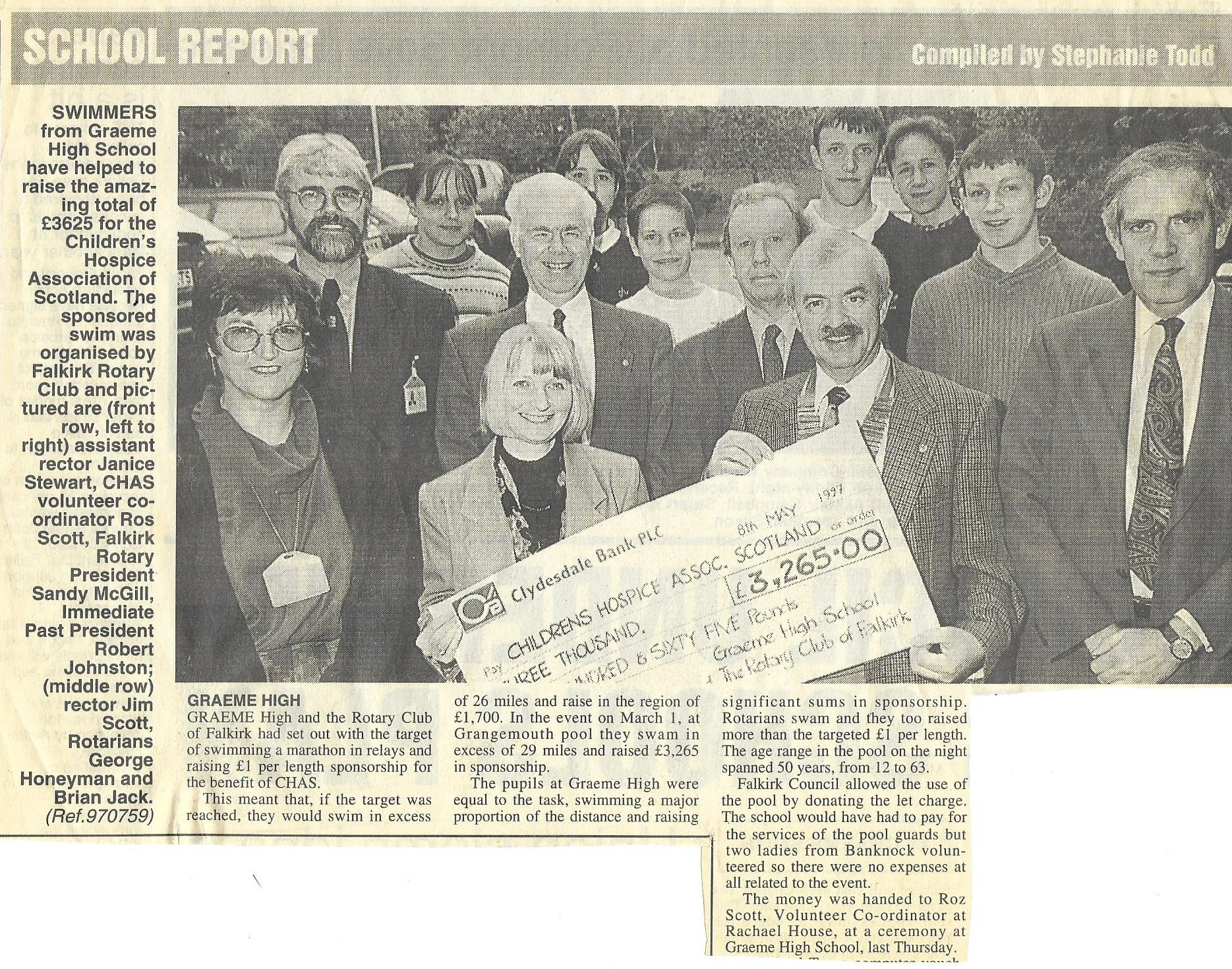 I had forgotten all about this. But amusingly in the same paper there was a hilarious article about Councillor Billy Buchanan being brought to task for singing in the corridors of the Municipal Buildings. "A Council Official had sent a memo to the Councillor saying that his singing had recently increased 'both in volume and frequency'"
The acting director of Law and Admin is quoted as saying: - "Councillor Buchanan has not been asked to stop singing, merely to refrain from doing so loudly!"
On this day: -
1892 - The U.S. Patent Office declares that Joseph Swan of England had invented the carbon filament incandescent lamp, a year before Thomas Edison.
1960 - Harper Lee's "To Kill A Mockingbird" is published.
1979 - The 82-ton U.S. space station, launched in 1973, crashes to earth. About 22 tons of it were expected to survive reentry prompting much public concern. However, it landed safely over the Indian Ocean and Australia. The Shire of Esperance in Western Australia fined NASA $400 for littering.
What do you call a bird that is afraid to fly?.......

===============================================================
10th July
It's really muggy out there today but pleasant nonetheless. I have successfully grown lettuce and Rocket in tubs and quite pleased with myself but I also appear to be inadvertently feeding a whole pile of larvae and gastropods.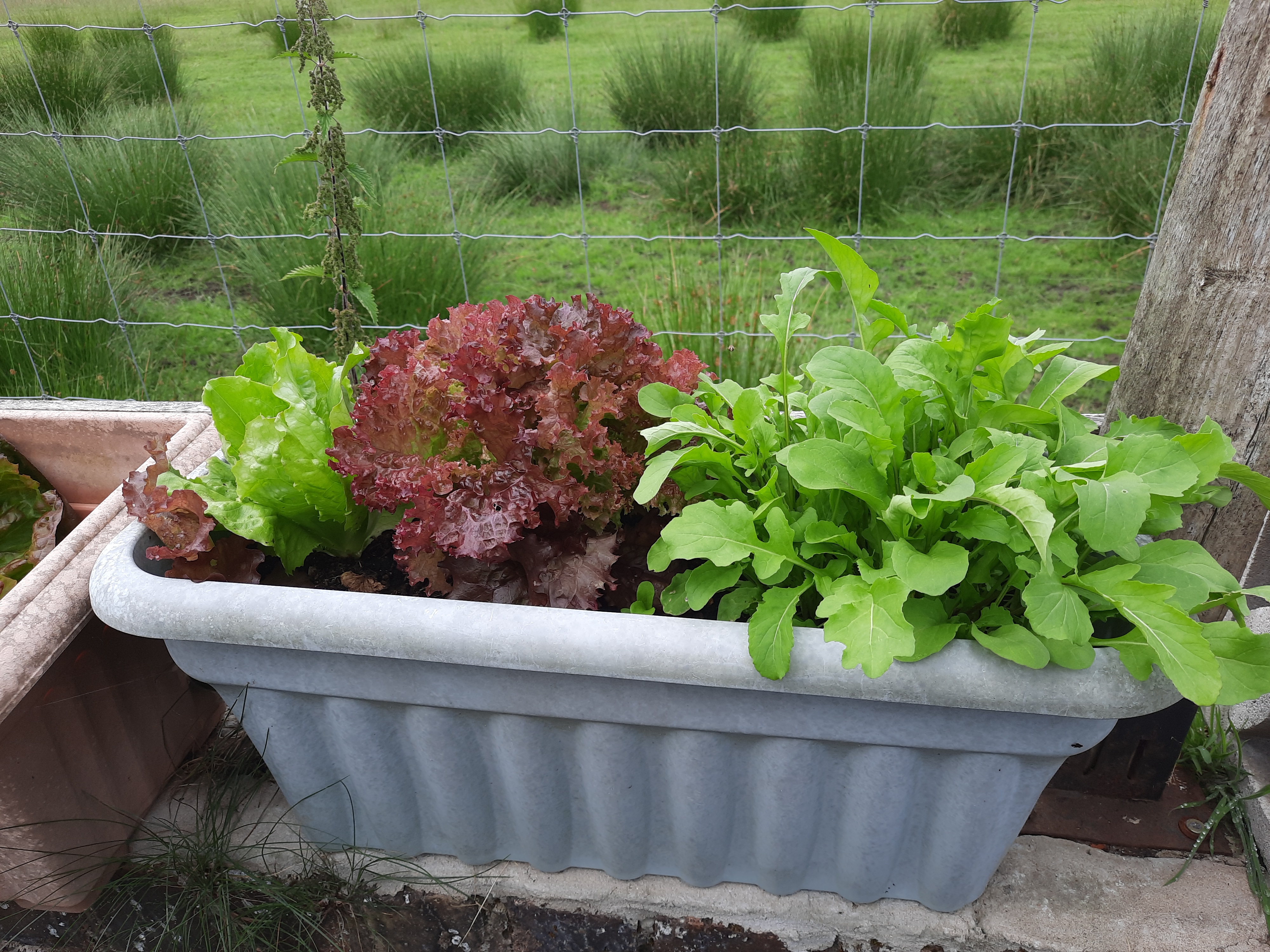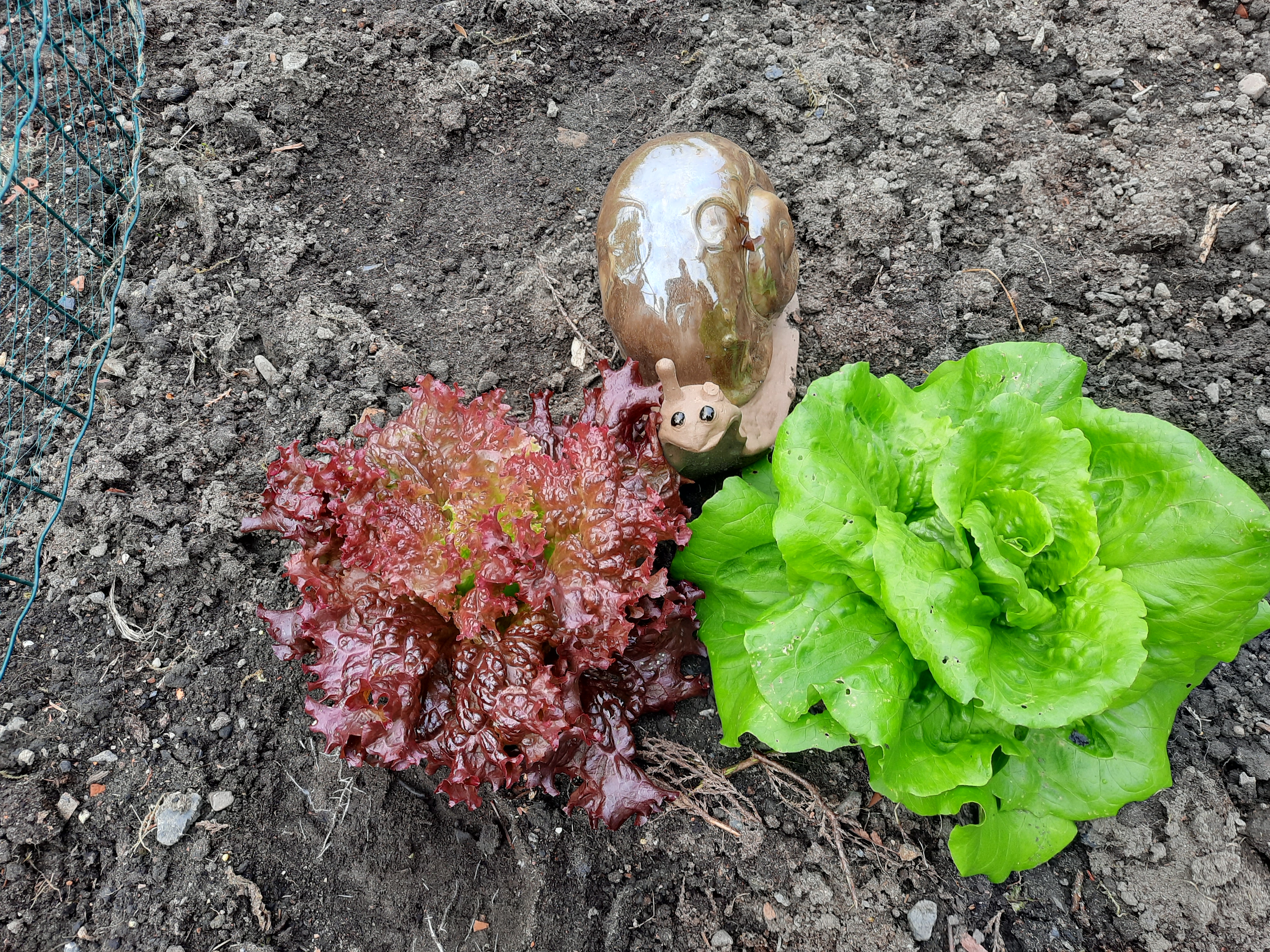 On this day: -
1040 - Lady Godiva rides naked on horseback through Coventry, according to legend, to force her husband, the Earl of Mercia, to lower taxes.
1913 - World's official highest recorded temperature at Greenland Ranch, Death Valley, California at 134 °F (56.7 °C).
1947 - The Government announced that Princess Elizabeth (now Queen Elizabeth II) would get extra clothing coupons for her wedding dress.

What a liberty!

1985 - The Greenpeace ship Rainbow Warrior was sunk by two bomb explosions while berthed in Auckland Harbour, New Zealand; it was later revealed that French intelligence agents had planted the explosives to prevent the organisation from interfering with their Nuclear testing.

=============================================================
9th July
Well my DRE was ok with no alarm bells ringing!
I volunteered for triage duty at the Scottish National Blood Transfusion Service session in Falkirk on Tuesday. It set my mind off thinking again. My mother was a blood donor way back when she would actually donate directly to the recipient patient lying in a bed next to her. As a result of her commitment I have been a Blood donor since I was 18 and my daughter Wendy has been too. My mother, Wendy and I are all Blood Group O with a negative rhesus factor. O neg! There are a number of blood types. Some are rare some are common. O neg however is the only one that can safely be given to
anyone
in a transfusion regardless of their own blood type. It is not uncommon but much sought after by the system.
Now that I have deleted all of the posts from last year I'm not sure if I have said this before but if I can't remember then the likelihood is that you can't either. When Wendy was in Thailand at the time of the Tsunami she became aware of a new born baby that required a transfusion without which she would perish. There is a dearth of O neg in that region apparently and the child had a rare blood group for which there were no stocks. Because she was a blood donor, and as a result knew her group, Wendy volunteered to give the baby blood. As a result of that simple action an adult is walking the streets in Thailand today that otherwise would have died within days of being born.
That thought made me seek out my mother's gold badge (for donating 50 pints) and mine, one silver for 25 pints and the other gold: -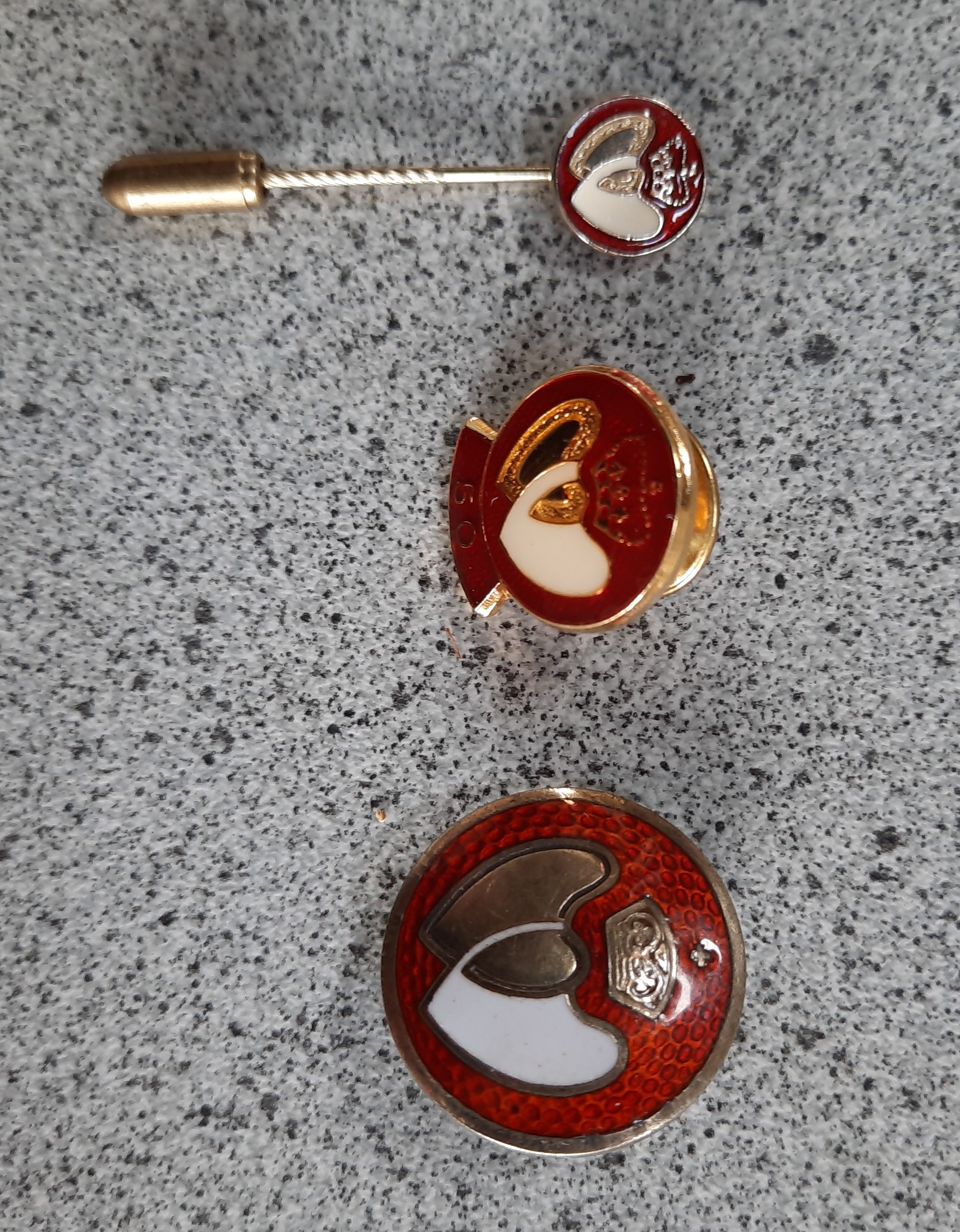 But while I was looking for them I came across lots more, for instance my Dad's silver medal for small bore rifle shooting: -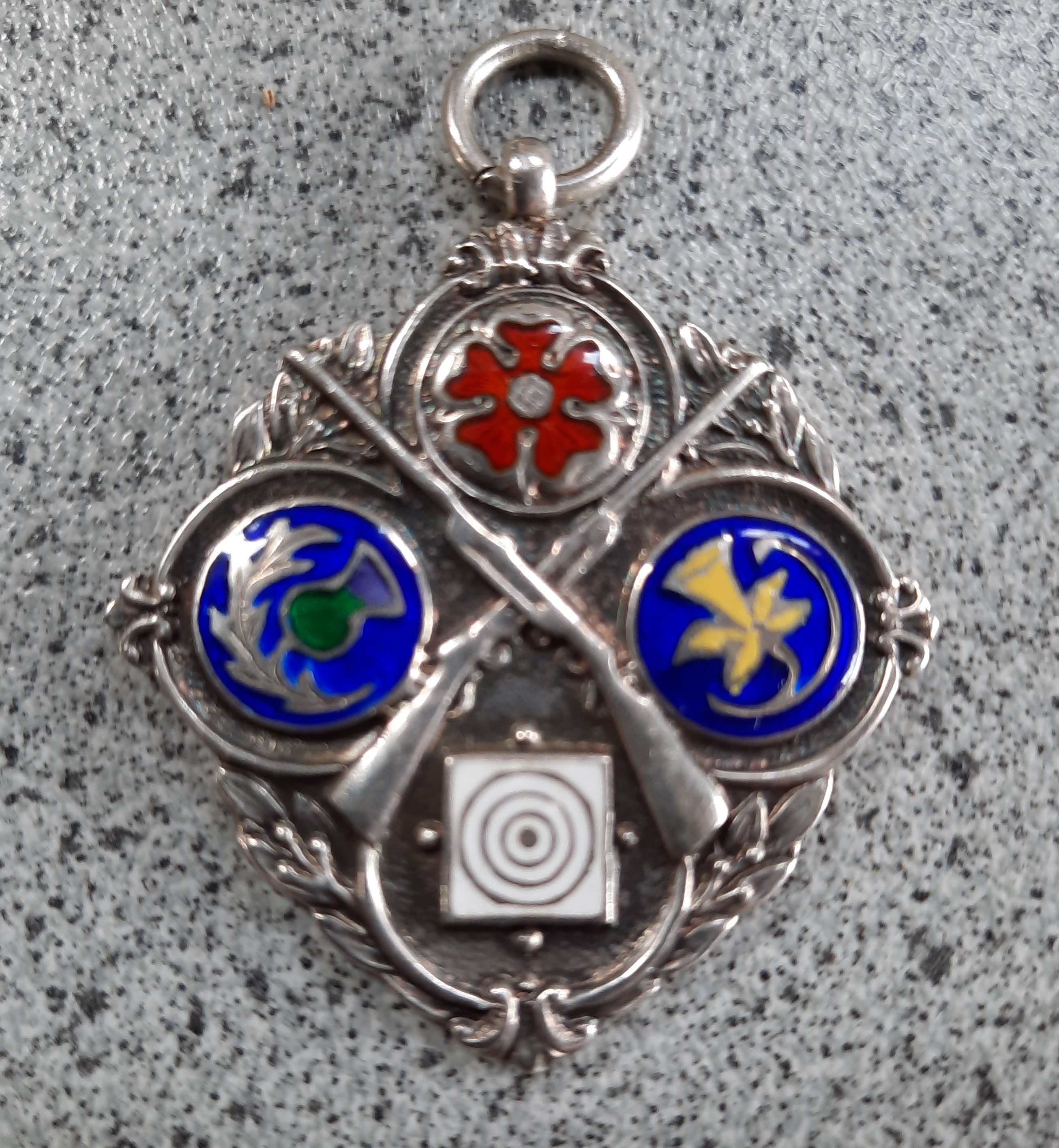 My marathon swimmer's badge from the Scottish Amatuer Swimming Association: -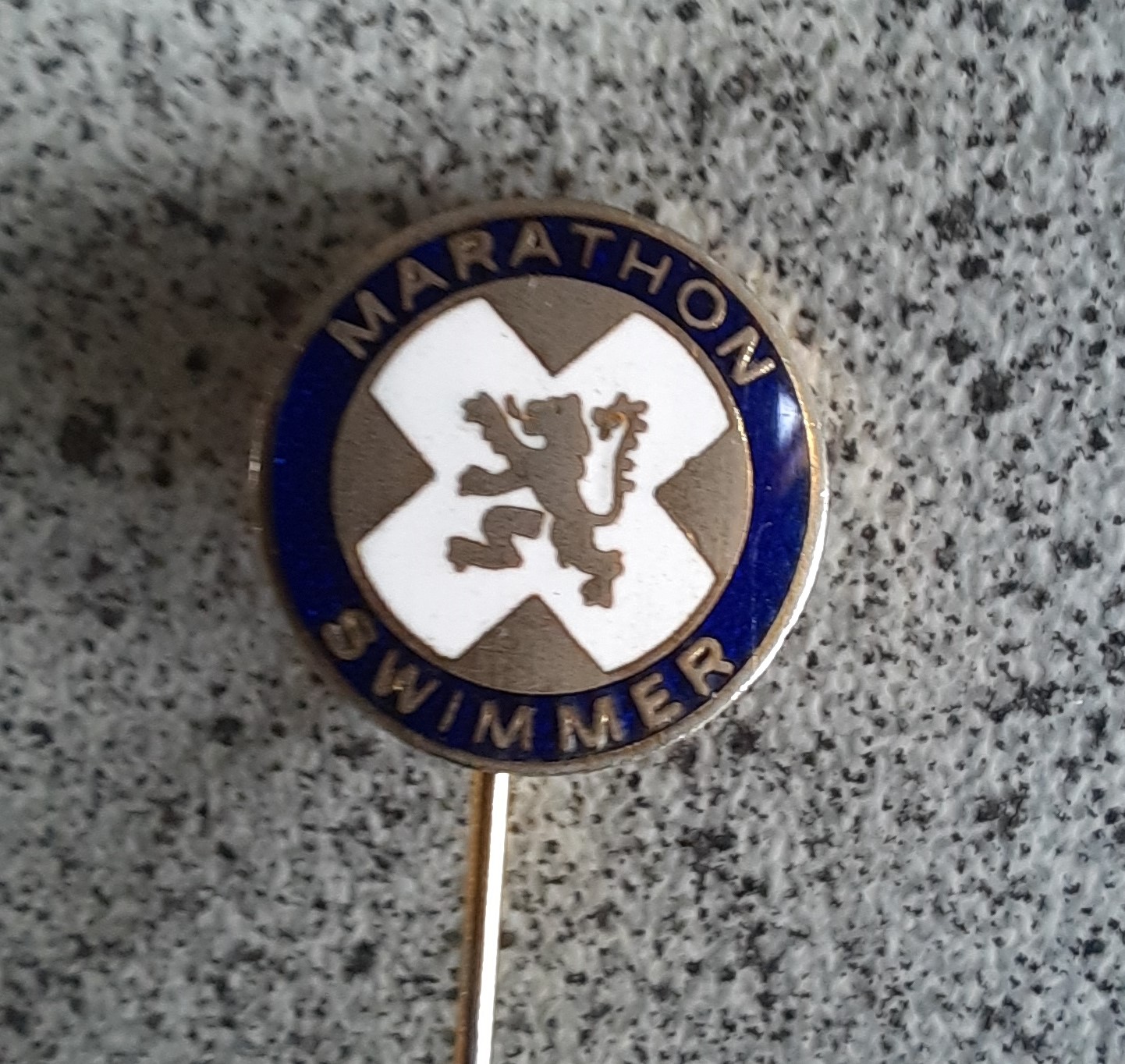 And this Hippo from the 1998 RIBI Conference in Brightons. The Hippo was the official representation of Rodney Huggins who was RIBI President at the time. I think I am correct in saying that Harry and he vied for the post of President of Round Table in UK and Rodney won out in the end. A travesty was it not!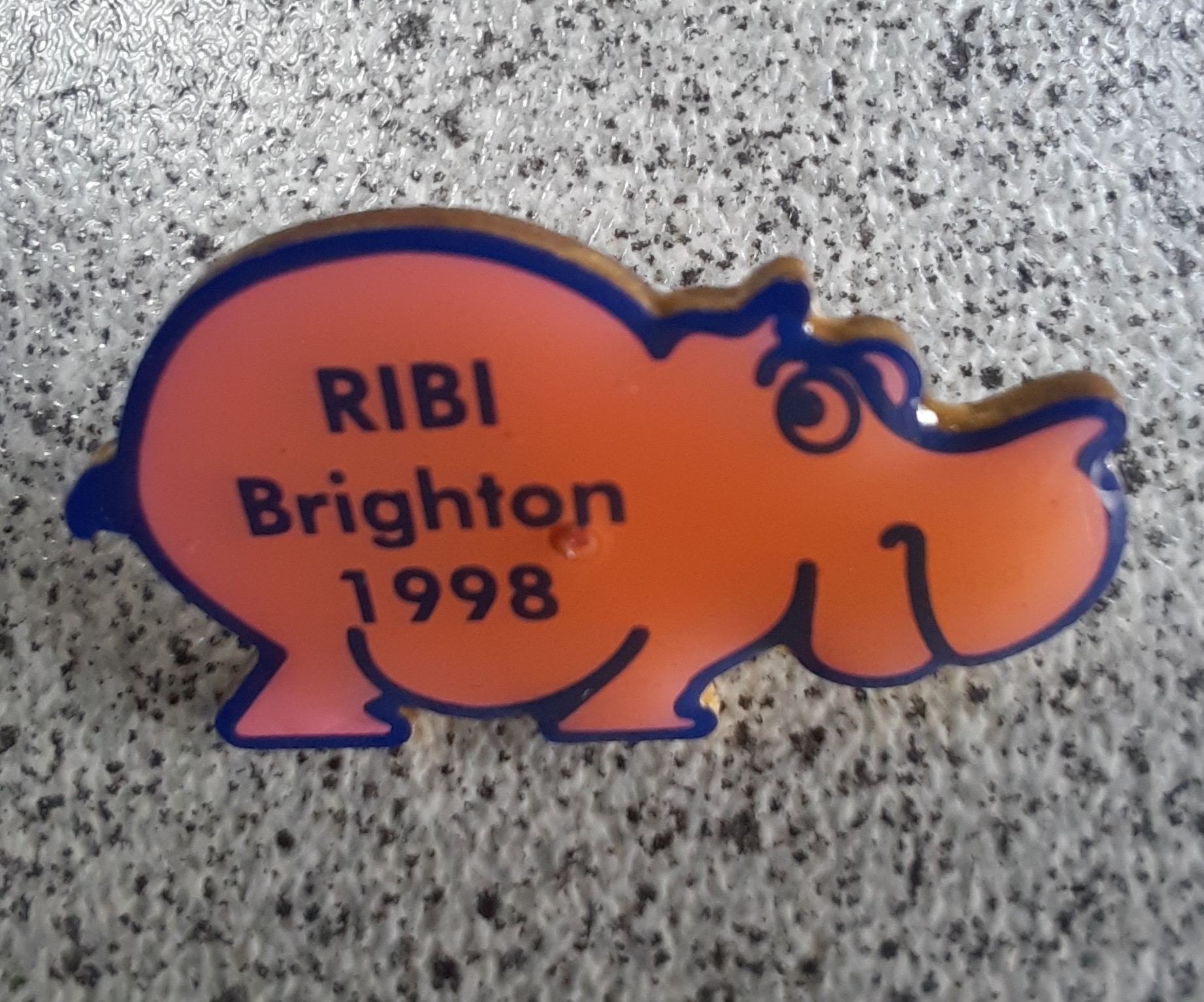 At the same Brighton Conference Diane and I were privileged to spend a weekend in the company of our own George Honeyman and Shiela, Ian McPherson and Winnie & Joe Gallacher and Margaret. Great memories.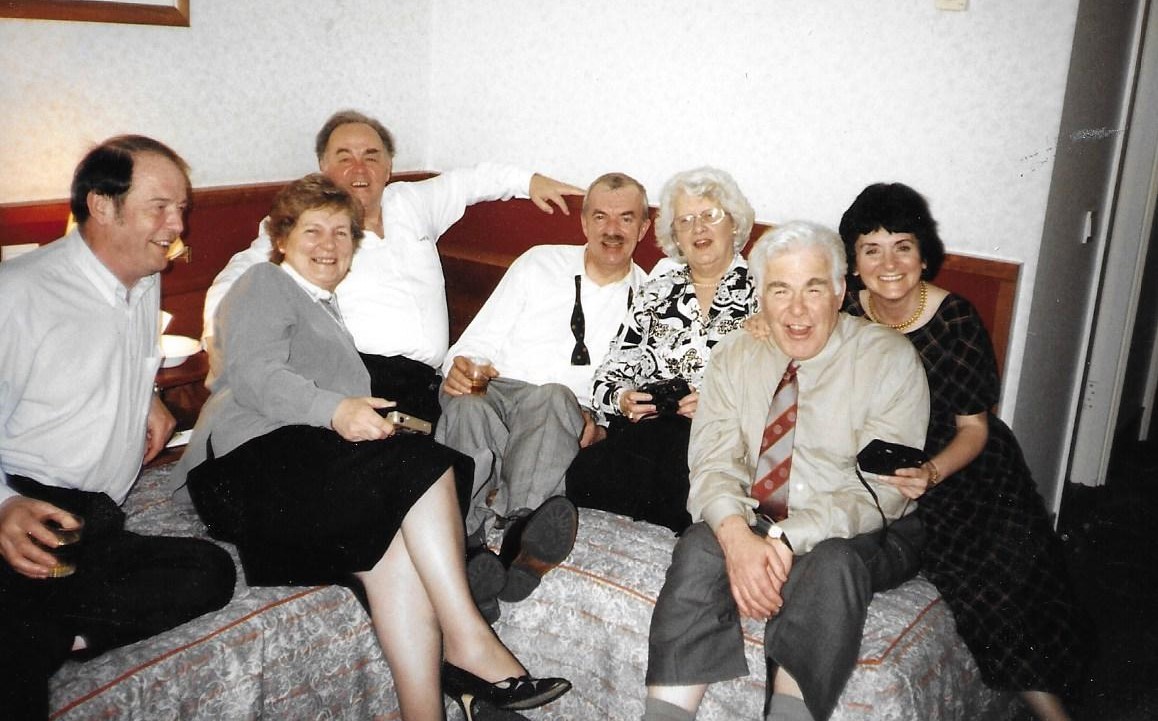 On this day: -
2008 - A teenager, who thought movement in her underwear was caused by her vibrating mobile phone found a bat curled up asleep in her bra. Abbie Hawkins, aged 19, had been wearing the bra for five hours when she plucked up the courage to investigate. - 'I put my hand down my bra and pulled out a cuddly little bat. I felt quite sorry for it. Perhaps I should have left it there and given it a good home.'
2014 - The Times Higher Education magazine's annual exam howlers competition came up with these and many others. (1) All cars will be be fitted with Catholic converters (2) Hitler's role in the Second World War is often overlooked (3) The hole in the ozone layer is caused by arseholes (4) Stalin was extremely surprised when he was taken from behind by Hitler.
==================================================================
8th July
My brother has given me a book written by Lawrence Turpie. Lawrence retired from the rank of Sergeant in the Local Police in 1954 and the book is a collection of his recollections over 30 years in service as a policeman and the next 30 years in retirement. (The Book was published by Inglis Paul.) Among the entries is the following: -
Bank holdup: -
Another 1931 recruit was P.C. Archibald McGill who joined on February the 3rd and after attending Glasgow police training school served at headquarters before being moved to Denny. Later in the year on Monday morning 18th of April 1932 the staff of the Denny branch of the Commercial Bank of Scotland was held up by a man who pointed a double barrelled sawn-off shotgun at the teller, stole £1,200 and drove off northwards in a motor car later found abandoned at Chartershall near Whins of Milton. The police were alerted and the description of the man circulated. Roadblocks were set up and a large cordon of police was out on the hills where it was thought the man may be hiding.
On duty in the evening Constable McGill stopped a bus going to Glasgow and after interrogation was told by the driver that he thought the wanted man was aboard the Glasgow bus 30 minutes ahead of him. Archie, with alertness and diligence for a young constable, telephoned Glasgow CID who arrested the robber after leaving the bus. He was George Kynoch who was taken to headquarters Stirling. At the High Court Kynoch was sentenced to 7 years imprisonment in Peterhead prison. Kynoch was shot by a prison warder in the act of attempting to escape by climbing over the perimeter wall and he died from injuries sustained in the fall. PC McGill married and followed me to 26 Birnham place on the 19th of May 1933.
That was my dad!

Also, at the end of the book there is this picture which shows Gillies in his prime!: -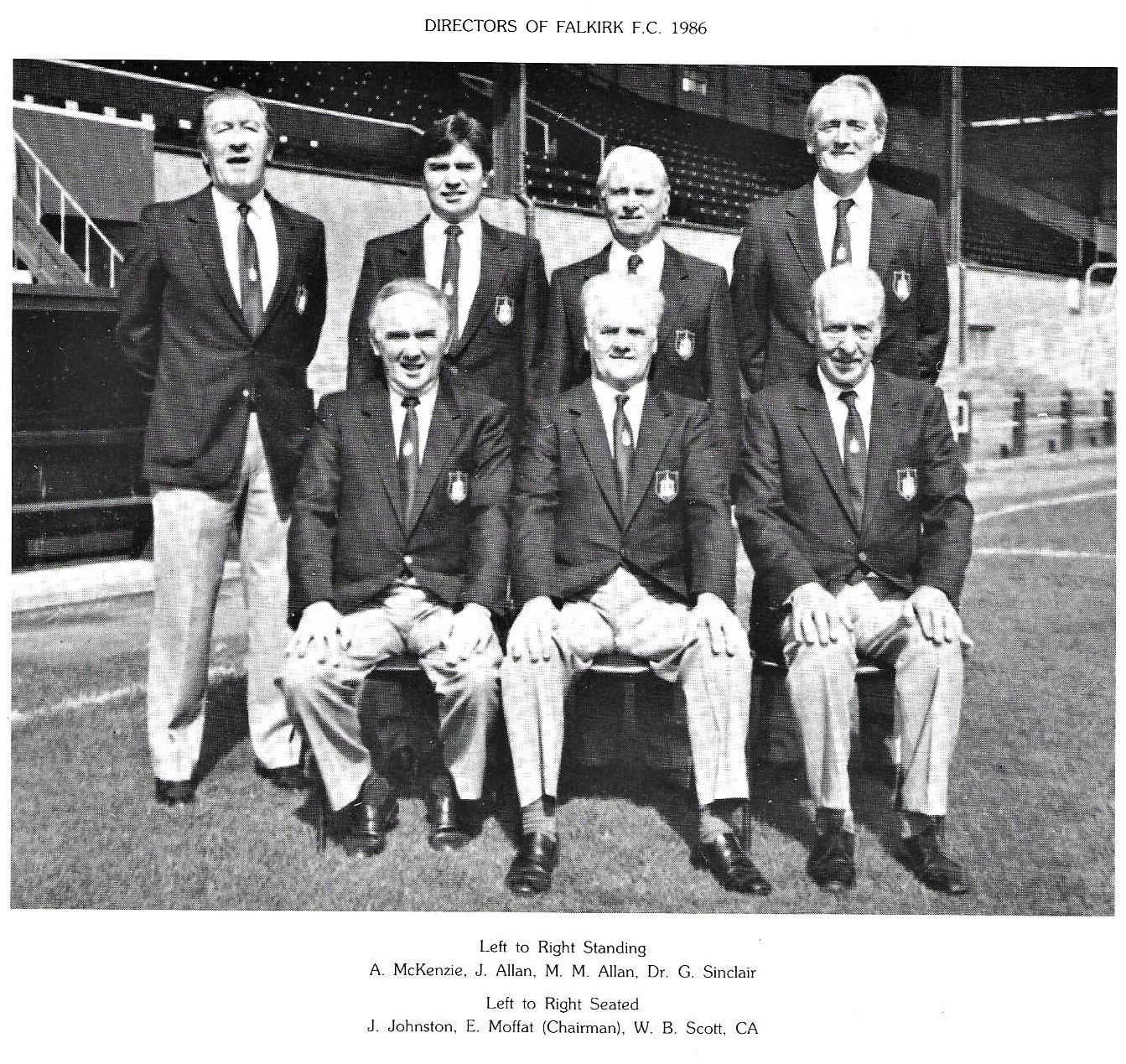 On this day: -
==================================================================
7th July
Hooray! We got word this morning that our PCR tests were negative. That got me to wondering just what "PCR" was short for! It apparently stands for "Polymerase chain reaction". PCR tests are used to directly screen for the presence of viral RNA, which will be detectable in the body before antibodies form or symptoms of the disease are present. This means the tests can tell whether or not someone has the virus very early on in their illness.
I had to cancel a doctor's appointment yesterday because of my association with my niece who had tested positive. I have the appointment reorganised for Friday. It's for a DRE examination! You can look that one up yourself. The receptionist asked me if I required a face to face consultation and I replied that "face to face" didn't quite fit the bill in this instance! This was necessary as a result of a raised PSA test.
PCR, RNA, DRE, PSA! I think that the medical profession tries to hide the reality of what's going on by using all these, I suppose you call them acronyms but they are just, strings of intitials.
I recall a couple of years back I also underwent a procedure for a blocked tear duct which was a "DCR" or a "dacryocystorhinostomy!" Why they don't call it "sticking a tube up your nose" I don't know.
Any how I'm off to transport my patient to the Renal Unit.
On this day: -
1947 - Alleged and disputed Roswell UFO incident.

Now there's another one! "UFO" it is simply an unidentified flying object! Not a space craft or anything alien! If someone threw a brick at you but you didn't see what hit you, then you looked down at the ground and saw a brick , a lump of concrete, a large piece of stone and maybe other bits of heavy dertitus, then you would just have been hit by a "UFO"



================================================================
6th July
Well it has been a hectic few days since I last posted here. Our granddaughter Olivia returned from a holiday in Blackpool with her friend and her friend's parents and it turns out that they all have Covid. We were in Olivia's Company for 15 minutes or so on Saturday but we did keep distant. I had a doctor's appointment this morning which I have had to cancel in favour of a PCR Test and we'll be heading out shortly to Abbotsford for that.
I hope that the result is negative because I have a patient to transport to Dialysis tomorrow.
Narek has just let me have a look at the expenses claims for St John's drivers this past month. I know I have bored you with this before but the 30ish drivers that we have, transporting 14 patients to dialysis three times a week, clocked up a total of 8,200 miles in June! That's 100,000 miles a year!
I discovered yesterday that when a kidney becomes available for transplant a number of possible recipients (I think about 3) are contacted and asked to visit the hospital where they are screened to see who has the best match for the available kidney. Sadly that means huge anticipation for them all and even greater disappointment for those who were deemed to be unsuitable. This happened to one of our patients today. The drivers become quite attached to the patients and this has quite an effect on them as well.
On this day: -
1785 - US Congress unanimously resolves the name of US currency to the "dollar" and adopts decimal coinage.
1885 - Louis Pasteur successfully gives an anti-rabies vaccine to 9-year-old Joseph Meister, saving his life.
1935 - The birth of Tenzin Gyatso! "Who?" I hear you say! This is the name by which the Dalai Lama is known. It is a shortened form of his spiritual name - Jetsun Jamphel Ngawang Lobsang Yeshe Tenzin Gyatso.
1955 - "Blackboard Jungle" is released. It was the first Hollywood film to feature a rock and roll soundtrack.It was "Rock around the clock" by Bill Haley and the Comets. The track had been released a year earlier and scraped to the bottom of the charts selling only 75,000 copies. It was not until it featued in the soundtrack of the film that it shot to fame.

======================================================================
3rd July
Two years ago in March my sister bought us a Golden Peony to mark our Golden wedding. It is in Flower now and growing profusely. It started out life in a 6" pot!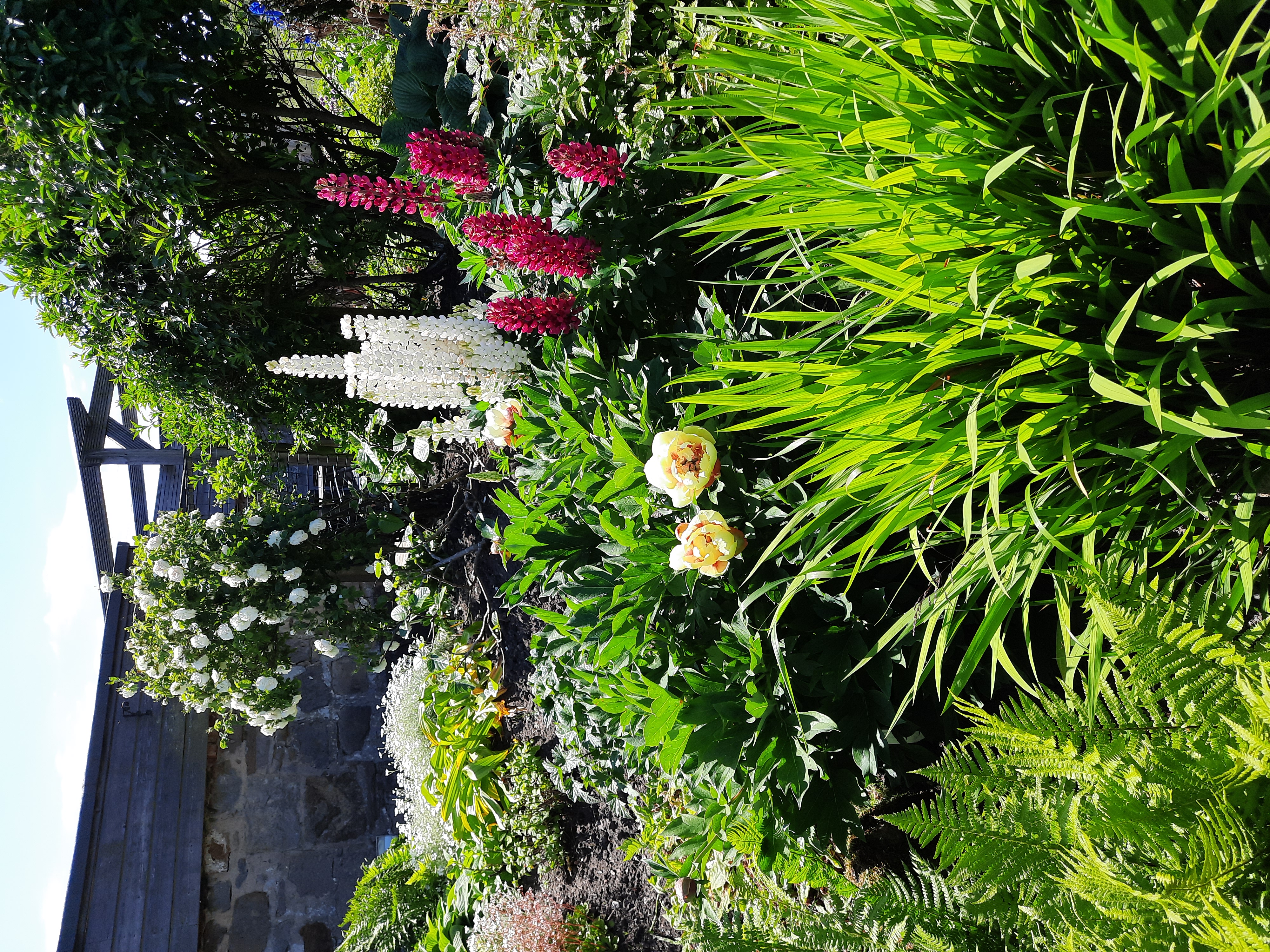 I was outside admiring them when I began contemplating my good fortune at having, yesterday, received the word that my scan was clear and I should now consider myself "discharged to my GP".
on this day: -
1938 - LNER locomotive No.4468 'Mallard' achieved the world speed record for steam traction. A maximum speed 126 mph was reached between Grantham and Peterborough. Mallard was designed by Sir Nigel Gresley and was in service until 1963, when she was retired, having covered almost one and a half million miles and is now at the National Railway Museum in York.
1996 - It was announced that the Stone of Scone, the symbol of Scottish Nationalism, stolen by Edward I of England in 1296, was to be returned to Scotland from Westminster Abbey where it has been used in the coronation of 30 British monarchs.

For seven hundred years, (with the exception of 111 days between Christmas eve 1950 and the 11th April 1951) The Stone had remained in Westminster Abbey. It was on Christmas eve 1950 that Ian Hamilton QC (but then in his own words "a stripling of 25") and others stole The Stone and took it to Scotland. After having been hidden in the office of an Engineering Workshop in Bonnybridge it was subsequently returned to the High altar of Arbroath Abbey where the Declaration of Arbroath had been signed. It was ceremonially covered with a Saltire Flag and left for the Authorities to recover.



=============================================================
2nd July
I think that I said last year that while the RI Presidential logo has changed I would keep the "Rotary Connects the World" logo for this page, firstly because I think that it was appropriate considering the ethos of the page and secondly because I thought the "Rotary opens Opportunities" looked like it had been designed by a year one Primary Class.
I will maintain the one that I have but I think that this year's RI Presidential Logo is much more acceptable. I will send it to Gillian so that she can have it included in the publicity for our next Swimarathon.
This is it: -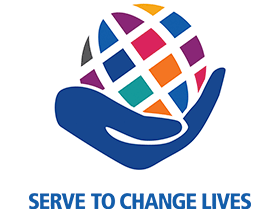 The RI President this year is - Shekhar Mehta.
The RIBI Chairman this year is (I think) - Dave Ellis.

District Governor this year is - Ken Robertson.
Our Club President this year is Narek Bido!

On this day: -
1961 - Ernest Hemingway, the Nobel Prize-winning author, adventurer, war correspondent, bullfighter, drinker and all-round macho man, blew his own brains out on this day. His fourth wife, Mary, said that he killed himself accidentally while cleaning his double-barrelled 12-bore shotgun. But did he? Controversy has surrounded the death of the 61-year-old celebrity since the fatal shooting at his home in Idaho and over the years writers, researchers – and psychiatrists – have delved into the mystery.

In 2006, American psychiatrist Christopher D. Martin said: "The accumulating factors contributing to Hemingway's burden of illness at the end of his life are staggering." He listed bipolar mood disorder, depression, chronic alcoholism, repetitive traumatic brain injuries and the onset of psychosis.

Some commentators have suggested that Hemingway's problems – and depression – began in 1928 when his father, Clarence, committed suicide by shooting himself in the head. But his grandfather, brother, sister, and granddaughter all killed themselves. And besides suicide, the Hemingway family history is also laced with the inherited condition of haemochromatosis,(excessive intestinal absorption of dietary iron) it has emerged.

===================================================================
1st of July!
It's a brand new Rotary Year! Hopefully this coming year will be more effective than the last one.
Yesterday LInda N phoned to say that she had cash from Rotakids. I don't know if you will remember but we lent them £50 and the idea was that they would use that to raise funds for Aqua Filter.
Well this morning I lodged, in the Bank, £178.60! That's our £50 back and £128.60 for Aqua Filter.
Well done Rotakids! I am sure that the Club can recognise that achievement and augment the sum before transmitting to Aqua Filter.
oooOOooo
We had a super Fellowship meeting today which consisted of a whole pile of amusing banter part of which constituted George saying "Put it on the agenda for next week that everyone has to guess what I am going to say!"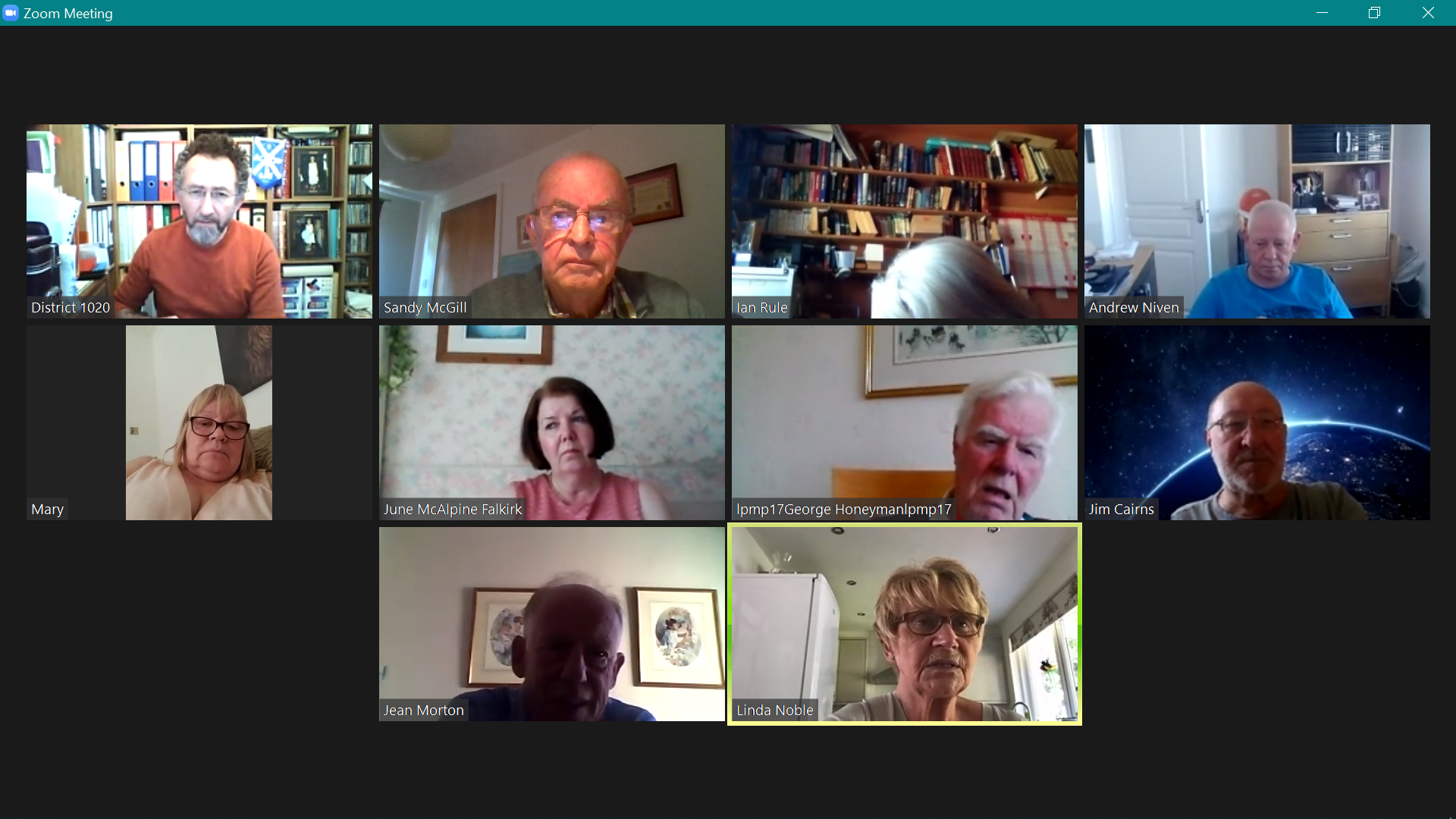 Ther were only eleven of us but it was good fellowship! Much better than being constrained to interact only with two others at a table!
We spoke about our imminent return to "normality" - Carmuirs, The Coppertop, The Park?
We debated whether District had allowed sufficient time for Clubs and other partners to properly seek out candidates for a virtual RYLA. Talking about which, I was always of the opinion that relatives of Rotary members were specifically excluded from participating in RYLA. There seemed to be a difference of opinion about that among those present!
We spoke about the Station Tubs and President Narek told us about his conversation with the Station staff who had said that they had no problem with our members tending the tubs! After all they have no control over who walks on to the Station Platform. Makes sense to me! President Narek added that even although Scotrail withdrew funding because we weren't toeing the line with their daft rules we could fund it out of the PI budget.
All in all it was a great meeting even although we were so few.
Fellowship rules!
=============================================================
30th June
That's us half way through 2021! 15 months since we last met together! I think that the last occasion that I was able to interact with the members of the Rotary Club of Falkirk was at Margaret Lyon's party at Skythorn Way! It all seems so long ago now!
Talking about long ago, I was checking my bank accounts this morning and noticed an odd payment to Amazon for £7.99. I subscribe to Kindle unlimited which costs just that every month but I took advantage of a half price deal and subscribed for 6 months for £24. So I was a bit miffed that they were still taking the £7.99. That was until I checked and found that my 6 months were up! Time flies when you are having fun.
During the 6 months, though, I discover that I have read 48 books on Kindle, all Crime Fiction, by Authors such as Ian Rankin, Joy Ellis, Michael Hambling, David Hodges and J.M. Dalgleish.
My preference for Crime Fiction arises out of my introduction to the annual Book Festival "Bloody Scotland" held in Stirling every year. My son in law and I attended the first two Friday night dinners and presentation of prizes before the dinners were discontinued but it whetted my apetite for the genre.
On this day: -
1898 - Winton Motor Carriage Company publishes the first known automobile ad in "Scientific American" using the headline "dispense with a horse."
1908 - A giant fireball, most likely caused by the air burst of a large meteoroid or comet flattens 80 million trees near the Stony Tungusca River in Yeniseysk Governorate, Russia, in the largest impact event in recorded history.
1937 - The world's first emergency call telephone service is launched in London using the number 999. It was considered more easily found in a smoke filled room or by a blind person if you put your finger against the backrest and dialled three complete rotations of the dial.
=================================================================
29th June
Oops! I must have missed yesterday. Too much going on! I had a patient for the renal unit. I cut the grass and I watched the recording of the Club Assembly in order to do the minute because June is on holiday! That's my excuse anyway. The minute of the Club Assembly is available now in the members only pages.
What a cracking sunset we had last night -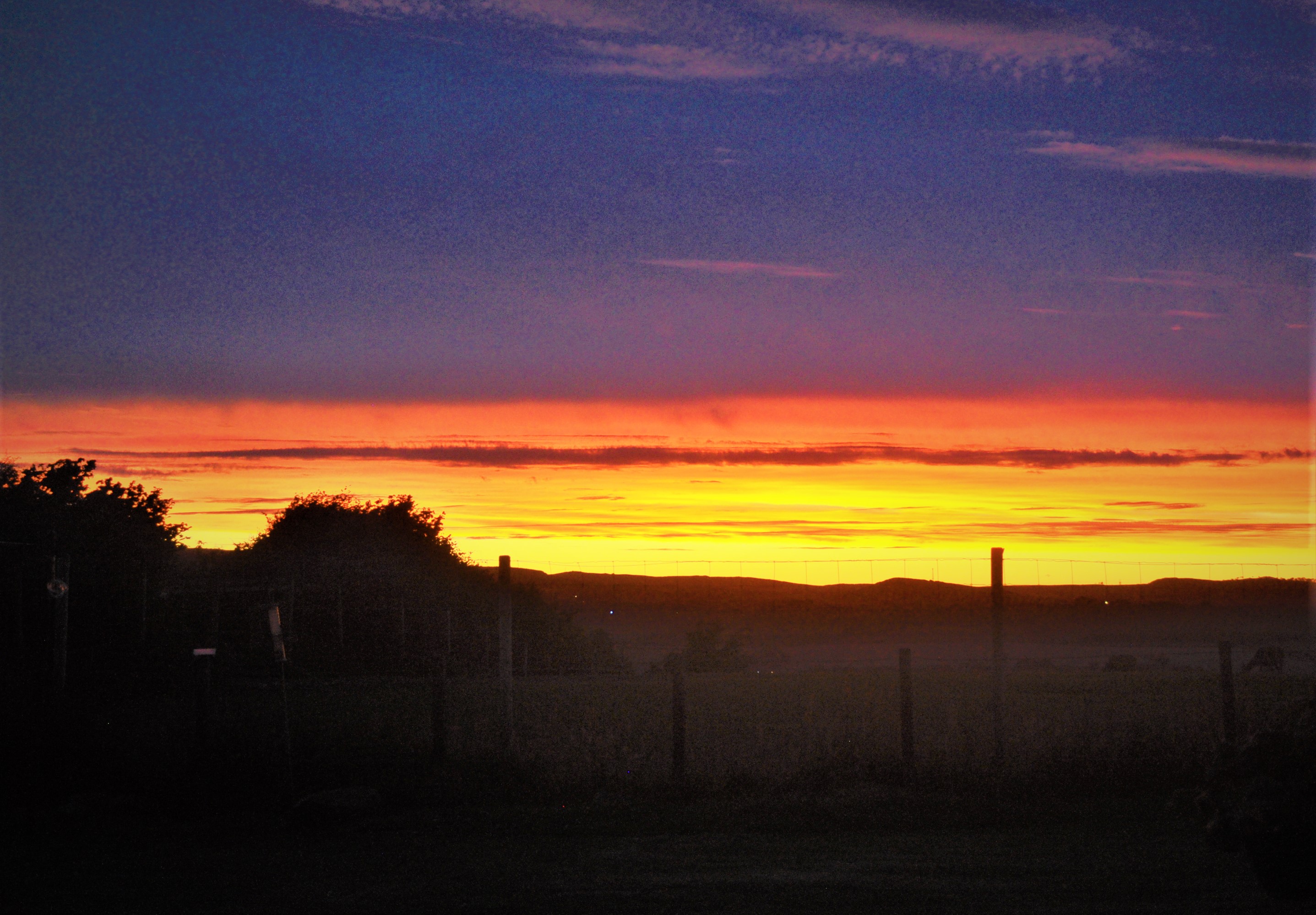 On this day: -
1613 - Shakespeare's Globe Theatre burns to the ground during a performance of Henry VIII.
1620 - After denouncing smoking as a health hazard, King James I of England banned the growing of tobacco in Britain.
1905 - The Automobile Association was set up by motorists angered by police harassment and to warn drivers of speed traps.
2008 - Thomas Beatie, the world's first pregnant man, gives birth to a daughter.
2010 - The England football team returned home after being knocked out of the second round of the World Cup by Germany. England ultimately lost 4-1, suffering their worst defeat to date in a World Cup finals match. (In 2014 England were eliminated at the group stage of the Fifa World Cup for the first time since 1958, with just two goals scored. It was their worst goal tally since 1950 and the worst World Cup showing in the history of the national team.)
=================================================================
27th June
A wee while ago Andrew and Gillian ripped out all of their decking in readiness for a revamp of their back Garden. They were kind enough as allow me to take away all of the residue. Since then I have spent some time removing all of the screws and stacking the timber for whatever purpose I might find. This morning, I was looking for something to do and decided I would make a plant trough with two or three of the boards. This is the result: -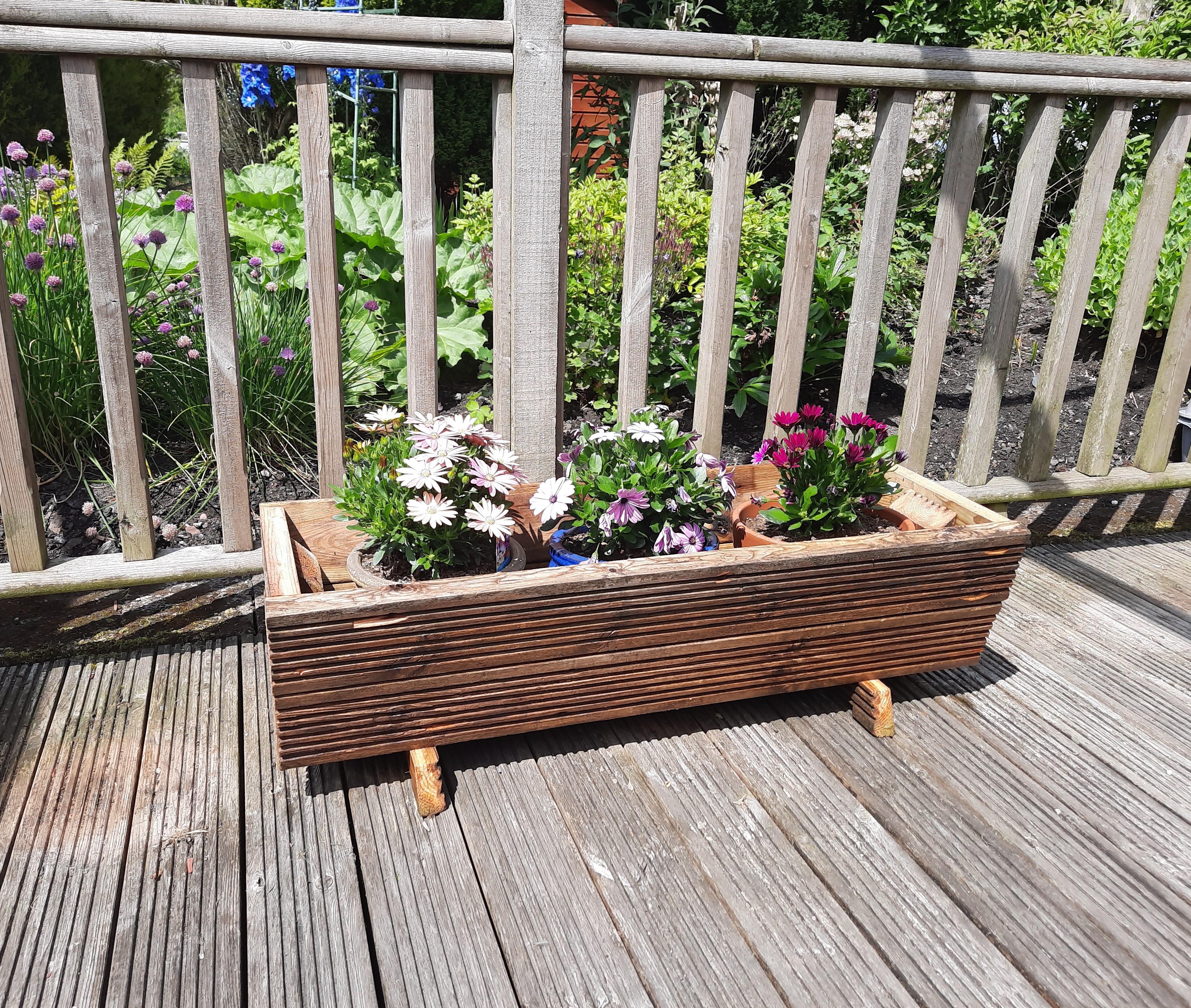 I have just power washed it and once it's dry I'll give it a coat of stain.
The last of Andrew's Titbits: -
It was the accepted practice in Babylon 4,000 years ago, that, for a month after the wedding, the father of the bride would supply his son in law with all the mead he could drink. Mead is a honey based beer and as a result this was called the "Honey Month" which we know today as the Honeymoon.

On this day: -
1898 - Joshua Slocum stepped ashore at Newport, Rhode Island, late on this day after sailing alone around the world. He was the first person to achieve such a feat and did it, he wrote, "because I was amused by the assertions that it could not be done." What made the voyage even more remarkable was that Slocum accomplished it in a decrepit 37-foot (11.2m) fishing boat which he had rebuilt and named Spray.
1899 - Indian born English cricketer Arthur Edward Jeune Collins, aged 13 and often known by his initials A. E. J. Collins, achieved the highest-ever recorded score in cricket. He scored 628 not out over four afternoons but, despite this achievement, Collins never played first-class cricket. He was killed in action in 1914 during the First Battle of Ypres.
1967 - Barclays Bank (Enfield branch) opened Britain's first cash dispenser.
2014 - Staff at Dartmoor prison had offered sun cream to inmates who had managed to climb on to a rooftop during sunny weather the previous week, the Ministry of Justice confirmed. They said that the offer of sun cream was a standard procedure, as part of the jail's 'duty of care' that was in line with health and safety rules.
2014 - The mummified body of Anne Leitrim, who was in her 70s, was discovered in her flat in Bournemouth, where she had lain undiscovered for six years. Her remains were finally found when bailiffs visited the property to collect unpaid debts.

=================================================================
26th June
We had our Club Assembly on Thursday. Sadly, I was not able to stay the course having stuff to do for St John but I was able to watch a presentation by Allan McLaughlan about Foundation. Allan is a force to be reckoned with and is passionate about Rotary and Foundation in particular. He spent the best part of an hour explaining to us exactly how effective our Charity is and why we need to keep it topped up.
It was always the case that any money donated to Foundation was kept in the bank for three years before 100% of it was deployed for the many aims that Foundation supports. The interest from that three year investment paid for the running costs of the Charity so that The Rotary Foundation was probably the only Charity in the world that could boast that 100% of donations were put to the purposes of the Charity.
This was only possible when the return from the invested capital was sufficient. Since the financial crash of 2008 interests rates have been such that now only 95% of donations reach the purposes of the Charity.
This is still a laudable figure but Rotary Foundation is striving to return to the norm.
Allan stressed that all of the money donated to Rotary Foundation from any District returns to the District three years later and is available in the form of Grants to be applied for by the Clubs.
ooOoo
My first brood of swallows this year is looking over the edge of the nest. They are a good bit later this year. I think possibly the first brood failed and this is a replacement.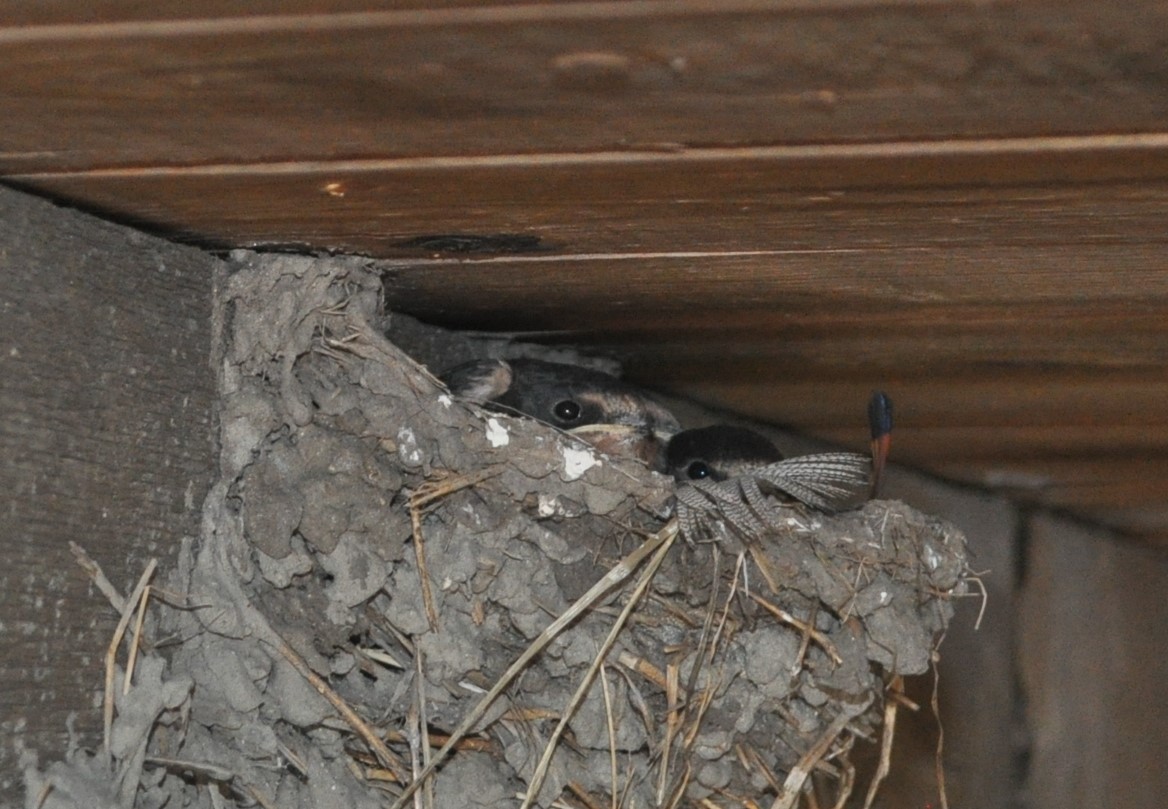 Great News yesterday too! There have still only been two cases of Polio reported this year in the world! One in Pakistan and one in Afghanistan
Michael White's weekly email arrived at the same time as that news so if you would like to participate in his "Screen Memories" the questions are
here
and if you need them the answers are
here.
Some more of Andrew's stuff: -
Each King in a deck of playing cards represents a great King from History: -

Spades - King David
Hearts - Charlemagne
Clubs - Alkexander the Great
Diamonds - Julius Caesar.
Now don't say you don't learn stuff here.
On this Day: -
================================================================
25th June,
Good morning all!
I have deleted everything that has gone before in order to reform my ways and post things properly so that the page updates!
Among the things that I had tried to post but failed to accomplish was the following from Linda Noble: -
A tweet from Hallglen Primary: -

Just in case you are wondering
@the_falkirk
is us. It is the twitter account that I opened last year that I deserted because no one was watching. And then this: -
Today, I finally gained access to Hallglen Primary, to deliver their well earned Citation.The school had contacted the Falkirk Herald to come and take photos but unfortunately a no show. So here are our photos of the day, it was lovely to see them all, and as enthusiastic as ever.
Linda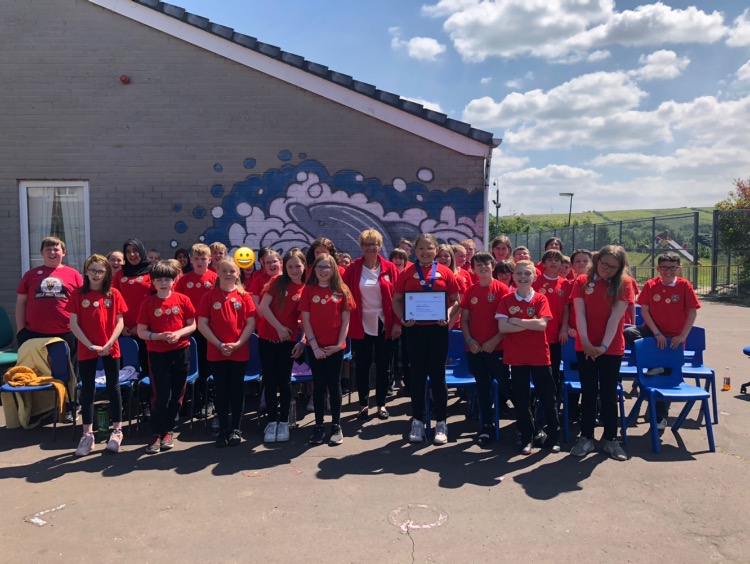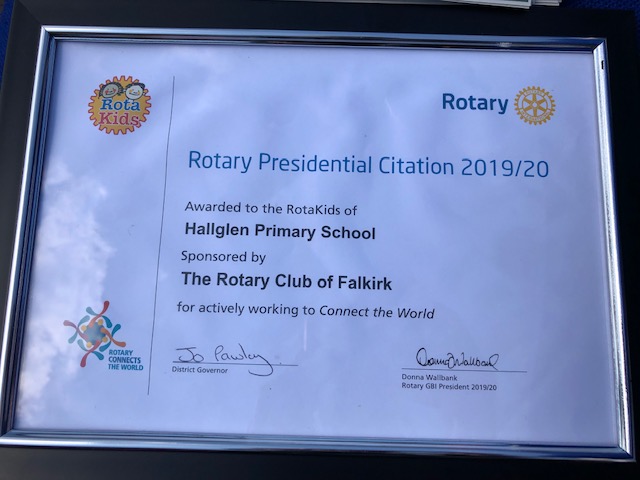 Andrew sent me some stuff too: -

In the 1400s a law was passed in England allowing a man to beat his wife with a stick as long as it was no thicker than his thumb! This is where we apparently get the saying "rule of thumb"
Many years ago in Scotland they weren't beating their wives with sticks they were hitting a wee ba' aroon' a gress course in the hope that it might eventually fa' doon a hole! The game was forbidden to Ladies and considered only fit for gentlemen to play; hence the phrase Gentlemen only, Ladies forbidden was reduced to the acronym we all recognise today - GOLF
========================================================================