3rd December

We had a super Christmas Lunch yesterday. There were 22 members present and they had with them 37 guests. Read all about it in the "Weekly Meetings" Page.

1st December

Linda Noble sent me a link to the Falkirk Herald Facebook page which shows Falkirk Round Table celebrating their 70th Anniversary. -

https://www.facebook.com/188744761202698/posts/4531932340217230/
I think that it's probably a precursor to the publication on Thursday. Judging by the lack of hair I think most of them must be founder members!!! I haven't posted the photograph here respecting what is probably Michael Gillen's copyright.

On this day: -

1887 - Samuel Orchart Beeton was a 19th Century English publisher, probably most famous for giving the world Mrs Beeton's Book of Household Management. This legendary collection of recipes and advice for middle-class ladies on how to run their homes was compiled by Beeton's wife and first appeared in 1861. By 1868 it had sold two million copies and is still in demand to this day. Beeton published many other titles, however. They included Beeton's Dictionary of Geography, Boy's Own Magazine, Beeton's Book of Anecdote, Wit and Humour, Beeton's Dictionary of Natural History, Beeton's Book of Birds, and, not least, Beeton's Christmas Annual, a paperback magazine stuffed with stories, poems, sketches and anecdotes that appeared annually between 1860 and 1898.

It was the edition that officially went on sale on December 1st, 1887, that carved a place in literary history for the annual. For it contained Arthur Conan Doyle's first Sherlock Holmes story – A Study in Scarlet. Now extremely rare, original editions of this annual are in great demand, one being sold at Sotheby's in 2007 for $156,000. Ironically, in 1886, Conan Doyle, wrote to the publisher Ward Lock, who had taken over Beeton's, asking for a percentage on sales of his story. He had sold the copyright to them for £25. They replied: "We regret to say that we shall be unable to allow you to retain a percentage on the sale of your work as it might give rise to some confusion. The tale may have to be inserted together with some other in one of our annuals, therefore we must adhere to our original offer of £25 for the complete copyright."
1952 - The New York Daily News reports the first successful gender reassignment operation.
1955 - Rosa Parks is arrested for refusing to move to the back of a bus and give her seat to a white passenger in Montgomery, Alabama.
=================================================================

30th November
Happy St Andrews Day.
Saint Andrew is the patron saint of Scotland. He is also the patron saint of Romania, Greece, Russia, Ukraine and Poland. Patron saints are chosen to be special protectors or guardians over things.He never actually set foot in Scotland during his entire life.

Around AD 60, Andrew was martyred by the Romans in the Greek city of Patras. Legend has it that he requested to be crucified on a X-shaped cross, or saltire, because he did not feel worthy to be executed on the same shaped cross as Jesus. That became known as the Saint Andrew's Cross and a symbol of Scotland in the medieval period.
Legend also has it that St Regulus (also called Rule), a fourth-century monk in Patras, was told by an angel to hide some of Andrew's bones. He took them from their resting place in Constantinople, of which Andrew was also patron saint, and sought to place them at the ends of the earth, eventually being shipwrecked on the coast of Fife, at the Pictish royal centre of Cennrígmonaid (later renamed St Andrews). The Céli Dé, or Culdees (hermitical Celtic monks) already settled there erected a chapel to house a sarcophagus or box-shrine, possibly containing the relics.
From a regional, minority cult, St Andrew gradually became the spiritual father of all of Scotland. This was officially recognised in 1286, when he appears on the seal of the Guardians of Scotland – the regents after the death of King Alexander III – framed by his diagonal cross and surrounded by the words: Andreas dux esto Scotis compatriotis ('Andrew be leader of the Scots, your fellow countrymen').
St Andrew became a protector of Scots, and an (honorary) Scotsman himself. Association with the Scottish cause in the late 13th and early 14th-century Wars of Independence only cemented his status, turning him into a powerful national symbol. The 1320 Declaration of Arbroath officially named Andrew as patron saint.
People of Scots descent often adopted a stronger sense of Scottish culture than those they had left behind, perhaps to maintain their ancestral identity. Thus, the first documented post-Reformation celebration of 30 November as St Andrew's Day was in Charleston, South Carolina, in 1729.
It had been organised by a philanthropic society that bears the apostle's name, and carried on the original point of the feast day in the Catholic Church, which was for communities to surpass themselves in penitence and charity to make them worthy of the saint's protection.
Along with music and dancing, a meal featuring a cooked sheep's head seems to have been a centrepiece of St Andrew's society celebrations throughout the 18th and 19th centuries. That tradition is now, some would say mercifully, lost. (At least the heid wis cooked!")
Rab Houston - Professor Emeritus in History at the University of St Andrews and author of Scotland: A Very Short Introduction (Oxford University Press, 2008)
On this day: -

1835 - The author Mark Twain is born. He was born "Samuel Langhorn Clemens". His pen name "Mark Twain" stems from his experiences on the river boats of the Mississippi when "leadsmen" would be sounding the depth of the water beneath the craft. The cry "Mark Twain" affirmed that there were two fathoms (12 feet) indicated beneath the surface, deep enough for the safe passage of a river boat.

1872 - First international soccer game, Scotland draws with England (0-0) in Glasgow.

1876 - Archaeologist Heinrich Schliemann finds the gold Mask of Agamemnon at Mycenae (modern Greece) "the Mona Lisa of prehistory"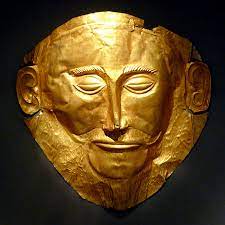 =================================================================
27th November

No sooner had I sent you all an email saying that the website was down when up it popped again! Hey Ho!
I got an interesting email from Gordon the other day. It would appear that the moon (Gordon says) has not risen above nor set beneath the horizon for the best part of a week! Now that struck me as odd even although Gordon says that it is quite rare. Being as I am in complete ignorance of the relative motion of the moon orbiting the earth and the rotation of the earth itself, which is where I would expect that phenomenon to arise, I had no reason to doubt Gordon's assertion. So I thought that I would investigate.
I can find no reference to the fact that this phenomenon is possible. In fact I find many references to the fact that the moon always sets and rises every day and is visible in that context from any part of the planet. I ended up on this web site https://www.timeanddate.com/moon/uk/falkirk. It allows you to enter your location and shows you what the state of the moons elevation is relative to the horizon.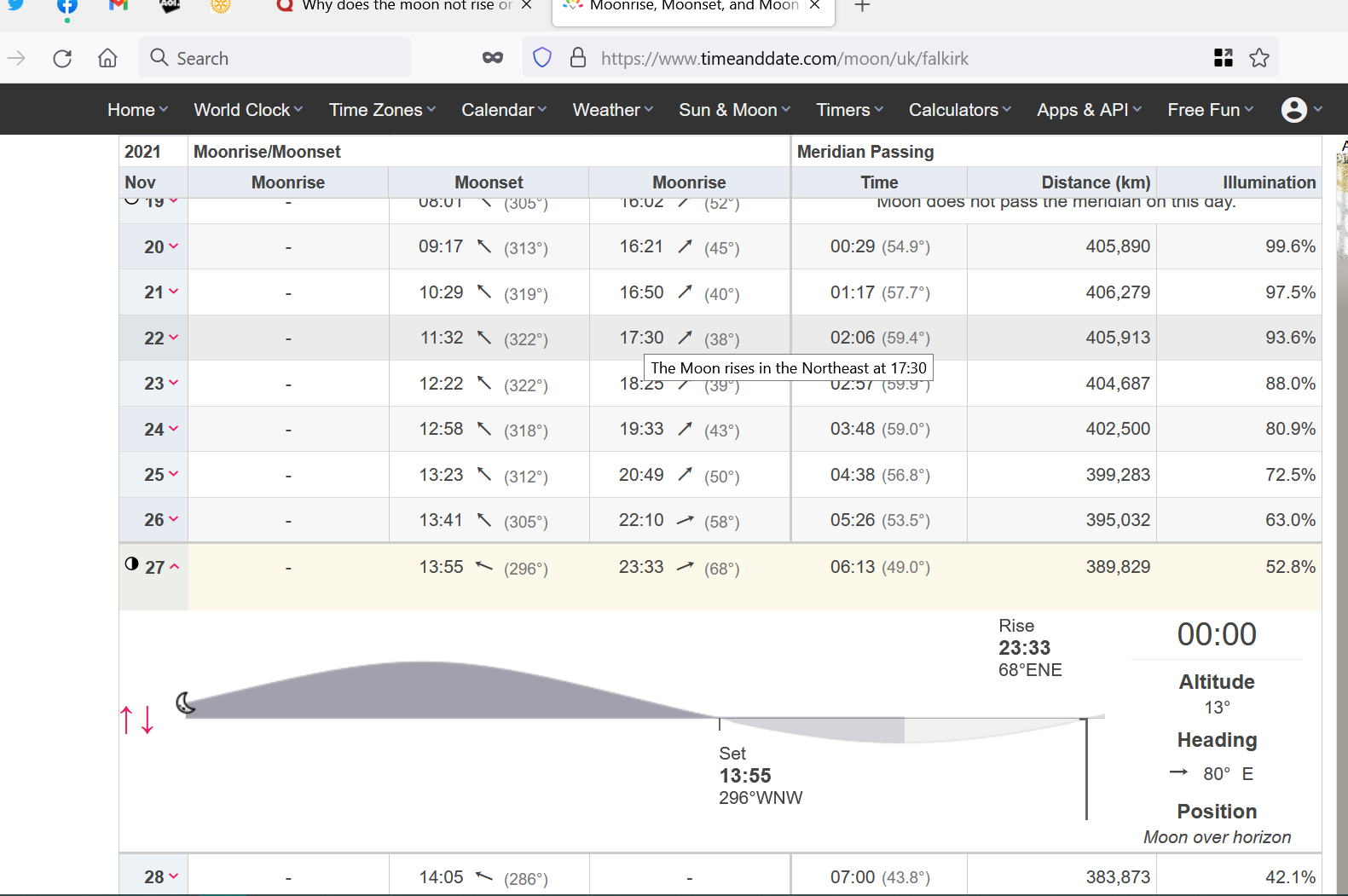 So there! I have done it! Opened up a public discussion on whether the moon rises and sets every day! Sorry Gordon! Convince us please.
On this day: -

1770 - On this day, a frail twelve-year-old boy stepped voluntarily into the seething world of filth, fear and uncertainty which was the Royal Navy, determined to make his way in the world. He was the sixth of eleven children born to the wife of a clergyman in the rural UK village of Burnham Thorpe, Norfolk.
His name was Horatio Nelson and he was to become one of England's greatest-ever military leaders and a national hero.

(Note the "England's")

1968 - Penny Ann Early becomes the first woman to play professional basketball. She had earned her jockey's license, making her the first female jockey. However, male jockeys refused to race with her in an attempt to block her from competing. In response, the Kentucky Colonels of the American Basketball Association signed her to their team, even though she had no basketball experience. She played for one play. At 5 ft 3 in (1.60 m) and 112 pounds (50.8 kg), she was also the smallest player in a male dominated professional basketball league.
Note: She is the smallest, but tied for the shortest. Mugsy Bogues of the NBA was also 5 ft 3 in (1.60 m), but weighed 135 lb (61 kg) making him bigger.
2013 - "Frozen", the highest-grossing animated film of all time, is released.
================================================================

26th November

Lady gets gift of jigsaw and is unable to piece even two pieces together. She goes to her husband for help! "This jigsaw is supposed to be of a Tiger like the picture on the box but I can't even fit two pieces together!" she said. He replies "Put the Frosties back in the box and put it in the larder!"

BOOM BOOM!

This is wierd weather! I am told that it rained heavily last night! I hear nothing after removing my hearing aids and retiring so I wouldn't know. And this morning is another stunning sunlit Forth valley! (I will refrain from posting yet another photie of that!)
Linda let me have this which was a twitter post by Miss Hurren at Hallglen PS: -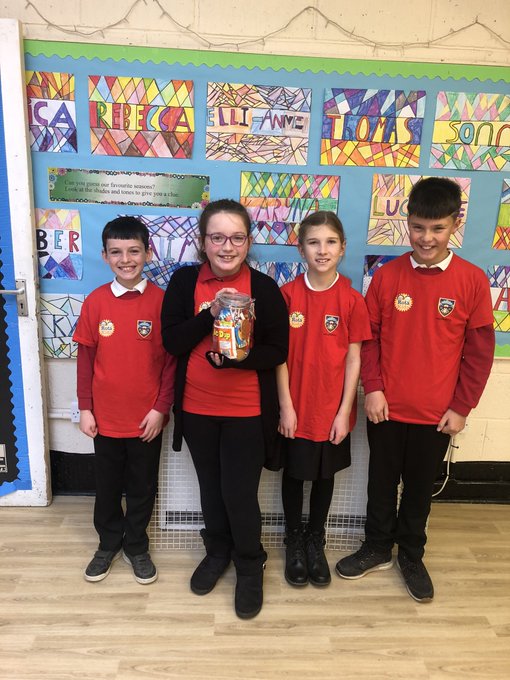 Huge congratulations to this lucky girl in Mrs Clark's class! There were a few people who guessed the correct number (6 in total) so I put all the names in a random name generator after school on Friday and Miss MacDonald and Miss McMillan were there to witness the reveal!
It would appear that Hallglen RotaKids held a "guess howmany are in the jar" competition. Well done them!

I know that President Elect Linda has, through June, informed you as follows regarding the Christmas lunch at The Grange Manor and I make no apologies for repeating it here: -
When entering the hotel please adhere to all the regulations in relation to COVID-19.

Face coverings are mandatory and must be worn at all times when not seated.

To avoid a "bottle neck" happening at the entrance to the function suite, all track and trace details have already been provided to the hotel.

There must be no meeting or congregating in the foyer area.

Members and their guests should check on the table plan where they are to be seated, and move directly to their allocated table and remain seated ahead of the meal being served at 12.30.

Movement within the room and between tables should be kept to a minimum.
In addition to that we have been requested to bring a "box of sweets" with us to the meal. Mary will accept these in the car park after the meal. If you are in any doubt, the sweets that we seek are the circular tins which can be obtained in most supermarkets for £4 or £5.

If you have not already done so please contact Mary and offer your services as an Elf on the 19th or 22nd at Tesco in the Redding.
The inclusion of the word "the" before Redding was innate, automatic and accidental. There are only two places that I have historically done that with and I don't know why! These are "The Reddin'" and "The Plean"!
On this day: -

1939 - Happy birthday Tina Turner.
1970 - In Basse-Terre, Guadeloupe, 1.5 inches (38.1mm) of rain fall in a minute, the heaviest rainfall ever on record.
1983 - World's greatest robbery; 26 million pounds (sterling) worth of gold, diamonds and cash stolen from Brink's-Mat warehouse at Heathrow Airport. The bullion was the property of Johnson Matthey Bankers Ltd, which collapsed the following year after making large loans to frauds and insolvent firms. Two men were convicted, and the majority of the gold has never been recovered. Insurers Lloyds of London paid out for the losses, and several deaths have been linked to the case
================================================================

25th November

I have often wittered on about what Andrew Narek and I have been doing with St John Scotland. We are not on our own in having voluntary roles outside Rotary. Nancy and Mary are actively promoting the food bank at the Redding Tesco as witness whereof: -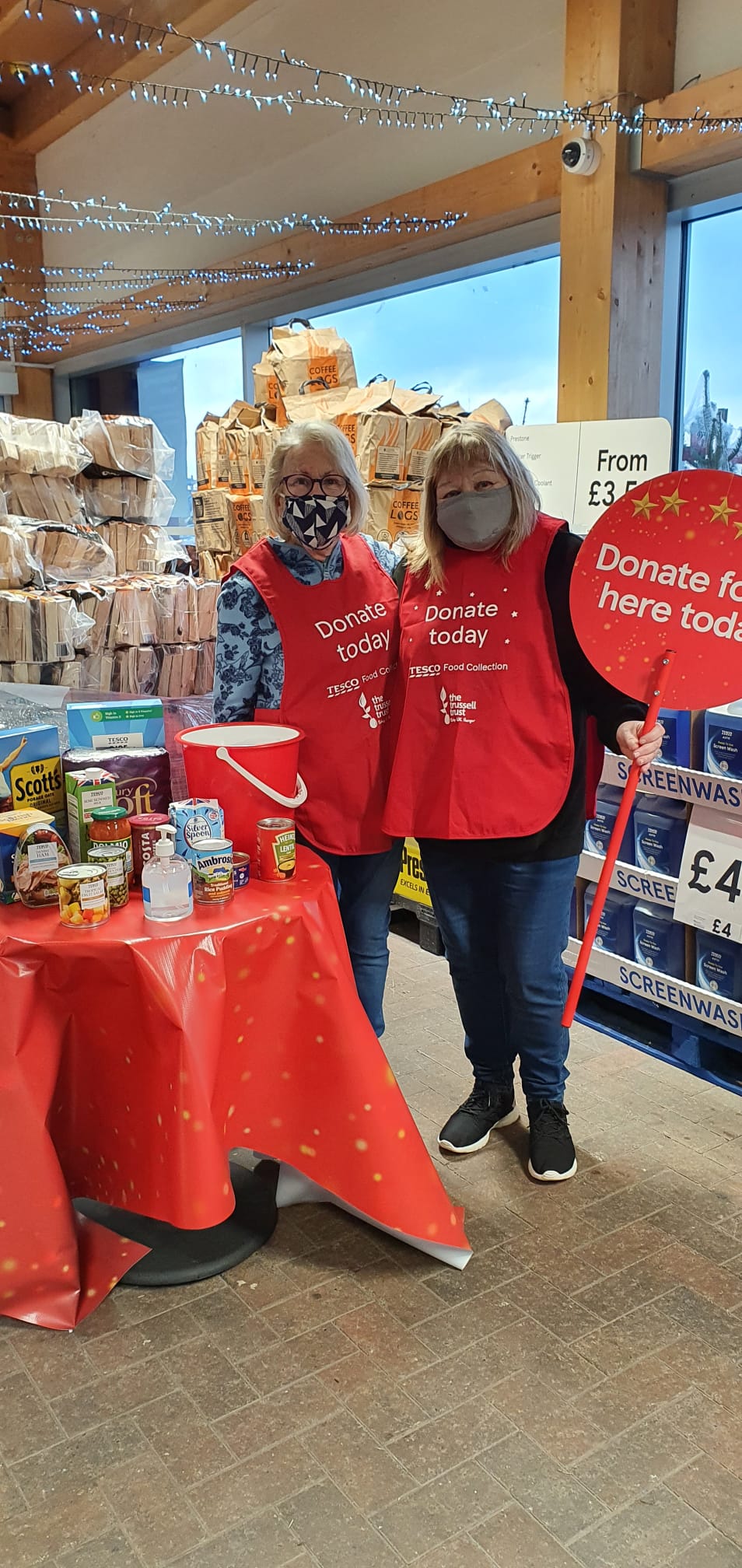 On realising that this was the anniversary of the opening of "The Mousetrap" I am constrained to remember when Diane and I visited. It had been on my bucket list for some time and we opted for a long weekend in London taking in the show. It was disappointing in the extreme, I think primarily because the cast changes on a regular basis and after this length of time the big names aren't so keen to be involved.

Currently, sergeant Trotter is played by Paul Hilliar, Mr Paravicini is played by Tony Timberlake and Major Metcalf by Damien Matthews. Christopher Wren is portrayed by Alexander Wolfe, Giles Ralston by Neil Ditt with Mrs Boyle played by Brenda Longman. Miss Casewell is played by Lizzie Muncey and Mollie Ralston is played by Eleanor McLoughlin. The play is now directed by Ian Talbot. The only original cast member that persists is the late Deryk Guyler who can still be heard, via a recording, reading the radio news bulletin in the play to this present day.
It was so interesting that Diane fell asleep and when she woke (after the plea to keep quiet about the "whodunnit") she said to me "well? who was it?" to which I replied "I'm not allowed to tell you!" In fact it was so enthralling and interesting that I can't even remember "Whodunnit!"

On this day: -

1952 - Agatha Christie's The Mousetrap, starring husband and wife Richard Attenborough and Sheila Sim, opened at London's Ambassador Theatre on this day – and the play is still going. It is the longest-running production in history, reaching its 25,000th performance in November, 2012. The murder mystery has a twist at the end, which audiences have always been asked not to reveal after leaving the theatre. Each night one of the actors makes a direct address to the audience: "Now you have seen The Mousetrap you are our partners in crime and we ask you to keep the secret of 'whodunit' locked in your hearts."
The idea was not to spoil the play for those who had yet to see it. And the appeal seems to have worked – until 2010 when Wikipedia gave the game away on its website.
Despite protests from Agatha Christie's family and from theatre goers, Wikipedia was unrepentant. A spokesman said: "It's exceedingly easy to avoid knowing the identity of the murderer: just don't read it.
"Asking Wikipedia not to reveal the identity of the murderer is like asking a library to remove copies of The Mousetrap book from the shelves because someone could just go and read the end."

Fair point!
===========================================================

24th November

In response to my recipe for "Muir Rig Lorne Pie" I got this from Anne Watson: -
A wee story and a recipe
As you know my father was a butcher and as expected fish didn't feature much in our house We ate fish and chips while on holiday in Lower Largo and it was considered a treat. My father had a customer who was from Arbroath and occasionally a pair of smokies would come our way. This was a recipe my mum and I "invented" as a change from fish soup.
1 or more smokies skinned and boned
6 rashers streaky bacon
2 large tomatoes
potatoes for mash
Break up fish and place in a pie dish Season with Black pepper
chop bacon or "if you want to me posh use lardons" Sprinkle over the fish add a tablespoon of water.
Slice tomato thickly and place over the fish and bacon
Cover with creamy mash and bake at 200c for about 30 minutes
Undyed smoked haddock can also be used
My mum also made a pie with sausage similar to yours but she put in tinned butter beans and no mushrooms the mash usually had some carrot added so that my youngest brother ate a vegetable without knowing.
I was watching tele this morning while eating my breakfast. There was an article about "Ethnic Minorities" being in the minority when it came to cycling! I don't know who carries out studies like this or even why but it got me thinking again. I reverted to my 1983 Oxford English Dictionary to confirm my recollection that the word Ethnic originally meant "Not Jewish"!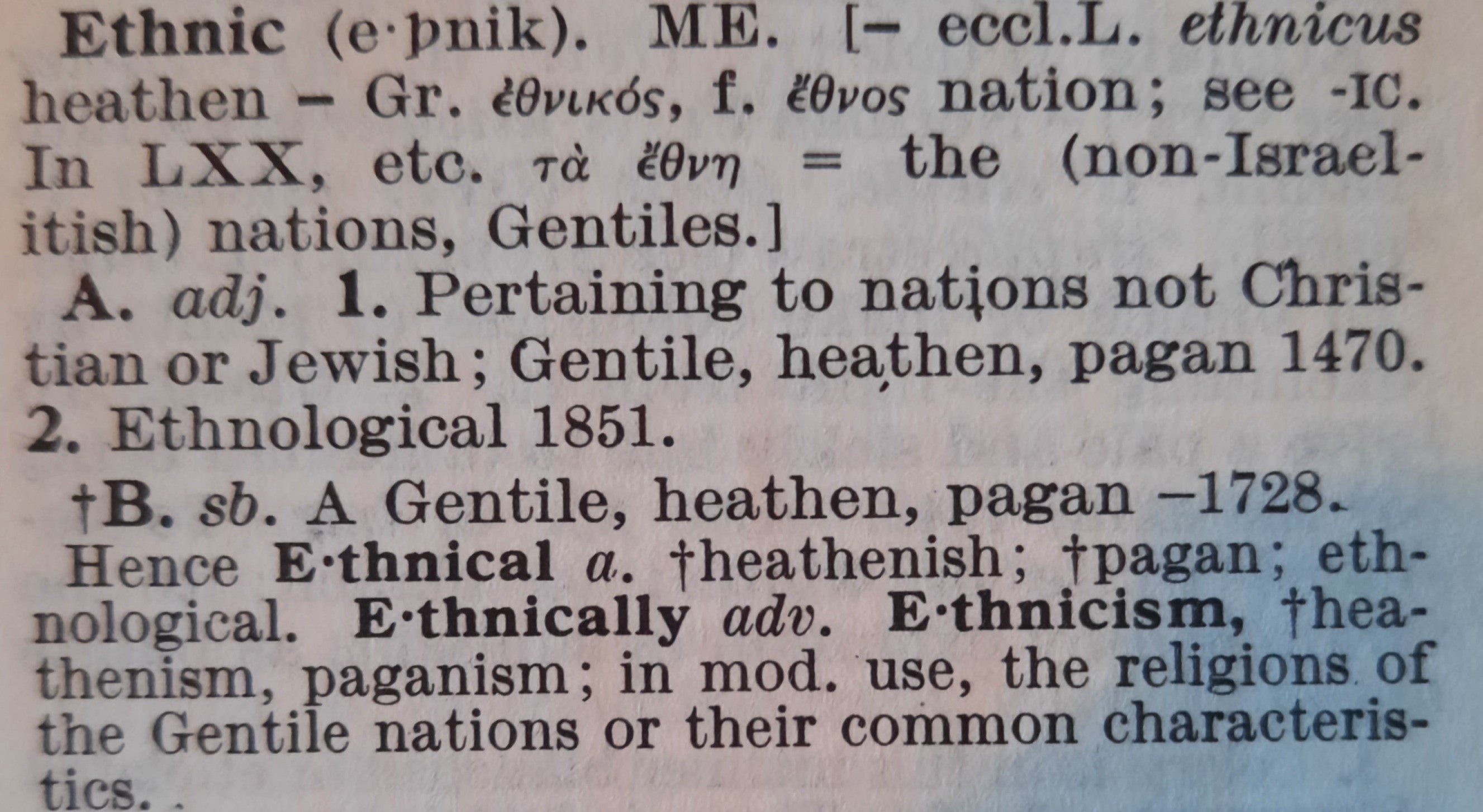 Just another example of a word that has metamorphosed from its original meaning by common usage, like Contemporary, Data, Media & etc.

On this day: -
1859 - English naturalist Charles Darwin publishes "On the Origin of Species" radically changing the view of evolution and laying the foundation for evolutionary biology.
1874 - American inventor Joseph Glidden patents barbed wire.
1947 - The US House of Representatives Committee on Un-American Activities finds "Hollywood 10" in contempt because of their refusal to reveal whether they were communists.
1971 - American "Dan Cooper" hijacks a plane and extorts $200,000 ransom before jumping out of plane over Washington State. He is never seen again.
1972 - One of only eight 1933 pennies minted was auctioned at Sotherbys for £7,000.
===============================================================

21st November

For the twentieth time It is my pleasure to remind you all that it is the time to donate what you can to the food bank. I know that those of us who attend the face to face meetings are maybe saving a wee bit less than we have over the past 20 months but we are still saving. And it has not been in vain! In those 20 months we have donated 4 tonnes of consumables to the Foodbank and that doesn't count the white goods that we provided. All of that was achieved by your donations which so far have totalled £7,932.00.

I call that a result!
It is another absolutely beautiful November morning and the view along the Forth Valley is stunning.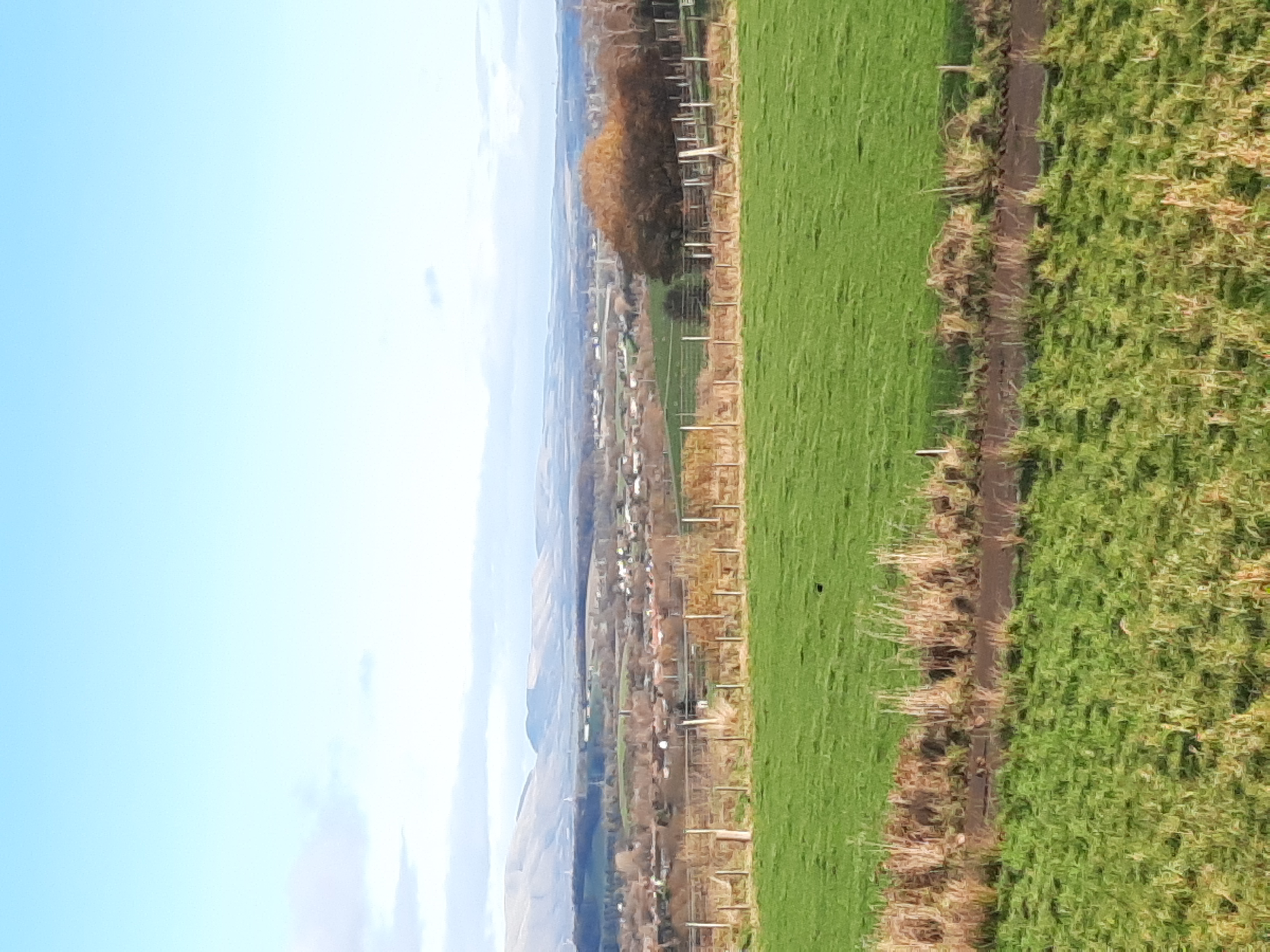 On this day: -

1837 - Thomas Morris of Australia skips rope 22,806 times.
1916 - The sister ship of the RMS Titanic and the RMS Olympic sinks after striking a mine during World War I. 1,035 of the 1,065 people on board were rescued from the water and lifeboats. The Britannic was the largest ship lost during World War I. Her remains were located in 1975 by Jaques Cousteau and is the largest passenger ship on the sea floor.
One of the survivors, Violet Jessop, had also survived the sinking of the Titanic and had been aboard the Olympic when it collided with a British warship in 1911.
1955 - Elvis Presley signs with RCA Victor for $40,000. The high amount paid prompted a Columbia executive to comment "No singer is worth that much."
===============================================================

20th November

As I write this my ears are being assailed by the noise of guns blazing away in the general direction of the many pheasants and partridges that have called our garden home for the last wee while. The sad thing is that if they had just stayed in our garden they would have been safe. Mind you that's not to say that they are not safe now. I have just watched one pheasant fly with impunity, at speed, at a height of about 20 or 30 feet, in the face of a barrage that would have put Monties efforts at El Alamein to shame.

It has been three days since I posted anything here. In the space of that time we have had another face to face meeting. Very slowly the numbers attending are recovering. We had a great meeting on Thursday with 18 members physically present. It only just occurred to me that I never got a cup of tea! And the thing about that is that I never missed it!
The difference in the face to face meetings is immense! Conversation reigns supreme! We chatted about lots of things from Remembrance Day to folk being ejected from the Council Labour Party and; from the longest bridge in the world to our Christmas Sleigh. And (It only just occurred to me again) I think the reason that I am enjoying it so much is that it must be about 4 years since I experienced sitting in the body of the Kirk; as it were.

The battered haddock was superb as was the lentil soup. I would like to encourage more members to participate. We are slowly settling in to a new routine and the more of us that can experience that the better.
On this day: -

1917 - 1st successful use of the Tank in battle, at the Battle of Cambrai in World War I as Britain uses the new technology to break through German lines.
1984 - McDonald's makes its 50 billionth hamburger.
Grandson - "Grandad?"
Grandad - "Aye son"
Grandson - "Were you in the war Grandad?"
Grandad - "I wis that son!"
Grandson - "Did you get medals Grandad?"
Grandad - "I did that son! Look there they are on the dresser!"
Granson - "Wow and did ye hae a gun Grandad"
Grandad - "I did that son! I keep it safe in a locked drawer upstairs!"
Grandson - "That's cool Grandad! And did ye hae a tin hat?"
Grandad - "I did that son. If ye look in the cupboard there it's oan a hook behind the door!"
Grandson - "That's immense Grandad! And did ye hae a big great coat that went doon tae yer ankles?"
Grandad - "I did that son and I still have it! It's up in the loft wrapped roon the tank!"
Grandson "
YE'VE GOT A TANK?
"
================================================================
17th November

Because I was encouraged to maintain the Club Facebook page I had to sign up to Facebook! I don't post much except about the Club on the Falkirk Club page but I do respond to some stuff that other people post. Somehow or another I have become a member of a group called "Home made Scottish Recipes". I thought that that might be interesting and watched it for a while then posted this: -
"A long time ago in the mists of ancient time I was and still contune to be chastised by my family for producing my "Mince Omelette". I have always tried to produce something that is not "ordinary" but created from known and loved ingredients."
I was amazed at the number of responses I got from as far away as Canada saying what a great idea that was!

I went on after the post to add: -
Hence my Muir Rig Lorne pie! (serves two)
Ingredients: -
2 slices of Lorne sausage (Or more if you like) broken into bite size pieces
a good knob of butter x2
150g mushrooms sliced
1 medium onion thinly sliced
Enough potatoes for two (preferably Roosters)
2 spring onions sliced.
Parmesan or Gran Pradano grated.
Peel sufficient potatoes for two and cut them into 50cm pieces boil until tender, mash and add the spring onions, some cream and a knob of butter.
Place a knob of butter in a small saucepan and place the onions and mushrooms in the pan. Melt the butter and sauté covered until the onion is soft.
Meanwhile place the sausage in a separate steamer and steam over boiling water until cooked and the fat has drained off.
Once the onion/mushroom mixture is cooked empty the steamed sausage into the mixture and combine evenly.
Take two ovenproof bowls and spoon half of the sausage mixture into each. Cover with the mashed potato and grate some Parmesan or Gran Pradano over the top.
Place the bowls in a pre heated oven at 180C for 10 minutes.
Remove carefully and enjoy.
It's nice with HP sauce.
I haven't made this for a while! Maybe I'll have another go soon. Do any of you have recipes that you have created yourself from scratch?

On this day: -
===============================================================

16th November

The Christmas Lunch numbers are improving daily! We now have 55 participants! So please get your £20 a head payment in if you haven't already done so. It's looking like it will be a Christmas lunch like we are used to!
I complained to Bassetts about their Liquorice Allsorts (or rather Somesorts) and got an immediate reply saying that there is a voucher in the post "as a gesture of our concern and goodwill". They say nothing about why the contents are the way that they are and give me no confidence that, IF I ever buy Liquorice Allsorts again, they will be any different. I think that they have just lost a customer.

There was a suggestion by some less scrupulous member that I had been seen in the Bonnyfield Nature reserve licking trees. I wish to state categorically here that that is not the case and that I have at no time ever been seen doing such a reprehensible thing!

On this day: -
1938 - LSD (Lysergic acid diethylamide) is first synthesized by Swiss chemist Dr. Albert Hofmann at the Sandoz Laboratories in Basel, Switzerland. Hofmann synthesized from lysergic acid while working for Sandoz in Basel while trying to develop a new respiratory stimulant. Hofmann discovered its effects in humans in 1943, after somehow unintentionally ingesting the substance, possibly absorbing it through his skin. LSD was subject to exceptional interest within the field of psychiatry in the 1950s and early 1960s, with Sandoz distributing LSD to researchers under the trademark name Delysid in an attempt to find a marketable use for it.
1945 - Founding of UNESCO, the United Nations Educational, Scientific and Cultural Organization.
1957 - The BBC's first pop music show, Six-Five Special, was broadcast on this day from the tiny 2i's Coffee Bar in London – the birthplace of British rock 'n' roll.
==================================================================

15th November

We went for a walk yesterday. We parked the car at Underwood Lockhouse and walked North across to Longcroft and then East along the A803 and Bonnybridge Road past the Diagio Bonded Warehouses to turn back South again through the Bonnyfield Nature reserve. The existence of the reserve was brought to our attention by our son, Peter. We have lived in this neck of the woods for nearly 50 years and never been aware that such a thing existed! Anyhow it is really very pleasant and we were enjoying the walk before we realised that all of the trees that we were looking at were black!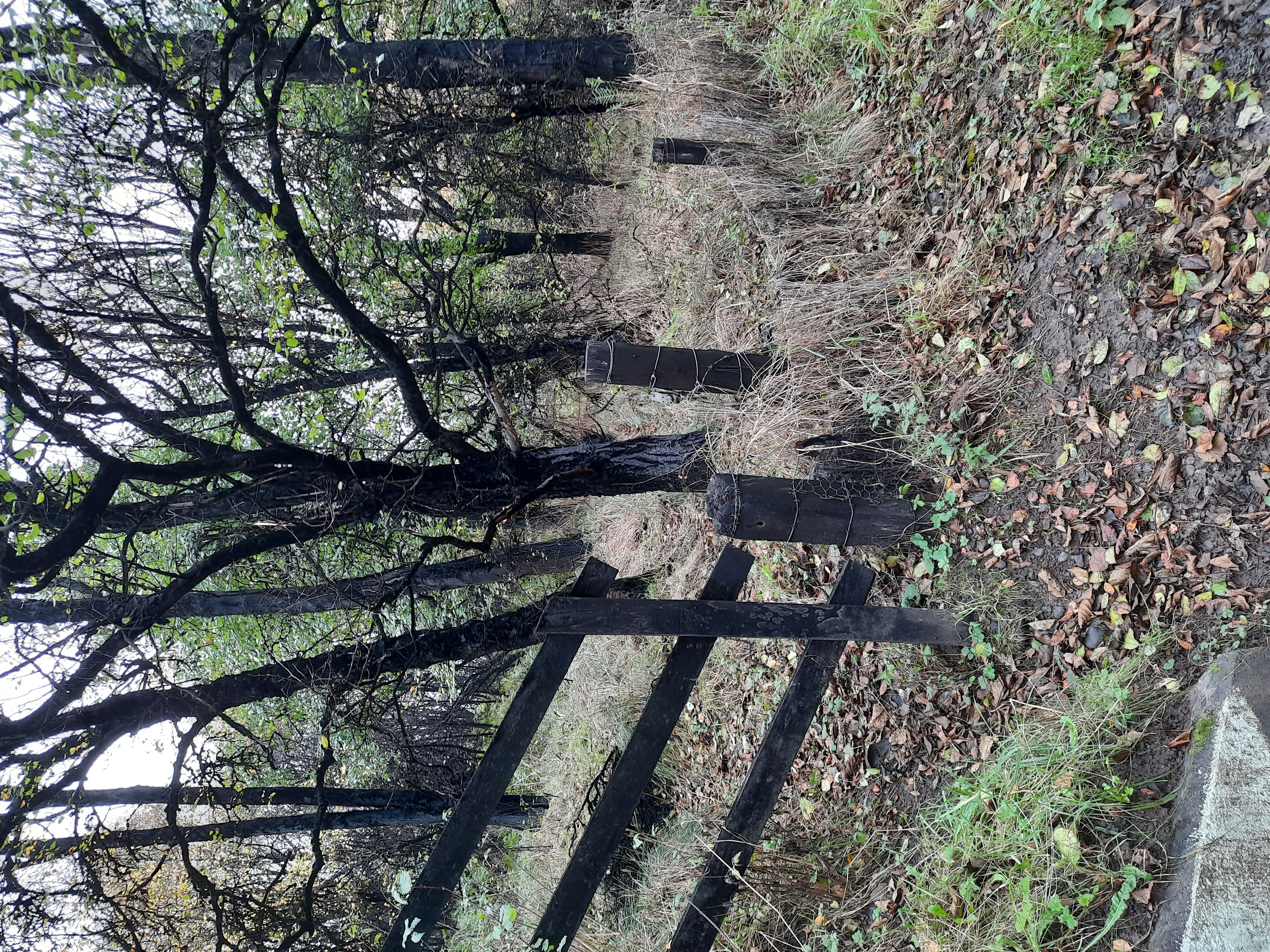 All of the immediate surroundings of the Diagio site are affected by this fungus. Baudoinia compniacensis is a sac fungus which has been observed on a variety of substrates in the vicinity of distilleries, spirits maturation facilities, bonded warehouses and bakeries. The fungus is a habitat colonist with a preference for airborne alcohol, earning it the nickname whisky fungus.
However it wasn't all like that, a wee bit further on we ambled up a slow incline lined with overhanging trees that looked a wee bit like the avenue from the Game of Thrones.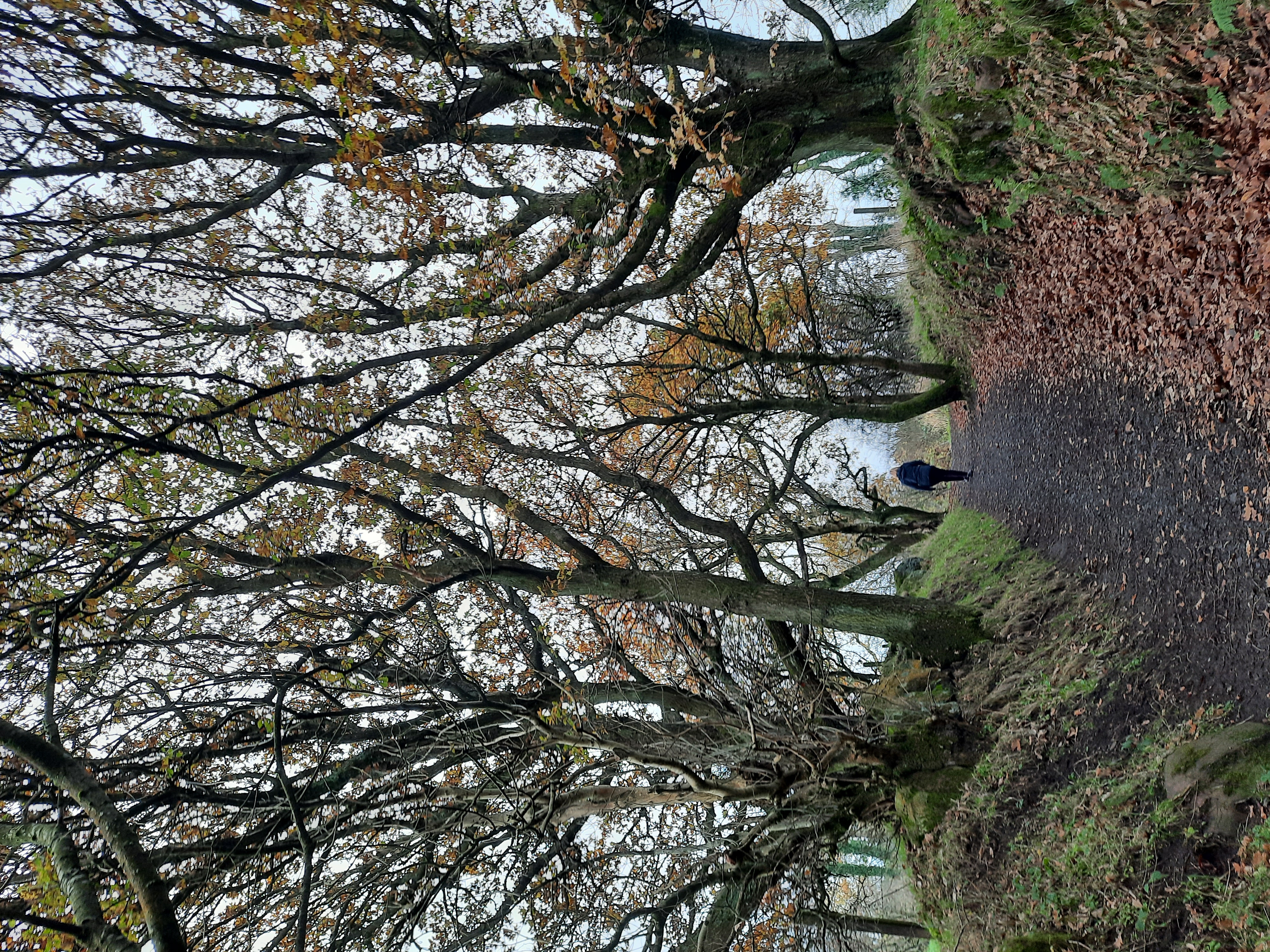 After my post yesterday Gordon sent me this unbelieveable story: -

I served at sea with many people who survived the second world war, but the one that stands out for me is the Second Steward on my first ship as a Cadet. As a 16 year old Pantry Boy during a crossing of the North Atlantic in convoy his ship was sunk before breakfast and he was picked up by another ship but their breakfast was finished by then, so no breakfast for him. (To add insult to injury, his pay also stopped at the time his ship was sunk.) Then the ship that picked him up was sunk just before lunch time. He was lucky to survive and was picked up this time by an RN warship, but lunch was over for that vessel, so no lunch for him either. Then late in the afternoon the destroyer was sunk and he was picked up by an escort vessel whose job was to pick up survivors. Dinner was over but he was given a sandwich. So sunk 3 times in the one day and not a decent meal at any time.
When I sailed with him in 1959 he suffered badly from arthritis and survived on a dozen aspirin a day. He attributed this to the time he spent in the waters of the North Atlantic that day.
On this day: -
1918 - I make no apologies for repeating this post which I first showed last year. I do it in a protest about the continued use of the word "Unprecedented" in relation to Covid19.

Brevig Mission is a tiny ocean-side settlement in Alaska which, in 1918, had 80 adult inhabitants. During the five-day period starting November 15, 1918, 72 of them were killed by the influenza pandemic then raging across the world.
==================================================================
14th November
More and more often I am finding difficulty in establishing content for this page. Not so today! I have, for most of my life, been a devotee of Bassetts Liquorice Allsorts. Laterly however I have noticed that they are becoming less "Allsorts" and more "Somesorts".

Diane likes the circular one with the coconut outer and liquorice inner centre. I like, what I have since my youth called, the "pimply ones". Yesterday we bought our latest packet. I started to look in the packet for my favourite but could't find any so I tipped the contents out onto the table for a proper look and here is a photograph of the result.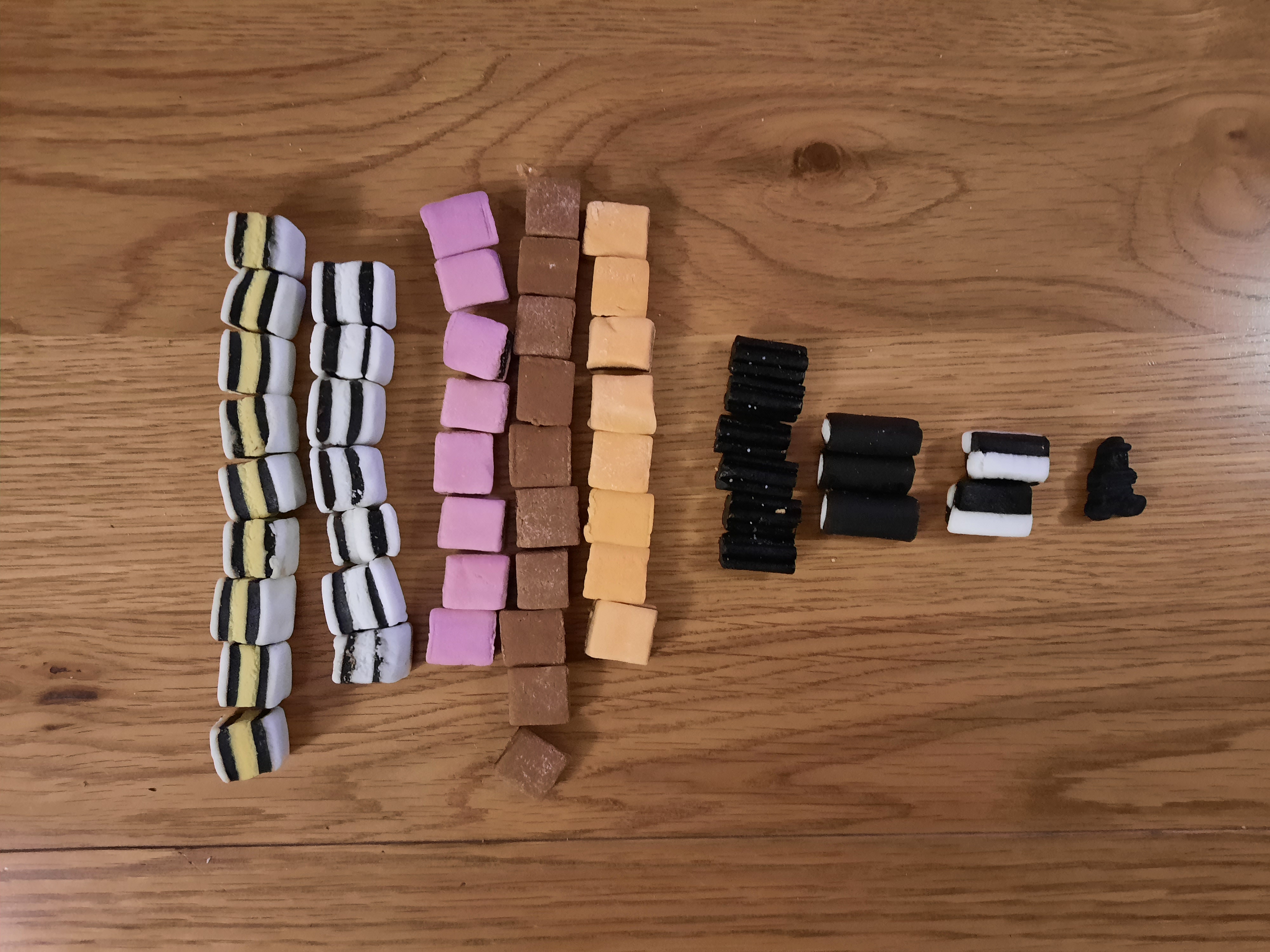 There were none of the two that we sought! I looked at the packet thinking that there might be some sort of disclaimer founding on the randomness of the selection but there is none. I did however notice that more than 50% of the wee Bassetts Man is made up of just these two sweets.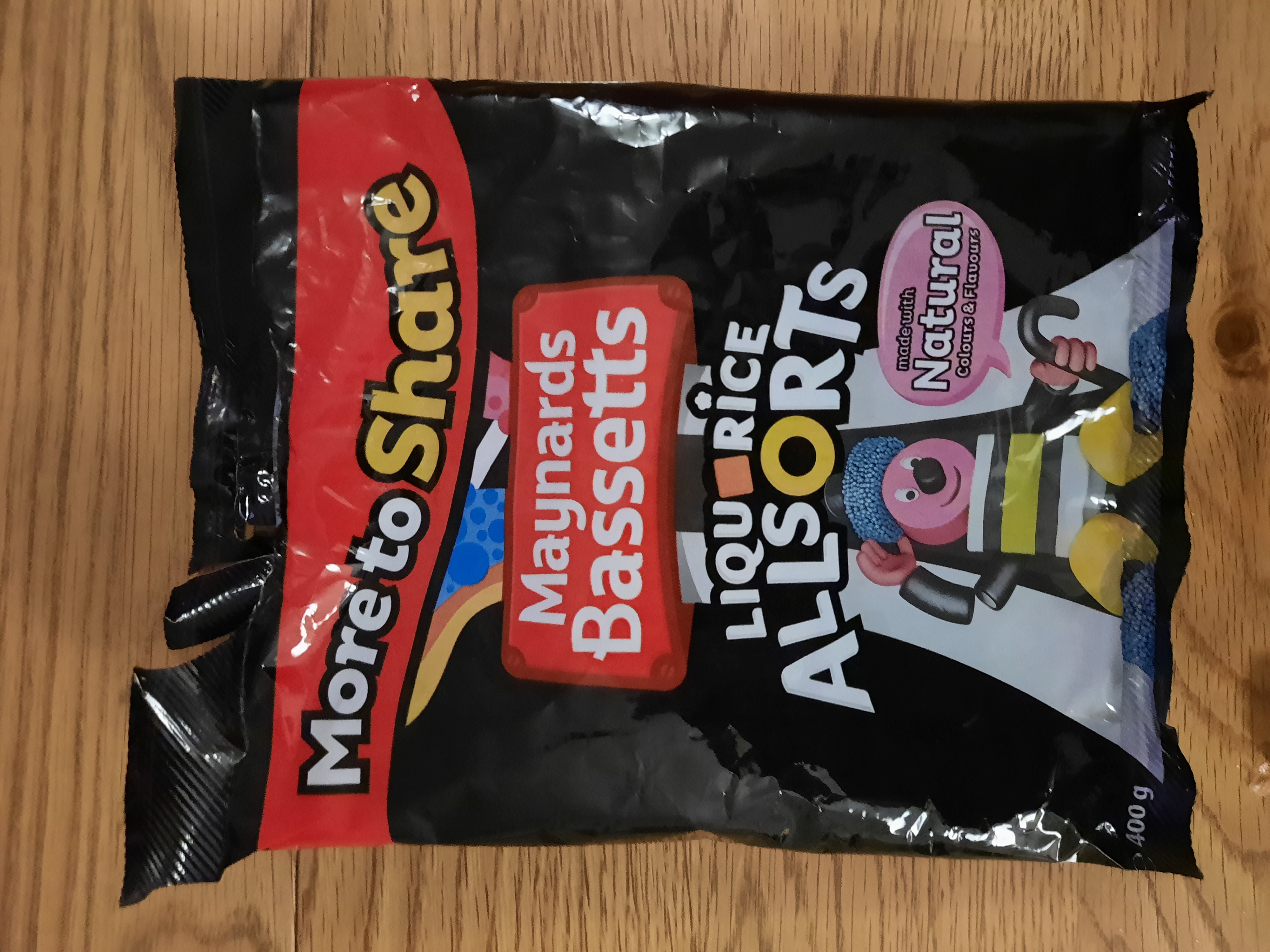 I also noticed a "Customer Service number" which came with the line "Not completely satisfied? Contact us on..." First thing Monday morning then!

All of that is frivolous and I am able to bathe in that freedom to carp about everything and anything because so many young people gave their lives, whether by succumbing on the battlefield or by returning home horribly wounded. I, among many others, will recognise that today and remember the sacrifice that was given freely to safeguard these freedoms, in the hope that it would never again be repeated.

They went with songs to the battle, they were young,
Straight of limb, true of eye, steady and aglow.
They were staunch to the end against odds uncounted,
They fell with their faces to the foe.
They shall grow not old, as we that are left grow old:
Age shall not weary them, nor the years condemn.
At the going down of the sun and in the morning
We will remember them.
Robert Laurence Binyon

These are the two most poignant verses from the seven verses written by Robert Laurence Binyon and published in The Times, remarkably, only two months after the start of the First World War!

The poem was written in mid September 1914, a few weeks after the outbreak of the War. During these weeks the British Expeditionary Force had suffered casualties following its first encounter with the Imperial German Army at the Battle of Mons on 23 August, its rearguard action during the retreat from Mons in late August, the Battle of Le Cateau on 26 August, and its participation with the French Army in holding up the Imperial German Army at the First Battle of the Marne between 5 and 9 September 1914.
================================================================
13th November

Things are proceeding apace. Our Sleigh is looking the part now complete with its new livery: -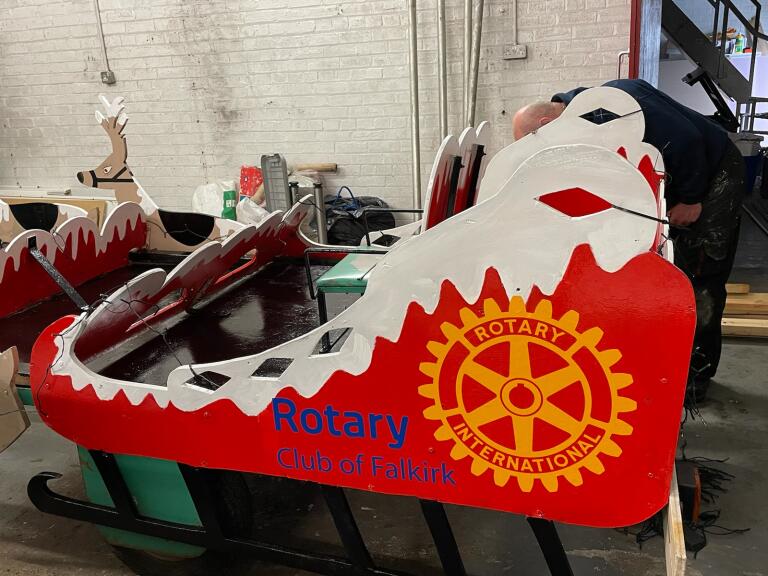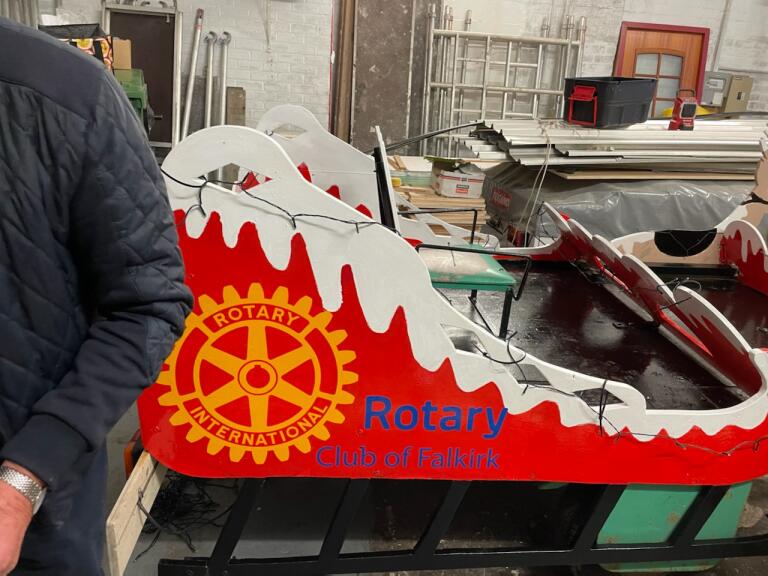 And Linda has been busy again buying for the Food Bank. This time she was tasked with the provision of
Microwaves, bought 2; Kettles, bought 2; Ready meals in particular meatballs, and stew! Job done!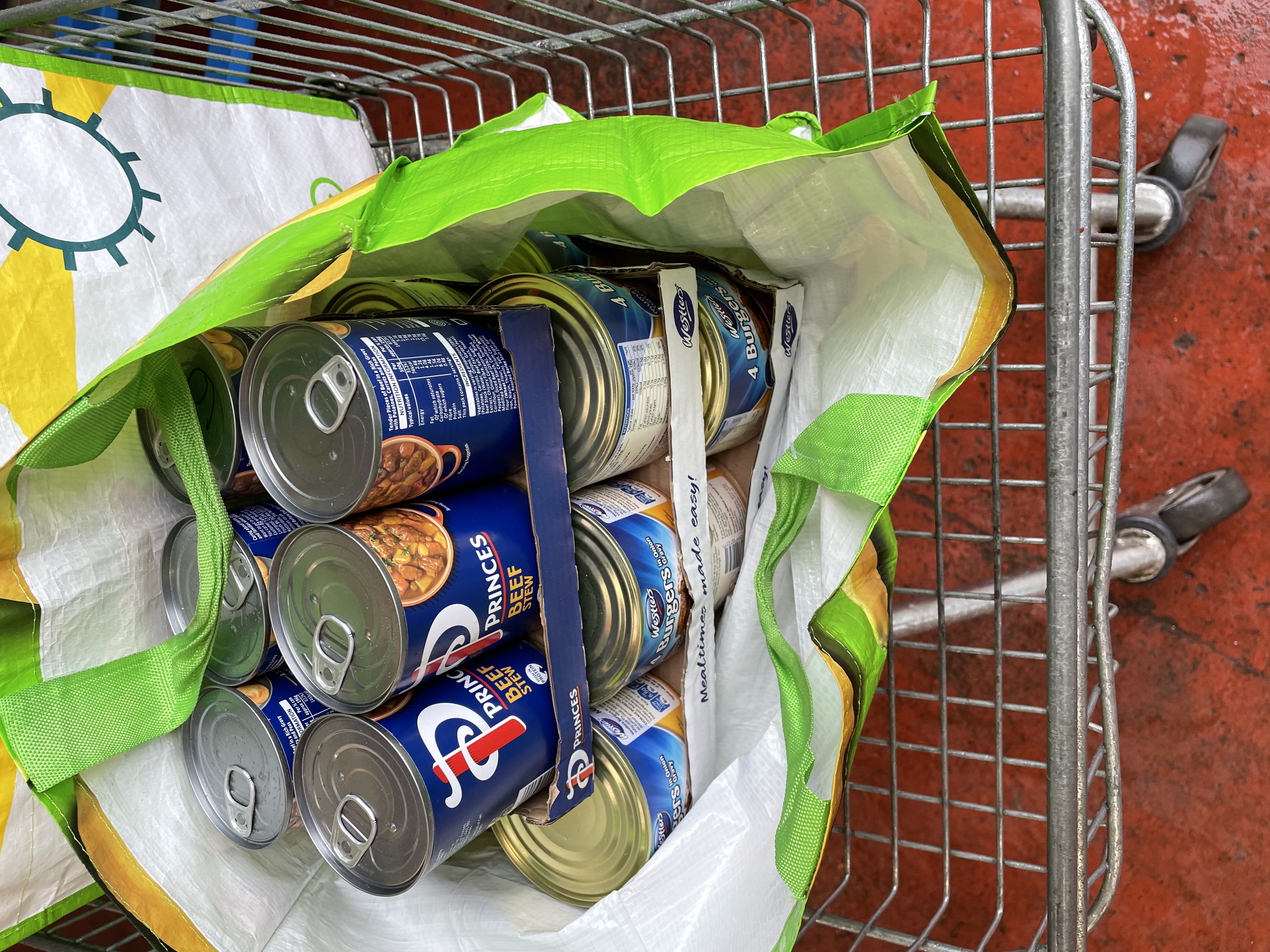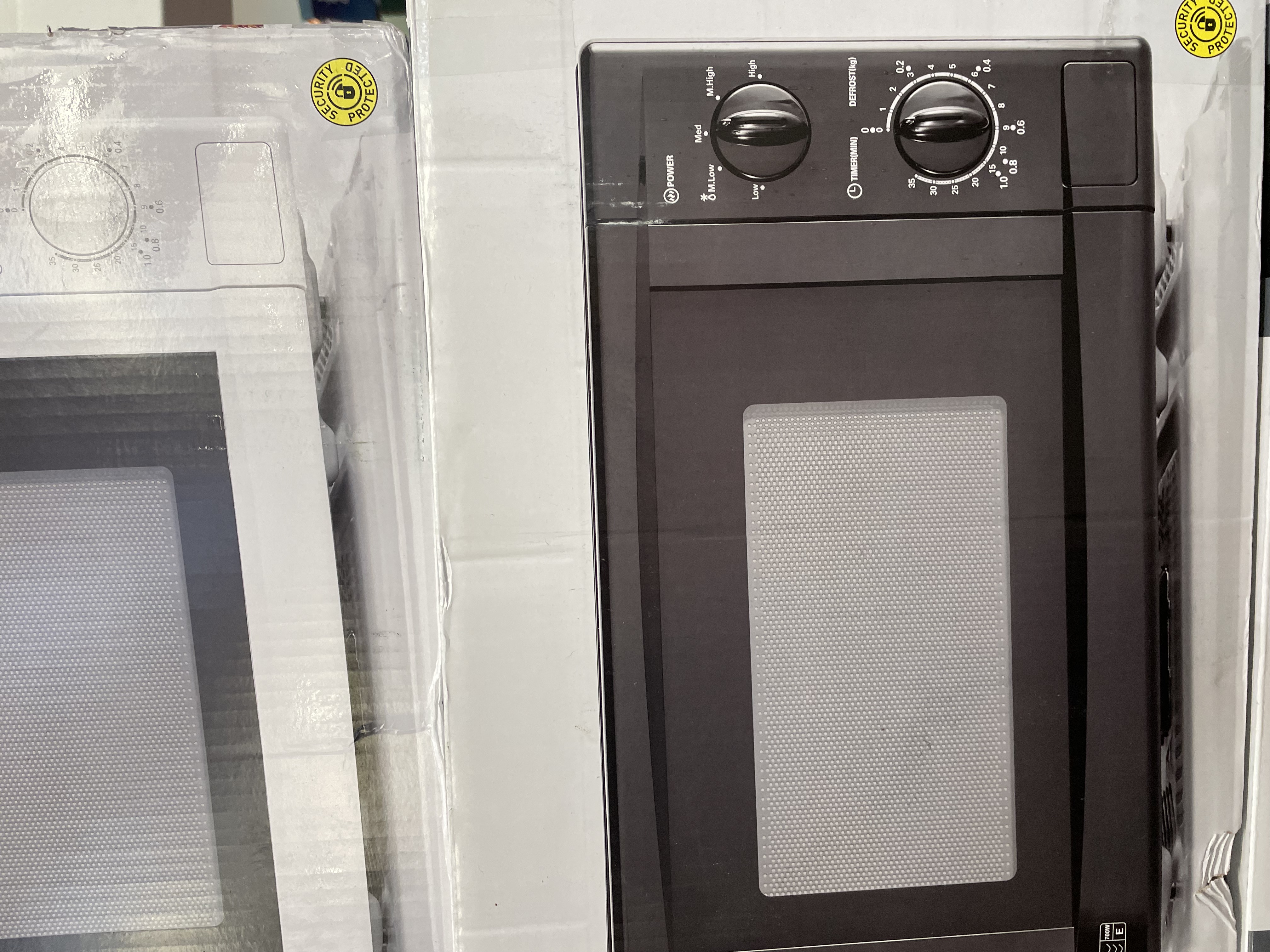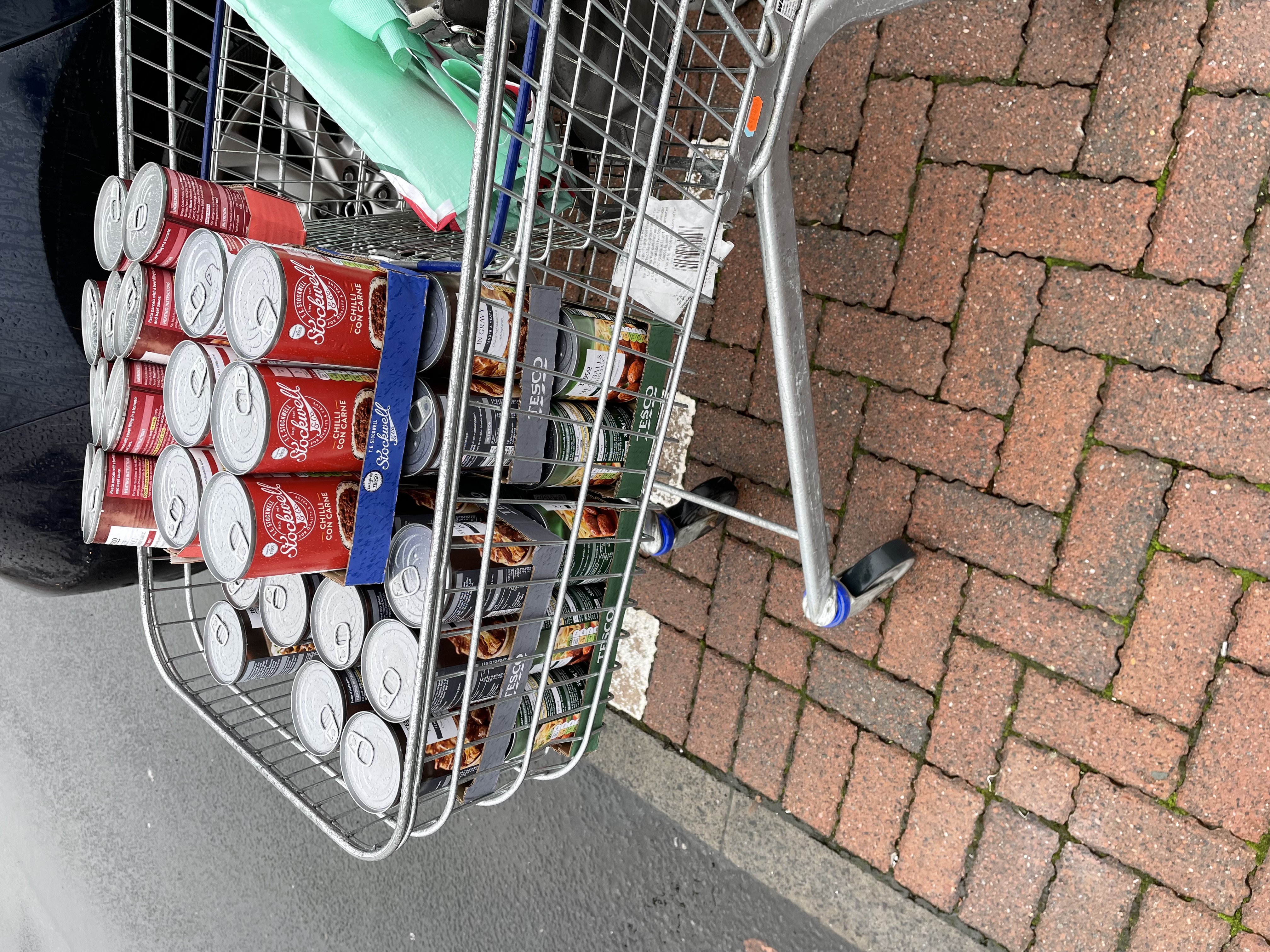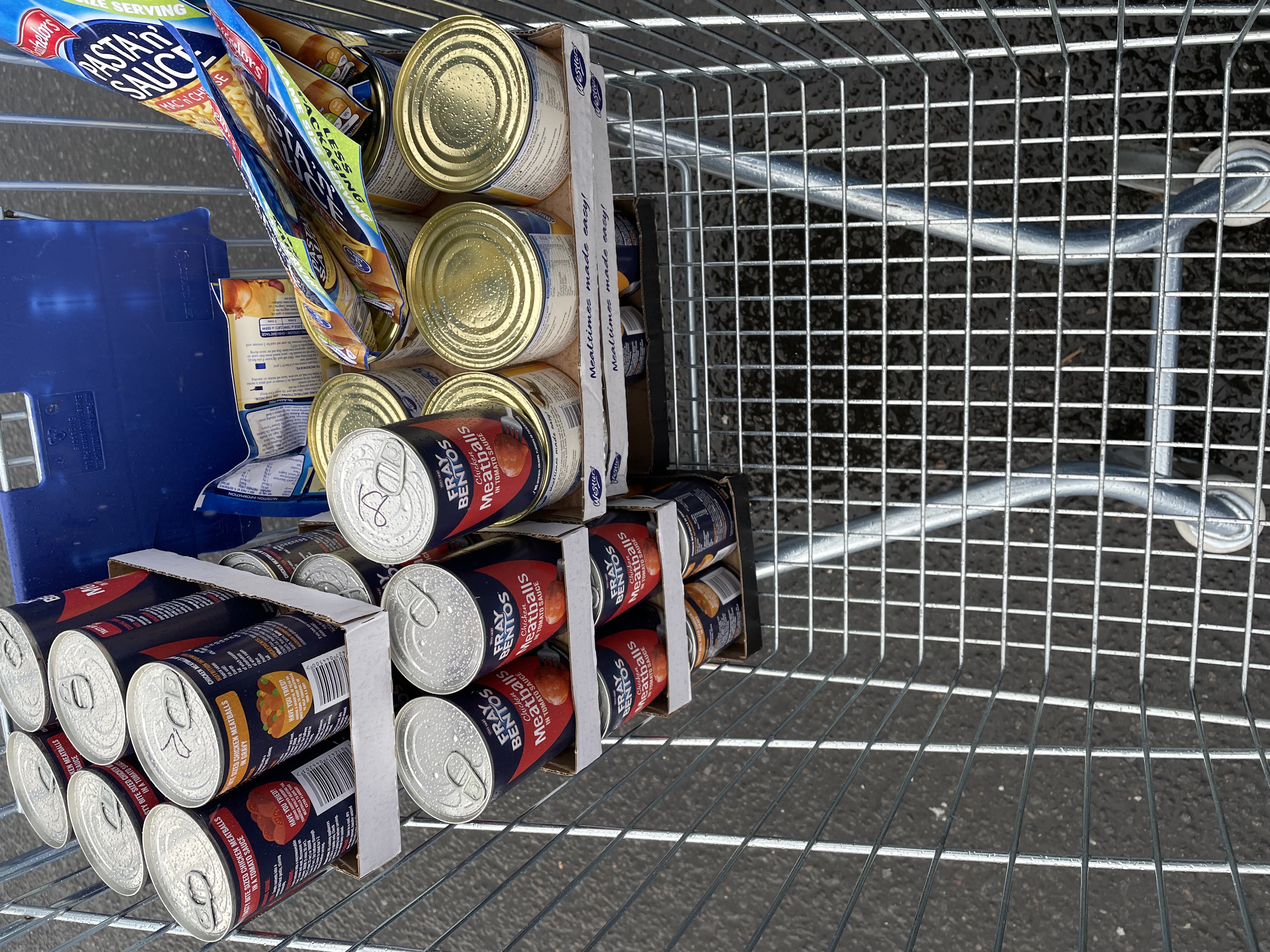 A total of 70Kg not counting the white goods.

On this day: -
1969 - Britain's first live quintuplets this century were born, at Queen Charlotte's maternity hospital in London.
1987 - With a view to encouraging 'safe sex', or AIDS prevention, the BBC screened its first condom 'commercial' (without a brand name).
==================================================================
10th November.

I am receiving daily updatyes from Dugald McAlpine and Jim Cairns who are beavering away at the Sleigh. It has been stripped of all of its acoutrements, repaired and partially repainted and touched up. The nest step is to fit the 600 LED lights that we have which will jjust finish it off.
Linda Noble has been busy too. Alerted to the fact that Donald had a whole pile of Dental care stuff to donate to the foodbank she subsequently picked up 64Kg of supplies and delivered it on Monday.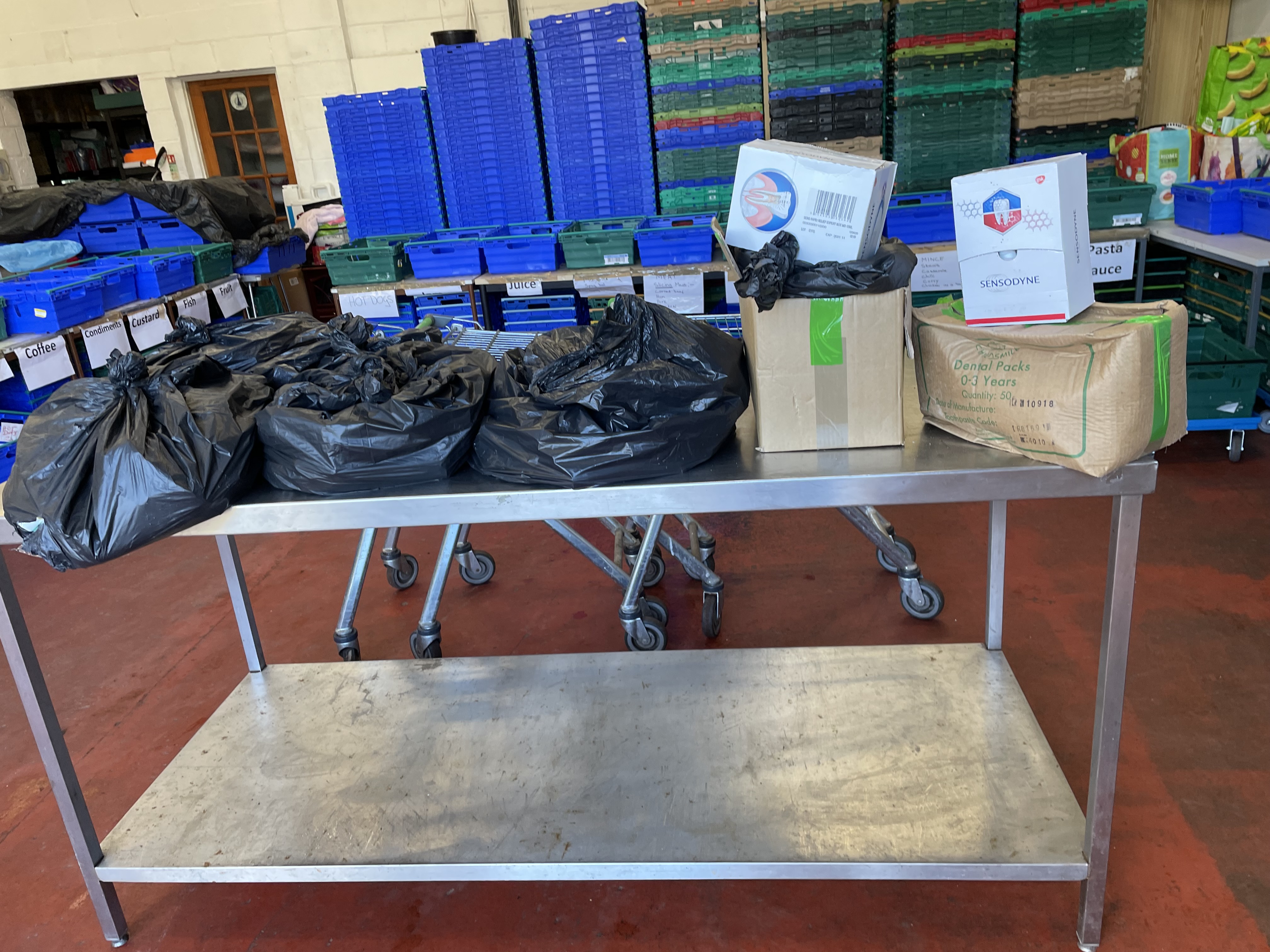 6th November

I noticed a twitter feed today that said that a family of eight had refused a house that the Council had offered them because it was "inhabitable". I looked it up! Apparently "inhabitable" and "habitable" are the same thing. Uninhabitable is "not habitable".

It reminded me of an age old understanding of what inflammable means. Ideally flammable means "easily set on fire" but then apparently so does inflammable! So what about other words like Independent - not dependent or indestructible - incapable of being destroyed or even incapable - not capable. I wouldn't like to try and learn English as a second language. There are too many exceptions to rules included.
On another matter we now have 50 folk attending the Christmas Lunch! I am really looking forward to what appears to be going to be almost our annual normal.
On this day: -
===============================================================

5th November

I have only just discovered that there is an opportunity to enter a three word location for the Park Hotel on our web site. For those of you who aren't familiar with it "What Three Words" has split the world up into 3m squares and given each square a different three word title. I chose the 3m square nearest to the Park Hotel car park entrance on Arnothill and was pleasantly surprised to note that its title was "relaxed.mixing.greeting"! How fitting is that?

Be silent! Otherwise say something better than silence! Pythagoras
On this day: -

1911 - Roy Rogers (Leonard Franklin Slye) now who knew that?

Born

November 5, 1911

d. 1998

American singing cowboy, who appeared in movies and TV with Dale Evans and Trigger.
1935 - Parker Brothers launches the board game Monopoly.
1992 - Bobby Fischer beats Boris Spassky (10 games to 5) and takes the $5,000,000 prize in their chess rematch.
=======================================================================

4th November

Happy Diwali everyone.
On this day: -
1646 - Massachusetts Bay Colony enacts the death penalty for anyone who persists in denying that the Holy scriptures are the word of God.
1879 - James Ritty patents first cash register, to combat stealing by bartenders in his saloon in Dayton, Ohio.
1879 - Thomas Edison files a US patent for his incandescent electric lamp. Note: Joseph Swan had already patented an incandescent light in Britain the previous year.
1922 - The boy king's tomb is discovered by archaeologist Howard Carter. Carter and Lord Carnarvon would open the tomb and look inside three weeks later. Lord Carnarvon, who financed the excavation, died five months later due to an infected mosquito bite, leading many to speculate, including Sir Arthur Conan Doyle, that his death was caused by protections put in place by Tutankhamen's priests to guard the royal tomb.
2014 - Statistics from the 2011 census showed that Polish migrants had the highest employment rate of any nationality living in Britain, including the British. Results also showed that European migrants to the UK added £4.96bn more in taxes in the years to 2011 than they took out in public services
=============================================================

3rd November

As usual, scratching for something to put here I Googled "Why is today important?". I now am aware of the fact that today is: -

National Homemeaker day!
National Sandwich day (in America)
Japanese Culture day.
National Housewife day!
National Stress awareness day.
I can't help but think that numbers 1 and 4 are pretty much the same thing and are wholly inappropriate in today's politically correct world. I also wonder if number two is related to the fact that today is the birthday of John Montague, fourth Earl of Sandwich who gave his name to the Sandwich Islands, and (allegedly) to the 'sandwich' as a result of his reluctance to leave the gaming tables but requiring a quick and easy to eat snack while he remained there.
--oo00oo--
Our Sleigh project is well underway now. Jim Cairns, Dugald McAlpine and Andrew Niven are refurbishing it for deployment at Tesco in Redding on the 19th and 22nd December. It is hoped to secure the District Gazebo to shelter the sleigh while it is there.
Arrangements are currently underway to replace the Polmont Logo with a Falkirk one.

On this day: -
===================================================================

2nd November

It was nippy out today but we decided that it was so nice that we'd try another walk. We thought abought the Allan Water at Blairforkie Drive in Bridge of Allan but it only goes with the river for about a couple of hundred yards then heads off into the residential area. I nearly said into the "scheme" but that would have just shown up my upbringing in Camelon.
We decided instead to take the footpath along the Allan Water north of Dunblane town centre. We parked in Tesco's lower car park, where one has to "pay and display" but it is only 70p for two hours. We crossed the railway bridge and set off north along the Eastern bank of the river towards the Faery Bridge.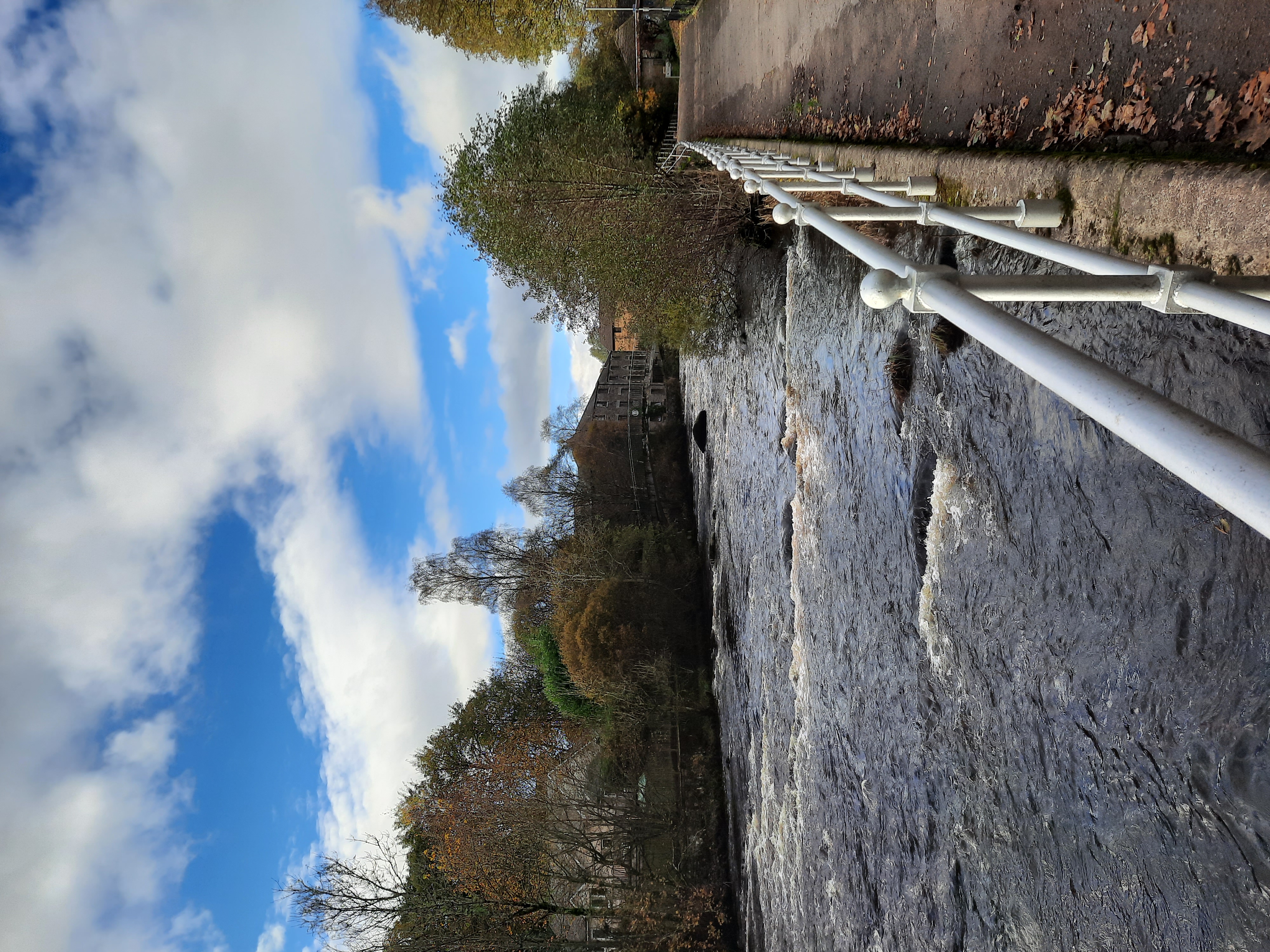 We walked on past the bridge towards a great playpark with a huge slide and lots of other great things for kids and then further on where there was a fabulous outdoor Gym: -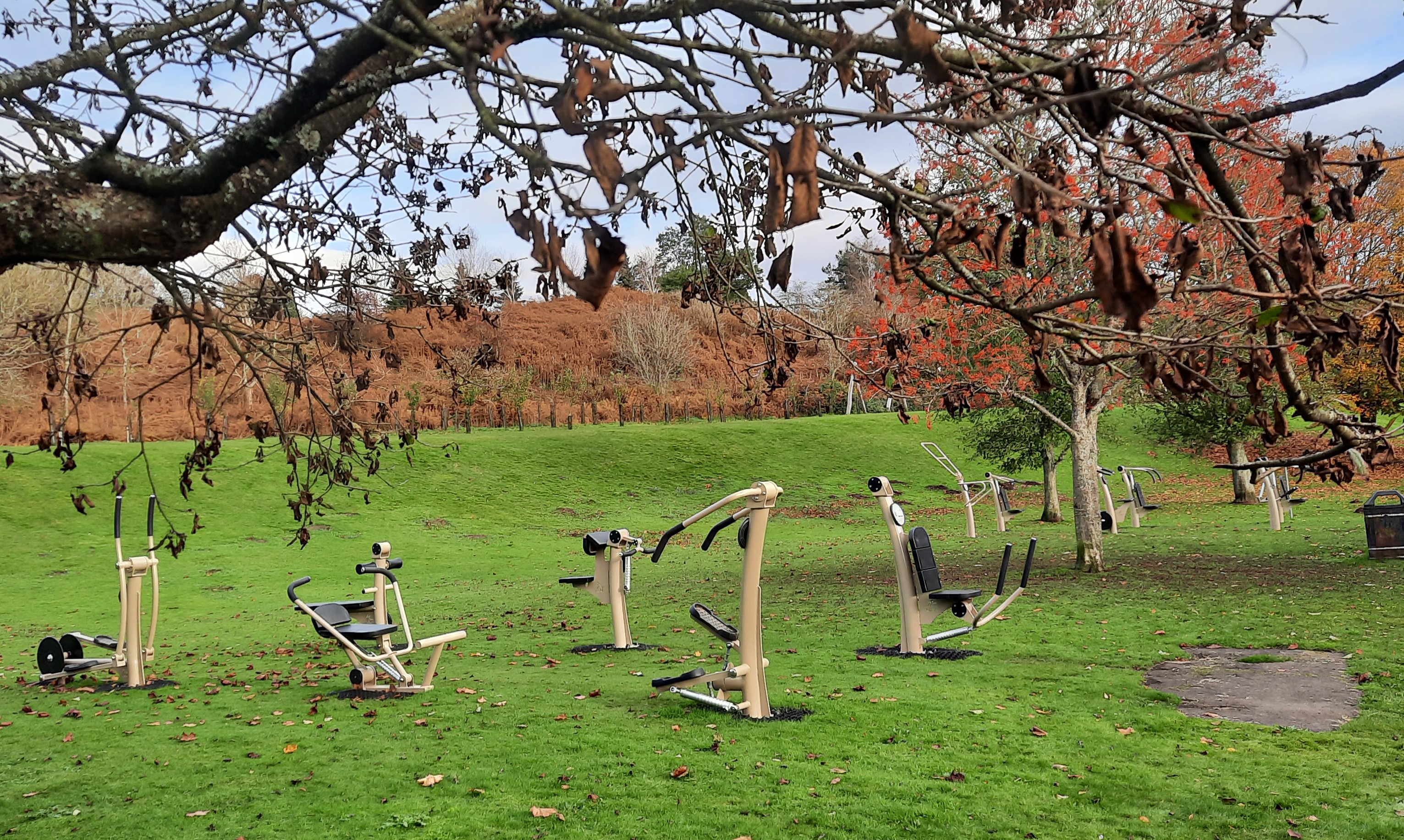 Not far beyond that the path was closed because of landslip so we turned back and this time crossed the Faery Bridge. Walking back south again we were treated to views of the Cathedral that we'd never experienced before.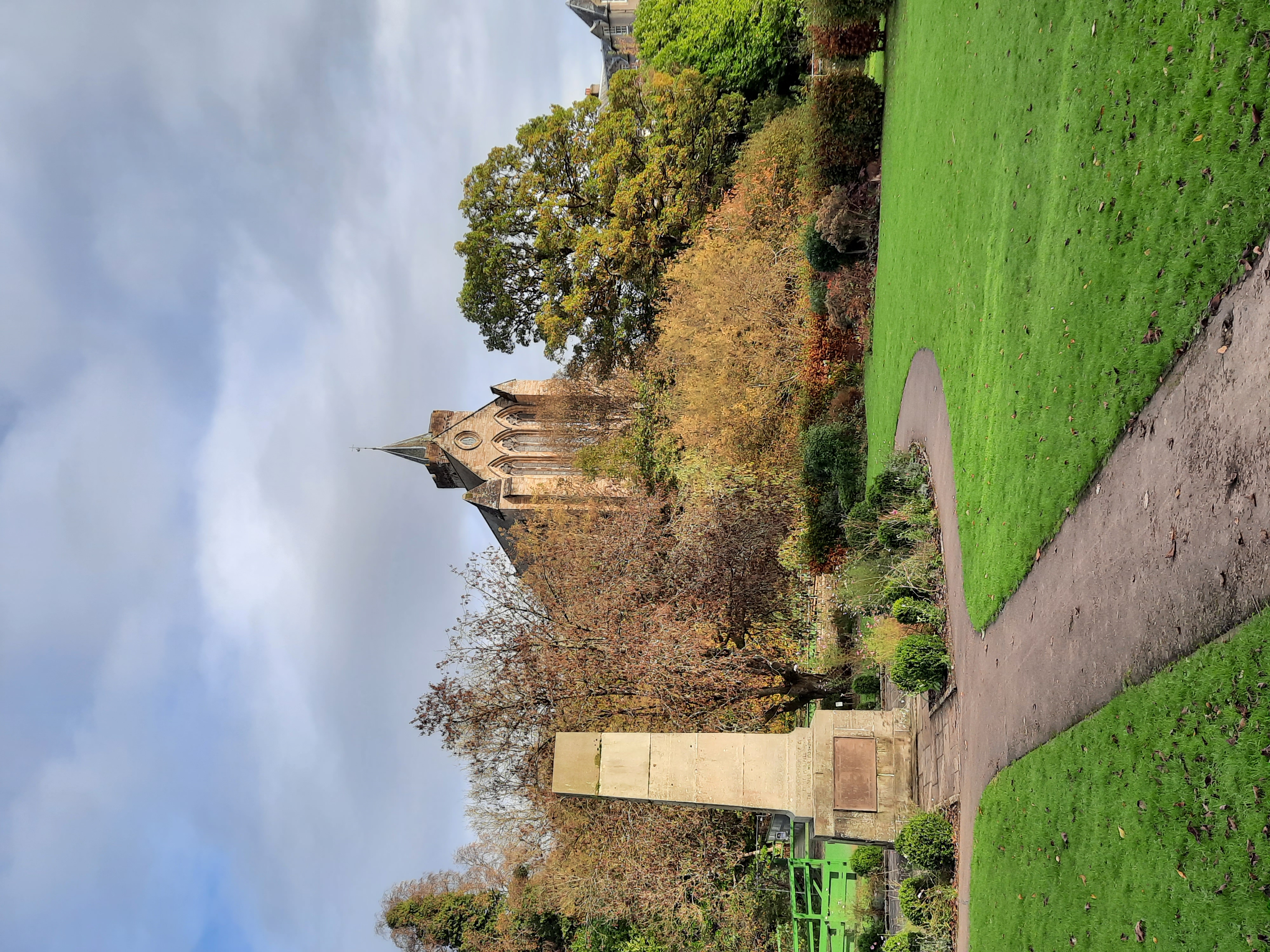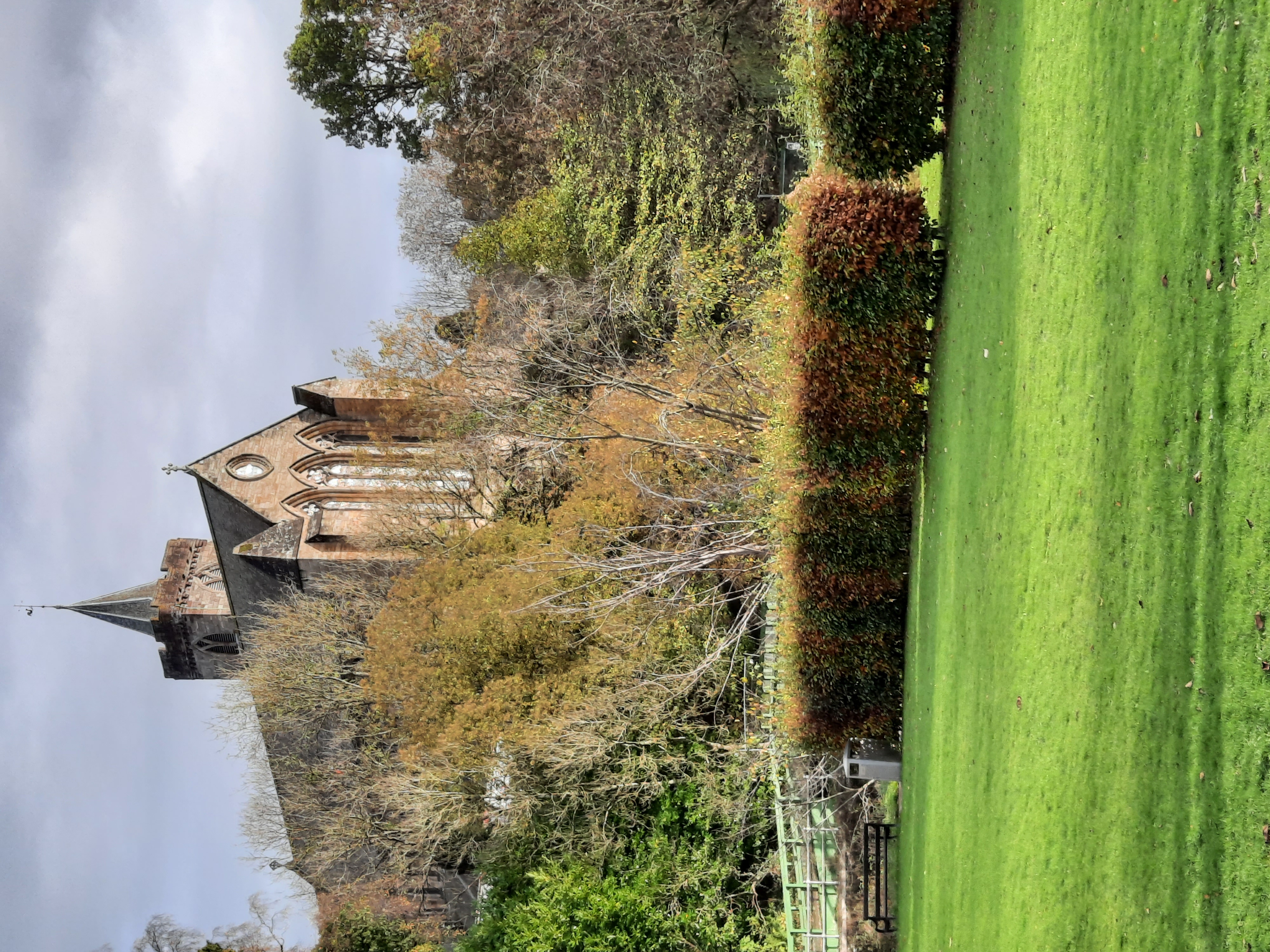 Because of the closed path it turned out to be not a very long walk but it was novel and very pleasant nonetheless.

On this day: -
1871 - British police began their Rogues' Gallery, taking photographs of all convicted prisoners.
1924 - Almost 11 years after its appearance in America, the first crossword puzzle was published in a British newspaper, sold to the Sunday Express by C.W. Shepherd.
1936 - The world's first regular TV service was started by the British Broadcasting Corporation at Alexandra Palace at 3:00 p.m. It was defined as 'high-definition' (with 200 lines of resolution) and was renamed BBC1 in 1964. An estimated 100 TV owners tuned in.
=================================================================

1st November

Today is "All Saints' Day" or "All Hallows". It is a Holy day of obligation and solemnity, commemorating all the blessed in Heaven, especially those who have no special feast.
The first evidence for the November 1 date of celebration and of the broadening of the festival to include all saints as well as all martyrs occurred during the reign of Pope Gregory III (731–741), who dedicated a chapel in St. Peter's, Rome, on November 1 in honour of all saints.
In medieval England the festival was known as All Hallows, and its eve, as a result, is still known as Halloween. The period from October 31 to November 2 (All Souls Day) is sometimes known as Allhallowtide.
Also on this day: -

1800 - U.S. President John Adams moves into what was at the time known as the "President's House", located in Washington D.C. George Washington is the only U.S. president who didn't live there.
1952 - On this day in 1952 on an atoll of the Marshall Islands, Edward Teller and other American scientists tested the first thermonuclear bomb (Hydrogen), its power resulting from an uncontrolled, self-sustaining nuclear chain reaction.
1993 - The Maastricht Treaty came into force thereby establishing the European Union.
=========================================================

31st October
Unless you have been hiding under the covers you will no doubt be aware of the fact that COP 26 is now well and truly underway. Yesterday while driving through to Stirling for our walk we were overtaken by, firstly a motorcycle outrider at about 100mph with blue lights, followed by a slightly slower convoy of motorcycles and four or five black Range Rovers with blacked out windows, then more bikes. I was later led to believe that it was most likely to have been Barak Obama headed for Gleneagles. Nae Airbnb for him!

It got me thinking however. I never heard anything about COP25 or any of the rest! And I had to Google to find out what COP actually stood for. "Conference of the Parties" apparently!
We had intended heading out again for a walk today but the weather is not really conducive for such ambition. We'll just hae tae bide at hame the day.

Today's teaser centres around the fact that the person we all know and love as Michelangelo finished the painting of the ceiling of the Sistine Chapel on this day in 1541. Who knows his surname?
On this day: -
1517 - Martin Luther sends his 95 Theses to Albrecht von Brandenburg, the Archbishop of Mainz, precipitating the Protestant Revolution.
1903 - Hampden Park was opened.

1918 - Spanish Flu kills 21,000 people in the US in a single week.
1951 - Zebra crossings came into use for the first time in Britain.
1964 - Not even wartime bombs could force London's Windmill Theatre to shut its doors and it gloried in the slogan, "We never closed." Unfortunately, on this day, it did. Changing times and fortunes had taken their toll on an establishment famous for its naked women who posed unmoving for the audience. The argument was that no one could be offended by a nude statue.

==============================================================

30th October

It was such a nice day today after all that rain that we decided to go for a walk. We had walked along the Forth West from Brighae along Raploch before but we'd never walked East. We set out from the Bridge at the Corn Exchange and walked along Riverside on the south side of the River.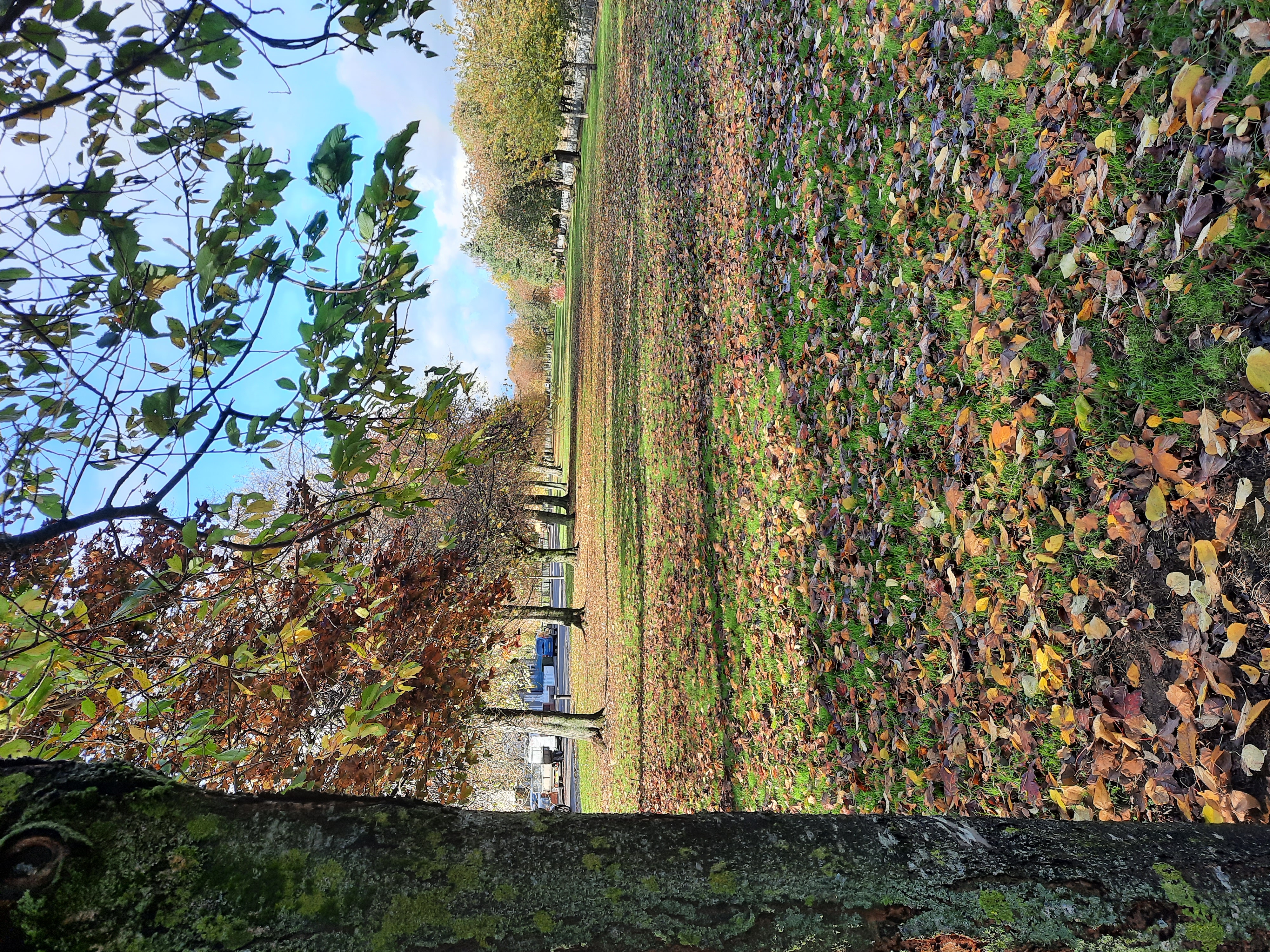 until we came to the bridge that would take us across the river to Cambuskenneth.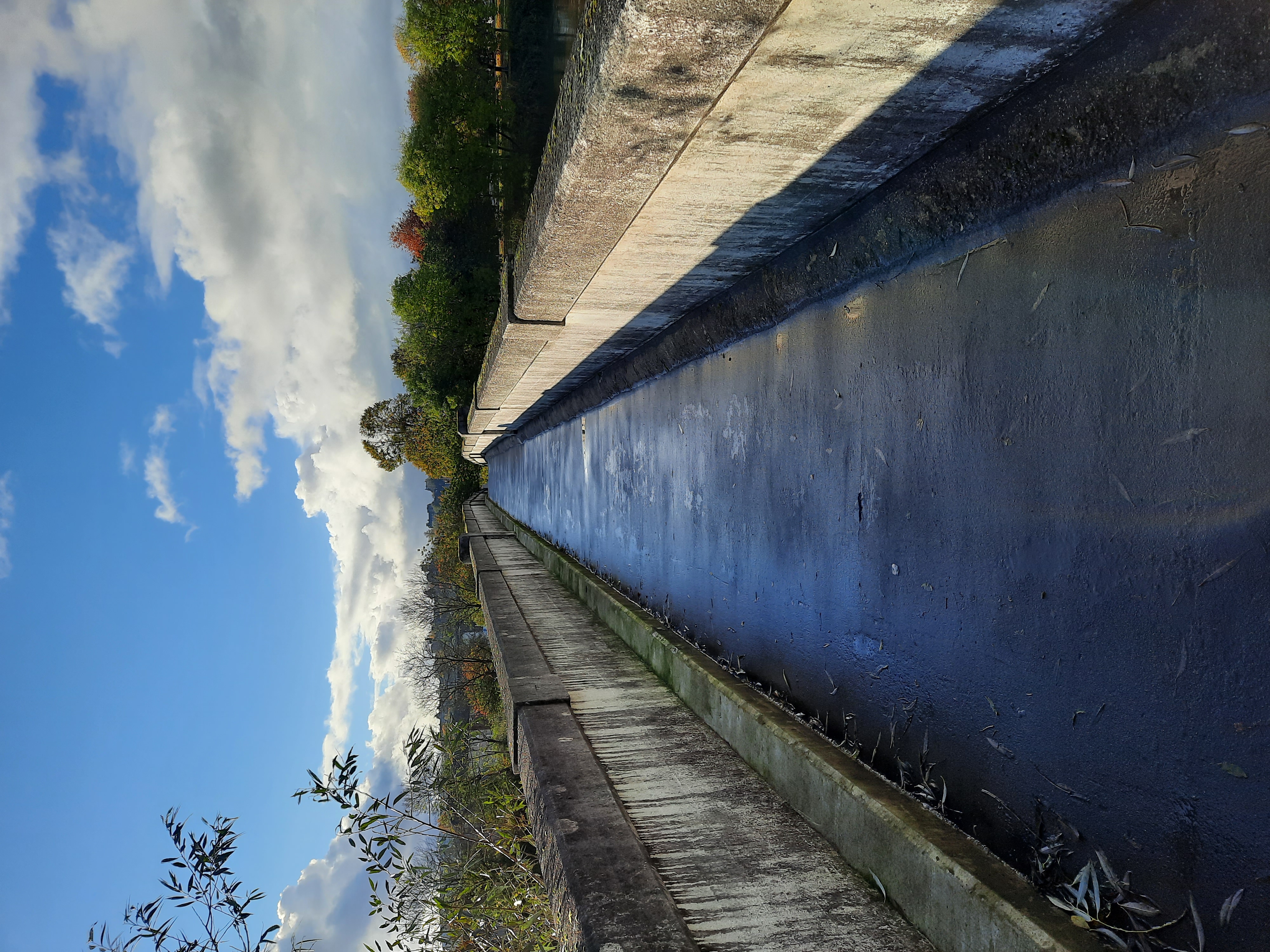 Cambuskenneth is an oasis, a time capsule Village that exhibits homes from across a whole Century from whitewashed stone built terraced cottages to 1960s storey and a half villas and everything in between. It has a Community Hall which proudly boasts a Britain in Bloom Plaque and this which I thought was so unexpected so close to a bustling City Centre.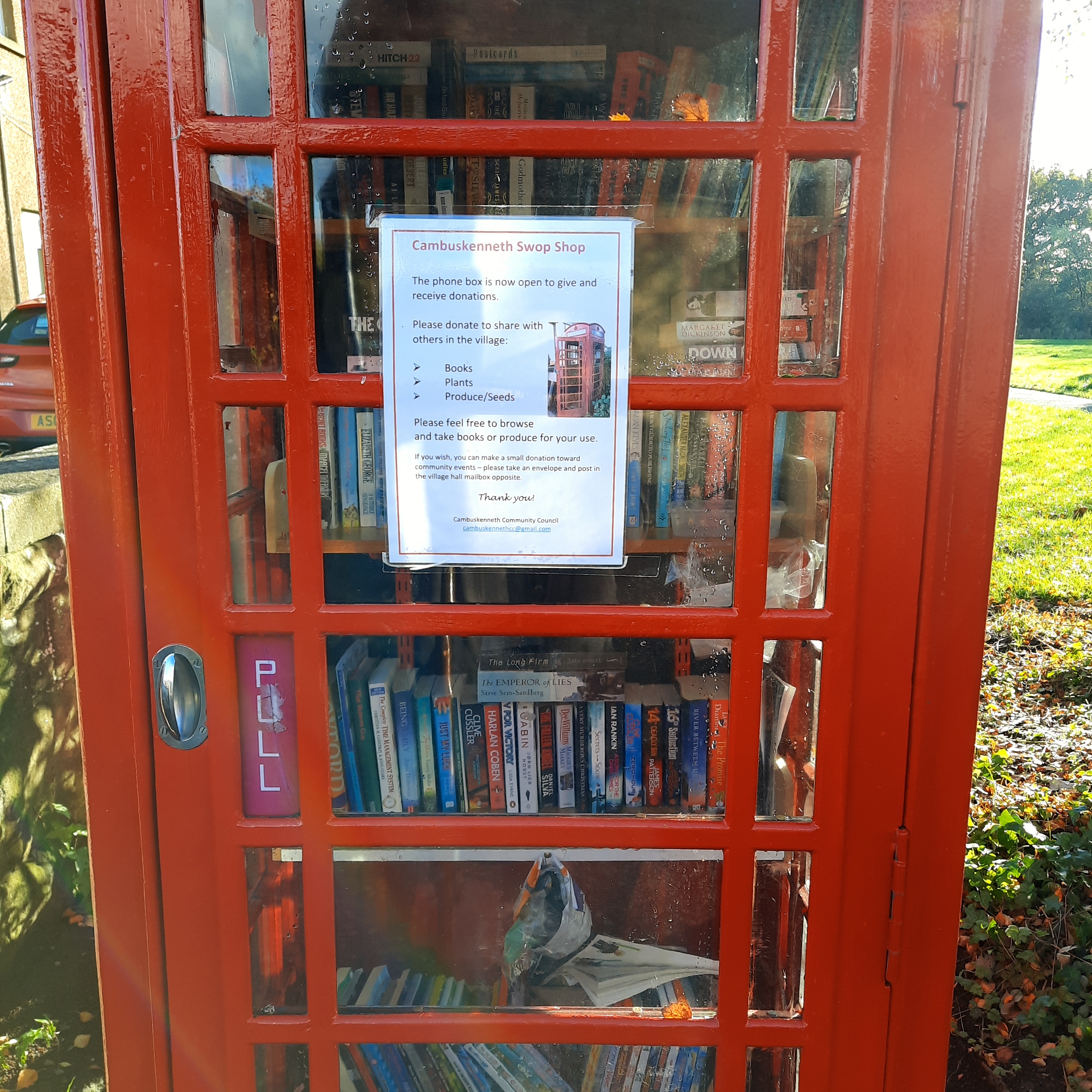 Everything you say should be true! But not evrything true should be said! - Voltaire!

On this day: -

1938 - A radio broadcast by H.G. Wells "The War of the Worlds", narrated by Orson Welles causes a mass panic. Many people missed the opening disclaimer and believed it was a live broadcast of an actual alien invasion.
1945 - Henry Winkler, "The Fonz" is 76 today!

1973 - The Bosphorus Bridge in Istanbul is completed, connecting the continents of Europe and Asia over the Bosporus for the first time.
1974 - Mohamed Ali beats George Foreman in "The Rumble in The Jungle"!
=====================================================================

29th October

I was at a loss about what I might say today and trawled through my "Chronicle of the Twentieth Century" I was amused by this from 100 years ago!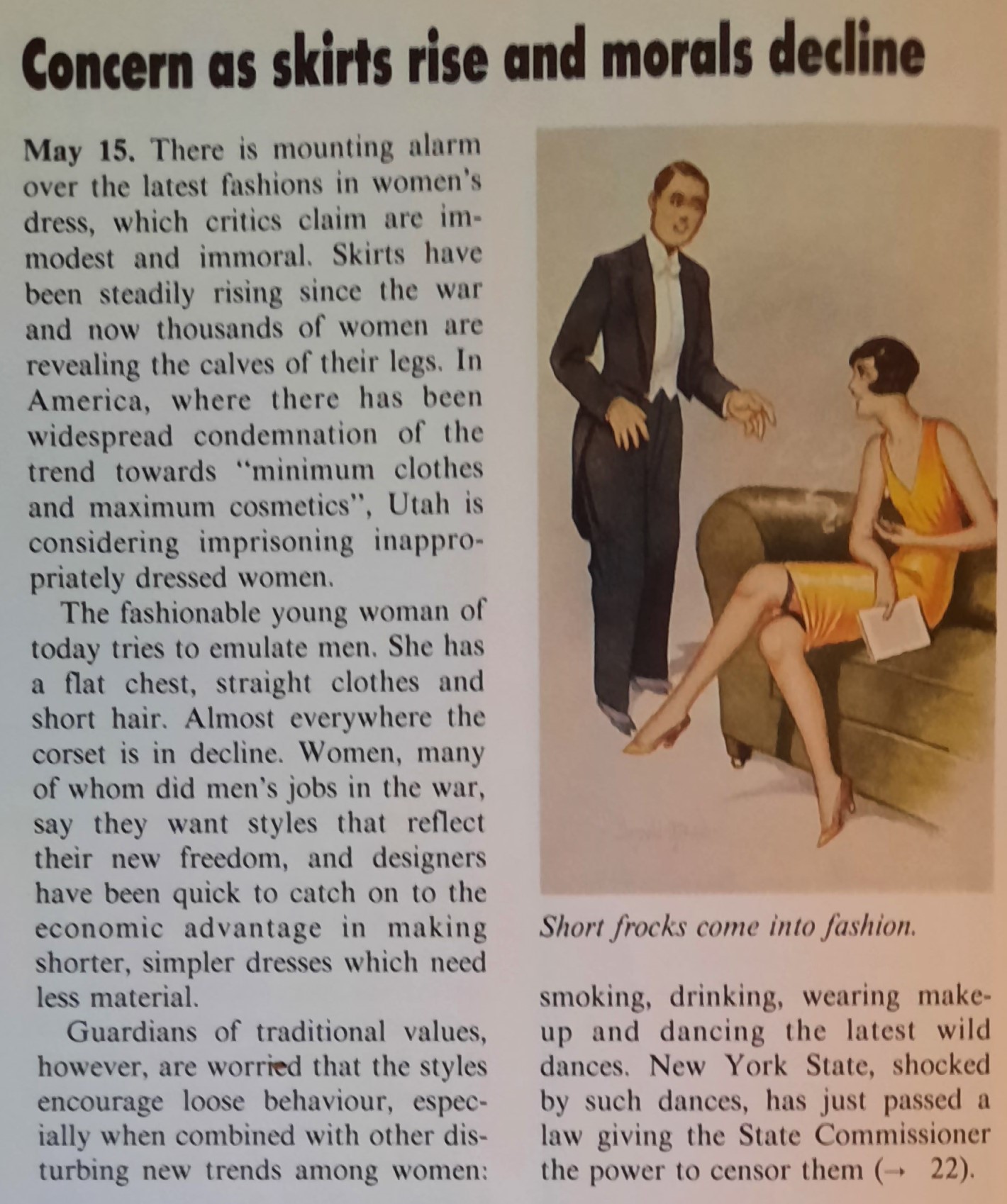 On this day: -
1863 - The birth of the Red Cross. Delegates from fourteen nations, led by Swiss philanthropist Henri Dunant, approve plans for an international organization to help the wounded in time of war.
1904 - German-American gymnast George Eyser wins 6 Olympic medals in a single day. He lost his leg in his youth after being run over by a train and wore a wooden prosthesis. He won 3 gold (parallel bars, long horse vault, and 25-foot rope climb), two silver (pommel horse and 4-event all-around), and one bronze (horizontal bar)
1923 - A new dance craze starts when the Broadway show Runnin' Wild opens and features a new dance to the tune The Charleston.
1986 - At 11.15am on this day Margaret Thatcher cut a ribbon to open the final stretch of the London Orbital Motorway – the M25. It was then the world's longest ring road at 117 miles, had taken 11 years to complete at a cost of £1 billion and was, according to Mrs Thatcher, "a splendid achievement for Britain".
Thousands of frustrated drivers would come to take a different view over the years. Its first traffic jam developed by 5.15pm on that opening day and delays have since become an almost daily occurrence.
28th October

I make no apologies for not posting yesterday, It was a busy day! We had a Council meeting at lunchtime which took a bit longer than normal (Although not as long as some of the historic Council meetings under the Chairmanship of John Green that often lasted 3 or 4 hours). Then we were at the Helix. I didn't really fully understand what was going on until I got there. It turns out that the Quakers in Polmont began a Pilgrimage along the John Muir Way which will terminate at Glasgow and the COP26 summit. They stopped off along the way at the Helix where there was a presence from Falkirk District Association for Mental Health Choir, other Quakers, Soroptimists, Rotary and the children who had participated in our Poster Competition. The weather was, not to put too fine a point on it, quite wet! This however was somehow quite poignant, seeming to emphasise the point that those who were attending had an agenda and were passionate about that.
Here are some photographs of the day: -
1, 2, 3, 4, 5, 6, 7, 8, 9, 10, 11, 12, 13, 14, 15.
We had visitors this morning. A roe deer hind and her fawn were recumbent on the grass at the foot of the drive. When I went for the camera and returned I must have alarmed them. They were up and staring straight at me.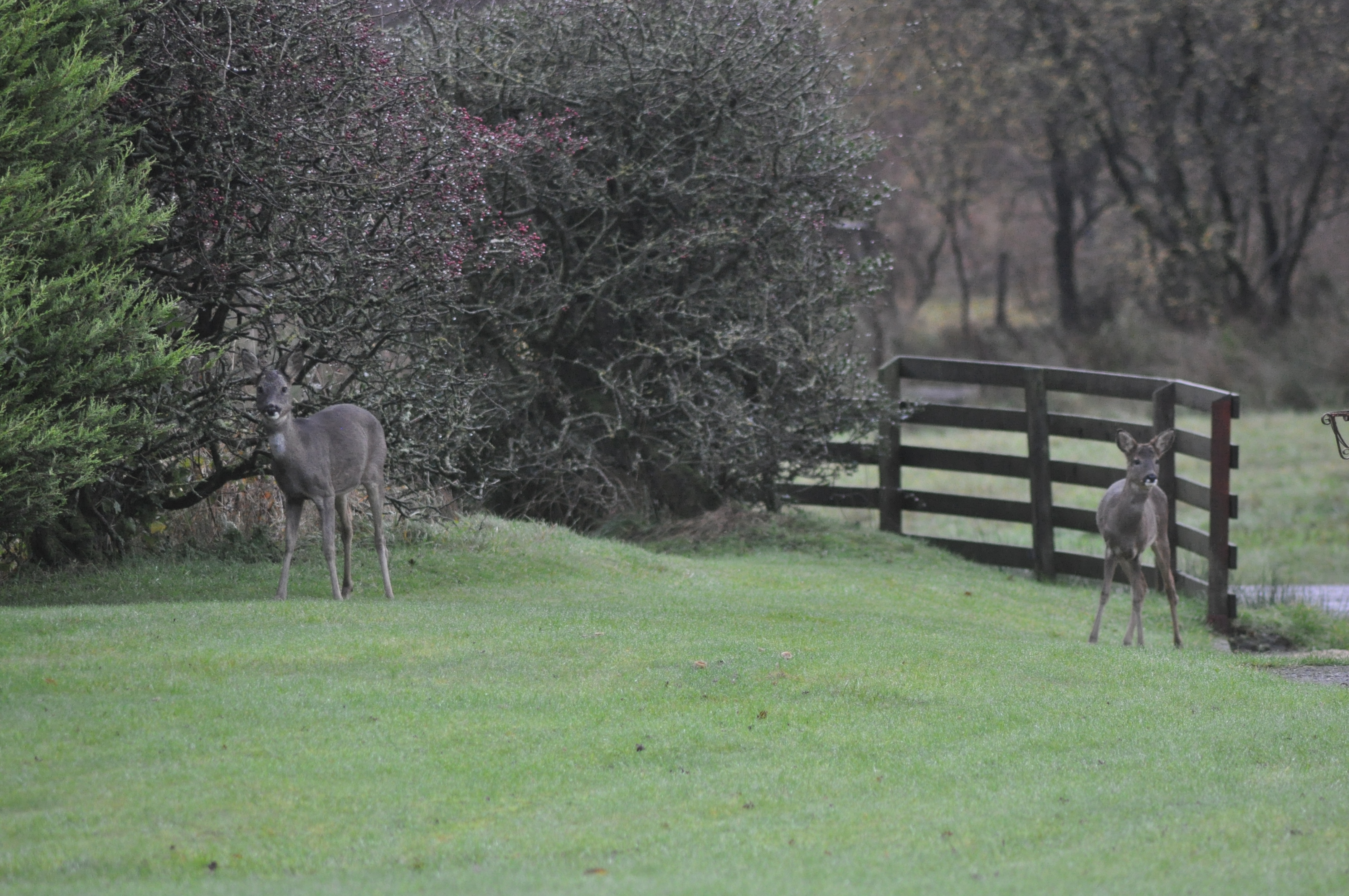 Then they trotted off together back into the woods.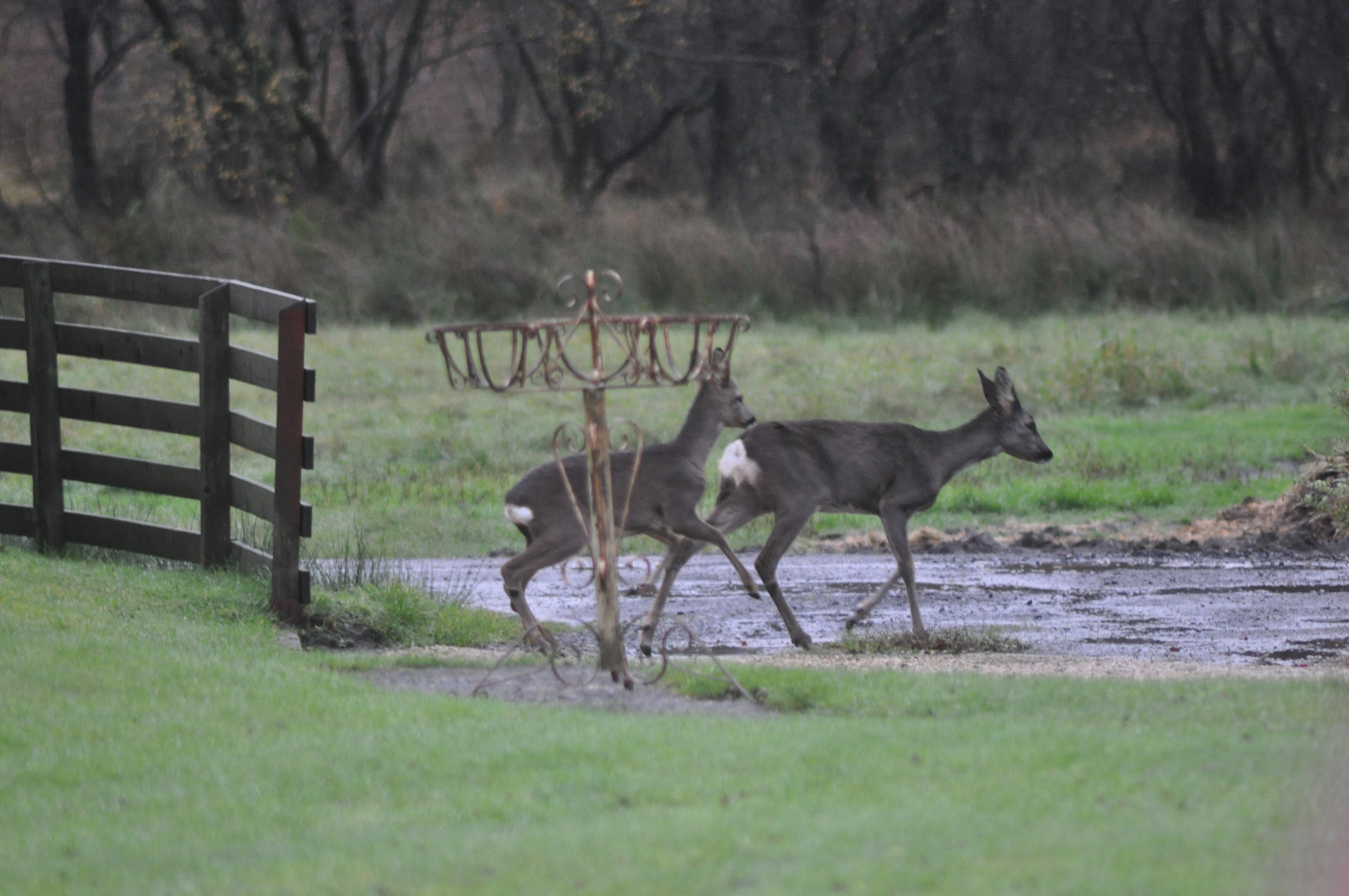 On this day: -

1886 - The Statue of Liberty is dedicated by US President Grover Cleveland, celebrated by the first confetti (ticker tape) parade in New York City.
2015 - Research is published indicating that Plague dates back to the Bronze age in skeletons 5,783 years old, published by University of Copenhagen team in "Cell"
=================================================================

26th October

Conference delegates had a super conference at Westerwood at the weekend: -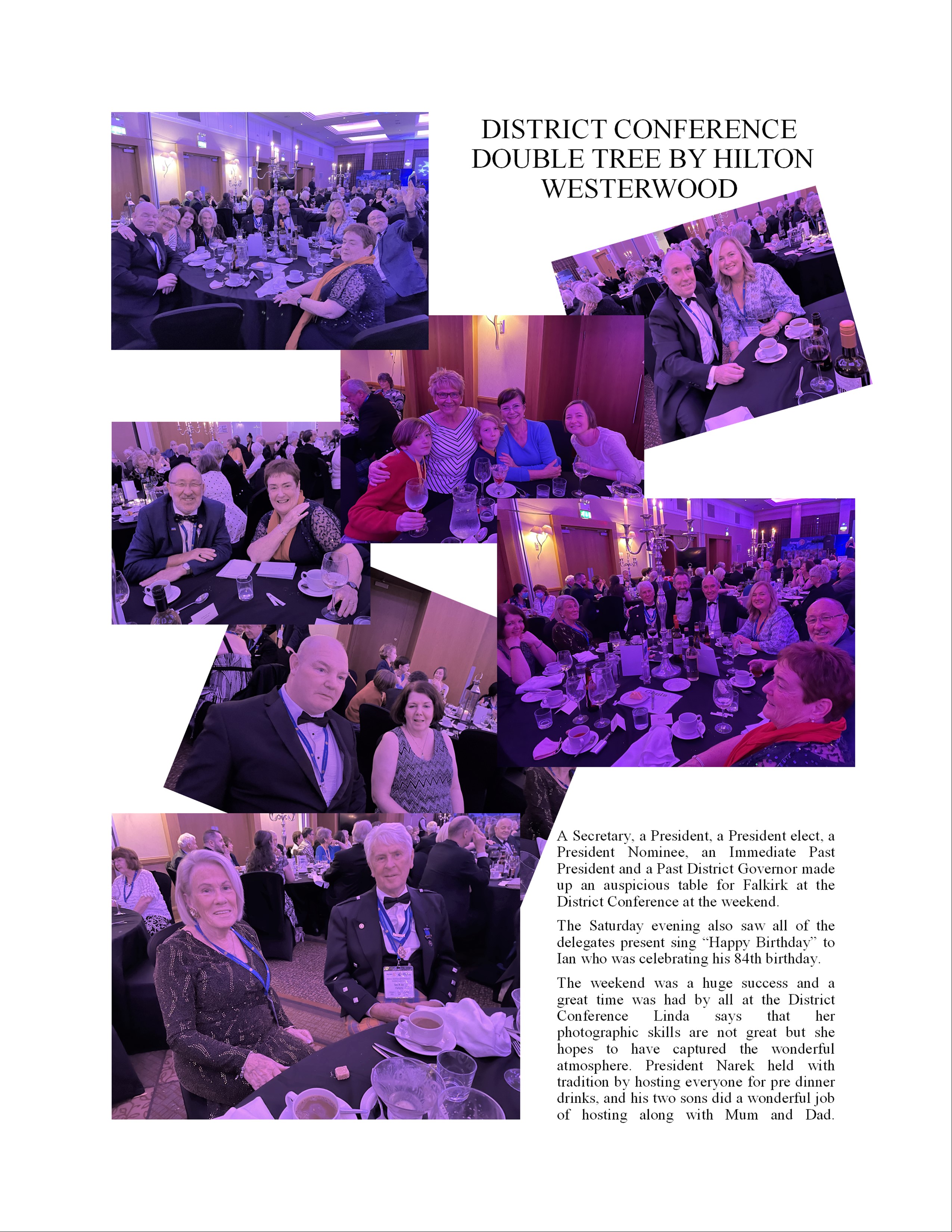 And ahead of the Peace Pole meeting tomorrow here are the winning posters: -

But I thought that Nathan's was magic!

On this Day: -
1881 - Possibly the most famous shootout in the history of America's Wild West took place on this day – the Gunfight at the OK Corral in Tombstone, Arizona. On the one side stood the so-called forces of law and order: Wyatt Earp, his brothers Virgil and Morgan, and Doc Holliday. By reputation these were power-hungry and ruthless men.
Opposing them were the outlaws Billy and Ike Clanton, Tom and Frank McLaury, and Billy Claiborne. Around 3pm, the Earps and Holliday spotted the five members of the Clanton-McLaury gang near the OK Corral and closed in for a confrontation.
The famous gunfight that ensued lasted for just 30 seconds or so, when around 30 shots were fired. Most reports say that it began when Virgil Earp pulled out his revolver and shot Billy Clanton point-blank in the chest, while Doc Holliday fired a shotgun blast at Tom McLaury.
When the dust cleared, Billy Clanton and the McLaury brothers were dead, and Virgil and Morgan Earp and Doc Holliday were wounded. Ike Clanton and Claiborne had run away.
1901 - First recorded use of "getaway car" occurs after holding up a shop in Paris!
1977 - Last natural case of smallpox discovered in Merca district, Somalia. Considered the anniversary of the eradication of smallpox, the most spectacular success of vaccination. (So Far!!!)
=======================================================================
25th October

President Elect Linda has organised the Christmas Lunch in the Grange Manor Hotel for the 2nd December. Everyone who wishes to attend should contact her. I have created a new page in the members only section entitled "Directories" In that page there are links to the current Club Directory and the District Handbook. I have checked and Linda's updated email address is correctly listed.

I have a new car! Well it's not "new" it's just new to me! But for the first time for a long time it's a petrol engine. The last cars that I have had have always been deisel. It got me thinking!

As usual I was driving away from the garage and the fuel warning light came on accompanied by a warning sound! When I was refuelling I started to reminisce. I learned to drive around about 1963. My father held a license but couldn't drive. He had held the license from a time before it was necessary to sit a test. The result was that he bought a car and I drove it! It was a large black Austin Cambridge A55.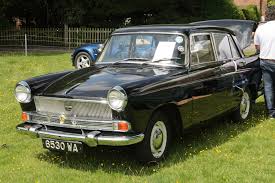 I still remember the number - RWG 582. It could be filled with 8 gallons of petrol and that at a cost of £1. Petrol being 2/6d a gallon at that time. I came across a newspaper article from 1949 which says "A gallon of petrol goes up by twopence halfpenny to 2/3d".

We have all become so used to the SI Units of Litres of Petrol and such that we are shielded from the fact that a gallon of petrol now costs £4.81!
On this Day: -

1854 - The Charge of the Light Brigade is infamous as an act of bravery in the face all insurmountable odds. On the 25th October 1854 members of the British light cavalry led a charge by mistake into the heart of the Russian Imperial army. 110 soldiers died in the charge, 161 were injured and 475 horses killed. Lord Cardigan led the charge just after 11am. Lord Raglan and his staff watched in horror from their elevated position. Nolan seems to have tried to head Lord Cardigan off, belatedly realising the mistake but was killed by fire almost immediately.
The Light Brigade charged for a mile and a quarter till they reached the Russian guns who started firing on them as soon as they came in range. They then, if they could, returned the way they had come.
Lord Cardigan himself became separated from his troops and was one of the first to return. He then seems to have left the battlefield completely for his personal yacht moored off the coast where he retired to enjoy a champagne dinner that night..
1938 - The Archbishop of Dubuque, Francis J. L. Beckman, denounces Swing music as "a degenerated musical system... turned loose to gnaw away at the moral fiber of young people", warning that it leads down a "primrose path to hell".
===========================================================

24th October.

Today is World Polio Day! Latest news is that there have still only been two reported cases this year, one in Pakistan and one in Afghanistan. That is fantastic news.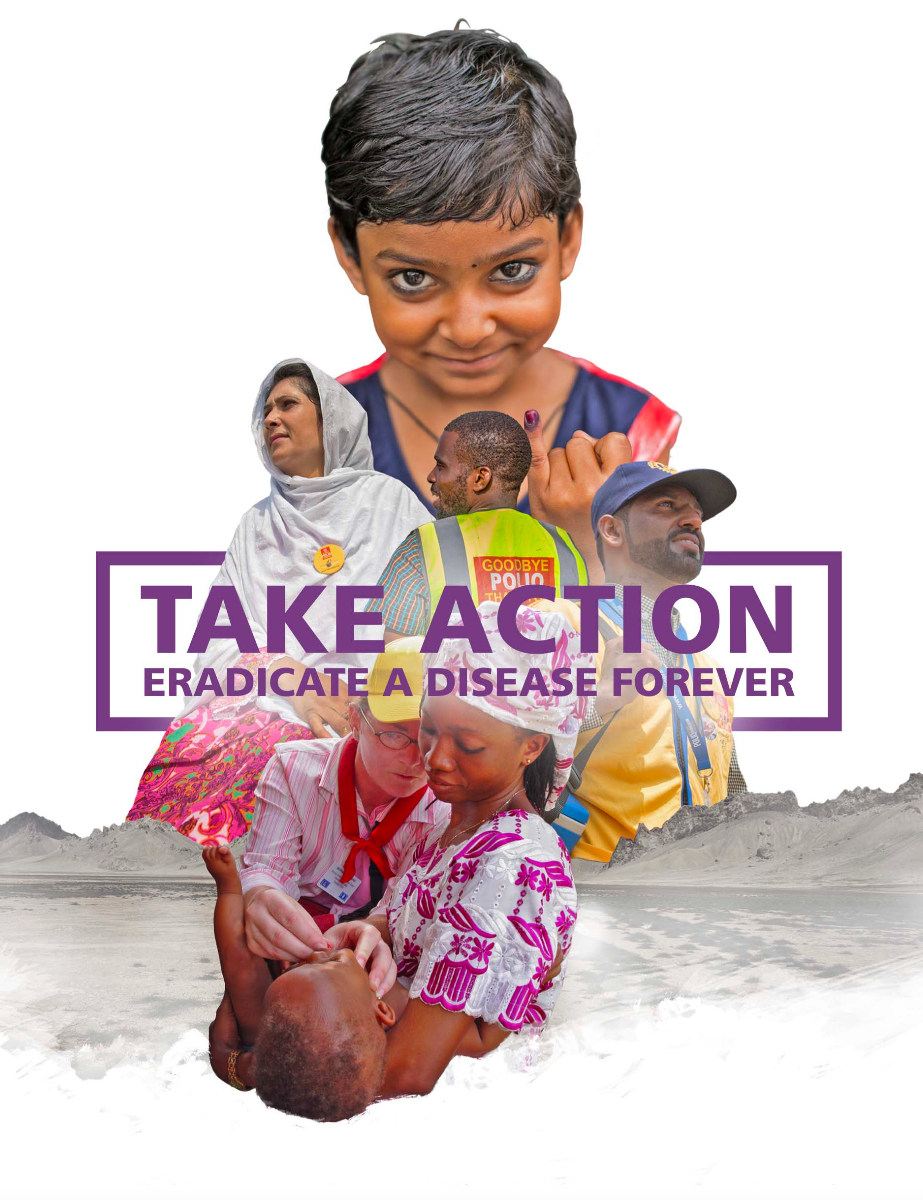 On this day: -

79 - In 79 AD Pliny the Younger was seventeen and staying with his famous uncle, Pliny the Elder, a naturalist, author and naval commander for the Roman fleet at Misenum in the Bay of Naples. His account written as a letter to the Roman historian Tacitus 25 years later made the eruption of Vesuvius famous long after Pompeii was buried under debris and forgotten.
1601 - Tycho Brahe died! He was known in his lifetime as an astronomer and alchemist, and for his accurate and comprehensive astronomical and planetary observations. He has been described more recently as the first competent mind in modern astronomy to feel ardently the passion for exact empirical facts. And coincidentally until Friday night I had never heard of him. We watched "Who do you think you are?" the subject of which was Dame Judy Dench. He turned out to be something like her nine times great Uncle!
1945 - The United Nations was formed with the aim to 'save succeeding generations from the scourge of war.'
================================================================

22nd of October

I should have reminded you all yesterday that it was the 21st and time to donate to the Foodbank a proportion of yours savings from the weekly lunch. I am forever bragging about what we as a Club have done in this respect. So far we have donated £7,584 to the Food Bank which equates to 3.78 tonnes of provisions. You should all feel justifiably proud of that.

We have watched two programmes in the past week about Guernseys or Ganseys. It depends geographically where you are. Curiously the first one was from Harris in the Outer Hebrides and they referred to the garment, (A pullover, jumper or sweater, call it what you will) as a Guernsey! The second was from Norfolk and they referred to the same item of clothing as a Gansey. It's the same in Yorkshire apparently.

Now it is painfully obvious that both nomenclatures have their roots in the same place and have been pronounced or mispronounced over the years to arrive at where they are now. The thing that got me though was the stories attached to them.
In Harris they made no reference to the connection with the island of Guernsey but did tell the story that they were hand knitted by the wives of fishermen and apart from being eminently suited to life on board ship as a result of the wool and the method of construction, were each individually identifiable. The macabre reality being that it was a method of identifying the remains of the fisherman should he perish at sea. Now I have heard this story before and have no doubt of its veracity but the Norfolk fisherman told pretty much the same story after eleborating on the roots of the name Gansey.

He went on to say that the Island of Guernsey has or had no sheep so they imported wool and exported pullovers! Surely both of these stories cannot be true. Or if they are true one has absolutely nothing to do with the other.
Maybe it went something like this: -
Guernsey had no sheep.
Guernsey imported wool.
Guernsey exported Pullovers.
They were great for sailors but they were all the same
Sailors' wives decided they'd do it themselves and personalise things.
Guernsey pullover producers went out of business! (they are still at it apparently)

Guernsey Jumpers are derived from the traditional sweaters developed in Guernsey in the 17th century. The original sweater styles, with a "diamond" insert at the underarm for ease of movement, were worn primarily by Guernsey's fisherman, the jumper later became popular throughout coastal Britain where each seafarer wore a "Gansey". (The History of the Guernsey Jumper from theGuernsey wool Industry)
On this Day: -

1797: -André-Jacques Garnerin made the first documented parachute jump on this day, landing safely after exiting a balloon 3,000ft above a park in Paris.
1884: -International Meridian Conference in Washington, D.C. adopts Greenwich Mean Time (GMT) worldwide, creating 24 international time zones with longitude zero at the Greenwich meridian.
1895 - The Montparnasse derailment occurred when the Granville-Paris Express overran the buffer stop at its Gare Montparnasse terminus. The driver was trying to make up for lost time and entered the station too fast and the train's air brakes failed to stop it. After running through the buffer stop, the train crossed the station concourse and crashed through the station wall. The train fell onto the road below, where it stood on its nose.
1897 - World's first car dealer opens in London
1907 - Panic of 1907: A run on the Knickerbocker Trust Company stock leads to a US wide run on banks
1926 - The famous magician Harry Houdini is struck four times by a college student challenging his ability to withstand blows to the stomach. Houdini, who was unprepared for the attack and had acute appendicitis, died nine days later.
=====================================================================
21st October

Before I begin this I often trawl the net for inspiration. I came across this quotation which struck a chord : -

A day without wine is like....I have no idea!
Now you all know that, apart from swimming, I know nothing about sport and quite frankly don't care! I was surprised however to find that Speedway is still alive and kicking in Glasgow!

Today and tomorrow at 19.30 Glasgow Tigers

will vie against

Edinburgh Monarchs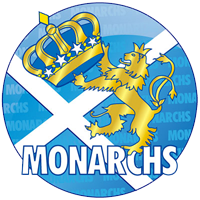 in the Championship playoff Semi Final.

I was intrigued and looked at the history of Speedway in Glasgow. Apparently they existed at White City Stadium until 1968 (that's the last recollection that I have of speedway in Glasgow) and they have since used Hampden Park, Cliftonhill in Coatbridge, Blantyre Sports Stadium, Craigend Park, Derwent Park and Shawfield before settling, in 2015, where they are now at the Peugot Ashfield Stadium.

On this day: -
1805 - Admiral Nelson dies at the battle of Trafalgar.

1948 - UN rejects Russian proposal to destroy atomic weapons!
1954 - A live broadcast of Ian Fleming's Casino Royale on the TV show "Climax" It starred Barry Nelson making him the first 007. It also starred Peter Lorre as Le Chiffre.
1966 - It was a heartbreaking tragedy known across the world by the name of the South Wales village where it happened: Aberfan. On this day millions of cubic metres of excavated mining debris came thundering down a hillside, engulfing a farm, several houses – and Pantglas Junior school, where 116 children died
1971 - A total of 22 people died and more than 100 were injured from Scotland's worst peace-time explosion on this day. 50 years on, a special service will take place at the memorial tree in Clarkston Halls car park for the families of victims and survivors. A minute's silence will also be held across East Renfrewshire at 2.50pm, the time the explosion happened.
========================================================

20th October

Have you ever read 1984? I went to receive my Flu and Covid Booster jabs this morning. I was in a line of people on the first floor of what was the Windsor wing at Falkirk and District Royal Infirmary, now the Falkirk Community Hospital. We were equally spaced, one behind the other in a one way system, wearing masks and no one spoke as the one at the front of the queue was taken to a room for vaccination and we all shuffled forward one space.

What once were wards on either side of the corridor were empty spaces. The doors were all equally brown, their facings white and everything else had been painted magnolia. Our surroundings were reminiscent of a deserted office building and we were all automatons creeping slowly towards our fate.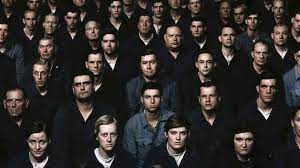 On this day: -

1791 - Back in 1791, the jockey Sam Chifney, was retained by the future KIng George IV as his rider for life with generous pay of over £200 a year, and he rode the royal horse Escape in two races.

Chifney was the leading jockey of his day and had developed a highly successful late finishing style, known as the "Chifney rush". He boasted: "I could ride horses in a better manner in a race to beat others than any other person ever known in my time."

However, in the first race on Escape held on Thursday, 20 October, he came last of four despite being 2/1-on favourite. The next day, with odds of 5/1-against, Chifney rode Escape to victory, beating two horses that had finished ahead of him the previous day. This prompted the horseracing authority in England to have an astonishing showdown with the future King George IV over allegations that his jockey had thrown a race. He responded with a royal boycott of the Sport.


1922 - First life saved by a parachute - Lt. Harold R. Harris of the U.S. Army. While banking his airplane into a right turn, the control stick began to vibrate violently, the airplane's wings tore apart, and the craft began diving uncontrollably. Harris jumped from the cockpit at approximately 2,500 feet (762 meters). After free-falling about 2,000 feet (610 meters), he deployed his parachute and landed with only minor cuts and bruises. Harris' plane crashed several blocks away and was completely demolished.
Shortly thereafter, two reporters suggested that a club should be formed for people who jumped from a disabled aircraft with a parachute, with Harris becoming the first member of the "Caterpillar Club".
===============================================================

19th October

Just a quicky today. I have to present myself at the Town Hall for Scottish National Blood transfusion service donor session.

St John's Central Area Chair has emailed us all today to tell us that: -
"...from our start date of 7th September 2020 until 30th September 2021 we drove roughly 89,300 miles which is approximately 3.5 times around the planet ! Not bad for a local service ! And the free time we have dedicated for this service I have calculated at 3,689 hours which is over 153 days of solid work..."
On this day: -

1605 - An incredible memorial stands in the main shopping street of Norwich to commemorate philosopher and writer Sir Thomas Browne who was born on this day. It is a large reproduction of his brain. Children climb over it and weary shoppers use it as a seat when they need a rest.
==============================================================

18th October

I have often posted here photographs of the view of Forth Valley from Muir Rig. It has almost always been on a beautifully sunny day. This morning as I headed for the shower Forth Valley was full of mist and I could look over the top of what looked like a lake of snow towards the Ochils. I resolved to photograph it when I came out of the shower and post it here! Then it just disappeared! So nae photie.

On another matter, we watched Countryfile last night and there was a chap on the Isle of Wight talking about the White Tailed Sea Eagles that they were introducing there. The introduction had been initiated with young birds from Mull. He waxed lyrical about ensuring that, once released, they knew where to return to. He spoke about how they might interact with birds from Holland and suggested that "They would often return to where they were born to breed"
That immediately jarred with me! Are birds "born"? I checked the dictionary and it was as I thought. The word "born" is related to the word "bear" as in having been carried (although my dictionary says that the connection is no longer recognised.) I have always understood "born" to be indicative of live birth.

I then went on to think about what I would rather he had said. "Return to where they were hatched"? or maybe "Return to where they had been lain or laid!"? none of it really sits comfortably. I think maybe "Return to where they fledged" would be a more acceptable term.

On this day: -
1867 - USA takes formal possession of Alaska from Russia, having paid $7.2 million.
1984 - Jon-Erik Hexum dies from his injuries after shooting himself on the set of the TV series Cover Up six days earlier. He was unaware that the explosion from blanks is deadly at close range. He had been playing Russian Roulette with the blank gun.
===============================================================

17th October

Jorja should be arriving shortly to recover her bunny, Fluffy. I have been tending to the beast all week and have her now properly prepared to be returned home.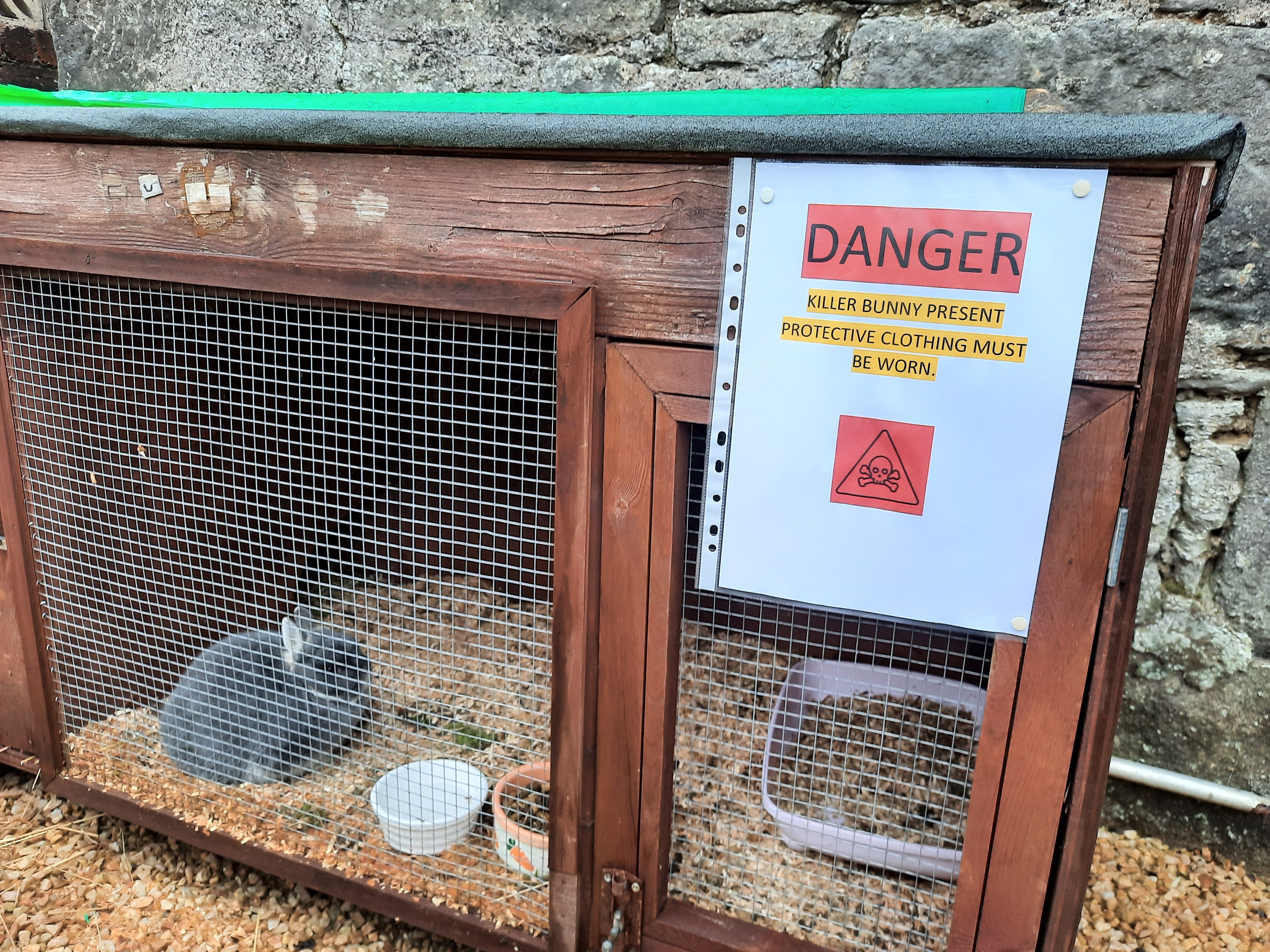 On this day: -

1091 - A tornado struck London. It was Britain's earliest reported tornado. The wooden London Bridge was demolished, and the church of St. Mary-le-Bow in the city of London was badly damaged. Other churches in the area were demolished, as were over 600, mostly wooden, houses.
2012 - Colin Farmer, aged 61 and a blind stroke victim said that he thought he was going to die when he was shot in the back in Chorley town centre with a 50,000-volt Taser stun gun fired by a police officer who mistook his white stick for a Samurai sword.
2020 - Chicago is declared the 'rattiest city' in America for the sixth year in a row by the US pest control service Orkin.
===============================================================

16th October

June 1954 extract from "Rotary Calling"
It has been suggested that the club should run an annual sports meeting but the editor feels that the ordinary flat events would be out of the question; they might be too flat! There are however great possibilities with novelty items and a few suggestions are listed for the members to think over. These events would not tax their physical strength unduly but nevertheless could be quite spectacular
Slow cycle race - The ordinary cycle wheels would be replaced with outsize Rotary tooth wheels and last to pass the post is the winner. N. McGregor would be ineligible for this event as he would be able to stop the teeth thereby gaining an unfair advantage'
Roll eating contest - This would be according to handicap and members have been under observation during the past few weeks at lunch. Backmarkers would be the well loved handyman of our club starting at minus 6.

Tossing the programme secretary - This event is confined to members who have been persuaded by him to speak during the past year. Each entrant is allowed three throws and great care must be exercised not to land the victim on his head as he is a very valuable man to the club
Throwing the cricket ball - Confined to members who have been targets for the bulletin editor's paragraphs and quips. The editor will move to and fro behind a wall with only his head and his hat showing. The idea is to Knock off his hat. Knocking his head off should be avoided and the first offender in this respect becomes the new bulletin editor! A fearful penalty!
Past presidents' pillow fight - This should be of special interest to the younger members and is to be fought out by past presidents under the Marquis of Carronshore's rules (nae bricks in the pillows) It would be a salutary reminder of the passing of the years in Rotary. How president succeeds president and how the tenure of this high office in our club is a temporary one.
Other novelty events come to mind but the sports committee will deal with them at an early date or maybe they will deal with the bloke who is suggesting them.
I also noticed that it was, at that time, customary for the Editor to include a cartoon of some notable item that had been reported upon in that edition. In this case the cartoon was: -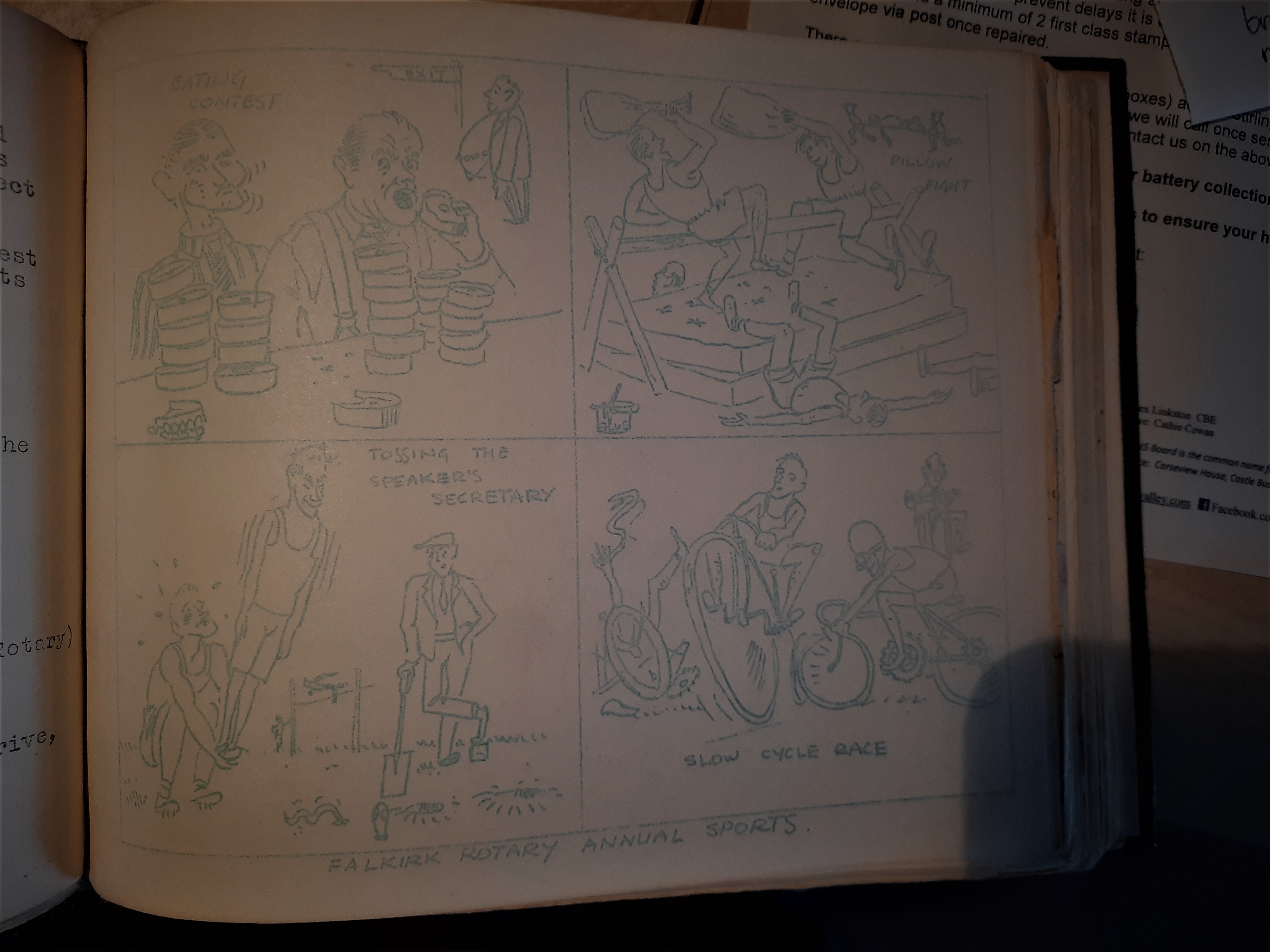 On this day: -

1384 - Jadwiga is crowned King of Poland, despite being a woman.
1643 - Sir John Gayer, who was to become Lord Mayor of London, was a governor of the East India Company and while travelling on a trading mission in Arabia – modern-day Syria – he became separated from his companions. Alone that night, the Englishman was then confronted by a lion. Seeing no means of escape, the story goes, Sir John fell to his knees offering devout prayers and vows of charity.
The next morning he was found asleep in the desert, footprints of the disappeared lion all around him.
When the grateful Sir John arrived back in London he set aside a sum of money to provide an annual distribution of gifts to the poor and stipulated that a sermon should be preached every year so that future generations would learn how God had listened to his prayers and saved him from the jaws of the lion. The ancient church of St Katharine Cree in the City of London was established in 1280, emerging from a priory of 1108 founded by Queen Matilda. It is the only neo-classical church to survive the Great Fire of London in 1666. And it is the only church where the Lion Sermon is preached every year.
==================================================================

12th October

I have a Zoom meeting this afternoon with a chap from the Ayrshire and Arran Health Board area of St John Scotland. They have heard about the success of the Forth Valley area Patient Transport Service and are asking how to do it. We're famous!

It's rutting season again. The big man that I showed you earlier resplendent in his magnificent antlers has been shorn of them and now he struts his stuff among the ladies. He has no idea the antlers are gone and often can be seen brandishing the phantoms in establishing his place among the hinds.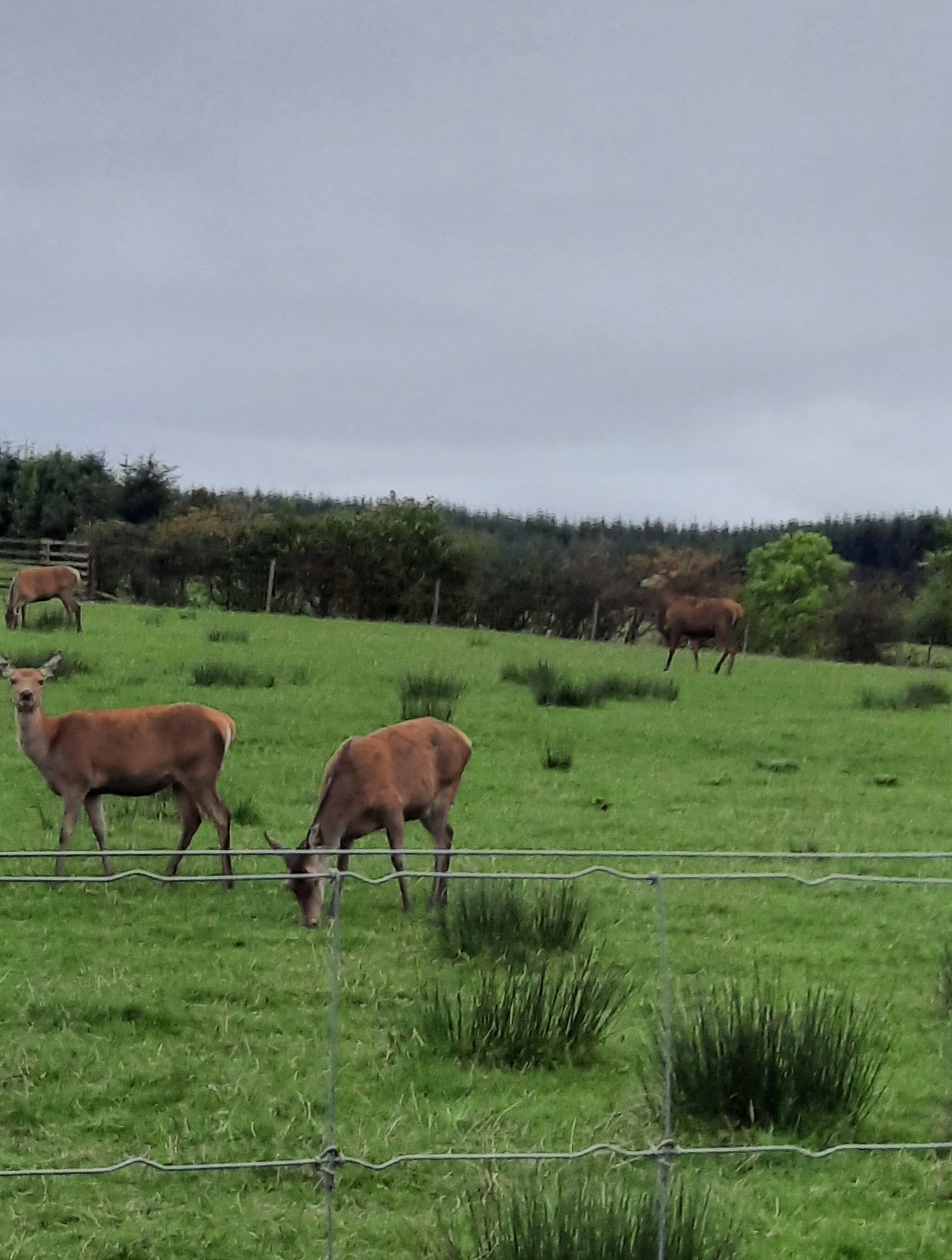 That's him at the back right hand side. He's not very friendly at present!

This is him a bit closer.
I need to go to the Bank and then deliver some PPE to my drivers.

=================================================================
11th October

I have spoken before about my dad's cousins Janet and Willie Clark who ran a game farm in Brisbane Glen in Largs. It was called Constablewood. We often had conversations about anything under the sun while I was there. I recall a standing joke that arose out of one of these conversations. It involved the word "ruminating" pondering, meditating or musing. The discussion had centred around the fact that there are a number of animals who are "ruminants" meaning that they have complex digestive systems involving more than one stomach. Cows have molars in the top back of their mouths but no upper front teeth. Where you'd expect upper incisors, cows, sheep, and goats have a thick layer of tissue called a "dental pad." They use that with their bottom teeth to pull out grass.They have four stomachs which, together, form a special digestive process to break down the tough and coarse food they eat. When the cow first eats, it chews the food just enough to swallow it. The unchewed food travels to the first two stomachs, the rumen and the reticulum, where it is stored until later. The chewing that the cow does is referred to as ruminating.
There was an occasion while I was visiting Constablewood when I was studying for an english exam. I was sitting in the lounge reading "Great Expectations" with Wendy the cat on my knee purring. Willie came in and asked Janet what I was doing and she replied "Oh! he's just ruminating!" After that the phrase was used in any situation that merited it; always to gales of laughter.

Did you know that when there was a cotton shortage during World War I, Kimberly-Clark developed a thin, flat cotton substitute that the army tried to use as a filter in gas masks. The war ended before scientists perfected the material for gas masks, so the company redeveloped it to be smoother and softer, then marketed Kleenex as facial tissue instead.
On this day -

1521 - Pope Leo X conferred the title of 'Defender of the Faith' (Fidei Defensor) on England's Henry VIII for his book supporting Catholic principles.
1919 - The first airline meals were served on a Handley-Page flight from London to Paris. They were pre-packed lunch boxes at 3 shillings each (15p).
===================================================================

10th October

Time flies when you are enjoying yourself. Wednesday was Diane's birthday so we spent some time shopping in Glasgow. Thursday was Rotary, Friday was manic with two patients to transport and a rabbit to board out! Wendy and her family are off to Cyprus on holiday and "Fluffy" their Rabbit is staying with us. I made a hutch for it before lockdown, the last time they were on holiday, Fluffy doesn't like me and tries to bite me when I tend to it each day.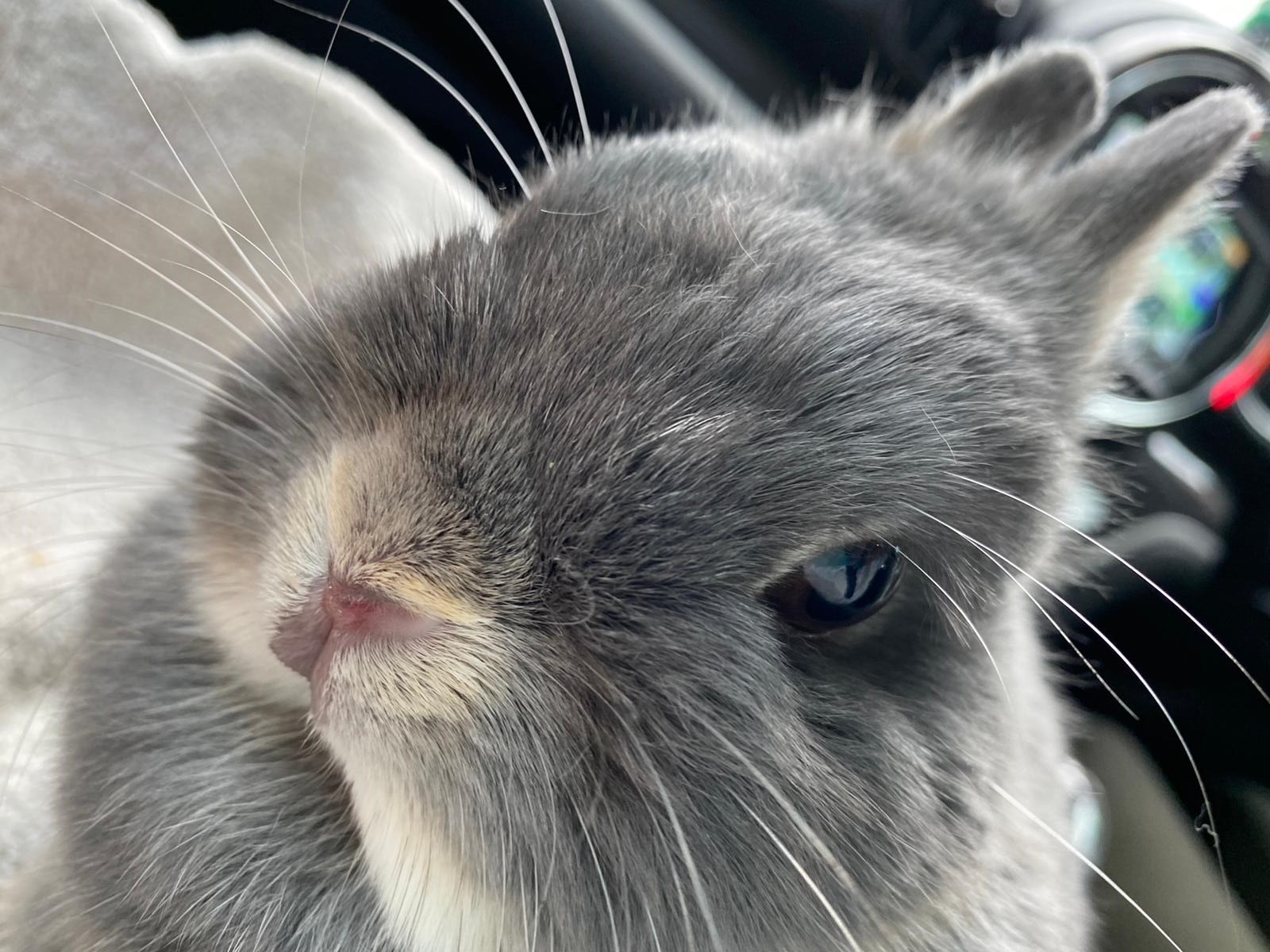 I texted my Grandaughter to tell her so and all she could say in reply was "Stop putting your finger in her mouth then!"

Saturday was spent assisting my son, Peter, install a new centre light fitting in his kitchen on the way to which I spotted this white pheasant! I've never seen one of these before!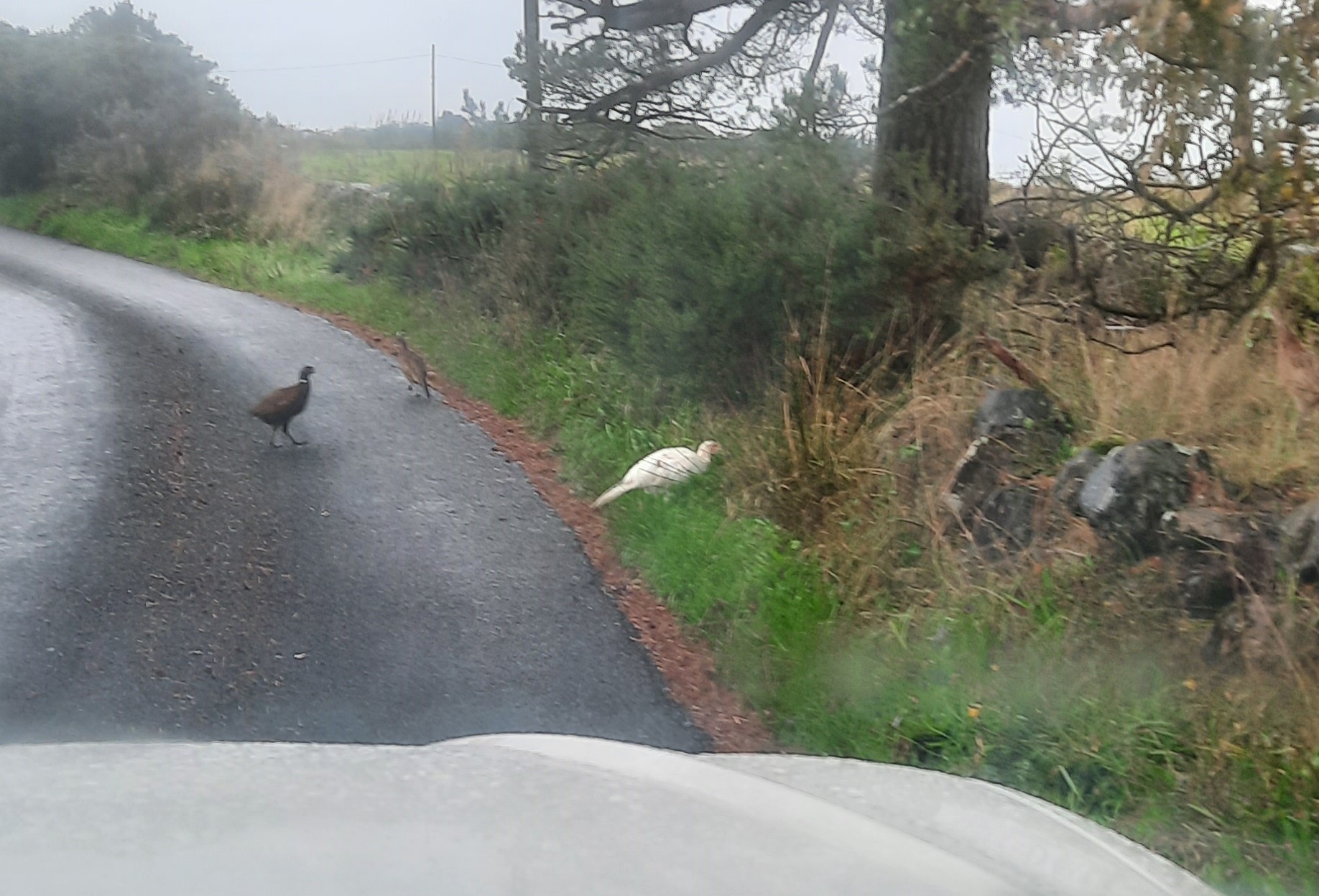 and all of a sudden - it's Sunday!
On this day: -
1780 - The Great Hurricane of 1780 kills 20,000 to 30,000 in the Caribbean, hitting Barbados first. Atlantic's deadliest recorded hurricane.
1799 - In 1799, the economy in the German city Hamburg was on the brink of collapse. To prevent it – and a possible stock market crash – City of London merchants produced a vast quantity of silver and gold bullion which was loaded aboard the British Navy frigate HMS Lutine. It was despatched to Hamburg in the hope that the funds raised would help avert a financial crisis.
But the Lutine didn't make it. A North Sea storm blew up on the 9th October as the frigate passed the Dutch coast and the Lutine foundered off the West Frisian Islands. There was only one survivor, 239 crew and passengers losing their lives. The cargo of silver and gold bullion – reportedly then worth about one million pounds, or one hundred million pounds in today's terms – was also lost.
Shifting sandbanks disrupted later salvage attempts and most of the treasure has never been recovered. It was, however, insured at Lloyd's of London, the specialist insurance market, whose underwriters paid out the claim in full two weeks after the disaster.
Although most of the Lutine's cargo stubbornly remained beneath the waves, some items and artefacts were eventually recovered. They included the ship's bell, which was taken to London and installed in the vast underwriting room at Lloyd's, where it remains to this day.
Traditionally, the bell was struck when a ship became overdue – once for the vessel's loss and twice for her recovery. The purpose was so that all brokers and underwriters would know at the same time the fate of a ship and the cargo that they had insured.
Technology and modern communication methods have rendered the system obsolete and the practice of striking the bell has ended, not least because it has developed a crack after constant use over the years.

The Lutine Bell was last rung to tell of a lost ship in 1979 and to herald the return of an overdue ship in 1989. Since then it has been rung only on ceremonial occasions or to mark tragic events such as 9/11, US President John F. Kennedy's assassination and the death of Diana Princess of Wales.
1985 - Both Orson Welles and Yul Brynner died on this day.

======================================================================

6th October

What an absolutely glorious morning! The view from Muir Rig across the Forth Valley is, as ever, spectacular.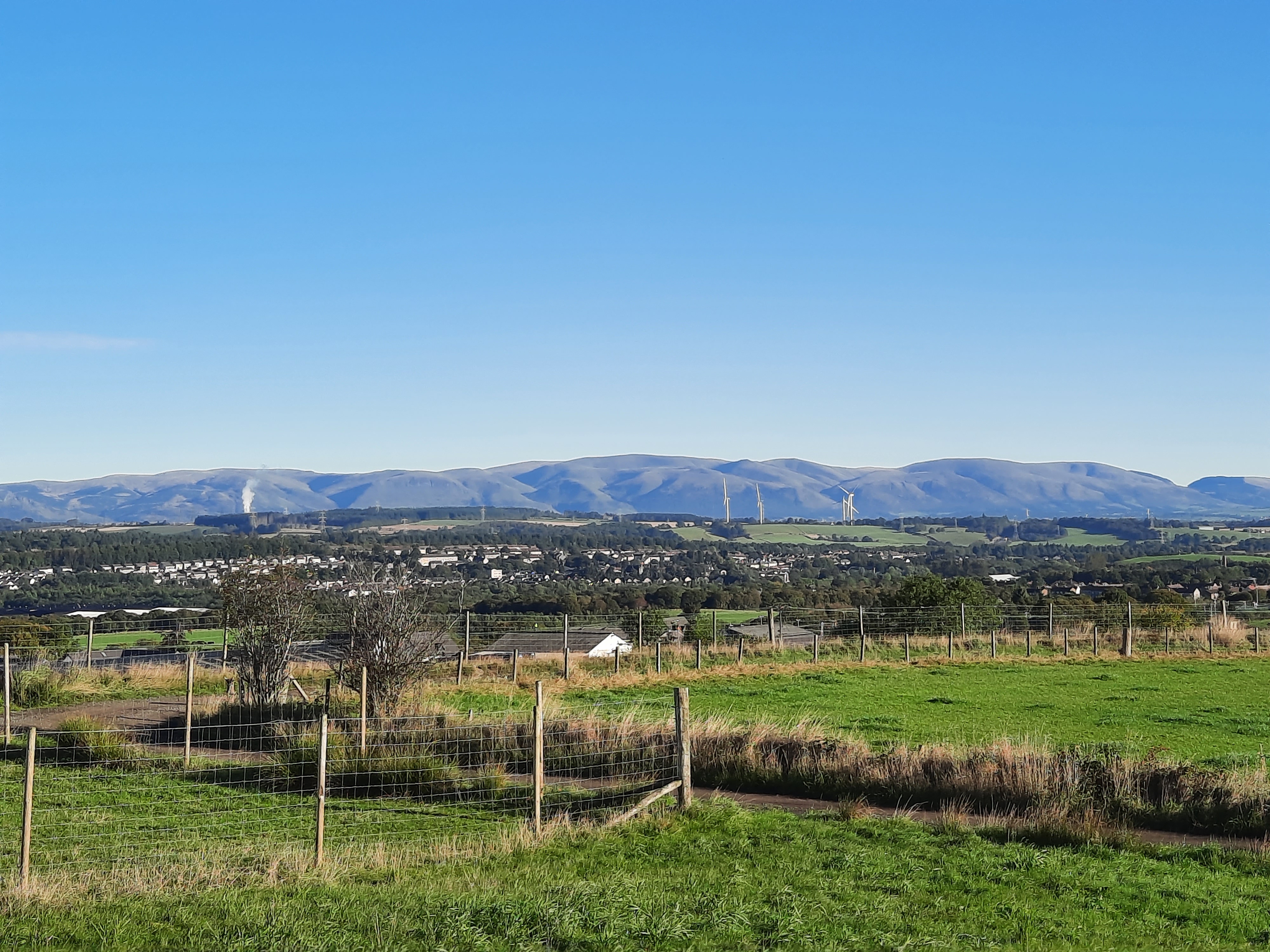 One of my pet hates is sticking adhesive stickers on the inside of the car windscreen. I'd rather use the type that simply need moistened and can easily be removed when the need arises. The National Trust issue membership stickers which allow free parking at all of their sites and you should display the sticker if you are take advantage of that.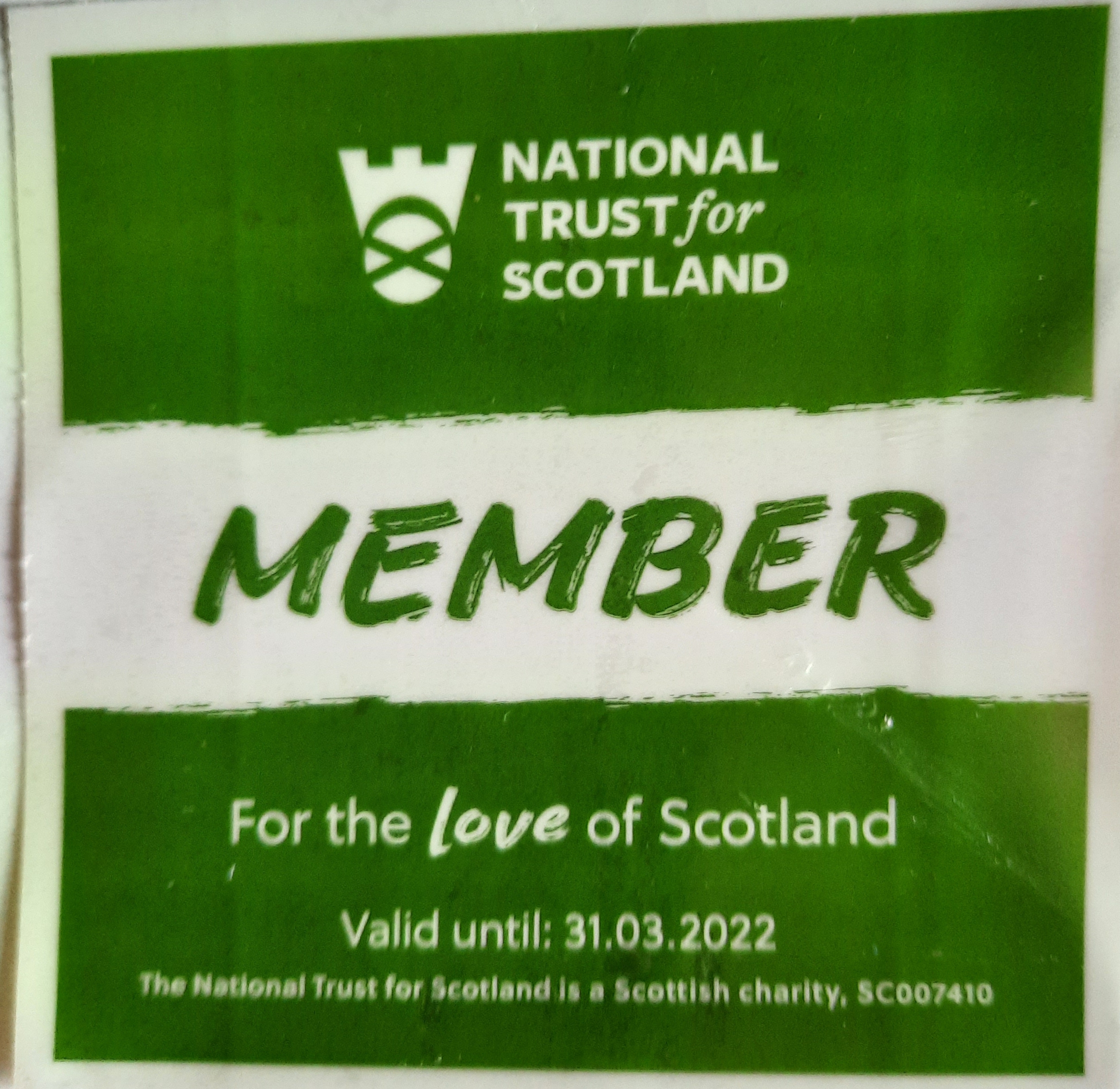 The annoying thing is that they are of the adhesive variety and require to be replaced annually. That means picking and scraping the old sticker off the inside of the glass before fixing the replacement.

I have arrived at a solution, which is so simple, to convert the adhesive sticker to the other type. I have a glass topped electric hob. It used to be ceramic but I am sure that you will remember the transition to induction which I blogged about here. Any smooth surface will do though! Take a piece of cling film and lay it on the smooth surface! Smooth out all of the bubbles so it is completely flat and stick the sticker to it. Then you simply trim off the excess! Seemples!

On this day: -
1917 - Battle of Passchendaele: Canadian troops capture the village of Passchendaele in the Third Battle of Ypres, after 250,000 casualties on both sides.
1945 - Tavern owner "Billy Goat" Sianis buys a seat for his goat for Game 4 of the Baseball World Series. He is escorted out and casts a goat curse on Chicago Cubs.
1946 - Diane Barton (McGill) is born in what is now the lounge of the Forrester's Arms in Cambusbarron.

1956 - Scientist Albert Sabin announces that his oral Polio vaccine is ready for testing; it would soon supplant Jonas Salk's vaccine in many parts of the world.
===================================================================

5th October

My pal Logan let me have a whole pile of more logs today. Peter and Brandon came to help and we began at Victoria House Banknock at 10.30. By 12.30 we had loaded the trailer with branches and limbs, transported over to Muir Rig cut the lot into manageable lengths and stacked them ready to dry over the winter. And that included a break for elevenses.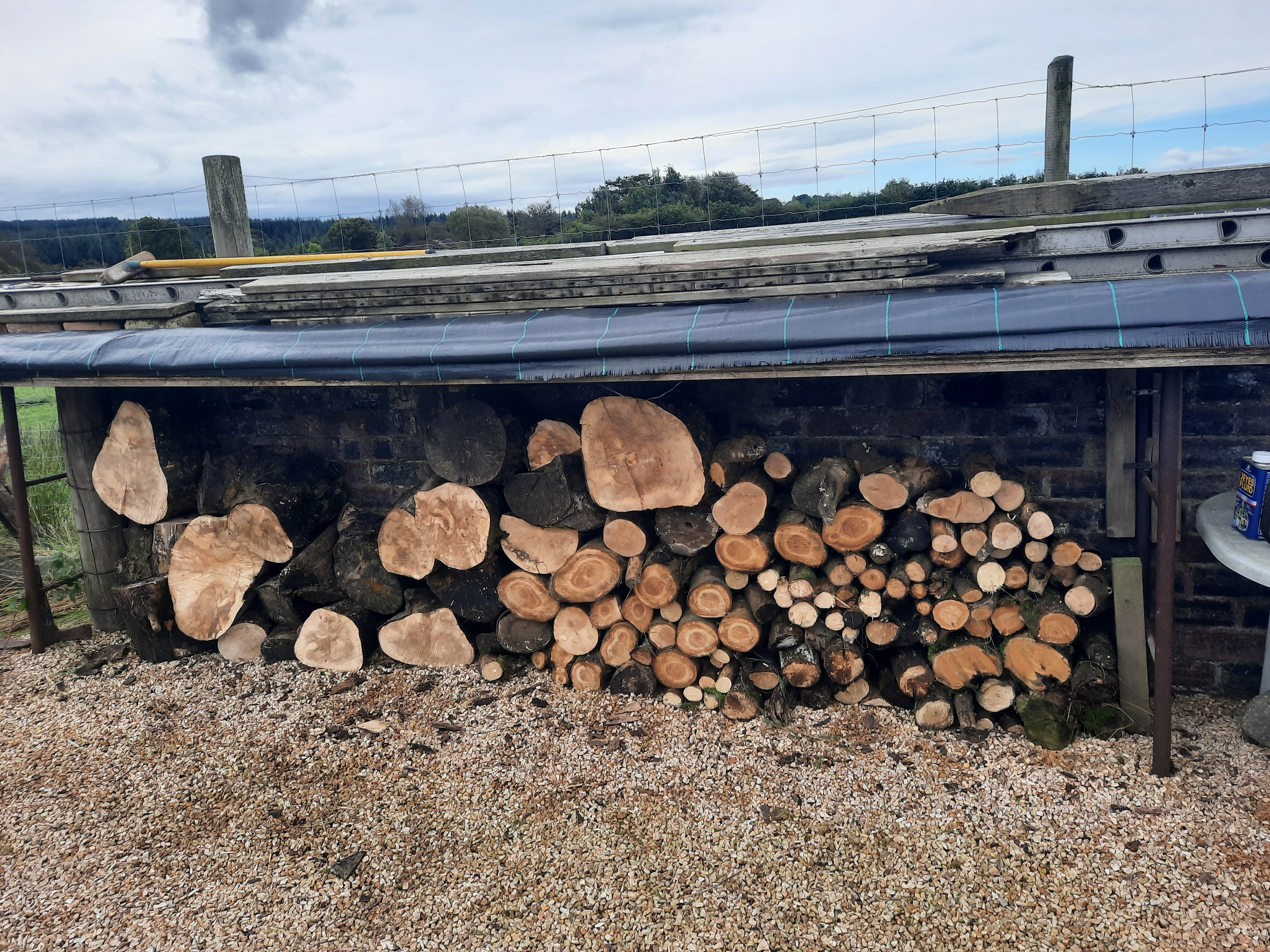 And by the way if anyone wants a free delivery of sawdust for their rabbit's litter tray I'm yer man!

On this day: -
1930 - The British airship R101 crashed at the edge of a wood near Beauvais in France en route to India on its maiden voyage, killing 48 of the 54 passengers, including the British Air Minister Lord Thompson who may well have contributed to the disaster. He brought luggage on board equivalent to the weight of about 24 people, and the crash of the 777 foot craft was thought to be a result of overloading.
1951 - Bob Geldoff is 70 today. Irish singer with the Boomtown Rats. He organized the recording of the record Do They Know It's Christmas? (1984) and the Live Aid concert (1985) to raise funds for famine relief. He also starred in the film Pink Floyd: The Wall (1982). He co-wrote the Boomtown Rats song I Don't Like Mondays, based on 16-year-old Brenda Spencer opening fire on children in an elementary school playground, killing two adults and injuring eight children and a police officer. She stated, "I don't like Mondays!"
=====================================================================

4th October

And from February 1960; two articles both anonymous: -
A GOOD QUESTION
The Scouts were in camp. In an inspection the director found an umbrella neatly rolled inside the bedroll of a small scout. As an umbrella was not list as "a necessary item" the director asked the boy to explain. "Sir" answered the boy with a weary sigh "did you ever have a mother?"

OLD FALKIRK BY "A BAIRN"
People who live and grow old in the place of their birth and childhood live as it were in two worlds. They know the people of today and have memories of the figures of the past. I was reminded of this recently by the appearance of a well-known and interesting character of long ago.
When I was a schoolboy we were all curious and a bit afraid of a man called "the convict". The story was that he had been imprisoned for some years for the attempted murder of his wife. He was a squat thickset figure dressed in a faded black coat and a square felt hat. He walked the streets alone in the evening and then would stand at the entrance to his home in the High Street, especially on a Saturday, watching the crowds passing by.
I used to think that as a result of his prison experience he could not endure the loneliness of his lodgings. I never saw his smile but his eyes and expression always seemed to me to be kindly and sympathetic.
After a few years when I had lost my childish or and sense of fear I ventured one night to give him a smile and a nod. He looked sharply at me but made no response. The following Saturday I again smiled and then, slowly, his right hand was raised in a salute. After that I wished him good evening whenever we met. He never spoke but his eyes would light up and his hand would salute me.
I was away for a few years and, on my return, I saw him in the usual place and got the usual greeting. At home that evening I was telling of my encounter and mentioned that I had seen "the convict". There was silence, and then I was told that he had died the year before.
Over the years I occasionally saw him in the doorway and got the usual salute. The property was eventually demolished and I thought that was the end of "the convict". A few weeks ago however I stopped in the High Street to look at the alteration to the Parish Church gate. Suddenly, in front of me, I saw the familiar figure. He turned slowly around and then, for the first time, I saw him smile as he raised his two hands towards the church. Was it protest or approval? I shall never know for before I could speak he had vanished.
On this day: -
1927 - Gutzon Borglum begins sculpting Mt. Rushmore (works on till 1941)
1981 - Amid claims that a look-alike Russian agent had been buried in Lee Harvey Oswald's place, Oswald's body is exhumed and dental records are used to verify that it was actually Oswald buried in his grave.
1986 - CBS newscaster Dan Rather is assaulted by a man who repeatedly demanded, "Kenneth, what is the frequency?" More than 10 years later in 1997, the assailant was identified as William Tager. Tager believed the television networks were beaming signals into his brain and he wanted to know the frequency they were using so that he could block it. In 1994, Tager killed a stagehand while trying to force his way into an NBC studio with a weapon.

==============================================================
3rd October

Some time ago John Struthers let me have two bound volumes of "Rotary Calling" dating back to the 1950s. I have, on occasion, browsed the pages for inspiration here and I came across this. It is remarkable on many fronts! It is reminiscent of a time when the "Service" in Rotary was at the forefront. It is a historical snapshot of a time when private cars were few and far between and mental health was seen as something that needed to be pitied. Forbes Howie joined the Club in 1949 and was President 1962-63 and would have been 36 at the time of writing this. He was a remarkable man! Just Google "Forbes Howie" and read his entry in Wikipedia.

A Visit to the zoo.
Forbes Howie's impression of a Rotary service.
September 1956
This was a special visit and in my car were four boys aged from 12 to 15 whose names were Tommy, Willie, Stanley and Ian. Stanley put the driver in a good mood for a start by saying "This is a great car. In fact, it's smashin'". Perhaps it was tact but as none of the boys had ever been in a private car before their judgement was perhaps a little biased. Ian said he was glad to be going to the zoo as he would see some horses. "I love horses!" he said. And it took some tact to explain why we could not stop and speak to every horse we saw on the road.
"What age are you?" asked Tommy rather out of the blue. "Twenty five!" I answered rather untruthfully. "Then you are very old aren't you?" interjected Willie who had not opened his mouth so far. What a shock it would have been to them to know the true ages of some of us Rotarians.
I quietly quizzed the boys regarding their daily routine and got most of the replies from blue eyed fair haired Stanley who finished thus "…then we go to bed at 7:00 to 7:30 PM but we have some guisin' and pillow fighting. The nurses usually give us a row but we've got to keep her spirits up Sir!"
Then the zoo. A rush from one cage to the next always an eager young finger pointing to the further wonder of another cage. (Why did they build Edinburgh Zoo on such a hill?) Then wonder of wonders; a pony giving rides! This was Ian's great day. to actually ride on a pony. On his turn, shyness overtook him and Stanley had to show him how and then he summoned the courage to try. The keeper galloped the pony "…and it was just like Roy Rogers so it was!"
The seat at tea was very welcome especially, as the afternoon was hot and it was not long before we were on our way home via Queensferry. "Will we get to the zoo next year?" quizzed Tommy. "I hope so!" replied Stanley. I felt a lump in my throat and knew that whatever I could do to help with such another outing would certainly be done. Thus the Falkirk club outing for sub-mental children from Bellsdyke was over.
This outing appeared to me to be by far the best bit of Rotary service that I have ever had the opportunity to take part in and should the opportunity again arise I recommend most strongly to any Rotarian not to hesitate, to come forward and help. The children's behaviour was exemplary and, apart from young Archie playing hide and seek with Alec Rule when he should have been looking at the lions, they seemed to be much better behaved than most children. Once or twice when we walked in the zoo with the children I felt a small hand being pushed into mine and I saw this happening to other Rotarians as well. It made me feel that above all else these children wanted someone to love and it seemed to me that loving parents would never have parted with these children.
Buzzing in my head as I returned to Falkirk, alone, were these words: -
"…but the greatest of these is love"
"suffer the little children…"
"…in as much as you have done it unto one of these the least of my people…"
On this day: -

1833 - While in Santa Fe, Argentina Charles Darwin recorded in his diary "Many of the remedies used by the people of the country are ludicrously strange, but too disgusting to be mentioned. One of the least nasty is to kill and cut open two puppies and bind them on each side of a broken limb. Little hairless dogs are in great request to sleep at the feet of invalids."
1899 - The first motorized "vacuum" cleaner is patented (patent #634,042). John Thurman patents his gasoline-powered "pneumatic carpet-renovator". Technically, it wasn't a vacuum cleaner in that it blew a jet of air at the carpet, then collectrd the dust in a receptacle. He used his invention to start a horse-drawn door-to-door vacuum cleaning business.
1959 - Postcodes were introduced in Britain.
1995 - Football Hall of Fame running back O.J. Simpson is found not guilty for the murders of his ex wife and her friend Ronald Goldman. The trial was dubbed "The Trial of the Century" due to its immense media coverage. An estimated 100 million people nationwide tuned in to watch or listen to the verdict announcement. No additional arrests or convictions related to the murders have been made.
========================================================

1st October

Autumn is well and truly with us now. The birds are feasting on the rowan berries that have been dislodged from the tree by the wind.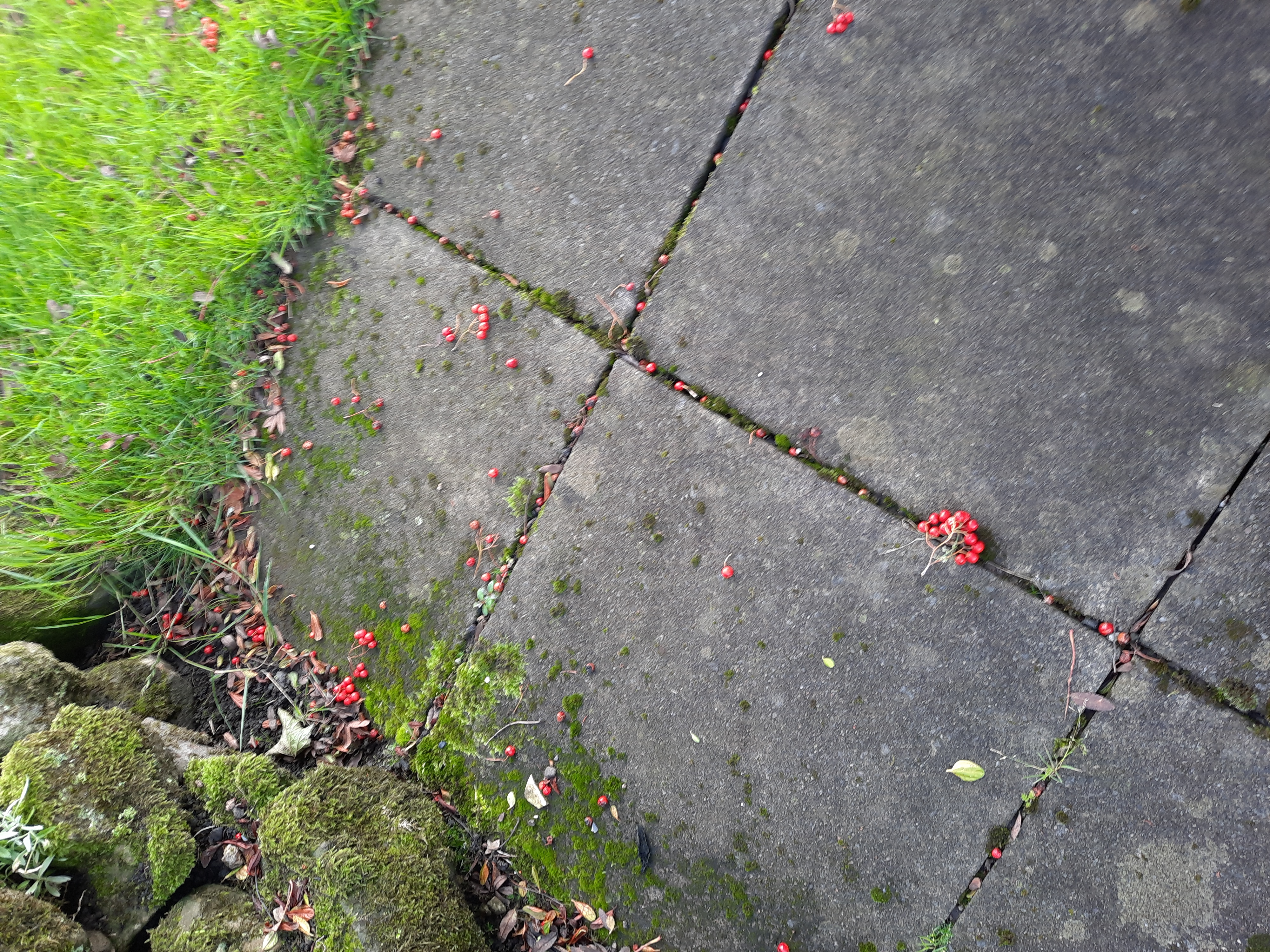 The thermometer is now regularly in the low teens and we have had our first ground frost of the season.

Over last winter our bay tree suffered some serious damage. It has been in the pot now for the best part of 10 - 15 years and always has overwintered well enough. This year the leaves all turned black and yellow and brittle. I wrote it off to be truthfull and bought another much smaller one to bring on. I cut off all of the damaged and diseased leaves and was surprised to see sometime later that there were new buds appearing. It now seems to have totally recovered and is displaying a growth much better than it ever did before.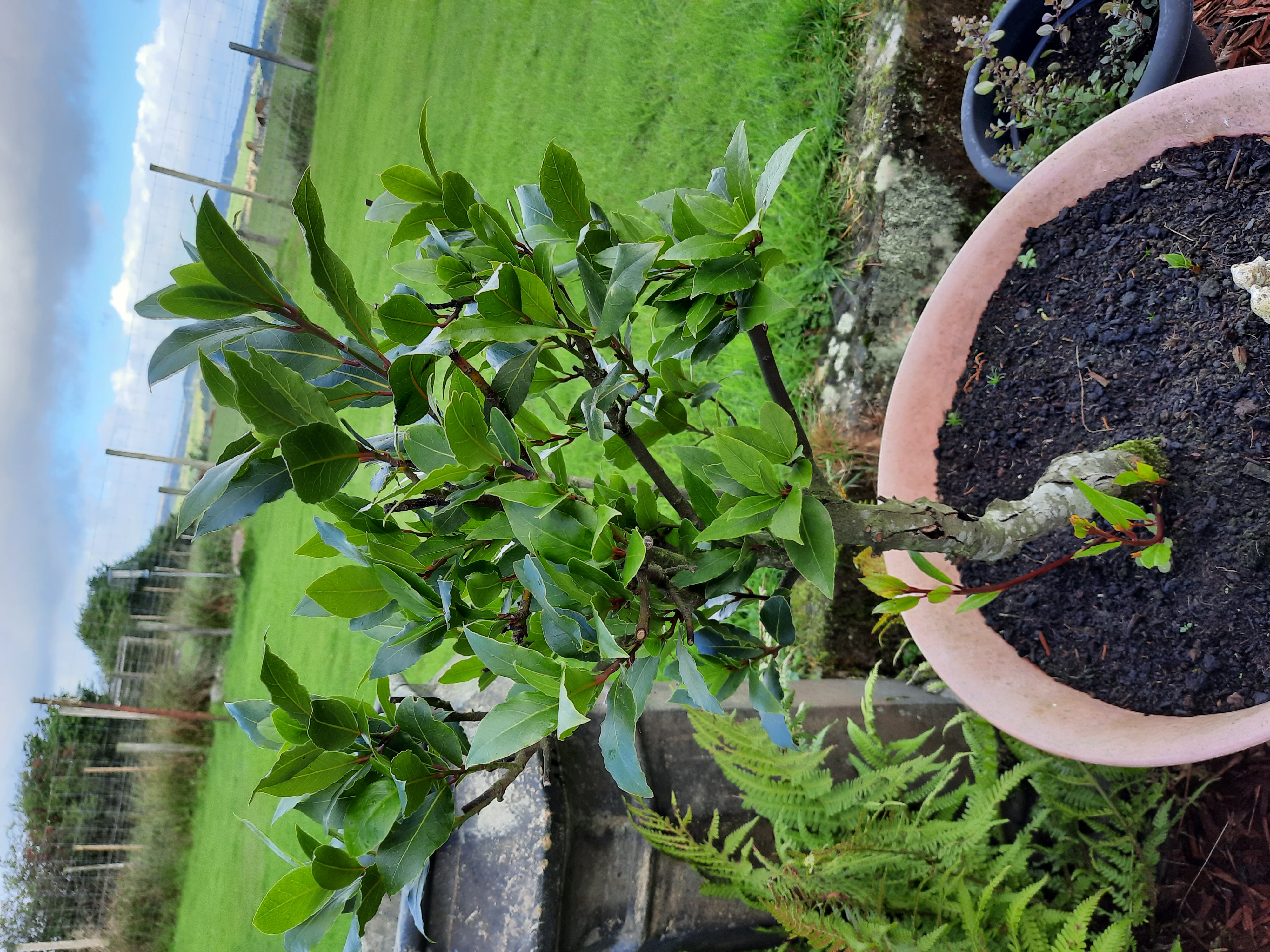 I am however considering the construction of something that I can shelter all of the potted stuff in over the winter. Diane won't let me get a greenhouse so it'll have to be some sort of large coldframe.
On this day: -
1688 - Prince Willem III of Orange accepts the invitation to take up the British Crown!
1867 - Karl Marx publishes "Das Kapital" in Berlin, a description of the capitalist system, its instability and tendency to self-destruction.
1908 - Hailed as "the car of the century," the first Model T Ford rolled off the assembly line in Detroit, Michigan, on this day, bringing vehicle ownership to millions of people for the first time.


=================================================================

28th September

It's very quickly coming to that time of year again when the stags will be carefully chosen to be reunited with their ladies. It's really sad that in order to protect them the farmed deer have their antlers removed. These deer, I am reliably informed, are a cross between the Scottish red deer and the English Park Deer. The configuration of the antlers is quite different. Your standard Scottish Red Deer is quite magnificent at 12 or 14 points (That's 6 or 7 points on each antler, Monarch of the Glen style) but these guys can sport much more.
Boys: -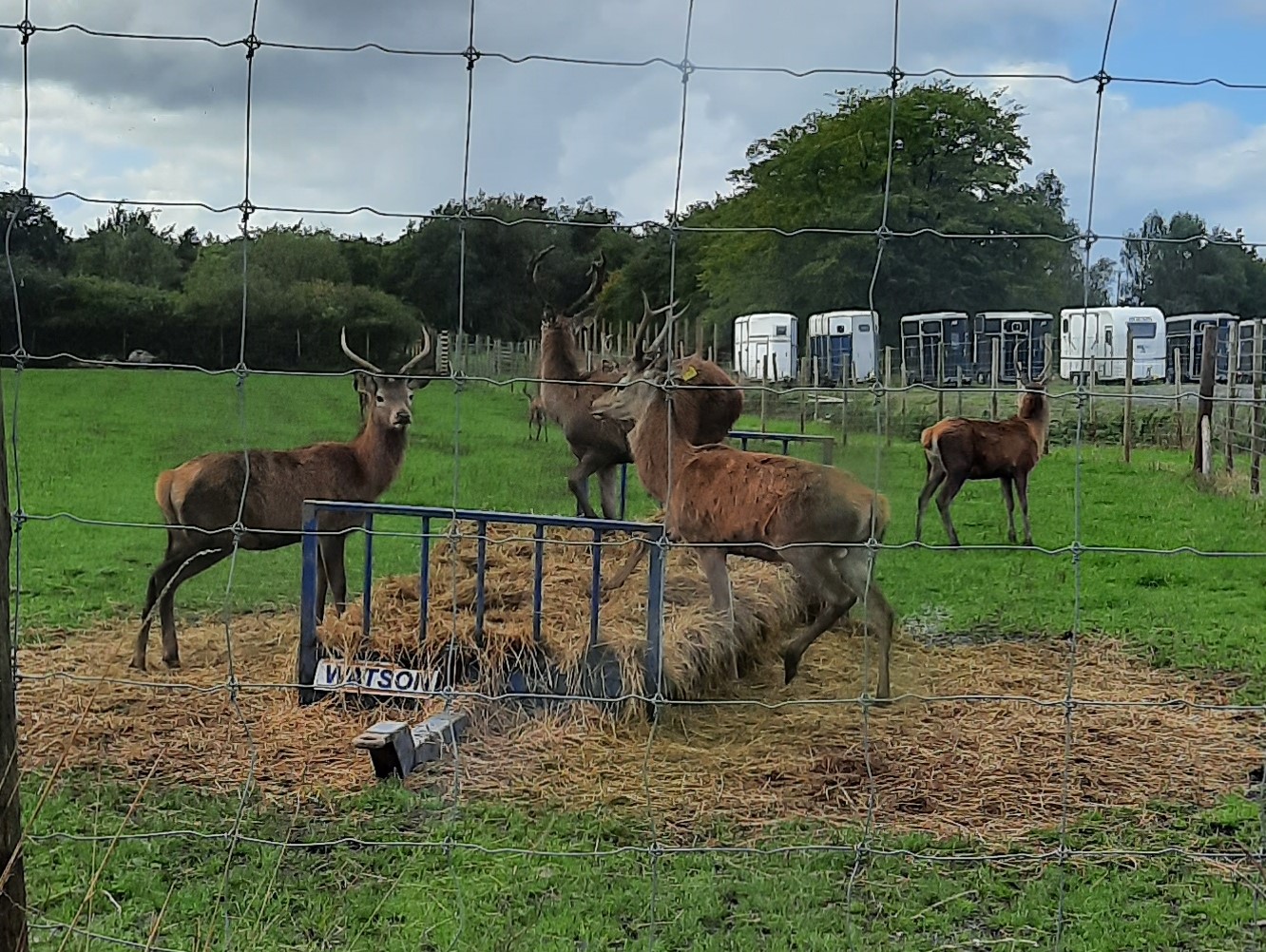 and the Men!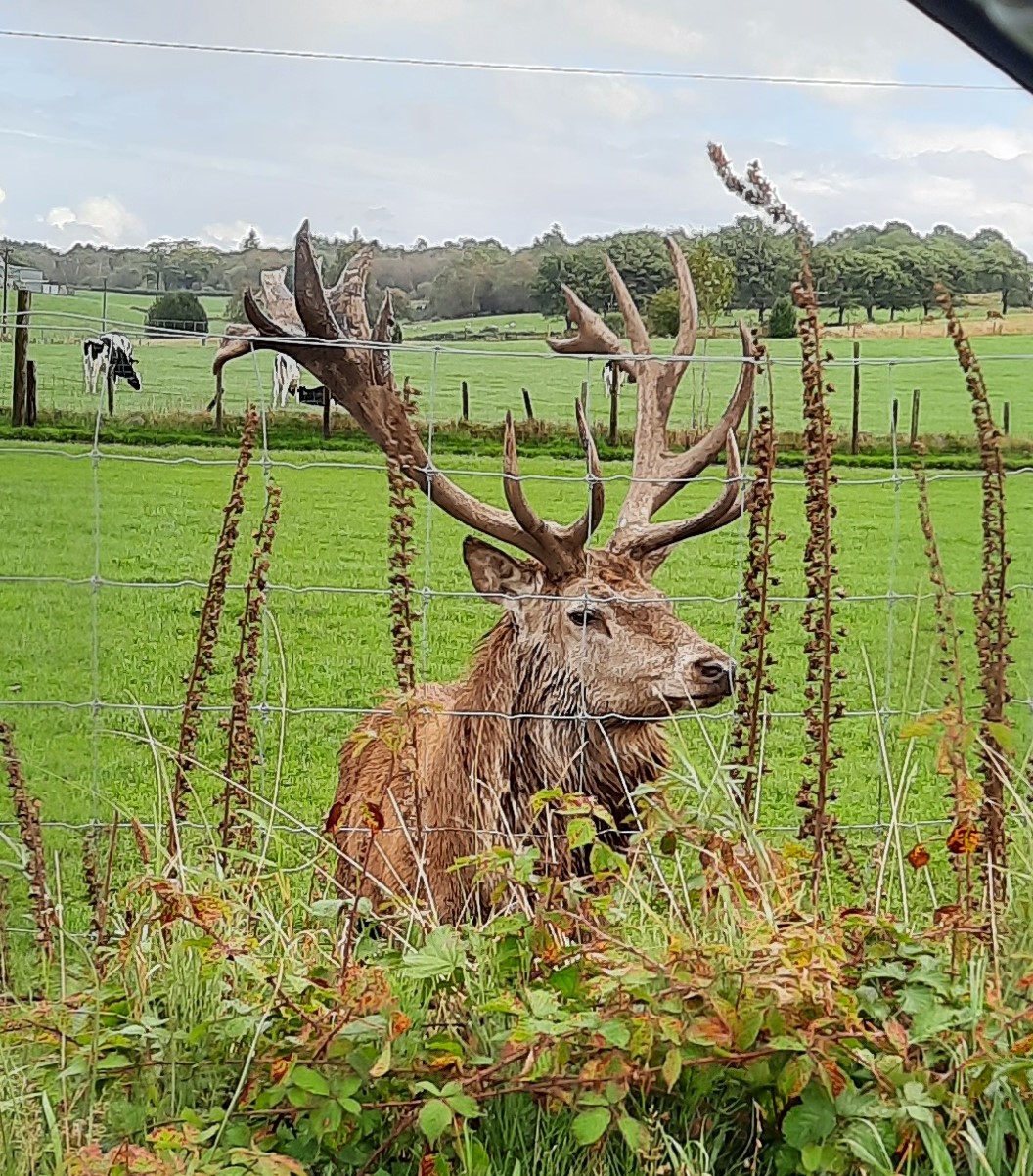 This one lifted his head to see what was looking at him before dropping it back down to continue his efforts at tearing the fence apart.

On this day: -
935 - Saint Wenceslas is murdered by his brother, Boleslaus I of Bohemia.
1889 - The first General Conference on Weights and Measures (CGPM) defines the length of a metre as the distance between two lines on a standard bar of an alloy of platinum with ten percent iridium, measured at the melting point of ice. It was originally defined as one ten millionth of the distance from the equator to the north pole, or one 40 millionth of the circumfrence of the earth.
1934 - Brigitte Bardot was born. After her retirement from the entertainment business Bardot began devoting her life to animal rights and in 1986 established the Brigitte Bardot Foundation for the Welfare and Protection of Animals. She raised millions to fund the foundation by auctioning off jewellery and personal belongings.
"I gave my beauty and my youth to men. I am going to give my wisdom and experience to animals," she said, adding: "Animals have never betrayed me. They are an easy prey, as I have been throughout my career. So we feel the same. I love them." And in reply to critism of her appearance in some parts of the Media "What could be more beautiful than a dear old lady growing wise with age? Every age can be enchanting, provided you live within it."
======================================================================

27th September

We have lots of visitors in the garden today. I don't know why but they have been wandering about the garden all week.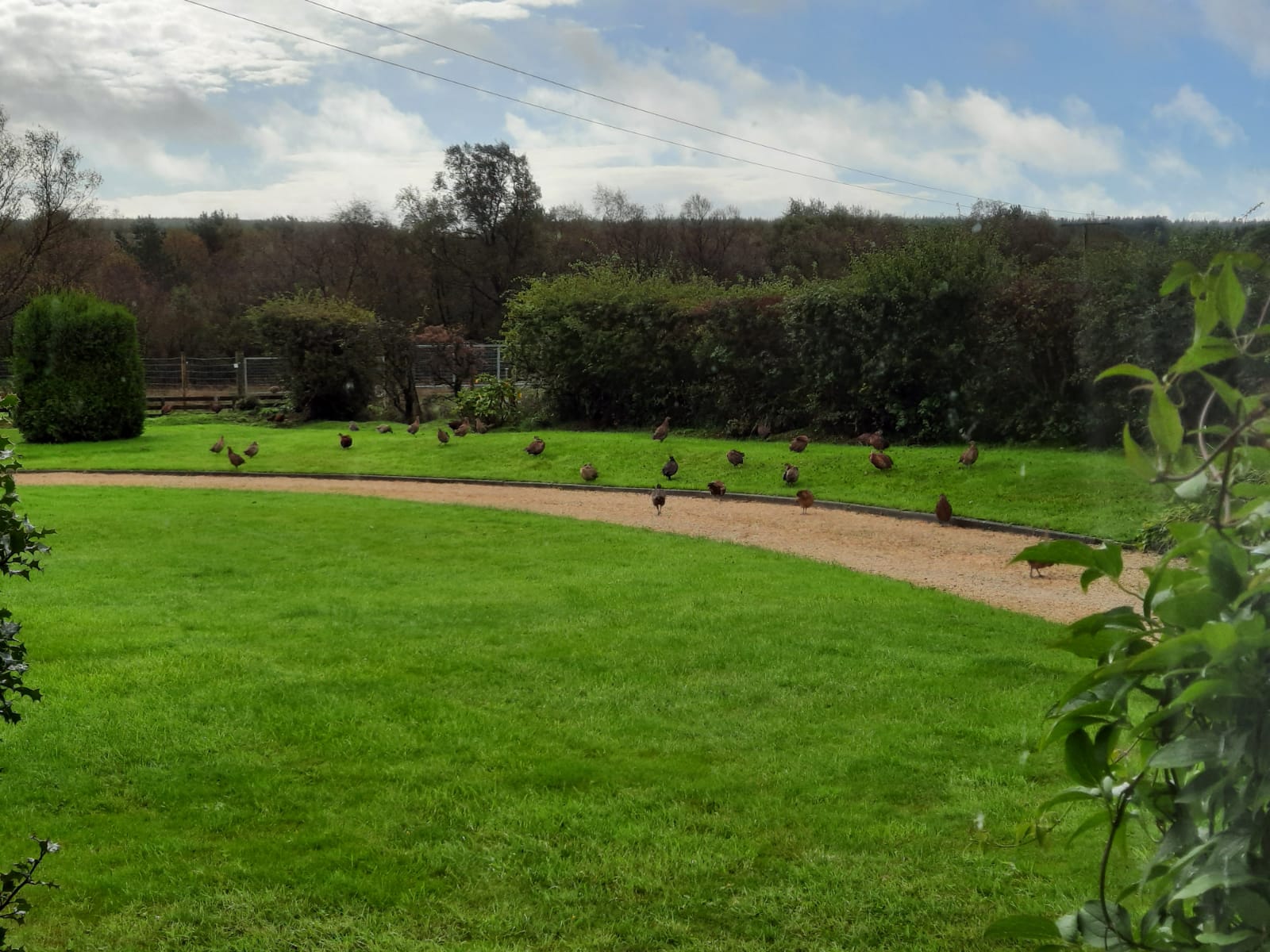 On this day: -

1825 - For the first time in history a steam locomotive carried passengers on a public railway on this day. The engine was called Locomotion No. 1 and in control was its designer, the engineer George Stephenson. It belonged to the Stockton and Darlington Railway, which operated across the North East of England. Apart from 36 wagons filled with sacks of coal and flour, the train included a purpose-built passenger coach called The Experiment. Bone-shaking and springless, the carriage resembled a shed on wheels and was occupied by various dignitaries.
The rest of the passengers stood in open coal wagons, though a few had the "luxury" of temporary wooden benches. But it was not the only railway "first": it was also the scene of the first recorded accident involving a passenger. When the horseman ahead of the train was out of the way and the train was going down a slope, Stephenson opened the throttle and his train reached the staggering speed of 15mph (24km/h). This so unnerved one passenger that he fell off and his foot was crushed by the following wagon.
1905 - The physics journal Annalen der Physik publishes Albert Einstein's paper "Does the Inertia of a Body Depend Upon Its Energy Content?", introducing the equation E=mc².
==================================================================

26th September
We have two grandchildren for the weekend! Jorja 12 and Shaw 9. We always eat together round the table and encourage conversation. Yesterday, for some reason or another the topic of dogs and puppies came up! Jorja enlightened her brother saying "I think you'll find that when dogs have babies they have more than one at a time!" This didn't faze Shaw who immeduately responded "Well how many do they have?" Suddenly Jorja was on the back foot but the conversation then drifted into the realms of fantasy. Reference was made to 101 Dalmations for instance. We resolved to investigate after dinner with the following result: -

The largest litter of puppies ever born is currently recorded at 24. In 2009, A Neapolitan Mastiff named Tia broke the Guinness world record by giving birth to 15 male puppies and 9 female puppies.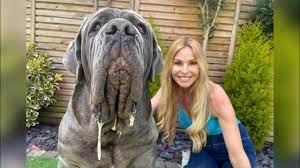 On this day: -
=================================================================

25th September

Did you know that the original oranges from Southeast Asia were a tangerine-pomelo hybrid, and they were actually green. In fact, oranges in warmer regions like Vietnam and Thailand still stay green through maturity. This begs the question - is the colour orange named after the fruit? or is the fruit named after the colour?
The linguistic ancestor to today's word "orange" was actually first used to describe the
tree
that the fruit grows on. The word's roots can be traced all the way back to Sanskrit. In that language, the word
nāranga
meant "orange tree."
Nāranga
evolved into the Persian word
nārang
and the Arabic word
nāranj
. If you know Spanish, these old words might look very familiar—the modern Spanish word for "orange" is "naranja."
As the word evolved, it eventually came to mean the fruit, not just the orange tree. Old French adapted the Arabic word nāranj as "pomme d'orenge" ("the fruit from the orange tree") or just "orenge." Speakers of Middle English adopted the phrase; the Middle English equivalent "pume orange" dates back to the 13th century AD.
The word didn't come to describe a color until almost 200 years later, making the fruit the clear winner.
In 1512, a description of the color using the word "orange" first appeared—in a rather strange place. According to the Oxford English Dictionary, the use of the word first appeared in…a will.
On this day: -
1237 - Treaty of York signed between Kings Henry III of England and Alexander II of Scotland which establishes a boundary between the two countries (mostly unchanged in modern times).
1818 - The first blood transfusion using human blood took place at Guy's Hospital in London.
1933 - The Turin Shroud, supposedly the burial cloth Jesus was wrapped in after his crucifixion, was put on display publicly on this day for the first time in 400 years. Modern carbon dating suggests that the shroud dates to between 1260 and 1390. Jesus is generally believed to have died in the year 33. And in 1979 a panel called the Turin Commission concluded it is likely that the stains are pigments, not blood.
1939 - Andorra and Germany sign a treaty ending World War I, because the Versailles Peace Treaty forgot to include Andorra.
1996 - The last of the 'Magdalene Asylums' closed in Waterford, Ireland. The asylums, for 'fallen women' and others believed to be of poor moral character, such as prostitutes, operated for much of the 19th and well into the 20th century.
================================================================
24th September
My reference yesterday to "peas aff a knife!" provoked a response from Gordon: -
I eat my peas with honey,
I've done it all my life.
It makes the peas taste funny
But it keeps them on the knife.
And my long case clock was made in Dumfries by John Paul Jones' Brother-in-Law.
John Paul was a seaman from Galloway who "sailed a bit close to the wind" and when things got too hot for him on the Solway and generally in Europe he went to America and added Jones to his name. His sister married a clock maker in Dumfries.
Gordon is correct in relation to the man's history; Born simply as John Paul at a small cottage in Scotland in 1747, his father was a gardener, but early in life the boy felt the call of the sea and he joined the British Merchant Marine (note the "marine" bit! not the Navy at that time as pointed out by Gordon twice!) at the age of 13, starting as a cabin boy. He was a merchant shipmaster by the age of 21.

Five years later, in 1773, acting in self-defence, he killed a mutinous sailor on the island of Tobago. Doubtful that he would be given a fair trial, John Paul fled to America and to conceal his identity changed his name, first to John Jones and later to John Paul Jones.
Yesterday while doing my triage at Bonnybridge I noticed a curious phenomenon. All of the donors who arrived at their alloted appointment time were wearing masks. I would welcome them and then proceed to ask the questions. The responses were not always audibly clear (because of the masks) and often consisted of not much more than "mmph". Indistinguishable yes from no! The curious thing is that somewhere in the region of 60-80% of them actually nodded their head while saying no!!!!
weird!
On this day: -

1657 - 1st autopsy and coroner's jury verdict is recorded in Maryland.
1842 - Bramwell Bronte, brother of the Bronte sisters, died of drugs and drink. He was the model for the drunkard Hindley Earnshaw in Wuthering Heights.
1890 - The President of the Latter-day Saints Wilford Woodruff issues a manifesto advising members that the teaching and practice of polygamy should be abandoned.

spoilsport!

1993 - The movie "The Program" premieres. Over the next few days a teenager is killed and several other teenagers are injured while trying to imitate a scene from the movie showing kids lying in the middle of a road as cars pass by. Disney then cut the scene from the film.
(This stunt was performed by trained professionals in a controlled environment and should not be attempted. Just in case you felt you'd had enough of the grandweans)

===================================================================
23rd September
I won't be at the meeting today. I have given my apologies to President Narek. I will be at Bonnybridge Community Centre, for St John Scotland, doing triage for the Scottish National Blood Transfusion Service Donor session there. There are two sessions, one at 13.00 - 1600 and one at 17.30 - 19.00. I will be suited up in a plastic pinnie gloves and mask and positioned at the main entrance. Since the beginning of the pandemic donors have been required to make appointments. There are normally about 4 - 6 donors every 10 minutes. Between the two sessions there will be about 150 - 180 donors each of whom will be asked in turn: -
In the past 10 days have you


Experienced a persisitent cough?
Experienced a loss in the sensation of taste or smell?
Had a raised temperature? (I will also take their temperature with a remote thermometer)
Been in the company of anyone with Covid 19?
If the answer to any of these questions is "yes" then they are assessed by the resident medical staff and dealt with accordingly.


Have you ever had the virus yourself?

If yes - how long ago (Need to have 30 days without symptoms)

if no - that's fine

Have you been vaccinated?

If so when was the last time. (If it was less than 8 days ago then they get sent home, otherwise: -)

You will be asked to remove your mask while donating, If you are comfortable with that then carry on into the session.
After a wee while it just rolls aff the tongue like peas aff a knife! The reasoning behind St John becoming involved is that it leaves qualified staff free to be doing what they do best.
On this day: -
1338 - The first naval battle of the Hundred Years' War between England and France took place On This Day. It was the first naval battle using artillery, as the English ship Christofer had three cannons and one hand gun.
1641 - The Merchant Royal, a 17th century English merchant ship was lost at sea off Land's End. On board were at least £100,000 of gold (nearly one £billion in today's money), 400 bars of Mexican silver and nearly 500,000 pieces of eight and other coins, making it one of the most valuable wrecks of all times. The wreck remains undiscovered.
1779 - During the American Revolution, John Paul Jones on board the USS Bonhomme Richard beat British forces at the Battle of Flamborough Head (Yorkshire). It became one of the most celebrated naval actions of the American War of Independence. On being asked by the captain of the British ship HMS Serapis to surrender, Jones replied famously "I have not yet begun to fight!"

1889 - Nintendo Koppai (Later Nintendo Company, Limited) founded by Fusajiro Yamauchi to produce and market the playing card game Hanafuda.
2019 - The collapse of the travel firm Thomas Cook triggered the biggest ever peacetime repatriation, codenamed Operation Matterhorn. 600,000 Thomas Cook customers were on holiday at the time, of which 150,000 were British. The company was the first travel agency and was founded by Thomas Cook, a Baptist cabinet maker, on 5th July 1841. The first official 'Cook's Tour' involved almost 600 teetotallers taking the train from Leicester to Loughborough to attend a temperance meeting.
=================================================================
22nd September
So I was wrong! We haven't stopped our Zoom meetings. I have been encouraged by a response by one member to resume here until we are meeting regularly again. In the same response I was encouraged to find that our members have, without any prompting from me, continued donating to the foodbank. So! one day later than normal I would remind you that if you haven't already done so, it's time for you to donate what you can for the benefit of the Foodbank. You will have had a notification from me on the "News" page that President Elect Linda has been busy again.
I have been listening to the debates recently concerning the COP 26 meeting, Climate change and whatever else. Is it not ironic that in the face of all of that, the British Government is offering financial incentives to a couple of companies to continue producing Carbon Dioxide????
Sorry about that I try not to do polititics here!
Quite recently I posted a picture of a wishing well at the Garden Centre at Old Inns. The other day I was up the "Toonie" (that's what the locals call the Town Centre shopping complex in Cumbernauld) and I noticed this: -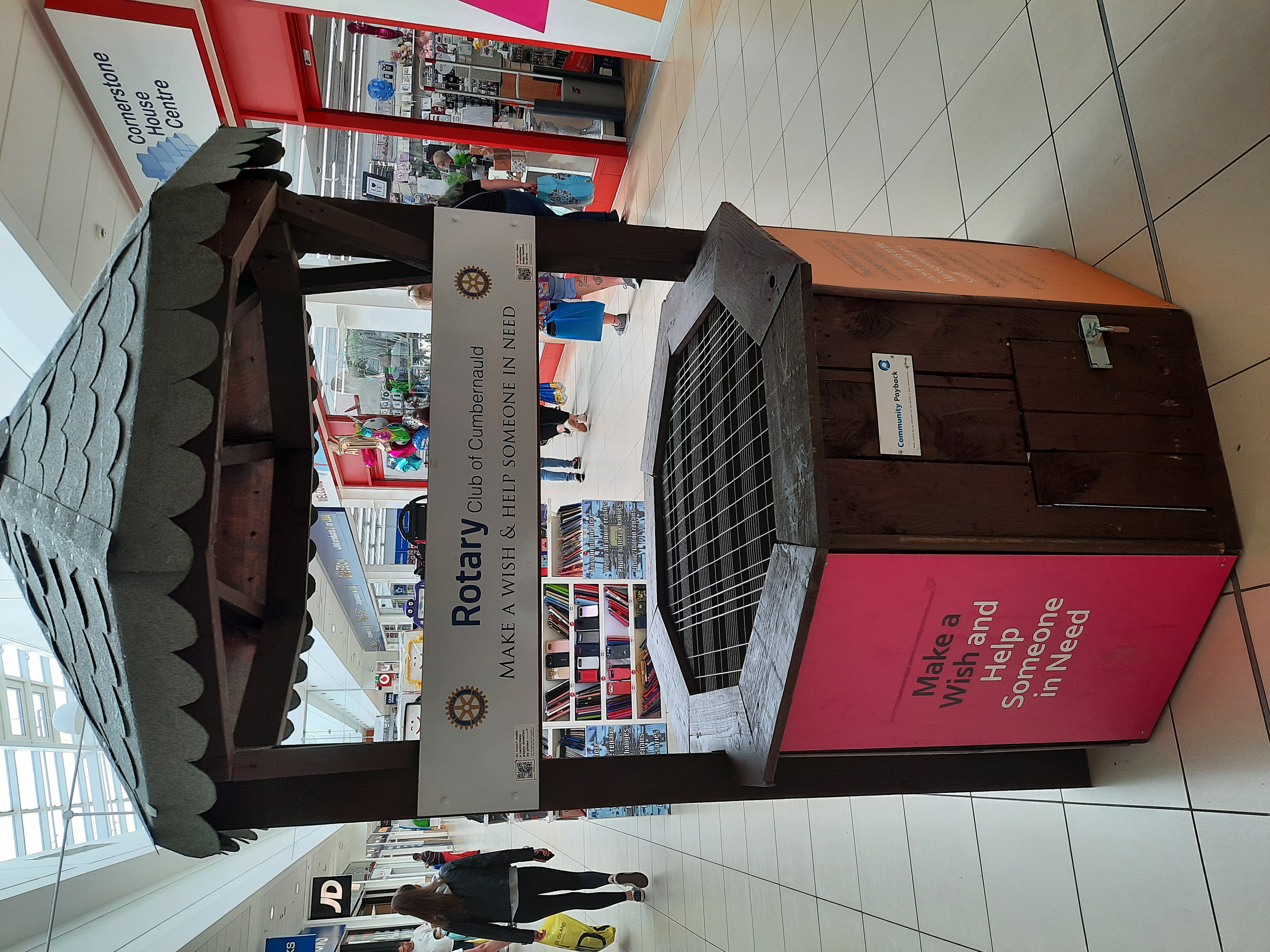 DID YOU KNOW?
The 'SR' in the name of the toothpaste referred to sodium ricinoleate, its active ingredient, which is the sodium salt of ricinoleic acid, the principal fatty acid derived from castor oil. Though the name was changed in the 1990s to Mentadent SR, the product continued to be marketed worldwide by its owners, Unilever, until 2018 when it was discontinued.
On this day: -
1735 - Robert Walpole becomes the first British "Prime Minister" (actually First Lord of the Treasury) to live at 10 Downing Street.
1955 - The first ever advertisement on British television appeared on this day. It went out at 8.12pm during a broadcast from London's Guildhall of a dinner to celebrate the launch that day of the Independent Television network (ITV). Until then the BBC held an uncontested monopoly on broadcasting. That first TV ad was for Gibbs SR toothpaste – a product described as "tingling fresh". To reinforce the message, the ad showed a tube of the toothpaste enclosed in a block of ice in a shimmering stream. TV presenter Alex Macintosh announced: "The tingling fresh toothpaste that does your gums good too. It's tingling fresh. It's fresh as ice. It's Gibbs SR toothpaste."

It was not only the first TV ad, it was also the first ad to use trickery. Brian Palmer, then a 26-year-old advertising executive who wrote and produced it, admitted years later that although a block of ice was used in the long shots, the "ice" was in fact plastic for closer work.

=================================================================
3rd September.
It has now been 18 months since I first began posting here. Yesterday saw the last of our regular Zoom meetings and we start back in the Park Hotel next week. The original intention here was to try and keep us together and interested. I hope that I might have had a modicum of success at that but now that we are able to interact socially there is no longer the need for this. So I will take my leave of you
(only on this page you understand)
and wish you all and our Club well for the future
So long, farewell, auf Wiedersehen, goodbye!
I leave and heave a sigh and say goodbye -- Goodbye!
==================================================================
2nd September
Yesterday's Andrew updates as follows: -
More chat today, still confused, but starting to remember a bit more. He remains in ICU just keeping a close eye on him. The hope is that he can move to cardiology within the next few days. Still making great progress.

Cardiologist came to see Andrew late this afternoon all going well he's scheduled to be fitted with an IED (implantable defibrillator) his response was "ya dancer"
That's great news but I always thought that an IED was an "Improvised explosive device" used by terrorists.
On this day: -
1666 - The Great Fire of London begins at 2am in Pudding Lane, 80% of London is destroyed. As the fire spread and raged for four days, 80 per cent of London's buildings were claimed by the flames. They included over 13,200 houses, 87 parish churches, 52 Livery Company halls, the Guildhall, the Royal Exchange and St Paul's Cathedral. In the words of the great diarist Samuel Pepys: "Medieval London is now all in dust." Miraculously there are only six recorded deaths.

1945 - World War II officially ended when Japanese officials, aboard the USS Missouri in Tokyo Bay, surrendered on behalf of their country.
1992 - Bobby Fischer and Boris Spassky begin their controversial $5,000,000 chess rematch. Fischer won a month later, 10 games to 5.
1993 - A five-hour standoff between Maryland police and a man who had killed his girlfriend is ended when a 3-foot tall remote-controlled robot enters the armed man's home and disables him with a water blast, allowing the police to enter.
===========================================================
1st September again,
I have just logged into the bank and finalised the totting up for the Charities' Day. Since the day itself I have received a number of donations and add ons and the totals end up as follows.
Bottle Stall £ 919.78
Sight Savers £ 70.88
Wateraid £ 56.43
Total £1,042.09
============================================================

1st September
I got this last night: -
Hi! its Suzanne here. Louise and I are just back from seeing Dad. He's still doing really well off the ventilator and has managed to have a little to eat and drink. He is full of cheek and I asked him why he put his mashed potato in his soup and he said "do you not put potato in your soup like". Fair point Dad. Such a huge improvement.
Shop on AmazonSmile at https://smile.amazon.co.uk/ch/SC013426, and Amazon donates to Rotary Club Of Falkirk Trust Fund, at no cost to you.
On this day: -
================================================================
31st August #3
And this: -
Met with the cardiologist they still don't know why this happened. As soon as it's possible they'll move to a cardio ward and more investigation maybe some kind of pacemaker. He's very confused and short term memory is not good but he was able to be a bit cheeky!
31st August #2
This from Gillian: -
Amazing news off the ventilator sitting up can't understand yet time or why or how. Best result his nurse has ever seen thank you everyone your prayers, love and positivity has made a huge difference to Andrew and me.
===========================================================
31st August
Gillian has established a Whatsapp group to which she sends updates about Andrew.
Yesterday she said: -
Andrew is responding really well. They reduced sedation and amount of ventilation. He was awake and knows where he is. They've increased the sedation again as he's a bit agitated. This is amazing the best possible step forward in the right direction- about 10% of patients admitted from out of the hospital respond like this. Much more positive today. I'll let you know more later.
And then later: -
Just back still doing well, blood pressure is up so increased sedation and ventilator to help with that. Had echo scan no detail on it yet hopefully tomorrow .
All really encouraging then.

On this day: -

1986 - Television presenter Paula Yates was married on this day to pop star Bob Geldoff. What neither of them knew at the time was that Jess Yates, the presenter of a religious programme called Stars on Sunday, and known affectionately as "The Bishop", was not Paula's real father.
That honour fell to another television presenter – Jess's good friend Hughie Green, who hosted Opportunity Knocks, the forerunner to today's popular tv talent shows across the world.
The fatherhood revelation exploded like a bomb at Green's funeral in 1997. Noel Botham, a former journalist and drinking friend of Green's, stunned the congregation when, in a eulogy, he announced that Paula, one of Britain's most famous celebrities was actually Green's love-child.
1994 - The Pentium computer defeats Gary Kasparov.

1997 - Diana dies in a car crash in a road tunnel in Paris.
==============================================================
30th August
Gillian says : -
Andrew is stable and they have confirmed yesterday afternoon that it was not a clot but probably a heart issue. An abnormal heart rhythm that didn't pump properly that caused a cardiac arrest. They are also treating an infection in his lungs. He will have an ECHO today and that will tell them more about any damage to his heart. She promises to keep us updated.
Then Gillian's son came across this: -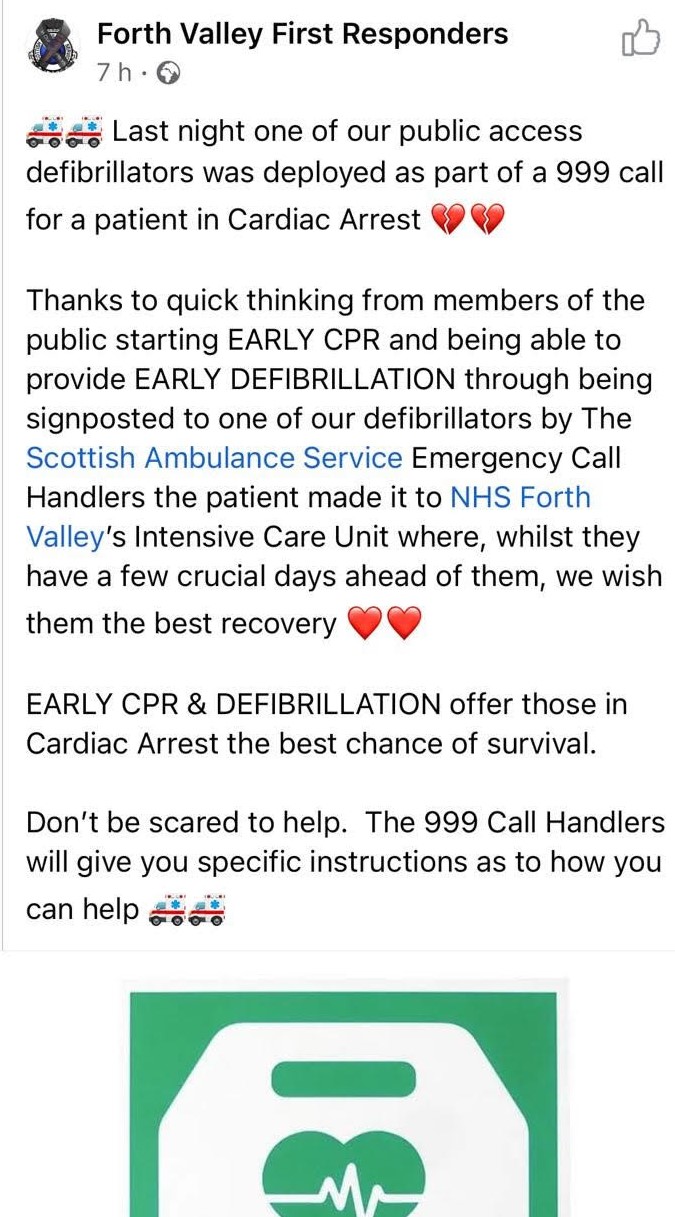 Isn't it Ironic that Andrew was, this week, to begin the process which would lead to him being CPR coordinator for St John Scotland Central Area.
On this day: -
1146 - European leaders outlaw the crossbow, intending to end war for all time.
1791 - The British Ordnance Survey (mapping agency) was founded. As its name would suggest the topographic mapping was done for military purposes initially in an effort to maintain superiority of the English troops over the Scottish clans.

================================================================
29th August
Really sad news about Andrew today. We can only wait and see what transpires.
Yesterday I got a negative result from my PCR test so was able to go to the BBQ. Too many other kids about for any meaningful photography. This is my son in law and youngest grandchild having a go at the archery.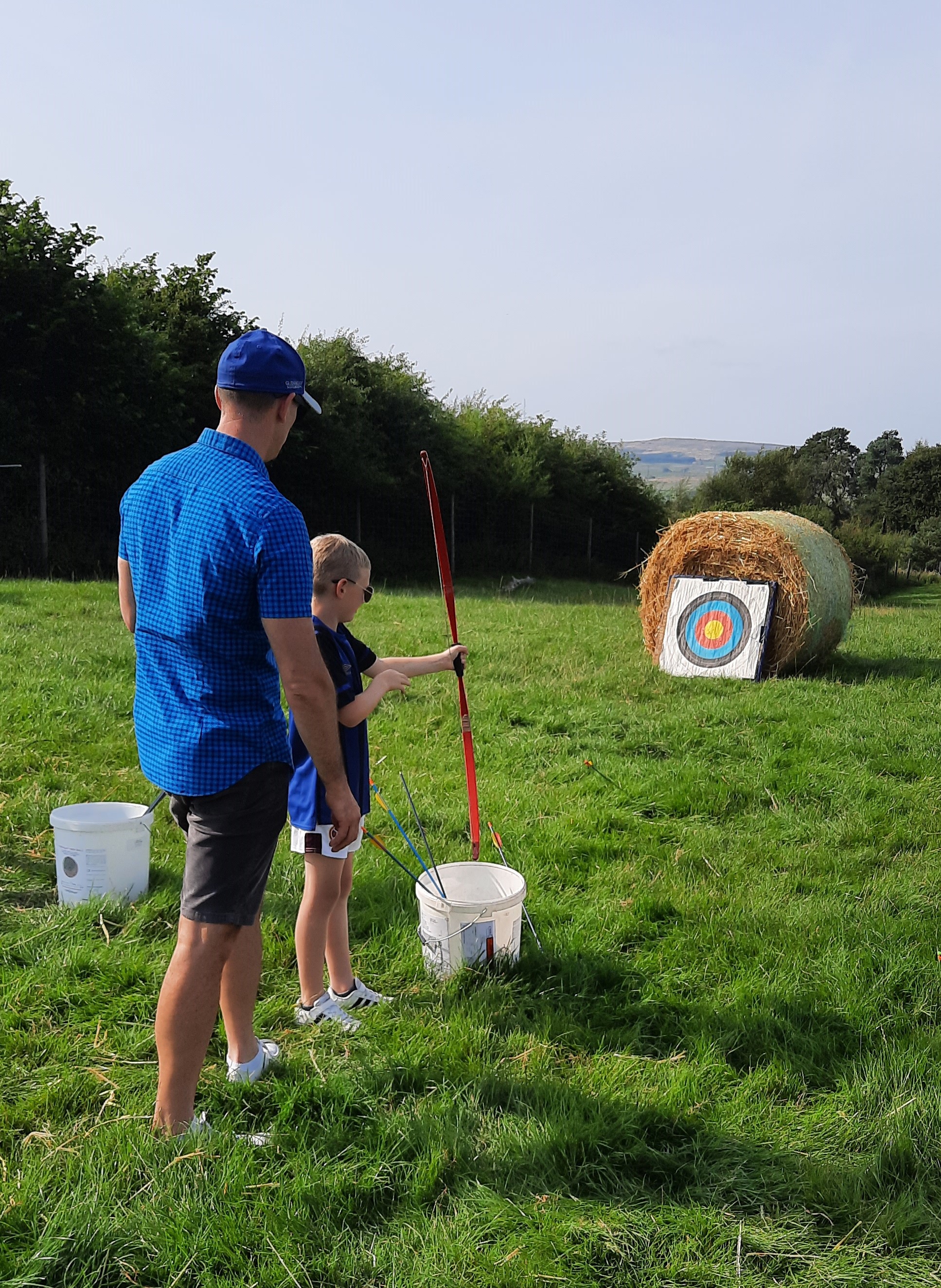 And I was intrigued with this group of year old deer congregating underneath the only tree for miles!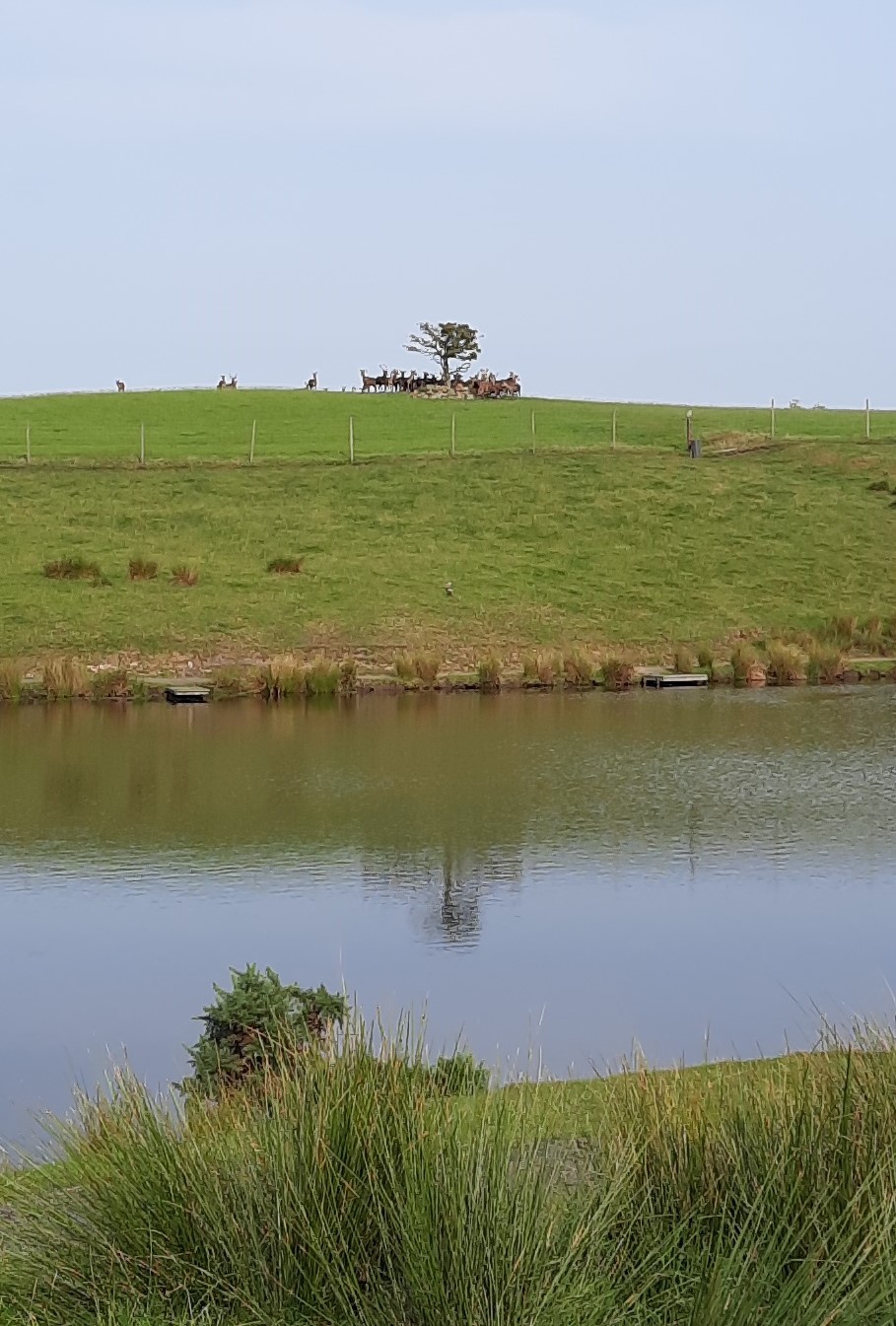 On this day: -
1833 - The United Kingdom's historic first Factory Act became law on this day – and it was much needed. By today's standards the reforms were modest and in any case applied only to the textile industry. The principal provisions of the Act declared that:

* Children under the age of nine must not be employed in textile factories.
* Children between the ages of nine and thirteen must not work more than eight hours and must be provided with an hour lunch break.
* Children between the ages of nine and thirteen could only be employed provided they also had two hours of education each day.
* Children under eighteen years of age must not work after 8:30pm and before 5:30am.
* Children between the ages of fourteen and eighteen must not work more than twelve hours a day and they must also be given an hour lunch break.


No rules were put in place to protect adult male workers, and only four factory inspectors were appointed to enforce the law across the whole country!
1883 - Seismic sea waves created by the Krakatoa eruption create a rise in English Channel 32 hrs after explosion.
1895 - Eleanor Rigby was born! A tombstone with the name Eleanor Rigby is in the graveyard of St Peter's Parish Church in Woolton, Liverpool, where Paul McCartney and John Lennon spent time during their teenage years sunbathing. Just a few yards away from Rigby's tombstone is another with the name McKenzie on it. The names Eleanor Rigby and Father McKenzie were used in the Beatles' 1966 hit song, Eleanor Rigby, written primarily by McCartney. While McCartney claims he just made up the names for the song, he says the coincidence could be a product of his subconscious.
==============================================================
28th August.
Yesterday I transported a patient from the Renal Unit to his home in Falkirk. I got a text from him soon afterwards to tell me that he had just been told that he had tested positive for Covid. Then I got an email from the Renal Unit saying the same thing. I booked a PCR test last night and am testing regularly with the LFT kit.
All of this in an effort to allow me to attend my neighbour's annual Staff BBQ this afternoon.
E&O hold the event every year although they didn't last year for obvious reasons. There will be the BBQ of course but there will be Clay pigeon shooting, Archery and a bouncy Castle for the kids. There might even be a Fly casting competition, who knows? it will be like a mini game fair.
Here
is the latest Screen Memories and
here
are the answers.
On this day: -
1837 - Pharmacists John Lea & William Perrins manufacture Worcestershire Sauce.
1850 - The first performance of Richard Wagner's famous opera Lohengrin is given by Franz Liszt.
1963 - Martin Luther King Jr. delivers his "I have a dream" speech at the Lincoln Memorial Washington DC.
1992 - A man in USA had his 1962 Corvette which was worth $1,300 stolen in 1971. On this day in 1992 he recovered the car which was then worth $25,000.

=====================================================================
27th August
Yesterday was a monumental day! It was decided that we would return to our regular meetings at the Park Hotel on Thursday 9th September. That's 19 months after we stopped doing so.
Also Yesterday I popped my laptop into JTec because it was becoming terribly slow and often just refused to do anything. My hard drive was goosed apparently! I now have a new hard drive which is twice the size of the last one and it literally flies! Whoopee!
And then there was the result of my biopsy. I have prostate cancer and will as a result require to undergo some form of treatment which is to be decided at a meeting of the various disciplines next Wednesday. There is a possibility for either surgery or radiotherapy but I don't know which yet. Consequently you may be hearing a bit less from me after next week. "Whoopee" I hear you say.
Anyhow that won't deter me in the short term.
On this day: -
1883 - Krakatoa, a volcano, west of Java in Indonesia, erupts with a force of 1,300 megatons and kills approximately 40,000 people.
1896 - Britain defeats Zanzibar in a 38-minute war (9:02 AM-9:40 AM). Shortest recorded war in history.
1928 - Kellog-Briand Pact, 60 nations agree to condemn 'recourse to war for the solution of international controversies'. What happened????
If you are more fortunate than others it is better to build a longer table than a taller fence.
anon
========================================================================
26th August
I am getting all nostalgic now. We watch a lot of those antiques shows on the tele. Fairly often they will come across a thing like a sugar shaker that is actually a "Pounce shaker". All of a sudden I am reminded of the breadth of media that I have experienced during my career. By "media" I mean the plural of "Medium" and by "medium" I mean the thing that I have used to display the product of my profession at different times.
Initially, when I began in Wilson and Wilson in 1961 by far the biggest part of my work consisted in the production of Deed Plans. These were drawings that would be attached to a Title Deed displaying the nature location and size of the subjects being "disponed" in the "Disposition". Invariably they would be headed "This is the plan referred to in the Foregoing Disposition" or "...Foregoing Excambion." If there was to be an exchange rather than a sale.
I would, with others, require to visit the subject property and measure the extents of what was being sold. I would then require to access a library of Ordnance survey maps held within the office and trace onto the Plan the location of the subjects. This part would be a quite a small scale maybe 1:1250 or 1:2500. Then I would draw what I had measured at a larger scale of maybe 1:200 or thereabouts depending on the size of the area.
The point of all of this is that we had in front of us at the time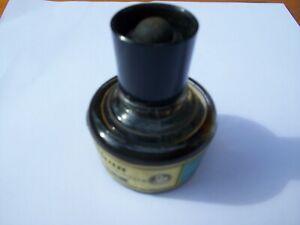 several bottles of ink in varying colours, primarily black but also yellow, green brown blue and most importantly red. The red ink was to outline the extent of the subjects and the other colours identified, common areas, rights of way and the like.
These inks would be applied to a "ruling pen"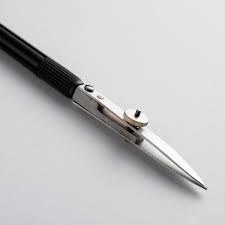 This would be done by the little rubber bulb on the top of the lid of the ink bottle pushing ink through a dropper between the blades of the pen. The width of line that one could draw was altered by turning the wee screw on the nib. The drawing would be prepared on "Linen". This was a fine linen that had been starched and was obtained in a roll from which sufficient would be cut for each drawing. I can still remember the regulation size - 14
7
/
8
" x 9
3
/
8
" with a 2" border all the way up the left hand side for binding. The surface was glossy! And this is where the pounce came in! Pounce is nothing more than finely ground chalk which when applied to the linen after drawing absorbed the excess ink and prevented smudging. Kind of like blotting paper.
The only way that one might correct errors in this process was by finely picking the ink from the surface of the linen with corner of a 7 o'clock razor blade. Now who remembers them?
============================================================
25th August
It was 46 years ago that we came to Muir Rig. We had been married 7 years beforehand and had begun our married life together in Cumbernauld. Four or five years later we moved to Stenhousemuir to a brand new detached three bedroom house with an attached garage, Proper yuppies we were! Then for some reason or another we upsticks, buy a residential caravan and park itg in a field with a derelict cottage in it. Over the next 18 months we would proceed to build the Muir Rig that we know today. Peter was three and Wendy only one.
One of the first things that we did was plant a Rowan berry in the ground just to the north of what was to become our living room window.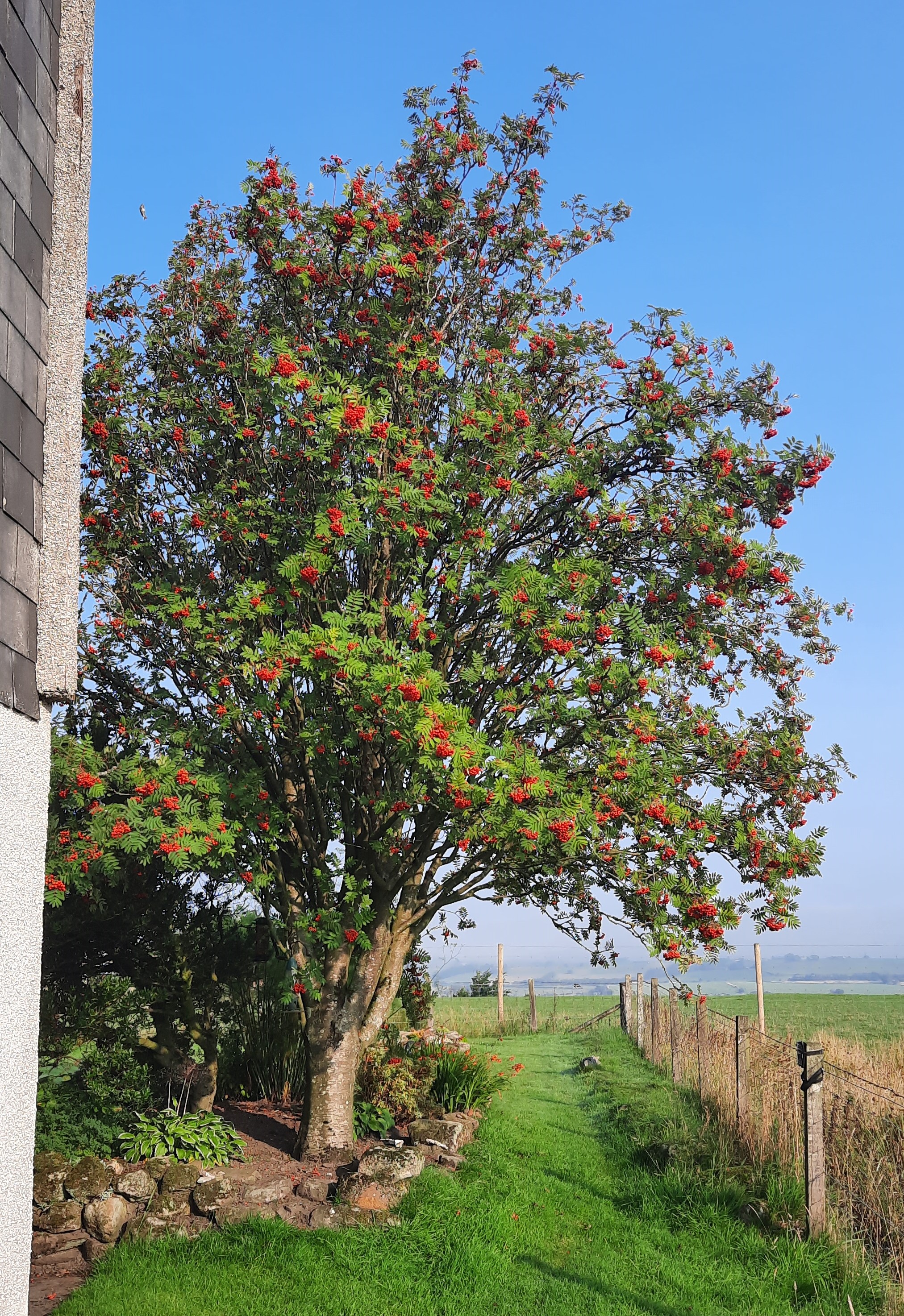 We watched that rowan grow over the years, Rowans are supposed to keep witches at bay. "Stuff and nonsense" I say! But do you know the peculiar thing? In all of these 46 years we have never at any time been bothered by witches!!! Creepy intit?
24th August #2
It's amazing how things happen out of sync. I should have delayed my blog today and included the following: -
Firstly from Judy Johnston.
Judy phoned me this afternoon to ask me to pass on to the Club her grateful thanks for the cards kind words and support that she received from Club members during the run up to the funeral and on the day itself.
Then I got this from David: -
Hi Sandy,

I met with Helen Mochrie on Sunday and she was able to tell me that Ronald got home last Thursday. All of the necessary work in their house was completed (hoists, hospital bed, shower room, etc.) and they are both delighted that he is back home. Naturally, I sent our best wishes from everyone at the Club. Helen reads all of the emails (mostly from you) which relate to Rotary and relays these on to Ronald.

Helen passed me an envelope which I haven't opened yet which contains a donation in relation to Charities day as she wasn't able to get along.
And then this from Gordon: -

Sandy,
It must be that day in the year again. Four ants nests producing lots of winged ones with the remainder rushing around madly. I was alerted to this by the sight out of the window of a hen blackbird pecking energetically at the ground and then leaping about pecking at herself, presumably because she had been invaded by ants.
Stay safe.
============================================================

24th August
It's 24
o
C outside at present. Really warm. I've just returned from Falkirk having banked the proceeds of the Charities' Day. I went yesterday but arrived there at 16.02 to discover that they shut their doors at 16.00.
I have a great wee italian recipe book and with some of the stuff that our neighbour gave us we had Minestra con zucchini for dinner last night. OK it's just a plate of soup but it is very filling. Vegetarian too; well it would have been if I hadn't made it with a chicken stock.
Here
is this week's Screen Memories Quiz and
here
if you need them are the answers.
George tells me that Ian McPherson from Grangemouth Rotary Club died on the 8th August. I was surprised that it was not circulated via District. I don't know anything else.
On this day: -
79 - Believed until 2018 to be the date of the massive eruption of Mt. Vesuvius which buried the cities of Pompeii, Herculaneum, Oplontis and Stabiae, killing untold thousands. Latest evidence suggests the eruption took place on October 17th.
1482 - he town and castle of Berwick upon Tweed were captured from Scotland by an English army. The border town has remained English ever since.
1947 - The first Edinburgh Festival was held.
1975 - The first ever nude performance in a British opera took place at Glyndebourne.
================================================================
23rd August
I have just had another visit from my ever so generous neighbour - This time Marrow, Curly Kale, Cavolo Nero, Courgette, Cucumber, Swede, Potatoes and eggs.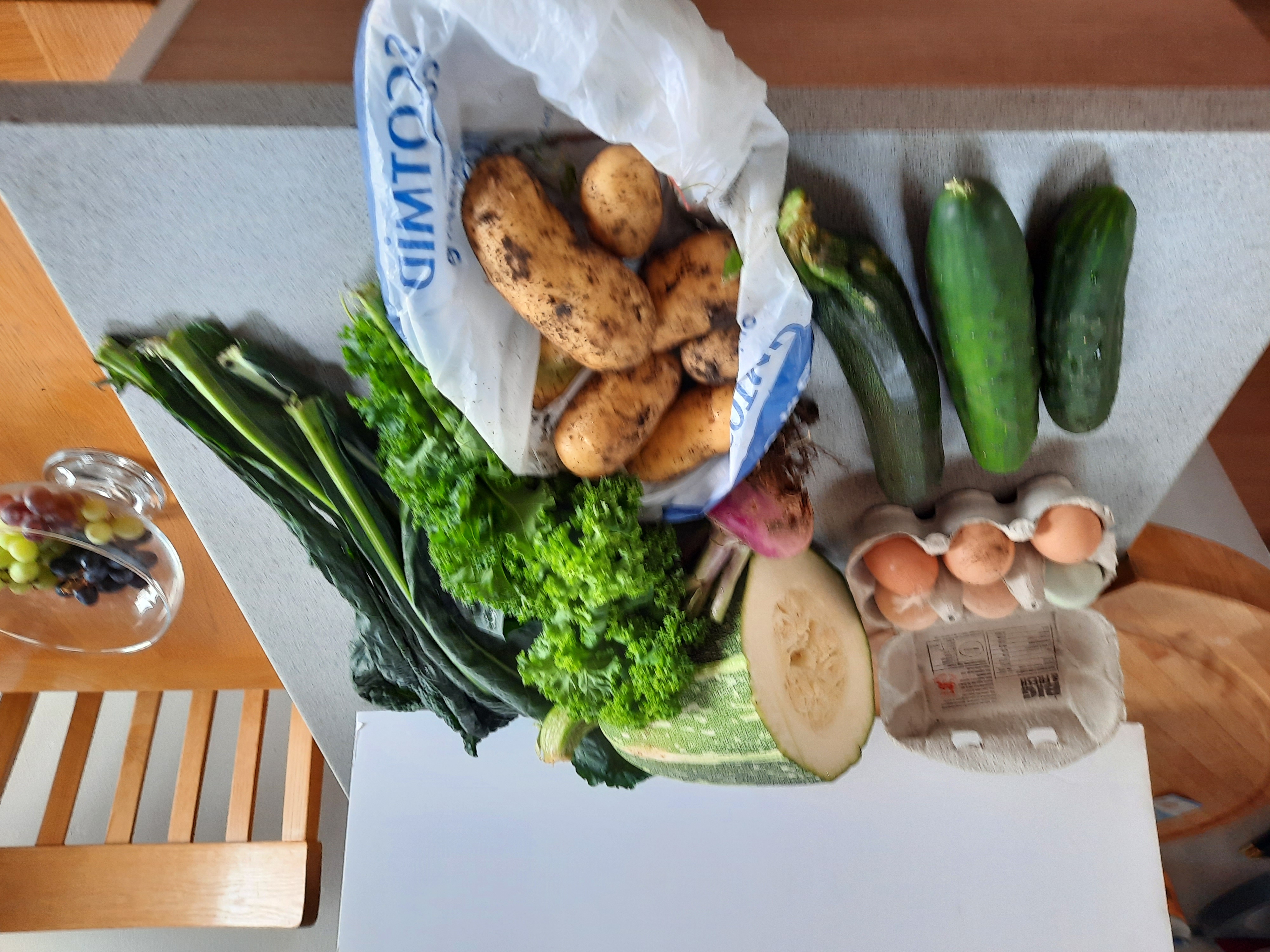 And then later - this! An absolutely enormous cauliflower!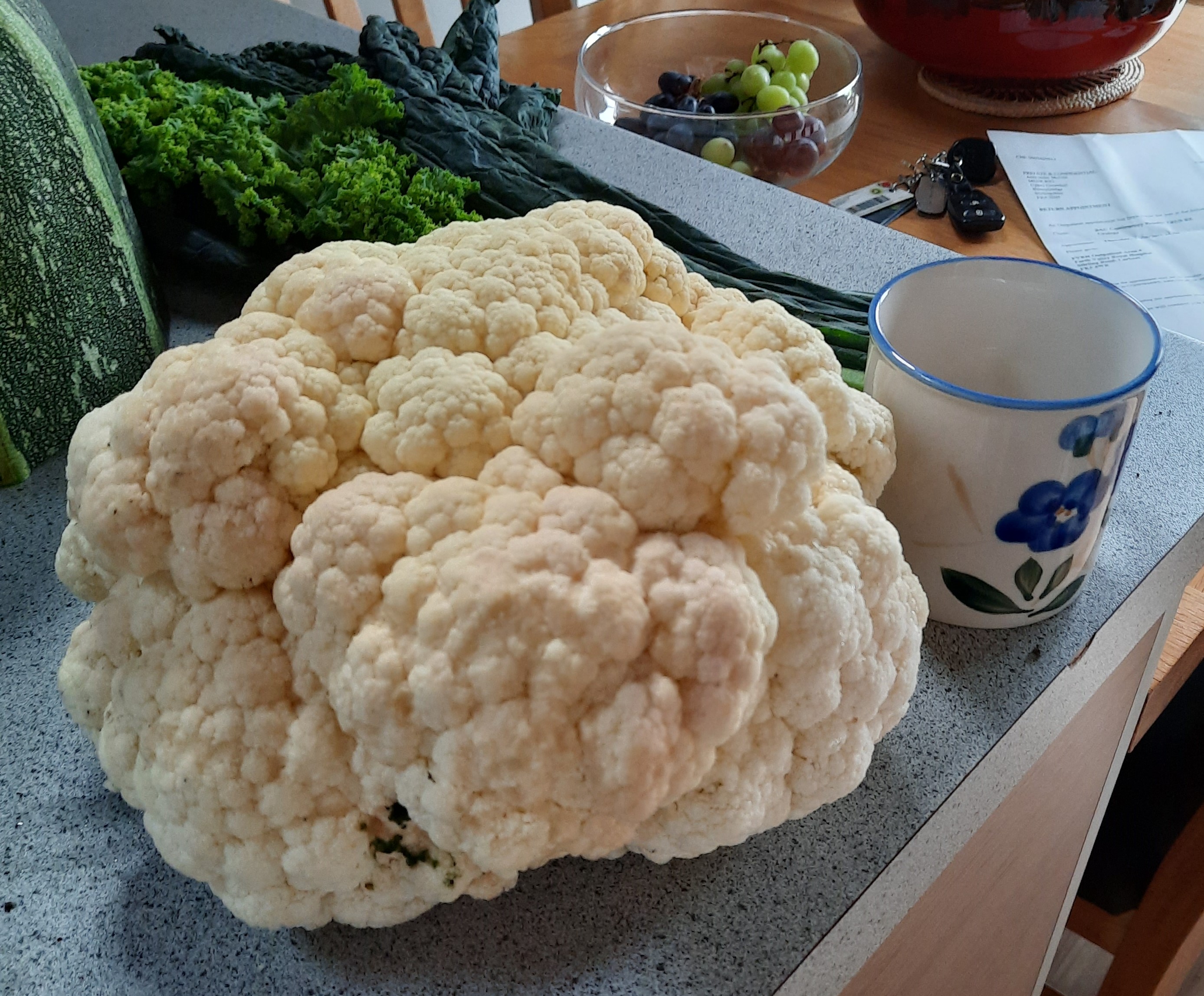 Anne Watson has let me have this: -
"Hi Sandy
You mentioned pre-fabs some time ago and it brought back memories of long ago which written down don't seem as interesting as in my head but here they are.
After WW 2 local authorities were pressed to build social housing to give employment and to house families from poor housing.We were in Stirling County as opposed to Falkirk Burgh which had its own house building projects in Cameron and Windsor Road
I lived with my family in a country cottage with no gas or electricity and a single cold tap in the scullery, by 1948 we were a family of 5, all cooking done on a coal fired range and water heated in a copper in the scullery When we were given a new build house in Shieldhill life changed dramatically especially for my mother, we had electricity and a proper bathroom with hot water It was a very happy home. Many of our neighbours came from the demolished miner's rows. There were several types of houses, traditional, timber and what all the children wanted, pre-fabs which had a fridge so you could have ice cream anytime not just when the van came round.
The pre-fabs were an amazing use of space and although they were meant to be temporary they lasted for many years and were much loved by the people who lived in them
I thought this might interest you professionally. The houses are still in good condition after 75 years. I visit my childhood friend and neighbour and the house is very little changed although many are owner occupied now."
Regards
Anne
On this day: -
=================================================================
22nd August #2
Some more photographs courtesy of Bob Spears: -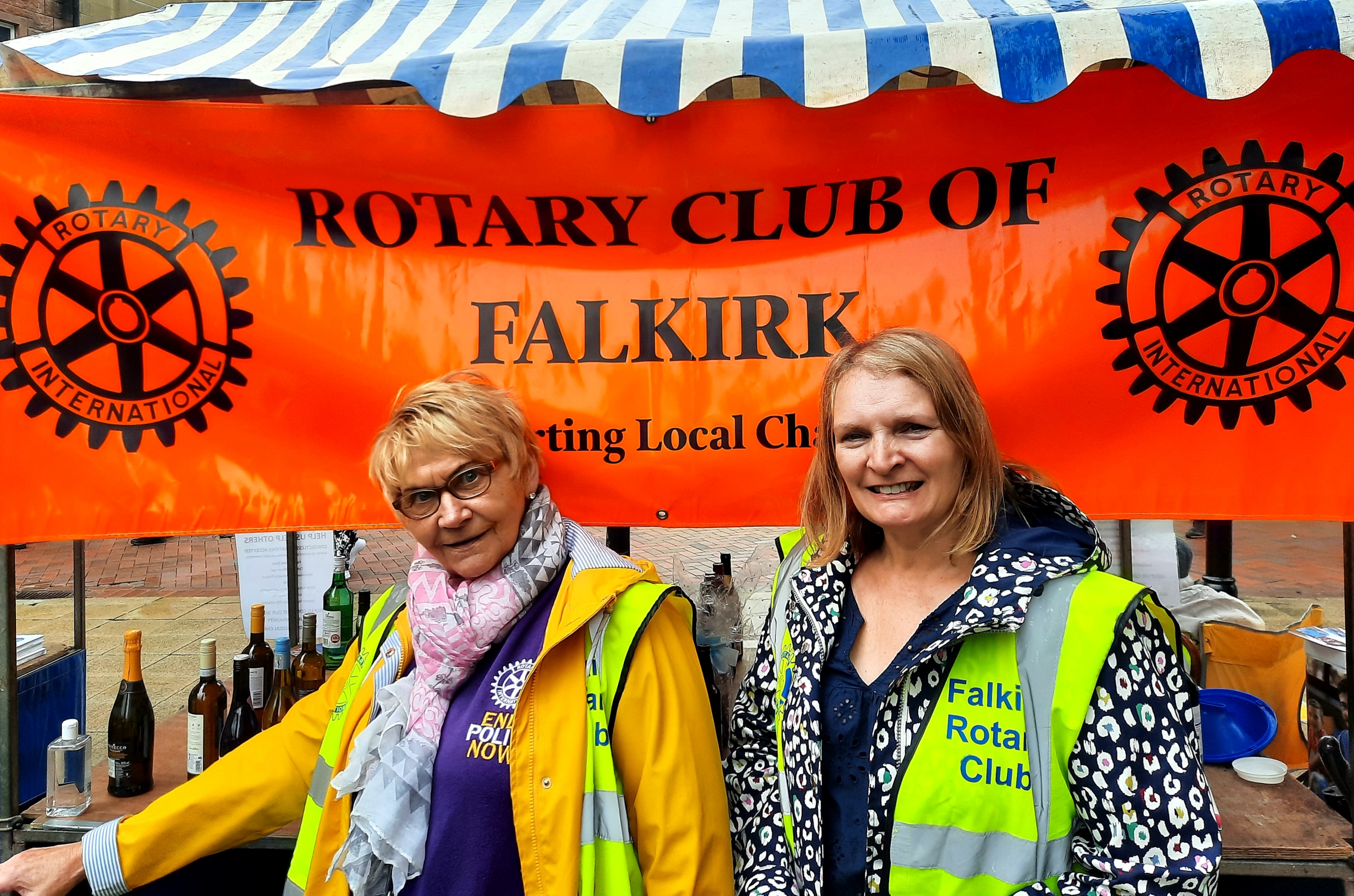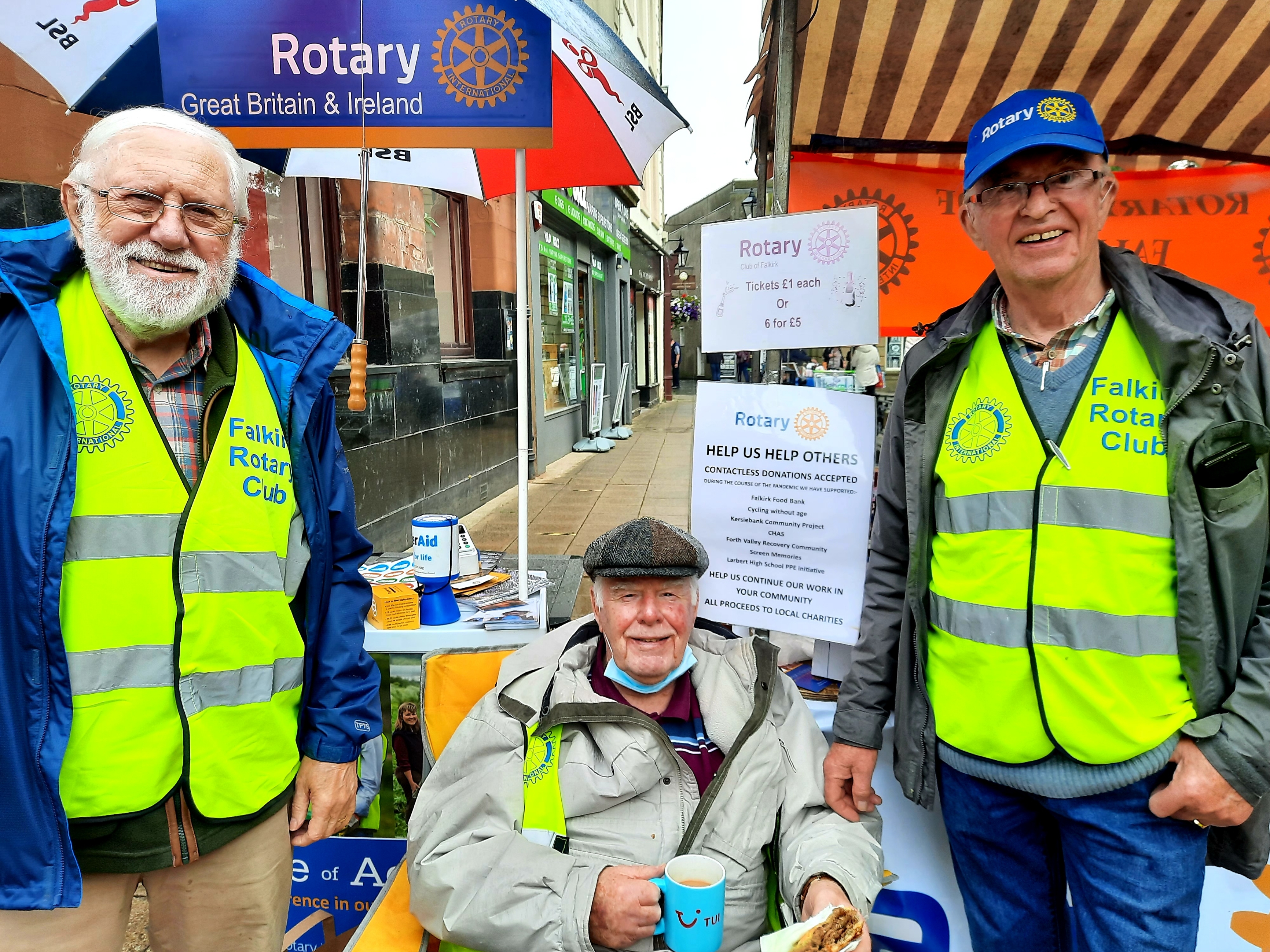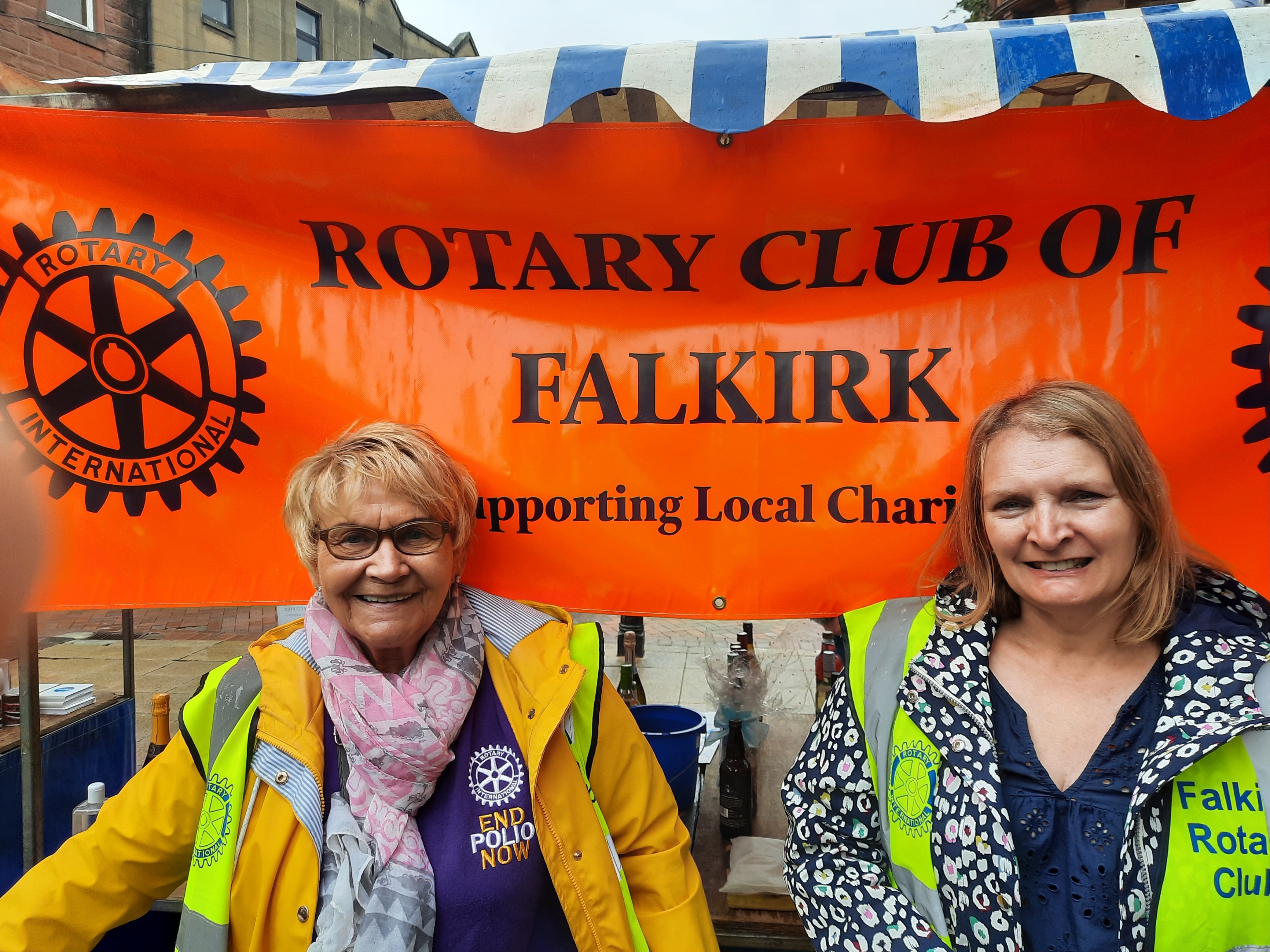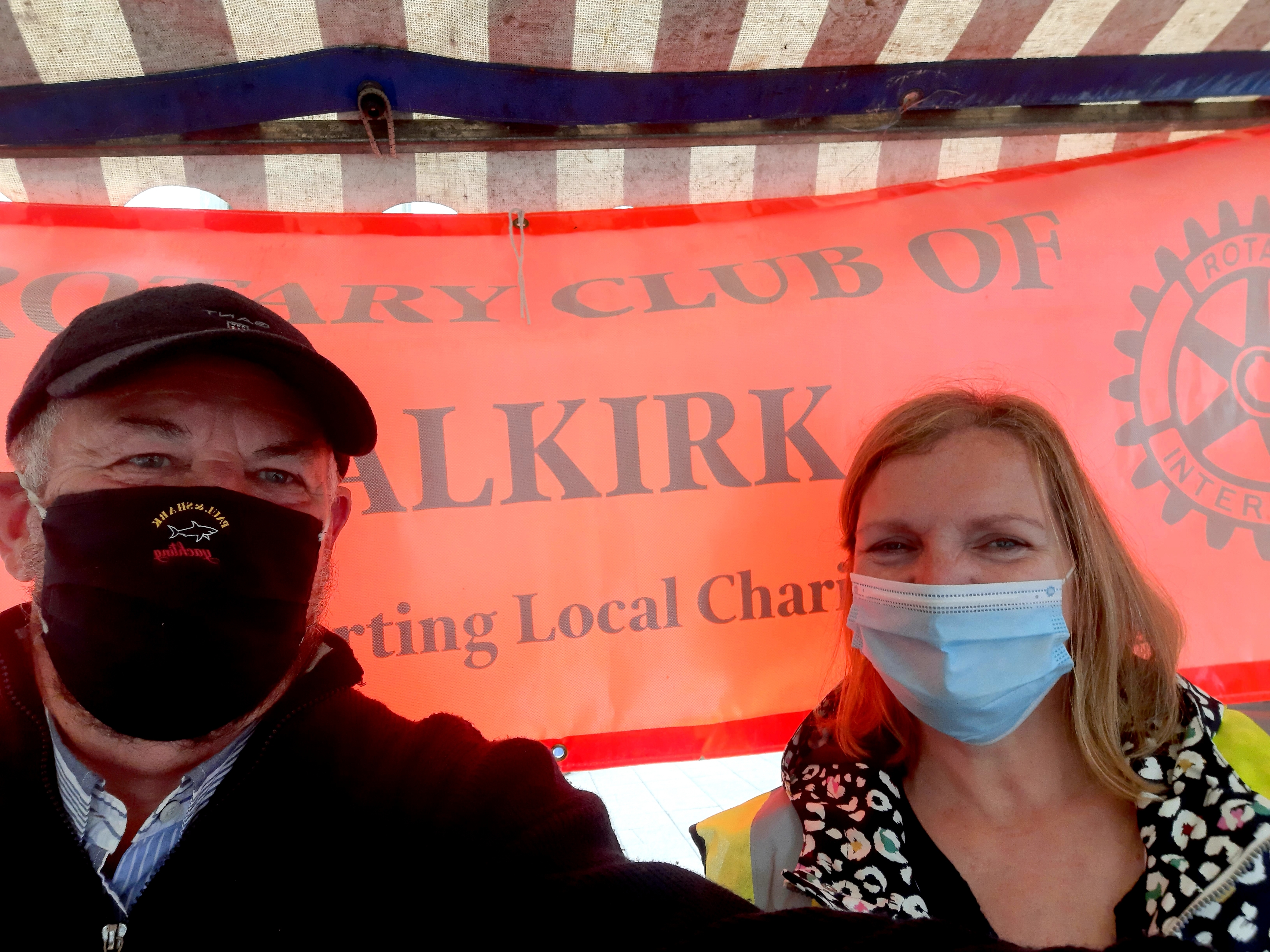 22nd August
You'll like this!
Yesterday, while we were raising awareness, spirits and cash, there was a young man about 13 or 14 years of age whom I persuaded to donate towards George's Sightsavers box. He didn't do it willingly but was encouraged by his pal. After having donated his 20p he turned to his pal and remarked "I think I've just been scammed!" before turning to me and saying "This is a scam isn't it?" Of course I replied to him negatively but he persisted! "If this is a scam I want my money back!" I turned to the stall and handed him a Sightsavers leaflet. He took it and glanced at it. "I'm gonie phone them and if this is a scam I want my money back! In fact if this is a scam I want twice my money back!" to which I replied if this is a scam I'll give you ten times your money back" He wandered off into the distance still muttering "If this is a scam....."
And now for the bit that you will like. While I counted the money yesterday I came across a Greek Drachma and suddenly realised that that was what the lad had put in the box! He was winding us up totally and succeeded brilliantly! He and his pal must have been laughing all the way home!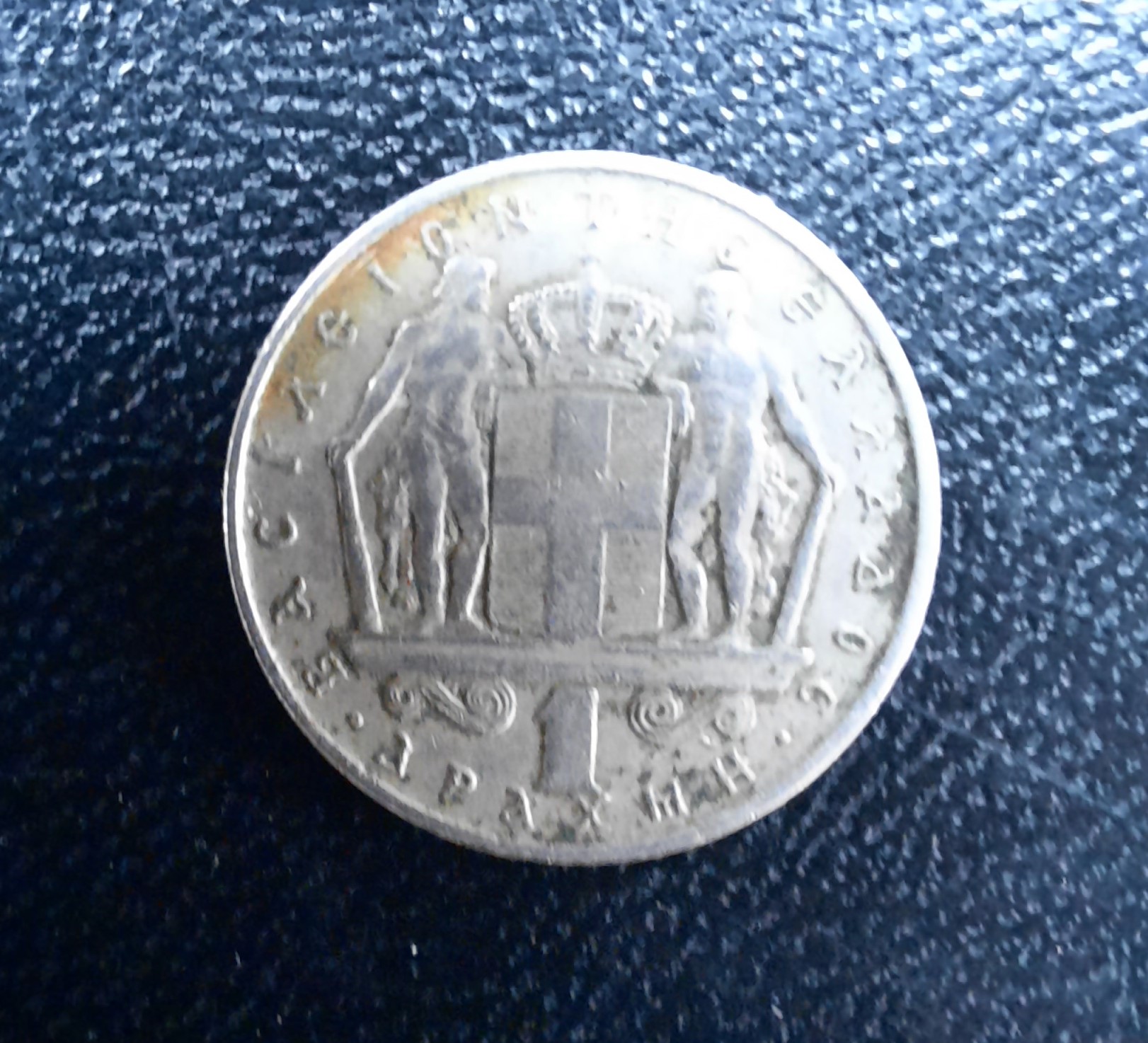 On this day: -
565 - St Columba reports seeing monster in Loch Ness.
1849 -The first air raid in history; Austria launches pilotless balloons against the Italian city of Venice.
1989 - British Telecom launched the world's first mobile phones.They had a very limited operating range that restricted their use to 100 yards from a public base station.
=================================================================
21st August
It's the 21st of the month again! That's the time when I entreat you all to donate to the foodbank a portion of what you've been saving on your Rotary Lunches. We should all be proud of what we have done for the Foodbank during the Pandemic.
We had our annual Charities day today. OK it rained a wee bit but we had fun. For the first time in 18 months we were together doing what we do. Raising awareness, spirits and money. Today despite the rain and the pandemic we raised £875 on our bottle stall. That's a result in my book. Stewart put a whole pile of work into that and deserves our grateful thanks for the success that he achieved.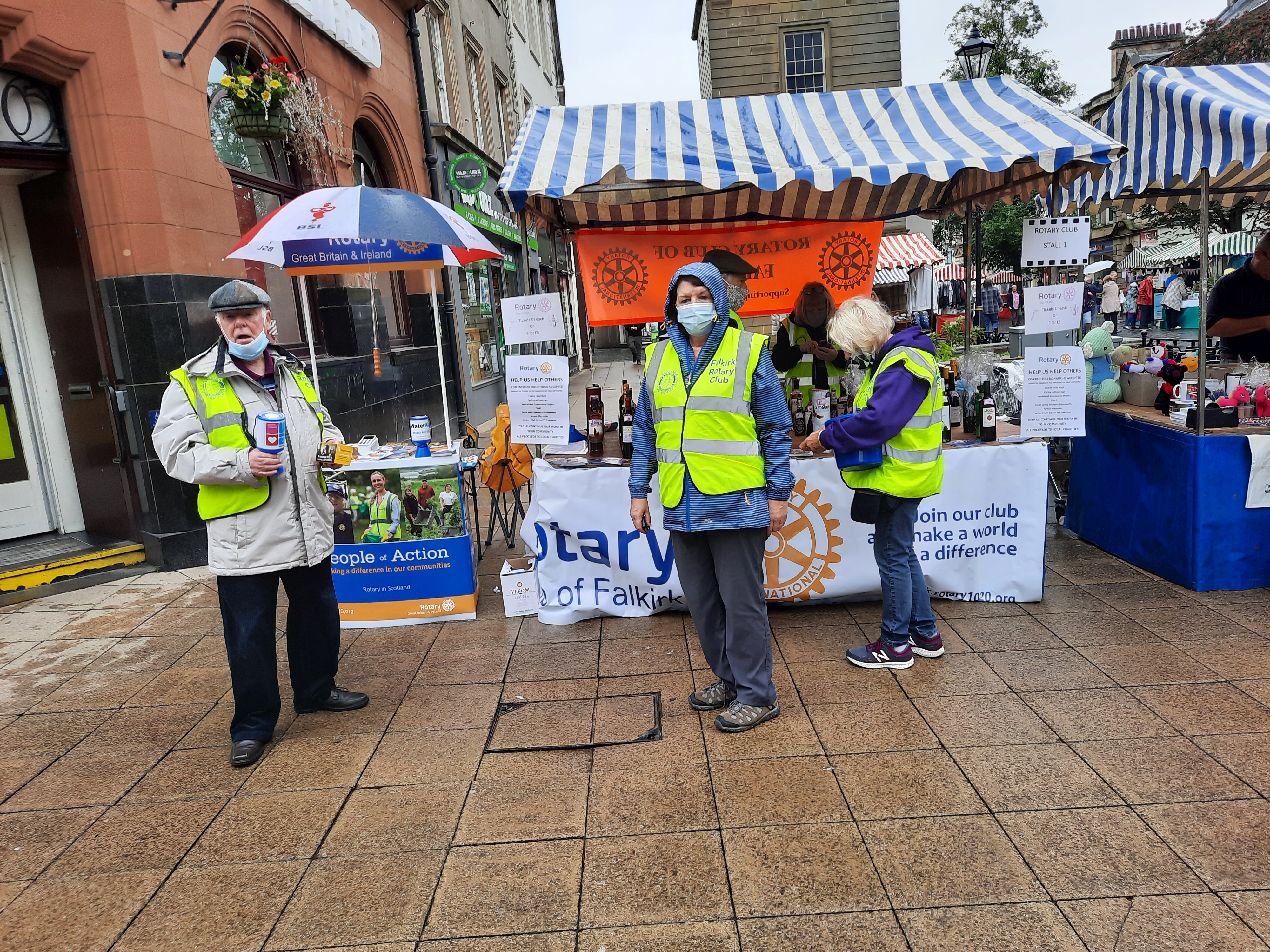 And it doesn't count the money that George raised for Water Aid - £44.31 and Sightsavers - £70.88. All in all a great success I say.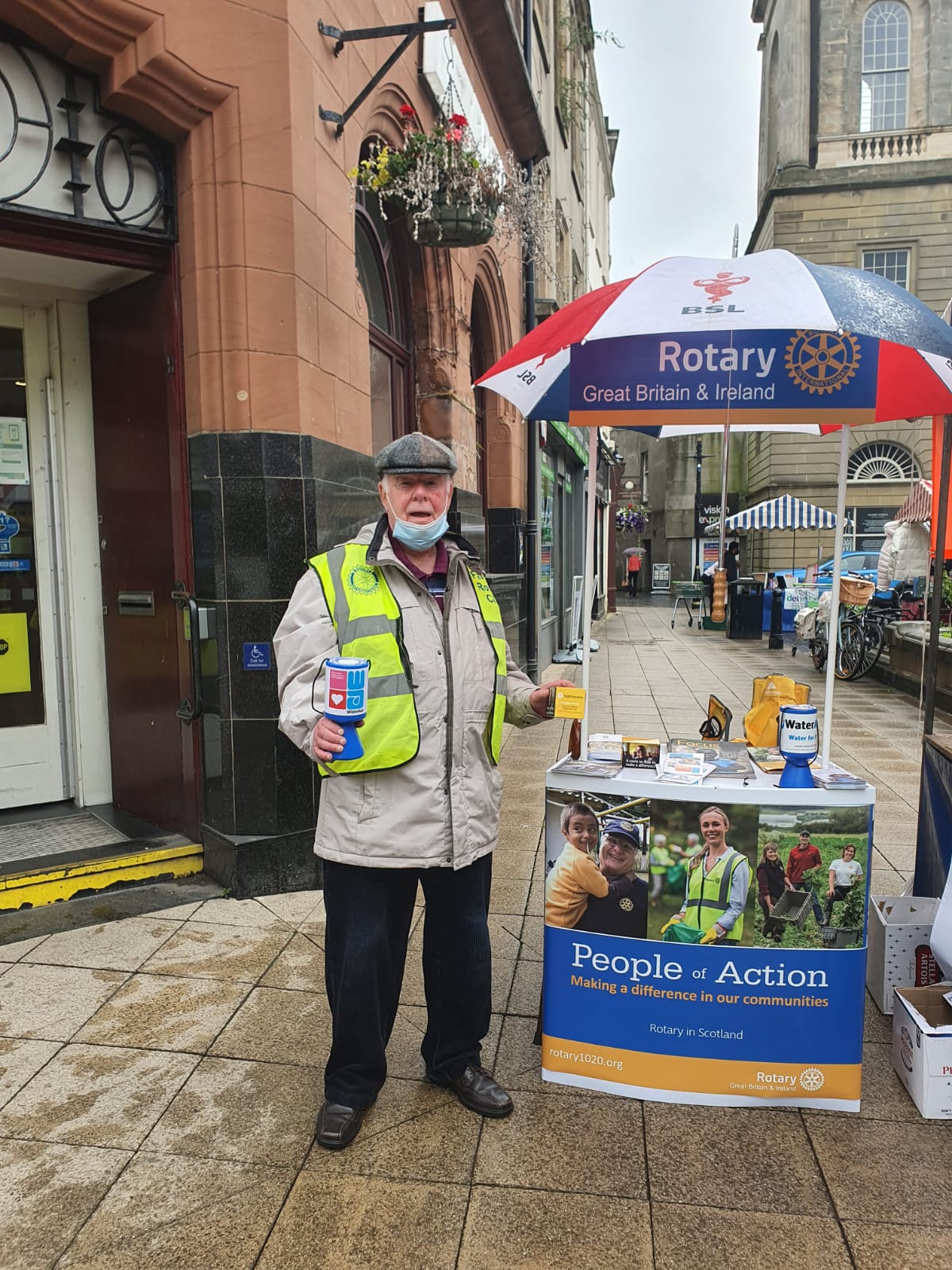 I didn't count the 1967 Greek Drachma nor the Malaysian one Ringgit note which together would have raised the figure by about 30p. But taken together, our total for the day has edged just over £1000.00. Well done to everyone!
============================================================
20th August
It's Charities' Day tomorrow and the weather doesn't look good. But you know what they say! No such thing as bad weather only inappropriate clothing!
Linda has been busy again for the Food Bank: -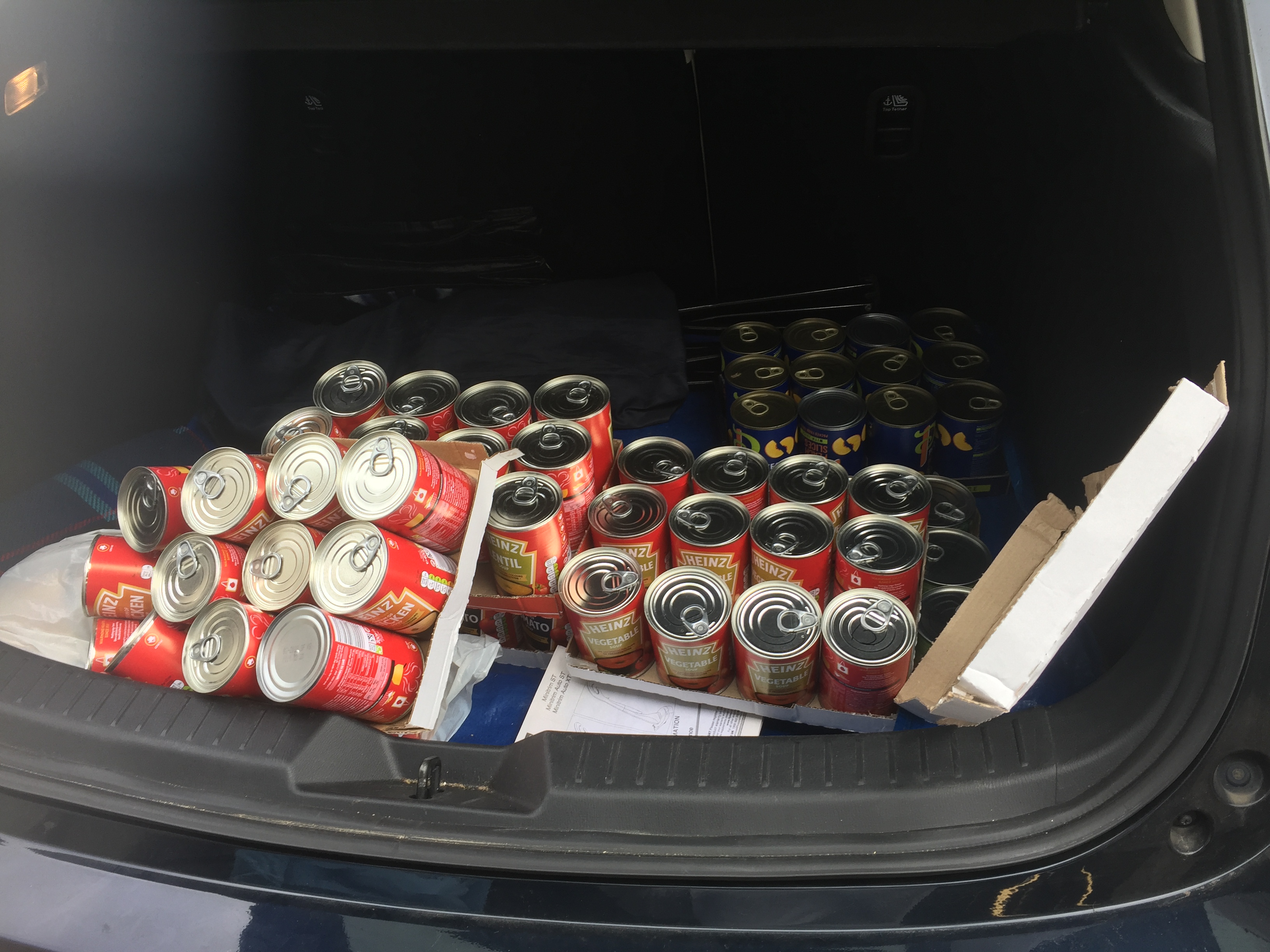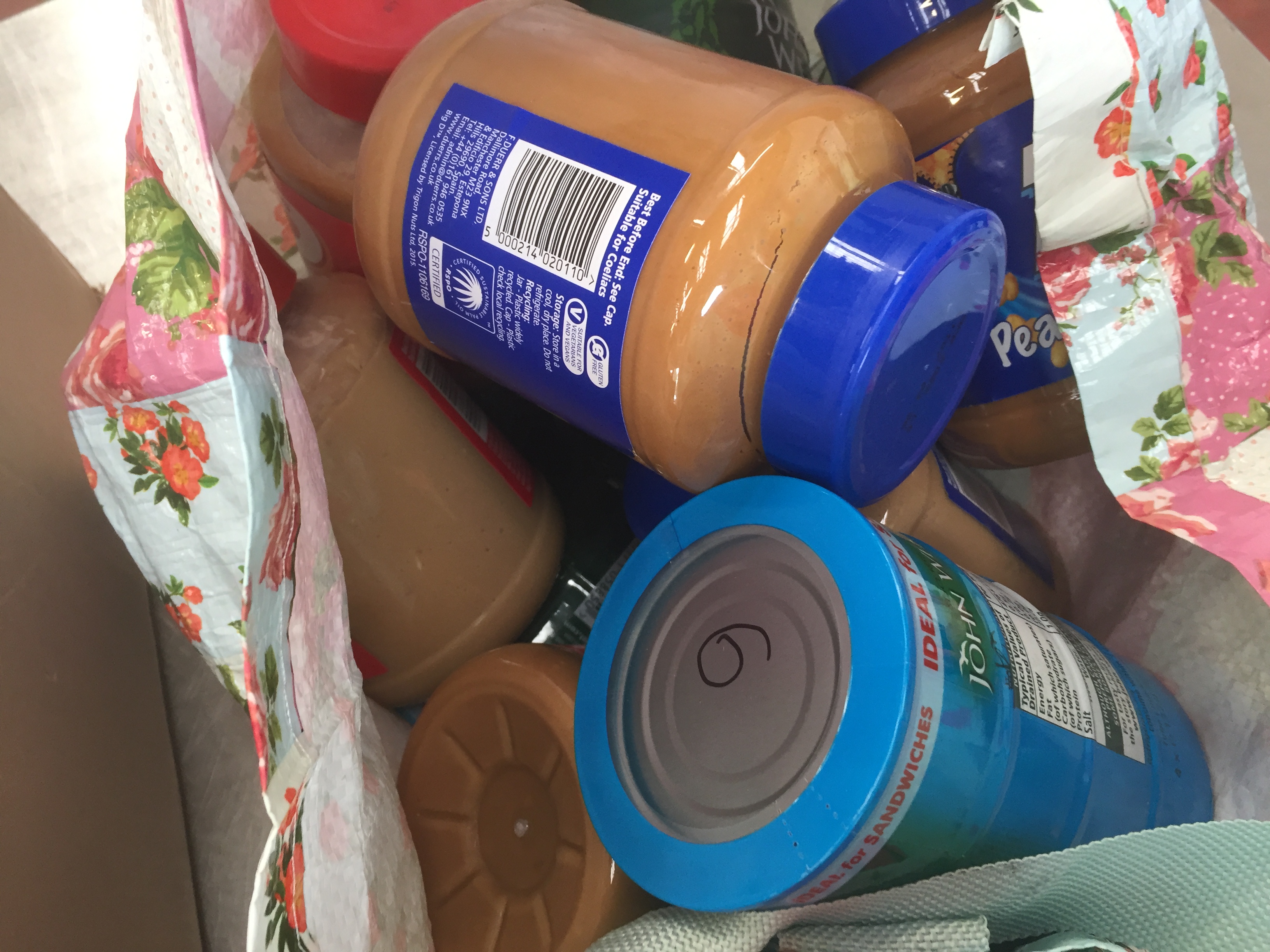 On this day: -
1672 - Johan de Witt, former Grand Pensionary (Prime Minister) of Holland and his brother are lynched by an angry mob who ate their body parts, including their roasted livers.
1888 - Longest US men's single tennis tournament match! Palmer Presbrey defeats T S Tailer, 19-21, 8-6, 6-1, 6-4, an 80 game 1st-round contest. It took the best part of another 100 years before the authorities got the message and introduced "the tie breaker"
1913 - Harry Brearley of Sheffield cast the first stainless steel.
1940 - Winston Churchill delivers his now famous speech saying of the Royal Air Force, "Never in the field of human conflict was so much owed by so many to so few"
1956 - Calder Hall, Britain's first nuclear power station, began operating.
1989 - In London, the pleasure cruiser Marchioness was hit by a dredger, the Bowbelle, on the River Thames - 51 people attending a party on the boat were killed. The formal investigation put the time elapsed from the instant of collision at 1.46 a.m. to complete immersion of the Marchioness at a mere 30 seconds.
=====================================================================
18th August.
Yesterday I visited FVRH for a TRUS Biposy. The MRI scan that I had for my prostate showed "abnormalities" and apparently the only way to be sure is to have the biopsies done. All the way through the procedure I was priveleged to being distracted in conversation with a delightfull student nurse, a colleen from Tipperary, whose job, I am sure, was to do just that. I will discover the outcome on the 26th August.
The other day I was cutting the grass and I accidentally ran over a stump of a small willow tree that had died. The result was that the blade holder boss on my lawnmower broke and I couldn't finish the job. The new piece has arrived and I have fitted it this morning so I am off to finish cutting the grass.
On this day: -
1948 - Jockey Lester Piggott, aged just 12, rode his first winner on only his seventh ride.
1969 - The Woodstock Music and Arts Fair the legendary rock festival near Bethel, New York, that attracted some 400,000 fans—ended
1993 - Two 10-year-old boys are charged with the abduction and murder of two-year-old James Bulger in Liverpool.
=================================================================
17th August
Sorry about yesterday I had a busy day. The morning was occupied at a Seagull trust Crew Training day. The afternoon was St John's turn with a patient from Sauchie.
I hope that you have all supplied bottles to Stewart by this time! Bottle stalls don't just pop up by themselves! It takes a lot of planning and organising. I am looking forward to Saturday. It will be a first step back on the road to some sort of normality.
On this day: -
1661 - It was the party to end all parties. Held in a magnificent new château, the 6,000 guests, including a king, were handed gifts such as diamond brooches for the ladies and thoroughbred horses for the men. A spectacular fireworks display took place in glorious gardens and a play, especially written for the occasion by the playwright Molière, was performed.
But the French king who was supposed to be flattered and impressed by it all, Louis XIV, was appalled. He had already been tipped off that the host, his finance minister, Nicolas Fouquet, had amassed his vast wealth by cooking the books. Fouquet, after a thnree year long trial, was imprisoned and died there 16 years later. The guy who got Fouquet's job was the guy who tipped off the KIng.
1743 - John "Jack" Broughton, English bare-knuckle boxer published a set of rules to control boxing and introduced boxing gloves. The new rules forbade hitting an opponent when he was down, kicking, gouging, head butting and grasping an opponent below the waist.
1896 - Mrs. Bridget Driscoll of Croydon, Surrey, became the first pedestrian in Britain to die after being hit by a car. It is said she froze in panic at the sight of the oncoming car, which was travelling at just four miles per hour.
1957 - Baseball player Richie Ashburn fouls and hits fan Alice Roth twice in the same game at bat playing for the Philadelphia Phillies, 1st hit breaks her nose, 2nd one hits her while she is on the stretcher.
========================================================
15th August
It's beginning to get a wee bit airy outside these days. As I write this the outside temperature is 12.9°C.
I've been back at the bookshelf again but nothing is grabbing my attention. So I have been trawling through boxes of old photographs. This one dates back to 1953 when an eight year old me was pageboy at the Camelon Mariners' Day.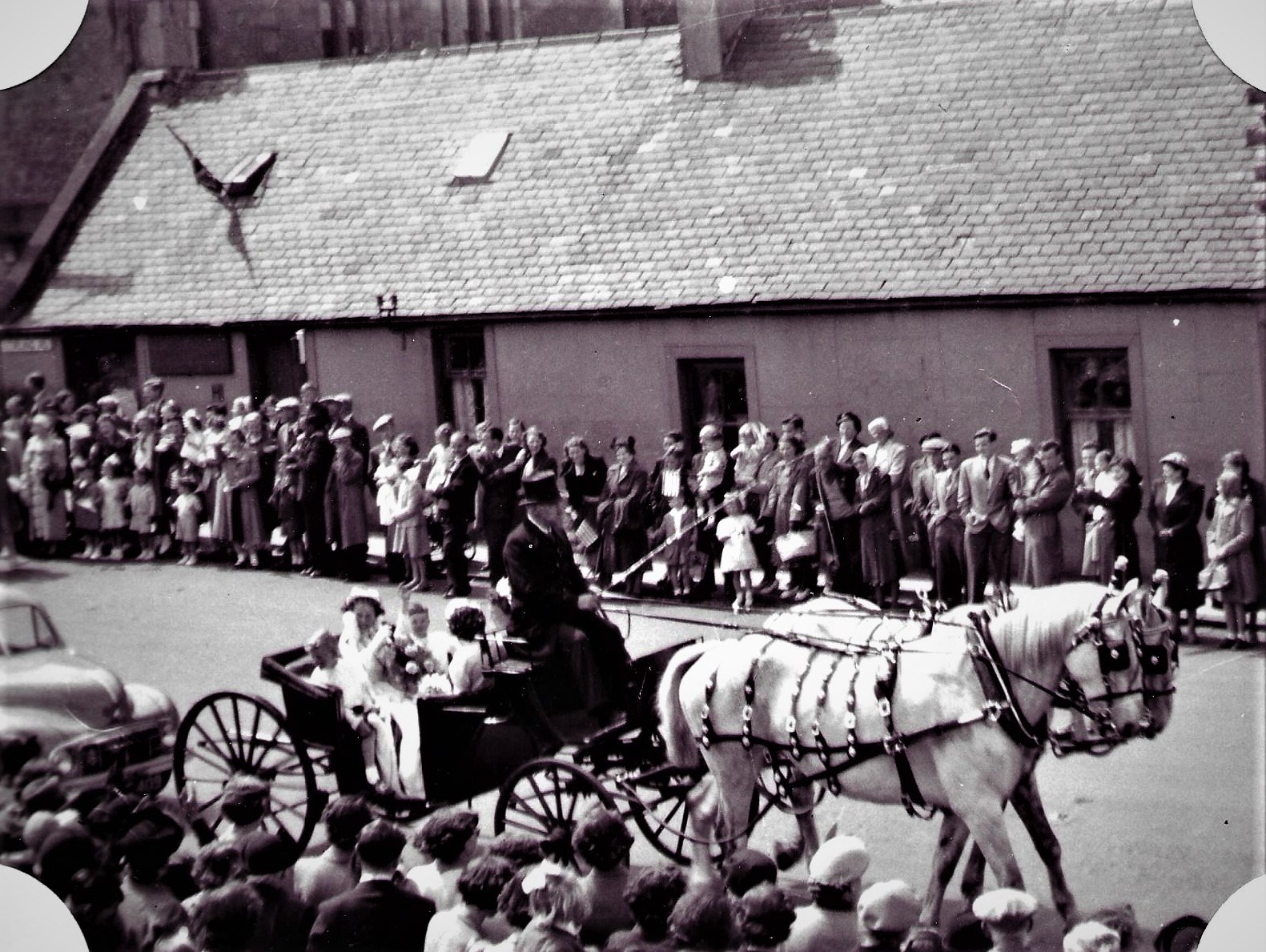 That's me waving to my dad as he leaned out of the front bedroom window to take the photograph. The locus is the top of Stirling Road in Camelon facing west. The single storey building belonged to Andrew Mungal who was an electrician with whose daughter Jean I walked to Carmuirs Primary School each morning. The Queen was Irene Davis and the other pageboy was Brian Burt. Believe it or not it was John Struthers who let me have this. There is no record of it among my father's stuff.
There is another cutting from the Falkirk Herald that shows us in a different formation ( I'm on the Queen's right in this and we all have our back to the Coachman.) Curiously it's a different pair of horses too. The cutting is not likely to be contemporary because the caption mentions the year.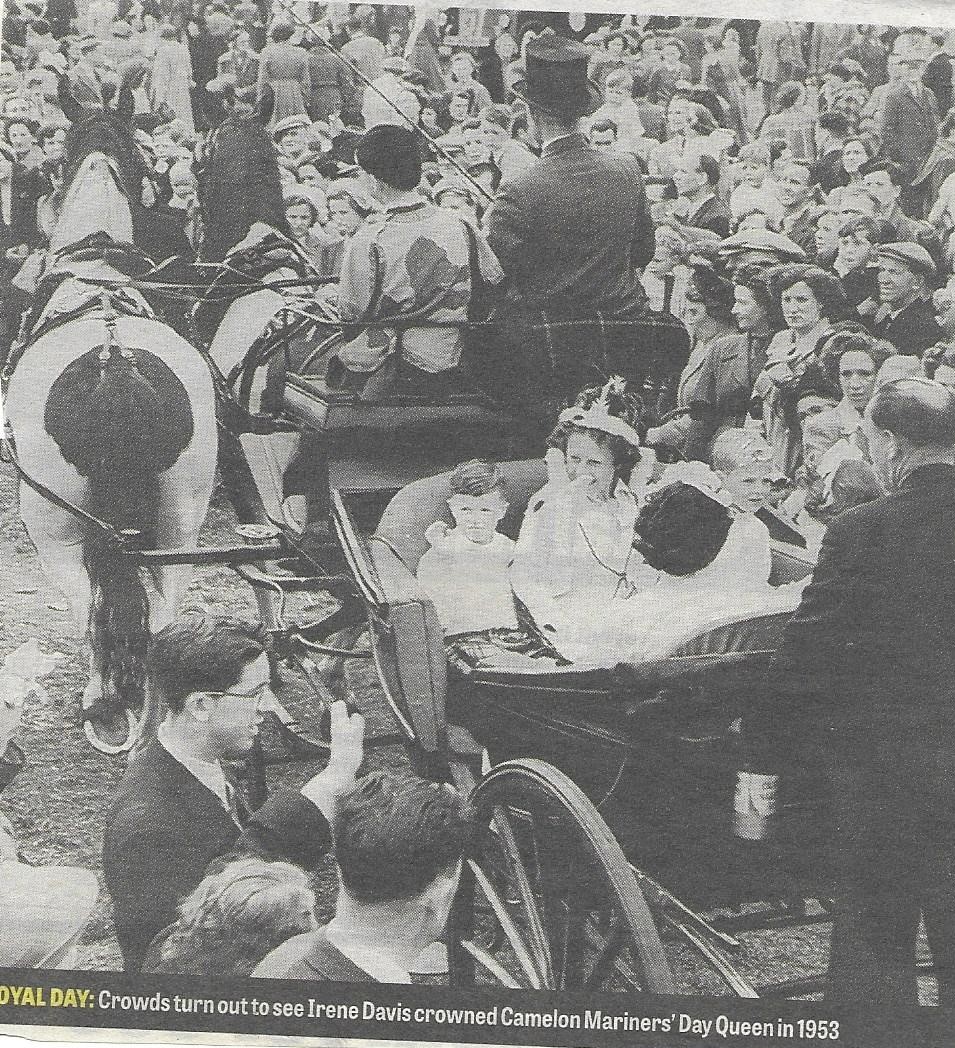 I also notice the precisely accurate apostrophe in the "Mariners' Day" Not often you see that these days.
On this day: -
1847 - Charlotte Brontë sent her manuscript of Jane Eyre to a publisher in London on this day from the little railway station near her home at Haworth in the north of England. Fearing prejudice against a female author, Charlotte chose the pen name of Currer Bell. Her almost apologetic note to the publisher, Smith, Elder & Co, read:

"I now send you per rail a MS entitled Jane Eyre, a novel in three volumes, by Currer Bell. I find I cannot prepay the carriage of the parcel, as money for that purpose is not received at the small station-house where it is left.
"If, when you acknowledge the receipt of the MS, you would have the goodness to mention the amount charged on delivery, I will immediately transmit it in postage stamps."

The novel had already been rejected five times, but Smith, Elder & Co. decided to take a chance and quickly found they had a controversial hit on their hands.
1941 - Corporal Josef Jakobs was executed by firing squad at the Tower of London at 7:12 a.m. making him the last person to be executed at the Tower for treason.
1950 - It's Princess Anne's birthday.
1963 - The execution of Henry John Burnett, the last man to be hanged in Scotland.
1971 - Controversial horse rider Harvey Smith was stripped of his £2,000 winnings and a major show jumping title for allegedly making a rude V-sign gesture.
1987 - Caning was officially banned in British schools (excluding independent schools).
==================================================================
14th August
I have just spent half an hour on the telephone with my sister and her husband in New Zealand. I haven't spoken with them for ages and we had what one might call "a rare blether!".
I have only just realised that many of the hinds have been quite late in delivering their offspring. I noticed this pair this morning.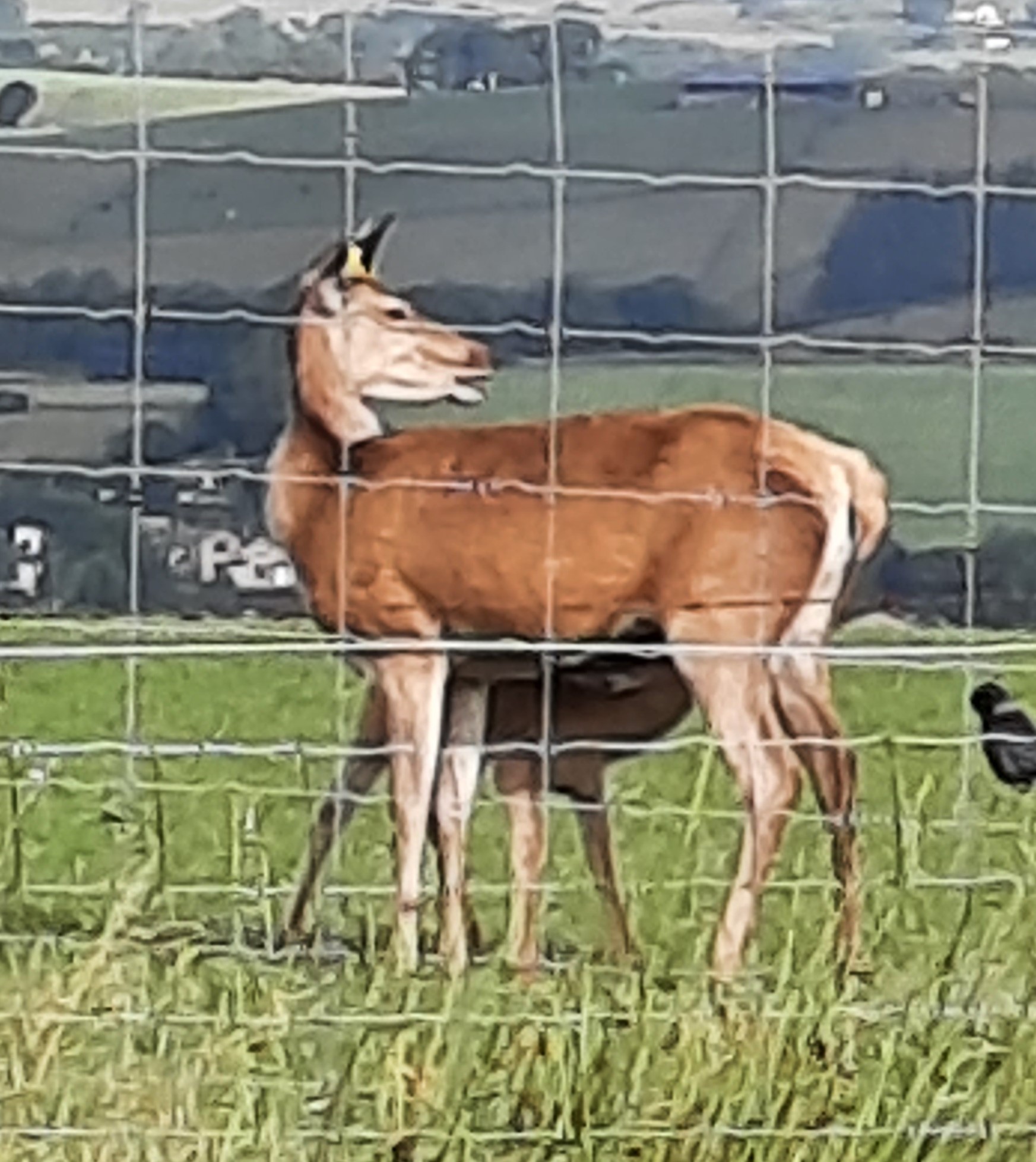 And after having been fed: -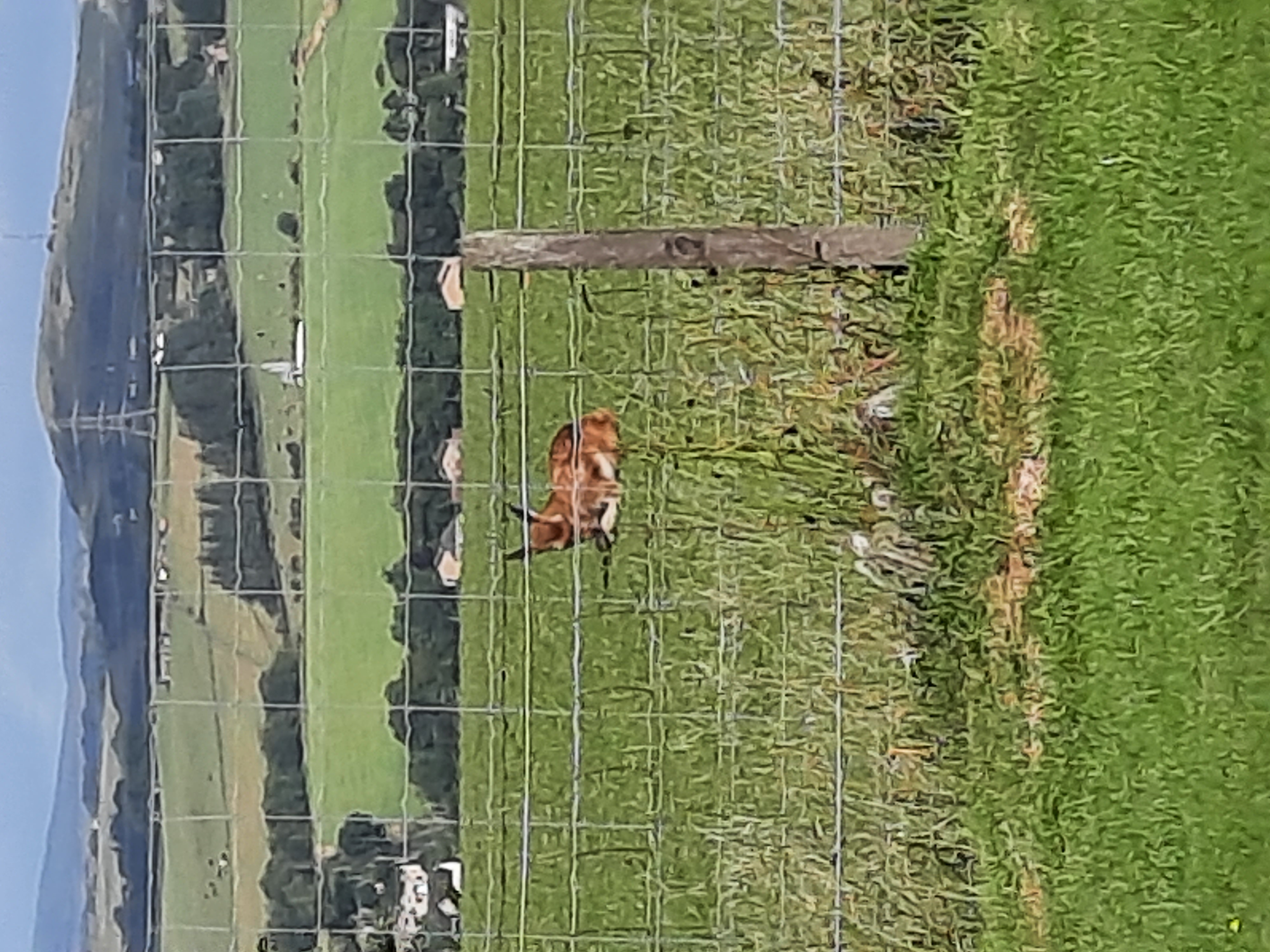 Anne Watson has let me have this: -
Hi Sandy
We have been having a bad time lately with seagulls , They dive bomb the cat and make a mess of the deck and patio doors. Last week all was explained when 3 fluffy grey chicks were spotted walking down the side of the dormer on my neighbours attic conversion they march up and down like wee soldiers while mum hovers above. It seems that she nested on the flat roof and has managed to hatch her brood through sun and torrential rains I have been trying to get a photo of them but they merge into the background
YIF
Anne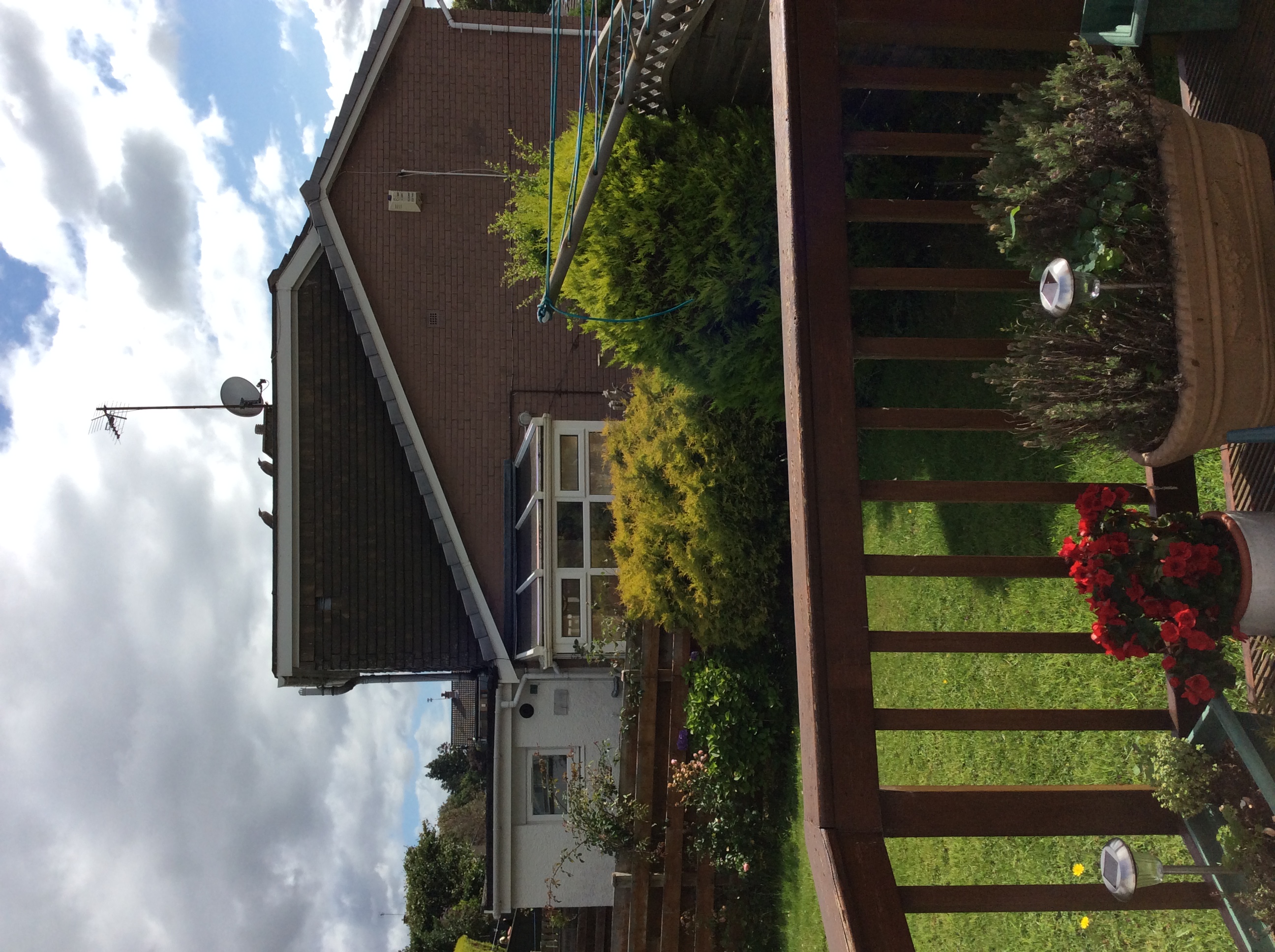 AND
This is a picture of our handover in Dollar Park in front of The Acer we planted for our 50th in 2009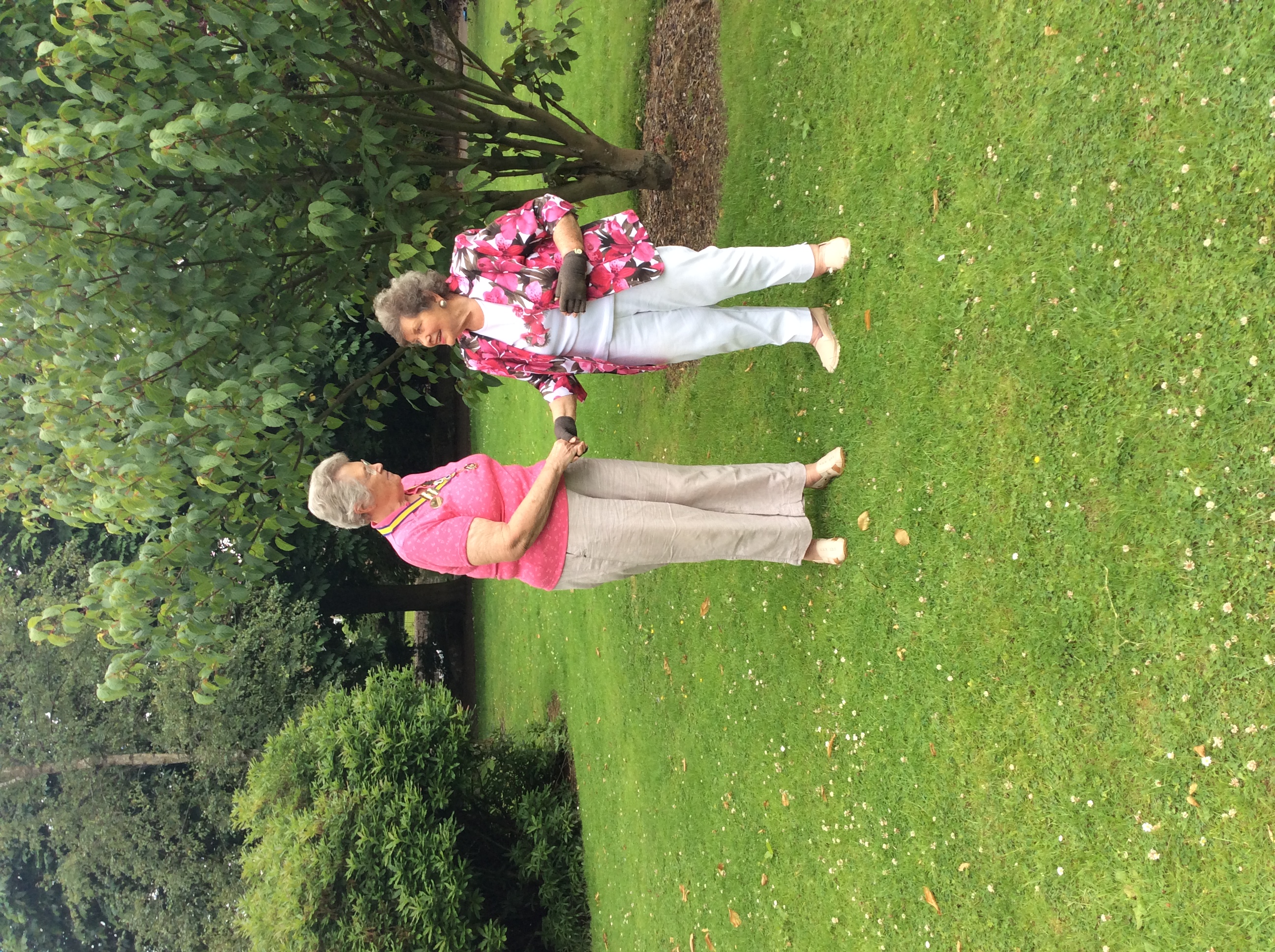 ====================================================================
13th August
Sorry about yesterday! Busy day! And the Glorious Twelfth! There's nae Grouse up here though so that went by without comment. I had a patient to transport in the afternoon so I missed the Club meeting but Andrew sent me a Screenshot: -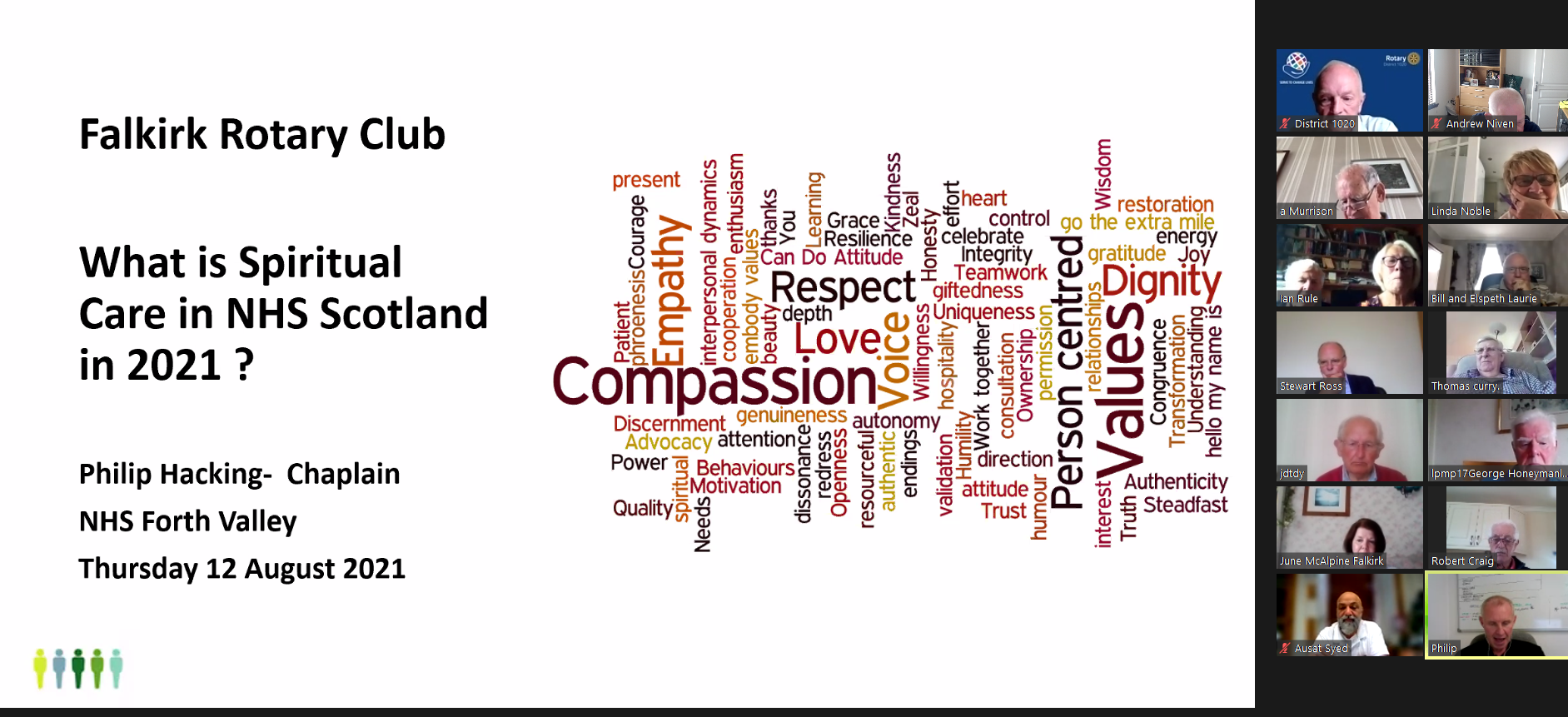 Because I wasn't there I haven't put anything on the "Club Meeting" page. But one of my neighbours, a fermer!, posted this on Facebook and I thought it was hilarious.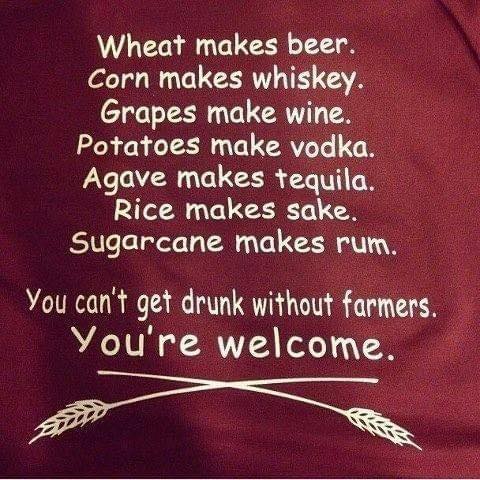 And he missed out Barley makes Whisky!
John's father had three sons Larry, Curly and ???
On this day: -
1930 - Invention of stainless steel by Harry Brearley of Sheffield.
1941 - The world's first plastic car is unveiled to the public by Ford. It was composed of a steel tubular frame with plastic panels attached and ran on hemp fuel. The engineer who created it claimed the plastic panels were made from soybean fiber in a phenolic resin, although others say it was likely a combination of soy, hemp, wheat, and flax. The exact formula has been lost. One of the reasons why Henry Ford was interested in developing this vehicle was the shortage of steel due to World War II. He also felt the car was safer than steel cars and because it was 25% lighter, it was more fuel efficient.
1942 - The "Manhattan Project" commences, under the direction of US General Leslie Groves, its aim - to deliver an atomic bomb.
1961 - Construction of the Berlin Wall begins in East Germany.
And if you said "Mo!" to the question above you're wrong! John's father's third son was John!

====================================================================
11th August
I'm still scouring the bookshelves for stuff to write here. The latest discovery is a book of my Dad's! I have known it since I was but a boy and have never actually read the title until now!
Published in 1937 "The Pocket Book of First Aid in Accidents & Chemical Warfare" by E.M. Cowell D.S.O, F.R.C.S., Eng. Colonel A.M.S.T. sold for one shilling! Here is the Author's preface: -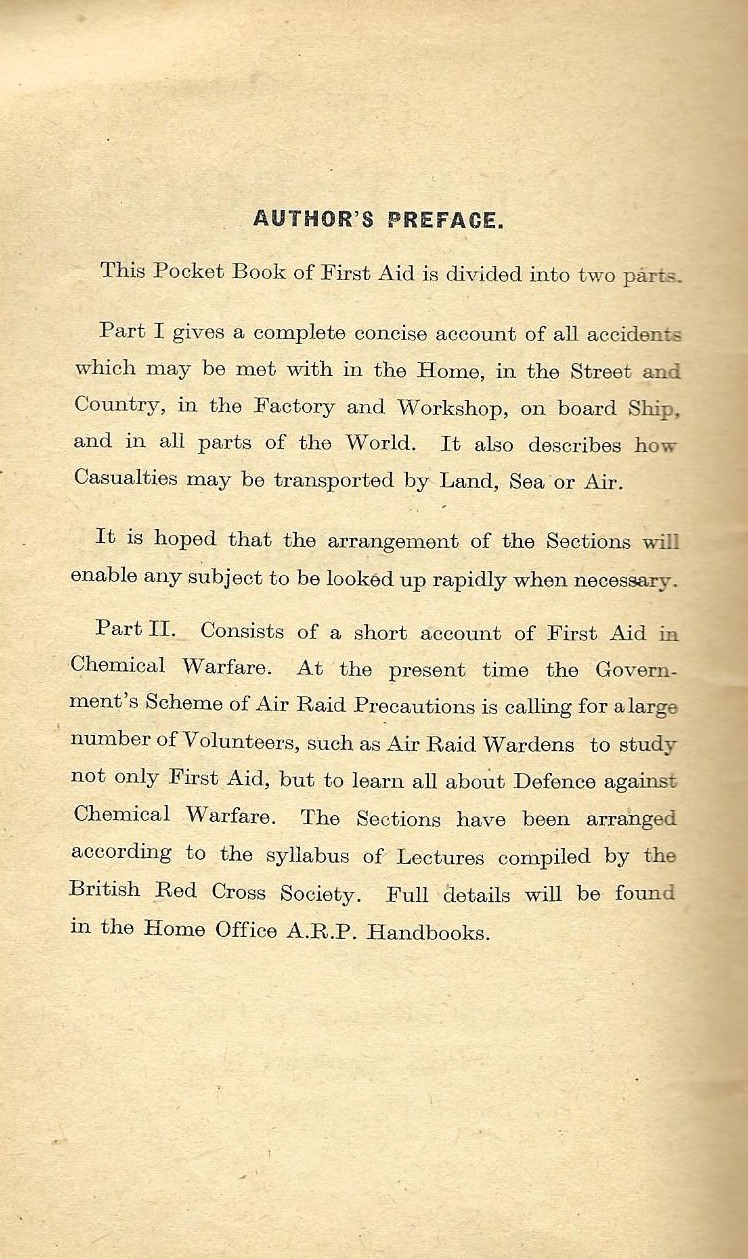 This self proclaimed "A Complete Concise Account of all accidents...in all parts of the World" is about A5 in size and something like 3mm thick! It is as it says - "The pocket Book".
It was right alongside "Scottish Place Names" by George Mackay which lists Prestonpans as "Priests living by the saltpans" and Camelon as "Crooked Pool" I was amused to see that it also confirmed my recollection that Cumbernauld derives from "The confluence of the waters". I always was led to believe that this was as a result of the fact that there are two burns in Cumbernauld, at one point only metres apart. One, the Red Burn, Flows east into the Bonny Water, then the Carron and then the Forth while the other flows in the opposite direction westwards ending up in the Clyde. The book however refers to a burn in the old village that "joins another nearby". That's not nearly as interesting.
Lymph - To walk with a lisp!
On this day: -
1909 - The first recorded use of the new emergency wireless signal SOS.
1965 - Six days of rioting begin in Los Angeles after the arrest of Marquette Frye. 34 people were killed with $40,000,000 in damage.
21-year-old African-American Marquette Frye was pulled over for reckless driving. After administering a field sobriety test, the officer placed Frye under arrest and radioed for his vehicle to be impounded. Frye's brother, Ronald, a passenger in the vehicle, walked to their nearby house, and brought their mother, Rena Price, back to the scene of the arrest. A scuffle ensued in which Price was shoved. She then attacked a police officer. Rumors began to spread that the police had roughed up Frye and kicked a pregnant woman. Angry mobs started yelling and throwing objects at the police. The crowd continued to grow after the arrest of Frye, his brother, and his mother, and continued to grow through the night and next day. When the rioting erupted, 2,300 National Guardsman and 16,000 law enforcement personnel were called in. The streets of Watts turned into a war zone. It is estimated that between 31,000 and 35,000 adults participated in the riots. Over the six days of rioting, there were 34 deaths, 1,032 injuries, 3,438 arrests, and over $40 million in property damage.
1968 - Fifteen Guinea Special - last main-line steam passenger train service in Britain. Selection of British Rail steam locomotives make a return 120-mile journey Liverpool to Carlisle, before having their fires dropped for the last time.
1984 - During a radio voice test, US President Ronald Reagan jokes that he "signed legislation that would outlaw Russia forever. We begin bombing in 5 minutes."
=================================================================
10th August
While looking through the bookshelves I came across a few books that I'd forgotten about. One of them is "A Dustbin of Milligan". Spike Milligan I suppose is an acquired taste but his humour always made me laugh.
The way his mind worked was not always evident when spoken out loud but it makes perfect sense when written down. Phrases like "What's that on the road ahead?" can be more easily understood in the context of his humour when written like "What's that on the road? a head!"
Or - "How do I get out of this room?" "Turn the knob on your side!" "I don't have a knob on my side!"
One of his stories centred on a man who had phoned the Police. When they arrived he said "Thank Heaven you have arrived!" to which the Policeman responded by raising his eyes heavenward and saying "Thank you Heaven!"
He advanced on the bearded detective and thrust the Ransome note under his nose! "Why have you thrust a ransome note under your nose?" enquired the detective.
I recall a TV skit that he did where he went to cross the road but spied, in the distance, a double decker bus! He instantly returned to the footpath, dropped his trousers and pants and put on a clean pair of underpants before walking out in front of the bus as it arrived.
There are holes in the sky
where the rain comes in.
The holes are small!
That's why rain is thin!
His gravestone is figured in Irish Gaelic which translated says "I told you I was ill!" KInd of like Marcel Duchamp "D'ailleurs, c'est toujours les autres qui meurent"
After all it's always the others who die.
On this day: -
30AD - There are two widely held beliefs about Claopatra, the legendary Queen of Egypt, who is said to have died on this day. First, that she was beautiful; and second, that she met her death by clutching a poisonous snake to her bosom.To Egyptians, the asp was a symbol of divine royalty and Cleopatra believed that she would become immortal if she died by allowing one to bite her. However, a number of historians have cast doubt on this account of the Queen's death, believing that she used a poisonous ointment or a vial of poison to commit suicide. As Plutarch admits: "The truth of the matter no one knows."
1793 - Louvre Palace officially opens in Paris as La Musee Central des Arts.
1842 - Britain passed the Mines Act - forbidding women and children from working underground.

Now that's just sexist and ageist!

1966 - Convicted murderer James French is executed by electric chair for murdering his cell mate. When discussing his pending execution with a reporter, he asked "How's this for a headline? 'French Fries.'"
French had killed a motorist who had picked him up while hitchhiking in 1958. Even though he requested the death penalty at his trial, he was given only a life sentence. In 1961, French treated his cellmate to a steak sandwich from the prison canteen and then allowed him to go breakfast. When he returned, French strangled him to death with a towel. French again requested the death penalty and this time it was granted.
==================================================================
9th August
I have been searching my bookshelves for something by way of inspiration for today's ramblings. I lifted a copy of "The Merry Muses of Caledonia" and scanned through the contents for something that would be acceptable to publish here! Nae Luck! For those of you who are unfamiliar with the publication it is a collection of poems and songs either written or collected by Robert Burns but not suitable for polite society. They were recited or sung in the company of his male confrere while attending the "Crochallan Fencibles". A fraternity of his drinking buddies.
The foreword goes like this and is the most presentable bit in the book: -
Say, Puritan, can it be wrong
To dress plain truth in witty song?
What honest nature says we should do;
What every lady does ... or would do!
Then I lifted an old book from 1944 entitled "Planning our New Homes". The book belonged to a colleague who died and I found it in an Antiques Shop some time later. It still has his unmistakable signature on the fly leaf. While skipping through that, a clipping from the "Illustrated Carpenter and Builder" 1951 fell out and landed at my feet: -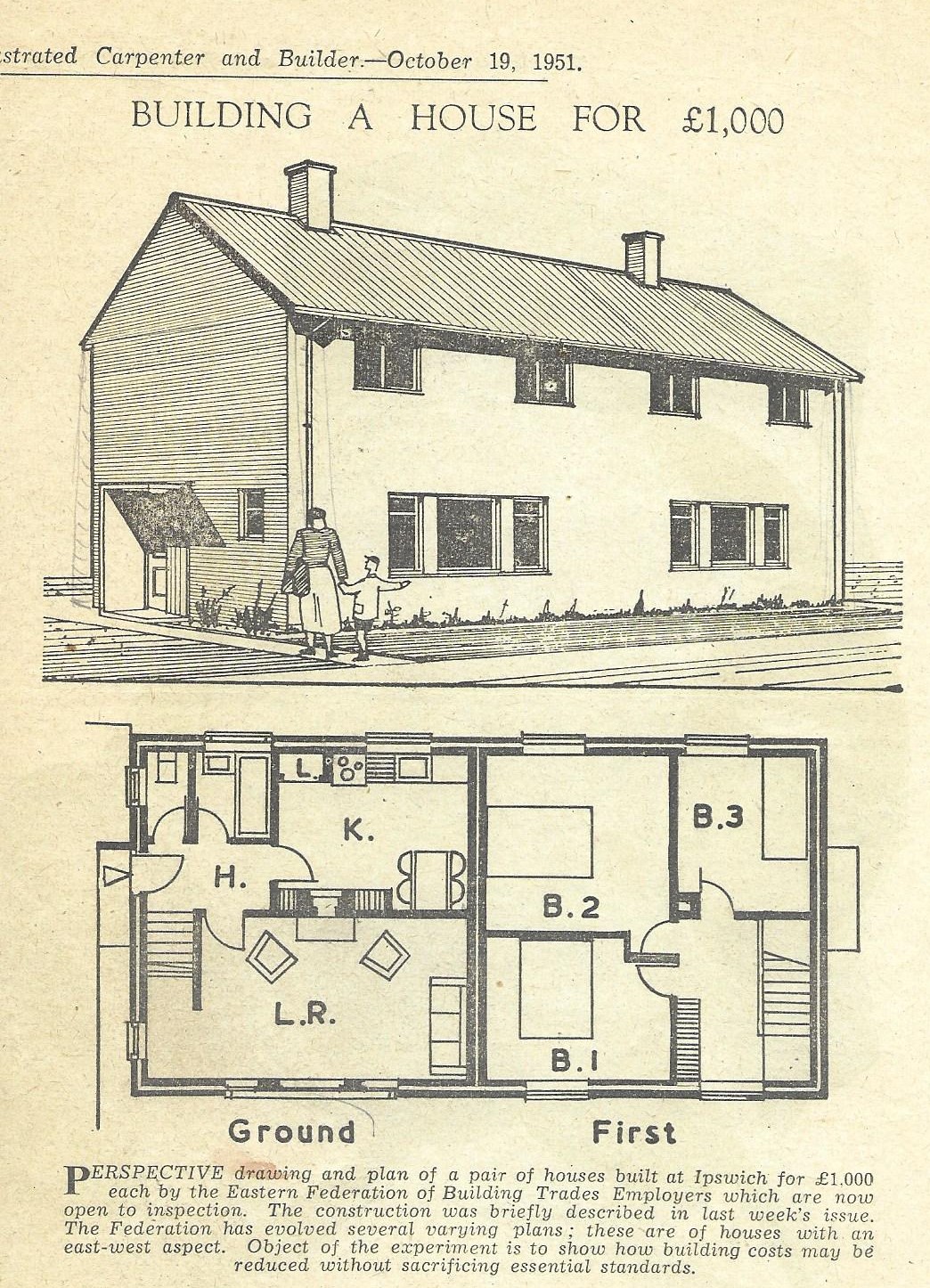 On this day: -
1483 - Opening of the Sistine Chapel in the Vatican.
1969 -

Five people, including actress Sharon Tate, were found murdered in the wealthy Bel Air suburb of the city Los Angeles, California, Cult leader Charles Manson and several of his followers were later convicted of the killings.

1974 - U.S. President Richard Nixon resigns. Four days earlier, he had admitted his complicity in the Watergate cover-up. Vice President Gerald Ford is then appointed President, with Ford giving Nixon a full pardon the following month. This is the first and only time in U.S. history that someone became President without having been elected either President or Vice President. Ford had become Vice President after Spiro T Agnew resigned.
1975 - Inflation in the UK hits 24%
2012 - Seventeen year old Austin Weirschke won the US National Texting Competition for the second time and held onto the title of fastest texter. He won $50,000 in prize money and stated that he would put the money towards college.
============================================================
8th August
It's been so long since the start of this pandemic that I have actually forgotten what normal is! My phone keeps reminding me about what I was doing 4 years ago by displaying photographs that I had taken at the time.
Four years ago on the 8th of August Diane and I decided that we would visit Rothesay. We'd never been there before. We only stayed over one night in a pretty dingy hotel on the front but the main point of the visit was Mount Stuart.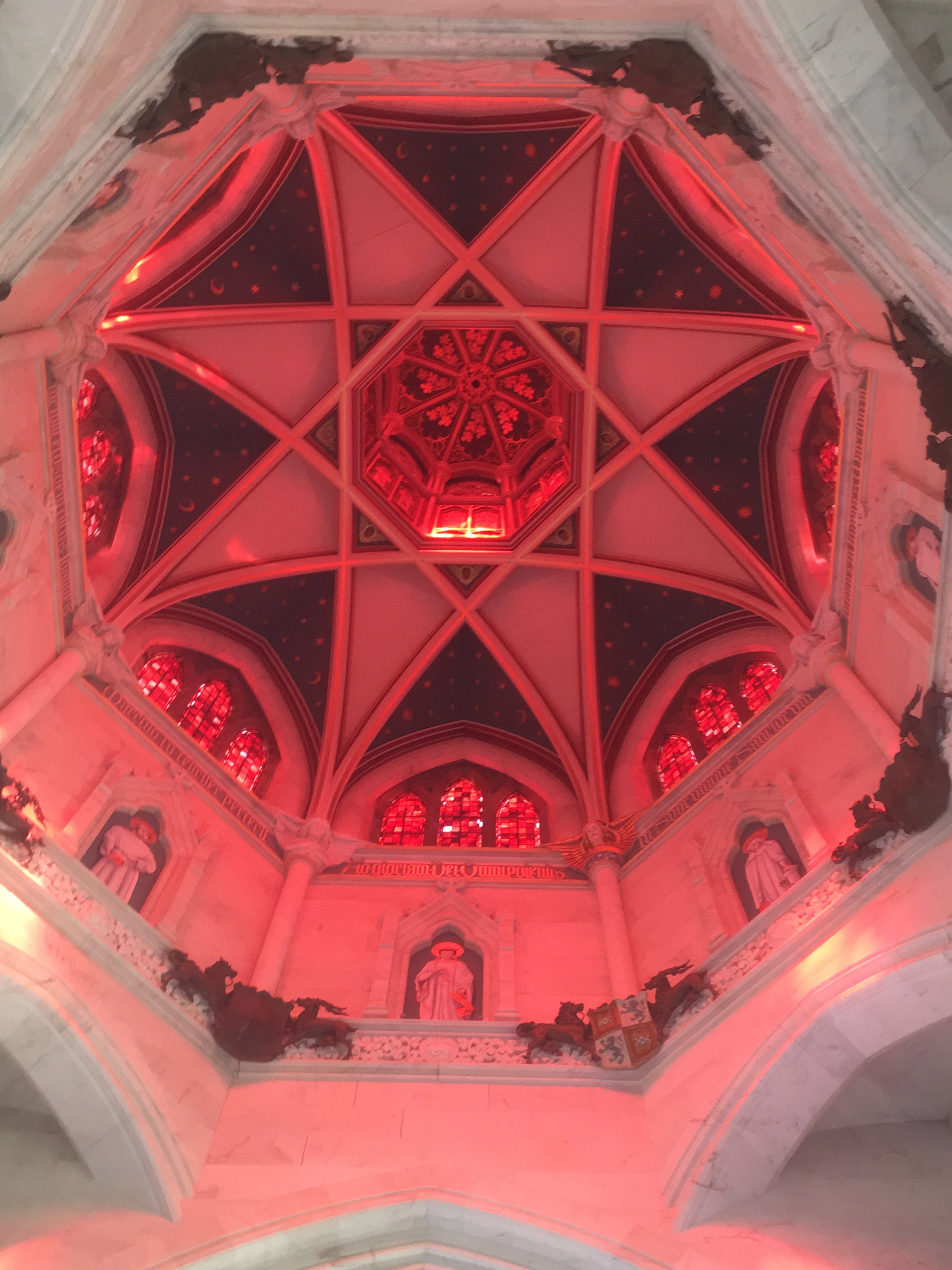 These photographs, which my phone pinged at me, are of the chapel which is a tiny part of the house.
The Web site says: -
"Mount Stuart's architectural journey is a story in itself. The original house was built in 1719, but was severely damaged by fire in 1877. Most of the contents survived, along with the wings of the building. These were incorporated into the house you see today, which was built in the late 19th century. The Georgian architecture of the wings presents a striking contrast to the otherwise Victorian design, providing a completely unique architectural blend. Taking a moment to absorb the sheer beauty of the building is an unforgettable part of the Mount Stuart experience. And that's before you've stepped through the door.
Inside, design inspired by astrology, art and mythology dazzles. See a map of the stars on the ceiling of the Marble Hall. Take the spiral staircase to what is believed to be the world's first domestic heated swimming pool. This house is filled with innovations – from an early telephone system to the Victorian passenger lift"
The house was built by the 2nd Earl of Bute in 1719 and after a fire in the late 19th Century was renovated by the third Marquess of Bute who made his millions selling Welsh coal to the world. Most of the interior is constructed with imported Italian marble. The house and gardens are definitely worth a visit. But most importantly I had forgotten that that was the sort of thing that we did! We need to get back into form again.
On this day: -
===============================================================
7th August
Michael is back off holiday!
here
is this week's "Screen Memories" and
here
are the answers if you need them.
I have a plague of moles in the garden. They never seem to exist on the brown bits! It's always in the middle of the grass! There's one at the back, one at the side and one out front. I am assuming that there are three different moles because they are quite far apart. I read somewhere that there will only be one mole in a run at any one time but I'm sure that can't be correct! There's got to be a family there. Otherwise how do they proliferate? Now there's an aliteration for you - a Proliferating plague of pests. Or maybe a monumental mountain of moles!
On this day: -
1428 - Valais witch trial proceedings begin in Valais Canton, Switzerland. The first organized witch trials.
1711 - The first race meeting was held at Ascot, established by Queen Anne, thus giving them the status of 'Royal Ascot'.
1876 - Geertruida Zelle was born on this day. Abandoned by her parents, grew up to marry an abusive husband, divorced him and resorted to sell her body to maintain her children. She slept with both sides of the warring factions in the first world war and because of that she was labelled and executed as a spy. you'll probably know her better as Mata Hari.
1947 - Kon-Tiki, a balsa wood raft captained by Norwegian anthropologist Thor Heyerdahl, completes a 4,300-mile, 101-day journey from Peru to Raroia in the Tuamotu Archipelago, near Tahiti. Heyerdahl wanted to prove his theory that prehistoric South Americans could have colonized the Polynesian islands by drifting on ocean currents.
============================================================
6th August #2
I was too quick posting the previous blog! Look what I discovered when I went to our facebook page: -
Gordon McInally (S. Queensferry) who was DG during my first term as President, is to be President of Rotary Internaional 2023/ 2024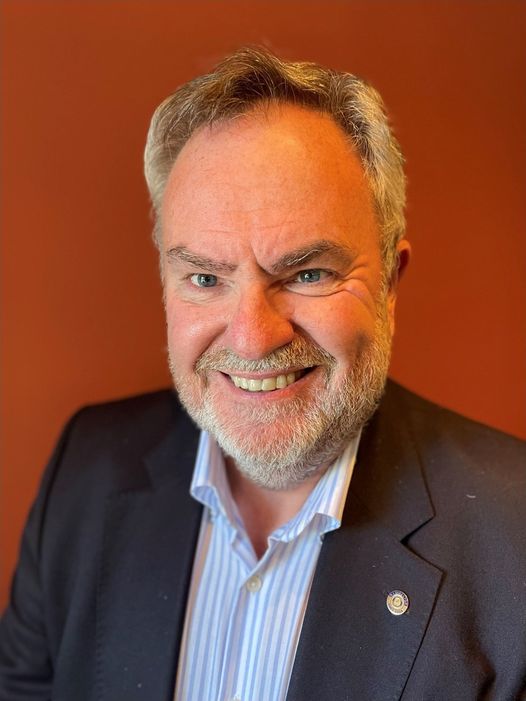 6th August
Having posted the content of our weekly meeting on another page there's not much left to say here. I visited both Gillies and Tom yesterday. They are both, for very different reasons, keen to encourage visitors. It was Tom's contension that this daily blether lifted his spirits that has encouraged me to fill something in here today.
But, as I said to Tom, I always sit for ages racking my brain (such as it is) for content. So for want of something better I decided to investigate whether I had properly used the word "racking" in the last sentence. According to the Merriam Webster Dictionary
("since 1828")
: -
"While the nouns rack and wrack have very different origins, the former from Middle Dutch rekken meaning "to stretch" and the latter from the Middle English word for shipwreck wrak, the verb forms are often conflated, especially in the phrase "to rack/wrack one's brain." Merriam-Webster supports that either usage is fine, but if you want to be extra careful, keep wrack for boat- and storm-related imagery."

So you might say that I was perfectly cowrect!
On this day: -
1661 - The Treaty of The Hague is signed whereby the Dutch Republic sells New Holland (Brazil) for 63 tonnes of gold to Portugal.
1809 - Alfred Tennyson, English poet was born. He is the second most frequently quoted writer in The Oxford Dictionary of Quotations, (after Shakespeare). Tennyson wrote a number of phrases that have become commonplaces of the English language, including "Better to have loved and lost than never to have loved at all", and "Theirs not to reason why, theirs but to do and die".
1890 - At Auburn Prison in New York, murderer William Kemmler becomes the 1st person to be executed by electric chair.
1945 - Atomic bomb dropped on the Japanese city of Hiroshima by the US B-29 Superfortress "Enola Gay"
1964 - Prometheus, the world's oldest tree aged at least 4,862 years old, is accidentally cut down in Nevada, USA.
===========================================================
5th August
Diane and I visited Caulders Nursery at Old Inns in Cumbernauld the other day. The one that used to be Dobbies. Diane was keen to buy Anemones. In the end she didn't buy any of these but came home with an Agapanthus! The Lily of the Nile! None of that is of any note except that it does fill up some space. The point to this story is that while we were there I saw something else.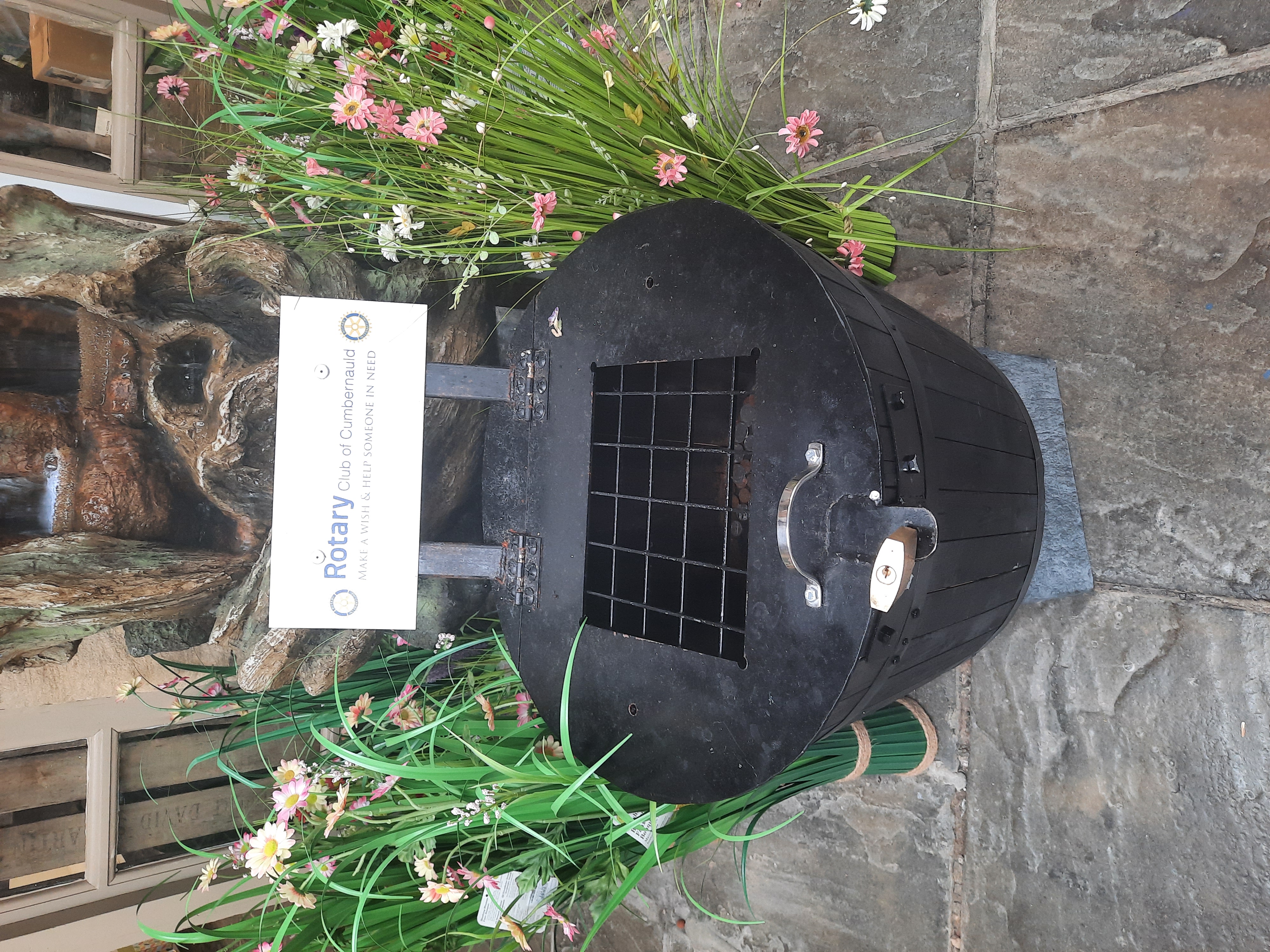 I thought that we might be able to do the same sort of thing somewhere. Then it dawned on me that Torwood Garden Centre is in Larbert's area and Klondyke is in Grangemouth. Barring B&Q or the Range there is no similar facility in our area. Maybe we could do it in the Howgate Centre. Any ideas?
On this day: -
=============================================================
4th August
This is Membership month! We are all encouraged to bring someone along!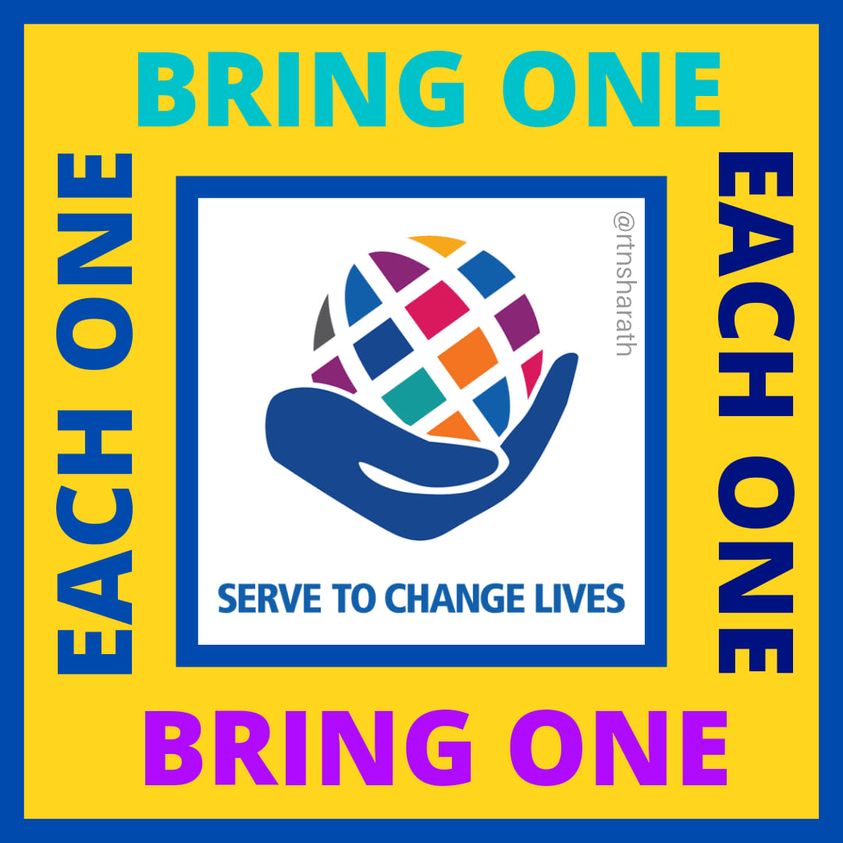 President Narek and his family are in Portsmouth at the Docks Museum.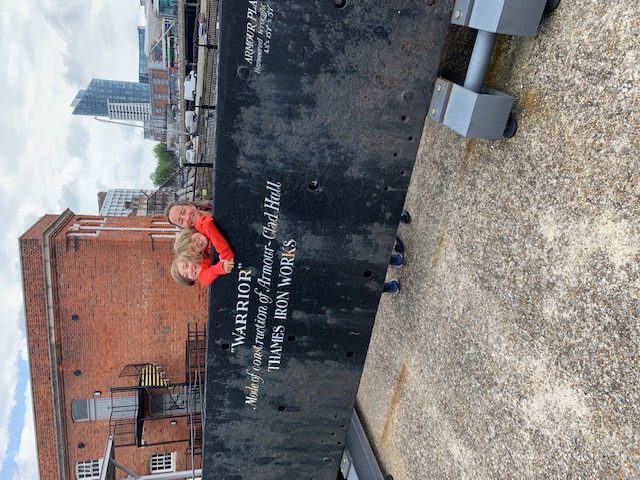 A chip off of the old block I would say: -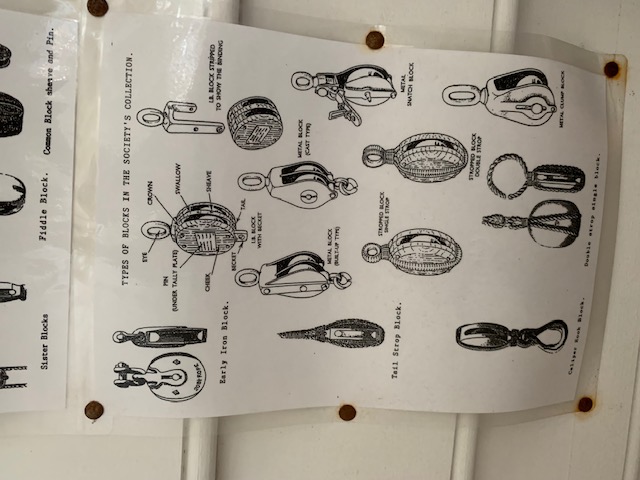 But it's just the same old drill!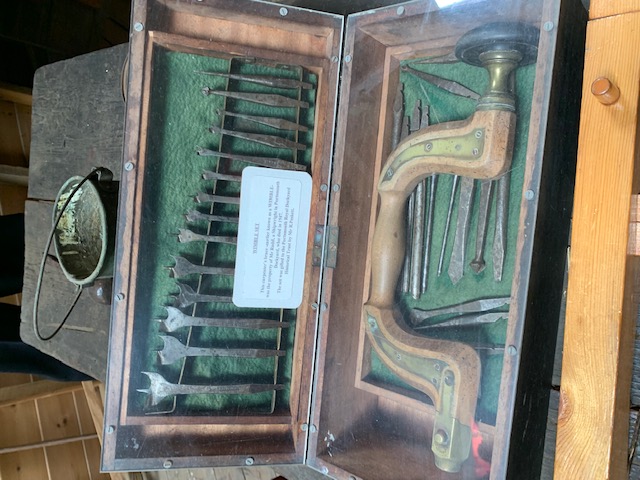 Nonetheless I think that they have nailed it!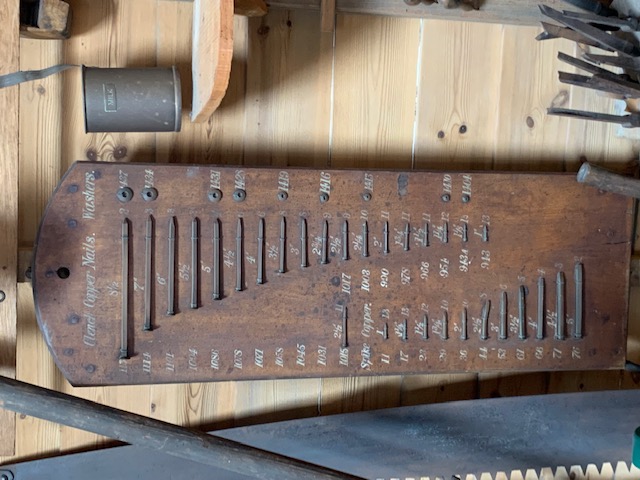 Enough Enough I hear you say!
On this day: -
1693 - Date traditionally ascribed to Dom Pérignon's invention of Champagne.
1704 - Gibraltar was captured for the British by Admiral Sir George Rooke.
1989 - On this day the first Bond movie to be released that did not bear the name of one of the Ian Fleming novels! It was the sixteenth Bond movie to be produced but which one was it?
2012 - The annual stinging nettle-eating competition, started in 1986, was held at The Bottle Inn pub at Marshwood near Bridport in Dorset. The current record at the event for the most amount of nettles eaten in one hour is 76ft (23m).
==================================================================
3rd August
Two or three years ago we were in Los Angeles visiting my nephew and his wife. Myles and Roxanne stay in the Northern suburbs of the city but have a holiday home at Big Bear to the East high in the mountains. Big Bear is a Ski Resort and they can quite easily be sunning themselves on Malibu beach in the morning and skiing in the afternoon. Anyhow we went to Big Bear and Roxanne was at pains to show me her latest kitchen gadget which consisted of a Sodastream! "Acchh!" says I, "We had wan o' they things in the 1970s! they are auld hat them!". She was suitably and appropriately cowed!
For the uninitiated a "Sodastream" is a countertop contraption that aeriates water.
Imagine my surprise when, a couple of years later, we were visiting Hopetoun House and I had the tables turned on me when we were introduced to the very first "Sodastream" circa latter half of the 19th century!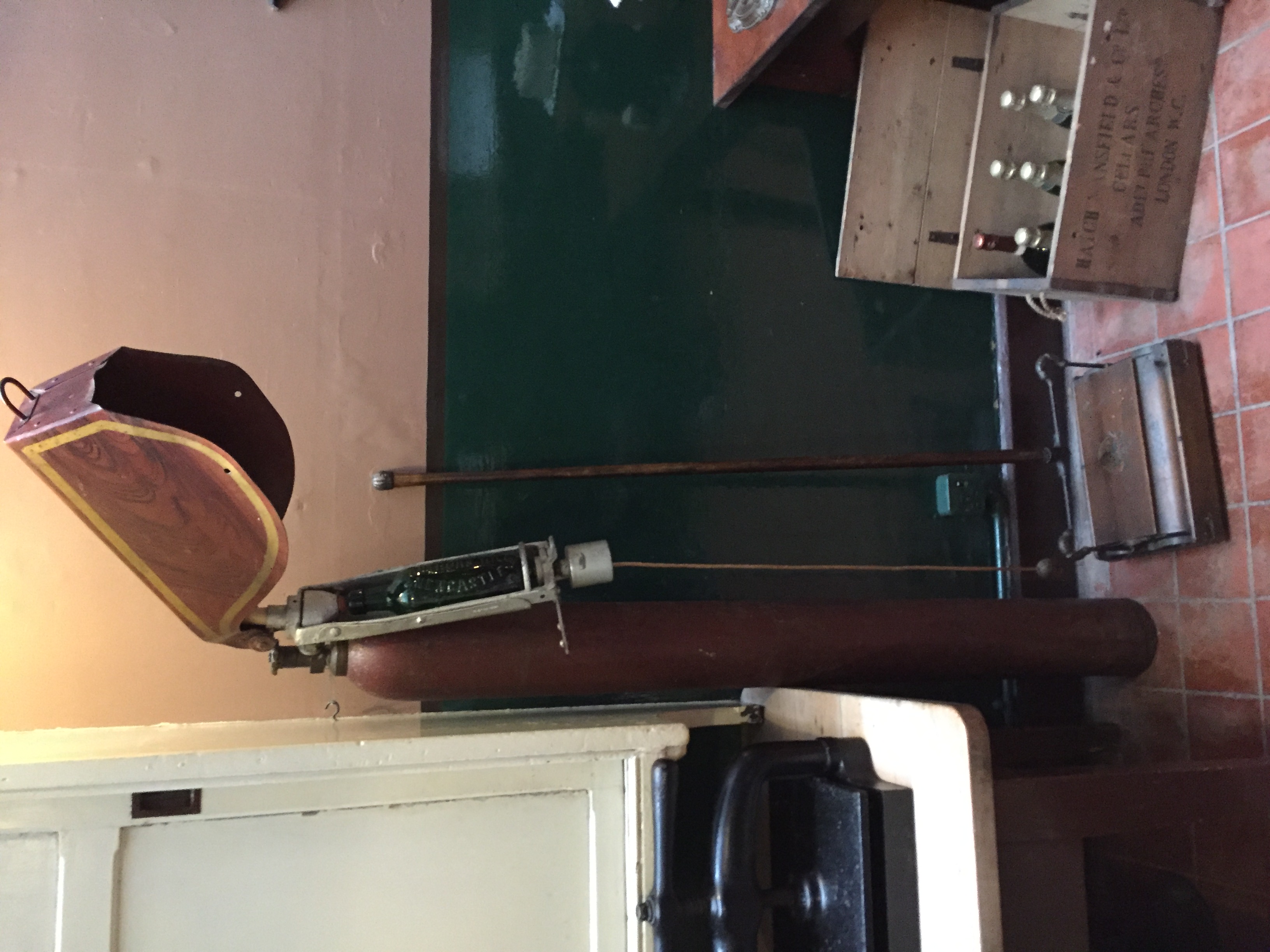 Our District esteemed District Secretary Ian Starkey has posted this on Facebook! I like it!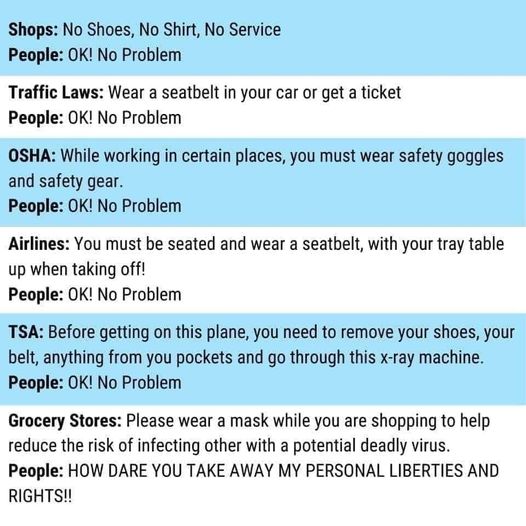 On this day: -
1936 - The black American track star Jesse Owens upsets Adolf Hitler's theory of Aryan superiority by winning a gold medal in the 1936 Summer Olympics held in NAZI Germany and known as "Hitler's Games". He won in the 100-metre dash with a time of 10.3 seconds and went on to win a total of four gold medals.
Shortly before the Olympics, the founder of what would become the Adidas shoe company persuaded Owens to wear a pair of his company's shoes. This was the first sponsorship for a male African American athlete.
1958 - USS Nautilus passes underneath the icecap at the North Pole.

===============================================================
2nd August #2
I have only just had an email from Sophie. Sadly too late to include in Rotary Calling but with some monumental news to confirm Linda's intimation on Thursday. Charlotte Rankine was born on Tuesday the 27th of July weighing 7lbs 9oz. Sophie says that this makes Robert and Mhairi Great Grandparents! I believe that they were always great grandparents but that's different. This is historic! The first child ever to be born to a serving Falkirk Rotarian. Here are the photies she sent: -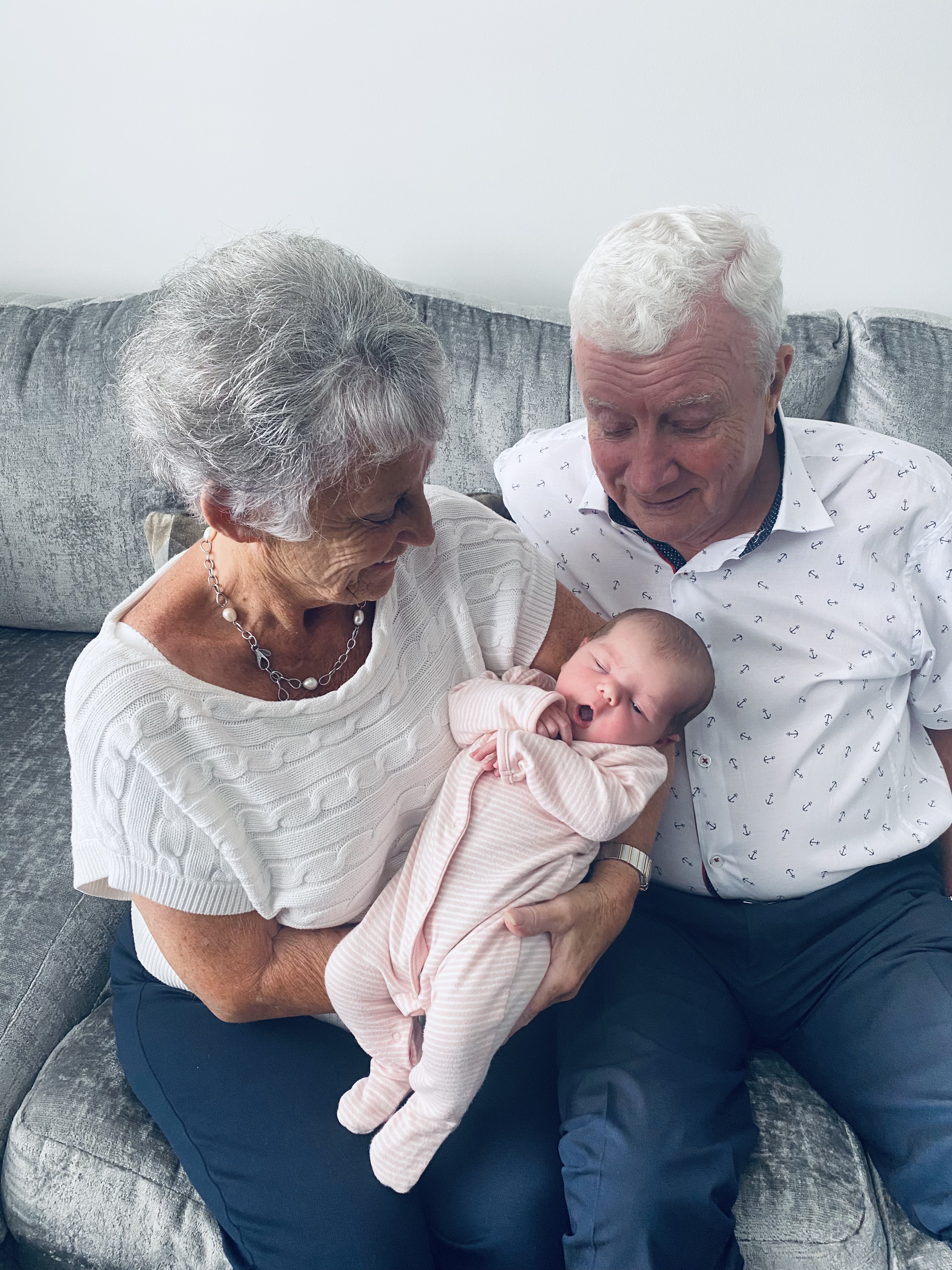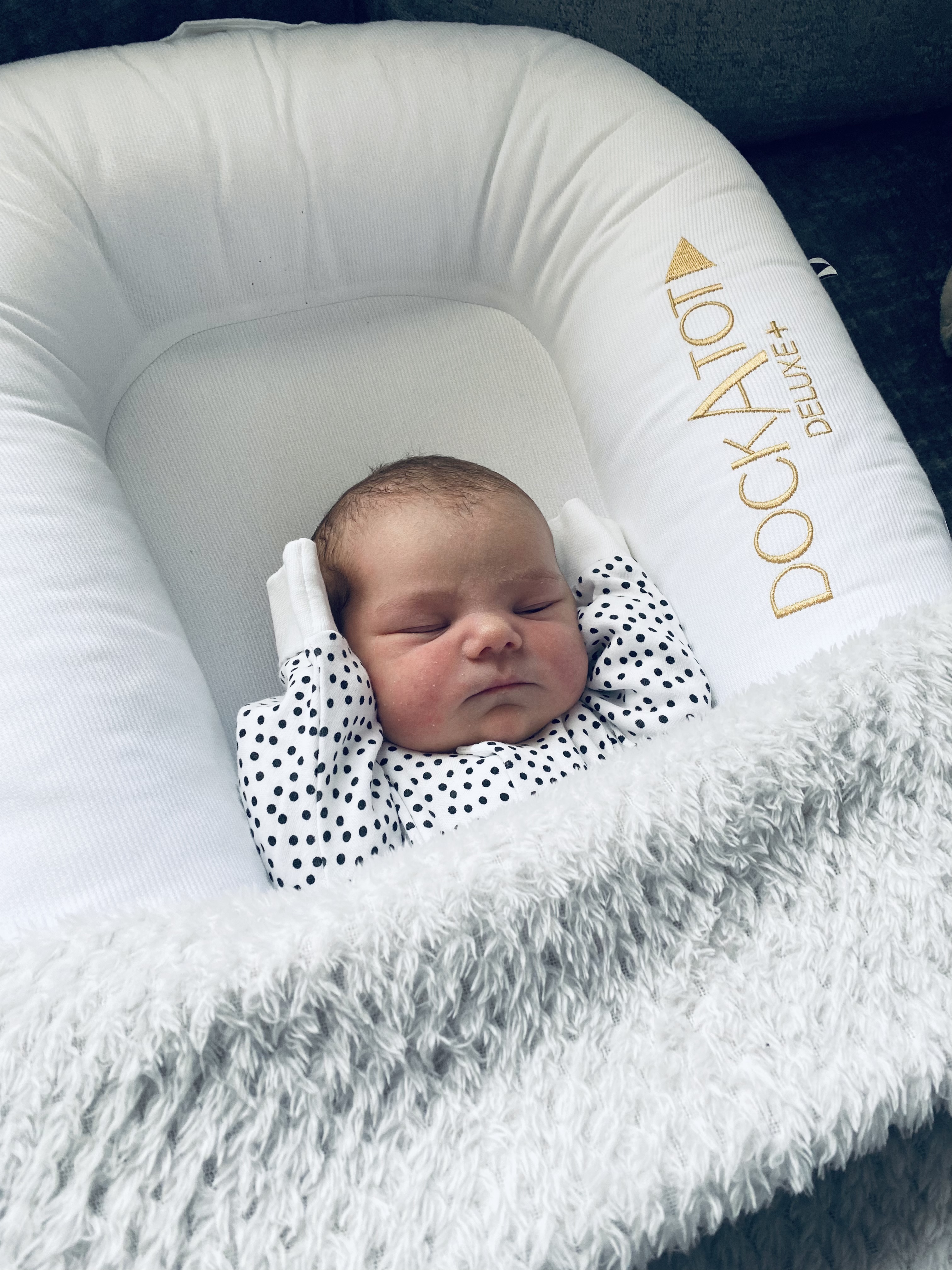 2nd August
I was looking for something to fill the last wee corner of Rotary Calling and came across an article about Beechams Pills. I put the wee bit in and then realised that there was much more to it. So apologies for repeating it but here goes: -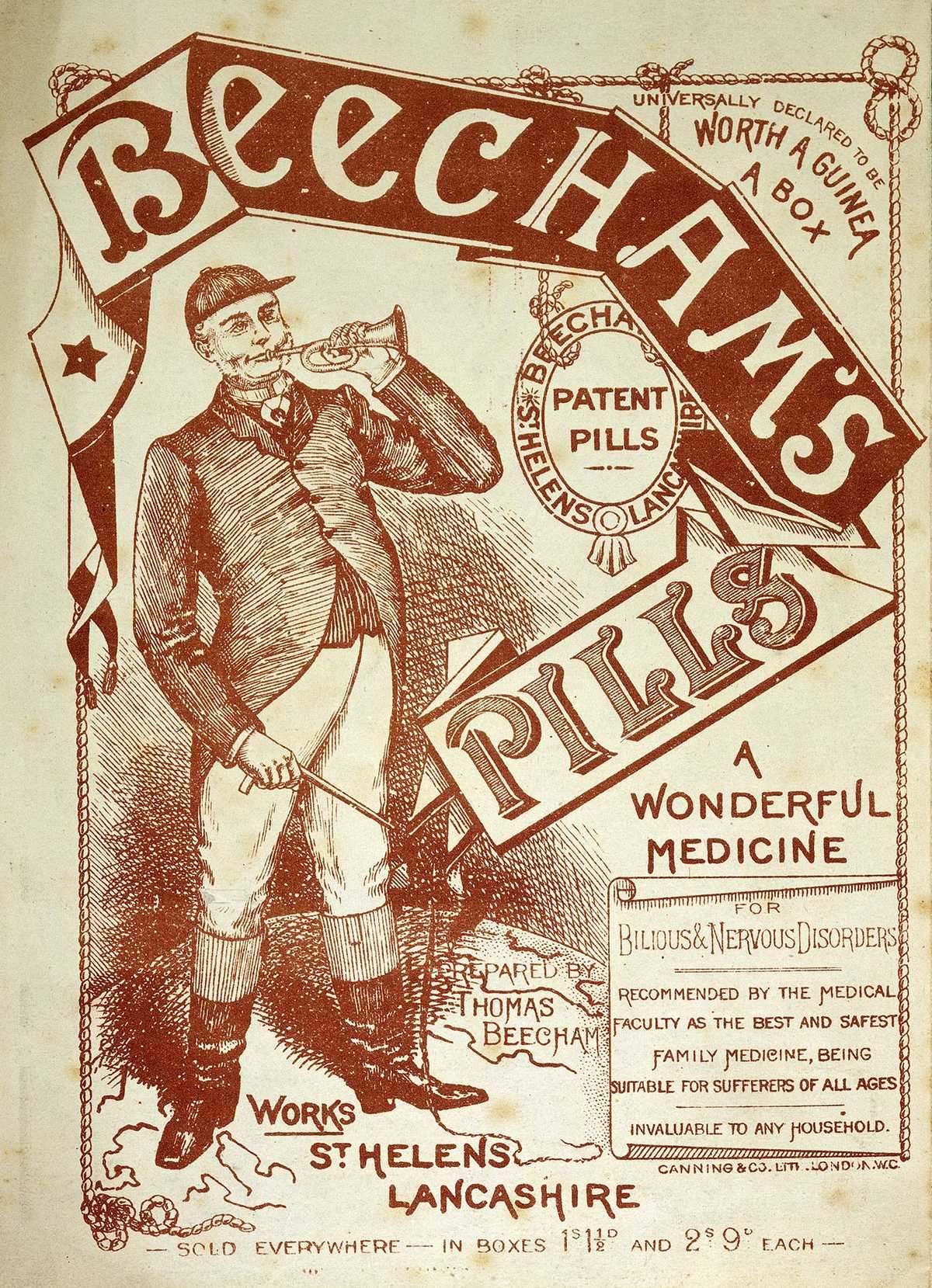 The world's first advertising slogan – "Beecham's Pills: Worth a Guinea a Box" – appeared in early August 1859. A fantastic amount for a pick-me-up box of pills. They actually sold for a fraction of that, of course, but the notion that they could be worth a guinea was highly contentious.
In fact, in 1912, the British Medical Association investigated the pills and concluded that they were made of 40 per cent aloes, 45 per cent ginger and 15 per cent powdered soap!
It all started in 1840 when Thomas Beecham set out with a bag of remedies to make his fortune in the cities of northern England. He had worked on a farm and developed an interest in herbalism while tending animals.

Pride of place amongst his stock of "cures" were the pills that he had named after himself and were presented at first as a simple laxative. But the medicine quickly gained a reputation for curing all sorts of ailments and disorders and the business thrived. In 1859 Beecham built a factory to cope with the demand and Beecham's Pills began to be exported across the world.

Thomas, a devotee of self-promotion and salesmanship, decided in 1894 to further boost the appeal of the pills by hiring the services of a Scottish poet named William McGonagall.

What ho! sickly people of high and low degree
I pray ye all be warned by me;
No matter what may be your bodily ills
The safest and quickest cure is Beecham's Pills.

They are admitted to be worth a guinea a box
For bilious and nervous disorders, also smallpox,
And dizziness and drowsiness, also cold chills,
And for such diseases nothing else can equal Beecham's Pills.

They have been proved by thousands that have tried them
So that the people cannot them condemn.
Be advised by me one and all
Is the advice of Poet McGonagall.
================================================================
30th July #2
I picked this up on facebook! any takers?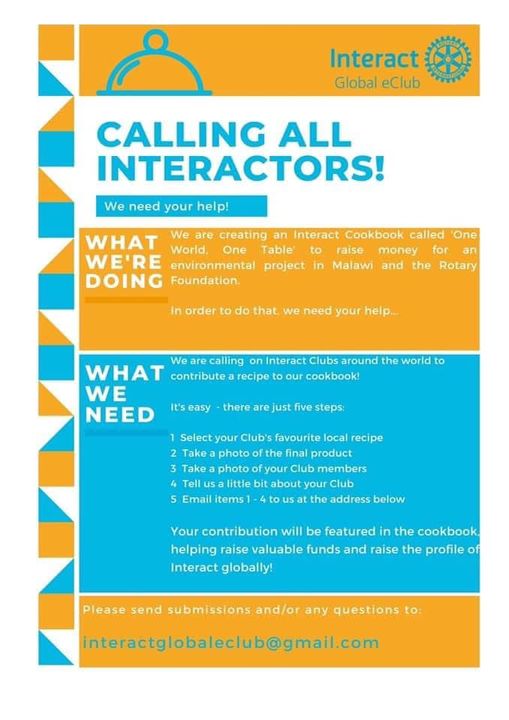 30th July
I began this much earlier. I had just begun, in fact, when Diane brought me through a cup of tea and two fresh pancakes with butter and blackcurrant jam. You have no idea how much mess can be created on a laptop keyboard when one drops such a pancake onto it and it lands face down. It has taken me ages to clean up!
Yesterday we visited Logan and Sheena for afternoon tea. It's the first opportunity we have had for a blether for ages. When we returned home this was on our doorstep: -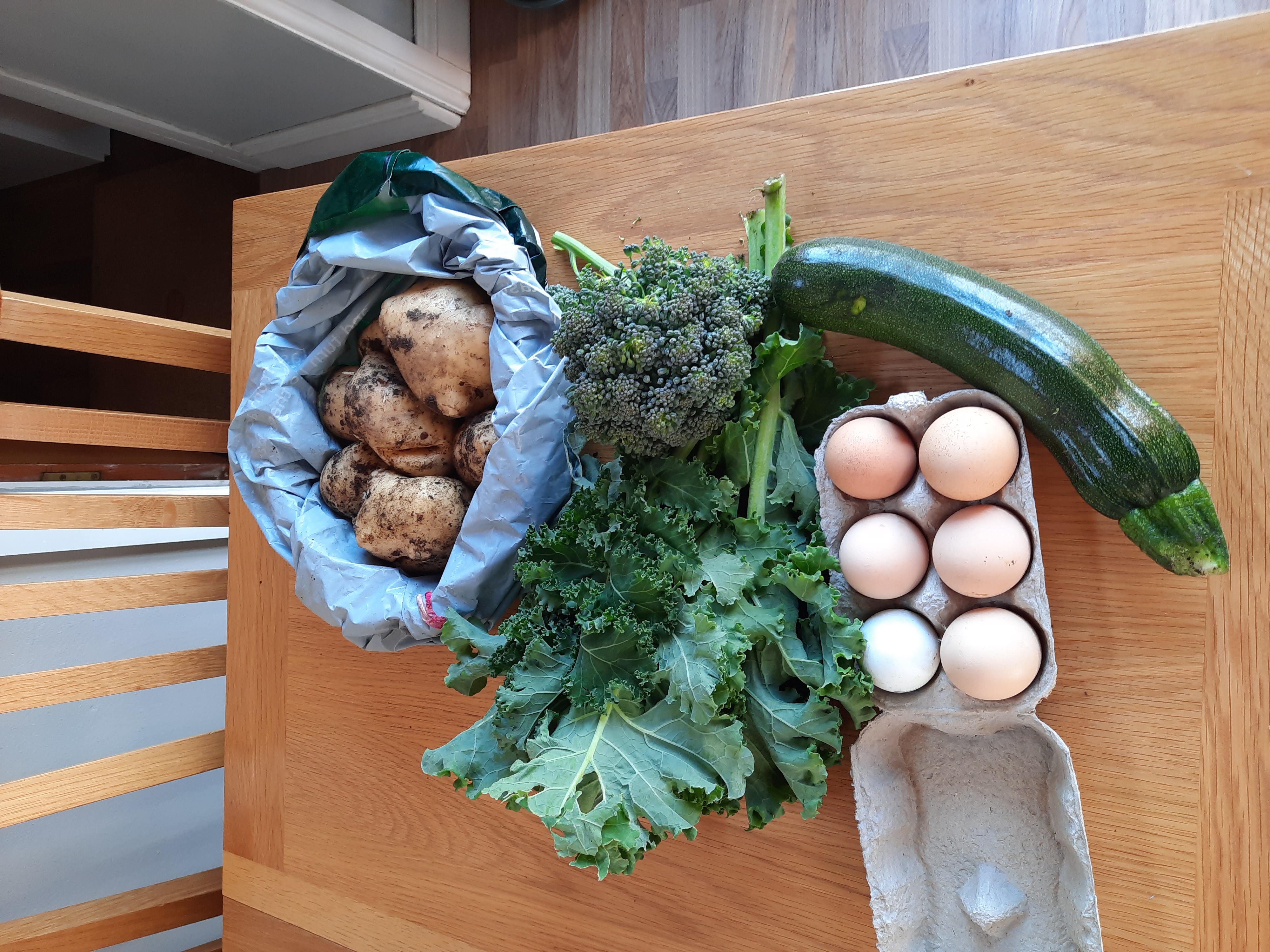 While we had been out I had gone shopping and had the makings of a mushroom Stroganoff but when we saw what Alison, our neighbour, had delivered we decided to have a Brocolli, courgette, kale and potato Frittata. It was delicious.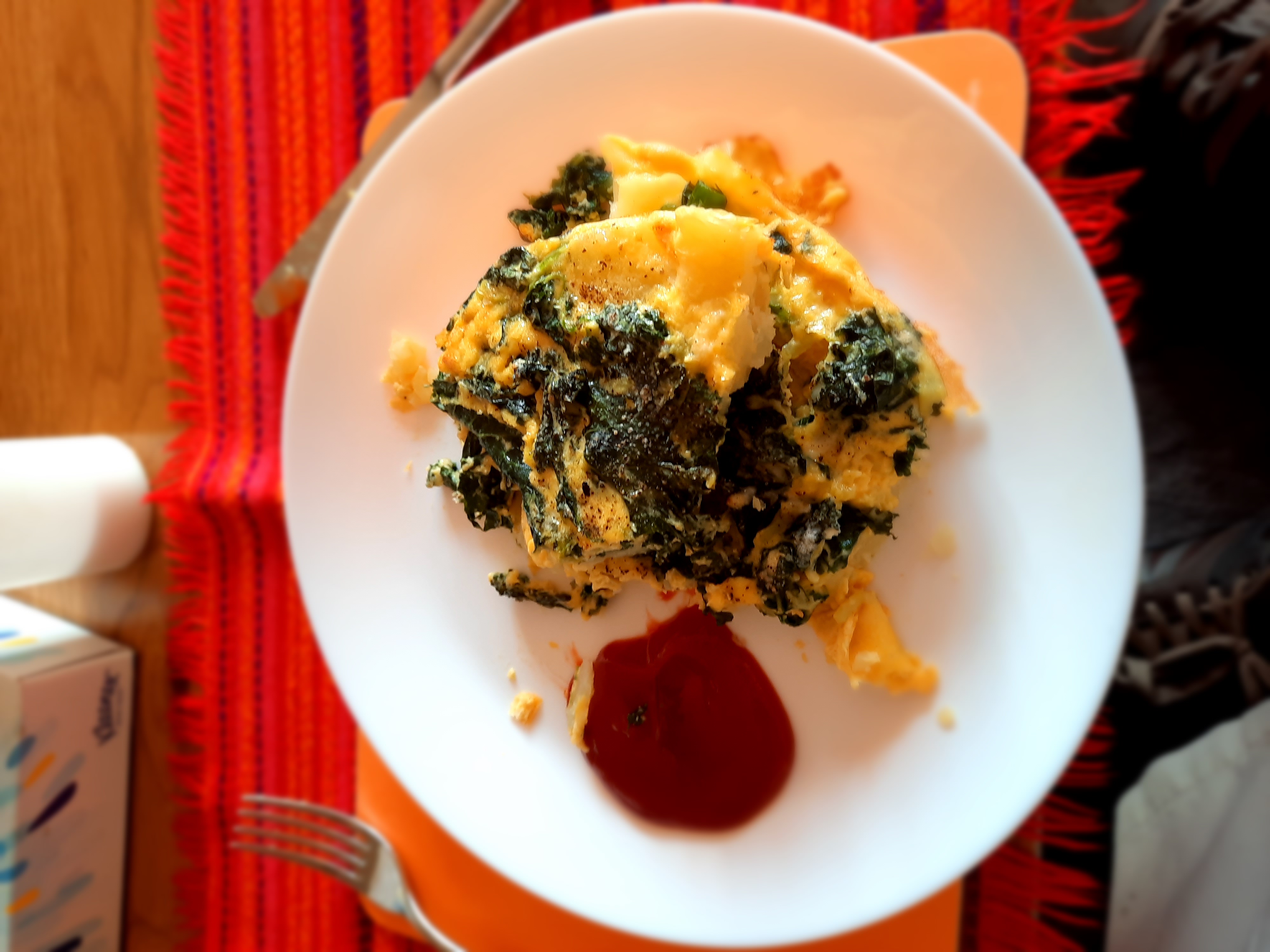 The only thing that we had to add was some cheese. Otherwise it was all there. That's the kind of neighbour to have.
On this day: -
===============================================================
29th July
Lots of stuff today, firstly though what happened to all of that rain and Thunder and Lightning that was forecast? My water butt was all but empty and the pond was beginning to show signs of evaporation so I had hooked up a hose to the waterbutt so that the pond would remain topped up from the overflow but nothing much has happened.
There were some Canada geese came by. I think that these have become resident. I am sure that I have shown them to you before but this is the first time that I have seen them from the Livingroom window. maybe they were looking for some water.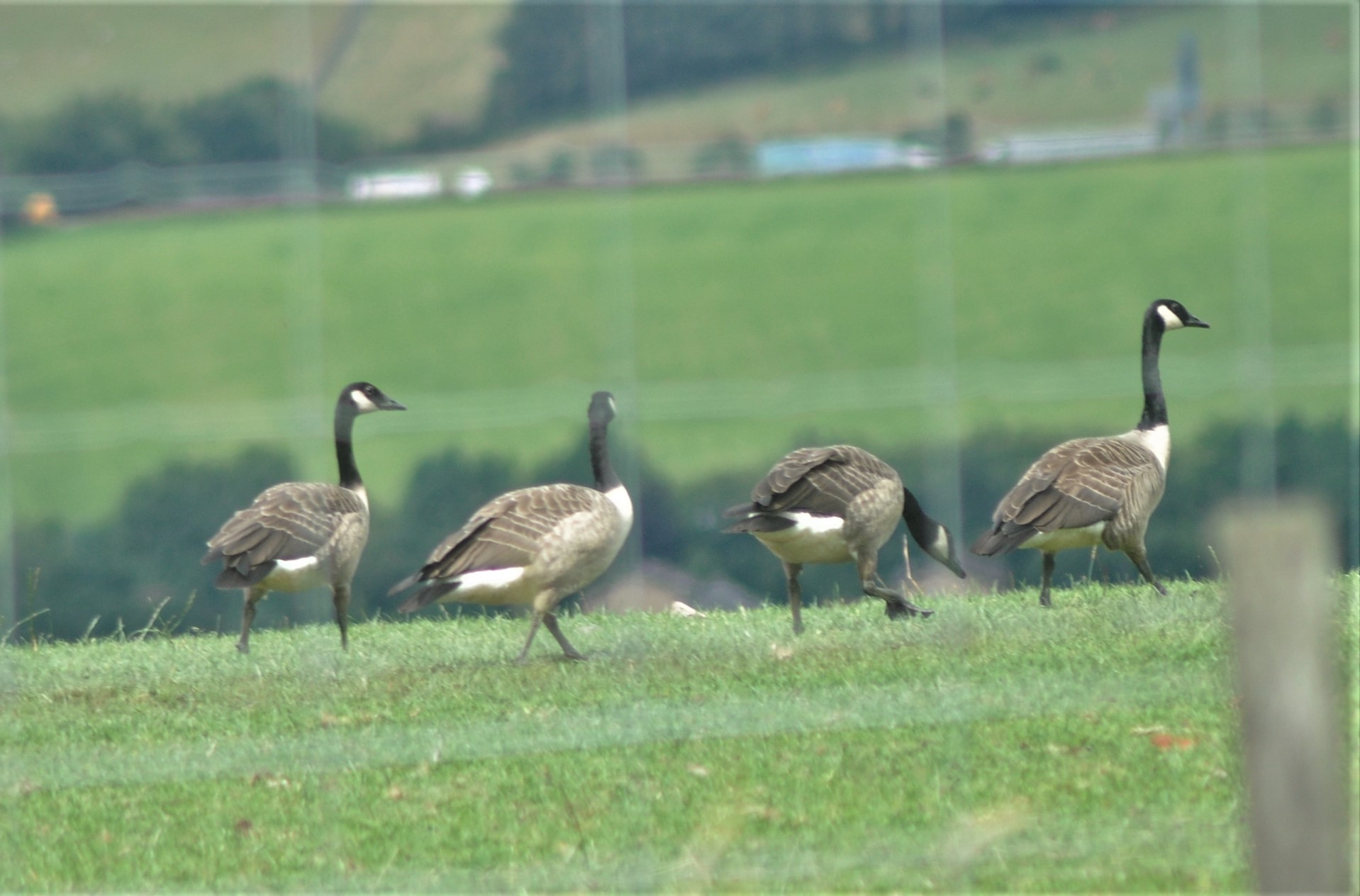 And then there were the ducks! Normally they would be waddling about in the mud. After years in Brisbane Glen in Largs I have come to call what they do while waddling in the mud as "guddling" but there is no mud! Which I think explains this. I only saw them at this for the very first time the other day and they were at it again this morning. They are walking through the long grass and seem to be feeding on the seeds of the tallest of it.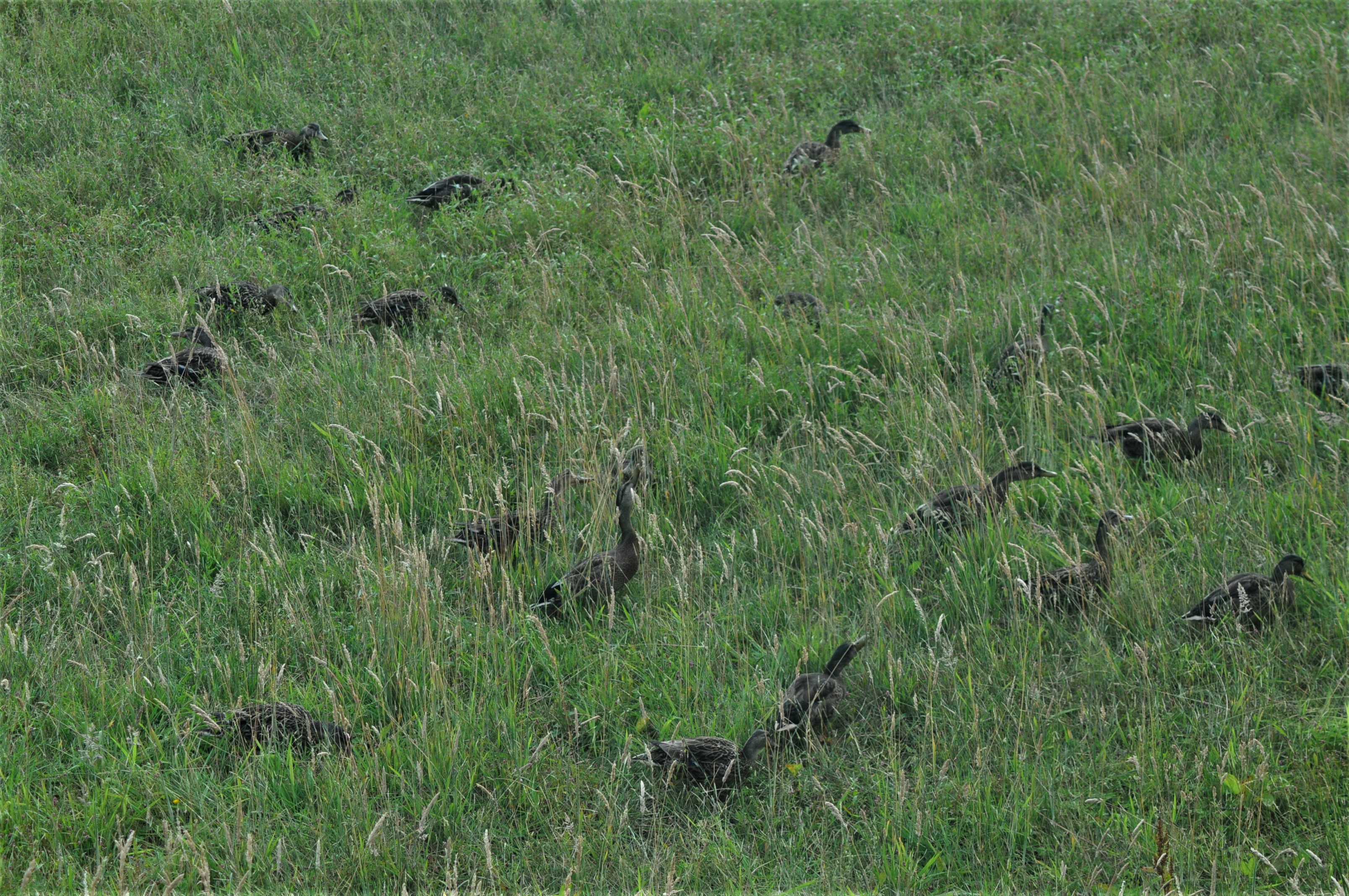 On Tuesday I talked about the Darien venture and how Scotland was prevented from trading with English colonies. Gordon sent me this in explanation- interesting!: -
The maritime act preventing Scottish ships from trading to English ports was the first attempt in Britain to establish Cabotage, which is the requirement for a nation to allow only its own vessels to carry goods between its own ports. It is now widespread.
When I was still working, GB cancelled Cabotage since the EU banned it. However many EU countries still had it because they had it in their regulations since before the start of the EU and had not got round to cancelling it yet. A case in point was a Dutch chemical tanker which went from Grangemouth to Newport and back for several years carrying Benzene and Benzene Concentrate. The Master explained to me that we were mad to cancel our Cabotage laws so quickly. Netherlands kept being told to do so by Brussels but kept making excuses that they didn't have space in their Parliament at present but would do so as soon as they could. So although he could trade on the British coastal trade, a British vessel could not trade on the Dutch coastal trade. There was another case where a British company sold all their ships to Dutch owners who then traded them on the British coast with far east crews carrying the same cargoes that the British owners had been carrying with British crews.
Incidentally, the distance from Grangemouth to Newport is almost the same whether you go by the Pentland Firth or the English Channel, so the ship sometimes went clockwise and sometimes anticlockwise, usually depending on using the tide effectively. He even used to go through the Corryvrechan if conditions were favourable.
On this day: -
1588 - The Battle of Gravelines - Spanish Armada damaged and scattered by the English fleet. Now who knew that's what the battle was called? Many of the Spanish ships had to "cut and run" to escape the English fire ships at Calais. Meaning to make a cowardly retreat, the phrase "cut and run" that we use today originates from the navy and in literal terms means to cut the anchor line and sail downwind, leaving the anchor behind.
1956 - In case you missed it, 65 years ago today Ecurie Ecosse shocked the motoring world by winning, at their first attempt, the Le Mans 24 hour race in their second hand Jaguar MWS 301, beating Maserati, Porche, Ferrari, Aston Martin et al. The car cost £3,633 in 1955, and in 1999 sold for £1.7 million.


Gordon.
==============================================================
28th July
I was reminded recently about trying to get my dad's telephone disconnected when he died. The customer-service rep told me that since the account was in my dad's name, he'd have to be the one to request termination of the account. The fact that he was dead didn't sway her. Then a solution hit me. "If I stop paying the bill, what will happen?" I said. Then she replied "Well, we would turn off the service but that would ruin his credit score!."
The things listed under, about the influence of JS Bach on many modern composers, reminded me of the fact that I have long harboured an annoyance at Eric Carmen and his 1975 single "All by myself". It has been covered by many artists since; artists like
Celine Dion, Shirley Bassey and, er, John Barrowman. It
is a great song but it has been totally unapologetically plagiarised from the second movement (
Adagio sostenuto
) of Sergei Rachmaninoff's (circa 1900-1901) Piano Concerto No 2 in C minor Opus 18.
I kind of knew that JSB was ringing bells but couldn't quite catch on then I realised that my business partner of 40 years was John (Jack) Stevenson Berwick.
On this day: -
1750 -Johann Sebastian Bach, the master of sublime Baroque music, died on this day. Celebrated for the choral and sacred music that he composed nearly 400 years ago, Bach has had a surprising impact on modern pop charts, influencing stars such as Paul McCartney and Lady Gaga. According to Paul McCartney, Bach's Bourrée in E minor lent its shape and harmony to the opening of "Blackbird", by The Beatles. And a piccolo trumpet plays lines from Bach's "Brandenburg Concerto No. 2" in the orchestration of the worldwide Number One hit, "Penny Lane".
Other Bach "borrowings" in Beatles' songs includes "All You Need Is Love", where his Invention No. 8 in F rings out during the final orchestral section.
His four-part chorale O Sacred Head Now Wounded inspired Paul Simon when he was writing Bridge Over Troubled Water, and a reworking of Bach's "Jesu, Joy of Man's Desiring" opens Lady Lynda by the Beach Boys.
1945 - "Elevator girl" Betty Lou Oliver survives falling 75 stories after fog causes a US bomber plane to crash into the Empire State Building, breaking the cables supporting the elevator she was operating. This remains a world record for the longest survived elevator fall
1976 - Tangshan Earthquake, 8.2 in magnitude kills over 240,000 Northern China in the largest loss of life from an earthquake in the 20th century.
2005 - The Provisional Irish Republican Army call an end to their thirty year long armed campaign in Northern Ireland.
2021 - Team GB take another gold in the pool winning the mens 4x200m freestyle relay in a fraction of a second short of a new world record.

=======================================================================
27th July
This morning I watched for the first time a Rugby sevens match between New Zealand and Canada. WOW! What a frantic sport. I hadn't realised just how manic the game would be but great entertainment just the same.
And another Gold in the Pool. Thomas Dean and Duncan Scot between them take Gold and Silver in the 200m freestyle and not an Australian nor an American in contention.
On this Day: -
==================================================================
26th July
We've been watching the Olympics! Isn't it amazing what you can learn! I mean if I saw a guy on his own with two oars in a rowing boat in the middle of a loch I would have said that he was rowing! Now that seems to be sensible doesn't it? But I'd be wrong! Apparently when you are rowing you only have one oar! like the guys in the boat race. They are rowing. On the other hand if you have two oars, one in each hand then you are sculling! Seemples!
Didn't Adam Peatty do well! 57.37 for 100m Breaststroke and a full two thirds of a second ahead of the silver medallist. His best, which is the current World Record, is 56.88 set in South Korea two years ago.
On this day: -
=================================================================
24th July,
Time marches on doesn't it!
We were watching one of these Antiques shows yesterday and witnessed an "expert" lift, for examination, a "pair" of binoculars! Now having only one eye binoculars are not much use to me so I have a "monocular".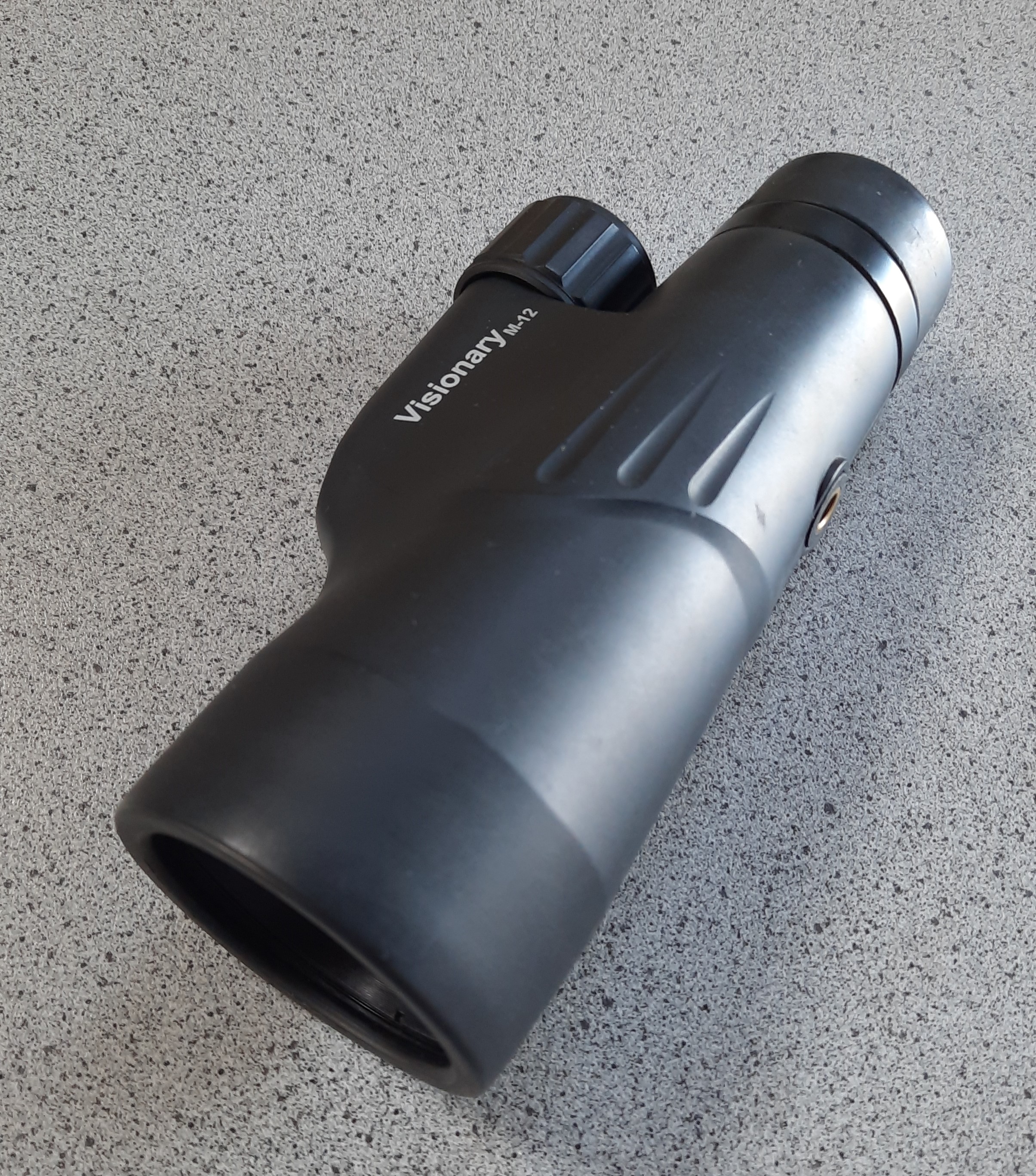 But when I was watching the show I thought, surely a "pair" of
"Bi
noculars" would consist of four monoculars! I thought, if its going to be a pair of anything, it should be a pair of monoculars. Otherwise it's just a binocular!
Or am I being pedantic again?
(That, by the way, is an excellent example of a rhetorical question.)
On this day: -
1851 - This was the day when citizens of the United Kingdom were allowed light and air in their homes without having to pay for it. The long-hated Window Tax had finally been scrapped. Imposed in 1696, it was a banded tax, so that the more windows a house boasted, the more its owner would pay in tax. Inevitably, property owners and developers did what they could to avoid the levy. The rich built new houses with the minimum number of windows, while the poor in their tenement housing simply bricked up the windows, making their cramped, dark dwellings even more gloomy. In the darkened tenements, the bricked-up windows came to be known as "Pitt's Pictures" – a scathing reference to Conservative Prime Minister William Pitt the Younger, who enthusiastically supported and extended the Window Tax.
1943 - Operation Gomorrah: RAF begins bombing Hamburg (till 3rd August), creating a firestorm and killing 42,600 people.
22nd July
One of my star drivers has just phoned to say that she won't be able to continue. I have spent the last hour trying to rejig things.
This weather is something else! I was returning from my nurse appointment today and was interrupted by the road being closed to allow the transfer of young bucks across the road. It took about 20 minutes during which time my neighbour who had also been stopped came across and apologised for not having delivered eggs that she had promised me. I had forgotten that she had said that but she went to say that she will deliver eggs and vegetables when she gets a chance. That's the sort of neighbour to have.
On this day: -
================================================================
21st July
Good grief, It has been a week since I was last here! It never even occurred to me.
It's that time of the month again when I remind you all to contribute some of your saved lunch money towards the Food Bank.
Lots of things have been happening in my life not least of which was stocking up with winter logs again. We did manage yesterday to have a wee trip out though. It was the occasion of my six monthly visit to the Princess Alexandra Eye Pavillion in Edinburgh to have my eye polished. I would normally have parked in the Quarter Mile car park which accepts card payments but it had a big sign up saying it was full. The street parking is ludicrously expensive so I left Diane in the car with a £1 coin. If she saw a Traffic Warden she would go to the machine and purchase 12 minutes of parking time. The machine didn't accept cards you see! We had no cash except for the £1 that I keep in the car for putting in Supermarket Trolleys.
In the end I emerged from the Pavillion to see Diane striding from the car towards the ticket machine. She had only just seen the Warden and was on her way to purchase a ticket. So we simply returned to the car and made off towards the Gyle where we could park for free and have lunch. As it was the lunch cost us £11! If we'd stayed at Quarter Mile to eat, like we would normally have done, the parking alone would have cost us £16.
On this day: -
1776 -Abigail Adams, wife of President John Adams, took an active role in politics and became known as a prolific letter-writer. On this day she wrote to her husband describing reaction to the Proclamation for Independence being read out at Boston, Massachusetts: "Last Thursday, after hearing a very good sermon, I went with the multitude into King Street to hear the Proclamation for Independence read and proclaimed.
"The troops appeared under arms, and all the inhabitants assembled there (the smallpox prevented many thousands from the country), when Colonel Crafts read from the balcony of the State House the proclamation.
"Great attention was given to every word. As soon as he ended, the cry from the balcony was, 'God save our American states,' and then three cheers which rent the air.
"The bells rang, the privateers fired, the forts and batteries, the cannon were discharged, the platoons followed, and every face appeared joyful.
"After dinner the King's Arms were taken down from the State House, and every vestige of him from every place in which it appeared, and burnt in King Street.
"Thus ends royal authority in this State. And all the people shall say Amen."
1796 - Robert Burns dies!

1969 - Neil Armstrong becomes the first person to step on the Moon at 2:56:15 AM (GMT).
============================================================
14th July,
I rose early yesterday! 06.30 saw me showered and shaved eady to head for Coupar for 09.00 to help Wendy at a Photoshoot. Diane was babysitting the kids while Wendy and I were at the Pool. When I got home at lunchtime Diane and the kids were nowhere to be seen! So I made my lunch and then took a walk along the road. I have always been extremely aware of my surroundings since being discharged in 1979 from Ward 7 at Falkirk and District Royal Infirmary. I had been incarcerated there for 14 days without natural lighting while they removed my left eye and was gobsmacked by everything I saw when I got out. Trees, bees, fleas even grease! It's amazing what is always around us that we take for granted.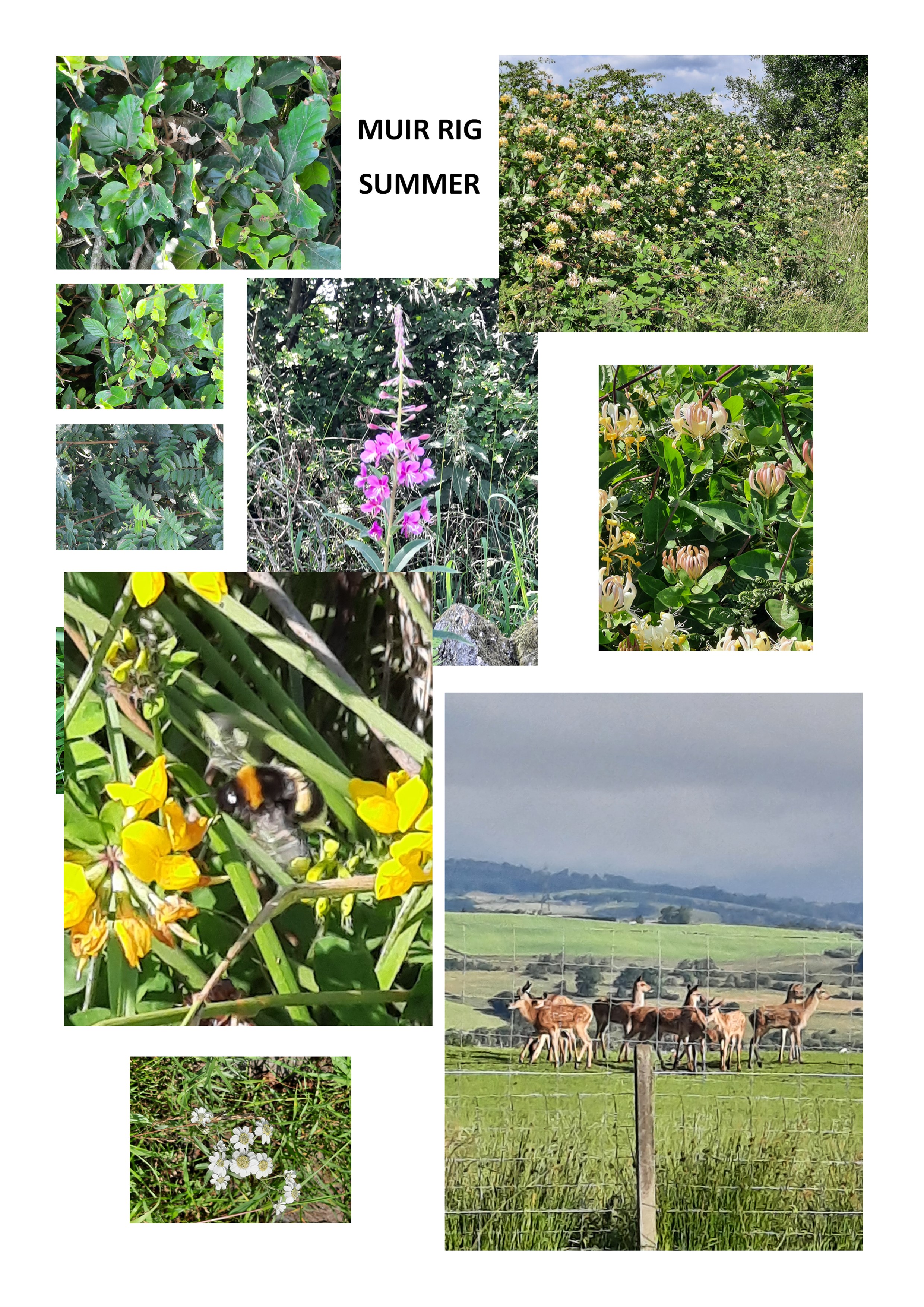 While the phalanx of Fawns was taken this morning, the others were taken during my walk along the track. I was so engrossed when I reached the road end (with my blind side to the left while I took photographs) I failed to notice an approach from that side. "Hi!" took me by surprise because there was no other sound. I turned to my right to see, disappearing into the distance, no ordinary athlete. A total lower limb amputee sat on a carriage no more than 450mm square and 150mm high propelling himself at speed with what could only be described as two ski poles. He was gone before I could gather my senses.
The place where he passed me is about 105m above sea level and the main road at Allandale (the direction from which he had come) is about 60-65m above sea level. Over the course of about a mile from Allandale up to where I stood there are some seriously steep hills totalling therefore about 50 metres. That's the best part of 170 feet. I wish I had been quick enough to respond to the guy (I assume he was a guy! Maybe not! It was just the voice that left me with that impression.) And Impressive is the word.
On this day: -
=====================================================================
12th July #2
Just in case you don't watch the Club Facebook page Linda has been shopping again, this time for small tins of meat, custards, puddings toothbrushes and microwaves. This brings our total since the start of this pandemic to £6,557 which represents 3.628 tonnes of produce. (not including the microwaves)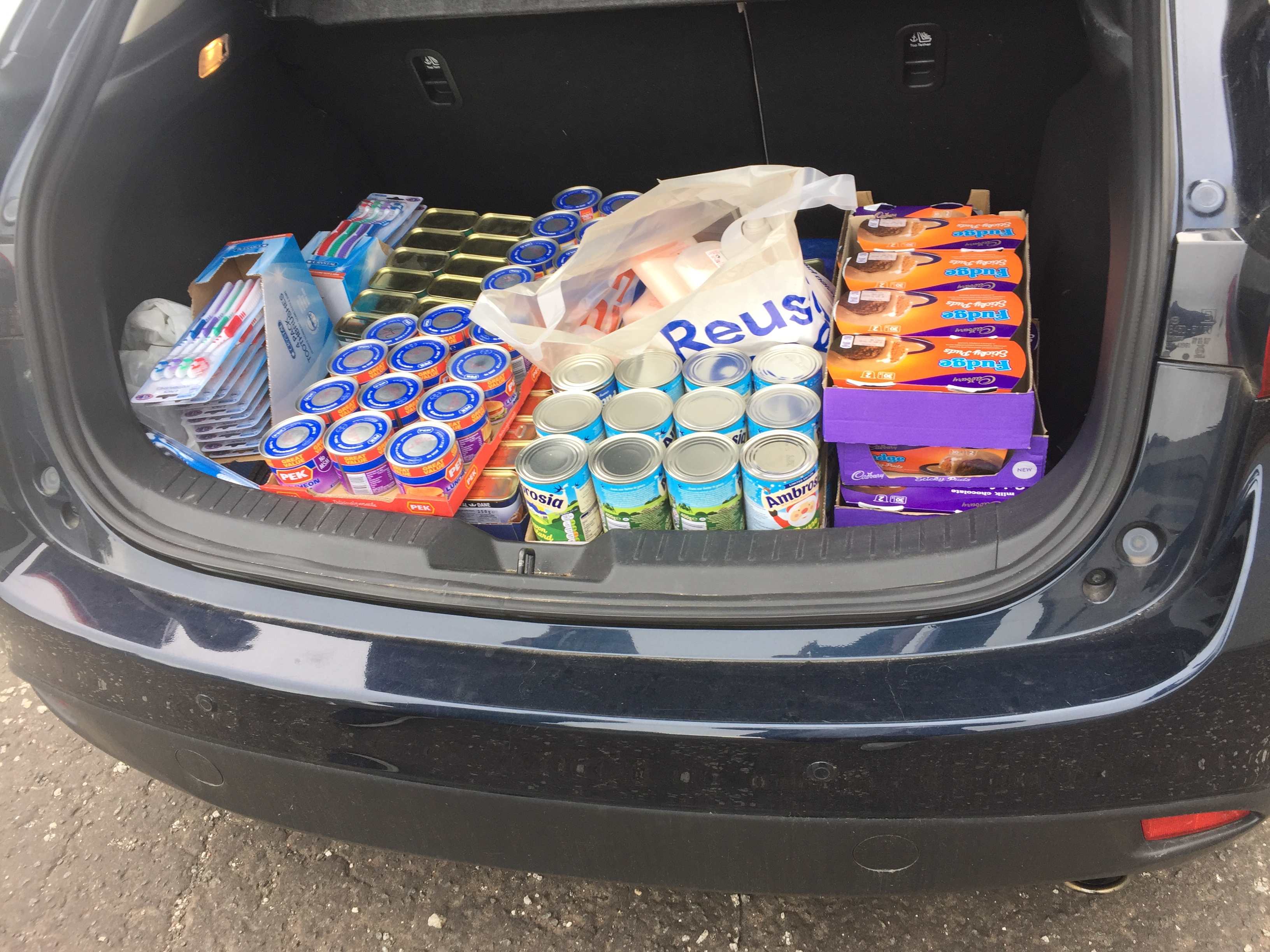 12th July
I was really sad last night when I heard the news that the English Football Team had failed to win the EUFA Euro 2020 Competition.
(I give it it's proper title just in case anyone didn't know it was happening.)
My sadness stems from the fact that we now have to continue to endure interminable references to a 55 year old victory.
I don't know if you are interested but did you ever wonder where the three lions on English Heraldry came from? Author and historian Eugene Byrne explains on the BBC History site the origins of England's royal arms and the three lions – or 'leopards' – upon it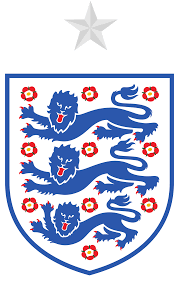 "Medieval bestiaries comprised both real and mythical creatures, and the medieval intellect wasn't interested in our modern post-Enlightenment taxonomy. Hence the yarn about a heraldic painter [someone who designed coats of arms] who visited the royal menagerie in the Tower of London and protested that the caged lions are not lions. "I know what lions look like," he says. "I've been painting them all my life."
Generally speaking (and there are many exceptions in different traditions), a lion rampant (standing erect with forepaws raised) was a lion, while a lion walking with head turned full-face (passant guardant) – as in the English royal arms – was a leopard. It's important to note that 'leopard' was a technical heraldic distinction; there were no spotted felines on any coat-of-arms in the Middle Ages.
Like all heraldic animals, the leopard carried some symbolic meaning; it was thought to be the result of an adulterous union between a lion and a mythical beast called a 'pard' (hence leo-pard). Believed to be incapable of reproducing, leopards were sometimes (but not always) used for someone born of adultery, or unable to have children – a senior clergyman for example. The English royal arms included the three lions from the time of Richard I (reigned 1189–99) onwards (with a few early gaps).
The English usually referred to them as leopards until the late 1300s when they started calling them lions. French heralds continued to call them leopards, and, during the Hundred Years' War, the French sometimes referred to the English as 'the leopards'."
This article was first published in the December 2012 issue of BBC History Magazine.
It was an emotional wedding! Even the cake was in tiers!
And the bird that was afraid to fly? ......CHICKEN!
On this day: -
1997 - Malala Yousafzai is 24 today. Famous for her human rights advocacy for the education of women in her native Swat Valley in the Khyber Pakhtunkhwa province of northwest Pakistan, where the local Taliban had at times banned girls from attending school.

On the 9th October 2012, as she tried to board her school bus, she was stopped, asked for by name and shot three times, including once to the face. The assassination attempt, blamed on the Taliban sparked a national and international outpouring of support for Yousafzai.

Despite the attack and continued death threats from the Taliban she has continued to advocate for worldwide access to education especially for young girls and women.
===================================================================
11th July
I was trawling through all sorts of stuff today looking for some inspiration for today's blog and came across this newspaper cutting: -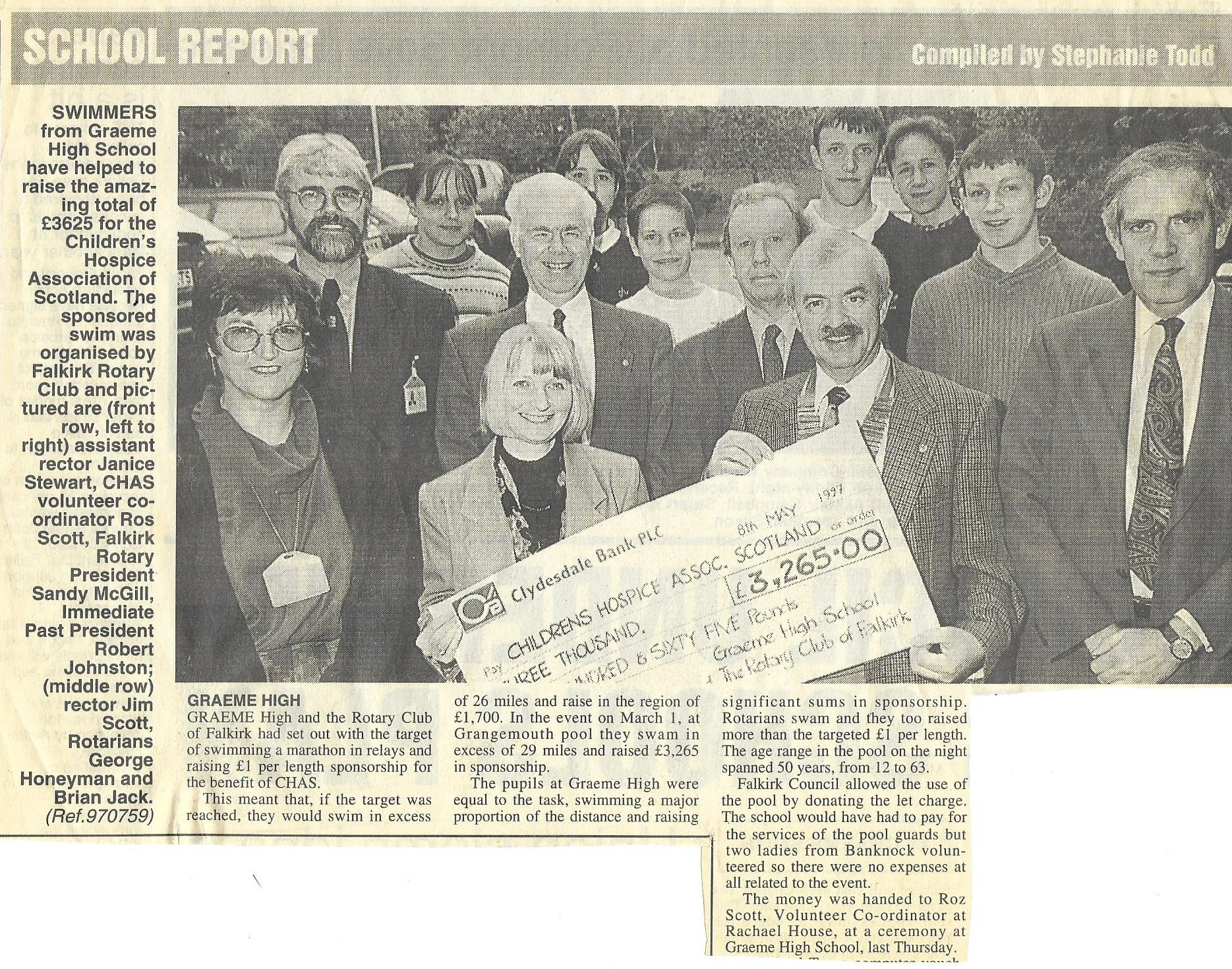 I had forgotten all about this. But amusingly in the same paper there was a hilarious article about Councillor Billy Buchanan being brought to task for singing in the corridors of the Municipal Buildings. "A Council Official had sent a memo to the Councillor saying that his singing had recently increased 'both in volume and frequency'"
The acting director of Law and Admin is quoted as saying: - "Councillor Buchanan has not been asked to stop singing, merely to refrain from doing so loudly!"
On this day: -
1892 - The U.S. Patent Office declares that Joseph Swan of England had invented the carbon filament incandescent lamp, a year before Thomas Edison.
1960 - Harper Lee's "To Kill A Mockingbird" is published.
1979 - The 82-ton U.S. space station, launched in 1973, crashes to earth. About 22 tons of it were expected to survive reentry prompting much public concern. However, it landed safely over the Indian Ocean and Australia. The Shire of Esperance in Western Australia fined NASA $400 for littering.
What do you call a bird that is afraid to fly?.......

===============================================================
10th July
It's really muggy out there today but pleasant nonetheless. I have successfully grown lettuce and Rocket in tubs and quite pleased with myself but I also appear to be inadvertently feeding a whole pile of larvae and gastropods.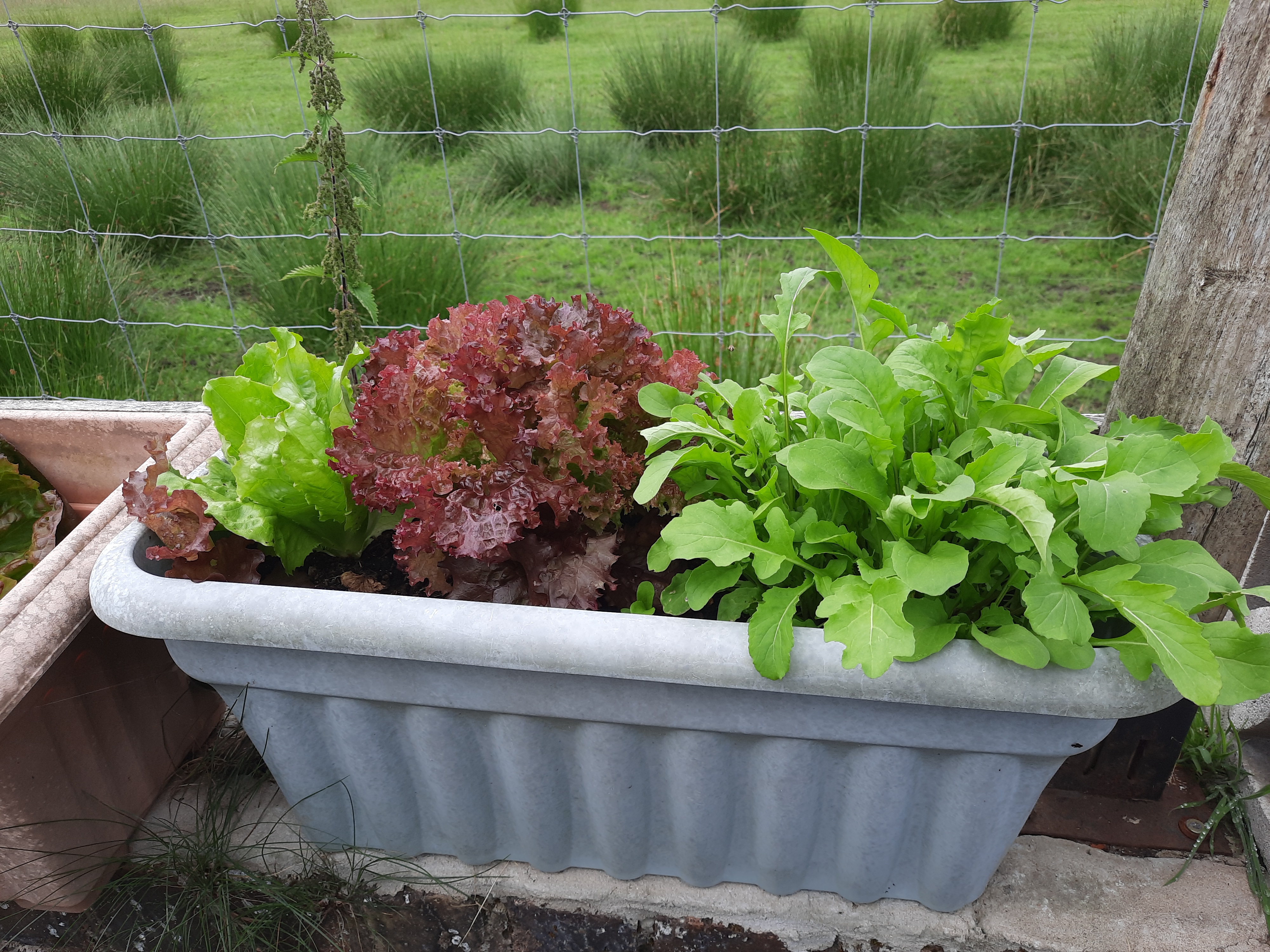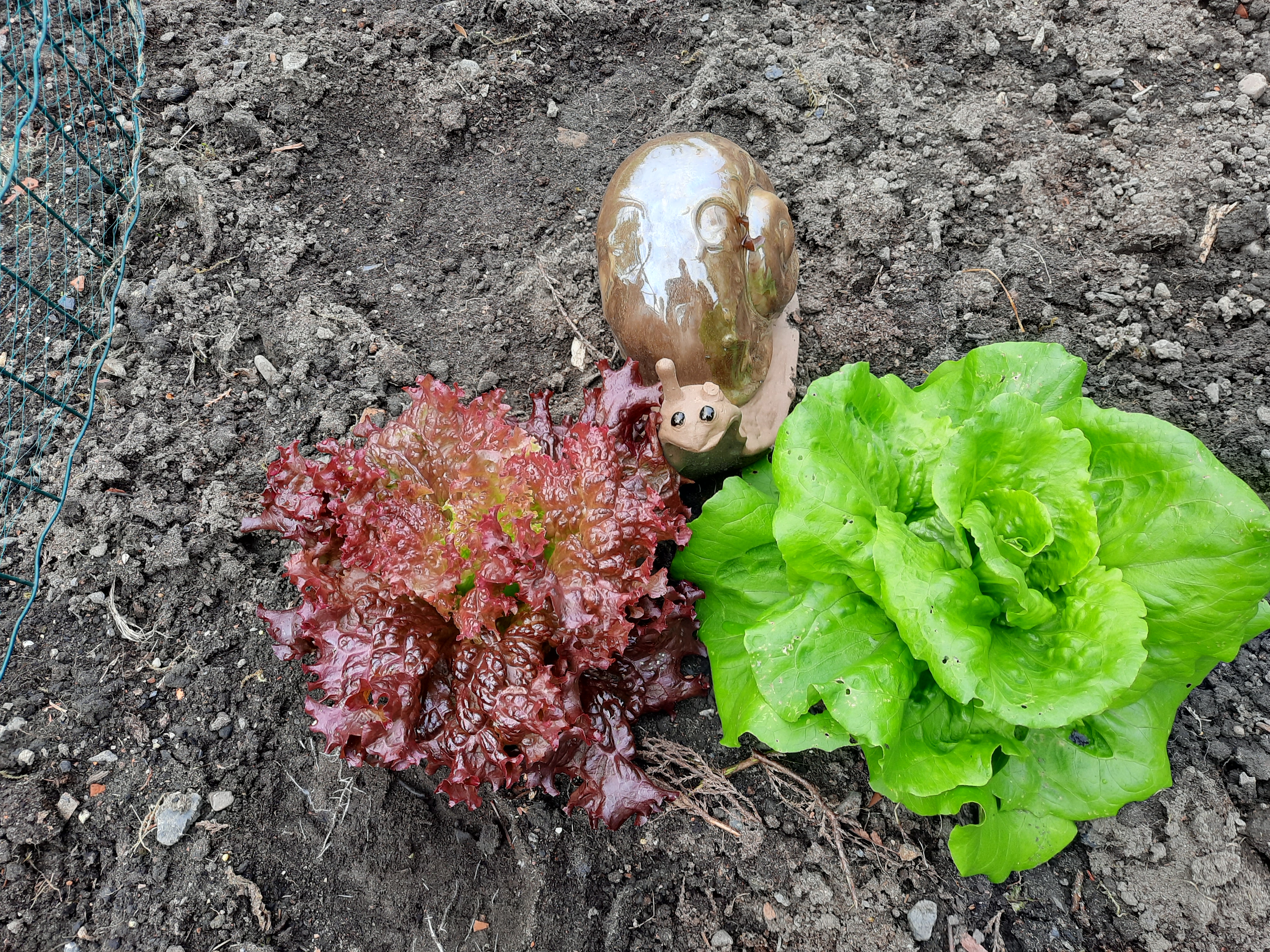 On this day: -
1040 - Lady Godiva rides naked on horseback through Coventry, according to legend, to force her husband, the Earl of Mercia, to lower taxes.
1913 - World's official highest recorded temperature at Greenland Ranch, Death Valley, California at 134 °F (56.7 °C).
1947 - The Government announced that Princess Elizabeth (now Queen Elizabeth II) would get extra clothing coupons for her wedding dress.

What a liberty!

1985 - The Greenpeace ship Rainbow Warrior was sunk by two bomb explosions while berthed in Auckland Harbour, New Zealand; it was later revealed that French intelligence agents had planted the explosives to prevent the organisation from interfering with their Nuclear testing.

=============================================================
9th July
Well my DRE was ok with no alarm bells ringing!
I volunteered for triage duty at the Scottish National Blood Transfusion Service session in Falkirk on Tuesday. It set my mind off thinking again. My mother was a blood donor way back when she would actually donate directly to the recipient patient lying in a bed next to her. As a result of her commitment I have been a Blood donor since I was 18 and my daughter Wendy has been too. My mother, Wendy and I are all Blood Group O with a negative rhesus factor. O neg! There are a number of blood types. Some are rare some are common. O neg however is the only one that can safely be given to
anyone
in a transfusion regardless of their own blood type. It is not uncommon but much sought after by the system.
Now that I have deleted all of the posts from last year I'm not sure if I have said this before but if I can't remember then the likelihood is that you can't either. When Wendy was in Thailand at the time of the Tsunami she became aware of a new born baby that required a transfusion without which she would perish. There is a dearth of O neg in that region apparently and the child had a rare blood group for which there were no stocks. Because she was a blood donor, and as a result knew her group, Wendy volunteered to give the baby blood. As a result of that simple action an adult is walking the streets in Thailand today that otherwise would have died within days of being born.
That thought made me seek out my mother's gold badge (for donating 50 pints) and mine, one silver for 25 pints and the other gold: -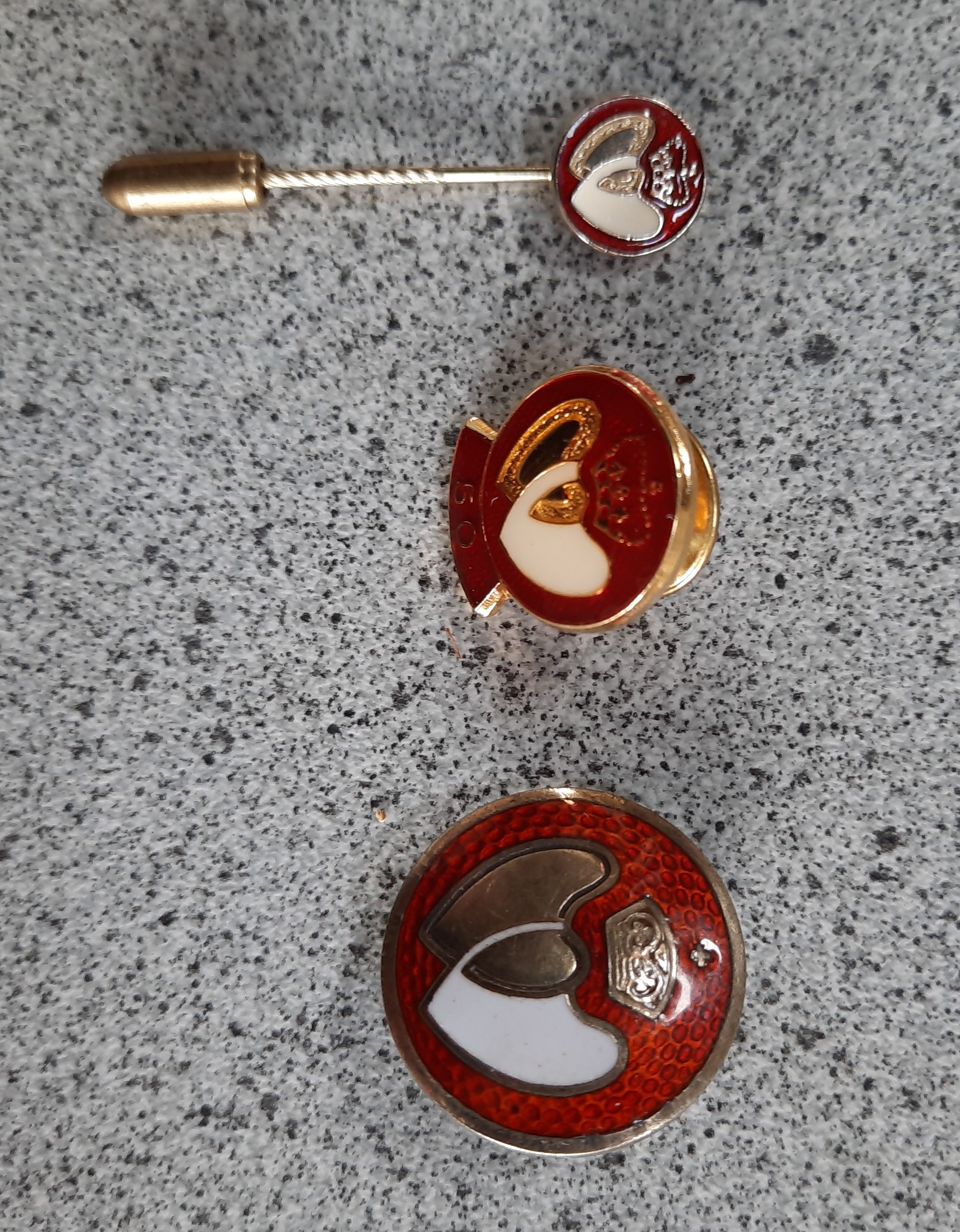 But while I was looking for them I came across lots more, for instance my Dad's silver medal for small bore rifle shooting: -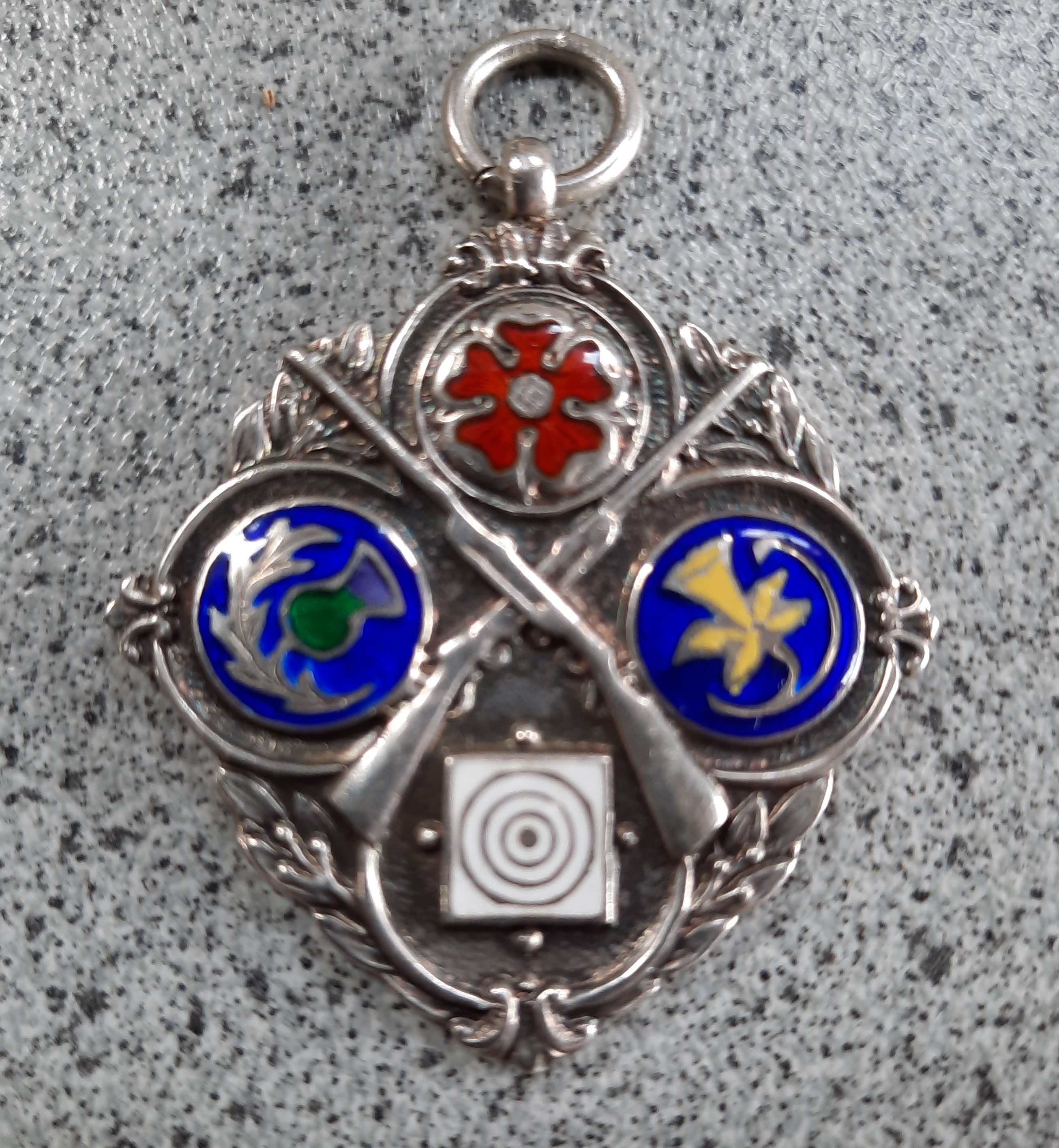 My marathon swimmer's badge from the Scottish Amatuer Swimming Association: -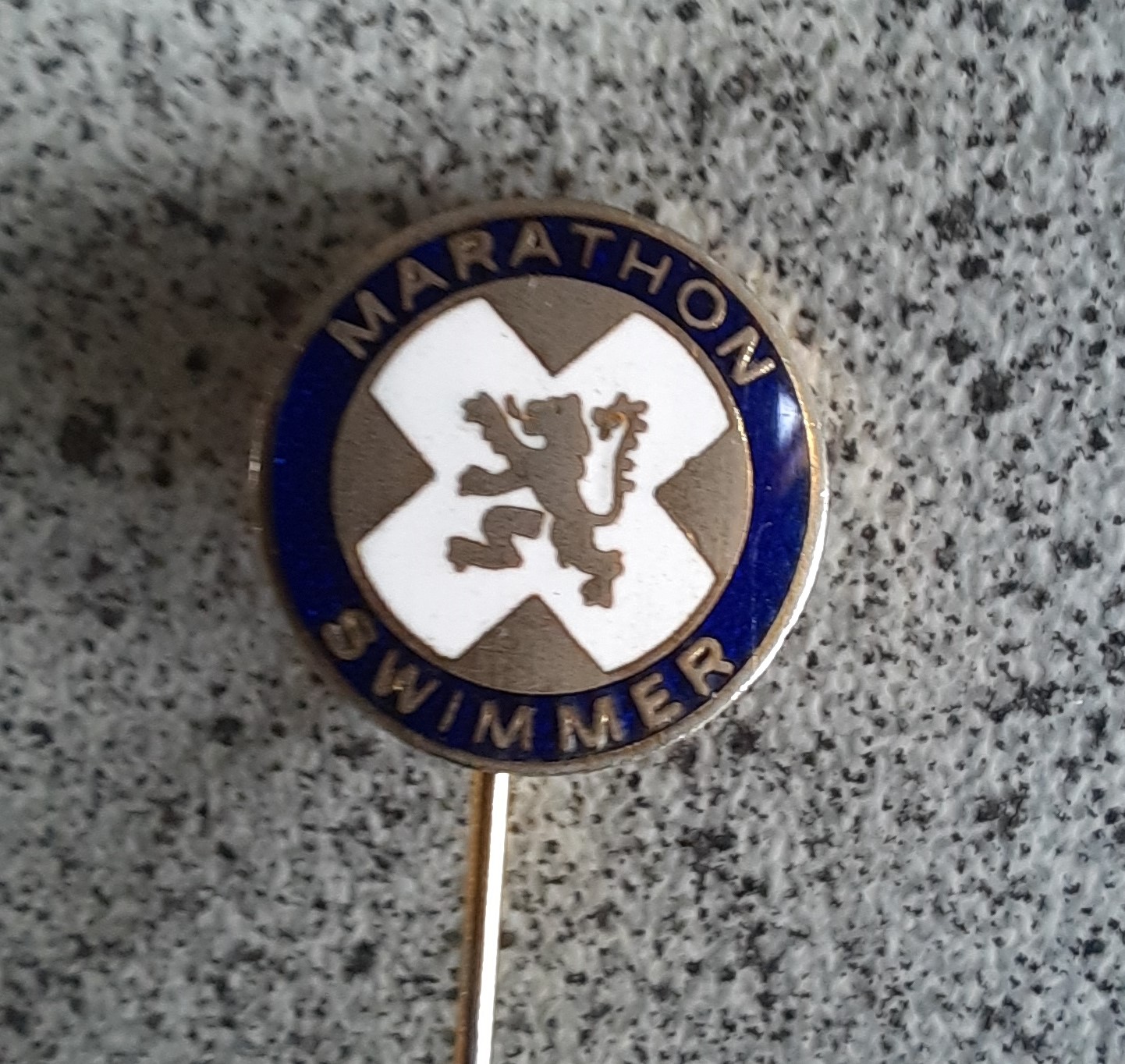 And this Hippo from the 1998 RIBI Conference in Brightons. The Hippo was the official representation of Rodney Huggins who was RIBI President at the time. I think I am correct in saying that Harry and he vied for the post of President of Round Table in UK and Rodney won out in the end. A travesty was it not!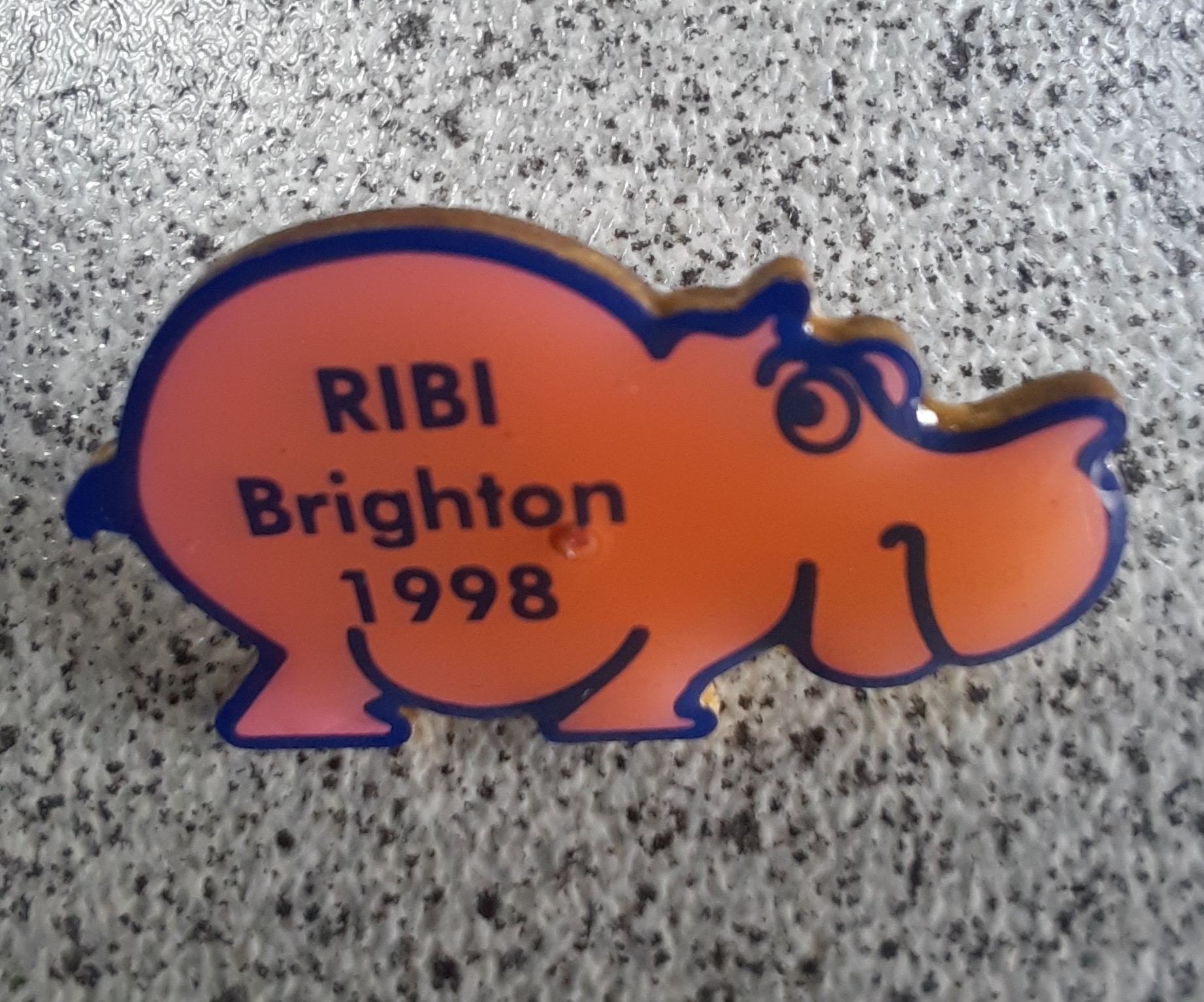 At the same Brighton Conference Diane and I were privileged to spend a weekend in the company of our own George Honeyman and Shiela, Ian McPherson and Winnie & Joe Gallacher and Margaret. Great memories.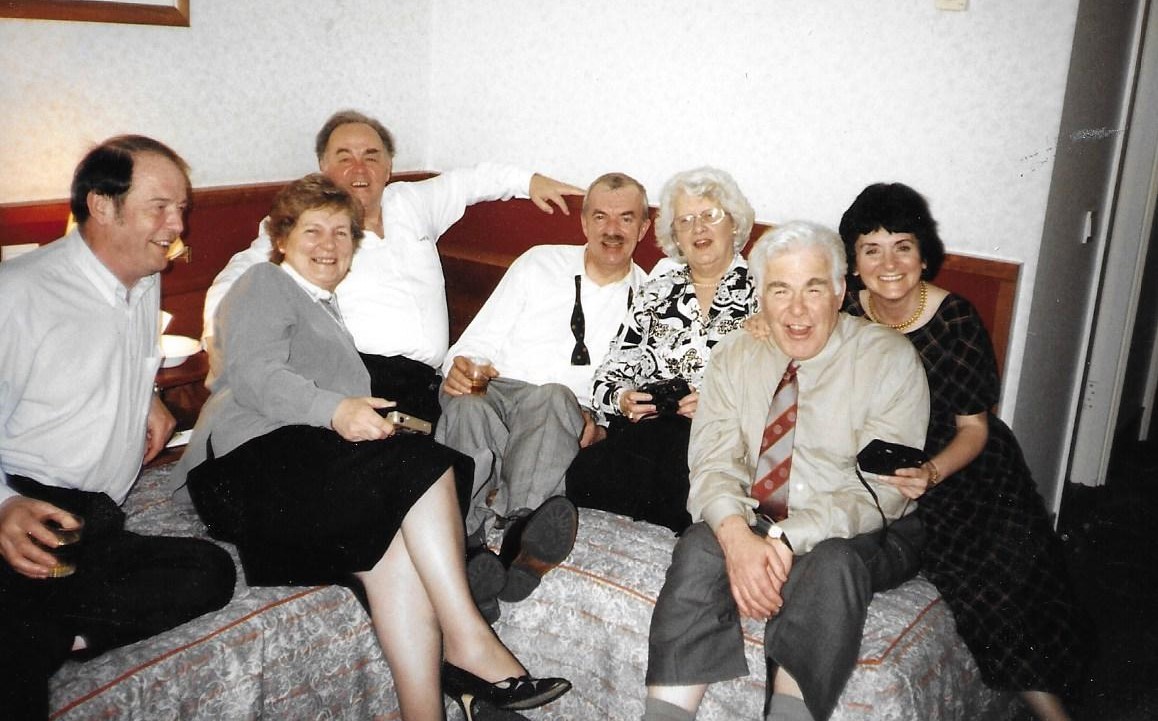 On this day: -
2008 - A teenager, who thought movement in her underwear was caused by her vibrating mobile phone found a bat curled up asleep in her bra. Abbie Hawkins, aged 19, had been wearing the bra for five hours when she plucked up the courage to investigate. - 'I put my hand down my bra and pulled out a cuddly little bat. I felt quite sorry for it. Perhaps I should have left it there and given it a good home.'
2014 - The Times Higher Education magazine's annual exam howlers competition came up with these and many others. (1) All cars will be be fitted with Catholic converters (2) Hitler's role in the Second World War is often overlooked (3) The hole in the ozone layer is caused by arseholes (4) Stalin was extremely surprised when he was taken from behind by Hitler.
==================================================================
8th July
My brother has given me a book written by Lawrence Turpie. Lawrence retired from the rank of Sergeant in the Local Police in 1954 and the book is a collection of his recollections over 30 years in service as a policeman and the next 30 years in retirement. (The Book was published by Inglis Paul.) Among the entries is the following: -
Bank holdup: -
Another 1931 recruit was P.C. Archibald McGill who joined on February the 3rd and after attending Glasgow police training school served at headquarters before being moved to Denny. Later in the year on Monday morning 18th of April 1932 the staff of the Denny branch of the Commercial Bank of Scotland was held up by a man who pointed a double barrelled sawn-off shotgun at the teller, stole £1,200 and drove off northwards in a motor car later found abandoned at Chartershall near Whins of Milton. The police were alerted and the description of the man circulated. Roadblocks were set up and a large cordon of police was out on the hills where it was thought the man may be hiding.
On duty in the evening Constable McGill stopped a bus going to Glasgow and after interrogation was told by the driver that he thought the wanted man was aboard the Glasgow bus 30 minutes ahead of him. Archie, with alertness and diligence for a young constable, telephoned Glasgow CID who arrested the robber after leaving the bus. He was George Kynoch who was taken to headquarters Stirling. At the High Court Kynoch was sentenced to 7 years imprisonment in Peterhead prison. Kynoch was shot by a prison warder in the act of attempting to escape by climbing over the perimeter wall and he died from injuries sustained in the fall. PC McGill married and followed me to 26 Birnham place on the 19th of May 1933.
That was my dad!

Also, at the end of the book there is this picture which shows Gillies in his prime!: -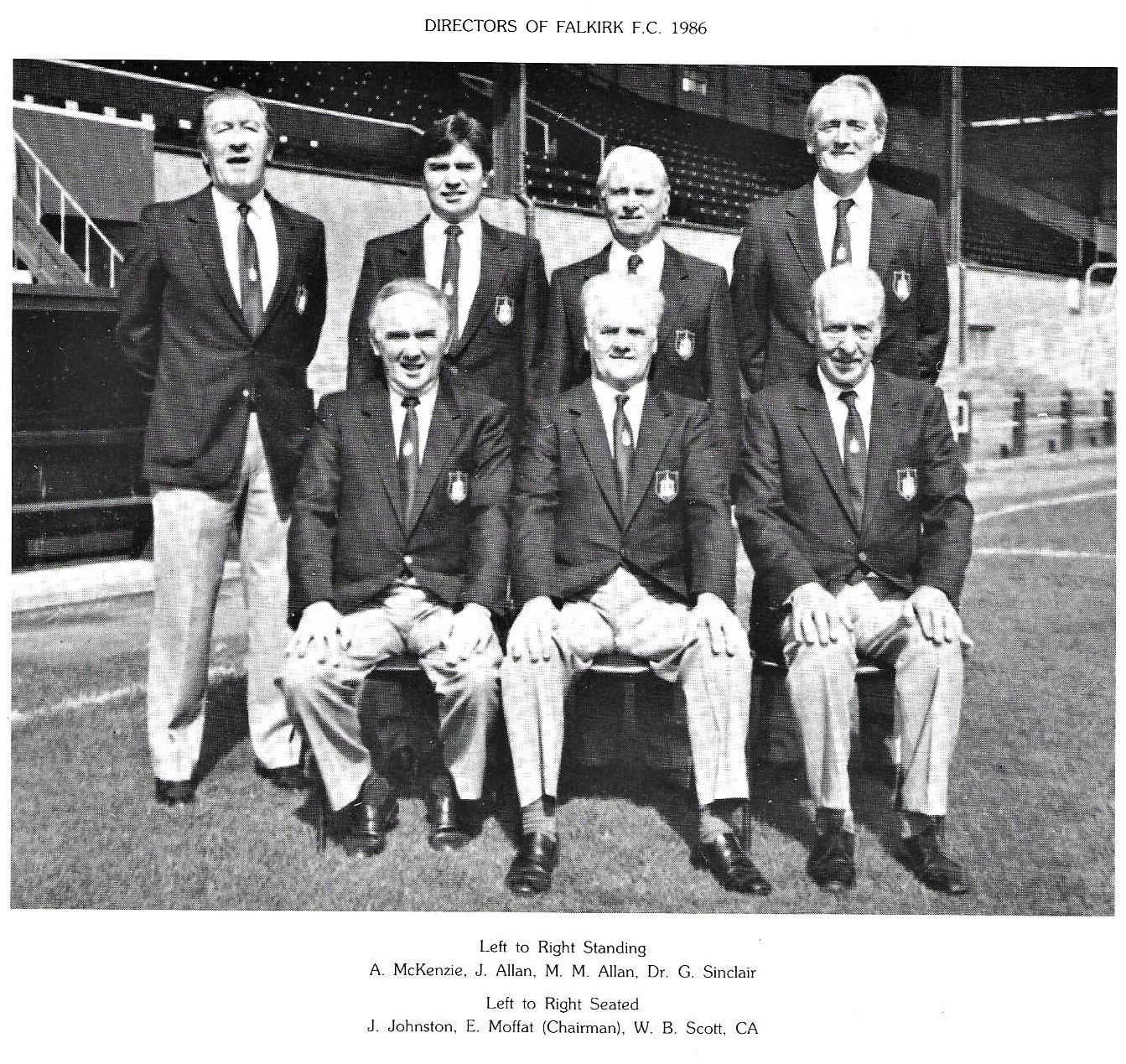 On this day: -
==================================================================
7th July
Hooray! We got word this morning that our PCR tests were negative. That got me to wondering just what "PCR" was short for! It apparently stands for "Polymerase chain reaction". PCR tests are used to directly screen for the presence of viral RNA, which will be detectable in the body before antibodies form or symptoms of the disease are present. This means the tests can tell whether or not someone has the virus very early on in their illness.
I had to cancel a doctor's appointment yesterday because of my association with my niece who had tested positive. I have the appointment reorganised for Friday. It's for a DRE examination! You can look that one up yourself. The receptionist asked me if I required a face to face consultation and I replied that "face to face" didn't quite fit the bill in this instance! This was necessary as a result of a raised PSA test.
PCR, RNA, DRE, PSA! I think that the medical profession tries to hide the reality of what's going on by using all these, I suppose you call them acronyms but they are just, strings of intitials.
I recall a couple of years back I also underwent a procedure for a blocked tear duct which was a "DCR" or a "dacryocystorhinostomy!" Why they don't call it "sticking a tube up your nose" I don't know.
Any how I'm off to transport my patient to the Renal Unit.
On this day: -
1947 - Alleged and disputed Roswell UFO incident.

Now there's another one! "UFO" it is simply an unidentified flying object! Not a space craft or anything alien! If someone threw a brick at you but you didn't see what hit you, then you looked down at the ground and saw a brick , a lump of concrete, a large piece of stone and maybe other bits of heavy dertitus, then you would just have been hit by a "UFO"



================================================================
6th July
Well it has been a hectic few days since I last posted here. Our granddaughter Olivia returned from a holiday in Blackpool with her friend and her friend's parents and it turns out that they all have Covid. We were in Olivia's Company for 15 minutes or so on Saturday but we did keep distant. I had a doctor's appointment this morning which I have had to cancel in favour of a PCR Test and we'll be heading out shortly to Abbotsford for that.
I hope that the result is negative because I have a patient to transport to Dialysis tomorrow.
Narek has just let me have a look at the expenses claims for St John's drivers this past month. I know I have bored you with this before but the 30ish drivers that we have, transporting 14 patients to dialysis three times a week, clocked up a total of 8,200 miles in June! That's 100,000 miles a year!
I discovered yesterday that when a kidney becomes available for transplant a number of possible recipients (I think about 3) are contacted and asked to visit the hospital where they are screened to see who has the best match for the available kidney. Sadly that means huge anticipation for them all and even greater disappointment for those who were deemed to be unsuitable. This happened to one of our patients today. The drivers become quite attached to the patients and this has quite an effect on them as well.
On this day: -
1785 - US Congress unanimously resolves the name of US currency to the "dollar" and adopts decimal coinage.
1885 - Louis Pasteur successfully gives an anti-rabies vaccine to 9-year-old Joseph Meister, saving his life.
1935 - The birth of Tenzin Gyatso! "Who?" I hear you say! This is the name by which the Dalai Lama is known. It is a shortened form of his spiritual name - Jetsun Jamphel Ngawang Lobsang Yeshe Tenzin Gyatso.
1955 - "Blackboard Jungle" is released. It was the first Hollywood film to feature a rock and roll soundtrack.It was "Rock around the clock" by Bill Haley and the Comets. The track had been released a year earlier and scraped to the bottom of the charts selling only 75,000 copies. It was not until it featued in the soundtrack of the film that it shot to fame.

======================================================================
3rd July
Two years ago in March my sister bought us a Golden Peony to mark our Golden wedding. It is in Flower now and growing profusely. It started out life in a 6" pot!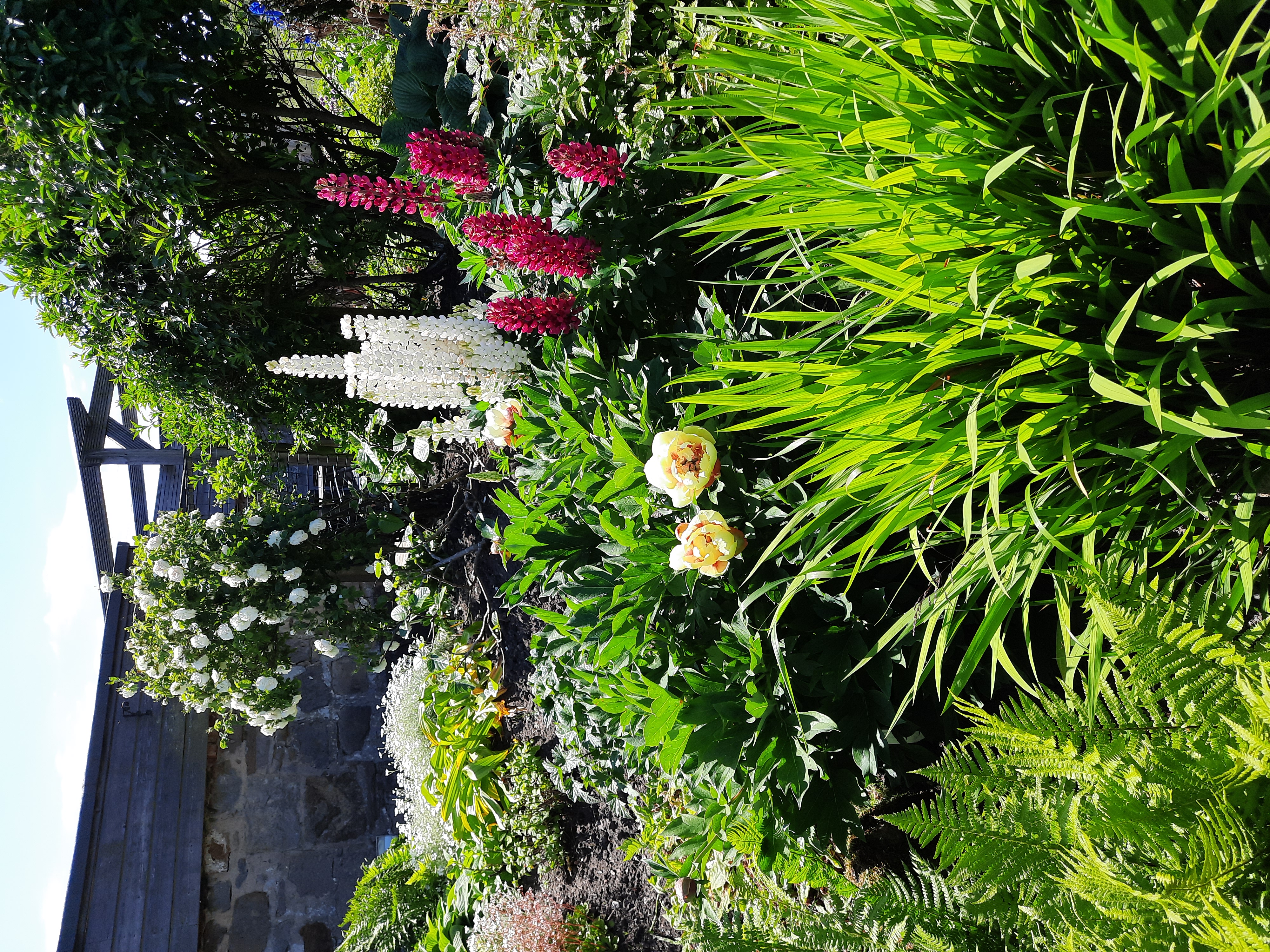 I was outside admiring them when I began contemplating my good fortune at having, yesterday, received the word that my scan was clear and I should now consider myself "discharged to my GP".
on this day: -
1938 - LNER locomotive No.4468 'Mallard' achieved the world speed record for steam traction. A maximum speed 126 mph was reached between Grantham and Peterborough. Mallard was designed by Sir Nigel Gresley and was in service until 1963, when she was retired, having covered almost one and a half million miles and is now at the National Railway Museum in York.
1996 - It was announced that the Stone of Scone, the symbol of Scottish Nationalism, stolen by Edward I of England in 1296, was to be returned to Scotland from Westminster Abbey where it has been used in the coronation of 30 British monarchs.

For seven hundred years, (with the exception of 111 days between Christmas eve 1950 and the 11th April 1951) The Stone had remained in Westminster Abbey. It was on Christmas eve 1950 that Ian Hamilton QC (but then in his own words "a stripling of 25") and others stole The Stone and took it to Scotland. After having been hidden in the office of an Engineering Workshop in Bonnybridge it was subsequently returned to the High altar of Arbroath Abbey where the Declaration of Arbroath had been signed. It was ceremonially covered with a Saltire Flag and left for the Authorities to recover.



=============================================================
2nd July
I think that I said last year that while the RI Presidential logo has changed I would keep the "Rotary Connects the World" logo for this page, firstly because I think that it was appropriate considering the ethos of the page and secondly because I thought the "Rotary opens Opportunities" looked like it had been designed by a year one Primary Class.
I will maintain the one that I have but I think that this year's RI Presidential Logo is much more acceptable. I will send it to Gillian so that she can have it included in the publicity for our next Swimarathon.
This is it: -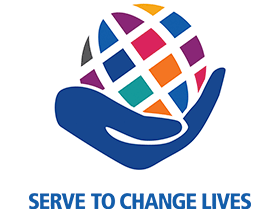 The RI President this year is - Shekhar Mehta.
The RIBI Chairman this year is (I think) - Dave Ellis.

District Governor this year is - Ken Robertson.
Our Club President this year is Narek Bido!

On this day: -
1961 - Ernest Hemingway, the Nobel Prize-winning author, adventurer, war correspondent, bullfighter, drinker and all-round macho man, blew his own brains out on this day. His fourth wife, Mary, said that he killed himself accidentally while cleaning his double-barrelled 12-bore shotgun. But did he? Controversy has surrounded the death of the 61-year-old celebrity since the fatal shooting at his home in Idaho and over the years writers, researchers – and psychiatrists – have delved into the mystery.

In 2006, American psychiatrist Christopher D. Martin said: "The accumulating factors contributing to Hemingway's burden of illness at the end of his life are staggering." He listed bipolar mood disorder, depression, chronic alcoholism, repetitive traumatic brain injuries and the onset of psychosis.

Some commentators have suggested that Hemingway's problems – and depression – began in 1928 when his father, Clarence, committed suicide by shooting himself in the head. But his grandfather, brother, sister, and granddaughter all killed themselves. And besides suicide, the Hemingway family history is also laced with the inherited condition of haemochromatosis,(excessive intestinal absorption of dietary iron) it has emerged.

===================================================================
1st of July!
It's a brand new Rotary Year! Hopefully this coming year will be more effective than the last one.
Yesterday LInda N phoned to say that she had cash from Rotakids. I don't know if you will remember but we lent them £50 and the idea was that they would use that to raise funds for Aqua Filter.
Well this morning I lodged, in the Bank, £178.60! That's our £50 back and £128.60 for Aqua Filter.
Well done Rotakids! I am sure that the Club can recognise that achievement and augment the sum before transmitting to Aqua Filter.
oooOOooo
We had a super Fellowship meeting today which consisted of a whole pile of amusing banter part of which constituted George saying "Put it on the agenda for next week that everyone has to guess what I am going to say!"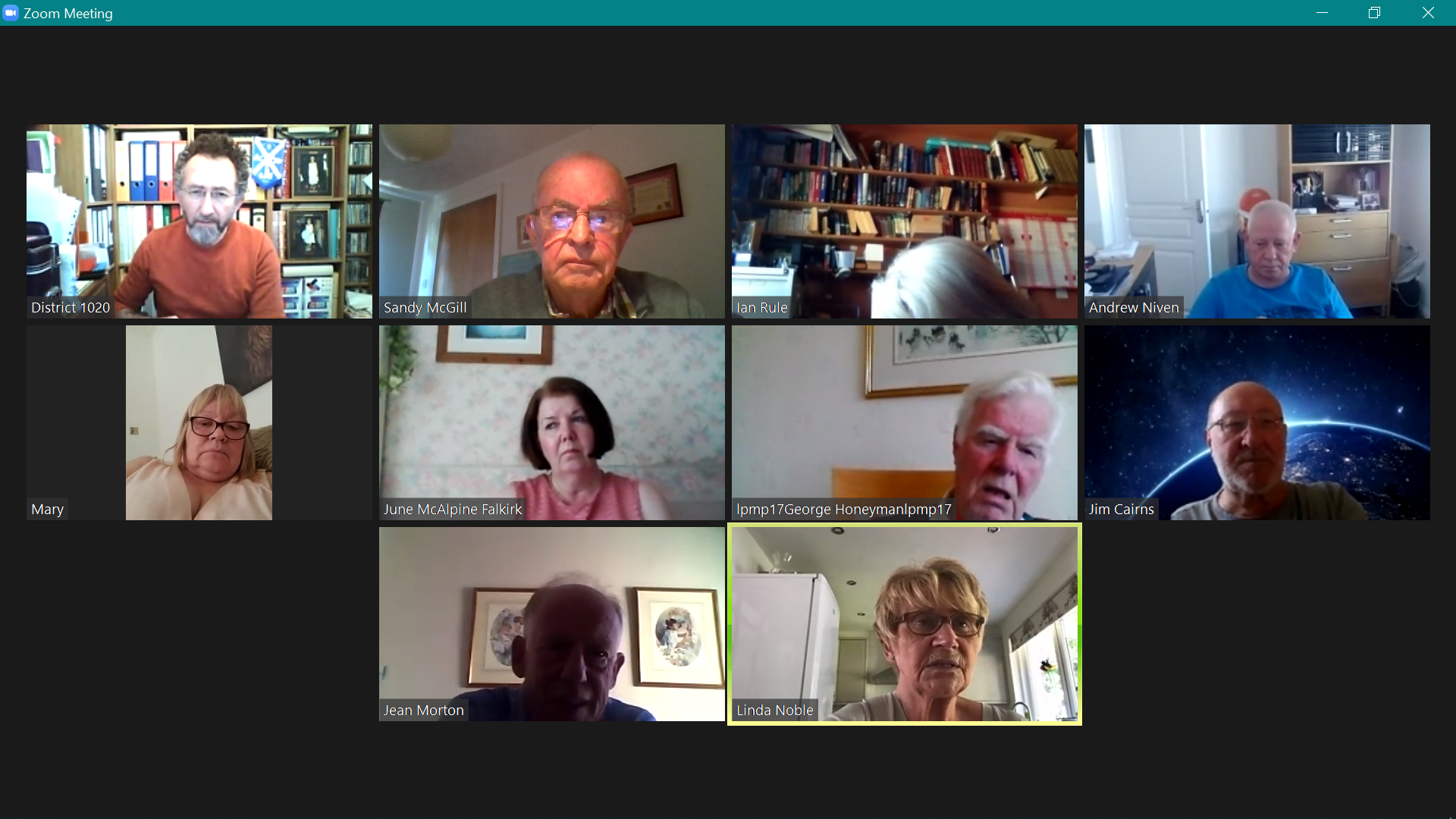 Ther were only eleven of us but it was good fellowship! Much better than being constrained to interact only with two others at a table!
We spoke about our imminent return to "normality" - Carmuirs, The Coppertop, The Park?
We debated whether District had allowed sufficient time for Clubs and other partners to properly seek out candidates for a virtual RYLA. Talking about which, I was always of the opinion that relatives of Rotary members were specifically excluded from participating in RYLA. There seemed to be a difference of opinion about that among those present!
We spoke about the Station Tubs and President Narek told us about his conversation with the Station staff who had said that they had no problem with our members tending the tubs! After all they have no control over who walks on to the Station Platform. Makes sense to me! President Narek added that even although Scotrail withdrew funding because we weren't toeing the line with their daft rules we could fund it out of the PI budget.
All in all it was a great meeting even although we were so few.
Fellowship rules!
=============================================================
30th June
That's us half way through 2021! 15 months since we last met together! I think that the last occasion that I was able to interact with the members of the Rotary Club of Falkirk was at Margaret Lyon's party at Skythorn Way! It all seems so long ago now!
Talking about long ago, I was checking my bank accounts this morning and noticed an odd payment to Amazon for £7.99. I subscribe to Kindle unlimited which costs just that every month but I took advantage of a half price deal and subscribed for 6 months for £24. So I was a bit miffed that they were still taking the £7.99. That was until I checked and found that my 6 months were up! Time flies when you are having fun.
During the 6 months, though, I discover that I have read 48 books on Kindle, all Crime Fiction, by Authors such as Ian Rankin, Joy Ellis, Michael Hambling, David Hodges and J.M. Dalgleish.
My preference for Crime Fiction arises out of my introduction to the annual Book Festival "Bloody Scotland" held in Stirling every year. My son in law and I attended the first two Friday night dinners and presentation of prizes before the dinners were discontinued but it whetted my apetite for the genre.
On this day: -
1898 - Winton Motor Carriage Company publishes the first known automobile ad in "Scientific American" using the headline "dispense with a horse."
1908 - A giant fireball, most likely caused by the air burst of a large meteoroid or comet flattens 80 million trees near the Stony Tungusca River in Yeniseysk Governorate, Russia, in the largest impact event in recorded history.
1937 - The world's first emergency call telephone service is launched in London using the number 999. It was considered more easily found in a smoke filled room or by a blind person if you put your finger against the backrest and dialled three complete rotations of the dial.
=================================================================
29th June
Oops! I must have missed yesterday. Too much going on! I had a patient for the renal unit. I cut the grass and I watched the recording of the Club Assembly in order to do the minute because June is on holiday! That's my excuse anyway. The minute of the Club Assembly is available now in the members only pages.
What a cracking sunset we had last night -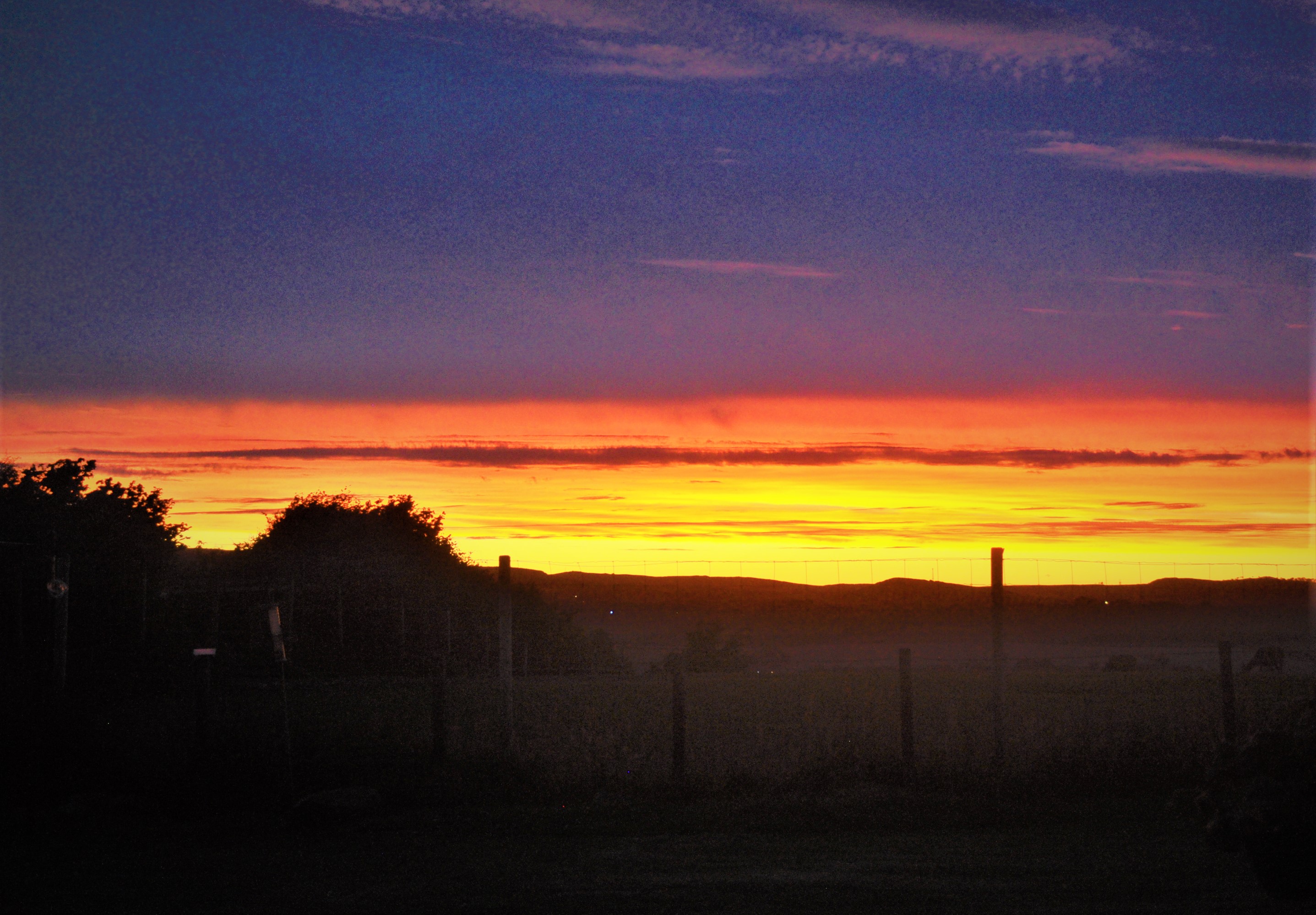 On this day: -
1613 - Shakespeare's Globe Theatre burns to the ground during a performance of Henry VIII.
1620 - After denouncing smoking as a health hazard, King James I of England banned the growing of tobacco in Britain.
1905 - The Automobile Association was set up by motorists angered by police harassment and to warn drivers of speed traps.
2008 - Thomas Beatie, the world's first pregnant man, gives birth to a daughter.
2010 - The England football team returned home after being knocked out of the second round of the World Cup by Germany. England ultimately lost 4-1, suffering their worst defeat to date in a World Cup finals match. (In 2014 England were eliminated at the group stage of the Fifa World Cup for the first time since 1958, with just two goals scored. It was their worst goal tally since 1950 and the worst World Cup showing in the history of the national team.)
=================================================================
27th June
A wee while ago Andrew and Gillian ripped out all of their decking in readiness for a revamp of their back Garden. They were kind enough as allow me to take away all of the residue. Since then I have spent some time removing all of the screws and stacking the timber for whatever purpose I might find. This morning, I was looking for something to do and decided I would make a plant trough with two or three of the boards. This is the result: -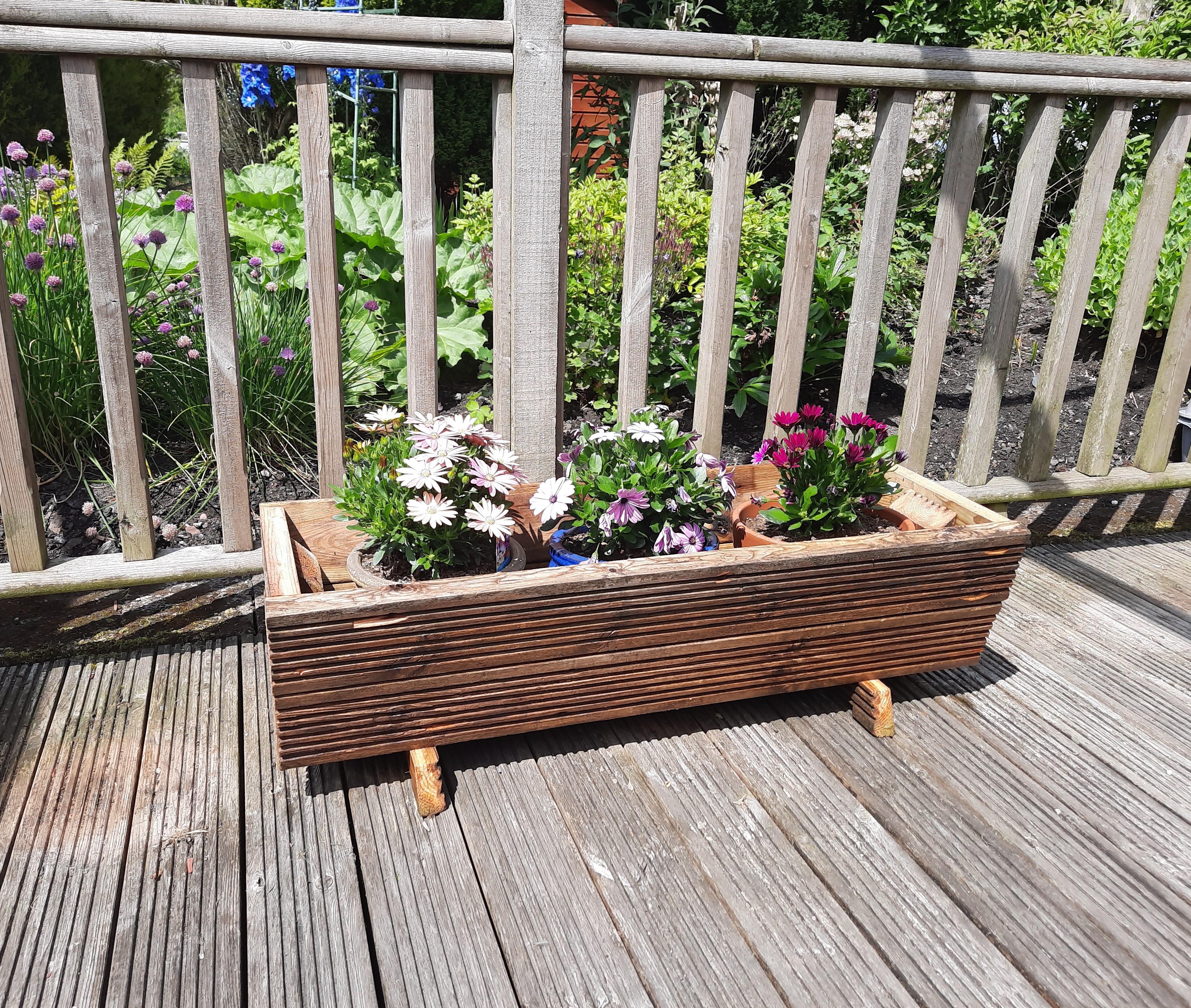 I have just power washed it and once it's dry I'll give it a coat of stain.
The last of Andrew's Titbits: -
It was the accepted practice in Babylon 4,000 years ago, that, for a month after the wedding, the father of the bride would supply his son in law with all the mead he could drink. Mead is a honey based beer and as a result this was called the "Honey Month" which we know today as the Honeymoon.

On this day: -
1898 - Joshua Slocum stepped ashore at Newport, Rhode Island, late on this day after sailing alone around the world. He was the first person to achieve such a feat and did it, he wrote, "because I was amused by the assertions that it could not be done." What made the voyage even more remarkable was that Slocum accomplished it in a decrepit 37-foot (11.2m) fishing boat which he had rebuilt and named Spray.
1899 - Indian born English cricketer Arthur Edward Jeune Collins, aged 13 and often known by his initials A. E. J. Collins, achieved the highest-ever recorded score in cricket. He scored 628 not out over four afternoons but, despite this achievement, Collins never played first-class cricket. He was killed in action in 1914 during the First Battle of Ypres.
1967 - Barclays Bank (Enfield branch) opened Britain's first cash dispenser.
2014 - Staff at Dartmoor prison had offered sun cream to inmates who had managed to climb on to a rooftop during sunny weather the previous week, the Ministry of Justice confirmed. They said that the offer of sun cream was a standard procedure, as part of the jail's 'duty of care' that was in line with health and safety rules.
2014 - The mummified body of Anne Leitrim, who was in her 70s, was discovered in her flat in Bournemouth, where she had lain undiscovered for six years. Her remains were finally found when bailiffs visited the property to collect unpaid debts.

=================================================================
26th June
We had our Club Assembly on Thursday. Sadly, I was not able to stay the course having stuff to do for St John but I was able to watch a presentation by Allan McLaughlan about Foundation. Allan is a force to be reckoned with and is passionate about Rotary and Foundation in particular. He spent the best part of an hour explaining to us exactly how effective our Charity is and why we need to keep it topped up.
It was always the case that any money donated to Foundation was kept in the bank for three years before 100% of it was deployed for the many aims that Foundation supports. The interest from that three year investment paid for the running costs of the Charity so that The Rotary Foundation was probably the only Charity in the world that could boast that 100% of donations were put to the purposes of the Charity.
This was only possible when the return from the invested capital was sufficient. Since the financial crash of 2008 interests rates have been such that now only 95% of donations reach the purposes of the Charity.
This is still a laudable figure but Rotary Foundation is striving to return to the norm.
Allan stressed that all of the money donated to Rotary Foundation from any District returns to the District three years later and is available in the form of Grants to be applied for by the Clubs.
ooOoo
My first brood of swallows this year is looking over the edge of the nest. They are a good bit later this year. I think possibly the first brood failed and this is a replacement.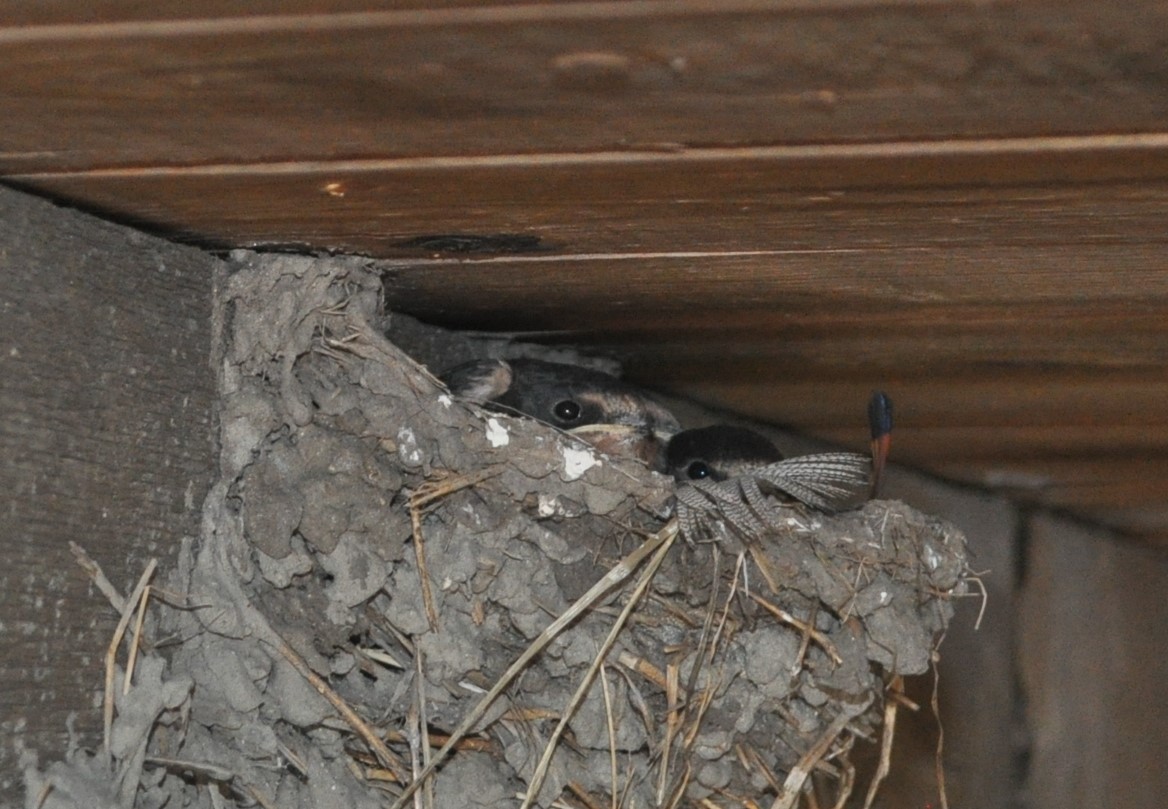 Great News yesterday too! There have still only been two cases of Polio reported this year in the world! One in Pakistan and one in Afghanistan
Michael White's weekly email arrived at the same time as that news so if you would like to participate in his "Screen Memories" the questions are
here
and if you need them the answers are
here.
Some more of Andrew's stuff: -
Each King in a deck of playing cards represents a great King from History: -

Spades - King David
Hearts - Charlemagne
Clubs - Alkexander the Great
Diamonds - Julius Caesar.
Now don't say you don't learn stuff here.
On this Day: -
================================================================
25th June,
Good morning all!
I have deleted everything that has gone before in order to reform my ways and post things properly so that the page updates!
Among the things that I had tried to post but failed to accomplish was the following from Linda Noble: -
A tweet from Hallglen Primary: -

Just in case you are wondering
@the_falkirk
is us. It is the twitter account that I opened last year that I deserted because no one was watching. And then this: -
Today, I finally gained access to Hallglen Primary, to deliver their well earned Citation.The school had contacted the Falkirk Herald to come and take photos but unfortunately a no show. So here are our photos of the day, it was lovely to see them all, and as enthusiastic as ever.
Linda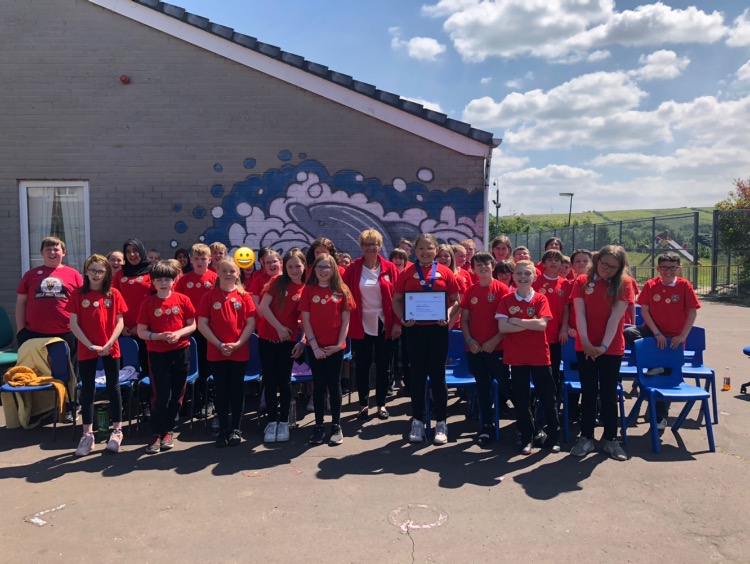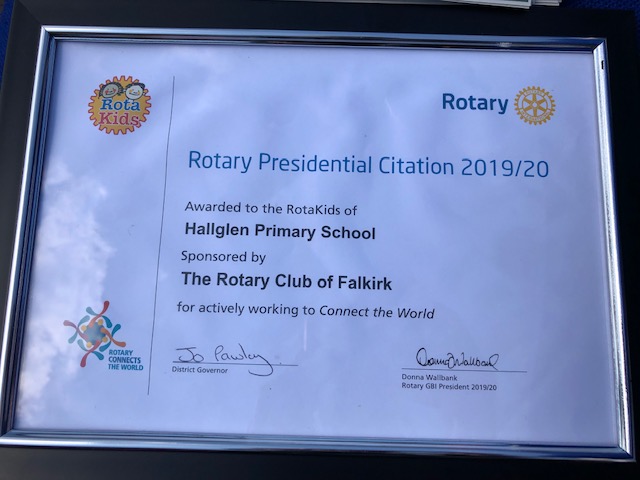 Andrew sent me some stuff too: -

In the 1400s a law was passed in England allowing a man to beat his wife with a stick as long as it was no thicker than his thumb! This is where we apparently get the saying "rule of thumb"
Many years ago in Scotland they weren't beating their wives with sticks they were hitting a wee ba' aroon' a gress course in the hope that it might eventually fa' doon a hole! The game was forbidden to Ladies and considered only fit for gentlemen to play; hence the phrase Gentlemen only, Ladies forbidden was reduced to the acronym we all recognise today - GOLF
========================================================================