6th August

So that's both stations planted now. Stewart and LInda fairly grafted yesterday.

Well done you guys!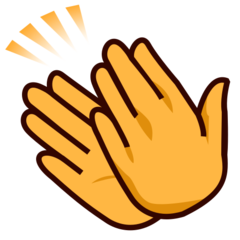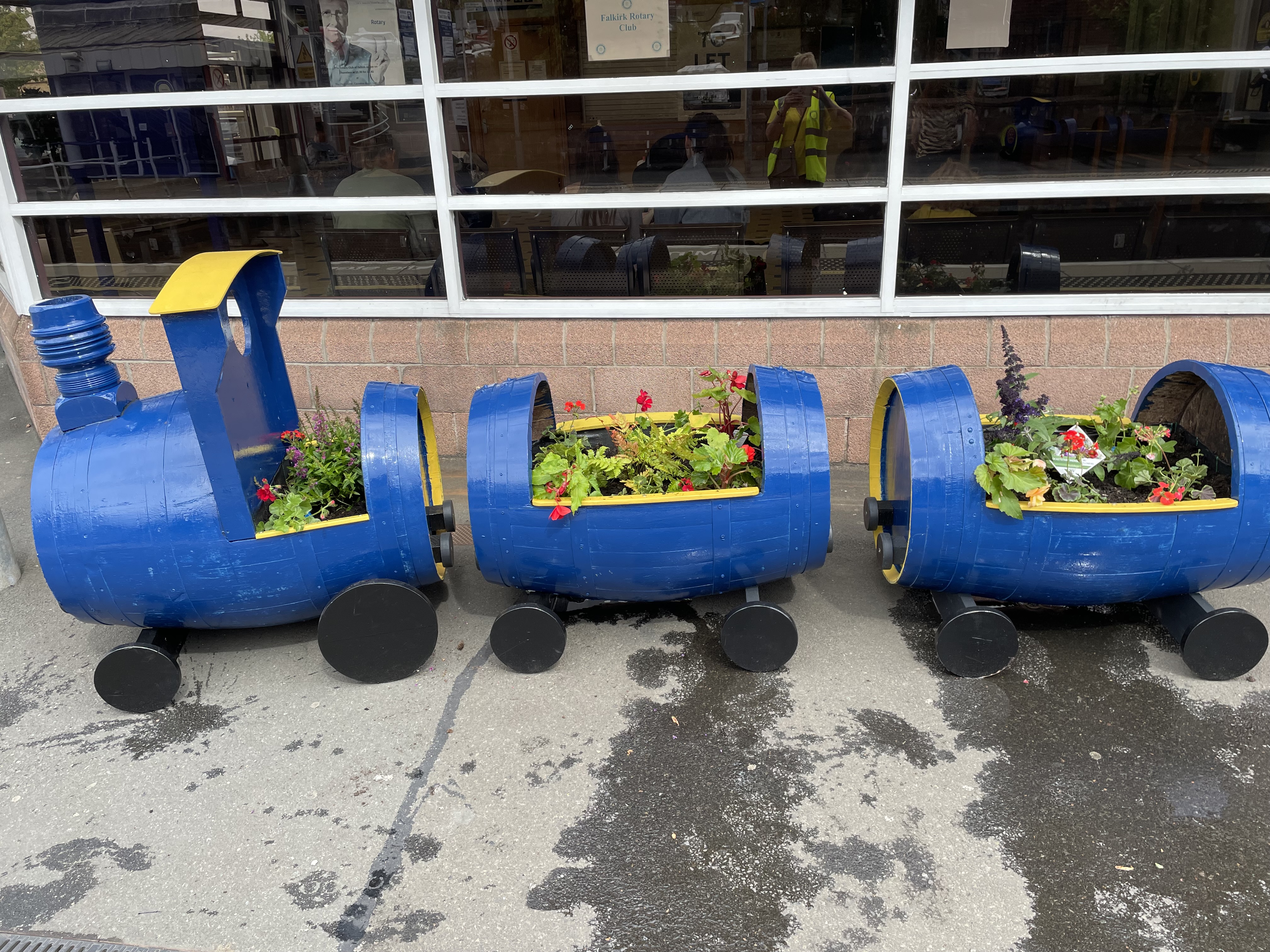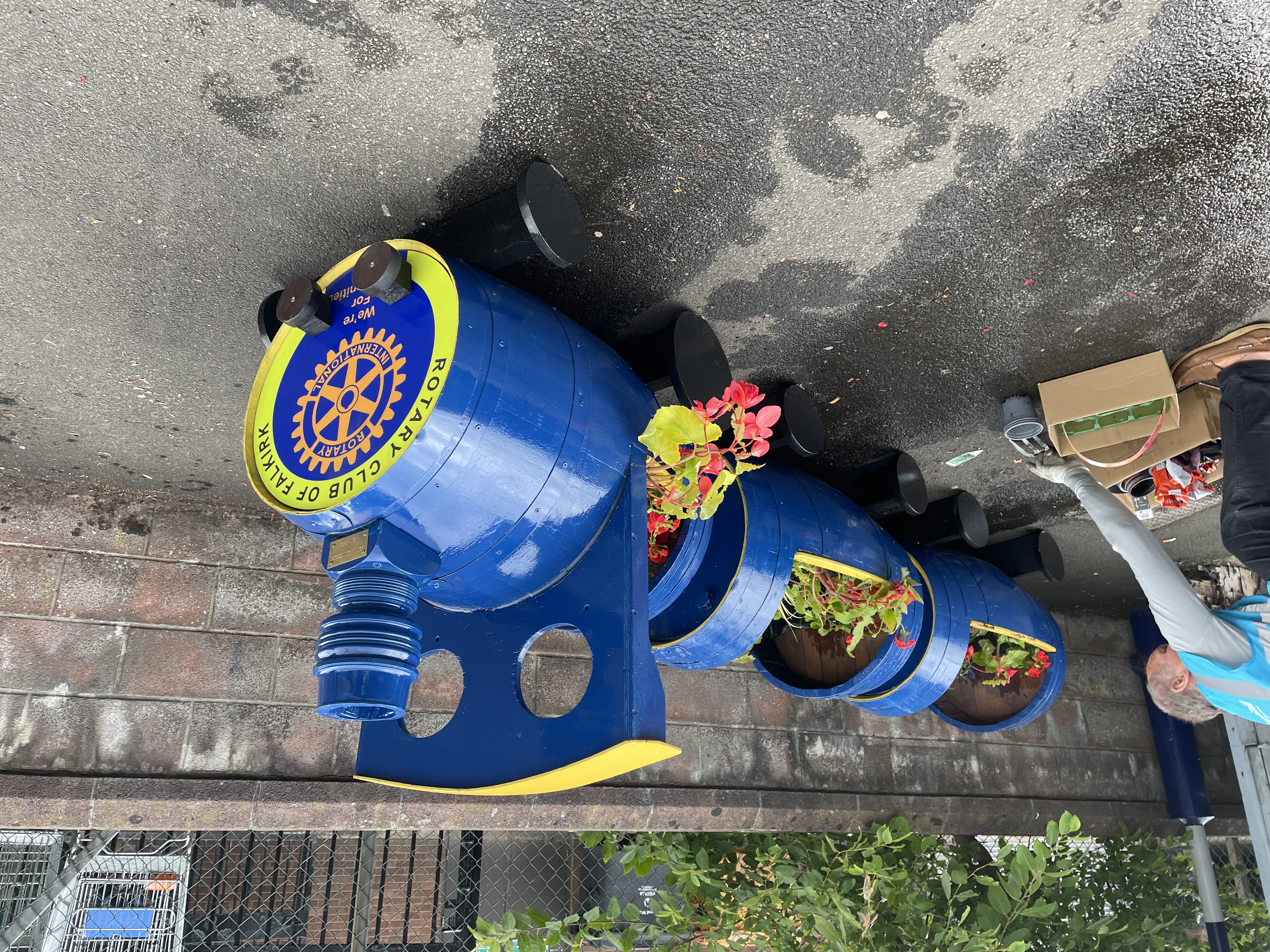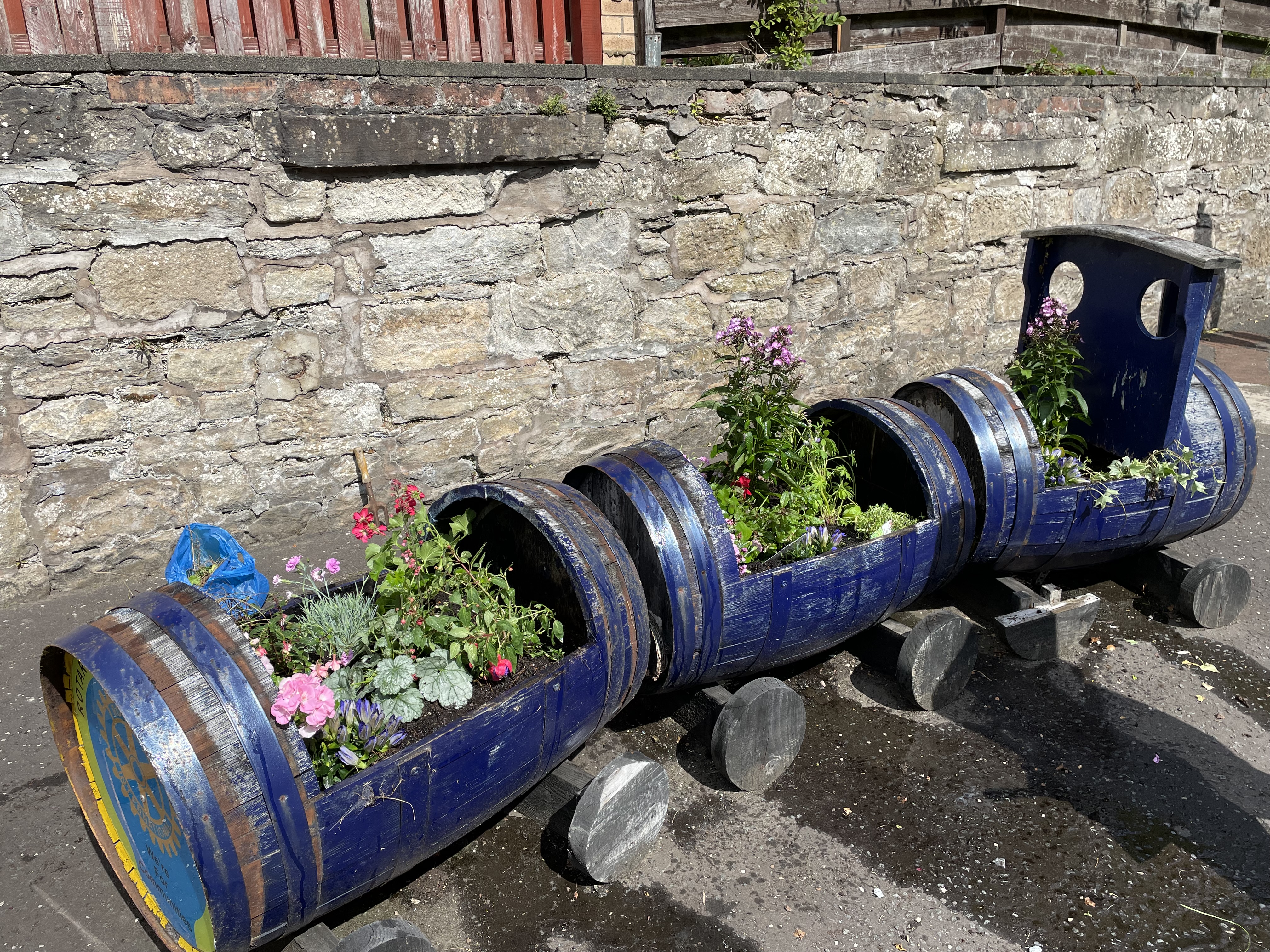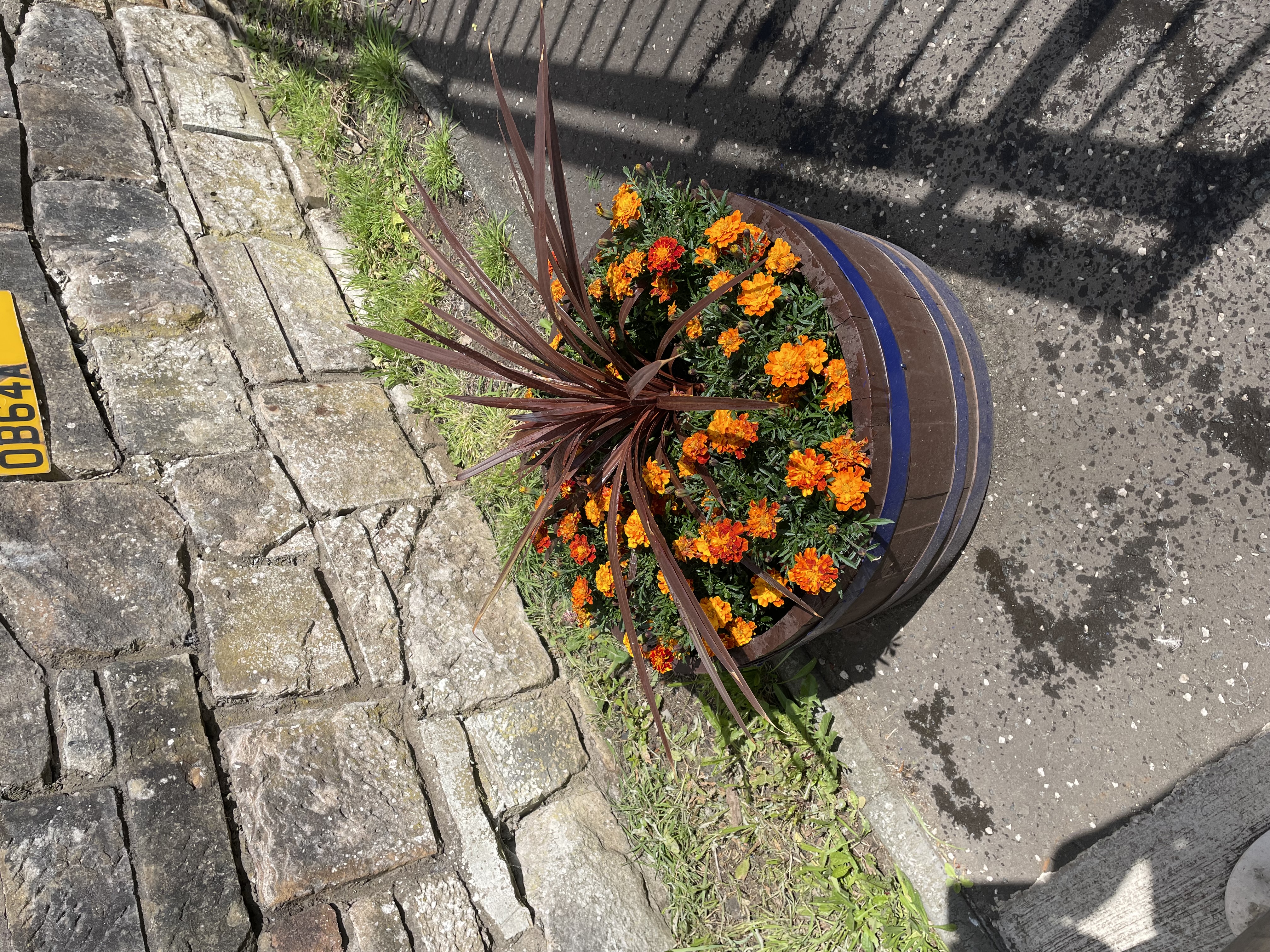 All that remains is for the rest of us to step up to the mark for the weekly maintenance. Look out for your call to service.

"Talent hits a target no one else can hit. Genius hits a target no one else can see."
―
================================================================

5th August

Just as a wee footnote to yesterday's post we now have reached 7,772 people with the train tub post. This morning Linda and Stewart planted out the tubs at Grahamston Station. Later I joined them at Morrisons and we were allowed to choose anything we needed to plant out the High Station tubs. A HUGE thank you to Charlotte (Morrison's Community Champion) and the young man who assisted us with our choices.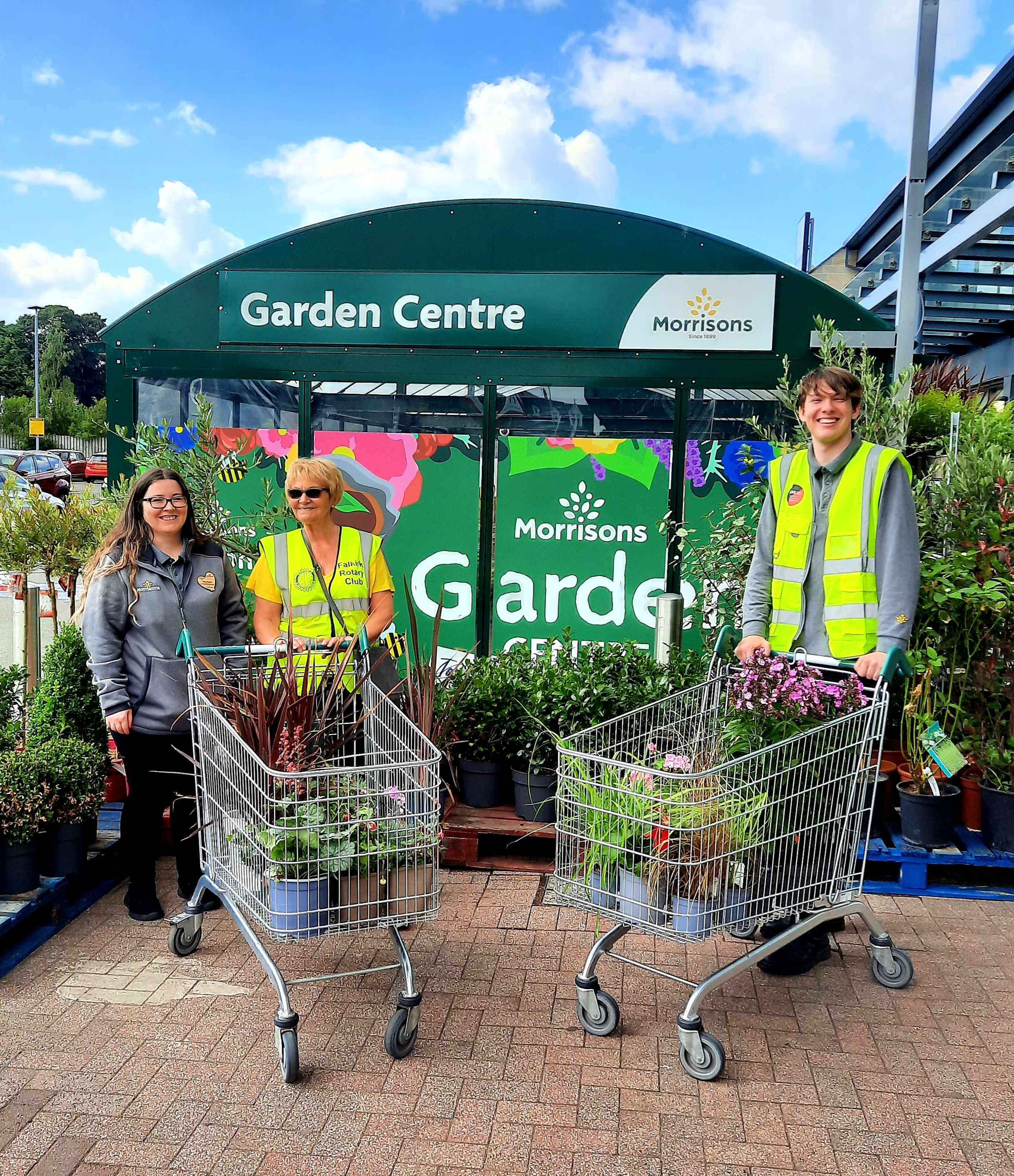 That's another tick for Community Cooperation.

"You can't stay in your corner of the Forest waiting for others to come to you. You have to go to them sometimes."

Winnie the Pooh!

"When I was 5 years old, my mother always told me that happiness was the key to life. When I went to school, they asked me what I wanted to be when I grew up. I wrote down 'happy'. They told me I didn't understand the assignment, and I told them they didn't understand life."

John Lennon
=============================================================

4th August

I have just discovered that the success of what one posts on facebook depends on the content. Up until now the most we could regularly anticipate for posts was about 500 - 1300 people reached. This post about the trains has now reached 5,696 people.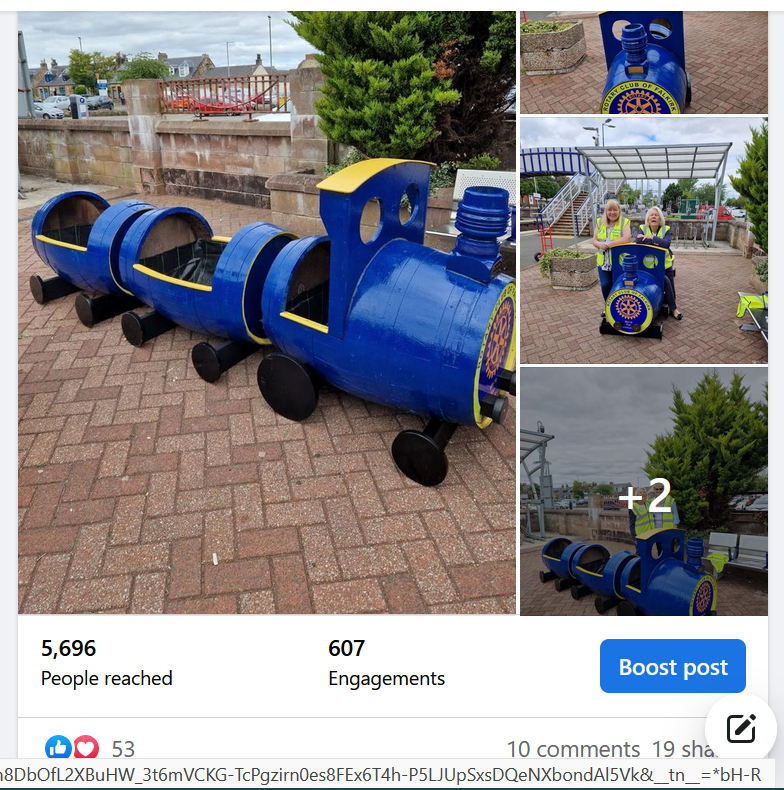 "Do what you feel in your heart to be right – for you'll be criticized anyway."
― Eleanor Roosevelt
===============================================================

3rd August

It would seem that I am running out of steam. It's now nearly two weeks since I posted anything here. I honestly am having difficulty in thinking about anything to post. However I got a link from President Linda yesterday: -

https://www.falkirkherald.co.uk/news/people/falkirk-grahamston-rotary-club-and-mens-shed-team-up-to-brighten-up-station-platforms-3790451?fbclid=IwAR31fTr3P_QNMoIna-yQYk1xyMi1jf4J1waWbb2OJX62J2HqQQpzO1vTJXc
If that whole thing isn't clickable then copy it and paste into your browser. It shows a photograph (Duplicated here) taken by Michael Gillan from the Falkirk Herald along with a whole story about the tubs at the Stations.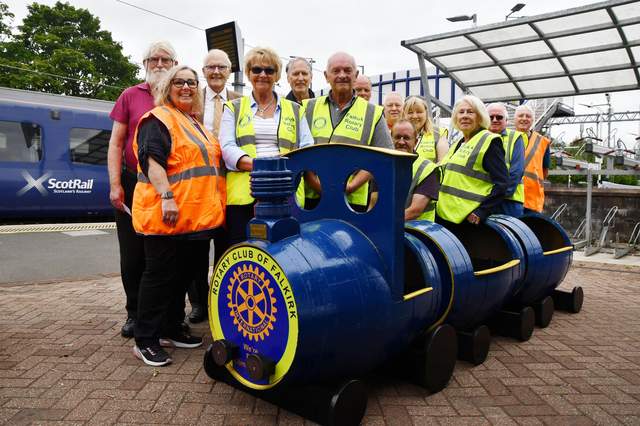 Like the article says we have established a friendship with the Denny and Bonnybridge Men's Shed, two of whom feature in the photograph. Not only did they manufacture the tubs they also provided valued assistance in transporting and installing them on the Station platforms. The face between President Linda and Ian McLean is one, namely Ian McGregor the other is next to Nancy. The chap on the far right is Charlie Morrison, a pal of Andrew's who provided the transport and is a prime candidate for a new member of the Club.

I have just thought about something to post!
When I was typing "a pal of Andrew's" I knew that that was just the way that I would have said the phrase out loud but then thought about the inclusion (or not) of the apostrophe. I included it because I came to the conclusion that the commonly used phrase must be shortened from "A pal of Andrew's acquaintance"

"When I despair, I remember that all through history the ways of truth and love have always won. There have been tyrants and murderers, and for a time, they can seem invincible, but in the end, they always fall.

Think of it--always."
Mohandas Karamchand Gandhi
================================================================
22nd July

We had a great meeting yesterday with Ian Scott telling us about the Free Colliers when 18 of our members were present. We are slowly regaining the position that we were in before the pandemic.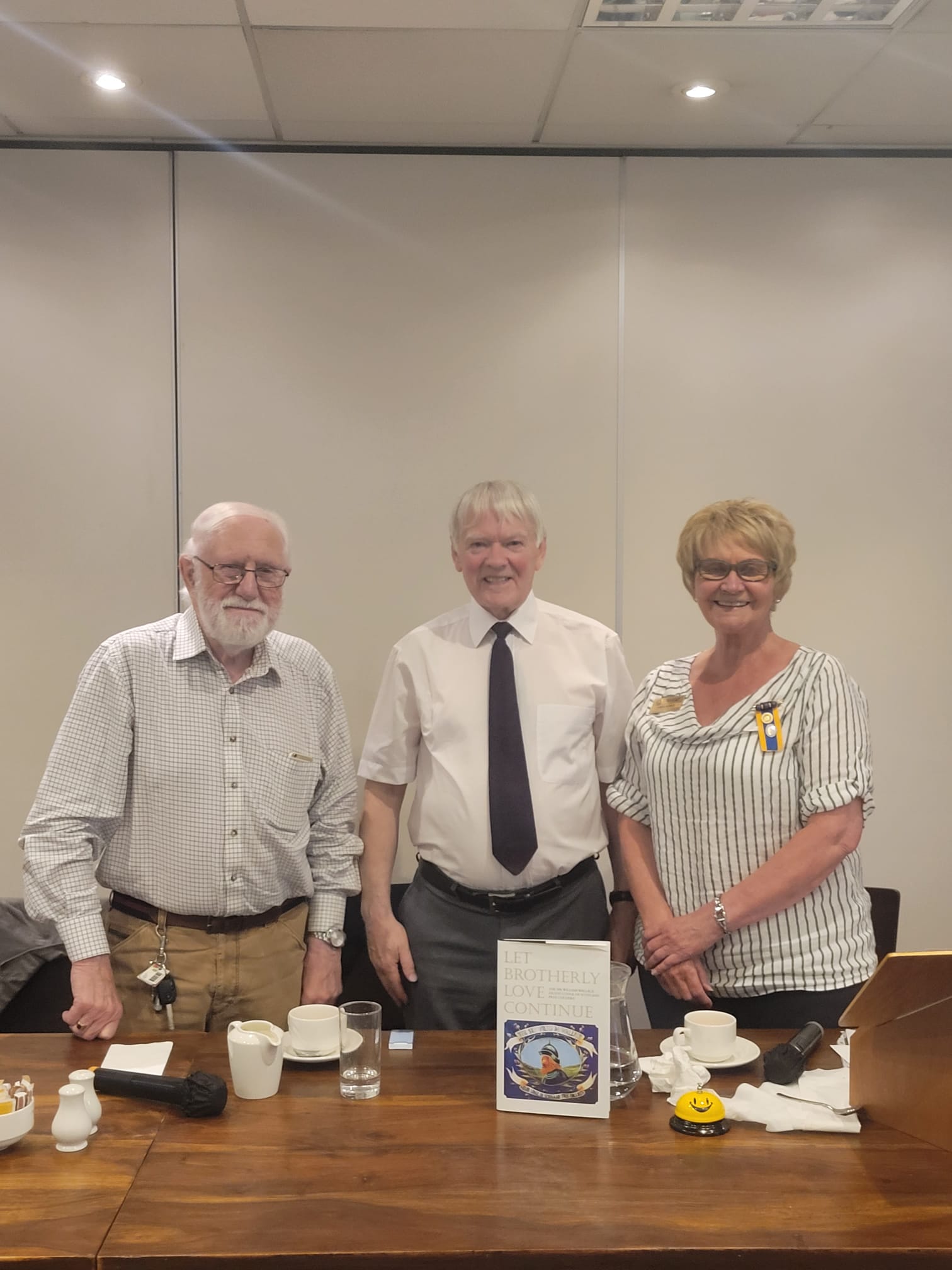 Prior to the meeting we had another meeting to discuss bringing in new members. We now have cash in hand from a District Grant to assist with that goal. We have an advert in the Falkirk Herald ready to run mid September in anticipation of a reception evening sometime mid October. We hope to send out personal invitations to any number of individuals and their partners to come along to that reception. I have begun a list which will include the name of the individual, his/her partner, address &etc. It is intended to send a personal invitation to each person on the list. Do you know of anyone that could be included? It needn't be a friend or or an acquaintance, I have begun the list with someone that I haven't even met before whom I saw on Facebook. It could be your sons or daughters too of course but really anyone will do. It would be great if each one of us could come up with one or two names. Email me with your suggestions and I'll do the rest.
AND since this is a public page and if you are reading this and you are not a member, GET IN TOUCH!
=============================================================

20th July #2

Our new pop up booth arrived today: -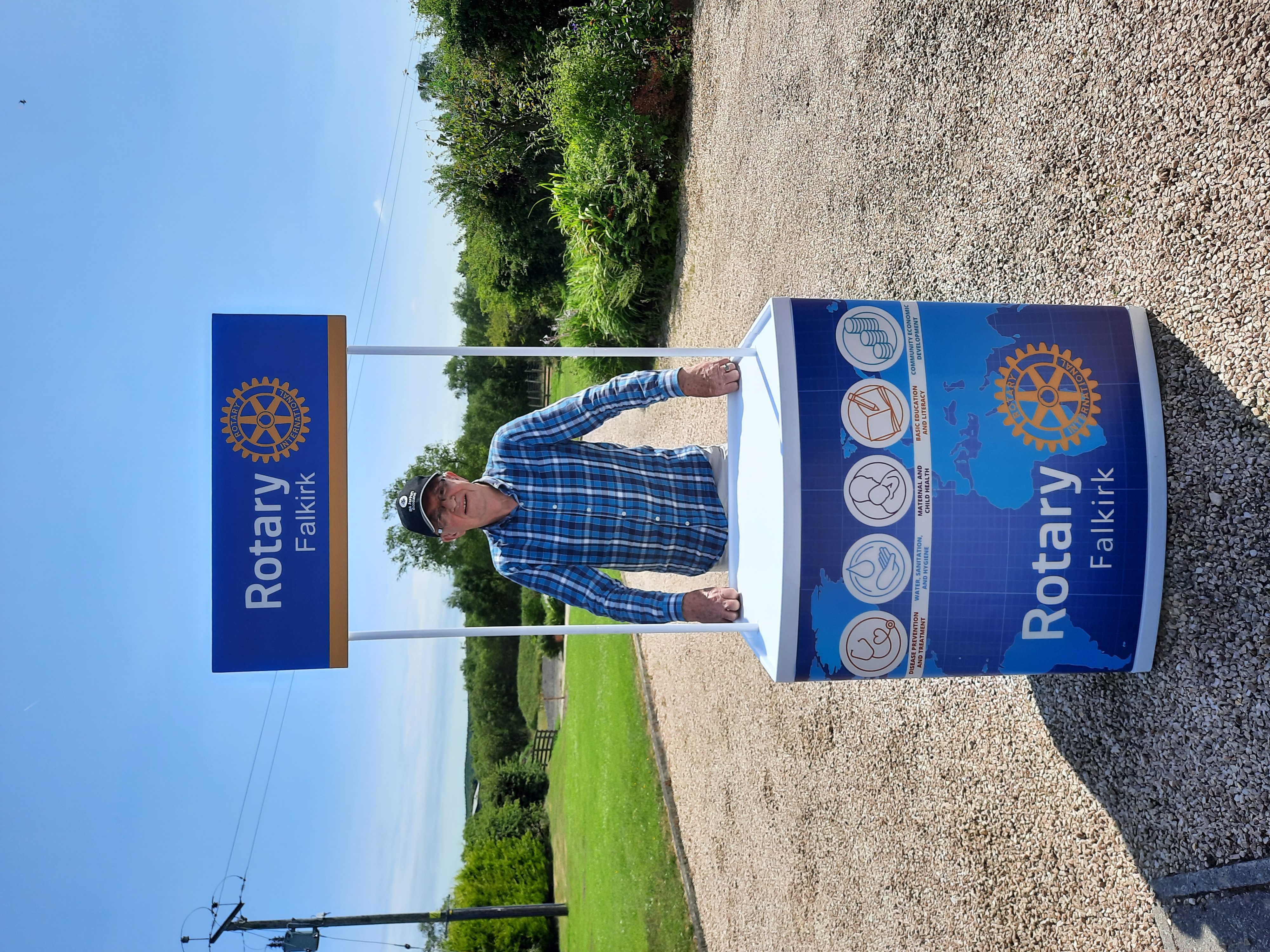 20th July

We had a day out yesterday. I had my biannual appointment at the Princess Alexandra Eye Pavillion to have my eye polished but that only takes 10 minutes so after that we headed to the Edinburgh Botanical Gardens. There were lots of posts on Tripadvisor that said that there was plenty of free street parking in Arboretum place right outside the (West) Main Entrance. There was plenty of parking, yes, but at £2 an hour but for city centre Edinburgh that's not bad. We stuck 4 hours worth on the ticket and popped into what was a magnificent Entrance and reception area.

Upstairs was the Gateway Cafe where we chose to have lunch. We had two rather large sandwiches on two plates on a tray alongside two glasses of wine. We had no sooner sat down at a table outside overlooking a beautifull pond when we were, as it were, "One sanny short of a picnic". A rather large greater black backed Gull simply swooped off with my Cheese and tomato croissant! The restaurant was superb and with a smile of disbelief at my contention that "A seagull ate my sanny" simply replaced my lunch free of charge. I'm thinking that it's not an uncommon affair.

We walked in a vaguely circuitous route, as had been advised by a nice young man when we bought the map, among lots of stuff, some of which was simply awesome.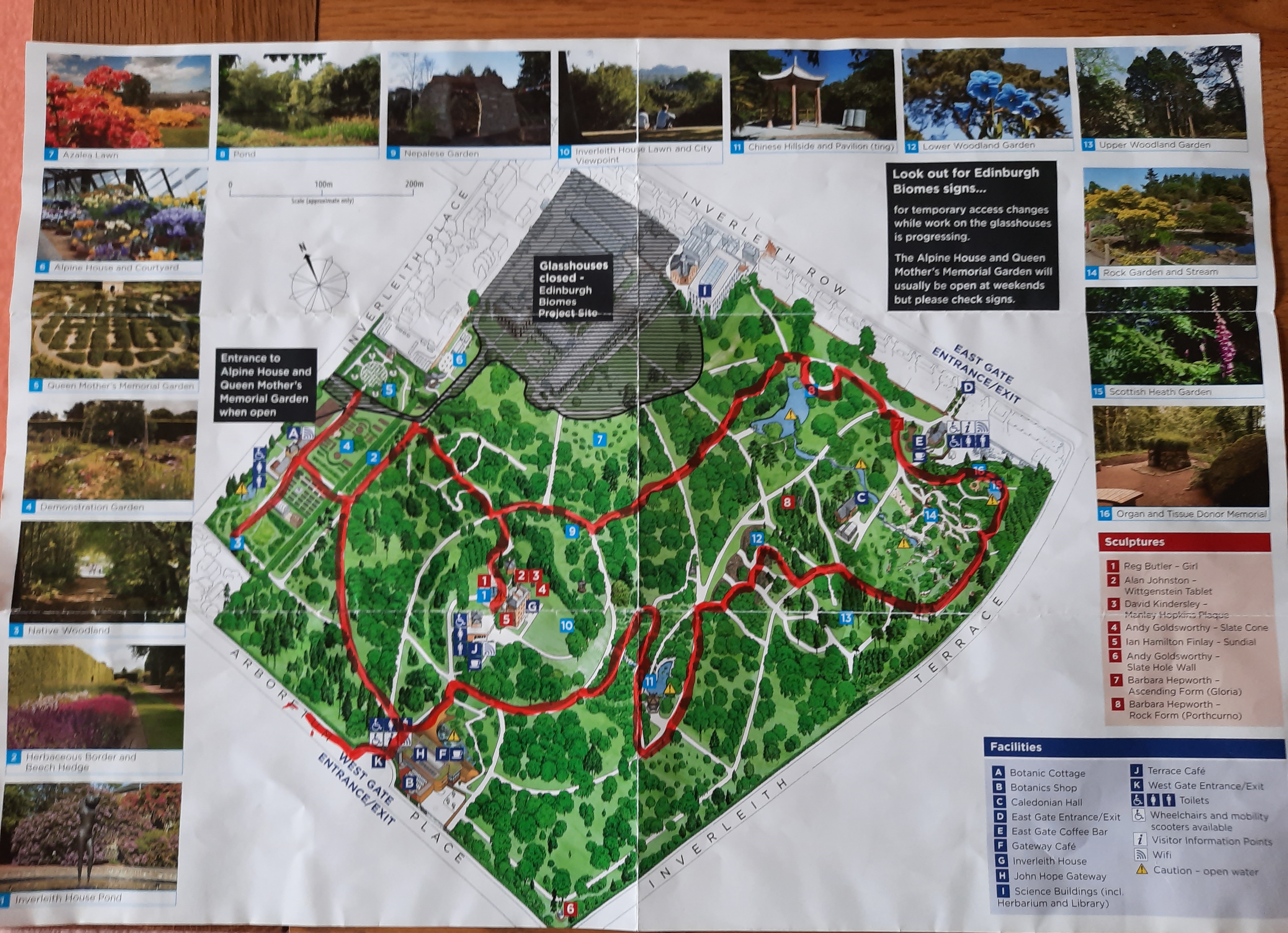 It was warm but we walked the best part of 5K around the garden (my fitbit said 6K steps)

We saw a magnificent Scots Pine: -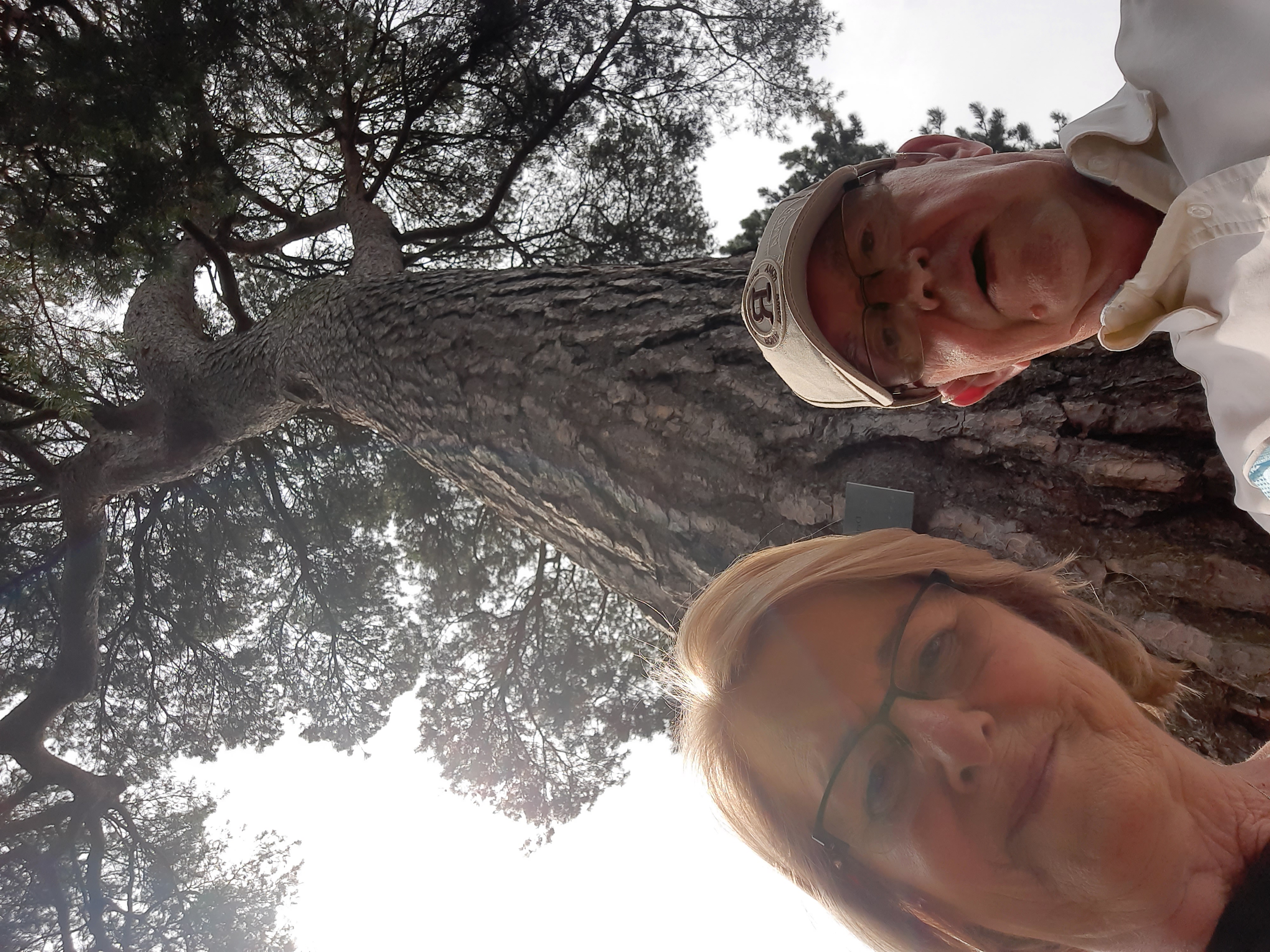 A rhodedendron (which I think had either seen its best days or had these yet to come) discovered by our own Bairn George Forrest: -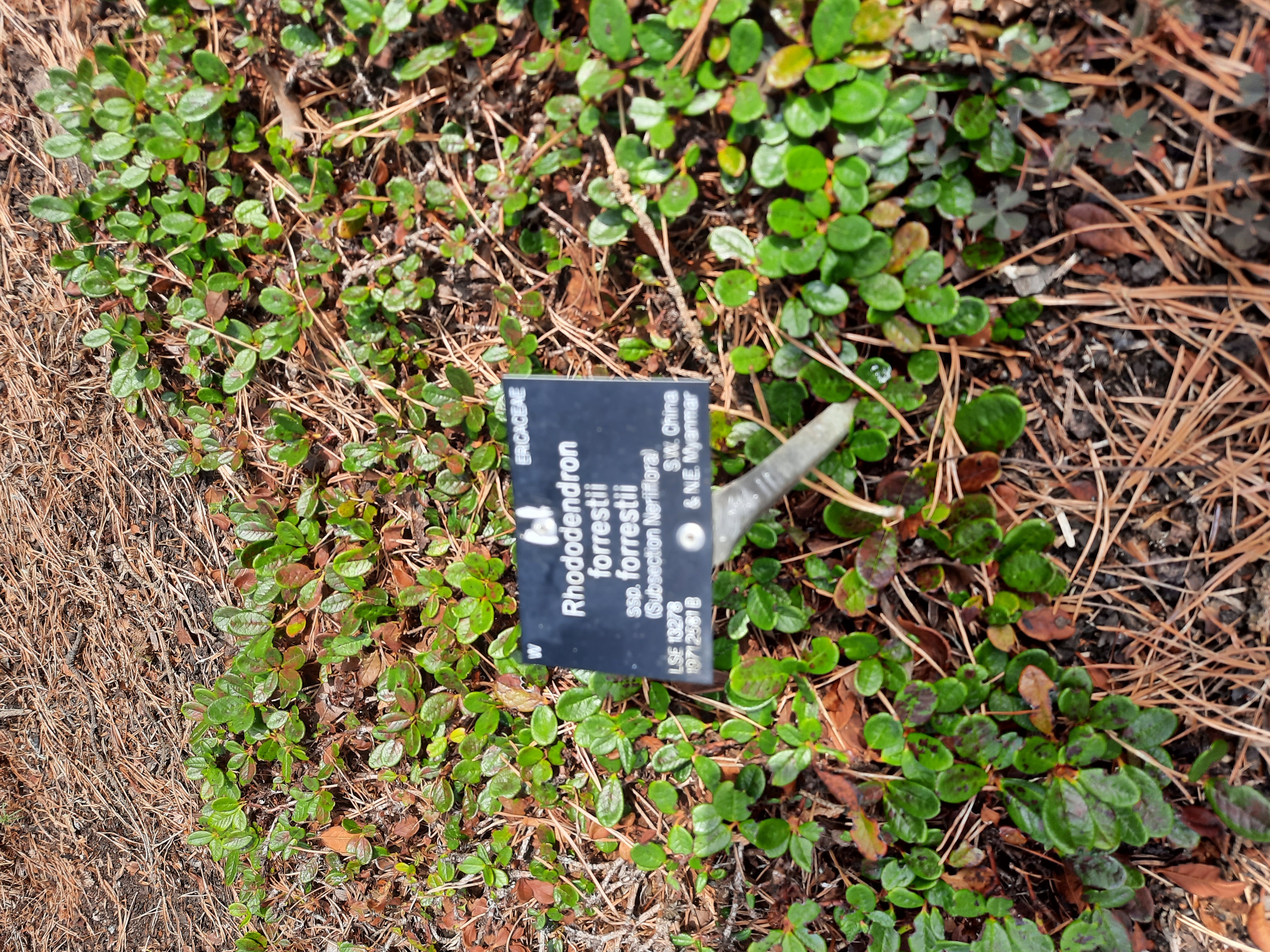 and lots of really clever water features and the like.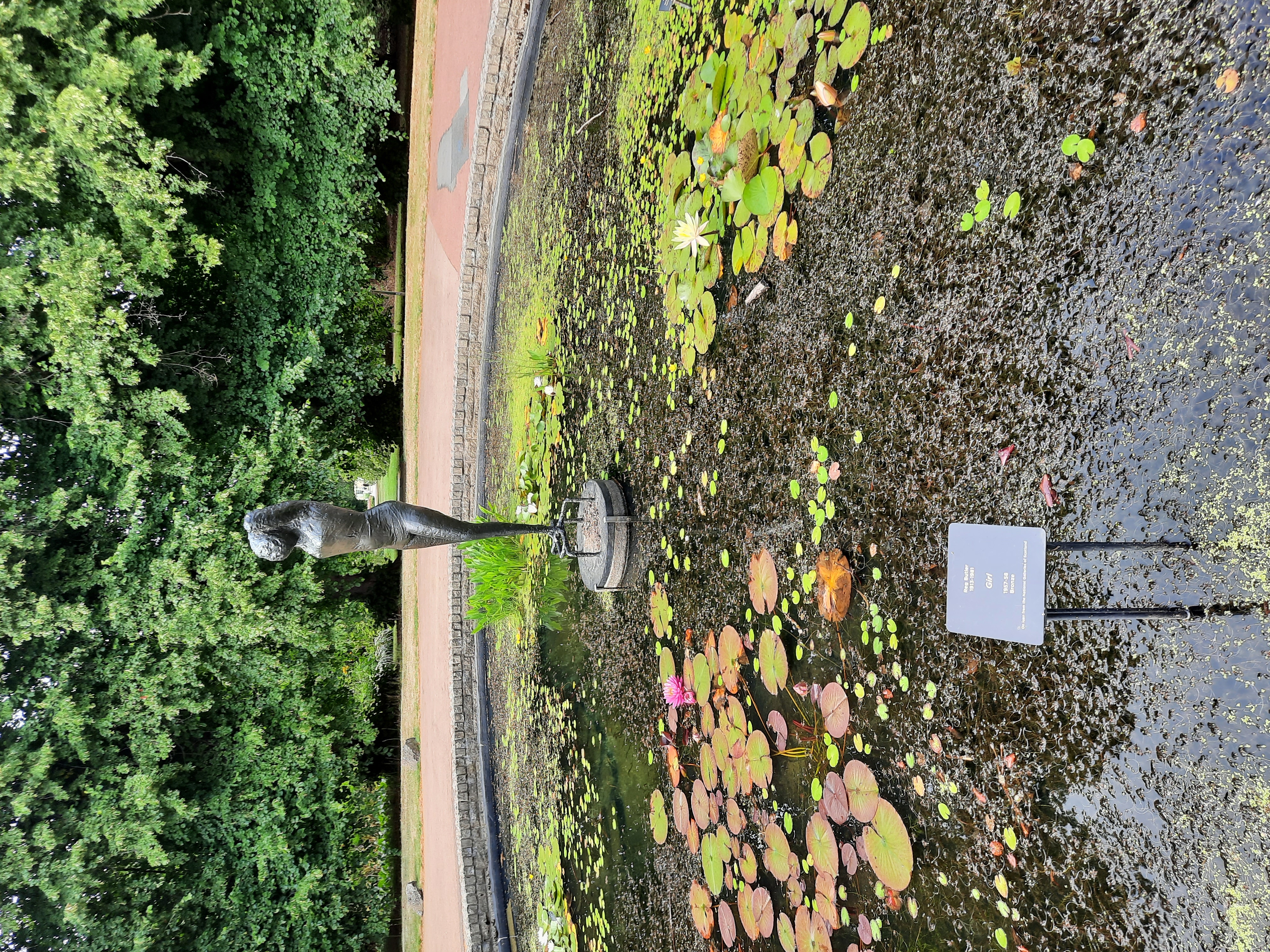 We had an icecream in the Terrace cafe and then headed back to the car with 10 minutes to spare on the ticket.

============================================================
11th July

This month's request from the Foodbank included Long life milk, Fruit juice, diluting and carton, Meatballs, Haggis, Ravioli, Tins of spaghetti/ beans/ stewed steak and sausage, Tomato sauce and Shower gel /soap/shaving foam.
President LInda managed to get everything on the list.
I am immensely proud of our members who, despite a return to face to face meetings, continue to donate monthly for the benefit of the Foodbank. This brings our totals since March 2020 to £10,200 and 5.49 tonnes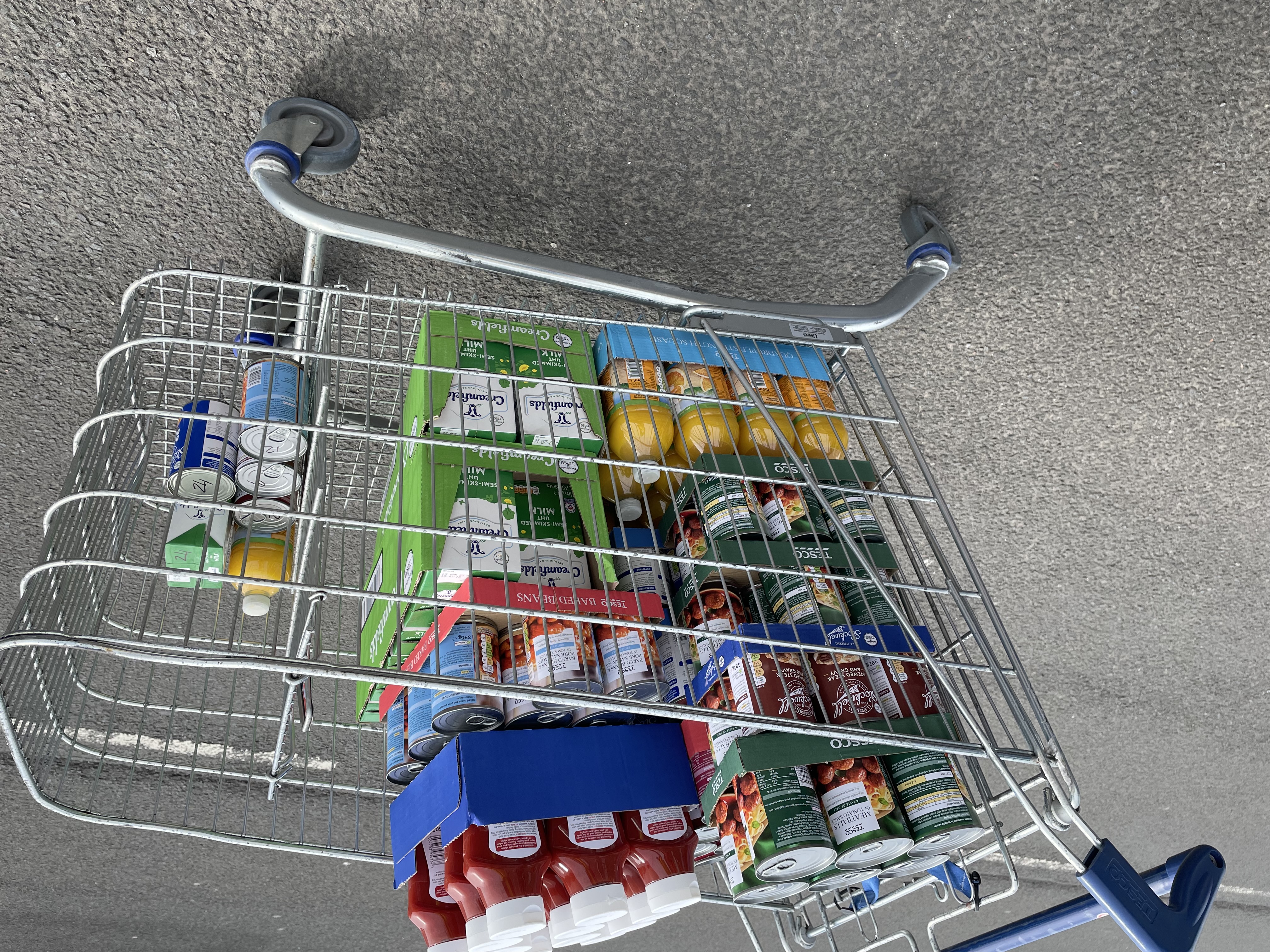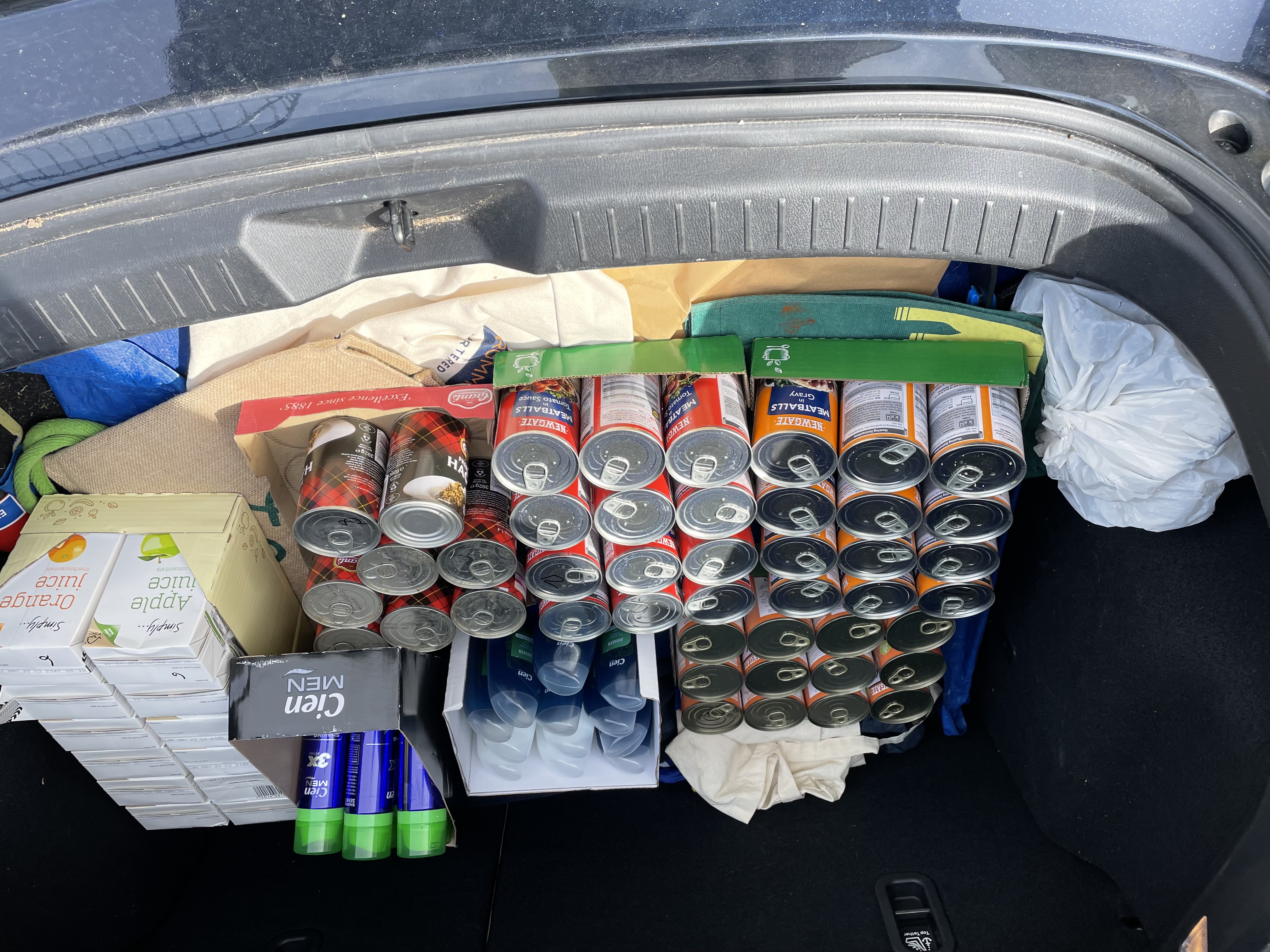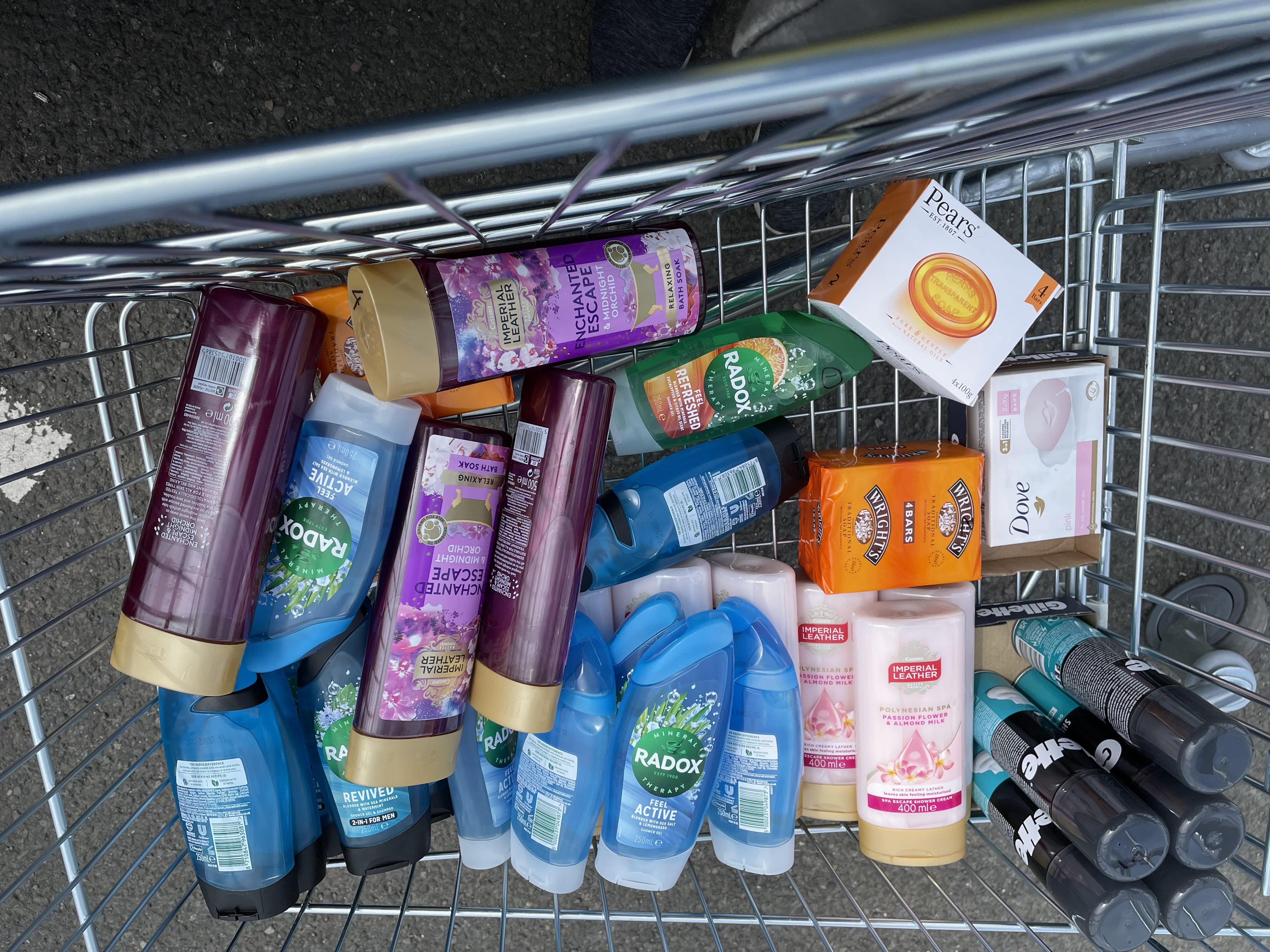 Now that the station train tubs are ready we are trying to organise a synchronised delivery of both the tubs and the compost required to fill them. It would be churlish of me not to mention that Charlie Morrison, a long time pal of Andrew Niven, and Joinery Contractor extraordinaire, has volunteered to transport the barrells for us.

Charlie is one of very few people of integrity that I have come to know over 60 years in the Construction Industry that is straight forward, honest and to be trusted implicitly. He, like Dugald McAlpine, is a huge assett to this Club in that regard and Andrew should invite him to join. (I'm sure that he probably has!)

=====================================================
8th July

I don't know if I'm tempting fate here because the Norrie Djokovic match is currently on the tele. I have often bragged proudly of my wee brother's exploits with parachutes but that was just jumping out of planes. His daughter on the other hand is Cameron Norrie's Physio and is in the family box! She is the diminutive wee lass on the right.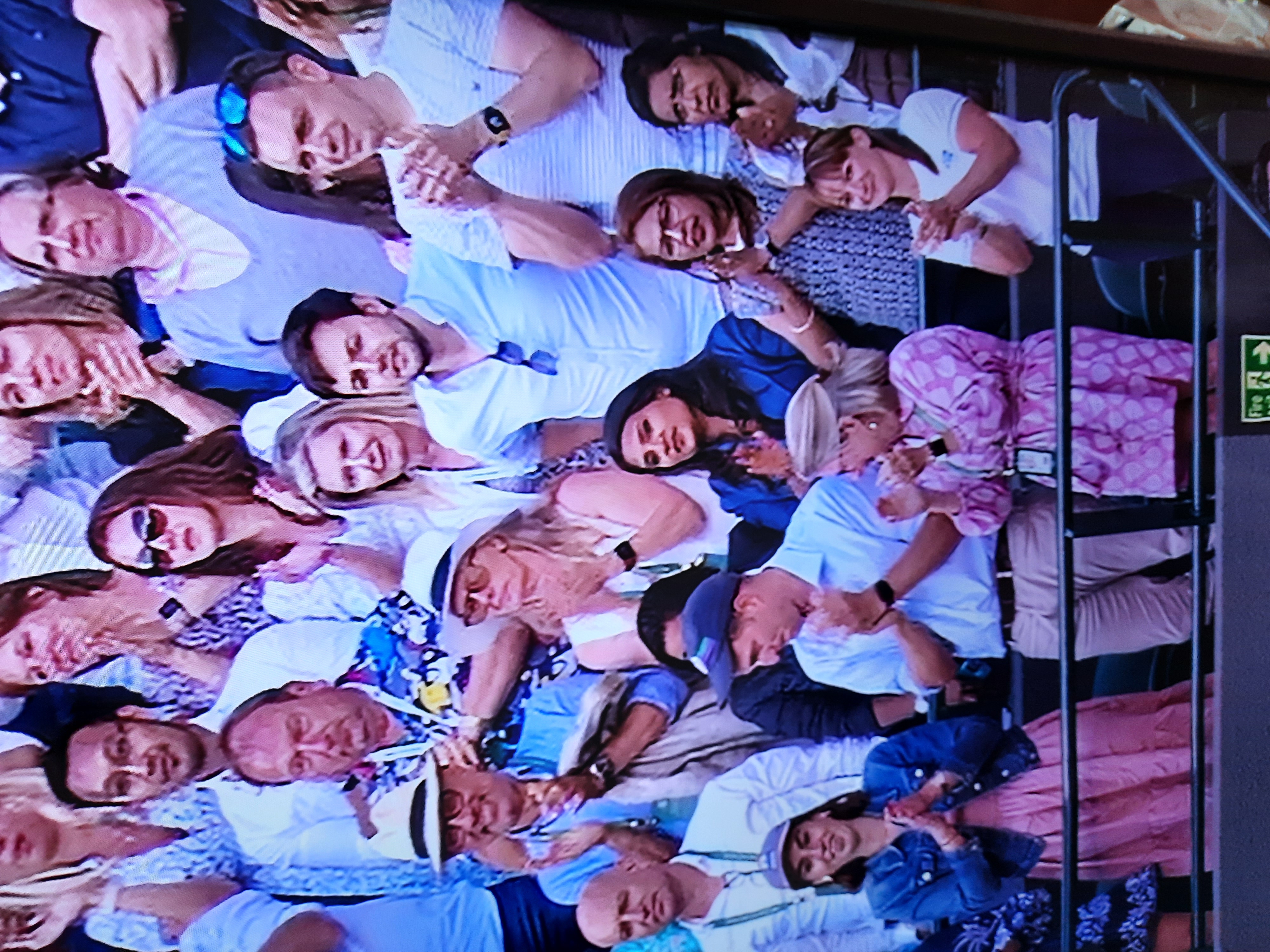 Not only Norrie but the British Davis Cup team, and the English Rugby team soft tissue specialist. There are two reasons for me telling you all of this. The first is I am very proud of my neice and the second is the obvious (I repeat OBVIOUS) pronunciation of Mr Norrie's first name! It's NOT Came-Ron!

==================================================
6th July

Linda, Robert and I, in the absence of Stewart who is on his hollies, visited the Mens' Shed in Denny yesterday to see the Station train tubs.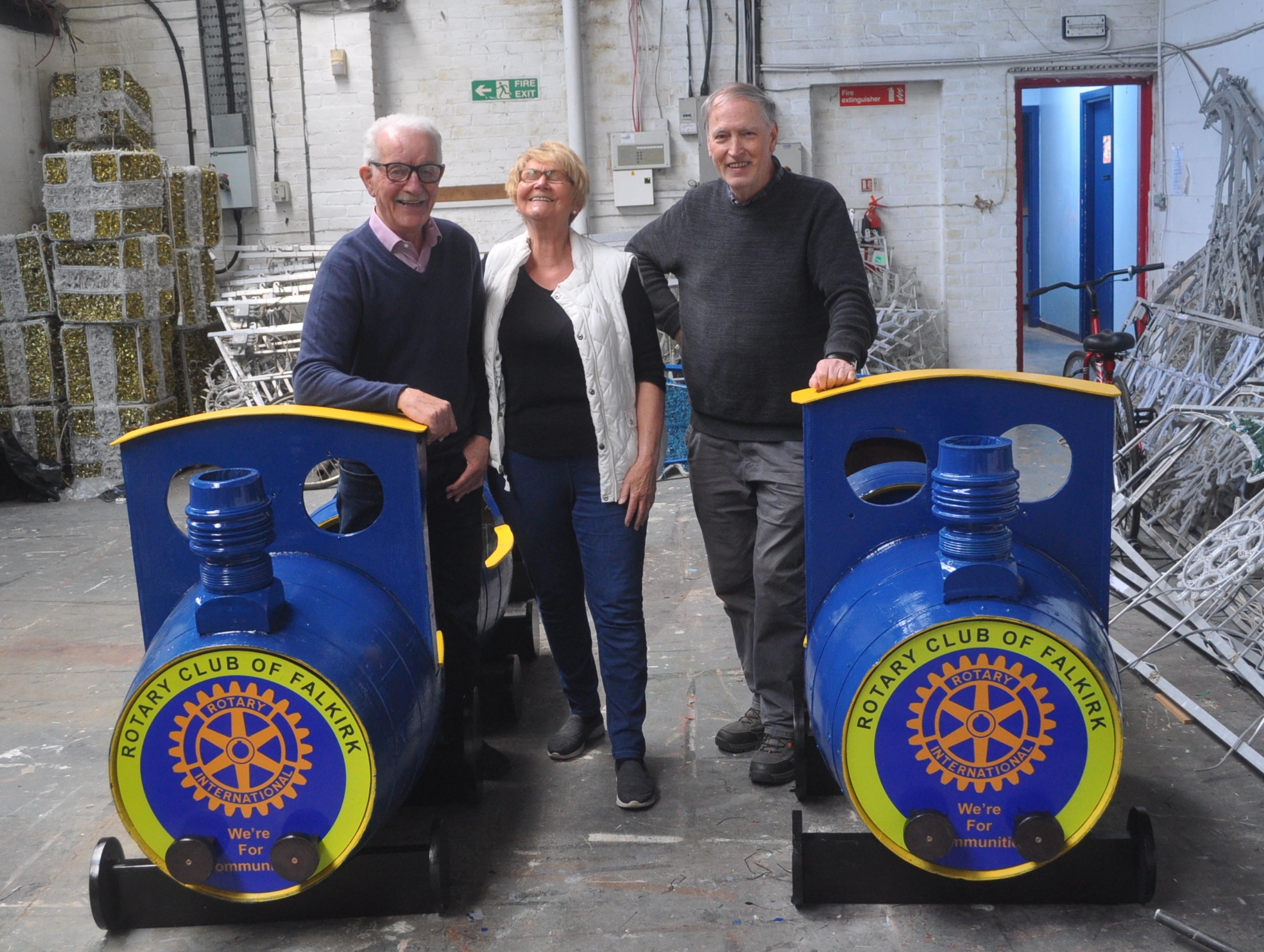 When Scotrail, in their wisdom while resurfacing Grahamston Station Platforms, skipped the train tubs that were in their way Stewart took issue with them and they agreed to have them replaced. We met with the Mens' Shed in Denny, and gave them the brief and this is the result. The buffers have been left off one end of each barrell temporarily to allow transport in a "barrel" configuration standing up on end. Arrangements are now ongoing to have them transported and filled. The tubs have all been beautifully painted and lined with a permeable membrane complete with drainage holes in the bottom.
A brownie or broonie (Scots), also known as a brùnaidh or gruagach (Scottish Gaelic), is a household spirit from Scottish folklore that is said to come out at night while the owners of the house are asleep and perform various chores and farming tasks. Regional variants in England and Scotland include hobs, silkies, and ùruisgs. Variants outside England and Scotland are the Welsh Bwbach and the Manx Fenodyree.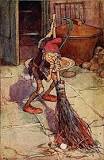 Now ridicule me if you like but I have always left out a bowl of milk for the wee things of an evening. They are hard working beasts and I personally don't know what I would do without them. I mean every evening I put my divested clothes into a basket and every morning I open a drawer and there they are, miraculously fresh items of clothing all neatly ironed and folded. Underwear, sock, shirts! You name it.
And it doesn't end there! Oh no! When I visit the bathroom, the plastic box neatly labelled Monday to Sunday with spaces for my daily medication is continually refilled just when I need it to be. And then as I proceed to don my shoes they are placed neatly (not how or where I left them) cleaned and polished ready for me to go into the world as I should.

Thank you Brownies!
============================================================
2nd July

I have just composed a poem!

He bought a shirt which, with a will!
Said "Sandy 2 and Cancer nil."
But then, what if, instead of none
The second part was "Cancer one"?
That would be super laugh!
'Cos it would be his epitaph!
President LInda has become aware of the fact that, because of this being the holiday period, very few of us will be present on Thursday. She has spoken with the chap who was on the rota to speak to us and, because it is such a lengthy presentation, he agreed with Linda that he would postpone his visit until a suitable audience might be expected. Consequently The meeting on Thursday will be without a speaker and will instead be simply a fellowship meeting.

=============================================================
30th June

Club handover today and to be truthfull it was a disappointing attendance of only 14 members (Excluding Narek and Linda) that witnessed the Presidential transfer from Narek to Linda.

Narek reflected upon the achievements of the Club during the past two years and thanked everyone for their part in it. He then invested Linda with her PHF and, miracle of miracles, Linda was speechless! She then went on, however, to outline her vision for the future of the Club and left no one in any doubt that the Club was in safe hands.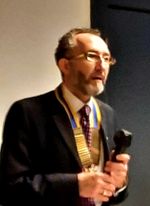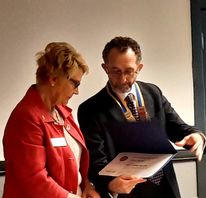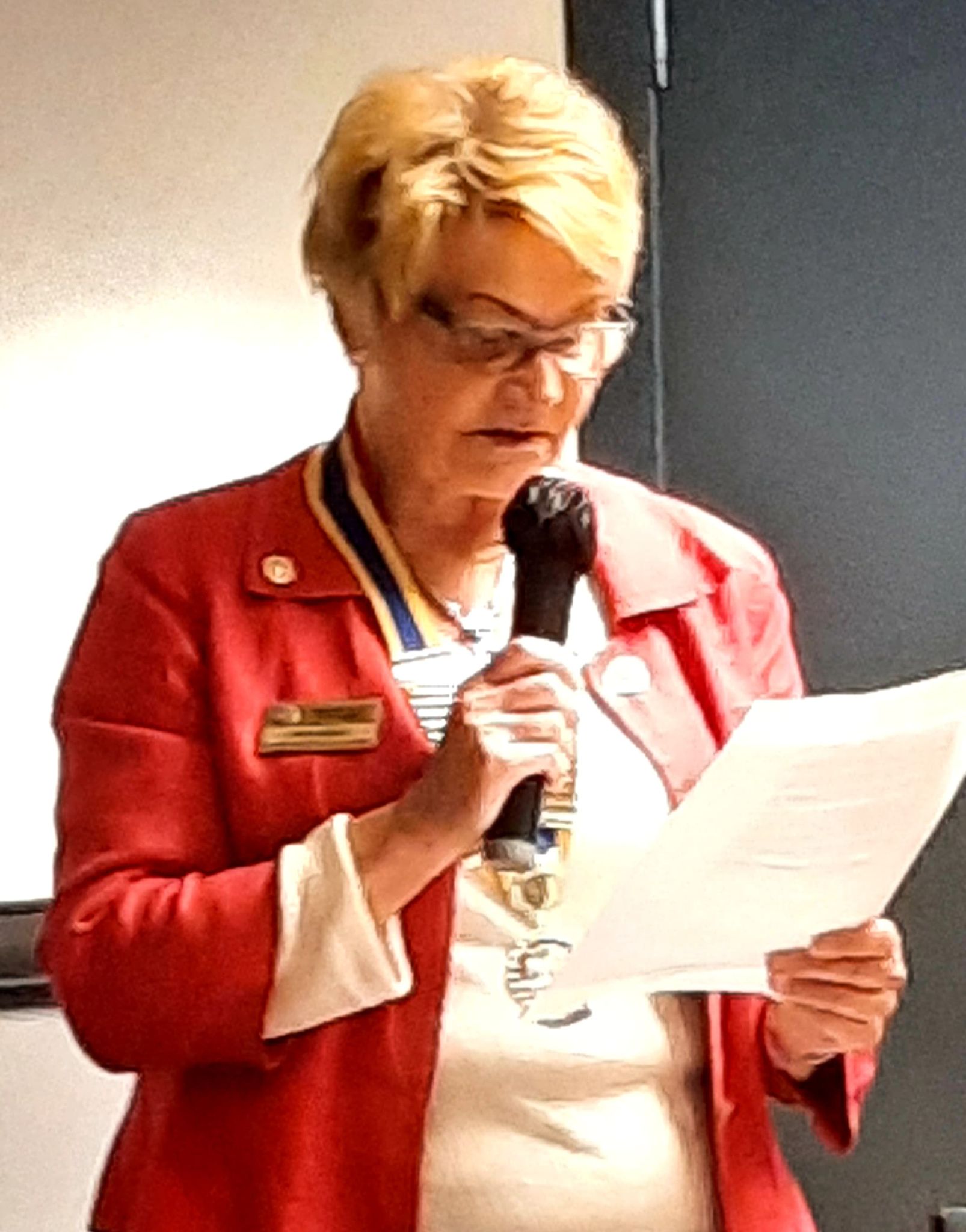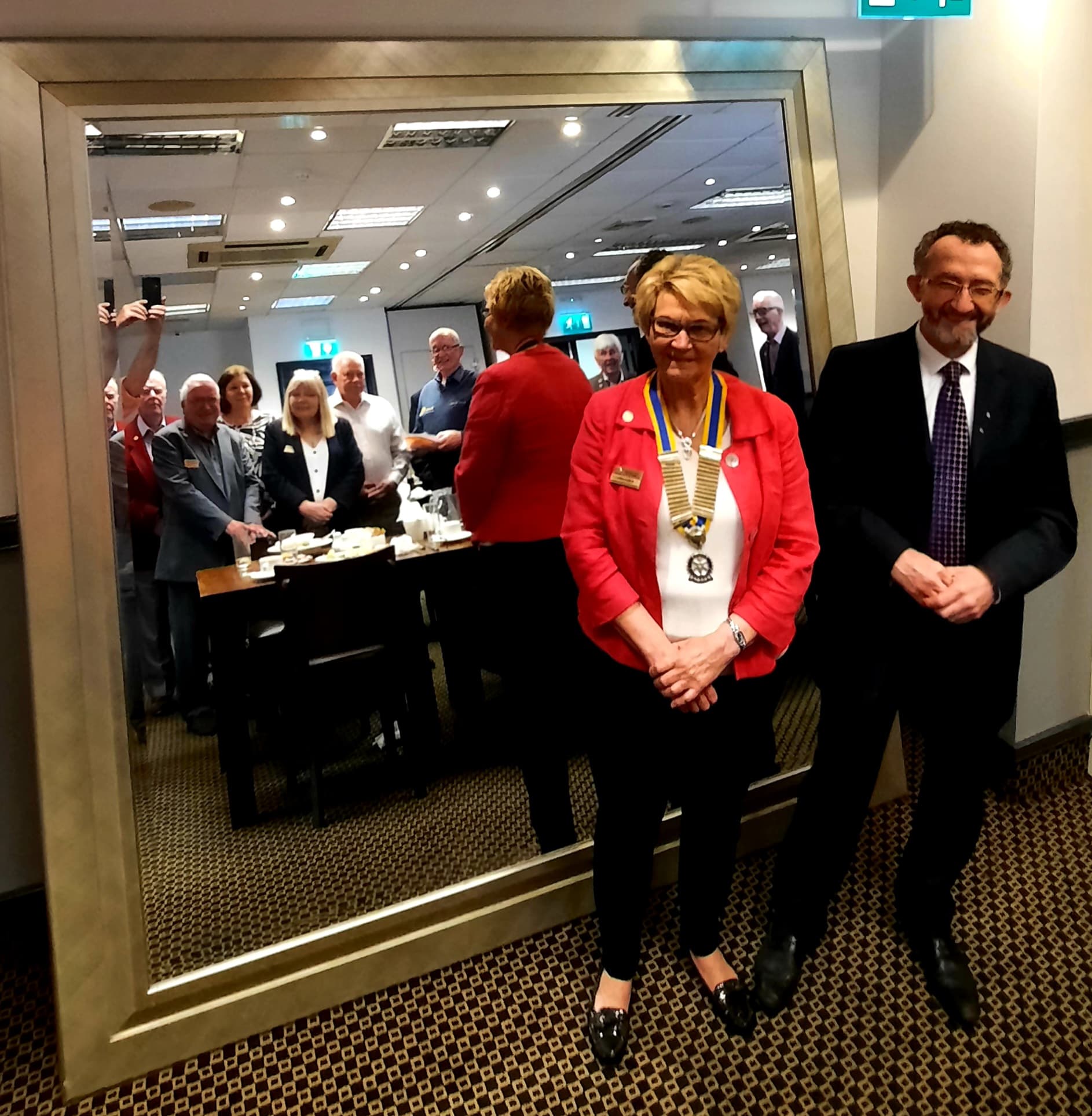 28th June
Is there anywhere else on the planet where the ambient external temperature on a daily basis can vary by 10-15 degrees Celcius. Friday saw us basking in 25 - 26 degrees C and here we are today at 14!

Nancy, Linda N, Bill, David & Jane, Jim, George, Diane and I managed to collect £221.21 over the weekend at Zippo's. for 5 half hour shifts that wasn't bad I thought.
23rd June

Club Assembly today. AND Presidential handover next week. President Narek's tenure as president has been wholly blighted by the Pandemic. No other President in the history of the Club has had such a trial.(Not counting the 2nd World War!) I believe that he has led the Club through these times in an exemplary manner and deserves our heartfelt praise for that. I beseech you all therefore to attend the handover meeting next week and express these sentiments.

How to Cool off in a warm summer: -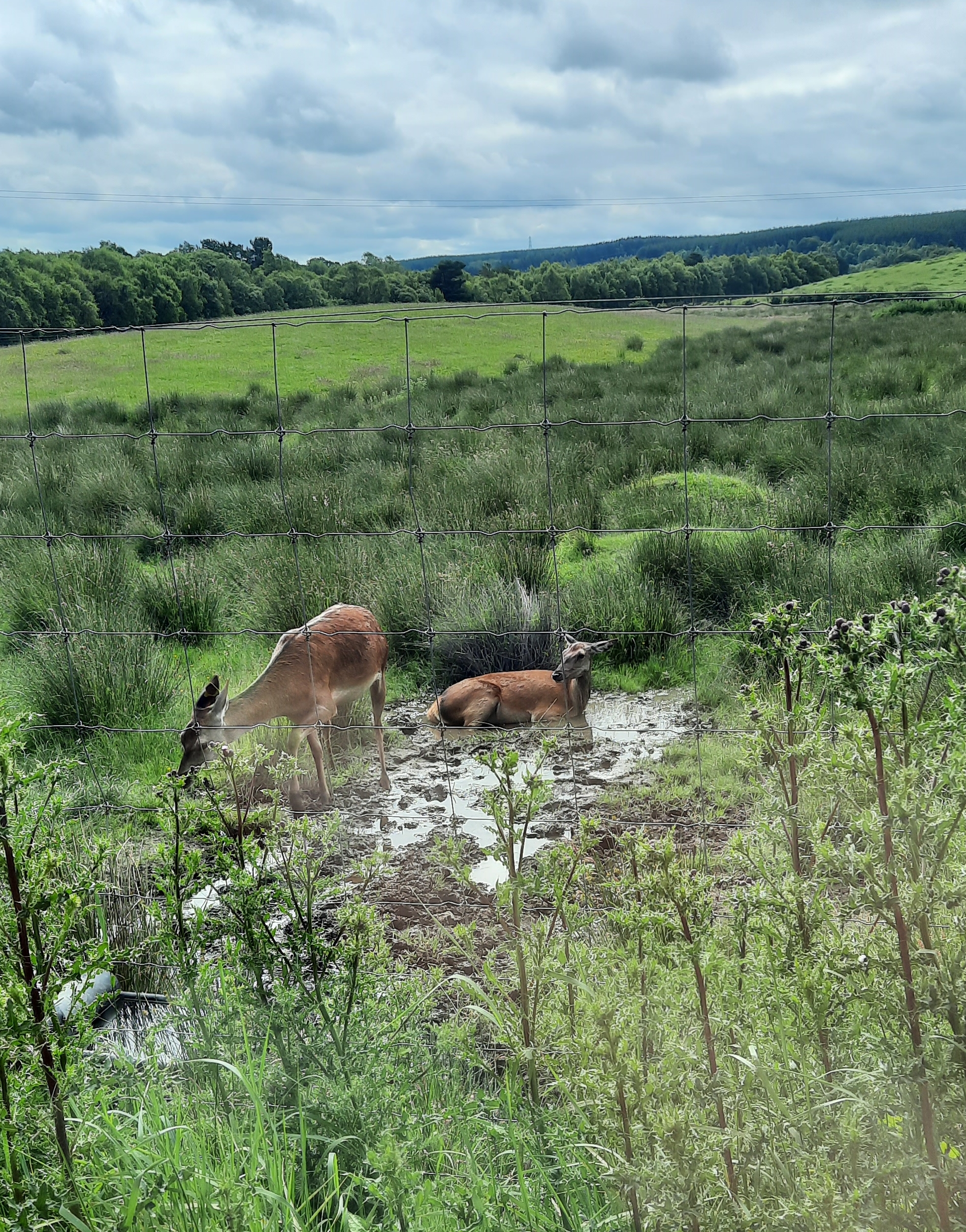 ==============================================================

19th June

On Friday President Narek and I were invested as members of the Order of St John. The Ceremony was held in St Giles Cathedral in Edinburgh and was full of all the pomp and ceremony that befits a Coronation! There was a Choir and a Trumpet Voluntary which Heralded the Entrance of the Duke of Gloucester and the Duchess of Argyll of whom the latter would pin my wee badge on my lapel.

We (The Postulants) assembled in the French Institute which is across Parliament Square facing the front door of the Cathedral. We then processed across, or rather around, the Square led by a piper! This is the reason I am telling you about this because the Piper's name was, wait for it,

Adonis Maximus-Badass.

I was certain that that was a windup and googled the name and it is correct. The man is a Corporal in the Royal Scots Dragoon Guards. But what a name eh?

This morning saw the first of our swallows fledge. There are three brave ones and another two, I think, watching how they fare from the security of the nest.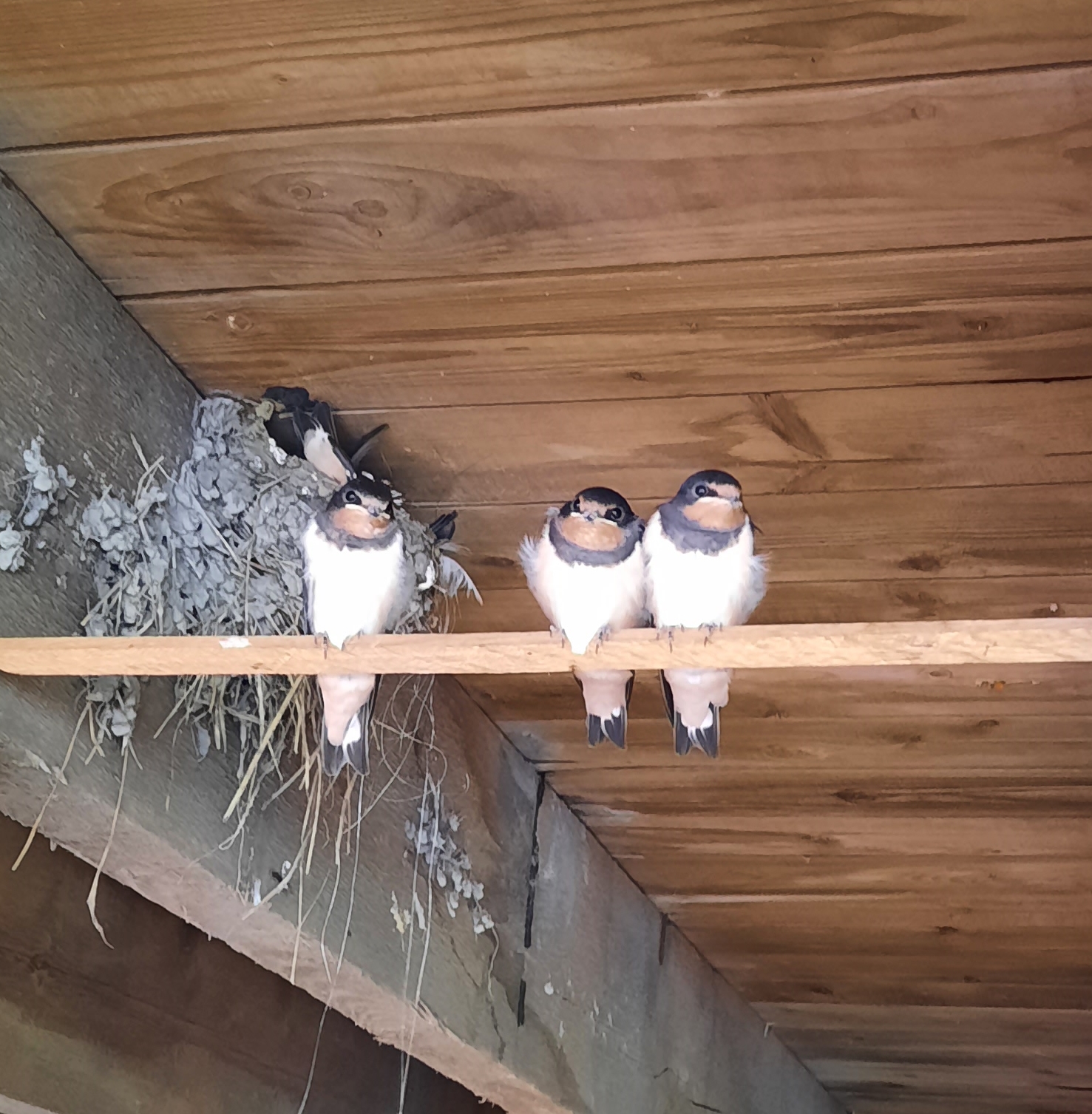 ==============================================================

15th June

I am sure that I have told you about this before but here it is again. Some time ago we became aware of a very small fawn hidden among the long grass and rashes in the field immediately on the other side of the fence at out garden. I texted the Gamekeeper because there was no sign of any other adult deer anywhere and I believed the wee thing to have been abandoned. Not so!, I was told. The hind will quite often, immediately after the birth, hide the fawn and walk away. Not far enough to be out of sight but far enough not to draw attention to the fawn while it finds its feet. We saw another such instance this week.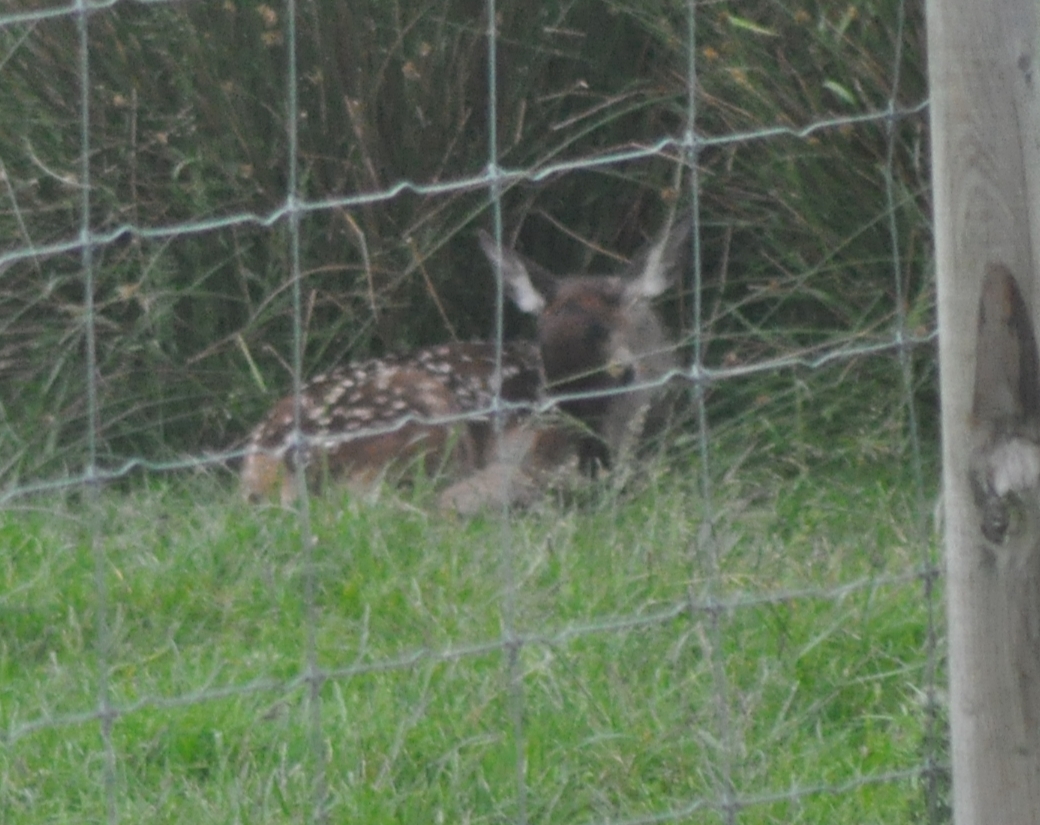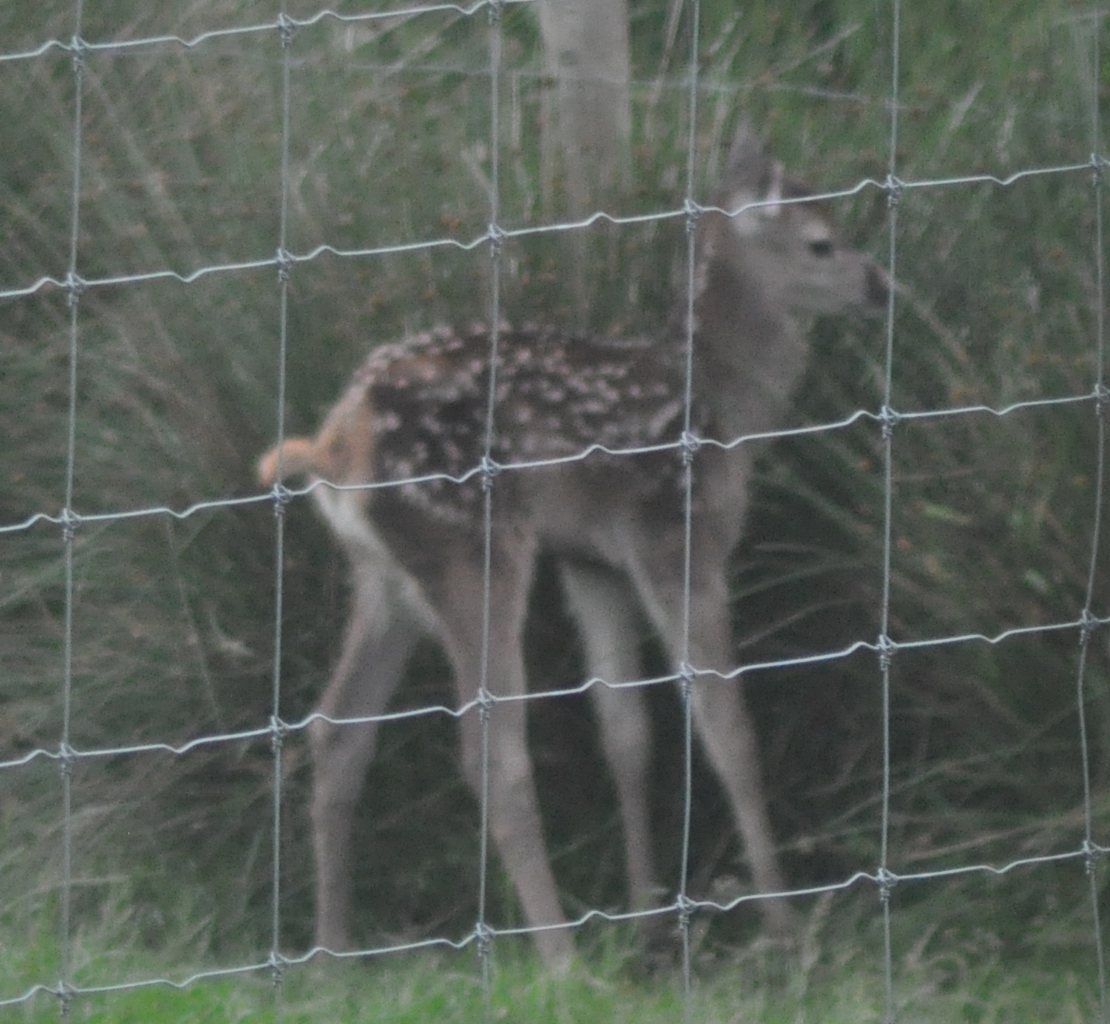 Having spotted the wee thing we watched while it stood up ever so shakily for a bit then laid down again.

================================================================
14th June

This month's request from the Foodbank was for potatoes and any tins with protein, so our shopper (that was Linda of course!) purchased: -
Meatballs, Haggis, Stew, Tins of ham, Tuna and burgers and to top it off Hot dogs. That brings our total over the Pandemic to 5.35 tonnes and £10,032.87.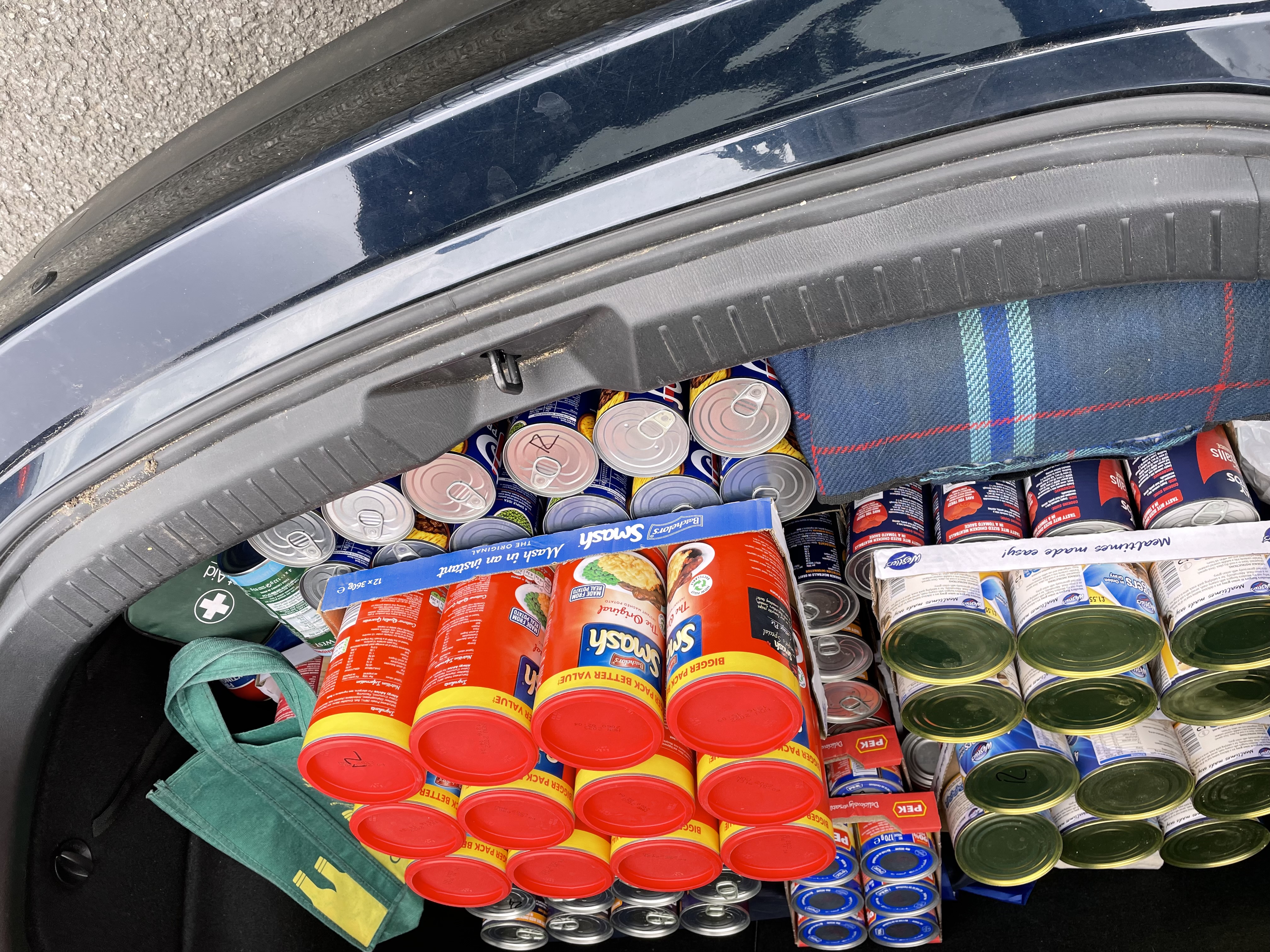 13th June

Yesterday saw the successful completion of our Swimarathon at Grangemouth Swimming Pool.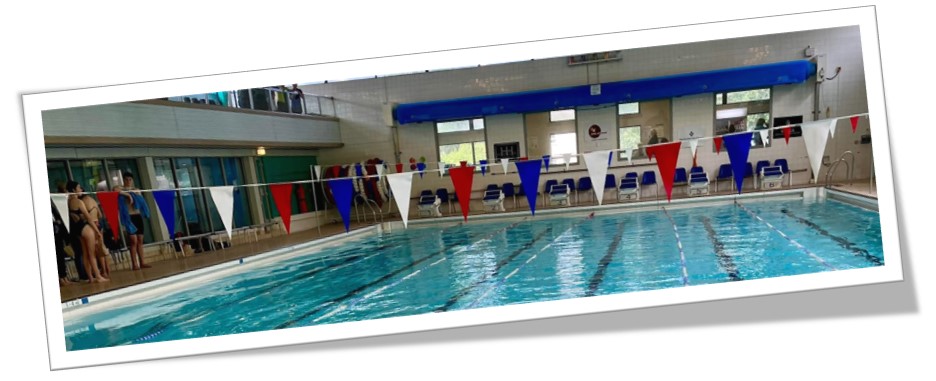 David Wheeler's team of Gillians along with a miscellany of members took care of dressing the event, reception and organisation of swim teams, lap counting and all the other bits and pieces that make these things so enjoyable like distribution of water and jelly babies. We were treated to a demonstration 100m swim by a Commonwealth Games medallist. There were teams from the Schools and Family teams. I can't recall them all but The Wheelers, McGills and the "Tidal Waves" were among them. With all of the modesty that I can muster I can tell you that the three generations of McGills in their team managed to complete 120 lengths of the pool. Not nearly as many as the Wheelers but there were more of them and they were much fitter!

I would be terribly lacking here if I didn't also give a mention and a huge thankyou to our sponsors.
Macdonald Henderson Solicitors
Exmos Co-Managed IT Support

John Mitchell Haulage and Warehousing
Hannigan Hotels
Antonine Investment Managers
Vertus Mortgage and Insurance Brokers
Thomas Johnston Quality Butchers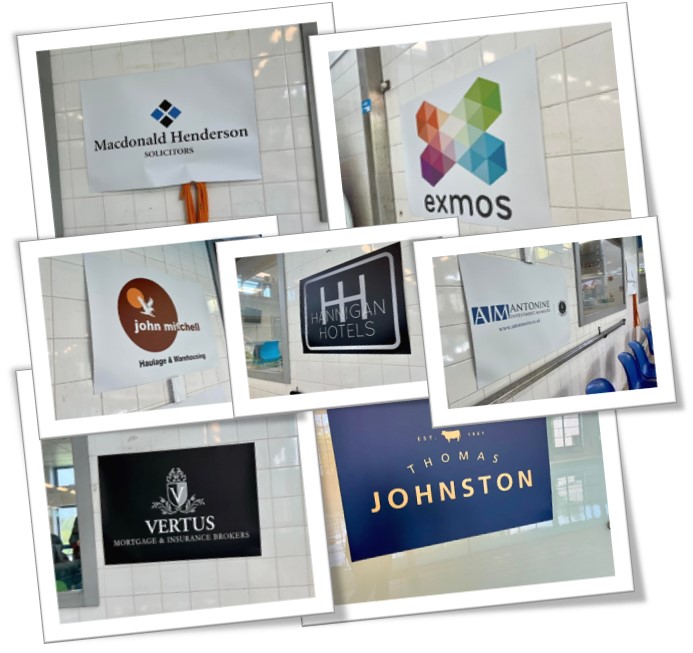 We don't yet know just how financially successful the day was, that will take a wee while because it is complicated but this event was certainly a big hit in terms of publicity and fellowship.

And as if that wasn't enough Andrew, Nancy, Mary, and Jim all joined members from Grangemouth Club giving Rotary a huge presence at the Scottish Schools Athletics Association Outdoor Championships at Grangemouth Stadium on Saturday. This Event is sponsored by the three Scottish Rotary Districts and the members from Grangemouth and Falkirk Clubs were on hand to fly the flag. They mounted banners, sold programmes and presented prizes to the country's finest young athletes. It was a great couple of days.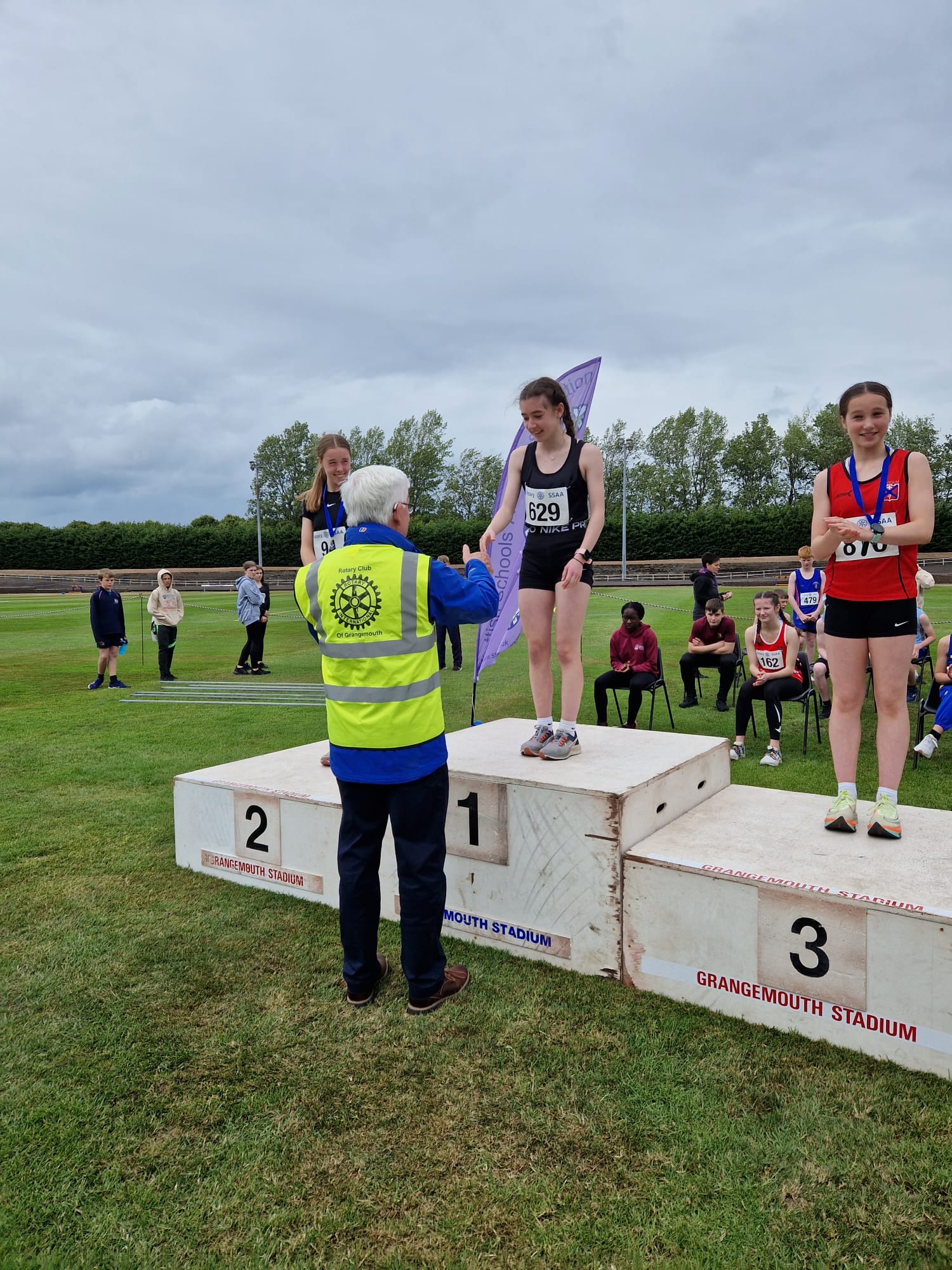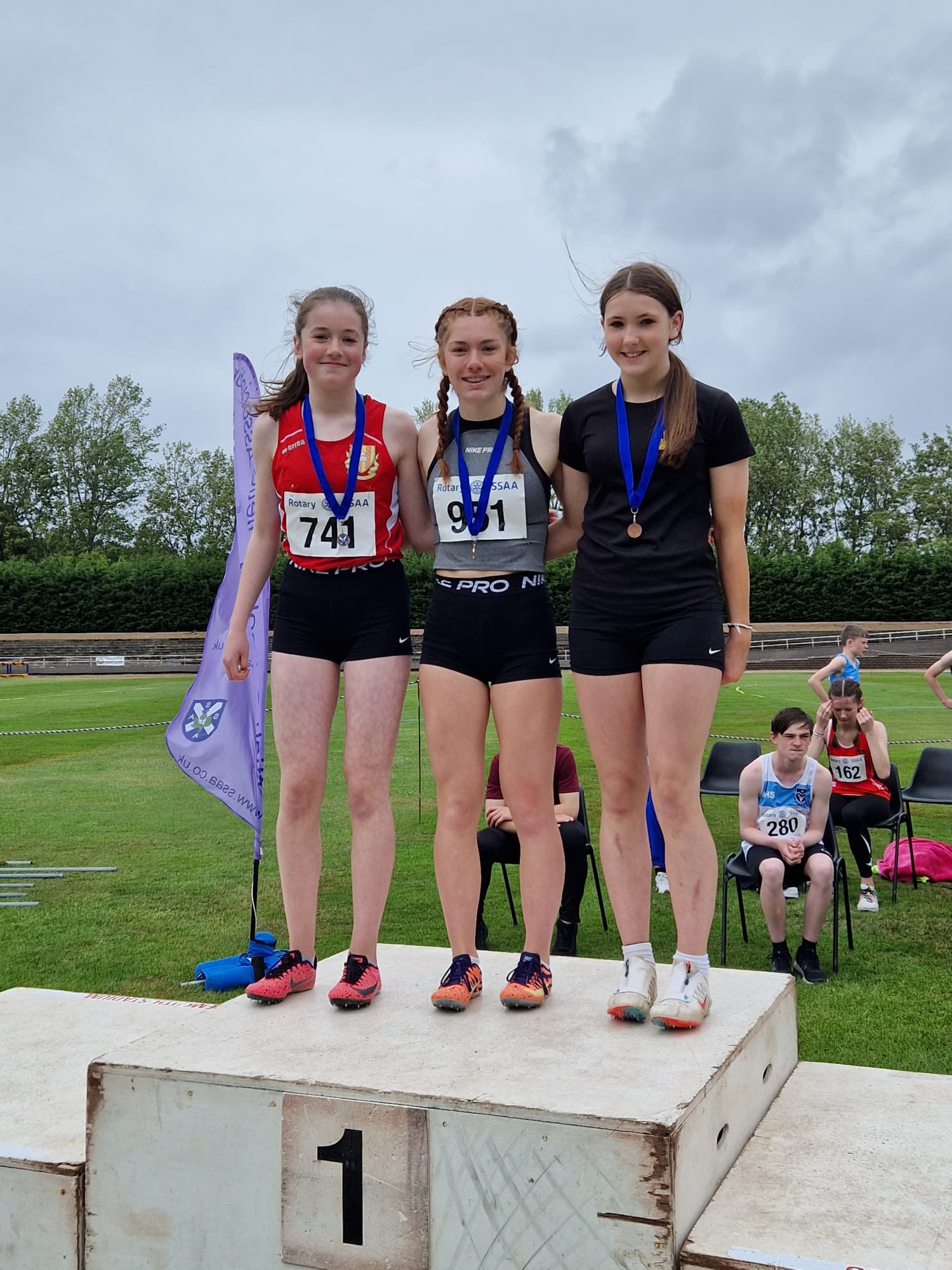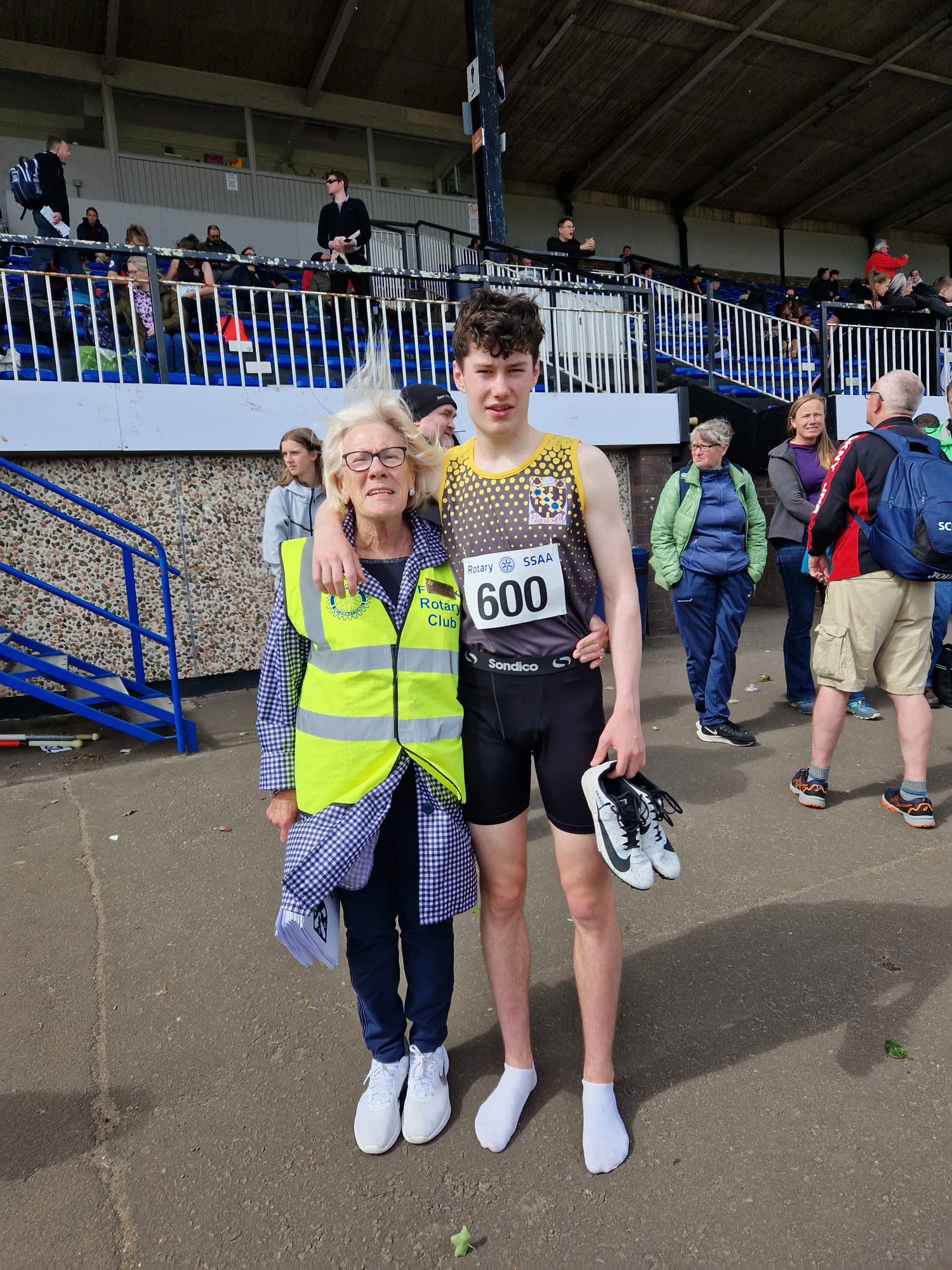 8th June

Gillian has sent some of her photographs of the Jubilee Tea. AND! now that all of the sums have been done, not only did we have a great time. Not only did we raise more than £200 for Sightsavers. We also made a profit of £118.69. Now that can't be bad can it?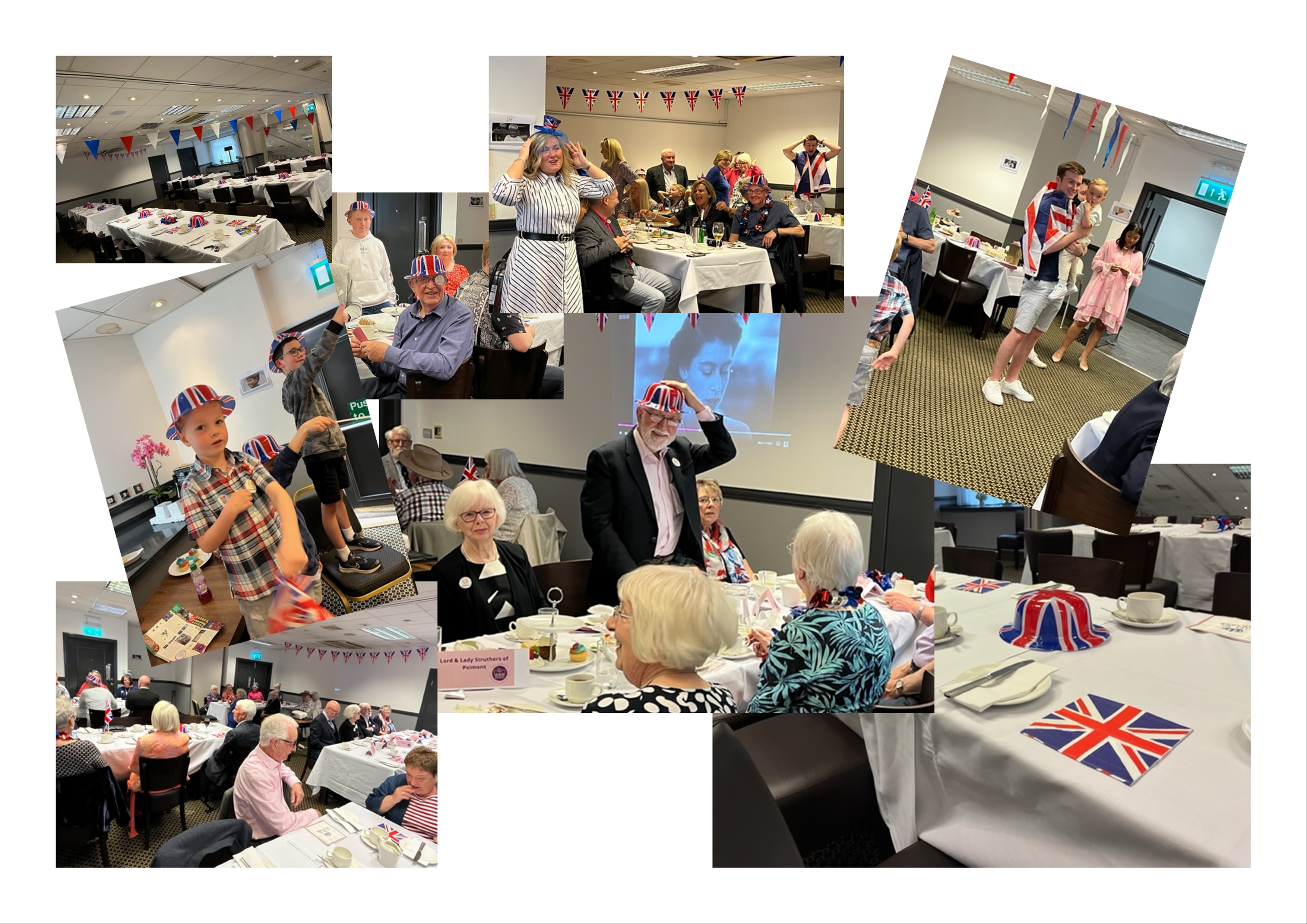 We have a first as far as I am concerned. Ther's a hind in the field with twins!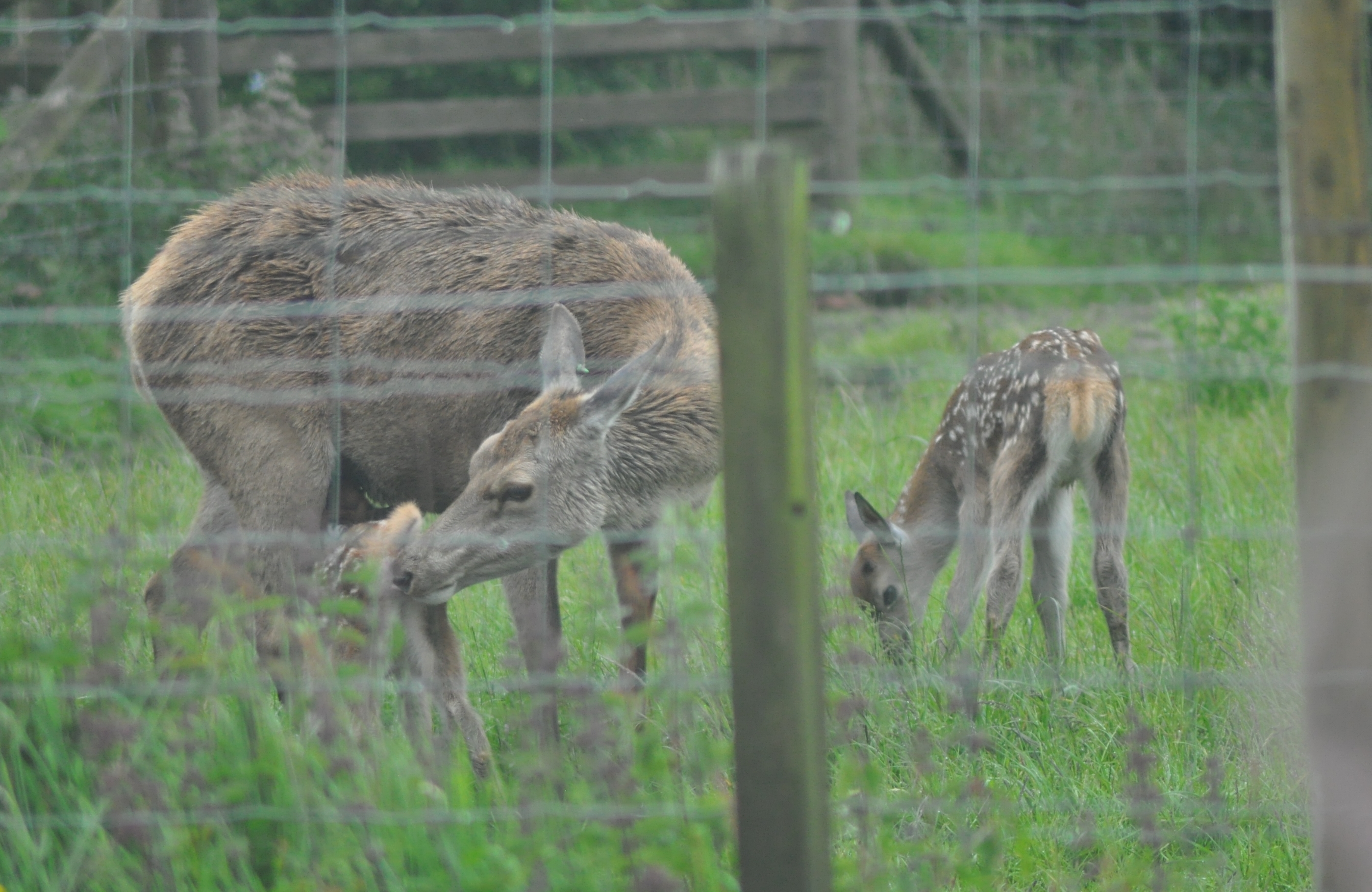 On this day

1783 - Laki volcano in southern Iceland begins 8-month eruption, killing 10,000 and causing widespread famines throughout Asia and Europe.
1869 - Ives W. McGaffey of Chicago patents the 1st vacuum cleaner, calls it a "sweeping machine"
1987 - New Zealand's Labour government legislates against nuclear weapons and nuclear powered vessels in NZ. Only nation to legislate against nuclear power.
1989 - Abert Spaggiari died on this date taking with him the secret of the whereabouts of the proceeds of France's biggest ever bank robbery. He and others dug an 8m long tunnel from a sewer to a position under the vault and on the three day Bastille day holiday weekend 1976 proceeded to enter the vault and empty it of it's contents. They welded the door shut from the inside and left a message scribbled on the wall: - "Sans Armes, ni Violence, ni Haine" (without weapons, violence or hate).The haul was estimated to have exceeded 100 million Francs.

==================================================================

4th June

I was listening to Radio Scotland this morning. It was after 11.00 and I had forgotten to tune in to listen to "Close encounters of the Bonnybridge kind". (It's still available on BBC Sounds if you are interested). Instead I ended up listening to "The Good the Bad and the Unexpected". It's a comedy panel show. At one point the contestants were to do an impression of Chris Eubank. One of the contestants didn't know who he was and asked the question. The answer puzzled me! "He was a former boxing Champion!" said the presenter.

Now that seems innocuous enough but it niggled at me. How can you say was a former anything unless the person is dead? Even then it would be proper to say "he was a Boxing Champion" not a "former" Champion..You can't stop being a former anything, can you?

Linda has sent me some more photographs that she took on Thursday: -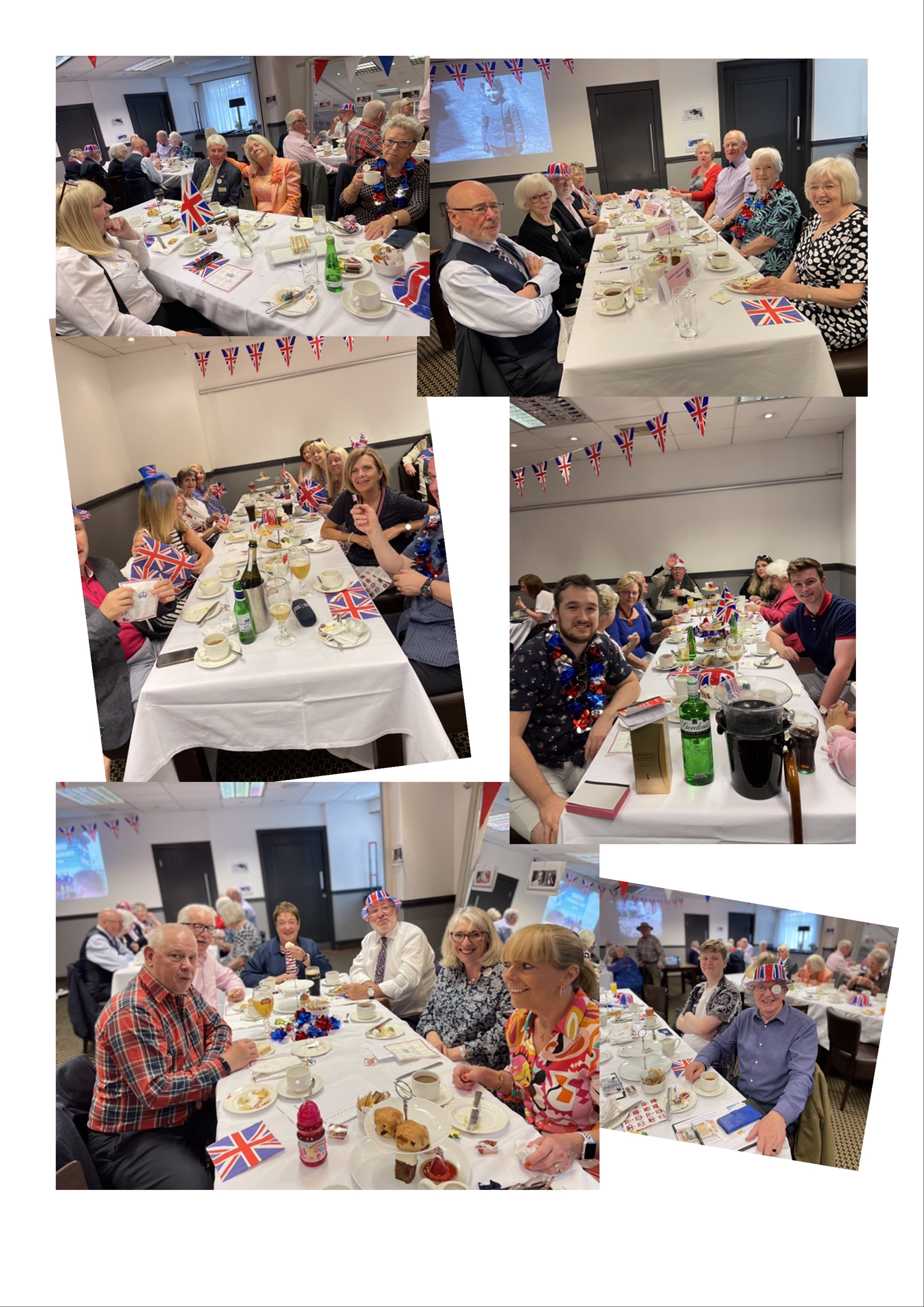 On this day,

1805 - The first official Trooping of the Colour at Horseguards Parade.
1913 - Suffragette Emily Davison ran out in front of King George V's horse, Anmer, at Tattenham Corner on the Epsom racecourse. She was trampled, never regained consciousness and died a few days later.
1940 - 338,226 allied troops are evacuated from Dunkirk via a flotilla of over 800 vessels including Royal Navy destroyers, merchant marine boats, fishing boats, pleasure craft and even lifeboats.
1969 - 22-year-old man sneaks into wheel pod of a jet parked in Havana and survives 9-hr flight to Spain despite thin oxygen levels at 29,000 ft.
1977 - Scottish football fans caused at least £15,000 damage by breaking the goals and digging up the pitch at Wembley after Scotland beat England 2-1.
1989 - Chinese troops clear Tiananmen square of student protesters, unofficial figures place death toll near 1,000.
============================================================

3rd June
Yesterday we had afternoon tea instead of our regular Rotary meeting. It was to celebrate the Platinum Jubilee of Her Majesty Queen Elizabeth. It was a humungous success thanks to the huge amount of work put in by President Nominee David and his trusty sidekick Gillian. (Or should that be the other way round?)

We had decorative hats, flags and napkins. We had quizzes. We had a great time chatting among friends that we hadn't seen for a while. Everyone had a smile on their face. There were families. Not only folk from Rotary but Inner Wheel and Soroptimists too.

George Honeyman had a Raffle for Sightsavers which netted £210.10 (When he counted it he managed to get the total to exactly £200!!!)
I never counted the congregation but there was only supposed to be a maximum of 60 (I think there were more than that there). Lots of folk were taking pictures but no one has let me have any yet. Here are some that I took.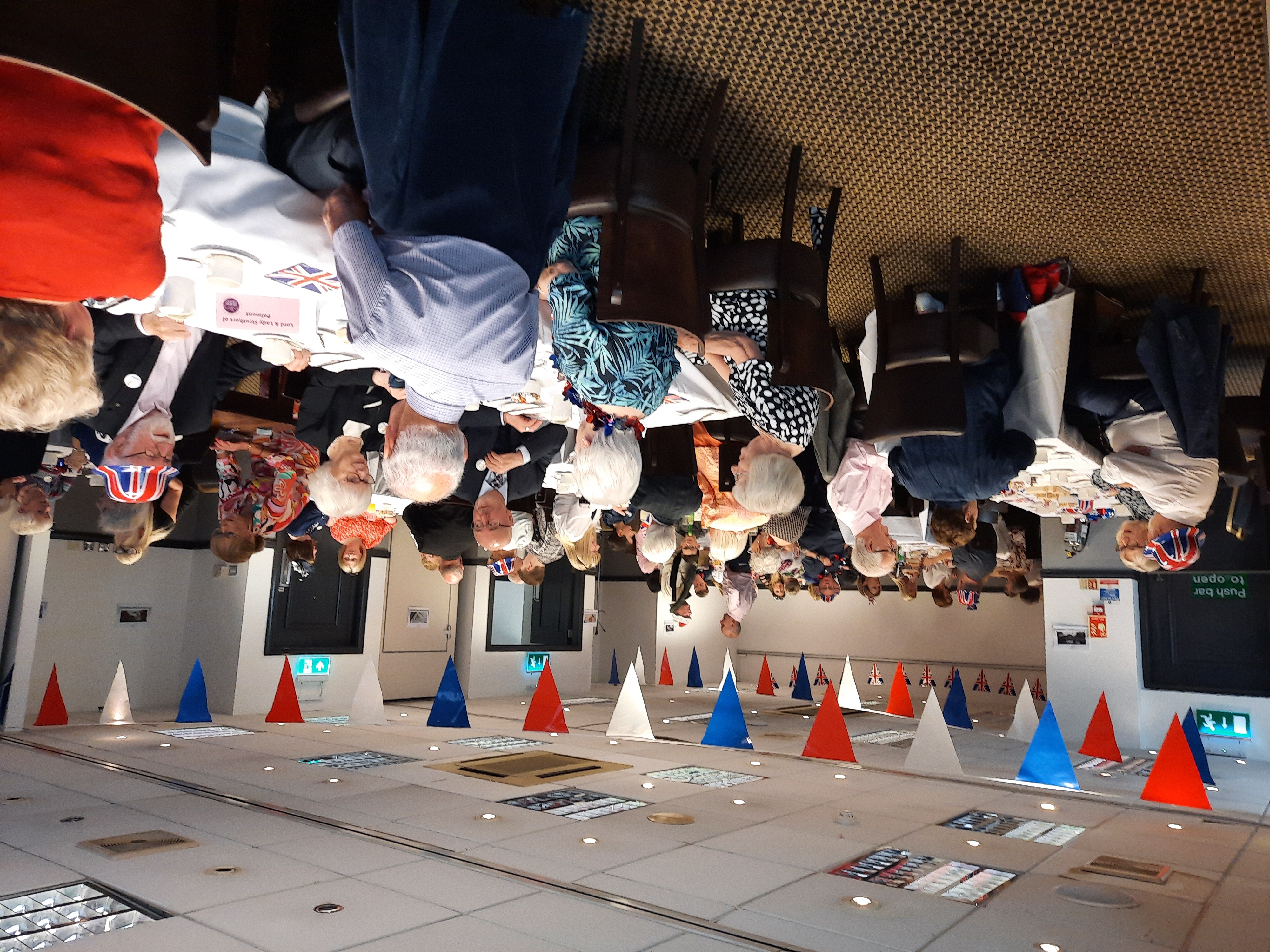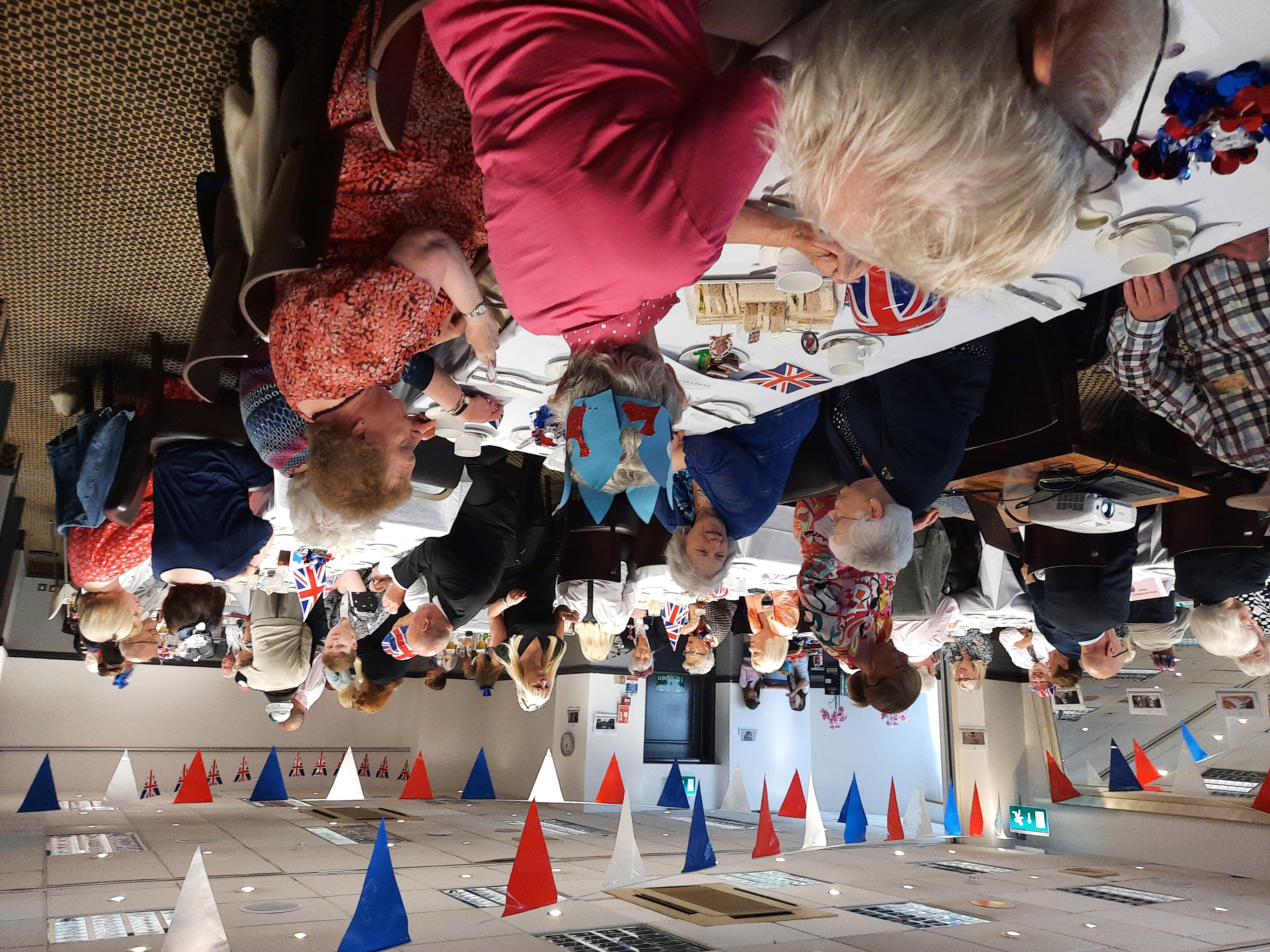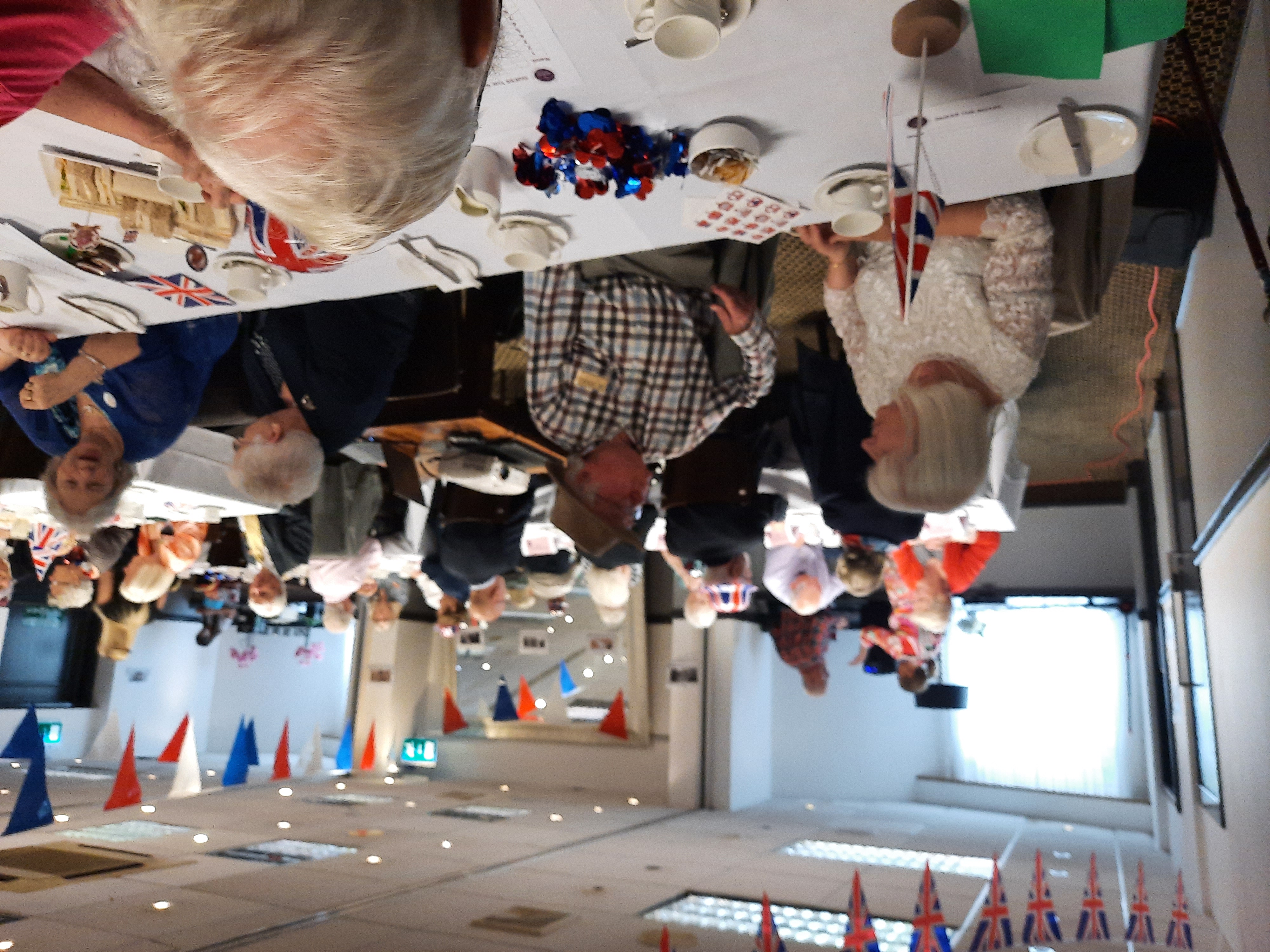 On the subject of the Jubilee did you know that a special pipe tune was composed for the event and hundreds of bagpipers across the United Kingdom, UK Overseas Territories and the Commonwealth kicked off the four-day celebration by performing Diu Regnare — (Long to Reign) in unison at 9.35pm (British summer time), from locations of their choice, as a tribute to the Queen. The tune was written for the historic jubilee by Scottish champion piper and pipe major Stuart Liddell.

I never knew about this but got an email from my sister in New Zealand with this link -
https://www.odt.co.nz/news/dunedin/lone-piper-honoured-join-opening-celebrations
There is within that a link to a video with a lone lassie piper playing the tune on the Otago Peninsula.
Today we saw the first fawns of the year! Lots of them! They all appeared at the same time!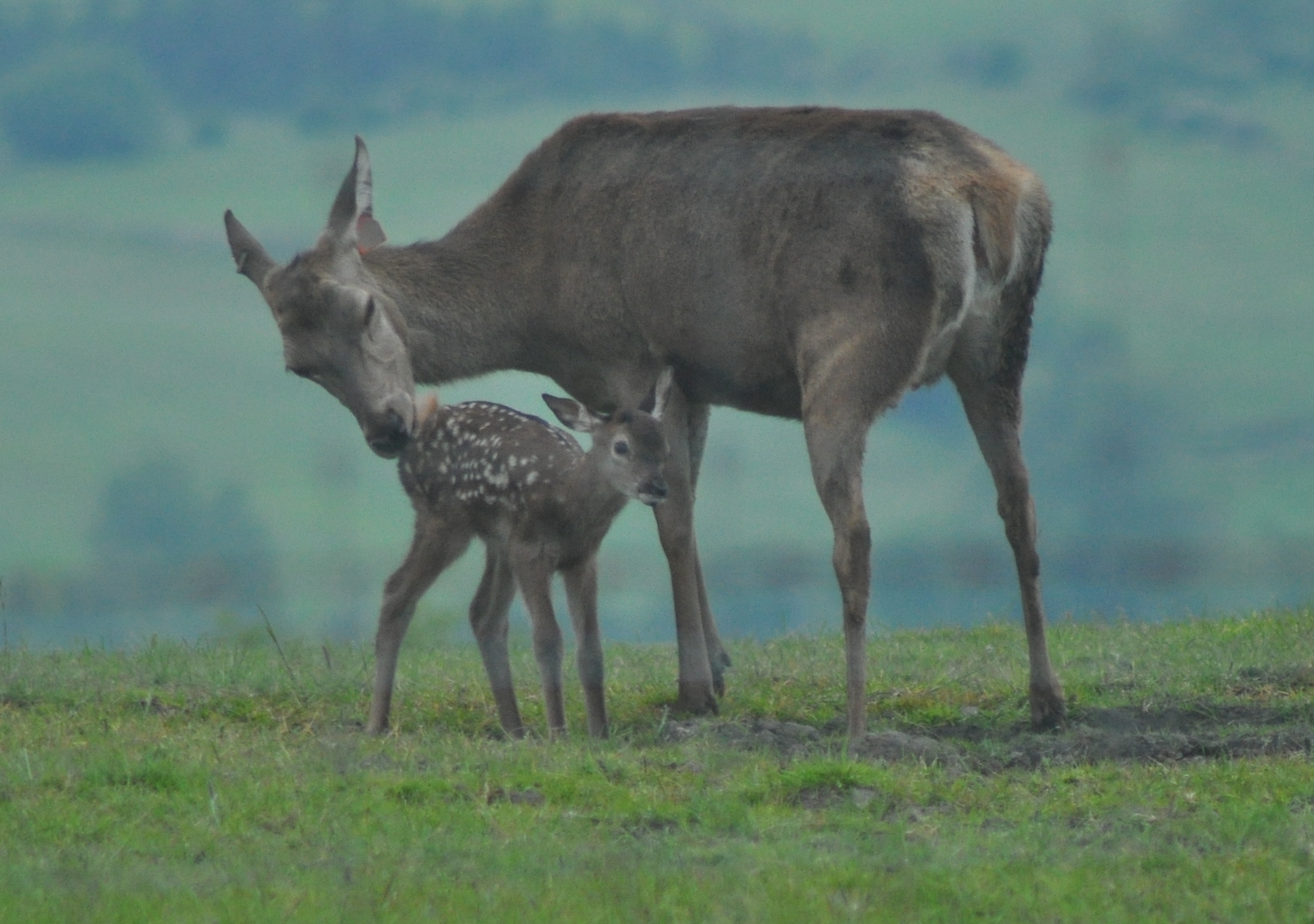 ===================================================================

26th May

I have to thank Gordon and his correspondence with incoming District Governor Duncan Collinson for a lovely new word! I mean we have all heard of Presidential, secretarial and even Official. I am sure there must be many more such adjectives all of which relate to a "position" or "Office".

Gordon in his correspondence sought for just such an adjective which would relate to the office of "Governor" but (and I am sure he won't mind me saying) he failed! Duncan however was able to correct him. Duncan's correction, though, refers pretty well exclusively to the State Governors of the USA. Nonetheless I like it! You should be advised therefore that Duncan Collinson will deliver his Gubernatorial Address to the Rotary Club of Falkirk on Thursday 6th October which coincidentally is Diane's birthday so I may not have the privilege of hearing it.

In my report to the Council meeting yesterday I made reference to the logistics and undue complications of bookkeeping involved in the payment for the Club lunches by card. The system was put in place to address the hazards of handling cash during the pandemic and is now no longer considered to be necessary. It was agreed therefore that, as from and including the 9th June, we will revert to the old system of paying for our lunch by cash.

On this day: -
1755 - Louis Mandrin the French "Robin Hood" who rebelled against the government is Tortured and executed in front of 6,000 onlookers by being "broken on the wheel". This involved his arms, legs and stomach being hit and broken with an iron bar and then being hoisted on a wheel with his arms and legs under him for 8 minutes. He was then strangled to death to finally end his suffering. The French revolution began a few short years later. Makes me think! Revolution - wheel?????

1897 - Bram Stoker's "Dracula" is published.

1908 - At Masjed Soleyman (مسجد سليمان) in southwest Iran, the first major commercial oil strike in the Middle East is made, rights acquired by the United Kingdom.
1927 - The Ford Motor Company produces the last (and 15th million) Model T Ford / Tin Lizzie.
1977 - George Willig climbs the South Tower of NYC's World Trade Center, famously fined 1 cent for each of 110 stories he climbed.
================================================================

24th May

I got an email yesterday! It came from a friend that I worked beside in Grangemouth in the latter half of the 1960s. I was amazed, when I got the contact through the DMS, to see his name as the originator. George used to live in the house in Quarry Brae designed by my ex partner Jack Berwick. I had hoped that since he had shown an interest in my blog that he might like to join us but he tells me that he has moved away from the area.

George said that he had read my blogs and says "your keep in touch stuff has made for an interesting read and even some recollections of my own". This in turn made me curious because after posting these things I rarely re-read them. Now that I have looked back I find myself in a position where I feel I have something to prove. Finding topics for this is not easy. I notice that I have rambled on about words or grammar a lot. So why abandon that?

I miss Ron Melville (he said only his mother called him Ronnie) who was my go to person for all things Latin and English. One of his, and my, pet hates is the thing that we all were taught as children and wholly misunderstood!

I have seen TV presenters and VIPs. politicians and scientists all fall prey to the total misuse of the term "He and I!"
We were always taught "it's not George and me! It's George and I!" normally followed by a slap round the lug!
The fact of the matter is that you need only remove the "George and" bit to get to the right answer. Hence: -
"George and I went to the Pictures with Helen" is correct and becomes "I went to the pictures"

However
"Helen went to the pictures with George and I" becomes "...went to the pictures with I!" Demonstrably wrong.
"Helen went to the pictures with George and me!" is correct.
On this day: -

1844 - Samuel Morse taps out "What hath God wrought" in the world's first telegraph message.
1941 - German battleship Bismarck sinks the British battle cruiser HMS Hood; 1,416 die, 3 survive.
1988 - Section 28 is passed as law by Parliament in the United Kingdom prohibiting the promotion of homosexuality. Repealed 2001/2004.
1941 - Happy birthday Bob Dylan!
1976 - In the Judgment of Paris, wine testers rate wines from California higher than their French counterparts, challenging the notion of France being the foremost producer of the world's best wines
==================================================================
21st May

I've been digging around my files and bookcases again. I came across this'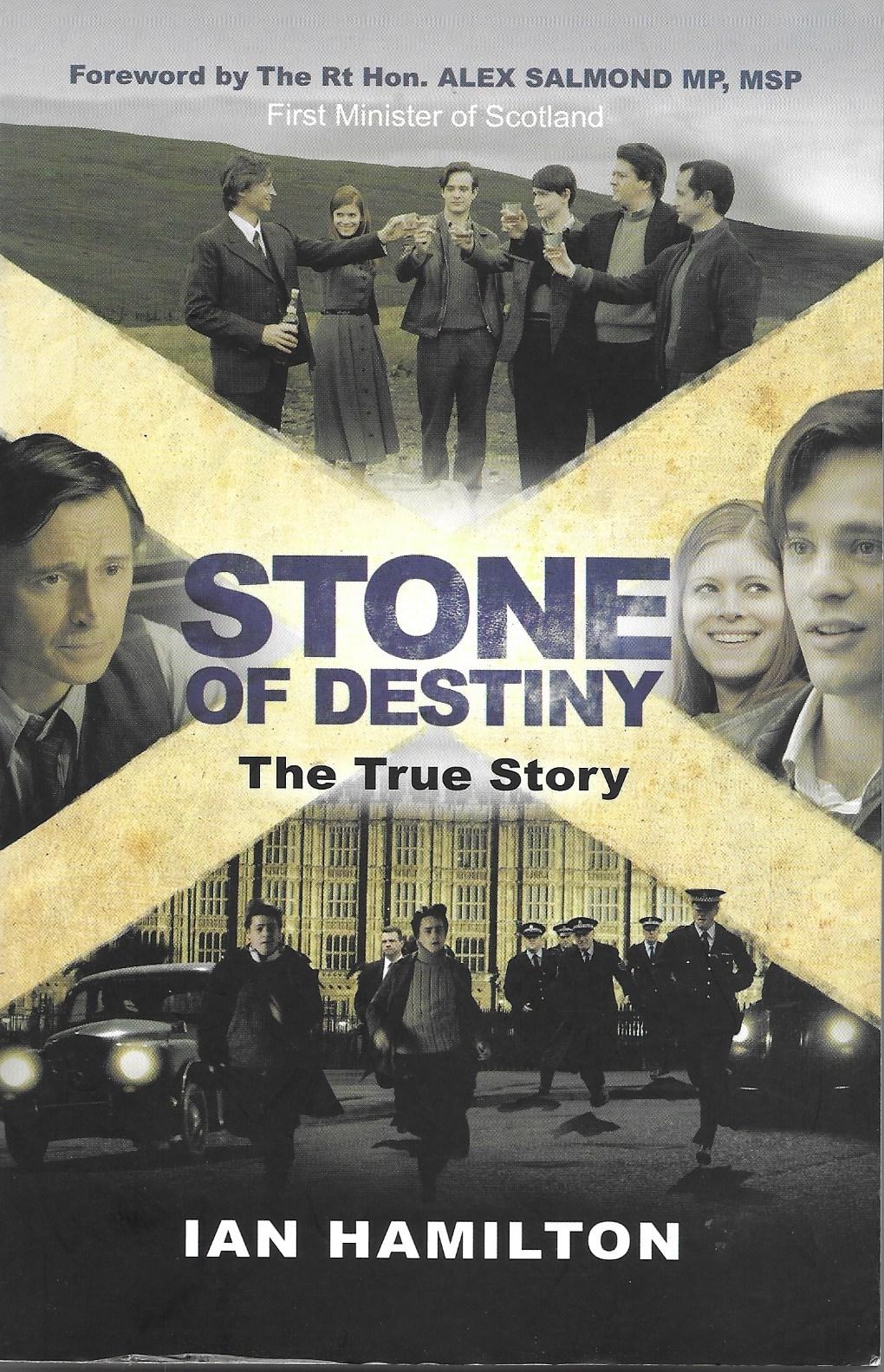 My son in law (he was Wendy's fiance at the time) gave me this book. It is signed by the author and has inside a letter from him which says: -

"Dear Derek, Hope this gets you +++ brownie points from future father in law!"
I think that the gift was occasioned by me telling Derek about the fact that the stone had been stored at Rollo's Engineering works in Bonnybridge. This fact is borne out in the text of the book. Mr Rollo apparently had sat at his desk with his feet on the stone while being interviewed by the local Polis about its whereabouts!

I don't often read non fiction but I enjoyed the book and would reccommend it.

On an entirely different tack; Diane and I attended the Euan Stevenson concert in the Trinity Church with George Honeyman. At the interval we bought a CD of the part of the concert that was dedicated to Falkirk. It should be said that alongside Euan on the piano there were two other ladies. One who was intoduced as one of the best Cellists ever, played a Cello that dated back to the Mid 18th Century and which produced the most mellow tone that was quite beautiful. The other was a similarly lauded flautist who blended with her instrument in the most spectacular way. The quality of the music produced by this ensemble as a result was, in my view, quite without peer.

Anyhow I bought the CD to send to my sister in New Zealand. She and her husband Alec were the people who engendered my love of good music. (It matters not that that was in the mid 60s at which time Alec considered the Beatles as "utter crap")

I got an email from Mary this morning saying that she had received the CD and had enjoyed reading the accompanying programme but, that since Alec died in January she has only just realised that she has no idea what to do with the CD. Alec always had been the one that directed audiovisual entertainment in their home and it never occurred to her until he was gone that she had no idea how to use the 7 or 8 remotes that lie in the unit for that purpose. She has emailed her son in USA to ask for instructions since he is au fait with Alec's systems.

On this day
1950 - A tornado passing over a chicken coop in Linslade, England causes a sudden drop in pressure so severe it plucks the feathers off the chickens. The chickens survived.
1992 - Mrithi, the Rwandan mountain gorilla who starred in the movie Gorillas in the Mist (1988) is shot and killed by a government patrol during the war between the Rwandan government and the Rwandan Patriotic Front. It appeared Mrithi was sleeping when awakened by the patrol and sounded the alarm for the other gorillas in the group. The blood-curdling screams frightened the soldiers who panicked and began firing. Mrithi was the only gorilla in the group killed.
============================================================

20th May

We had a representative from the Foodbank speak to us at our meeting yesterday and it was clear that the Pandemic played a huge part in their experience over the last two years. We are continuing with hybrid meetings and President Narek's Conference speaker has made a huge difference to the perception of the audio for the Zoom attendees.
After the meeting, when everyone else had signed off, I had intended George and Tom to stay behind to discuss the efficacy of the system. What happened though was completely unexpected. All three of us sat and chatted about all sorts of things (including George nodding off during the speaker's presentation) and agreed that we had enjoyed the blether on Zoom after the meeting probably more than the meeting itself.

Room for thought there!
During the chat. Tom made it clear that he and Margaret were feeling a bit fenced in. Neither has great mobility and both are considered vulnerable (I'm sure he won't mind me saying that). The upshot is that they are both gregarious folk and yearn for (I was going to write social intercourse but thought better of it) some social contact either physical visit or even a telephone call. Why don't you give them a call?

Just in my usual pedantic manner I looked up the Thesaurus for an alternative for "Social Intercourse" and discovered that the term was quite correct in the context in which I was about to use it. The other type of "intercourse" is described in "The Oxford Compact Thesaurus" as:-

sex, lovemaking, sexual relations, intimacy, coupling, mating or copulation.
Or informally: -
Nooky, Bonking, Rumpy Pumpy and How's you're father!

Apologies if I have offended anyone's finer sensibilities.

On this day: -
==================================================================
16th May
Well my visit to Donald this morning wasn't all wine and roses. I have to return on Wednesday to endure what is likely to be two extractions! I hope that the Optician tomorrow isn't as dramatic!
It's been quite wet this past wee while and it's not particularly warm. We bought a shrub some time ago. It was from a large estate somewhere in England I forget where. It was covered in blue flowers and bees when we saw it as a mature specimen. I believe it to be a Ceanothus Thyrsiflorus Victoria. Our little flower pot that we brought home has grown and now, today, provides shelter for two hen pheasants and two partridges. (I'm unable to determine the gender of partridges so if anyone can enlighten me I'd be eternally grateful)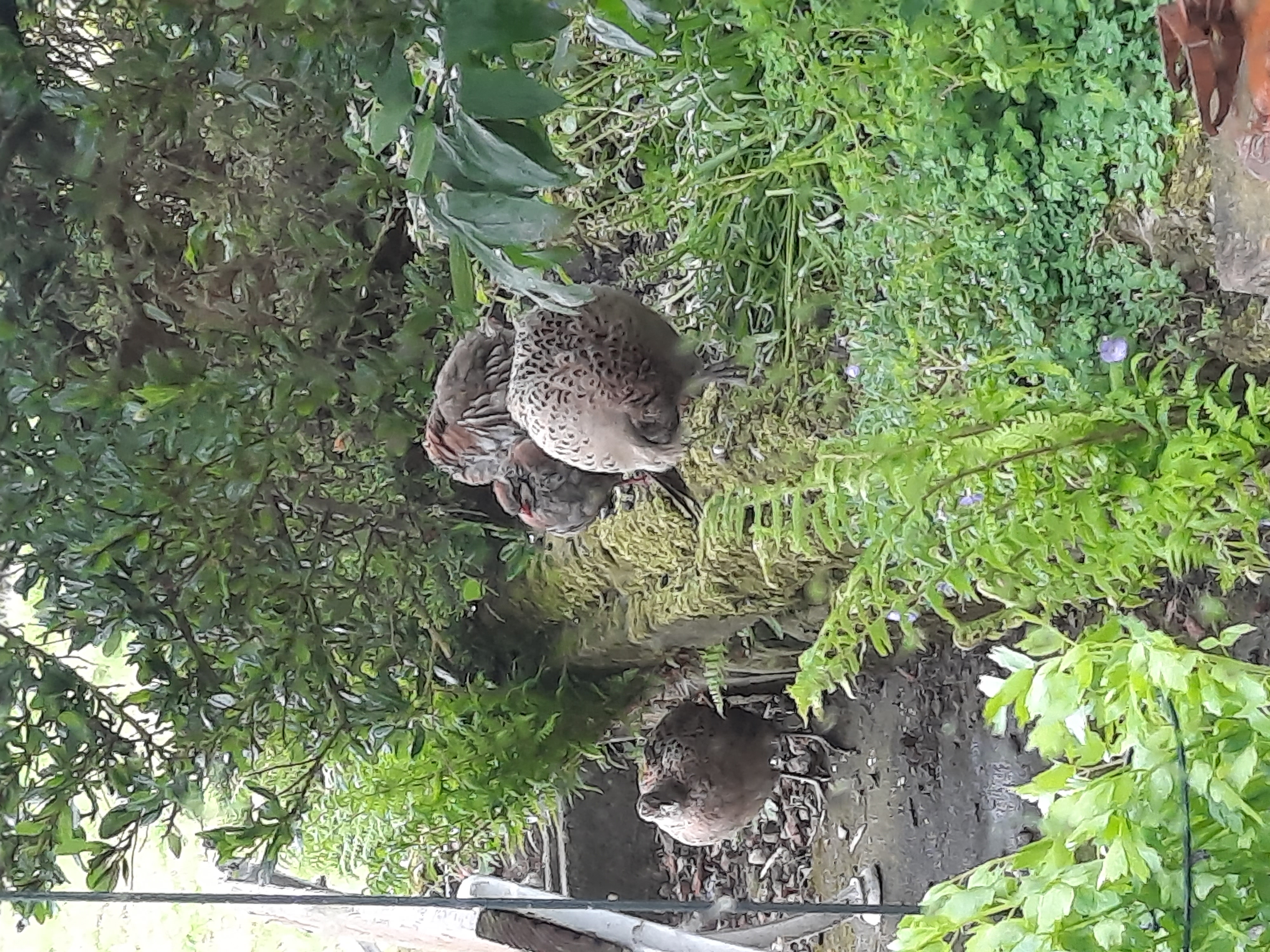 On this day: -

1908 - Britain's first diesel submarine was launched.
1920 - Joan of Arc is canonised!
1929 - The first movie academy awards were presented on this day in a ceremony far removed from the extravaganzas that have taken place in modern times. The ceremony took the form of a private dinner party for 250 people in the Blossom Room of the Roosevelt Hotel in Hollywood. There was no radio or television to record the event. The silent film (only silent films were eligible) "Wings" won the Best Picture award – called "outstanding picture". Directed by William Wellman and starring movie sensation of the time, Clara Bow, it is the story of two American airmen who are both in love with the same woman.
1943 - The "Dambusters" raids by 617 Squadron breached the Mohne, Eder and Sorpe dams in Germany.

1955 - Do you remember Olga Corbut? She is 67 today! Happy birthday hen!
1989 - U.S. Vice-President Dan Quayle reveals that President George H W Bush had asked him, "I know you've had some rough times, and I want to do something that will show the nation what faith that I have in you, in your maturity and sense of responsibility. Would you like a puppy?"
====================================================================

15th May

Valerie Dillon has asked me to pass on her sincere Congratulations to all in involved in the RotaKids event. She says "It is so inspirational and something the Children will never forget and hopefully it will help to spread the word of the Rotary Organisation!"
It really must be over! Yesterday, for the first time in two years, I received a communication from both the Dentist and the Optician to pay them a visit!

I have been advised that you may now, with impunity, cast yer cloots! The hawthorn in the vicinity of Gordon and Liz's place is indeed flourishing "the May is oot!"
On this day: -
1718 - James Puckle, a London lawyer, patents world's 1st machine gun.
1987 - Happy birthday Andy Murray. He became only the seventh player in the Open Era to reach the semi-finals of all four Grand Slam tournaments in one year. On 7th July 2013 he won his first Wimbledon title and ended Britain's 77-year wait for a men's champion, with a straight-sets victory over world number one Novak Djokovic.
1921 - The formation of the British Legion.
1957 - Britain's first hydrogen bomb was exploded on Christmas Island in the Indian Ocean. The effect of the radiation on some of the British soldiers who watched the test only came to light many years later.
===========================================================

14th May

I was away at Craigendarroch when Jennifer Jones visited the RotaKids Club at Hallglen Primary School but she seems to have been suitably impressed with what she saw.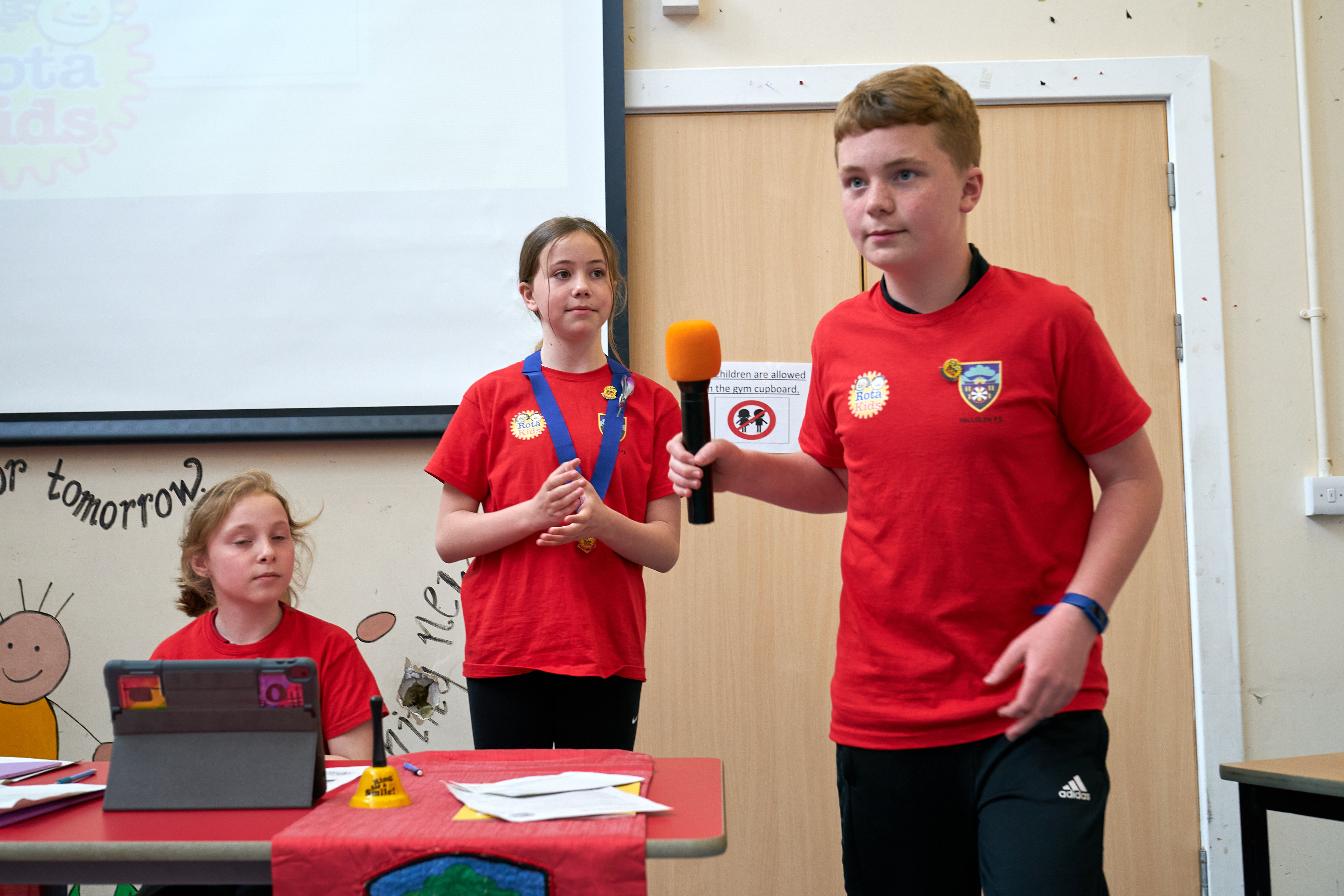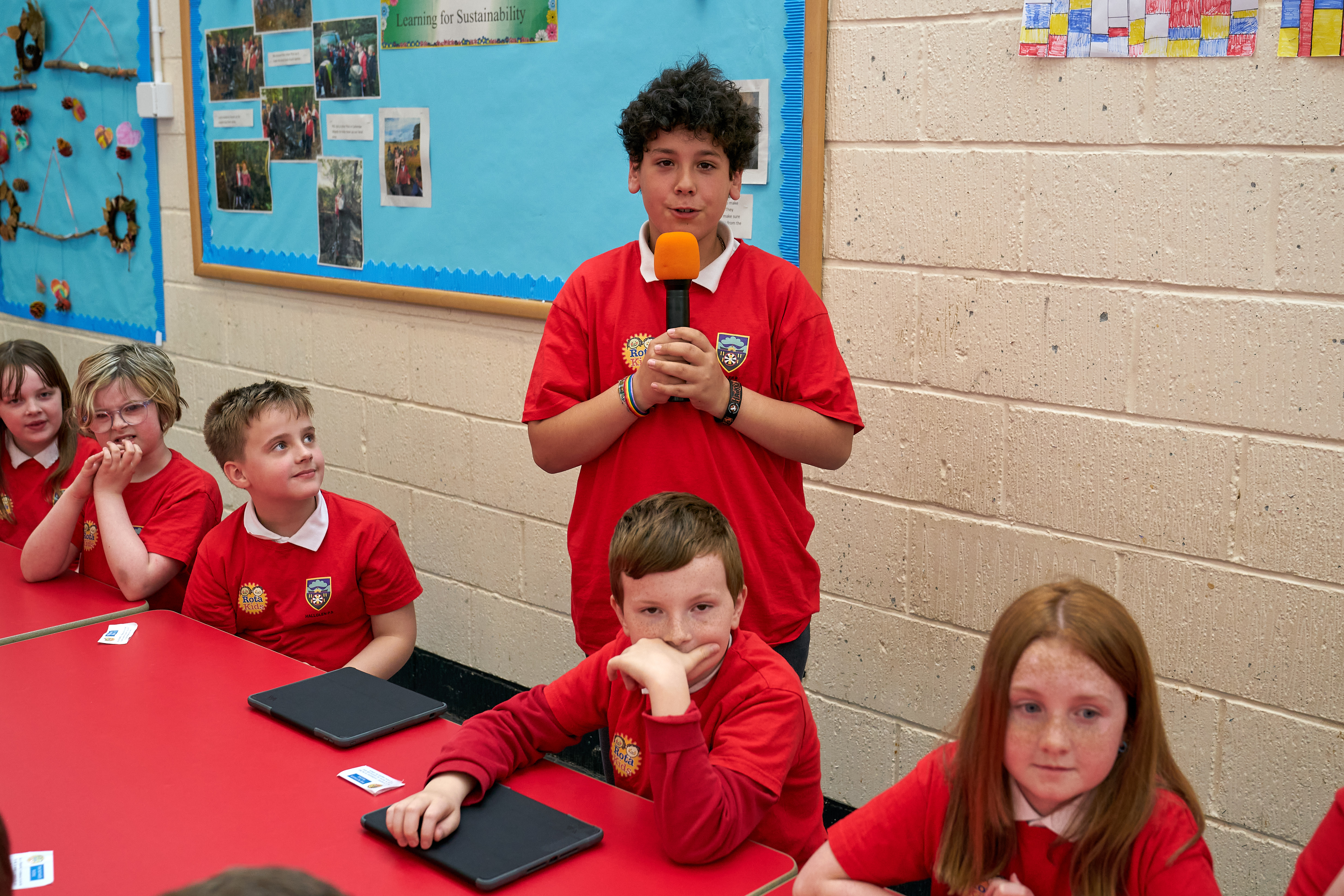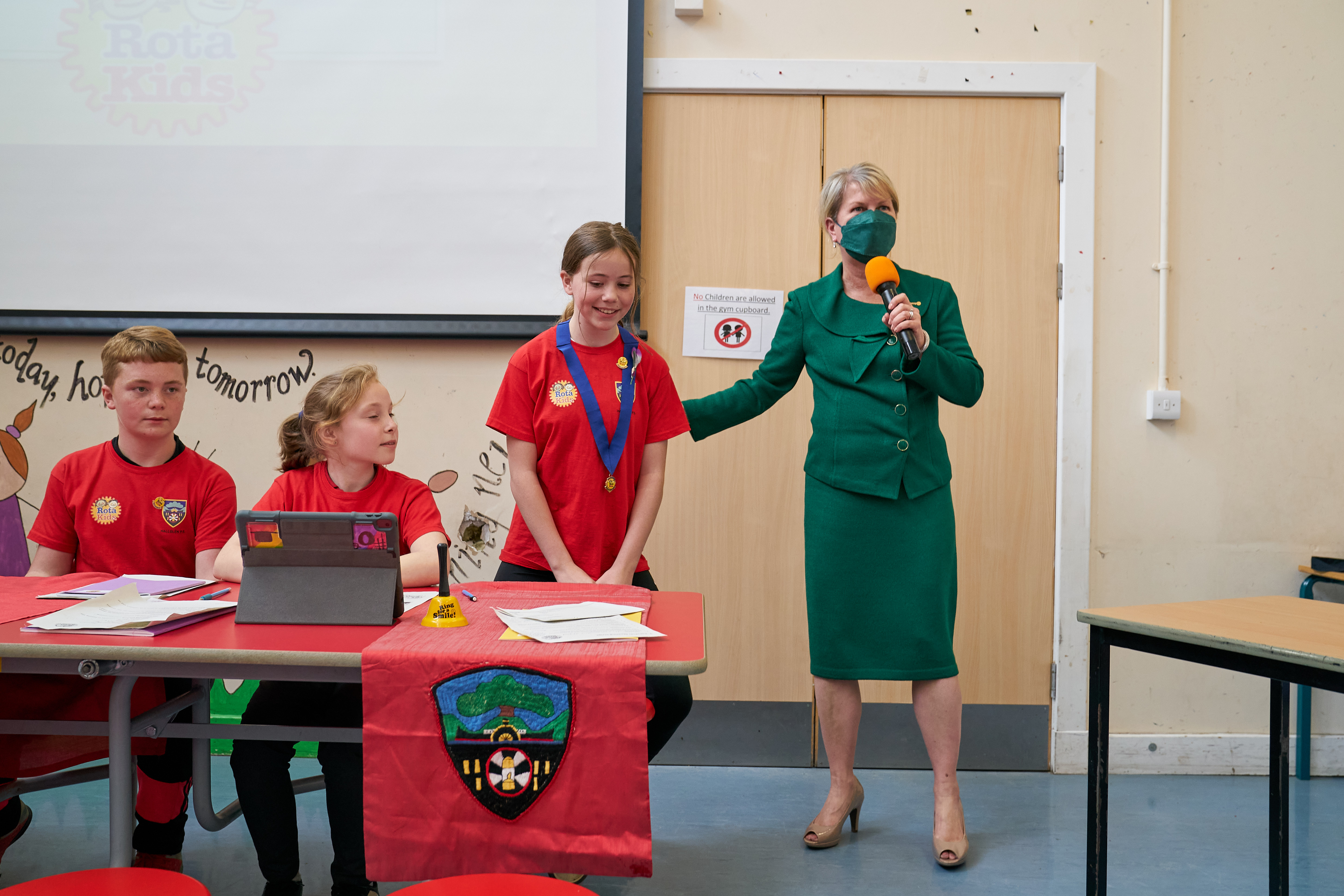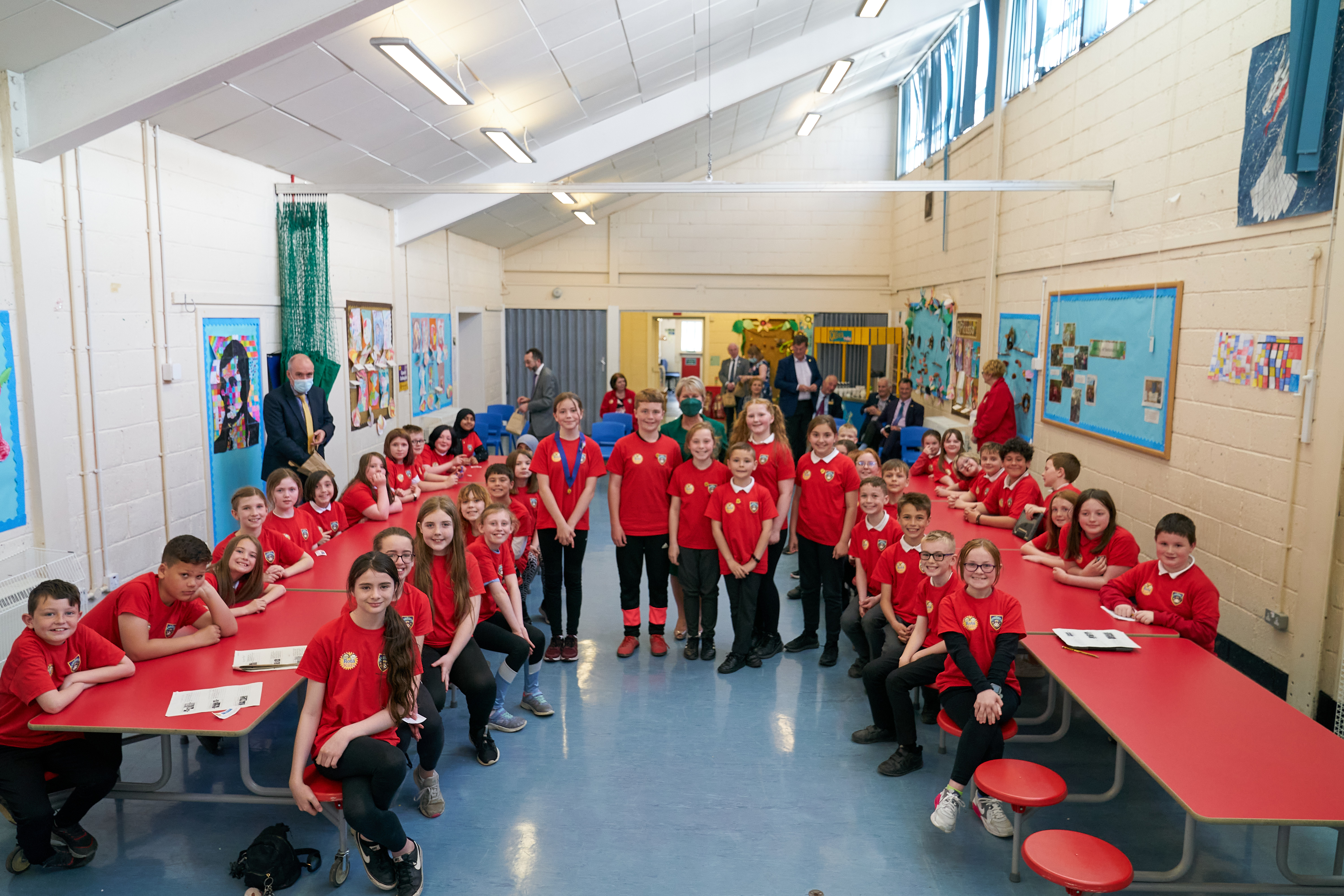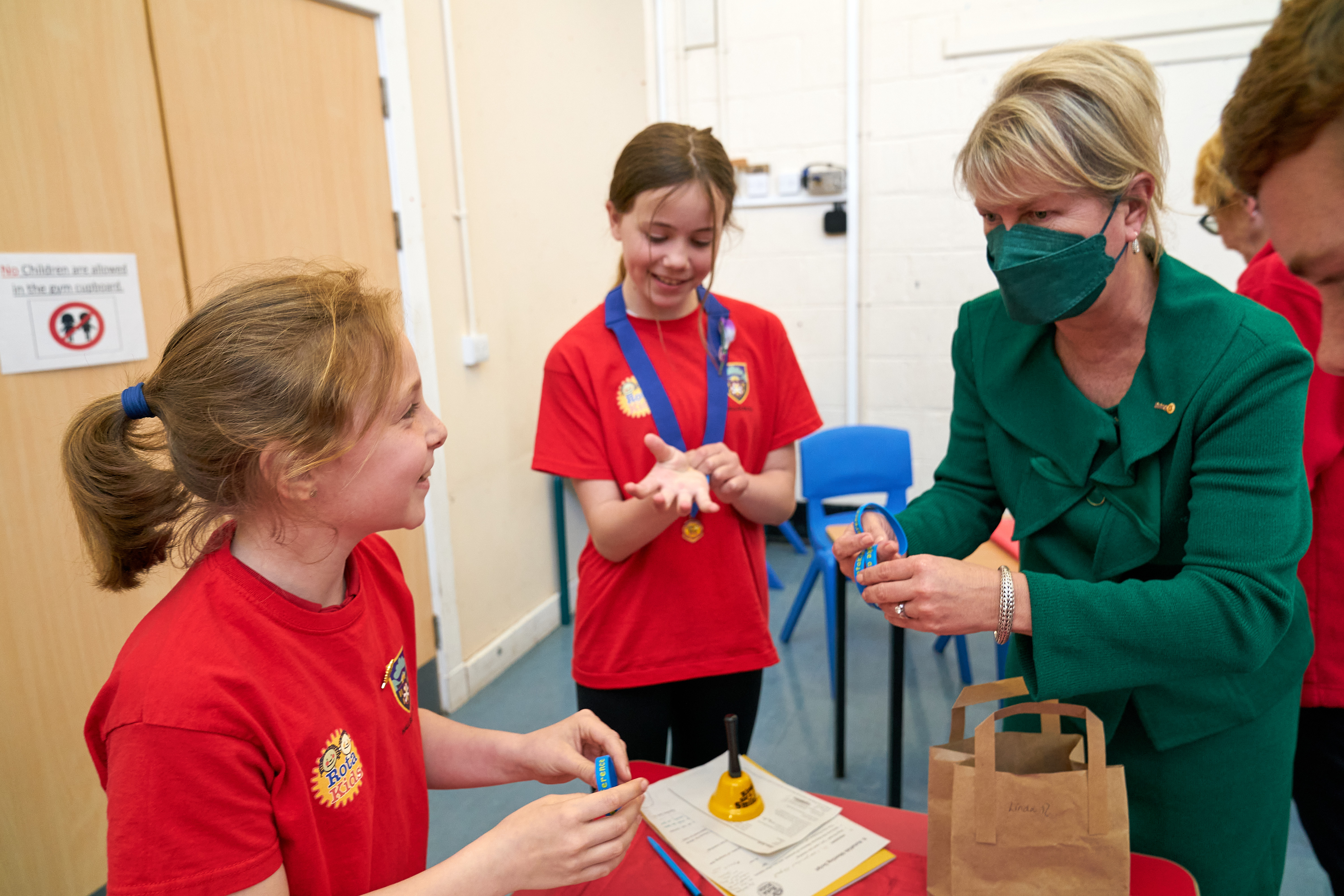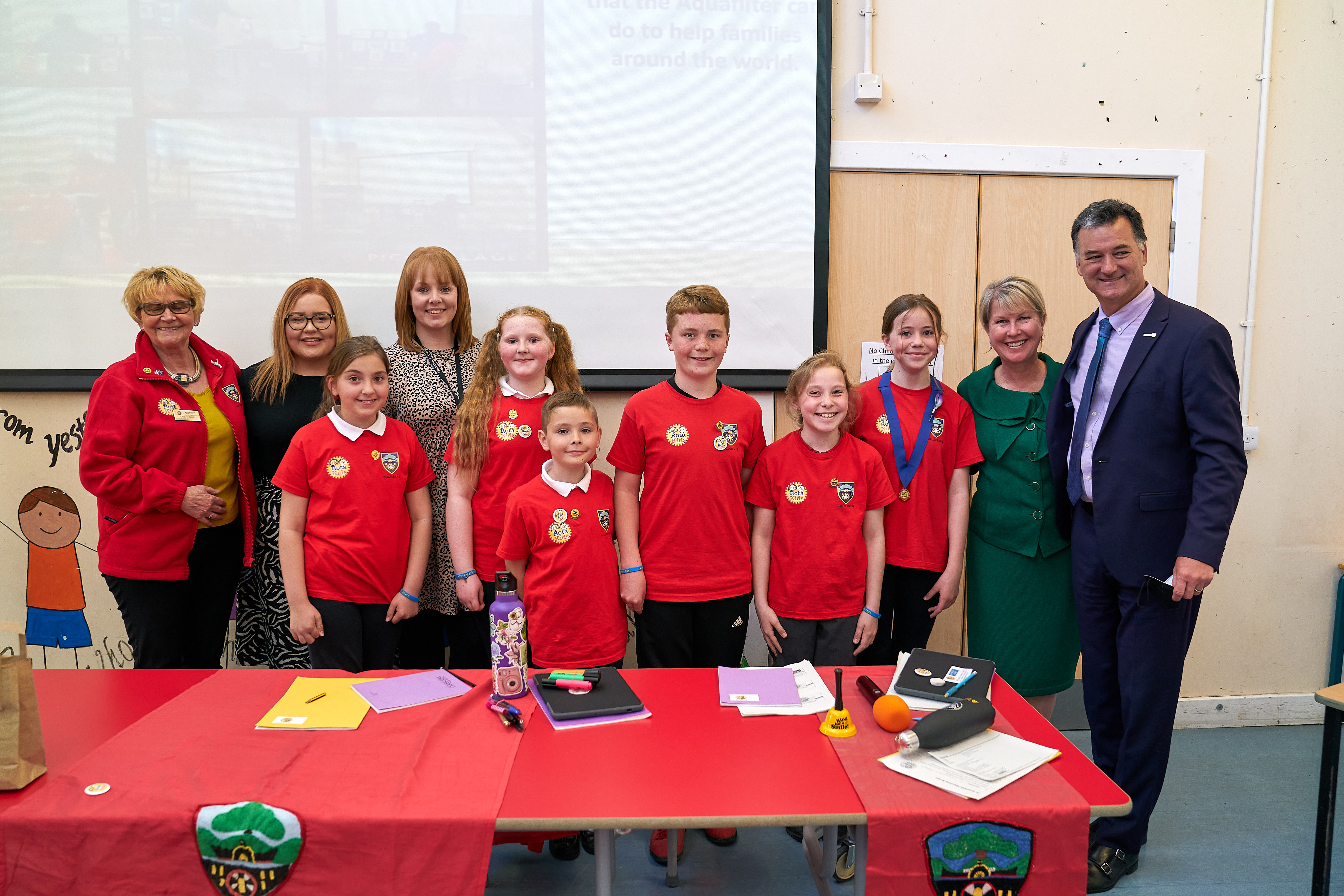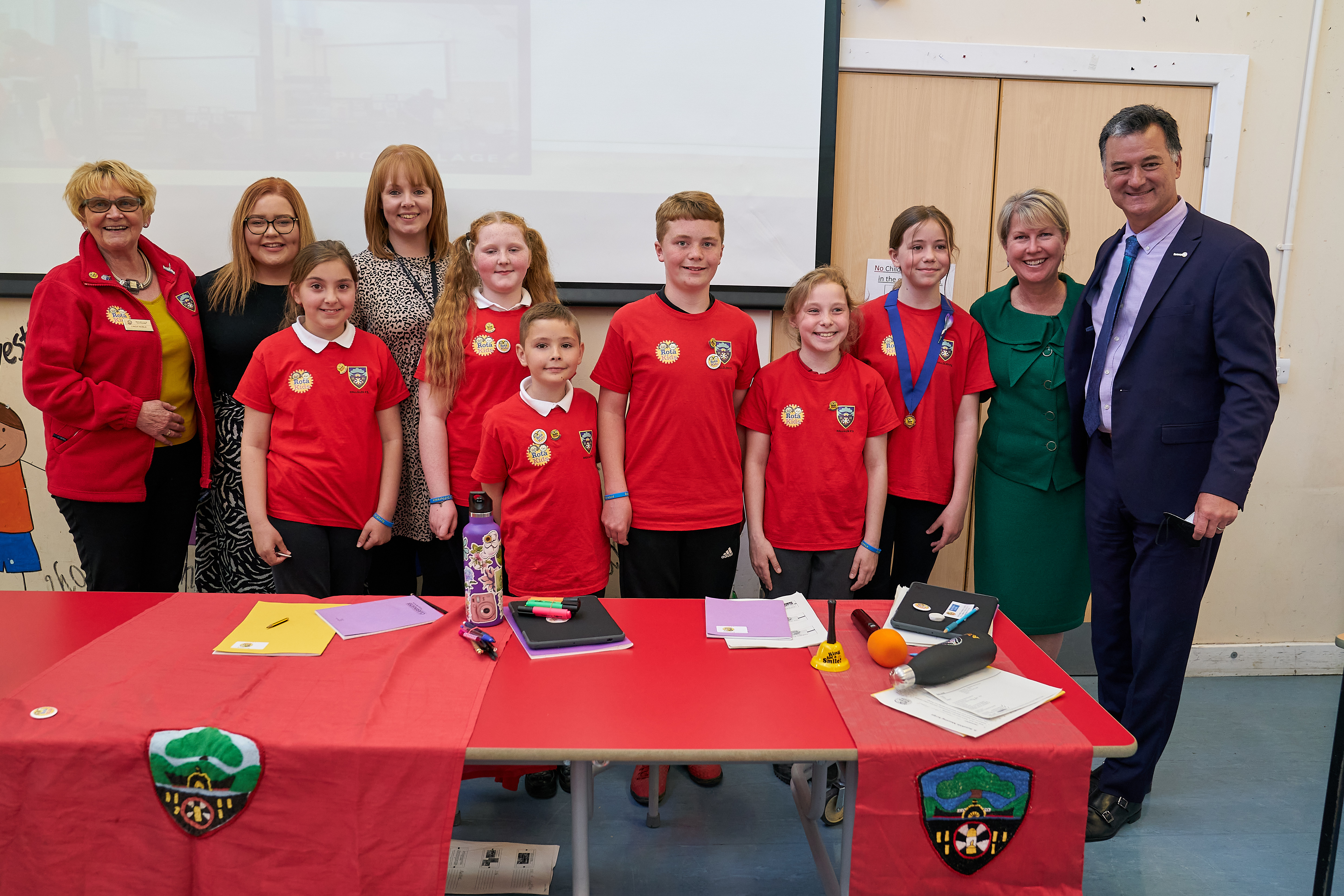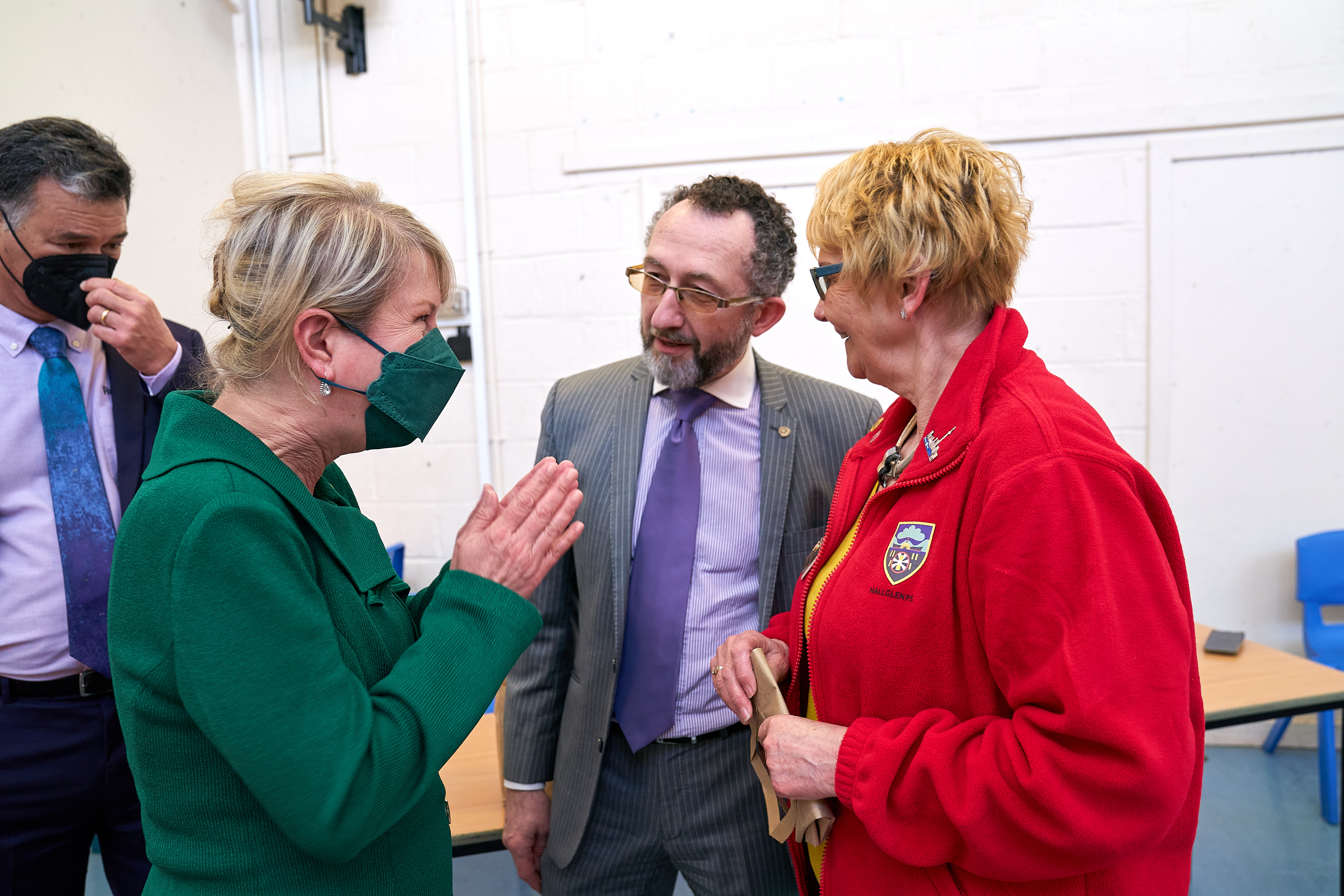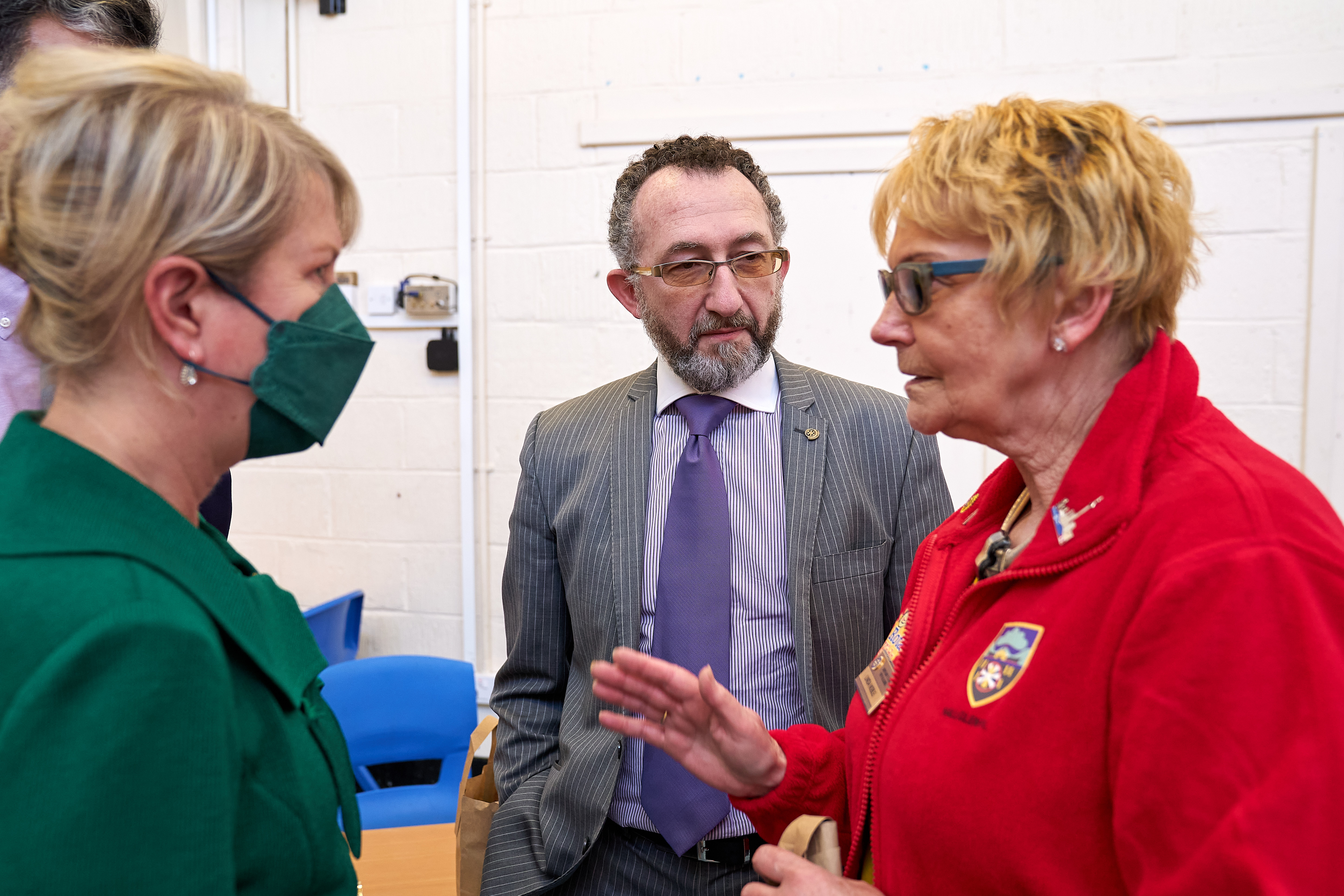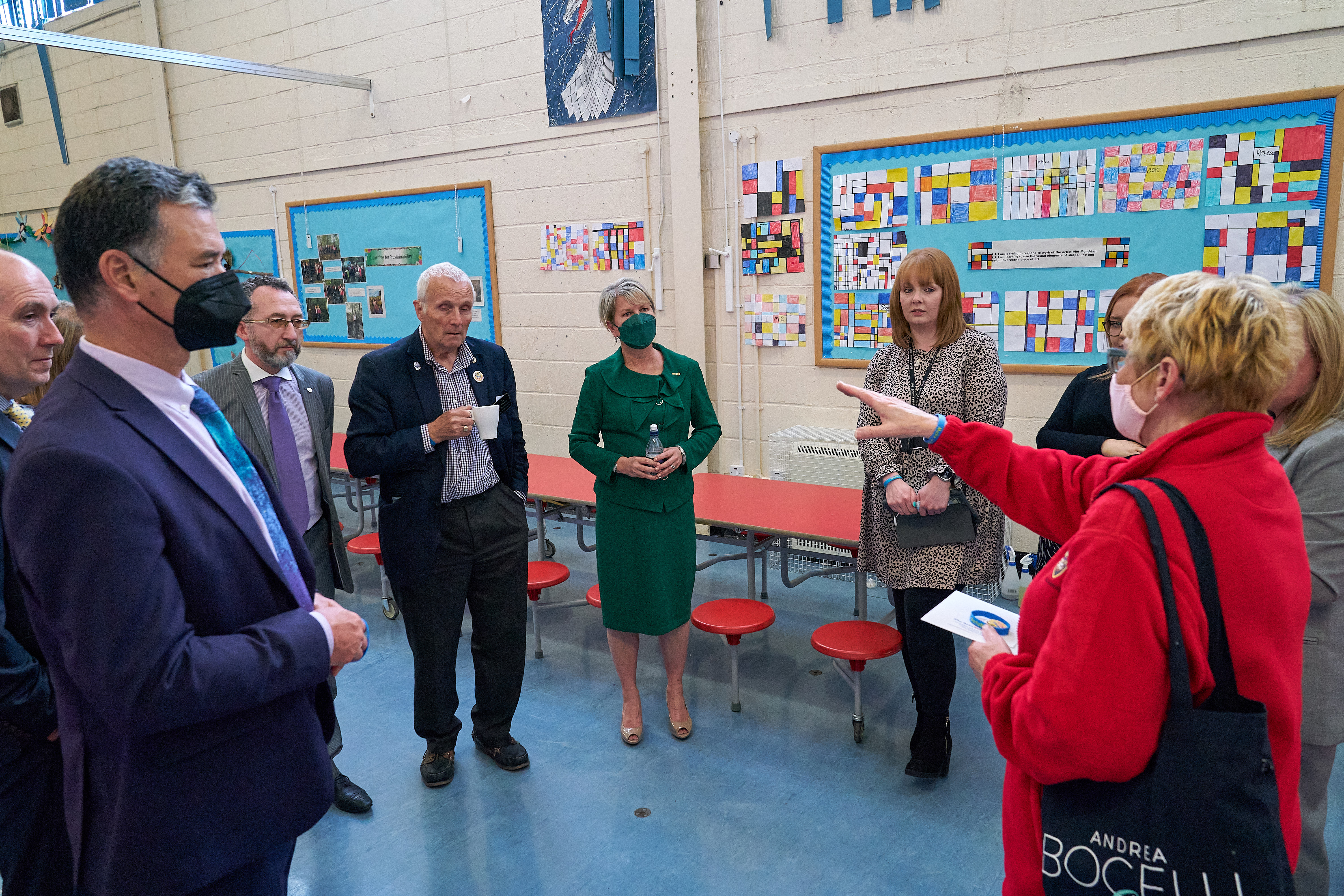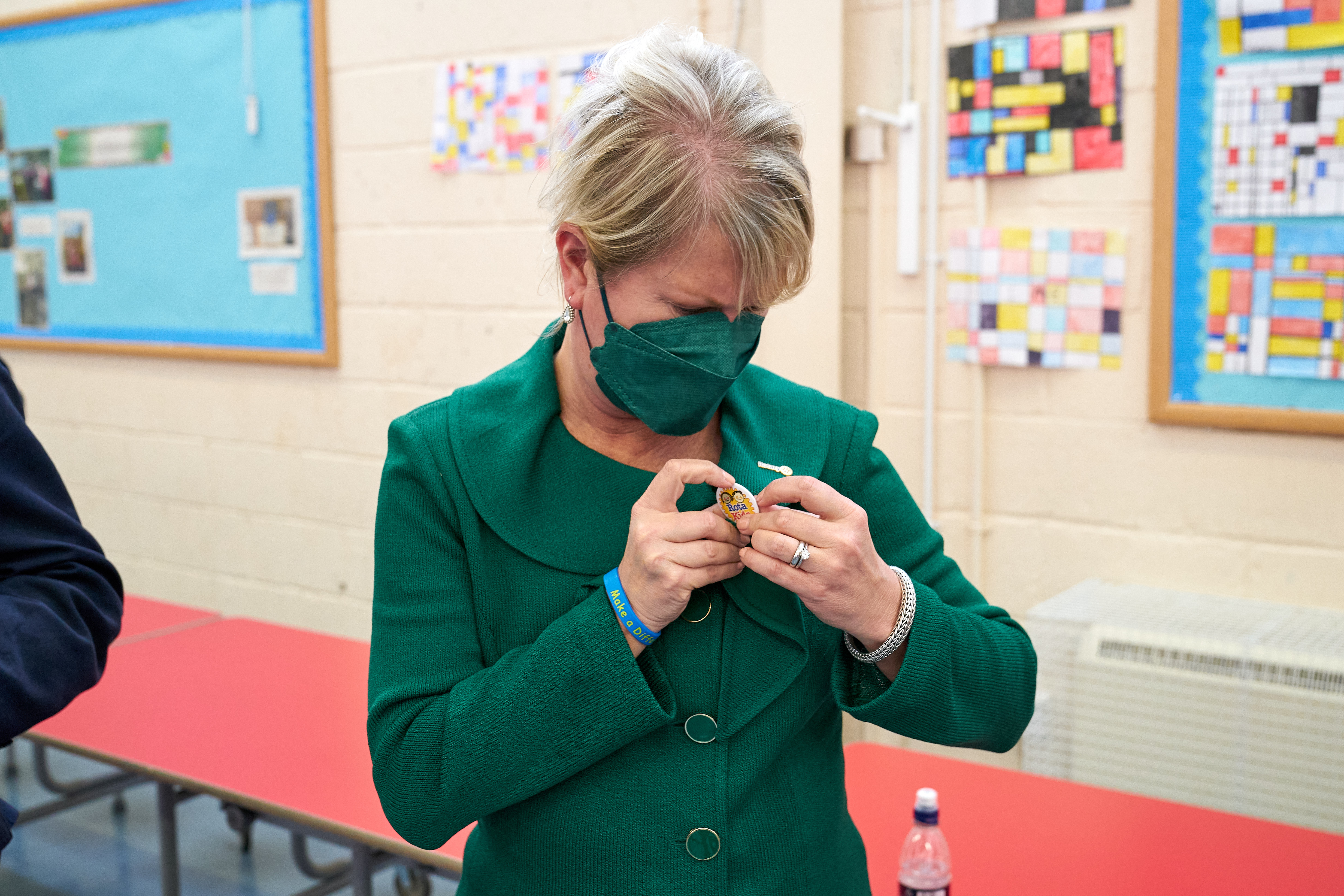 13th May,

I have just received my usual monthly update from P.E. Linda regarding the produce purchased for the Food Bank. This month saw us spend £228.03 and brings our overall total to £9,737.00 and 5.163 tonnes. I thought that that was impressive!

However when I looked deeper into the figures I realise that (despite being offered help and declining it gracefully) our President Elect, alone, solitarily, unaided, singly, herself, all on her own, on her todd, and unescorted every month buys, carries and delivers to the foodbank something in the region of a quarter of a tonne of goodies. Now that's what I call impressive!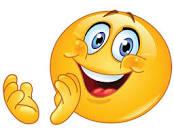 ================================================================

12th May

We have just returned from a short break at Craigendarroch. It's official title is "Hilton Grand Vacations Club at Craigendarroch" My brother (the one I call "Superman") has a time share and swapped his points for a week there just to give me a break after my radiotherapy. Apparently I must have said to him some time in the past that I would like to go there but never was able to obtain a vacant week. It's quite posh!

This is the lounge: -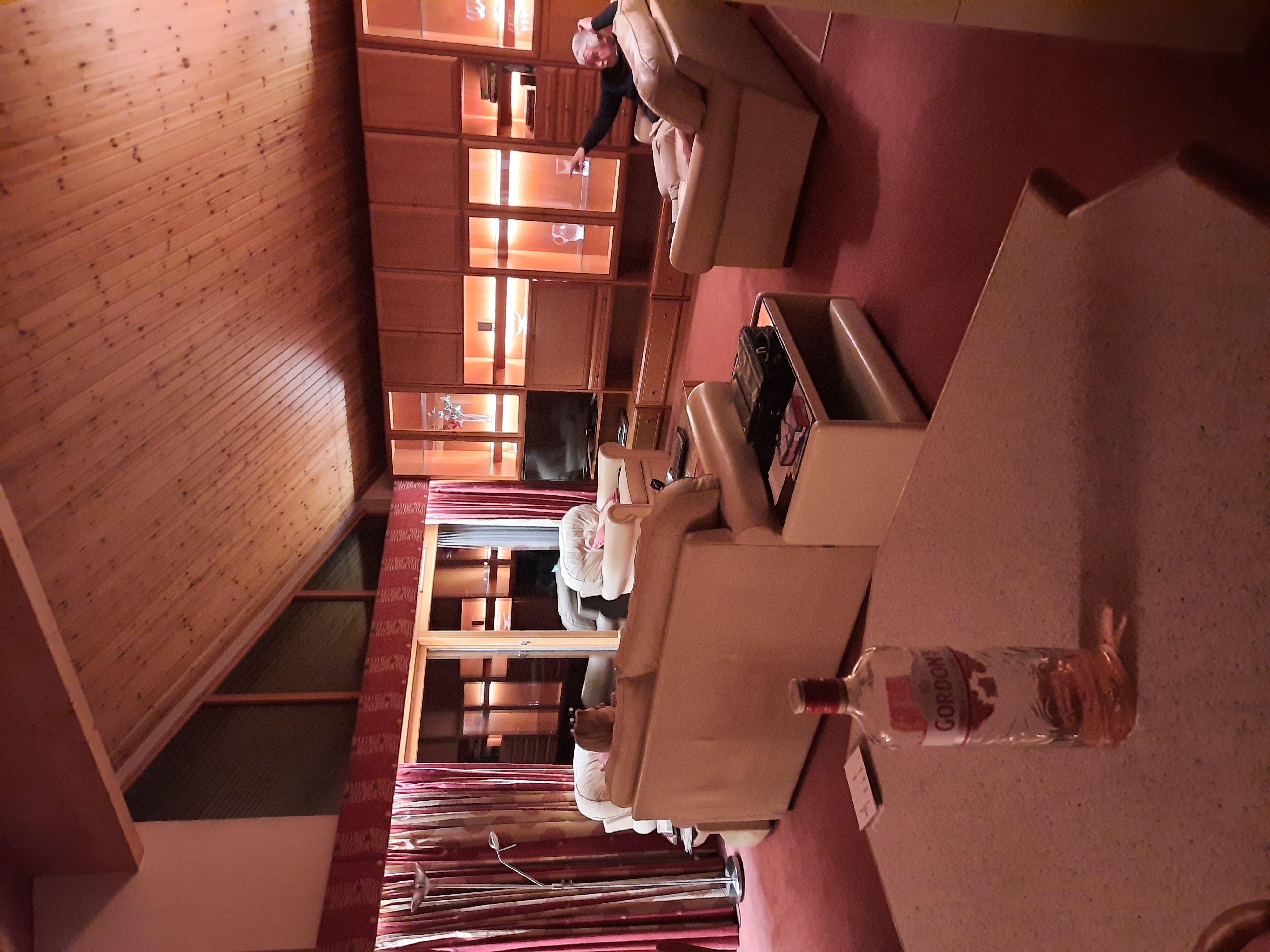 And this is the view from the same room.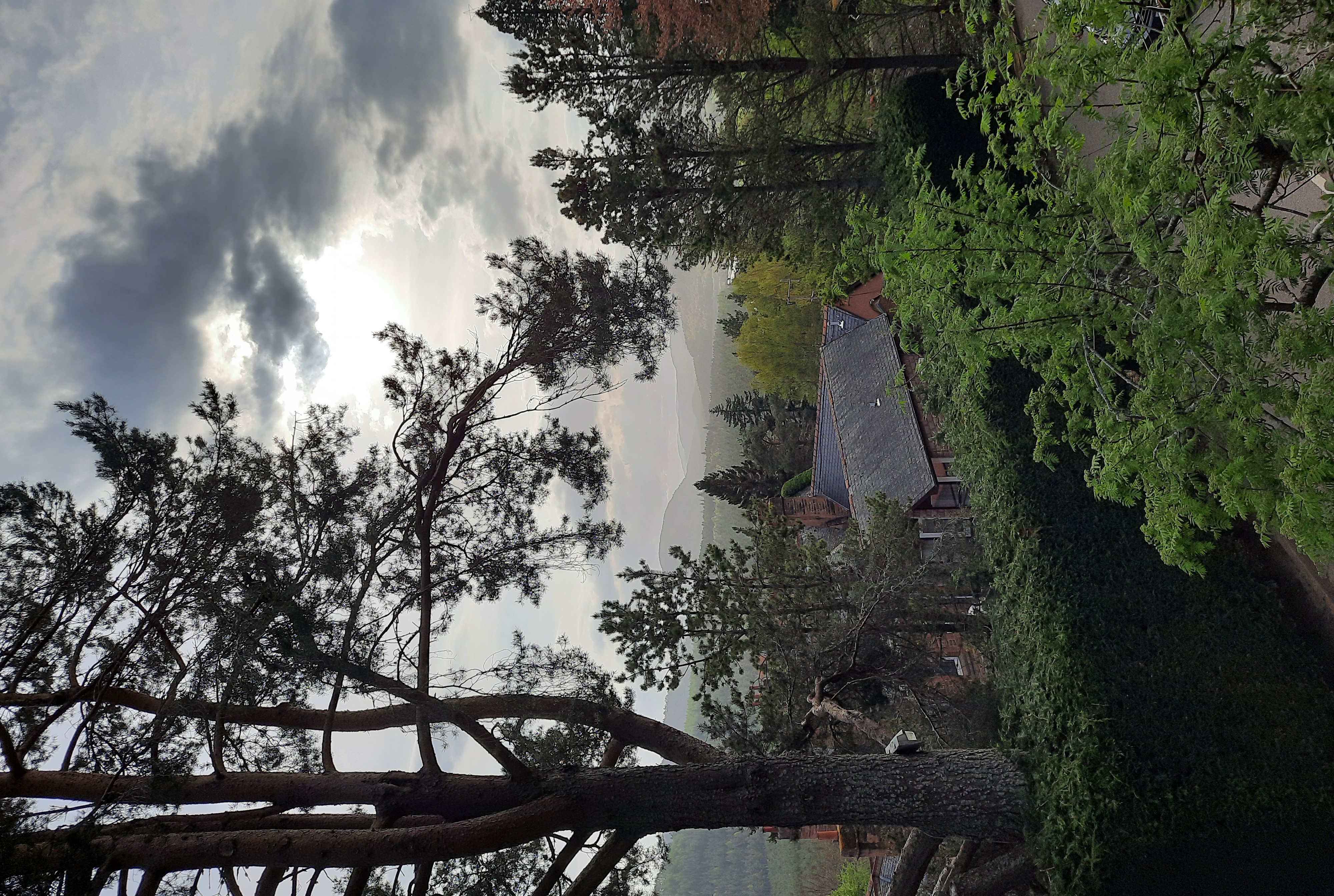 During the course of the three day stopover we walked a total of 22K and were actually quite pleased to get home for a rest. One day we walked into Ballater and spotted this.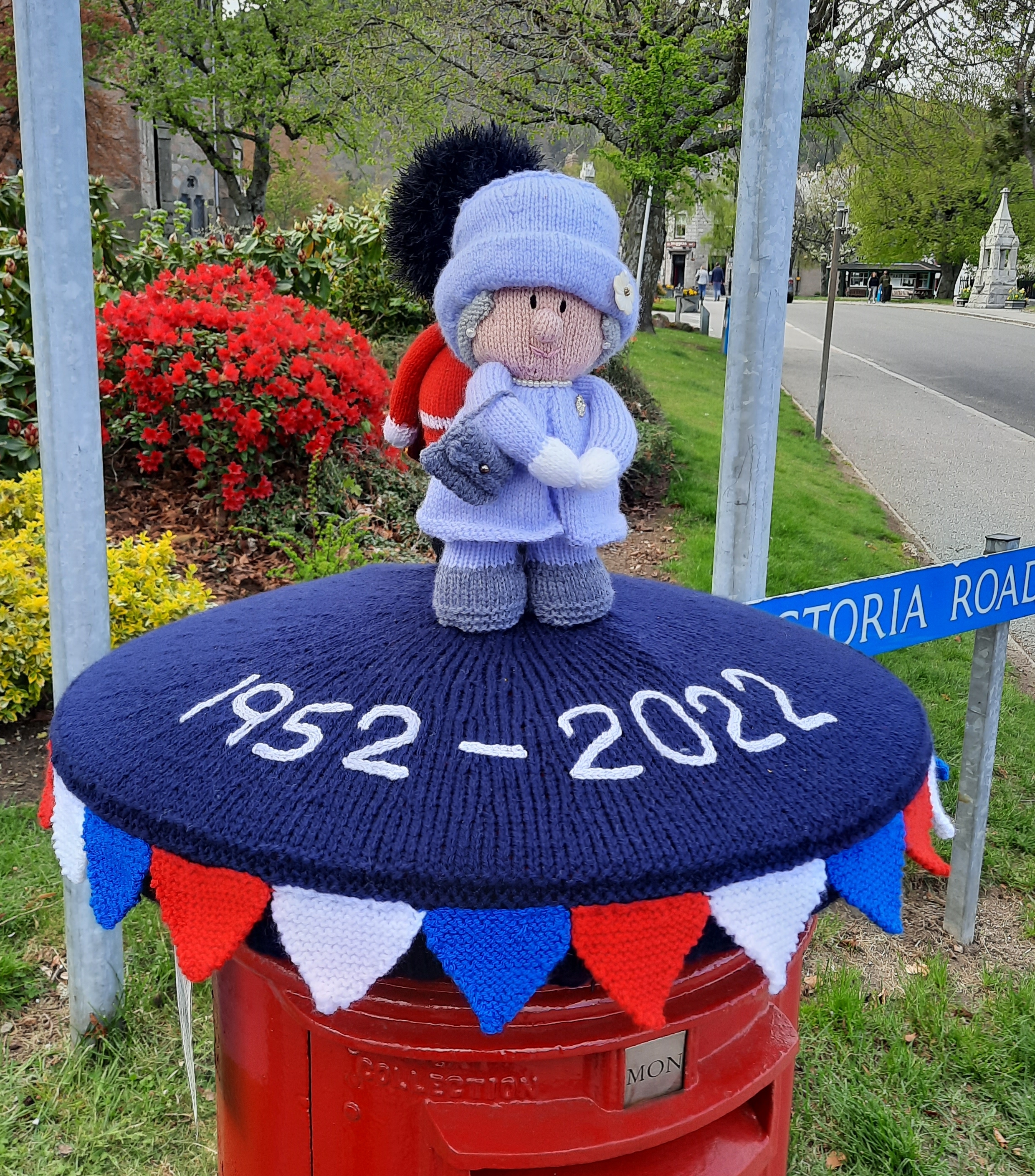 Someone had very cleverly decorated the local pillar box with a knitted representation of HM and a wee sojer behind holding her crown.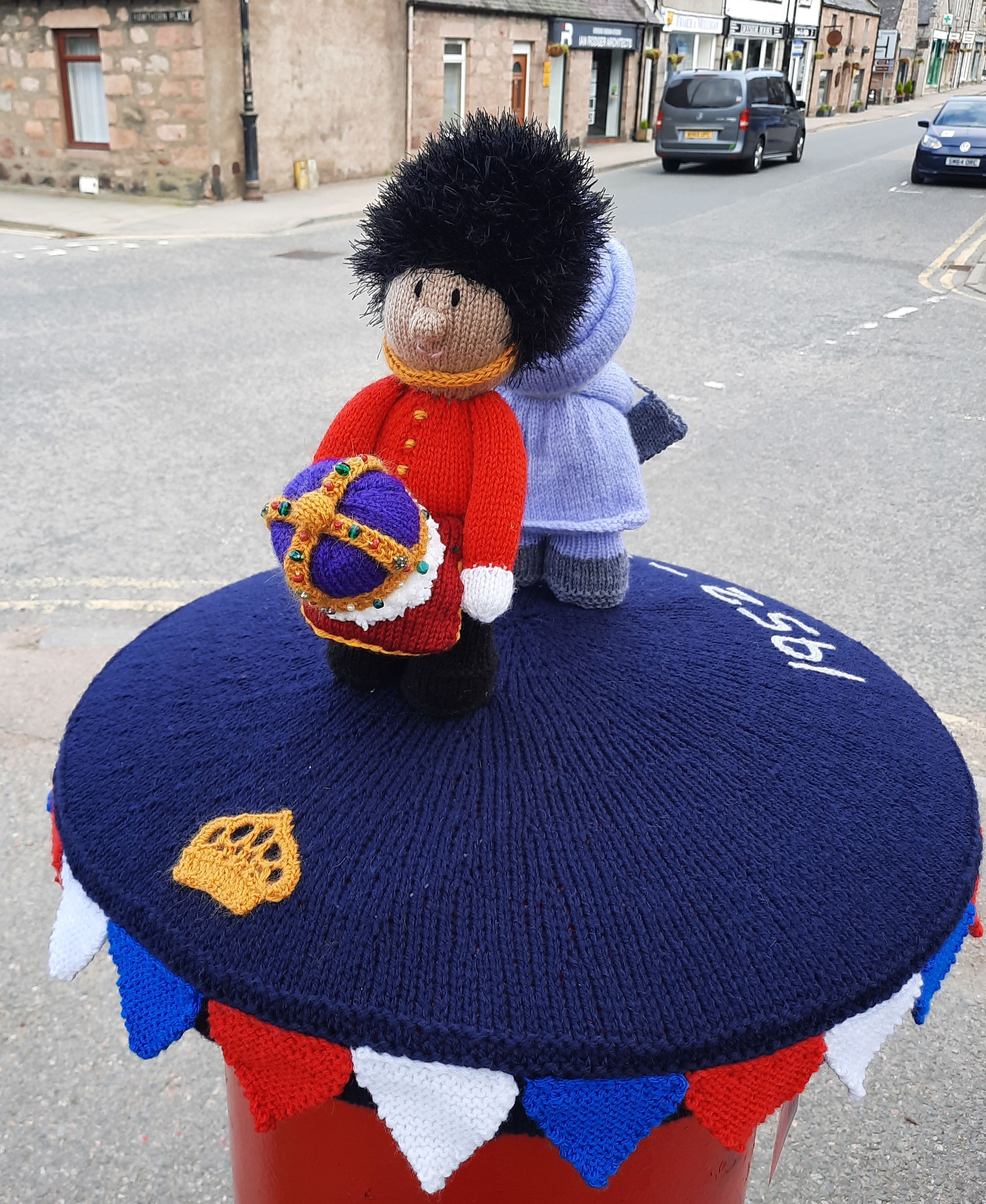 On this day: -

==================================================================

5th May
Today is a momentous day! We have resumed our face to face meetings! I should remind you all that when we began this Pandemic way back when, Jim Cairns was in the chair! Narek has endured and sustained this Club throught the past two years in the grip of the pandemic. No other President of this Club has had to experience that. His leadership, expertise and encouragement has been iconic and I for one congratulate him for that.

It is momentous in other ways too! We woke this morning to the realisation that it was indeed Spring after all! The swallows have resumed ownership of our garage and we have an ante natal bevy of beautiful beasts in the field. All of them heavily pregnant.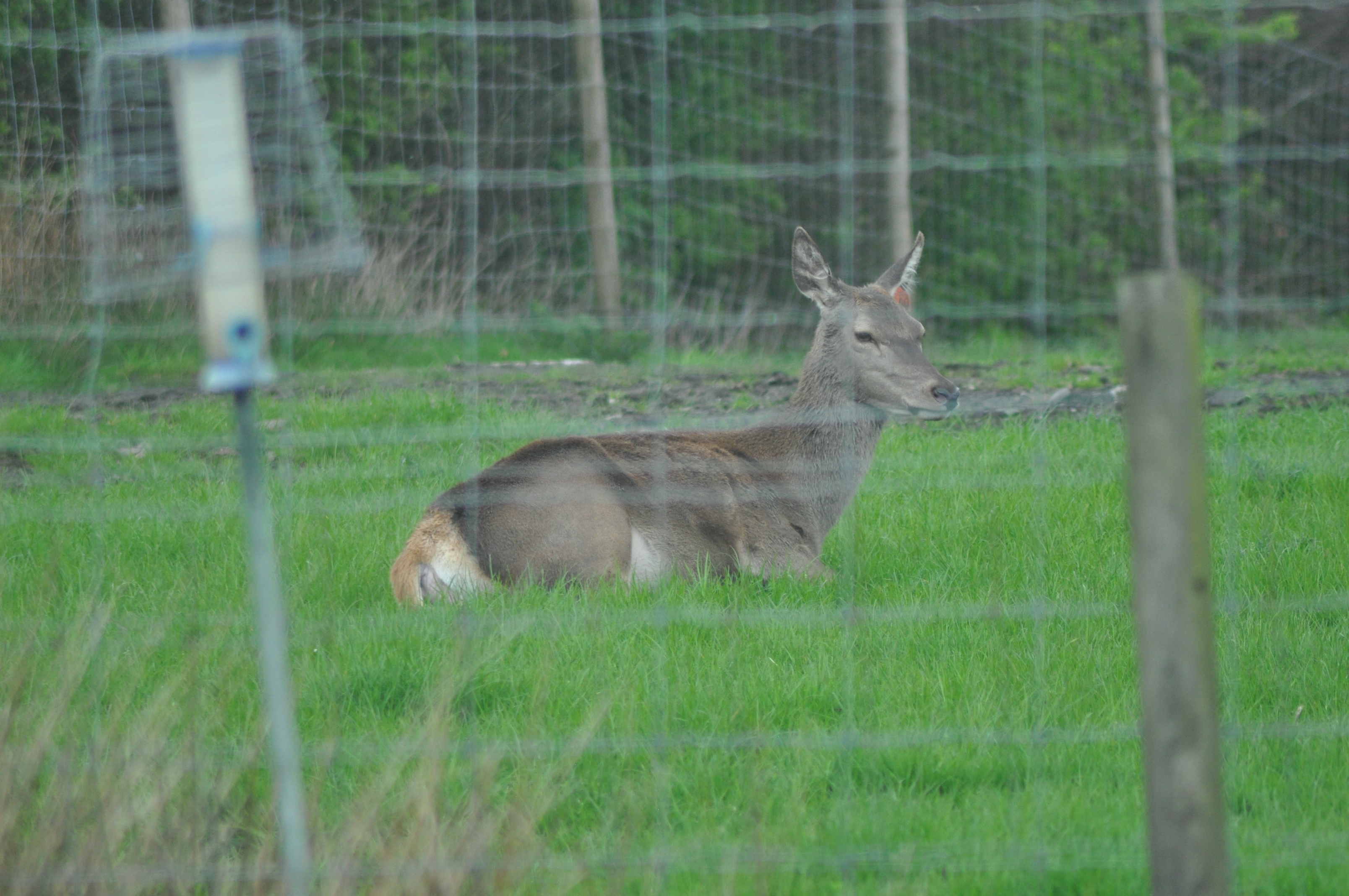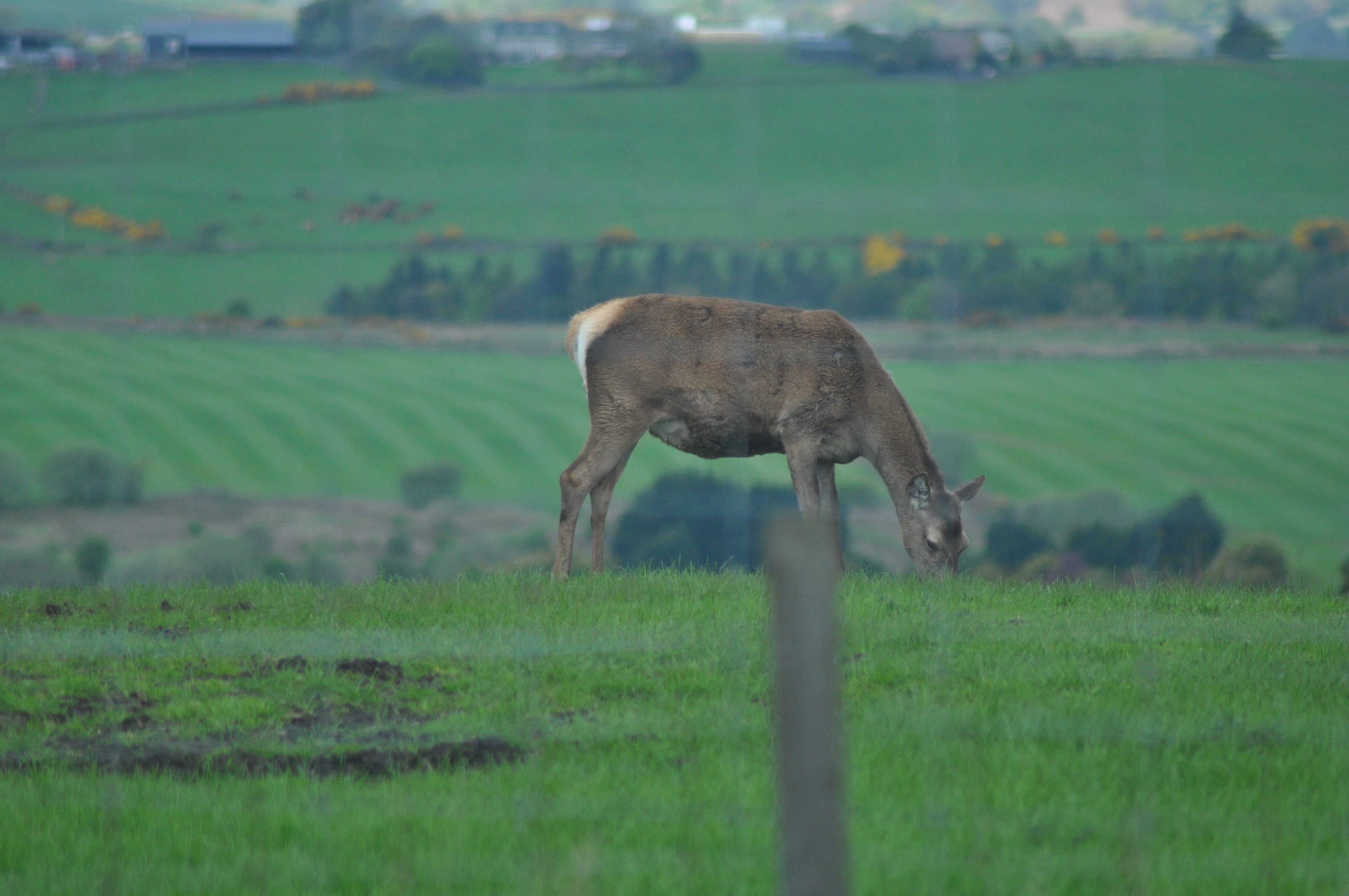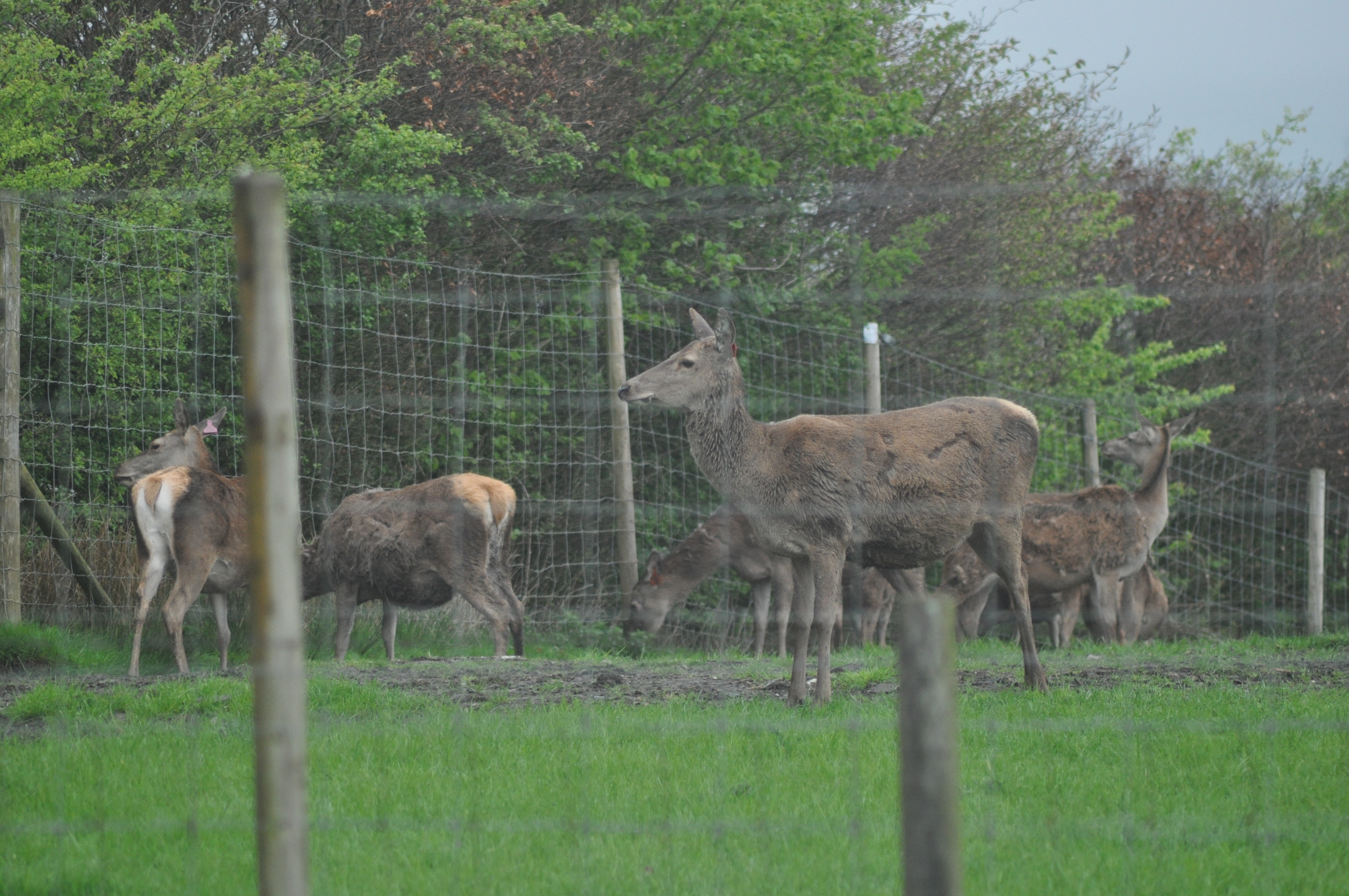 Very shortly we will have the product of these pregnancies gambolling about the field.

On this day: -
1962 - West Side Story soundtrack album goes #1 & stays #1 for 54 weeks which is more than 20 weeks longer than any other album.
1867 - American Journalist Elizabeth Cochrane (Pen name Nellie Bly) is born! She was so fascinated by Jules Verne's "Around the World in 80 days" that she approached her Editor (Joseph Pulitzer) with the notion that she could do it quicker! He responded "Only a man could do that!". "Very well," she said angrily, "Start the man, and I'll start the same day for some other newspaper and beat him." Pulitzer conceded and Bly did, in fact, beat Fogg's fictional achievement, lopping a week off his time by completing her real-life journey in just 72 days, 6 hours and 11 minutes. She wrote about her adventure – and the interview with her editor – in her book Around The World in Seventy-Two Days, published in 1890. Despite the newspaper's belief that a woman would need many suitcases for such a journey Bly took only a small Gladstone bag. In it she packed two caps, three veils, slippers, toiletries, an ink stand, pens, pencils, paper, pins, needles and thread, a dressing gown, a tennis blazer, a small flask, a drinking cup, fresh underwear, handkerchiefs, spare fabric and a jar of cold cream.
"If one is traveling simply for the sake of travelling, and not for the purpose of impressing fellow passengers, the problem of baggage becomes a very simple one," she wrote. In all she had covered 24,889 miles in 72 days, setting a world record for the fastest circumnavigation of the globe. She had travelled by ship, train, horse, rickshaw, sampan, burro and other vehicles.

====================================================================

3rd May

I have just completed a cage to protect our black currants from the marauding birds! We had a good crop two years ago but absolutely none last year. So I got some mesh and took the last of Andrew's decking and made the cage.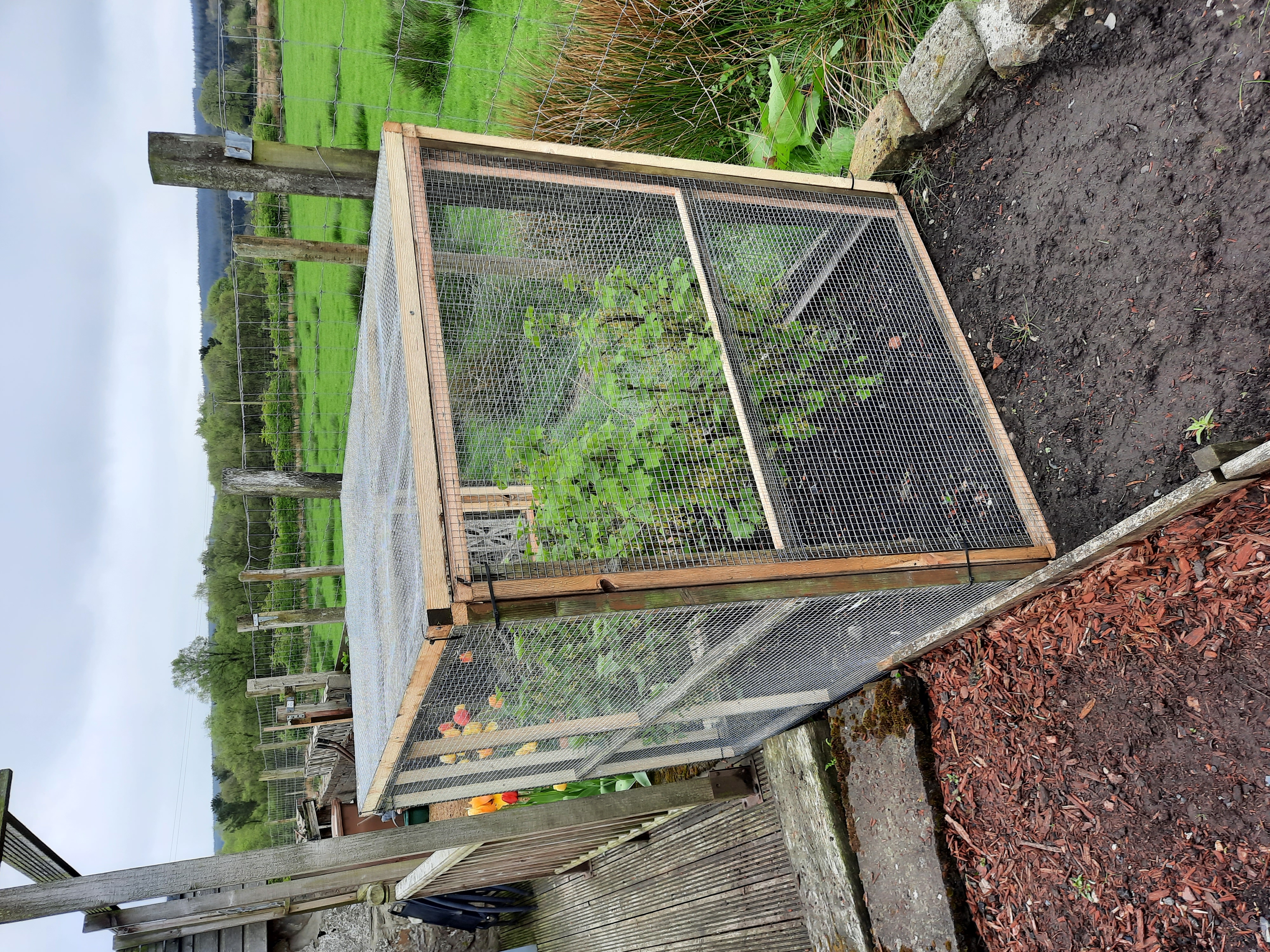 We had a roe buck in the field next to us this morning. He was quietly grazing absolutely mindless of anything that was going on around him and never even flinched when the shutter snapped.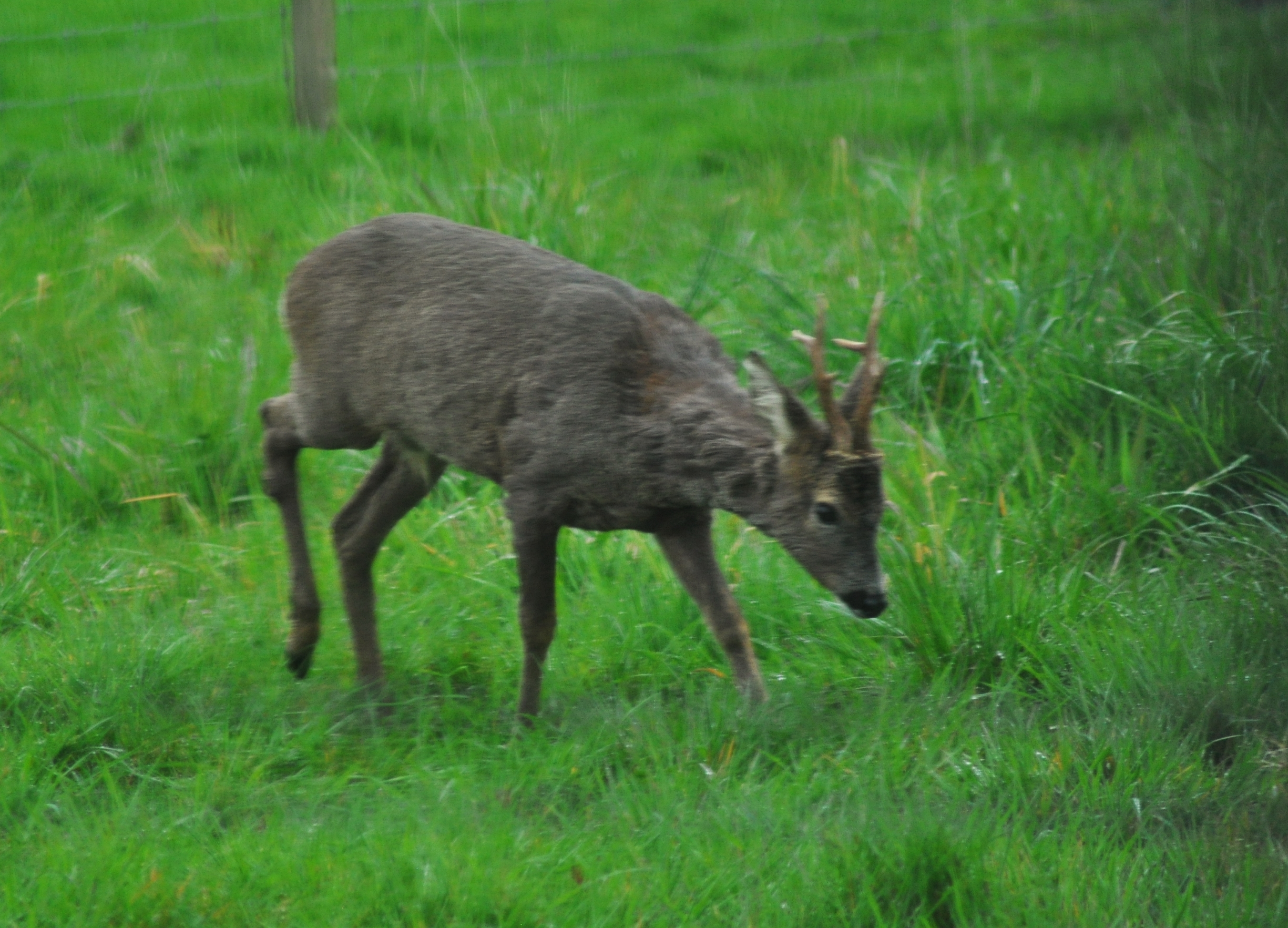 On this day: -

1934 - H.G.Wells predicted there would be a world war before 1940.
1999 - The body of missing English climber George Mallory was found near the summit of Mount Everest. He had gone missing more than 60 years earlier.
=====================================================================
28th April,

28th April is International Workers' Memorial Day, the day each year when workers come together and remember those who have been killed and injured at work. The slogan for the day is 'Remember the dead – fight for the living'.
I had my Spring Booster yesterday. They gave me a sticker!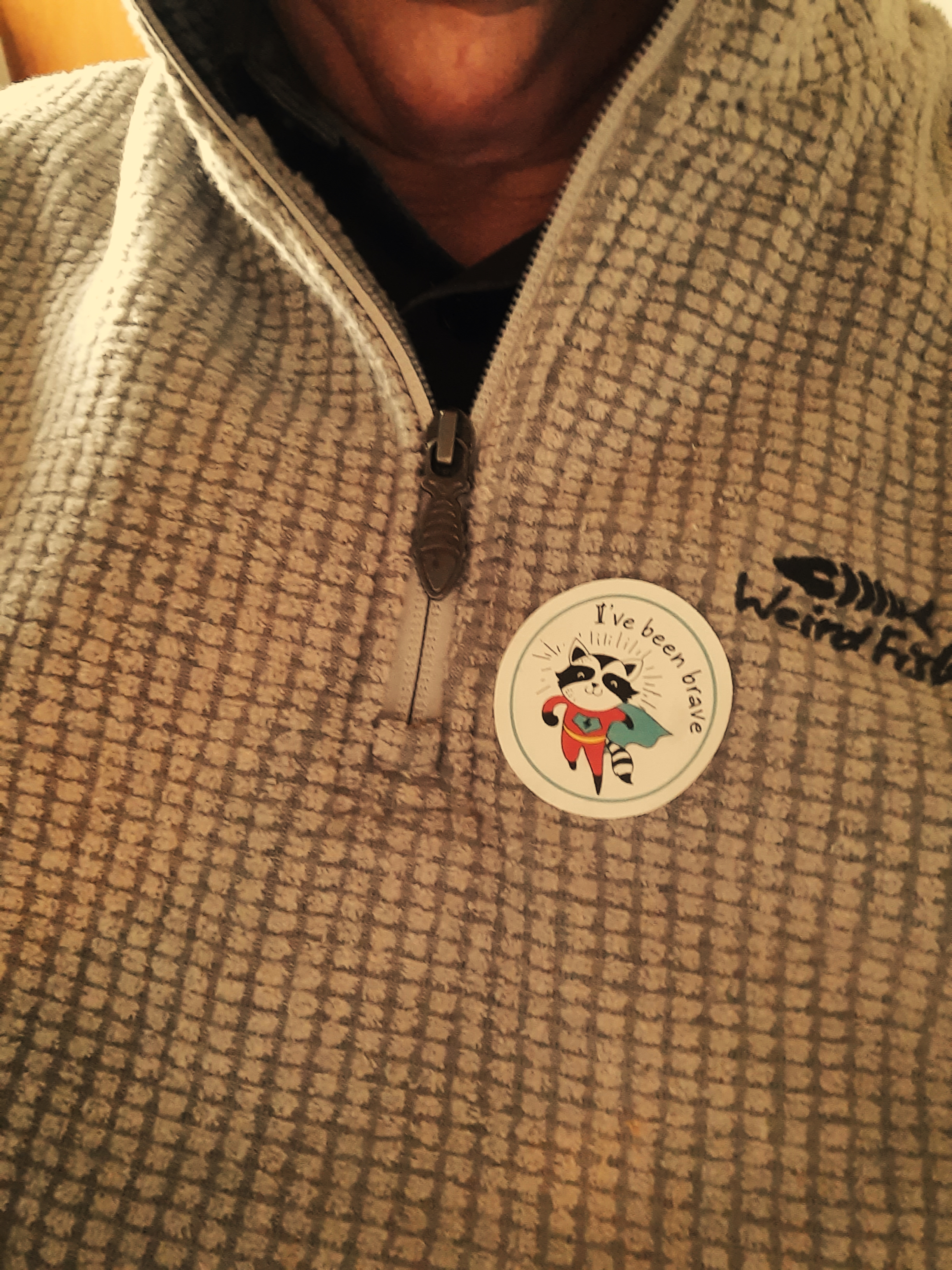 Things really look like we can begin to put the Pandemic behind us. Today is the last meeting we will have without a face to face element to it. St John have begun transporting two patients in a car. All restraints have been lifted by the Government. I still feel a wee bit vulnerable however, without a mask when in a public place.
It occurred to me that it was the World Health Organisation who proclaimed a "Pandemic" and I don't think that they have withdrawn that title yet. I think that I will wait until they do before I relax completely. I keep seeing references to the 1918 Flu epidemic when I search for info for this blog and it scares me.

It was two years past on 21st March when I first passed on Council's idea that we should try to donate part of our saved lunch money to the Food Bank. Last week was the first week that I forgot to remind you all on the 21st of the month. So please give what you can.

On that matter - what do we do now? Do we return to the practice of bringing goods to the Club or do we continue donating, albeit in a smaller scale, to allow the Foodbank to dictate the content of the donation? I think that is worthy of some deliberation and I am sure that the subject will come up at one of our meetings when we don't have a speaker.

I hope that you have all understood the proposal which was ratified at our AGM last week that from here on in we will only have two speakers every month. The remaining weeks will be laid aside, one for fellowship and the other for discussion of Club business. The odd fifth Thursday will take care of itself.

On this day: -
1902 - Using the ISO 8601 standard Year Zero definition for the Gregorian calendar preceded by the Julian calendar, the one billionth minute since the start of January 1 Year Zero occurs at 10:40 AM on this date. Why would anyone either need or want to know this?
1923 - The first FA Cup Final was held at Wembley Stadium. 200,000 people arrived at a stadium which was only designed to hold 125,000 and when 60,000 irate fans rushed the turnstiles a human torrent swept onto the pitch. Players were engulfed by the crowd and 1,000 men, women and children were injured. Finals were made 'all ticket' after that.


The game began one hour late and Bolton beat West Ham 2-0.

2004 - Shrek the sheep from Tarras, Central Otago, New Zealand, is finally shorn live on TV after 6 years avoidance; the fleece weighed 27 kg (60 lb)
2012 - Former Prime MInister, Gordon Brown, said that he was 'mortified' after being caught on microphone describing Rochdale pensioner, Gillian Duffy, as a bigoted woman after she had had challenged him on issues, including immigration.
=================================================================
27th April

I hadn't realised that I had omitted to say that my last radiotherapy session was completed a week past on monday. Easter Monday. I have nothing but praise for a bunch of dedicated and professional people who ensured that my treatment continued throughout, even with me testing positive for Covid.
It was quite amusing actually! Normally I would arrive at the Beatson Centre and after a few minutes would be told to "Take my water" this entailed visiting the loo to empty my bladder and then drinking 500ml of water.

For 10 days after I trested positive I was to arrive in the short stay car park and telephone to alert them to my presence. A nurse would come out via the fire escape and garden and and escort me to the toilet. Once back in the car I would drink my 500ml of water and wait 30 mins for another nurse to escort me via the garden and the fire escape into the unit for treatment. There was no one else around! They couldn't have done more for me and I am eternally grateful for their selfless attention.

I have been corresponding with the Rotary Club of Apeldoorn 't Loo who are the Club in Netherlands with whom we are partnering to have defibrillators fitted in all of the Local High Schools. They will be visiting us (15 strong) on 6th and 7th October. Arrangements are underway for their visit.

On this day: -
1296 - An English army, led by Edward I, defeated the Scots at the Battle of Dunbar, the only significant field action in the campaign of 1296. The English routed the disorganised Scots in a single charge, in action that was brief and probably not very bloody, since the only casualty of any note was a minor Lothian Knight.
1667 - Blind and impoverished poet John Milton sells the copyright of "Paradise Lost" for £10.

1865 - Steamboat "SS Sultana" explodes in the Mississippi River, killing up to 1,800 of the 2,427 passengers in the greatest maritime disaster in United States history. Most were paroled Union POWs on their way home.
1943 - Judy Johnson rode "Lone Gallant" in a steeplechase in Baltimore to become the first woman jockey to ride as a professional.
1965 - RC Duncan patents "Pampers" disposable nappies!
============================================================

23rd April,

Well that's our latest Charter dinner past! it was a great evening and everyone seemed to have enjoyed themselves. Mixing together again as a proper Club was exhilerating. The Forth Valley Magic Circle were all over the place and did us proud around the tables and from the centre stage.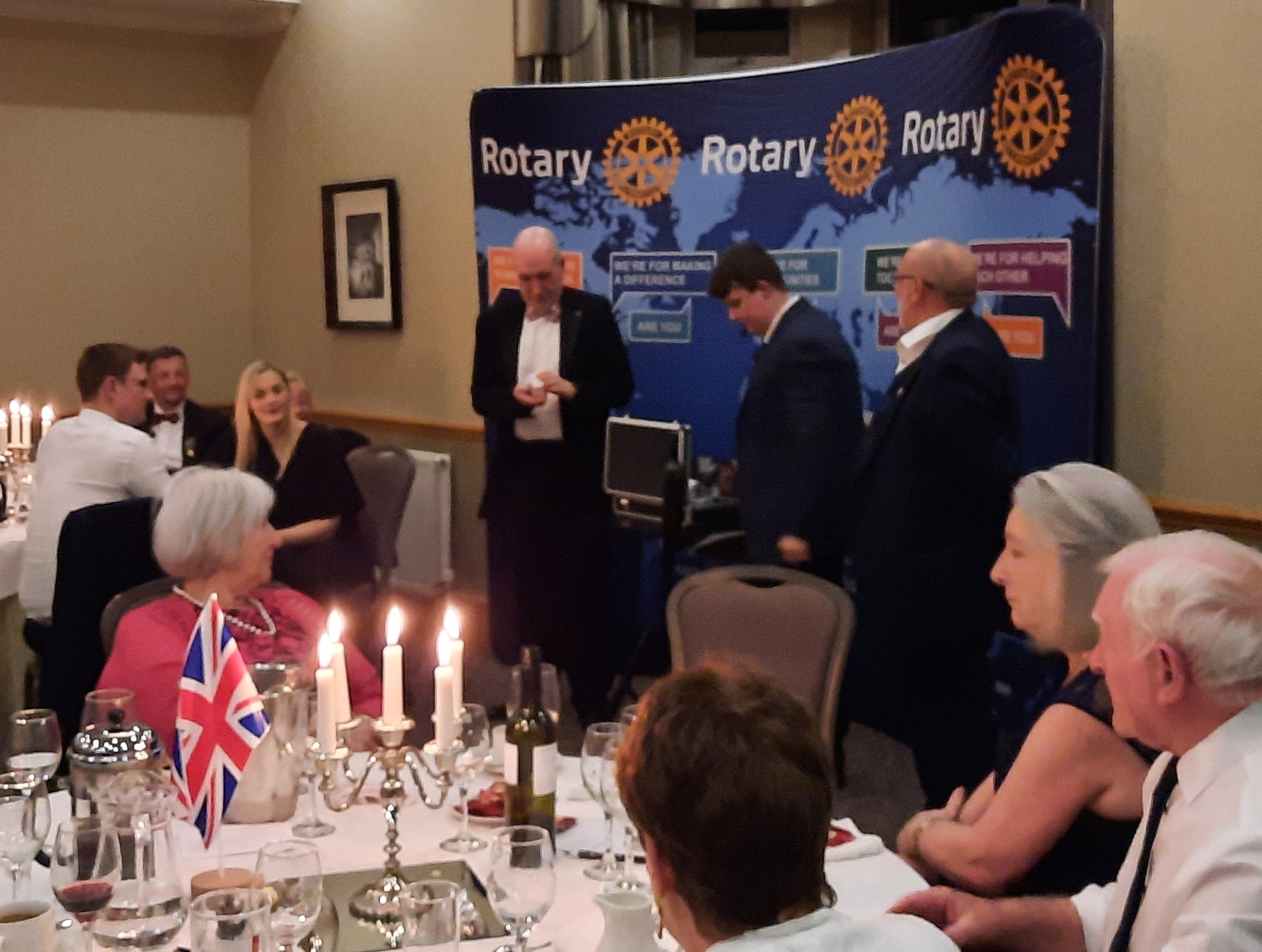 Both the District Governor and the Lord Lieutenant addressed the Club and had us laughing. Considering that President Narek has had his two year stint in the chair blighted by Covid and the Pandemic this was a fitting tribute to his sterling work over that time.

We all saw Tom Curry receive his well deserved second PHF on Thursday at the AGM and we were all privileged to watch a gobsmacked Bill Laurie receive his at the hands of the District Governor.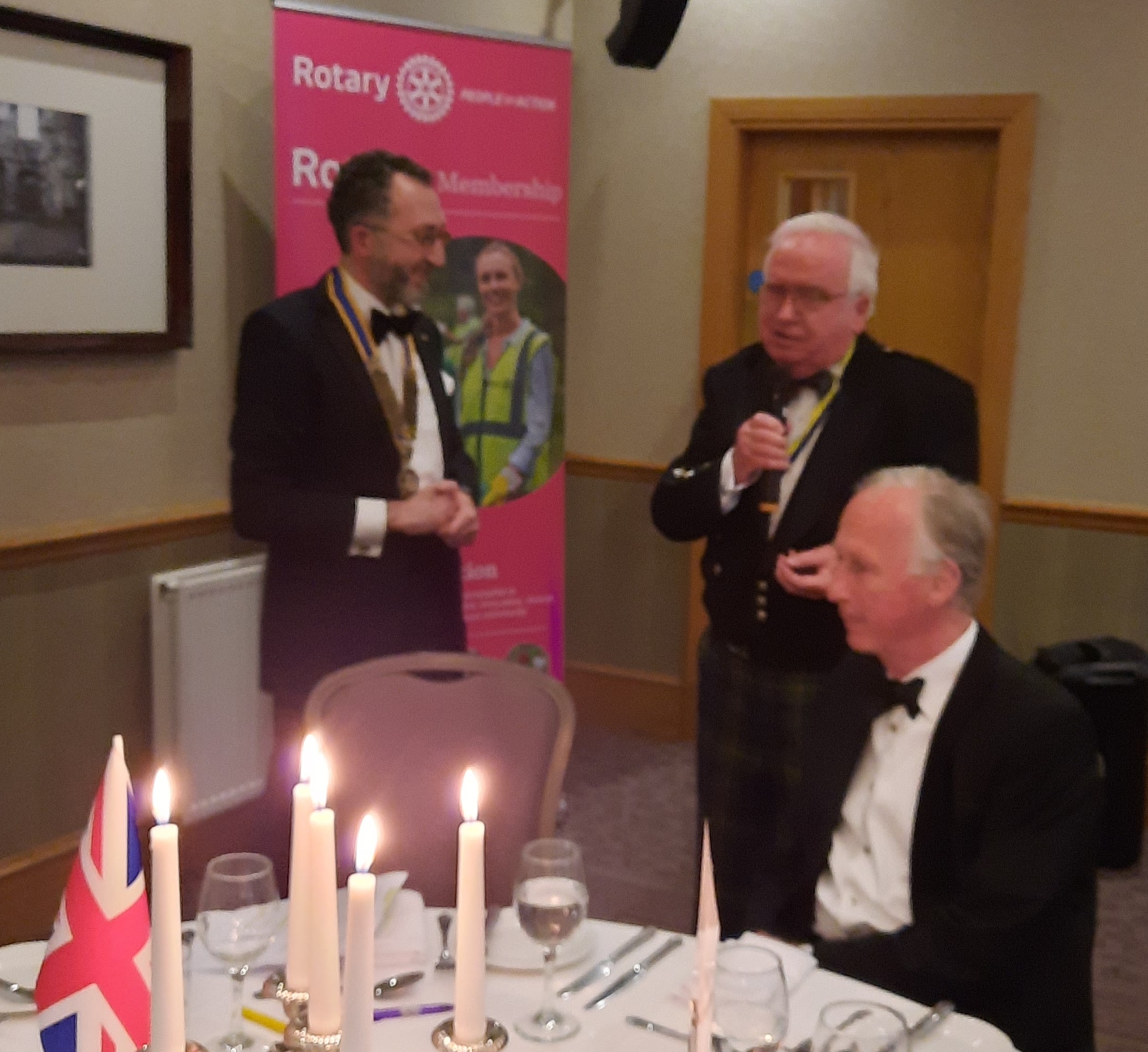 And to top it all off we had a raffle for two bottles. The first was won by David Wheeler and the second by Andrew NIven. Now it might also have been Jane and Gillian you all know how bad my aural perception is! Nonetheless that did not hamper my counting of the proceeds of the Raffle which netted £345 for the Trust Fund.

=================================================================
22nd April

Good Grief it's been two weeks since I last posted! I suppose that I have been otherwise engaged and it slipped my notice! Sorry! Or maybe you are just as pleased that you weren't assailed daily with my prattling.

Anyhow, this is not a dig at Bill who very sensibly is extremely cautious about returning to any sort of normality, but I clocked this on facebook and it seemed to me to sort of fit with the reawakening of Spring and the return of the PSQ. It was posted by a Rotary Club up North very proud of their return to the Primary Schools Quiz.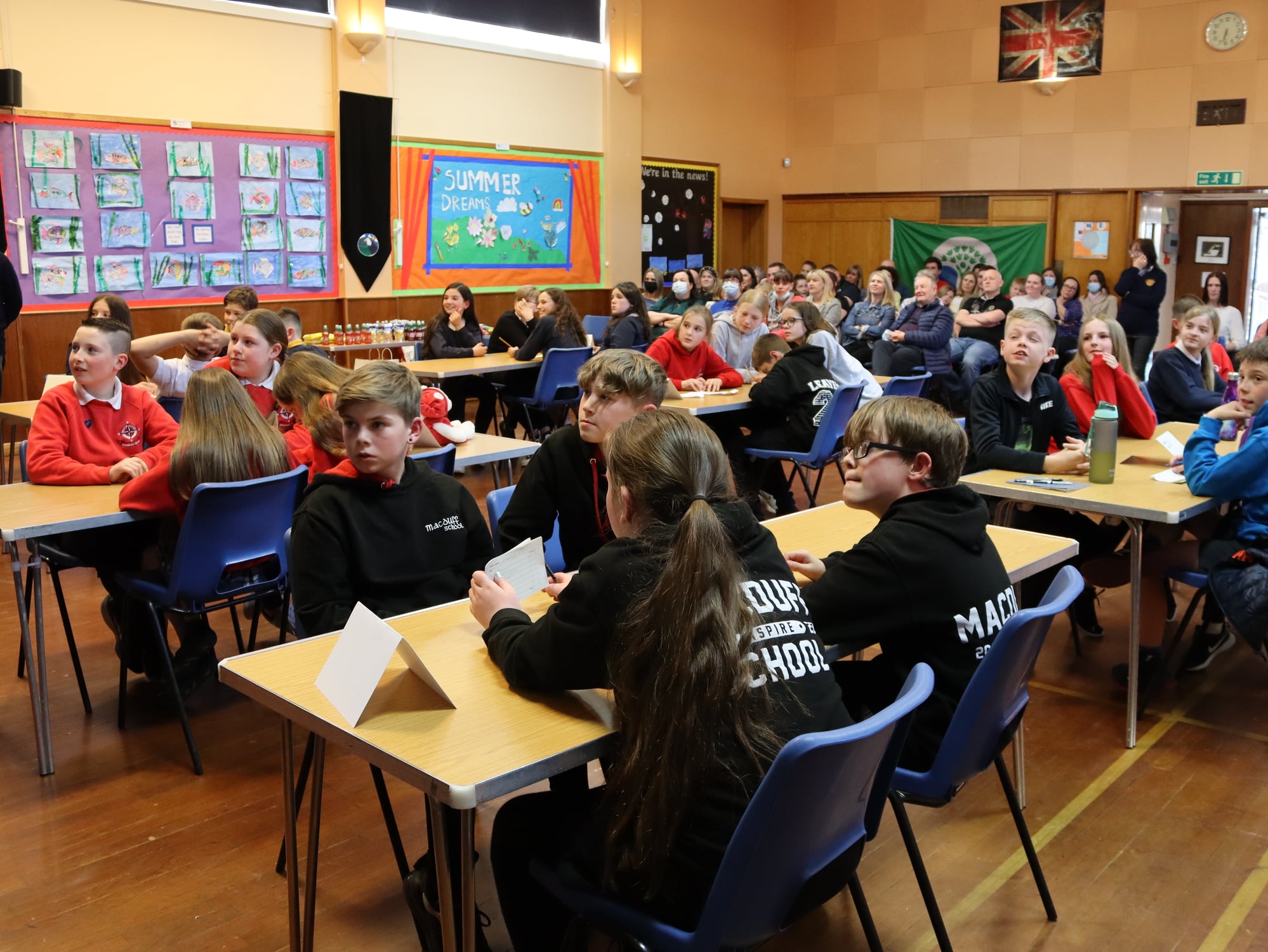 And for those of you who won't manage to the Charter Dinner here is how the room looked this afternoon: -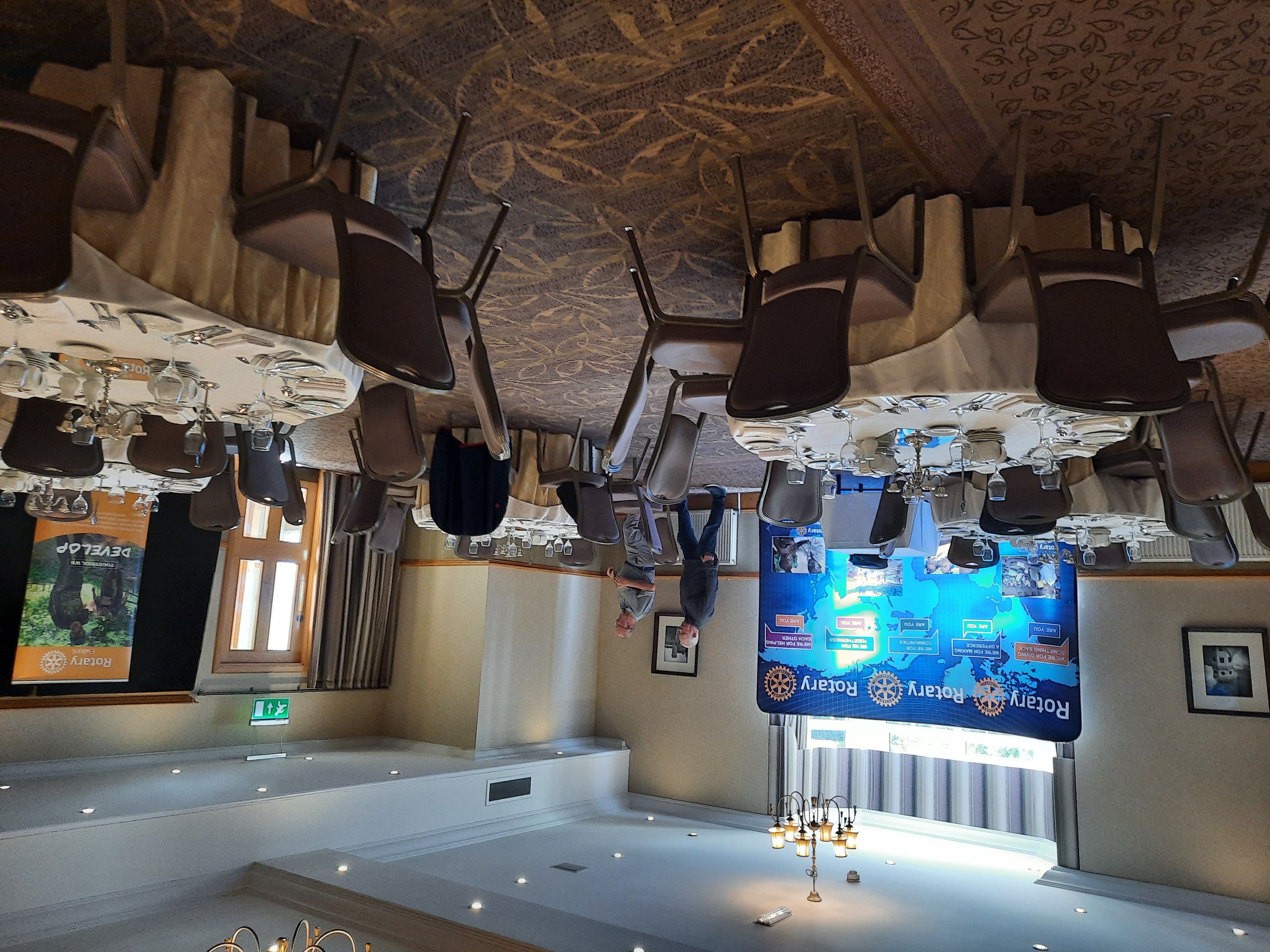 =================================================================

7th April

I am back to visiting Radiotherapy in the morning and am "no longer treated like a leper!" as the nurse said to me when I checked in!
I have just had an email from my sister in New Zealand. It contained videos of Albatrosses at Taiaroa Head East of Dunedin. It is quite mind boggling to think, watching these birds, that they have a 3m wingspan and only come to land to nest, spending the rest of their lives at sea. Taiaroa is the only mainland site in the world where these birds nest and there are only 25 breeding pairs there. That means that I have actually seen something like 10% of the worlds poulation of mainland breeding Northern Royal Albatrosses.

For all that, the videos are mind numbingly boring because the birds rarely move their wings and rely hugely on updraught for their flight.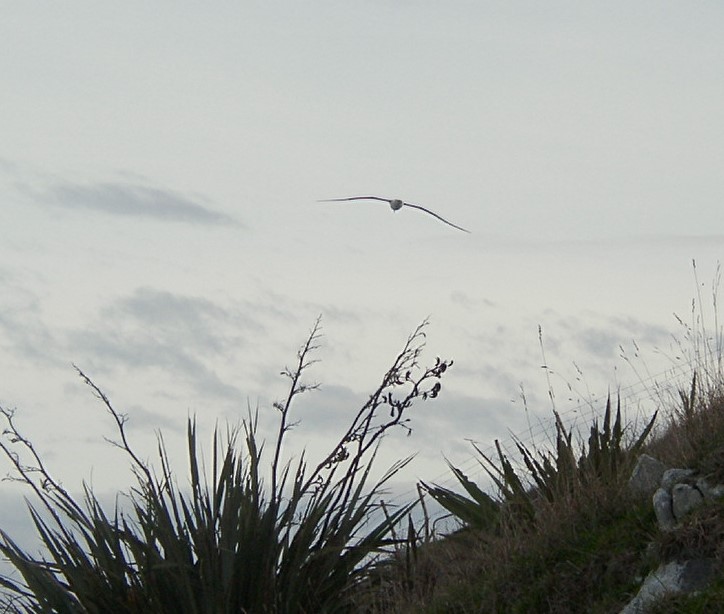 When I was there I saw pumpkin sized balls of white fluffy Albatross chicks dotted among tufts of grass waiting on their parents to arrive to feed them.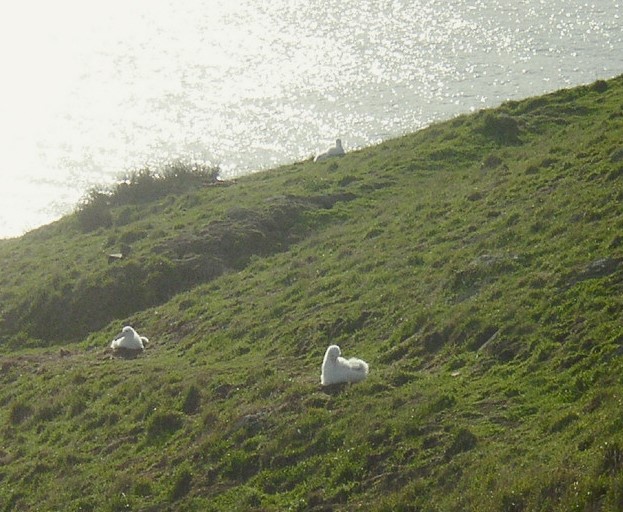 The sad thing is that if there is insufficient wind the adult birds will not land because they would be unable to take off again. The chicks therefore, if the weather remains calm, are in great peril of starving.

On this day: -

30 - Scholars' estimate for Jesus' crucifixion by Roman troops in Jerusalem [or April 3]
1739 - Dick Turpin is executed for horse stealing.
1827 - Chemist John Walker of Stockton on Tees sold the world's first box of 'friction matches' that he had invented the previous year. He charged one shilling for a box of 50 matches. Each box was supplied a piece of sandpaper, folded double, through which the match had to be drawn to ignite it. He named the matches 'Congreves' in honour of the inventor and rocket pioneer, Sir William Congreve.
1832 - Joseph Thompson, a farmer, went to Carlisle to sell his wife, both having agreed to part. A large crowd gathered as he offered her for 50 shillings. After an hour, the price was knocked down to 20 shillings, together with a Newfoundland dog as an incentive.
==================================================================

5th April

The answer to yesterday's teaser was the letter "O". All of these letters are symmetrical about a vertical axis!
I may have posted this on each of the two previous years of this Pandemic but I make no apologies for quoting the great man from his "Epistle to Davie, a Brother Poet". It speaks volumes about looking ahead to a brighter future: -

In days when daisies deck the ground, 
And blackbirds whistle clear, 
With honest joy our hearts will bound, 
To see the coming year: 

On this day
1847 - Birkenhead Park, the first ever Civic Public park in Britain, opens in Birkenhead, designed by Joseph Paxton.
1489 - The traditional + and - signs are first used in print by German mathematician Johann Widmann in his book "Nimble and neat calculation in all Trades". He is also credited with delivering the first University lecture in Algebra.
1923 - Lord Carnarvon dies of an infected mosquito bite five months after opening the Tomb of Tutankhamen.
1933 - The First Lung removal! Dr. Evarts Ambrose Graham removes the cancerous lung of a fellow physician, curing the patient.
=============================================================

4th April

Half way through my radiotherapy and had the second negative Covid test today on day 8!
Which other letter belongs to this Group?
A H I M T U V W X Y
On this day: -

1873 - The Kennel Club was founded. It is the oldest, recognised kennel club in the world and was the first official registry of purebred dogs in the world. Its role is to act as governing body for various canine activities including dog shows, dog agility and working trials.
1928 - Birthday of Maya Angelou African-American poet, civil rights activist. When she was eight years old, she was raped by her mother's boyfriend. He was convicted and sentenced to a single day in jail. When he was released, he was murdered; some believe by her uncles. After the incident she refused to speak for almost five years, believing, "I thought, my voice killed him; I killed that man, because I told his name. And then I thought I would never speak again, because my voice would kill anyone."
1958 - While movie star Lana Turner's gangster boyfriend, Johnny Stompanato Jr., was beating her in her Beverly Hills bedroom, Turner's 14-year-old daughter rushed in and fatally stabbed him with a carving knife. It was later ruled self defence.
1964 - The Beatles occupied the first five places in the US singles pop charts with:- 'Can't Buy Me Love', 'Twist and Shout', 'She Loves You', 'I Want To Hold Your Hand' and 'Please Please Me'. It was the first and only time anyone ever monopolised the entire top five.
1968 - Martin Luther KIng Jr. is assassinated. His "I had a dream" speech nearly didn't happen. He had a pre-written script which he was reading when his friend, Mahalia Jackson, (Queen of Gospel) standing nearby called out "Tell them about the dream, Martin! Tell them about the dream!" He moved his written script aside, held both sides of the lectern with his hands and.....The rest is History!

2013 - Poecilotheria rajaei, a giant tarantula with a 20cm leg span, is discovered in Sri Lanka.
================================================================
29th March

Well after everything I have done to try and stay clear of Covid so that my Radiotherapy treatment could progress unabated, yesterday I tested positive. I have no idea how that came about. Apart from two shopping trips, one to Tesco and one to Waitrose, the only place I have been is North Lanarkshire Beatson at Monklands General Hospital. MInd you there are a lot of sick folk there!!!
My appointment has been moved as a result to the end of the day when there are no other patients about and they can clean up after me more easily.
I got thinking again last night - Hamburger vs Beefburger!
Apparently the official line is that a Beefburger is simply a "Hamburger"! But a Hamburger is defined as "a hot sandwich consisting of a patty of cooked ground beef, in a sliced bun, sometimes also containing salad vegetables, condiments, or both."So there you go!

On this day: -
1871 - London's Royal Albert Hall opens. It was then that its famous echo was discovered, due to the cove of its ceiling, causing some to remark, "the only place where a British composer could be sure of hearing his work twice". This was remedied in the 1960s by hanging acoustic diffusers from the ceiling.
1912 - Captain Robert Falcon Scott, storm-bound in a tent near South Pole, makes the last entry in his diary "the end cannot be far".
1920 - Sir William Robertson, who enlisted in 1877, became a field marshal in the British Army, the first man to rise to this rank from private.
1961 - After a 4½ year trial Nelson Mandela is acquitted of treason in Pretoria.
1945 - Movie star James Stewart is promoted to full colonel, one of the few Americans to rise from private to colonel in four years.
===============================================================

24th March

This from Age Concern via Anne Watson: -
Dear Colleague,
I hope all's well with you.
Consumer organisations are encouraging households across the country to take electricity and gas meter readings on 31st March. Ideally, you should take a photograph showing the readings and meter serial numbers and submit these to your energy supplier as soon as you can. This is to ensure that your energy bills are as accurate as possible.
As you will know, the new OFGEM energy price cap comes into force on 1st April 2022. This means the cost of energy is set to increase by 54% from that date, so it is very important that you do not pay for energy used prior to 1 April at this new higher rate. By taking and submitting readings on 31 March (or if it is not possible to submit on the day, by submitting as soon as you can thereafter), you will be ensuring that your energy company cannot charge you at the higher rate for units you used in March, before the price rise took effect.
Please pass on this information to anyone you think may be interested, thank you.
Kind regards,
Carole Anderson
Community Development Officer
-------ooOoo-------
We have now had a definite commitment from Rotary Appeldoorn t'Loo to contribute €2,000 to the project to equip all of the Local High Schools with defibrillators. This is fantastic news. Talks are, as I type this, ongoing with Graeme High School and St Mungo's High School who are the only two schools in the area that are lacking the facility at present. After that has been accomplished the members from Rotary Appeldoorn t'Loo intend visiting the project Late September or early October. They will visit Scotland for 4 days but only two of those will be in our area. Discussions are ongoing but if you feel that you could host one or two members then let me know. They are all fluent English speakers.
On this day:

1603 -

Scottish King James VI son of Mary Queen of Scots, becomes King James I of England in succession to Elizabeth, thus joining the English and Scottish crowns.

1707 -

The Acts of Union 1707 was signed, officially uniting the Kingdoms of England and Scotland to create the Kingdom of Great Britain.
1829 - Parliament passed the Roman Catholic Relief Act 1829, allowing Catholics to serve in Parliament.

1882 -

German scientist Robert Koch discovers and describes the tubercle bacillus which causes tuberculosis (Mycobacterium tuberculosis), and establishes germ theory.
1944 - RAF rear gunner Nicholas Alkemade survives a jump from his Lancaster bomber 18,000 feet over Germany without a parachute; his fall broken by pine trees and soft snow, suffers only a sprained leg.
1947 - Happy birthday Lord Sugar.

===================================================================
21st March

It is now two years to the day since I first entreated you to donate some of your lunch money savings to the Food bank. Each month on the 21st I have repeated that for two years with fantastic results, We have so far cumulatively donated £9,095 which obtained 4.5 tonnes of produce to the Foodbank. A huge result and a huge thank you to President Elect LInda for the selfless effort she puts in every month. Similar thanks to President Narek who did the same for the first 8 months of the project alongside his many other duties.

So, being that time of the month again I will ask you again to donate what you can from your savings and see if we can get above the £10,000 and 5 tonnes mark before we revert to regular weekly meetings.
I visted Monklands Beatson this morning for the first of my 20 Radiotherapy sessions. I've got to say that I was a wee bit apprehensive beforehand but all went well and no ill effects. One down and 19 to go!
I say all went well, and it did, but the morning was not without incident. If you are of a genteel nature you need read no further.
On the first attempt at treatment I was told that they could not continue because my bowel was full of gas! I was asked to dress again and go for a walk which would assist in the passing of that gas. I was also asked if I could do that without emptying my bladder! Any how I went for a walk with the desired result but was accosted by the Beatson receptionist in the process and asked if I was simply stretching my legs. Now, by this time my dignity was nonexistent and I replied "I have been asked to go for a walk until I fart and I've not to pee myself!" The lady simply replied, coyly, "Well as long as the nurses know then that's ok!" and she returned to her desk.

On this day: -

1946 - Labour politician Aneurin Bevan announced the Government's proposals for a free National Health Service, paid for by the taxpayer. Doctors immediately announced the setting-up of a fighting fund to oppose the legislation, fearing a loss of earnings.
2013 - The European Space Agency reveals new data that indicates that the universe is 13.82 billion years old. - ... Happy birthday dear Universe! Happy birthday to you!
==============================================================

20th March

Today is the March Equinox! The word "Equinox" is derived from the Latin aequus (equal) and nox (night). For our ancestors, whose timekeeping was less precise than ours, day and night likely did seem equal. But we today know it's not exactly so.
Twice a year – on the March and September equinoxes – everyone worldwide supposedly receives 12 hours of day and 12 hours of night. Generally speaking, that's true. But, precisely speaking, there is more daylight than nighttime on the day of the equinox, an additional eight or so minutes of daylight at mid-temperate latitudes. There are two reasons why we have more than 12 hours of daylight on this day of supposedly equal day and night. These are: -
The sun is a disk, not a point. Most almanacs regard sunrise as when the leading edge of the sun first touches the eastern horizon. They define sunset as when the sun's trailing edge finally touches the western horizon.

This in itself provides an extra 2 1/2 to 3 minutes of daylight at mid-temperate latitudes.

Atmospheric refraction. - The Earth's atmosphere acts like a lens or prism, uplifting the sun about 0.5º from its true geometrical position whenever the sun nears the horizon. Coincidentally, the sun's angular diameter spans about 0.5º, as well. In other words, when you see the sun on the horizon, it's actually just below the horizon geometrically.
This from Sandy Murrison regarding The Burlington Arcade: -
Hi Sandy
The answer is yes to your query re the Burlington Arcade.
It is situated just round the corner from the office I worked in during my London days in the Seventies. It was a regular feature in my lunch time strolls around St James's particularly in the winter. Not a bad place to work!!
Sandy
And this from Gordon: -
Some years ago I planted tulips, some beside the front door and some in the wildflower patch. The first couple of years the display was really spectacular, then came the roe deer - no one told me that tulips are irresistible to roe deer - and all the tulips, leaves and flowers, vanished.
Over the next few years the plants slowly recovered and last year the flowers were almost back to what they had been originally, and this year looked really promising.
On Friday while watching Cheltenham, Liz suddenly said "Look at that" and pointed out of the window. There was a roe buck, horns in velvet, placidly finishing off the last of the tulip leaves. Further investigation found that the ones at the front door had been eaten as well, but crocii, daffodils and bluebells are untouched.

Can anyone lend me a .22 or a bow and some arrows?
On this day: -

============================================================

19th March

This from Gordon yesterday: -
My favourite (which includes my own children and grandchildren) is what WE did, and learned so much from, in our childhood! .... and I still use that old computer - no electricity or logging-in required!!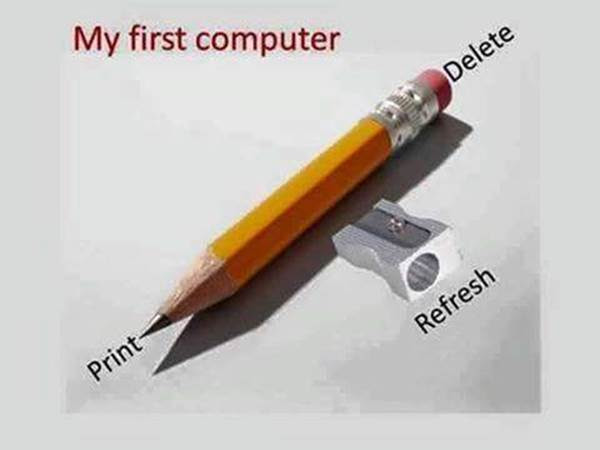 Have you ever been in the Burlington Arcade in London? It was opened on this day in 1819.

Lord Burlington was so annoyed with the Hoi polloi chucking oyster shells over the wall and onto his property he decided to build this enclosed shopping area that he could control. He employed "Beadles" to police the Mall. The biggest problem became pick pockets who would warn each other of the presence of the Beadle by whistling. Hence Whistling was and still is banned in the arcade.

Today's Beadles like to tell the story of an encounter in the 1980s when a Beadle was about to politely reprimand a shopper who started to whistle as he was gazing in one of the windows. The shopper turned around and was instantly recognised by the Beadle.

"Oh, Mr McCartney, I'm very sorry," said the Beadle to the Beatle. "I didn't realise it was you. You are hereby given a lifetime exemption from the rule. You can whistle here any time you like."

And so, the story goes, Paul McCartney is the only person allowed to whistle in Burlington Arcade.
Hoi polloi is an expression from Greek that means "the many" or, in the strictest sense, "the people". In English, it has been given a negative connotation to signify the masses. Synonyms for hoi polloi include "the plebs", "the rabble", "the masses", "the great unwashed", "riffraff", and "the proles"
Also on this day: -
1882 - The first stone is laid for the Basilica Sagrada Familia in Barcelona.
1917 - Piggly Wiggly was the first true self-service grocery store and the originator of various familiar supermarket concepts such as checkout stands, individual item price marking and shopping carts.
The concept of the "self-serving store" was patented by Saunders in 1917.
1932 - The Sydney Harbour Bridge is opened.
1955 - Happy Birthday Bruce Willis
1965 - The wreck of the SS Georgiana, valued at over $50,000,000, said to have been most powerful Confederate cruiser, discovered by then teenage diver and pioneer underwater archaeologist E. Lee Spence exactly 102 years after its destruction on her maiden voyage.

===============================================================

18th March

I was scrolling through the photographs from a year ago on my phone and came across this. It's a screen shot from a twitter exchange between a lady and Police Scotland. I've got to confess that I read it wrongly at first as well! I have no idea where it came from. I don't do Twitter and I have no recollection of having received it from anyone.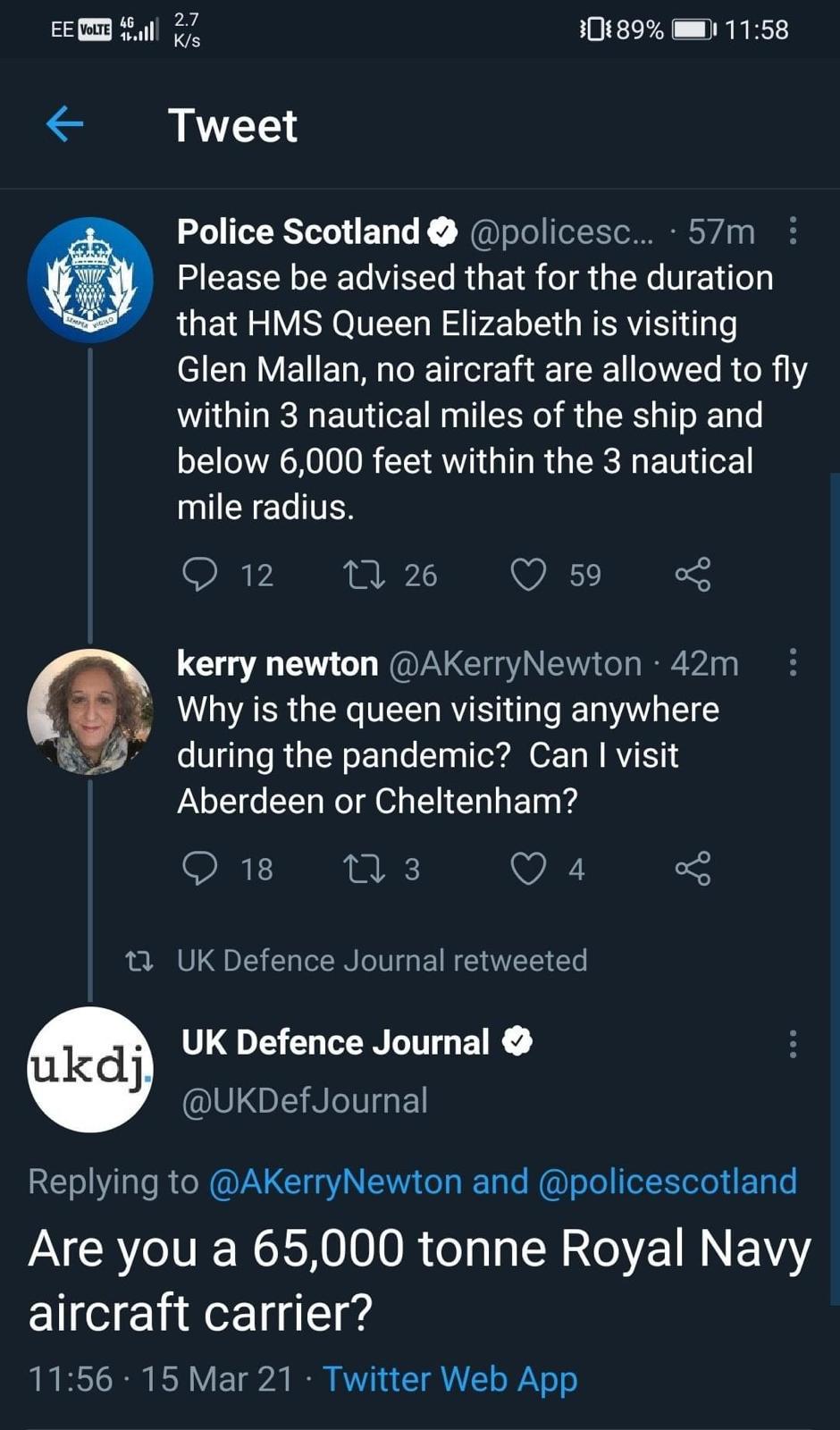 On this day: -

============================================================

15th March

Word of the day: -

Chelonian (n) A reptile of the order Testudines (formerly Chelonia); a turtle, terrapin, or tortoise.
That one adds to my vocabulary of words that denote species of animals. We've all heard the easy ones like Feline, Canine, Bovine and Equine but do you know these ones: -

Meline
Murine
Caprine
Vulpine
I could go on but I won't. I will instead recount my sudden awareness yesterday of becoming old! When I saw who our speaker was to be on Thursday I messaged my pal Jim Forbes. Superintendent Jim was Falkirk Area Commander and I thought that he might want to join us and hear what Craig Walker had to say. There was a possibility that he might even know him. Jim's reply jarred me. Not only did Jim not know him he suggested that he had retired before Craig even joined the Force!!! He then went on to say that he had met a man whom he had recruited as a young PC and even he had retired!!! Jim is younger than me!
On this day: -
44BC - Julius Caesar is stabbed to death by Brutus, Cassius and several other Roman senators on the Ides of March in Rome.
1889 - Gunboat diplomacy was at its height in 1889 and on this day tension was high with an act of war seemingly imminent. Three warships from America and three from Germany were jostling for position in a small harbour in the South Pacific, observed by yet another warship – from Britain. The waters of Apia harbour, where the eyeball to eyeball encounter was taking place, had been growing choppier by the minute and soon the crews found themselves at the centre of a violent cyclone.
Two of the German ships were bodily picked up by the storm and smashed together. The third was flung high onto a beach and wrecked, the same fate being met by one of the American warships. The other two US vessels were hurled against a reef and wrecked. Six merchant ships which were also in the harbour were also destroyed, bringing a total death toll of more than 200.
1940 - Herman Goering says "100-200 church bells is enough for Germany, smelt the rest!"
1985 - The first Internet domain name, symbolics.com is registered.
==============================================================
14th March

How many of you have heard of a "Calloo"? I hadn't until it cropped up in Pointless the other night. It was identified as a Scottish word for the Long Tailed Duck (Clangula Hyemalis). I spent some time searching before I eventually found it. It is not in the Scots Dictionary. It wasn't in any of the other disctionaries that I consulted and it is not in Encyclopeadia Britannica.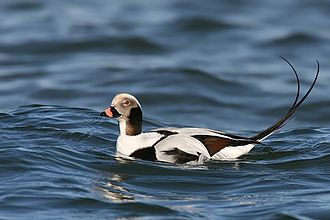 The breeding habitat of Clangula Hyemalis is in tundra pools and marshes, but also along sea coasts and in large mountain lakes in the North Atlantic region, Alaska, northern Canada, northern Europe, and Russia. They are migratory and winter along the eastern and western coasts of North America, on the Great Lakes, coastal northern Europe and Asia, with stragglers to the Black Sea. The most important wintering area is the Baltic Sea, where a total of about 4.5 million gather. So the likelihood that there might have been enough in Scotland to generate a colloquial name for it was unlikely.

Then Google came to the rescue. There have been instances where the duck has overwintered in Shetland and Orkney and the name "Calloo" is said to mimic the call of the bird; which, by the way, is the only one of the genus "Clangula".

During my search for Calloo I came across a great site that has a "word of the day". Lexico.com!

degust - Taste (something) carefully to appreciate it fully.
On this day: -
1930 - A proposed tunnel linking England and France was approved by the Channel Tunnel Committee.
1933 - Happy birthday Michael Caine. Did you know that?
2014 - Thieves who had built a 50ft (15m) tunnel to a cash machine on Liverpool Road, Eccles, got away with more than £80,000. The complex nature of its structure could have taken months to excavate and echoes a similar raid in Fallowfield Shopping Precinct in January 2012. Police said they were looking for 'people acting suspiciously, possibly covered in soil!'
2018 - The death, aged 76, of the world renowned physicist Stephen Hawking. At the age of 22 Professor Hawking was given only a few years to live, after being diagnosed with a rare form of motor neurone disease.

=================================================================
13th March

I don't know why we ended up with crocuses for EPN when World Polio day is 24th October and here we are on 13th March (my sister's 80th birthday) with the crocuses in bloom. Here they are today: -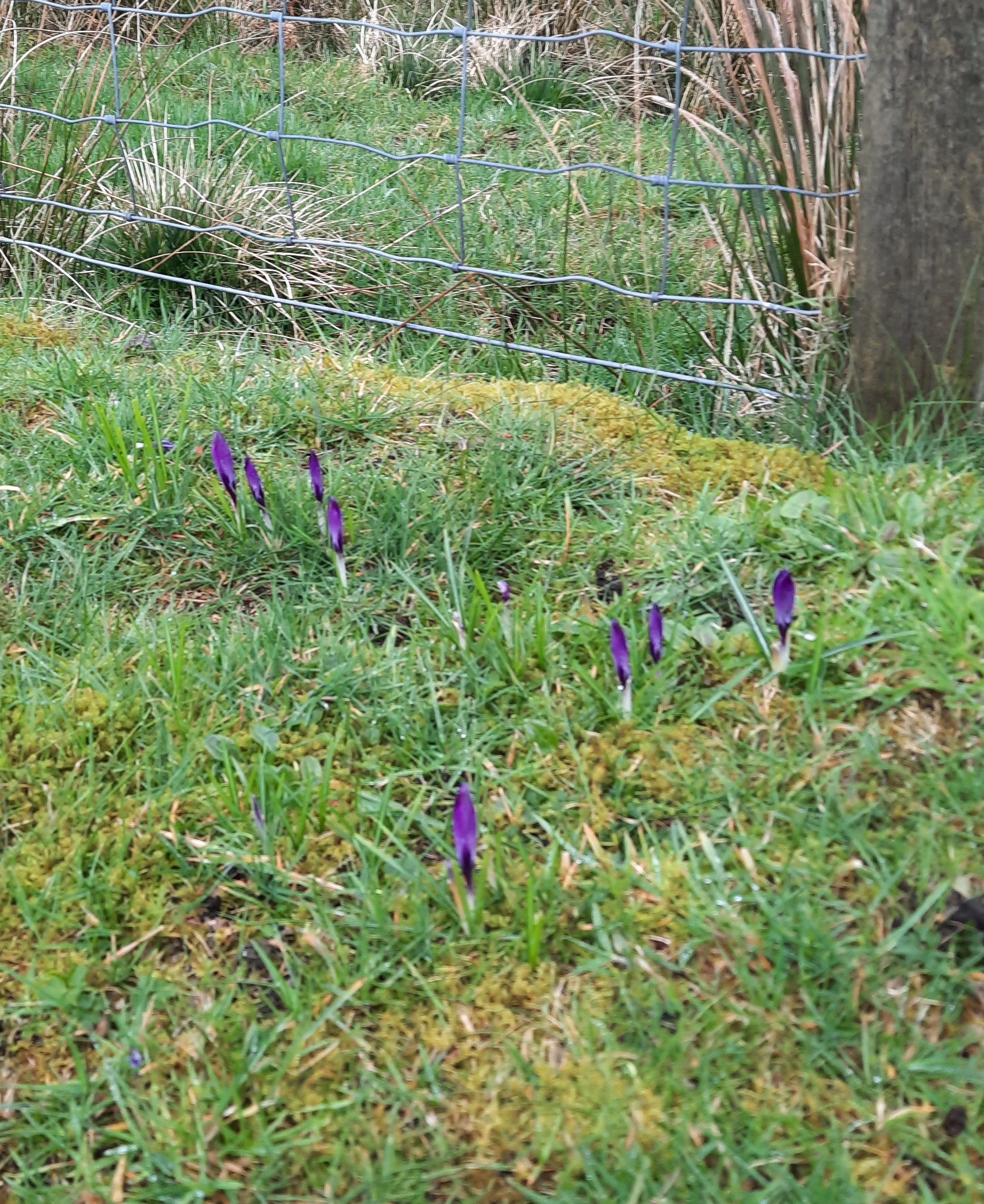 But here what they were like last year on the 13th March.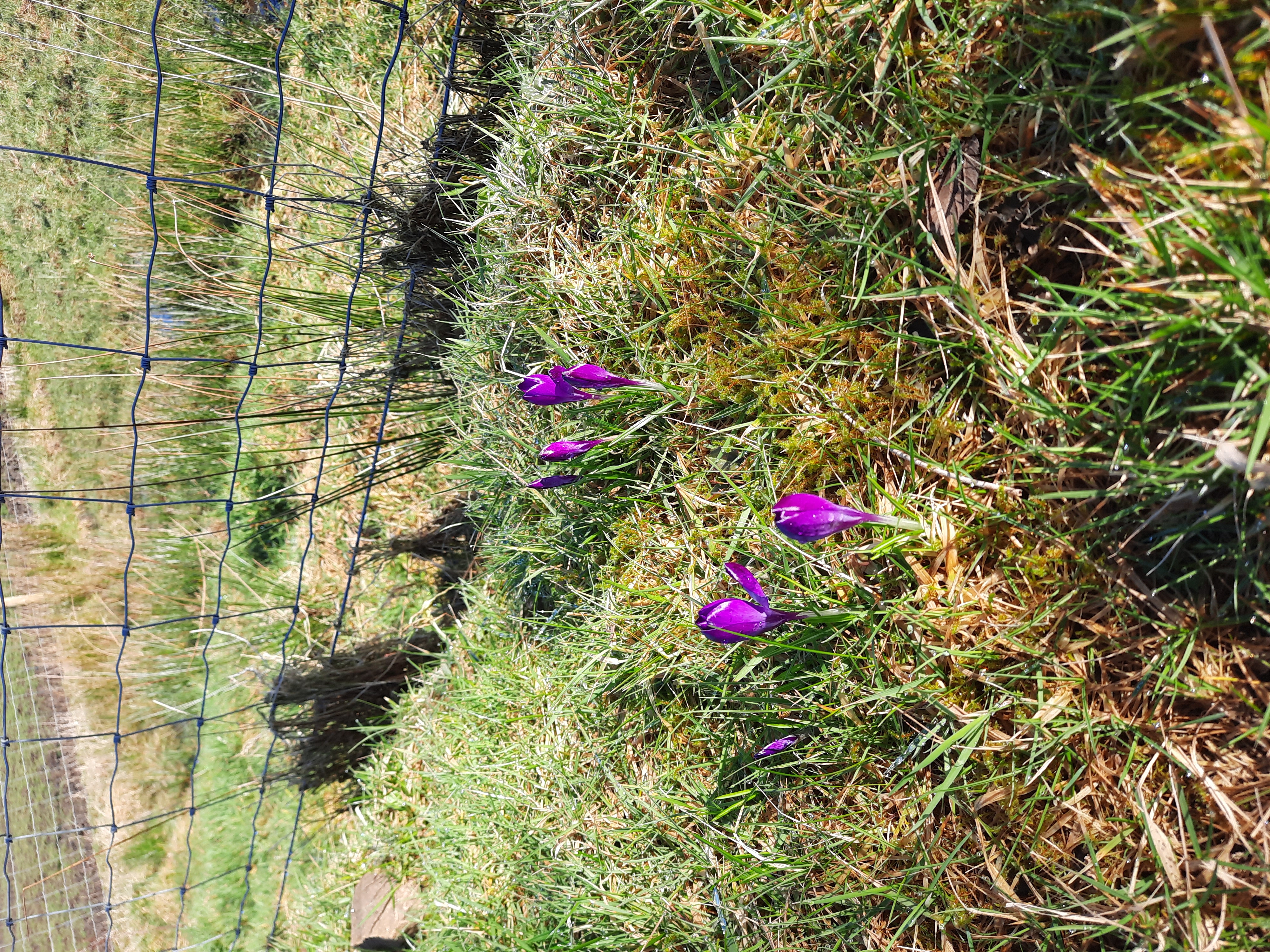 While it doesn't look as though the crocuses are doing as well as in previous years the birds here have been quite prolific.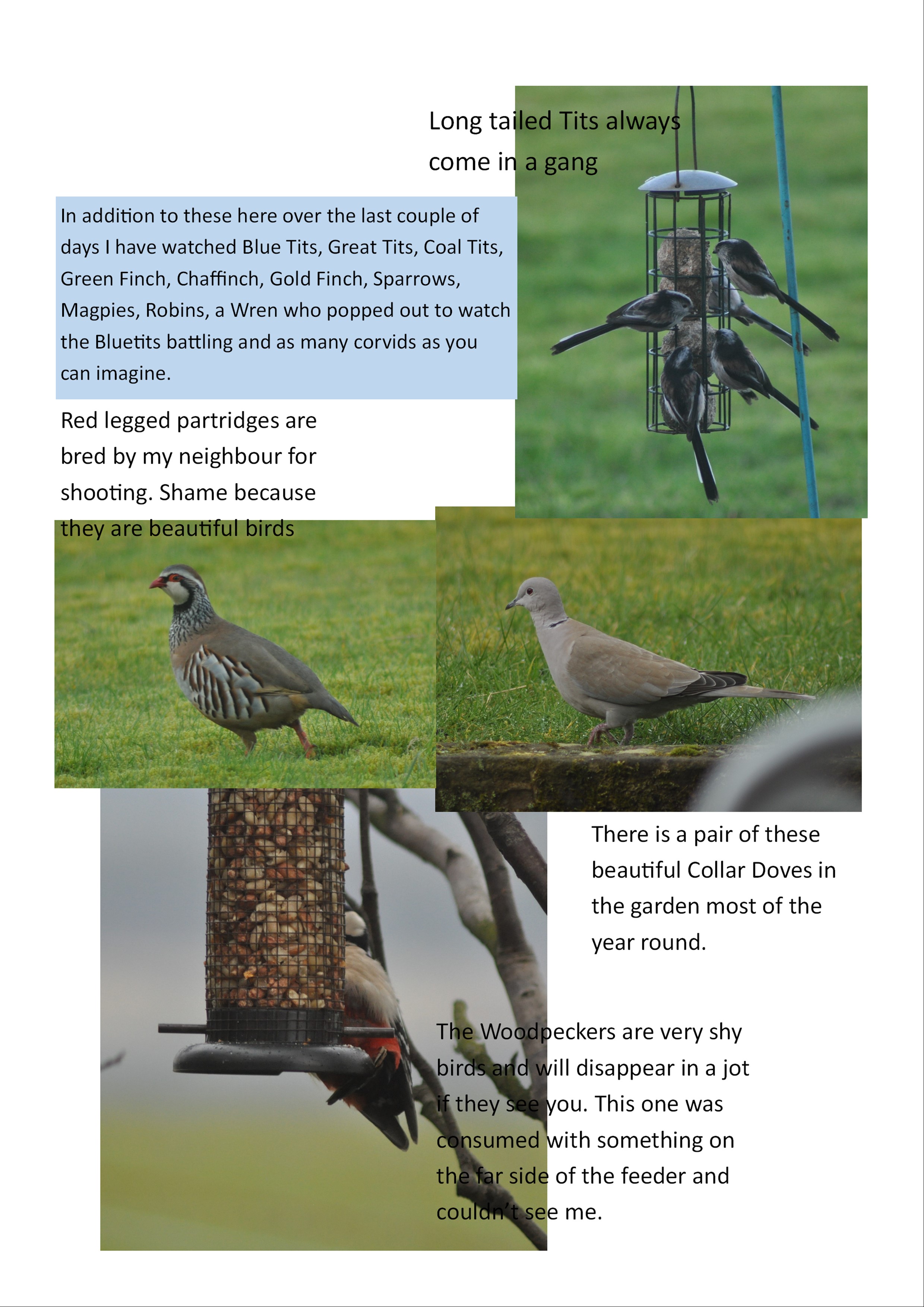 QUOTE: -

"Show me who makes a profit from War and show you how to stop the war!" Henry Ford.
On this day: -

1781 - William Herschel sees what he thinks is a "comet" but is actually the discovery of the planet Uranus.
1791 - The publication of Thomas Paine's "Rights Of Man" arguing that popular political revolution is permissible when a government does not safeguard the natural rights of its people. This was published to defend the French Revolution. It was in response to Edmund Burke's Reflections on the Revolution in France (1790). It sold 1,000,000 copies. The second part was printed in 1792. THis book greatly influenced Robert Burns who went on to write "The Rights of Wman"

While Europe's eye is fix'd on mighty things, The fate of Empires and the fall of Kings; While quacks of State must each produce his plan, And even children lisp the Rights of Man; Amid this mighty fuss just let me mention, The Rights of Woman merit some attention.

1915 - Dodgers manager Wilbert Robinson tries to catch a baseball dropped from an aircraft but the pilot had substituted a grapefruit.

===================================================================

12th March

Another blog provoked by discovering something from watching the Antique's Road Trip. Did you know that Marmalade as we know it today was made popular by Scots in the Late 18th century? I always assumed, wrongly, that the name had some sort of French root relating to a cure for sea sickness!
The word "marmalade", however, is borrowed from the Galician-Portuguese marmelada, from marmelo "Quince"! Apparently the Romans used this method of preserving fruit. Unlike Jam, which is simply fruit and sugar, Marmalade has a large quantity of water added to the fruit, the extra liquid being set by the high pectin content of the fruit. In this respect it is like a jelly, but whereas the fruit pulp and peel is strained out of a jelly to give it its characteristic clarity, it is retained in a marmalade.
The original Roman recipe , learned from the Greeks, had quinces cooked slowly with honey. This would set when cool and was called Marmalada or Marmalet, a solid quince paste.

The extension of marmalade in the English language to refer to a preserve made from citrus fruits occurred in the 17th century, when citrus first began to be plentiful enough in England for the usage to become common.
In 1797 James Keiller and his wife Janet ran a small sweet and preserves shop in the Seagate area of Dundee. In 1797, they opened a factory to produce "Dundee Marmalade", a preserve distinguished by thick chunks of bitter Seville orange rind. The business prospered, and remains a signature marmalade producer today.
On this day: -
1710 - The Birth of Composer Thomas Arne who put the words of James Thompson's poem to music. The poem was entitled "Rule, Brittania"! (note the comma) and was intended as an encouragement to Britons who at that time were quite inferior in naval terms. the Dutch, French and Spanish all possessed far more formidable Fleets. The missing comma and the addition of an "s" after "rule" has led to the public misunderstanding of the original meaning.
1881 - Andrew Watson made his Scotland debut as the world's first black, international football player and captain.

1894 - Coca-Cola is sold in bottles for the first time in a candy store in Vicksburg, Mississippi.
1946 - Happy birthday Liza Minelli.
1994 - The famous 1934 "Surgeon's photo" reportedly taken by Col. Robert Wilson is called a hoax in a deathbed confession by Chris Spurling who claimed he helped create the photo.

==============================================================
11th March

Bob Spears has sent me a couple of photographs. The first one goes back to what it was like in supermarkets pre pandemic. Bob and I volunteered to collect for Marie Curie unaware of the requirement to dress up as daffodils.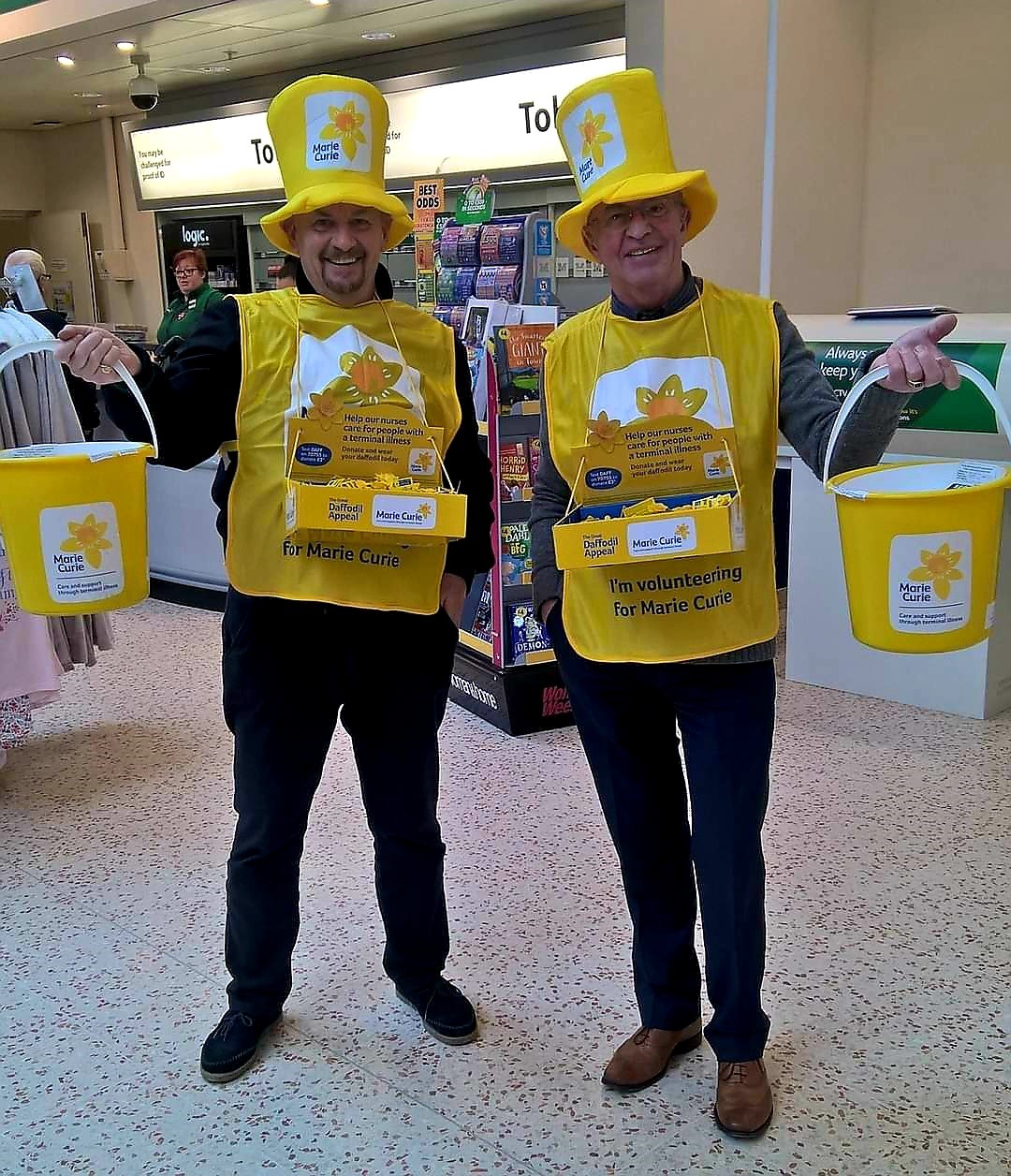 The other one goes back to our 90th anniversary celebration dinner.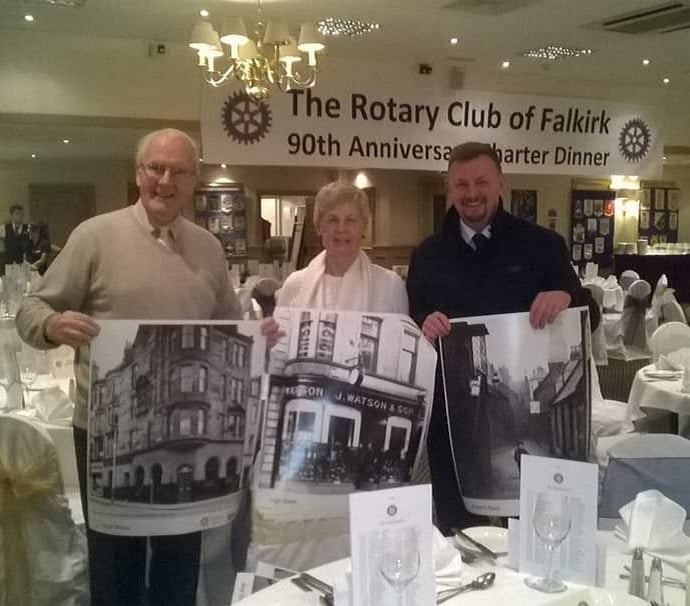 On this day: -

2020 - Covid-19 is declared a pandemic by the head of the World Health Organization Tedros Adhanom Ghebreyesus, with 121,564 cases worldwide and 4,373 deaths at that time.


Globally as of 10th March there have been to date 450,229,635 confirmed cases of Covid 19 which have resulted in 6,019,085 deaths. 10,704,043,684 vaccine doses have also been administered up until now.

===============================================================

8th March

It's International Women's Day!
The origins of International Women's Day can be traced back to the many socialist movements witnessed in the early 20th century. Adopted by the United Nations in the year 1977 and aided by the second and third waves of Feminism, this day is a reminder of the grit and determination of women all across the world.
International Women's Day is celebrated every year on March 8 to recognise the social, economic, cultural and political achievements of women. The event celebrates women's achievements and raises awareness about women's equality and lobbies for accelerated gender parity.
Catherine Blas-U Save Bakery and Cafe Philipines
We watch a lot of tele these days. Much of it centres around Country Life. Programmes like Countryfile, Springwatch and Landward. Quite often during these sorts of show we are privileged to watch working sheepdogs responding to calls of "Come by", for clockwise and "Away" for anti-clockwise. These often remind me of my teen years with my dad's cousin who was a shepherd, farmer and gamekeeper in Brisbane Glen in Largs. He had his own vocabulary for training his dogs which was usually expressed in a fearful scream! I recall that he did use the "Come by" but he would yell "Get in ahint" at the dog for the anticlockwise command.

On the subject of rural things. I regularly feed the birds in our garden and yesterday Diane called me through to the Living room to see two bluetits apparently grappling with each other on the ground outside the patio doors. I began to record video footage and when there didn't seem to be any end to the conflict I stepped outside and they immediately parted and flew away. I investigated and apparently at this time of year bluetits are pairing up and seeking nesting sites. The males can be extremely aggressive towards each other. The pair that we witnessed were tearing lumps out of each other with beaks and claws. It was, to all intents and purposes a fight to the death.

Also on this day: -
1910 - Baroness Raymonde de Laroche of Paris becomes the 1st ever licensed female pilot.
2017 - Aboriginal DNA study by University of Adelaide shows Aboriginal population of Australia dates back 50,000 years from one migration.
===========================================================

7th March

Quite often I will have a look in the fridge to see what we have and then Google the findings for a recipe. Yesterday I looked for recipes for Sea Bream and we had pan fried Sea Bream with crushed potatoes and a Basil and sweet Tomato salsa. It was delicious! When I printed out the recipe I noticed that among the ingredients it said : "2 fillets Sea Bream skin on (contains fish)" Who would have thought?

Latest gripe! I was amazed last night watching tele when I heard someone who should have known better refer to a particular sea condition as a "Spring High Tide". The name has nothing to do with the Season! Years and years ago, when I first started referring to Ordnance Survey maps I was ignorant of these things and sought to discover the meaning of the acronym HWMOST which was marked along the shorelines on the map. I discovered that it stands for "High Water Mark Ordinary Spring Tide"

There are two main tides that are higher or lower than average. They occur twice monthly and are called neap and spring tides.
When there is a high tide, the Sun, Moon and Earth are in alignment and the gravitational force is strong. These tides are known as spring tides and occur twice a month. In this case the Moon can appear in between the Earth and Sun resulting in a solar eclipse, or at the furthest point away from the Sun resulting in a full Moon. When in alignment, the Moon and Sun combine in gravitational forces to bring the highest and lowest tides of the month.
When there is a low tide, the Moon faces the Earth at a right angle to the Sun so the gravitational force of the Moon and Sun work against each other. These tides are referred to as neap tides; a low tide or one that is lower than average. A neap tide happens between two spring tides and occurs twice a month when the first and last quarter Moon appears.
On this day: -

161 - The death of Antoninus Pius the guy after whom the wall that crosses Scotland is named.
321 - Roman Emperor Constantine I decrees that the dies Solis Invicti (sun-day) is the day of rest in the Empire.
1804 - John Wedgwood, son of the pottery manufacturer Josiah Wedgwood founded the prestigious Royal Horticultural Society.
1908 - Cincinnati Mayor Mark Breith stands before city council and announces that, "women are not physically fit to operate automobiles".
1946 - Doctors mounted a campaign to oppose the introduction of a National Health Service.
2015 - The one millionth Morris Minor to be produced was sold at auction by Surrey-based specialist car auctioneers 'Historics at Brooklands' for £25,760; 55 years after it rolled off the production line at £380. The classic British car had 23,364 miles 'on the clock' and was still registered on the original number plate 1 MHU, meaning one million in engineering terms.
============================================================

6th March

I didn't post yesterday because it was my birthday and, for my birthday, I got two grandchildren to look after. So we were pretty busy all day. We took a walk around Palacerigg Golf and Country Club South of Cumbernauld. There have been some very creative folk carving stuff out of the many tree stumps encountered on the walk.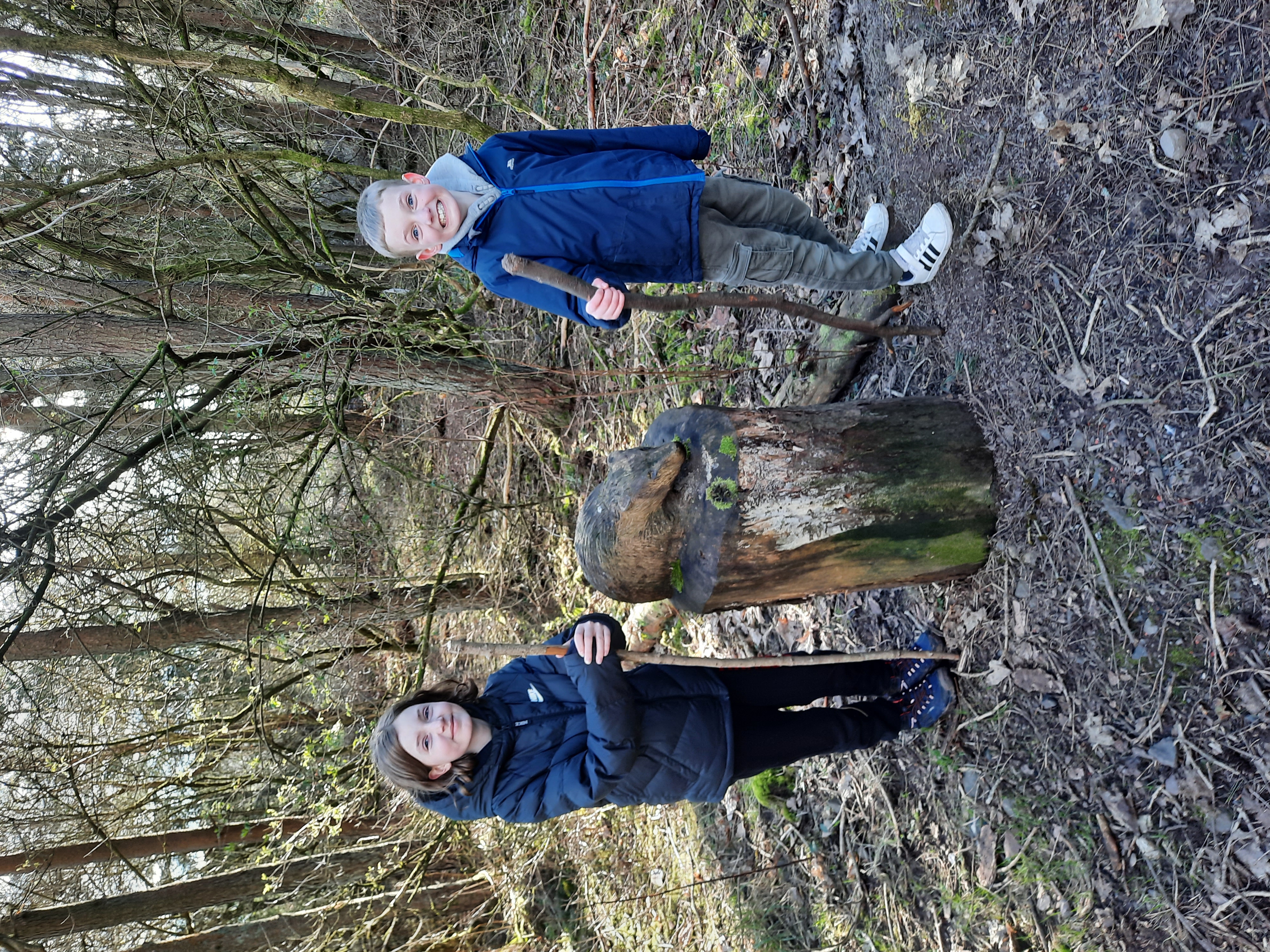 Also the weekend was a pretty momentous point in time in the life of Rosebank as the new stills were craned into the newly built distillery.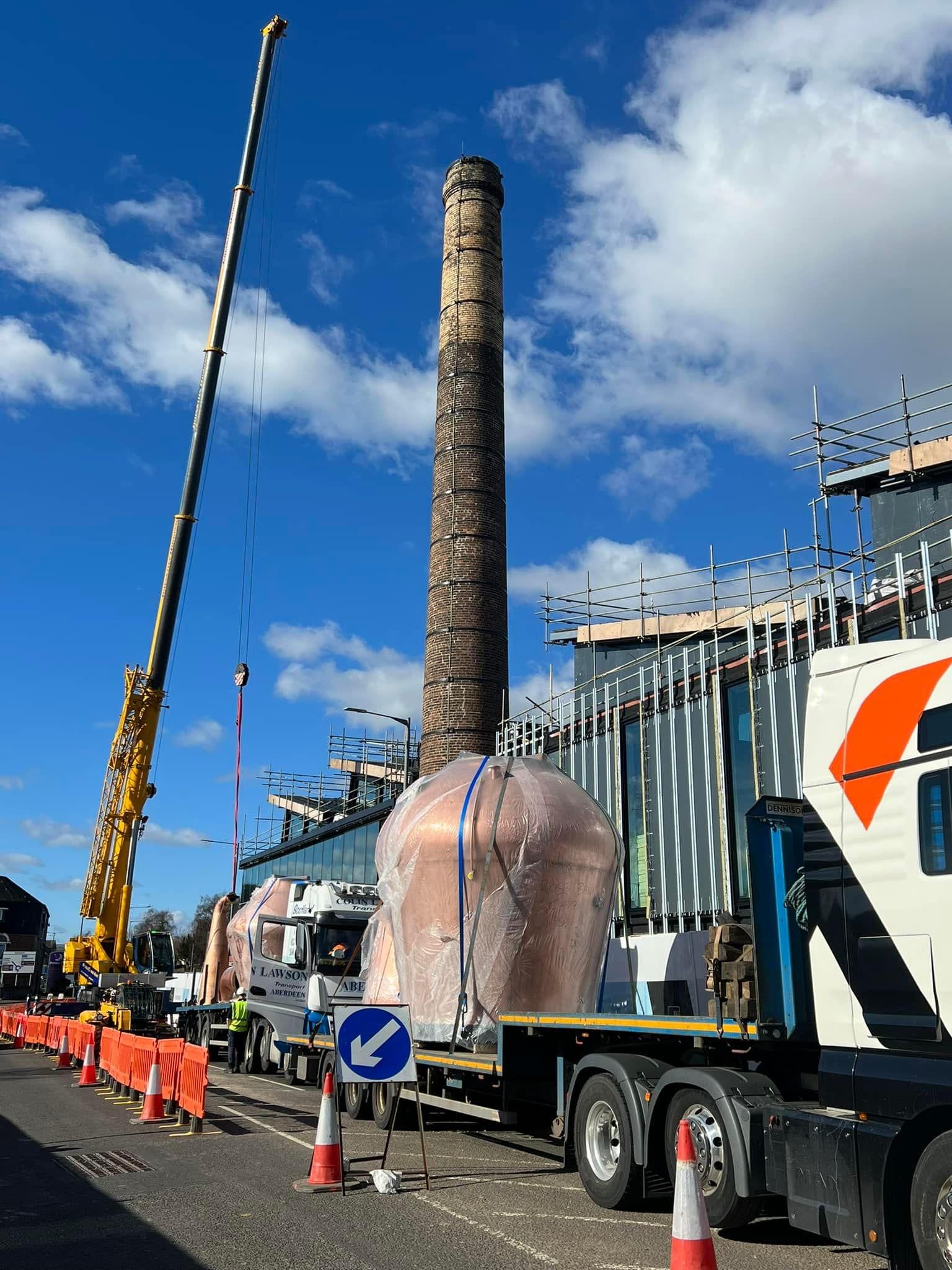 After my blog and rant about the "Forth Bridge" I got this from Gordon. I have no doubt that it is true but it is quite unbelieveable.

It is generally accepted among the Forth Pilots that the River Forth and the Forth Estuary join at Queensferry, although a few think the Estuary starts at Grangemouth.
During the Second World War ( not "WW2") a Canadian Destroyer arrived off Burntisland with the superstructure badly damaged and with no working radio. They managed to establish signal light communication with the signal station at Battery Point at N. Queensferry and were told to proceed through the Forth Bridge, turn right into to Port of Rosyth and someone would show them where to tie up. The Port was very busy and the Canuks were forgotten about. A couple of hours later a Canadian voice from a telephone box told Rosyth that they had gone through three bridges, were stuck fast in the mud and where was the fourth one?

They had gone through The Forth Bridge, Kincardine Bridge and the railway bridge over the river between S. Alloa and Throsk.
Listen or your tongue will make you deaf - Native American proverb.

On this day: -

1921 - Police in Sunbury, Pennsylvania, issue an edict requiring Women to wear skirts at least 4 inches below the knee
1937 - Happy Birthday Velentina Tereshcova. She was the first woman in space. In 1963, she flew a solo mission aboard the Soviet Vostok 6 into space. This also makes her the only woman to fly a solo mission in space. When asked how she wanted to be rewarded for her service, she requested that the government find where her father was killed during World War II. This was done, and a monument now stands at the site.
1964 - Boxing legend Cassius Clay joins the Nation of Islam and changes his name to "Muhammad Ali", calling his former title a "slave name".
1985 - The Conservative MP Ivar Lawrence made the longest speech of the 20th century in the House of Commons. He spoke for 4 hours and 23 minutes on the subject of the fluoridation of drinking water.
=============================================================

4th March

March fourth ( i.e. March forth!) is the only date in the calendar year that constitutes a sentence.
You all know how pendantic I am!! : -
pedantic
/pɪˈdantɪk/
adjective
-
excessively concerned with minor details or rules; overscrupulous.
(That last bit is debatable! or am I being pedantic?)
I have just entrered the bit about the Prince of Wales opening the "Forth" Bridge! It has always annoyed me that many people refer to it as "The Forth Railway Bridge"! It is the Forth Bridge! The next one is "The Forth Road Bridge" and the latest one is "The Queensferry Crossing!". Mind you I was hoping that they would call that the Fifth bridge! 1st - Forth Bridge, 2nd - Kincardine Bridge, 3rd - Forth Road Bridge, 4th Clackmannanshire Crossing and it should naturally follow that the next one should have been the Fifth Bridge!

I know that I have now stirred up debate about just exactly what these bridges cross! The River?, The Estuary? The Firth? or whatever.
On this day: -
1790 - The death of Flora Macdonald, the Scottish Jacobite heroine who helped Bonnie Prince Charlie (the Stuart claimant to the British throne) escape after the Battle of Culloden in 1746.

1824 - The Royal National Lifeboat Institution (RNLI was formed) by Sir William Hillary. Initially known as the National Institution for the Preservation of Life from Shipwreck, Hillary was inspired to form the charitable organization when he saw a fishing fleet destroyed by a storm off the Isle of Man. You can understand why he changed the name from NIPOLS

1890 - The Forth Railway Bridge in Scotland was opened by the Prince of Wales. The bridge is more than one and a half miles long and took six years to build.
==================================================================
2nd March
Unfortunately Irene McKie who was supposed to address the Club tomorrow has tested positive for Covid and can no longer attend. It was that lady's subject, Strathcarron Hospice, that had interested Gillies sufficiently for him to attend on that day. Arrangements had been made to collect him in a wheelchair taxi and deliver him back home again afterwards. On hearing the news that Irene wouldn't be there, he has chosen to stay at home tomorrow.

The overwhelming result of Gillies being on his own and constrained to remain pretty well stationary most of the time is that he is bored. There is nothing he would like better than visitors. If any of you can manage to visit him he would be over the moon. There is a key safe at the front door with a combination lock. If you are going to visit let me know and I will let you have the combination number which will allow you entry.

On this day
1791 - Long-distance communication speeds up with the unveiling of a semaphore machine in Paris.
1882 - An attempt was made by Scotsman Roderick Maclean to assassinate Queen Victoria. As she was leaving Windsor railway station he stepped forward from the cheering crowd, lifted a revolver and fired into her carriage. Before a second shot could be fired, he was overpowered by the crowd and arrested by Superintendent Hayes. Remaining calm, the Queen and her companions rode on to Windsor Castle.
==========================================================

1st March

It's Mardi Gras or, by translation, Fat Tuesday! and also St David's day!

Stewart and I went to visit Gillies yesterday to prime him for his visit to the Club on Thursday. I am sure that he will agree with me that he is beginning to show his age, but he was in great form, reminiscing about days in the army, days in the practice in Camelon and just general recollections.

He spoke of Craig Bryce and the antics that he got up to. He retold the story of Bob Grant asking a lady whom he was examining with her legs up in stirrups to - "Say Ahh!" and the story of Craig Bryce acting at a Ball in Mathieson's Rooms at a BDA dance as though he was limping from being heavily laden with cash in one pocket emulating a Dentist on his way home with the day's takings.
This all provokes a memory of Craig telling us about the time that he spent in Sierra Leone (I think that was where it was) as a medical examiner. There was a British Consul or other such dignitory who lived miles away from anywhere and Craig required to visit him on a regular basis as part of his duty there.
The Consul (if that's what he was) had a "boy" who was a local and served the "Consul" as house boy, house maid, cook and pretty well everything else. This boy had a reputation for making the most marvellous mince and Craig had experienced it on more than one occasion.
On this occasion, however those around the table included others in addition to the "Consul" and Craig. I can't recall how many but the mince was terrible and was served up in lumps that were almost inedible. The "Consul" was distraught and summoned the boy to explain why his work was not up to scratch.

Craig at this point always reverted to the boy's vernacular and continued as if he was the poor guy pleading for justifiable forgiveness. The fact of the matter was that the boy had not been in the habit of serving so many at one time and he had been unable to mince the beef properly because he had no mincer and he was in the habit of achieving the quality of his signature dish by chewing the meat before cooking it!

Craig swore blind that that was a true story.
On this day: -
1854 - SS City of Glasgow leaves Liverpool harbour with approximately 480 passengers and crew and is never seen again.
1978 - Charlie Chaplin's coffin was stolen from a Swiss cemetery.
1994 - Happy Birthday Justin Beiber.
==================================================================

28th February

Yesterday having been been alerted by Gordon to the fact it was "World Polar Bear Day" I happened on a facebook page which was dedicated to "World Days". So this morning I thought, that's good, I will look at that again and it can maybe form the basis for a topic.

World "Floral Design Day", however does not get my juices flowing!

So - Frank Ghery is 93 today. I don't know how many of you will be familiar with his work but it's the sort of stuff that, once seen, is never forgotten, such as the Biomuseo in Panama City: -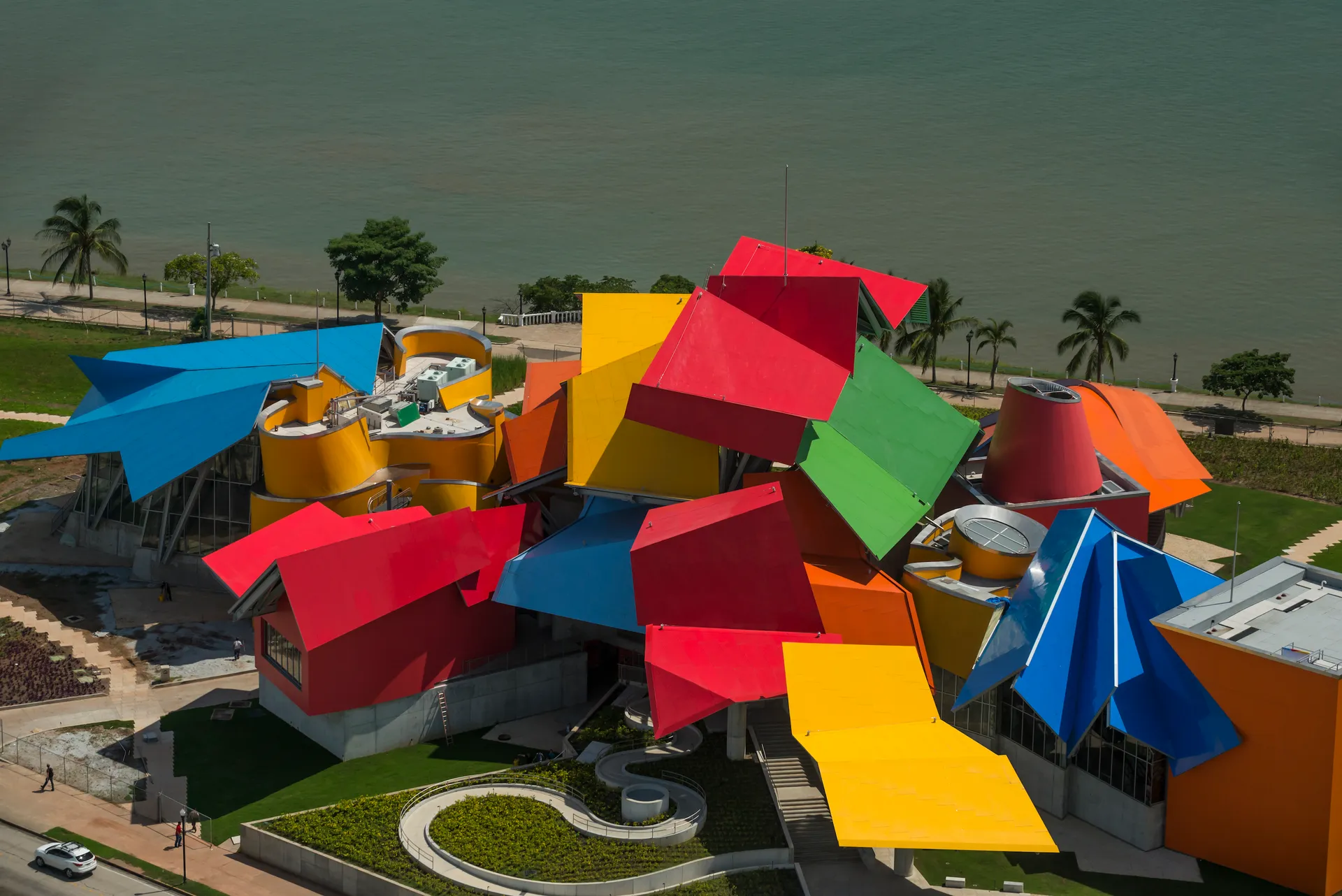 Much more recognisable as a building though is this Maggie's Centre in Dundee. Charles Alexander Jencks was an American cultural theorist, landscape designer and architectural historian. After his second wife Maggie Keswick Jencks died in 1995, Jencks helped co-found the Maggie's Cancer Caring Centres. Based on the notion of self-help and the fact that cancer patients are often involved in a long, drawn-out struggle, the centres provide social and psychological help in an attractive setting next to large hospitals. Gehry was commissioned for this, the first new-build Maggie's Centre, which was completed in 2003.: -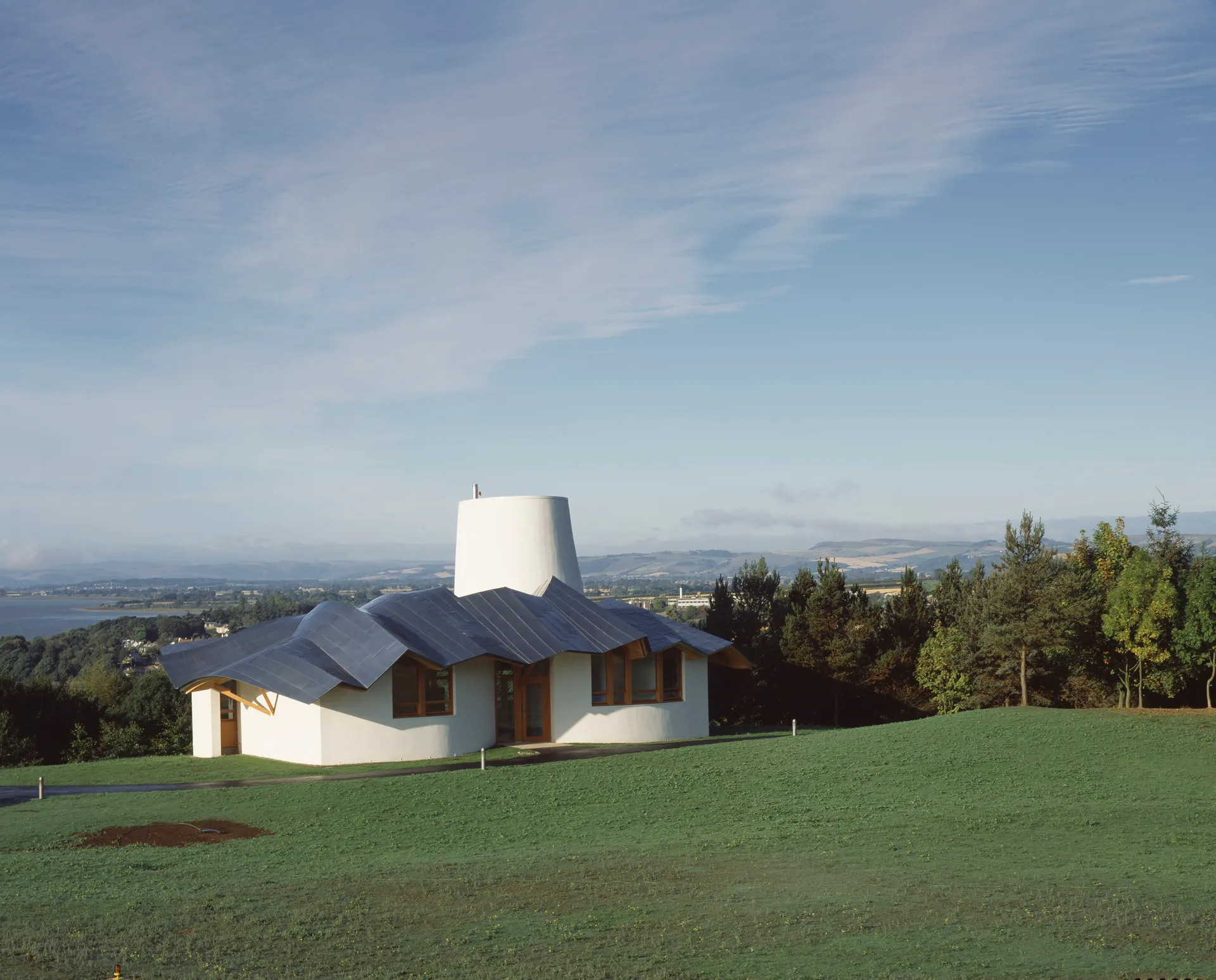 Also on this day: -

===================================================================

27th February

It is International Polar Bear day!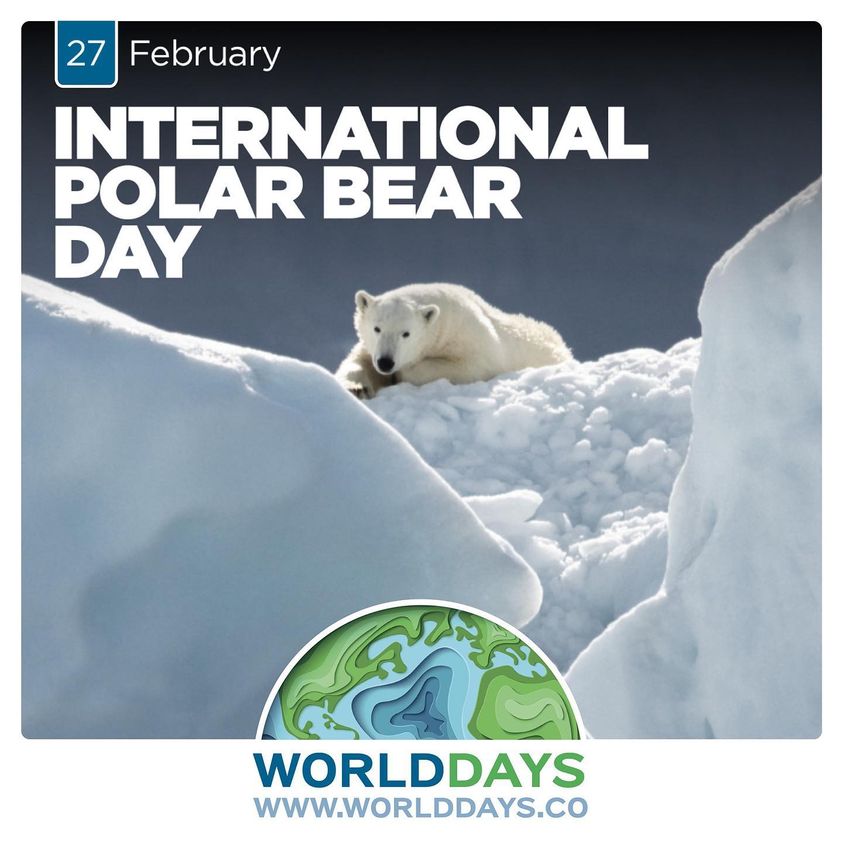 Did you know that the Polar bear is the only bear that is classified as a marine mammal?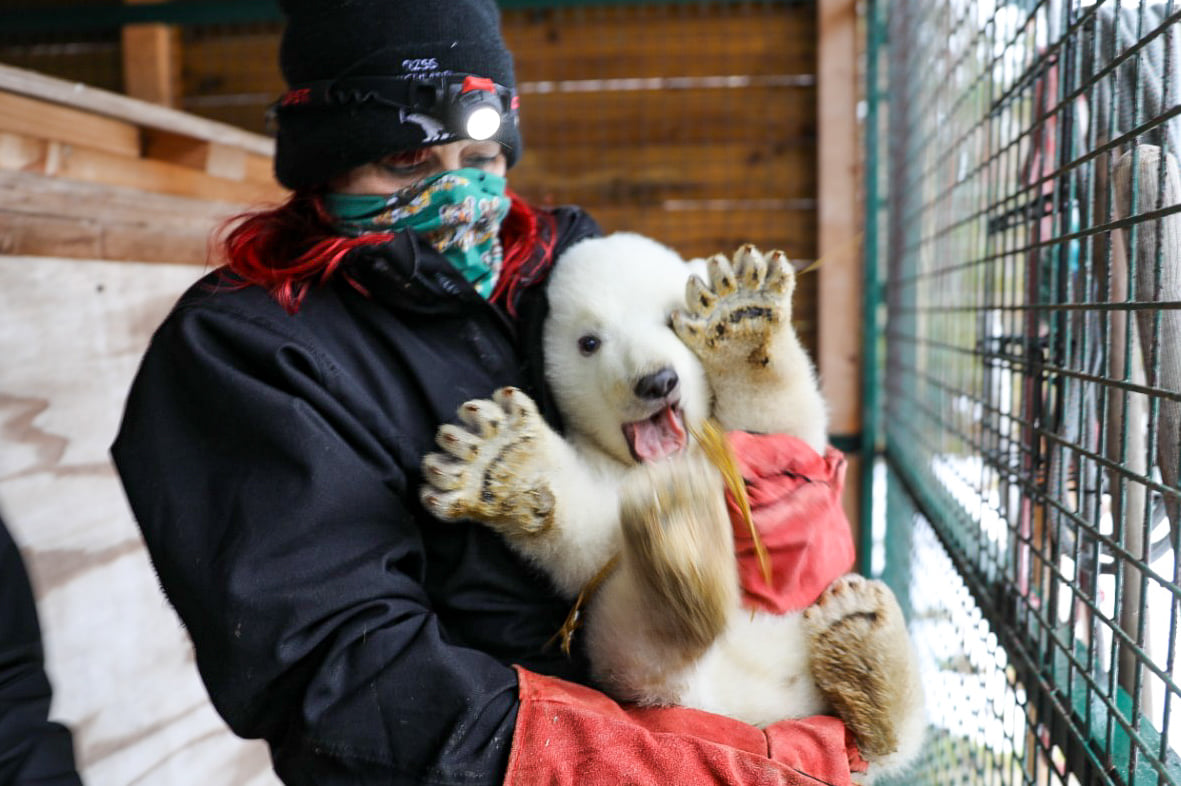 This is a new cub at the Highland wildlife park yet to be named.

Did you know that Polar bear fur is translucent, and only appears white because it reflects visible light. Beneath all that thick fur, their skin is jet black.
Male polar bears can weigh up to 800kg, (That's the approximate weight of 10 men) and are twice the size of females. This, in addition to the fact that they can measure up to 3 metres long, makes polar bears the largest land carnivore in the world.
Polar bears have a very strong sense of smell, which they use to find seal breathing holes in the ice. Once it has found the hole, the bear will wait patiently until the seal comes up for air to attack. They can even detect a seal in the water beneath a metre of compacted snow.
On this day: -

1949 - Captain Jim Gallagher, of Melrose, (Minnesota) was part of the 14-member crew of the Boeing B-50 Superfortress Lady Luck II that made the first non-stop flight around the world beginning on this date and arriving home on March 2nd 1949, having refuelled four times in the air, 94 hours and one minute after he left!

2002 - Spike Milligan dies "I told you I was ill!" is carved on his tombstone in Irish Gaelic. "I'Duirt mé leat go raibh mé breoite". After the death of Harry Secombe from cancer on 11th April 2001, Milligan said, "I'm glad he died before me, because I didn't want him to sing at my funeral." He was the favourite comic of Prince Charles who wrote a letter congratulating Milligan on winning a Lifetime Achievement Award, whereupon the comic, on live TV, jokingly labelled the Prince a "grovelling little bastard".
2014 - Chaos erupts after the Swedish Public Employment Service mistakenly invites 61,000 people to a job interview in Stockholm.
2014 - An 'unreserved apology' was issued by the British Government to the family of 47 year old Sheila Holt from Rochdale who was sent a letter encouraging her to find work, even though she had been in a coma for two months.
=================================================================

26th February

I have a vague notion that I have spoken about this before but it's only vague so I'll do it anyway. It's about the origin and meaning of the word "Tram". I was thinking about it last night and understanding that most forms of transport are recognised by short forms of other understandable words I began to wonder what Tram was short for!

Pram = Perambulator
Bus = Omnibus
Car = Autocar / Motorcar

Bike = Bicycle
and so on.

It turns out that the word Tram originates in Scotland!
Tram (n) c. 1500, "beam or shaft of a barrow or sledge," also "a barrow or truck body" (1510s), Scottish, originally in reference to the iron trucks used in coal mines, probably from Middle Flemish tram "beam, handle of a barrow, bar, rung," a North Sea Germanic word of unknown origin. The sense of "track for a barrow, tramway" is first recorded 1826; that of "streetcar" is first recorded 1879, short for tram-car "car used on a tramway" (1873).
That was really kind of disappointing because I had this notion that it might be derived from "Terra" in the form of "Terrambulator" moving across the ground.

On this day: -
1797 - Bank of England issues first £1 note. The hand-signed white £1 notes were withdrawn in the 1820s.
1917 - Original Dixieland 'Jass' Band records Livery Stable Blues and Dixieland Jass Band One-Step. The record was released the following March and was a best seller, establishing jazz as popular music.
1935 - RADAR (Radio Detection and Ranging) first demonstrated by Robert Watson Watt.

1989 - Gordon tells me that in the Herald (Glasgow) today the following is alleged - On this day in 1989 Burke's Peerage reported that King Arthur's Round Table had been found near Stirling, on the banks of the Carron. Did any of you hear about this before? I mean when was the Carron anywhere near Stirling? Do you think it might have been Larbert or Denny Round Table chucking stuff out?

2015 - 27 year old Lance Corporal Joshua Leakey from the Parachute Regiment was awarded the Victoria Cross, becoming the first living VC recipient of the Afghan war.
============================================================

25th February

I have always extolled the virtues of being a rural dweller. However it does have its downside. The other day I heard a knock at the door and, on answering, saw Alec, our neighbour's Farm Manager on the step. He had his cap in hand (literally) and came to tell me that he had just reversed into the fence at the front of Muir Rig with a tractor and trailer. I glanced down the garden to see shards of timber sticking up where the fence used to be. "Don't worry about it!" I said, "I'll see to it!" It was really nice of him to come and own up and our neighbour has always been so generous and kind to us I felt that it would have been churlish of me to demand that he fix it.

I had asssumed that all that had suffered were a few spars. OK they were Larch and not just your bog ordinary pine but hey ho! I went down today to survey the damage in detail and find that not only has he destroyed 4 horizontal spars he has displaced 3 posts. Too late to grumble now. Off to the woodyard to replace the larch and then think about how I am going to reposition the posts.

On this day: -
1570 - Pope Pius V excommunicates Queen Elizabeth of England for heresy and persecution of English Catholics during her reign. Also absolves her subjects from allegiance to the crown. How can ye excommunicate somebody that wisny a member tae begin wi?
1836 - Showman P. T. Barnum exhibits an African American slave Joice Heth, claiming she was the 161 year-old nursemaid to George Washington.
1972 - The TV show Love, American Style airs a segment called Love and the Television Set (later retitled Love and the Happy Days for syndication) with Ron Howard, Marion Ross and Anson Williams. "Happy Days" was a spin-off of this segment starring Howard, Ross, and Williams.
The story centers around their family becoming the first on the block to get a television set, forcing Ritchie to choose between his best friend or Arlene to come watch the big fight. George Lucas saw the episode and cast Howard as the lead in his 1973 film American Graffiti.
=============================================================

24th February

We have 50 - 75 mm (2-3 inches) of snow on the ground today. Excuse me while I go an fill the bird feeders....

... Ok that's them done! I'll leave them to feast. It's difficult for them in the snow so I always try to keep the feeders filled at these times.
I don't remember whether I have bored you with this before but in about 1970 the Building industry in Britain adopted Systeme Internationale. You may have heard it referred to as simply SI. That system, at that time at least within the Building Industry, eschewed the use of historical "Metric" measure by utilising, in terms of length, millimetres, Metres and Kilometres for distances in excess of 1mm. We never used Centimetres.

The weird thing about that change was that pieces of timber for instance became "things"! Before hand a joist would be described as a "4x2" or a "6x2" variously "6ft 6 inches" or such like, long. Within the new SI system these should have changed to "100x50" or "150x50" 2 metres long. But that didn't happen. The site personel continued to recognise the item in its original form but adopted the SI unit of length alongside it. Thus we get a 2m length of 4x2!! Amusing, but it seemed to work.
The point is that I have been fully metricated since that time and, because of my age, am often seen to be weird. For instance when visiting the doctor or nurse I am often asked about my weight and height and I always reply in the form of Kilograms and metres which always seems to surprise the medical staff.

It was about 10 years later in the early eighties when I began to use Computer Aided Drafting and have never looked back since. (Note the spelling of drafting! A draughtsman is someone who fills up spaces around doors.)

I remember asking the gent who was installing our first computer in the office (it had a 100mm floppy disc drive installed for storage!) whether the memory was such as accommodate a doctoral thesis on Cancer (Rory's daughter was doing just that and our secretary was typing it up for her) The chap replied "It has a 64K memory which is loads more than you are ever likely to need"!

The laptop upon which I am currently recording this has a 4.00GB RAM (Random Access memory) That's the one that it uses while you work; along with a 400GB storage memory and a 1.6GHz processor.

To put that in context 1980 = 64K .... while 2020 = 400,000,000K or 6,250,000 times bigger!

On this Day: -
=============================================================

23rd February

Did you notice that yesterday at 22 minutes past ten last night it was 22:22, 22.02.2022?
The Swimarathon is back! Put the date in your diary! We need lap counters! We need swimmers! We need sponsors! If you can assist with any of these things then say so and let's make this an event to remember.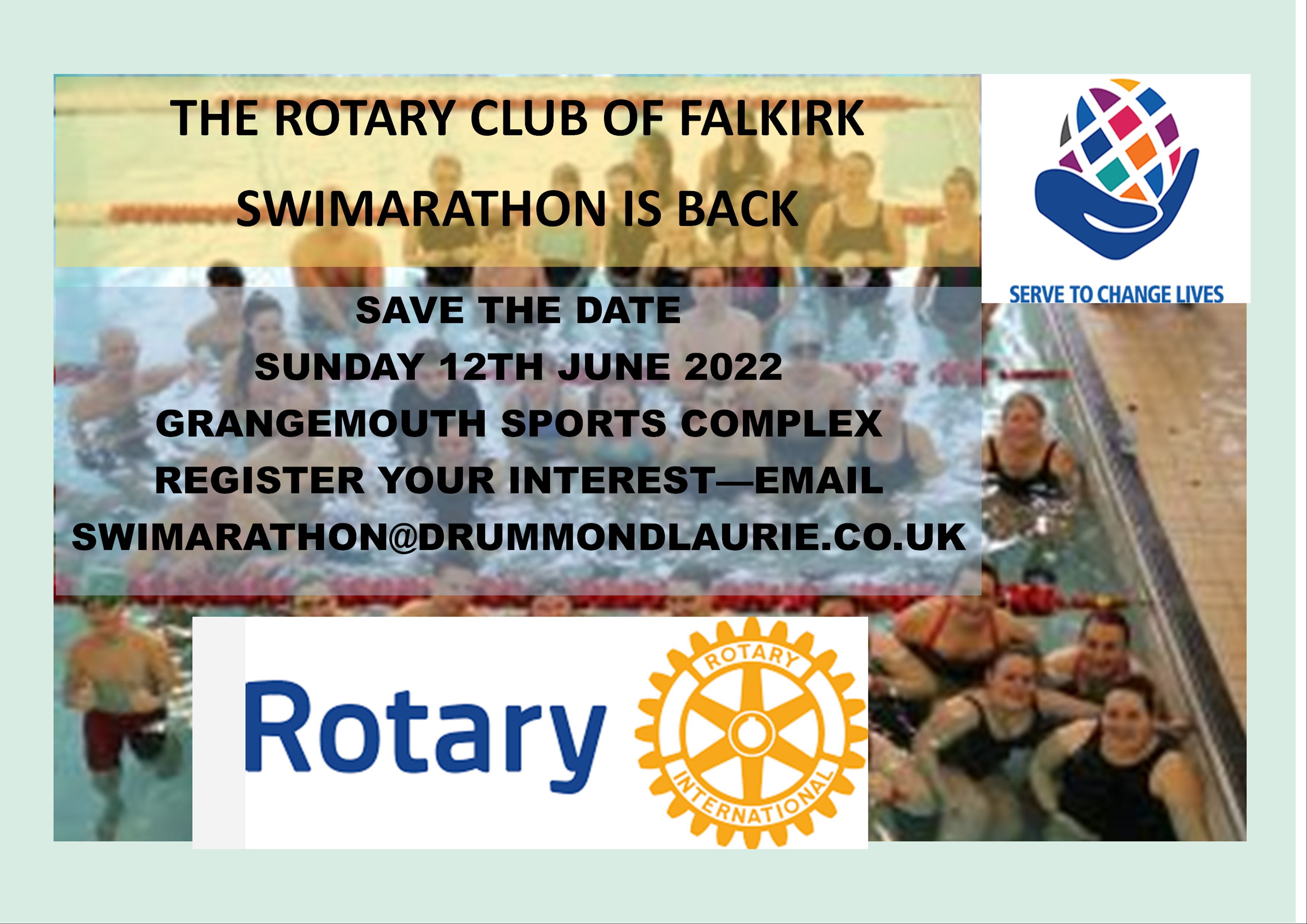 On this day: -

1836 - The Seige of The Alamo began. The siege lasted for 13 days, but on the second day Colonel Travis smuggled out a letter that read: "To the People of Texas and All Americans in the World…. I shall never surrender or retreat…. Victory or Death!"
1874 - Major Walter Clopton Wingfield patented an outdoor game he called 'Sphairistike', later known as lawn tennis. Eventually it was adopted by the All England Croquet Club which sponsored the first Wimbledon championships in 1877.
1905 - Rotary was founded in Chicago.

========================================================

21st February

It's that time of the month again! If you can manage it and if you haven't already done so please consider donating a proportion of the lunch money you have saved to the Food Bank.

I was looking through my archives seeking a topic for today and came across these.: -
Denny & Dunipace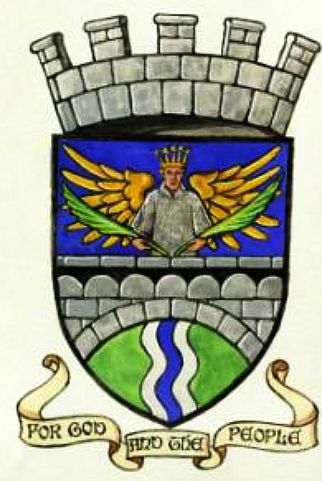 Grangemouth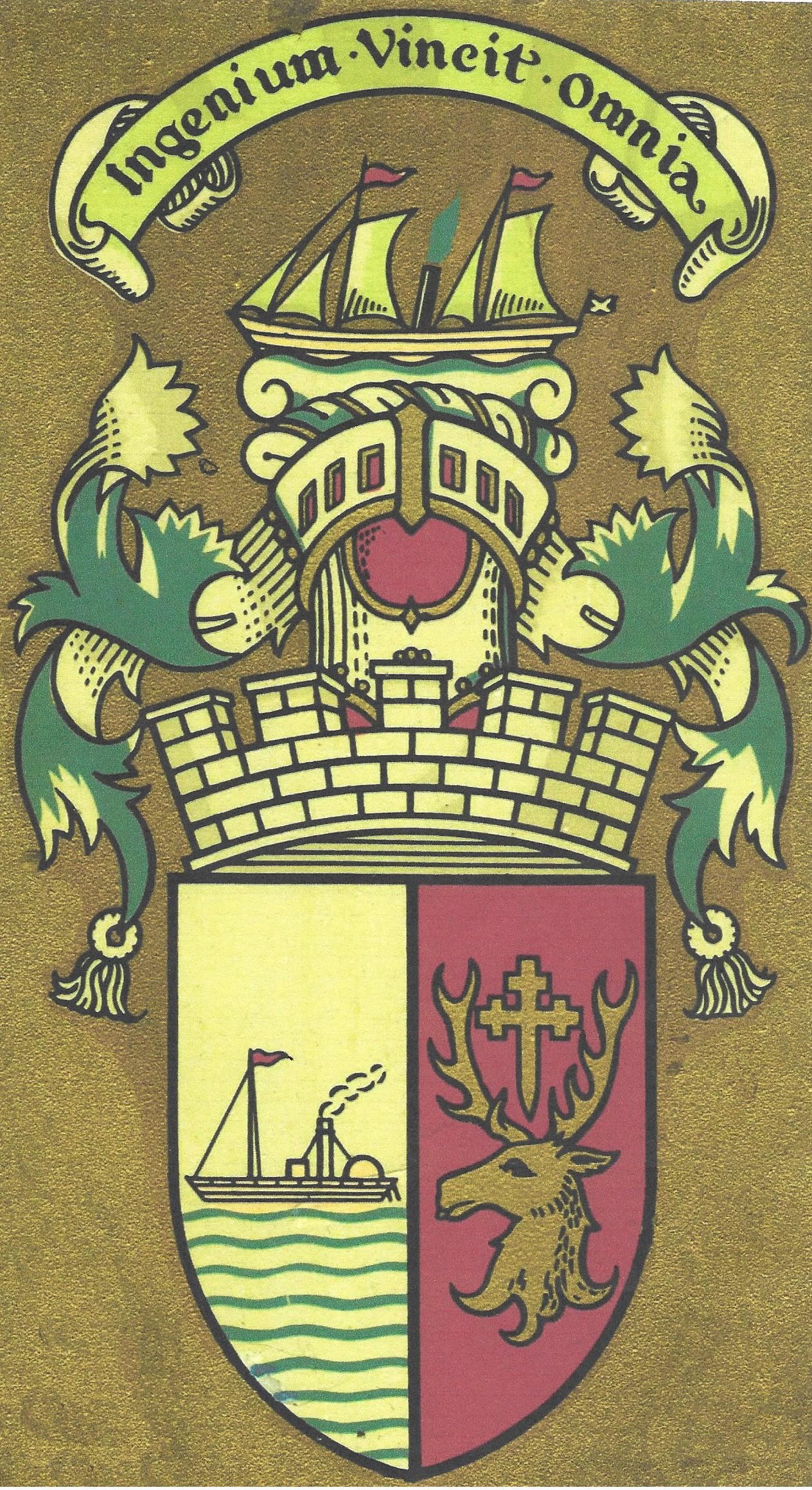 And Falkirk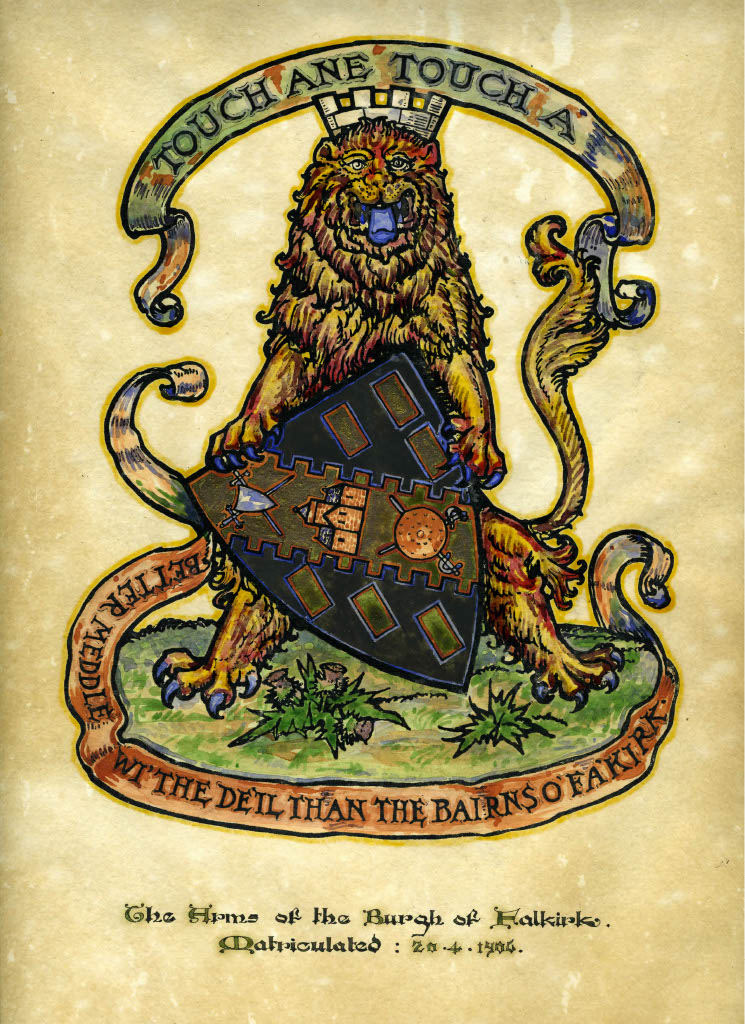 At one point in time before the amalgamation of the three burghs Wilson and Wilson were Burgh Architects to both Grangemouth and Denny & Dunipace and I've had these since I closed the office. I gave the original of the Grangemouth one to Robert Spears but was curious about the Latin motto "Ingenium Vincit Omnia", which I have discovered translates as "Skill Conquers All". The arms are described as follows: -

Parted per pale Argent and Gules: in the dexter on a base undy Azure and of the First a representation of the Charlotte Dundas steamship Proper; and in the sinister a stag's head erased with a cross-crosslet fitchee between her attires Or.
Above the Shield is placed a Burghal crown and a Helmet befitting their degree with a Mantling Azure doubled Argent, and on a Wreath of their Liveries is set for Crest a steamship on the waves of the sea all Proper, and in an Escrol over the same this Motto "Ingenium Vincit Omnia".
I don't pretend to understand any of that but it did interest me. While the town was founded about 1777 by Sir Laurence Dundas of Kerse the arms were not created until 1930. They partly reflect the device on the Burgh Seal adopted in 1888. The stag's head with the cross-crosslet recalls the town's connection through Abbots Kerse with Holyrood Abbey, which once held the Lordship of Kerse, and with the Bellenden family who were granted it as part of the Barony of Broughton after the Reformation; such a feature appears on old Abbey seals and in the Bellenden arms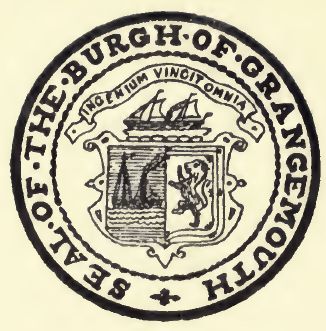 On this day: -
2018 - Billy GRaham dies at the age of 99. He had been the spiritual advisor to every US President from Harry Truman to Barack Obama. He is considered to be the most successful evangelist the world has known, having preached the gospel to more people than anyone in history.

1958 - The Peace symbol, commissioned by the Campaign for Nuclear Disarmament was designed and completed by Gerald Holtom. The logo was not copyrighted and later became known in the wider world as a general-purpose peace symbol. The design incorporated the semaphore signals for 'N' and 'D' standing for 'nuclear disarmament'.

Now I never knew that!

1995 -

A man found a 40lb pike in a flooded bunker at Wetherby Golf Club in West Yorkshire while he was searching for a ball.
2008 - The death of Sunny Lowry, the first British woman to swim the English Channel (1933). She was berated as being a 'harlot' as her light two-piece suit, which was considered very daring at the time, bared her knees.
==============================================================

19th February

What a beautiful morning! I make no apolologies for posting yet again the magnificent view we have on these occasions from Muir Rig.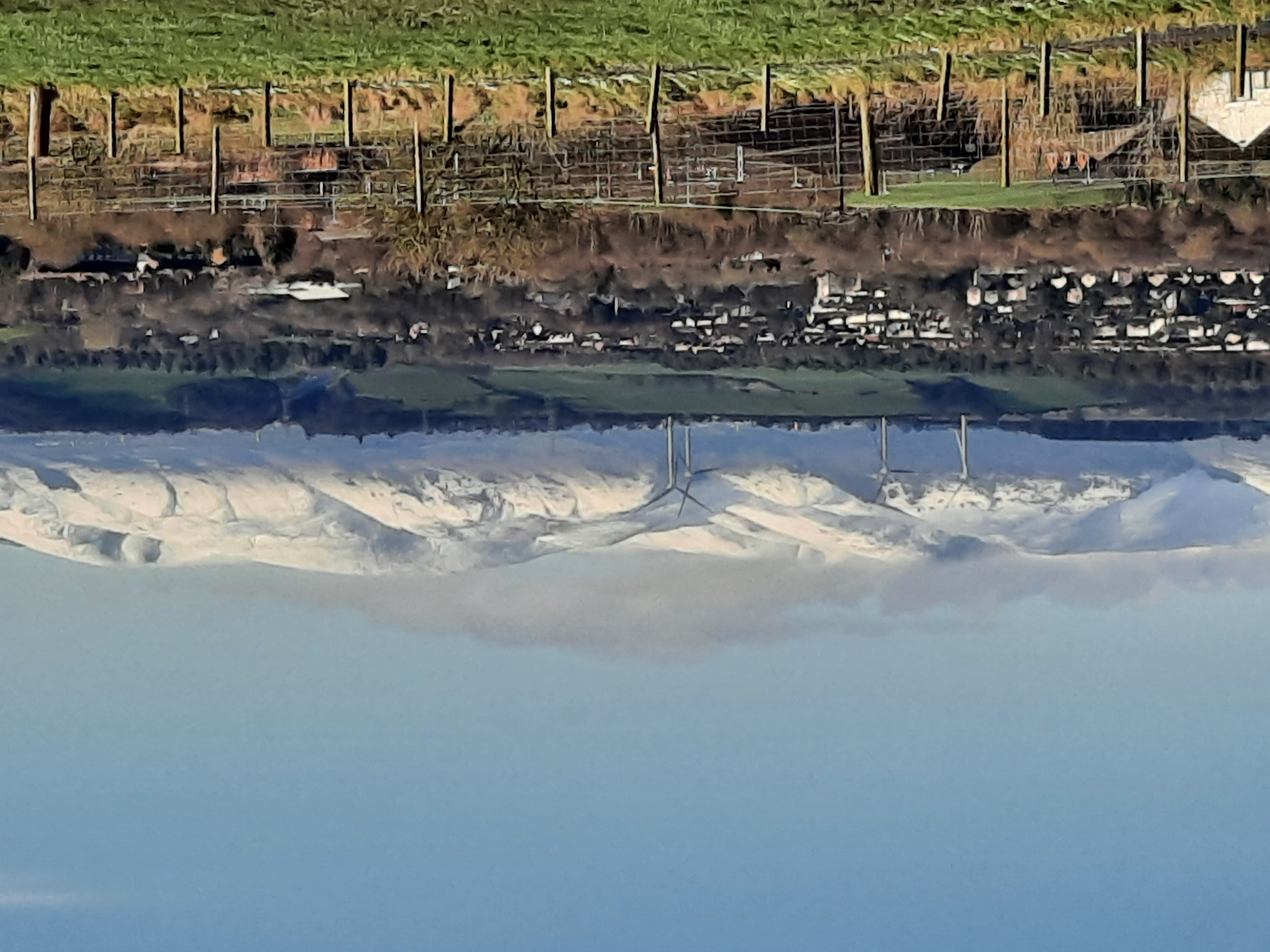 I had to visit Gartnaval Hospital Beatson Unit yesterday to have three gold markers implanted in readiness for my radiotherapy. My appointment was at 09.10 and given the weather forecast and the rush hour I didn't relish the prospect of driving through to Glasgow at that time so we stayed the night in the hotel right outside Gartnaval.

We arrived Thursday night about 5.00pm to the realisation that I had not brought spare hearing aid batteries and my left aid had just given up the ghost. I managed, however, to get by with just one.
We had dinner, watched the tele wi' a wee hauf and first thing in the morning, at 08.55 after a full Scottish breakfast, I set out on foot for the Beatson.
Or so I thought.
There is no access to or egress from the Hotel on the front facade so I had to walk around the hotel to the front. My excuse is that that disoriented me and I ended up walking 700 metres up Great Western Road before I realised that I was on the wrong road. I swiftly about turned and ran back towards the hotel and thence to the Hospital. All in all it was nearly 2K when I ought only to have walked 500m from the Hotel to the Unit.
Happily, during this time it had stopped snowing but there was a modicum of sleet and the footways were inches deep in slush. The result was that I arrived at the Beatson wi' soakin' feet and trooser cuffs drippin'.
The folk at the Beatson, however, were very understanding and waved away my apologies for being late. I was astonished, after all my exertion, to see my blood pressure lower than it has been for ages.
I was processed and had my three 24carat gold implants in place within 45 minutes. They wil remain with me for ever but it does mean that I now have some intrinsic worth in cash terms.

On this day: -

1901 - The birthday of Florence Beatrice Green, a former member of the Women's Royal Air Force. She was the last known surviving veteran of the First World War and died on 4th February 2012, aged 110.
1906 - Will Keith Kellogg and Charles D. Bolin found the Battle Creek Toasted Corn Flake Company, now the multinational food manufacturer Kellogg's.
1945 - 980 Japanese soldiers reportedly killed by crocodiles in 2 days on Ramree Island, Burma.
1960 - Happy birthday Prince Andrew.
1988 - Two men begin a horseback journey from the southern tip of South America to the Arctic Circle, completing the voyage in September of 1993.
===============================================================

17th February

Some time ago I was asked to prepare proposals for altering the premises at St Crispins Place to accommodate Newsline. At that time the place constituted one large empty space with a blackboard on one wall. I noted what I thought was the word "FLAG" neatly printed in bold large letters across the top of the blackboard (or should I say "chalkboard" these days?). I was curious but was later enlightened to discover that these premises had previously been occupied by "Falkirk Lesbian and Gay" community group.
Since then I have seen the acronym change a few times, each time by the addition of one digit. Lesbian and Gay became "Lesbian, Gay and Bi" and then progressively were added "trans", "Queer" and laterly "Plus" to arrive at the current "LGBTQ+"! Surely that is just "people" is it not?

Another thing that occurred to me while watching tele last night. It was Michael Portillo's railway journeys around Britain's coast. He was on Iona and talking to a lady about the Abbey and St. Columba. That had huge effect on me for a few reasons. The first is that while am not in the slightest religious (in fact some might say irreligious) my only visit to Iona Abbey left me with an uneasy feeling that I have never experienced before. I actually left a prayer for my sister who was undergoing heart surgery at the time.

The second was the notion that St. Columba was supposed to have visited the island to spread the word of God. I would have thought that an uninhabited island such as Iona was not the best place to do that although having said that he seems to have been surprisingly successful.
The third thing came later and not really connected. The English Monarchy under the incumbent HenryVIII eschewed Catholicism and created the protestant Church of England just so that he could get a divorce which the Pope had denied him. As head of that Church and "Defender of the faith" he could grant himself a divorce. But.... if England became the "Protestant" Country that dumped the Catholic Stewarts simply because they were Catholic, why is it that they continued to recognise the saints that were and continue to be Beatified and Canonised by the Catholic Church?

On this day: -
1909 - Geronimo dies!

1972 - Britain joins the Eurpean Common Market.
1991 - Happy birthday Ed Sheeran.
2016 - Oldest known case of human-Neanderthal sex (100,000 yrs ago) revealed by Max Planck Institute for Evolutionary Anthropology (Leipzig), 50,000 year old Neanderthal woman's remains from Altai mountains show traces of Homo Sapiens DNA
==============================================================

16th February

I have heard it all now! I have become a great fan of the biathlon at the Winter Olympics. Now there's an Olympic sport! Forget your synchronised swimming! The competitors all end up flat on the ground with their face in the snow absolutely drained. This morning however I could not believe my ears when I heard the commentator say "It's cold out there and slippy!" Winter Olympics man!

Just in case you are not in the habit of checking your emails the face to face meeting on Thursday (tomorrow) has been cancelled. Two key members have tested positive, another has a chest infection and I have chosen to stay away because I am due to attend Hospital on Friday first thing to have the gold seeds implanted in readiness for radiotherapy. There will however be a Zoom meeting. It's our annual business meeting and it would be great to have a full house.

On this day: =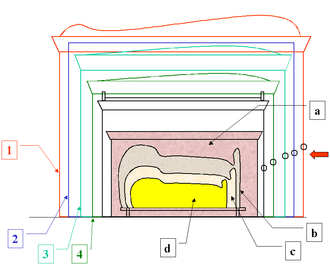 ==============================================================

15th February

Nat King Cole died on this date in 1965. At 15, he dropped out of school to become a jazz pianist. Cole said he "played piano at almost every beer joint from San Diego to Bakersfield". Legend has it that at one of the venues a drunken customer jammed a paper hat onto the pianist's head and proclaimed, "Look! King Cole!" The name stuck.
In 1948 he bought a house at the exclusive all-white Hancock Park development in Los Angeles, where former residents included people such as Howard Hughes, Katherine Hepburn and Mae West.

The Ku Klux Klan responded by placing a burning cross on his front lawn. Members of the property-owners association told Cole they did not want any undesirables moving into the area.

Cole famously retorted: "Neither do I. And if I see anybody undesirable coming in here, I'll be the first to complain."
I don't think that I have ventured any political opinions on this page before but considering the current situation in Ukraine I thought that this was poignant.

February 15th 1848 U.S. President Abraham Lincoln writes in a letter his thoughts on preemptive war: -

Allow the President to invade a neighboring nation, whenever he shall deem it necessary to repel an invasion, and you allow him to do so, whenever he may choose to say he deems it necessary for such purpose-and you allow him to make war at pleasure. Study to see if you can fix any limit to his power in this respect, after you have given him so much as you propose. If, today, he should choose to say he thinks it necessary to invade Canada, to prevent the British from invading us, how could you stop him? You may say to him, "I see no probability of the British invading us" but he will say to you "be silent; I see it, if you don't." The provision of the Constitution giving the war-making power to Congress, was dictated, as I understand it, by the following reasons. Kings had always been involving and impoverishing their people in wars, pretending generally, if not always, that the good of the people was the object. This, our Convention understood to be the most oppressive of all Kingly oppressions; and they resolved to so frame the Constitution that no one man should hold the power of bringing this oppression upon us.
Also on this day: -

1965 - Canada's new red and white Maple Leaf Flag is officially raised for the first time. February 15th is now celebrated as Flag Day in Canada.
2003 - Protests against the Iraq war occurred in over 600 cities worldwide. Estimates from 8,000,000 - 30,000,000 people took part, making it the largest peace demonstration ever.
=================================================================

14th February

It's Valentines Day! So whit!
I got three responses from my challenge about the bridge yesterday. Two were spot on (including Jim) and one was 180° out in the wrong direction. But at least it was a guess in the spirit of things. So this is where it is: -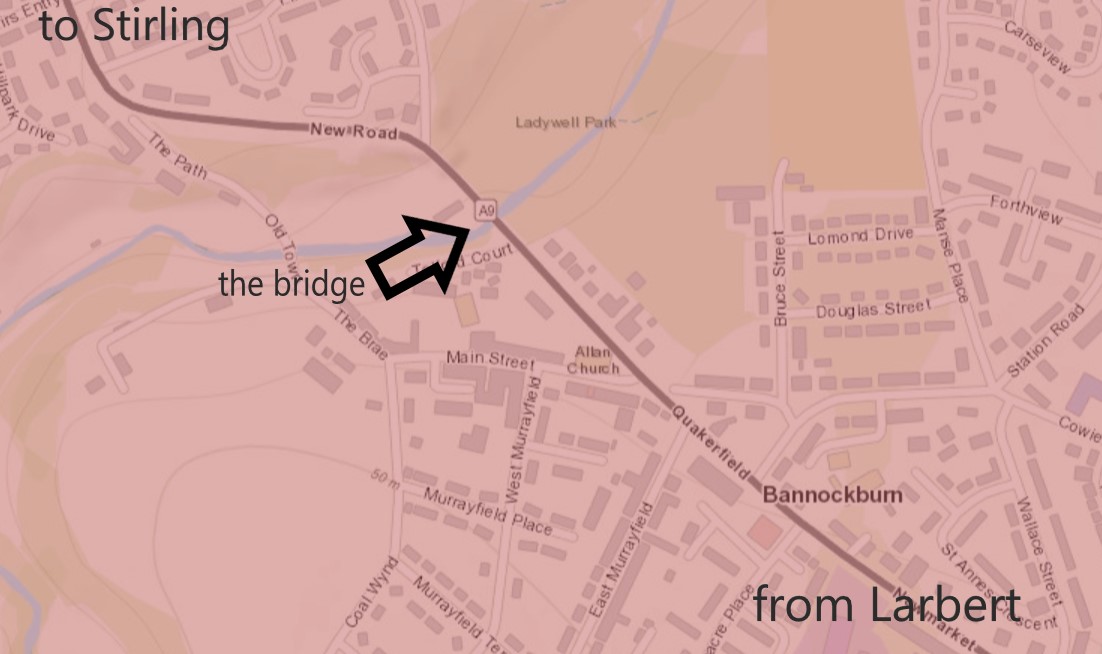 On this day: -

1779 - Captain James Cook the legendary British (Scottish) explorer, was savagely murdered on this day after a confrontation with islanders at Hawaii who had mistaken him for a god. He got away with the pretence initially but had to return to the islands for repairs after a storm. The Islanders relised then that "Gods'" ships wouldn't suffer like that. There was a skirmish in which Cook was stabbed and beaten to death with stones. Ironically, the Hawaiians ritualistically prepared Cook's corpse as they would that of a king. They preserved his hands in sea salt, then roasted the rest of his body in a pit before cleansing his bones.
1924 - Thomas J Watson renames the Computing-Tabulating-Recording Company (CTR) as International Business Machines (IBM)
1945-2022 - Sandy doesn't get a Valentine card!
2003 - Dolly the sheep dies!
=================================================================

13th February

I didn't have far to look for my subject today. My son, Peter, often goes for walks and he, like we, send photographs to a Whatsapp page we have entitled "Where am I?" The idea is that you have to guess where he is simply by looking at the photograph. Yesterday he sent this one: -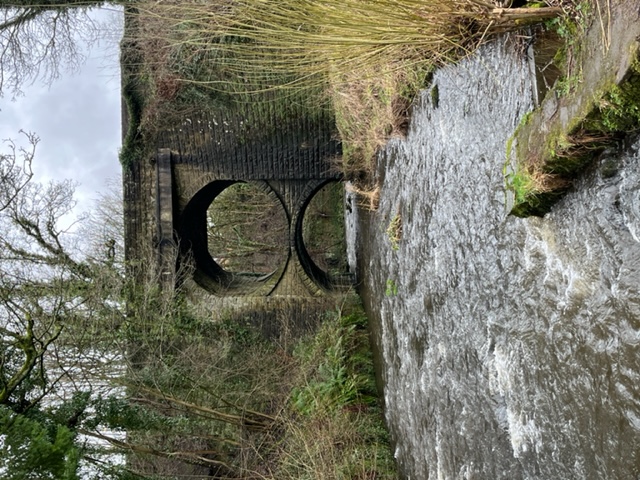 I didn't have a Scoobie! Can you identify it? I guarantee that you have passed over it many many times. It lies 10K as the crow flies from the Centre of Falkirk. Designed by Thomas Telford. I won't tell you where it is yet. I will wait until I get some suggestions. Surely locals that have a bent for History and Engineering (Jim Cairns) will know instantly.

On this day: -
1917 - Mata Hari is captured in France during World War I. She was sentenced to death as a German spy. At her execution she refused a blindfold and blew a kiss to her firing squad.
1971 - U.S. Vice-President Spiro T Agnew hits three spectators with golf balls during the Bob Hope Desert Classic. On his first drive he sliced, hitting a man and his wife with the same ball. After apologizing he hit his next shot into the gallery, striking a woman in the ankle, sending her to the hospital for x-rays.
The previous year at the same tournament, he hit teammate Doug Sanders on the back of the head.
1974 - Happy Birthday Robbie Williams.
===============================================================

12th February

I spoke yesterday about my brother. He has two daughters. One was married in Switzerland and celebrated after the ceremony on the Ski slope still in her wedding dress: -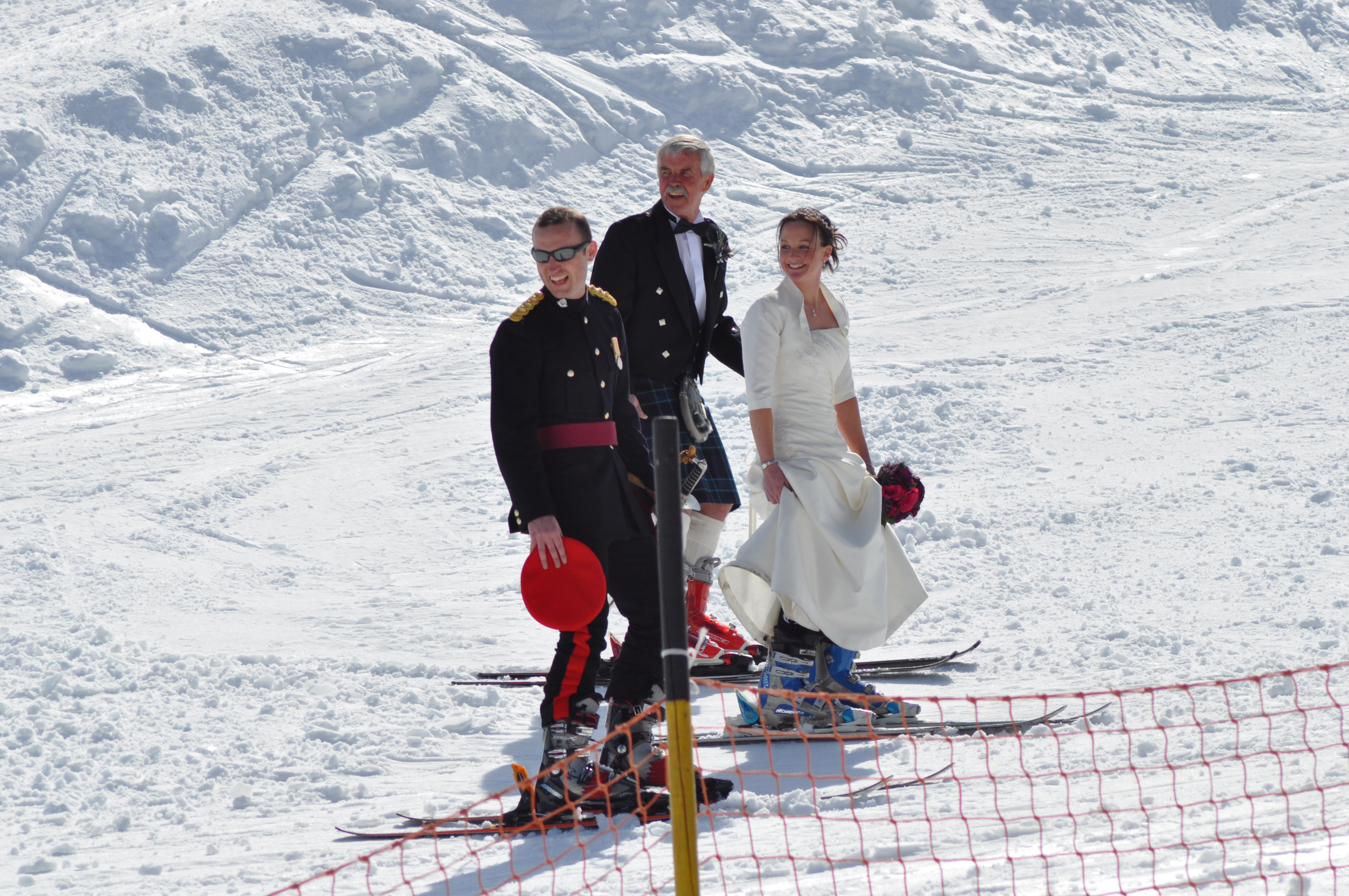 The other was married in Jersey (The island not the jumper) and, along with the Vicar, her husband and many of the assembled guests, immediately after the ceremony discarded the Wedding togs and went for a dip in the sea! Her swim suit had "Just Married" embroidered on the bum!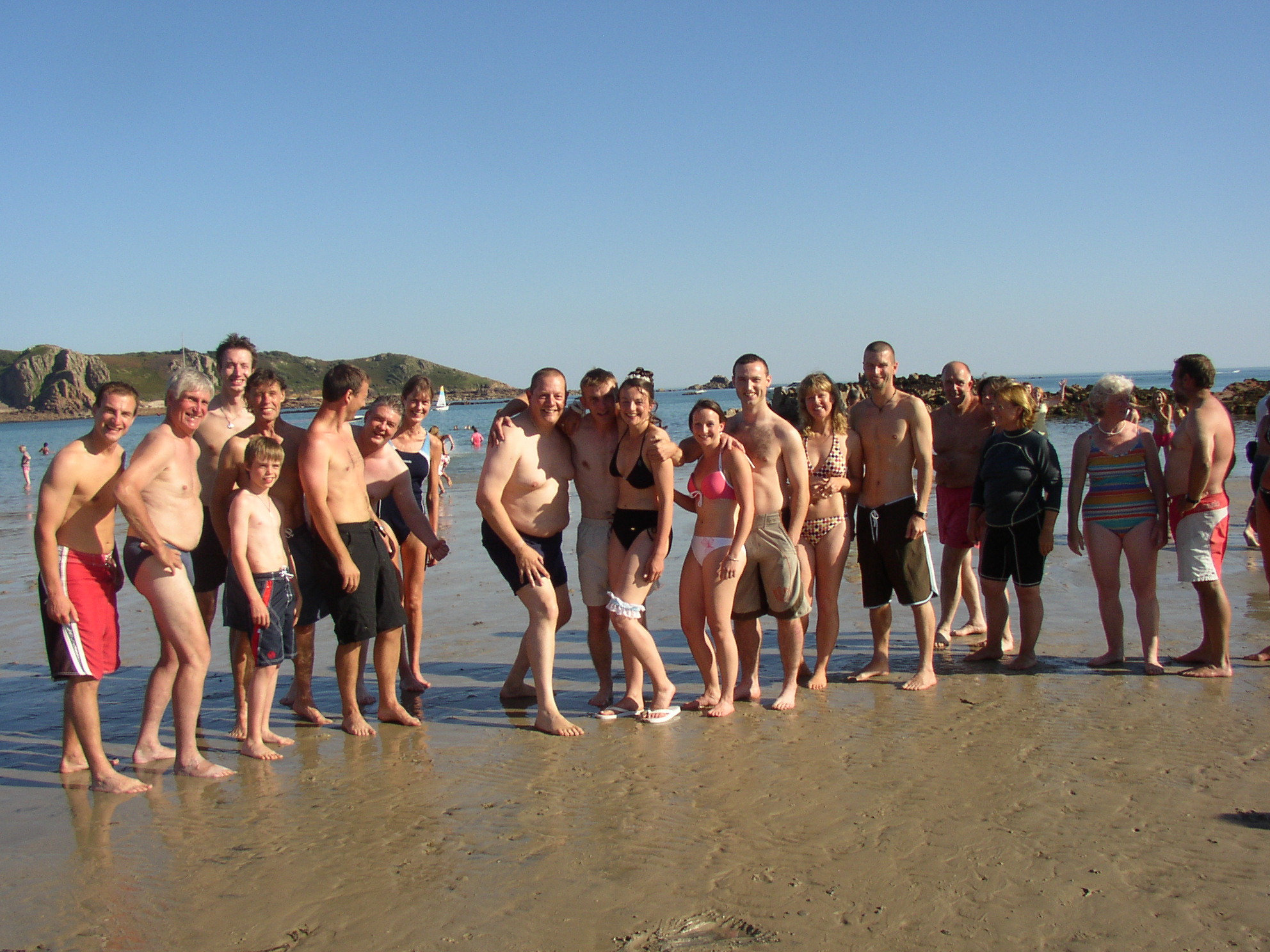 Weird family eh?

=============================================================
11th February

It's my wee brother's birthday today. He is 74! Brian has spoken to the Club before about "High Level Insertion"! That's jumping out of an aeroplane at 50,000 ft and free falling into enemy territory to avoid detection by RADAR. He was the coach of the RAF Falcons. The RAF free fall parachute display team. He has the Queen's award for Gallantry and he is my hero.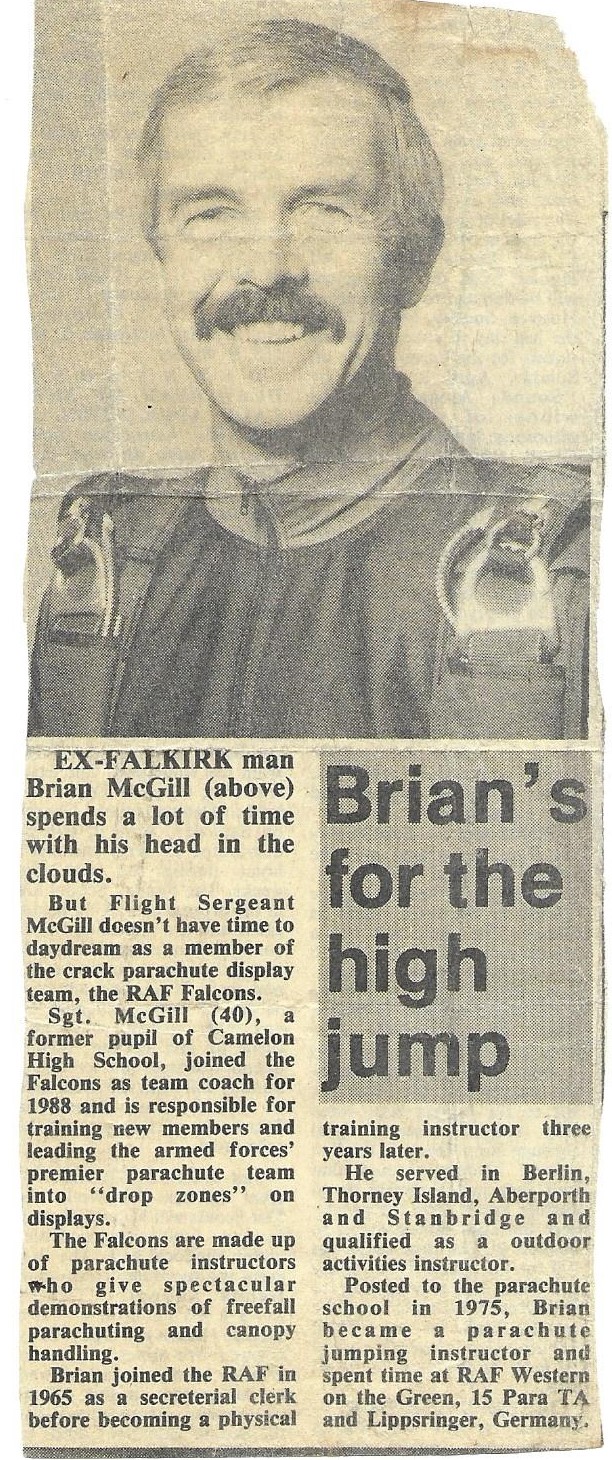 No matter how successful he was in reaching the absolute pinnacle of his profession, any time he tried to cajole me into a parachute rig I always replied "There's only only one thing more stupid than getting into an aeroplane and that's jumping out of a perfectly good one!"

On this day: -
1650 - Death of Rene Descartes - of "Cogito Ergo Sum - I think, therefore I am" fame. Classic.
Decartes he once wondered because
of the mind and the thing that he does
His quest for the Truth
Was lacking in proof
But he thought and therefore he was!
1895 - The lowest ever UK temperature of -27.2°C was recorded at Braemar in Aberdeenshire. This record was equalled, also at Braemar on 10th January 1982. Minus 27°C was also recorded at Altnaharra (Highland) on 30th December 1995.
1990 - Nelson Mandela is released after spending 27 years imprisoned in South Africa.
2006 - U.S. Vice-President Dick Cheney accidentally shoots his hunting partner while on a quail hunting trip in Texas. The victim, Harry Whittington, later apologised stating, "My family and I are deeply sorry for everything Vice President Cheney and his family have had to deal with." Cheney has yet to apologise to his victim, stating he didn't need to apologise.
===================================================================

10th February

While scanning for the "on this day" stuff I found this: -
The Tonight Show
host Jack Paar's water closet joke is censored, causing him to walk off the show the following night. Referring to a toilet, even as a water closet, was taboo. He returned a month later.
The Joke: -
An English lady, while visiting Switzerland, was looking for a room for a more extended stay, and she asked the schoolmaster if he could recommend any to her. He took her to see several rooms, and when everything was settled, the lady returned to her home to make the final preparations to move.
When she arrived home, the thought suddenly occurred to her that she had not seen a "W.C." around the place. So she immediately wrote a note to the schoolmaster asking him if there were a "W.C." near the room.
The schoolmaster was a very poor student of English, so he asked the parish priest if he could help in the matter. Together they tried to discover the meaning of the letters "W.C.", and the only solution they could come up with for the letters was for a Wayside Chapel. The schoolmaster then wrote the following note to the English lady:
Dear Madam:
I take great pleasure in informing you that the W.C. is situated nine miles from the room that you will occupy, in the center of a beautiful grove of pine trees surrounded by lovely grounds. It is capable of holding about 229 people and it is only open on Sunday and Thursday.
As there are a great number of people who are expected during the summer months, I would suggest that you come early; although, as a rule, there is plenty of standing room. You will no doubt be glad to hear that a good number of people bring their lunch and make a day of it. While others who can afford to go by car arrive just in time.
I would especially recommend that your ladyship go on Thursday when there is a musical accompaniment. It may interest you to know that my daughter was married in the W.C. and it was there that she met her husband.
I can remember the rush there was for seats. There were ten people to a seat ordinarily occupied by one. It was wonderful to see the expression on their faces. The newest attraction is a bell donated by a wealthy resident of the district. It rings every time a person enters.
A bazaar is to be held to provide plush seats for all the people, since they feel it is a long felt need. My wife is rather delicate, so she can't attend regularly. I shall be delighted to reserve the best seat for you, if you wish, where you will be seen by everyone.
For the children, there is a special time and place so they will not disturb the elders.
Hoping to have been of service to you,
I remain,
yours sincerely,
The Schoolmaster
On this day: -

1894 - Regarded by many as the last great gentleman statesman to serve as Prime Minister of Great Britain, Harold McMillan was born on this day. He followed the traditional – but now abandoned – Conservative route to power of "Eton, Oxford and the Guards." The man who became affectionately known as "SuperMac" transformed Britain's economy in the 1950s and with it the living standards of many working people, telling them: "You've never had it so good." They believed him and returned his Conservative Government back to power in the General Election of 1959 with a big majority. But because of his vociferous objections to the policies of Margaret Thatcher (He called her "the enemy within" and referred to her "selling the family silver") his portrait was removed from the walls of 10 Downing Street.

1996 - IBM computer Deep Blue becomes the first computer to win a game of chess against a reigning (human) chess champion, Gary Kasparov.
==============================================================

9th February

I had my car in for service at Arnold Clark in Grangemouth last Wednesday. I had complained of the offside wing mirror not always folding back when it ought to. They ordered a new one and asked me to return today to have it replaced under warranty. Diane met me there and took me back home. As soon as we got in the door the phone rang. It was Arnold Clark! "Sorry about this but we don't have all the parts to replace your mirror yet!"!!!!! Another trip to Grangemouth to pick the car up. This is the first time that I have dealt with this particular garage and i'm not impressed. I received three separate invoices by email on three separate days with three different amounts listed as "Outstanding" This in the face of the fact that I paid for my service (another different amount) when I retrieved the car last week. They also claim to have checked the tyre pressures on all four wheels to ensure that they complied with the manufacturers specifications. They didn't - one wheel was 0.2 bar overinflated and had been like that since I gave them the car. Not impressed at all!

It's a little over 8 months to go until DisCon1020 at Peebles Hydro! Do you have the dates in your diary?

On this day: -

1895 - William Morgan presents his new sport "Mintonette" to the world at Springfield College, Massachusetts, later renames it "Volleyball".
1992 - Fastest yodeler-22 tones/15 falsetto in 1 sec by Thomas School of Germany.
1773 - William Henry Harison was born on this day and died less than a month after being inaugurated as the ninth President of the United States. Some say his death was the result of a Native American curse.The curse declared that presidents elected or re-elected in years that end with the digit 0 would die in office. Harrison, who became President in 1840, was the first such alleged victim. He was followed by Lincoln in 1860, Garfield (1880), McKinley (1900), Harding (1920), Franklin Roosevelt (1940), and Kennedy (1960). Wooooooo!

=================================================================

8th February

On this day: -
1587 - After 19 years imprisonment, Mary Queen of Scots was beheaded for treason at Fotheringhay Castle, Northamptonshire. She had been alleged to have been implicated in the Babington Plot to murder her cousin, Queen Elizabeth I.
1750 - Climate change is one of the world's major concerns and so it was, on this day, for the citizens of London. For not only was it hot on this mid-winter's day, but the capital was shaken by an earthquake, causing chimney pots to crash down into the street and at least one building to collapse. Astonishingly, the unprecedented tremor was to be followed exactly a month later by a second, much stronger quake. People were awakened in the early morning by the violent shaking of buildings, which came after half an hour of almost continual thunder and lightning. "Absolute nonsense," insisted Thomas Sherlock, the Bishop of London. There had been no earthquake anywhere else in England and he was convinced that the quakes had been 'immediately directed' against the sinful city of London; the Lord expressing his wrath over the publication of 'The Memoirs of Fanny Hill' – "this vile book, the lewdest thing I ever saw."
1836 - The first London railway train ran from Spa Road to Deptford. There were fears that the 'great speed' of 16 miles an hour would break passengers' necks.
1855 - The 'Devil's Footprints' mysteriously appeared in southern Devon when trails of hoof-like marks appeared overnight in the snow. Estimates of the total distance covered by the prints ranged from 40 to 100 miles. Houses, rivers, haystacks and other obstacles were allegedly travelled straight over, and the footprints appeared on the tops of snow-covered roofs and high walls, as well as leading up to and exiting various drain pipes with a diameter as small as 4 inches.
==============================================================

6th February

It's still cold and we awoke this morning to a flurry of snow. Not enough to lie but ebnough to give us some wintry views. This is the Kilsyth hills this morning -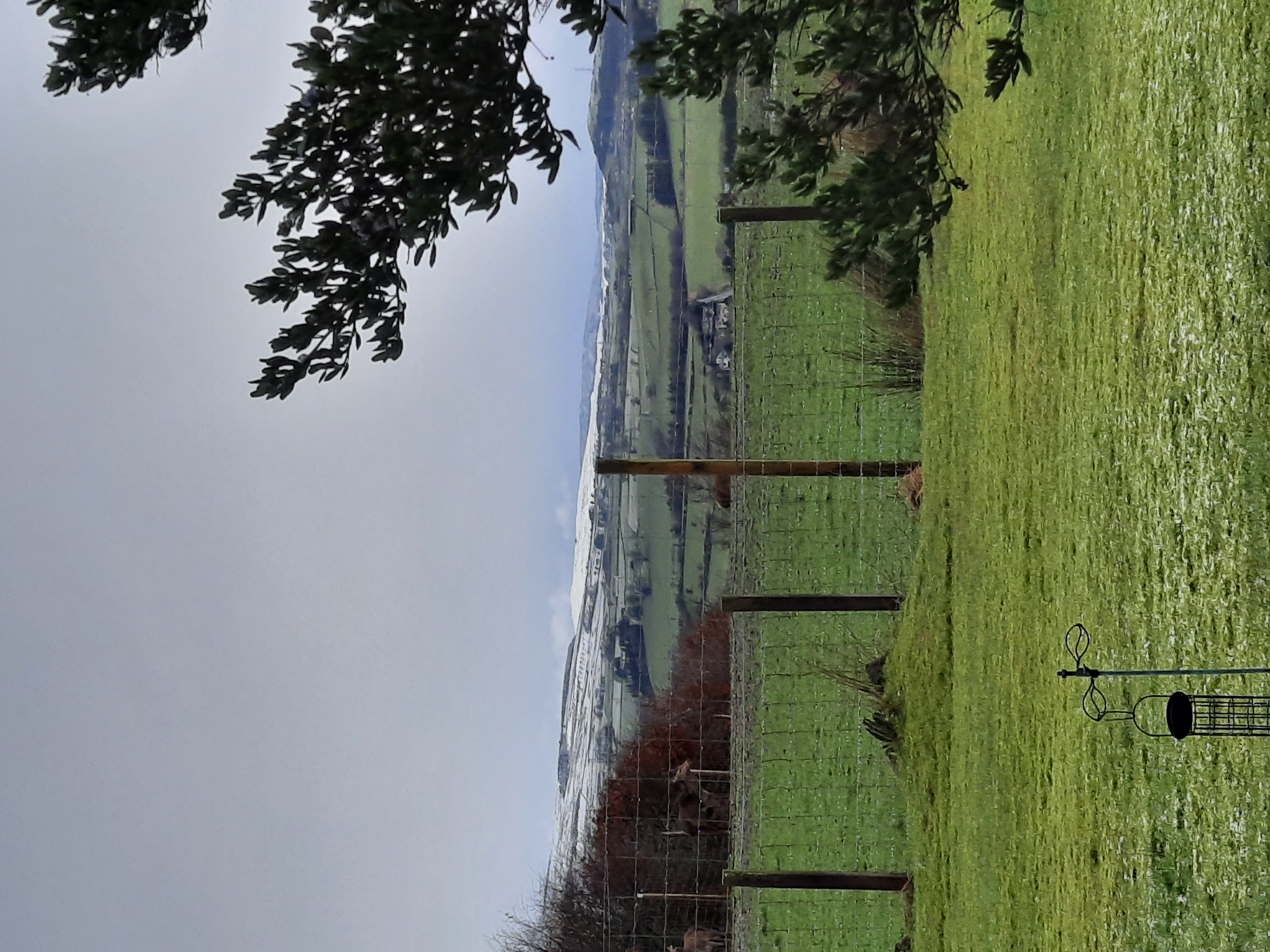 And these are the Ochils -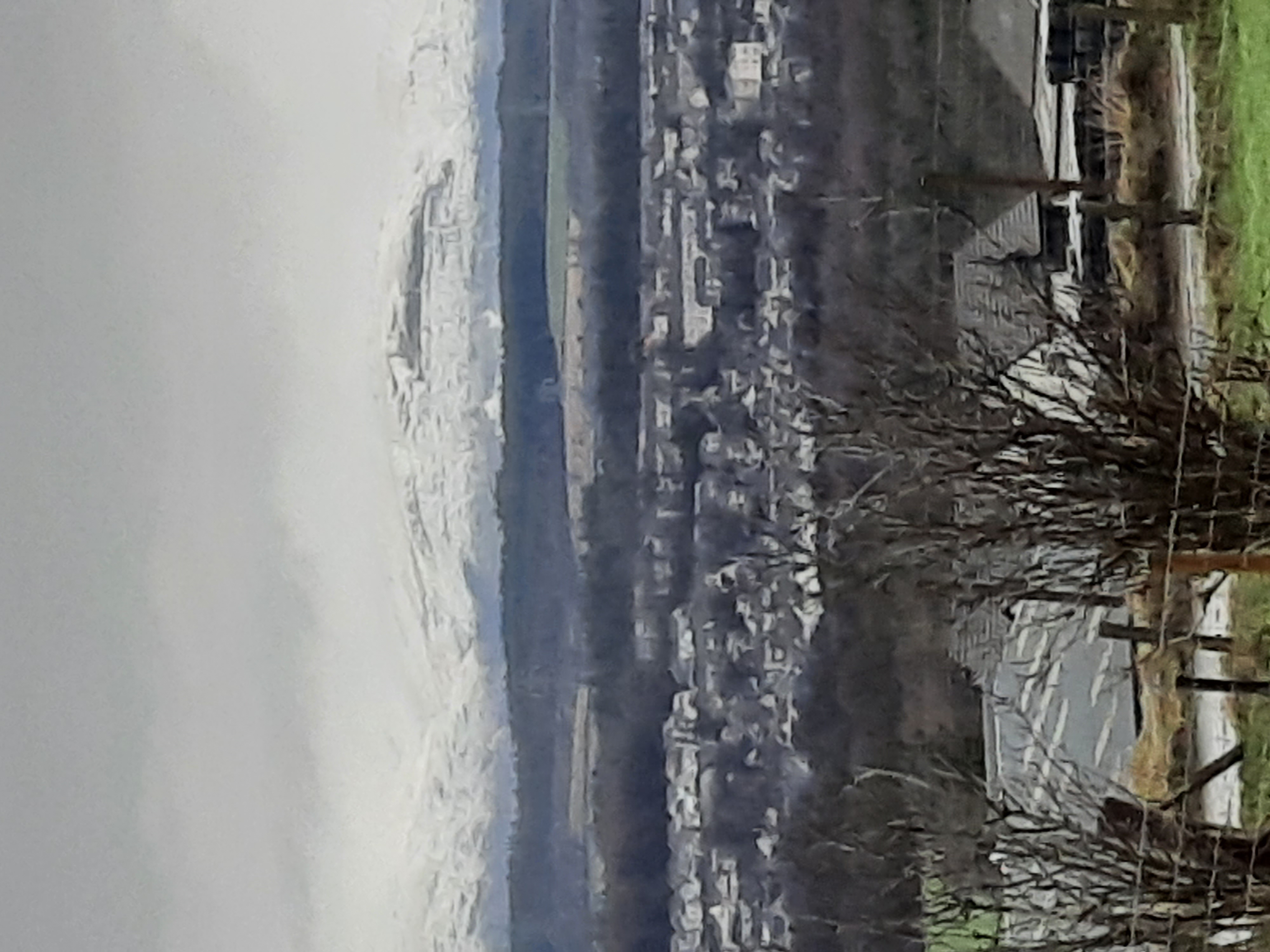 A piece of news that you all should put in your diary. President Elect Linda has booked the Grange Manor for our Charter Anniversary Dinner which is being organised by IPP Jim. It is booked for the Friday 22nd April.
On this day: -

1958 - Seven Manchester United footballers (Busby's Babes) died in their Airspeed AS-57 Ambassador when the plane crashed in thick snow on the runway at Munich airport during its third attempted take off. The team had just beaten Red Star Belgrade in the European Cup quarter-final. Duncan Edwards survived the crash but died 15 days later in hospital. Manager Matt Busby was seriously injured, but survived. Of the 44 passengers and crew on board, 8 United players were killed and there were 15 other fatalities, including 8 journalists.
1961 - "This Is Your Life," television presenter Eamonn Andrews announced on this day to footballer Danny Blanchflower. "Oh no, it's not," the star player thought to himself, and in a move admired many times on the field, swiftly side-stepped Andrews and left him standing as he bolted for the door. He became the first celebrity who refused to appear on the popular live show. Blanchflower said later: "I consider this programme to be an invasion of privacy. Nobody is going to press-gang me into anything."
1992 - The Sámi people of the far northern Nordic countries have an official day celebrating their existence.
2015 - 26 year old Royal Marine, Andy Grant, woke up from an operation to remove his leg below the knee and found a key word missing from his "You'll Never Walk Alone" tattoo. He used the new wording "You'll Never Walk" as the inspiration for his rehabilitation. The marine learnt to walk and run, won two gold medals at the Invictus Games, abseiled the Shard and went on to work as a motivational speaker.
===============================================================

5th February

I have said before that we watch a lot of these Antique programmes. In most of them the contestants visit a place of interest along the way totally unrelated to what they are doing. Last night we were made aware of the Reverend W Hughes. I'd never heard of him before. He died in 1928 at the age of 68. He was concerned about the effect of Western civilisation on African culture, but instead of studying it at that end he brought African children to Britain to be educated. The venture involved the setting up of "The African Institute" in Colwyn Bay. You can access a short film about the man here https://youtu.be/kN9WdVfj4bE

Basically the venture was a huge success but was ruined by a racist journalist who turned the public against the Rev who died in penury. The Institute however was re-established in Africa as a further education Centre which went on to nurture such intellects as Nelson Mandela.
On this day: -

1811 - The Regency Act was passed allowing George, Prince of Wales, to rule because his father, King George III, was considered insane. He later became George IV.
1840 - The birth of Scottish vet. John Boyd Dunlop, inventor of the pneumatic bicycle tyre which he tested on his son's tricycle and patented in 1888. Two years after he was granted the patent, Dunlop was officially informed that it was invalid, as Scottish inventor Robert William Thomson had patented the idea in France in 1846 and in the US in 1847.
1924 - The Royal Greenwich Observatory begin broadcasting the hourly time signals known as the Greenwich Time Signal or the "BBC pips".
1985 - Happy birthday Cristiano Ronaldo.
1967 - A ban by the Musicians' Union, 'in the cause of decency', stopped The Rolling Stones' latest record Let's Spend the Night Together, from being performed on television.
================================================================

4th February,

I am surprised that I wasn't taken to task about my assertion that the date on the second was "...a first since records began..." Of course it wasn't! The 1st of January 1911, the 2nd February 1922 and so on up to the 9th of September 1999 are all the same. I think it was the first 2 of 2002 that threw me. Sorry. I can't wait until the second of February 2222 then I'll post it again!

I noticed that Karen Carpenter died on this date at the age of 32 from Anorexia Nervosa. I know that's not in the slightest bit amusing but the mention of the disease always sparks a memory in me. For those members who don't know, Gordon Watson was a dentist, a very large dentist, who was a member of this Club. Sadly before he died he spent some time in care facilities in Crief and laterly in Perth. I recall one occasion at a Charter dinner when he, Ruby, his wife and we had chosen to stay overnight at the Park hotel. It was at Breakfast the day after when, after consuming a full fried breakfast, he leaned his ample corpulence back in the chair with his hands spread out over his abdomen and announced "I think that I am suffering from Anorexia Nervosa". I smiled at him and was in the process of divining a diplomatic way of saying "don't be stupid Gordon!" when he continued "That's that disease where you think you're fat isn't it?"

Also on this day: -
1911 - Rolls-Royce commissioned their famous figurehead 'The Spirit of Ecstasy' by Charles Sykes. He used Lord Montague's mistress, Eleanor Thornton, as his model. 60 years later to the day, Rolls-Royce was declared bankrupt due to a disastrous contract to supply aero engines to Lockheed. The British government came to its rescue.
2013 - The government of France overturns a two-hundred year old law that banned women from wearing trousers. The law had effectively been out of use for several years as people just ignored the law, however the change would make it formally legal for women to wear trousers.Have Scottish women not always worn the trousers?

=================================================================

2nd February,

It is International Steam Train Day today! two,two,two,two! :)

That's got to be a first since records began, that the day, month and last two digits of the year are all the same! For once it won't matter whether you are presented with the American date format or the British format. They'll both be the same!

It's also Groundhog day! German settlers took the tradition with them to America and substituted Groundhog for Badger. If the animal emerged from his burrow and saw its own shadow it would retreat into the burrow and winter would be prolonged. (Clear skies) On the other hand if it couldn't see its own shadow (cloudy) then winter was all but over!

It is also Candlemas which commemorates the presentation of Jesus in the temple 40 days after his birth! Additionally known as the Feast of the Presentation of Jesus Christ, the Feast of the Purification of the Blessed Virgin Mary,
Also on this day: -
1863 - After failing to strike it rich prospecting for gold and silver, an enterprising young American on this day wrote a humorous travel story for the Territorial Enterprise, a newspaper serving Virginia City, Nevada. He was Samuel Longhorne Clemens and the pen-name he chose to use for the first time was, of course, Mark Twain. I have waxed lyrical at how he came by that name before but he, along with Oscar Wilde was a master of the epigram and delivered memorable lines such as:

* Do the right thing. It will gratify some people and astonish the rest.
* It is better to keep your mouth closed and let people think you are a fool than to open it and remove all doubt.
* All you need in this life is ignorance and confidence, and then success is sure. -and * Age is an issue of mind over matter. If you don't mind, it doesn't matter.
1901 - Queen Victoria's Funeral takes place in St. George's Chapel, Windsor Castle.
1914 - The first Cub Scout pack is formed in Sussex.
===========================================================

1st February

Something else that I found while I was rooting about sorting files. Click here for some Club History but be careful if you are easily scared because there are photographs of Stewart Ross in there.
Just to highlight the difference between this year and last, here is a photograph that I took exactly one year ago. I am sure I posted it here at the time.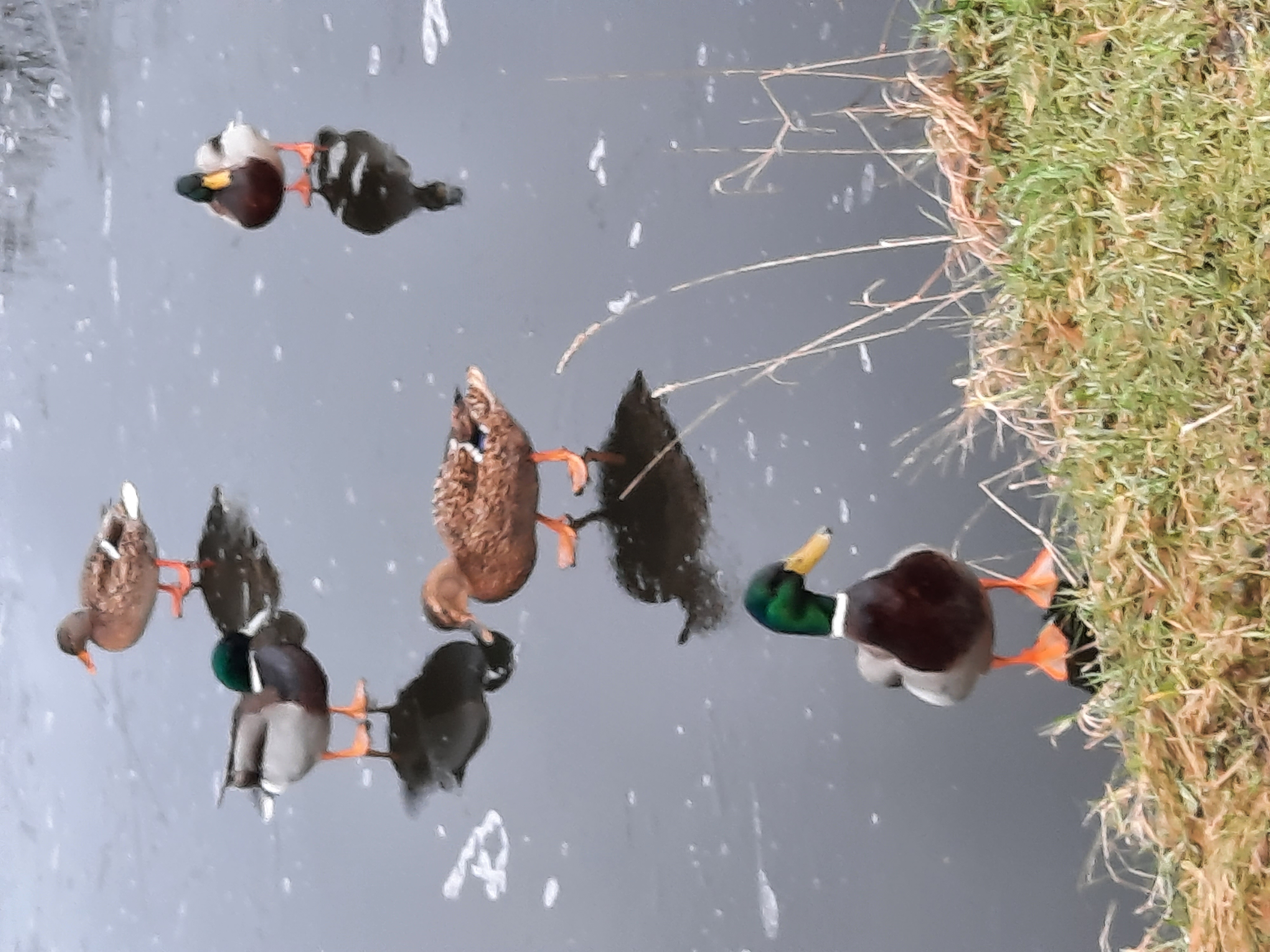 On this day: -
1587 - Queen Elizabeth signs her cousin Mary's death warrant.
1692 - Troops are moved south from Fort William and billeted with the MacDonalds in Glencoe as a prelude to the Glencoe Masacre.
1918 - The novelist, poet and non-fiction writer Dame Muriel Spark DBE, is born in Edinburgh.
2009 - Jóhanna Sigurðardóttir is elected as the first female Prime Minister of Iceland, becoming the first openly gay Head of Government in the modern world. That's easy for you to say!
1972 - 1st scientific hand-held calculator (HP-35) introduced ($395)
===============================================================

31st January

I am just about to distribute the February Rotary Calling. Huge coincidences this morning! I was tidying my filing and sought out what I thought was an empty suspension file but there was stuff in it! among which was this photograph: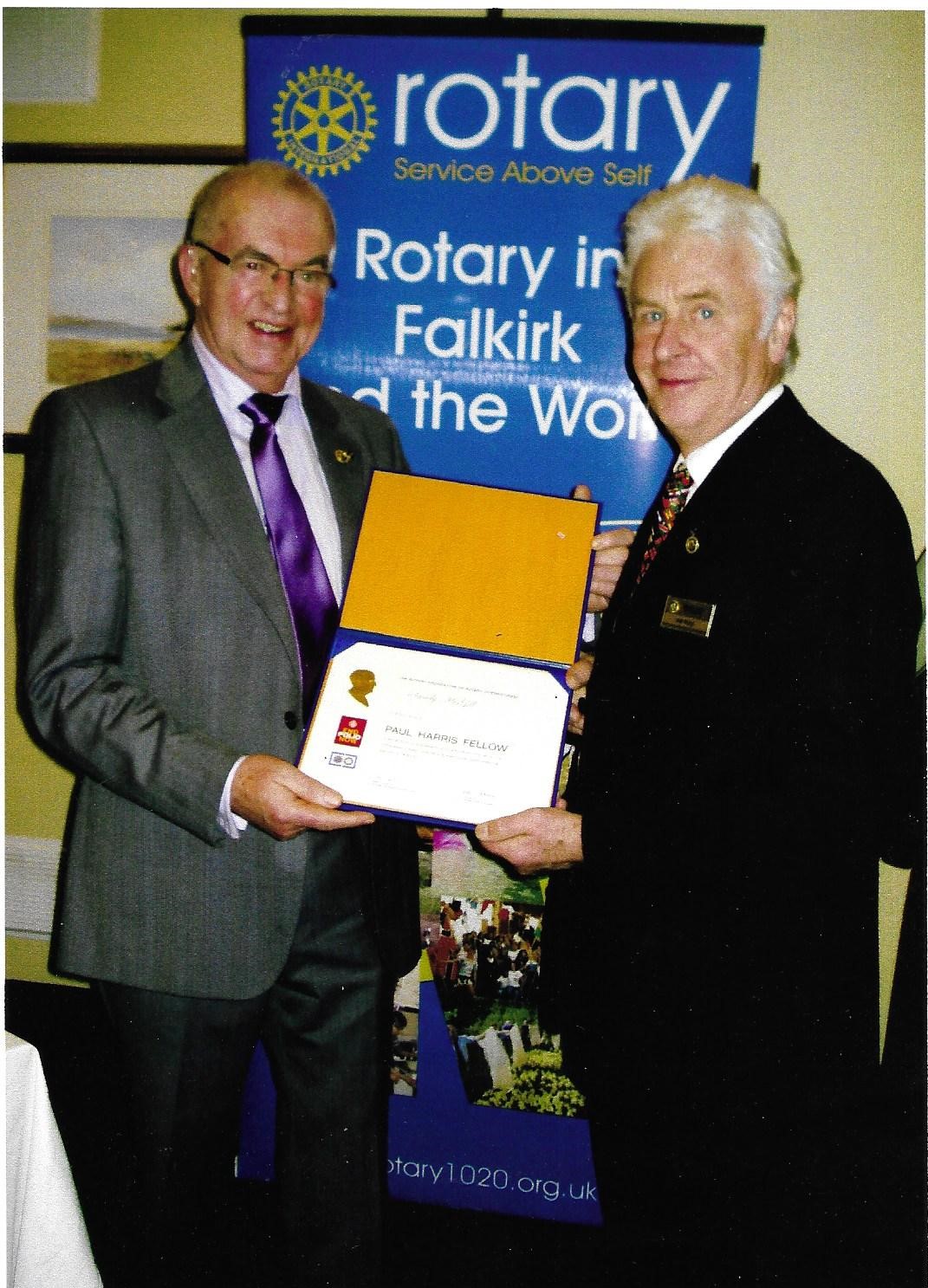 Then I noticed that the edition number on Rotary Calling was 156. That is exactly 13 years since I began editing what I named the "Old" Rotary calling. I called it that because Bob Grant had created the template but when he did so he called it the "New" Rotary Calling. So much had happened between Bob giving up the editorship and me taking it over that I thought it appropriate to acknowledge the success that Bob had had. Anyhow, it never occurred to me that I had been doing this for so long and thought that I had made a mistake so I checked back the records and Lo and Behold what do you think was in that edition of January all those years ago?: -

This is necessarily a shortened version because not a lot has been happening recently. I say not a lot but of course as far as I am concerned quite a lot did happen. I, for the first time in my life, was left speechless at the Christmas Lunch when you presented me with my Paul Harris Fellowship. I am afraid that I was singularly unable to express my delight and gratitude for the award at that time. I believe that I am privileged to be a member of Rotary and of this Club in particular. To be honoured by my friends in this way is something to which, even now, I find it difficult to respond. Suffice to say I feel humbled to think that my name will be alongside those few whom I have revered for so long. Many thanks.
I still feel exactly the same about Rotary and this Club and I look forward to the resumption, with vigour, of our regular meetings and activities.

On this day: -
1747 - The first venereal diseases clinic opens at London Lock Hospital.
1788 - Bonnie Prince Charlie dies.

1865 - U.S. Congress passes the 13th Amendment, abolishing slavery in America (passes 121-24)
1910 - Cora Crippen misteriously disappears. Her husband the infamous Dr. Crippen is charged with her murder, found guilty and subsequently hanged. The jury took 27 minutes to reach a unanimous decision based on the only evidence which consisted of a piece of skin from a body found beneath the floor of their home which bore marks consistent with Cora's medical history. However, nearly a century later, scientists in America looking into the case compared the DNA from the cellar tissue to DNA from Cora's modern-day relatives. Not only was there no match – proving that the corpse was not Cora's – but it was the wrong sex – the body remains in the cellar had belonged to a man!
2019 - Colonisation of the America's in the late 1500s killed so many people it cooled the planet and led to a "Little Ice Age", according to a scientific report published in "Quaternary Science Reviews"

===========================================================
30th January

I have been looking at that photograph from the Herald again, the one that I posted yesterday. The body of the text, with the "Doundation" and the two "made"s, attempts to identify the folk in the photie but fails miserably!

I never noticed that the script correctly identifies Jack Mathieson and Donald Johnston (extreme left and second from left. It then goes on to identify Forbes Howie and JIm Watson (Second from right and extreme right respectively) while saying that the fourth recipient, Eric Denholm, is absent due to ill health. Who, then, is the guy in the middle? He appears to have a chain of office and might just be the District Governor but he doesn't even merit a mention!

The District Governor at the time Jim Watson was President was Alex Laughlan and would place the presentation during the Rotary year 1988-89.
On this day: -
1661 - Oliver Cromwell Lord Protector of the Commonwealth of England is ritually executed after having been dead for two years.
1972 - Bloody Sunday: 27 unarmed civilians are shot (14 are killed) by the British Army during a civil rights march in Derry, Northern Ireland; this is the highest death toll from a single shooting incident during 'the Troubles'
1948 - Mahatma Gandhi is assassinated by Hindu extremist Nathuram Godse. Mohandas Karamchand Gandhi was born on 2nd October 1869 and became know by the title Mahatma which, in Sanskrit, means "Great Soul or Venerable". Among his friends he was also known a Bapu which is Gujurati for Father. I have always held dear much of his writing which includes absolutely incontrovertible logic like: -

Even though I am a minority of one; the truth is the truth. and

An eye for an eye will simply make the whole world blind!

=================================================================
29th January

It's the Great Garden Birdwatch weekend! Sit for an hour at the window and count the greatest number of birds of each species that you can see all at the same time. That last bit is quite important because you might count the same bird more than once any other way. Then report your result on line.

Here are another two photographs that Valerie sent me: -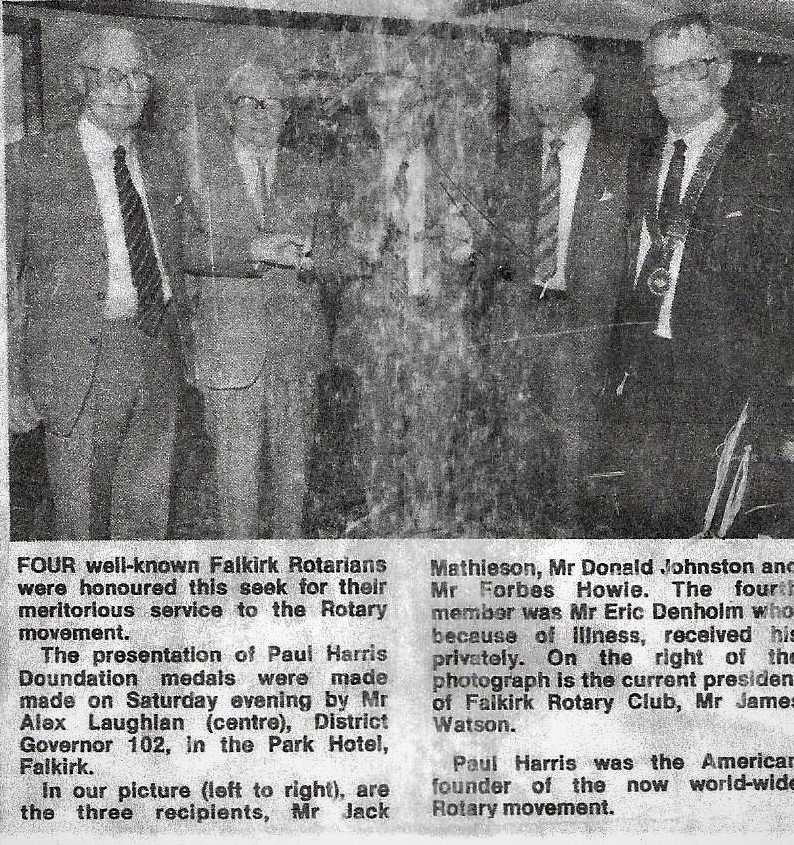 Apart from the apalling typos It's a memory that reflects the time when "The Rotary" was populated by only male members and pillars of society who deserved to have their photie in the paper.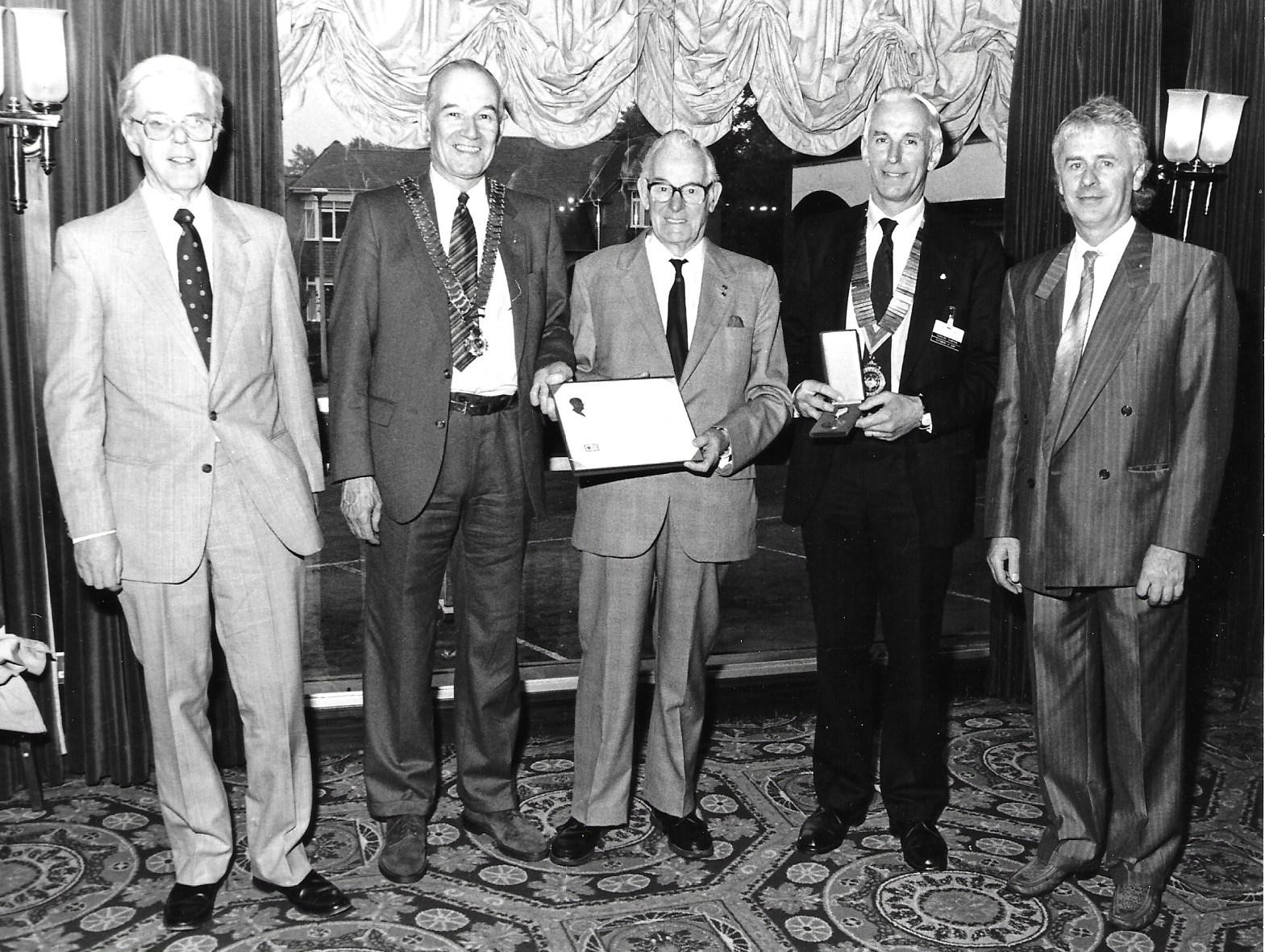 This one I find particularly poignant because it was the very first PHF presentation to which I was witness in 1989-90. Left to right in the photograph are Melvil Dillon, District Governor Bill Rutherford, George Smith, President Charlie Cameron and of course on the right the ever Sartorial and beautifully coiffeured Ian Rule.

This brings back loads of memories chief among which is "The auld bugger"! George Smith (Cycle shop in the High Street) was for years our Sergeant at Arms. He took it upon himself to telephone Falkirk Town Council (as it was then) to inform them of the fact that the different faces of the clock in Newmarket street were not at the same time. On one occasion the person who took the call failed to cover the mouthpiece on the phone while saying to his boss "It's that auld bugger fae Rotary again!" The nickname stuck!

Bill Rutherford was District Governor when Diane and I first attended a District Conference in Aberdeen. He also headed up the RI Convention committee for the House of Friendship in Glasgow.
Charlie Cameron was president that year and he resigned from Rotary because he was to spend a lot of time overseas at his holiday home or it might have been his daughter's I can't recall. Charlie and Barbara visited the stall in the High Street on Charities day last year. He was in a wheelchair and only had one leg. Barbara told me later, when we were collecting in the Howgate at Christmas, that he was terminally ill.

Melvil and I spent time together at a youth gathering in West Lothian. It was a residential weekend and we were acting as sort of chaperones. I can't recall the reason for it. Melvil also came with us to Ayr for the six nations swimming gala.

And Ian! Well you all know Ian. For years he and I have had a friendly banter about who is the elder. Come on Ian - Nae contest!
Each and every one of the people in that photograph deserve the title "Good Guy!"
On this day: -
1856 - Victoria Cross is established to acknowledge valour in the face of the enemy (United Kingdom and Commonwealth countries)
1978 - Sweden outlaws aerosol sprays due to their harmful effect on the ozone layer, becoming the first nation to enact such a ban.
1987 - It's a smile that has beguiled art lovers for nearly 600 years and made the Mona Lisa probably the most famous work of art in the world. But the lady in the painting was not being coy or enigmatic, according to the views of a doctor published on this day: she was suffering from Bell's Palsy.
2011 - The Ronald McNair Life History Center opens.
In the summer of 1959, 8-year-old African-American Ronald McNair visited the segregated "Lake City", South Carolina public library, but they only served white patrons and wouldn't allow him to check out any books. When he refused to leave, the police and his mother were called. The library begrudgingly relented when the officer asked, "Why don't you just give him the books?" McNair went on to earn a Ph.D. degree in Physics from the Massachusetts Institute of Technology and became a NASA astronaut. Unfortunately, he was killed on his second mission in the 1986 Challenger disaster.
That library has since been turned into a museum named the "Ronald McNair Life History Center" in his honor. The museum tells the story of Dr. McNair from his childhood battling discrimination in the South to his death.
===============================================================
28th January

I got these from Valerie today. They were taken at a History Quiz around Falkirk led by Michael White. I had forgotten about that but do recall enjoying the day immensely.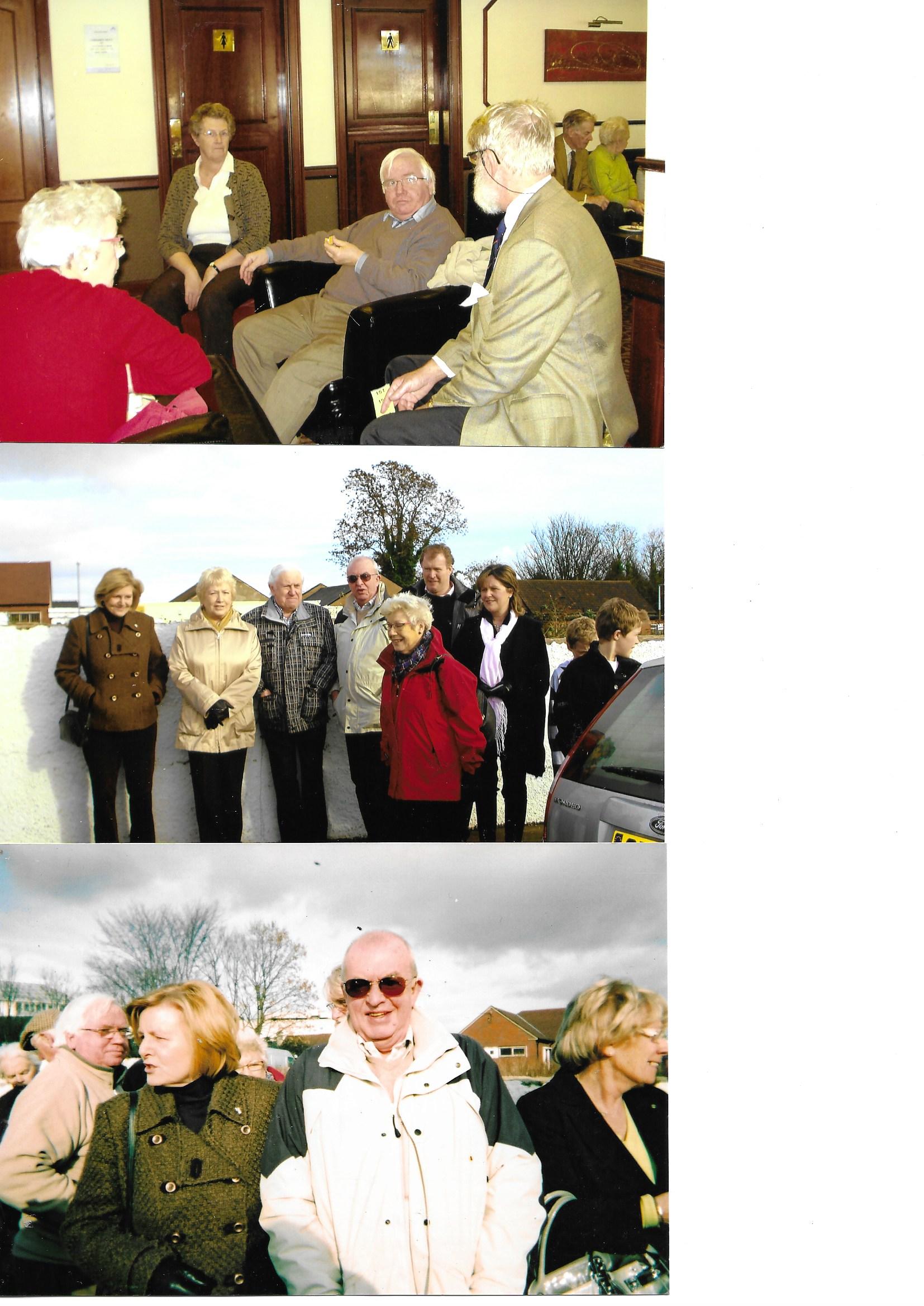 I got an email from my sister in NZ the other day and she referred to the language used by medical professionals as "arcane". Now I've heard of that word but never had the occasion to use it. Consequently I didn't know what it meant. But it's a really usefull word! - It basically means the use of language that is secret or not known to everyone or requires specialist Knowledge! Cool! I like that one.

====================================================================
24th January

I don't know if I have said this before but many moons ago our daughter bought us tickets to the Ballet. It must have been a Christmas present because the Ballet in question was The Nutcracker. Wendy had been working in Glasgow and had struck up a friendship with the two premier male dancers at that time in Scottish Ballet. The friendship was such that they not only organised her Hen Night, they attended it!

Anyhow, needless to say I was dragged along to the Festival Theatre with my arm up my back. Wendy and Diane both fell asleep during the performance. As for me? well I was utterly Gobsmacked. I don't think that we have missed a performance of the Scottish Ballet since. In addition we have watched The Central Scotland School of Ballet, Rambert, Northern Ballet, Royal Ballet, Royal NewZealand Ballet, Birmingham Royal Ballet and St Petersburg Ballet.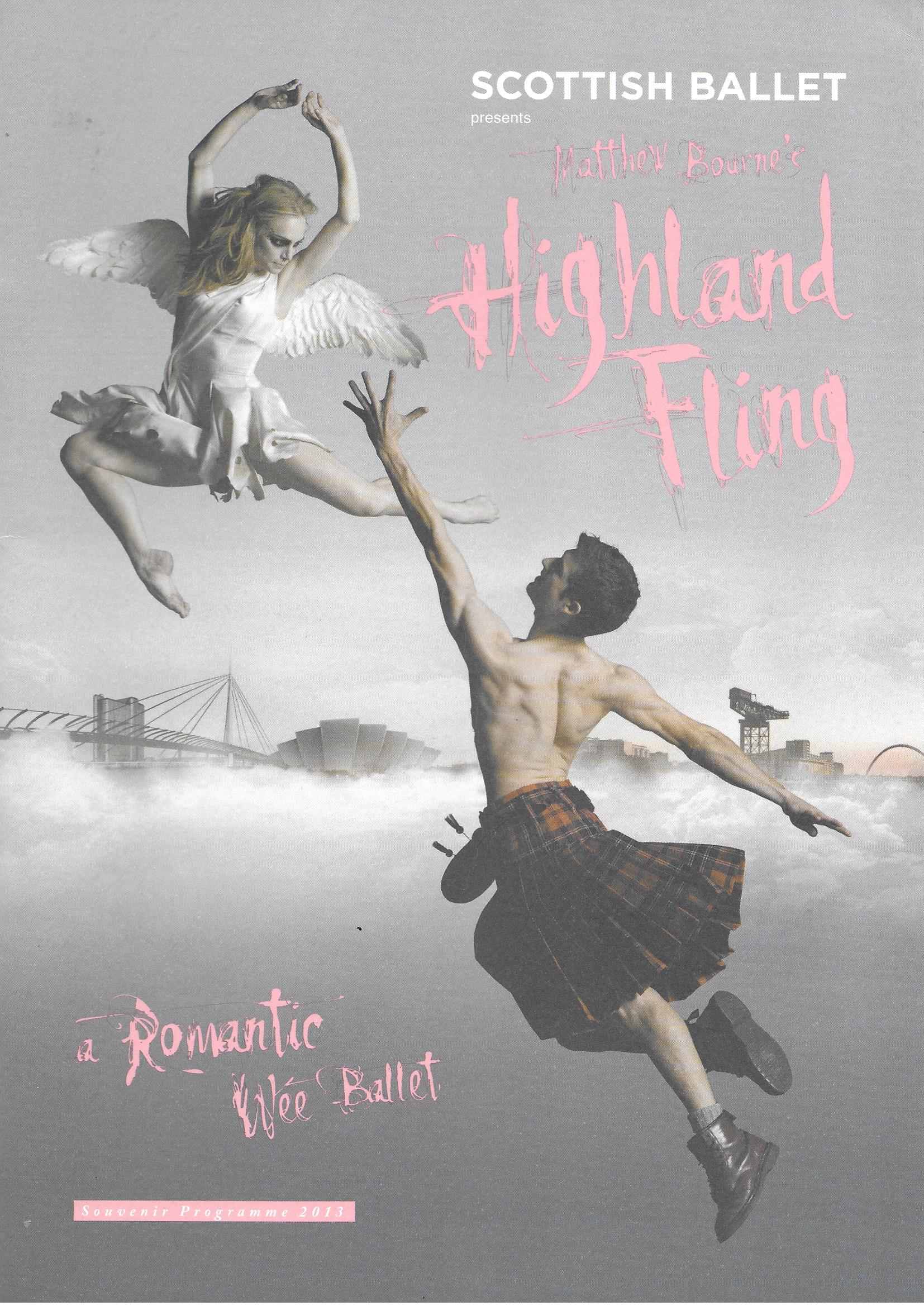 We have seen many more by Choreographer Matthew Bourne too but last night on Channel 4, Wayne McGregor's production of The Dante Project was the finest combination of Classical and Modern Ballet that I have ever had the privelege to watch. In a co-production between the Royal Ballet and The Paris Opera Ballet alongside the Los Angeles Philharmonic the 700th anniversary of the Poet's death was celebrated in great style.

On this day: -
1848 - James Wilson Marshall checked on this day that the watercourse of the mill he was in charge of was clear of silt and debris. He peered through the clear water, saw something shining up at him, and later recalled: "It made my heart thump, for I was certain it was gold." His sawmill failed after the men working for him all abandoned their jobs to look for gold. Marshall failed to win legal recognition of his own gold claims. Resentful, he wandered around California for a few years until settling in a small cabin where he died in 1885.
1922 - The Eskimo Pie is patented by candy store owner Christian Kent Nelson. His patent was "to provide a frozen dainty comprising a form retaining block or brick of ice cream or the like, also to, provide an encasement therefore which facilitates its ready handling." He originally sold them as "I-Scream-Bars", but later partnered with local chocolate producer Russell C. Stover to mass-produce them under the name "Eskimo Pie".
Nelson received the inspiration for his invention when a boy in his store was unable to decide whether to buy ice cream or a chocolate bar, so he ventured forth to find a way to combine the two.
1941 - Happy birthday Neil Diamond!
==============================================================

21st January

It's that time of the month again when I ask you all to donate to the Trust fund a proportion of the money that you would otherwise have spent on your weekly Rotary meal. Since we began doing this in March two years ago we have donated more that £8,000 resulting in more than 4 tonnes of requisites to the Food Bank. Since this is a public page I won't publish the details of the Bank account but if you are in any doubt just email me at muir.rig@gmail.com.

As usual we were watching tele last night. A staple in that respect is Richard Osman's House of Games. I was astonished to see four grown adults yesterday totally unaware of the usage of "Yours faithfully" and "Yours sincerely". Have I grown so old that I have outgrown these customary conventions? I know that I sign off electronically with a custom that my father used in his personal correspondence viz. "yours aye" but I still observe the rule on paper that I have done for the past 70 odd years. That is, if addressing to a named person like "Dear Clarinda" one would sign off "Yours sincerely". The "Yours faithfully" was retained for letters that were addressed anonymously as in "Dear Sir" (or madam or sirs)

Another one generated by the tele is one that I never ever thought about until I saw one being refurbished in the "Repair Shop". Jukebox! Where on earth did that come from? The box bit is I suppose a given but JUKE? Apparently this is attributed to and derived from a word from the Gullah language of the Creole people in southern United States. "Juke" or "joog", meaning disorderly, rowdy, or wicked was applied to places where people congregated "Juke joints". When the machine that played the music for the disorderly rabble came along it was naturally called a "Juke Box".

On this day: -
1934 - Parisian baker and "student of medieval life" Henri Littière appears in court charged with forcing his adulterous wife Juliette to wear a chastity belt. Having committed the same offence in 1932, he was sentenced to three months in prison and fined 50 francs for cruelty to his wife.
1940 - Happy Birthday Jack Nicklaus.

1976 - Happy Birthday Baby Spice.

1990 - John McEnroe becomes the first player to be expelled from the Australian Open. In a press conference following the match, a subdued McEnroe explained that he had misunderstood the rules, and was unaware that the previous year's four-step process to default had been changed to a new three-step rule: first a warning, then a point penalty, then a default. The last player to be disqualified from a Grand Slam for misconduct had been Willie Alvarez of Spain, in the 1963 French Open, 17 years earlier.
=========================================================

20th January

In days gone by boots and shoes were made with leather. Most of the leather would have been sourced from abattoirs where the rest of the animal had been butchered for food. The hides would first of all require to have been "tanned" in tanneries using all sorts of dangerous chemicals.Tanning is the process by which raw animal hides are turned into leather. The protein structures of the hides are permanently altered during tanning, preventing them from decomposing. The tanning process creates strong, flexible and long-lasting leather that can be put to use in a whole plethora of ways.
During the manufacture of footwear, however, the leather is cut and shaped by artisans that are all carrying out their respective tasks while standing. That is, all but one! Where the edges of two pieces of leather require to be joined together, to make a boot for instance, the edges require to be thinned so as not to be uncomfortably bulky at the join. The thinning of the leather in this process is called "skiving". The "skiver" is the only one of the artisans that can carry out their allotted task while being seated. This is the origin of the current use of the word for someone who is perceived as being lazy or dodging doing the proper work.

It's amazing what you can learn by watching Greg Wallace "In the Factory"
On this day: -
1356 - Edward Balliol abdicated as King of Scots in favour of Edward III and in exchange for an English pension. He spent the rest of his life living in obscurity and died in 1367, at Wheatley, Doncaster.

1930 - Happy birthday Buzz Aldrin!

1982 - Heavy metal musician Ozzy Osbourne bites the head off a bat on stage in Des Moines, Iowa

2014 - Dr. Michael Ramscar and a team of scientists suggested that the brains of older people only appear to slow down because they have so much information to compute, much like a full-up hard drive. "The brains of older people do not get weak. On the contrary, they simply know more."

2015 - A six-day-old baby became Britain's youngest organ donor when her kidneys were transplanted into a patient with renal failure, and liver cells were transfused into a second recipient.
===============================================================
19th January

President Elect Linda and George visited Graham and Sandra McGregor. George, Graham and Sandra had a great time reminiscing about times in Glasgow, and as Sandra and Graham used to live in Denny I was able to give them some news of people they knew from their past neighbourhood. Both were in good spirits, and had a wonderful family gathering at Christmas. Graham was delighted to receive his honorary membership as was Sandra. They thank all the club for their good wishes.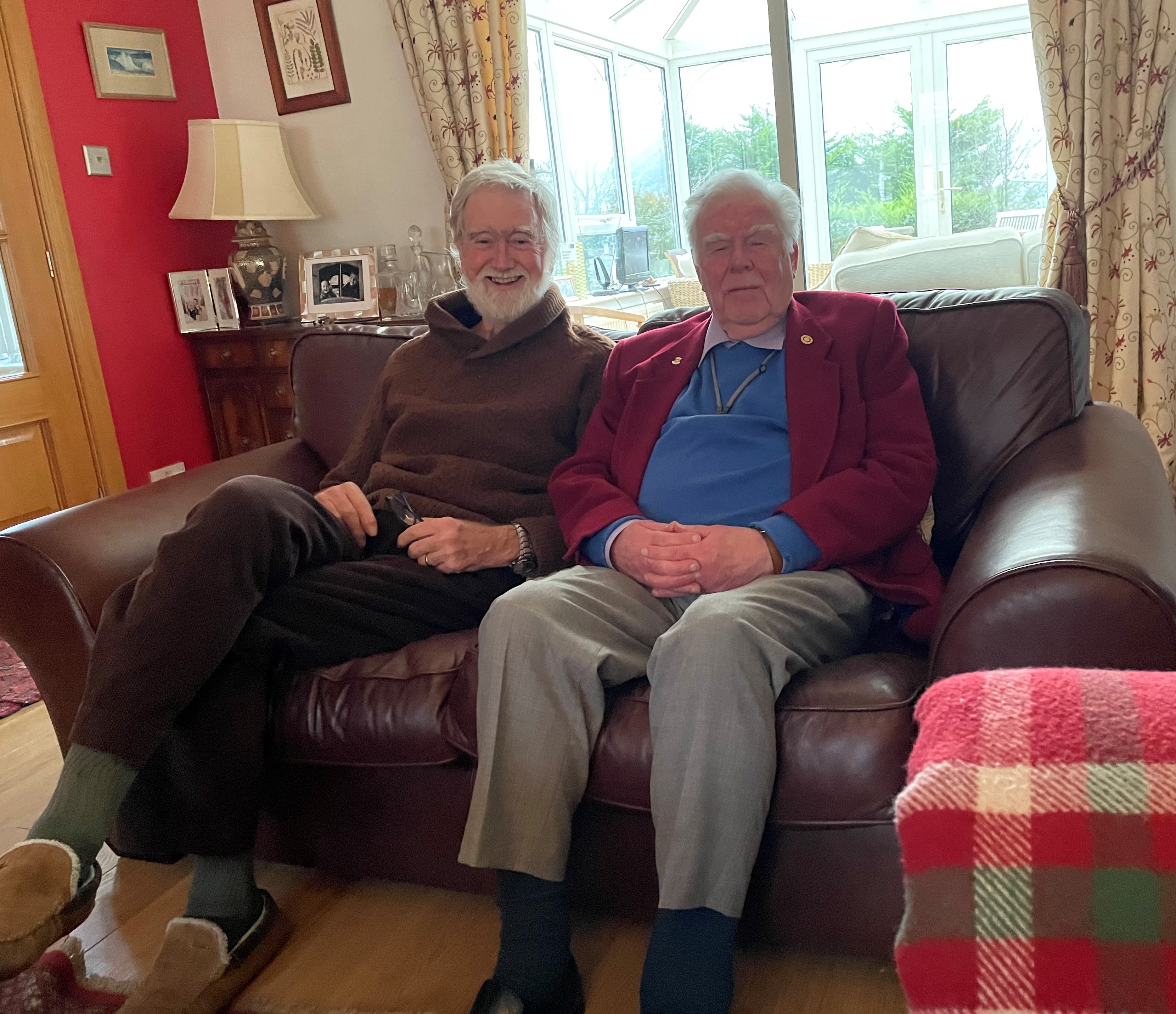 On this day

===================================================================

18th January

I was trawling through my photographs on my phone looking for things that might have happened a year ago or maybe even two years ago. I came across photographs of long tailed tits that had arrived early to mid January two years ago. They always arrive in bunches. I turned round and looked out of the window and there, again were the long tailed tits. Beautiful wee things! Just like lolipops.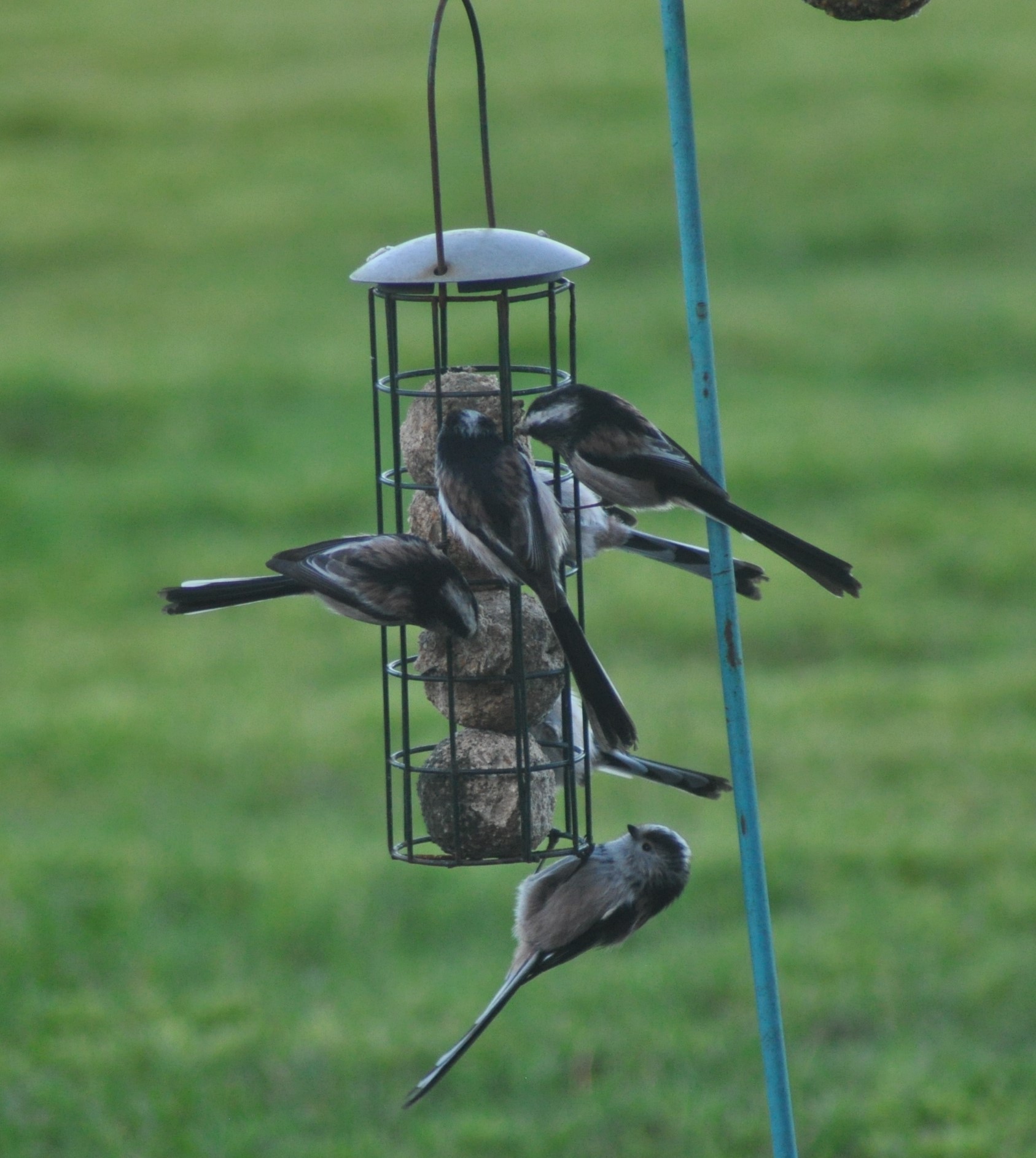 On this day: -

1788 - First elements of the First Fleet carrying 736 convicts from England to Australia arrives at Botany Bay to set up a penal colony.
1884 - Dr. William Price a vegetarian nudist who believed in free love and herbal remedies, was arrested for cremating the body of his infant son, Iesu Grist (the Welsh for Jesus Christ), in front of onlookers on a Llantrisant hillside. Price was arrested and put on trial by those who believed that cremation was illegal in Britain. However, he successfully argued that there was no legislation that specifically outlawed it, which paved the way for the Cremation Act of 1902.
1995 - Celeste Keys is born 95 days after her twin brother Timothy, who was born premature. Both survived.

2016 - The world's 62 richest people are now as wealthy as half the world's population according to a report published by Oxfam.
===============================================================

17th January
President elect Linda has been busy againwith the first delivery of the New Year to the Trussell Trust Food Bank. This delivery came to 240Kg bringing our total to 4.3 tonnes and £8,273. With the news that there are those who couldn't afford the power to cook a turkey this year these donations have taken on a much greater significance.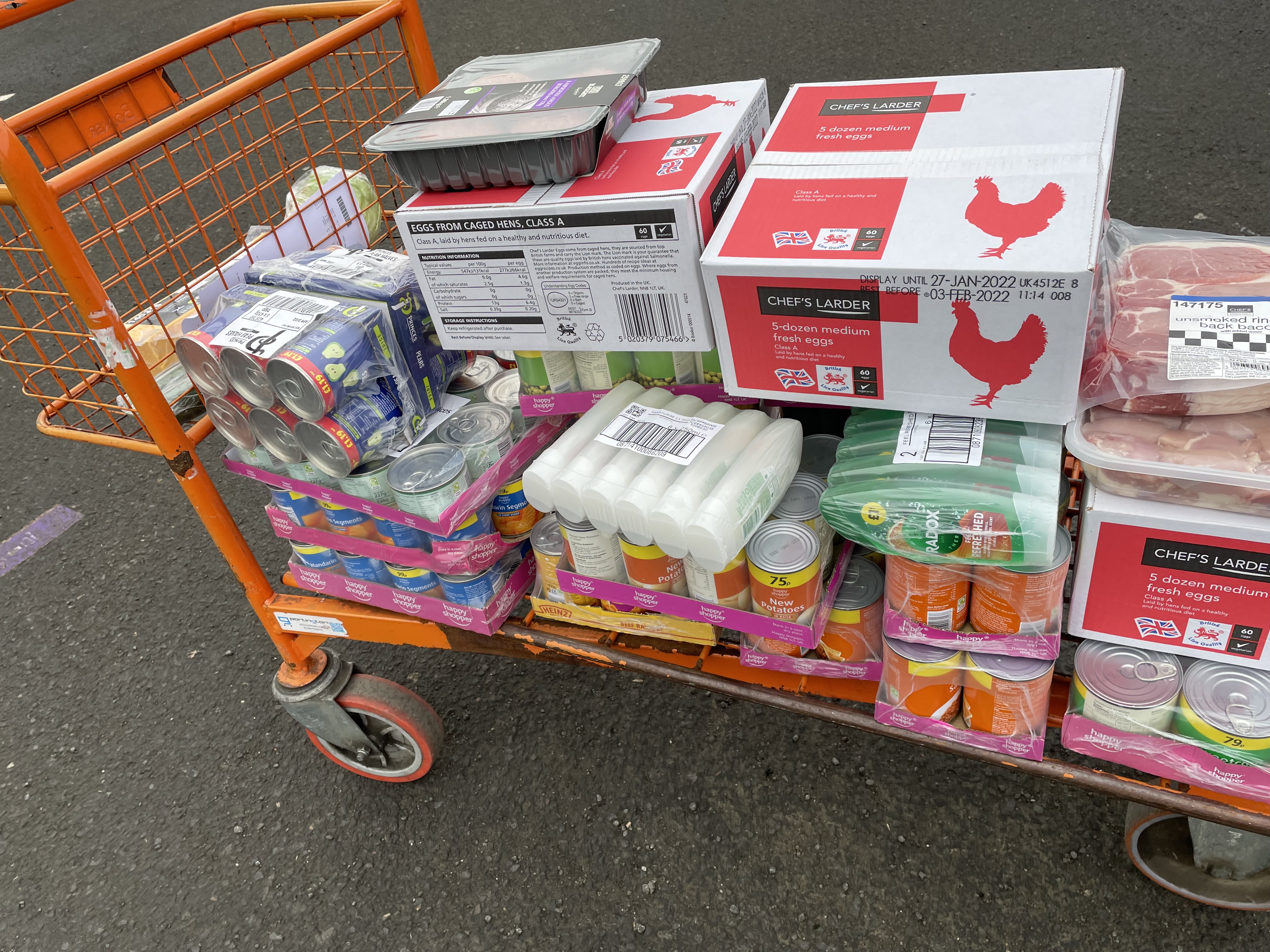 On this day

1746 - Bonnie Prince Charlie' and his Highlanders won the battle of Falkirk. It was to be their last victory in the 'forty-five' Jacobite uprising, as three months later they were slaughtered at Culloden.

1912 - Captain Robert Falcon Scott arrives at the South Pole to a huge disappointment at seeing the Norwegian flag flying there.
1920 - First day of prohibition of alcohol comes into effect in the US as a result of the 18th Amendment to the Constitution. While it did not prohibit the consumption of alcohol, it did ban the sale, manufacture, and transportation of alcoholic beverages.
1964 - Happy Birthday Michelle Obama.
1994 - "Donny the Stormin' Mormon vs. Danny the Dude Bonaduce" - Danny Bonaduce (who played Danny Partridge on the TV series The Partridge Family wins a 2-1 decision over singer Donny Osmond in a charity boxing match!
2014 - Cambridge City Council said that apostrophes on new street signs would be abolished, a decision that was condemned by language traditionalists. The naming policy also banned street names which would be "difficult to pronounce or awkward to spell" and any that "could give offence" or would "encourage defacing of nameplates". After an intervention by cabinet minister Eric Pickles, local people in Cambridge started to edit street signs, adding apostrophes if they were necessary.
===========================================================

16th January

Did you know?: -
Sliced bread was first manufactured by machine and sold in the 1920s by the Chillicothe Baking Company in Missouri. It was the greatest thing since…unsliced bread?

The original name for the search engine Google was Backrub. It was renamed Google after the googol, which is the number one followed by 100 zeros.

Wombats are the only animal whose poop is cube-shaped. This is due to how its intestines form the feces. The animals then stack the cubes to mark their territory. They are also known as the "OOh AHH"

Psycho was the first movie to show a toilet flushing.
One of the most famous movie lines in history was never said. We often quote, "Play it again, Sam," from Casablanca; but the real line is, "Play it, Sam. Play 'As Time Goes By.'"

There are no muscles in your fingers: Their function is controlled by muscles in your palms and arms.
It is exactly 2 years ago today that we were adressed by Provost Billy Buchanan.
He had agreed to visit and deliver the "New Year Message". He didn't! but take your pick from Political correctness in the addressing of mixed gender gatherings, people seeking UK Citizenship, the anniversary of The battle of Bonnymuir, two hangings, 19 transportations to Van Diemens Land (The archaic name for Tasmania), the last public hanging in Scotland, Druid Priests with long robes and web sites, Suffragettes, Bombs and the Stone of Destiny. All of this was carried out with a very deliberate eye on historical fact but designed to entertain.
==========================================================
14th January
Living where I do I have no access to "Superfast" Broadband! In fact I have no access to broadband of any efficiency at all by landline. I achieve my current supply from "3" for £20.00 a month via a mobile broadband router, It works pretty much just like a phone. For instance my current speeds are: -
Download - 4.12 Mbps (megabits per second)
Upload - 19.03 Mbps.
BT can offer me: -
Download - 2.1 Mbps
Upload - 0.6 Mbps

June and Dugald told me about Briskona who supply and install "Line of sight" hardware to the masts of the major moblie providers. I Contacted them and their surveyors arrived this morning. Two very nice young men told me everything I need to know.
There is a Government Scheme whereby, if your broadband speed is less than 30Mbps they will fund the installation of the hardware similar to that which Briskona is offering. It's a tall mast with a dish on the top like a satelite dish but it receives signals directly from a mobile mast. The only thing about this fabulous offer is that the Government will only fund it if by doing so my speed increases above 30Mbps!
I don't think that I need to say that we don't qualify for the grant. The best they could get was from Vodafone! The best speed they could get there was 16Mbps. That means that I would require to fund the installation of the hardware myself, £400, and thereafter pay Briskona £45 a month. So it's back to the drawing board.
13th January

I've heard it all now! There is a tweet today on the eponomous web site that announces that Marks and Spencer have, "following a campaign by a disability academic" rebranded their version of the confectionery "Midget Gems" as "Mini Gems" to avoid offending those people with dwarfism.

That brings to mind a beautiful young lady that was a competitor in the "Six Nations International Disabled Swimming Gala" that we staged in Ayr for John Kenny's year as RIBI President in 1993.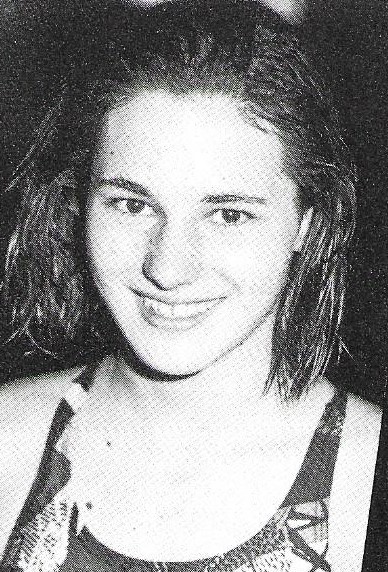 I forget her name but she wore a T shirt emblazoned with the slogan "Yes you are looking at a real live dwarf!" I am quite sure that she would, like most of us, never relate the confectionery with her condition.

Did you know that in days gone by Farmers would queue at the windmills to have their grain ground and would be required to "Wait their turn!" of the sails that is, before being invited in with their grain.
On this day: -
532 - Nika riots begin in Constantinople, revolt against Emperor Justinian I, prompted by chariot racing! Kind of like the fitba' these days!
1842 - Dr. William Brydon, a surgeon in the British Army during the First Anglo-Afghan War, becomes famous for (reputedly) being the sole survivor of an army of 16,500 when he reaches the safety of a garrison in Jalalabad.
1920 - A New York Times editorial mocks Robert Goddard, stating that rockets will never fly in space and saying that "…he only seems to lack the knowledge ladled out daily in high schools." Goddard's response was, "Every vision is a joke until the first man accomplishes it; once realized, it becomes commonplace."
1929 - Wyatt Earp dies!!!!!

1930 - After the success of the animated classic Steamboat Willie, the newspaper comic strip Mickey Mouse debuts.
==================================================================

10th January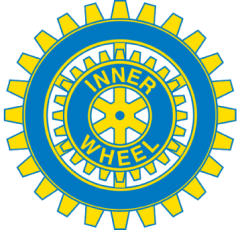 It's Inner Wheel Day!
President Helena Foster (1969-1970) came up with the idea for a special day for a special organisation, so she wrote a letter to all clubs worldwide.
"I would like to ask all members of clubs throughout the world to link together in ACTION ON JANUARY 10th. I have chosen this special day because it was on January 10th 1924 that the Mother Club, the Manchester Inner Wheel club, England, first adopted the name INNER WHEEL. It can be interpreted in any way you think fit- in a group or as individuals - giving personal service to someone who needs you - planting a tree or flowers to beautify some corner of your land or just the simple act of writing a letter. I am sure that there are inspiration and encouragement to be gained by the knowledge that your fellow members throughout the world are at that moment joined together to extend service and friendship"
The response to the first celebration of Inner Wheel day was magnificent. It is now celebrated in many diverse ways, each of them reflecting the aims of Inner Wheel: friendship, service, and international understanding. Some clubs have a social activity reflecting the friendship of members. Some members may help at a hospital or day centre or provide tea party for the elderly or for needy children. Many clubs will light a friendship Candle or contact other clubs abroad to wish them well. (quoted from "The Inner Wheel Spirit" by Luisa Vinciguerra)
Curiously 10th January is also "Margaret Thatcher Day" in the Falkland Islands.

We were watching Antiques Road Show last night! There was an expert appraising some Native American Beadwork. The owner asked the expert what would be the reason behind the varied nature of the articles themselves and the designs. The expert replied "It depends what his criteria was". Are we the only country that has professional presenters that don't know their own language?

It reminded me of a similar error that I made in French grammar some years ago. We had a ten year old swimmer staying with us on an exchange. He spoke no English at all and I was having to rely on my High School French. We were visiting Palacerigg Country Park where there was a field with a variety of breeds of rabbit. I turned to the boy who was looking over the fence quite excitedly and said "Aimez vous du lapin?" to which he replied "Ah! oui c'est tres delicieux". I should of course have asked "Aimez vous des lapins?"

We don't just watch rubbish on the tele though. We followed the Road Show with Matthew Bourne's "Red Shoes" Matthew Bourne is an absolute genius when it comes to choreography and his humour is amazing.

==============================================================
9th January

Well we went for a walk yesterday. Jorja, Shaw, Diane and I walked from the Seagull Trust Boathouse East along the Union canal and through the tunnel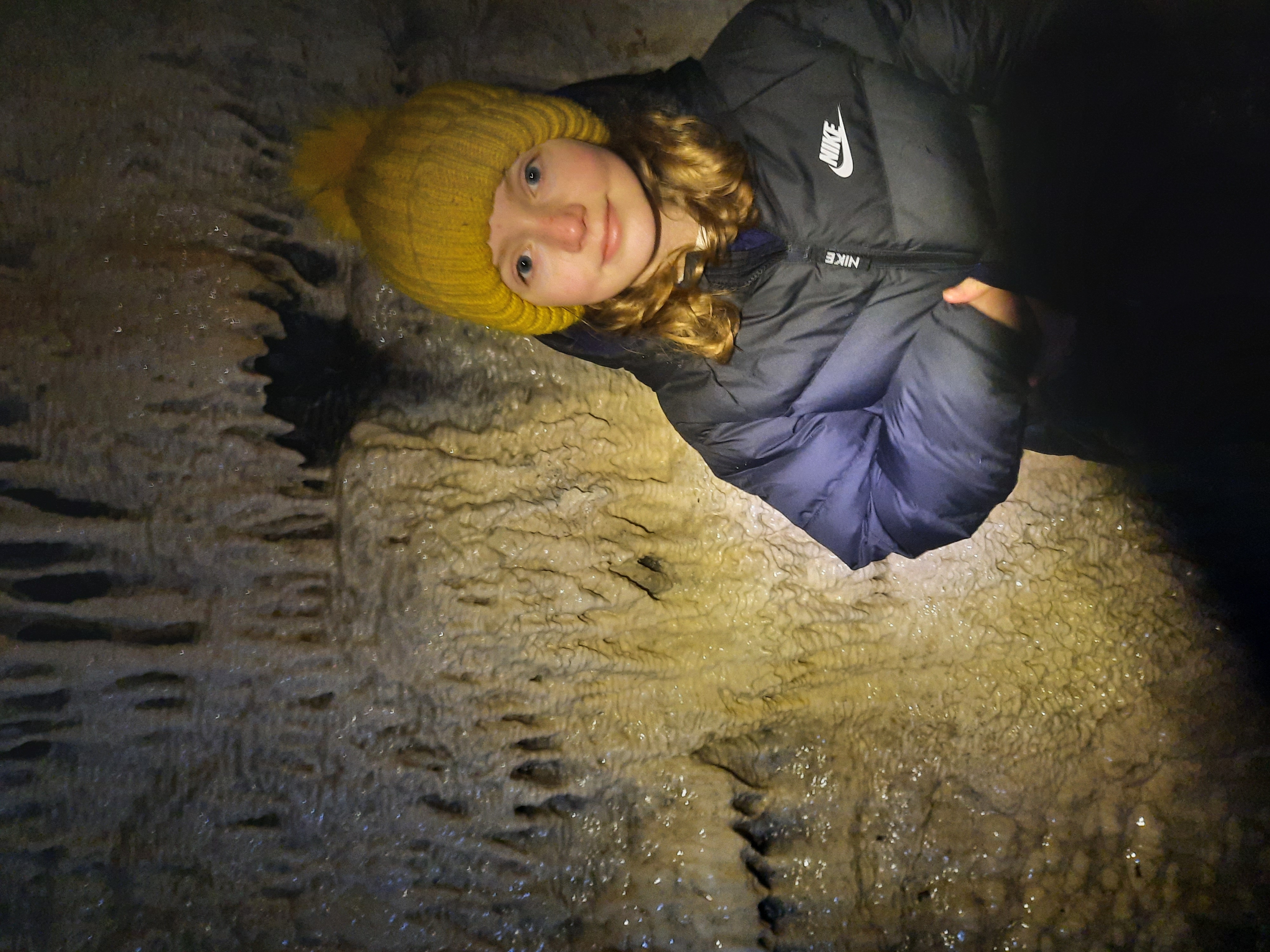 I had intended then to climb to the road and walk back overland but when we got to the Eastern end of the tunnel it was raining quite heavily so we retraced our footsteps through the tunnel.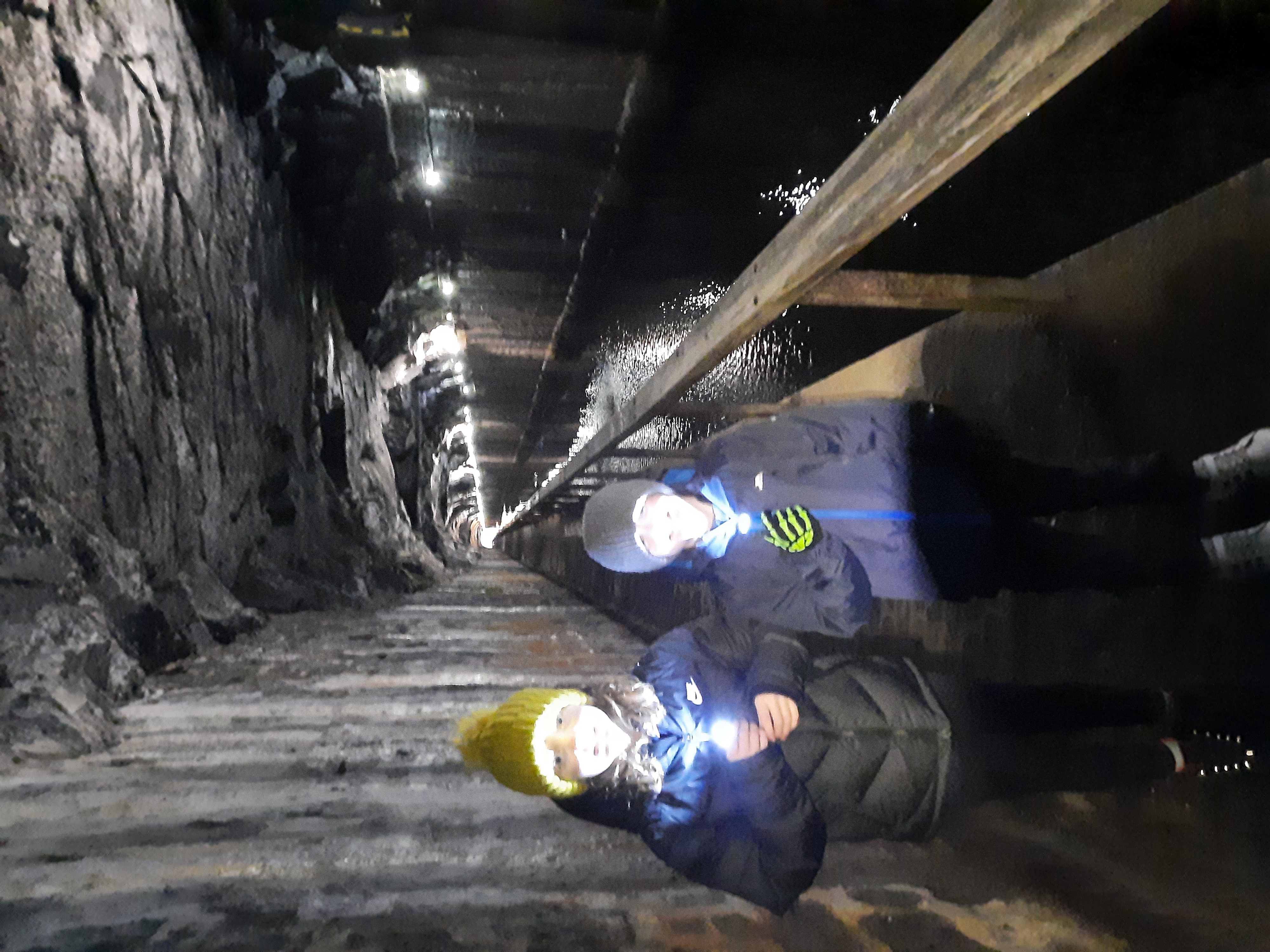 Curiously when we got back to the Western portal there wasn't a cloud in the sky.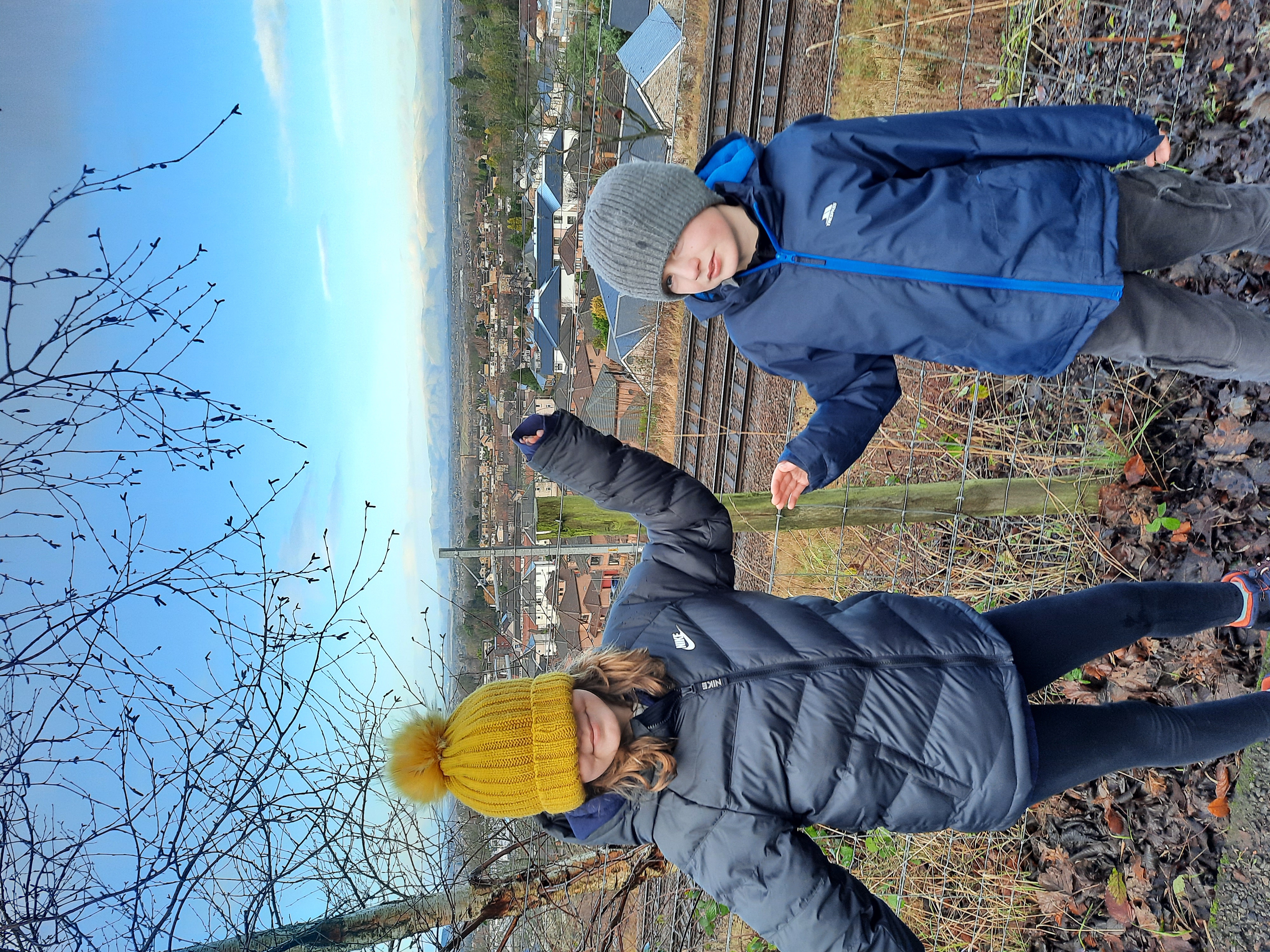 Yesterday Andrew reminded me about the usefulness of Amazon Smile! This is a screenshot of his account: -

I have asked you all before to try to utilise Amazon Smile with The Rotary Club of Falkirk Trust fund as the beneficiary. All it takes is a few minutes in setting it up and navigating to Smile rather than the regular Amazon site. Give it a bash.

On this day: -
1969 - First trial flight of Concorde supersonic jetliner, in Bristol.
1982 - Happy birthday Kate Middleton. Or to be more accurate Her Royal Highness The Duchess of Cambridge.
1998 - Jim Peters died on this date. He is probably best remembered for his collapse at the end of the marathon at the 1954 Commonwealth Games in Vancouver. He'd entered the stadium 17 minutes ahead of any rival but his early fast pace and dehydration on a hot day made him stagger and crawl in search of the line before falling eventually unconscious. He was awarded a special medal at the end of that year by Prince Philip "As a token of admiration to a most gallant marathon runner."'
2007 - Apple Inc CEO Steve Jobs announces the iPhone.
===================================================================

8th January 2022 already!

Seems like yesterday that we were organising the pre Christmas collections. I'm heading out to take our grandchildren through the Union Canal Tunnel. Meanwhile - Did you know?: -
After the Penny Black stamp came the Penny Red. This was introduced because once a Penny Black had been used, the post service would cross the stamp out in red to show it had been used. Lots of people discovered you could easily wipe this off and reuse the stamps. Once the Penny Red came in, black ink was used to cross out the stamp, making them much harder to reuse.
Great Britain is home to the shortest scheduled passenger flight in the world. The 2.7 km flight from Westray to Papa Westray in the Orkney Islands has a scheduled time of one and a half minutes, although the record stands at 47 seconds. Tickets with Loganair start from £7.25 one way.
Shakespeare has been credited by the Oxford English Dictionary for increasing the number of words in the English language. It's thought that his vocabulary contained over 20,000 words, and around 3,000 of these were added to our language.They include include: gossip (The Comedy of Errors), rant (Hamlet), zany (Love's Labour's Lost) and alligator (Romeo and Juliet).
Loch Ness stays at a temperature of 6°C all year round, not even freezing in the coldest Scottish winters.
The adder is the only venomous snake found in Britain and according to the NHS, around 100 adder bites are reported in the UK each year, mostly in the summer months. They're not particularly dangerous, but a bite will cause mild discomfort.
Buckingham Palace might be one of the most prestigious buildings in London, but did you know it was built on the site of a gay brothel?
On this day: -
1902 - A new law is passed in New York, which technically still exists, prohibiting men turning around on a street and "looking at a woman in that way". Offenders could be fined $25. Those that went on to commit a second flirting offence would be ordered to wear a pair of horse blinders whenever they stepped out on the streets!
1992 - U.S. President George H. W. Bush vomits in the lap of the Japanese prime minister and collapses to the floor. Bush had ignored a physician's warning to stay in bed.
=================================================================

5th January 2022 #2

Just to put all of that in perspective Preet Chandi, thought to be the first woman of colour to complete a solo crossing on Antartica, has finished her expedition to the south pole almost a week ahead of schedule.
Chandi or "Polar Preet", endured temperatures of -50C as she skied 700 miles across Antarctica in 40 days, seven hours and three minutes, narrowly missing out on setting a new world record by a woman for the trek.
She finished just behind the time set by Johanna Davidsson of Sweden, who finished in 38 days, 23 hours and five minutes in 2016.
Chandi, 32, is now the third-fastest female solo skier for the expedition behind Davidsson and Britain's Hannah McKeand, who recorded a time of 39 days, nine hours and 33 minutes in 2006.
Aparently now that she is finished the trek she is stuck at her destination until her aircrew recover from Covid!!!!
================================================================
5th January 2022

Gordon has alerted me to the fact that it is exactly 100 years since Sir Ernest Shackleton died on South Georgia.

Gordon describes the man as "Master Mariner" but he was much more than that. The following information was gleaned from a site purporting to display a "Biography" of the man. www.biography.com! However the accuracy of the content is in doubt since they say that he joined the "Merchant" Navy in 1890! I deliberately left that bit out for fear of upsetting Gordon.

He had set out on three separate occasions to Antartica. The first occasion was with Robert Falcon Scott. Scott got nearer to the pole than anyone had ever been but failed to reach his objective on that occasion. Ernest returned home seriously ill from that adventure. Upon his return to England, He pursued a career in journalism. Later he was tipped to become the secretary to the Scottish Geographical Society. He also made an unsuccessful attempt at becoming a member of Parliament.
Shackleton's South Pole expedition with Scott sparked within the young explorer an obsession to reach the Antarctic and In 1907, he made another attempt at achieving his goal, but again he fell short, coming within 97 miles of the pole before brutal conditions forced him to turn back.
On August 1, 1914, the same day Germany declared war on Russia, Shackleton departed London on the ship Endurance for his third trip to the South Pole. By late Autumn, the crew had reached South Georgia, an island in the southern Atlantic. On December 5, the team departed the island, the last time Shackleton and his men would touch land for an astonishing 497 days.
In January 1915, the Endurance became trapped in ice, ultimately forcing Shackleton and his men to vacate the ship and set up camp on the floating ice. After the ship sank later that year, Shackleton embarked on an escape in April 1916, in which he and his men crowded into three small boats and made their way to Elephant Island, off the southern tip of Cape Horn.
Seven hard days on the water culminated in the team reaching their destination, but there was still little hope in getting rescued on the uninhabited island, which, because of its location, sat far outside normal shipping lanes.
Seeing that his men were on the precipice of disaster, Shackleton led a team of five others out on the water again. They boarded a 22-foot lifeboat and navigated their way toward South Georgia. Sixteen days after setting out, the crew reached the island, where Shackleton trekked to a whaling station to organize a rescue effort.
On August 25, 1916, Shackleton returned to Elephant Island to rescue the remaining crew members. Astonishingly, not a single member of his 28-men team died during the nearly two years they were stranded.
In 1919, Shackleton published South, his detailed account of the journey and its miraculous ending. Shackleton, however, was not through with expeditions. In late 1921 he set off on a fourth mission to the South Pole. His goal was to circumnavigate the Antarctic. But on January 5, 1922, Shackleton suffered a heart attack on his ship and died. He was buried in South Georgia.
What a remarkable man!
=================================================================

2nd January 2022

Happy New year everyone! I can't think about what I might put here except maybe a few bits of interest: -
The Stars and Stripes US Flag was designed by a schoolboy. It started as a project for Bob Heft's junior-year history class in 1958, and it only earned a B-minus. His design had 50 stars, even though Alaska and Hawaii weren't states yet. Heft figured the two would earn statehood soon and showed the government his design. After President Dwight D. Eisenhower called to say the design was approved, Heft's teacher changed his grade to an A. It was officially adopted on 4th July 1960.

Australia is wider than the moon.

The moon sits at 3400km in diameter,

while

Australia's diameter from east to west is almost 4000km.

The Ancient Romans used to drop a piece of toast into their wine for good health -

hence why

we

'raise a toast'.

Venus is the only planet to spin clockwise.

It travels around the sun once every 225 Earth days but it rotates clockwise once every 243 days.

The Spanish national anthem has no words.

The 'Marcha Real' is one of only four national anthems in the world (along with those of Bosnia and Herzegovina, Kosovo, and San Marino) to have no official lyrics.
On this day: -
=======================================================

31st December 2021

It's Hogmanay! That got me thinking! What is the origin of the word? I consulted the Concise Scots Dictionary.-
31st December - The last day of the year - New Year's Eve
A New Year Gift esp. a gift of Oatcakes given to or asked for by chidren on New Year's Eve.
The cry uttered in asking for the New Year's Gift
Any form of hospitality esp a drink given to a guest to celebrate the New Year or a gratuity given to a tradesman or employee on that day.
An oatcake or biscuit baked and given to children on the 31st December.
Curiously there is no derivation listed although it does say that it dates to, at the very earliest, the 19th Century.
Wikipedia says : -
The origins of Hogmanay are unclear, but it may be derived from Norse and Gaelic observances of the winter Solstice.
There are lots of references to the Viking influence in the celebration relating mainly to the Winter solstice but the bit I liked was the tall dark stranger who came to your door after midnight! Why was that considered good luck? The dark-haired male bit is believed to be a throwback to the Viking days, when a big blonde stranger arriving on your door step with a big axe meant big trouble, and probably not a very happy New Year!
On another note, I delivered the Rotary Club of Denny top table bell to the Dunipace and Denny Historical Society on Wednesday. The lady was very appreciative and said that they had a number of other artefatcs, I think she said that they had gifted them to the Club over the years.
On this day: -
I went to my usual page for this and discovered an absolutely stupid and unbelieveable record rainfall! It was so unbelievable that I went elsewhere to prove that it was in error as it indeed was. But in the process I learned a new word! - Orography! the branch of physical geography dealing with the formation and features of mountains. and it was used in the context of "
orographic precipitation, rain, snow, or other precipitation produced when moist air is lifted as it moves over a mountain range."
Just for the record the source I originally consulted said that the world record for rainfall in a day was in 1861 22,990mm of rain falls in Cherrapunji Assam in India, a world record. That was absolutely and obviously catastrophically wrong! The actual record is 1,825mm which was recorded in 1966 in Foc Foc La Renunion in the Indian Ocean.

===============================================================
30th December 2021

A number of things occur to me today! I think mostly because of my age! I remember "In the olden days" we had bank books and if we wanted to deposit or withdraw money we would take our bank book to the bank and the teller would write in it the state of the account. There would be signs all over the bank telling us lots of things like what interest we could get on different accounts or even how we could go about borrowing. This last bit hasn't changed much but Wow! how the rest has!

Robert Craig texted me last week to say that he had deposited a donation for the benefit of the Santa Sleigh collection at Tesco. When checking this morning (on my phone) I saw that there was no such deposit. I texted Robert at 10.04 to say just that and received a reply at 10.16 to say that there must have been a glitch and it was done now. At 10.17 I checked again (on my phone) and there it was! No one left the house! For all I know Robert was still in his Jim Jams supping coffee at the breakfast table.

I remember when phones were things that you used to telephone people, after all is that not what "phone" is short for?
But not all things have changed for the good!

On Fiday last week I checked the cash raised from the Tesco collection and bagged it in their big deposit bags along with pay-in slip. (Mary and Nancy had already counted and bagged the cas.) I checked the Cydesdale Bank Web site and it said that they were open until 4,30pm. So at 3.00pm I beetled off to the bank with my trove and stopped ouside the bank - It wiz shut! So I have had £656.39 lying in my study over the festive period. When I returned to the bank yesterday (assuming that they would have been shut both Monday and Tuesday as well) I deposited the cash in the night safe thingy and sought out someone to complain to about their inadequate communications. While doing this I came across inumerable notices entitled "Festive Season opening times". It seems that just like 50 years ago one is suipposed to visit the Bank to find out whether or not they are open!
The other thing that I have been thinking about is Covid - Pandemic - Mask wearing - Social distancing & etc.

I heard a newscaster this morning use the phrase "After this pandemic is over!" It got me thinking. OK a pandemic is defined as -

(of a disease) prevalent over a whole country or the world.
The World Health Organisation is the body with the accumulated data to enable them to establish whether a pandemic exists. They don't create it! This begs the question. What happens to the virus? It's sole purpose in life is to reproduce! Vaccines simply stop it from harming people. We eventually become immune as a result of the herd immunity thing but it doesn't make the virus extinct. It's like flu. Ebola, and many other viruses that are there all the time evolving.
So, when the "pandemic" is over the virus is no longer "prevalent over a whole country or the world" but it is still out there! Can we afford to ignore it "After this pandemic is over!"???
On this day: -
1887 - A petition, signed by more than 1 million women in Britain, was sent to Queen Victoria calling for public houses to be closed on Sundays. I think that I might have said before that "Public House" gets its name from the fact that initially they were just that! They were houses, domestic dwellings, that made and sold beer to passing customers. A 19th century map of Falkirk High Street shows many such "Public Houses" identified with the shortform "PH"
1946 - Football league players threatened to strike over the proposed maximum wage of £11 a week.
1954 - Great piece of Trivia - British athlete Chris Chataway became the first winner of the BBC's Sports Personality of the Year award.
1986 - According to new plans by the government, more than 200 canaries would be 'phased out' of Britain's mining pits. New electronic devices would replace canaries as detectors of harmful gasses, because they were said to be cheaper in the long run and more effective.
============================================================

25th December

Lots to do today but I thought that I'd just say Merry Christmas. I hope that you all have a great day.
On this day: -
0000 - Christ is born in Bethlehem!
===========================================================

24th December

My daughter had a set of bar stools that consisted of padded polypropylene seats bolted to a rather substantial steel and timber base. The result was that one of the seats disintegrated and I was given the base with which to manufacture an occasional table! Here is the result: -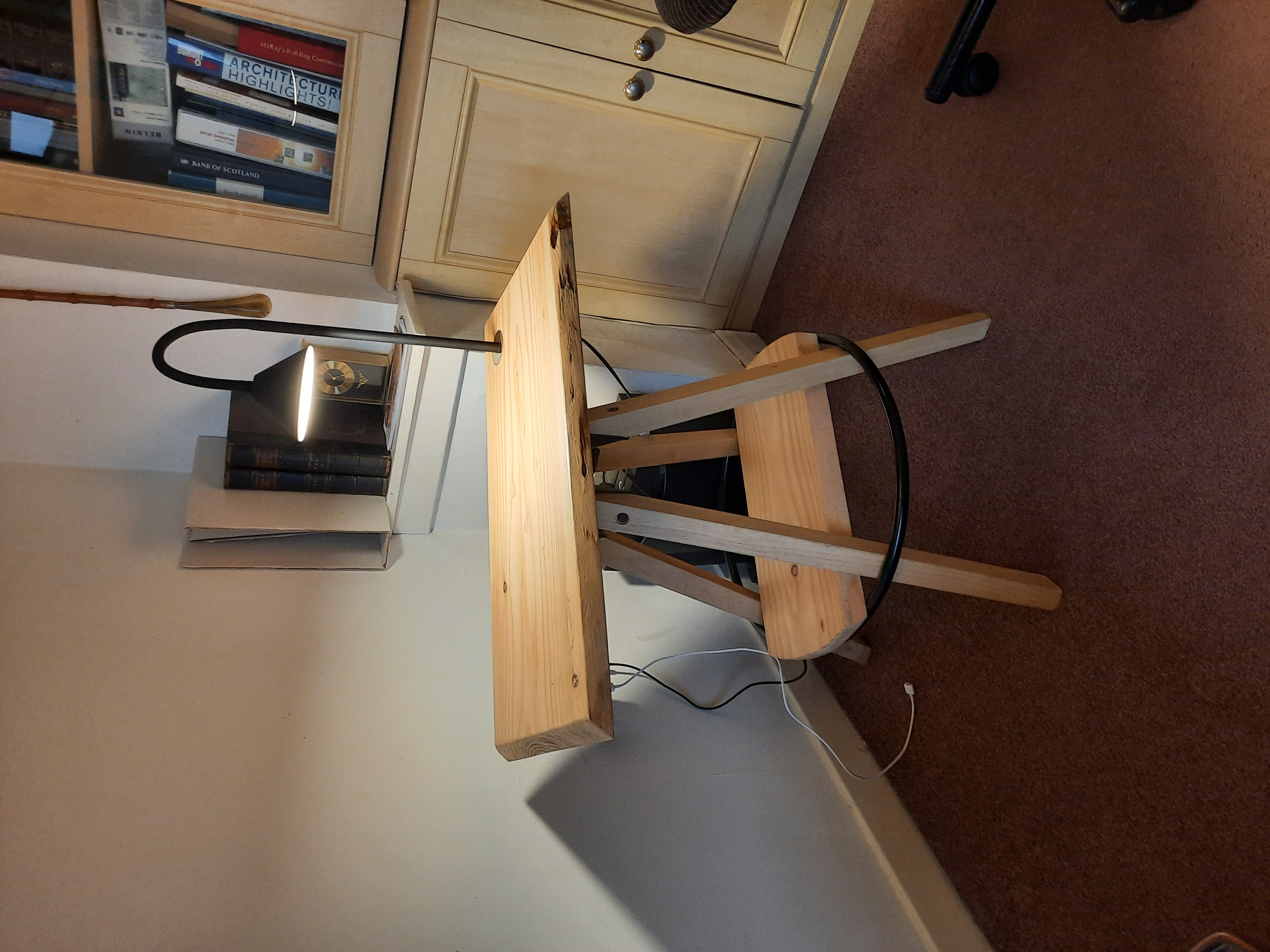 It is in the corner of my study and I intend covering it with a suitable cloth (Repair Shop like) and revealing all when she arrives for dinner tomorrow.

On this day: -
1818 - Christmas carol "Silent Night" composed by Franz Xaver Gruber is first sung at St Nicholas parish church in Oberndorf, Austria.
1647- Bah Humbug has always been the catchphrase of those who eshewed Christmas Celebrations. This stemmed from Charles Dickens' character Scrooge. But long before him, the English Puritans under Oliver Cromwell who overthrew King Charles the first in 1647 took it much further and banned Christmas celebrations altogether.
After chopping off the King's head, one of their first acts was to decree that instead of feasting and making merry, Christmas should instead be a time of "fasting and humiliation" when people should account for their sins.
=============================================================

23rd December

We had a great day yesterday at Tesco in Redding with the Santa Sleigh. We had visits from folk that only came to see us because they had seen notice of our presence there on Social Media (don't ask me which one but apparently we were "tagged")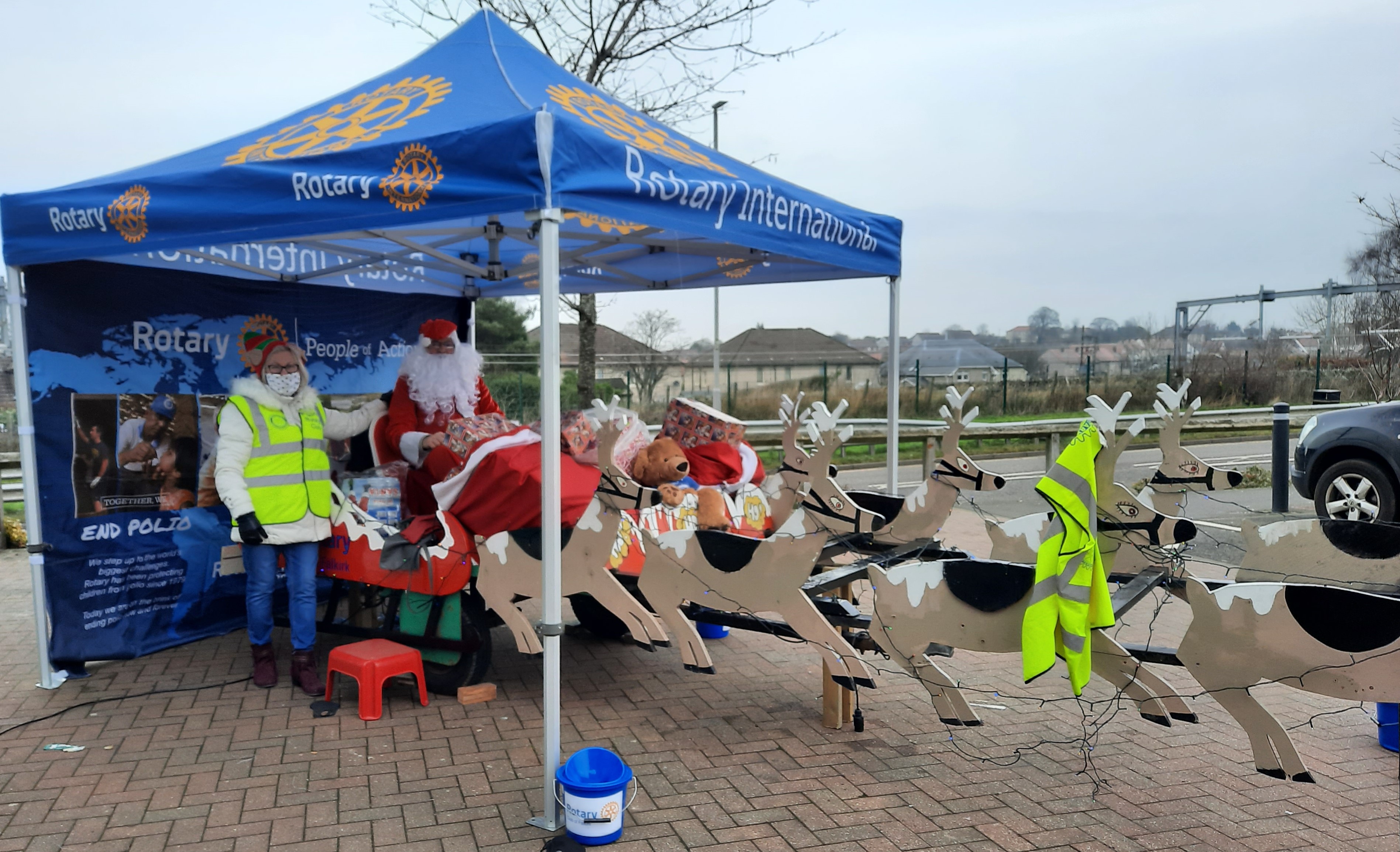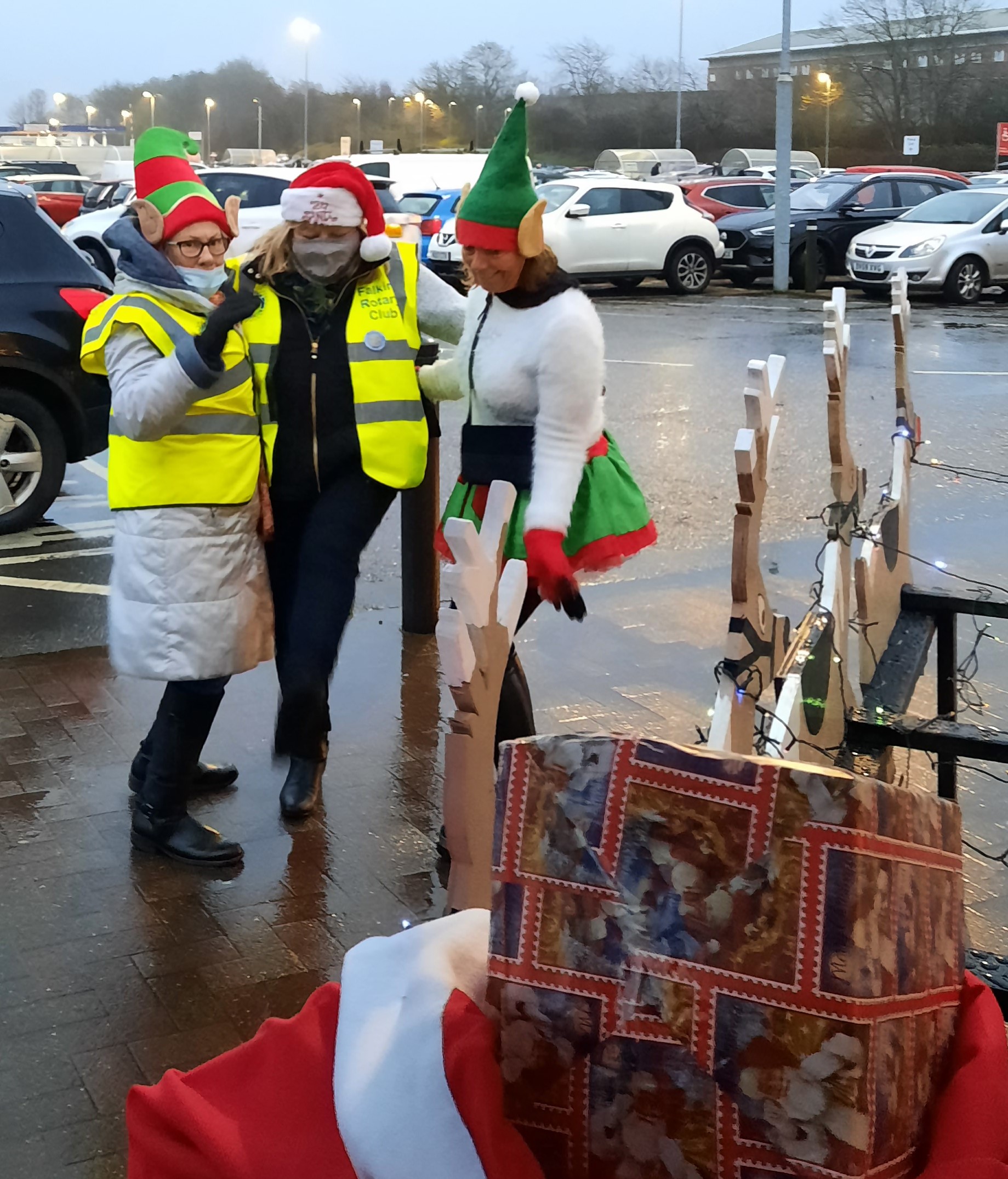 Altogether over the two days we raised £1,425.62. If you add the collection we did at the Howgate then our Christmas collections raised a total of just under £1,600. That's a result I would say.

=============================================================

21st December

It's that time of the month again! Time to donate some of your saved lunch money to the Food bank. It is also 21/12/21 which is the shortest day of the year! The Winter Solstice! It heralds the steady climb towards Spring and Summer as the sun begins to rise earlier and earlier in the day.

This has been a relatively mild winter so far! I am probably more aware of that than most of us because I record my power consumption on a daily basis and can compare it to previous years at the same time. This odd observation was borne out when I saw by the roadside that the whin (you might call it gorse) was in bloom as early as the beginning of December. This doesn't happen normally until, at the very earliest mid to late January.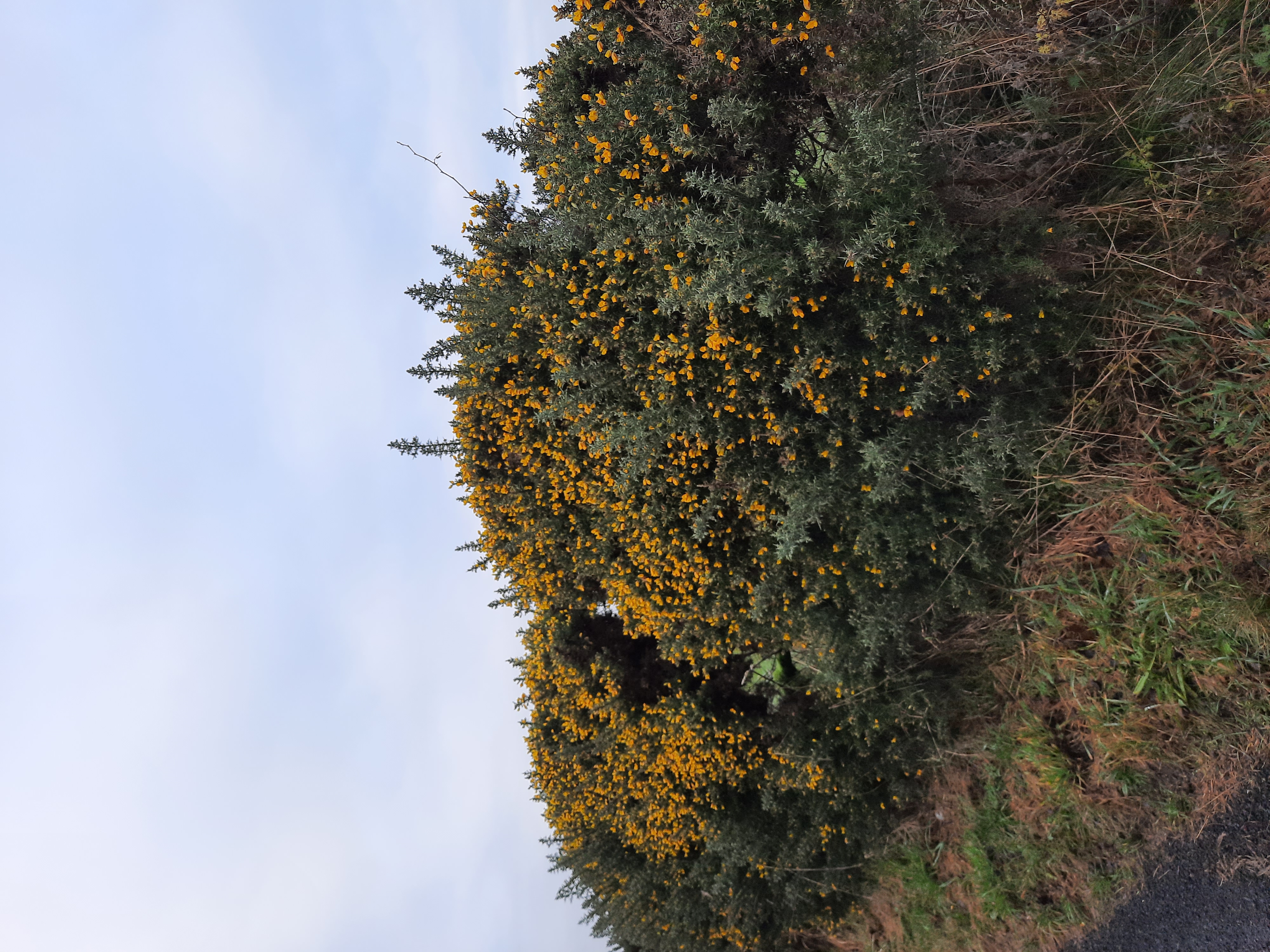 On this day: -

1842 - Pentonville Prison, Islington, was opened. Pentonville became the model for British prisons. A further 54 were built to the same design over six years, and hundreds more were built throughout the British Empire.
1846 - Robert Liston, Scottish surgeon, used anaesthetic (ether) for the first time in a British operation, at University College Hospital, London, to perform an amputation of a leg. Liston was known as 'the fastest knife in the West End' at a time when speed was essential to reduce pain and improve the odds of survival of a patient.
1988 - It is 33 years ago today that Panam flight 103 was bombed killing 270 people.

1989 - U.S. Vice-President Dan Quayle sends out 30,000 misspelled Christmas cards: "May our nation continue to be the beakon of hope."
2014 - A former senior military intelligence officer disclosed that a British soldier was investigated for touching a Taliban fighter on the nose with a sheet of paper during a routine interrogation as he had broken rules concerning the touching of detainees during questioning. The £31 million inquiry, chaired by Sir Thayne Forbes, a former High Court judge, listed several instances of what was judged to be 'ill-treatment during questioning'.
===================================================================

20th December

In the spirit of Christmas and embracing the idea of recycling and converting single use plastic to other useful ends: -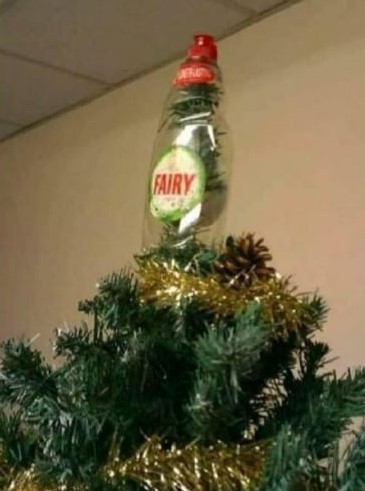 On this day: -

1805 - Thomas Graham, the Scottish chemist who discovered the principle of dialysis, was born.
1820 - The State of Missouri imposes a $1 bachelor tax on unmarried men aged between 21 & 50.
=========================================================================

19th December

Tesco looks like its going to be very successful! The sleigh, The Gazebo, Santa and the elves attract the kids and Mary et al catch the adults in the exit foyer. Notes from fivers to fifties have been deposited. Everyone is having a great time.

Must rush! Got to take the Gazebo down!

==================================================================
18th December

Our Sleigh is all up and running now and Santa even showed for a photo opportunity.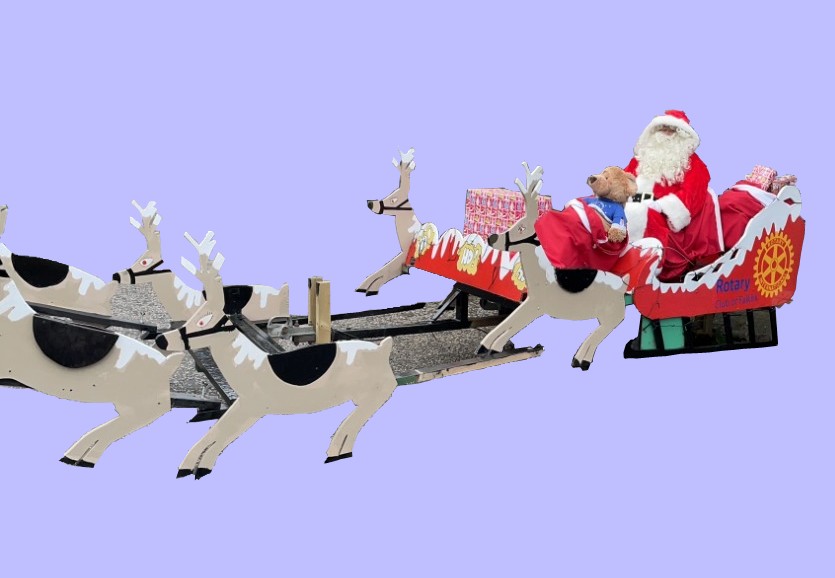 Have you ever heard of "Ebonics"? Apparently the Oakland, California, school board unanimously passed a resolution on this day in 1996 for the incorporation of Ebonics in the classroom. This was done to facilitate "maintaining the legitimacy and richness of such language … and to facilitate their acquisition and mastery of English language skills." It also proposed an increase in salaries of those proficient in both Ebonics and Standard English to the level of those teaching limited English proficiency (LEP) students and the use of public funding to help teachers learn Ebonics themselves.
Still wondering?
The word "Ebonics" is a portmanteau of "Ebony" and "Phonics" and was coined by Robert L. Williams, who described it in his 1975 book Ebonics: The true language of Black Folks.
Ebonics is often referred to by mainstream linguists as African American English (AAE).
Also on this day: -

1865 - Slavery is abolished in the US - "Neither slavery nor involuntary servitude, except as a punishment for crime whereof the party shall have been duly convicted, shall exist within the United States, or any place subject to their jurisdiction."
1917 - The 18th Amendment to the US Constitution, authorizing the prohibition of alcohol, is approved by the US congress and sent to the states for ratification.
=====================================================================

17th December.

We were at the Howgate Centre yesterday. President elect Linda, Ausat and June accompanied me while we amused the folk with the Denny Bell. I had approached the Denny Historical Society who had said that they would like to have the Bell but when I returned to them to ask where I should take it they never replied. I intend following that up but in the meantime we used it as a prop to raise money. "Every time a bell rings an angel gets its wings!" (from the James Stewart Movie "It's a Wonderfull LIfe). And it worked! we raised £173.70 Including one card payment of £3 but excluding £10 donated by my patient and pal David who handed it to me today. I'll pop it in the box on Sunday.

For years now I have been torn between the use of the word Strategy and whether or not it should be Stratagem. For some reason I had it in my head that Strategy was a group of stratagems. Not so! Last night I looked it up! I don't know why I have never done that before! Apparently Strategy is an accepted method of going about things while a stratagem's primary definition is "a clever scheme for achieving an objective, often by deceiving an enemy"
On this day: -
1398 - Tamerlane captures and sacks Delhi, defeating Sultan Nasir-u Din Mehmud's armies by setting camels loaded with hay alight and charging them at the Sultan's armoured elephants!
1849 - Gamekeepers whose top hats were constantly being knocked off by low-hanging branches when they were on horseback needed a better form of headgear. They got it on this day when a new style of hat was put to the test at the world's oldest milliner – James Lock & Co of St. James's, London. The story goes that Lock & Co were commissioned by a customer to produce a sturdy, low-brimmed hat that would overcome the low-hanging branches problem.
There is confusion over the identity of the customer. Some say it was Thomas William Coke (pronounced "Cook"), 2nd Earl of Leicester, who wanted the new hat for gamekeepers at his estate, Holkham Hall in Norfolk.
Others believe it was Edward Coke, younger brother of Thomas. Either way, Lock & Co engaged Thomas and William Bowler, hat-makers in East London, to fulfill the order. The new hat that they produced was taken to Lock & Co's premises on 17 December 1849 and presented to the customer.
There may be some doubt about which Coke it was, but there is no dispute about what happened next: he took the hat, placed it on the floor and stamped on it twice to test its ruggedness. Satisfied, he paid twelve shillings for it.
1398 - Tamerlane captures and sacks Delhi, defeating Sultan Nasir-u Din Mehmud's armies by setting camels loaded with hay alight and charging them at the Sultan's armoured elephants.
1900 - 1st prize of 100,000 francs offered for communications with extraterrestrials. Martians excluded-considered too easy.
1936 - Happy birthday Pope Francis!

=======================================================================

15th December

After my narrow view on the attention that people paid to the Longannet chimney I got this from Gordon. It never occurred to me that it had any use except for carrying the flues from the coal fired generators (there were five flues in the chimney): -
Longannet Lum was a much-used navigational aid to Pilots on the Forth. When coming up the river, when clear of the Beamer Rock, if visibility was reasonable, you altered course to starboard to put the chimney right ahead to begin with and then made small alterations to the course as the situation warranted.
Now that it is no more, the Navigating Officers of all ships worldwide, of all nationalities, (usually the Second Officer), will have to make chart corrections to eliminate the feature from their charts. In Britain this will be promulgated by the Admiralty who will issue a Notice to Mariners which will have a number, and that number will be written in indelible charting ink on the bottom edge of each British chart when the correction is made. Other maritime countries have similar systems.

Gordon.
And Andrew gave me this as an indication of the success of Lendwithcare: -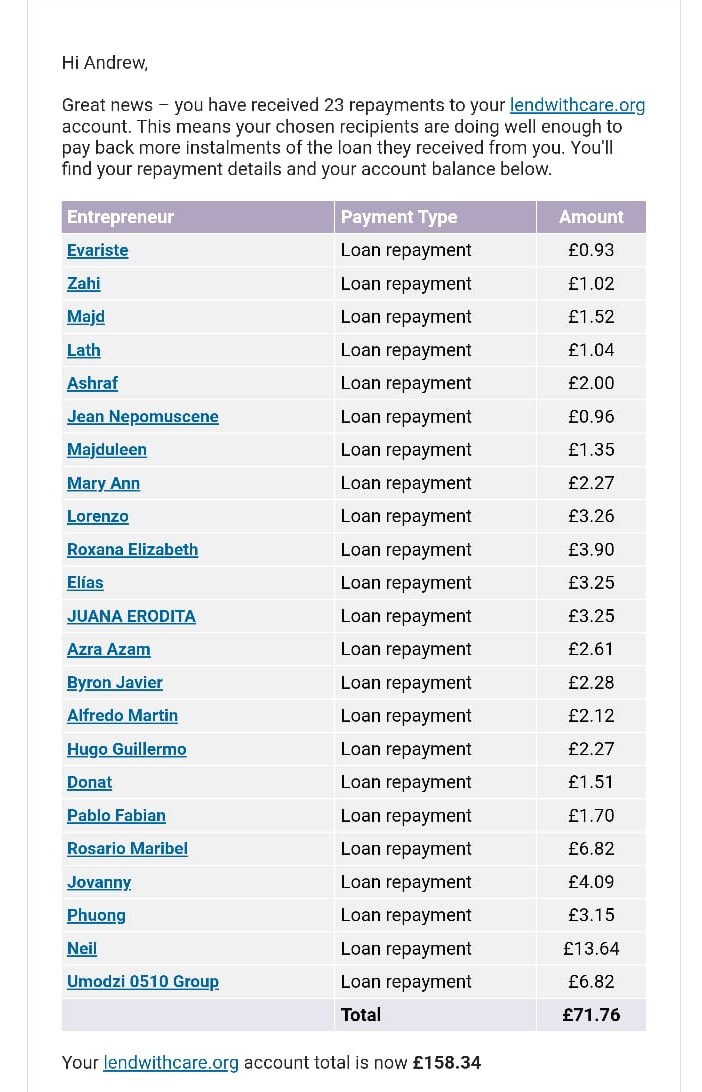 On this day: -

1593 - State of Holland grants patent on windmill with a crankshaft.
1832 - Alexandre Gustave Eiffel was born on this day. He became a civil engineer responsible for the tower that bears his name and which became the iconic symbol of Paris – and, indeed, France itself. But he also played an important role in building the equally iconic symbol of the United States – the Statue of Liberty. Interestingly, though the French could do nothing about Hitler's presence, Resistance fighters were determined that the Fuhrer would not have the satisfaction of ascending the structure – so the lift cables were cut before the Germans got there. Reaching the top then meant a climb of 1,665 steps.
Nazi soldiers were nevertheless ordered to climb to the summit and hoist the swastika – which they managed to do. But the flag was so large it blew away after a few hours and had to be replaced by a smaller one. Hitler's reaction is not recorded.
1890, 1944 and 1966 - Sitting Bull, Glen Miller, and Walt Disney all died on this date.
1973 - American Psychiatric Association declares homosexuality is not a mental illness.
==================================================================

14th December.

What a date! Absolutely hunners of things of importance happened on the 14th December. viz.
On this day: -
1476 - Revered as a folk hero in Romania as well as other parts of Europe for his protection of the Romanian population both south and north of the Danube, Vlad the Impaler died on this day. He was a three-time Voivode of Wallachia, ruling mainly from 1456 to 1462.
As the cognomen

(now there's a word for you!)

"The Impaler" suggests, his practice of impaling his enemies is part of his historical reputation. During his lifetime, his reputation for excessive cruelty spread far and wide.
He is most famously known by his patronymic

(wow another cracking word!)

name: Dracula, which inspired the name of the vampire Count Dracula in Bram Stoker's 1897 novel "Dracula".
1542 - Princess Mary, at 6 days old, becomes Mary, Queen of Scots on the death of her father James V at only 30 years of age.
1861 - Prince Albert died of Typhoid at the age of 42! That's yet another thing that has been consigned to history by the use of vaccines.
1896 - The Glasgow Underground Railway was opened by the Glasgow District Subway Company.
1900 - Birth of Quantum Physics: German Physicist Max Planck presents a theoretical derivation of his black-body radiation law. His quantum hypothesis states that any energy-radiating atomic system can theoretically be divided into a number of discrete "energy elements" ε (epsilon) such that each of these energy elements is proportional to the frequency ν with which each of them individually radiate energy, as defined by the following formula: ε = hν, where h is Planck's constant. For this he was awarded the Nobel Prize.

I knew that!



1911 - Roald Amundsen reaches the South Pole.
1972 - Last man on the moon! Eugene Cernan!

Never heard of him!



==================================================================

12th December

There has been quite a response to the demolition of the Longannet Power Station chimney. I have seen all sorts of videos from all sorts of angles and positions. Odd how no one ever bothered about it before. I remember some time ago while on the way to Burnt Island to assist my daughter at a Waterbabies event, I was passing Longannet on it's northern side and was quite taken with the way that the weather had shown it in a really eerie way. Like it was floating in a sea of mist with the sun having been ejected from it's extremity.

On this day
====================================================================

11th December

Work to renew the roof at Stirling Station has unearthed a treasure trove of papers and postcards, some of which date back to the first World War. The project at Stirling will see the refurbishment of all slate roofs and all roof sections will be inspected and repaired. It was during an inspection of the crawl space of the roof of the building, that members of the site team stumbled upon a bundle of old papers and postcards.
Further inspection revealed that the bundle consisted of official Caledonian Railway postcards, which had been sent to members of the public in the Stirling area, requesting that they collected items which had been sent on the train.
Amongst those postcards, which dated back as far as 1912, were several from April 1916 and had been sent to troops and regiments stationed in the Barracks at Cambusbarron, requesting that they collect kit bags and parcels from the station. During World War I, a number of regiments were stationed in barracks around the Cambusbarron area, which is said to have consisted of training camps including areas for live shooting practice.
Little is known about the other soldiers named on the postcards and Network Rail are keen to uncover more of the men's stories and are appealing for any information on the soldiers and their regiments for instance: -

2nd Lt. J M or H Campbell 11th Gordon Highlanders
Private W Reddiford B Company 11th Gordon Highlanders
Private George Rankine 6th Black Watch
Officer Commanding A Company, 11th Gordon Highlanders
On this day: -

1688 - James II fled to France, never to return and was forced to abdicate after William of Orange had landed in England on 5th November.
1769 - Venetian blinds were patented (in London) by Edward Beran.
1986 - Church leaders condemned a radio campaign about Aids for 'condoning promiscuity'.
===================================================================

10th December

A long, long time ago I recall, at a regular Rotary Club meeting, Robert Craig said to me "We should really suspend meetings until they have this Corona Virus under control!" Neither of us knew then that almost the following day the World Health Organisation would declare a Global Pandemic! And here we are 20 months later! How time flies.
I was curious about why we had jumped all the way from Delta to Omicron. It turns out that we didn't! Apparently all virus mutations are given a name but some of them are only considered "of interest". The ones we hear about are "of concern"! so those that were named all the way from epsilon to xi (with two exceptions) were only "of interest".

Talking of interest, I got this from Anne Watson yesterday: -
Inner Wheel

At our meeting in November 3 members were awarded certificates for 40 years of membership of Falkirk IW Club they are Evelyn Hill wife of former Rotarian Mac ; Angie Millar wife of former Rotarian John and myself. I have been a member of IW for exactly half of my life.

In January Christine Waddell will have been a member for 50 years it's mind boggling!
In friendship
Anne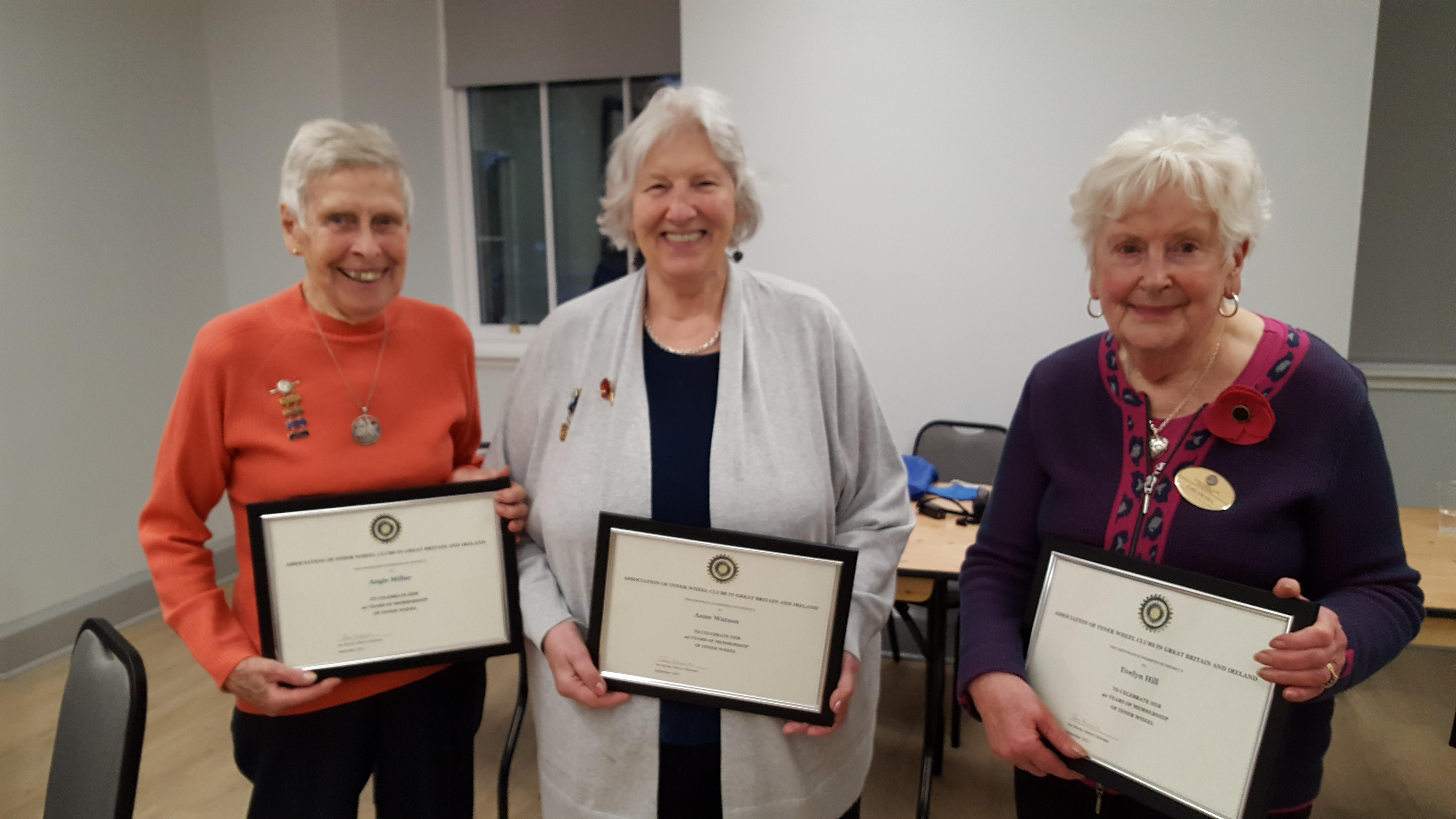 It would be churlish of me not to acknowledge the fact that Ian Rule and Inglis both clocked up 45 years in the Rotary Club of Falkirk this year, closely followed by Harry at 43.

It is notable too that the average length of service in the Club is 19.25 years and we have clocked a total of 616 years of continuous service among us all. Sadly I can't include details of members who have served before in other Clubs because I don't have the details.

On this day: -
1520 - Martin Luther publicly burns a papal edict demanding he recant his 95 Theses.
1907 - Author Rudyard Kipling was awarded the Nobel Prize for Literature. It was the first time it had been bestowed on an English writer.

"In consideration of the power of observation, originality of imagination, virility of ideas and remarkable talent for narration which characterise the creations of this world-famous author."

1932 - The "Great Emu War" ends: Emu's surprising resilience to bullets led to Emu victory over Australian military in Campion district, Western Australia when the military tried to cull the species.


9th December

I often get to this point and pause to think what I might put here! Today I sat back in my chair and looked up for inspiration. My eyes alighted on a book that was given to me by Jim Watson."Rotary Wisdom- Reflections on Service". It was given to Jim by RI President James Lacy in 1998-99. Why Jim gave it to me remains a mystery but I have kept it alongside a lot of Rotary Memorabilia. I had placed the page marker ribbon in a particular page and immediately realised that that would be a fitting topic for today.

Some time ago in 1992-93; I think it was the year that John Kenny was RIBI President; a number of us visited the RIBI Conference in Blackpool. We had been asked to assist stewarding duties and did so happily. It was the year that Cliff Dochterman was RI President and he was present at the Conference. He sticks in my mind because my only other experience of RI Presidents was with Lois Giay some four years later at the Glasgow RI Convention. When I saw Lois Giay with his security and his massive entourage I immediately realised that Cliff was different.

While we were doing things in the House of Friendship at Blackpool, menial things, Cliff came up and chatted to us! We had no idea who he was! But he was an incredible presence. He chatted with us for what seemed like ages before moving along, meandering among the crowds of people.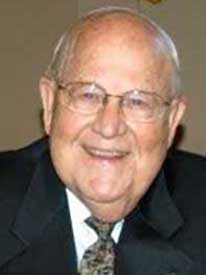 This is his entry in the book that I speak of above! I include it here as a mark of respect for the man, who died last month. I will always remember the genuine friendship that emanated from his presence.

On this day: -

1868 - The first traffic lights are installed outside the Palace of Westminster in London. Resembling railway signals, they use semaphore arms and are illuminated at night by red and green gas lamps.
1934 - Happy birthday Damd Judy Dench.
1960 - Coronation Street, the world's most successful television soap opera, began broadcasting on this day. It went on to become the only soap to have triggered comments by a Prime Minister in Parliament and to have received royal patronage. In December 2000 when the show celebrated its fortieth year by broadcasting a live, hour-long episodePrince Charles appeared as himself in a news bulletin as one of the Street's councillors was presented to him.
===========================================================

8th December
Well that's four smoke detectors, 1 heat detector and one carbon monoxide detector all fitted and linked. The chap at Hamilton linked the units within 5 minutes. I came home and fitted them in a further 30 minutes. That means that I am now compliant with the regulations which will come into force in February and can confirm to my insurers that is the case.

I've been raking through stuff again and came across this.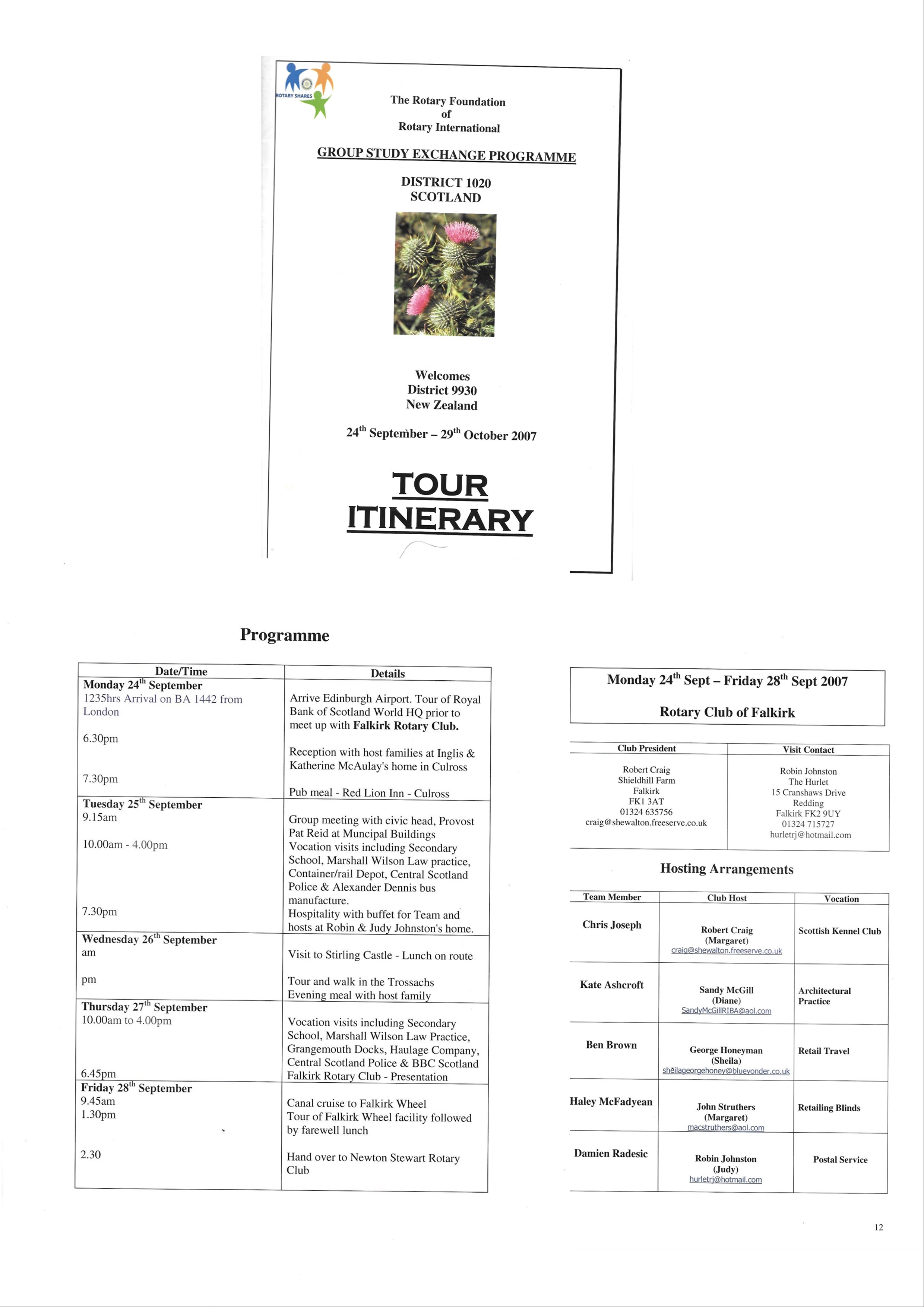 Who would have thought that it was 14 years ago. It seems so long ago. Our charge Kate has been back to see us since and we have been to New Zealand to see her in Auckland. Just think, that 26 year old young lady who learned to drink my Macallan while she was here is now 40.
On this day: -
1857 - New York businessman Joseph Gayetty begins marketing Gayetty's Medicated Paper. It was made of pure Manila hemp paper and contained aloe as a lubricant and was marketed as an anti-hemorrhoid medical product. Gayetty warned against using toxic inked papers on the body's delicate parts. It remained in use until 1935 when splinter-free toilet paper was introduced.
1980 - John Lennon is killed by David Mark Chapman as he and Yoko Ono returned to their Manhattan apartment. Lennon had autographed an album for Chapman earlier that day. Chapman was angry at Lennon for remarks he had made years before stating that the Beatles were more popular than Jesus and that Lennon, in his song Imagine "told us to imagine no possessions and there he was, with millions of dollars and yachts and farms and country estates, laughing at people like me who had believed the lies and bought the records and built a big part of their lives around his music."
2019 - American actor and puppeteer Caroll Spinney—who created the characteristics and mannerisms of Big Bird, a larger-than-life puppet in Sesame Street that he played for nearly 50 years—died at age 85
===================================================================

7th December

I received delivery of my regulation smoke, heat and CO alarms the other day. Needless to say one was broken and I had no success in pairing them so that they were all linked together. I contacted the supplier (I bought them on line) and was really impressed by the service. The gentleman immediately agreed to replace the broken detector and offered to send out one of his engineers to link them up for me. I felt a wee bit silly about having failed to do that myself so I declined his kind offer and said that I would visit his premises to have that done. So today I'm off to Hamilton for just that.

You will recall the other day that I made reference to Samuel Langhorn Clemens and his nom de plume - Mark Twain. Gordon has sent me these which I found really interesting. They are the pages from "The Boatswain's Manual" that deal with the duties and work of "the Leadsman". It contains lots of really interesting facts that, as a result of progress are quite likely to be forgotten which is a shame.

You will recall that the nom de plume was taken from the cry of the leadsman while announcing a water depth of two fathoms (12'-0") Mark Twain. What I didn't realise was how he figured out the length of the rope in the water. I never even thought about it. It turns out that the markings on the line are each different to distinguish one from the other by all, or most, of the senses. And that's not all! Not all of the points on the rope are "Marks"! Marks are at 2,3,5,7,10,13,15,17 & 20 fathoms while those between are called "Deeps" - Fascinating! even right down to the practice of putting tallow on the bottom of the lead weight in order to determine the nature of the bed of the sea or river at that point. Love it!

On this day: -

343 - (Actually yesterday) St. Nicholas of Bari, Bishop of Myra, the inspiration for Santa Claus, died on this day. But the legend did not die with him and, as every child knows, St Nicholas, also known as Santa Claus or Father Christmas, is hauled by reindeer every year to millions of homes where he enters via the chimney to deliver gifts. Or so they say.

I have a theory that the name Santa Clause has evolved through the years as an extension of the European pronunciation of St. Nicholas - Saint pronounced "San" and Nicholas pronounced "Neeclaus"

1909 - Inventor Leo Baekeland patents the first thermo-setting plastic, Bakelite, sparking the birth of the plastics industry. So it's a' his fau't!
1941 - Imperial Japanese Navy with 353 planes attack the US fleet at Pearl Harbour Naval Base, Hawaii, killing 2,403 people.
1968 - Richard Dodd returns a library book his great grandfather took out in 1823 from the University of Cincinnati.
==================================================================

3rd December

We had a super Christmas Lunch yesterday. There were 22 members present and they had with them 37 guests. Read all about it in the "Weekly Meetings" Page.

1st December

Linda Noble sent me a link to the Falkirk Herald Facebook page which shows Falkirk Round Table celebrating their 70th Anniversary. -

https://www.facebook.com/188744761202698/posts/4531932340217230/
I think that it's probably a precursor to the publication on Thursday. Judging by the lack of hair I think most of them must be founder members!!! I haven't posted the photograph here respecting what is probably Michael Gillen's copyright.

On this day: -

1887 - Samuel Orchart Beeton was a 19th Century English publisher, probably most famous for giving the world Mrs Beeton's Book of Household Management. This legendary collection of recipes and advice for middle-class ladies on how to run their homes was compiled by Beeton's wife and first appeared in 1861. By 1868 it had sold two million copies and is still in demand to this day. Beeton published many other titles, however. They included Beeton's Dictionary of Geography, Boy's Own Magazine, Beeton's Book of Anecdote, Wit and Humour, Beeton's Dictionary of Natural History, Beeton's Book of Birds, and, not least, Beeton's Christmas Annual, a paperback magazine stuffed with stories, poems, sketches and anecdotes that appeared annually between 1860 and 1898.

It was the edition that officially went on sale on December 1st, 1887, that carved a place in literary history for the annual. For it contained Arthur Conan Doyle's first Sherlock Holmes story – A Study in Scarlet. Now extremely rare, original editions of this annual are in great demand, one being sold at Sotheby's in 2007 for $156,000. Ironically, in 1886, Conan Doyle, wrote to the publisher Ward Lock, who had taken over Beeton's, asking for a percentage on sales of his story. He had sold the copyright to them for £25. They replied: "We regret to say that we shall be unable to allow you to retain a percentage on the sale of your work as it might give rise to some confusion. The tale may have to be inserted together with some other in one of our annuals, therefore we must adhere to our original offer of £25 for the complete copyright."
1952 - The New York Daily News reports the first successful gender reassignment operation.
1955 - Rosa Parks is arrested for refusing to move to the back of a bus and give her seat to a white passenger in Montgomery, Alabama.
=================================================================

30th November
Happy St Andrews Day.
Saint Andrew is the patron saint of Scotland. He is also the patron saint of Romania, Greece, Russia, Ukraine and Poland. Patron saints are chosen to be special protectors or guardians over things.He never actually set foot in Scotland during his entire life.

Around AD 60, Andrew was martyred by the Romans in the Greek city of Patras. Legend has it that he requested to be crucified on a X-shaped cross, or saltire, because he did not feel worthy to be executed on the same shaped cross as Jesus. That became known as the Saint Andrew's Cross and a symbol of Scotland in the medieval period.
Legend also has it that St Regulus (also called Rule), a fourth-century monk in Patras, was told by an angel to hide some of Andrew's bones. He took them from their resting place in Constantinople, of which Andrew was also patron saint, and sought to place them at the ends of the earth, eventually being shipwrecked on the coast of Fife, at the Pictish royal centre of Cennrígmonaid (later renamed St Andrews). The Céli Dé, or Culdees (hermitical Celtic monks) already settled there erected a chapel to house a sarcophagus or box-shrine, possibly containing the relics.
From a regional, minority cult, St Andrew gradually became the spiritual father of all of Scotland. This was officially recognised in 1286, when he appears on the seal of the Guardians of Scotland – the regents after the death of King Alexander III – framed by his diagonal cross and surrounded by the words: Andreas dux esto Scotis compatriotis ('Andrew be leader of the Scots, your fellow countrymen').
St Andrew became a protector of Scots, and an (honorary) Scotsman himself. Association with the Scottish cause in the late 13th and early 14th-century Wars of Independence only cemented his status, turning him into a powerful national symbol. The 1320 Declaration of Arbroath officially named Andrew as patron saint.
People of Scots descent often adopted a stronger sense of Scottish culture than those they had left behind, perhaps to maintain their ancestral identity. Thus, the first documented post-Reformation celebration of 30 November as St Andrew's Day was in Charleston, South Carolina, in 1729.
It had been organised by a philanthropic society that bears the apostle's name, and carried on the original point of the feast day in the Catholic Church, which was for communities to surpass themselves in penitence and charity to make them worthy of the saint's protection.
Along with music and dancing, a meal featuring a cooked sheep's head seems to have been a centrepiece of St Andrew's society celebrations throughout the 18th and 19th centuries. That tradition is now, some would say mercifully, lost. (At least the heid wis cooked!")
Rab Houston - Professor Emeritus in History at the University of St Andrews and author of Scotland: A Very Short Introduction (Oxford University Press, 2008)
On this day: -

1835 - The author Mark Twain is born. He was born "Samuel Langhorn Clemens". His pen name "Mark Twain" stems from his experiences on the river boats of the Mississippi when "leadsmen" would be sounding the depth of the water beneath the craft. The cry "Mark Twain" affirmed that there were two fathoms (12 feet) indicated beneath the surface, deep enough for the safe passage of a river boat.

1872 - First international soccer game, Scotland draws with England (0-0) in Glasgow.

1876 - Archaeologist Heinrich Schliemann finds the gold Mask of Agamemnon at Mycenae (modern Greece) "the Mona Lisa of prehistory"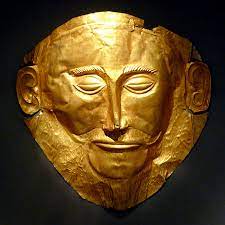 =================================================================
27th November

No sooner had I sent you all an email saying that the website was down when up it popped again! Hey Ho!
I got an interesting email from Gordon the other day. It would appear that the moon (Gordon says) has not risen above nor set beneath the horizon for the best part of a week! Now that struck me as odd even although Gordon says that it is quite rare. Being as I am in complete ignorance of the relative motion of the moon orbiting the earth and the rotation of the earth itself, which is where I would expect that phenomenon to arise, I had no reason to doubt Gordon's assertion. So I thought that I would investigate.
I can find no reference to the fact that this phenomenon is possible. In fact I find many references to the fact that the moon always sets and rises every day and is visible in that context from any part of the planet. I ended up on this web site https://www.timeanddate.com/moon/uk/falkirk. It allows you to enter your location and shows you what the state of the moons elevation is relative to the horizon.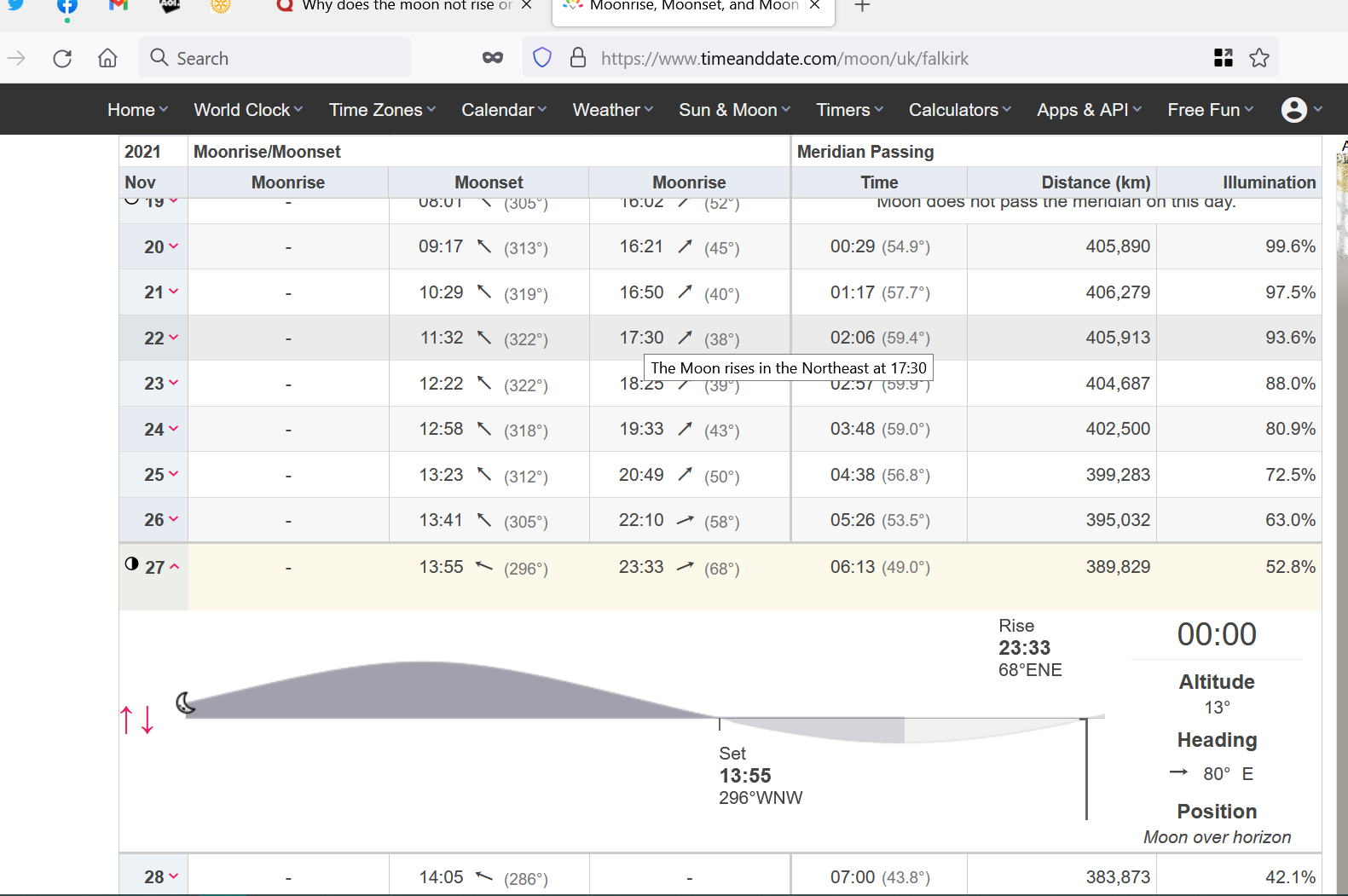 So there! I have done it! Opened up a public discussion on whether the moon rises and sets every day! Sorry Gordon! Convince us please.
On this day: -

1770 - On this day, a frail twelve-year-old boy stepped voluntarily into the seething world of filth, fear and uncertainty which was the Royal Navy, determined to make his way in the world. He was the sixth of eleven children born to the wife of a clergyman in the rural UK village of Burnham Thorpe, Norfolk.
His name was Horatio Nelson and he was to become one of England's greatest-ever military leaders and a national hero.

(Note the "England's")

1968 - Penny Ann Early becomes the first woman to play professional basketball. She had earned her jockey's license, making her the first female jockey. However, male jockeys refused to race with her in an attempt to block her from competing. In response, the Kentucky Colonels of the American Basketball Association signed her to their team, even though she had no basketball experience. She played for one play. At 5 ft 3 in (1.60 m) and 112 pounds (50.8 kg), she was also the smallest player in a male dominated professional basketball league.
Note: She is the smallest, but tied for the shortest. Mugsy Bogues of the NBA was also 5 ft 3 in (1.60 m), but weighed 135 lb (61 kg) making him bigger.
2013 - "Frozen", the highest-grossing animated film of all time, is released.
================================================================

26th November

Lady gets gift of jigsaw and is unable to piece even two pieces together. She goes to her husband for help! "This jigsaw is supposed to be of a Tiger like the picture on the box but I can't even fit two pieces together!" she said. He replies "Put the Frosties back in the box and put it in the larder!"

BOOM BOOM!

This is wierd weather! I am told that it rained heavily last night! I hear nothing after removing my hearing aids and retiring so I wouldn't know. And this morning is another stunning sunlit Forth valley! (I will refrain from posting yet another photie of that!)
Linda let me have this which was a twitter post by Miss Hurren at Hallglen PS: -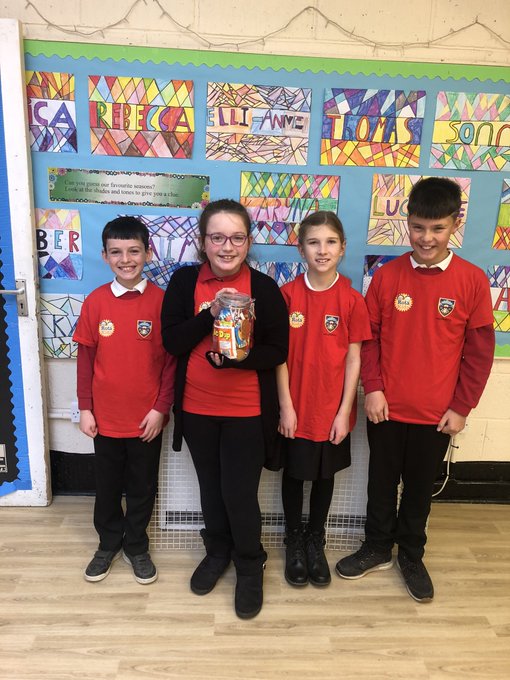 Huge congratulations to this lucky girl in Mrs Clark's class! There were a few people who guessed the correct number (6 in total) so I put all the names in a random name generator after school on Friday and Miss MacDonald and Miss McMillan were there to witness the reveal!
It would appear that Hallglen RotaKids held a "guess howmany are in the jar" competition. Well done them!

I know that President Elect Linda has, through June, informed you as follows regarding the Christmas lunch at The Grange Manor and I make no apologies for repeating it here: -
When entering the hotel please adhere to all the regulations in relation to COVID-19.

Face coverings are mandatory and must be worn at all times when not seated.

To avoid a "bottle neck" happening at the entrance to the function suite, all track and trace details have already been provided to the hotel.

There must be no meeting or congregating in the foyer area.

Members and their guests should check on the table plan where they are to be seated, and move directly to their allocated table and remain seated ahead of the meal being served at 12.30.

Movement within the room and between tables should be kept to a minimum.
In addition to that we have been requested to bring a "box of sweets" with us to the meal. Mary will accept these in the car park after the meal. If you are in any doubt, the sweets that we seek are the circular tins which can be obtained in most supermarkets for £4 or £5.

If you have not already done so please contact Mary and offer your services as an Elf on the 19th or 22nd at Tesco in the Redding.
The inclusion of the word "the" before Redding was innate, automatic and accidental. There are only two places that I have historically done that with and I don't know why! These are "The Reddin'" and "The Plean"!
On this day: -

1939 - Happy birthday Tina Turner.
1970 - In Basse-Terre, Guadeloupe, 1.5 inches (38.1mm) of rain fall in a minute, the heaviest rainfall ever on record.
1983 - World's greatest robbery; 26 million pounds (sterling) worth of gold, diamonds and cash stolen from Brink's-Mat warehouse at Heathrow Airport. The bullion was the property of Johnson Matthey Bankers Ltd, which collapsed the following year after making large loans to frauds and insolvent firms. Two men were convicted, and the majority of the gold has never been recovered. Insurers Lloyds of London paid out for the losses, and several deaths have been linked to the case
================================================================

25th November

I have often wittered on about what Andrew Narek and I have been doing with St John Scotland. We are not on our own in having voluntary roles outside Rotary. Nancy and Mary are actively promoting the food bank at the Redding Tesco as witness whereof: -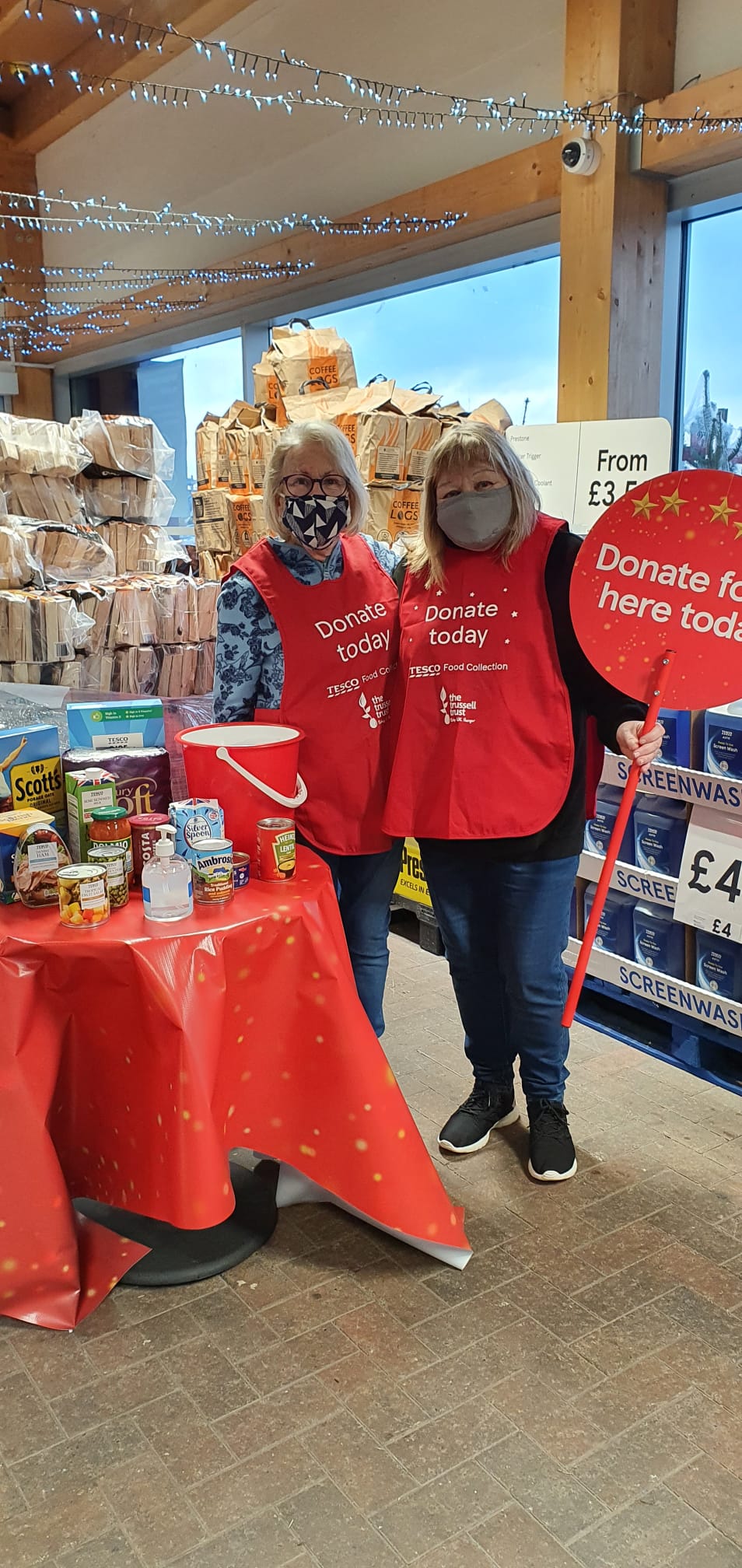 On realising that this was the anniversary of the opening of "The Mousetrap" I am constrained to remember when Diane and I visited. It had been on my bucket list for some time and we opted for a long weekend in London taking in the show. It was disappointing in the extreme, I think primarily because the cast changes on a regular basis and after this length of time the big names aren't so keen to be involved.

Currently, sergeant Trotter is played by Paul Hilliar, Mr Paravicini is played by Tony Timberlake and Major Metcalf by Damien Matthews. Christopher Wren is portrayed by Alexander Wolfe, Giles Ralston by Neil Ditt with Mrs Boyle played by Brenda Longman. Miss Casewell is played by Lizzie Muncey and Mollie Ralston is played by Eleanor McLoughlin. The play is now directed by Ian Talbot. The only original cast member that persists is the late Deryk Guyler who can still be heard, via a recording, reading the radio news bulletin in the play to this present day.
It was so interesting that Diane fell asleep and when she woke (after the plea to keep quiet about the "whodunnit") she said to me "well? who was it?" to which I replied "I'm not allowed to tell you!" In fact it was so enthralling and interesting that I can't even remember "Whodunnit!"

On this day: -

1952 - Agatha Christie's The Mousetrap, starring husband and wife Richard Attenborough and Sheila Sim, opened at London's Ambassador Theatre on this day – and the play is still going. It is the longest-running production in history, reaching its 25,000th performance in November, 2012. The murder mystery has a twist at the end, which audiences have always been asked not to reveal after leaving the theatre. Each night one of the actors makes a direct address to the audience: "Now you have seen The Mousetrap you are our partners in crime and we ask you to keep the secret of 'whodunit' locked in your hearts."
The idea was not to spoil the play for those who had yet to see it. And the appeal seems to have worked – until 2010 when Wikipedia gave the game away on its website.
Despite protests from Agatha Christie's family and from theatre goers, Wikipedia was unrepentant. A spokesman said: "It's exceedingly easy to avoid knowing the identity of the murderer: just don't read it.
"Asking Wikipedia not to reveal the identity of the murderer is like asking a library to remove copies of The Mousetrap book from the shelves because someone could just go and read the end."

Fair point!
===========================================================

24th November

In response to my recipe for "Muir Rig Lorne Pie" I got this from Anne Watson: -
A wee story and a recipe
As you know my father was a butcher and as expected fish didn't feature much in our house We ate fish and chips while on holiday in Lower Largo and it was considered a treat. My father had a customer who was from Arbroath and occasionally a pair of smokies would come our way. This was a recipe my mum and I "invented" as a change from fish soup.
1 or more smokies skinned and boned
6 rashers streaky bacon
2 large tomatoes
potatoes for mash
Break up fish and place in a pie dish Season with Black pepper
chop bacon or "if you want to me posh use lardons" Sprinkle over the fish add a tablespoon of water.
Slice tomato thickly and place over the fish and bacon
Cover with creamy mash and bake at 200c for about 30 minutes
Undyed smoked haddock can also be used
My mum also made a pie with sausage similar to yours but she put in tinned butter beans and no mushrooms the mash usually had some carrot added so that my youngest brother ate a vegetable without knowing.
I was watching tele this morning while eating my breakfast. There was an article about "Ethnic Minorities" being in the minority when it came to cycling! I don't know who carries out studies like this or even why but it got me thinking again. I reverted to my 1983 Oxford English Dictionary to confirm my recollection that the word Ethnic originally meant "Not Jewish"!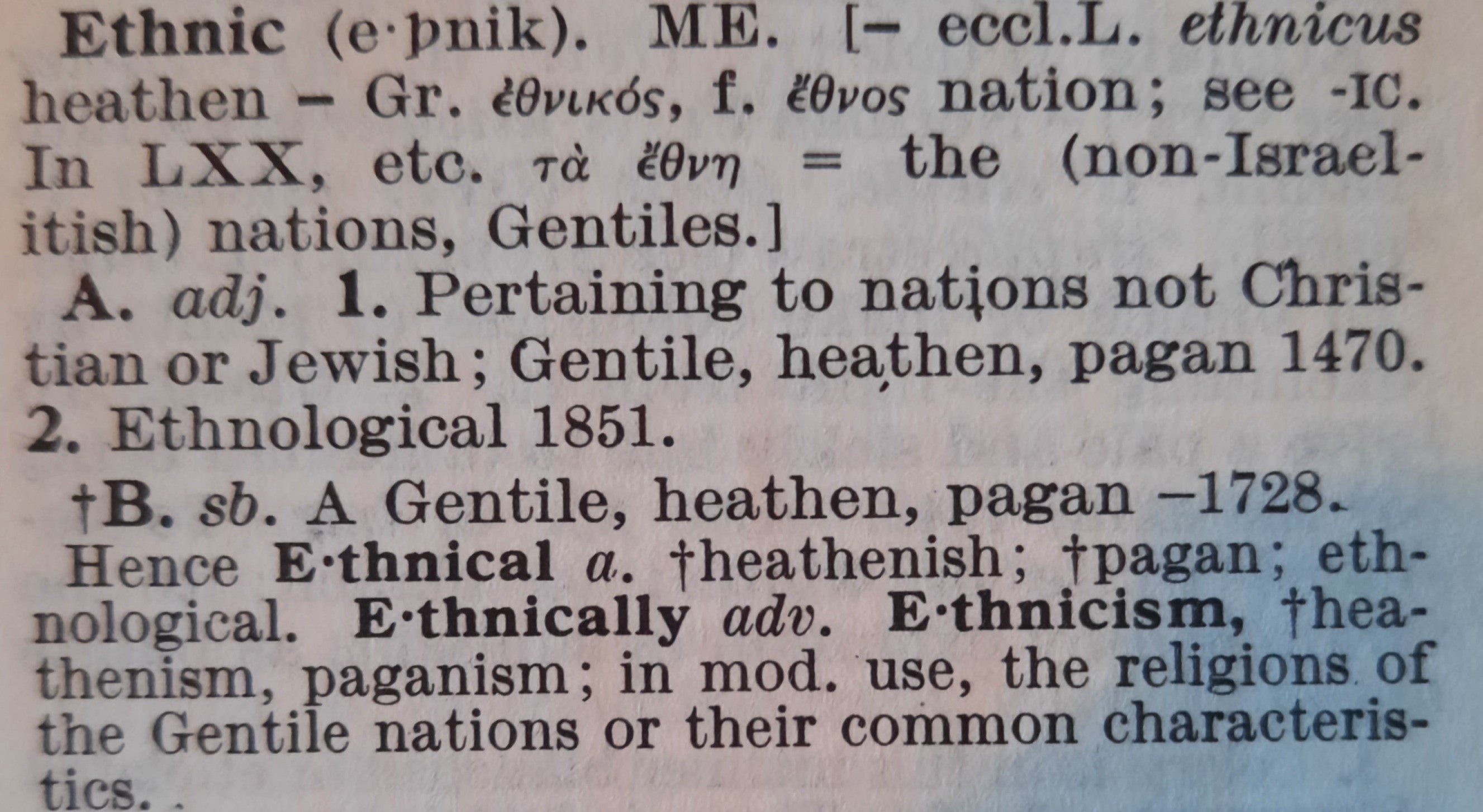 Just another example of a word that has metamorphosed from its original meaning by common usage, like Contemporary, Data, Media & etc.

On this day: -
1859 - English naturalist Charles Darwin publishes "On the Origin of Species" radically changing the view of evolution and laying the foundation for evolutionary biology.
1874 - American inventor Joseph Glidden patents barbed wire.
1947 - The US House of Representatives Committee on Un-American Activities finds "Hollywood 10" in contempt because of their refusal to reveal whether they were communists.
1971 - American "Dan Cooper" hijacks a plane and extorts $200,000 ransom before jumping out of plane over Washington State. He is never seen again.
1972 - One of only eight 1933 pennies minted was auctioned at Sotherbys for £7,000.
===============================================================

21st November

For the twentieth time It is my pleasure to remind you all that it is the time to donate what you can to the food bank. I know that those of us who attend the face to face meetings are maybe saving a wee bit less than we have over the past 20 months but we are still saving. And it has not been in vain! In those 20 months we have donated 4 tonnes of consumables to the Foodbank and that doesn't count the white goods that we provided. All of that was achieved by your donations which so far have totalled £7,932.00.

I call that a result!
It is another absolutely beautiful November morning and the view along the Forth Valley is stunning.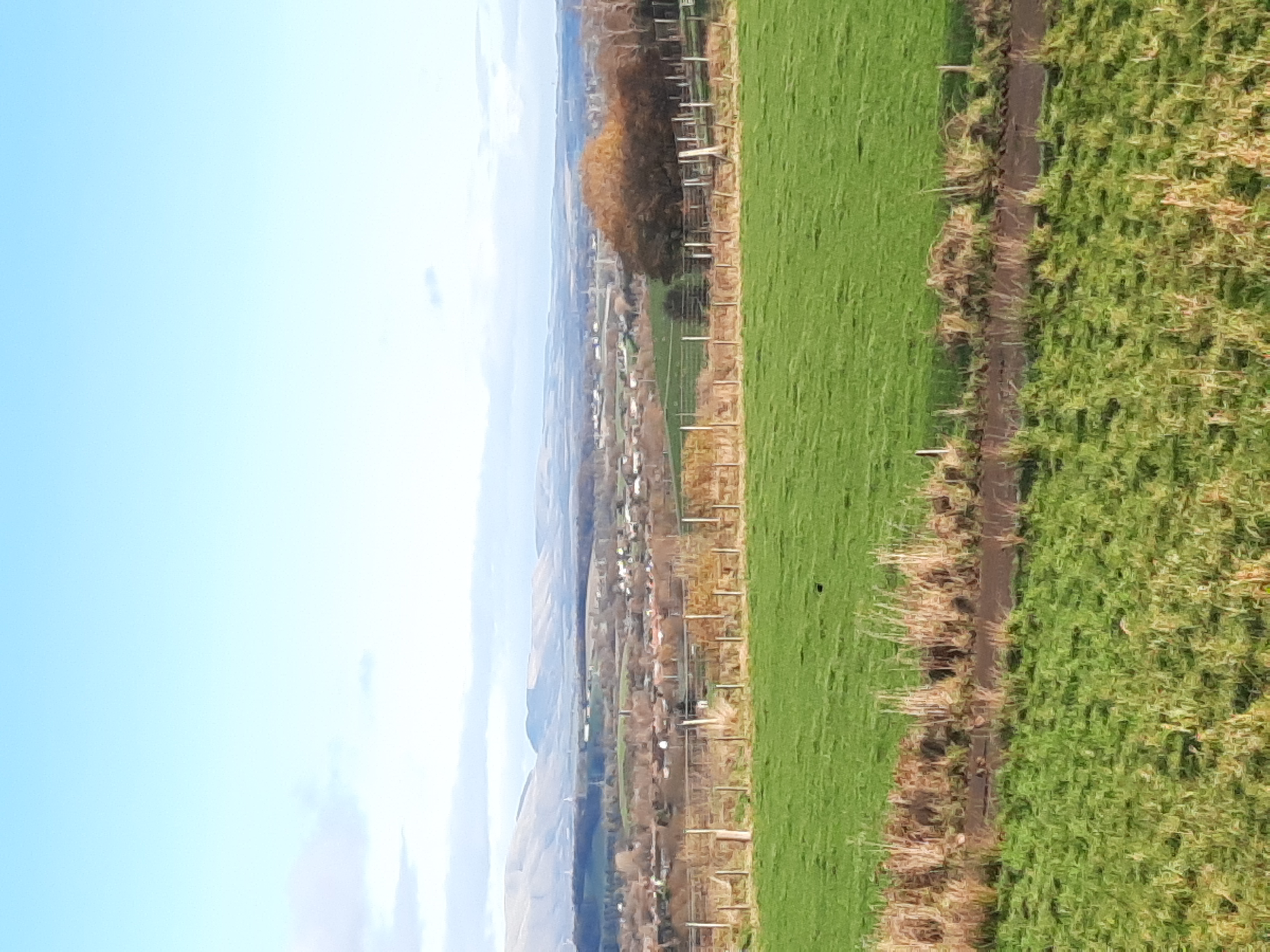 On this day: -

1837 - Thomas Morris of Australia skips rope 22,806 times.
1916 - The sister ship of the RMS Titanic and the RMS Olympic sinks after striking a mine during World War I. 1,035 of the 1,065 people on board were rescued from the water and lifeboats. The Britannic was the largest ship lost during World War I. Her remains were located in 1975 by Jaques Cousteau and is the largest passenger ship on the sea floor.
One of the survivors, Violet Jessop, had also survived the sinking of the Titanic and had been aboard the Olympic when it collided with a British warship in 1911.
1955 - Elvis Presley signs with RCA Victor for $40,000. The high amount paid prompted a Columbia executive to comment "No singer is worth that much."
===============================================================

20th November

As I write this my ears are being assailed by the noise of guns blazing away in the general direction of the many pheasants and partridges that have called our garden home for the last wee while. The sad thing is that if they had just stayed in our garden they would have been safe. Mind you that's not to say that they are not safe now. I have just watched one pheasant fly with impunity, at speed, at a height of about 20 or 30 feet, in the face of a barrage that would have put Monties efforts at El Alamein to shame.

It has been three days since I posted anything here. In the space of that time we have had another face to face meeting. Very slowly the numbers attending are recovering. We had a great meeting on Thursday with 18 members physically present. It only just occurred to me that I never got a cup of tea! And the thing about that is that I never missed it!
The difference in the face to face meetings is immense! Conversation reigns supreme! We chatted about lots of things from Remembrance Day to folk being ejected from the Council Labour Party and; from the longest bridge in the world to our Christmas Sleigh. And (It only just occurred to me again) I think the reason that I am enjoying it so much is that it must be about 4 years since I experienced sitting in the body of the Kirk; as it were.

The battered haddock was superb as was the lentil soup. I would like to encourage more members to participate. We are slowly settling in to a new routine and the more of us that can experience that the better.
On this day: -

1917 - 1st successful use of the Tank in battle, at the Battle of Cambrai in World War I as Britain uses the new technology to break through German lines.
1984 - McDonald's makes its 50 billionth hamburger.
Grandson - "Grandad?"
Grandad - "Aye son"
Grandson - "Were you in the war Grandad?"
Grandad - "I wis that son!"
Grandson - "Did you get medals Grandad?"
Grandad - "I did that son! Look there they are on the dresser!"
Granson - "Wow and did ye hae a gun Grandad"
Grandad - "I did that son! I keep it safe in a locked drawer upstairs!"
Grandson - "That's cool Grandad! And did ye hae a tin hat?"
Grandad - "I did that son. If ye look in the cupboard there it's oan a hook behind the door!"
Grandson - "That's immense Grandad! And did ye hae a big great coat that went doon tae yer ankles?"
Grandad - "I did that son and I still have it! It's up in the loft wrapped roon the tank!"
Grandson "
YE'VE GOT A TANK?
"
================================================================
17th November

Because I was encouraged to maintain the Club Facebook page I had to sign up to Facebook! I don't post much except about the Club on the Falkirk Club page but I do respond to some stuff that other people post. Somehow or another I have become a member of a group called "Home made Scottish Recipes". I thought that that might be interesting and watched it for a while then posted this: -
"A long time ago in the mists of ancient time I was and still contune to be chastised by my family for producing my "Mince Omelette". I have always tried to produce something that is not "ordinary" but created from known and loved ingredients."
I was amazed at the number of responses I got from as far away as Canada saying what a great idea that was!

I went on after the post to add: -
Hence my Muir Rig Lorne pie! (serves two)
Ingredients: -
2 slices of Lorne sausage (Or more if you like) broken into bite size pieces
a good knob of butter x2
150g mushrooms sliced
1 medium onion thinly sliced
Enough potatoes for two (preferably Roosters)
2 spring onions sliced.
Parmesan or Gran Pradano grated.
Peel sufficient potatoes for two and cut them into 50cm pieces boil until tender, mash and add the spring onions, some cream and a knob of butter.
Place a knob of butter in a small saucepan and place the onions and mushrooms in the pan. Melt the butter and sauté covered until the onion is soft.
Meanwhile place the sausage in a separate steamer and steam over boiling water until cooked and the fat has drained off.
Once the onion/mushroom mixture is cooked empty the steamed sausage into the mixture and combine evenly.
Take two ovenproof bowls and spoon half of the sausage mixture into each. Cover with the mashed potato and grate some Parmesan or Gran Pradano over the top.
Place the bowls in a pre heated oven at 180C for 10 minutes.
Remove carefully and enjoy.
It's nice with HP sauce.
I haven't made this for a while! Maybe I'll have another go soon. Do any of you have recipes that you have created yourself from scratch?

On this day: -
===============================================================

16th November

The Christmas Lunch numbers are improving daily! We now have 55 participants! So please get your £20 a head payment in if you haven't already done so. It's looking like it will be a Christmas lunch like we are used to!
I complained to Bassetts about their Liquorice Allsorts (or rather Somesorts) and got an immediate reply saying that there is a voucher in the post "as a gesture of our concern and goodwill". They say nothing about why the contents are the way that they are and give me no confidence that, IF I ever buy Liquorice Allsorts again, they will be any different. I think that they have just lost a customer.

There was a suggestion by some less scrupulous member that I had been seen in the Bonnyfield Nature reserve licking trees. I wish to state categorically here that that is not the case and that I have at no time ever been seen doing such a reprehensible thing!

On this day: -
1938 - LSD (Lysergic acid diethylamide) is first synthesized by Swiss chemist Dr. Albert Hofmann at the Sandoz Laboratories in Basel, Switzerland. Hofmann synthesized from lysergic acid while working for Sandoz in Basel while trying to develop a new respiratory stimulant. Hofmann discovered its effects in humans in 1943, after somehow unintentionally ingesting the substance, possibly absorbing it through his skin. LSD was subject to exceptional interest within the field of psychiatry in the 1950s and early 1960s, with Sandoz distributing LSD to researchers under the trademark name Delysid in an attempt to find a marketable use for it.
1945 - Founding of UNESCO, the United Nations Educational, Scientific and Cultural Organization.
1957 - The BBC's first pop music show, Six-Five Special, was broadcast on this day from the tiny 2i's Coffee Bar in London – the birthplace of British rock 'n' roll.
==================================================================

15th November

We went for a walk yesterday. We parked the car at Underwood Lockhouse and walked North across to Longcroft and then East along the A803 and Bonnybridge Road past the Diagio Bonded Warehouses to turn back South again through the Bonnyfield Nature reserve. The existence of the reserve was brought to our attention by our son, Peter. We have lived in this neck of the woods for nearly 50 years and never been aware that such a thing existed! Anyhow it is really very pleasant and we were enjoying the walk before we realised that all of the trees that we were looking at were black!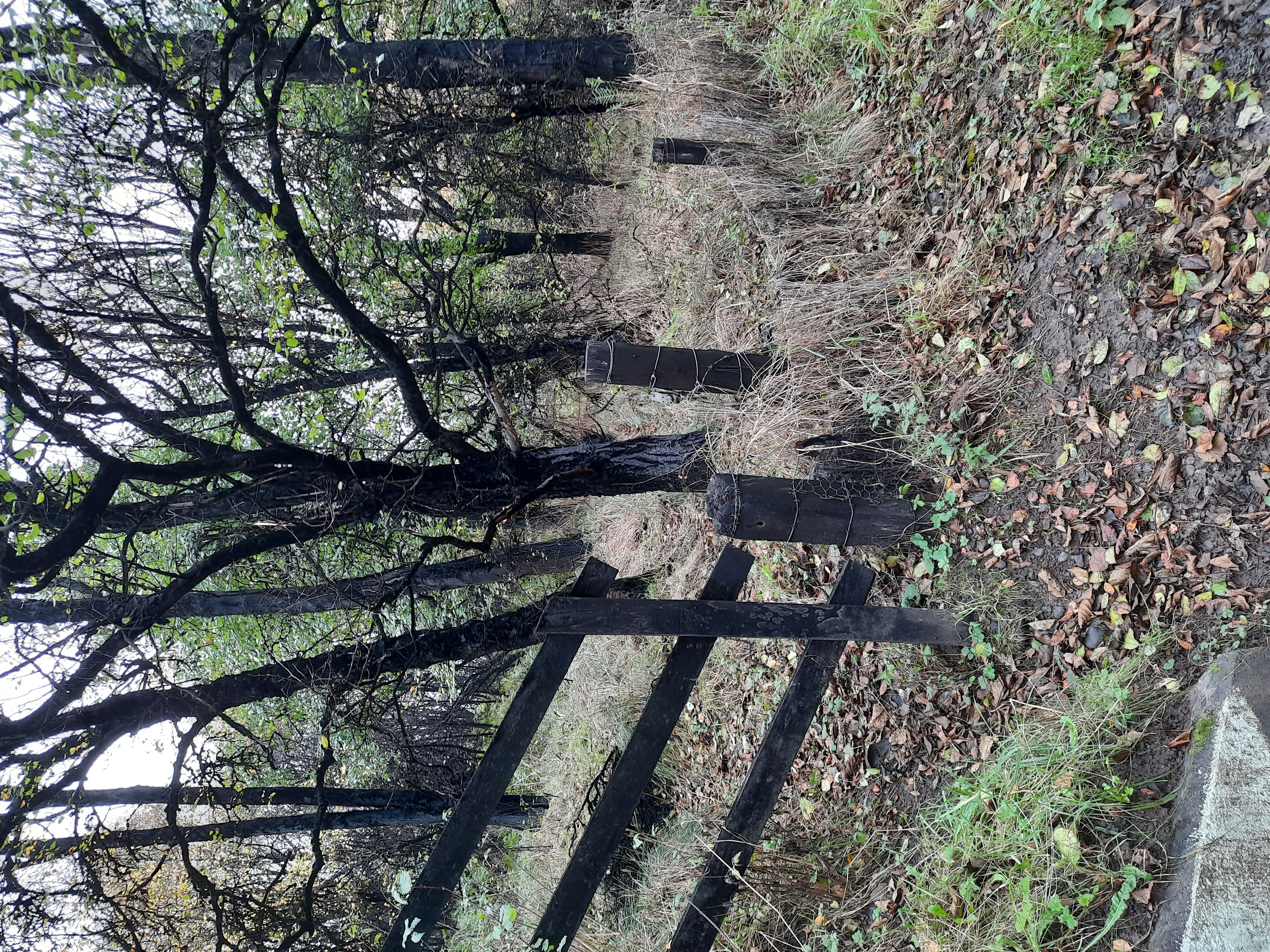 All of the immediate surroundings of the Diagio site are affected by this fungus. Baudoinia compniacensis is a sac fungus which has been observed on a variety of substrates in the vicinity of distilleries, spirits maturation facilities, bonded warehouses and bakeries. The fungus is a habitat colonist with a preference for airborne alcohol, earning it the nickname whisky fungus.
However it wasn't all like that, a wee bit further on we ambled up a slow incline lined with overhanging trees that looked a wee bit like the avenue from the Game of Thrones.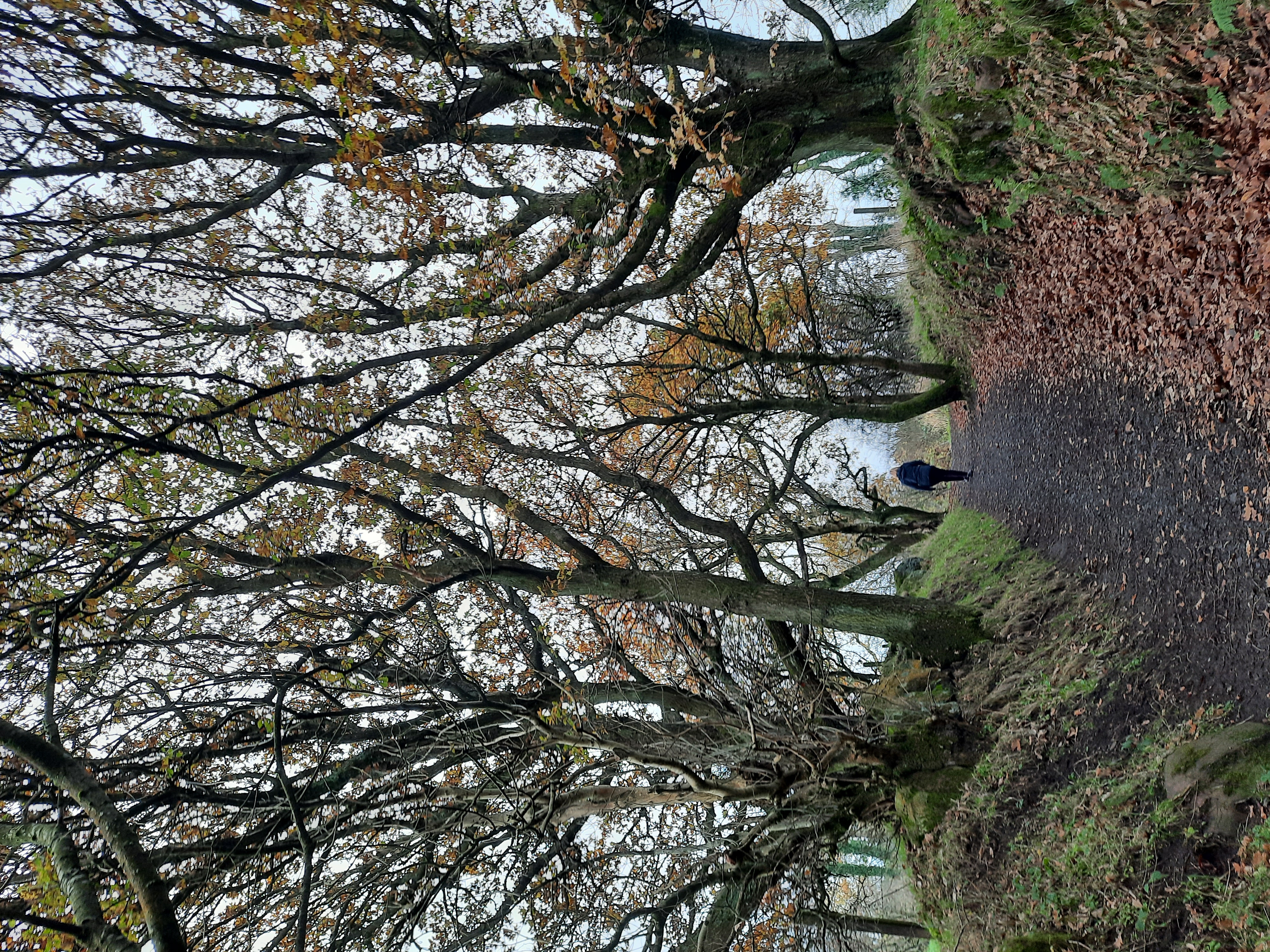 After my post yesterday Gordon sent me this unbelieveable story: -

I served at sea with many people who survived the second world war, but the one that stands out for me is the Second Steward on my first ship as a Cadet. As a 16 year old Pantry Boy during a crossing of the North Atlantic in convoy his ship was sunk before breakfast and he was picked up by another ship but their breakfast was finished by then, so no breakfast for him. (To add insult to injury, his pay also stopped at the time his ship was sunk.) Then the ship that picked him up was sunk just before lunch time. He was lucky to survive and was picked up this time by an RN warship, but lunch was over for that vessel, so no lunch for him either. Then late in the afternoon the destroyer was sunk and he was picked up by an escort vessel whose job was to pick up survivors. Dinner was over but he was given a sandwich. So sunk 3 times in the one day and not a decent meal at any time.
When I sailed with him in 1959 he suffered badly from arthritis and survived on a dozen aspirin a day. He attributed this to the time he spent in the waters of the North Atlantic that day.
On this day: -
1918 - I make no apologies for repeating this post which I first showed last year. I do it in a protest about the continued use of the word "Unprecedented" in relation to Covid19.

Brevig Mission is a tiny ocean-side settlement in Alaska which, in 1918, had 80 adult inhabitants. During the five-day period starting November 15, 1918, 72 of them were killed by the influenza pandemic then raging across the world.
==================================================================
14th November
More and more often I am finding difficulty in establishing content for this page. Not so today! I have, for most of my life, been a devotee of Bassetts Liquorice Allsorts. Laterly however I have noticed that they are becoming less "Allsorts" and more "Somesorts".

Diane likes the circular one with the coconut outer and liquorice inner centre. I like, what I have since my youth called, the "pimply ones". Yesterday we bought our latest packet. I started to look in the packet for my favourite but could't find any so I tipped the contents out onto the table for a proper look and here is a photograph of the result.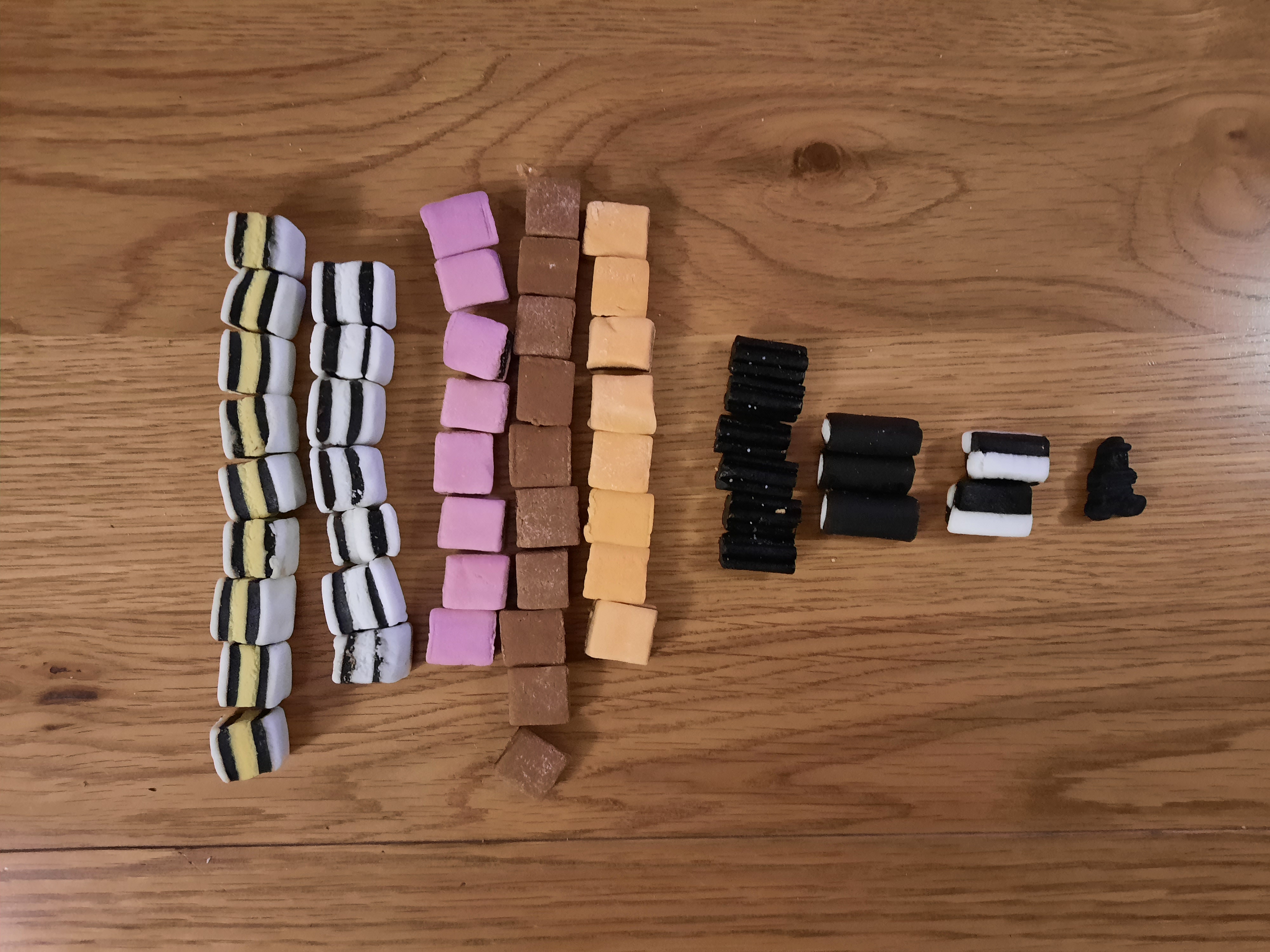 There were none of the two that we sought! I looked at the packet thinking that there might be some sort of disclaimer founding on the randomness of the selection but there is none. I did however notice that more than 50% of the wee Bassetts Man is made up of just these two sweets.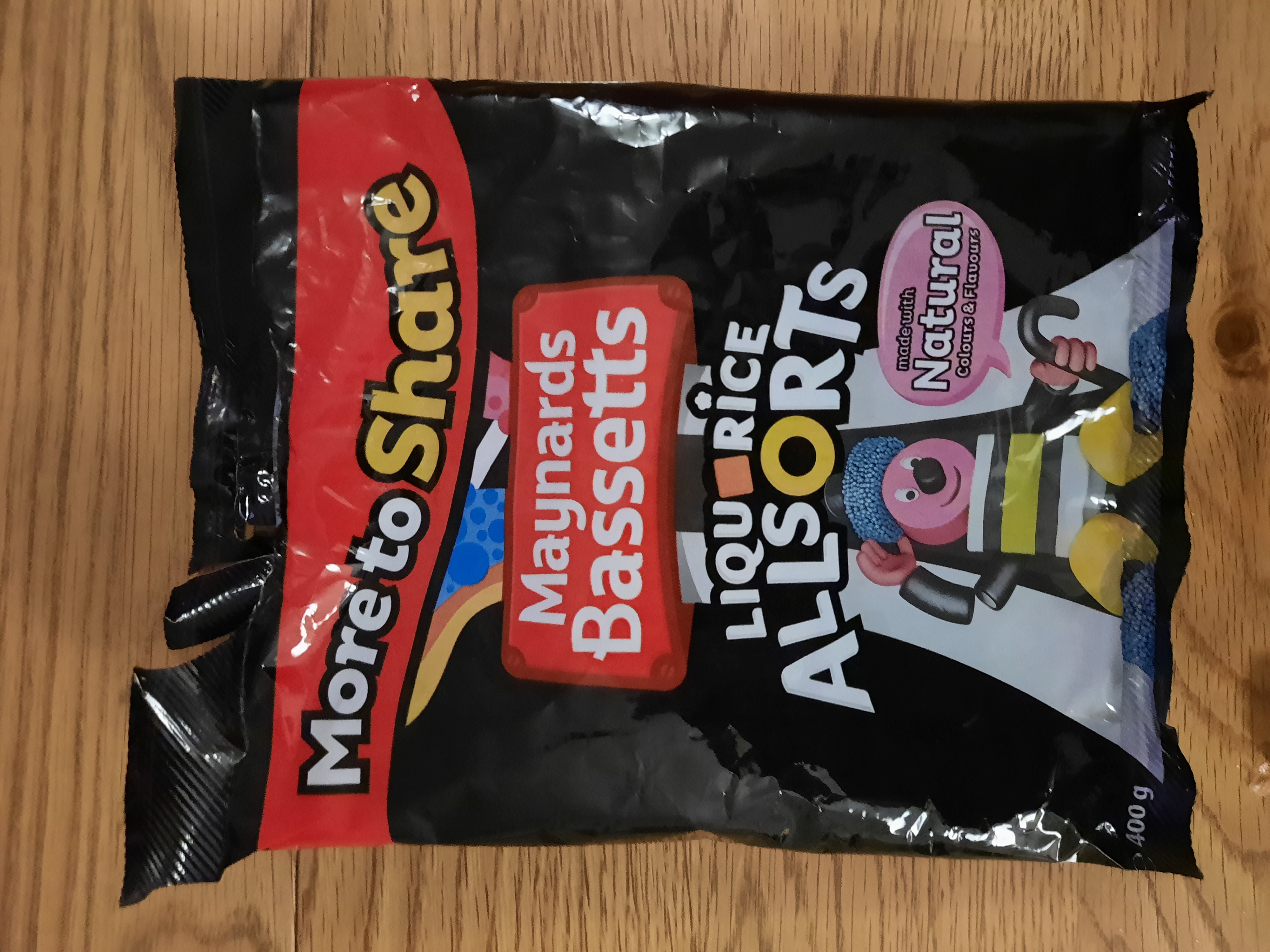 I also noticed a "Customer Service number" which came with the line "Not completely satisfied? Contact us on..." First thing Monday morning then!

All of that is frivolous and I am able to bathe in that freedom to carp about everything and anything because so many young people gave their lives, whether by succumbing on the battlefield or by returning home horribly wounded. I, among many others, will recognise that today and remember the sacrifice that was given freely to safeguard these freedoms, in the hope that it would never again be repeated.

They went with songs to the battle, they were young,
Straight of limb, true of eye, steady and aglow.
They were staunch to the end against odds uncounted,
They fell with their faces to the foe.
They shall grow not old, as we that are left grow old:
Age shall not weary them, nor the years condemn.
At the going down of the sun and in the morning
We will remember them.
Robert Laurence Binyon

These are the two most poignant verses from the seven verses written by Robert Laurence Binyon and published in The Times, remarkably, only two months after the start of the First World War!

The poem was written in mid September 1914, a few weeks after the outbreak of the War. During these weeks the British Expeditionary Force had suffered casualties following its first encounter with the Imperial German Army at the Battle of Mons on 23 August, its rearguard action during the retreat from Mons in late August, the Battle of Le Cateau on 26 August, and its participation with the French Army in holding up the Imperial German Army at the First Battle of the Marne between 5 and 9 September 1914.
================================================================
13th November

Things are proceeding apace. Our Sleigh is looking the part now complete with its new livery: -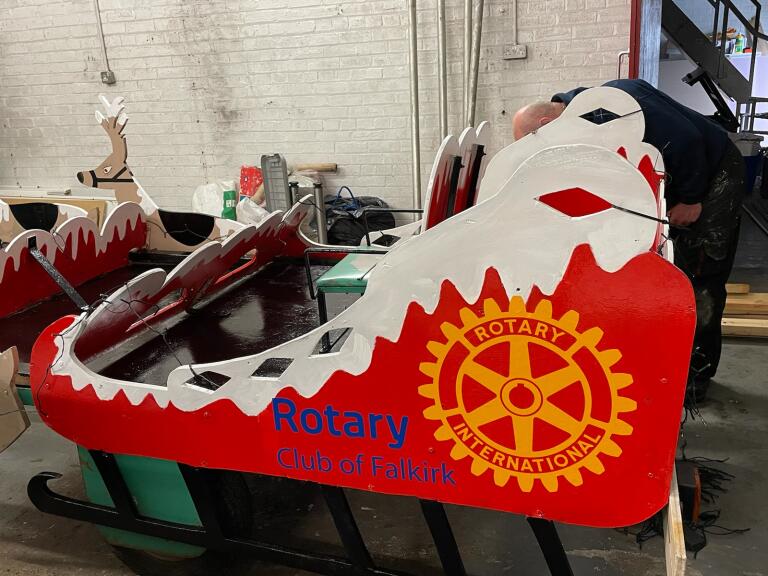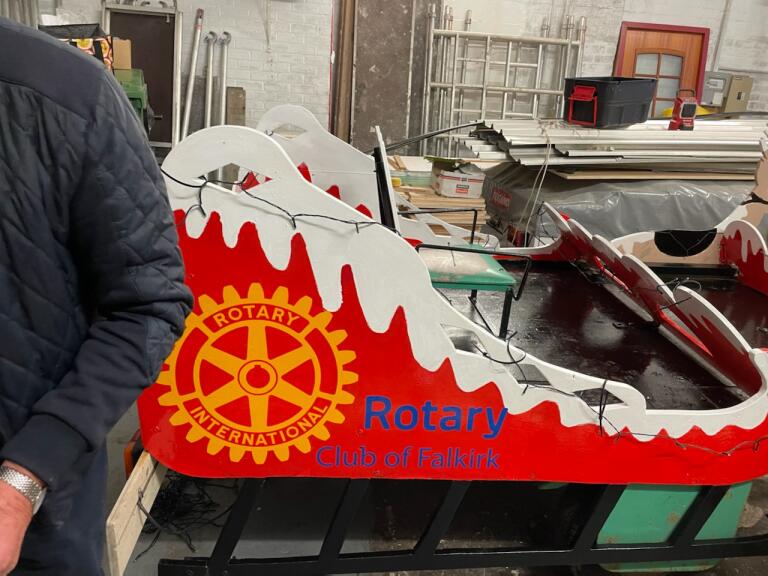 And Linda has been busy again buying for the Food Bank. This time she was tasked with the provision of
Microwaves, bought 2; Kettles, bought 2; Ready meals in particular meatballs, and stew! Job done!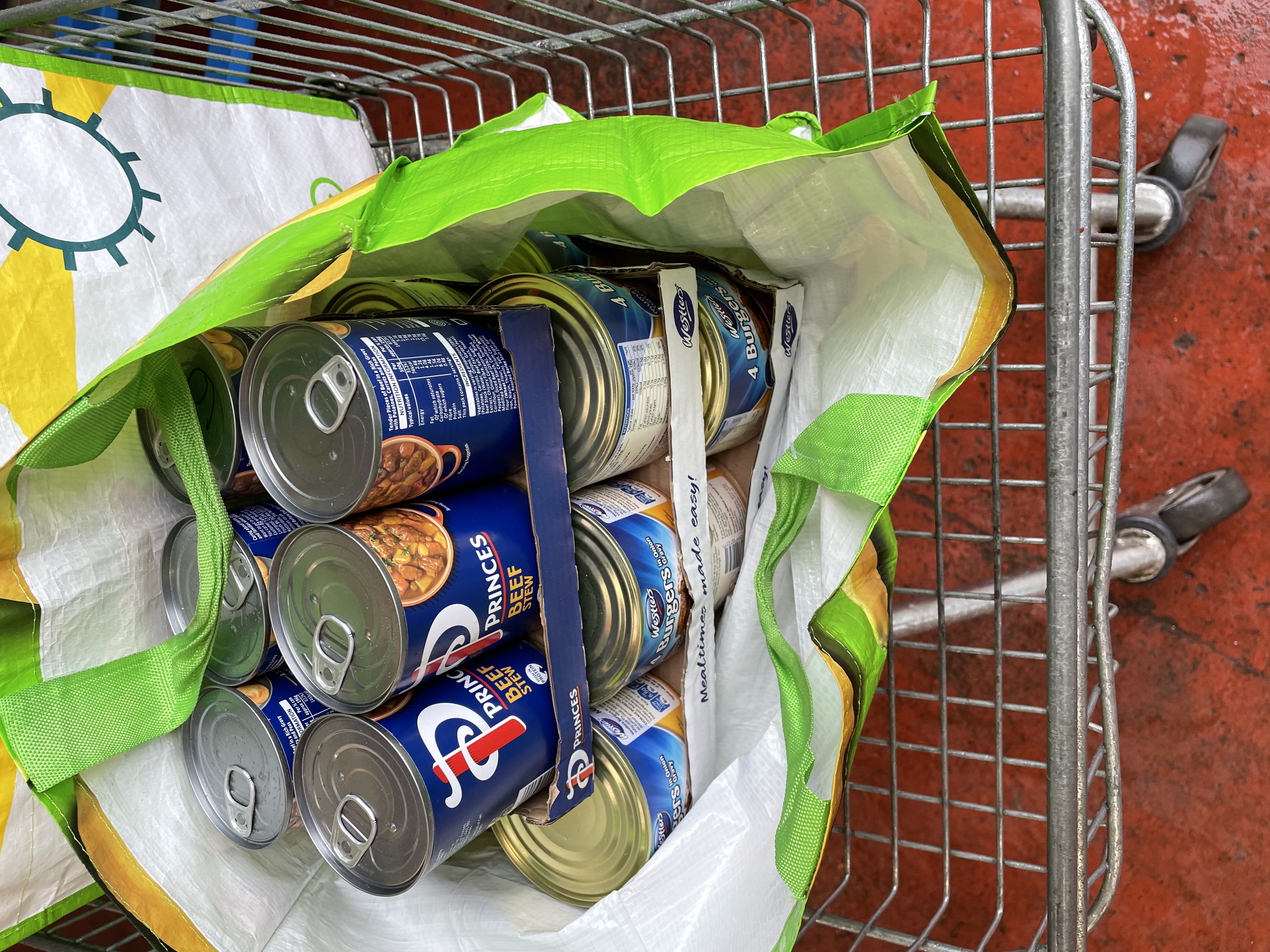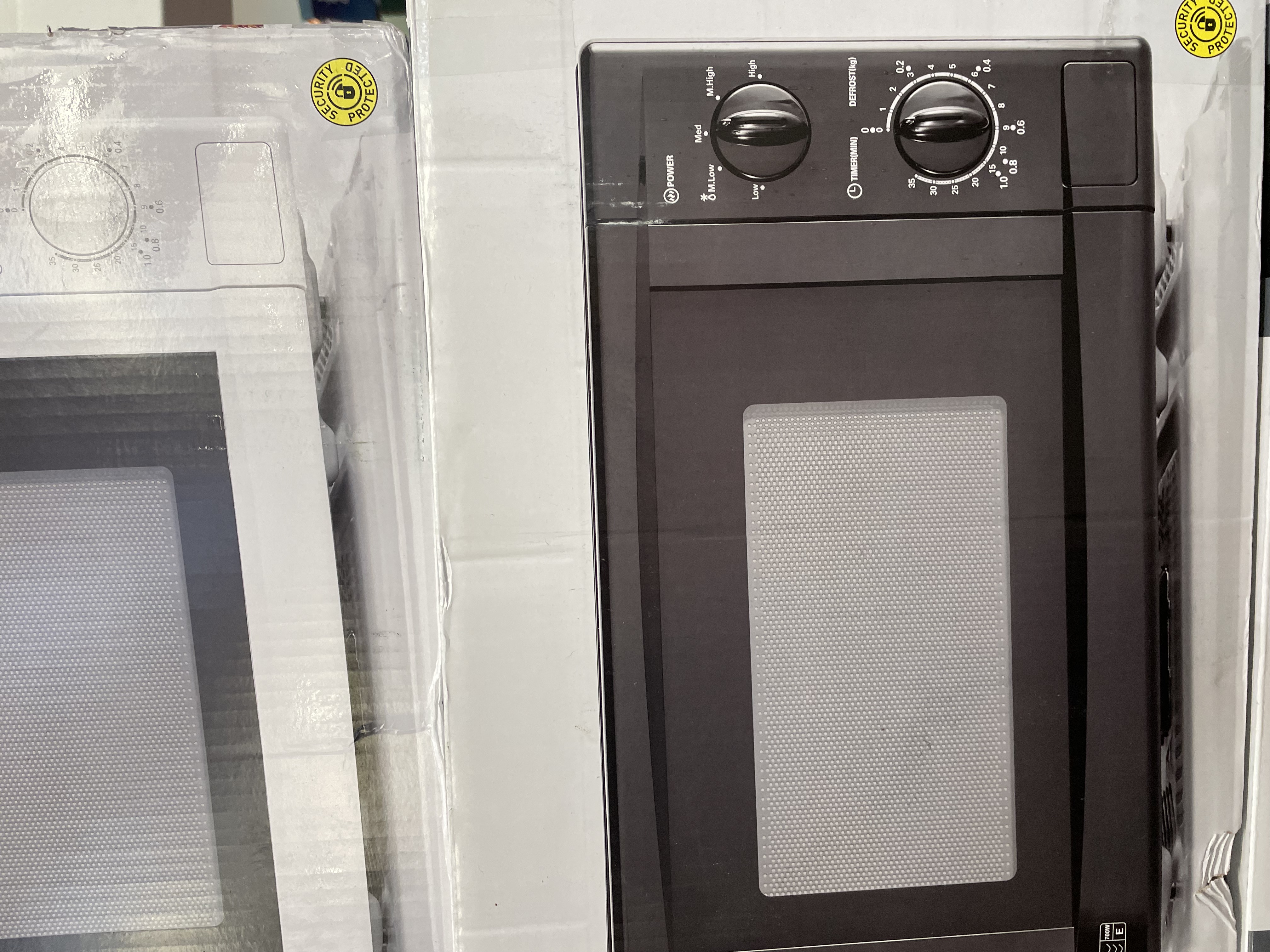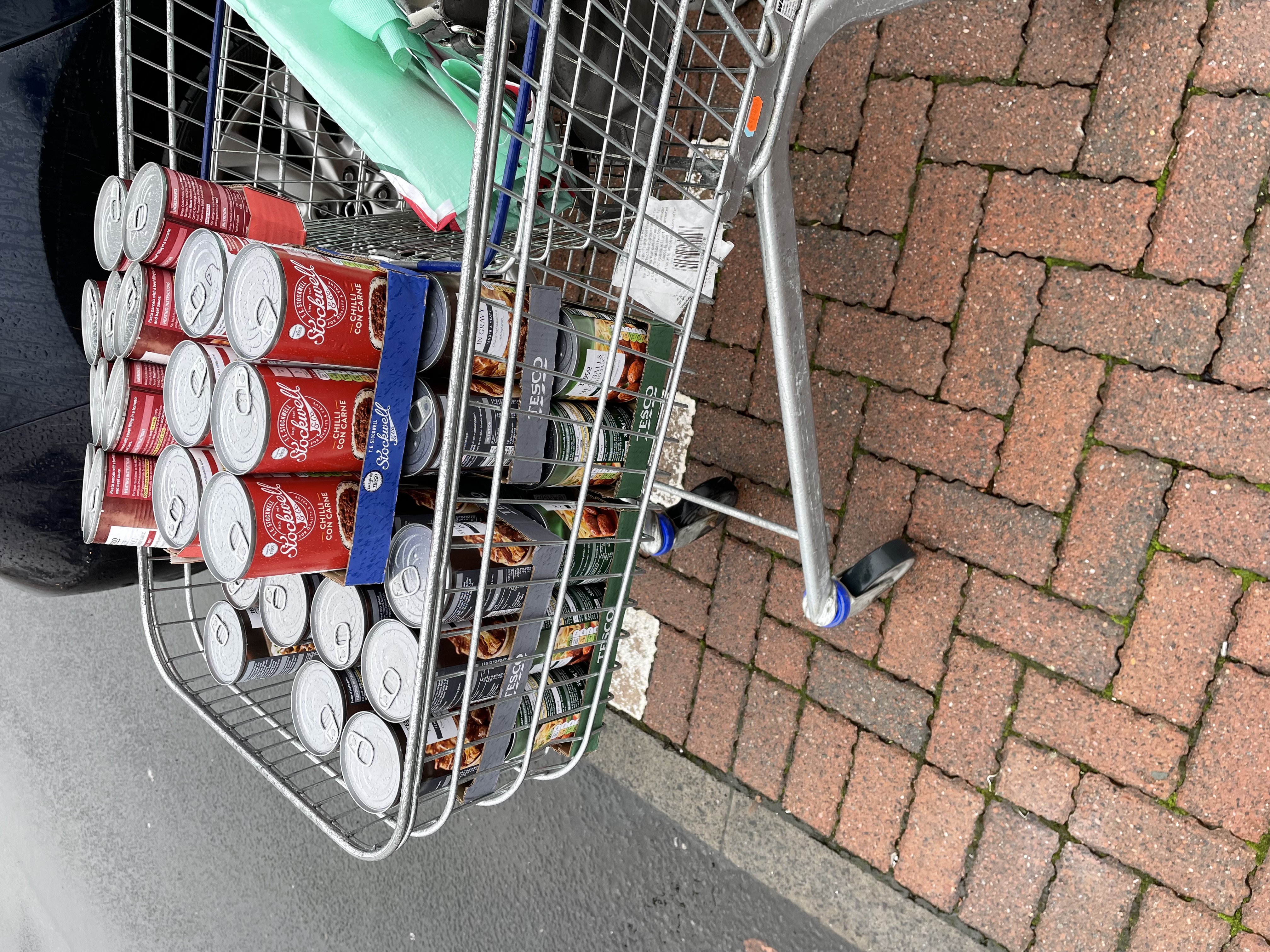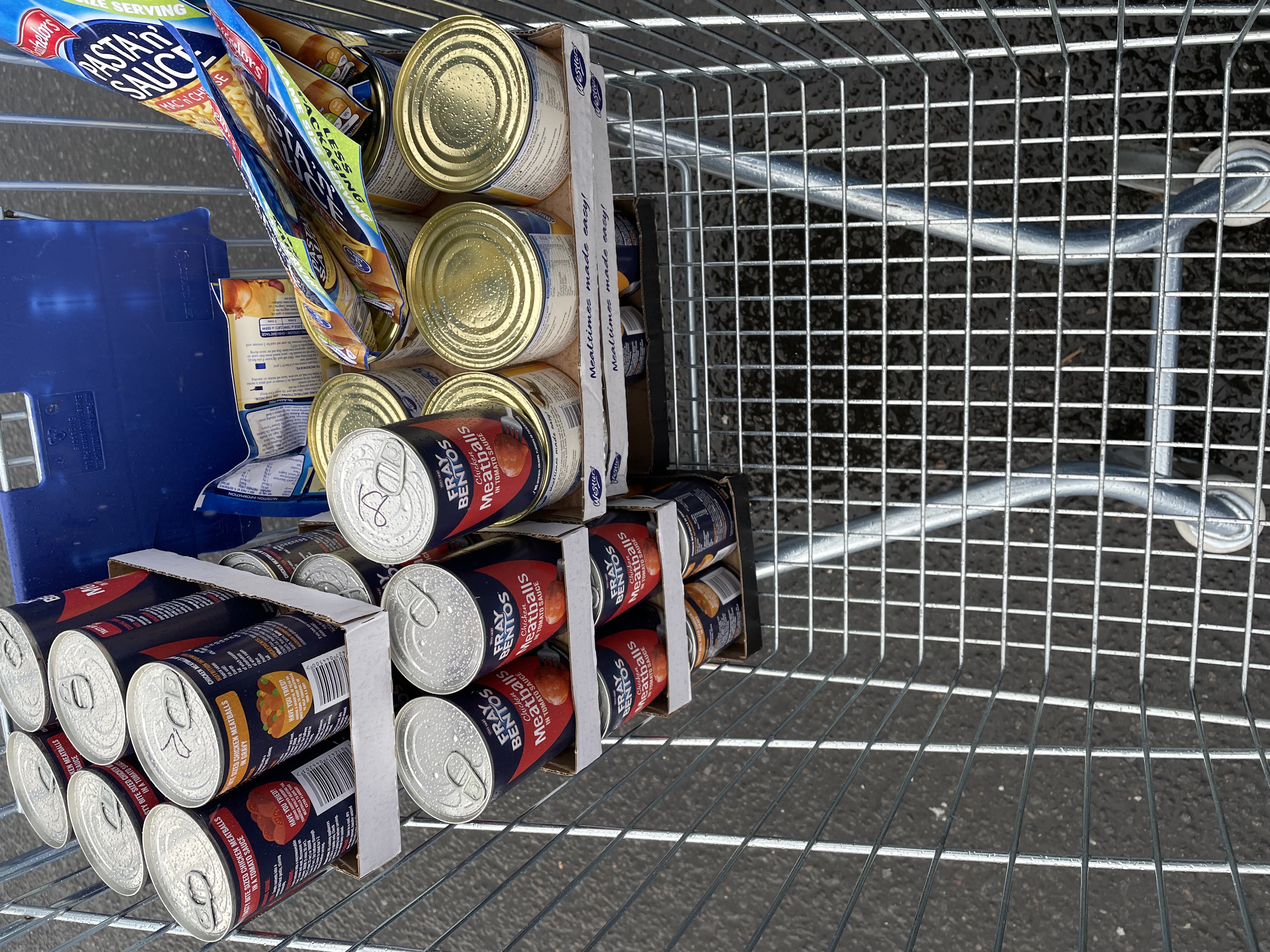 A total of 70Kg not counting the white goods.

On this day: -
1969 - Britain's first live quintuplets this century were born, at Queen Charlotte's maternity hospital in London.
1987 - With a view to encouraging 'safe sex', or AIDS prevention, the BBC screened its first condom 'commercial' (without a brand name).
==================================================================
10th November.

I am receiving daily updatyes from Dugald McAlpine and Jim Cairns who are beavering away at the Sleigh. It has been stripped of all of its acoutrements, repaired and partially repainted and touched up. The nest step is to fit the 600 LED lights that we have which will jjust finish it off.
Linda Noble has been busy too. Alerted to the fact that Donald had a whole pile of Dental care stuff to donate to the foodbank she subsequently picked up 64Kg of supplies and delivered it on Monday.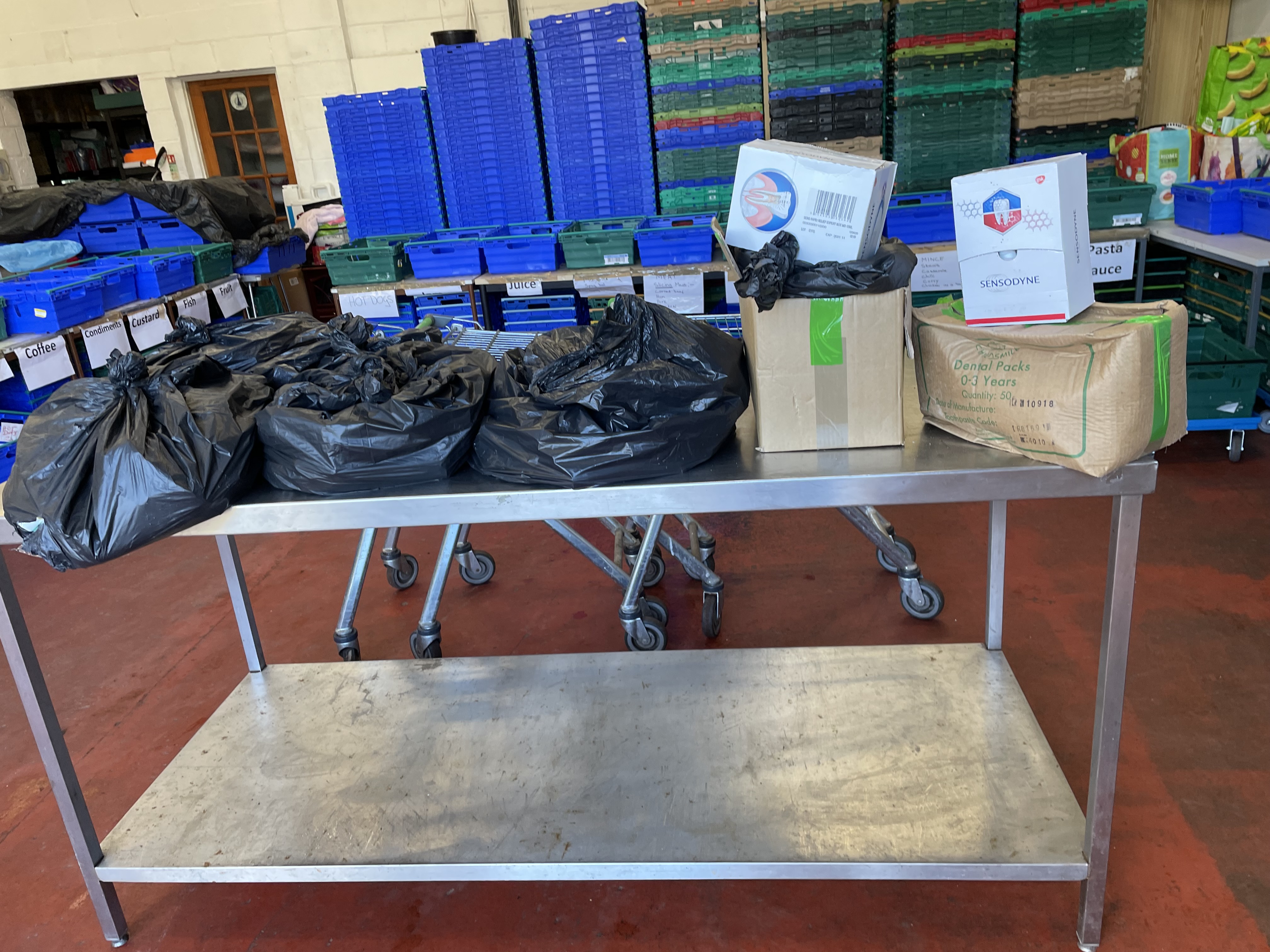 6th November

I noticed a twitter feed today that said that a family of eight had refused a house that the Council had offered them because it was "inhabitable". I looked it up! Apparently "inhabitable" and "habitable" are the same thing. Uninhabitable is "not habitable".

It reminded me of an age old understanding of what inflammable means. Ideally flammable means "easily set on fire" but then apparently so does inflammable! So what about other words like Independent - not dependent or indestructible - incapable of being destroyed or even incapable - not capable. I wouldn't like to try and learn English as a second language. There are too many exceptions to rules included.
On another matter we now have 50 folk attending the Christmas Lunch! I am really looking forward to what appears to be going to be almost our annual normal.
On this day: -
===============================================================

5th November

I have only just discovered that there is an opportunity to enter a three word location for the Park Hotel on our web site. For those of you who aren't familiar with it "What Three Words" has split the world up into 3m squares and given each square a different three word title. I chose the 3m square nearest to the Park Hotel car park entrance on Arnothill and was pleasantly surprised to note that its title was "relaxed.mixing.greeting"! How fitting is that?

Be silent! Otherwise say something better than silence! Pythagoras
On this day: -

1911 - Roy Rogers (Leonard Franklin Slye) now who knew that?

Born

November 5, 1911

d. 1998

American singing cowboy, who appeared in movies and TV with Dale Evans and Trigger.
1935 - Parker Brothers launches the board game Monopoly.
1992 - Bobby Fischer beats Boris Spassky (10 games to 5) and takes the $5,000,000 prize in their chess rematch.
=======================================================================

4th November

Happy Diwali everyone.
On this day: -
1646 - Massachusetts Bay Colony enacts the death penalty for anyone who persists in denying that the Holy scriptures are the word of God.
1879 - James Ritty patents first cash register, to combat stealing by bartenders in his saloon in Dayton, Ohio.
1879 - Thomas Edison files a US patent for his incandescent electric lamp. Note: Joseph Swan had already patented an incandescent light in Britain the previous year.
1922 - The boy king's tomb is discovered by archaeologist Howard Carter. Carter and Lord Carnarvon would open the tomb and look inside three weeks later. Lord Carnarvon, who financed the excavation, died five months later due to an infected mosquito bite, leading many to speculate, including Sir Arthur Conan Doyle, that his death was caused by protections put in place by Tutankhamen's priests to guard the royal tomb.
2014 - Statistics from the 2011 census showed that Polish migrants had the highest employment rate of any nationality living in Britain, including the British. Results also showed that European migrants to the UK added £4.96bn more in taxes in the years to 2011 than they took out in public services
=============================================================

3rd November

As usual, scratching for something to put here I Googled "Why is today important?". I now am aware of the fact that today is: -

National Homemeaker day!
National Sandwich day (in America)
Japanese Culture day.
National Housewife day!
National Stress awareness day.
I can't help but think that numbers 1 and 4 are pretty much the same thing and are wholly inappropriate in today's politically correct world. I also wonder if number two is related to the fact that today is the birthday of John Montague, fourth Earl of Sandwich who gave his name to the Sandwich Islands, and (allegedly) to the 'sandwich' as a result of his reluctance to leave the gaming tables but requiring a quick and easy to eat snack while he remained there.
--oo00oo--
Our Sleigh project is well underway now. Jim Cairns, Dugald McAlpine and Andrew Niven are refurbishing it for deployment at Tesco in Redding on the 19th and 22nd December. It is hoped to secure the District Gazebo to shelter the sleigh while it is there.
Arrangements are currently underway to replace the Polmont Logo with a Falkirk one.

On this day: -
===================================================================

2nd November

It was nippy out today but we decided that it was so nice that we'd try another walk. We thought abought the Allan Water at Blairforkie Drive in Bridge of Allan but it only goes with the river for about a couple of hundred yards then heads off into the residential area. I nearly said into the "scheme" but that would have just shown up my upbringing in Camelon.
We decided instead to take the footpath along the Allan Water north of Dunblane town centre. We parked in Tesco's lower car park, where one has to "pay and display" but it is only 70p for two hours. We crossed the railway bridge and set off north along the Eastern bank of the river towards the Faery Bridge.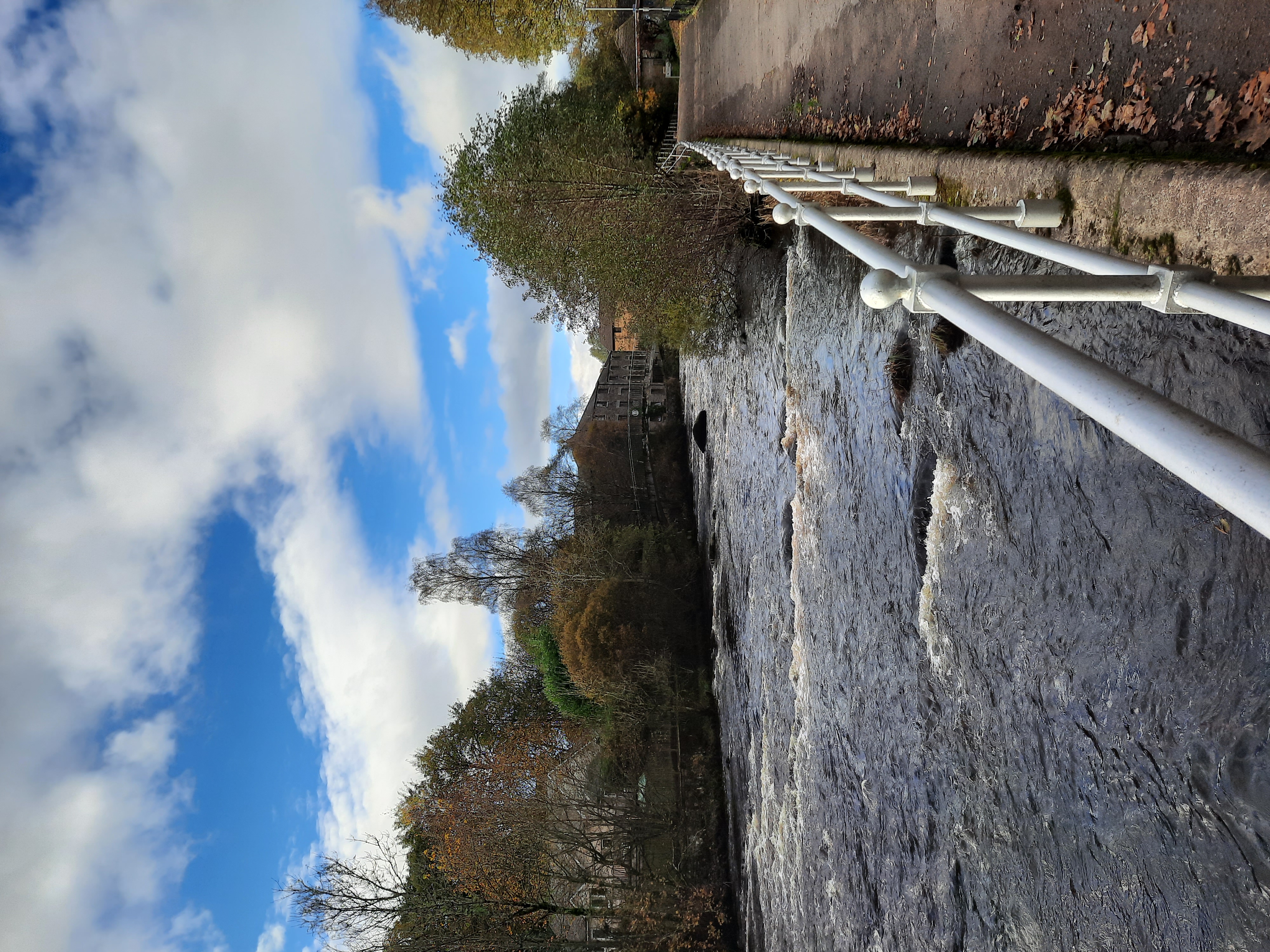 We walked on past the bridge towards a great playpark with a huge slide and lots of other great things for kids and then further on where there was a fabulous outdoor Gym: -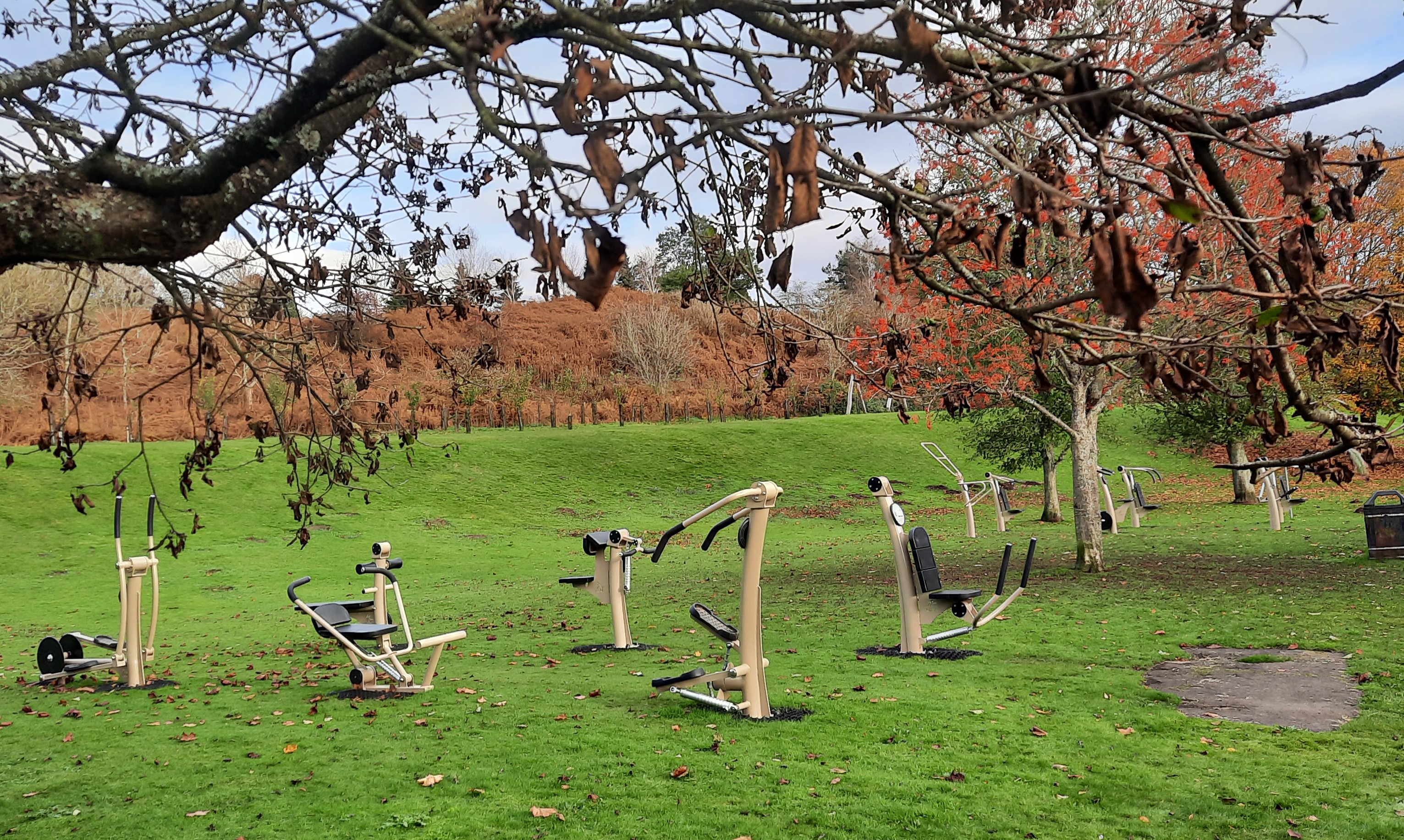 Not far beyond that the path was closed because of landslip so we turned back and this time crossed the Faery Bridge. Walking back south again we were treated to views of the Cathedral that we'd never experienced before.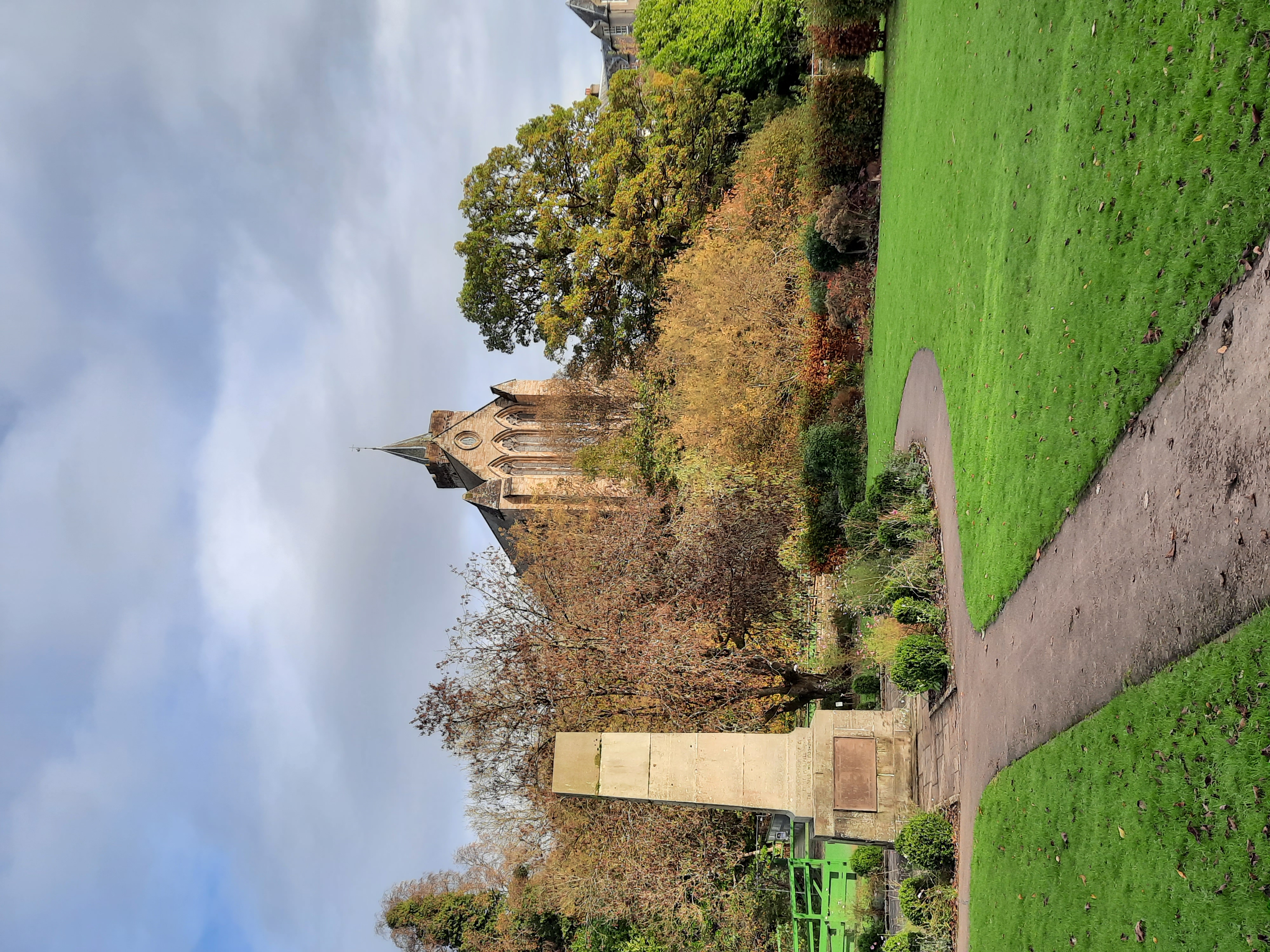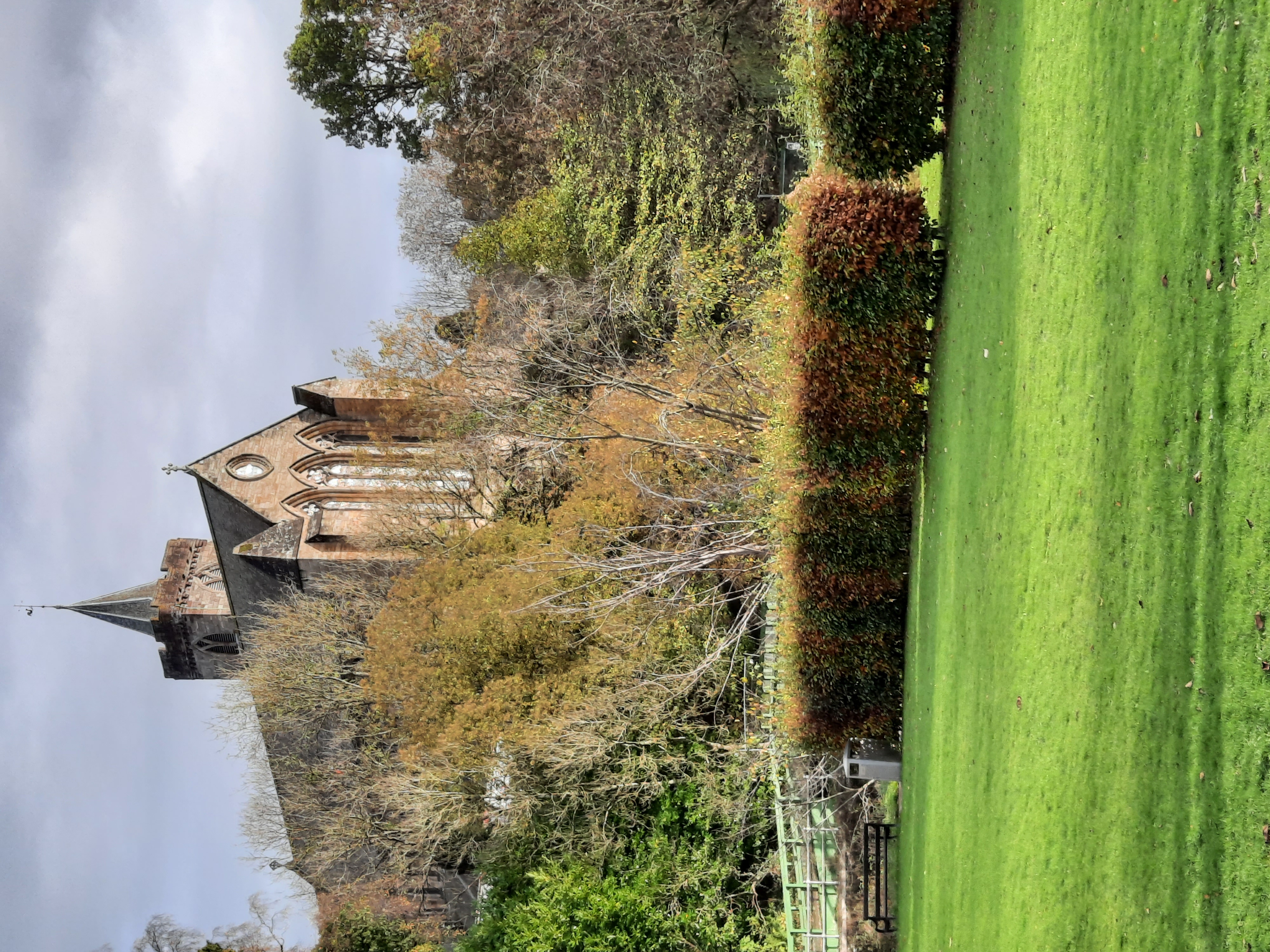 Because of the closed path it turned out to be not a very long walk but it was novel and very pleasant nonetheless.

On this day: -
1871 - British police began their Rogues' Gallery, taking photographs of all convicted prisoners.
1924 - Almost 11 years after its appearance in America, the first crossword puzzle was published in a British newspaper, sold to the Sunday Express by C.W. Shepherd.
1936 - The world's first regular TV service was started by the British Broadcasting Corporation at Alexandra Palace at 3:00 p.m. It was defined as 'high-definition' (with 200 lines of resolution) and was renamed BBC1 in 1964. An estimated 100 TV owners tuned in.
=================================================================

1st November

Today is "All Saints' Day" or "All Hallows". It is a Holy day of obligation and solemnity, commemorating all the blessed in Heaven, especially those who have no special feast.
The first evidence for the November 1 date of celebration and of the broadening of the festival to include all saints as well as all martyrs occurred during the reign of Pope Gregory III (731–741), who dedicated a chapel in St. Peter's, Rome, on November 1 in honour of all saints.
In medieval England the festival was known as All Hallows, and its eve, as a result, is still known as Halloween. The period from October 31 to November 2 (All Souls Day) is sometimes known as Allhallowtide.
Also on this day: -

1800 - U.S. President John Adams moves into what was at the time known as the "President's House", located in Washington D.C. George Washington is the only U.S. president who didn't live there.
1952 - On this day in 1952 on an atoll of the Marshall Islands, Edward Teller and other American scientists tested the first thermonuclear bomb (Hydrogen), its power resulting from an uncontrolled, self-sustaining nuclear chain reaction.
1993 - The Maastricht Treaty came into force thereby establishing the European Union.
=========================================================

31st October
Unless you have been hiding under the covers you will no doubt be aware of the fact that COP 26 is now well and truly underway. Yesterday while driving through to Stirling for our walk we were overtaken by, firstly a motorcycle outrider at about 100mph with blue lights, followed by a slightly slower convoy of motorcycles and four or five black Range Rovers with blacked out windows, then more bikes. I was later led to believe that it was most likely to have been Barak Obama headed for Gleneagles. Nae Airbnb for him!

It got me thinking however. I never heard anything about COP25 or any of the rest! And I had to Google to find out what COP actually stood for. "Conference of the Parties" apparently!
We had intended heading out again for a walk today but the weather is not really conducive for such ambition. We'll just hae tae bide at hame the day.

Today's teaser centres around the fact that the person we all know and love as Michelangelo finished the painting of the ceiling of the Sistine Chapel on this day in 1541. Who knows his surname?
On this day: -
1517 - Martin Luther sends his 95 Theses to Albrecht von Brandenburg, the Archbishop of Mainz, precipitating the Protestant Revolution.
1903 - Hampden Park was opened.

1918 - Spanish Flu kills 21,000 people in the US in a single week.
1951 - Zebra crossings came into use for the first time in Britain.
1964 - Not even wartime bombs could force London's Windmill Theatre to shut its doors and it gloried in the slogan, "We never closed." Unfortunately, on this day, it did. Changing times and fortunes had taken their toll on an establishment famous for its naked women who posed unmoving for the audience. The argument was that no one could be offended by a nude statue.

==============================================================

30th October

It was such a nice day today after all that rain that we decided to go for a walk. We had walked along the Forth West from Brighae along Raploch before but we'd never walked East. We set out from the Bridge at the Corn Exchange and walked along Riverside on the south side of the River.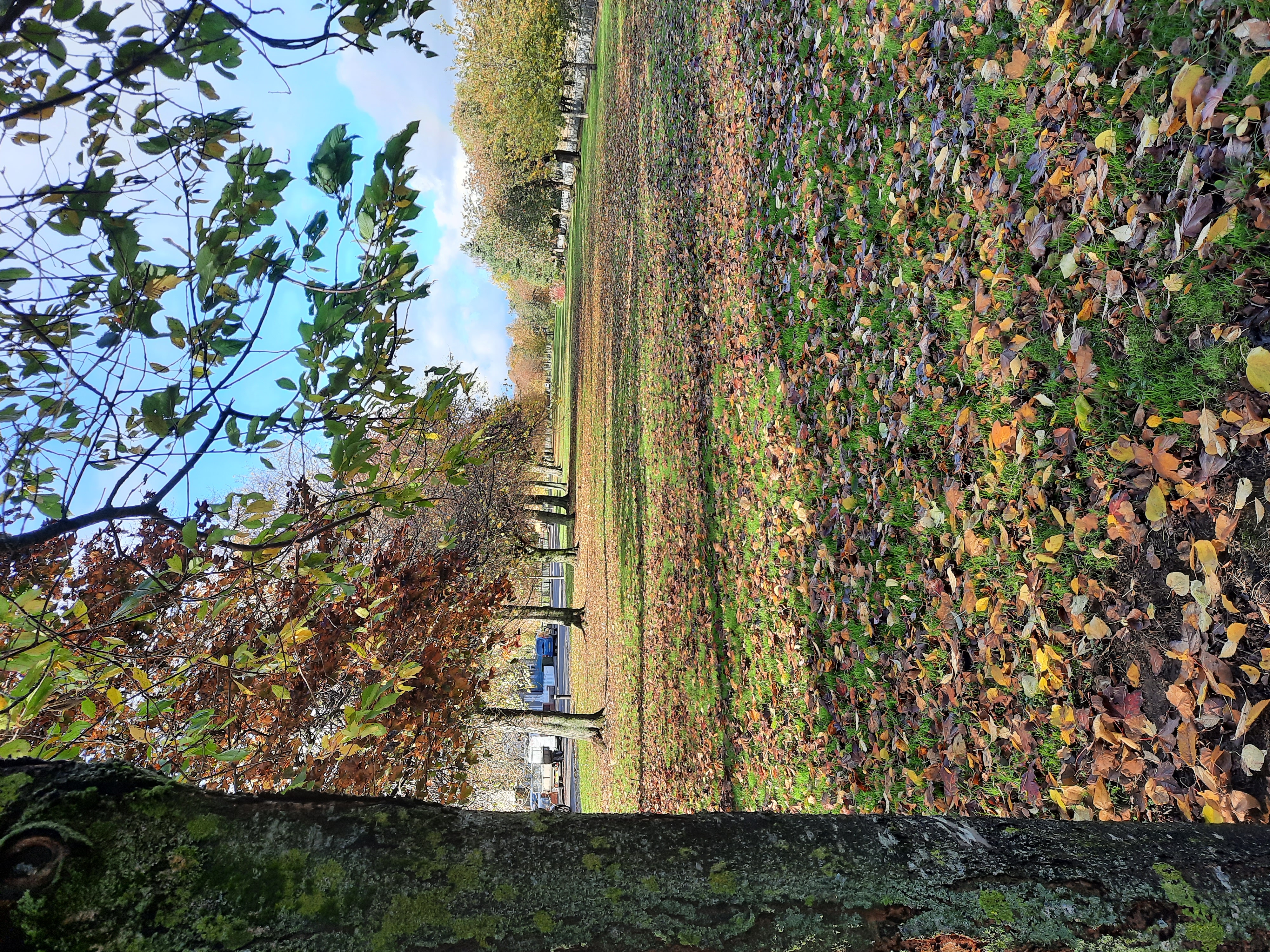 until we came to the bridge that would take us across the river to Cambuskenneth.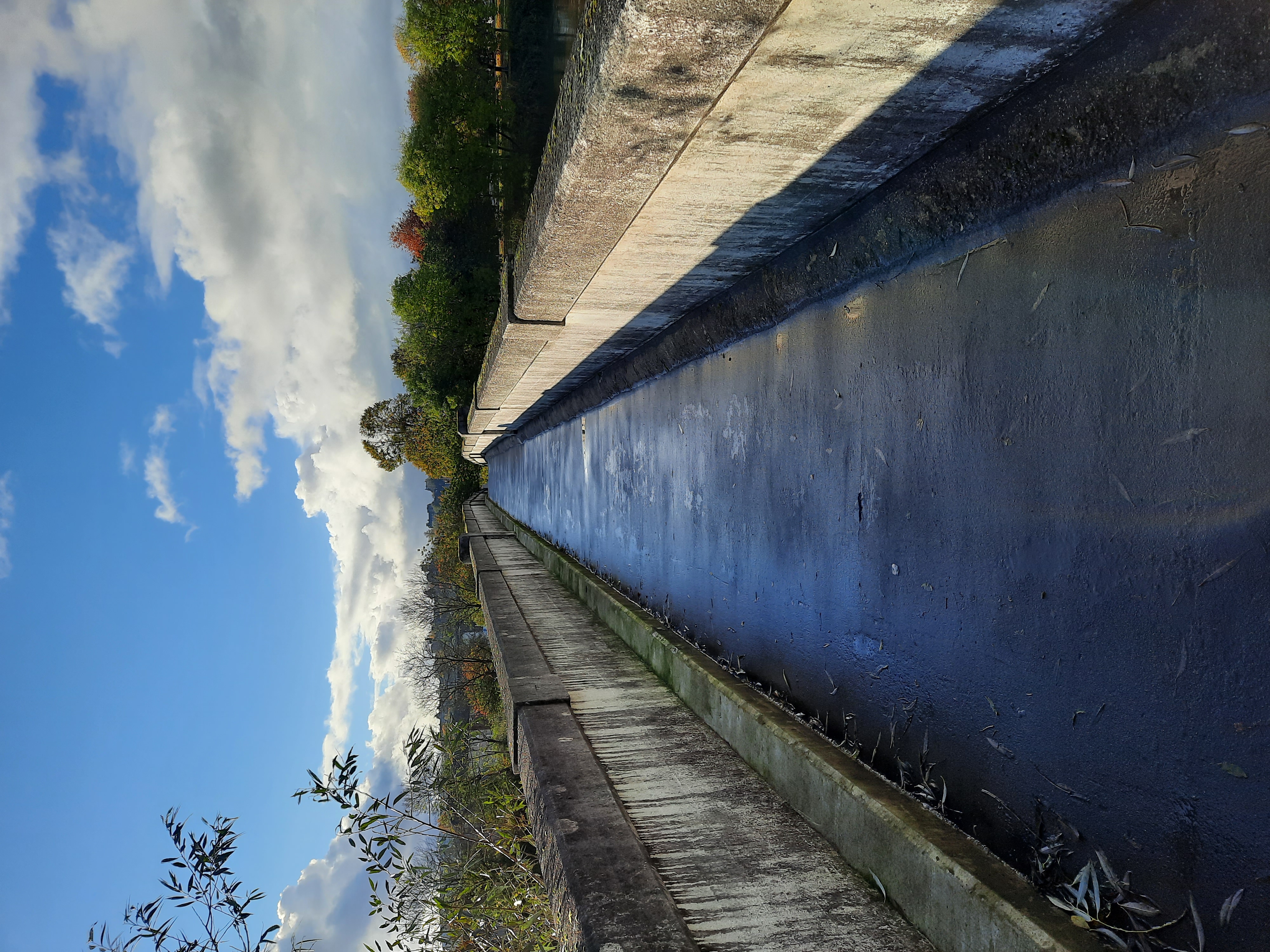 Cambuskenneth is an oasis, a time capsule Village that exhibits homes from across a whole Century from whitewashed stone built terraced cottages to 1960s storey and a half villas and everything in between. It has a Community Hall which proudly boasts a Britain in Bloom Plaque and this which I thought was so unexpected so close to a bustling City Centre.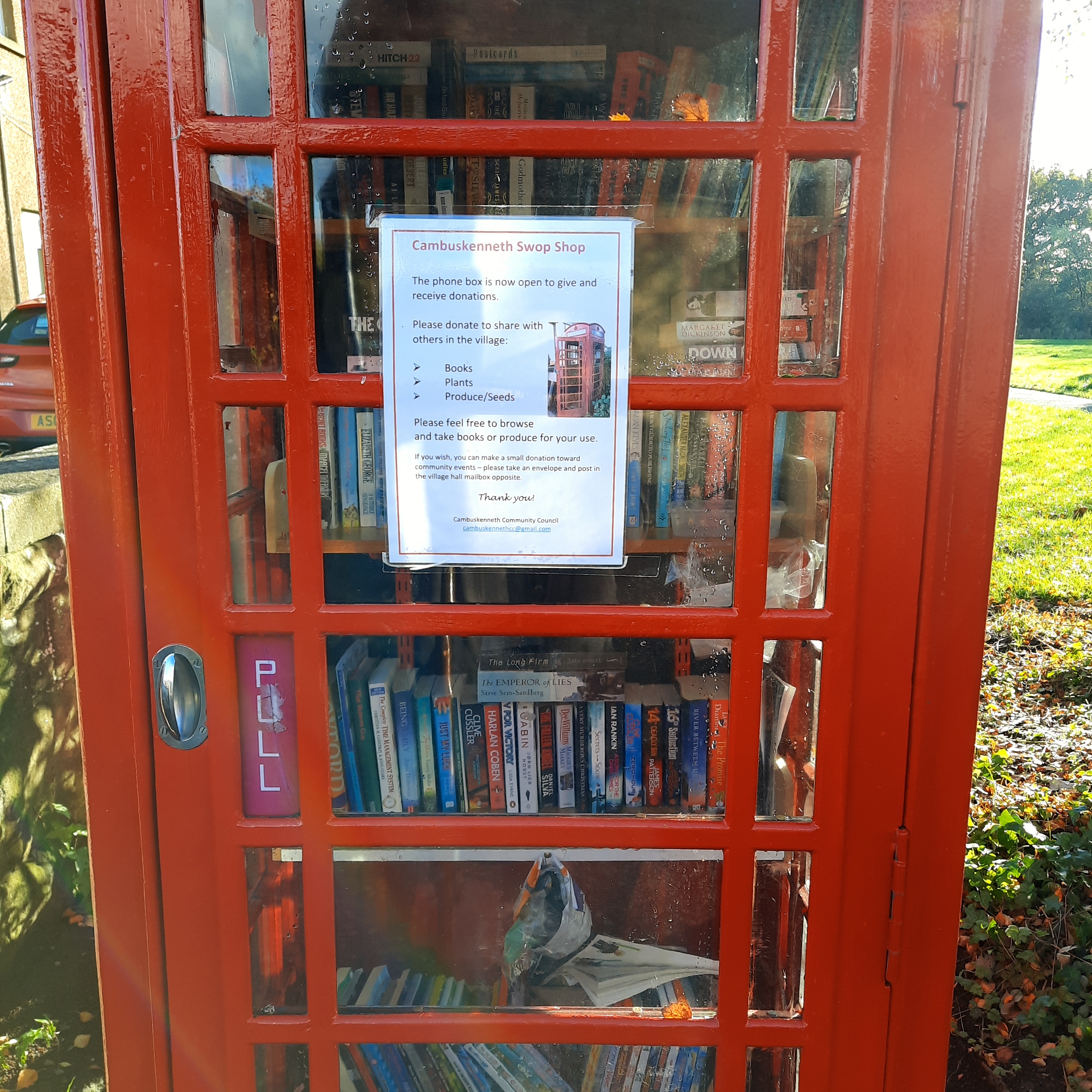 Everything you say should be true! But not evrything true should be said! - Voltaire!

On this day: -

1938 - A radio broadcast by H.G. Wells "The War of the Worlds", narrated by Orson Welles causes a mass panic. Many people missed the opening disclaimer and believed it was a live broadcast of an actual alien invasion.
1945 - Henry Winkler, "The Fonz" is 76 today!

1973 - The Bosphorus Bridge in Istanbul is completed, connecting the continents of Europe and Asia over the Bosporus for the first time.
1974 - Mohamed Ali beats George Foreman in "The Rumble in The Jungle"!
=====================================================================

29th October

I was at a loss about what I might say today and trawled through my "Chronicle of the Twentieth Century" I was amused by this from 100 years ago!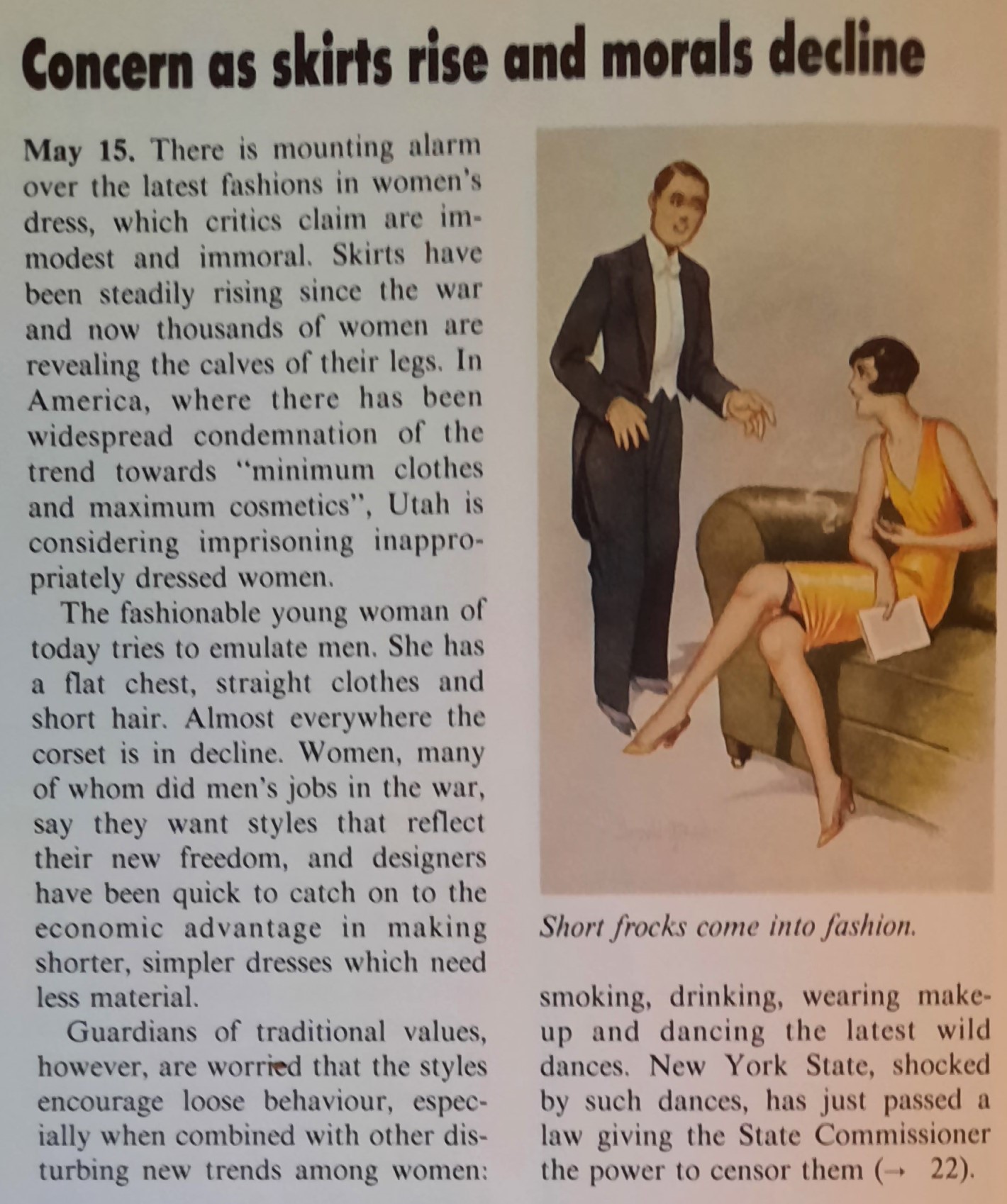 On this day: -
1863 - The birth of the Red Cross. Delegates from fourteen nations, led by Swiss philanthropist Henri Dunant, approve plans for an international organization to help the wounded in time of war.
1904 - German-American gymnast George Eyser wins 6 Olympic medals in a single day. He lost his leg in his youth after being run over by a train and wore a wooden prosthesis. He won 3 gold (parallel bars, long horse vault, and 25-foot rope climb), two silver (pommel horse and 4-event all-around), and one bronze (horizontal bar)
1923 - A new dance craze starts when the Broadway show Runnin' Wild opens and features a new dance to the tune The Charleston.
1986 - At 11.15am on this day Margaret Thatcher cut a ribbon to open the final stretch of the London Orbital Motorway – the M25. It was then the world's longest ring road at 117 miles, had taken 11 years to complete at a cost of £1 billion and was, according to Mrs Thatcher, "a splendid achievement for Britain".
Thousands of frustrated drivers would come to take a different view over the years. Its first traffic jam developed by 5.15pm on that opening day and delays have since become an almost daily occurrence.
28th October

I make no apologies for not posting yesterday, It was a busy day! We had a Council meeting at lunchtime which took a bit longer than normal (Although not as long as some of the historic Council meetings under the Chairmanship of John Green that often lasted 3 or 4 hours). Then we were at the Helix. I didn't really fully understand what was going on until I got there. It turns out that the Quakers in Polmont began a Pilgrimage along the John Muir Way which will terminate at Glasgow and the COP26 summit. They stopped off along the way at the Helix where there was a presence from Falkirk District Association for Mental Health Choir, other Quakers, Soroptimists, Rotary and the children who had participated in our Poster Competition. The weather was, not to put too fine a point on it, quite wet! This however was somehow quite poignant, seeming to emphasise the point that those who were attending had an agenda and were passionate about that.
Here are some photographs of the day: -
1, 2, 3, 4, 5, 6, 7, 8, 9, 10, 11, 12, 13, 14, 15.
We had visitors this morning. A roe deer hind and her fawn were recumbent on the grass at the foot of the drive. When I went for the camera and returned I must have alarmed them. They were up and staring straight at me.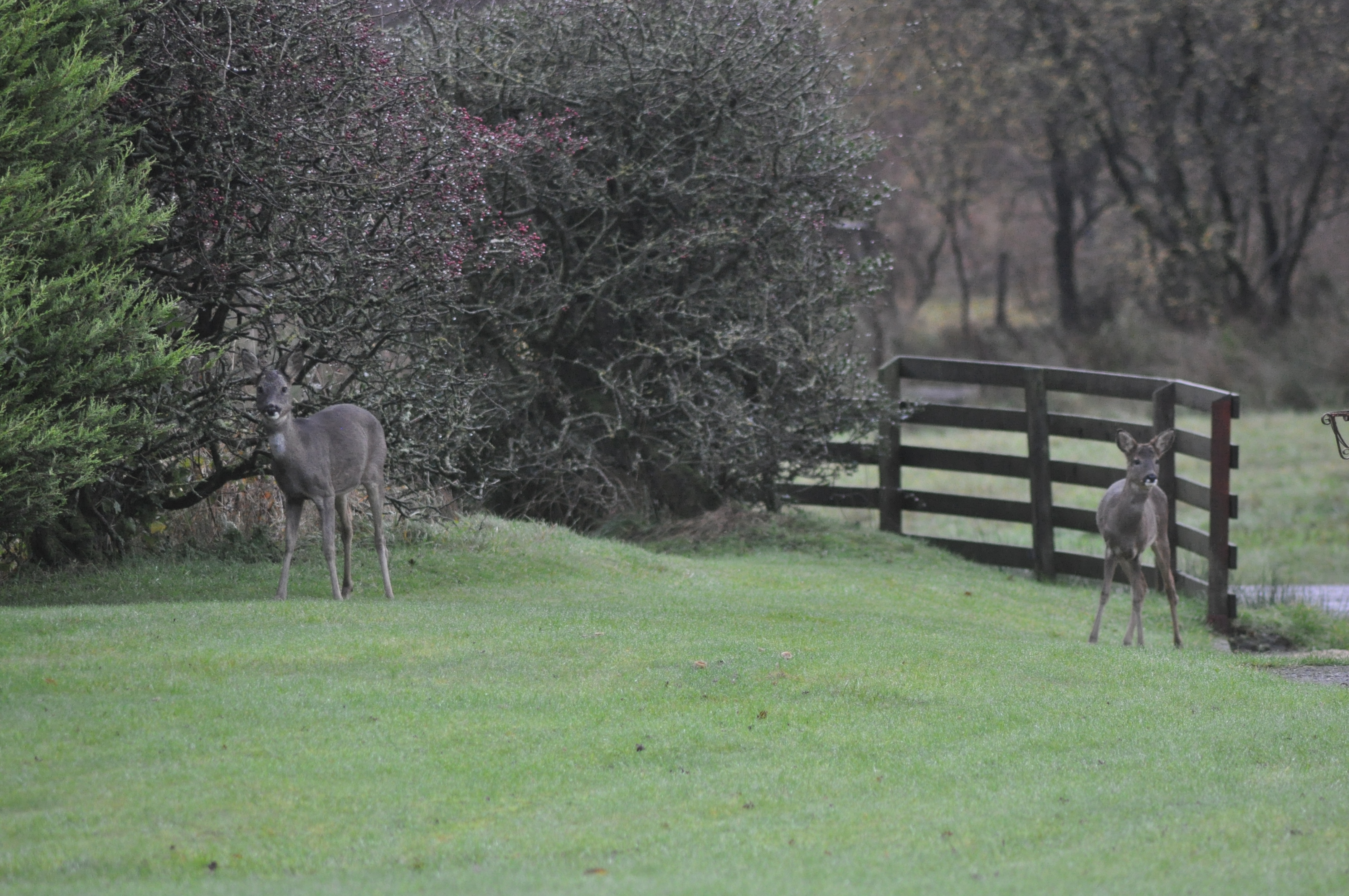 Then they trotted off together back into the woods.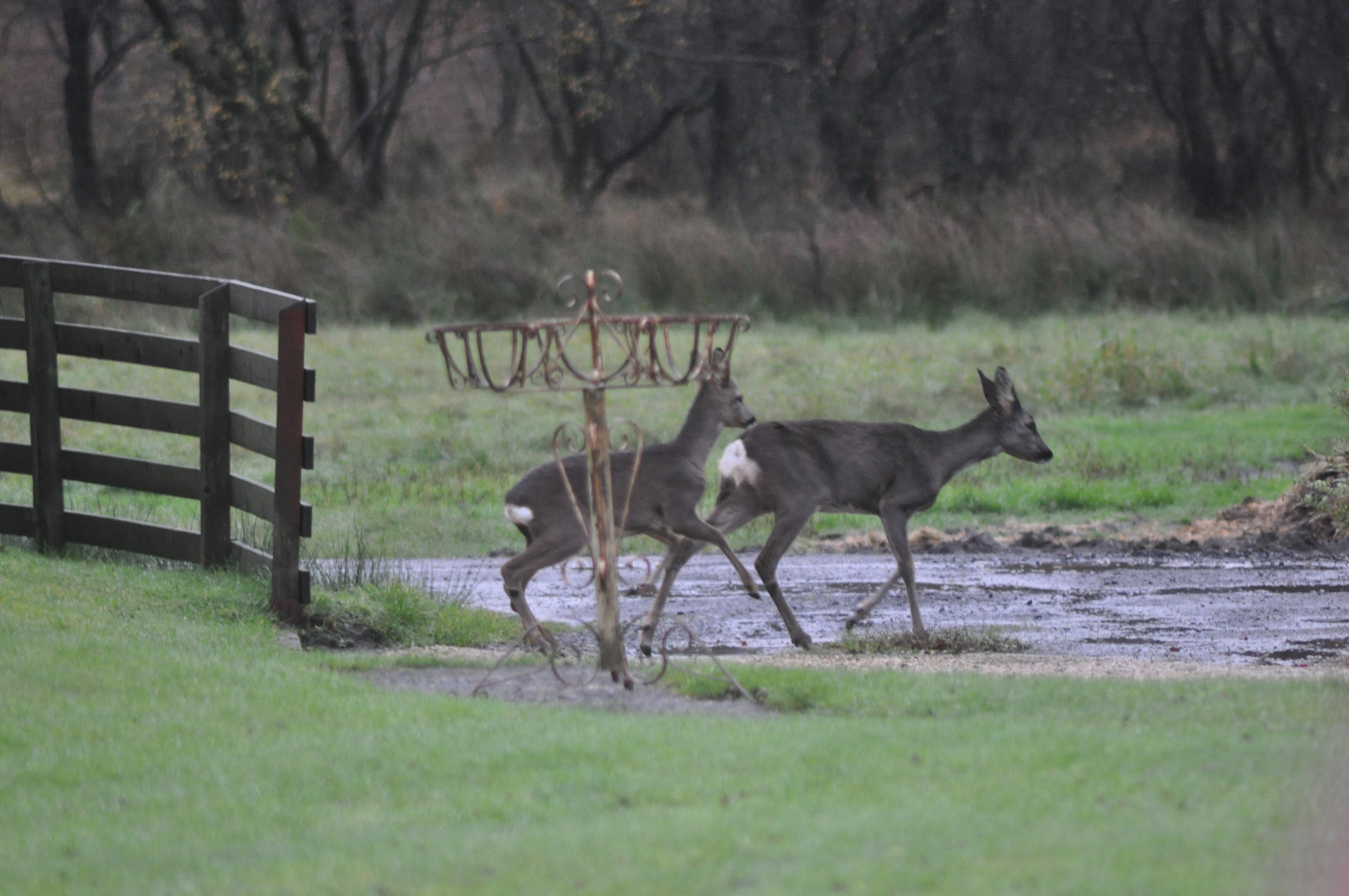 On this day: -

1886 - The Statue of Liberty is dedicated by US President Grover Cleveland, celebrated by the first confetti (ticker tape) parade in New York City.
2015 - Research is published indicating that Plague dates back to the Bronze age in skeletons 5,783 years old, published by University of Copenhagen team in "Cell"
=================================================================

26th October

Conference delegates had a super conference at Westerwood at the weekend: -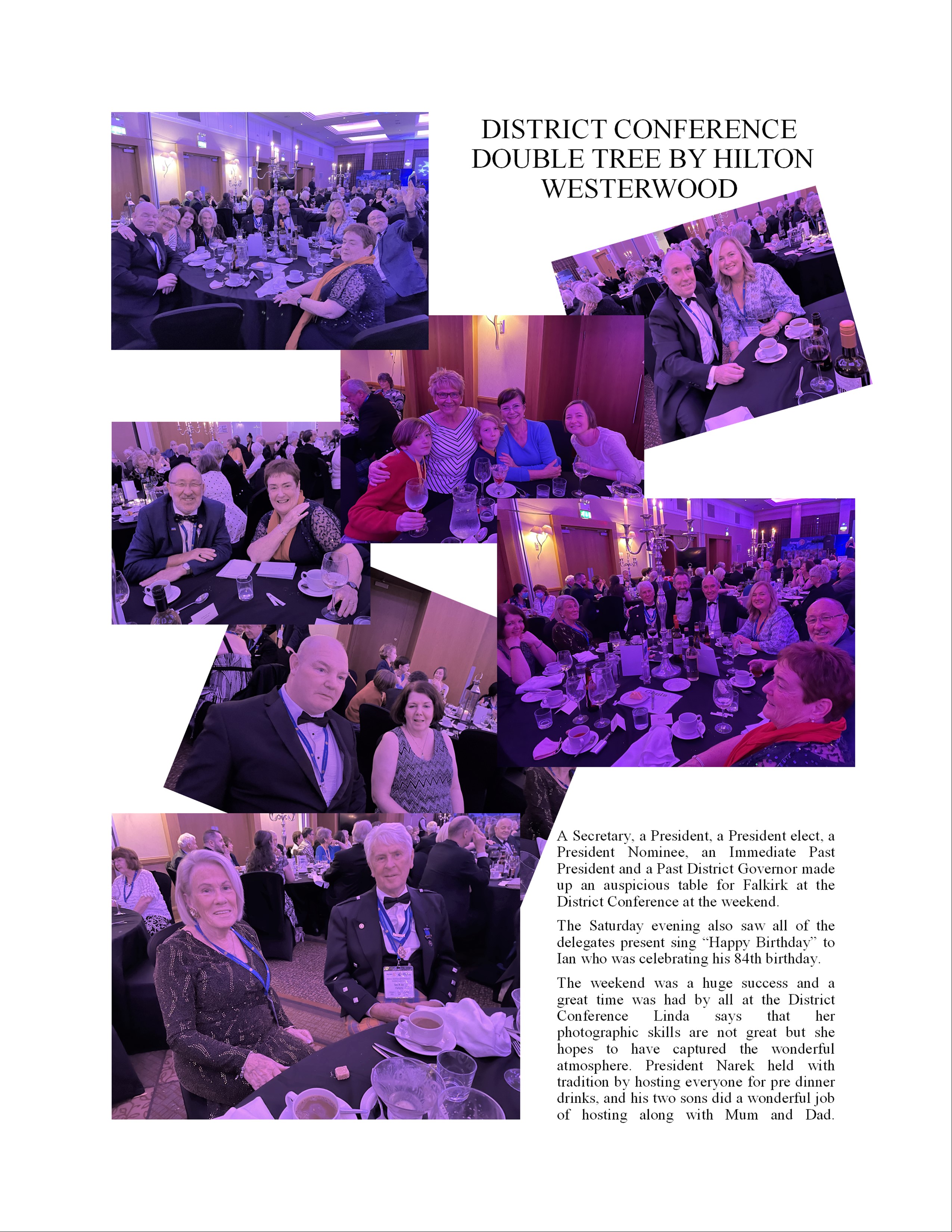 And ahead of the Peace Pole meeting tomorrow here are the winning posters: -

But I thought that Nathan's was magic!

On this Day: -
1881 - Possibly the most famous shootout in the history of America's Wild West took place on this day – the Gunfight at the OK Corral in Tombstone, Arizona. On the one side stood the so-called forces of law and order: Wyatt Earp, his brothers Virgil and Morgan, and Doc Holliday. By reputation these were power-hungry and ruthless men.
Opposing them were the outlaws Billy and Ike Clanton, Tom and Frank McLaury, and Billy Claiborne. Around 3pm, the Earps and Holliday spotted the five members of the Clanton-McLaury gang near the OK Corral and closed in for a confrontation.
The famous gunfight that ensued lasted for just 30 seconds or so, when around 30 shots were fired. Most reports say that it began when Virgil Earp pulled out his revolver and shot Billy Clanton point-blank in the chest, while Doc Holliday fired a shotgun blast at Tom McLaury.
When the dust cleared, Billy Clanton and the McLaury brothers were dead, and Virgil and Morgan Earp and Doc Holliday were wounded. Ike Clanton and Claiborne had run away.
1901 - First recorded use of "getaway car" occurs after holding up a shop in Paris!
1977 - Last natural case of smallpox discovered in Merca district, Somalia. Considered the anniversary of the eradication of smallpox, the most spectacular success of vaccination. (So Far!!!)
=======================================================================
25th October

President Elect Linda has organised the Christmas Lunch in the Grange Manor Hotel for the 2nd December. Everyone who wishes to attend should contact her. I have created a new page in the members only section entitled "Directories" In that page there are links to the current Club Directory and the District Handbook. I have checked and Linda's updated email address is correctly listed.

I have a new car! Well it's not "new" it's just new to me! But for the first time for a long time it's a petrol engine. The last cars that I have had have always been deisel. It got me thinking!

As usual I was driving away from the garage and the fuel warning light came on accompanied by a warning sound! When I was refuelling I started to reminisce. I learned to drive around about 1963. My father held a license but couldn't drive. He had held the license from a time before it was necessary to sit a test. The result was that he bought a car and I drove it! It was a large black Austin Cambridge A55.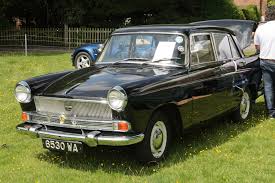 I still remember the number - RWG 582. It could be filled with 8 gallons of petrol and that at a cost of £1. Petrol being 2/6d a gallon at that time. I came across a newspaper article from 1949 which says "A gallon of petrol goes up by twopence halfpenny to 2/3d".

We have all become so used to the SI Units of Litres of Petrol and such that we are shielded from the fact that a gallon of petrol now costs £4.81!
On this Day: -

1854 - The Charge of the Light Brigade is infamous as an act of bravery in the face all insurmountable odds. On the 25th October 1854 members of the British light cavalry led a charge by mistake into the heart of the Russian Imperial army. 110 soldiers died in the charge, 161 were injured and 475 horses killed. Lord Cardigan led the charge just after 11am. Lord Raglan and his staff watched in horror from their elevated position. Nolan seems to have tried to head Lord Cardigan off, belatedly realising the mistake but was killed by fire almost immediately.
The Light Brigade charged for a mile and a quarter till they reached the Russian guns who started firing on them as soon as they came in range. They then, if they could, returned the way they had come.
Lord Cardigan himself became separated from his troops and was one of the first to return. He then seems to have left the battlefield completely for his personal yacht moored off the coast where he retired to enjoy a champagne dinner that night..
1938 - The Archbishop of Dubuque, Francis J. L. Beckman, denounces Swing music as "a degenerated musical system... turned loose to gnaw away at the moral fiber of young people", warning that it leads down a "primrose path to hell".
===========================================================

24th October.

Today is World Polio Day! Latest news is that there have still only been two reported cases this year, one in Pakistan and one in Afghanistan. That is fantastic news.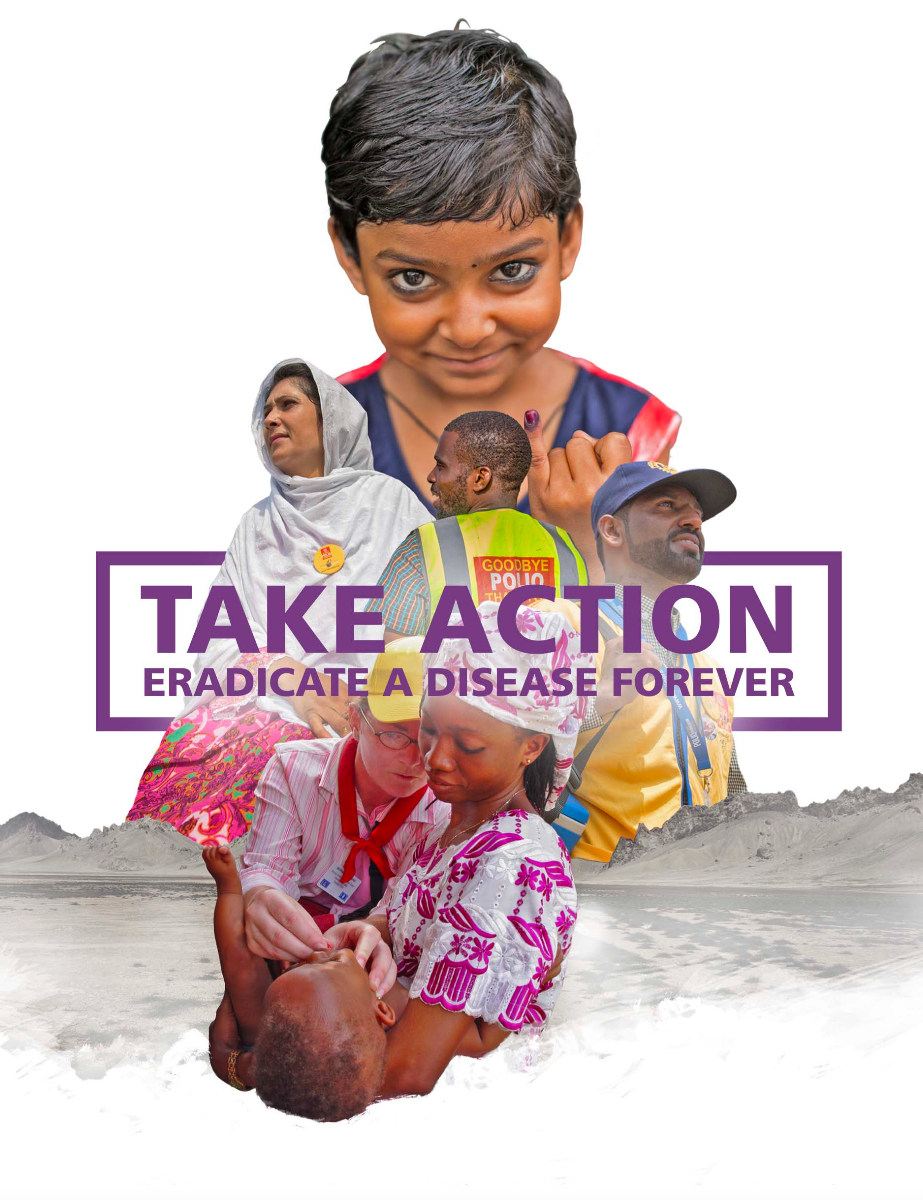 On this day: -

79 - In 79 AD Pliny the Younger was seventeen and staying with his famous uncle, Pliny the Elder, a naturalist, author and naval commander for the Roman fleet at Misenum in the Bay of Naples. His account written as a letter to the Roman historian Tacitus 25 years later made the eruption of Vesuvius famous long after Pompeii was buried under debris and forgotten.
1601 - Tycho Brahe died! He was known in his lifetime as an astronomer and alchemist, and for his accurate and comprehensive astronomical and planetary observations. He has been described more recently as the first competent mind in modern astronomy to feel ardently the passion for exact empirical facts. And coincidentally until Friday night I had never heard of him. We watched "Who do you think you are?" the subject of which was Dame Judy Dench. He turned out to be something like her nine times great Uncle!
1945 - The United Nations was formed with the aim to 'save succeeding generations from the scourge of war.'
================================================================

22nd of October

I should have reminded you all yesterday that it was the 21st and time to donate to the Foodbank a proportion of yours savings from the weekly lunch. I am forever bragging about what we as a Club have done in this respect. So far we have donated £7,584 to the Food Bank which equates to 3.78 tonnes of provisions. You should all feel justifiably proud of that.

We have watched two programmes in the past week about Guernseys or Ganseys. It depends geographically where you are. Curiously the first one was from Harris in the Outer Hebrides and they referred to the garment, (A pullover, jumper or sweater, call it what you will) as a Guernsey! The second was from Norfolk and they referred to the same item of clothing as a Gansey. It's the same in Yorkshire apparently.

Now it is painfully obvious that both nomenclatures have their roots in the same place and have been pronounced or mispronounced over the years to arrive at where they are now. The thing that got me though was the stories attached to them.
In Harris they made no reference to the connection with the island of Guernsey but did tell the story that they were hand knitted by the wives of fishermen and apart from being eminently suited to life on board ship as a result of the wool and the method of construction, were each individually identifiable. The macabre reality being that it was a method of identifying the remains of the fisherman should he perish at sea. Now I have heard this story before and have no doubt of its veracity but the Norfolk fisherman told pretty much the same story after eleborating on the roots of the name Gansey.

He went on to say that the Island of Guernsey has or had no sheep so they imported wool and exported pullovers! Surely both of these stories cannot be true. Or if they are true one has absolutely nothing to do with the other.
Maybe it went something like this: -
Guernsey had no sheep.
Guernsey imported wool.
Guernsey exported Pullovers.
They were great for sailors but they were all the same
Sailors' wives decided they'd do it themselves and personalise things.
Guernsey pullover producers went out of business! (they are still at it apparently)

Guernsey Jumpers are derived from the traditional sweaters developed in Guernsey in the 17th century. The original sweater styles, with a "diamond" insert at the underarm for ease of movement, were worn primarily by Guernsey's fisherman, the jumper later became popular throughout coastal Britain where each seafarer wore a "Gansey". (The History of the Guernsey Jumper from theGuernsey wool Industry)
On this Day: -

1797: -André-Jacques Garnerin made the first documented parachute jump on this day, landing safely after exiting a balloon 3,000ft above a park in Paris.
1884: -International Meridian Conference in Washington, D.C. adopts Greenwich Mean Time (GMT) worldwide, creating 24 international time zones with longitude zero at the Greenwich meridian.
1895 - The Montparnasse derailment occurred when the Granville-Paris Express overran the buffer stop at its Gare Montparnasse terminus. The driver was trying to make up for lost time and entered the station too fast and the train's air brakes failed to stop it. After running through the buffer stop, the train crossed the station concourse and crashed through the station wall. The train fell onto the road below, where it stood on its nose.
1897 - World's first car dealer opens in London
1907 - Panic of 1907: A run on the Knickerbocker Trust Company stock leads to a US wide run on banks
1926 - The famous magician Harry Houdini is struck four times by a college student challenging his ability to withstand blows to the stomach. Houdini, who was unprepared for the attack and had acute appendicitis, died nine days later.
=====================================================================
21st October

Before I begin this I often trawl the net for inspiration. I came across this quotation which struck a chord : -

A day without wine is like....I have no idea!
Now you all know that, apart from swimming, I know nothing about sport and quite frankly don't care! I was surprised however to find that Speedway is still alive and kicking in Glasgow!

Today and tomorrow at 19.30 Glasgow Tigers

will vie against

Edinburgh Monarchs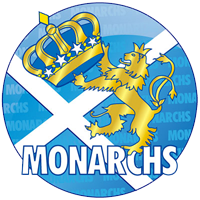 in the Championship playoff Semi Final.

I was intrigued and looked at the history of Speedway in Glasgow. Apparently they existed at White City Stadium until 1968 (that's the last recollection that I have of speedway in Glasgow) and they have since used Hampden Park, Cliftonhill in Coatbridge, Blantyre Sports Stadium, Craigend Park, Derwent Park and Shawfield before settling, in 2015, where they are now at the Peugot Ashfield Stadium.

On this day: -
1805 - Admiral Nelson dies at the battle of Trafalgar.

1948 - UN rejects Russian proposal to destroy atomic weapons!
1954 - A live broadcast of Ian Fleming's Casino Royale on the TV show "Climax" It starred Barry Nelson making him the first 007. It also starred Peter Lorre as Le Chiffre.
1966 - It was a heartbreaking tragedy known across the world by the name of the South Wales village where it happened: Aberfan. On this day millions of cubic metres of excavated mining debris came thundering down a hillside, engulfing a farm, several houses – and Pantglas Junior school, where 116 children died
1971 - A total of 22 people died and more than 100 were injured from Scotland's worst peace-time explosion on this day. 50 years on, a special service will take place at the memorial tree in Clarkston Halls car park for the families of victims and survivors. A minute's silence will also be held across East Renfrewshire at 2.50pm, the time the explosion happened.
========================================================

20th October

Have you ever read 1984? I went to receive my Flu and Covid Booster jabs this morning. I was in a line of people on the first floor of what was the Windsor wing at Falkirk and District Royal Infirmary, now the Falkirk Community Hospital. We were equally spaced, one behind the other in a one way system, wearing masks and no one spoke as the one at the front of the queue was taken to a room for vaccination and we all shuffled forward one space.

What once were wards on either side of the corridor were empty spaces. The doors were all equally brown, their facings white and everything else had been painted magnolia. Our surroundings were reminiscent of a deserted office building and we were all automatons creeping slowly towards our fate.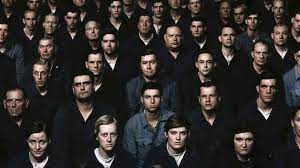 On this day: -

1791 - Back in 1791, the jockey Sam Chifney, was retained by the future KIng George IV as his rider for life with generous pay of over £200 a year, and he rode the royal horse Escape in two races.

Chifney was the leading jockey of his day and had developed a highly successful late finishing style, known as the "Chifney rush". He boasted: "I could ride horses in a better manner in a race to beat others than any other person ever known in my time."

However, in the first race on Escape held on Thursday, 20 October, he came last of four despite being 2/1-on favourite. The next day, with odds of 5/1-against, Chifney rode Escape to victory, beating two horses that had finished ahead of him the previous day. This prompted the horseracing authority in England to have an astonishing showdown with the future King George IV over allegations that his jockey had thrown a race. He responded with a royal boycott of the Sport.


1922 - First life saved by a parachute - Lt. Harold R. Harris of the U.S. Army. While banking his airplane into a right turn, the control stick began to vibrate violently, the airplane's wings tore apart, and the craft began diving uncontrollably. Harris jumped from the cockpit at approximately 2,500 feet (762 meters). After free-falling about 2,000 feet (610 meters), he deployed his parachute and landed with only minor cuts and bruises. Harris' plane crashed several blocks away and was completely demolished.
Shortly thereafter, two reporters suggested that a club should be formed for people who jumped from a disabled aircraft with a parachute, with Harris becoming the first member of the "Caterpillar Club".
===============================================================

19th October

Just a quicky today. I have to present myself at the Town Hall for Scottish National Blood transfusion service donor session.

St John's Central Area Chair has emailed us all today to tell us that: -
"...from our start date of 7th September 2020 until 30th September 2021 we drove roughly 89,300 miles which is approximately 3.5 times around the planet ! Not bad for a local service ! And the free time we have dedicated for this service I have calculated at 3,689 hours which is over 153 days of solid work..."
On this day: -

1605 - An incredible memorial stands in the main shopping street of Norwich to commemorate philosopher and writer Sir Thomas Browne who was born on this day. It is a large reproduction of his brain. Children climb over it and weary shoppers use it as a seat when they need a rest.
==============================================================

18th October

I have often posted here photographs of the view of Forth Valley from Muir Rig. It has almost always been on a beautifully sunny day. This morning as I headed for the shower Forth Valley was full of mist and I could look over the top of what looked like a lake of snow towards the Ochils. I resolved to photograph it when I came out of the shower and post it here! Then it just disappeared! So nae photie.

On another matter, we watched Countryfile last night and there was a chap on the Isle of Wight talking about the White Tailed Sea Eagles that they were introducing there. The introduction had been initiated with young birds from Mull. He waxed lyrical about ensuring that, once released, they knew where to return to. He spoke about how they might interact with birds from Holland and suggested that "They would often return to where they were born to breed"
That immediately jarred with me! Are birds "born"? I checked the dictionary and it was as I thought. The word "born" is related to the word "bear" as in having been carried (although my dictionary says that the connection is no longer recognised.) I have always understood "born" to be indicative of live birth.

I then went on to think about what I would rather he had said. "Return to where they were hatched"? or maybe "Return to where they had been lain or laid!"? none of it really sits comfortably. I think maybe "Return to where they fledged" would be a more acceptable term.

On this day: -
1867 - USA takes formal possession of Alaska from Russia, having paid $7.2 million.
1984 - Jon-Erik Hexum dies from his injuries after shooting himself on the set of the TV series Cover Up six days earlier. He was unaware that the explosion from blanks is deadly at close range. He had been playing Russian Roulette with the blank gun.
===============================================================

17th October

Jorja should be arriving shortly to recover her bunny, Fluffy. I have been tending to the beast all week and have her now properly prepared to be returned home.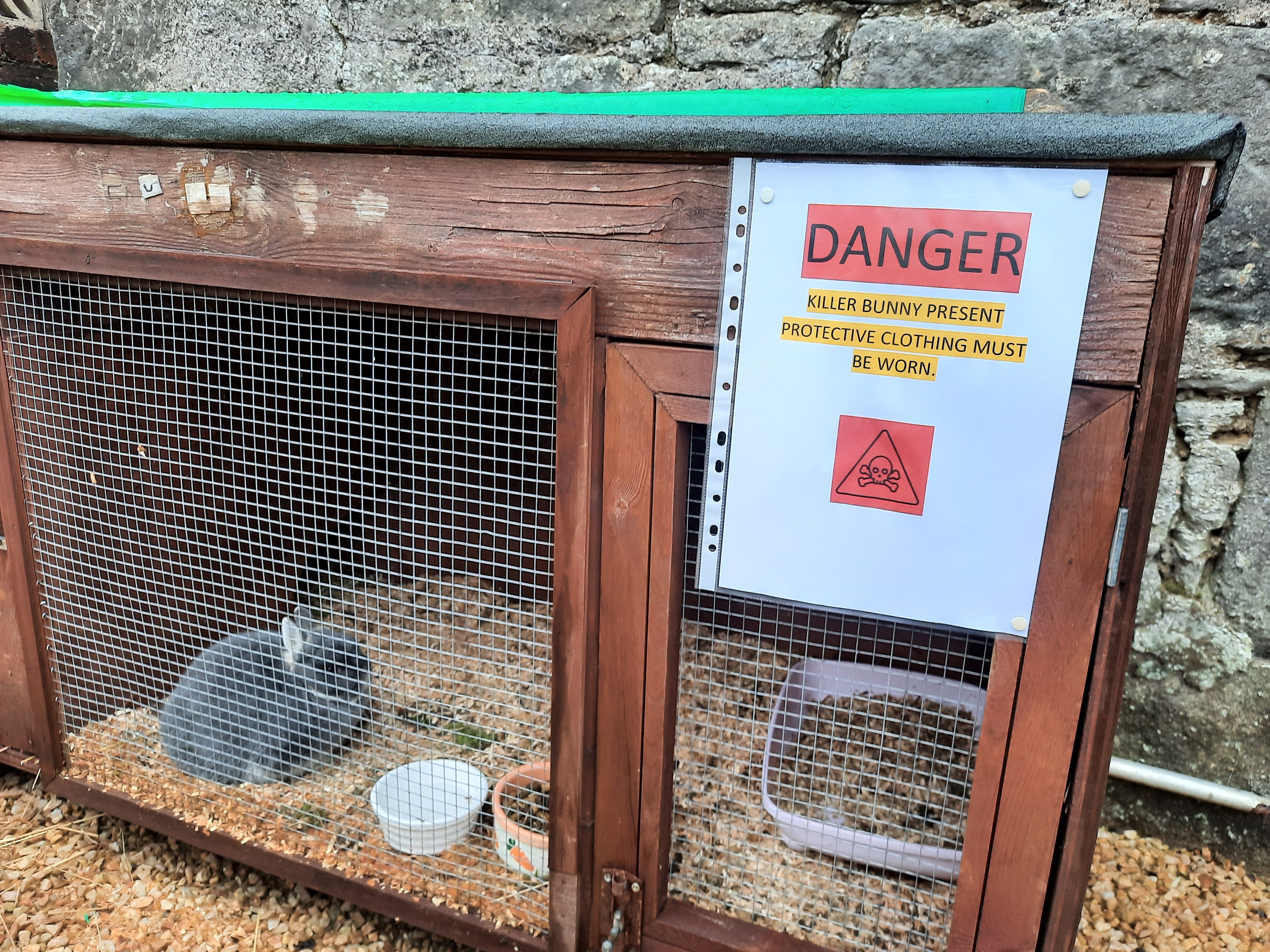 On this day: -

1091 - A tornado struck London. It was Britain's earliest reported tornado. The wooden London Bridge was demolished, and the church of St. Mary-le-Bow in the city of London was badly damaged. Other churches in the area were demolished, as were over 600, mostly wooden, houses.
2012 - Colin Farmer, aged 61 and a blind stroke victim said that he thought he was going to die when he was shot in the back in Chorley town centre with a 50,000-volt Taser stun gun fired by a police officer who mistook his white stick for a Samurai sword.
2020 - Chicago is declared the 'rattiest city' in America for the sixth year in a row by the US pest control service Orkin.
===============================================================

16th October

June 1954 extract from "Rotary Calling"
It has been suggested that the club should run an annual sports meeting but the editor feels that the ordinary flat events would be out of the question; they might be too flat! There are however great possibilities with novelty items and a few suggestions are listed for the members to think over. These events would not tax their physical strength unduly but nevertheless could be quite spectacular
Slow cycle race - The ordinary cycle wheels would be replaced with outsize Rotary tooth wheels and last to pass the post is the winner. N. McGregor would be ineligible for this event as he would be able to stop the teeth thereby gaining an unfair advantage'
Roll eating contest - This would be according to handicap and members have been under observation during the past few weeks at lunch. Backmarkers would be the well loved handyman of our club starting at minus 6.

Tossing the programme secretary - This event is confined to members who have been persuaded by him to speak during the past year. Each entrant is allowed three throws and great care must be exercised not to land the victim on his head as he is a very valuable man to the club
Throwing the cricket ball - Confined to members who have been targets for the bulletin editor's paragraphs and quips. The editor will move to and fro behind a wall with only his head and his hat showing. The idea is to Knock off his hat. Knocking his head off should be avoided and the first offender in this respect becomes the new bulletin editor! A fearful penalty!
Past presidents' pillow fight - This should be of special interest to the younger members and is to be fought out by past presidents under the Marquis of Carronshore's rules (nae bricks in the pillows) It would be a salutary reminder of the passing of the years in Rotary. How president succeeds president and how the tenure of this high office in our club is a temporary one.
Other novelty events come to mind but the sports committee will deal with them at an early date or maybe they will deal with the bloke who is suggesting them.
I also noticed that it was, at that time, customary for the Editor to include a cartoon of some notable item that had been reported upon in that edition. In this case the cartoon was: -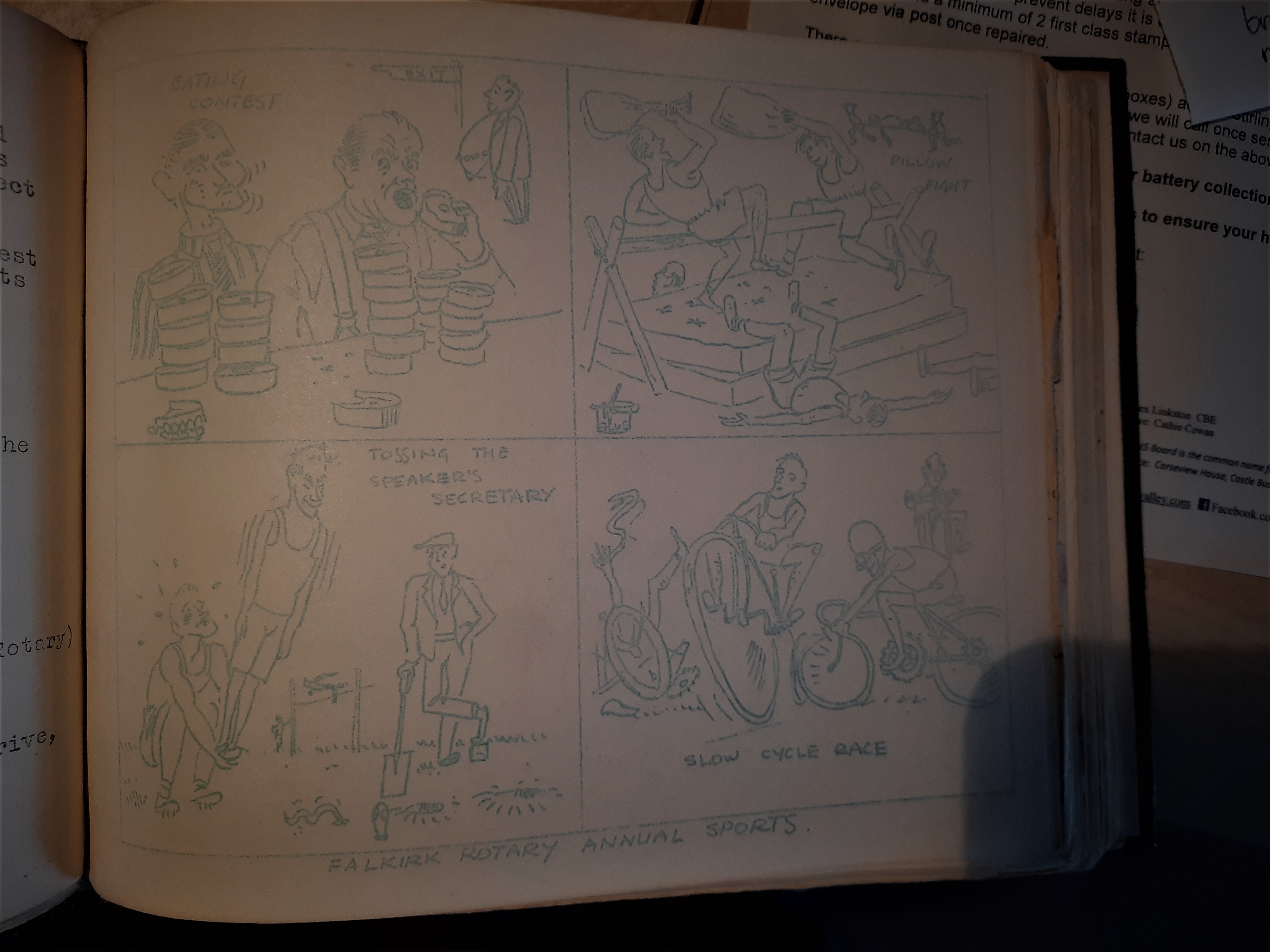 On this day: -

1384 - Jadwiga is crowned King of Poland, despite being a woman.
1643 - Sir John Gayer, who was to become Lord Mayor of London, was a governor of the East India Company and while travelling on a trading mission in Arabia – modern-day Syria – he became separated from his companions. Alone that night, the Englishman was then confronted by a lion. Seeing no means of escape, the story goes, Sir John fell to his knees offering devout prayers and vows of charity.
The next morning he was found asleep in the desert, footprints of the disappeared lion all around him.
When the grateful Sir John arrived back in London he set aside a sum of money to provide an annual distribution of gifts to the poor and stipulated that a sermon should be preached every year so that future generations would learn how God had listened to his prayers and saved him from the jaws of the lion. The ancient church of St Katharine Cree in the City of London was established in 1280, emerging from a priory of 1108 founded by Queen Matilda. It is the only neo-classical church to survive the Great Fire of London in 1666. And it is the only church where the Lion Sermon is preached every year.
==================================================================

12th October

I have a Zoom meeting this afternoon with a chap from the Ayrshire and Arran Health Board area of St John Scotland. They have heard about the success of the Forth Valley area Patient Transport Service and are asking how to do it. We're famous!

It's rutting season again. The big man that I showed you earlier resplendent in his magnificent antlers has been shorn of them and now he struts his stuff among the ladies. He has no idea the antlers are gone and often can be seen brandishing the phantoms in establishing his place among the hinds.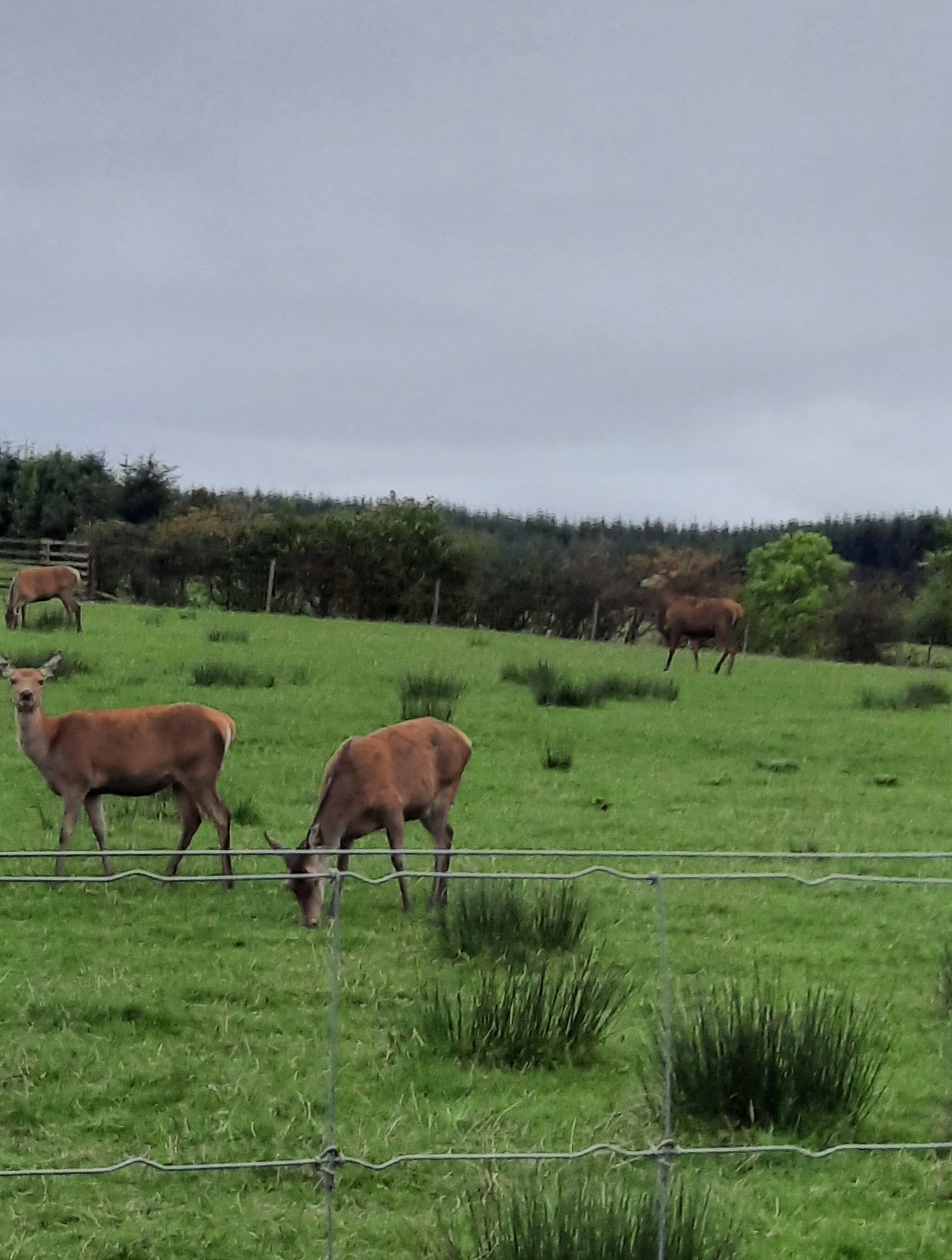 That's him at the back right hand side. He's not very friendly at present!

This is him a bit closer.
I need to go to the Bank and then deliver some PPE to my drivers.

=================================================================
11th October

I have spoken before about my dad's cousins Janet and Willie Clark who ran a game farm in Brisbane Glen in Largs. It was called Constablewood. We often had conversations about anything under the sun while I was there. I recall a standing joke that arose out of one of these conversations. It involved the word "ruminating" pondering, meditating or musing. The discussion had centred around the fact that there are a number of animals who are "ruminants" meaning that they have complex digestive systems involving more than one stomach. Cows have molars in the top back of their mouths but no upper front teeth. Where you'd expect upper incisors, cows, sheep, and goats have a thick layer of tissue called a "dental pad." They use that with their bottom teeth to pull out grass.They have four stomachs which, together, form a special digestive process to break down the tough and coarse food they eat. When the cow first eats, it chews the food just enough to swallow it. The unchewed food travels to the first two stomachs, the rumen and the reticulum, where it is stored until later. The chewing that the cow does is referred to as ruminating.
There was an occasion while I was visiting Constablewood when I was studying for an english exam. I was sitting in the lounge reading "Great Expectations" with Wendy the cat on my knee purring. Willie came in and asked Janet what I was doing and she replied "Oh! he's just ruminating!" After that the phrase was used in any situation that merited it; always to gales of laughter.

Did you know that when there was a cotton shortage during World War I, Kimberly-Clark developed a thin, flat cotton substitute that the army tried to use as a filter in gas masks. The war ended before scientists perfected the material for gas masks, so the company redeveloped it to be smoother and softer, then marketed Kleenex as facial tissue instead.
On this day -

1521 - Pope Leo X conferred the title of 'Defender of the Faith' (Fidei Defensor) on England's Henry VIII for his book supporting Catholic principles.
1919 - The first airline meals were served on a Handley-Page flight from London to Paris. They were pre-packed lunch boxes at 3 shillings each (15p).
===================================================================

10th October

Time flies when you are enjoying yourself. Wednesday was Diane's birthday so we spent some time shopping in Glasgow. Thursday was Rotary, Friday was manic with two patients to transport and a rabbit to board out! Wendy and her family are off to Cyprus on holiday and "Fluffy" their Rabbit is staying with us. I made a hutch for it before lockdown, the last time they were on holiday, Fluffy doesn't like me and tries to bite me when I tend to it each day.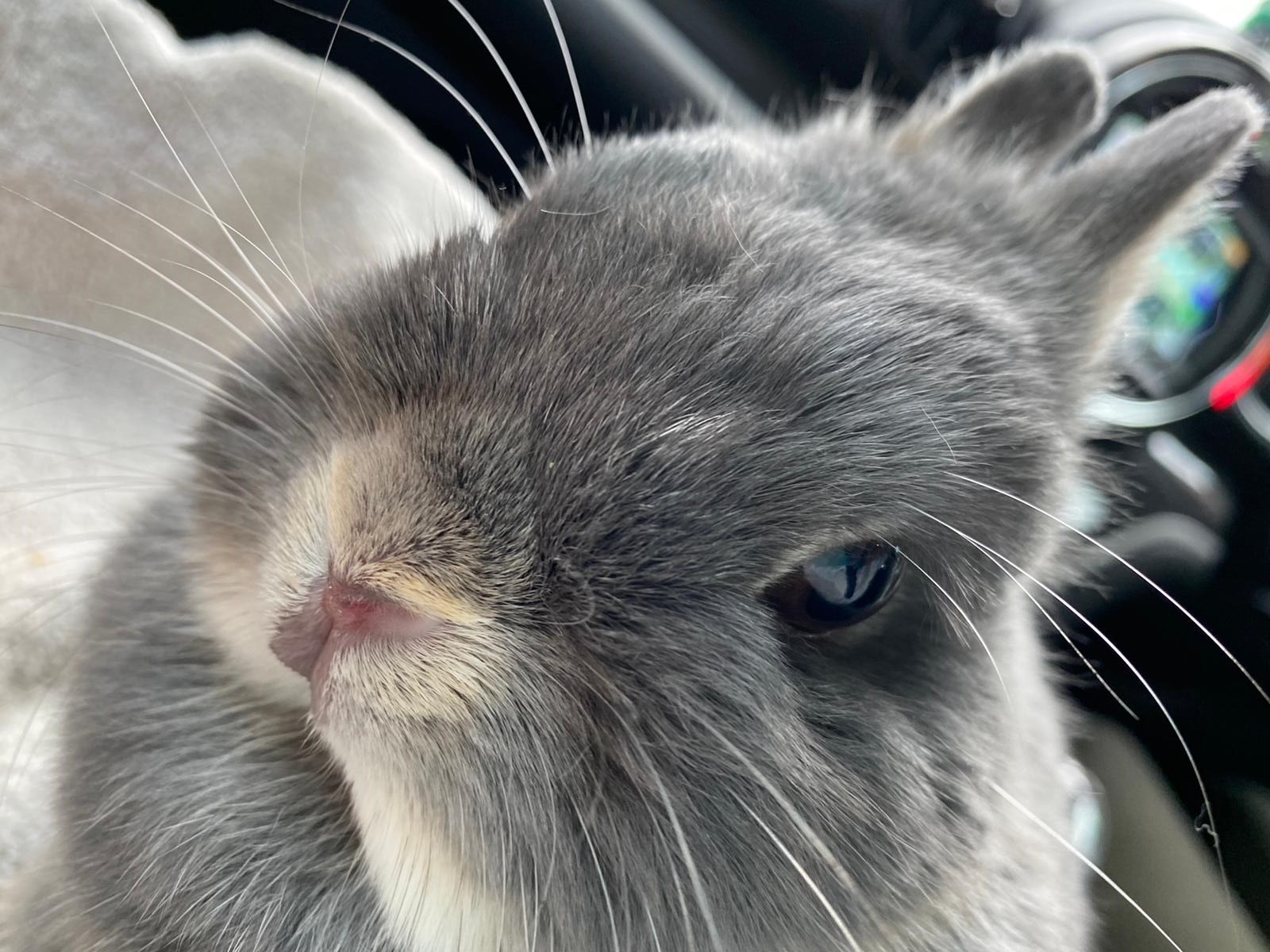 I texted my Grandaughter to tell her so and all she could say in reply was "Stop putting your finger in her mouth then!"

Saturday was spent assisting my son, Peter, install a new centre light fitting in his kitchen on the way to which I spotted this white pheasant! I've never seen one of these before!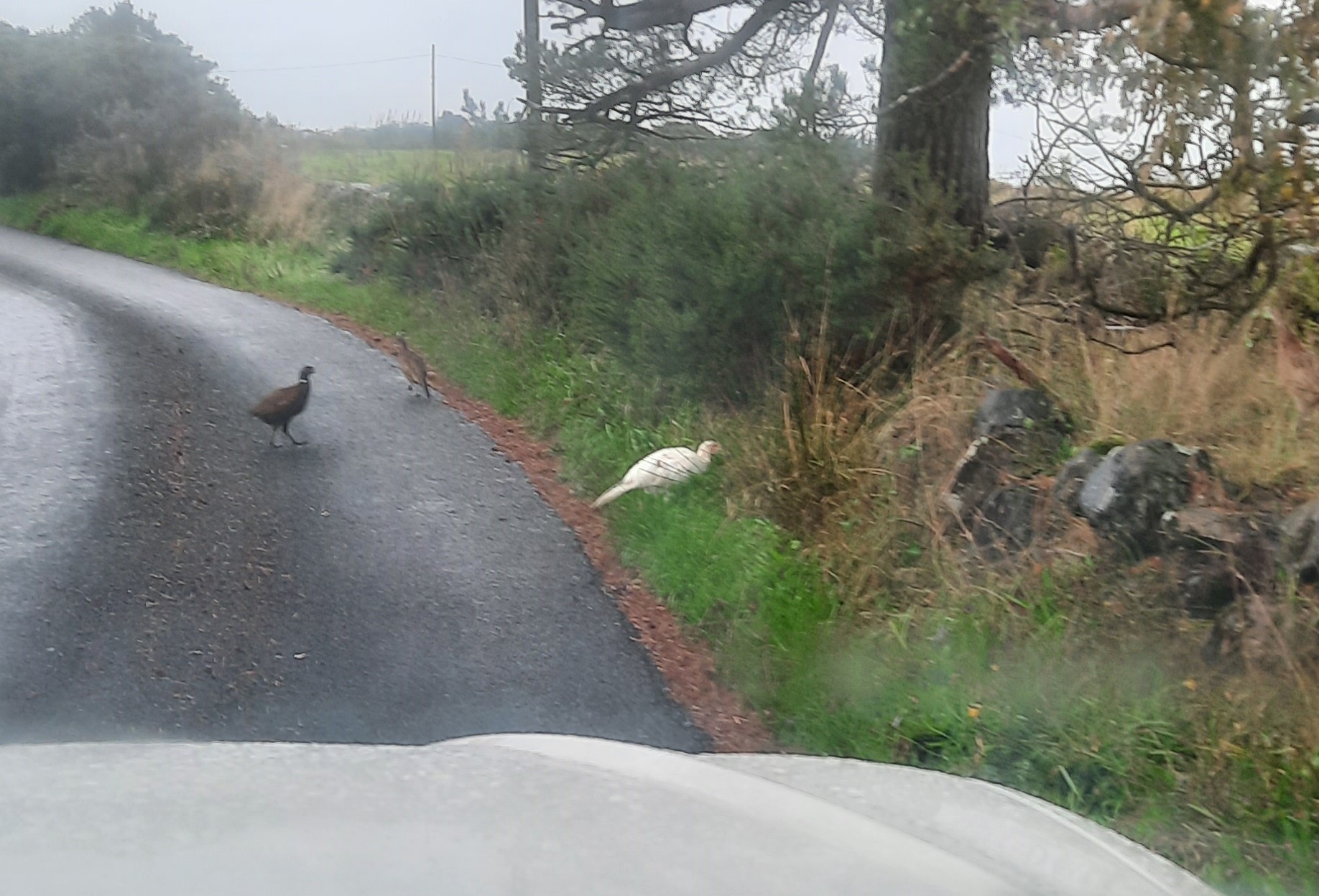 and all of a sudden - it's Sunday!
On this day: -
1780 - The Great Hurricane of 1780 kills 20,000 to 30,000 in the Caribbean, hitting Barbados first. Atlantic's deadliest recorded hurricane.
1799 - In 1799, the economy in the German city Hamburg was on the brink of collapse. To prevent it – and a possible stock market crash – City of London merchants produced a vast quantity of silver and gold bullion which was loaded aboard the British Navy frigate HMS Lutine. It was despatched to Hamburg in the hope that the funds raised would help avert a financial crisis.
But the Lutine didn't make it. A North Sea storm blew up on the 9th October as the frigate passed the Dutch coast and the Lutine foundered off the West Frisian Islands. There was only one survivor, 239 crew and passengers losing their lives. The cargo of silver and gold bullion – reportedly then worth about one million pounds, or one hundred million pounds in today's terms – was also lost.
Shifting sandbanks disrupted later salvage attempts and most of the treasure has never been recovered. It was, however, insured at Lloyd's of London, the specialist insurance market, whose underwriters paid out the claim in full two weeks after the disaster.
Although most of the Lutine's cargo stubbornly remained beneath the waves, some items and artefacts were eventually recovered. They included the ship's bell, which was taken to London and installed in the vast underwriting room at Lloyd's, where it remains to this day.
Traditionally, the bell was struck when a ship became overdue – once for the vessel's loss and twice for her recovery. The purpose was so that all brokers and underwriters would know at the same time the fate of a ship and the cargo that they had insured.
Technology and modern communication methods have rendered the system obsolete and the practice of striking the bell has ended, not least because it has developed a crack after constant use over the years.

The Lutine Bell was last rung to tell of a lost ship in 1979 and to herald the return of an overdue ship in 1989. Since then it has been rung only on ceremonial occasions or to mark tragic events such as 9/11, US President John F. Kennedy's assassination and the death of Diana Princess of Wales.
1985 - Both Orson Welles and Yul Brynner died on this day.

======================================================================

6th October

What an absolutely glorious morning! The view from Muir Rig across the Forth Valley is, as ever, spectacular.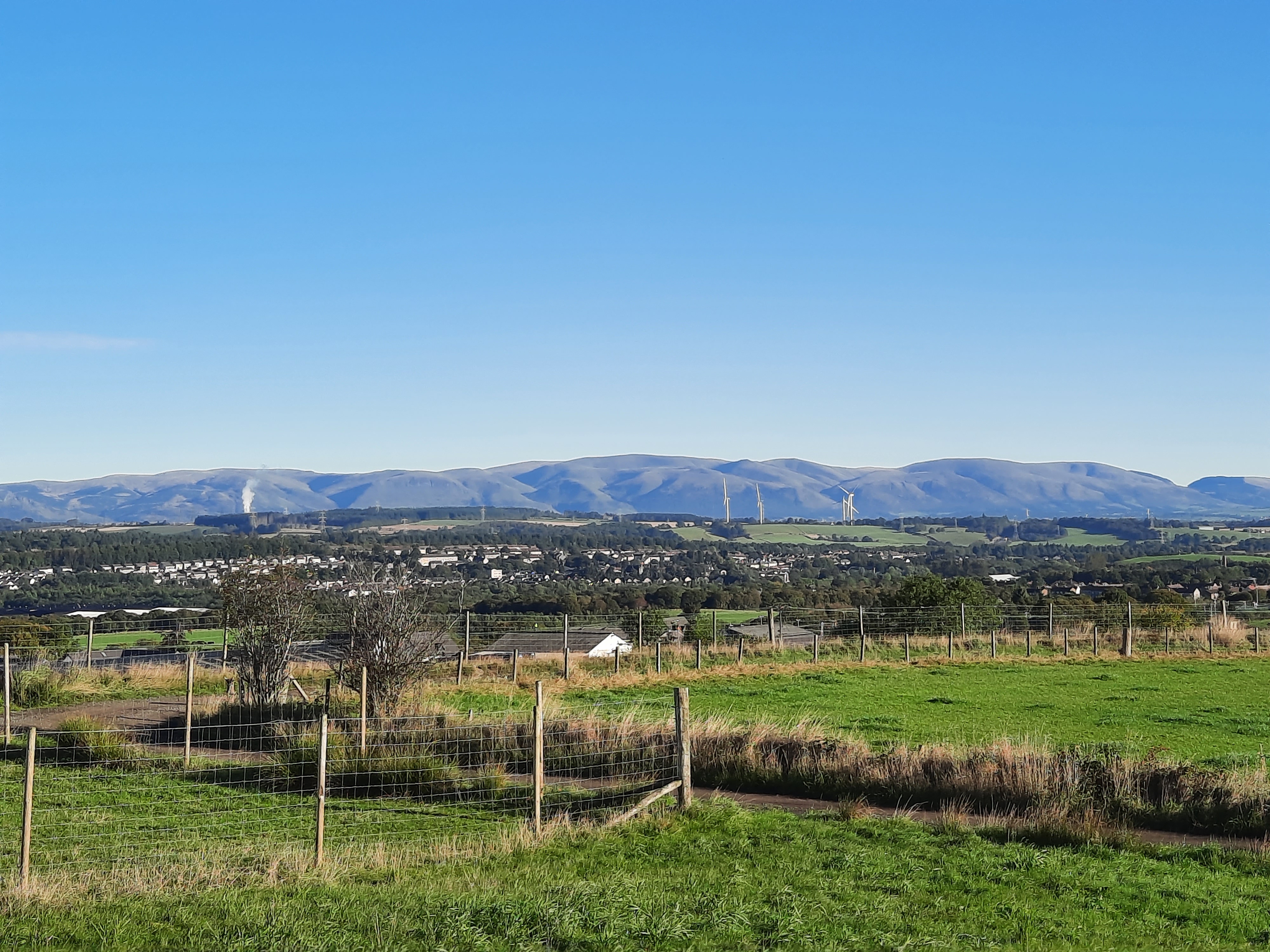 One of my pet hates is sticking adhesive stickers on the inside of the car windscreen. I'd rather use the type that simply need moistened and can easily be removed when the need arises. The National Trust issue membership stickers which allow free parking at all of their sites and you should display the sticker if you are take advantage of that.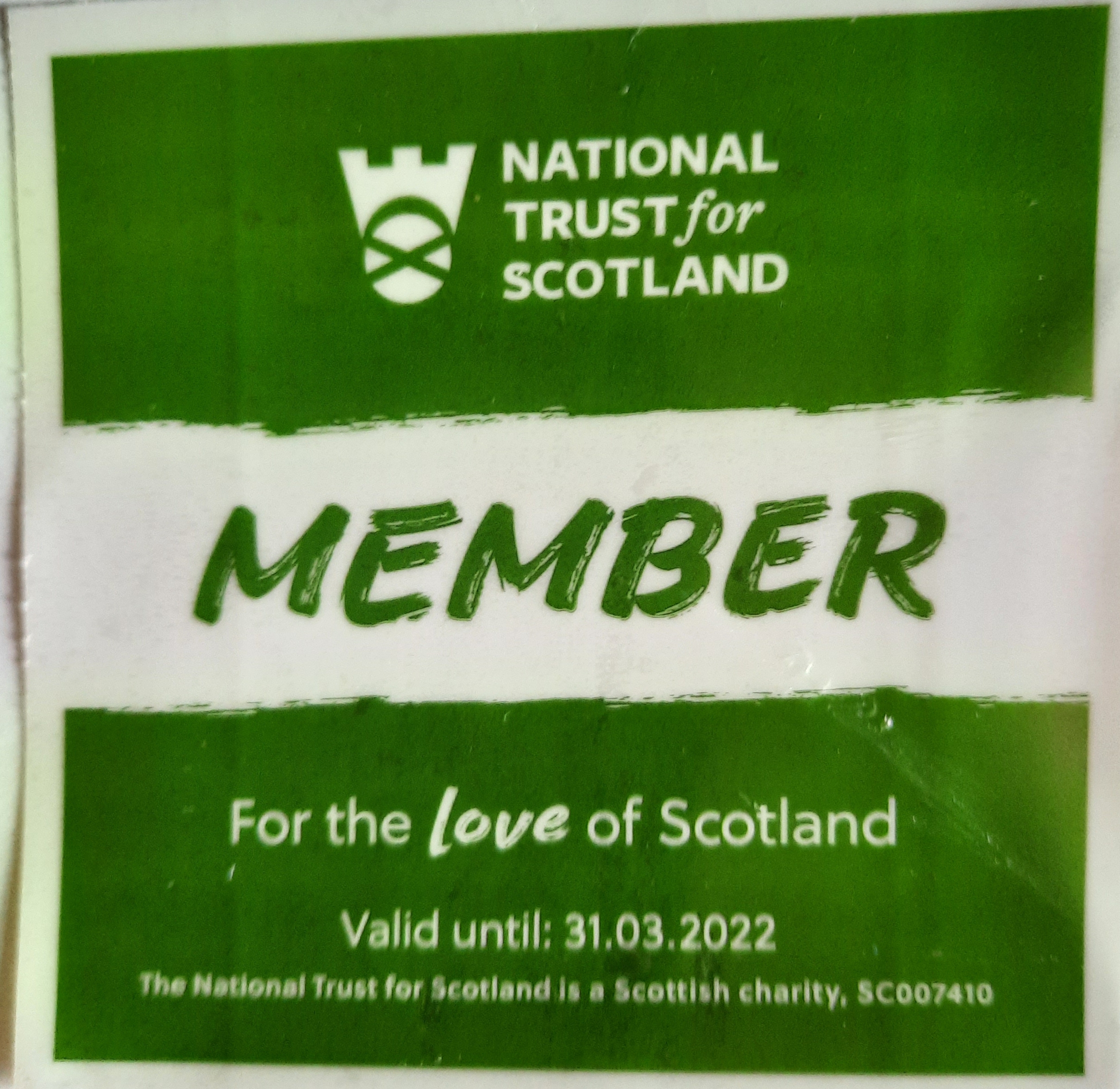 The annoying thing is that they are of the adhesive variety and require to be replaced annually. That means picking and scraping the old sticker off the inside of the glass before fixing the replacement.

I have arrived at a solution, which is so simple, to convert the adhesive sticker to the other type. I have a glass topped electric hob. It used to be ceramic but I am sure that you will remember the transition to induction which I blogged about here. Any smooth surface will do though! Take a piece of cling film and lay it on the smooth surface! Smooth out all of the bubbles so it is completely flat and stick the sticker to it. Then you simply trim off the excess! Seemples!

On this day: -
1917 - Battle of Passchendaele: Canadian troops capture the village of Passchendaele in the Third Battle of Ypres, after 250,000 casualties on both sides.
1945 - Tavern owner "Billy Goat" Sianis buys a seat for his goat for Game 4 of the Baseball World Series. He is escorted out and casts a goat curse on Chicago Cubs.
1946 - Diane Barton (McGill) is born in what is now the lounge of the Forrester's Arms in Cambusbarron.

1956 - Scientist Albert Sabin announces that his oral Polio vaccine is ready for testing; it would soon supplant Jonas Salk's vaccine in many parts of the world.
===================================================================

5th October

My pal Logan let me have a whole pile of more logs today. Peter and Brandon came to help and we began at Victoria House Banknock at 10.30. By 12.30 we had loaded the trailer with branches and limbs, transported over to Muir Rig cut the lot into manageable lengths and stacked them ready to dry over the winter. And that included a break for elevenses.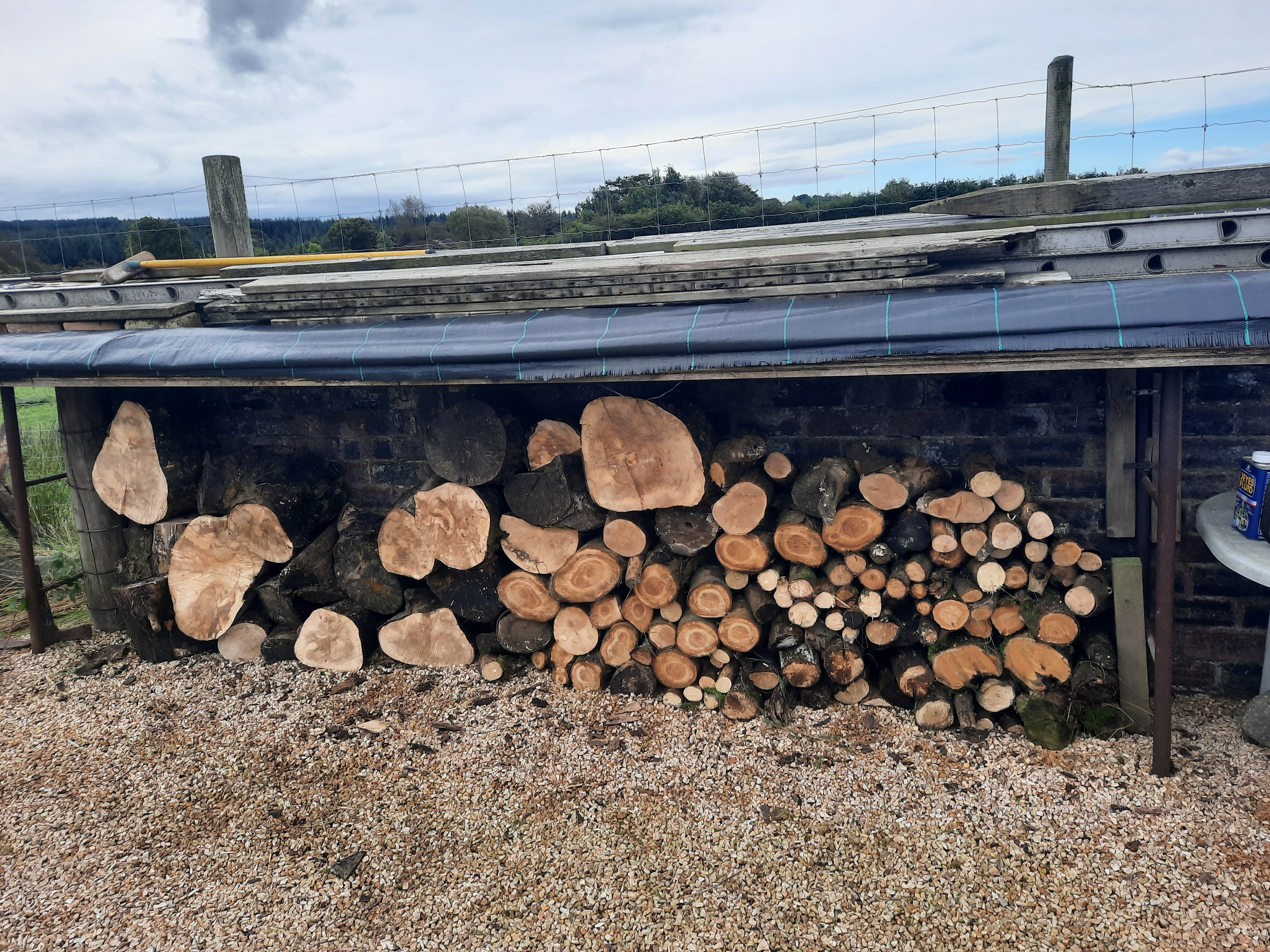 And by the way if anyone wants a free delivery of sawdust for their rabbit's litter tray I'm yer man!

On this day: -
1930 - The British airship R101 crashed at the edge of a wood near Beauvais in France en route to India on its maiden voyage, killing 48 of the 54 passengers, including the British Air Minister Lord Thompson who may well have contributed to the disaster. He brought luggage on board equivalent to the weight of about 24 people, and the crash of the 777 foot craft was thought to be a result of overloading.
1951 - Bob Geldoff is 70 today. Irish singer with the Boomtown Rats. He organized the recording of the record Do They Know It's Christmas? (1984) and the Live Aid concert (1985) to raise funds for famine relief. He also starred in the film Pink Floyd: The Wall (1982). He co-wrote the Boomtown Rats song I Don't Like Mondays, based on 16-year-old Brenda Spencer opening fire on children in an elementary school playground, killing two adults and injuring eight children and a police officer. She stated, "I don't like Mondays!"
=====================================================================

4th October

And from February 1960; two articles both anonymous: -
A GOOD QUESTION
The Scouts were in camp. In an inspection the director found an umbrella neatly rolled inside the bedroll of a small scout. As an umbrella was not list as "a necessary item" the director asked the boy to explain. "Sir" answered the boy with a weary sigh "did you ever have a mother?"

OLD FALKIRK BY "A BAIRN"
People who live and grow old in the place of their birth and childhood live as it were in two worlds. They know the people of today and have memories of the figures of the past. I was reminded of this recently by the appearance of a well-known and interesting character of long ago.
When I was a schoolboy we were all curious and a bit afraid of a man called "the convict". The story was that he had been imprisoned for some years for the attempted murder of his wife. He was a squat thickset figure dressed in a faded black coat and a square felt hat. He walked the streets alone in the evening and then would stand at the entrance to his home in the High Street, especially on a Saturday, watching the crowds passing by.
I used to think that as a result of his prison experience he could not endure the loneliness of his lodgings. I never saw his smile but his eyes and expression always seemed to me to be kindly and sympathetic.
After a few years when I had lost my childish or and sense of fear I ventured one night to give him a smile and a nod. He looked sharply at me but made no response. The following Saturday I again smiled and then, slowly, his right hand was raised in a salute. After that I wished him good evening whenever we met. He never spoke but his eyes would light up and his hand would salute me.
I was away for a few years and, on my return, I saw him in the usual place and got the usual greeting. At home that evening I was telling of my encounter and mentioned that I had seen "the convict". There was silence, and then I was told that he had died the year before.
Over the years I occasionally saw him in the doorway and got the usual salute. The property was eventually demolished and I thought that was the end of "the convict". A few weeks ago however I stopped in the High Street to look at the alteration to the Parish Church gate. Suddenly, in front of me, I saw the familiar figure. He turned slowly around and then, for the first time, I saw him smile as he raised his two hands towards the church. Was it protest or approval? I shall never know for before I could speak he had vanished.
On this day: -
1927 - Gutzon Borglum begins sculpting Mt. Rushmore (works on till 1941)
1981 - Amid claims that a look-alike Russian agent had been buried in Lee Harvey Oswald's place, Oswald's body is exhumed and dental records are used to verify that it was actually Oswald buried in his grave.
1986 - CBS newscaster Dan Rather is assaulted by a man who repeatedly demanded, "Kenneth, what is the frequency?" More than 10 years later in 1997, the assailant was identified as William Tager. Tager believed the television networks were beaming signals into his brain and he wanted to know the frequency they were using so that he could block it. In 1994, Tager killed a stagehand while trying to force his way into an NBC studio with a weapon.

==============================================================
3rd October

Some time ago John Struthers let me have two bound volumes of "Rotary Calling" dating back to the 1950s. I have, on occasion, browsed the pages for inspiration here and I came across this. It is remarkable on many fronts! It is reminiscent of a time when the "Service" in Rotary was at the forefront. It is a historical snapshot of a time when private cars were few and far between and mental health was seen as something that needed to be pitied. Forbes Howie joined the Club in 1949 and was President 1962-63 and would have been 36 at the time of writing this. He was a remarkable man! Just Google "Forbes Howie" and read his entry in Wikipedia.

A Visit to the zoo.
Forbes Howie's impression of a Rotary service.
September 1956
This was a special visit and in my car were four boys aged from 12 to 15 whose names were Tommy, Willie, Stanley and Ian. Stanley put the driver in a good mood for a start by saying "This is a great car. In fact, it's smashin'". Perhaps it was tact but as none of the boys had ever been in a private car before their judgement was perhaps a little biased. Ian said he was glad to be going to the zoo as he would see some horses. "I love horses!" he said. And it took some tact to explain why we could not stop and speak to every horse we saw on the road.
"What age are you?" asked Tommy rather out of the blue. "Twenty five!" I answered rather untruthfully. "Then you are very old aren't you?" interjected Willie who had not opened his mouth so far. What a shock it would have been to them to know the true ages of some of us Rotarians.
I quietly quizzed the boys regarding their daily routine and got most of the replies from blue eyed fair haired Stanley who finished thus "…then we go to bed at 7:00 to 7:30 PM but we have some guisin' and pillow fighting. The nurses usually give us a row but we've got to keep her spirits up Sir!"
Then the zoo. A rush from one cage to the next always an eager young finger pointing to the further wonder of another cage. (Why did they build Edinburgh Zoo on such a hill?) Then wonder of wonders; a pony giving rides! This was Ian's great day. to actually ride on a pony. On his turn, shyness overtook him and Stanley had to show him how and then he summoned the courage to try. The keeper galloped the pony "…and it was just like Roy Rogers so it was!"
The seat at tea was very welcome especially, as the afternoon was hot and it was not long before we were on our way home via Queensferry. "Will we get to the zoo next year?" quizzed Tommy. "I hope so!" replied Stanley. I felt a lump in my throat and knew that whatever I could do to help with such another outing would certainly be done. Thus the Falkirk club outing for sub-mental children from Bellsdyke was over.
This outing appeared to me to be by far the best bit of Rotary service that I have ever had the opportunity to take part in and should the opportunity again arise I recommend most strongly to any Rotarian not to hesitate, to come forward and help. The children's behaviour was exemplary and, apart from young Archie playing hide and seek with Alec Rule when he should have been looking at the lions, they seemed to be much better behaved than most children. Once or twice when we walked in the zoo with the children I felt a small hand being pushed into mine and I saw this happening to other Rotarians as well. It made me feel that above all else these children wanted someone to love and it seemed to me that loving parents would never have parted with these children.
Buzzing in my head as I returned to Falkirk, alone, were these words: -
"…but the greatest of these is love"
"suffer the little children…"
"…in as much as you have done it unto one of these the least of my people…"
On this day: -

1833 - While in Santa Fe, Argentina Charles Darwin recorded in his diary "Many of the remedies used by the people of the country are ludicrously strange, but too disgusting to be mentioned. One of the least nasty is to kill and cut open two puppies and bind them on each side of a broken limb. Little hairless dogs are in great request to sleep at the feet of invalids."
1899 - The first motorized "vacuum" cleaner is patented (patent #634,042). John Thurman patents his gasoline-powered "pneumatic carpet-renovator". Technically, it wasn't a vacuum cleaner in that it blew a jet of air at the carpet, then collectrd the dust in a receptacle. He used his invention to start a horse-drawn door-to-door vacuum cleaning business.
1959 - Postcodes were introduced in Britain.
1995 - Football Hall of Fame running back O.J. Simpson is found not guilty for the murders of his ex wife and her friend Ronald Goldman. The trial was dubbed "The Trial of the Century" due to its immense media coverage. An estimated 100 million people nationwide tuned in to watch or listen to the verdict announcement. No additional arrests or convictions related to the murders have been made.
========================================================

1st October

Autumn is well and truly with us now. The birds are feasting on the rowan berries that have been dislodged from the tree by the wind.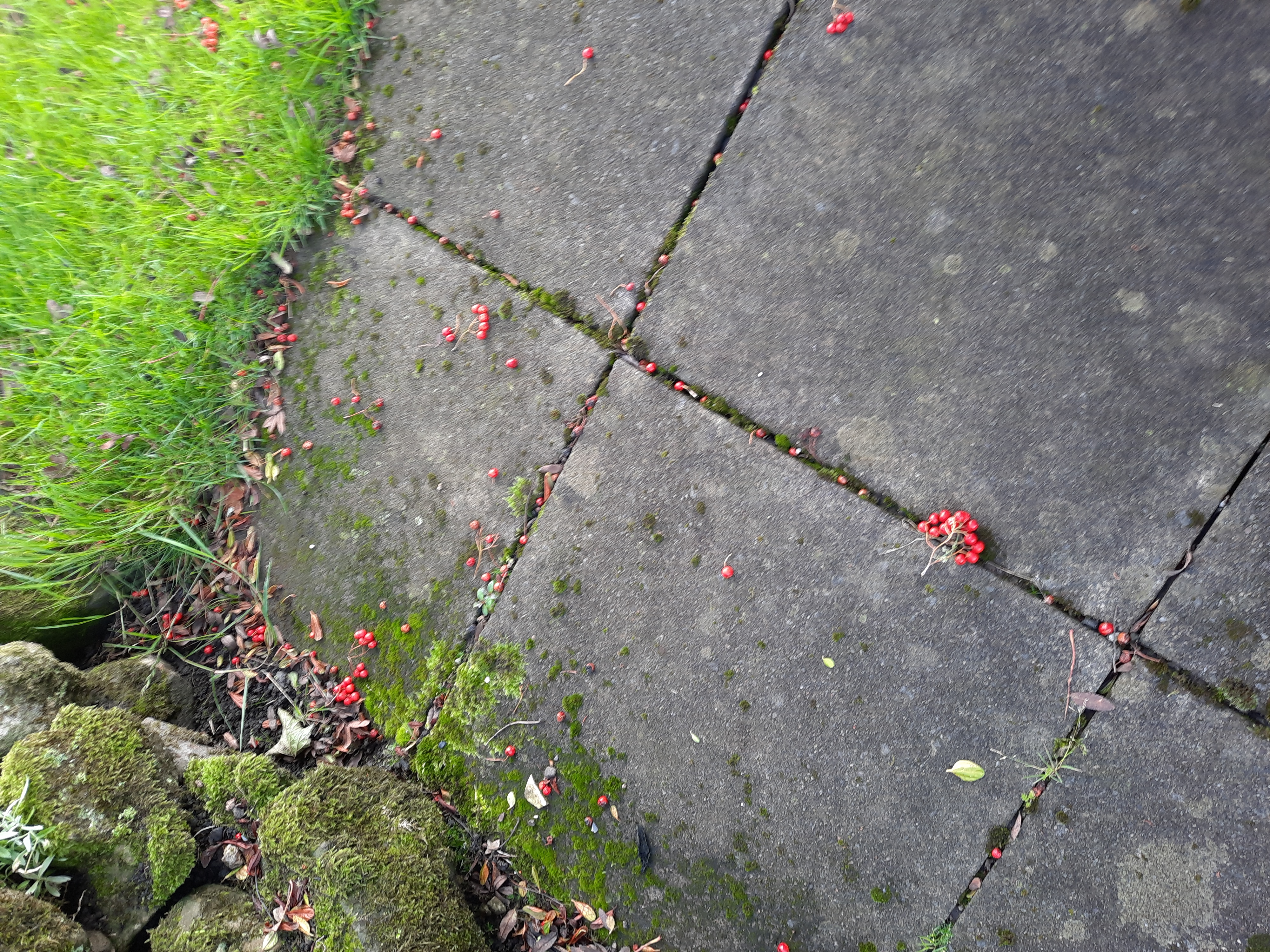 The thermometer is now regularly in the low teens and we have had our first ground frost of the season.

Over last winter our bay tree suffered some serious damage. It has been in the pot now for the best part of 10 - 15 years and always has overwintered well enough. This year the leaves all turned black and yellow and brittle. I wrote it off to be truthfull and bought another much smaller one to bring on. I cut off all of the damaged and diseased leaves and was surprised to see sometime later that there were new buds appearing. It now seems to have totally recovered and is displaying a growth much better than it ever did before.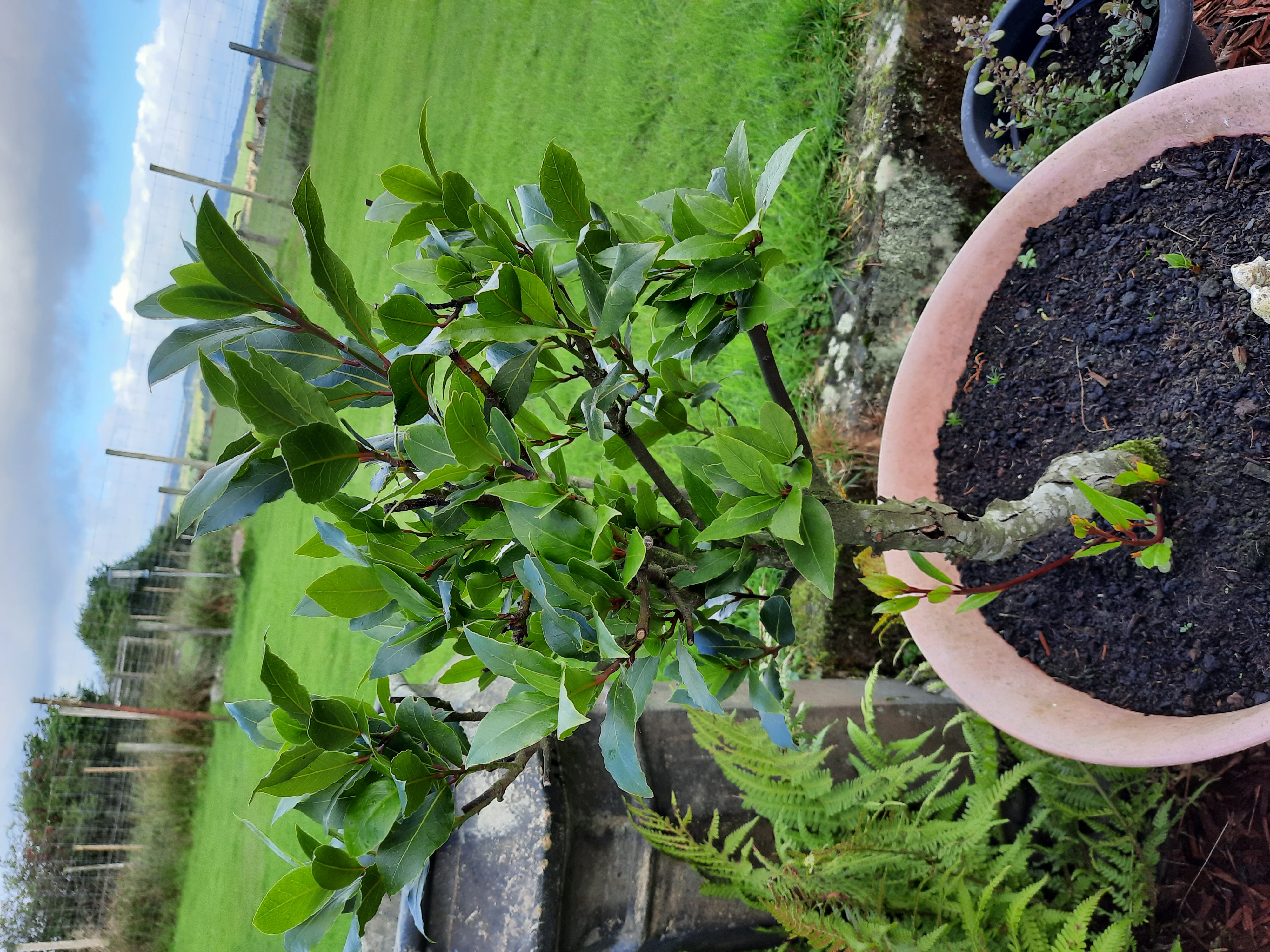 I am however considering the construction of something that I can shelter all of the potted stuff in over the winter. Diane won't let me get a greenhouse so it'll have to be some sort of large coldframe.
On this day: -
1688 - Prince Willem III of Orange accepts the invitation to take up the British Crown!
1867 - Karl Marx publishes "Das Kapital" in Berlin, a description of the capitalist system, its instability and tendency to self-destruction.
1908 - Hailed as "the car of the century," the first Model T Ford rolled off the assembly line in Detroit, Michigan, on this day, bringing vehicle ownership to millions of people for the first time.


=================================================================

28th September

It's very quickly coming to that time of year again when the stags will be carefully chosen to be reunited with their ladies. It's really sad that in order to protect them the farmed deer have their antlers removed. These deer, I am reliably informed, are a cross between the Scottish red deer and the English Park Deer. The configuration of the antlers is quite different. Your standard Scottish Red Deer is quite magnificent at 12 or 14 points (That's 6 or 7 points on each antler, Monarch of the Glen style) but these guys can sport much more.
Boys: -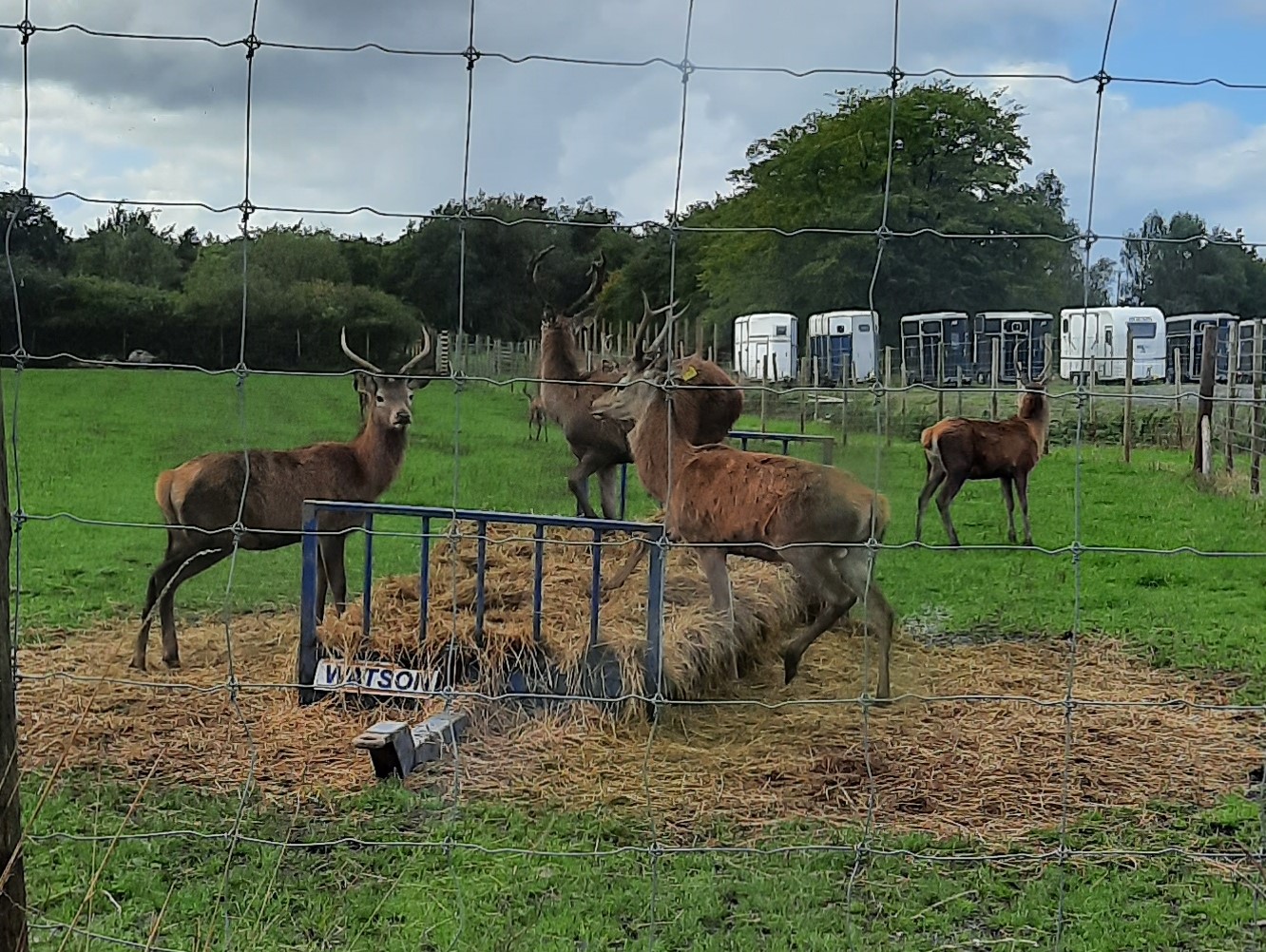 and the Men!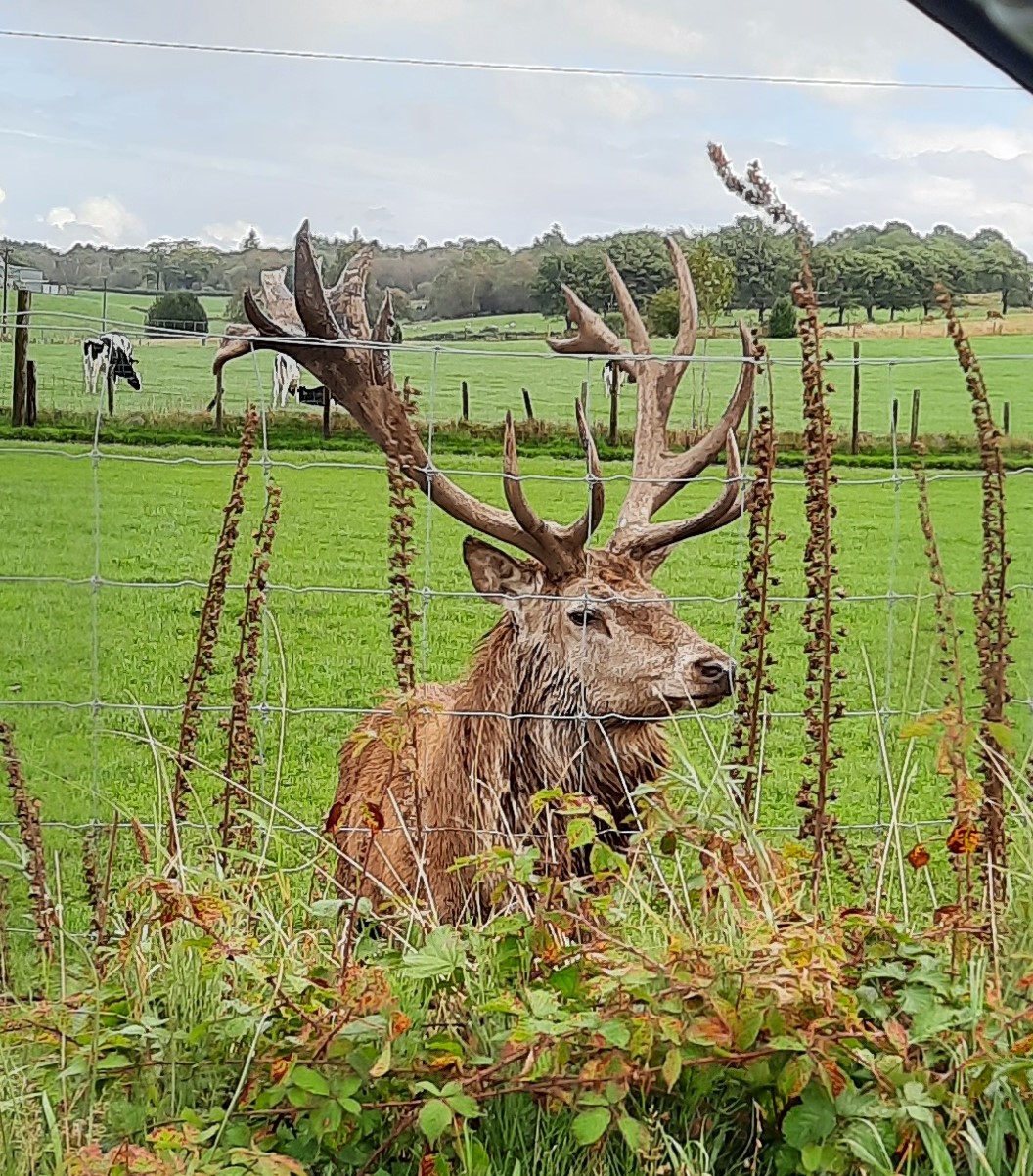 This one lifted his head to see what was looking at him before dropping it back down to continue his efforts at tearing the fence apart.

On this day: -
935 - Saint Wenceslas is murdered by his brother, Boleslaus I of Bohemia.
1889 - The first General Conference on Weights and Measures (CGPM) defines the length of a metre as the distance between two lines on a standard bar of an alloy of platinum with ten percent iridium, measured at the melting point of ice. It was originally defined as one ten millionth of the distance from the equator to the north pole, or one 40 millionth of the circumfrence of the earth.
1934 - Brigitte Bardot was born. After her retirement from the entertainment business Bardot began devoting her life to animal rights and in 1986 established the Brigitte Bardot Foundation for the Welfare and Protection of Animals. She raised millions to fund the foundation by auctioning off jewellery and personal belongings.
"I gave my beauty and my youth to men. I am going to give my wisdom and experience to animals," she said, adding: "Animals have never betrayed me. They are an easy prey, as I have been throughout my career. So we feel the same. I love them." And in reply to critism of her appearance in some parts of the Media "What could be more beautiful than a dear old lady growing wise with age? Every age can be enchanting, provided you live within it."
======================================================================

27th September

We have lots of visitors in the garden today. I don't know why but they have been wandering about the garden all week.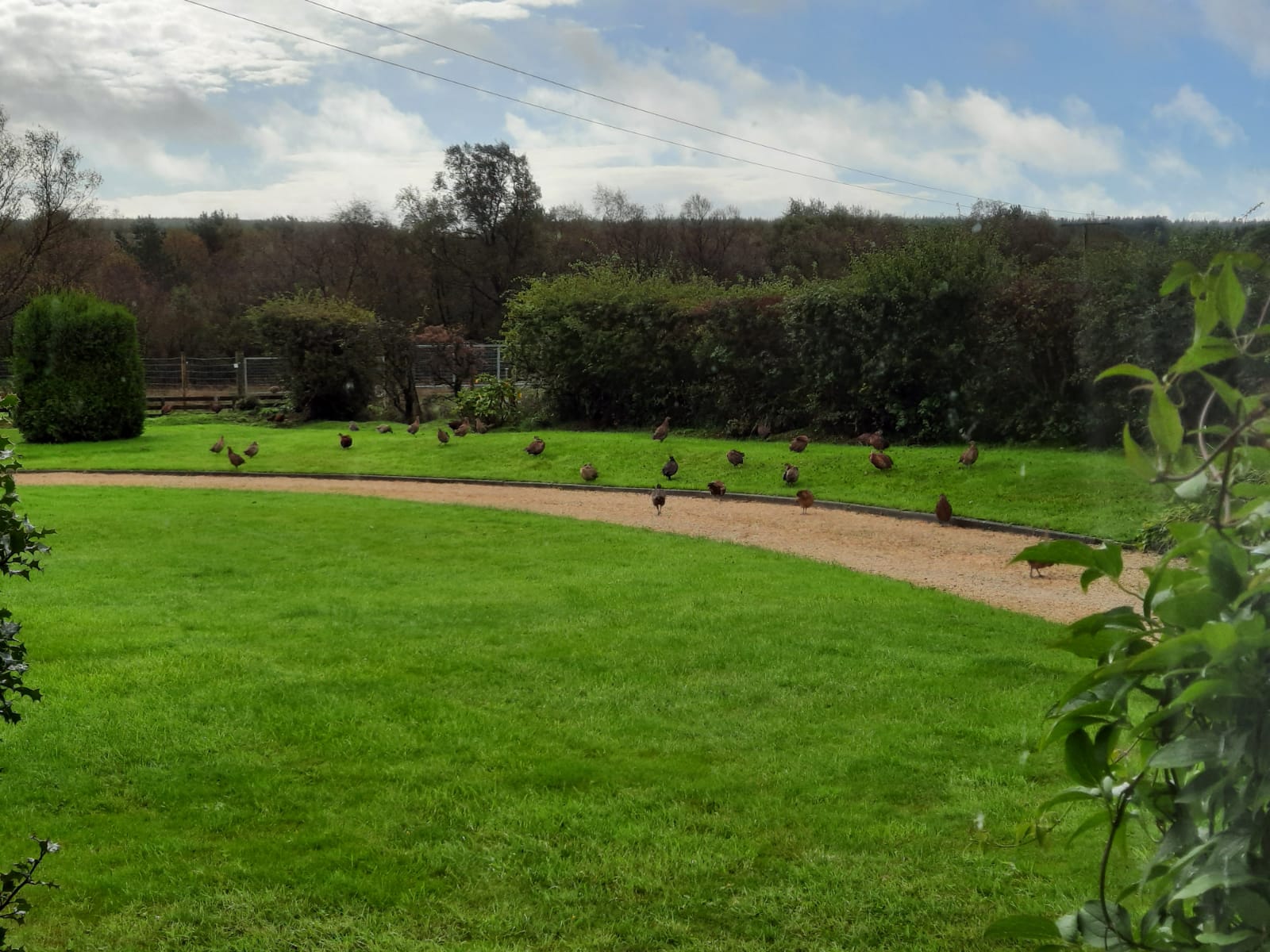 On this day: -

1825 - For the first time in history a steam locomotive carried passengers on a public railway on this day. The engine was called Locomotion No. 1 and in control was its designer, the engineer George Stephenson. It belonged to the Stockton and Darlington Railway, which operated across the North East of England. Apart from 36 wagons filled with sacks of coal and flour, the train included a purpose-built passenger coach called The Experiment. Bone-shaking and springless, the carriage resembled a shed on wheels and was occupied by various dignitaries.
The rest of the passengers stood in open coal wagons, though a few had the "luxury" of temporary wooden benches. But it was not the only railway "first": it was also the scene of the first recorded accident involving a passenger. When the horseman ahead of the train was out of the way and the train was going down a slope, Stephenson opened the throttle and his train reached the staggering speed of 15mph (24km/h). This so unnerved one passenger that he fell off and his foot was crushed by the following wagon.
1905 - The physics journal Annalen der Physik publishes Albert Einstein's paper "Does the Inertia of a Body Depend Upon Its Energy Content?", introducing the equation E=mc².
==================================================================

26th September
We have two grandchildren for the weekend! Jorja 12 and Shaw 9. We always eat together round the table and encourage conversation. Yesterday, for some reason or another the topic of dogs and puppies came up! Jorja enlightened her brother saying "I think you'll find that when dogs have babies they have more than one at a time!" This didn't faze Shaw who immeduately responded "Well how many do they have?" Suddenly Jorja was on the back foot but the conversation then drifted into the realms of fantasy. Reference was made to 101 Dalmations for instance. We resolved to investigate after dinner with the following result: -

The largest litter of puppies ever born is currently recorded at 24. In 2009, A Neapolitan Mastiff named Tia broke the Guinness world record by giving birth to 15 male puppies and 9 female puppies.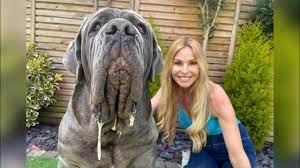 On this day: -
=================================================================

25th September

Did you know that the original oranges from Southeast Asia were a tangerine-pomelo hybrid, and they were actually green. In fact, oranges in warmer regions like Vietnam and Thailand still stay green through maturity. This begs the question - is the colour orange named after the fruit? or is the fruit named after the colour?
The linguistic ancestor to today's word "orange" was actually first used to describe the
tree
that the fruit grows on. The word's roots can be traced all the way back to Sanskrit. In that language, the word
nāranga
meant "orange tree."
Nāranga
evolved into the Persian word
nārang
and the Arabic word
nāranj
. If you know Spanish, these old words might look very familiar—the modern Spanish word for "orange" is "naranja."
As the word evolved, it eventually came to mean the fruit, not just the orange tree. Old French adapted the Arabic word nāranj as "pomme d'orenge" ("the fruit from the orange tree") or just "orenge." Speakers of Middle English adopted the phrase; the Middle English equivalent "pume orange" dates back to the 13th century AD.
The word didn't come to describe a color until almost 200 years later, making the fruit the clear winner.
In 1512, a description of the color using the word "orange" first appeared—in a rather strange place. According to the Oxford English Dictionary, the use of the word first appeared in…a will.
On this day: -
1237 - Treaty of York signed between Kings Henry III of England and Alexander II of Scotland which establishes a boundary between the two countries (mostly unchanged in modern times).
1818 - The first blood transfusion using human blood took place at Guy's Hospital in London.
1933 - The Turin Shroud, supposedly the burial cloth Jesus was wrapped in after his crucifixion, was put on display publicly on this day for the first time in 400 years. Modern carbon dating suggests that the shroud dates to between 1260 and 1390. Jesus is generally believed to have died in the year 33. And in 1979 a panel called the Turin Commission concluded it is likely that the stains are pigments, not blood.
1939 - Andorra and Germany sign a treaty ending World War I, because the Versailles Peace Treaty forgot to include Andorra.
1996 - The last of the 'Magdalene Asylums' closed in Waterford, Ireland. The asylums, for 'fallen women' and others believed to be of poor moral character, such as prostitutes, operated for much of the 19th and well into the 20th century.
================================================================
24th September
My reference yesterday to "peas aff a knife!" provoked a response from Gordon: -
I eat my peas with honey,
I've done it all my life.
It makes the peas taste funny
But it keeps them on the knife.
And my long case clock was made in Dumfries by John Paul Jones' Brother-in-Law.
John Paul was a seaman from Galloway who "sailed a bit close to the wind" and when things got too hot for him on the Solway and generally in Europe he went to America and added Jones to his name. His sister married a clock maker in Dumfries.
Gordon is correct in relation to the man's history; Born simply as John Paul at a small cottage in Scotland in 1747, his father was a gardener, but early in life the boy felt the call of the sea and he joined the British Merchant Marine (note the "marine" bit! not the Navy at that time as pointed out by Gordon twice!) at the age of 13, starting as a cabin boy. He was a merchant shipmaster by the age of 21.

Five years later, in 1773, acting in self-defence, he killed a mutinous sailor on the island of Tobago. Doubtful that he would be given a fair trial, John Paul fled to America and to conceal his identity changed his name, first to John Jones and later to John Paul Jones.
Yesterday while doing my triage at Bonnybridge I noticed a curious phenomenon. All of the donors who arrived at their alloted appointment time were wearing masks. I would welcome them and then proceed to ask the questions. The responses were not always audibly clear (because of the masks) and often consisted of not much more than "mmph". Indistinguishable yes from no! The curious thing is that somewhere in the region of 60-80% of them actually nodded their head while saying no!!!!
weird!
On this day: -

1657 - 1st autopsy and coroner's jury verdict is recorded in Maryland.
1842 - Bramwell Bronte, brother of the Bronte sisters, died of drugs and drink. He was the model for the drunkard Hindley Earnshaw in Wuthering Heights.
1890 - The President of the Latter-day Saints Wilford Woodruff issues a manifesto advising members that the teaching and practice of polygamy should be abandoned.

spoilsport!

1993 - The movie "The Program" premieres. Over the next few days a teenager is killed and several other teenagers are injured while trying to imitate a scene from the movie showing kids lying in the middle of a road as cars pass by. Disney then cut the scene from the film.
(This stunt was performed by trained professionals in a controlled environment and should not be attempted. Just in case you felt you'd had enough of the grandweans)

===================================================================
23rd September
I won't be at the meeting today. I have given my apologies to President Narek. I will be at Bonnybridge Community Centre, for St John Scotland, doing triage for the Scottish National Blood Transfusion Service Donor session there. There are two sessions, one at 13.00 - 1600 and one at 17.30 - 19.00. I will be suited up in a plastic pinnie gloves and mask and positioned at the main entrance. Since the beginning of the pandemic donors have been required to make appointments. There are normally about 4 - 6 donors every 10 minutes. Between the two sessions there will be about 150 - 180 donors each of whom will be asked in turn: -
In the past 10 days have you


Experienced a persisitent cough?
Experienced a loss in the sensation of taste or smell?
Had a raised temperature? (I will also take their temperature with a remote thermometer)
Been in the company of anyone with Covid 19?
If the answer to any of these questions is "yes" then they are assessed by the resident medical staff and dealt with accordingly.


Have you ever had the virus yourself?

If yes - how long ago (Need to have 30 days without symptoms)

if no - that's fine

Have you been vaccinated?

If so when was the last time. (If it was less than 8 days ago then they get sent home, otherwise: -)

You will be asked to remove your mask while donating, If you are comfortable with that then carry on into the session.
After a wee while it just rolls aff the tongue like peas aff a knife! The reasoning behind St John becoming involved is that it leaves qualified staff free to be doing what they do best.
On this day: -
1338 - The first naval battle of the Hundred Years' War between England and France took place On This Day. It was the first naval battle using artillery, as the English ship Christofer had three cannons and one hand gun.
1641 - The Merchant Royal, a 17th century English merchant ship was lost at sea off Land's End. On board were at least £100,000 of gold (nearly one £billion in today's money), 400 bars of Mexican silver and nearly 500,000 pieces of eight and other coins, making it one of the most valuable wrecks of all times. The wreck remains undiscovered.
1779 - During the American Revolution, John Paul Jones on board the USS Bonhomme Richard beat British forces at the Battle of Flamborough Head (Yorkshire). It became one of the most celebrated naval actions of the American War of Independence. On being asked by the captain of the British ship HMS Serapis to surrender, Jones replied famously "I have not yet begun to fight!"

1889 - Nintendo Koppai (Later Nintendo Company, Limited) founded by Fusajiro Yamauchi to produce and market the playing card game Hanafuda.
2019 - The collapse of the travel firm Thomas Cook triggered the biggest ever peacetime repatriation, codenamed Operation Matterhorn. 600,000 Thomas Cook customers were on holiday at the time, of which 150,000 were British. The company was the first travel agency and was founded by Thomas Cook, a Baptist cabinet maker, on 5th July 1841. The first official 'Cook's Tour' involved almost 600 teetotallers taking the train from Leicester to Loughborough to attend a temperance meeting.
=================================================================
22nd September
So I was wrong! We haven't stopped our Zoom meetings. I have been encouraged by a response by one member to resume here until we are meeting regularly again. In the same response I was encouraged to find that our members have, without any prompting from me, continued donating to the foodbank. So! one day later than normal I would remind you that if you haven't already done so, it's time for you to donate what you can for the benefit of the Foodbank. You will have had a notification from me on the "News" page that President Elect Linda has been busy again.
I have been listening to the debates recently concerning the COP 26 meeting, Climate change and whatever else. Is it not ironic that in the face of all of that, the British Government is offering financial incentives to a couple of companies to continue producing Carbon Dioxide????
Sorry about that I try not to do polititics here!
Quite recently I posted a picture of a wishing well at the Garden Centre at Old Inns. The other day I was up the "Toonie" (that's what the locals call the Town Centre shopping complex in Cumbernauld) and I noticed this: -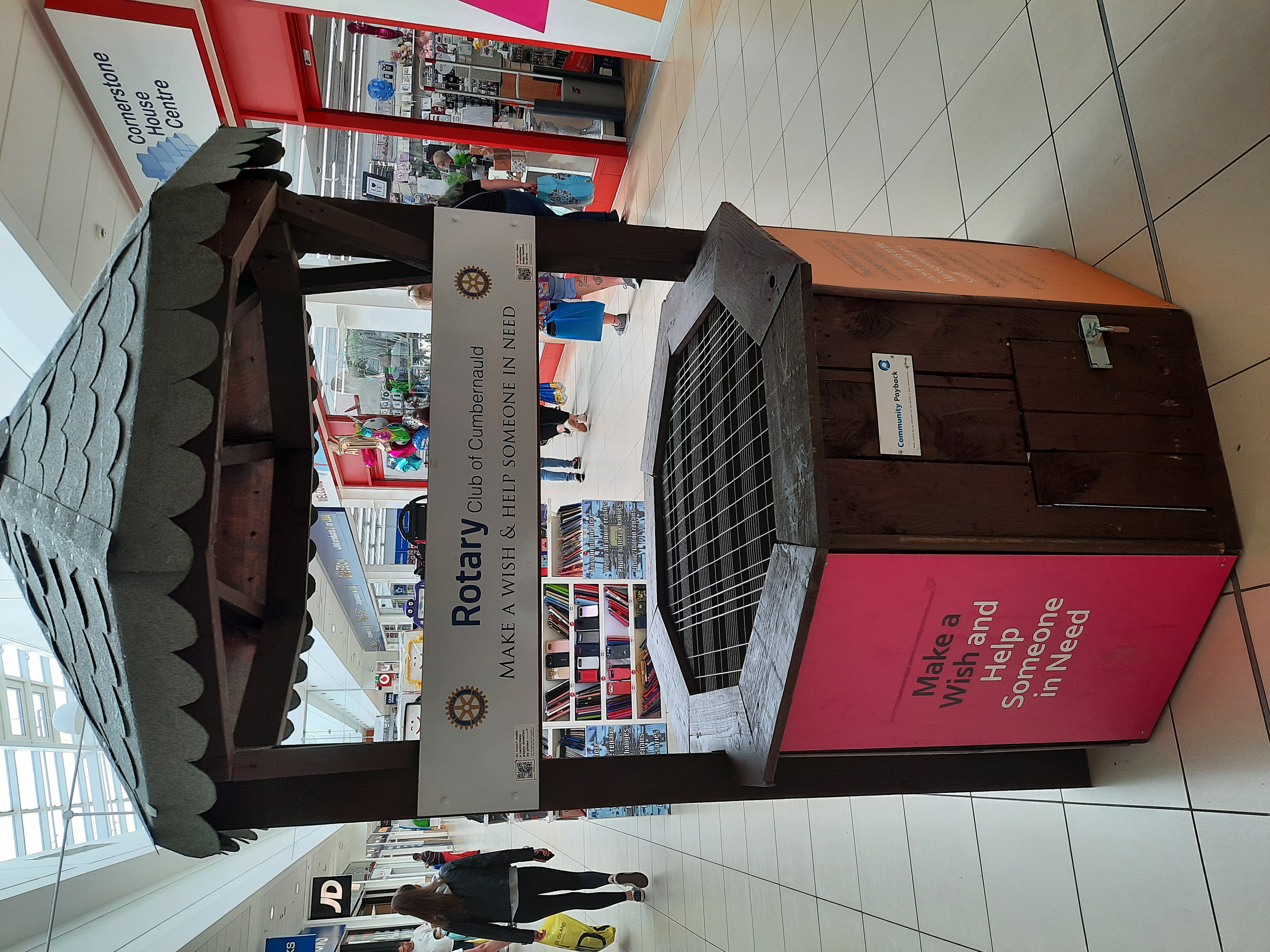 DID YOU KNOW?
The 'SR' in the name of the toothpaste referred to sodium ricinoleate, its active ingredient, which is the sodium salt of ricinoleic acid, the principal fatty acid derived from castor oil. Though the name was changed in the 1990s to Mentadent SR, the product continued to be marketed worldwide by its owners, Unilever, until 2018 when it was discontinued.
On this day: -
1735 - Robert Walpole becomes the first British "Prime Minister" (actually First Lord of the Treasury) to live at 10 Downing Street.
1955 - The first ever advertisement on British television appeared on this day. It went out at 8.12pm during a broadcast from London's Guildhall of a dinner to celebrate the launch that day of the Independent Television network (ITV). Until then the BBC held an uncontested monopoly on broadcasting. That first TV ad was for Gibbs SR toothpaste – a product described as "tingling fresh". To reinforce the message, the ad showed a tube of the toothpaste enclosed in a block of ice in a shimmering stream. TV presenter Alex Macintosh announced: "The tingling fresh toothpaste that does your gums good too. It's tingling fresh. It's fresh as ice. It's Gibbs SR toothpaste."

It was not only the first TV ad, it was also the first ad to use trickery. Brian Palmer, then a 26-year-old advertising executive who wrote and produced it, admitted years later that although a block of ice was used in the long shots, the "ice" was in fact plastic for closer work.

=================================================================
3rd September.
It has now been 18 months since I first began posting here. Yesterday saw the last of our regular Zoom meetings and we start back in the Park Hotel next week. The original intention here was to try and keep us together and interested. I hope that I might have had a modicum of success at that but now that we are able to interact socially there is no longer the need for this. So I will take my leave of you
(only on this page you understand)
and wish you all and our Club well for the future
So long, farewell, auf Wiedersehen, goodbye!
I leave and heave a sigh and say goodbye -- Goodbye!
==================================================================
2nd September
Yesterday's Andrew updates as follows: -
More chat today, still confused, but starting to remember a bit more. He remains in ICU just keeping a close eye on him. The hope is that he can move to cardiology within the next few days. Still making great progress.

Cardiologist came to see Andrew late this afternoon all going well he's scheduled to be fitted with an IED (implantable defibrillator) his response was "ya dancer"
That's great news but I always thought that an IED was an "Improvised explosive device" used by terrorists.
On this day: -
1666 - The Great Fire of London begins at 2am in Pudding Lane, 80% of London is destroyed. As the fire spread and raged for four days, 80 per cent of London's buildings were claimed by the flames. They included over 13,200 houses, 87 parish churches, 52 Livery Company halls, the Guildhall, the Royal Exchange and St Paul's Cathedral. In the words of the great diarist Samuel Pepys: "Medieval London is now all in dust." Miraculously there are only six recorded deaths.

1945 - World War II officially ended when Japanese officials, aboard the USS Missouri in Tokyo Bay, surrendered on behalf of their country.
1992 - Bobby Fischer and Boris Spassky begin their controversial $5,000,000 chess rematch. Fischer won a month later, 10 games to 5.
1993 - A five-hour standoff between Maryland police and a man who had killed his girlfriend is ended when a 3-foot tall remote-controlled robot enters the armed man's home and disables him with a water blast, allowing the police to enter.
===========================================================
1st September again,
I have just logged into the bank and finalised the totting up for the Charities' Day. Since the day itself I have received a number of donations and add ons and the totals end up as follows.
Bottle Stall £ 919.78
Sight Savers £ 70.88
Wateraid £ 56.43
Total £1,042.09
============================================================

1st September
I got this last night: -
Hi! its Suzanne here. Louise and I are just back from seeing Dad. He's still doing really well off the ventilator and has managed to have a little to eat and drink. He is full of cheek and I asked him why he put his mashed potato in his soup and he said "do you not put potato in your soup like". Fair point Dad. Such a huge improvement.
Shop on AmazonSmile at https://smile.amazon.co.uk/ch/SC013426, and Amazon donates to Rotary Club Of Falkirk Trust Fund, at no cost to you.
On this day: -
================================================================
31st August #3
And this: -
Met with the cardiologist they still don't know why this happened. As soon as it's possible they'll move to a cardio ward and more investigation maybe some kind of pacemaker. He's very confused and short term memory is not good but he was able to be a bit cheeky!
31st August #2
This from Gillian: -
Amazing news off the ventilator sitting up can't understand yet time or why or how. Best result his nurse has ever seen thank you everyone your prayers, love and positivity has made a huge difference to Andrew and me.
===========================================================
31st August
Gillian has established a Whatsapp group to which she sends updates about Andrew.
Yesterday she said: -
Andrew is responding really well. They reduced sedation and amount of ventilation. He was awake and knows where he is. They've increased the sedation again as he's a bit agitated. This is amazing the best possible step forward in the right direction- about 10% of patients admitted from out of the hospital respond like this. Much more positive today. I'll let you know more later.
And then later: -
Just back still doing well, blood pressure is up so increased sedation and ventilator to help with that. Had echo scan no detail on it yet hopefully tomorrow .
All really encouraging then.

On this day: -

1986 - Television presenter Paula Yates was married on this day to pop star Bob Geldoff. What neither of them knew at the time was that Jess Yates, the presenter of a religious programme called Stars on Sunday, and known affectionately as "The Bishop", was not Paula's real father.
That honour fell to another television presenter – Jess's good friend Hughie Green, who hosted Opportunity Knocks, the forerunner to today's popular tv talent shows across the world.
The fatherhood revelation exploded like a bomb at Green's funeral in 1997. Noel Botham, a former journalist and drinking friend of Green's, stunned the congregation when, in a eulogy, he announced that Paula, one of Britain's most famous celebrities was actually Green's love-child.
1994 - The Pentium computer defeats Gary Kasparov.

1997 - Diana dies in a car crash in a road tunnel in Paris.
==============================================================
30th August
Gillian says : -
Andrew is stable and they have confirmed yesterday afternoon that it was not a clot but probably a heart issue. An abnormal heart rhythm that didn't pump properly that caused a cardiac arrest. They are also treating an infection in his lungs. He will have an ECHO today and that will tell them more about any damage to his heart. She promises to keep us updated.
Then Gillian's son came across this: -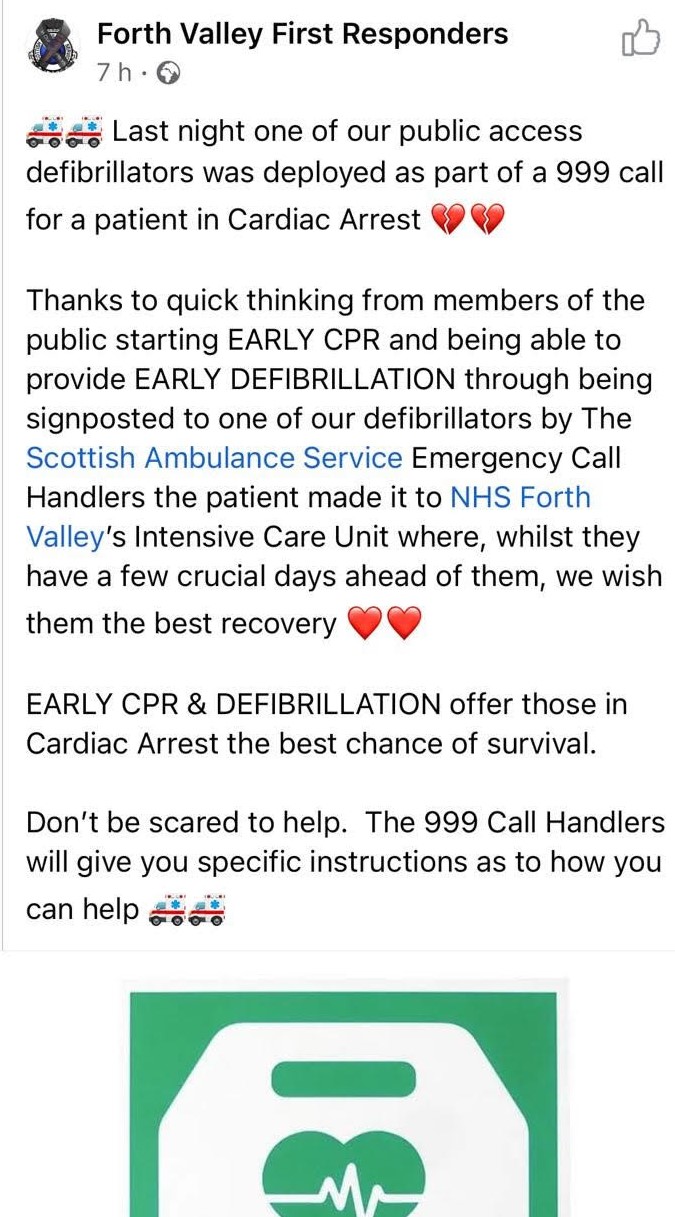 Isn't it Ironic that Andrew was, this week, to begin the process which would lead to him being CPR coordinator for St John Scotland Central Area.
On this day: -
1146 - European leaders outlaw the crossbow, intending to end war for all time.
1791 - The British Ordnance Survey (mapping agency) was founded. As its name would suggest the topographic mapping was done for military purposes initially in an effort to maintain superiority of the English troops over the Scottish clans.

================================================================
29th August
Really sad news about Andrew today. We can only wait and see what transpires.
Yesterday I got a negative result from my PCR test so was able to go to the BBQ. Too many other kids about for any meaningful photography. This is my son in law and youngest grandchild having a go at the archery.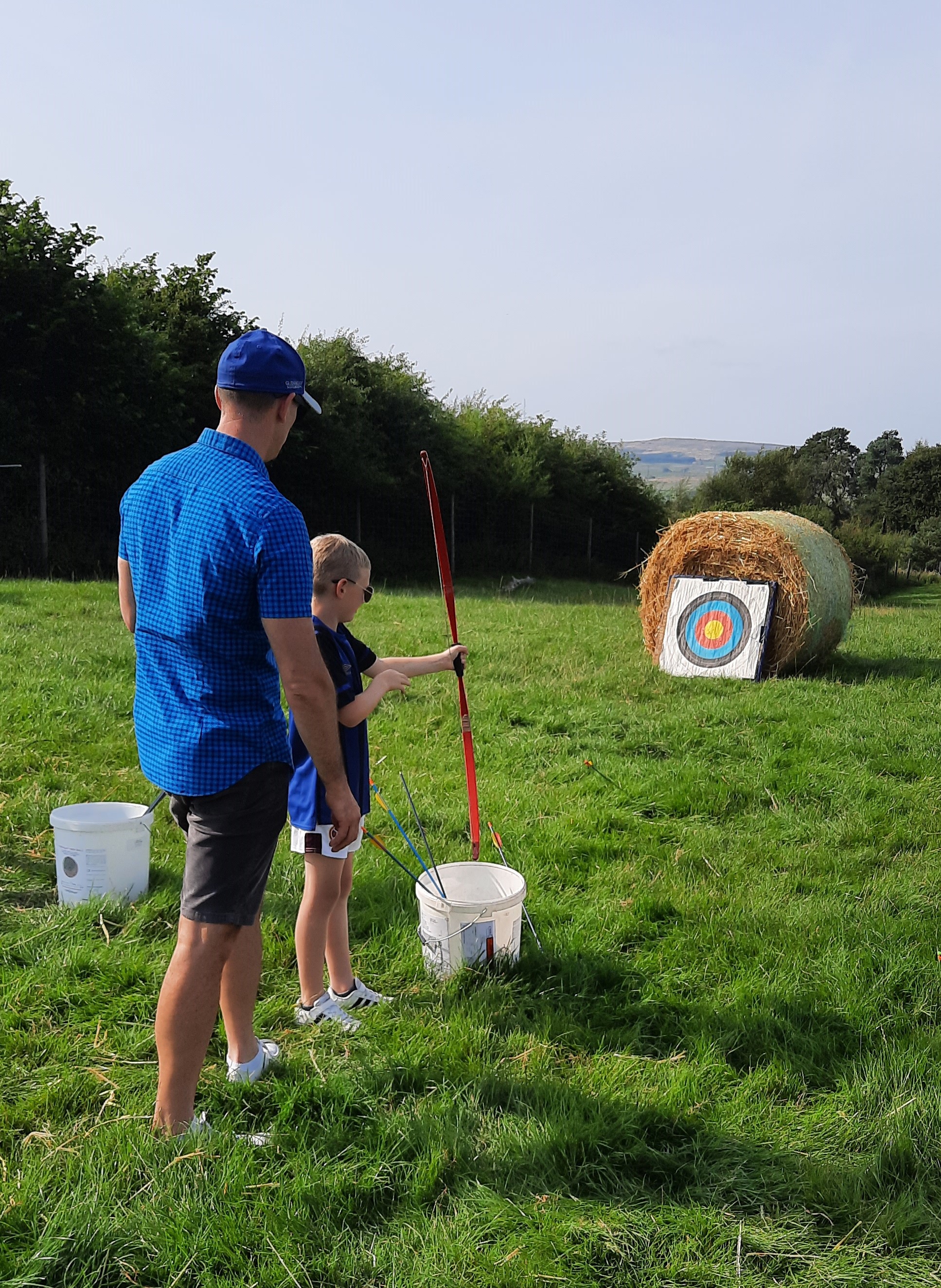 And I was intrigued with this group of year old deer congregating underneath the only tree for miles!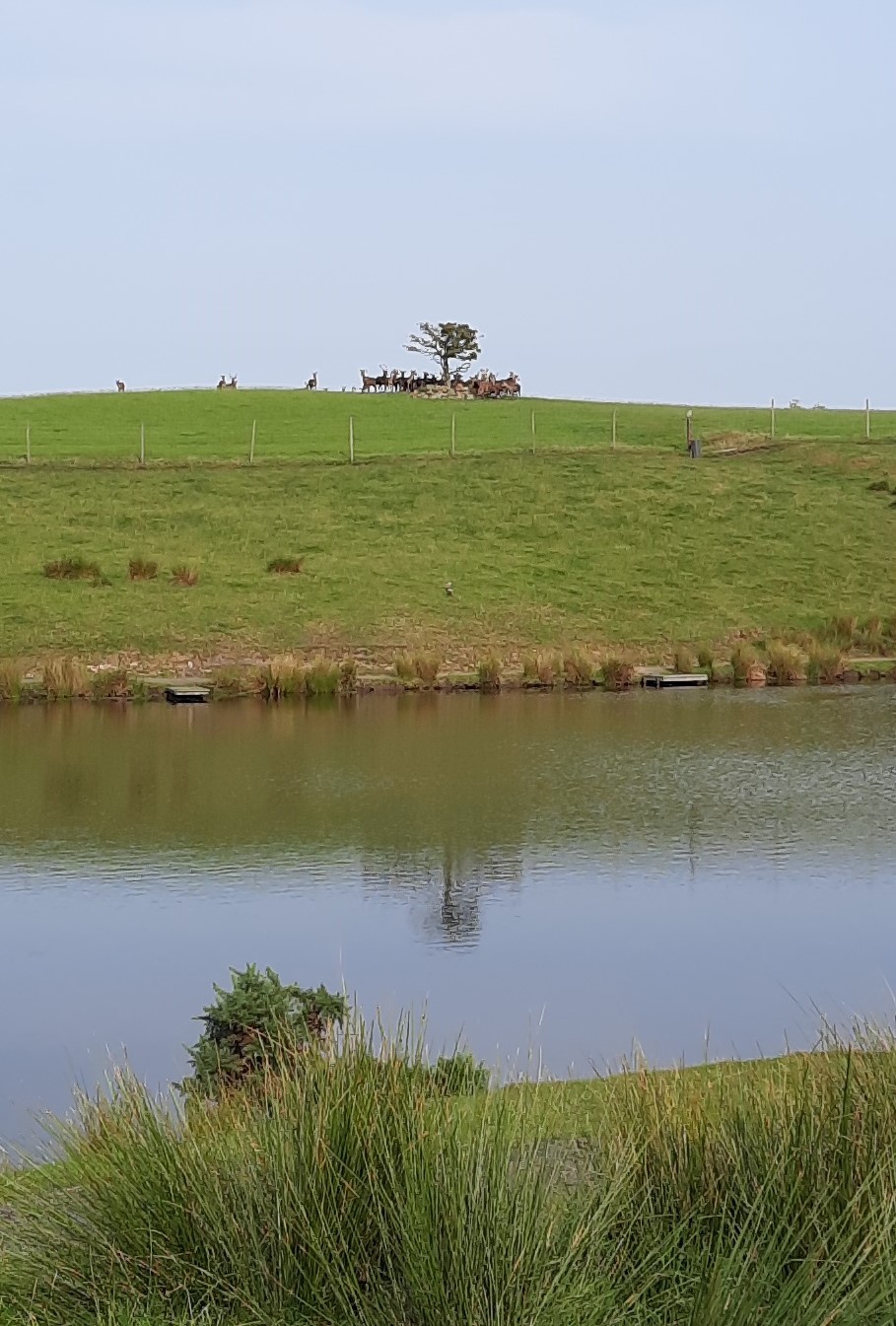 On this day: -
1833 - The United Kingdom's historic first Factory Act became law on this day – and it was much needed. By today's standards the reforms were modest and in any case applied only to the textile industry. The principal provisions of the Act declared that:

* Children under the age of nine must not be employed in textile factories.
* Children between the ages of nine and thirteen must not work more than eight hours and must be provided with an hour lunch break.
* Children between the ages of nine and thirteen could only be employed provided they also had two hours of education each day.
* Children under eighteen years of age must not work after 8:30pm and before 5:30am.
* Children between the ages of fourteen and eighteen must not work more than twelve hours a day and they must also be given an hour lunch break.


No rules were put in place to protect adult male workers, and only four factory inspectors were appointed to enforce the law across the whole country!
1883 - Seismic sea waves created by the Krakatoa eruption create a rise in English Channel 32 hrs after explosion.
1895 - Eleanor Rigby was born! A tombstone with the name Eleanor Rigby is in the graveyard of St Peter's Parish Church in Woolton, Liverpool, where Paul McCartney and John Lennon spent time during their teenage years sunbathing. Just a few yards away from Rigby's tombstone is another with the name McKenzie on it. The names Eleanor Rigby and Father McKenzie were used in the Beatles' 1966 hit song, Eleanor Rigby, written primarily by McCartney. While McCartney claims he just made up the names for the song, he says the coincidence could be a product of his subconscious.
==============================================================
28th August.
Yesterday I transported a patient from the Renal Unit to his home in Falkirk. I got a text from him soon afterwards to tell me that he had just been told that he had tested positive for Covid. Then I got an email from the Renal Unit saying the same thing. I booked a PCR test last night and am testing regularly with the LFT kit.
All of this in an effort to allow me to attend my neighbour's annual Staff BBQ this afternoon.
E&O hold the event every year although they didn't last year for obvious reasons. There will be the BBQ of course but there will be Clay pigeon shooting, Archery and a bouncy Castle for the kids. There might even be a Fly casting competition, who knows? it will be like a mini game fair.
Here
is the latest Screen Memories and
here
are the answers.
On this day: -
1837 - Pharmacists John Lea & William Perrins manufacture Worcestershire Sauce.
1850 - The first performance of Richard Wagner's famous opera Lohengrin is given by Franz Liszt.
1963 - Martin Luther King Jr. delivers his "I have a dream" speech at the Lincoln Memorial Washington DC.
1992 - A man in USA had his 1962 Corvette which was worth $1,300 stolen in 1971. On this day in 1992 he recovered the car which was then worth $25,000.

=====================================================================
27th August
Yesterday was a monumental day! It was decided that we would return to our regular meetings at the Park Hotel on Thursday 9th September. That's 19 months after we stopped doing so.
Also Yesterday I popped my laptop into JTec because it was becoming terribly slow and often just refused to do anything. My hard drive was goosed apparently! I now have a new hard drive which is twice the size of the last one and it literally flies! Whoopee!
And then there was the result of my biopsy. I have prostate cancer and will as a result require to undergo some form of treatment which is to be decided at a meeting of the various disciplines next Wednesday. There is a possibility for either surgery or radiotherapy but I don't know which yet. Consequently you may be hearing a bit less from me after next week. "Whoopee" I hear you say.
Anyhow that won't deter me in the short term.
On this day: -
1883 - Krakatoa, a volcano, west of Java in Indonesia, erupts with a force of 1,300 megatons and kills approximately 40,000 people.
1896 - Britain defeats Zanzibar in a 38-minute war (9:02 AM-9:40 AM). Shortest recorded war in history.
1928 - Kellog-Briand Pact, 60 nations agree to condemn 'recourse to war for the solution of international controversies'. What happened????
If you are more fortunate than others it is better to build a longer table than a taller fence.
anon
========================================================================
26th August
I am getting all nostalgic now. We watch a lot of those antiques shows on the tele. Fairly often they will come across a thing like a sugar shaker that is actually a "Pounce shaker". All of a sudden I am reminded of the breadth of media that I have experienced during my career. By "media" I mean the plural of "Medium" and by "medium" I mean the thing that I have used to display the product of my profession at different times.
Initially, when I began in Wilson and Wilson in 1961 by far the biggest part of my work consisted in the production of Deed Plans. These were drawings that would be attached to a Title Deed displaying the nature location and size of the subjects being "disponed" in the "Disposition". Invariably they would be headed "This is the plan referred to in the Foregoing Disposition" or "...Foregoing Excambion." If there was to be an exchange rather than a sale.
I would, with others, require to visit the subject property and measure the extents of what was being sold. I would then require to access a library of Ordnance survey maps held within the office and trace onto the Plan the location of the subjects. This part would be a quite a small scale maybe 1:1250 or 1:2500. Then I would draw what I had measured at a larger scale of maybe 1:200 or thereabouts depending on the size of the area.
The point of all of this is that we had in front of us at the time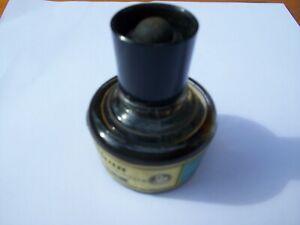 several bottles of ink in varying colours, primarily black but also yellow, green brown blue and most importantly red. The red ink was to outline the extent of the subjects and the other colours identified, common areas, rights of way and the like.
These inks would be applied to a "ruling pen"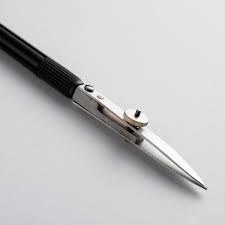 This would be done by the little rubber bulb on the top of the lid of the ink bottle pushing ink through a dropper between the blades of the pen. The width of line that one could draw was altered by turning the wee screw on the nib. The drawing would be prepared on "Linen". This was a fine linen that had been starched and was obtained in a roll from which sufficient would be cut for each drawing. I can still remember the regulation size - 14
7
/
8
" x 9
3
/
8
" with a 2" border all the way up the left hand side for binding. The surface was glossy! And this is where the pounce came in! Pounce is nothing more than finely ground chalk which when applied to the linen after drawing absorbed the excess ink and prevented smudging. Kind of like blotting paper.
The only way that one might correct errors in this process was by finely picking the ink from the surface of the linen with corner of a 7 o'clock razor blade. Now who remembers them?
============================================================
25th August
It was 46 years ago that we came to Muir Rig. We had been married 7 years beforehand and had begun our married life together in Cumbernauld. Four or five years later we moved to Stenhousemuir to a brand new detached three bedroom house with an attached garage, Proper yuppies we were! Then for some reason or another we upsticks, buy a residential caravan and park itg in a field with a derelict cottage in it. Over the next 18 months we would proceed to build the Muir Rig that we know today. Peter was three and Wendy only one.
One of the first things that we did was plant a Rowan berry in the ground just to the north of what was to become our living room window.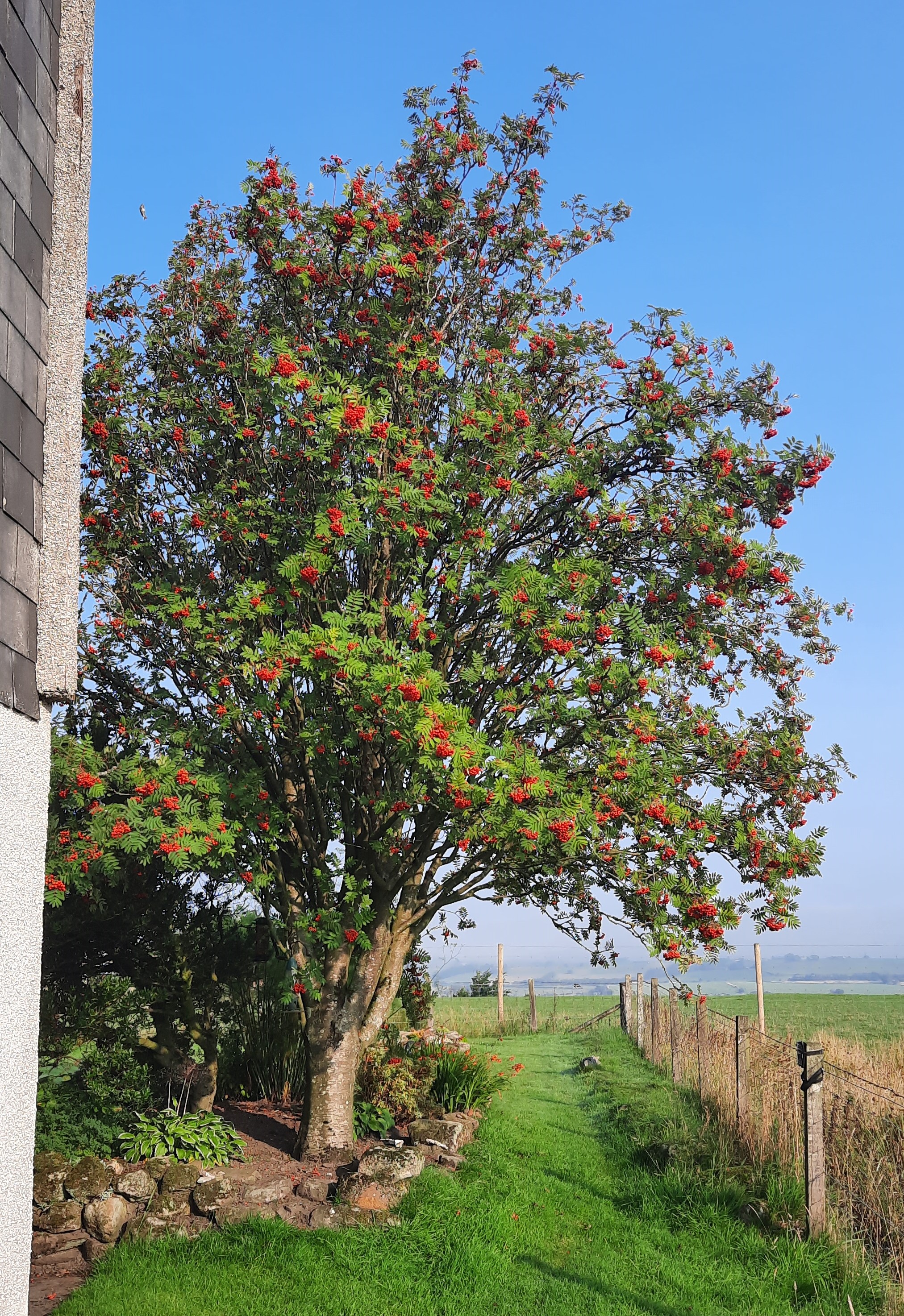 We watched that rowan grow over the years, Rowans are supposed to keep witches at bay. "Stuff and nonsense" I say! But do you know the peculiar thing? In all of these 46 years we have never at any time been bothered by witches!!! Creepy intit?
24th August #2
It's amazing how things happen out of sync. I should have delayed my blog today and included the following: -
Firstly from Judy Johnston.
Judy phoned me this afternoon to ask me to pass on to the Club her grateful thanks for the cards kind words and support that she received from Club members during the run up to the funeral and on the day itself.
Then I got this from David: -
Hi Sandy,

I met with Helen Mochrie on Sunday and she was able to tell me that Ronald got home last Thursday. All of the necessary work in their house was completed (hoists, hospital bed, shower room, etc.) and they are both delighted that he is back home. Naturally, I sent our best wishes from everyone at the Club. Helen reads all of the emails (mostly from you) which relate to Rotary and relays these on to Ronald.

Helen passed me an envelope which I haven't opened yet which contains a donation in relation to Charities day as she wasn't able to get along.
And then this from Gordon: -

Sandy,
It must be that day in the year again. Four ants nests producing lots of winged ones with the remainder rushing around madly. I was alerted to this by the sight out of the window of a hen blackbird pecking energetically at the ground and then leaping about pecking at herself, presumably because she had been invaded by ants.
Stay safe.
============================================================

24th August
It's 24
o
C outside at present. Really warm. I've just returned from Falkirk having banked the proceeds of the Charities' Day. I went yesterday but arrived there at 16.02 to discover that they shut their doors at 16.00.
I have a great wee italian recipe book and with some of the stuff that our neighbour gave us we had Minestra con zucchini for dinner last night. OK it's just a plate of soup but it is very filling. Vegetarian too; well it would have been if I hadn't made it with a chicken stock.
Here
is this week's Screen Memories Quiz and
here
if you need them are the answers.
George tells me that Ian McPherson from Grangemouth Rotary Club died on the 8th August. I was surprised that it was not circulated via District. I don't know anything else.
On this day: -
79 - Believed until 2018 to be the date of the massive eruption of Mt. Vesuvius which buried the cities of Pompeii, Herculaneum, Oplontis and Stabiae, killing untold thousands. Latest evidence suggests the eruption took place on October 17th.
1482 - he town and castle of Berwick upon Tweed were captured from Scotland by an English army. The border town has remained English ever since.
1947 - The first Edinburgh Festival was held.
1975 - The first ever nude performance in a British opera took place at Glyndebourne.
================================================================
23rd August
I have just had another visit from my ever so generous neighbour - This time Marrow, Curly Kale, Cavolo Nero, Courgette, Cucumber, Swede, Potatoes and eggs.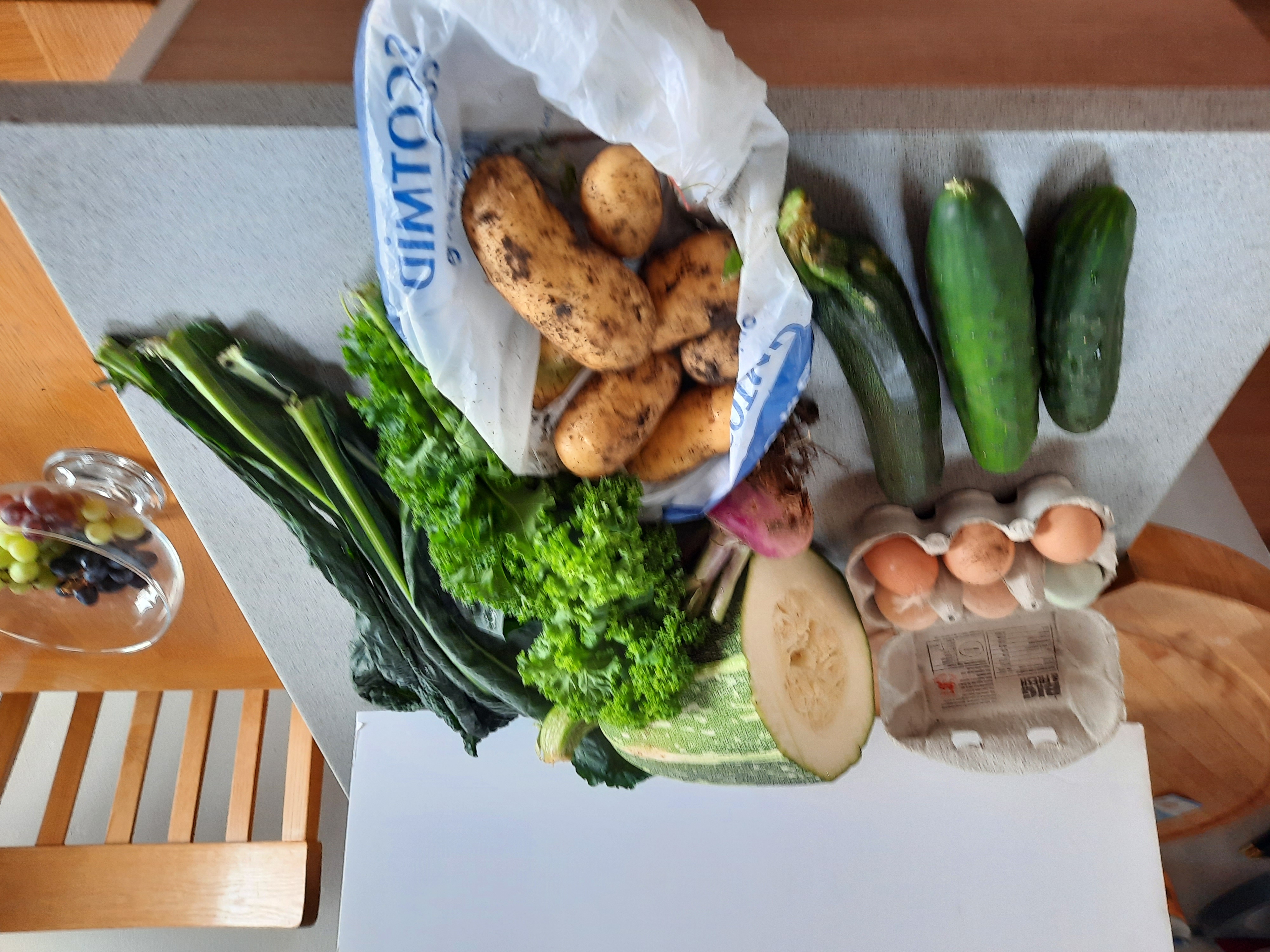 And then later - this! An absolutely enormous cauliflower!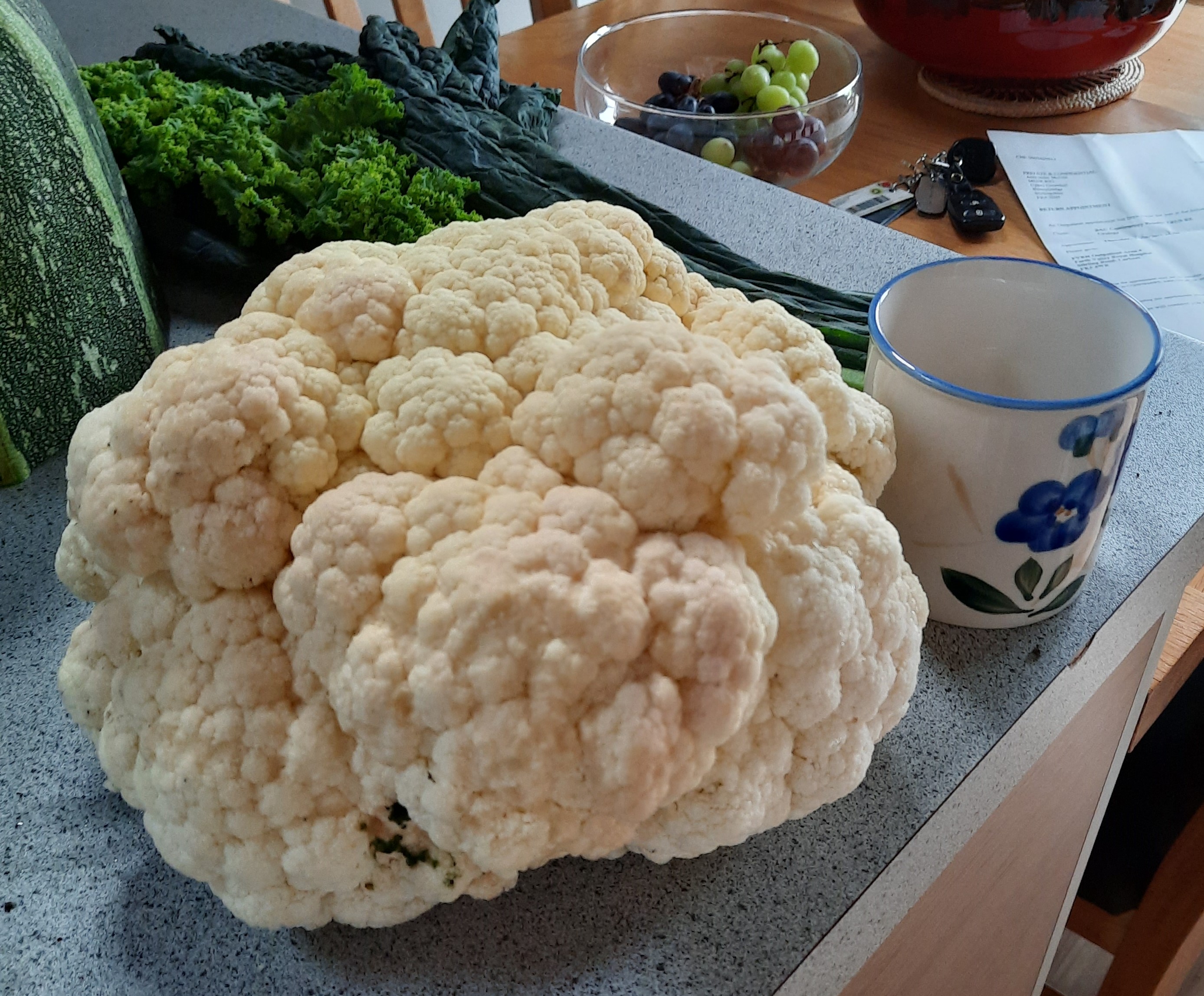 Anne Watson has let me have this: -
"Hi Sandy
You mentioned pre-fabs some time ago and it brought back memories of long ago which written down don't seem as interesting as in my head but here they are.
After WW 2 local authorities were pressed to build social housing to give employment and to house families from poor housing.We were in Stirling County as opposed to Falkirk Burgh which had its own house building projects in Cameron and Windsor Road
I lived with my family in a country cottage with no gas or electricity and a single cold tap in the scullery, by 1948 we were a family of 5, all cooking done on a coal fired range and water heated in a copper in the scullery When we were given a new build house in Shieldhill life changed dramatically especially for my mother, we had electricity and a proper bathroom with hot water It was a very happy home. Many of our neighbours came from the demolished miner's rows. There were several types of houses, traditional, timber and what all the children wanted, pre-fabs which had a fridge so you could have ice cream anytime not just when the van came round.
The pre-fabs were an amazing use of space and although they were meant to be temporary they lasted for many years and were much loved by the people who lived in them
I thought this might interest you professionally. The houses are still in good condition after 75 years. I visit my childhood friend and neighbour and the house is very little changed although many are owner occupied now."
Regards
Anne
On this day: -
=================================================================
22nd August #2
Some more photographs courtesy of Bob Spears: -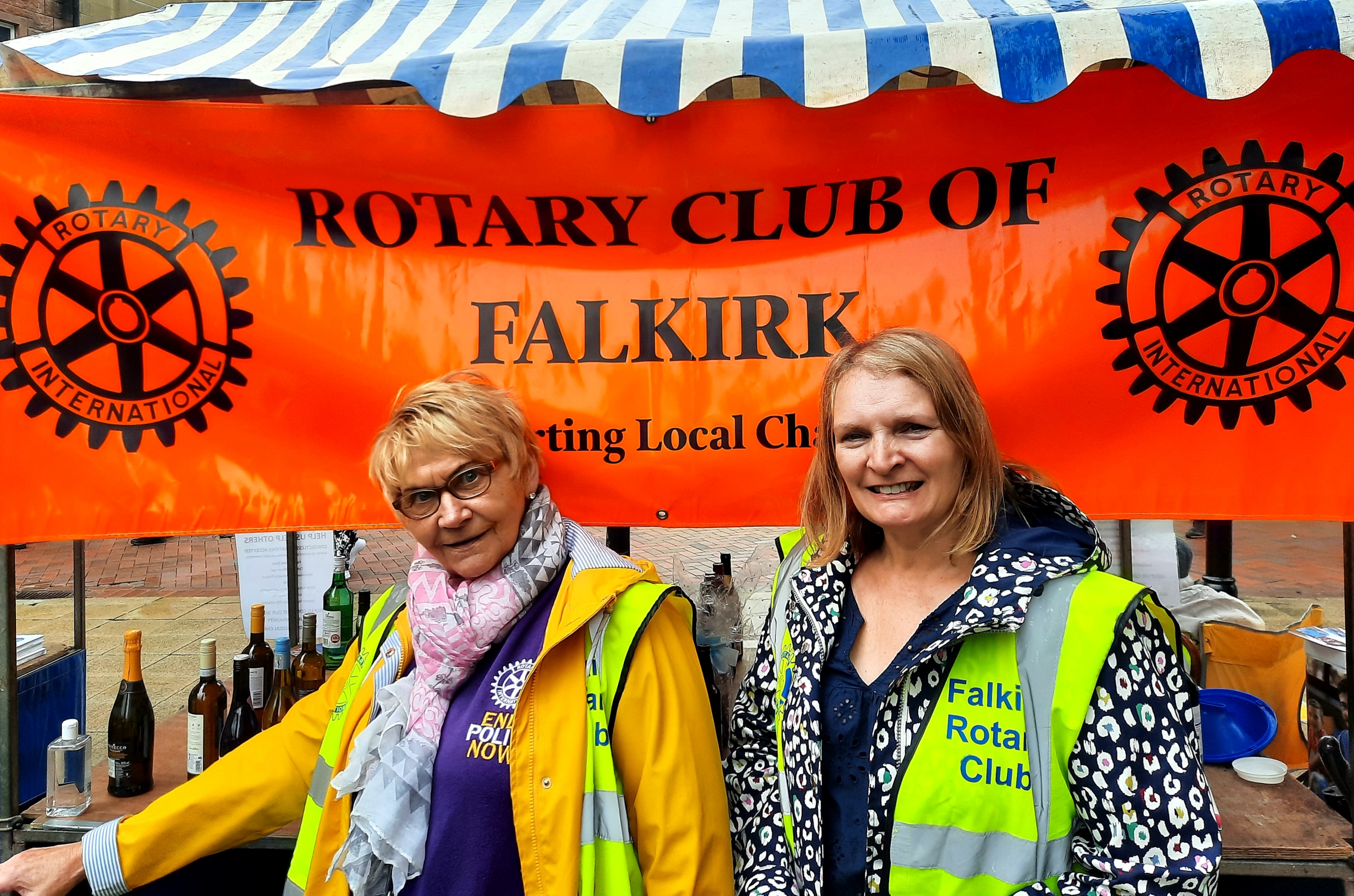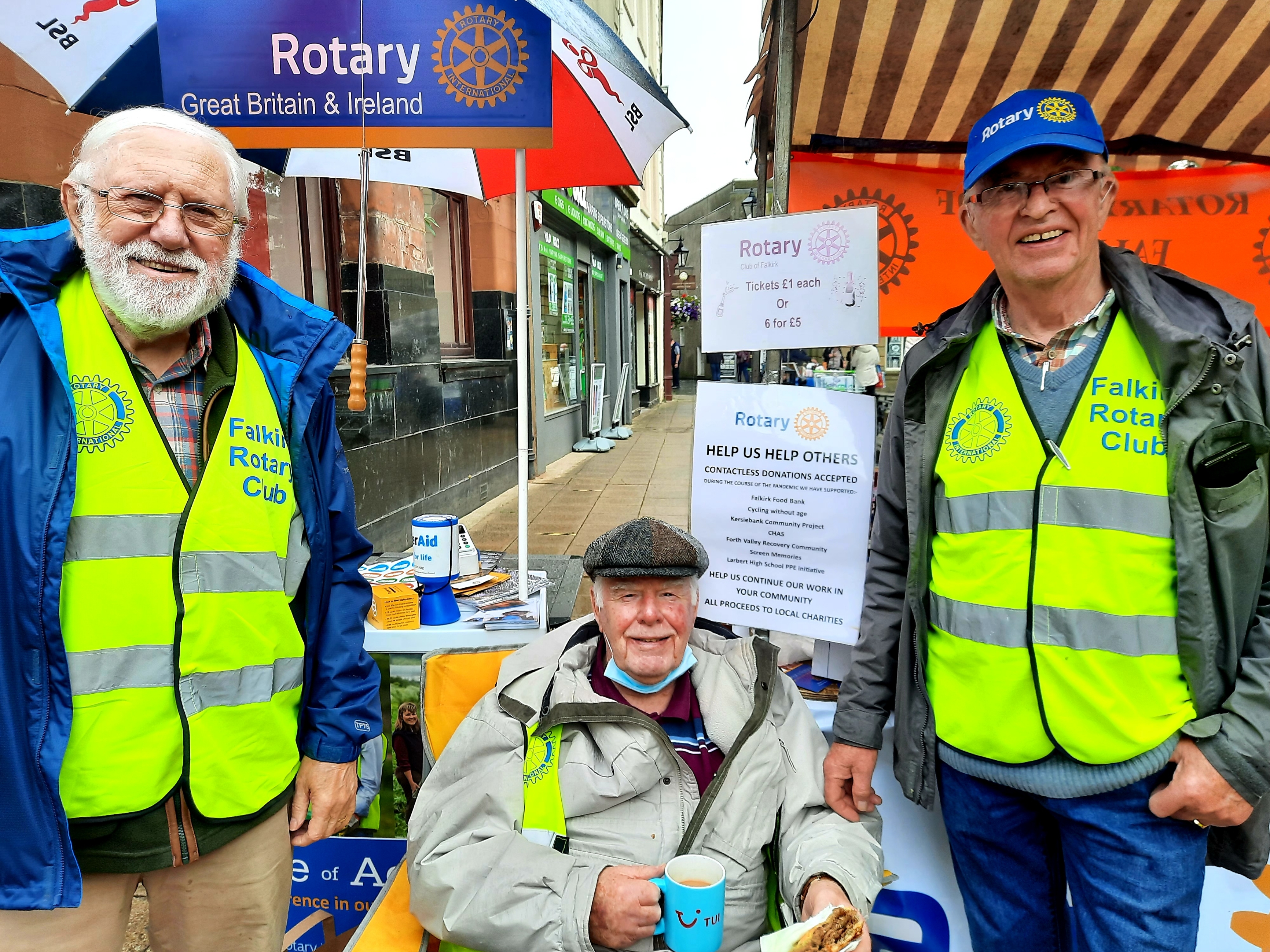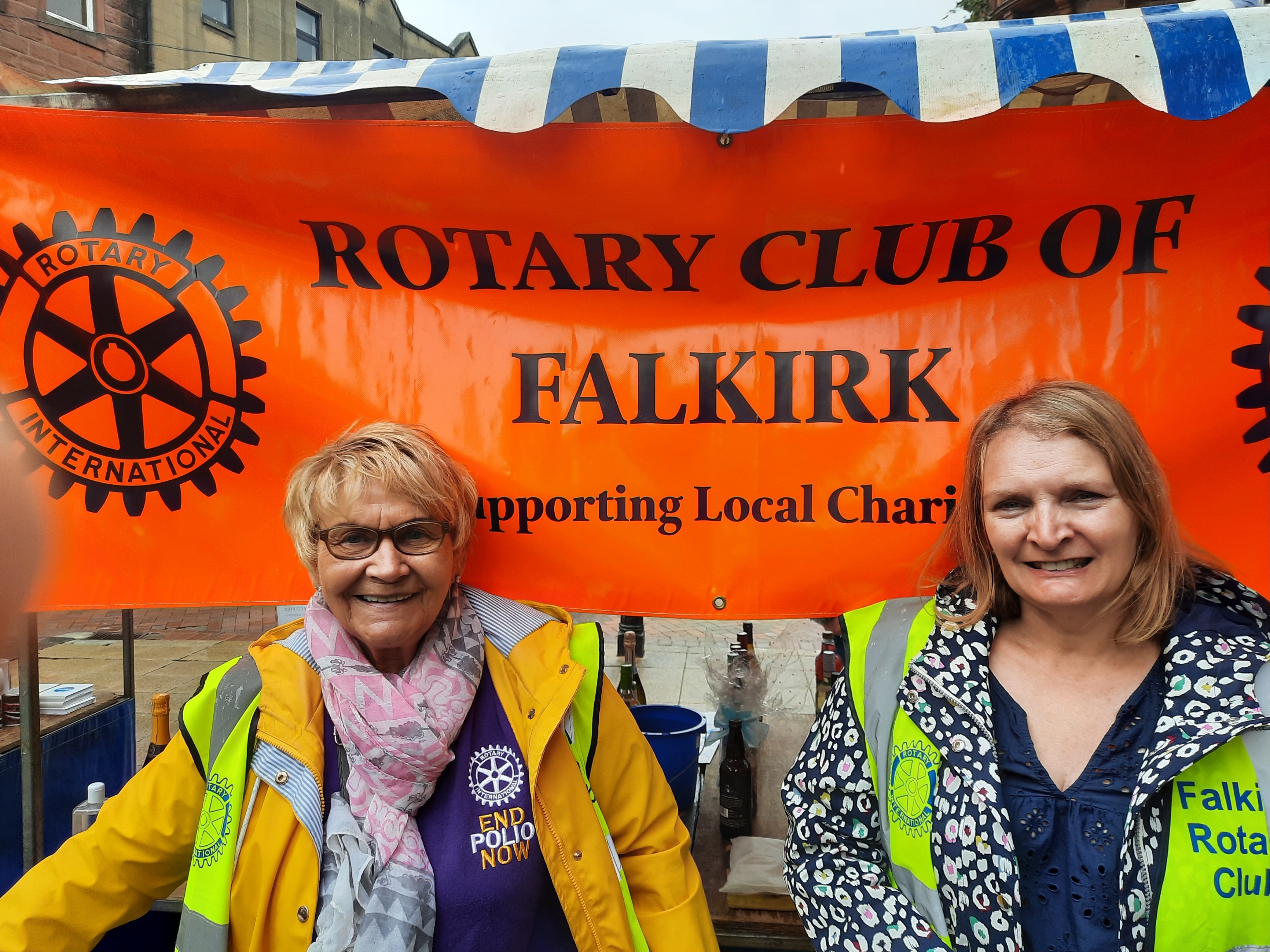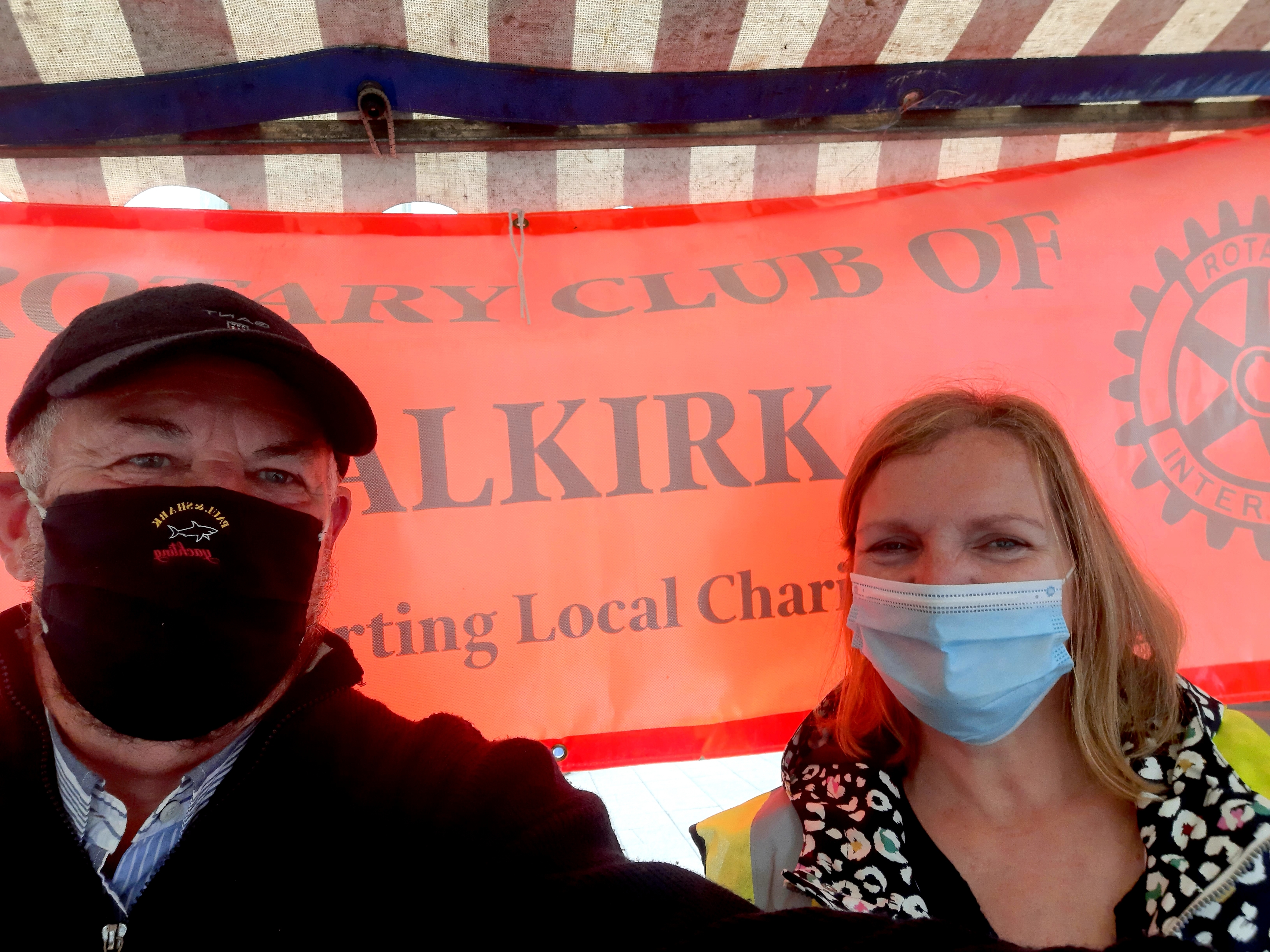 22nd August
You'll like this!
Yesterday, while we were raising awareness, spirits and cash, there was a young man about 13 or 14 years of age whom I persuaded to donate towards George's Sightsavers box. He didn't do it willingly but was encouraged by his pal. After having donated his 20p he turned to his pal and remarked "I think I've just been scammed!" before turning to me and saying "This is a scam isn't it?" Of course I replied to him negatively but he persisted! "If this is a scam I want my money back!" I turned to the stall and handed him a Sightsavers leaflet. He took it and glanced at it. "I'm gonie phone them and if this is a scam I want my money back! In fact if this is a scam I want twice my money back!" to which I replied if this is a scam I'll give you ten times your money back" He wandered off into the distance still muttering "If this is a scam....."
And now for the bit that you will like. While I counted the money yesterday I came across a Greek Drachma and suddenly realised that that was what the lad had put in the box! He was winding us up totally and succeeded brilliantly! He and his pal must have been laughing all the way home!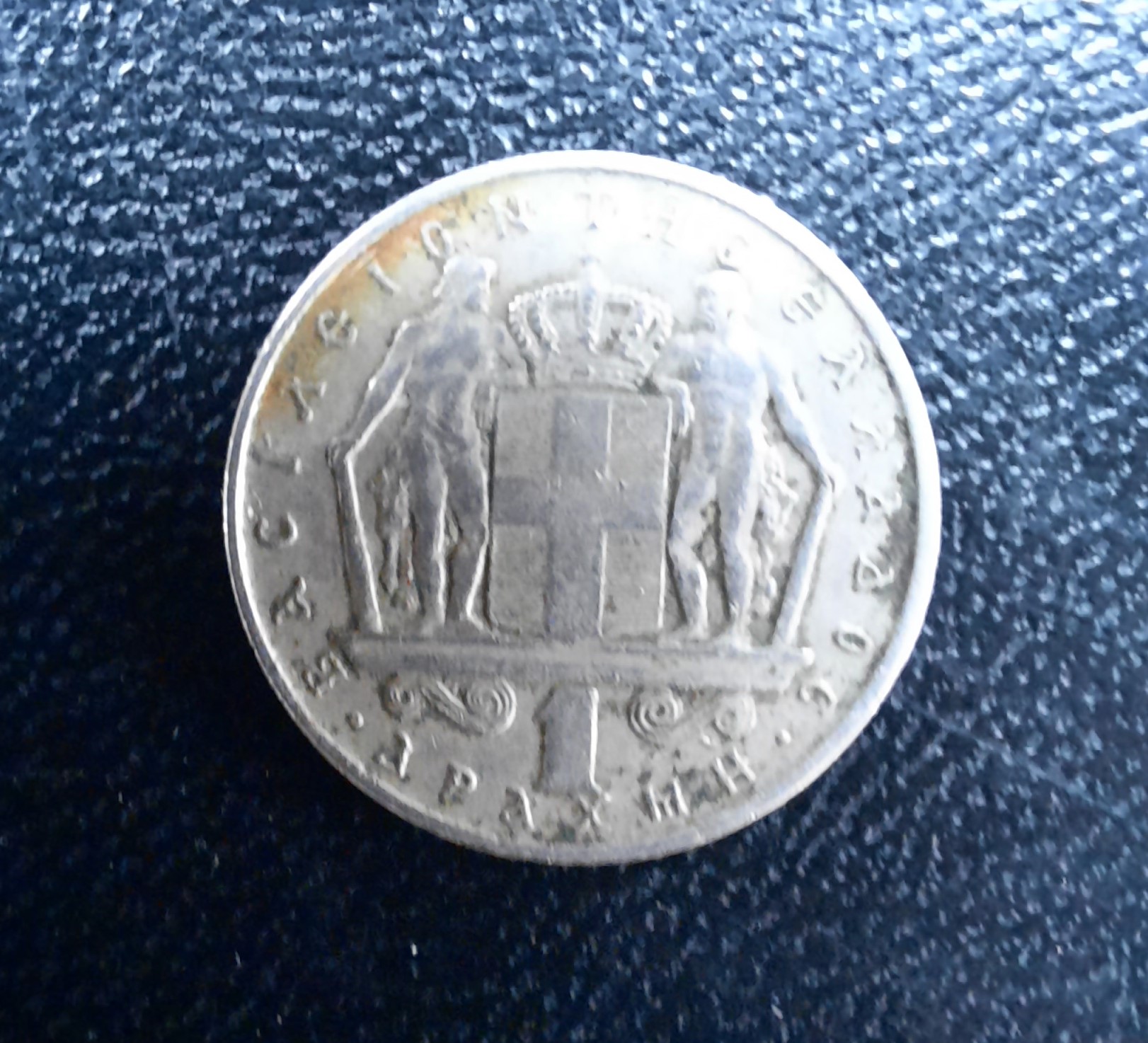 On this day: -
565 - St Columba reports seeing monster in Loch Ness.
1849 -The first air raid in history; Austria launches pilotless balloons against the Italian city of Venice.
1989 - British Telecom launched the world's first mobile phones.They had a very limited operating range that restricted their use to 100 yards from a public base station.
=================================================================
21st August
It's the 21st of the month again! That's the time when I entreat you all to donate to the foodbank a portion of what you've been saving on your Rotary Lunches. We should all be proud of what we have done for the Foodbank during the Pandemic.
We had our annual Charities day today. OK it rained a wee bit but we had fun. For the first time in 18 months we were together doing what we do. Raising awareness, spirits and money. Today despite the rain and the pandemic we raised £875 on our bottle stall. That's a result in my book. Stewart put a whole pile of work into that and deserves our grateful thanks for the success that he achieved.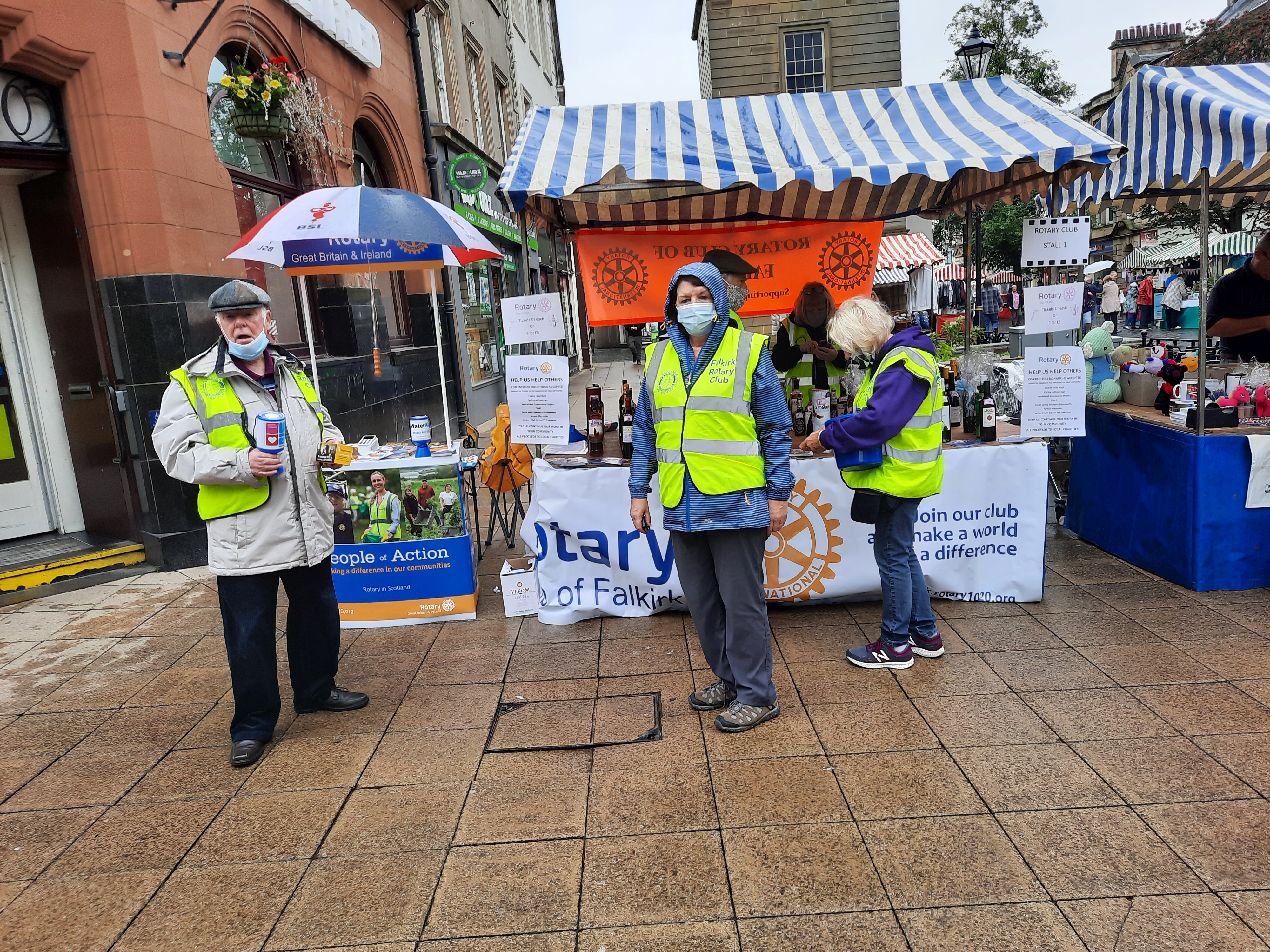 And it doesn't count the money that George raised for Water Aid - £44.31 and Sightsavers - £70.88. All in all a great success I say.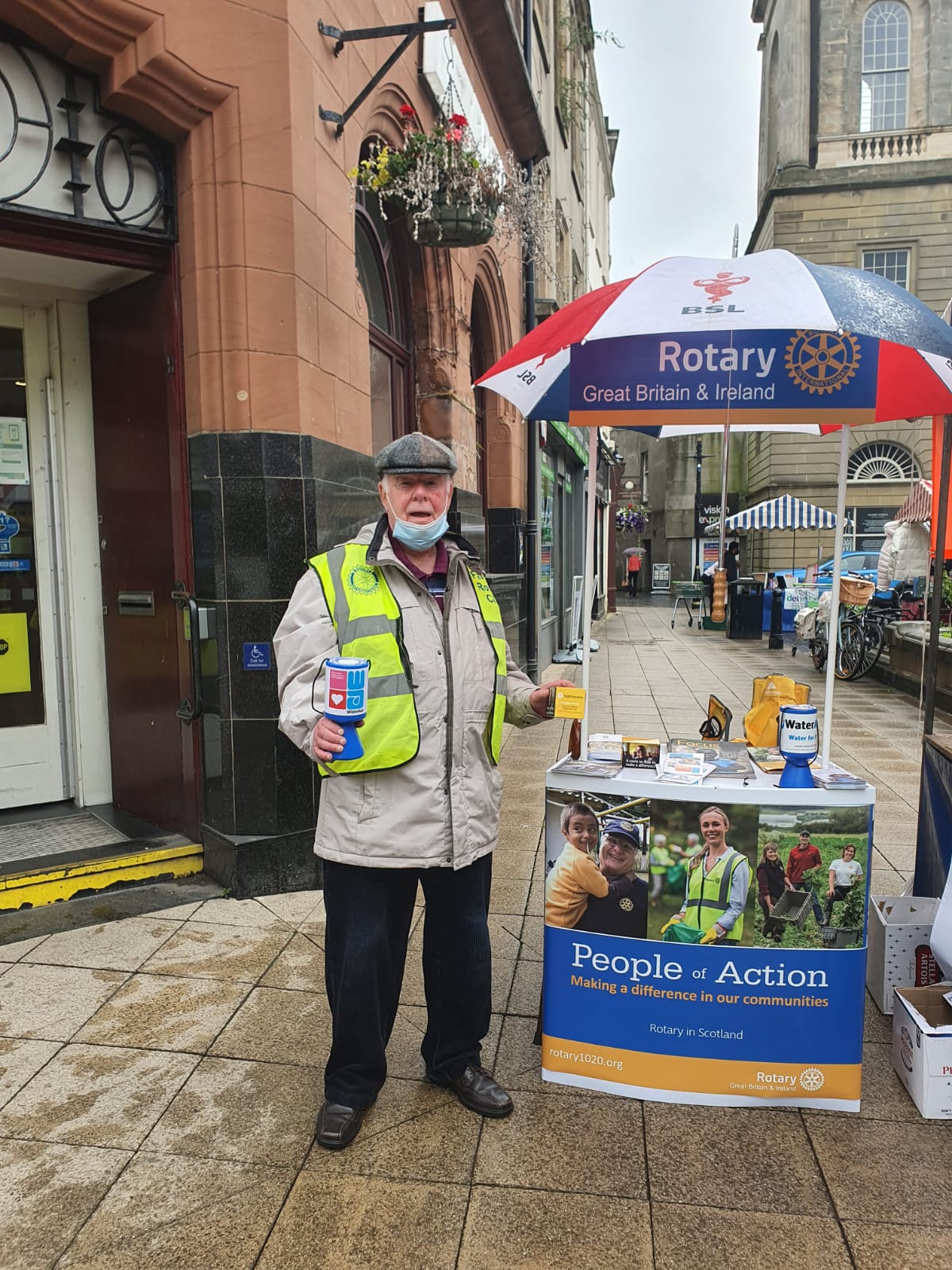 I didn't count the 1967 Greek Drachma nor the Malaysian one Ringgit note which together would have raised the figure by about 30p. But taken together, our total for the day has edged just over £1000.00. Well done to everyone!
============================================================
20th August
It's Charities' Day tomorrow and the weather doesn't look good. But you know what they say! No such thing as bad weather only inappropriate clothing!
Linda has been busy again for the Food Bank: -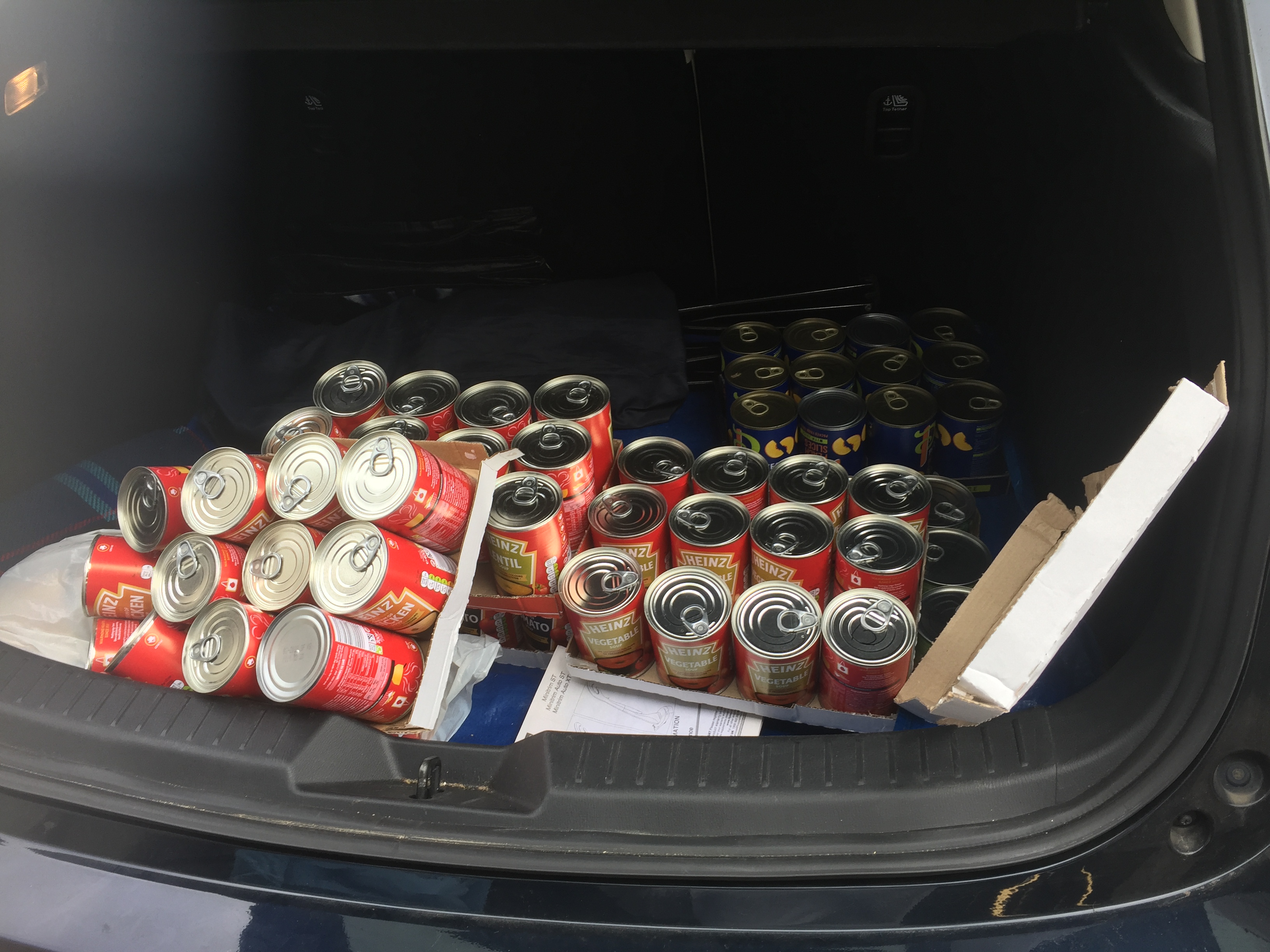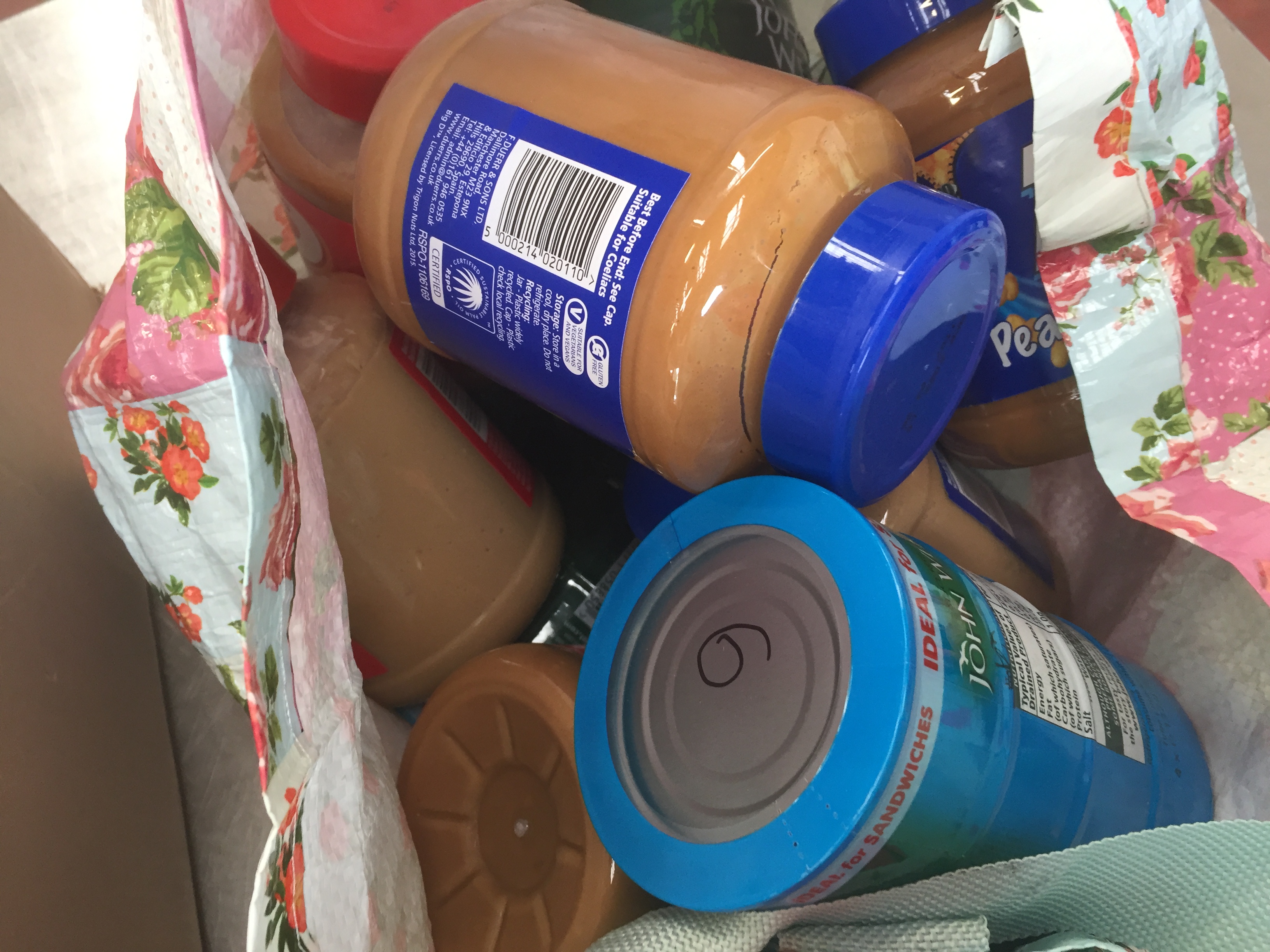 On this day: -
1672 - Johan de Witt, former Grand Pensionary (Prime Minister) of Holland and his brother are lynched by an angry mob who ate their body parts, including their roasted livers.
1888 - Longest US men's single tennis tournament match! Palmer Presbrey defeats T S Tailer, 19-21, 8-6, 6-1, 6-4, an 80 game 1st-round contest. It took the best part of another 100 years before the authorities got the message and introduced "the tie breaker"
1913 - Harry Brearley of Sheffield cast the first stainless steel.
1940 - Winston Churchill delivers his now famous speech saying of the Royal Air Force, "Never in the field of human conflict was so much owed by so many to so few"
1956 - Calder Hall, Britain's first nuclear power station, began operating.
1989 - In London, the pleasure cruiser Marchioness was hit by a dredger, the Bowbelle, on the River Thames - 51 people attending a party on the boat were killed. The formal investigation put the time elapsed from the instant of collision at 1.46 a.m. to complete immersion of the Marchioness at a mere 30 seconds.
=====================================================================
18th August.
Yesterday I visited FVRH for a TRUS Biposy. The MRI scan that I had for my prostate showed "abnormalities" and apparently the only way to be sure is to have the biopsies done. All the way through the procedure I was priveleged to being distracted in conversation with a delightfull student nurse, a colleen from Tipperary, whose job, I am sure, was to do just that. I will discover the outcome on the 26th August.
The other day I was cutting the grass and I accidentally ran over a stump of a small willow tree that had died. The result was that the blade holder boss on my lawnmower broke and I couldn't finish the job. The new piece has arrived and I have fitted it this morning so I am off to finish cutting the grass.
On this day: -
1948 - Jockey Lester Piggott, aged just 12, rode his first winner on only his seventh ride.
1969 - The Woodstock Music and Arts Fair the legendary rock festival near Bethel, New York, that attracted some 400,000 fans—ended
1993 - Two 10-year-old boys are charged with the abduction and murder of two-year-old James Bulger in Liverpool.
=================================================================
17th August
Sorry about yesterday I had a busy day. The morning was occupied at a Seagull trust Crew Training day. The afternoon was St John's turn with a patient from Sauchie.
I hope that you have all supplied bottles to Stewart by this time! Bottle stalls don't just pop up by themselves! It takes a lot of planning and organising. I am looking forward to Saturday. It will be a first step back on the road to some sort of normality.
On this day: -
1661 - It was the party to end all parties. Held in a magnificent new château, the 6,000 guests, including a king, were handed gifts such as diamond brooches for the ladies and thoroughbred horses for the men. A spectacular fireworks display took place in glorious gardens and a play, especially written for the occasion by the playwright Molière, was performed.
But the French king who was supposed to be flattered and impressed by it all, Louis XIV, was appalled. He had already been tipped off that the host, his finance minister, Nicolas Fouquet, had amassed his vast wealth by cooking the books. Fouquet, after a thnree year long trial, was imprisoned and died there 16 years later. The guy who got Fouquet's job was the guy who tipped off the KIng.
1743 - John "Jack" Broughton, English bare-knuckle boxer published a set of rules to control boxing and introduced boxing gloves. The new rules forbade hitting an opponent when he was down, kicking, gouging, head butting and grasping an opponent below the waist.
1896 - Mrs. Bridget Driscoll of Croydon, Surrey, became the first pedestrian in Britain to die after being hit by a car. It is said she froze in panic at the sight of the oncoming car, which was travelling at just four miles per hour.
1957 - Baseball player Richie Ashburn fouls and hits fan Alice Roth twice in the same game at bat playing for the Philadelphia Phillies, 1st hit breaks her nose, 2nd one hits her while she is on the stretcher.
========================================================
15th August
It's beginning to get a wee bit airy outside these days. As I write this the outside temperature is 12.9°C.
I've been back at the bookshelf again but nothing is grabbing my attention. So I have been trawling through boxes of old photographs. This one dates back to 1953 when an eight year old me was pageboy at the Camelon Mariners' Day.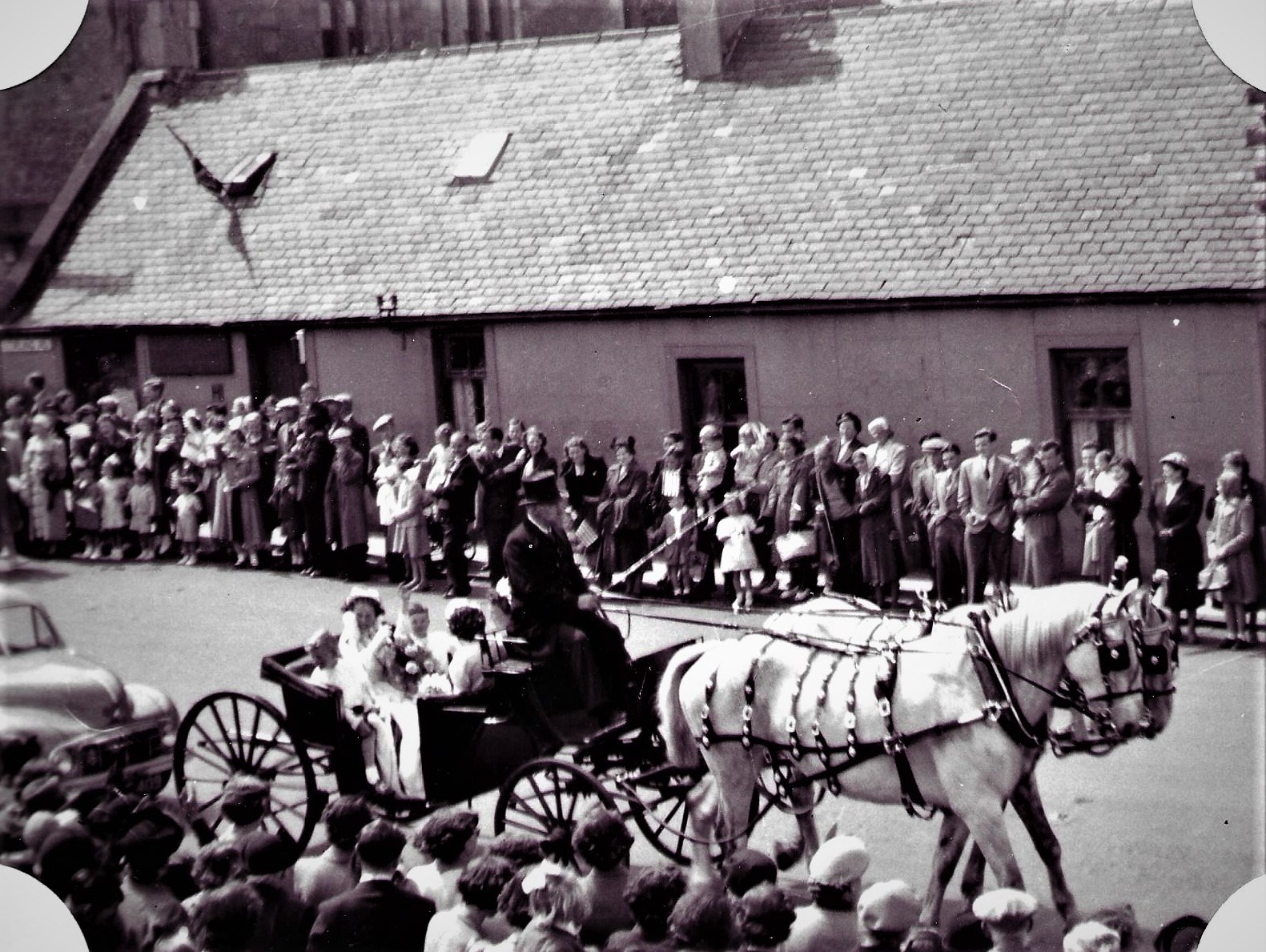 That's me waving to my dad as he leaned out of the front bedroom window to take the photograph. The locus is the top of Stirling Road in Camelon facing west. The single storey building belonged to Andrew Mungal who was an electrician with whose daughter Jean I walked to Carmuirs Primary School each morning. The Queen was Irene Davis and the other pageboy was Brian Burt. Believe it or not it was John Struthers who let me have this. There is no record of it among my father's stuff.
There is another cutting from the Falkirk Herald that shows us in a different formation ( I'm on the Queen's right in this and we all have our back to the Coachman.) Curiously it's a different pair of horses too. The cutting is not likely to be contemporary because the caption mentions the year.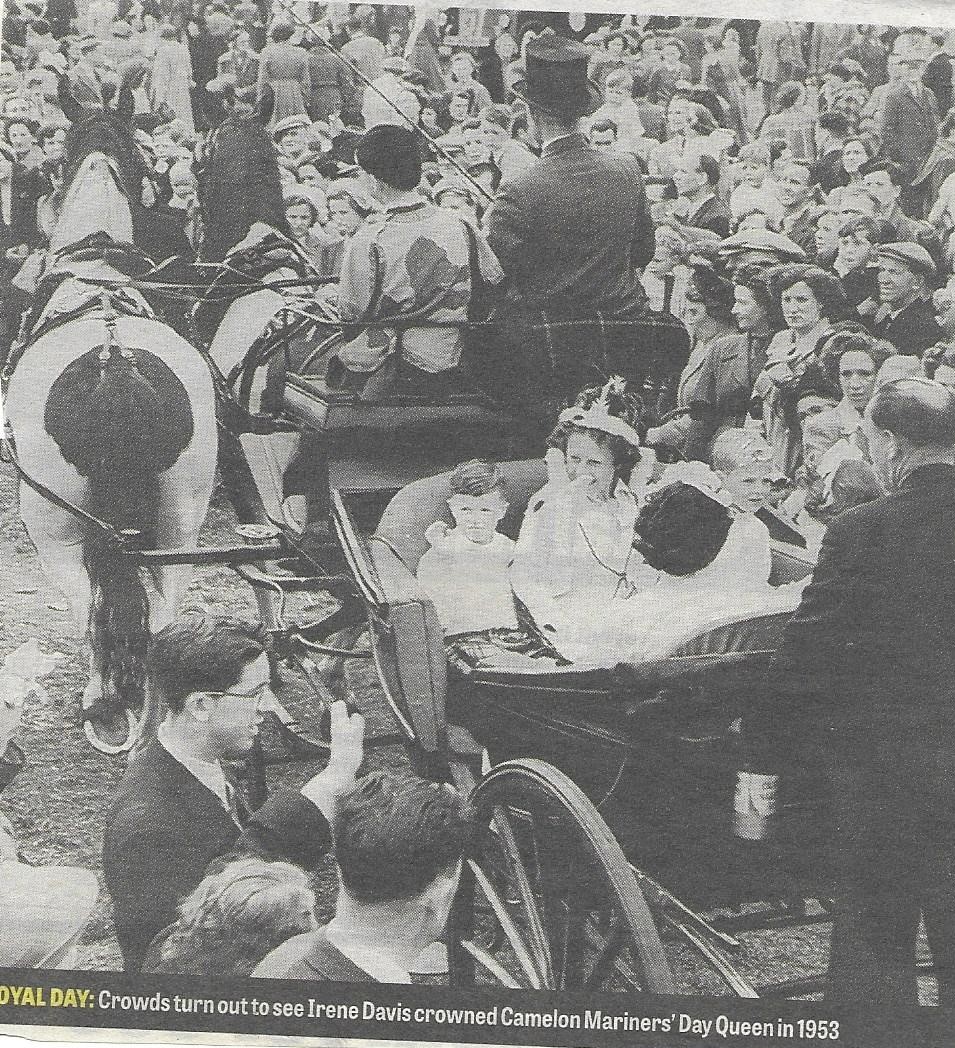 I also notice the precisely accurate apostrophe in the "Mariners' Day" Not often you see that these days.
On this day: -
1847 - Charlotte Brontë sent her manuscript of Jane Eyre to a publisher in London on this day from the little railway station near her home at Haworth in the north of England. Fearing prejudice against a female author, Charlotte chose the pen name of Currer Bell. Her almost apologetic note to the publisher, Smith, Elder & Co, read:

"I now send you per rail a MS entitled Jane Eyre, a novel in three volumes, by Currer Bell. I find I cannot prepay the carriage of the parcel, as money for that purpose is not received at the small station-house where it is left.
"If, when you acknowledge the receipt of the MS, you would have the goodness to mention the amount charged on delivery, I will immediately transmit it in postage stamps."

The novel had already been rejected five times, but Smith, Elder & Co. decided to take a chance and quickly found they had a controversial hit on their hands.
1941 - Corporal Josef Jakobs was executed by firing squad at the Tower of London at 7:12 a.m. making him the last person to be executed at the Tower for treason.
1950 - It's Princess Anne's birthday.
1963 - The execution of Henry John Burnett, the last man to be hanged in Scotland.
1971 - Controversial horse rider Harvey Smith was stripped of his £2,000 winnings and a major show jumping title for allegedly making a rude V-sign gesture.
1987 - Caning was officially banned in British schools (excluding independent schools).
==================================================================
14th August
I have just spent half an hour on the telephone with my sister and her husband in New Zealand. I haven't spoken with them for ages and we had what one might call "a rare blether!".
I have only just realised that many of the hinds have been quite late in delivering their offspring. I noticed this pair this morning.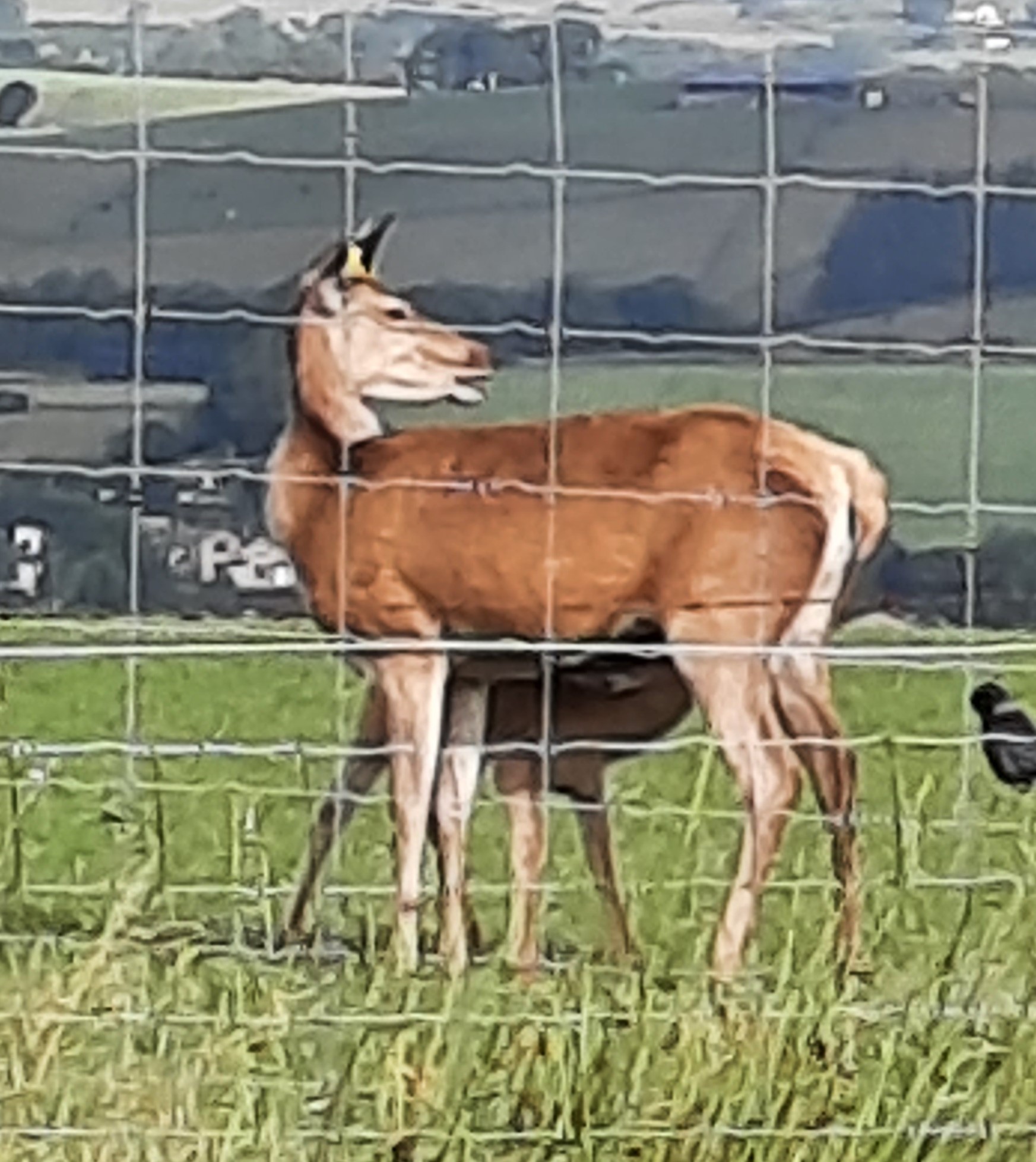 And after having been fed: -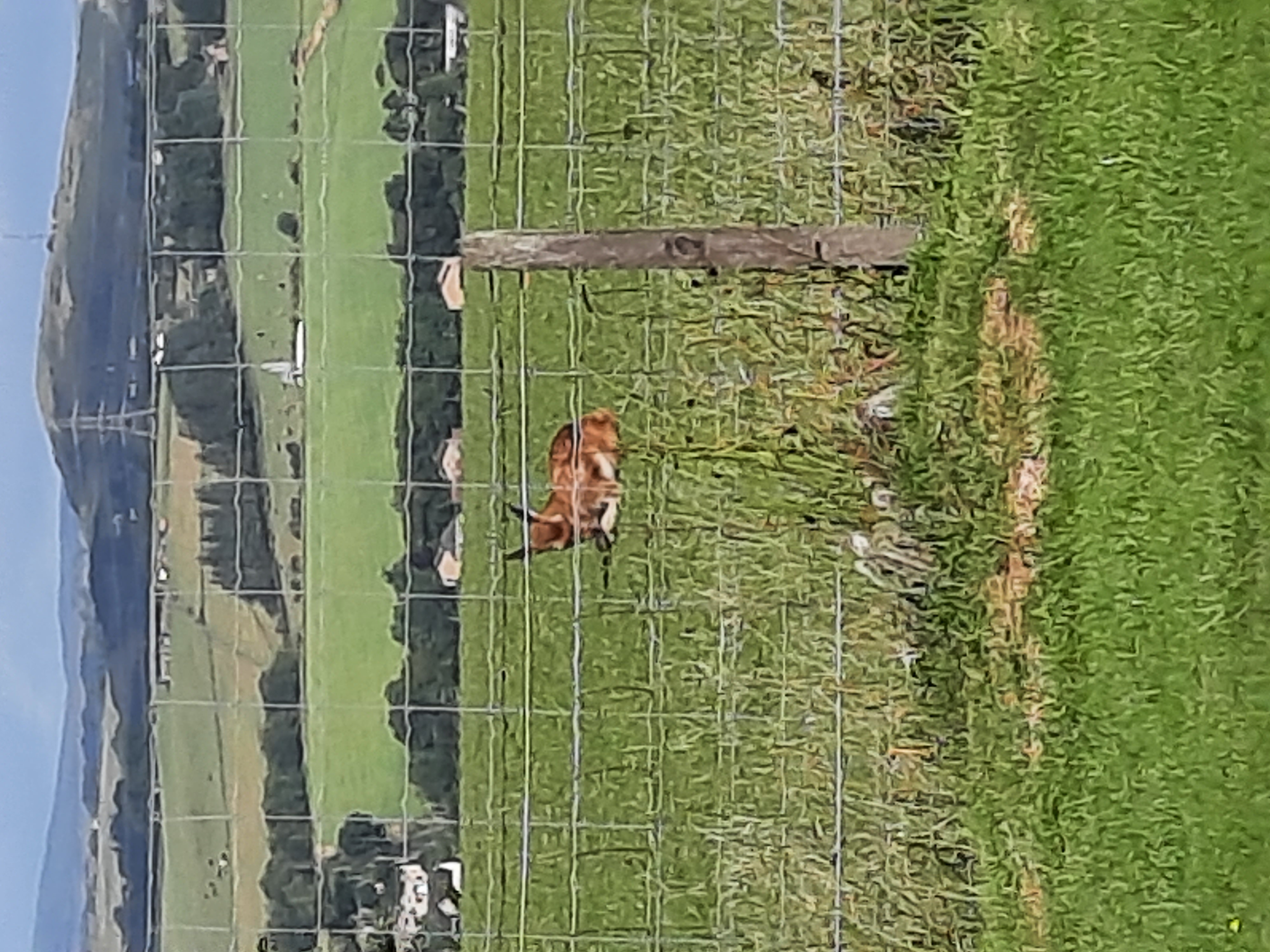 Anne Watson has let me have this: -
Hi Sandy
We have been having a bad time lately with seagulls , They dive bomb the cat and make a mess of the deck and patio doors. Last week all was explained when 3 fluffy grey chicks were spotted walking down the side of the dormer on my neighbours attic conversion they march up and down like wee soldiers while mum hovers above. It seems that she nested on the flat roof and has managed to hatch her brood through sun and torrential rains I have been trying to get a photo of them but they merge into the background
YIF
Anne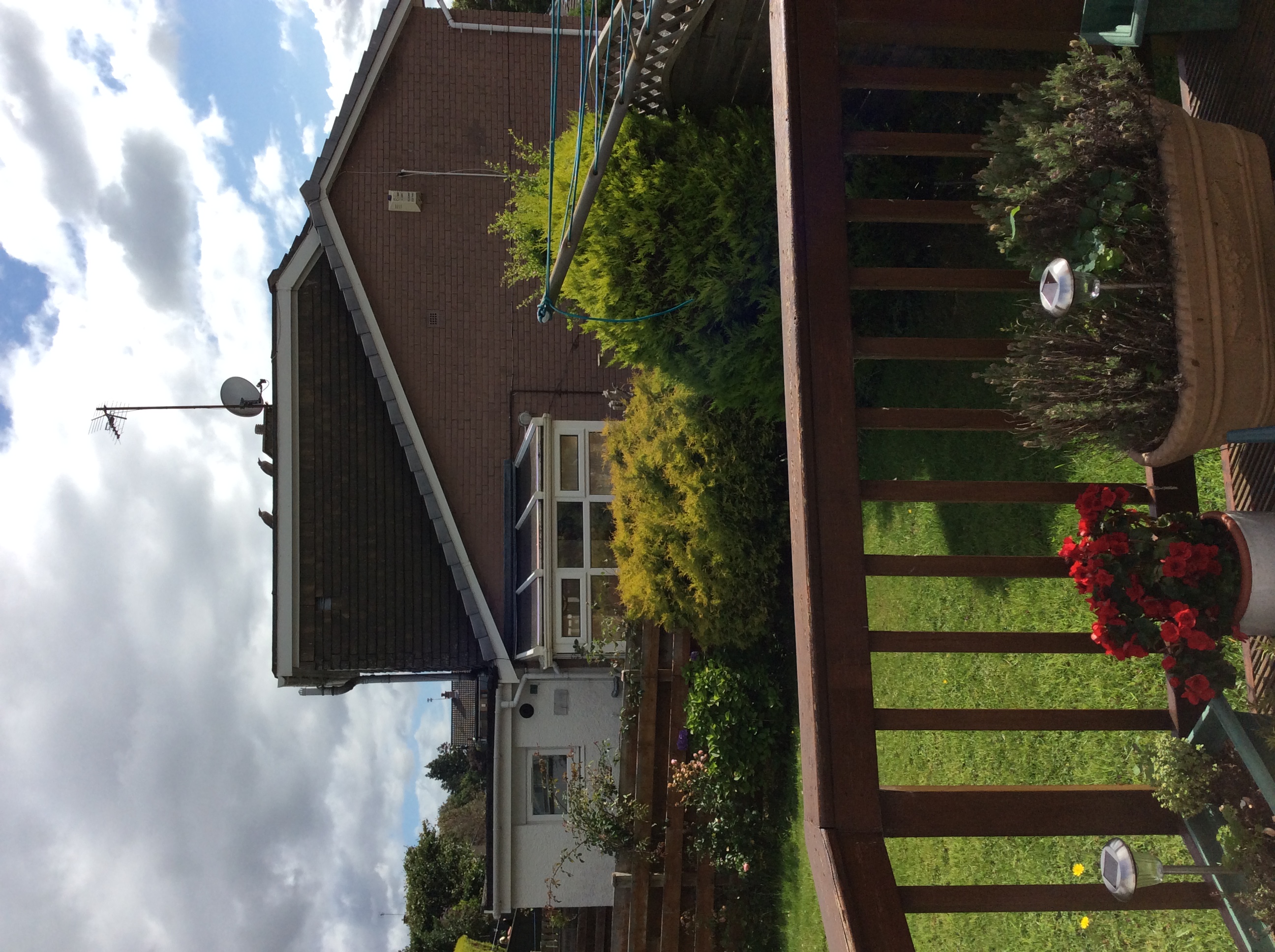 AND
This is a picture of our handover in Dollar Park in front of The Acer we planted for our 50th in 2009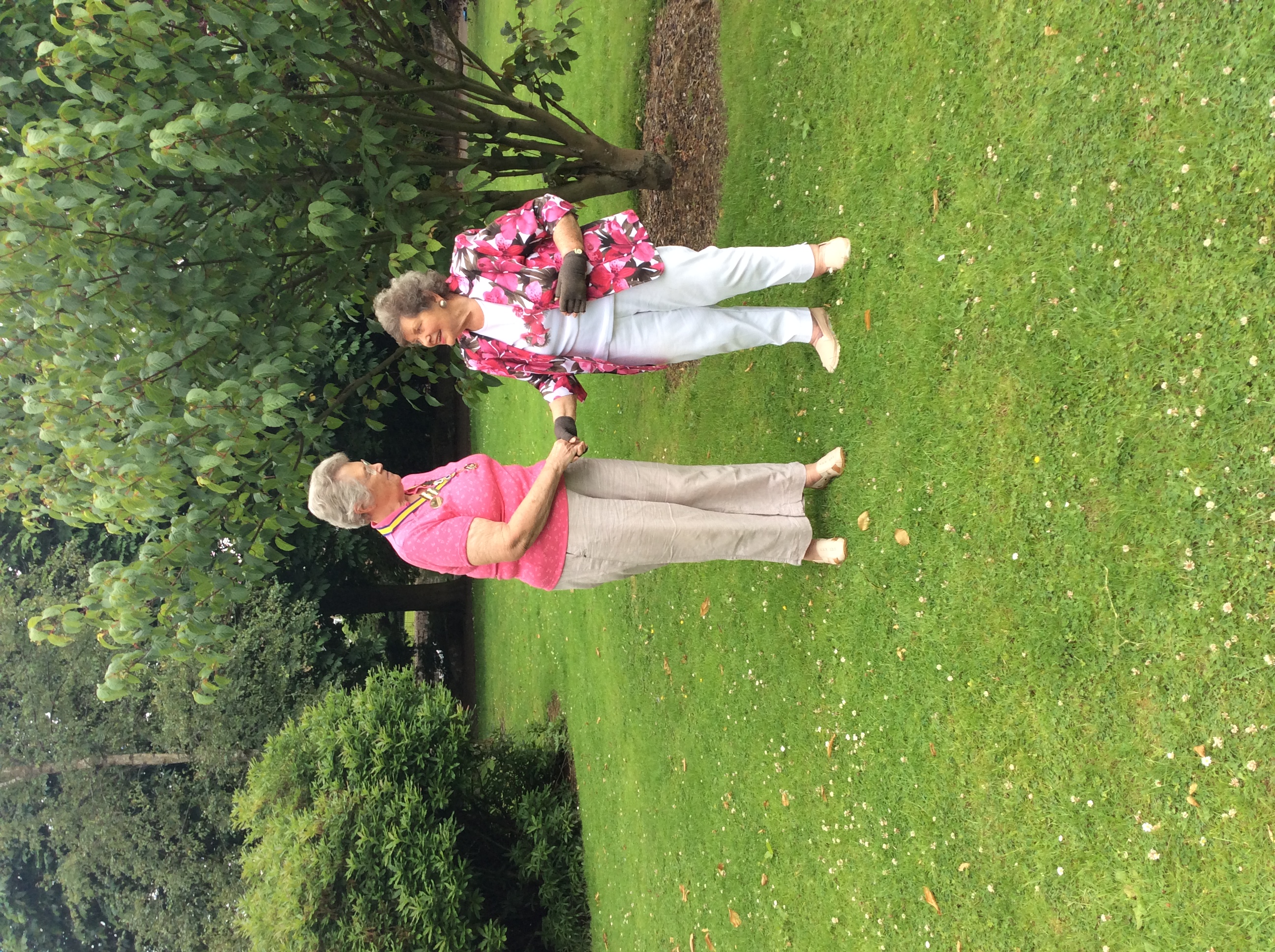 ====================================================================
13th August
Sorry about yesterday! Busy day! And the Glorious Twelfth! There's nae Grouse up here though so that went by without comment. I had a patient to transport in the afternoon so I missed the Club meeting but Andrew sent me a Screenshot: -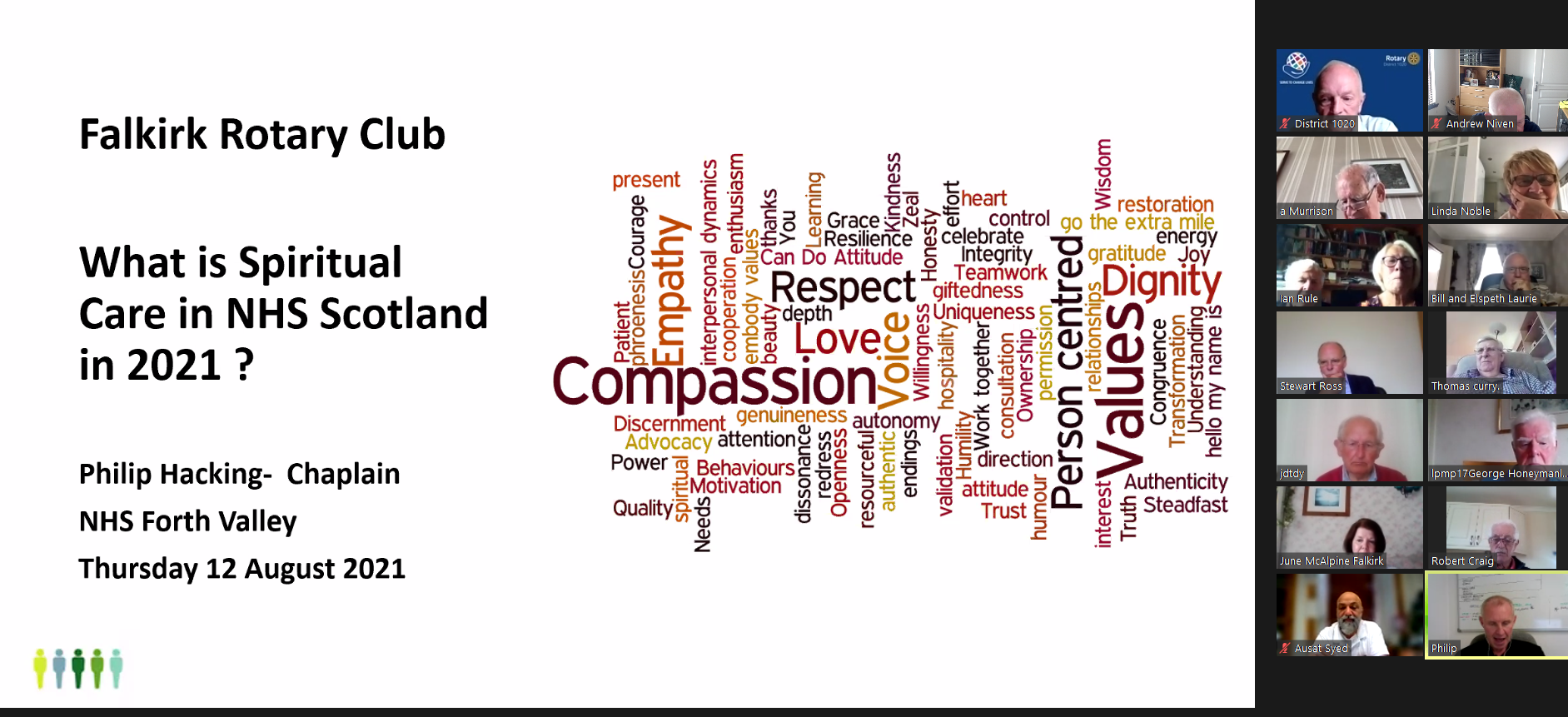 Because I wasn't there I haven't put anything on the "Club Meeting" page. But one of my neighbours, a fermer!, posted this on Facebook and I thought it was hilarious.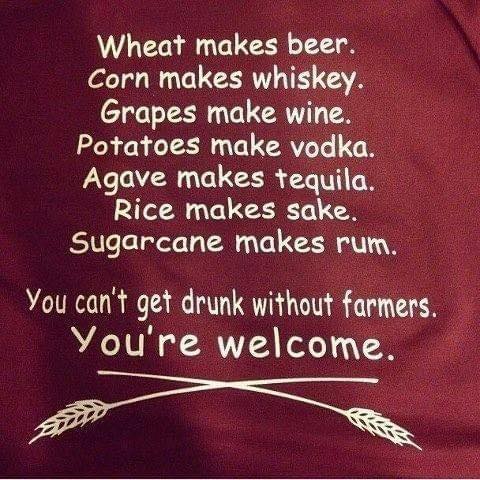 And he missed out Barley makes Whisky!
John's father had three sons Larry, Curly and ???
On this day: -
1930 - Invention of stainless steel by Harry Brearley of Sheffield.
1941 - The world's first plastic car is unveiled to the public by Ford. It was composed of a steel tubular frame with plastic panels attached and ran on hemp fuel. The engineer who created it claimed the plastic panels were made from soybean fiber in a phenolic resin, although others say it was likely a combination of soy, hemp, wheat, and flax. The exact formula has been lost. One of the reasons why Henry Ford was interested in developing this vehicle was the shortage of steel due to World War II. He also felt the car was safer than steel cars and because it was 25% lighter, it was more fuel efficient.
1942 - The "Manhattan Project" commences, under the direction of US General Leslie Groves, its aim - to deliver an atomic bomb.
1961 - Construction of the Berlin Wall begins in East Germany.
And if you said "Mo!" to the question above you're wrong! John's father's third son was John!

====================================================================
11th August
I'm still scouring the bookshelves for stuff to write here. The latest discovery is a book of my Dad's! I have known it since I was but a boy and have never actually read the title until now!
Published in 1937 "The Pocket Book of First Aid in Accidents & Chemical Warfare" by E.M. Cowell D.S.O, F.R.C.S., Eng. Colonel A.M.S.T. sold for one shilling! Here is the Author's preface: -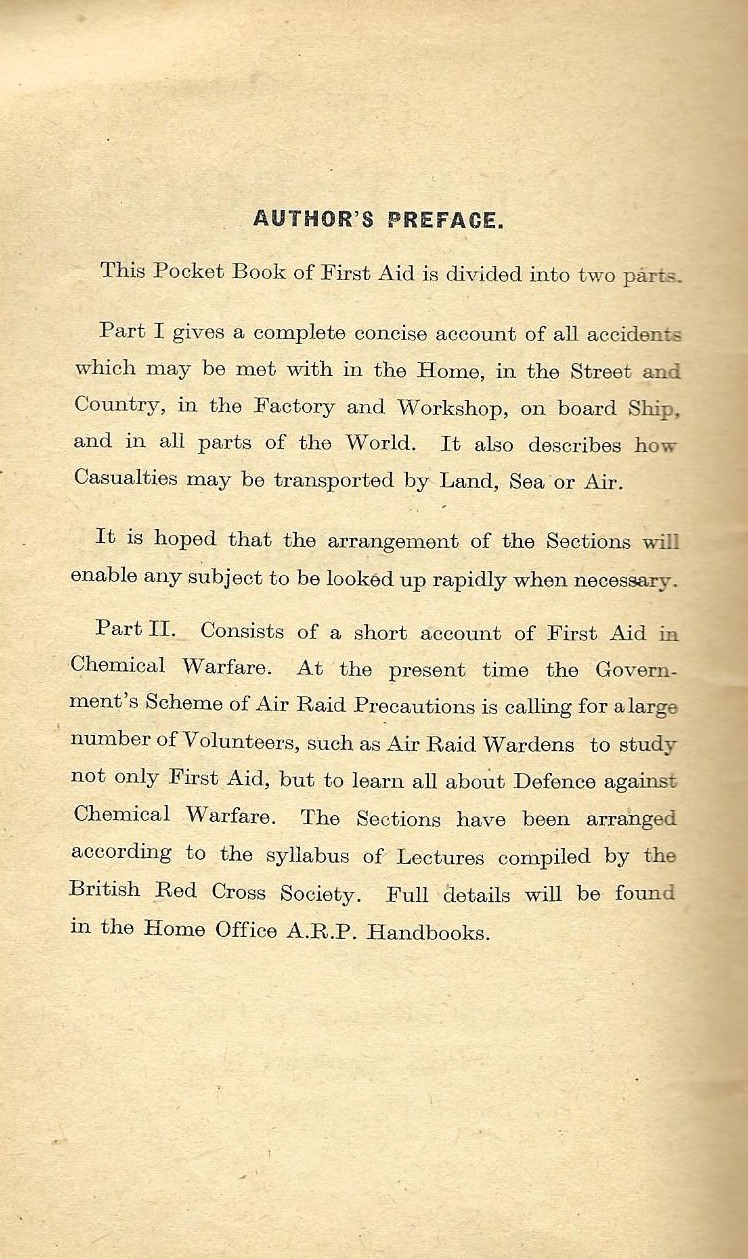 This self proclaimed "A Complete Concise Account of all accidents...in all parts of the World" is about A5 in size and something like 3mm thick! It is as it says - "The pocket Book".
It was right alongside "Scottish Place Names" by George Mackay which lists Prestonpans as "Priests living by the saltpans" and Camelon as "Crooked Pool" I was amused to see that it also confirmed my recollection that Cumbernauld derives from "The confluence of the waters". I always was led to believe that this was as a result of the fact that there are two burns in Cumbernauld, at one point only metres apart. One, the Red Burn, Flows east into the Bonny Water, then the Carron and then the Forth while the other flows in the opposite direction westwards ending up in the Clyde. The book however refers to a burn in the old village that "joins another nearby". That's not nearly as interesting.
Lymph - To walk with a lisp!
On this day: -
1909 - The first recorded use of the new emergency wireless signal SOS.
1965 - Six days of rioting begin in Los Angeles after the arrest of Marquette Frye. 34 people were killed with $40,000,000 in damage.
21-year-old African-American Marquette Frye was pulled over for reckless driving. After administering a field sobriety test, the officer placed Frye under arrest and radioed for his vehicle to be impounded. Frye's brother, Ronald, a passenger in the vehicle, walked to their nearby house, and brought their mother, Rena Price, back to the scene of the arrest. A scuffle ensued in which Price was shoved. She then attacked a police officer. Rumors began to spread that the police had roughed up Frye and kicked a pregnant woman. Angry mobs started yelling and throwing objects at the police. The crowd continued to grow after the arrest of Frye, his brother, and his mother, and continued to grow through the night and next day. When the rioting erupted, 2,300 National Guardsman and 16,000 law enforcement personnel were called in. The streets of Watts turned into a war zone. It is estimated that between 31,000 and 35,000 adults participated in the riots. Over the six days of rioting, there were 34 deaths, 1,032 injuries, 3,438 arrests, and over $40 million in property damage.
1968 - Fifteen Guinea Special - last main-line steam passenger train service in Britain. Selection of British Rail steam locomotives make a return 120-mile journey Liverpool to Carlisle, before having their fires dropped for the last time.
1984 - During a radio voice test, US President Ronald Reagan jokes that he "signed legislation that would outlaw Russia forever. We begin bombing in 5 minutes."
=================================================================
10th August
While looking through the bookshelves I came across a few books that I'd forgotten about. One of them is "A Dustbin of Milligan". Spike Milligan I suppose is an acquired taste but his humour always made me laugh.
The way his mind worked was not always evident when spoken out loud but it makes perfect sense when written down. Phrases like "What's that on the road ahead?" can be more easily understood in the context of his humour when written like "What's that on the road? a head!"
Or - "How do I get out of this room?" "Turn the knob on your side!" "I don't have a knob on my side!"
One of his stories centred on a man who had phoned the Police. When they arrived he said "Thank Heaven you have arrived!" to which the Policeman responded by raising his eyes heavenward and saying "Thank you Heaven!"
He advanced on the bearded detective and thrust the Ransome note under his nose! "Why have you thrust a ransome note under your nose?" enquired the detective.
I recall a TV skit that he did where he went to cross the road but spied, in the distance, a double decker bus! He instantly returned to the footpath, dropped his trousers and pants and put on a clean pair of underpants before walking out in front of the bus as it arrived.
There are holes in the sky
where the rain comes in.
The holes are small!
That's why rain is thin!
His gravestone is figured in Irish Gaelic which translated says "I told you I was ill!" KInd of like Marcel Duchamp "D'ailleurs, c'est toujours les autres qui meurent"
After all it's always the others who die.
On this day: -
30AD - There are two widely held beliefs about Claopatra, the legendary Queen of Egypt, who is said to have died on this day. First, that she was beautiful; and second, that she met her death by clutching a poisonous snake to her bosom.To Egyptians, the asp was a symbol of divine royalty and Cleopatra believed that she would become immortal if she died by allowing one to bite her. However, a number of historians have cast doubt on this account of the Queen's death, believing that she used a poisonous ointment or a vial of poison to commit suicide. As Plutarch admits: "The truth of the matter no one knows."
1793 - Louvre Palace officially opens in Paris as La Musee Central des Arts.
1842 - Britain passed the Mines Act - forbidding women and children from working underground.

Now that's just sexist and ageist!

1966 - Convicted murderer James French is executed by electric chair for murdering his cell mate. When discussing his pending execution with a reporter, he asked "How's this for a headline? 'French Fries.'"
French had killed a motorist who had picked him up while hitchhiking in 1958. Even though he requested the death penalty at his trial, he was given only a life sentence. In 1961, French treated his cellmate to a steak sandwich from the prison canteen and then allowed him to go breakfast. When he returned, French strangled him to death with a towel. French again requested the death penalty and this time it was granted.
==================================================================
9th August
I have been searching my bookshelves for something by way of inspiration for today's ramblings. I lifted a copy of "The Merry Muses of Caledonia" and scanned through the contents for something that would be acceptable to publish here! Nae Luck! For those of you who are unfamiliar with the publication it is a collection of poems and songs either written or collected by Robert Burns but not suitable for polite society. They were recited or sung in the company of his male confrere while attending the "Crochallan Fencibles". A fraternity of his drinking buddies.
The foreword goes like this and is the most presentable bit in the book: -
Say, Puritan, can it be wrong
To dress plain truth in witty song?
What honest nature says we should do;
What every lady does ... or would do!
Then I lifted an old book from 1944 entitled "Planning our New Homes". The book belonged to a colleague who died and I found it in an Antiques Shop some time later. It still has his unmistakable signature on the fly leaf. While skipping through that, a clipping from the "Illustrated Carpenter and Builder" 1951 fell out and landed at my feet: -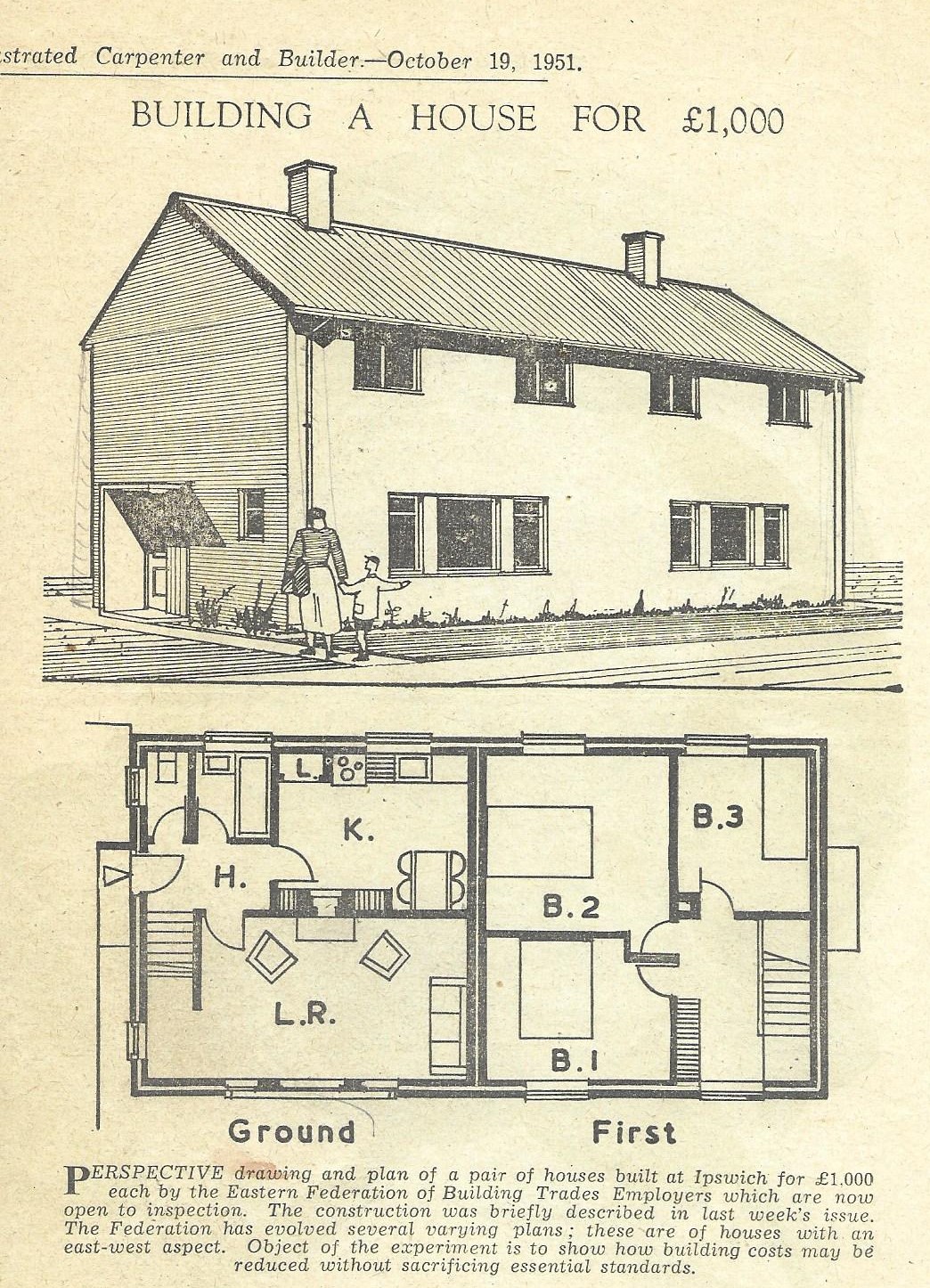 On this day: -
1483 - Opening of the Sistine Chapel in the Vatican.
1969 -

Five people, including actress Sharon Tate, were found murdered in the wealthy Bel Air suburb of the city Los Angeles, California, Cult leader Charles Manson and several of his followers were later convicted of the killings.

1974 - U.S. President Richard Nixon resigns. Four days earlier, he had admitted his complicity in the Watergate cover-up. Vice President Gerald Ford is then appointed President, with Ford giving Nixon a full pardon the following month. This is the first and only time in U.S. history that someone became President without having been elected either President or Vice President. Ford had become Vice President after Spiro T Agnew resigned.
1975 - Inflation in the UK hits 24%
2012 - Seventeen year old Austin Weirschke won the US National Texting Competition for the second time and held onto the title of fastest texter. He won $50,000 in prize money and stated that he would put the money towards college.
============================================================
8th August
It's been so long since the start of this pandemic that I have actually forgotten what normal is! My phone keeps reminding me about what I was doing 4 years ago by displaying photographs that I had taken at the time.
Four years ago on the 8th of August Diane and I decided that we would visit Rothesay. We'd never been there before. We only stayed over one night in a pretty dingy hotel on the front but the main point of the visit was Mount Stuart.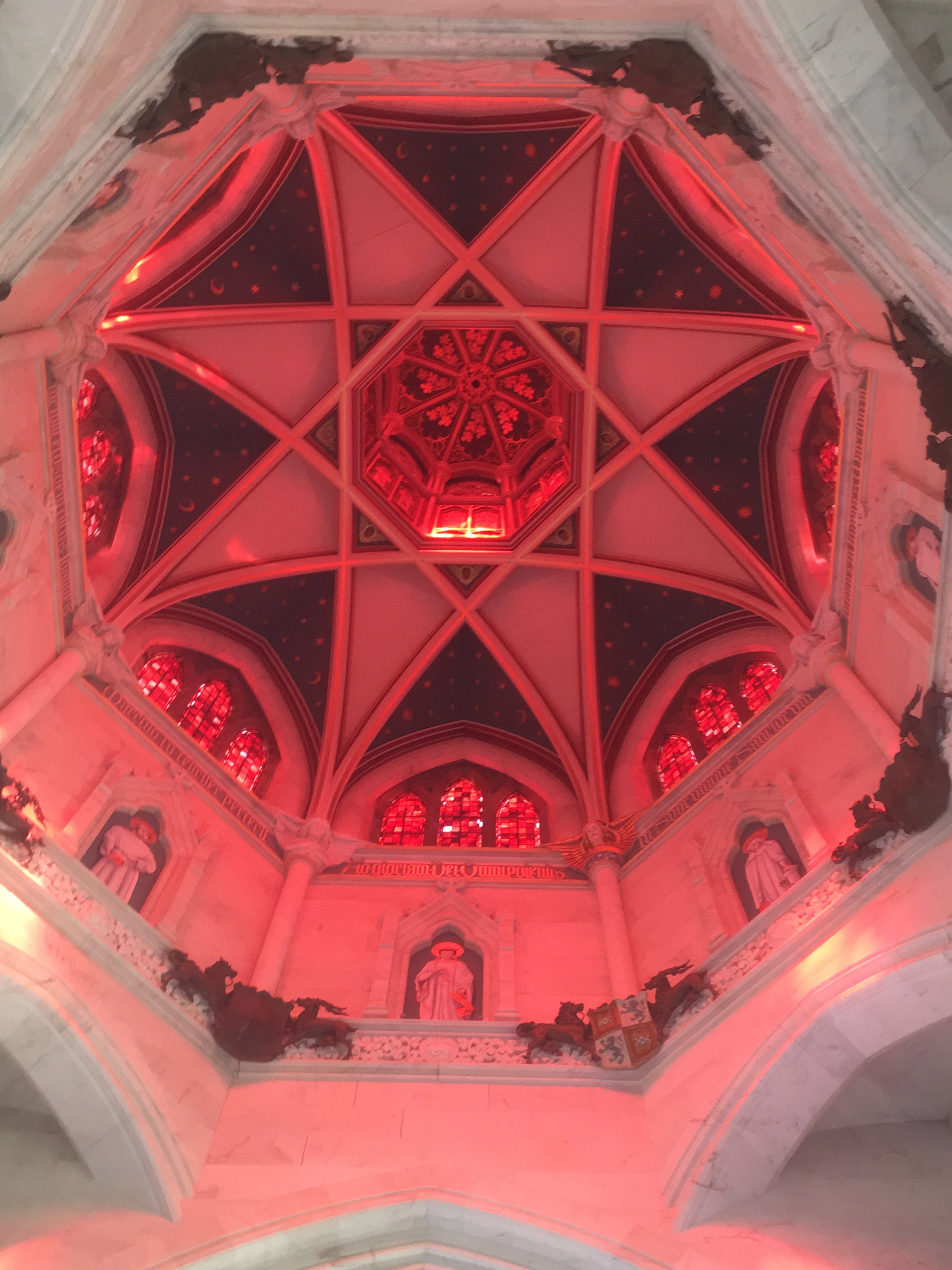 These photographs, which my phone pinged at me, are of the chapel which is a tiny part of the house.
The Web site says: -
"Mount Stuart's architectural journey is a story in itself. The original house was built in 1719, but was severely damaged by fire in 1877. Most of the contents survived, along with the wings of the building. These were incorporated into the house you see today, which was built in the late 19th century. The Georgian architecture of the wings presents a striking contrast to the otherwise Victorian design, providing a completely unique architectural blend. Taking a moment to absorb the sheer beauty of the building is an unforgettable part of the Mount Stuart experience. And that's before you've stepped through the door.
Inside, design inspired by astrology, art and mythology dazzles. See a map of the stars on the ceiling of the Marble Hall. Take the spiral staircase to what is believed to be the world's first domestic heated swimming pool. This house is filled with innovations – from an early telephone system to the Victorian passenger lift"
The house was built by the 2nd Earl of Bute in 1719 and after a fire in the late 19th Century was renovated by the third Marquess of Bute who made his millions selling Welsh coal to the world. Most of the interior is constructed with imported Italian marble. The house and gardens are definitely worth a visit. But most importantly I had forgotten that that was the sort of thing that we did! We need to get back into form again.
On this day: -
===============================================================
7th August
Michael is back off holiday!
here
is this week's "Screen Memories" and
here
are the answers if you need them.
I have a plague of moles in the garden. They never seem to exist on the brown bits! It's always in the middle of the grass! There's one at the back, one at the side and one out front. I am assuming that there are three different moles because they are quite far apart. I read somewhere that there will only be one mole in a run at any one time but I'm sure that can't be correct! There's got to be a family there. Otherwise how do they proliferate? Now there's an aliteration for you - a Proliferating plague of pests. Or maybe a monumental mountain of moles!
On this day: -
1428 - Valais witch trial proceedings begin in Valais Canton, Switzerland. The first organized witch trials.
1711 - The first race meeting was held at Ascot, established by Queen Anne, thus giving them the status of 'Royal Ascot'.
1876 - Geertruida Zelle was born on this day. Abandoned by her parents, grew up to marry an abusive husband, divorced him and resorted to sell her body to maintain her children. She slept with both sides of the warring factions in the first world war and because of that she was labelled and executed as a spy. you'll probably know her better as Mata Hari.
1947 - Kon-Tiki, a balsa wood raft captained by Norwegian anthropologist Thor Heyerdahl, completes a 4,300-mile, 101-day journey from Peru to Raroia in the Tuamotu Archipelago, near Tahiti. Heyerdahl wanted to prove his theory that prehistoric South Americans could have colonized the Polynesian islands by drifting on ocean currents.
============================================================
6th August #2
I was too quick posting the previous blog! Look what I discovered when I went to our facebook page: -
Gordon McInally (S. Queensferry) who was DG during my first term as President, is to be President of Rotary Internaional 2023/ 2024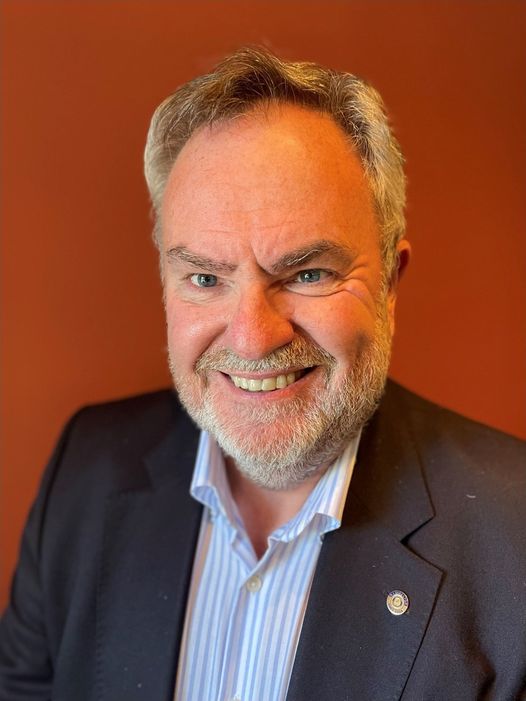 6th August
Having posted the content of our weekly meeting on another page there's not much left to say here. I visited both Gillies and Tom yesterday. They are both, for very different reasons, keen to encourage visitors. It was Tom's contension that this daily blether lifted his spirits that has encouraged me to fill something in here today.
But, as I said to Tom, I always sit for ages racking my brain (such as it is) for content. So for want of something better I decided to investigate whether I had properly used the word "racking" in the last sentence. According to the Merriam Webster Dictionary
("since 1828")
: -
"While the nouns rack and wrack have very different origins, the former from Middle Dutch rekken meaning "to stretch" and the latter from the Middle English word for shipwreck wrak, the verb forms are often conflated, especially in the phrase "to rack/wrack one's brain." Merriam-Webster supports that either usage is fine, but if you want to be extra careful, keep wrack for boat- and storm-related imagery."

So you might say that I was perfectly cowrect!
On this day: -
1661 - The Treaty of The Hague is signed whereby the Dutch Republic sells New Holland (Brazil) for 63 tonnes of gold to Portugal.
1809 - Alfred Tennyson, English poet was born. He is the second most frequently quoted writer in The Oxford Dictionary of Quotations, (after Shakespeare). Tennyson wrote a number of phrases that have become commonplaces of the English language, including "Better to have loved and lost than never to have loved at all", and "Theirs not to reason why, theirs but to do and die".
1890 - At Auburn Prison in New York, murderer William Kemmler becomes the 1st person to be executed by electric chair.
1945 - Atomic bomb dropped on the Japanese city of Hiroshima by the US B-29 Superfortress "Enola Gay"
1964 - Prometheus, the world's oldest tree aged at least 4,862 years old, is accidentally cut down in Nevada, USA.
===========================================================
5th August
Diane and I visited Caulders Nursery at Old Inns in Cumbernauld the other day. The one that used to be Dobbies. Diane was keen to buy Anemones. In the end she didn't buy any of these but came home with an Agapanthus! The Lily of the Nile! None of that is of any note except that it does fill up some space. The point to this story is that while we were there I saw something else.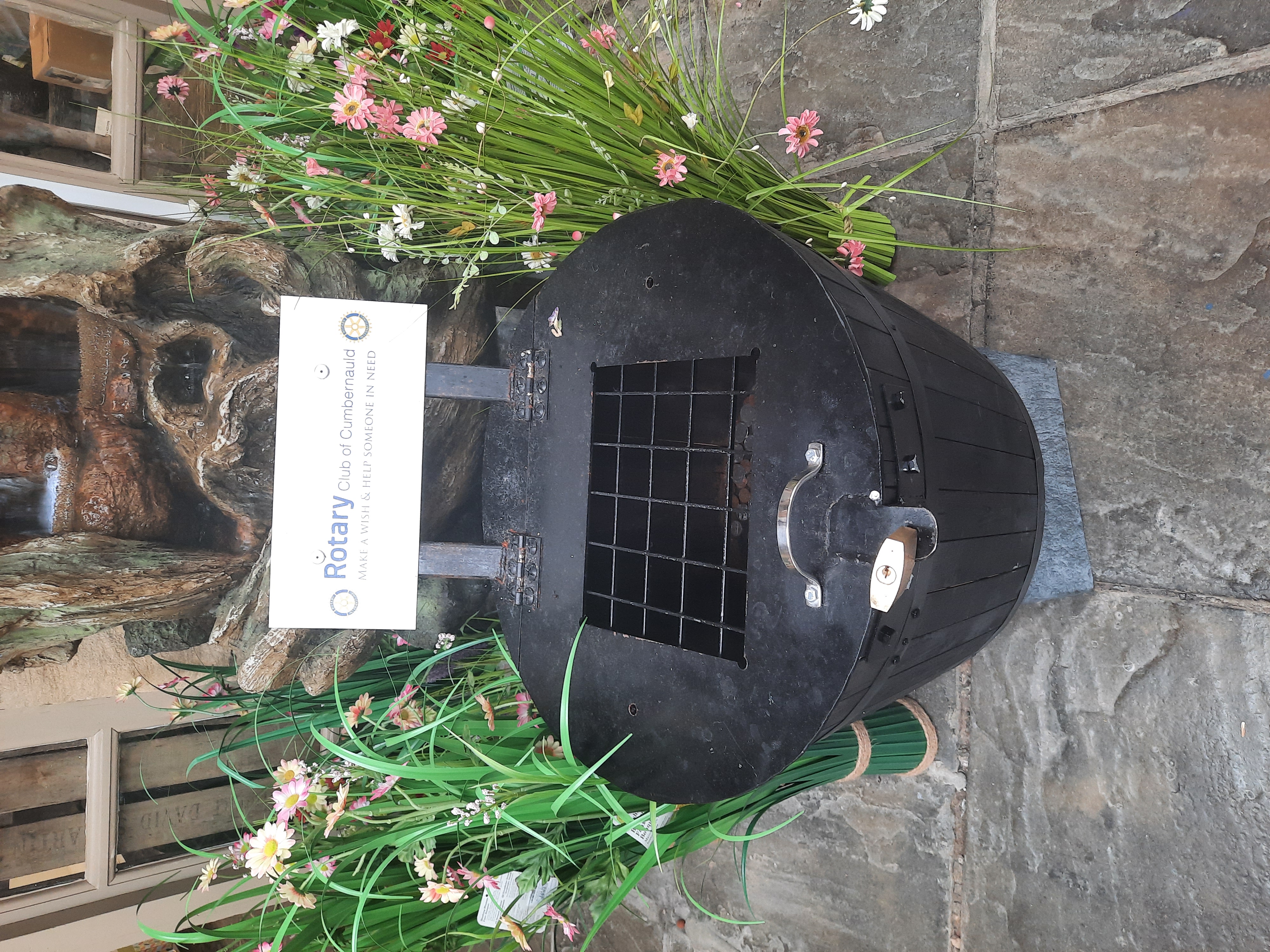 I thought that we might be able to do the same sort of thing somewhere. Then it dawned on me that Torwood Garden Centre is in Larbert's area and Klondyke is in Grangemouth. Barring B&Q or the Range there is no similar facility in our area. Maybe we could do it in the Howgate Centre. Any ideas?
On this day: -
=============================================================
4th August
This is Membership month! We are all encouraged to bring someone along!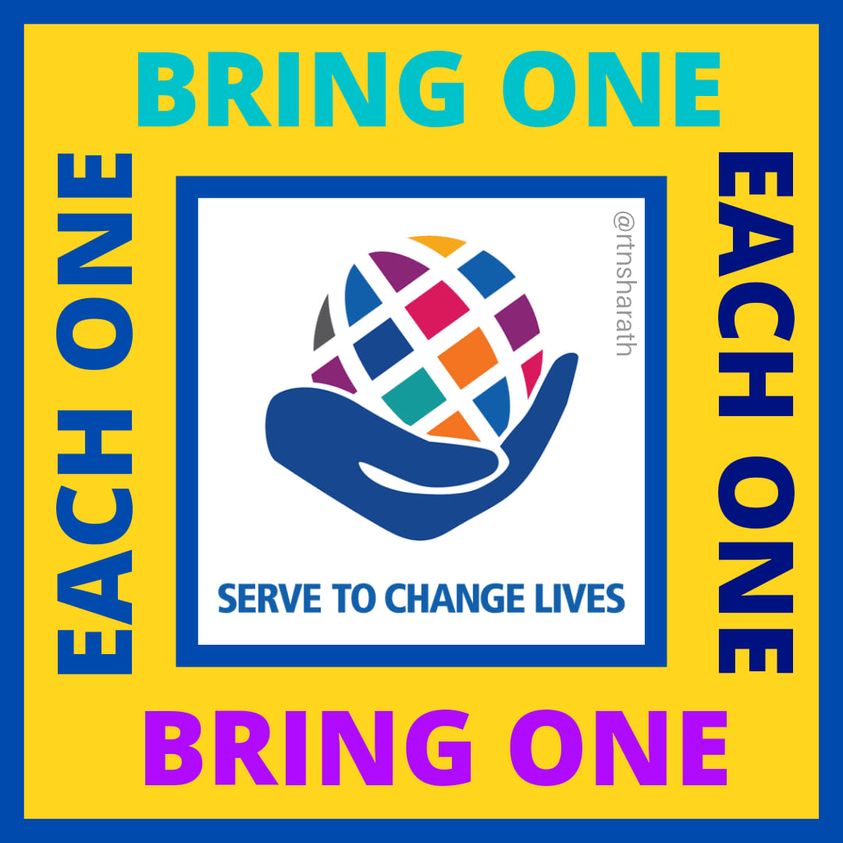 President Narek and his family are in Portsmouth at the Docks Museum.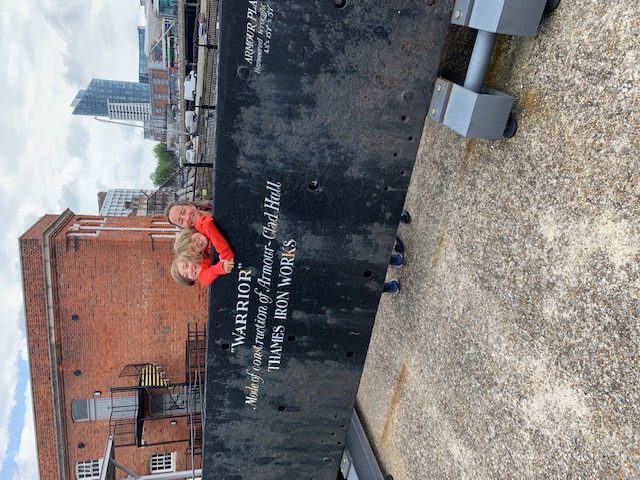 A chip off of the old block I would say: -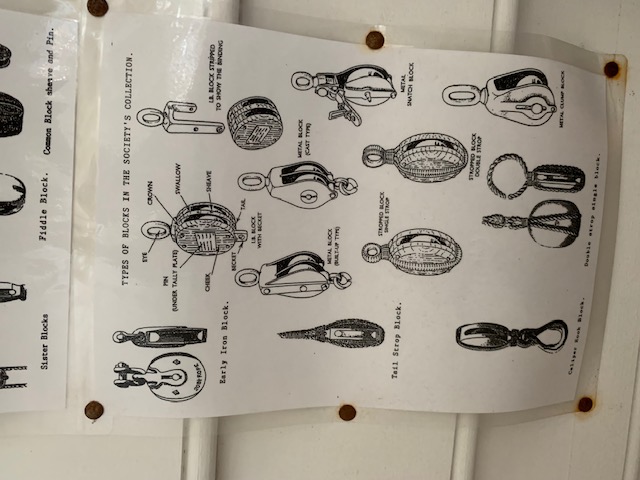 But it's just the same old drill!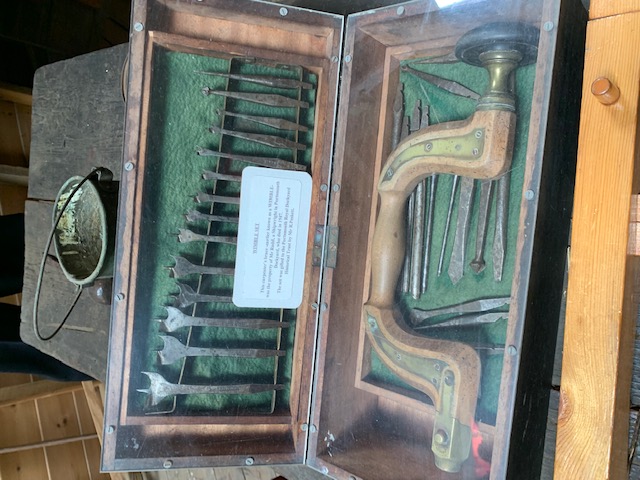 Nonetheless I think that they have nailed it!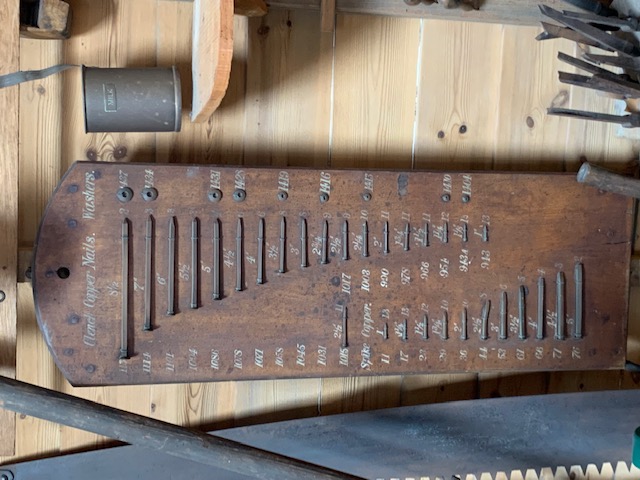 Enough Enough I hear you say!
On this day: -
1693 - Date traditionally ascribed to Dom Pérignon's invention of Champagne.
1704 - Gibraltar was captured for the British by Admiral Sir George Rooke.
1989 - On this day the first Bond movie to be released that did not bear the name of one of the Ian Fleming novels! It was the sixteenth Bond movie to be produced but which one was it?
2012 - The annual stinging nettle-eating competition, started in 1986, was held at The Bottle Inn pub at Marshwood near Bridport in Dorset. The current record at the event for the most amount of nettles eaten in one hour is 76ft (23m).
==================================================================
3rd August
Two or three years ago we were in Los Angeles visiting my nephew and his wife. Myles and Roxanne stay in the Northern suburbs of the city but have a holiday home at Big Bear to the East high in the mountains. Big Bear is a Ski Resort and they can quite easily be sunning themselves on Malibu beach in the morning and skiing in the afternoon. Anyhow we went to Big Bear and Roxanne was at pains to show me her latest kitchen gadget which consisted of a Sodastream! "Acchh!" says I, "We had wan o' they things in the 1970s! they are auld hat them!". She was suitably and appropriately cowed!
For the uninitiated a "Sodastream" is a countertop contraption that aeriates water.
Imagine my surprise when, a couple of years later, we were visiting Hopetoun House and I had the tables turned on me when we were introduced to the very first "Sodastream" circa latter half of the 19th century!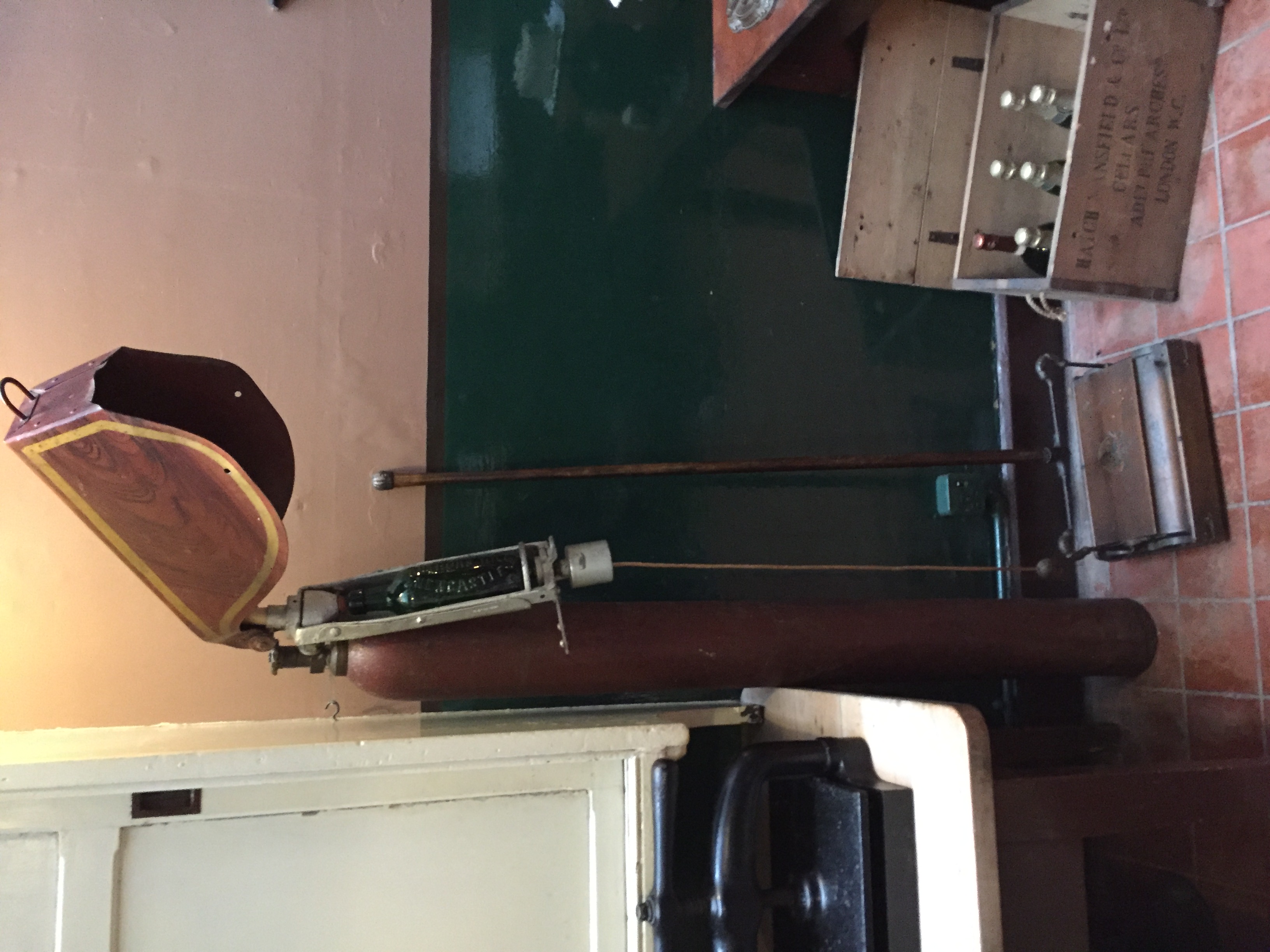 Our District esteemed District Secretary Ian Starkey has posted this on Facebook! I like it!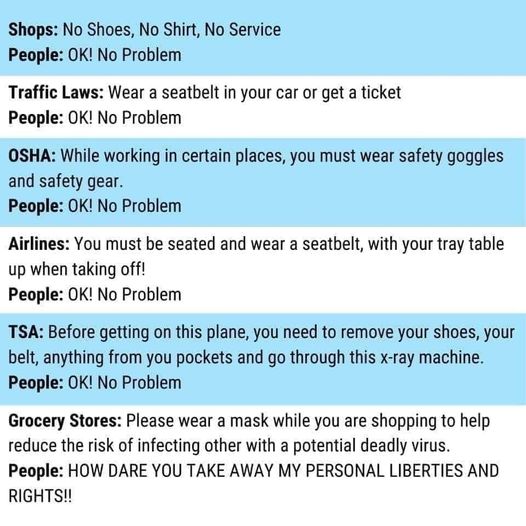 On this day: -
1936 - The black American track star Jesse Owens upsets Adolf Hitler's theory of Aryan superiority by winning a gold medal in the 1936 Summer Olympics held in NAZI Germany and known as "Hitler's Games". He won in the 100-metre dash with a time of 10.3 seconds and went on to win a total of four gold medals.
Shortly before the Olympics, the founder of what would become the Adidas shoe company persuaded Owens to wear a pair of his company's shoes. This was the first sponsorship for a male African American athlete.
1958 - USS Nautilus passes underneath the icecap at the North Pole.

===============================================================
2nd August #2
I have only just had an email from Sophie. Sadly too late to include in Rotary Calling but with some monumental news to confirm Linda's intimation on Thursday. Charlotte Rankine was born on Tuesday the 27th of July weighing 7lbs 9oz. Sophie says that this makes Robert and Mhairi Great Grandparents! I believe that they were always great grandparents but that's different. This is historic! The first child ever to be born to a serving Falkirk Rotarian. Here are the photies she sent: -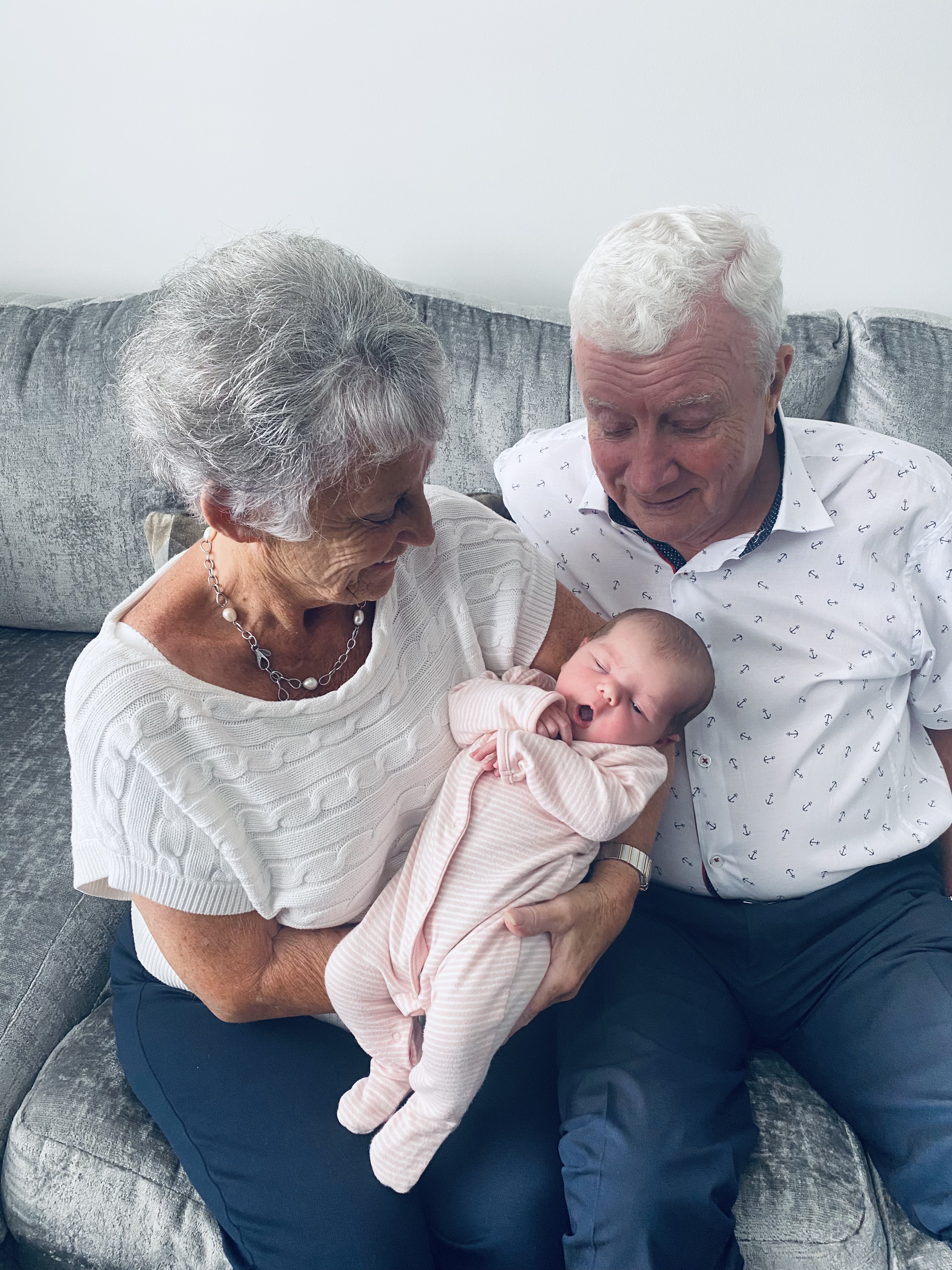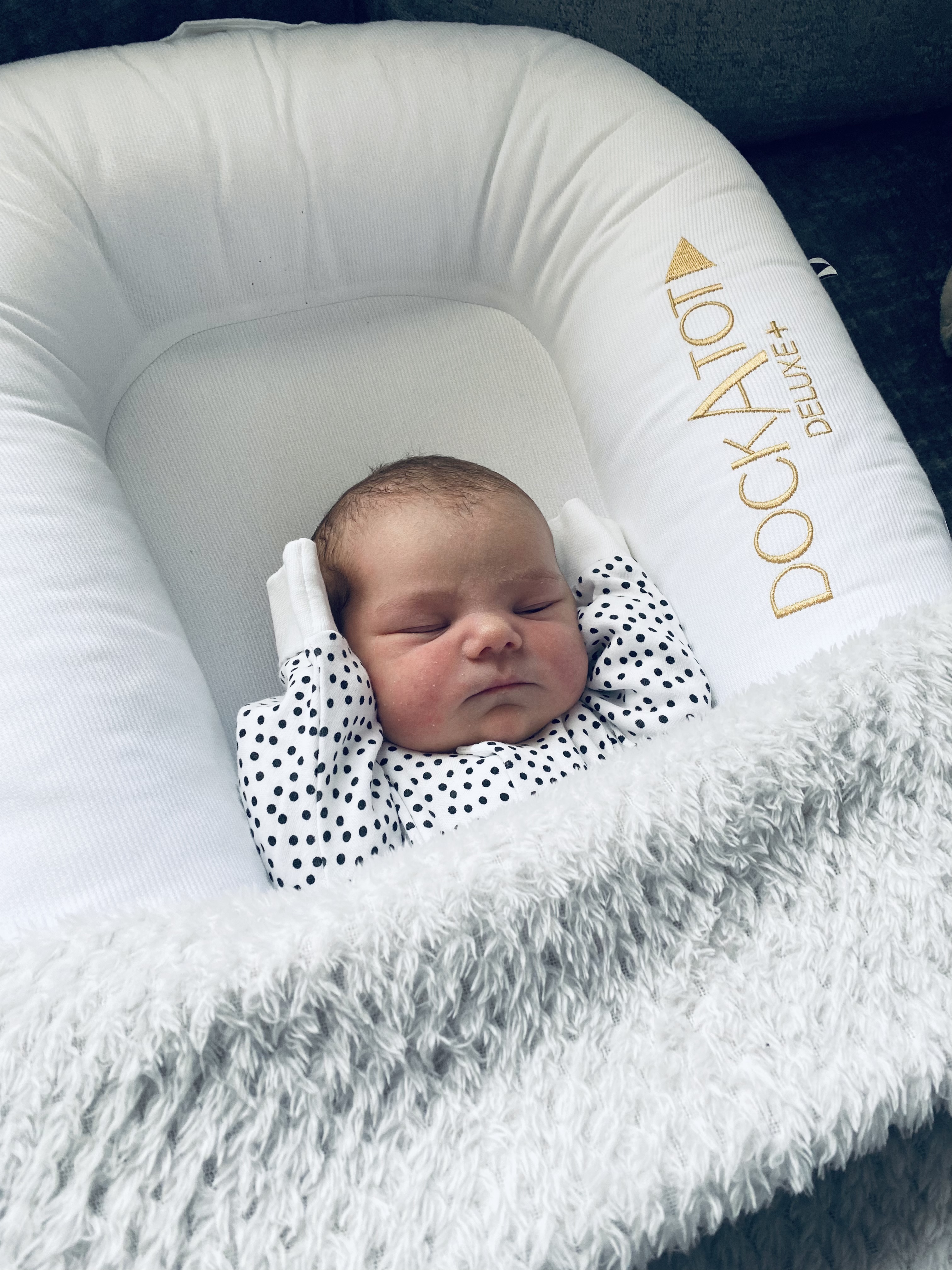 2nd August
I was looking for something to fill the last wee corner of Rotary Calling and came across an article about Beechams Pills. I put the wee bit in and then realised that there was much more to it. So apologies for repeating it but here goes: -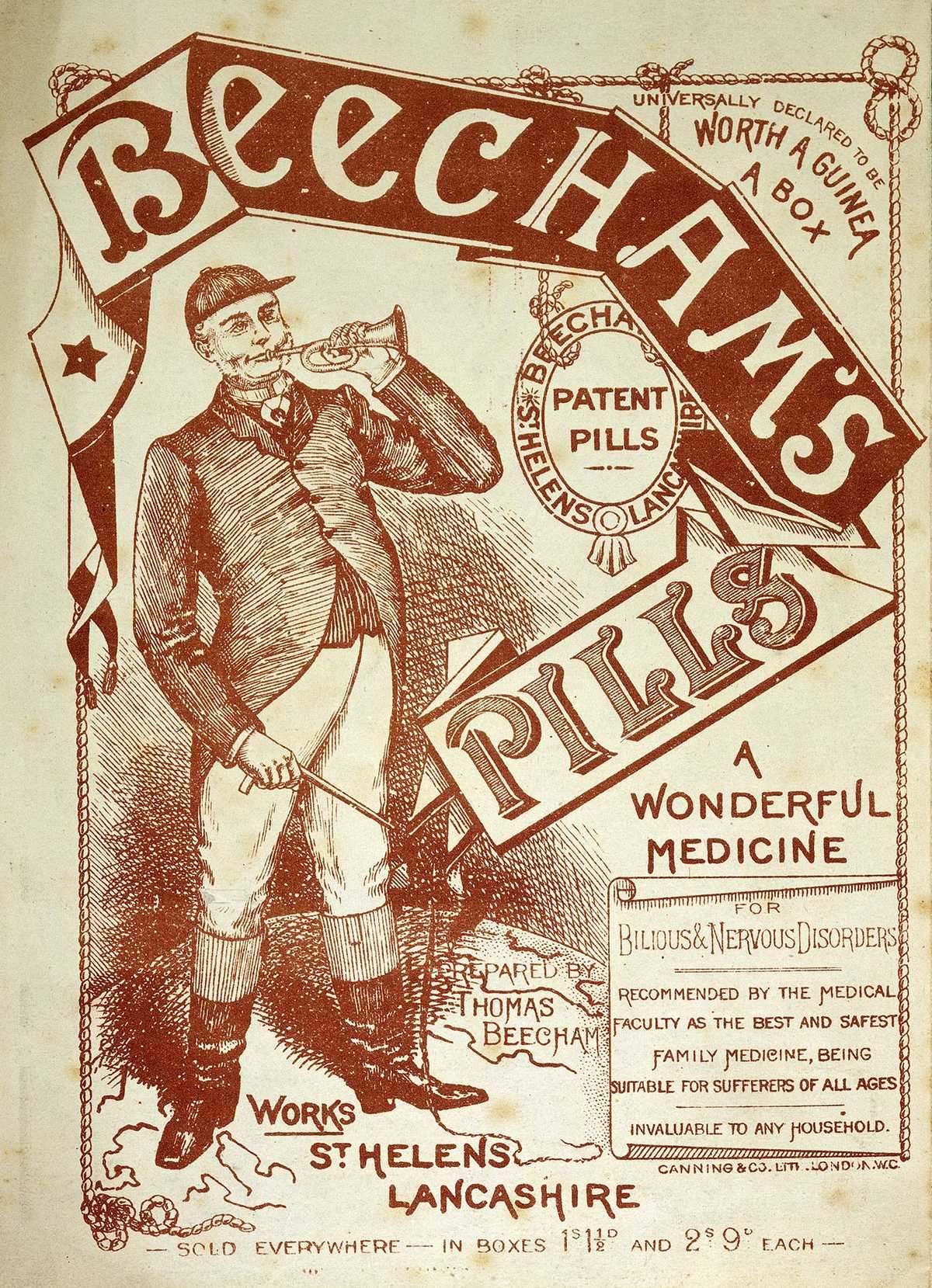 The world's first advertising slogan – "Beecham's Pills: Worth a Guinea a Box" – appeared in early August 1859. A fantastic amount for a pick-me-up box of pills. They actually sold for a fraction of that, of course, but the notion that they could be worth a guinea was highly contentious.
In fact, in 1912, the British Medical Association investigated the pills and concluded that they were made of 40 per cent aloes, 45 per cent ginger and 15 per cent powdered soap!
It all started in 1840 when Thomas Beecham set out with a bag of remedies to make his fortune in the cities of northern England. He had worked on a farm and developed an interest in herbalism while tending animals.

Pride of place amongst his stock of "cures" were the pills that he had named after himself and were presented at first as a simple laxative. But the medicine quickly gained a reputation for curing all sorts of ailments and disorders and the business thrived. In 1859 Beecham built a factory to cope with the demand and Beecham's Pills began to be exported across the world.

Thomas, a devotee of self-promotion and salesmanship, decided in 1894 to further boost the appeal of the pills by hiring the services of a Scottish poet named William McGonagall.

What ho! sickly people of high and low degree
I pray ye all be warned by me;
No matter what may be your bodily ills
The safest and quickest cure is Beecham's Pills.

They are admitted to be worth a guinea a box
For bilious and nervous disorders, also smallpox,
And dizziness and drowsiness, also cold chills,
And for such diseases nothing else can equal Beecham's Pills.

They have been proved by thousands that have tried them
So that the people cannot them condemn.
Be advised by me one and all
Is the advice of Poet McGonagall.
================================================================
30th July #2
I picked this up on facebook! any takers?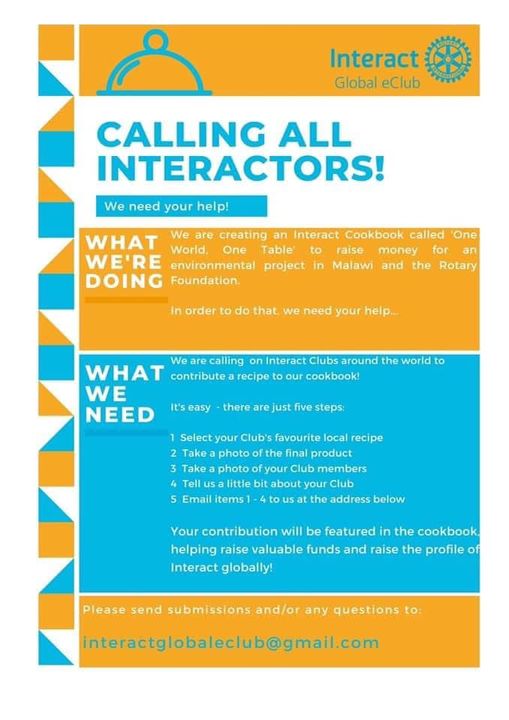 30th July
I began this much earlier. I had just begun, in fact, when Diane brought me through a cup of tea and two fresh pancakes with butter and blackcurrant jam. You have no idea how much mess can be created on a laptop keyboard when one drops such a pancake onto it and it lands face down. It has taken me ages to clean up!
Yesterday we visited Logan and Sheena for afternoon tea. It's the first opportunity we have had for a blether for ages. When we returned home this was on our doorstep: -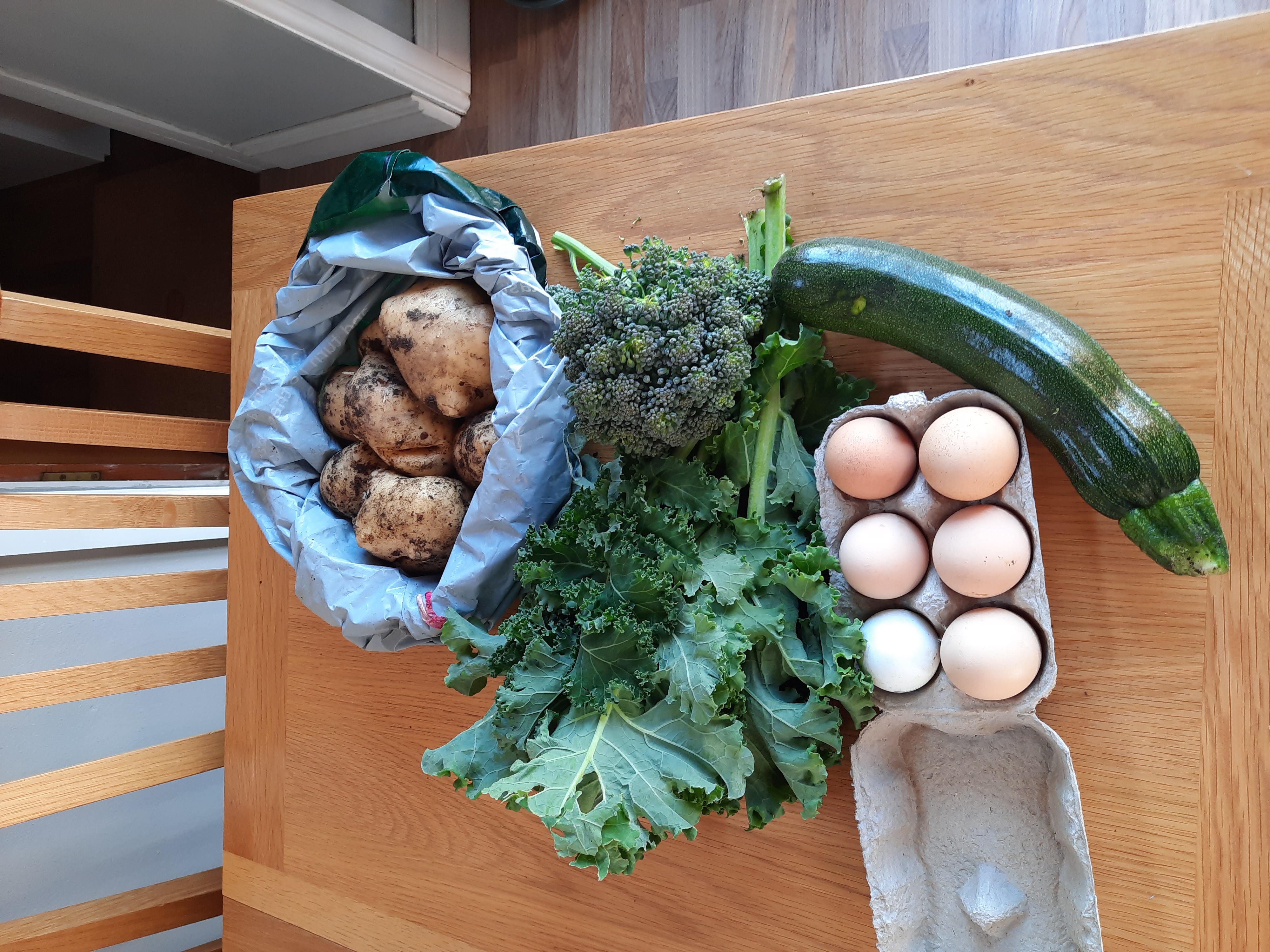 While we had been out I had gone shopping and had the makings of a mushroom Stroganoff but when we saw what Alison, our neighbour, had delivered we decided to have a Brocolli, courgette, kale and potato Frittata. It was delicious.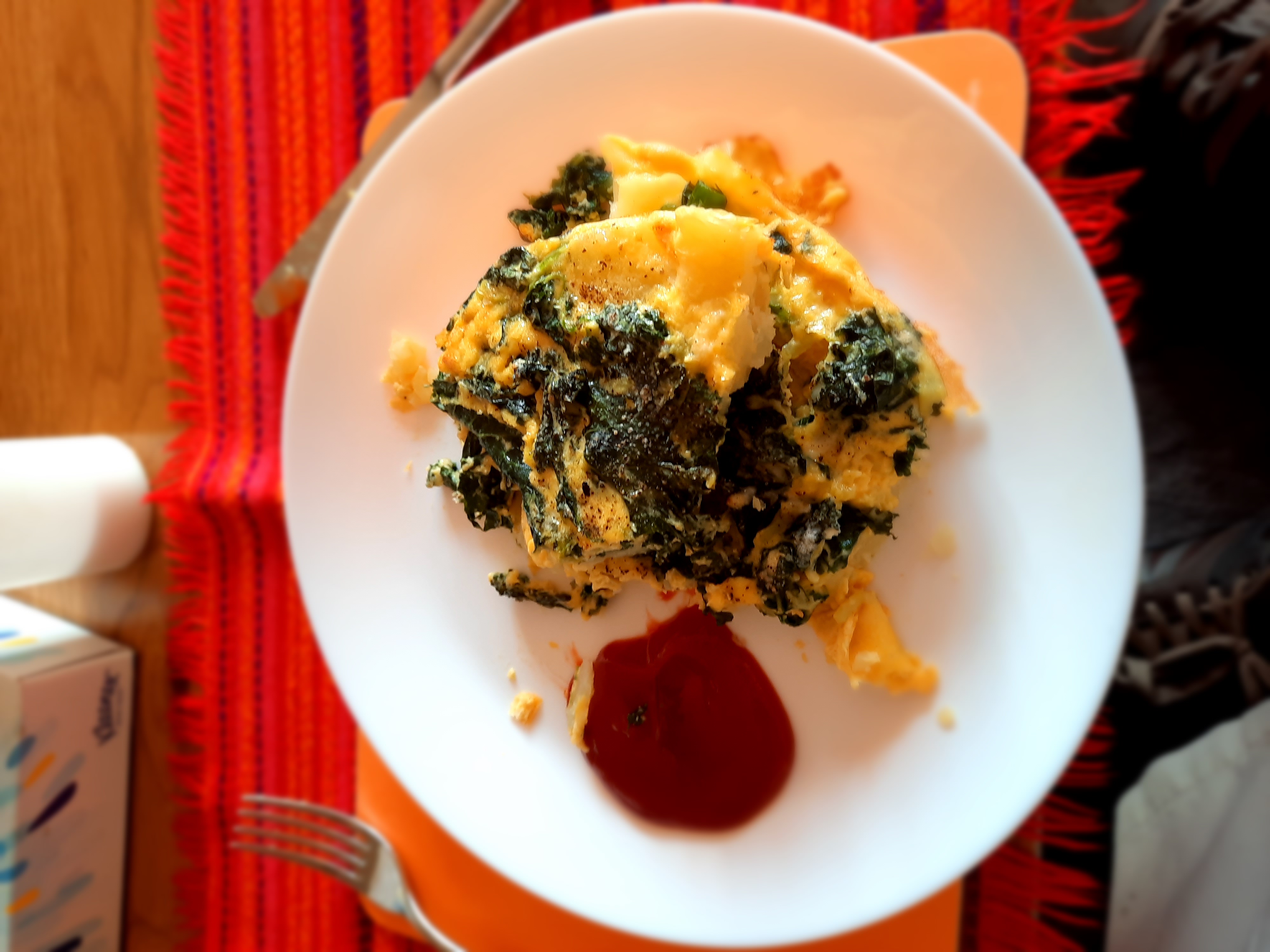 The only thing that we had to add was some cheese. Otherwise it was all there. That's the kind of neighbour to have.
On this day: -
===============================================================
29th July
Lots of stuff today, firstly though what happened to all of that rain and Thunder and Lightning that was forecast? My water butt was all but empty and the pond was beginning to show signs of evaporation so I had hooked up a hose to the waterbutt so that the pond would remain topped up from the overflow but nothing much has happened.
There were some Canada geese came by. I think that these have become resident. I am sure that I have shown them to you before but this is the first time that I have seen them from the Livingroom window. maybe they were looking for some water.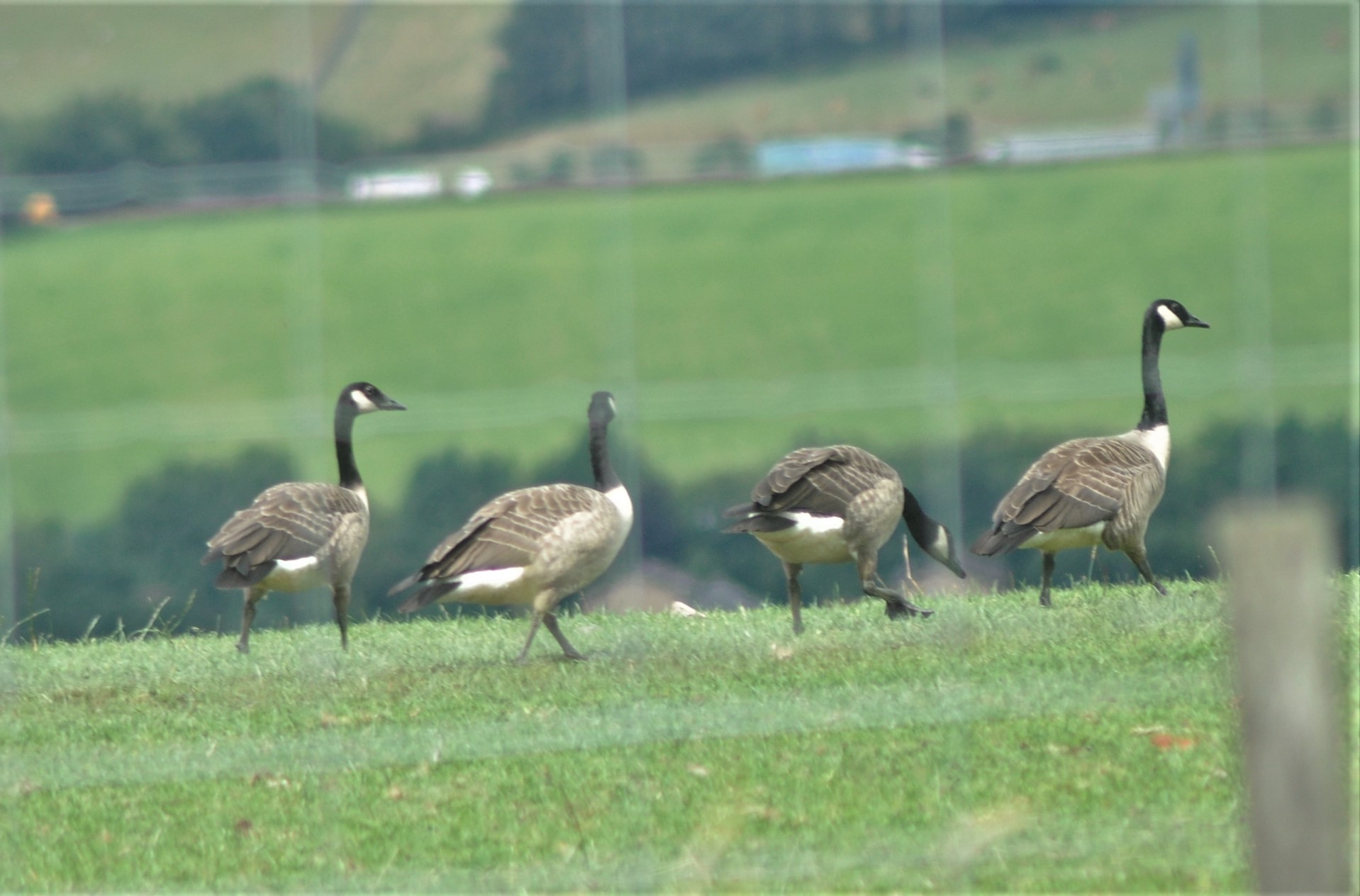 And then there were the ducks! Normally they would be waddling about in the mud. After years in Brisbane Glen in Largs I have come to call what they do while waddling in the mud as "guddling" but there is no mud! Which I think explains this. I only saw them at this for the very first time the other day and they were at it again this morning. They are walking through the long grass and seem to be feeding on the seeds of the tallest of it.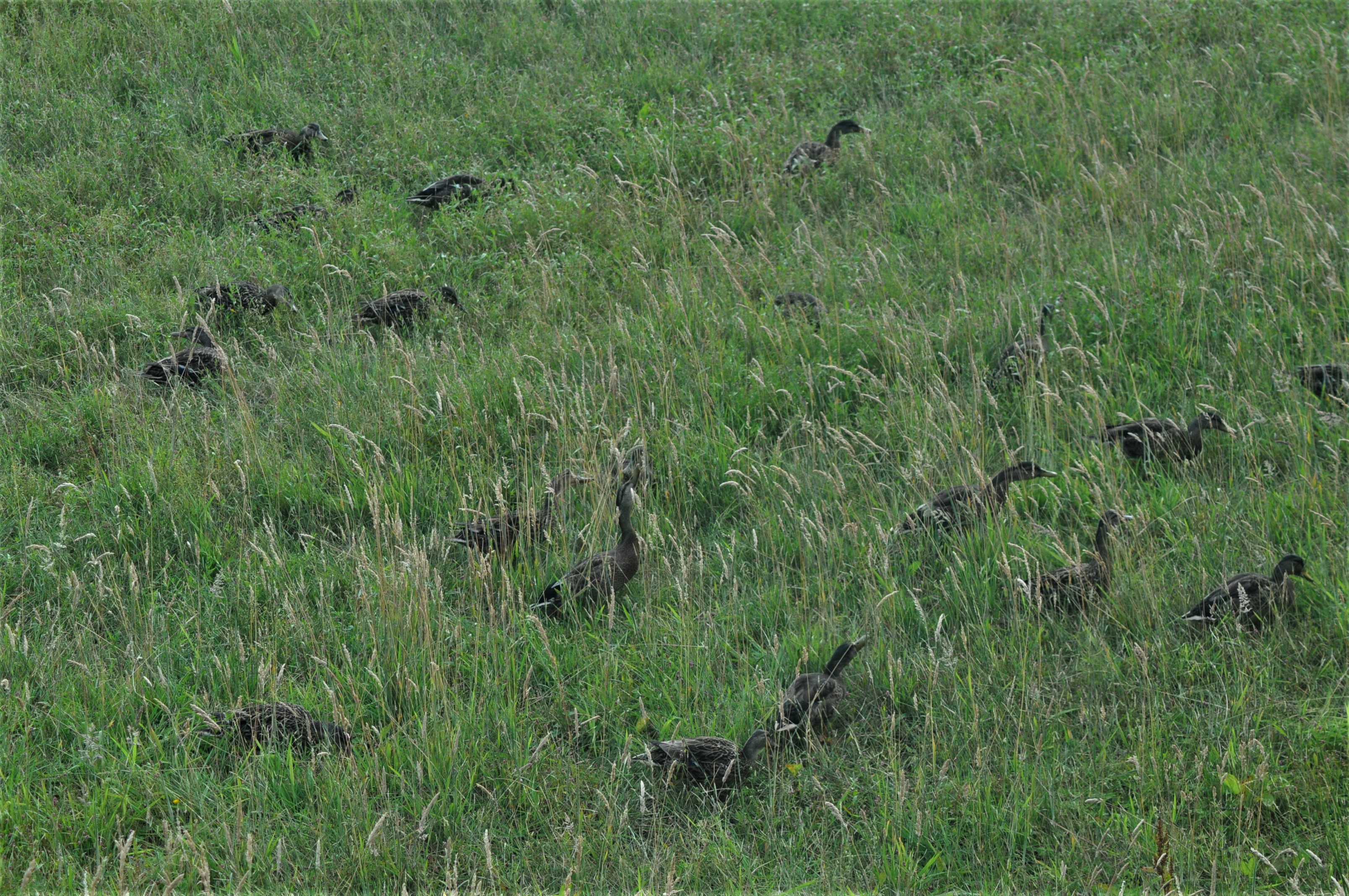 On Tuesday I talked about the Darien venture and how Scotland was prevented from trading with English colonies. Gordon sent me this in explanation- interesting!: -
The maritime act preventing Scottish ships from trading to English ports was the first attempt in Britain to establish Cabotage, which is the requirement for a nation to allow only its own vessels to carry goods between its own ports. It is now widespread.
When I was still working, GB cancelled Cabotage since the EU banned it. However many EU countries still had it because they had it in their regulations since before the start of the EU and had not got round to cancelling it yet. A case in point was a Dutch chemical tanker which went from Grangemouth to Newport and back for several years carrying Benzene and Benzene Concentrate. The Master explained to me that we were mad to cancel our Cabotage laws so quickly. Netherlands kept being told to do so by Brussels but kept making excuses that they didn't have space in their Parliament at present but would do so as soon as they could. So although he could trade on the British coastal trade, a British vessel could not trade on the Dutch coastal trade. There was another case where a British company sold all their ships to Dutch owners who then traded them on the British coast with far east crews carrying the same cargoes that the British owners had been carrying with British crews.
Incidentally, the distance from Grangemouth to Newport is almost the same whether you go by the Pentland Firth or the English Channel, so the ship sometimes went clockwise and sometimes anticlockwise, usually depending on using the tide effectively. He even used to go through the Corryvrechan if conditions were favourable.
On this day: -
1588 - The Battle of Gravelines - Spanish Armada damaged and scattered by the English fleet. Now who knew that's what the battle was called? Many of the Spanish ships had to "cut and run" to escape the English fire ships at Calais. Meaning to make a cowardly retreat, the phrase "cut and run" that we use today originates from the navy and in literal terms means to cut the anchor line and sail downwind, leaving the anchor behind.
1956 - In case you missed it, 65 years ago today Ecurie Ecosse shocked the motoring world by winning, at their first attempt, the Le Mans 24 hour race in their second hand Jaguar MWS 301, beating Maserati, Porche, Ferrari, Aston Martin et al. The car cost £3,633 in 1955, and in 1999 sold for £1.7 million.


Gordon.
==============================================================
28th July
I was reminded recently about trying to get my dad's telephone disconnected when he died. The customer-service rep told me that since the account was in my dad's name, he'd have to be the one to request termination of the account. The fact that he was dead didn't sway her. Then a solution hit me. "If I stop paying the bill, what will happen?" I said. Then she replied "Well, we would turn off the service but that would ruin his credit score!."
The things listed under, about the influence of JS Bach on many modern composers, reminded me of the fact that I have long harboured an annoyance at Eric Carmen and his 1975 single "All by myself". It has been covered by many artists since; artists like
Celine Dion, Shirley Bassey and, er, John Barrowman. It
is a great song but it has been totally unapologetically plagiarised from the second movement (
Adagio sostenuto
) of Sergei Rachmaninoff's (circa 1900-1901) Piano Concerto No 2 in C minor Opus 18.
I kind of knew that JSB was ringing bells but couldn't quite catch on then I realised that my business partner of 40 years was John (Jack) Stevenson Berwick.
On this day: -
1750 -Johann Sebastian Bach, the master of sublime Baroque music, died on this day. Celebrated for the choral and sacred music that he composed nearly 400 years ago, Bach has had a surprising impact on modern pop charts, influencing stars such as Paul McCartney and Lady Gaga. According to Paul McCartney, Bach's Bourrée in E minor lent its shape and harmony to the opening of "Blackbird", by The Beatles. And a piccolo trumpet plays lines from Bach's "Brandenburg Concerto No. 2" in the orchestration of the worldwide Number One hit, "Penny Lane".
Other Bach "borrowings" in Beatles' songs includes "All You Need Is Love", where his Invention No. 8 in F rings out during the final orchestral section.
His four-part chorale O Sacred Head Now Wounded inspired Paul Simon when he was writing Bridge Over Troubled Water, and a reworking of Bach's "Jesu, Joy of Man's Desiring" opens Lady Lynda by the Beach Boys.
1945 - "Elevator girl" Betty Lou Oliver survives falling 75 stories after fog causes a US bomber plane to crash into the Empire State Building, breaking the cables supporting the elevator she was operating. This remains a world record for the longest survived elevator fall
1976 - Tangshan Earthquake, 8.2 in magnitude kills over 240,000 Northern China in the largest loss of life from an earthquake in the 20th century.
2005 - The Provisional Irish Republican Army call an end to their thirty year long armed campaign in Northern Ireland.
2021 - Team GB take another gold in the pool winning the mens 4x200m freestyle relay in a fraction of a second short of a new world record.

=======================================================================
27th July
This morning I watched for the first time a Rugby sevens match between New Zealand and Canada. WOW! What a frantic sport. I hadn't realised just how manic the game would be but great entertainment just the same.
And another Gold in the Pool. Thomas Dean and Duncan Scot between them take Gold and Silver in the 200m freestyle and not an Australian nor an American in contention.
On this Day: -
==================================================================
26th July
We've been watching the Olympics! Isn't it amazing what you can learn! I mean if I saw a guy on his own with two oars in a rowing boat in the middle of a loch I would have said that he was rowing! Now that seems to be sensible doesn't it? But I'd be wrong! Apparently when you are rowing you only have one oar! like the guys in the boat race. They are rowing. On the other hand if you have two oars, one in each hand then you are sculling! Seemples!
Didn't Adam Peatty do well! 57.37 for 100m Breaststroke and a full two thirds of a second ahead of the silver medallist. His best, which is the current World Record, is 56.88 set in South Korea two years ago.
On this day: -
=================================================================
24th July,
Time marches on doesn't it!
We were watching one of these Antiques shows yesterday and witnessed an "expert" lift, for examination, a "pair" of binoculars! Now having only one eye binoculars are not much use to me so I have a "monocular".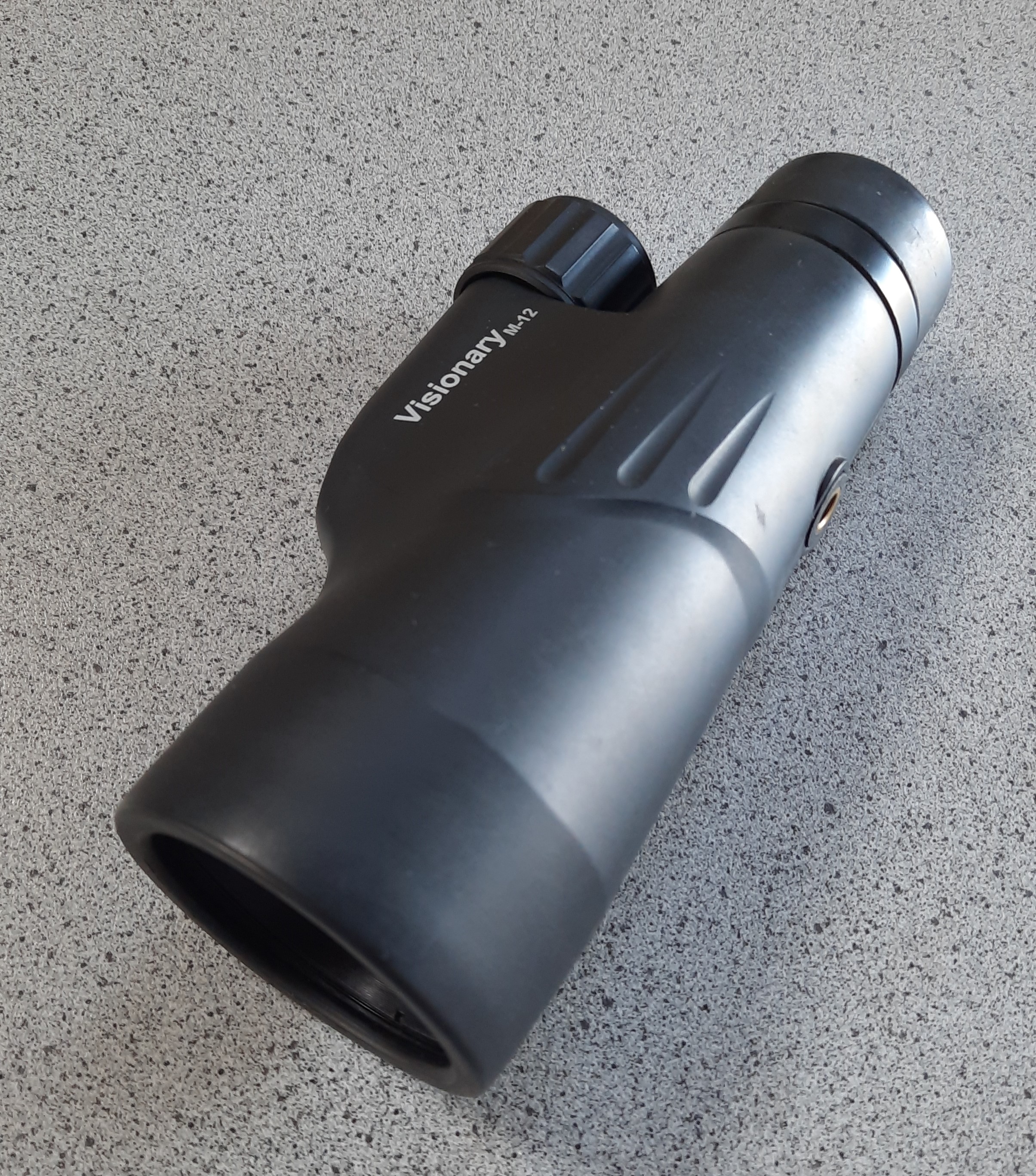 But when I was watching the show I thought, surely a "pair" of
"Bi
noculars" would consist of four monoculars! I thought, if its going to be a pair of anything, it should be a pair of monoculars. Otherwise it's just a binocular!
Or am I being pedantic again?
(That, by the way, is an excellent example of a rhetorical question.)
On this day: -
1851 - This was the day when citizens of the United Kingdom were allowed light and air in their homes without having to pay for it. The long-hated Window Tax had finally been scrapped. Imposed in 1696, it was a banded tax, so that the more windows a house boasted, the more its owner would pay in tax. Inevitably, property owners and developers did what they could to avoid the levy. The rich built new houses with the minimum number of windows, while the poor in their tenement housing simply bricked up the windows, making their cramped, dark dwellings even more gloomy. In the darkened tenements, the bricked-up windows came to be known as "Pitt's Pictures" – a scathing reference to Conservative Prime Minister William Pitt the Younger, who enthusiastically supported and extended the Window Tax.
1943 - Operation Gomorrah: RAF begins bombing Hamburg (till 3rd August), creating a firestorm and killing 42,600 people.
22nd July
One of my star drivers has just phoned to say that she won't be able to continue. I have spent the last hour trying to rejig things.
This weather is something else! I was returning from my nurse appointment today and was interrupted by the road being closed to allow the transfer of young bucks across the road. It took about 20 minutes during which time my neighbour who had also been stopped came across and apologised for not having delivered eggs that she had promised me. I had forgotten that she had said that but she went to say that she will deliver eggs and vegetables when she gets a chance. That's the sort of neighbour to have.
On this day: -
================================================================
21st July
Good grief, It has been a week since I was last here! It never even occurred to me.
It's that time of the month again when I remind you all to contribute some of your saved lunch money towards the Food Bank.
Lots of things have been happening in my life not least of which was stocking up with winter logs again. We did manage yesterday to have a wee trip out though. It was the occasion of my six monthly visit to the Princess Alexandra Eye Pavillion in Edinburgh to have my eye polished. I would normally have parked in the Quarter Mile car park which accepts card payments but it had a big sign up saying it was full. The street parking is ludicrously expensive so I left Diane in the car with a £1 coin. If she saw a Traffic Warden she would go to the machine and purchase 12 minutes of parking time. The machine didn't accept cards you see! We had no cash except for the £1 that I keep in the car for putting in Supermarket Trolleys.
In the end I emerged from the Pavillion to see Diane striding from the car towards the ticket machine. She had only just seen the Warden and was on her way to purchase a ticket. So we simply returned to the car and made off towards the Gyle where we could park for free and have lunch. As it was the lunch cost us £11! If we'd stayed at Quarter Mile to eat, like we would normally have done, the parking alone would have cost us £16.
On this day: -
1776 -Abigail Adams, wife of President John Adams, took an active role in politics and became known as a prolific letter-writer. On this day she wrote to her husband describing reaction to the Proclamation for Independence being read out at Boston, Massachusetts: "Last Thursday, after hearing a very good sermon, I went with the multitude into King Street to hear the Proclamation for Independence read and proclaimed.
"The troops appeared under arms, and all the inhabitants assembled there (the smallpox prevented many thousands from the country), when Colonel Crafts read from the balcony of the State House the proclamation.
"Great attention was given to every word. As soon as he ended, the cry from the balcony was, 'God save our American states,' and then three cheers which rent the air.
"The bells rang, the privateers fired, the forts and batteries, the cannon were discharged, the platoons followed, and every face appeared joyful.
"After dinner the King's Arms were taken down from the State House, and every vestige of him from every place in which it appeared, and burnt in King Street.
"Thus ends royal authority in this State. And all the people shall say Amen."
1796 - Robert Burns dies!

1969 - Neil Armstrong becomes the first person to step on the Moon at 2:56:15 AM (GMT).
============================================================
14th July,
I rose early yesterday! 06.30 saw me showered and shaved eady to head for Coupar for 09.00 to help Wendy at a Photoshoot. Diane was babysitting the kids while Wendy and I were at the Pool. When I got home at lunchtime Diane and the kids were nowhere to be seen! So I made my lunch and then took a walk along the road. I have always been extremely aware of my surroundings since being discharged in 1979 from Ward 7 at Falkirk and District Royal Infirmary. I had been incarcerated there for 14 days without natural lighting while they removed my left eye and was gobsmacked by everything I saw when I got out. Trees, bees, fleas even grease! It's amazing what is always around us that we take for granted.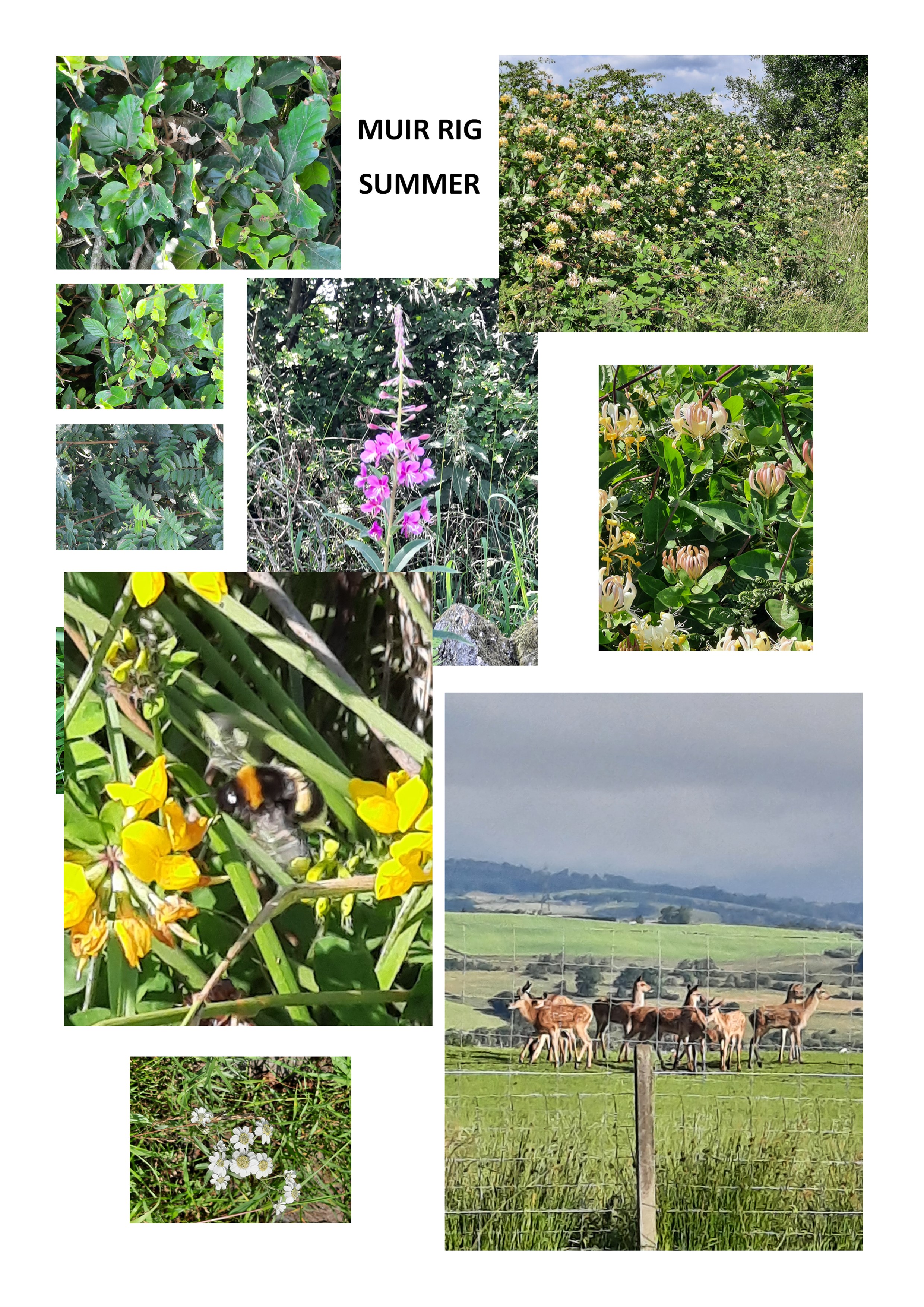 While the phalanx of Fawns was taken this morning, the others were taken during my walk along the track. I was so engrossed when I reached the road end (with my blind side to the left while I took photographs) I failed to notice an approach from that side. "Hi!" took me by surprise because there was no other sound. I turned to my right to see, disappearing into the distance, no ordinary athlete. A total lower limb amputee sat on a carriage no more than 450mm square and 150mm high propelling himself at speed with what could only be described as two ski poles. He was gone before I could gather my senses.
The place where he passed me is about 105m above sea level and the main road at Allandale (the direction from which he had come) is about 60-65m above sea level. Over the course of about a mile from Allandale up to where I stood there are some seriously steep hills totalling therefore about 50 metres. That's the best part of 170 feet. I wish I had been quick enough to respond to the guy (I assume he was a guy! Maybe not! It was just the voice that left me with that impression.) And Impressive is the word.
On this day: -
=====================================================================
12th July #2
Just in case you don't watch the Club Facebook page Linda has been shopping again, this time for small tins of meat, custards, puddings toothbrushes and microwaves. This brings our total since the start of this pandemic to £6,557 which represents 3.628 tonnes of produce. (not including the microwaves)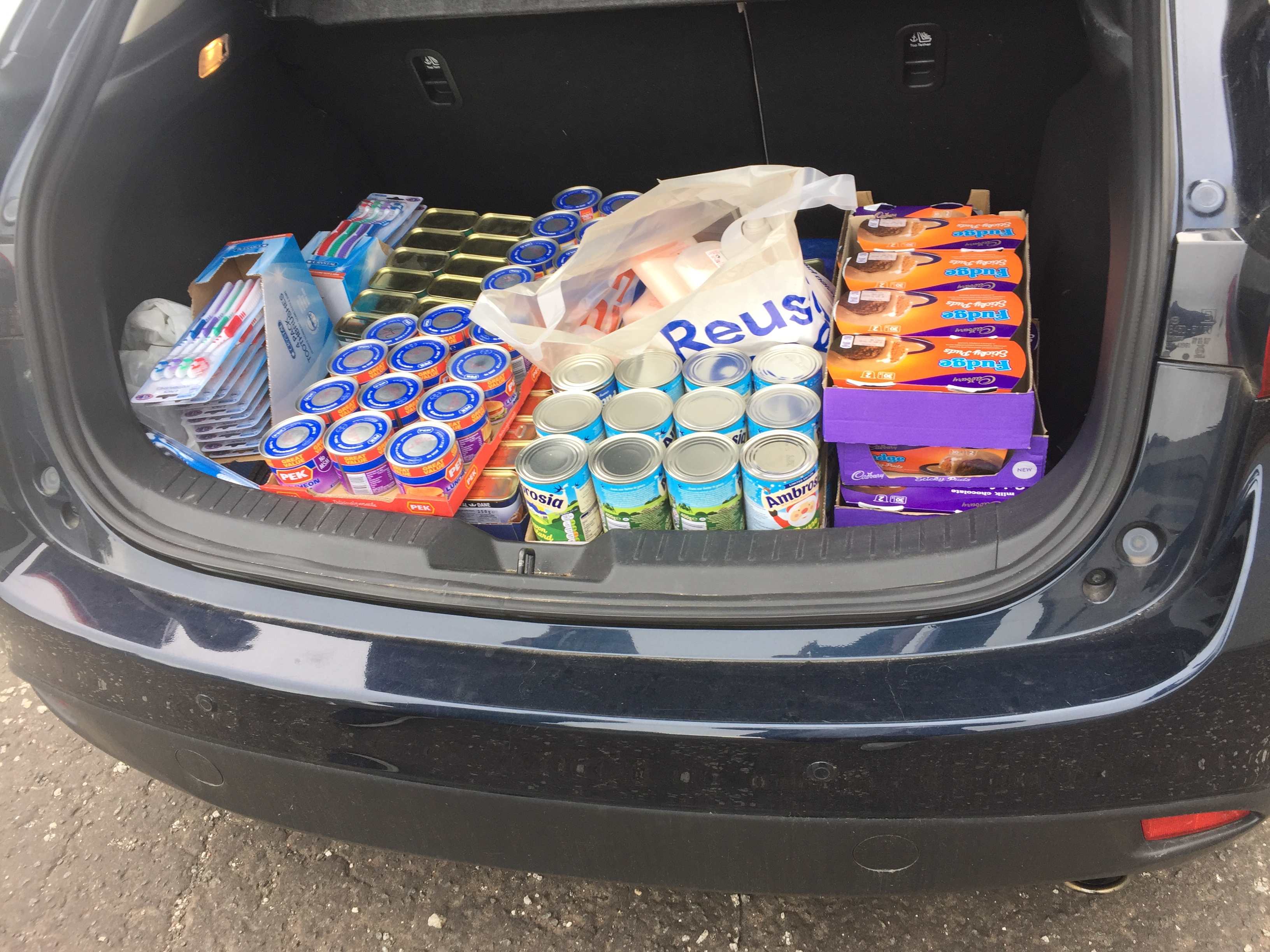 12th July
I was really sad last night when I heard the news that the English Football Team had failed to win the EUFA Euro 2020 Competition.
(I give it it's proper title just in case anyone didn't know it was happening.)
My sadness stems from the fact that we now have to continue to endure interminable references to a 55 year old victory.
I don't know if you are interested but did you ever wonder where the three lions on English Heraldry came from? Author and historian Eugene Byrne explains on the BBC History site the origins of England's royal arms and the three lions – or 'leopards' – upon it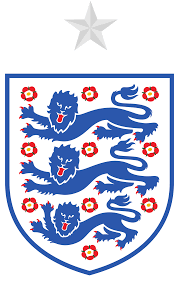 "Medieval bestiaries comprised both real and mythical creatures, and the medieval intellect wasn't interested in our modern post-Enlightenment taxonomy. Hence the yarn about a heraldic painter [someone who designed coats of arms] who visited the royal menagerie in the Tower of London and protested that the caged lions are not lions. "I know what lions look like," he says. "I've been painting them all my life."
Generally speaking (and there are many exceptions in different traditions), a lion rampant (standing erect with forepaws raised) was a lion, while a lion walking with head turned full-face (passant guardant) – as in the English royal arms – was a leopard. It's important to note that 'leopard' was a technical heraldic distinction; there were no spotted felines on any coat-of-arms in the Middle Ages.
Like all heraldic animals, the leopard carried some symbolic meaning; it was thought to be the result of an adulterous union between a lion and a mythical beast called a 'pard' (hence leo-pard). Believed to be incapable of reproducing, leopards were sometimes (but not always) used for someone born of adultery, or unable to have children – a senior clergyman for example. The English royal arms included the three lions from the time of Richard I (reigned 1189–99) onwards (with a few early gaps).
The English usually referred to them as leopards until the late 1300s when they started calling them lions. French heralds continued to call them leopards, and, during the Hundred Years' War, the French sometimes referred to the English as 'the leopards'."
This article was first published in the December 2012 issue of BBC History Magazine.
It was an emotional wedding! Even the cake was in tiers!
And the bird that was afraid to fly? ......CHICKEN!
On this day: -
1997 - Malala Yousafzai is 24 today. Famous for her human rights advocacy for the education of women in her native Swat Valley in the Khyber Pakhtunkhwa province of northwest Pakistan, where the local Taliban had at times banned girls from attending school.

On the 9th October 2012, as she tried to board her school bus, she was stopped, asked for by name and shot three times, including once to the face. The assassination attempt, blamed on the Taliban sparked a national and international outpouring of support for Yousafzai.

Despite the attack and continued death threats from the Taliban she has continued to advocate for worldwide access to education especially for young girls and women.
===================================================================
11th July
I was trawling through all sorts of stuff today looking for some inspiration for today's blog and came across this newspaper cutting: -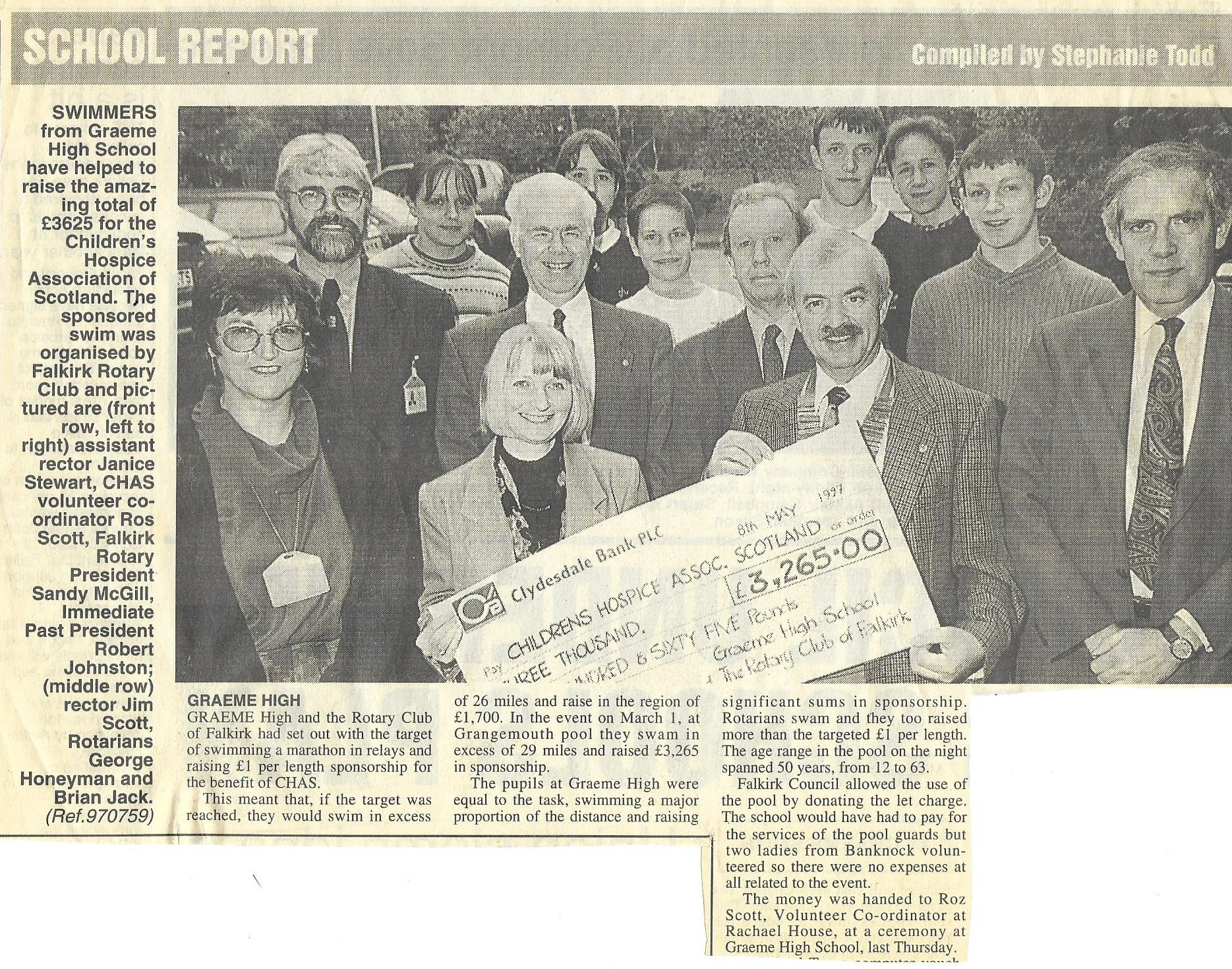 I had forgotten all about this. But amusingly in the same paper there was a hilarious article about Councillor Billy Buchanan being brought to task for singing in the corridors of the Municipal Buildings. "A Council Official had sent a memo to the Councillor saying that his singing had recently increased 'both in volume and frequency'"
The acting director of Law and Admin is quoted as saying: - "Councillor Buchanan has not been asked to stop singing, merely to refrain from doing so loudly!"
On this day: -
1892 - The U.S. Patent Office declares that Joseph Swan of England had invented the carbon filament incandescent lamp, a year before Thomas Edison.
1960 - Harper Lee's "To Kill A Mockingbird" is published.
1979 - The 82-ton U.S. space station, launched in 1973, crashes to earth. About 22 tons of it were expected to survive reentry prompting much public concern. However, it landed safely over the Indian Ocean and Australia. The Shire of Esperance in Western Australia fined NASA $400 for littering.
What do you call a bird that is afraid to fly?.......

===============================================================
10th July
It's really muggy out there today but pleasant nonetheless. I have successfully grown lettuce and Rocket in tubs and quite pleased with myself but I also appear to be inadvertently feeding a whole pile of larvae and gastropods.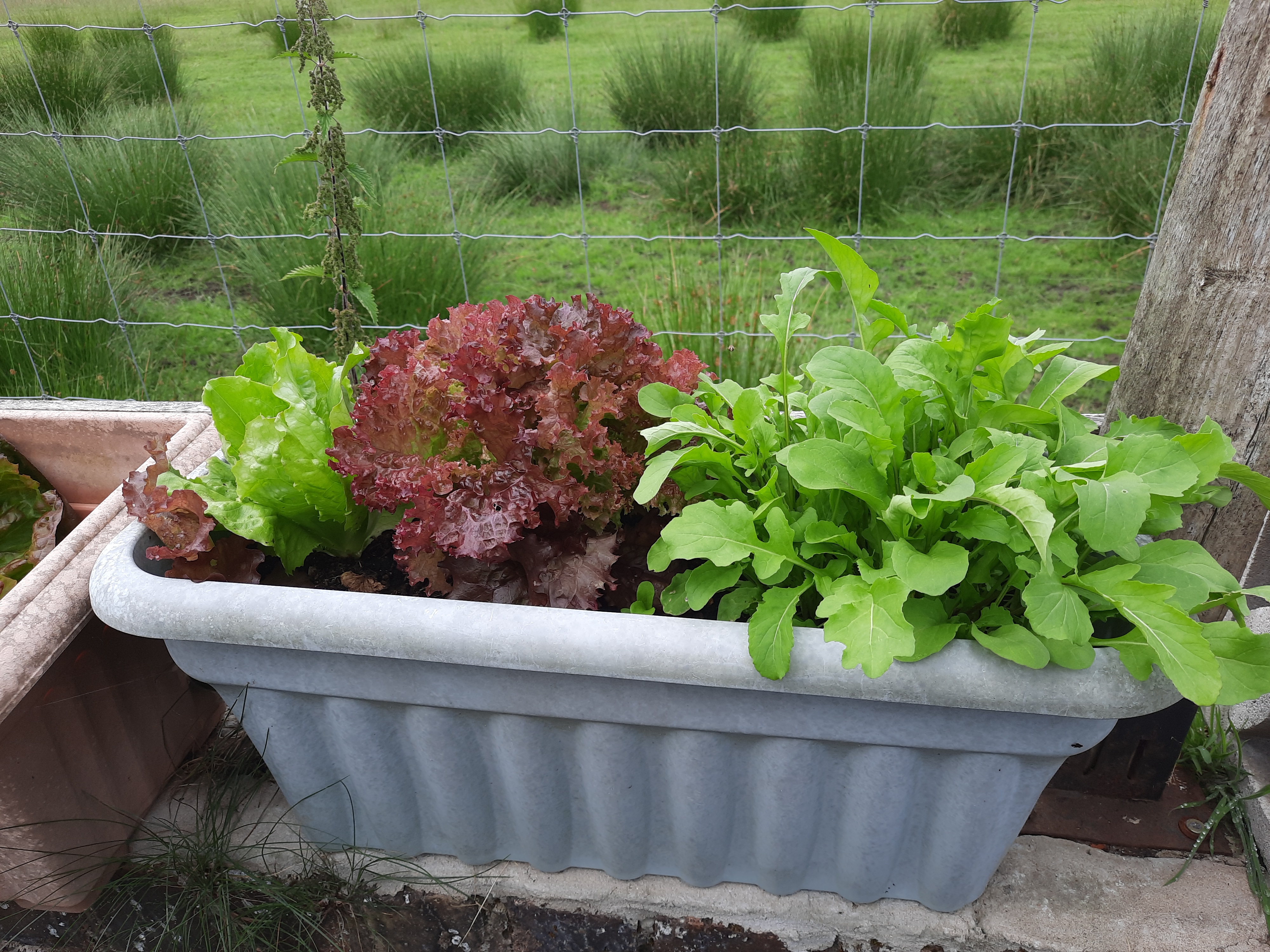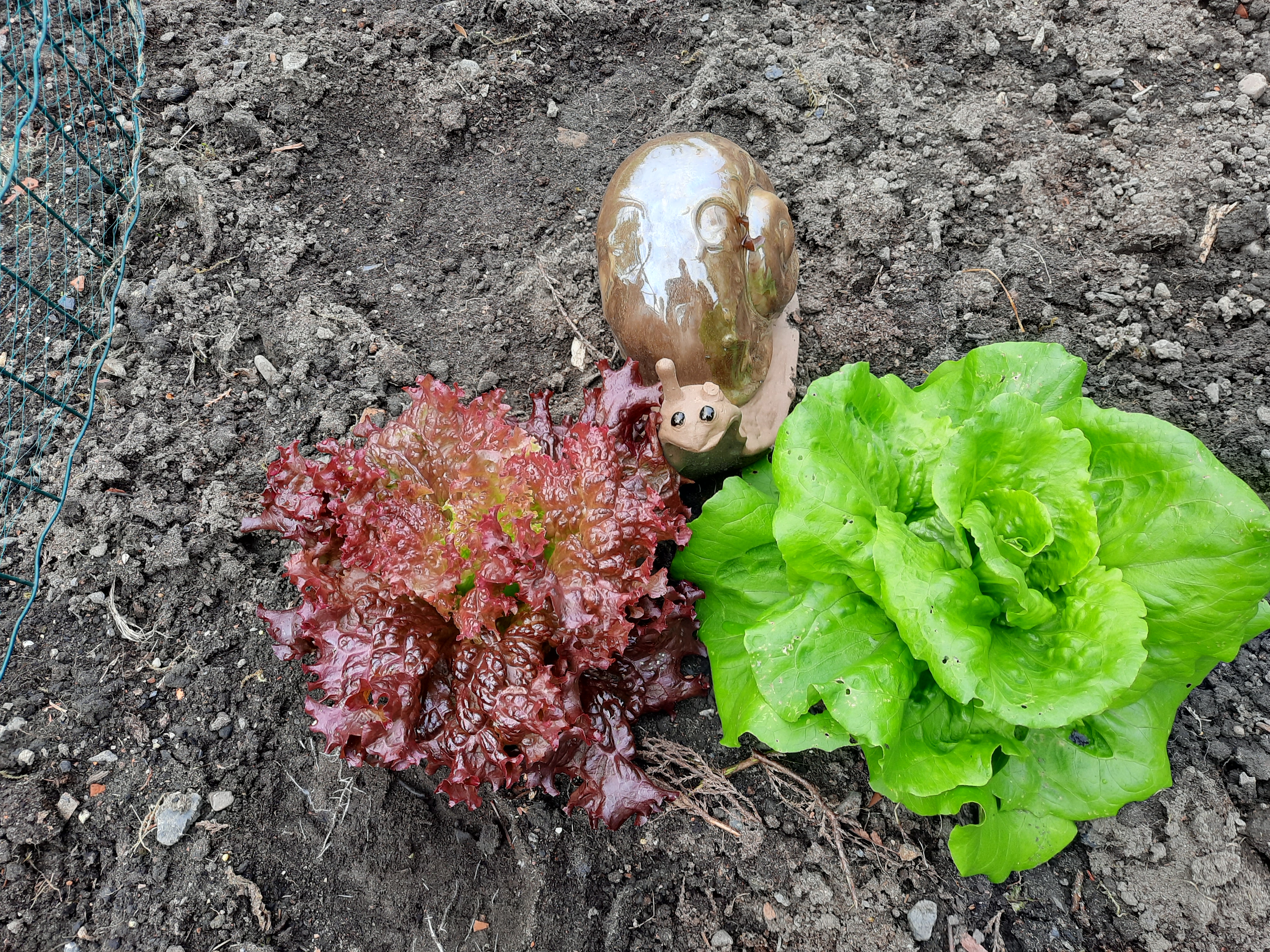 On this day: -
1040 - Lady Godiva rides naked on horseback through Coventry, according to legend, to force her husband, the Earl of Mercia, to lower taxes.
1913 - World's official highest recorded temperature at Greenland Ranch, Death Valley, California at 134 °F (56.7 °C).
1947 - The Government announced that Princess Elizabeth (now Queen Elizabeth II) would get extra clothing coupons for her wedding dress.

What a liberty!

1985 - The Greenpeace ship Rainbow Warrior was sunk by two bomb explosions while berthed in Auckland Harbour, New Zealand; it was later revealed that French intelligence agents had planted the explosives to prevent the organisation from interfering with their Nuclear testing.

=============================================================
9th July
Well my DRE was ok with no alarm bells ringing!
I volunteered for triage duty at the Scottish National Blood Transfusion Service session in Falkirk on Tuesday. It set my mind off thinking again. My mother was a blood donor way back when she would actually donate directly to the recipient patient lying in a bed next to her. As a result of her commitment I have been a Blood donor since I was 18 and my daughter Wendy has been too. My mother, Wendy and I are all Blood Group O with a negative rhesus factor. O neg! There are a number of blood types. Some are rare some are common. O neg however is the only one that can safely be given to
anyone
in a transfusion regardless of their own blood type. It is not uncommon but much sought after by the system.
Now that I have deleted all of the posts from last year I'm not sure if I have said this before but if I can't remember then the likelihood is that you can't either. When Wendy was in Thailand at the time of the Tsunami she became aware of a new born baby that required a transfusion without which she would perish. There is a dearth of O neg in that region apparently and the child had a rare blood group for which there were no stocks. Because she was a blood donor, and as a result knew her group, Wendy volunteered to give the baby blood. As a result of that simple action an adult is walking the streets in Thailand today that otherwise would have died within days of being born.
That thought made me seek out my mother's gold badge (for donating 50 pints) and mine, one silver for 25 pints and the other gold: -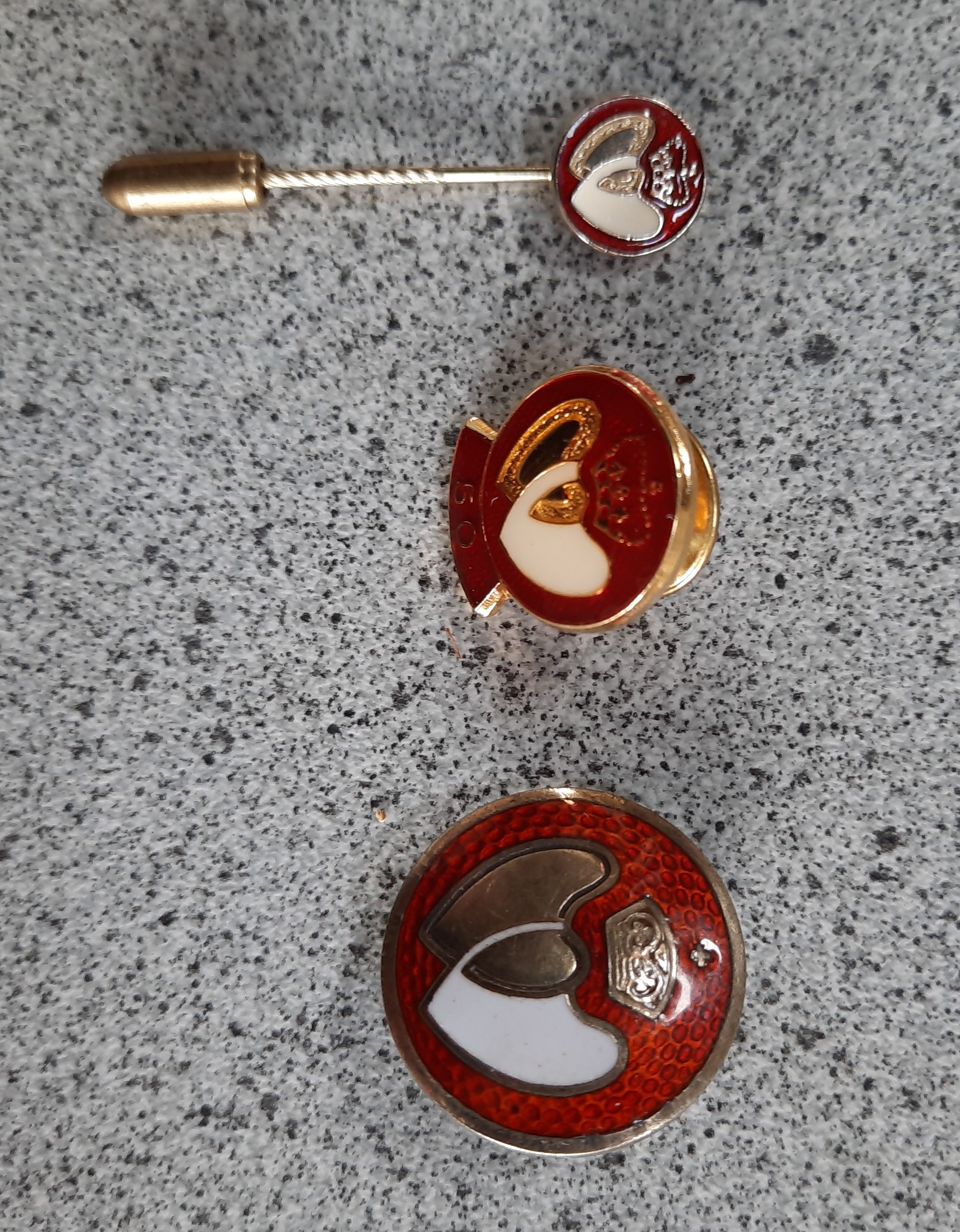 But while I was looking for them I came across lots more, for instance my Dad's silver medal for small bore rifle shooting: -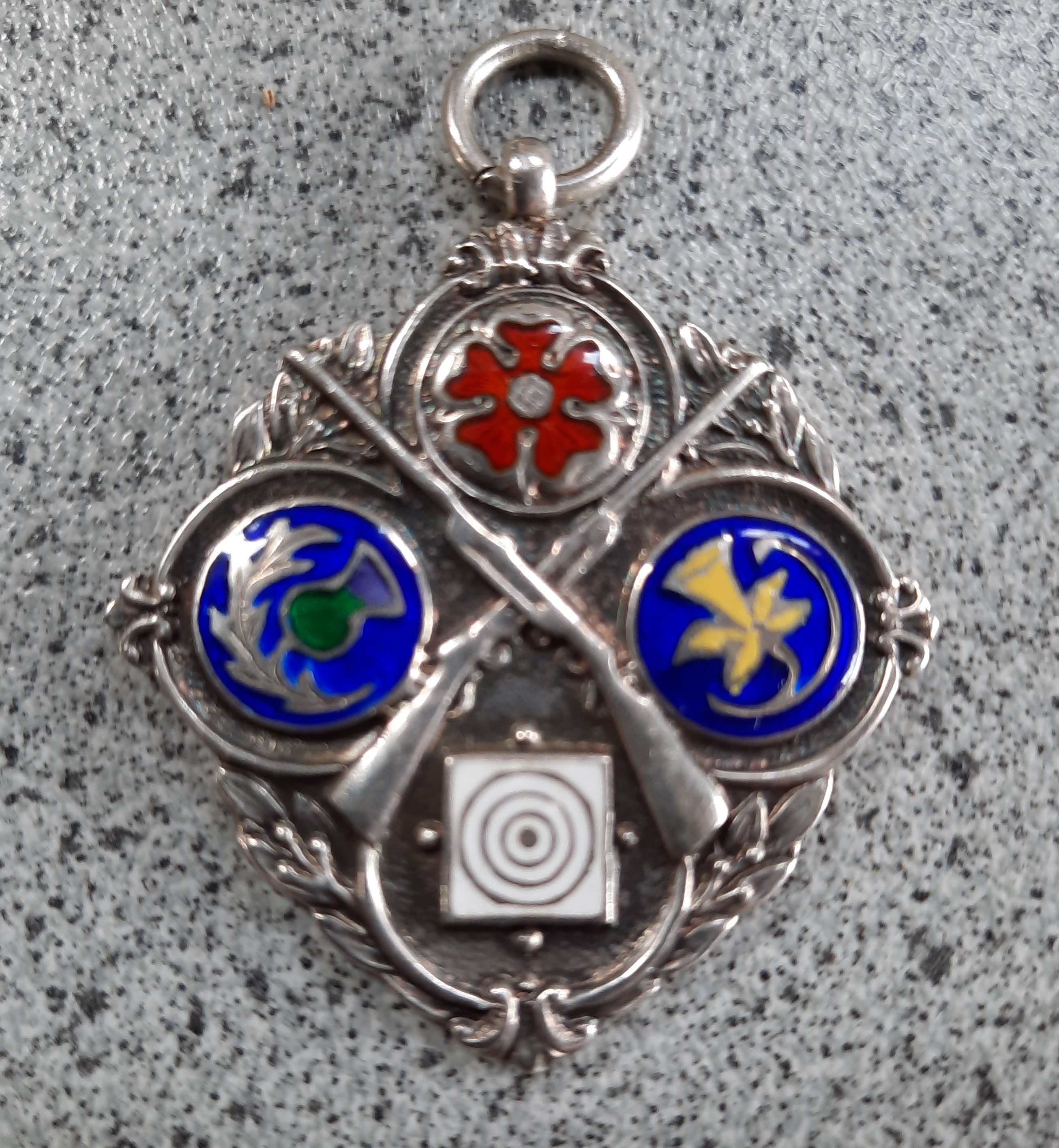 My marathon swimmer's badge from the Scottish Amatuer Swimming Association: -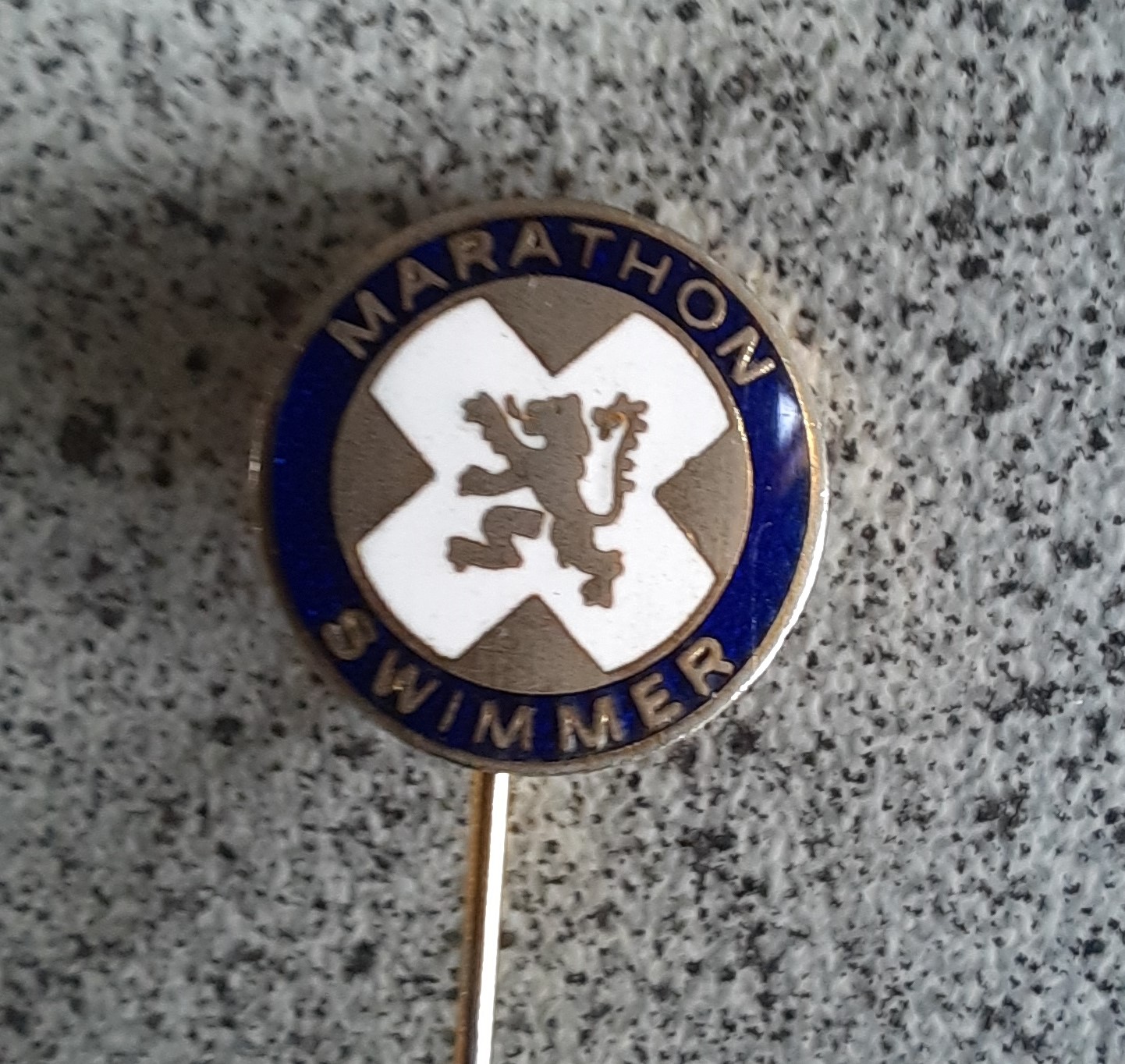 And this Hippo from the 1998 RIBI Conference in Brightons. The Hippo was the official representation of Rodney Huggins who was RIBI President at the time. I think I am correct in saying that Harry and he vied for the post of President of Round Table in UK and Rodney won out in the end. A travesty was it not!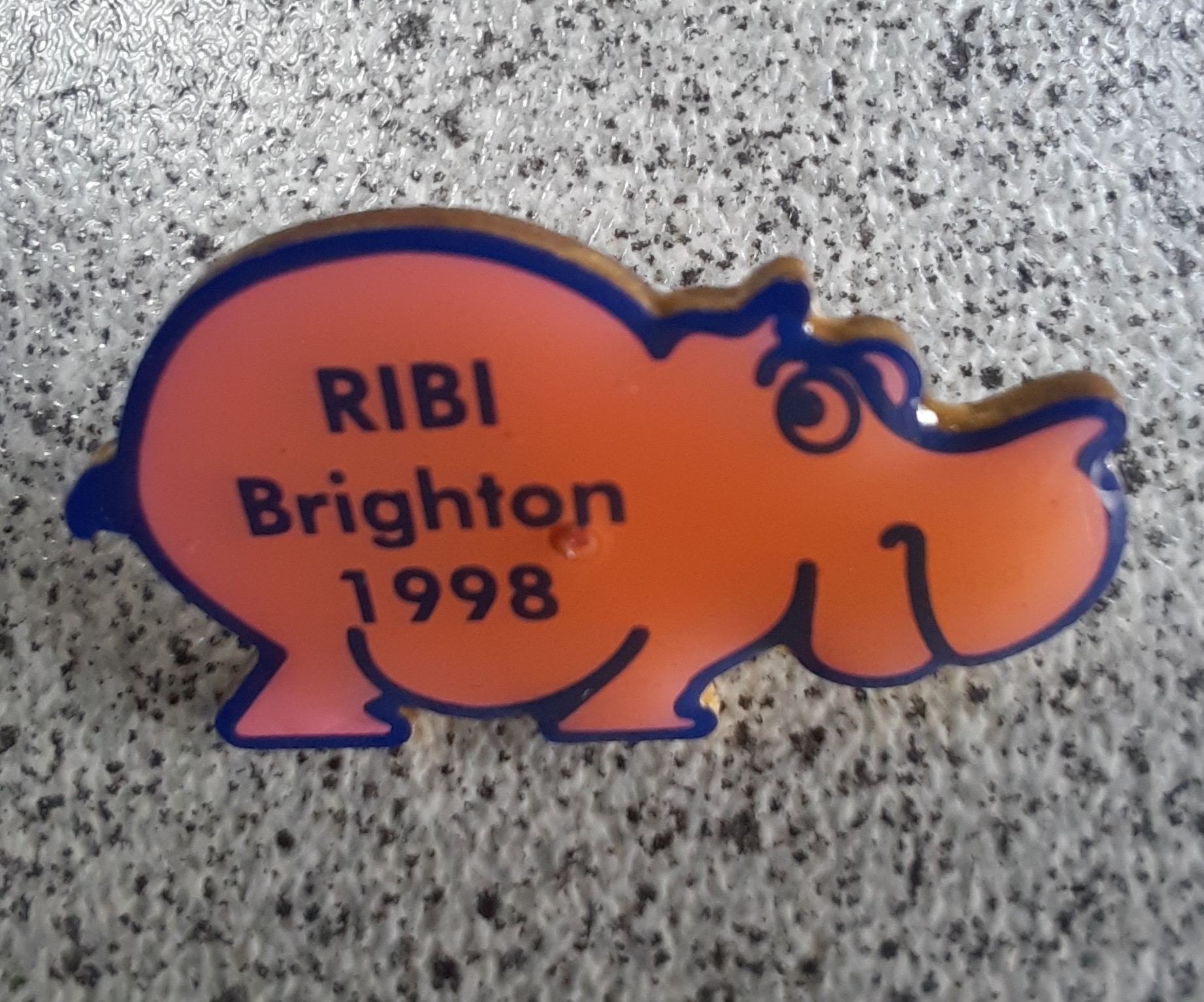 At the same Brighton Conference Diane and I were privileged to spend a weekend in the company of our own George Honeyman and Shiela, Ian McPherson and Winnie & Joe Gallacher and Margaret. Great memories.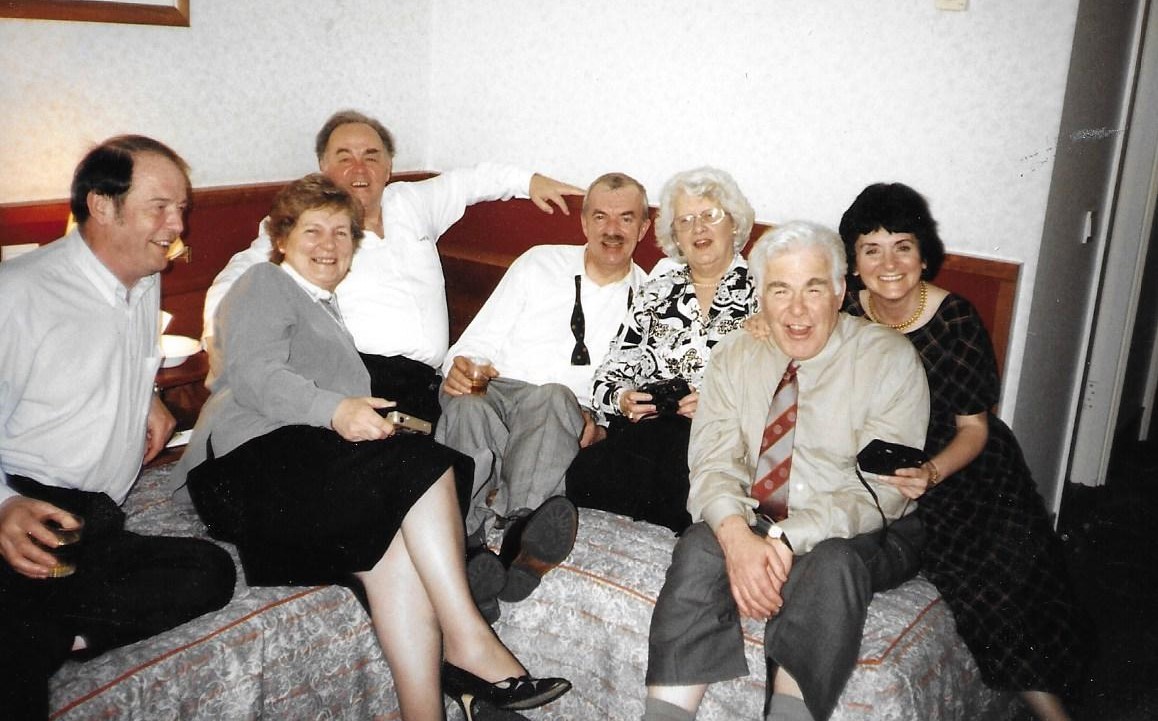 On this day: -
2008 - A teenager, who thought movement in her underwear was caused by her vibrating mobile phone found a bat curled up asleep in her bra. Abbie Hawkins, aged 19, had been wearing the bra for five hours when she plucked up the courage to investigate. - 'I put my hand down my bra and pulled out a cuddly little bat. I felt quite sorry for it. Perhaps I should have left it there and given it a good home.'
2014 - The Times Higher Education magazine's annual exam howlers competition came up with these and many others. (1) All cars will be be fitted with Catholic converters (2) Hitler's role in the Second World War is often overlooked (3) The hole in the ozone layer is caused by arseholes (4) Stalin was extremely surprised when he was taken from behind by Hitler.
==================================================================
8th July
My brother has given me a book written by Lawrence Turpie. Lawrence retired from the rank of Sergeant in the Local Police in 1954 and the book is a collection of his recollections over 30 years in service as a policeman and the next 30 years in retirement. (The Book was published by Inglis Paul.) Among the entries is the following: -
Bank holdup: -
Another 1931 recruit was P.C. Archibald McGill who joined on February the 3rd and after attending Glasgow police training school served at headquarters before being moved to Denny. Later in the year on Monday morning 18th of April 1932 the staff of the Denny branch of the Commercial Bank of Scotland was held up by a man who pointed a double barrelled sawn-off shotgun at the teller, stole £1,200 and drove off northwards in a motor car later found abandoned at Chartershall near Whins of Milton. The police were alerted and the description of the man circulated. Roadblocks were set up and a large cordon of police was out on the hills where it was thought the man may be hiding.
On duty in the evening Constable McGill stopped a bus going to Glasgow and after interrogation was told by the driver that he thought the wanted man was aboard the Glasgow bus 30 minutes ahead of him. Archie, with alertness and diligence for a young constable, telephoned Glasgow CID who arrested the robber after leaving the bus. He was George Kynoch who was taken to headquarters Stirling. At the High Court Kynoch was sentenced to 7 years imprisonment in Peterhead prison. Kynoch was shot by a prison warder in the act of attempting to escape by climbing over the perimeter wall and he died from injuries sustained in the fall. PC McGill married and followed me to 26 Birnham place on the 19th of May 1933.
That was my dad!

Also, at the end of the book there is this picture which shows Gillies in his prime!: -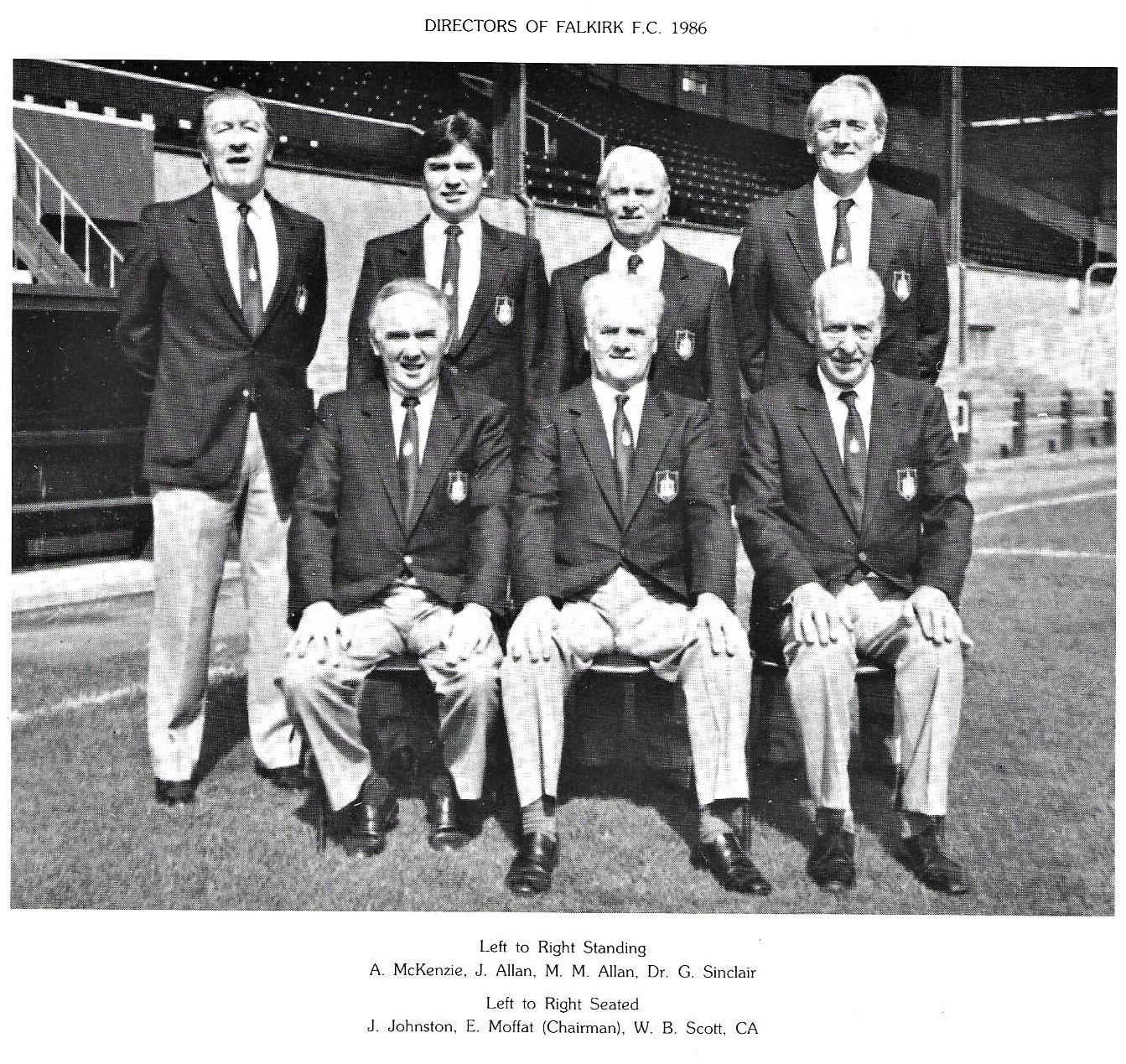 On this day: -
==================================================================
7th July
Hooray! We got word this morning that our PCR tests were negative. That got me to wondering just what "PCR" was short for! It apparently stands for "Polymerase chain reaction". PCR tests are used to directly screen for the presence of viral RNA, which will be detectable in the body before antibodies form or symptoms of the disease are present. This means the tests can tell whether or not someone has the virus very early on in their illness.
I had to cancel a doctor's appointment yesterday because of my association with my niece who had tested positive. I have the appointment reorganised for Friday. It's for a DRE examination! You can look that one up yourself. The receptionist asked me if I required a face to face consultation and I replied that "face to face" didn't quite fit the bill in this instance! This was necessary as a result of a raised PSA test.
PCR, RNA, DRE, PSA! I think that the medical profession tries to hide the reality of what's going on by using all these, I suppose you call them acronyms but they are just, strings of intitials.
I recall a couple of years back I also underwent a procedure for a blocked tear duct which was a "DCR" or a "dacryocystorhinostomy!" Why they don't call it "sticking a tube up your nose" I don't know.
Any how I'm off to transport my patient to the Renal Unit.
On this day: -
1947 - Alleged and disputed Roswell UFO incident.

Now there's another one! "UFO" it is simply an unidentified flying object! Not a space craft or anything alien! If someone threw a brick at you but you didn't see what hit you, then you looked down at the ground and saw a brick , a lump of concrete, a large piece of stone and maybe other bits of heavy dertitus, then you would just have been hit by a "UFO"



================================================================
6th July
Well it has been a hectic few days since I last posted here. Our granddaughter Olivia returned from a holiday in Blackpool with her friend and her friend's parents and it turns out that they all have Covid. We were in Olivia's Company for 15 minutes or so on Saturday but we did keep distant. I had a doctor's appointment this morning which I have had to cancel in favour of a PCR Test and we'll be heading out shortly to Abbotsford for that.
I hope that the result is negative because I have a patient to transport to Dialysis tomorrow.
Narek has just let me have a look at the expenses claims for St John's drivers this past month. I know I have bored you with this before but the 30ish drivers that we have, transporting 14 patients to dialysis three times a week, clocked up a total of 8,200 miles in June! That's 100,000 miles a year!
I discovered yesterday that when a kidney becomes available for transplant a number of possible recipients (I think about 3) are contacted and asked to visit the hospital where they are screened to see who has the best match for the available kidney. Sadly that means huge anticipation for them all and even greater disappointment for those who were deemed to be unsuitable. This happened to one of our patients today. The drivers become quite attached to the patients and this has quite an effect on them as well.
On this day: -
1785 - US Congress unanimously resolves the name of US currency to the "dollar" and adopts decimal coinage.
1885 - Louis Pasteur successfully gives an anti-rabies vaccine to 9-year-old Joseph Meister, saving his life.
1935 - The birth of Tenzin Gyatso! "Who?" I hear you say! This is the name by which the Dalai Lama is known. It is a shortened form of his spiritual name - Jetsun Jamphel Ngawang Lobsang Yeshe Tenzin Gyatso.
1955 - "Blackboard Jungle" is released. It was the first Hollywood film to feature a rock and roll soundtrack.It was "Rock around the clock" by Bill Haley and the Comets. The track had been released a year earlier and scraped to the bottom of the charts selling only 75,000 copies. It was not until it featued in the soundtrack of the film that it shot to fame.

======================================================================
3rd July
Two years ago in March my sister bought us a Golden Peony to mark our Golden wedding. It is in Flower now and growing profusely. It started out life in a 6" pot!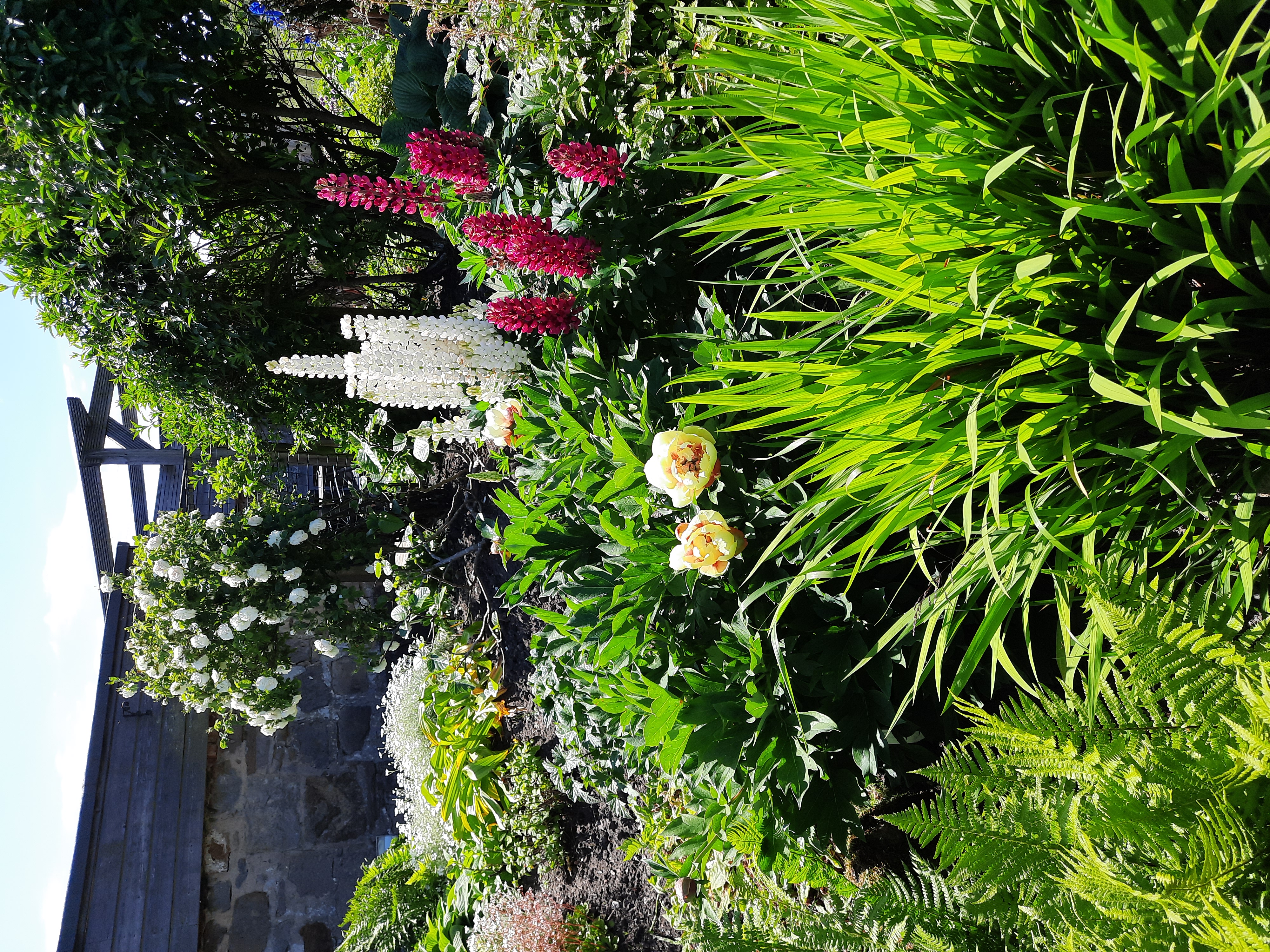 I was outside admiring them when I began contemplating my good fortune at having, yesterday, received the word that my scan was clear and I should now consider myself "discharged to my GP".
on this day: -
1938 - LNER locomotive No.4468 'Mallard' achieved the world speed record for steam traction. A maximum speed 126 mph was reached between Grantham and Peterborough. Mallard was designed by Sir Nigel Gresley and was in service until 1963, when she was retired, having covered almost one and a half million miles and is now at the National Railway Museum in York.
1996 - It was announced that the Stone of Scone, the symbol of Scottish Nationalism, stolen by Edward I of England in 1296, was to be returned to Scotland from Westminster Abbey where it has been used in the coronation of 30 British monarchs.

For seven hundred years, (with the exception of 111 days between Christmas eve 1950 and the 11th April 1951) The Stone had remained in Westminster Abbey. It was on Christmas eve 1950 that Ian Hamilton QC (but then in his own words "a stripling of 25") and others stole The Stone and took it to Scotland. After having been hidden in the office of an Engineering Workshop in Bonnybridge it was subsequently returned to the High altar of Arbroath Abbey where the Declaration of Arbroath had been signed. It was ceremonially covered with a Saltire Flag and left for the Authorities to recover.



=============================================================
2nd July
I think that I said last year that while the RI Presidential logo has changed I would keep the "Rotary Connects the World" logo for this page, firstly because I think that it was appropriate considering the ethos of the page and secondly because I thought the "Rotary opens Opportunities" looked like it had been designed by a year one Primary Class.
I will maintain the one that I have but I think that this year's RI Presidential Logo is much more acceptable. I will send it to Gillian so that she can have it included in the publicity for our next Swimarathon.
This is it: -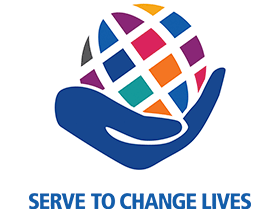 The RI President this year is - Shekhar Mehta.
The RIBI Chairman this year is (I think) - Dave Ellis.

District Governor this year is - Ken Robertson.
Our Club President this year is Narek Bido!

On this day: -
1961 - Ernest Hemingway, the Nobel Prize-winning author, adventurer, war correspondent, bullfighter, drinker and all-round macho man, blew his own brains out on this day. His fourth wife, Mary, said that he killed himself accidentally while cleaning his double-barrelled 12-bore shotgun. But did he? Controversy has surrounded the death of the 61-year-old celebrity since the fatal shooting at his home in Idaho and over the years writers, researchers – and psychiatrists – have delved into the mystery.

In 2006, American psychiatrist Christopher D. Martin said: "The accumulating factors contributing to Hemingway's burden of illness at the end of his life are staggering." He listed bipolar mood disorder, depression, chronic alcoholism, repetitive traumatic brain injuries and the onset of psychosis.

Some commentators have suggested that Hemingway's problems – and depression – began in 1928 when his father, Clarence, committed suicide by shooting himself in the head. But his grandfather, brother, sister, and granddaughter all killed themselves. And besides suicide, the Hemingway family history is also laced with the inherited condition of haemochromatosis,(excessive intestinal absorption of dietary iron) it has emerged.

===================================================================
1st of July!
It's a brand new Rotary Year! Hopefully this coming year will be more effective than the last one.
Yesterday LInda N phoned to say that she had cash from Rotakids. I don't know if you will remember but we lent them £50 and the idea was that they would use that to raise funds for Aqua Filter.
Well this morning I lodged, in the Bank, £178.60! That's our £50 back and £128.60 for Aqua Filter.
Well done Rotakids! I am sure that the Club can recognise that achievement and augment the sum before transmitting to Aqua Filter.
oooOOooo
We had a super Fellowship meeting today which consisted of a whole pile of amusing banter part of which constituted George saying "Put it on the agenda for next week that everyone has to guess what I am going to say!"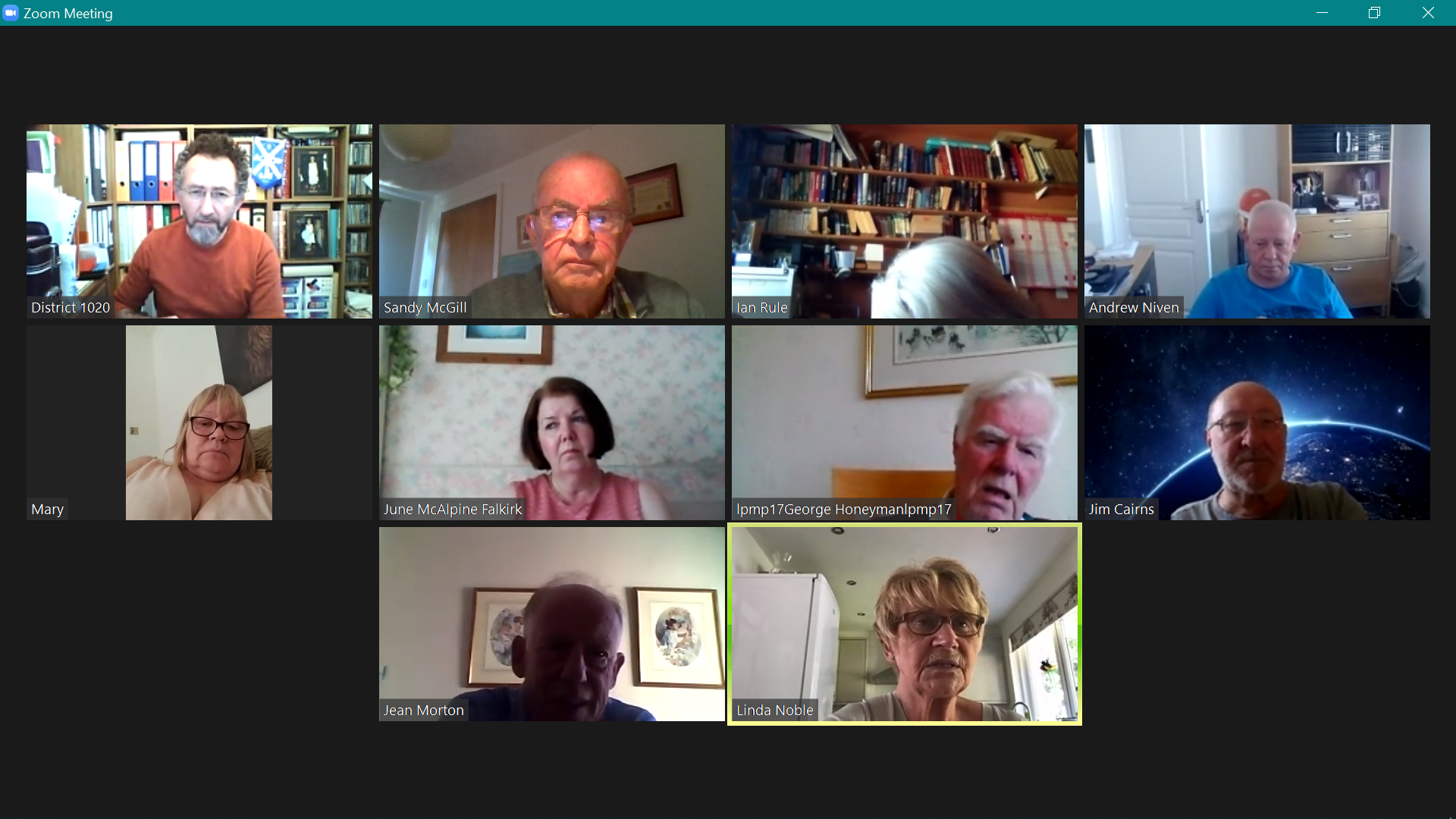 Ther were only eleven of us but it was good fellowship! Much better than being constrained to interact only with two others at a table!
We spoke about our imminent return to "normality" - Carmuirs, The Coppertop, The Park?
We debated whether District had allowed sufficient time for Clubs and other partners to properly seek out candidates for a virtual RYLA. Talking about which, I was always of the opinion that relatives of Rotary members were specifically excluded from participating in RYLA. There seemed to be a difference of opinion about that among those present!
We spoke about the Station Tubs and President Narek told us about his conversation with the Station staff who had said that they had no problem with our members tending the tubs! After all they have no control over who walks on to the Station Platform. Makes sense to me! President Narek added that even although Scotrail withdrew funding because we weren't toeing the line with their daft rules we could fund it out of the PI budget.
All in all it was a great meeting even although we were so few.
Fellowship rules!
=============================================================
30th June
That's us half way through 2021! 15 months since we last met together! I think that the last occasion that I was able to interact with the members of the Rotary Club of Falkirk was at Margaret Lyon's party at Skythorn Way! It all seems so long ago now!
Talking about long ago, I was checking my bank accounts this morning and noticed an odd payment to Amazon for £7.99. I subscribe to Kindle unlimited which costs just that every month but I took advantage of a half price deal and subscribed for 6 months for £24. So I was a bit miffed that they were still taking the £7.99. That was until I checked and found that my 6 months were up! Time flies when you are having fun.
During the 6 months, though, I discover that I have read 48 books on Kindle, all Crime Fiction, by Authors such as Ian Rankin, Joy Ellis, Michael Hambling, David Hodges and J.M. Dalgleish.
My preference for Crime Fiction arises out of my introduction to the annual Book Festival "Bloody Scotland" held in Stirling every year. My son in law and I attended the first two Friday night dinners and presentation of prizes before the dinners were discontinued but it whetted my apetite for the genre.
On this day: -
1898 - Winton Motor Carriage Company publishes the first known automobile ad in "Scientific American" using the headline "dispense with a horse."
1908 - A giant fireball, most likely caused by the air burst of a large meteoroid or comet flattens 80 million trees near the Stony Tungusca River in Yeniseysk Governorate, Russia, in the largest impact event in recorded history.
1937 - The world's first emergency call telephone service is launched in London using the number 999. It was considered more easily found in a smoke filled room or by a blind person if you put your finger against the backrest and dialled three complete rotations of the dial.
=================================================================
29th June
Oops! I must have missed yesterday. Too much going on! I had a patient for the renal unit. I cut the grass and I watched the recording of the Club Assembly in order to do the minute because June is on holiday! That's my excuse anyway. The minute of the Club Assembly is available now in the members only pages.
What a cracking sunset we had last night -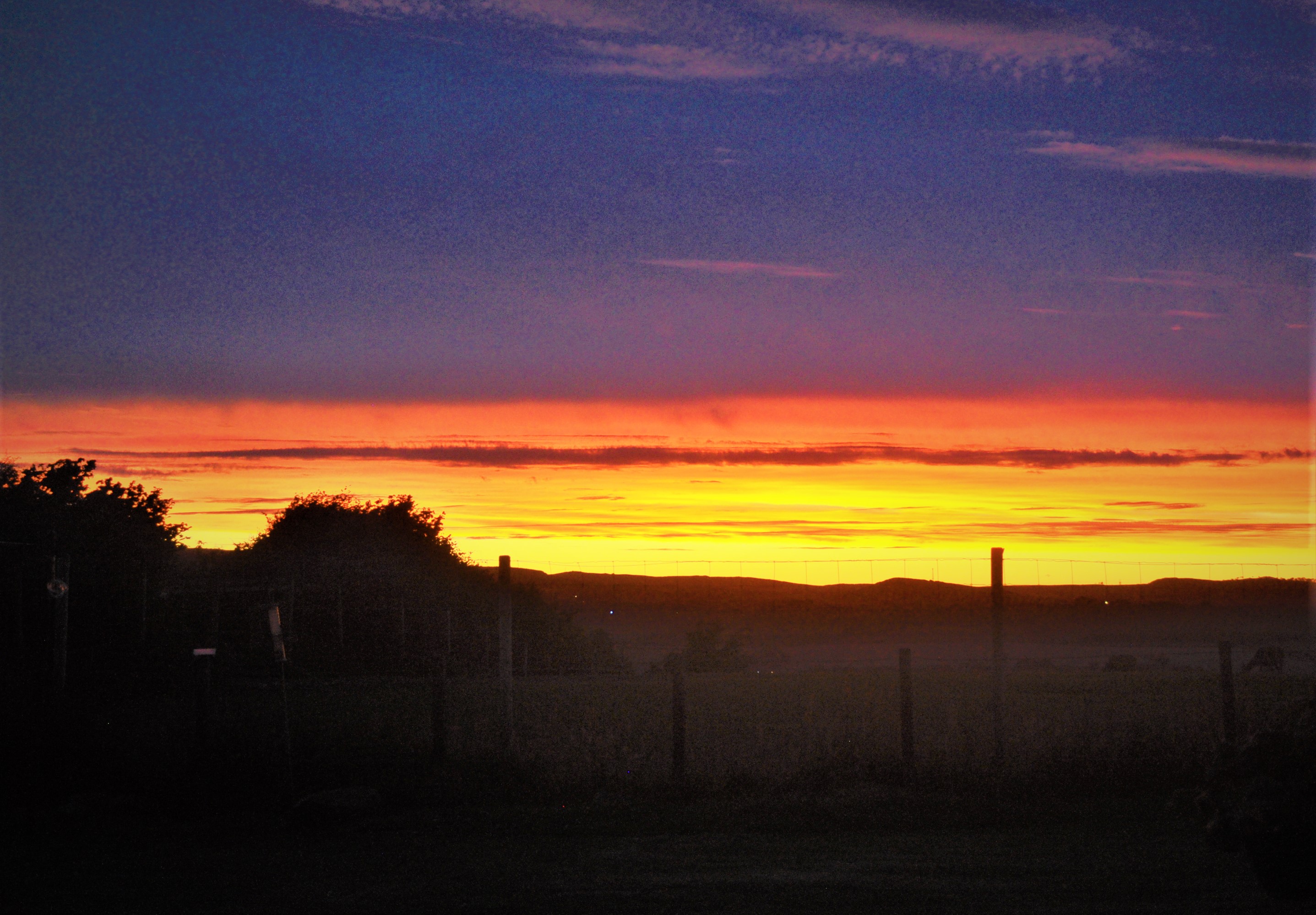 On this day: -
1613 - Shakespeare's Globe Theatre burns to the ground during a performance of Henry VIII.
1620 - After denouncing smoking as a health hazard, King James I of England banned the growing of tobacco in Britain.
1905 - The Automobile Association was set up by motorists angered by police harassment and to warn drivers of speed traps.
2008 - Thomas Beatie, the world's first pregnant man, gives birth to a daughter.
2010 - The England football team returned home after being knocked out of the second round of the World Cup by Germany. England ultimately lost 4-1, suffering their worst defeat to date in a World Cup finals match. (In 2014 England were eliminated at the group stage of the Fifa World Cup for the first time since 1958, with just two goals scored. It was their worst goal tally since 1950 and the worst World Cup showing in the history of the national team.)
=================================================================
27th June
A wee while ago Andrew and Gillian ripped out all of their decking in readiness for a revamp of their back Garden. They were kind enough as allow me to take away all of the residue. Since then I have spent some time removing all of the screws and stacking the timber for whatever purpose I might find. This morning, I was looking for something to do and decided I would make a plant trough with two or three of the boards. This is the result: -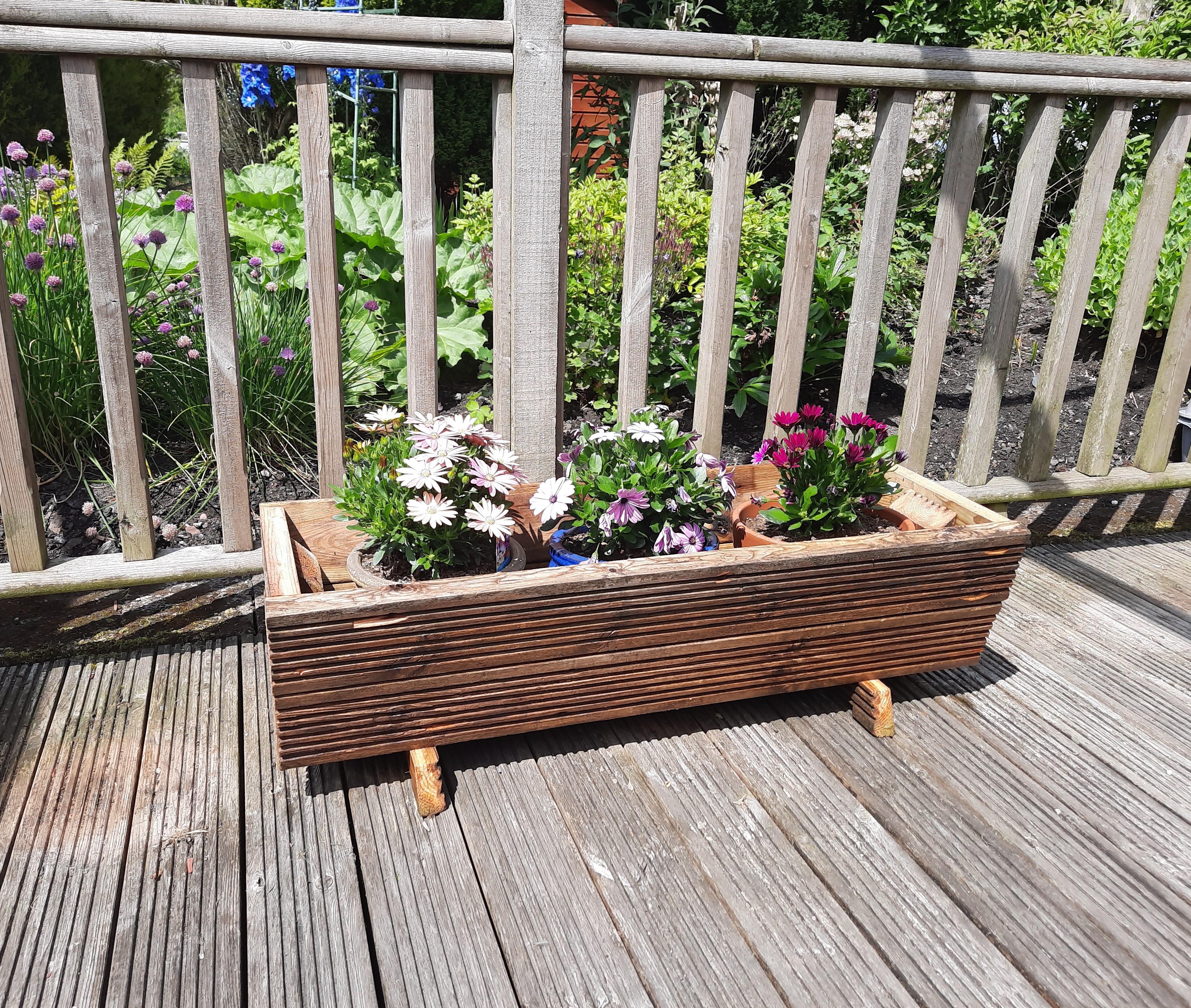 I have just power washed it and once it's dry I'll give it a coat of stain.
The last of Andrew's Titbits: -
It was the accepted practice in Babylon 4,000 years ago, that, for a month after the wedding, the father of the bride would supply his son in law with all the mead he could drink. Mead is a honey based beer and as a result this was called the "Honey Month" which we know today as the Honeymoon.

On this day: -
1898 - Joshua Slocum stepped ashore at Newport, Rhode Island, late on this day after sailing alone around the world. He was the first person to achieve such a feat and did it, he wrote, "because I was amused by the assertions that it could not be done." What made the voyage even more remarkable was that Slocum accomplished it in a decrepit 37-foot (11.2m) fishing boat which he had rebuilt and named Spray.
1899 - Indian born English cricketer Arthur Edward Jeune Collins, aged 13 and often known by his initials A. E. J. Collins, achieved the highest-ever recorded score in cricket. He scored 628 not out over four afternoons but, despite this achievement, Collins never played first-class cricket. He was killed in action in 1914 during the First Battle of Ypres.
1967 - Barclays Bank (Enfield branch) opened Britain's first cash dispenser.
2014 - Staff at Dartmoor prison had offered sun cream to inmates who had managed to climb on to a rooftop during sunny weather the previous week, the Ministry of Justice confirmed. They said that the offer of sun cream was a standard procedure, as part of the jail's 'duty of care' that was in line with health and safety rules.
2014 - The mummified body of Anne Leitrim, who was in her 70s, was discovered in her flat in Bournemouth, where she had lain undiscovered for six years. Her remains were finally found when bailiffs visited the property to collect unpaid debts.

=================================================================
26th June
We had our Club Assembly on Thursday. Sadly, I was not able to stay the course having stuff to do for St John but I was able to watch a presentation by Allan McLaughlan about Foundation. Allan is a force to be reckoned with and is passionate about Rotary and Foundation in particular. He spent the best part of an hour explaining to us exactly how effective our Charity is and why we need to keep it topped up.
It was always the case that any money donated to Foundation was kept in the bank for three years before 100% of it was deployed for the many aims that Foundation supports. The interest from that three year investment paid for the running costs of the Charity so that The Rotary Foundation was probably the only Charity in the world that could boast that 100% of donations were put to the purposes of the Charity.
This was only possible when the return from the invested capital was sufficient. Since the financial crash of 2008 interests rates have been such that now only 95% of donations reach the purposes of the Charity.
This is still a laudable figure but Rotary Foundation is striving to return to the norm.
Allan stressed that all of the money donated to Rotary Foundation from any District returns to the District three years later and is available in the form of Grants to be applied for by the Clubs.
ooOoo
My first brood of swallows this year is looking over the edge of the nest. They are a good bit later this year. I think possibly the first brood failed and this is a replacement.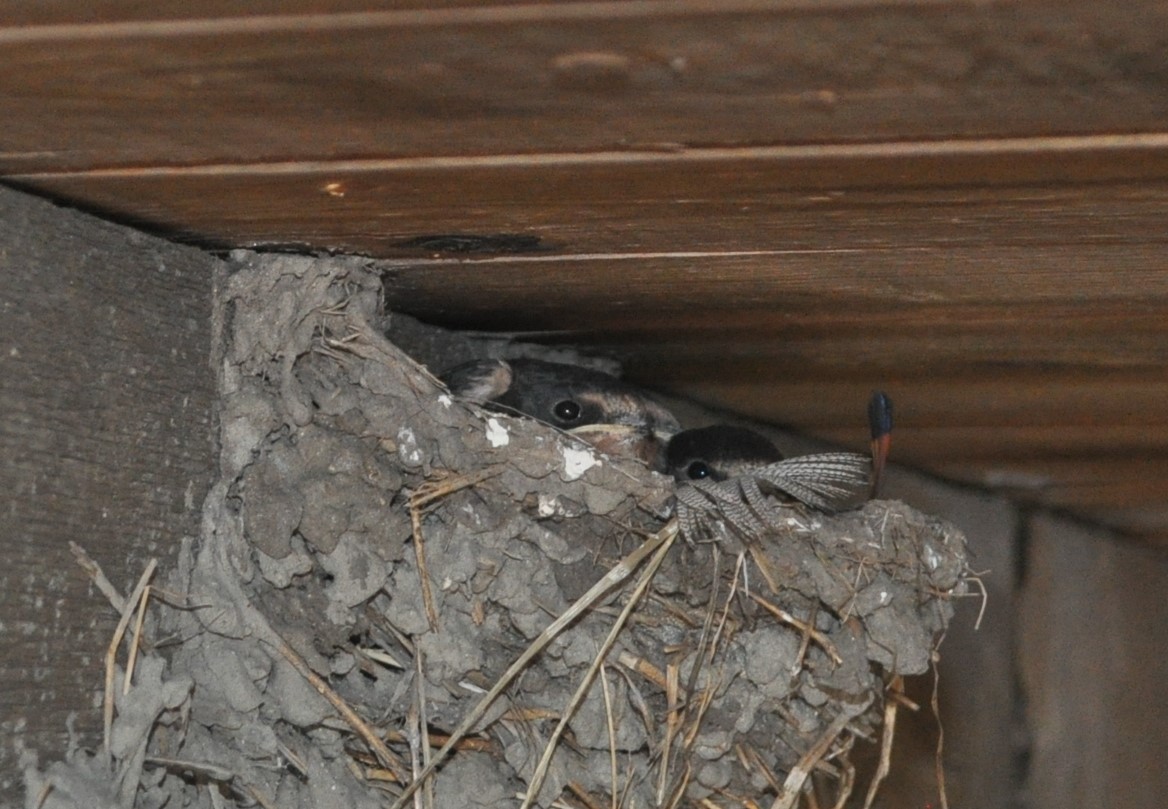 Great News yesterday too! There have still only been two cases of Polio reported this year in the world! One in Pakistan and one in Afghanistan
Michael White's weekly email arrived at the same time as that news so if you would like to participate in his "Screen Memories" the questions are
here
and if you need them the answers are
here.
Some more of Andrew's stuff: -
Each King in a deck of playing cards represents a great King from History: -

Spades - King David
Hearts - Charlemagne
Clubs - Alkexander the Great
Diamonds - Julius Caesar.
Now don't say you don't learn stuff here.
On this Day: -
================================================================
25th June,
Good morning all!
I have deleted everything that has gone before in order to reform my ways and post things properly so that the page updates!
Among the things that I had tried to post but failed to accomplish was the following from Linda Noble: -
A tweet from Hallglen Primary: -

Just in case you are wondering
@the_falkirk
is us. It is the twitter account that I opened last year that I deserted because no one was watching. And then this: -
Today, I finally gained access to Hallglen Primary, to deliver their well earned Citation.The school had contacted the Falkirk Herald to come and take photos but unfortunately a no show. So here are our photos of the day, it was lovely to see them all, and as enthusiastic as ever.
Linda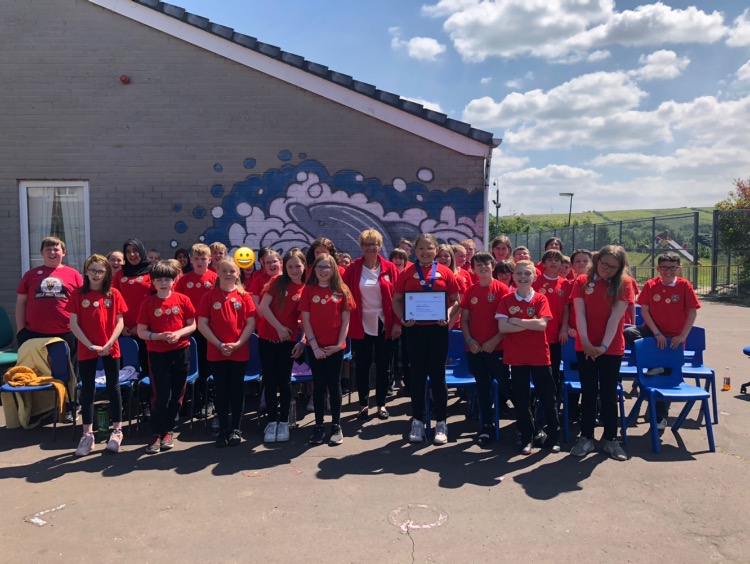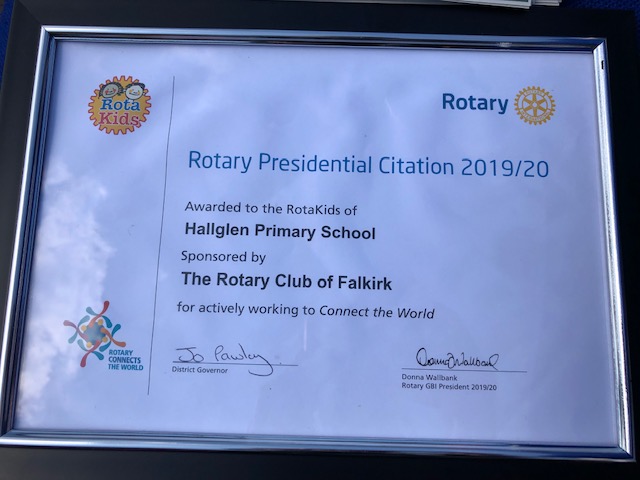 Andrew sent me some stuff too: -

In the 1400s a law was passed in England allowing a man to beat his wife with a stick as long as it was no thicker than his thumb! This is where we apparently get the saying "rule of thumb"
Many years ago in Scotland they weren't beating their wives with sticks they were hitting a wee ba' aroon' a gress course in the hope that it might eventually fa' doon a hole! The game was forbidden to Ladies and considered only fit for gentlemen to play; hence the phrase Gentlemen only, Ladies forbidden was reduced to the acronym we all recognise today - GOLF
========================================================================