Keep in touch
Bits and pieces to keep us interested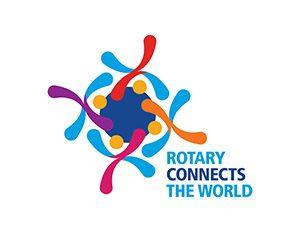 14th July
I've been busy! When Margaret handed over the Role of Treasurer to me It was after I had given the Clydesdale Bank signed mandates authorising the change od signatories. The change of intenet banking details was done immediately and I have happily been accessing our accounts since mid May. While clearing up at Skythorn Way however Robert Craig came across statements still being delivered to the empty house. I tried to rectify this with the bank and they locked the accounts! To cut a long story very very short, Jim Cairns and I spent in excess of two hours yesterday at the Bank while a lovely young lady sorted things out. I am back in harness again. (The mandate I had signed on 17th May had been lying on someones desk doing nothing for two months!

Gordon Daly has given me this link about a comet that is visible in the sky currently and won't return for 7,000 years! Worth a look.: -

https://wattsupwiththat.com/2020/07/13/comet-neowise-now-visible-in-the-evening-sky/
The boy in the Picture???? It was sweetie pie Bill Laurie.
11th July #2
I have been informed of an error in my script about Bill Rutherford. I should have noted that he was 95 when he passed away not 85. Sorry

11th July
I have amassed lots of Rotary memorabilia over the last 31 years. Among that is a Quaich, one of which was presented to each of the team that organised the House of Friendship at the 1997 RI Convention in Glasgow by Bill Rutherford who was the team leader.

The Team consisted of Bill, me, Lex Taylor (Larbert deceased), Jim Beveridge (Corstorphine deceased), Bob Taylor (Braids in a nursing home) and the treasurer whose name shamefully I cannot recall.

It was in the large hall at the SECC. There were 30 odd stalls selling all sorts of stuff from jewellery to Kilts. There was a marquee in the centre with a history of Scotland on display.

There was a restaurant and cafe

And there was entertainment in the way of Scottish Country dancing, Fiddle bands & etc. The event lasted for four days. There were 23,500 attendees. It was a great show.

The point of all of this is that I was informed yesterday that Bill Rutherford had died. He was 95. Bill was District Governor in 1991 and he was a great guy. I have kept in touch with the group for all these years (apart from the treasurer) but it's just me and Bob left now. I will remember Bill fondly as I do his wife who had no Qualms in roundly chastising the RI president when he lit a cigarette at the table at a lunchtime meeting of the Rotary Club of Glasgow.

Sadly yesterday we were also informed of the death of Morris Robb, past member of this Club and past Director of Architecture for Falkirk Council.
On a brighter note it is exactly one year ago that the Floral Clock was officially "opened" for the second time.
On this day also: -
1533 - Pope Clement VII excommunicates England's King Henry VIII
1804 - A duel is fought in which Aaron Burr, Vice President of the USA mortally wounds Alexander Hamilton former secretary of the Treasury!

1877 - Kate Edger becomes New Zealand's first woman graduate and first woman in the British Empire to earn a Bachelor of Arts
1972 - The first game of the World Chess Championship battle between Bobby Fischer and Boris Spassky begins in Iceland.


10th July
It's probably because the web site has been down since wednesday afternoon and I posted on the "News" page yesterday but I still don't have any guesses for my "So Sweet" identity on the 7th. How many of you will try to guess? I'll give you another clue - He hasn't changed! (And I don't mean that he is still as sweet)

.......................................................................
I emailed Inglis yesterday and got this reply: -
Sandy,
we are now home after 4months in Spain! We managed to get a flight with Ryanair on the 3rd of July arriving back in Edinburgh at midnight. There were only 20 people on the plane, no food only drinks and loo if necessary! The plane was very clean and we had to wear masks all the time, interestingly when we got off the plane all as normal no checks, no temperature taken, and no talk of quarantine as we expected. Now safely at pond cottage. Campbell, our son, picked us up from the airport and Elizabeth, our daughter, came on the Saturday with enough food for a month. We are now catching up with mountains of mail and enjoying being back in our house In Culross.
With Best Regards Katherine and Inglis.
And then Katherine added: -
Ps Spain would welcome visitors, and where we were in Estepona there is no covid19. Most of the problem has been in Madrid, Barcelona and Catalonia not Costa del Sol. Everyone has to wear masks and keep their distance and the beaches have guards all along the coast. The police turn people away on the roadblocks if people try to get down to Costa del Sol who should not be coming.
Katherine.
...............................................................................................
On this day: -
552 - Origin of Armenian calendar
988 - The city of Dublin is founded on the banks of the river Liffey
1778 - American Revolution: Louis XVI of France declares war on the Kingdom of Great Britain.
1913 - World's official highest recorded temperature at Greenland Ranch, Death Valley, California at 134 °F (56.7 °C)
1925 - The trial of John T Scopes, a high school teacher, begins in Dayton Tennessee. He is accused of teaching evolution in violation of the Butler Act. It becomes known as "The Monkey Trial

"

1985 -

French foreign intelligence agents blow up the Greenpeace boat Rainbow Warrior in Auckland harbor, New Zealand to prevent it interfering with French nuclear tests in the South Pacific. Dutch photographer Fernando Pereira is killed.
---
7th July #2
I was short of copy for today's post. That is until this arrived in my inbox. I should say that my gmail account offers me a number of choices in terms of replies to emails and it seems to recognise the content that it addresses. When this arrived I was given the following choices: -

Thankyou
Thankyou so much.. and
You're so sweet thankyou!

You are now charged with the task of deciding just who this "so sweet" person is!
I'll give you a clue - it's a boy!
Answers on an email to muir.rig@gmail.com.
Solution to be posted after I've received a few guesses.
Nae prizes.
---
7th July
On this day: -
1456 - A retrial verdict acquits Joan of Arc of heresey 25 years after her death!
1928 - Sliced bread is sold for the first time by the Chillicothe Baking Company Missouri.
1930 - Arthur Conan Doyle dies.

1940 - Ringo Starr is 80 today.
1946 - I missed this on the 5th because of the iPad thing but on the 6th of July 1946 Micheline Bernardini modelled the first Bikini while carrying a box into which it could be packed: -


6th July #2
I'm back in business! I got my laptop back this afternoon. Here is a scan of the table mat I spoke of earlier: -

Coincidentally we also have the photograph of the Club at the same time. Craig Bryce is in the chair and there are a few others instantly recognisable: -
6th July
Firstly apologies to everyone for yesterday. Not being accustomed to using the iPad when I pressed the send button I thought nothing had happened so I pressed it again and again and again. The result was that you would probably have got eight notifications. Idiot!
I phoned the computer chap and asked if I could expect my laptop back today. His only response was "I'm working on it".
Diane has begun clearing out drawers and has come across a table mat in a gold colour that's very glossy. It commemorates the 50th Anniversary of the Club in1974 with an etching of a view of the steeple and the north side of the High Street. I cannot figure out how to import it here on this iPad so I'll post a copy when I get my laptop back.
5th July
My laptop is in the shop and I am dictating this on Diane's iPad so I'll make this short and sweet. I was watching the field at the side of the house today and became aware of a dozen or so wood pigeons in the field all facing the same direction. They were squatted down and were not feeding. Coincidentally they were all facing into the wind. I remember 16 years ago reading Tom Sawyer and in that book I read that horses will always stand in a field with their back to the wind. I didn't know that this was a phenomenon on among other animals. I have however witnessed and confirmed that horses do indeed stand with her back to the wind. I have however witnessed and confirmed that horses do indeed stand with a back to the wind.
I hope to have my laptop back tomorrow. So I will close now and hopefully return tomorrow.

3rd July
It's all been decided then! Next Thursday 9th July we will be able to see the official handover of the chains! You should all have a link from President Narek to join him, Jim, and LInda via zoom at his office at 1.00pm. If you don't have it contact Narek and he'll respond.

I have been rattled at trying to capture a screen image of our meetings. Both Andrew and I have been taking photos of the screen but that always showed the photographer taking the snap. I contacted Gordon McInally who always has great screen shots and he told me what to do: -
It's got to be on a lap top or pc and if you hit the "windows" button and "prt scr" simultaneously a screenshot will automatically be sent to your "Screenshots" Folder in "Pictures". Seemples! Watch this space!
The young red deer are growing exponentially: -
On this day: -

1767 - The first edition of Norway's oldest newspaper still in print "Addresseavisen" is published.

1886 - Karl Benz officially unveils the Benz Patent "Motorwagen" - The first purpose built automobile.

1928 - John Logie Baird demonstrates the first colour television transmission in London.
1962 - Tom Cruise is born.

1996 - UK House of Commons announces that the Stone of Scone, aka the Stone of Destiny, used in the coronation of Scottish (and subsequently English and British monarchs), will be returned to Scotland after 700 years in Westminster Abbey.

(That is notwithstanding a short sabatical in Bonnybridge after being stolen by a group of students from Glasgow University)

1940 - Worried that the Germans would commandeer the French Navy, the majority of which was anchored at Mers-el-Kébir and Oran, Algeria, Churchil sought reassurance from the French Admiral Darlan that he would not allow that to happen. Darlan tried to ressure Churchill that he would not but Churchill thought that the risk was too great and decided to do something about it. He despatched a powerful Royal Navy taskforce, led by HMS Hood under the command of Admiral Sir James Somerville to Mers-el-Kébir. He was instructed to issue an ultimatum to the French that would require them to do one of the following: -
* Join the Royal Navy in continuing the war with Germany.
* Sail to a British port with reduced crews to be interned for the duration.
* Sail to the West Indies or the United States and remain there for the rest of the war.
* Scuttle their ships within six hours.
If they refused all four options, Somerville was ordered to destroy the French ships to prevent their capture by the Germans. He had received a message from the Admiralty, which read: "You are charged with one of the most disagreeable and difficult tasks that a British admiral has ever been faced with, but we have complete confidence in you and rely on you to carry it out relentlessly."
In the absence of a satisfactory response to the ultimatum, the British launched what the reluctant Somerville later described as a "shameful" air and sea attack on the French on July 3. The bombardment killed 1,297 French servicemen, sank a battleship and damaged five ships. Five British aircraft were shot down and two crewmen killed.
In a postscript to the story, the Germans did try to capture the French fleet based at Toulon in November, 1942 but all ships of any military value, including the Strasbourg, were scuttled by the French. Many Frenchmen saw this as proof that there had never been any question of them surrendering their ships to the Germans and that the British action at Mers-el-Kébir had been an unnecessary betrayal.

Churchill later received a letter from Admiral Darlan: "Prime Minister, you said to me, 'I hope you will never surrender the fleet'. I replied, 'There is no question of doing so'. It seems to me you did not believe my word. The destruction of the fleet at Toulon has just proved that I was right."
---
2nd July
I was listening to the morning show on Radio Scotland this morning and they have a piece where celebs talk about their favourite Holiday. I think its to try and compensate for the fact that we are unable to participate these days in holiday type activities.

Anyhow it got me thinking. During the time that might be called my childhood, the only time that we went on anything that might have been called a holiday was when we visited my Aunt and Uncle who stayed at 60 Bath Street in Portobello. It was on the second floor on the corner of a victorian block of flats overlooking the beach. I can't actually recall how long we stayed at a time but I do remember staying overnight. There were five of them and 5 or 6 of us depending on when all this happened. As I write I can't imagine how we all fitted in!

Later in my teens, holidays were spent at Brisbane Glen in Largs where I visited my father's cousins. They were a brother and sister who lived together. Willie was a Gamekeeper and his sister Janet kept house and reared hens and turkeys (for eggs and the pot) and ducks and pheasants for the shoot. The hens were real "free range" hens. The coops were dotted around the farmhouse in various fields. The March field (that's the field at the "boundary"); Charlie's Field (Charlie was the horse); the top field (up at the highest part of the farm) & etc.

Every day there were three trips to the hens, regardless of the weather. First thing in the morning we'd traipse out to open up the coops. Sometime through the day we'd traipse round again and collect the eggs. And last thing at night, at last light, we'd traipse round again to shut them in for the night. If it was raining we'd be clad in oilskins with a souwester and wellies and I have vivid memories of bats diving at and clattering off my souwester as I made through the trees to the top field.
These were great times! I learned how to clip sheep with hand shears. I learned how to fold, roll and pack a fleece. I learned to shoot, I learned to pluck, clean and prepare for the table all sorts of poultry and game. I learned how to retrieve Charlie, the Horse, from the field and hitch him up to the cart. I learned how to drive the horse and cart too. I also learned a whole lot about how to entertain, how to behave in font of "my betters" and how to stay out of the way of Derek (The Aberdeen Angus Bull.)

All of this brings me to my point (about time I hear you say) At what point in time did we stop calling hens hens and start calling them chickens! Chickens are wee yellow cuddly things that we don't EAT.

1st July
Would you believe it? Not only do we have a new President in Narek Bido but we have begun the run down to Christmas already! The nights are becoming progressively shorter and we have a new RI Theme: -

I thought that the last two theme logos were really quite inovative this one looks like it has been manufactured by a year one primary class! I will as a result keep the "Rotary Connects the World" logo for this page because ti better reflects the raison d'etre!
I got this from Anne Watson yesterday so be on your guard: -
COVID 19 Scams
This from Carole Anderson, Community Development Officer at Age Scotland.: -
You will no doubt be aware of the increased threat of financial harm that is currently being experienced within the UK during the COVID-19 pandemic. Scams such as fake coronavirus testing appointments, Government grants, furlough payments, requests for refund of overpayments, mortgage holidays – all are being used by scammers employing ever-more sophisticated methods.
To that end the Scottish Government has issued a weekly "Cybercrime" information update, which is particularly useful for keeping up to date with new scams:
https://blogs.gov.scot/cyberresilience/2020/05/06/cyber-resilience-notice-covid-19/
Please pass this on to anyone you think may be interested and apologies if you have already received it from another source.
...........................................................................................................
I thought that I had the gold medal for inane and useless information but Robert Craig is catching up in Silver medal place very quickly he says: -

"Did you know?" (Just imagine the accent!) That Panam was begun in 1926 by a man called Juan Trippe?
I know that Gordon is not a fan of Wikipedia but they say: -
Pan American Airways, Incorporated (PAA) was founded as a shell company on March 14, 1927 by Air Corps Majors Henry H. "Hap" Arnold, Carl A. Spaatz, and John H. Jouett as a counterbalance to the German-owned Colombian carrier SCADTA,[5] operating in Colombia since 1920.........
Juan Trippe formed the Aviation Corporation of the Americas (ACA) on June 2, 1927, with the backing of powerful and politically connected financiers who included Cornelius Vanderbilt Whitney and W. Averell Harriman, and raised $250,000 in startup capital from the sale of stock.[7] Their operation had the all-important landing rights for Havana, having acquired American International Airways, a small airline established in 1926 by John K. Montgomery and Richard B. Bevier as a seaplane service from Key West, Florida, to Havana. ACA met its deadline of having an air mail service operating by October 19, 1927 by chartering a Fairchild FC-2 floatplane from a small Dominican Republic carrier, West Indian Aerial Express.
All that having been said I still liked the notion of an uber successful international airline being started by a chap called Juan Trippe.
...........................................................................................
On this day: -
1881 - The world's first international telephone call is made between St. Steven, New Brunswick, Canada and Calais, Maine, USA.
1908 - "SOS" (· · · – – – · · ·) distress signal becomes the worldwide standard for help.
1913 - The start of the first Tour de France Cycle Race.
1916 - 1st of 4 fatal Jersey Shore shark attacks occur at Beach Haven when Charles Vansant (25) bled to death, challenging previous scientific belief that sharks never hurt humans, and sparking popular fear over sharks which persists today
1959 - Specific values for the Pound, yard and other derived units are adopted after agreement between USA, UK and other Commonwealth Countries.

1997 - United Kingdom returns Hong Kong and the New Territories to the People's Republic of China.
---
29th June
On this day
1613 - The Globe Theatre burns to the ground.
1981 - Hu Yaobang became Chairman of the Communist Party of China on this day. His death eight years later would lead to the notorious Tiananmen Square Massacre. See below

2007 - The first iPhone is released.
2008 - Thomas Beatie, the world's first pregnant man, gives birth to a daughter.
2012 - A derecho sweeps across the eastern United States leaving 22 pedople dead and millions without power! (A derecho is a widespread, long-lived, straight-line wind storm that is associated with a fast-moving group of severe thunderstorms known as a mesoscale convective system. Derechos can cause hurricane-force winds, tornadoes, heavy rains, and flash floods.)
Of course I was aware of the Tiananmen Square massacre but until now was never really aware of what triggered it: -
A man who wanted to pursue social and economic reforms, Hu inevitably became opposed by the hardliners. So despite being appointed to the more powerful position of party General Secretary in 1982, he was eventually forced out of office and made to state humiliating "self-criticisms" of his ideas in public.
After all, they said, amongst other things he refused in 1986 to crack down on protesting students, saying that they should be allowed to vent their frustrations.
Hu died of a heart attack, aged 73, in April 1989. Not surprisingly given his downfall, his death was hardly mentioned officially and there was no suggestion of a state funeral. "We'll see about that," the collective student body responded.
University students from across Beijing marched on Tiananmen Square, calling for the rehabilitation of Hu's reputation – even if the slogans that they shouted had been officially approved and considered acceptable to the Party.
Meanwhile, a delegation of student petitioners waited in vain for three days at the Great Hall of the People to put their case. The Party leadership took note of the protest, however, and decided that Hu should be given a state funeral after all, albeit a muted one.
It took place on April 22, 1989 and turned out to be the focus of massive demonstrations by thousands of students. On top of various grievances they were angry that the Government had refused to receive their petition.
A concerned Party leadership responded by publishing an editorial in the People's Daily. It described the protests as "dongluan" (meaning "turmoil" or "rioting") and said they had been carried out by a "tiny minority."
This further enraged the students who feared arrest if accused of being involved in "dongluan" activities and they demanded retraction of the editorial. It remained a major point of contention throughout the protests.

Amid a continued stand-off, students from other cities poured into Beijing to join the protests. Worryingly for the Government, other groups joined in, including a variety of workers, housewives, doctors and even sailors from the Chinese Navy.
Then on May 13 the students took a decisive step by announcing a hunger strike. Over one thousand of them took part, gaining widespread sympathy. Hardline student leaders then called for the protests to continue until June 20 – the date of the next National People's Congress meeting.
Alarmed at the prospect of such prolonged protests, the Government finally decided to bring in the People's Liberation Army and force the protesters out of Tiananmen Square.
On foot and in tanks, firing tear gas, the army moved into the square on the morning of June 3, 1989. But the horror would not take a firm grip until nightfall. Throughout the early hours of June 4 soldiers beat, bayoneted, and shot protesters. Many were crushed to death as tanks drove over them.
By 6am the square had been cleared. Doctors and ambulance drivers who tried to enter the area were shot, as were parents looking for their missing sons or daughters.
Amid all the shock and grief, the next day brought an astonishing event. As foreign journalists and photographers watched spellbound from their hotel balconies, a young man carrying shopping bags stepped in front of a line of tanks.
When the lead tank changed direction, the man jumped back in front of it. After a while he climbed onto the tank and reportedly asked the crew: "Why are you here? You have caused nothing but misery."
Though the tanks tried to manoeuvre around him, he repeatedly moved to block their path. Finally, as he continued to defy the tanks, he was overpowered by security men and taken away. His identity and his fate are unknown.
.............................................................................................................

28th June #2
This year sees 45 years since Ian Rule and Inglis McAulay joined the Rotary Club of Falkirk. They are our two longest serving members. Congratulations guys. Harry is close behind at 43 years.

Other notable milestones are Jim Watson - 40 years, Sandy Murrison 35 years, and Robert Hannigan 30 years.

Between all of our members we have amassed a total of 656 years of Rotary Service with an average length of service of 20.5 years.

Just in case you are wondering this information was gleaned from a spreadsheet that Bob Grant created when he was secretary and I have been keeping it up to date.
...............................................................................................

28th June.
I have been remiss! And I apologise to Bill! Because I didn't post anything yesterday I missed the fact that it was his birthday. A big one too! The only thing that prompted me to visit the page today was the fact that it is Linda Noble's birthday today. A Happy Birthday to you both. A wee bird tells me that Linda has a big day to celebrate as well! Something to do with trombones and big parades.

Also on this day: -
1491 - Henry VIII is born!
1820 - Tomato is proven to be non-poisonous by Colonel Robert Gibbon eating a tomato on steps of courthouse in Salem, New Jersey
1838 - Coronation of Queen Victoria in Westminster Abbey, London.
1846 - Saxophone is patented by Antoine-Joseph "Adolfe" Sax
1914 - Franz Ferdinand, Archduke of Austria and his wife Sophie are assassinated in Sarajevo by young Serb nationalist Gavrilo Princip at 10.45, the casus belli of WWI.
1919 - Treaty of Versailles, ending WWI and establishing the League of Nations, is signed in France.
1971 - The first British national Scrabble competition was staged in London on this day and won by Stephen Haskell, a young teacher. He notched up an aggregate score of 1,345 points from three games.
That would have impressed Alfred Mosher Butts, an American architect who invented the game in the 1930s. The Great Depression had left him without work but not without ideas and inspiration.

He liked crosswords, chess and other mind games and settled down in his New York apartment to create a new game that would involve knowledge, strategy and chance – and hopefully earn him some money. The world came to know his creation as Scrabble, but that's not what Mr Butts called it.

He first tried naming it Lexico, then in 1940, with sparse interest from game manufacturers and his dream starting to fade, he renamed it Criss Cross Words. That didn't work either so finally, in desperation, he called the game simply . . . It.

Thankfully, a friend, James Brunot, offered to manufacture and market the game when he retired from work in 1948. He was the one who came up with the name Scrabble.
..................................................................................................................

26th June
Weird things are happening on the website template. I couldn't get in this morning and now that I can get in there are badges for "Admin Edit" that are missing!
We had our Club Assembly yesterday by ZOOM. : -
It was a really successful event which included the District Governor Elect Calum and Assistant Governor Ken. There were 20 of us all told present although if truth be told we weren't all there at the same time
.
Gordon was there early on and Margaret joined us later probably for the last time now that she has completed her move north.
The content of the reports has been sent to you all by Secretary June and they show that we are not about to let this pandemic get us down. As DGE Calum says we are one of very few Clubs in District 1020 that were here at trhe start of the second world war. While we are meeting on ZOOM, and thank technology for that, at that time it would have been a case of "When will we next meet?" to which the answer would have been "Next week at the Park if its still there!".
We have had some great weather recently accompanied by spectacular sunsets.
......................................................................................

Andrew tells me that Rotary Foundation has gained for the twelfth consecutive year the highest possible four star rating from Charity Navigator.

On this day: -
1284 - According to the Lüneburg manuscript, a piper leads 130 children of Hamelin away
1857 - The first 62 recipients are awarded the Victoria Cross for valour in the Crimean war by Queen Victoria.
1945 - United Nations Charter signed by 50 nations in San Francisco.
1977 - Elvis Presley performs in the last Concert of his life in Indianapolis Indiana.
1974 - The Universal Product Code is scanned for the first time to sell a packet of Wrigleys Chewing Gum at the Marsh Supermarket in Troy Ohio
---
24th June
I was in the garden today and was about to take a picture of the latest two blooms on our Paeony when right alongside I saw this: -
It looks as though some poor young bird has been taken from the nest and plucked before being transported elsewhere.
Anyway, I'd shown you the Paeony before so I thought I'd show you another rose.
This rose has been in our garden for 40 odd years. Before that it was in my father's garden and his father's and his father's garden (If you are to believe my dad) It is affectionately known as Granny's Rose. The story went along the lines that they were all jacobite supporters back then, but when the rose was originally adopted as a Jacobite symbpol it was because it was an indigenous and common Scottish wildflower.
I decided to check on my facts before posting this and came across these from the web site of Historic Environment Scotland at Culloden: -
In the years before the '45, any signs of Jacobite allegiance were suppressed. Jacobites had to meet and plot in secret. Because of this, a number of secret Jacobite symbols emerged, which revealed to those 'in the know' who was on their side.
These symbols included:
The White Rose – Used on its own it symbolized the exiled King James but it could be present with one bud symbolizing Prince Charles or two symbolizing Prince Charles and his brother Henry.
Due to the treasonous nature of Jacobite affiliation symbols were an important way of conveying Jacobite loyalties in a covert way. Jacobites would often drink a toast to the king 'over the water' in glasses encoded with these secret symbols. Often a glass of wine would be held above a bowl or glass of water as a toast to the health of the king was offered; thus literally toasting the king over the water.
One final hidden Jacobite message which is just a little bit different. Some believe that the popular Christmas carol 'O Come All Ye Faithful' is actually a Jacobite call to arms. The Latin version of the carol, Adeste Fideles, celebrated not the birth of Jesus but the birth of Prince Charles Edward Stuart. It was written by John Francis Wade an English Jacobite who fled the country after the failed 1745 Rebellion. Fideles is Faithful Catholic Jacobites. Bethlehem is a common Jacobite cipher for England, and Regem Angelorum is a well-known pun on Angelorum (angels) and Anglorum (English). So 'Come and Behold Him, Born the King of Angels' really means, 'Come and Behold Him, Born the King of the English' – Bonnie Prince Charlie. The English translation was not made until 1841 by which time the Jacobite connotations had been lost.
On this day: -
1314 - Battle of Bannockburn; Scotland regains independence from England.
1322 - Jews are expelled from France for 3rd time.
1374 - Sudden outbreak of St. John's Dance causes people in the streets of Aachen, Germany, to experience hallucinations and begin to jump and twitch uncontrollably until they collapse from exhaustion.
1509 - Henry VIII is crowned King of England in Westminster Abbey.
1717 - 1st Free Masons' grand lodge founded in London
1916 - Mary Pickford becomes the first female film star to get a million dollar contract.
2010 - In the longest match in tennis history, American John Isner defeats Nicolas Mahut of France at Wimbledon after 11 hours, 5 minutes of play over 3 days
..........................................................................................

23rd June
This from Anne Watson yesterday: -
Dear Sandy

I remember John showing us a picture of his lovely seat when he gave his Presidents talk many years ago To find out from his research that it very likely was made at Carron Co. is wonderful, who knew that the Czar visited Carron and that we did trade with Russia. Such an iconic company which is sadly no more.
My maternal grandmother's family for several generations were employed by Carron Co. either in the foundry or the mines. They lived in Blackmill and West Carron between Carron and Skinflats and were a large family of 12 only 3 girls. My grandmother was the youngest born in 1900, the eldest, John Colvin was a Methodist Minister and emigrated to Australia in 1912. He wrote to "wee Kate" every month until his death in 1957. My grandmother died at 85 and my regret is that I never wrote down all the stories she told me.
Anne
........................................................................
I have been watching television this morning , BBC1 "Your Money And Your Life". They were wittering on about "Veganism" being a "healthy" choice! They were comparing salt, sugar and saturated fat contents of vegan fast food with the sort of stuff that the masses eat. They seem, however to have missed the point and I am sure that the mainstream Vegan movement has cause to complain.

Veganism has more in common with religion than dietary trends. It is a life style. It is a way of life that eschews the notion of "using" any animal for our sustenance or comfort. That includes the use of leather, wool and meat of course. I cannot say that I subscribe to the notion but I can respect the belief. The notion that it is wholly and wrongly portrayed in a BBC programme leaves me utterly gobsmacked! ...............................................................................

Our swallows have taken to leaving the nest in the morning, flying about during the day and returning to the nest at night! Wierd!
...............................................................................
And this from Ausat yesterday: -
Hi sandy

How are you and how are you coping with LD?
Muna 's father, who is 89 & lives with us and had a multiple medical problems had developed COVID 19 while he was in hospital for his hairline fracture. Thanks to God no symptoms appeared, just the COVID 19 test was positive, after 10 days in COVID ward under observation, he was discharged on 9th June and since then he has been fine at home. It was a big relief.
.......................................................................................
On this day: -
930 - World's oldest parliament, the Icelandic Parliament, the Alþingi (anglicised as Althing or Althingi), established.
1974 - 1st extraterrestrial message sent from Earth into space
2016 - UK Votes to leave the European Union.
1912 - Allan Turing is born. He takes his own life 42 years later after being chemically castrated for the crime of homosexuality.
1981 - Longest game in Professional Baseball ends: Pawtucket Red Sox finally beat Rochester Red Wings 3-2 in 33 innings (game began on the 18th of April)
22nd June
Our swallows have done something I've never witnessed before. They have fledged (left the nest) they have flown about! But now they have decided that its too cold and windy out there and have returned to the warmth of the nest!
John Struthers read the bit about the Savannah and sent me this: -
Hi Sandy,
I was particularly interested in the recent story about the Ship Savannah. Why ? My addition to the story started some forty years ago when we bought this cast iron chair.
On Saturday 3rd May 1992 the Telegraph newspaper published an article about Sir John Soane's Museum in London and it was accompanied by a photograph showing a chair similar to ours.
I wrote to the curator asking for information on the origin of their chair and received a very interesting reply: -

I then wrote to Mr Thorson at the museum in Savannah and received a book from him about the history of the S. S. Savannah.
And in it is a photograph of the chair gifted to Captain Moses Rogers ..........
I believe our chair was manufactured at Carron Iron Works.

The Grand Duke Nicholas of Russia visited Carron Works in 1817.

Workers from Carron Coy. broke their bond and headed for St. Petersburg.

S. S. Savannah arrived in St. Petersburg in 1829.
John
................................................
On this day: -
1633 - Galileo Galilei forced to recant his Copernican views that the Earth orbits the Sun by the Pope (Vatican only admits it was wrong on Oct 31, 1992!)
1865 - The CSS Shenandoah fires the last shot of the American Civil War in the Bering Strait to indicate surrender.
1963 - "Little" Stevie Wonder aged 13 releases his first single "Fingertips" (first live non-studio recording to go to No. 1 on Billboard).
1847 - First ring doughnut supposedly created by Hanson Gregory
---
21st June
Firstly and most importantly it's FoodBank time again. I will email everyone as well but please try to have any donations into the Trust deposited before the end of the month so that it's all in this financial year.
This from Gordon: -
Well, I got it wrong again, as usual. Just at high water this afternoon, down the river came a mallard duck with 5 ducklings, about a week old. No doubt a goosander will appear any day now with her brood.
I think that they are all up here Gordon!
My faith in humankind has been justified! 6 years ago I transferred from O2 for my phone provision to 3 Yesterday in the post I got this! Well done Telefonica!
And to finish with Now I know there were 5 swallows in the nest! But the nest is empty now! Ready to start a second brood.
On this day: -
1879 - Frank W. Woolworth opens his 1st successful "F. W. Woolworth Great Five Cent Store" on North Queen Street, Lancaster, Pennsylvania.
1982 - Prince William is 38 today.
This, it would appear, is not such a notable date as others. Nothing but boring things happen.
---
20th June
I got this from Anne Watson yesterday: -
Vera Lynn has died at 103 what a wonderful life she had. My dad was a big fan of hers. In 1942 my dad was a "Desert Rat " fighting in North Africa at El Alamein he was seriously wounded and ended up in a Military Hospital in Alexandria While he was there he had a major operation to remove most of his right lung, he was treated with Penicillin which was newish at that time, it saved his life then and several times over the following years
While in hospital they had three important visitors Field Marshal Montgomery, Winston Churchill, and Vera Lynn You can imagine which one the boys liked best.
When he left hospital Dad was considered non combative and was in charge of a supply depot near Naples where he learned to speak Italian, sing Neapolitan love songs and enjoy smelly cheese. An Italian family in Bo'ness would give him Gorgonzola and my mother made him keep it in the coal house.
He was never truly well after the war but he managed to father another 3 children, he died aged 51 of lung cancer but he never forgot Vera Lynn and the boost to moral she gave them, and could be quite emotional when he heard her sing.
I am sure that there are other families up and down the county who have similar stories to tell though not many veterans left My dad would be 102 if alive
Happy Memories
Anne
...................................................................................
While the hinds are in the field to the North of us delivering and looking after their offspring the stags are in the field to the south, "in velvet", preparing for the next round: -

While the swallows are growing out of their nest!
On this day: -
1649 - King Charles the first is sentenced to death for what the High Court of Justice described as "his tyrannical rule as King of England." The monarch's head was chopped off in a public execution that gratified the anti-royalists but appalled large sections of the population who held steadfastly to a belief in the "divine right of kings."


1756 - Black Hole of Calcutta: 146 British soldiers, Anglo-Indian soldiers and Indian civilians are imprisoned in a small dungeon in Calcutta, India where most die from suffocation and heat exhaustion
1840 - Samuel Morse patents his telegraph

(That one is for George)

1895 - 1st female PhD from an American University, earned by Caroline Willard Baldwin (in Science) at Cornell University.
2001 - In an attempt to save her five children from Satan Andrea Yates drowns them all in a bathtub - Houston Texas.

---
19th June #2
I forgot!
On this day!
1566 - The birthday of King James 1st & 6th.
1819 - A ship with smoke billowing from her was spotted distantly off the coast of Ireland on this day causing the vessel Kite to be despatched to the rescue. But to the amazement of the Kite's officers, the ship thought to be in distress turned away as the rescuers drew near. This, in fact, was no ship in distress; it was a ship in triumph: the Savannah had set sail from Savannah, Georgia, on the first successful trans-Atlantic voyage (partially made) under steam propulsion


1917 - The British Royal Family, which has had strong German ties since George I, renounces its German names and titles and adopts the name of Windsor

1978 - Garfield, The Guiness Book of Records holder of the most widely syndicated comic strip makes its debut.

19th June.
Yesterday's ZOOM meeting turned out to be quite difficult. There seemed to be something up with the internet in the area and many of us had difficulty in joining the meeting. We had eight at most and a good humoured blether: -
Gordon has a question: -
Hi Sandy,

This has been a most strange year for ducklings here at Carron. Usually we will have several broods on the river during the spring, both mallard and goosander This year we have had just the one mallard family, the 3 very early hatchlings, all of which have survived, and no goosanders We have had well over a dozen mallard drakes but only two other ducks, neither of which has produced any ducklings and one goosander pair. I would be interested to hear from anyone who exercises along either canal regarding how many duck families they have seen this spring.
.................................
Last Year for our Golden Wedding my sister bought us a perrenial flower that she hoped would continue to remind us of the event. It was as close to a golden Paeonie Rose as she could get and it has only just issued its first two blooms of this year, achieving exactly what she had hoped.

Paeonia Border Charm.
18th June
Gordon has told me about this: -
On the afternoon of 18th. June 1815 there took place what has been described as the most successful cavalry charge ever, when The Scots Greys, the regiment raised over 300 years ago by Tam Dalziel's ancestor, charged the French infantry at Waterloo with soldiers of The Gordon Highlanders clinging to their stirrup leathers. During the action Sergeant Ewart captured a French regimental eagle which is still on display in Edinburgh Castle.
Elizabeth Lady Butler's depiction of the Scots Greys famous charge at the Battle of Waterloo. In actuality, it appears that they were unable to build up the momentum of a gallop, because the broken ground obliged them to advance at a canter.
If you wish to know more I got this from Wikipedia (Gordon's not a fan of Wikipedia and suggest we go to www.92ndregiment.eu scroll down and near the bottom see what Corp. Dickson of F Troop has to say.)
On this day: -
1583 - Richard Martin of London takes out first life insurance policy, on William Gibbons; premium was £383.
1812 - War of 1812 begins as US declares war against Britain.
1815 - Battle of Waterloo; Napoleon and France defeated by British forces under Wellington and Prussian troops under Blucher.
1858 - Charles Darwin recieves a paper from Alfred Russell Wallace that includes identical conclusions about evolution to his own and prompts him to publish his theory.

(On that note I would recommend reading "This thing of Darkness" by Harry Thompson.)



1928 - American aviator Amelia Earhart becomes the 1st woman to fly across the Atlantic Ocean landing at Burry Port, Wales.
1942 - Paul McCartney is 78 today
1959 - Governor of Louisiana Earl K. Long is committed to a state mental hospital; he responds by having the hospital's director fired and replaced with a crony who proceeds to proclaim him perfectly sane.
2020 - Vera Lynne dies aged 103.
---
17th June
The Roe deer have returned and eaten the rest of my Geraniums!
But the red deer in the field are something else. I took this photograph from inside the patio doors: -

During the process I happened to make a noise with my camera against the glass and the wee one instantly flattened itself against the ground deep in the grass. I was so gobsmacked I omitted to take a photograph before it popped its head up to see all was clear and continued suckling! Awesome!

On this day: -
1631 - Mumtaz Mahal dies during childbirth. Her husband, Mughal emperor Shah Jahan I, then spends more than 20 years building her tomb, the Taj Mahal

1837 -

Charles Goodyear obtains his 1st rubber patent.

(begs the question "what were the previous ones made of?")

1885 - The Statue of Liberty arrives in New York Harbour

.

1939 -

Last public guillotining in France. Eugen Weidmann, a convicted murderer, is guillotined in Versailles outside the prison Saint-Pierre.
---
16th June #2

Inglis and Katherine reckon that all you old people will enjoy this: -
You might consider these words of wisdom:
Some senior citizens are being criticized for the present deficiencies of our modern world; real or imaginary, present or past, foreign or domestic.
We take responsibility for all our actions and omissions; we do not try to blame others for our past imperfections, ignorance or failures.
Our generation saved the World from Fascism, Communism, and Racism, while we raised the Standard of Living, Health Care, and Life Expectancy.
HOWEVER, upon reflection we would like to point out that it was NOT senior citizens who took:
The melody out of music,

The pride out of appearance,

The courtesy out of driving,

The romance out of love,

The commitment out of marriage,

The responsibility out of parenthood,

The togetherness out of the family,

The learning out of education,

The civility out of behaviour,

The refinement out of language,

The dedication out of employment,

The prudence out of spending,

And, we DO understand the meaning of patriotism, and remember those who have fought and died for our country.
YES, I'M A SENIOR CITIZEN !
I'm the life of the party . . . even if it lasts until 8 p.m.

I'm very good at opening childproof caps . . .

With a hammer.

I'm awake many hours before my body allows me to get up.

I'm smiling all the time, because I can't hear a thing you're saying.

I'm sure everything I can't find is in a safe secure place, somewhere.

I'm wrinkled, saggy, lumpy, and that's just my left leg; but I haven't made my skin look like wall paper or snake skin.

My ears, nose, tongue, or naval haven't been pi

er

ced with metal rings.

I'm beginning to realize that aging is not for wimps.

Yes, I'm a SENIOR CITIZEN, and I think I am having the time of my life!

Now if I could only remember who sent this to me, I wouldn't send it back to them.

Or, maybe I should send it to all my friends anyway.They won't remember, even if they did send it.
Spread the laughter, Share the cheer, Let's be happy, While we are here!
And last but not least go back to the top and read it once again, this time slowly.
I enjoyed it the second time even more.
---
16th June

A couple of years ago during my recuperation we visited Mugdock Country Park. It's well worth a visit with lots of beautiful walks, a Garden Centre a castle a walled garden and Anti Aircraft Gun Emplacement.

While we were in the Garden centre we were blown away by a display of what we were informed were Perennial Geraniums. Flowers that belong to the genus Geranium are referred to as true geraniums, hardy geraniums, or perennial geraniums. ... The flowers float on top of the plant, in shades of white, pink, magenta, purples, and blues. The flowers are small—around 1 inch—and cupped-shaped, attracting plenty of butterflies and bees.
This is what Rozanne should look like!
The head gardener was unable to tell us what the genus was and I have found no one since who could. The display took the form of a raised bank of about 10 feet by 5 ft covered in blooms. I thought that that was the sort of ground cover plant that I could use. Unfortunately they had none for sale!

Subsequently after a bit of research we were able to buy "Geranium Rozanne" which wasn't what we had seen but it was close. We planted it last year and it was growing well until we discovered that it has another name - "Roe deer food!".
This is what mine looks like this morning!

On this day: -
1916 - Lor Byron challenges his house guests to write a ghost story. Mary Shelley obliges with Frankenstein!

1855 - William Booth gets married.

1880 - Salvation Army forms in London! awww on his wedding anniversary!
1944 - George Junius Stinney Jnr. becomes the youngest person to be executed in the US at the age of fourteen!

1960 - Psycho opens in New York
2010 - Bhutan institutes a total ban on tobacco!
---
15th June

Andrew and his drinking buddies have pooled their Friday night booze money again and taken a delivery to the Food Bank! They amassed £120 between them which grossed up at 77 Kilos for the FB. Well done guys. It puts a whole new meaning on the phrase Pub Grub!
On this day: -

1215 - King John signs Magna Carta at Runnymede, near Windsor.
1219 - Dannebrog is the flag of Denmark and the oldest national flag in the world. According to legend, it fell from the sky during the Battle of Lyndanisse (now Tallinn) in Estonia, and turned the Danes' luck.
1381 - Several centuries before Margaret Thatcher, the first poll tax riot rocked England. It was called the Peasants' Revolt or the Great Uprising
1996 - Ella Fitzgerald dies.

2002 - Near earth asteroid 2002 MN missed the Earth by 75,000 miles (120,000 km), about one-third of the distance between the Earth and the Moon
---
There's a gap here because the whole shooting match went down on Monday 15th June and the closest backup that RIBI had was for the 9th.

---
9th June #2

How on earth did I miss this? Actually I jested earlier. I was encouraged (by you know who) to wind June up about her age but then I realised that on the very day that June was born : -
An extract from Rotary Calling in 1960: -

9th June.

It's June McAlpine's birthday today! Happy birthday June! Linda tells me that June is 65 today so well done June for looking so fantastic. I would never have believed it.

Andrew gave me this for today too: -
9 Jun 1963 The Beatles on the last night of their tour with Roy Orbison, performed at King George's Hall, Blackburn, Lancashire. It was during this tour that The Beatles' fans started throwing jelly babies at them while they were on stage, after an off-the-cuff remark on television that George Harrison enjoyed eating them.
As you are no doubt aware if you read these daily diatribes I live in a rural area and have been actively involved in the garden. (grass cutting and hedge trimming actually! Diane does all the real gardening). Well this morning when I got up I became aware of the fact that I had a slight itch on the inside of my left forearm. On closer inspection I discovered that I had a tick! This photgraph isn't mine I got it off the web!

Fortunately I have had one before and had the instrument for its proper removal in the first aid kit. I will monitor the site for any sign of rash in the future that may indicate the presence of Lyme disease.

On this day: -
68 - Roman Emperor Nero commits suicide, imploring his secretary Epaphroditos to slit his throat to evade a Senate-imposed death by flogging.
1870 - Charles Dickens dies.

1934 - 1st appearance of Donald Duck in a cartoon, "The Wise Little Hen"
1997 - British lease on the New Territories in Hong Kong expires
---
8th June

It's a special day today It's Frank Lloyd Wright's birthday ! He is recorded as saying: -
"Early in life I had to choose between honest arrogance and hypocritical humility. I chose the former and have seen no reason to change!"

"Give me the luxuries in life and I will willingly do without the necessities"

I believe in God only I spell it N-A-T-U-R-E
On Sunday July 7th 2019 The Unesco World Heritage Organisation inscribed 8 of the works of Frank Lloyd Wright on the approved list.
These included: -
Unity Temple

The Frederick C. Robie House

Taliesin

Hollyhock House

Falling Water

Herbert and Katherine Jacobs House

Taliesen West

Solomon R Guggenheim Museum.
Did you know that the South American Giant Otter can grow to 1.7 metres in length and has been known to kill crocodiles? It is also known locally as the "River Wolf" or "Water Dog"

On this day: -

452 - Italy invaded by Attila the Hun.
1783 - Laki volcano in southern Iceland begins 8-month eruption, killing 10,000 and causing widespread famines throughout Asia and Europe.
1869 - Ives W. McGaffey of Chicago patents the 1st vacuum cleaner, calls it a "sweeping machine"
1987 - New Zealand's Labour government legislates against nuclear weapons and nuclear powered vessels in NZ. Only nation to legislate against nuclear power.
USS Barbero and the US Postal service attempt the delivery of mail via "Missile Mail"

(It could only happen in the USA eh?)
---
7th June

Another hungry mouth to feed! I have seen two beaks at once. There are normally either four or five in the nest. The swallows get very angry if I go into the garage. After all they own it!

I also noticed a pied wagtail on the grass watching me intently while I was in the garage. That prompted me to have a wee search and I eventually found its nest on top of the stonework between the joists.

I got this from Elspeth Laurie: -
"I Thought you would like to know though you may have heard anyway that the Soroptimist Club raised £656 for the Visor appeal from one round robin email."
On this day: -
1329 - Robert the Bruce dies.

1654 - Louis XIV is crowned King of France. His 72 year long reign is the longest that a monarch has held power in history.

1929 - Vatican City becomes a sovereign state.
1965 - The Supreme Court of the United States decides on Griswold v. Connecticut, effectively legalizing the use of contraception by married couples.
1975 - Sony introduces the Betamax videocassette recorder for sale to the public.
2017 - Police in Mozambique warn bald men against attacks after 5 men are murdered for the gold believed to be in their heads
6th June

It's another lovely day! I was sitting in my study engrossed in a long message from Seagull Trust Cruises when I heard what sounded like somone knocking. I ignored it and then it happened again. I looked up and there was Peter, my son at the window with a huge grin on his face; he'd come to finish off what I was unable to complete in the cutting of our hedges. While that was the most lovely thing for him to be doing I wasn't really in the mood for gardening but it got me off my backside.

All of the hedges are now at the same height and there remains a wee bit of tidying up to do around one of the leylandii.
I have begun to gather my herbs together in the one place now. Previously they were spread about willy nilly all over the place but now I have them in a line.
I have cut back and repotted my Rosemary on the left because it was getting quite woody, I did the same for my sage in the blue pot next to it (I read on the net that you couldn't really do it any damage no matter how hard back you cut it) Behind that is my Bay tree then to the right of that my Marjoram; it dies back every year and then really comes back with a vengeance; its a nice substitute for Basil. In front of the Marjoram is Oregano then Mint, freshly seeded flat leaf Parsley, then curly Parsley and at the end is Corsican Mint.

We have two varieties of Thyme, Chives, Lemon Balm, Horse Radish and Fennel planted out in other parts of the garden. So if anyone wants cuttings or whatever just say the word.
On this day: -
1752 – A devastating fire destroys one third of Moscow, including 18,000 homes

1822 – Alexis St. Martin is accidentally shot in the stomach, leading to William Beaumont's studies on digestion?????

1844 – YMCA is founded in London.

1882 - Electric iron patented by Henry W Seely, NYC.

1940 – Tom Jones's birthday. He is 80 today!


1942 – Colonel Gaddafi's birthday. He's deid!


1985 – The grave of "Wolfgang Gerhard" is opened in Embu, Brazil; the exhumed remains are later proven to be those of Josef Mengele, Auschwitz's "Angel of Death"

2002 - A near-Earth asteroid estimated at 10 metres diameter explodes over the Mediterranean Sea between Greece and Libya. Resulting explosion estimated to have a force of 26 kilotons, more powerful than the Nagasaki atomic bomb.
---
5th June

Gordon sent me what I believe he thinks is a joke!
Who was the fattest Knight at King Arthur's Round Table?
Sir Cumference!
I can do better (worse) than that!
What does a Cypriot cheese say to itself in the mirror? ....... "Haloumi!"

Why do French people eat snails? ..... They don't like fast food!
How do Footballers cool down? .... They stand next to the fans!
Is that enough Gordon? Shall I stop now?
I've been clearing out again and came across this: -
Picture it - West Berlin - 1971 - Height of the Cold War - The German, American Volksfest (pronounced Folksvest). This was the menu for the hundreds of stalls that surrounded the fairground attractions like a Ferris Wheel, a Big Dipper, Carousels & etc. We had a ball! It was the first time that I had corn on the cob! we got it from a stall like a burger van. I dropped mine in the muck and was immediately presented with a replacement by the lady in the stall. We drank beer from the main sponsor's 2 litre glasses: -

On this day: -
1873 - Sultan Bargash bin Said under British pressure closes the infamous slave market of Zanzibar in modern day Tanzania.
1883 - The first regularly scheduled Orient Express departs Paris.
1956 - On the Milton Berle Show Elvis Presley scandalises the audience with his suggestive hip movements when he introduces his new single "Hound Dog"

1981 - 5 people in Los Angeles are identified with a rare type of pneumonia turning out to be the first recognised cases of AIDS.

1984 - Indira Gandhi orders an attack on Sikh's holiest site, the Golden Temple in Amritsar.
1988 - Russian orthodox church celebrates it's 1,000th anniversary.
---
4th June

It's now nearly three months since all of this actually hit home to the residents of UK.

While the virus was busy multiplying itself across the globe we were partying! 7th March saw many of us join Margaret at her home in anticipation of her imminent move to Tain. Sadly (for Margaret) that was not to be.

That was probably the last time we met together as a group. On a brighter note however Margaret tells me that she anticipates moving before the end of June. (The month that is).

I've just noticed that thumb on Diane's arm! Looks like mine! Was I saying "Get out of the picture!" or was I trying hard to usher her into the picture??? I think the latter! cos she's shy! (not like Linda!)

On this day: -
1940 - British complete the "Miracle of Dunkirk" by evacuating 338,226 allied troops from France via a flotilla of over 800 vessels including Royal Navy destroyers, merchant marine boats, fishing boats, pleasure craft and even lifeboats.
1945 - US, Soviet Union, Britain and France agree to divide up occupied Germany.
1989 - Tiananmen Square Massacre: Chinese troops clear the square of student protesters, unofficial figures place death toll near 1,000.
1927 - 1st Ryder Cup Golf, Worcester CC: US beats Great Britain, 9½-2½; Walter Hagen first American captain; Ted Ray first GB skipper.
1969 - 22-year-old man sneaks into wheel pod of a jet parked in Havana and survives 9-hr flight to Spain despite thin oxygen levels at 29,000 ft
1973 - A patent for the ATM is granted to Don Wetzel, Tom Barnes and George Chastain.
---
3rd June

Sorry about yesterday I had totally lost track of time and forgotten to produce Rotary Calling! So I spent the day doing that instead (as well as scarifying a bit of my grass).

I have been scrolling back through photographs on my phone and came across this one for 3rd June 2018! 2 years ago! This is what Social Distancing is depriving us of!: -
Did you know that 1st - 7th June is Volunteers week! St John Scotland is sending out a daily update to all of their volunteers! Today they are celebrating "Wellbeing Wednesday" with their top five tips on looking after yourself: -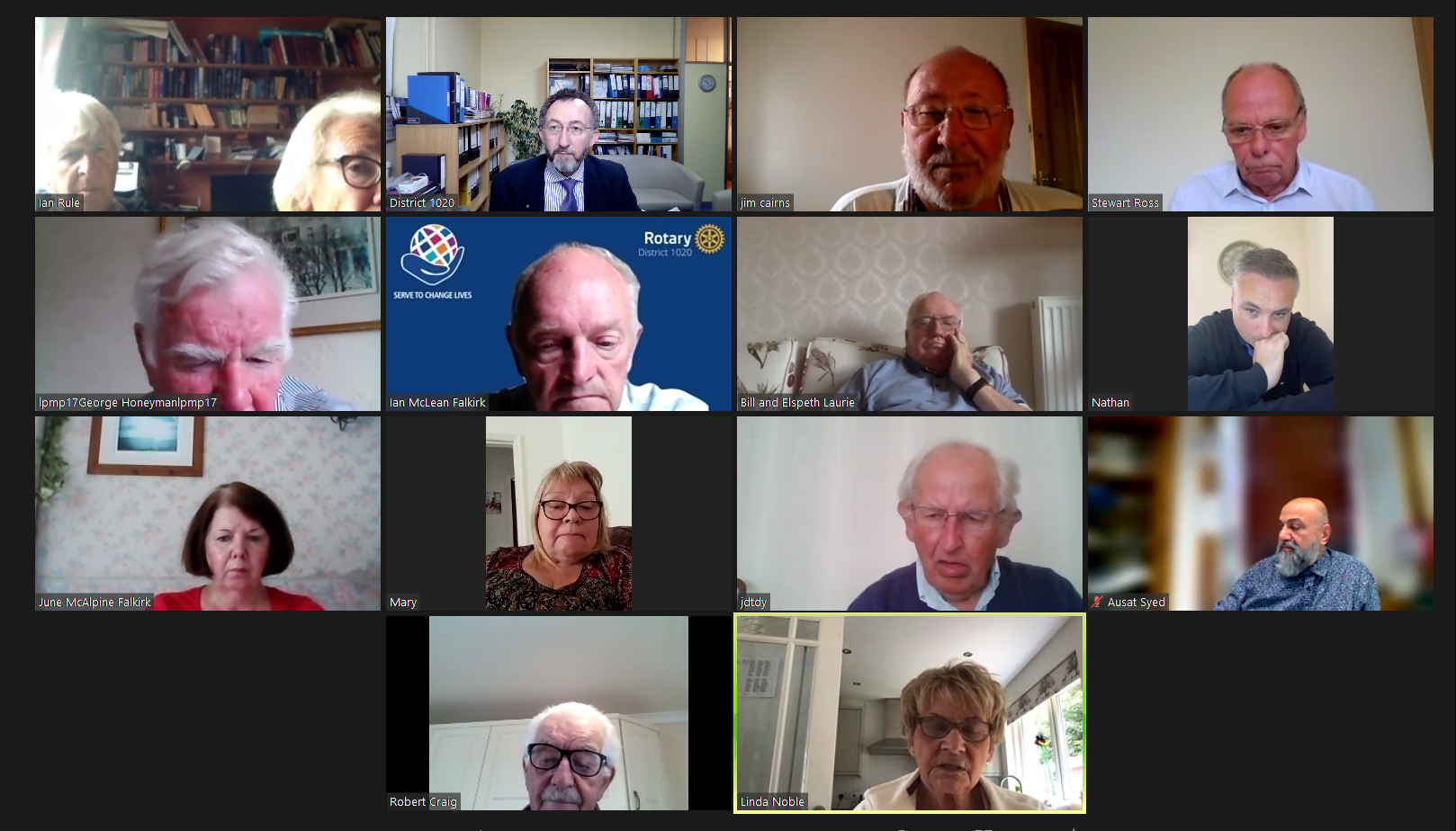 On this day: -
1851 - 1st baseball uniforms were worn when the NY Knickerbockers wore a uniform of straw hats, white shirts and blue long trousers
1943 - A mob of 60 from the Los Angeles Naval Reserve Armory beat up everyone perceived to be Hispanic, starting the week-long Zoot Suit Riots.
1968 - American radical feminist Valerie Solanas attempts to assassinate Andy Warhol by shooting him three times. She is later diagnosed with paranoid schizophrenia and pleads guilty to "reckless assault with intent to harm", serving a 3 year sentence.
1979 - Ixtoc I rig in the Gulf of Mexico blows, spilling 3 million barrels of oil in one of the worst oil spills in history.
1986 - Rafael Nadal is 34 today. Happy birthday Rafa!

1989 - Beginning of the Tiananmen Square Massacre as Chinese troops open fire on pro-democracy supporters in Beijing
1st June

It's Robin Johnston's birthday today! Happy birthday Robin.

Did you know that now that the golf courses are open thay have coined a new golfing term. It's call a Dominic Cummings! It's the term for a long drive that goes seriously out of bounds and there's no penalty!

Andrew has not been idle! Apart from making chunky her tea he's been on the bike! he says: -
"On the 1st May over a WhatsApp beer I was challenged to do a 300 mile total cycle in May.
I accepted the challenge; the rules were simple cycle 300 miles or pay £100 to Strathcarron Hospice if I managed to do it my friend (Charlie who is also a cancer survivor and all round good guy) who set the challenge would pay £50 to Strathcarron.
So I now have his £50 and I will also donate my £100 To them.
Total miles on my push bike (not electric). Is 538" That's the end of the quote by the way not inches!
Well done Andrew Donations are accepted (Andrew says) to any charity of your choice. Obviously Strathcarron figures high in that. Both Bill Laurie and I have however donated to our own Trust Fund on the understanding that fundraising is not predictable these days.
Why not make Andrew's epic cycle worthwhile and donate the remaining 3 weeks of your lunch money this month to a charity of your choice!
And Linda Noble has been busy too! -
"Today I delivered some masks to Robert Craig and the pair of us had socially distancing lunch in his courtyard , and very nice it was too.
He gave me a tour of his garden. Now that garden can hold thirty of us all socially distancing, as Robert said , you can drive in 3 point turn and park down his driveway. You will recall earlier I said that maybe we could all meet in a park, bring a chair and packed lunch . If this part of the lockdown goes according to plan maybe we should seriously think about this ?"
On this day: -
4000 BC - Approximate domestication of the horse in the Eurasian steppes near Dereivka, central Ukraine (hypothesis only)

(You don't say!!!!)



1495 - First written record of Scotch Whisky appears in Exchequer Rolls of Scotland, Friar John Cor is the distiller
1926 - Marilyn Monroe is born.

1964 - Kenya becomes a republic with Jomo Kenyatta as its 1st President.
1974 - The Heimlich maneuver for rescuing choking victims is published in the journal Emergency Medicine.
---
31st May

Yesterday we took advantage of the new rules and played host to our daughter, her husband and Jorja and Shaw. We were quite strict about socially distancing although whoever linked the two notions "socially distant" and "gathering" together in the same sentence has some imagination being as they are quite opposed to one another.

I had come across a book on the bookshelf that really interested me. It contained 366 stories each of 366 words. Just the thing to get kids interested in reading. One of the stories really got me going. It was about a wee boy who saved up words! He kept them in a box under the bed. One day his wee sister (Too young to talk yet) found the box and ate all of the words! He was distraught but eventually manged to shut her up; because she regurgitated the words incessantly, when she fell asleep uttering "Zebra, Zoo and zzzzz!" He held her upside down by the ankles and all of the words came tumbling out! He gathered them all up and put them back in the box. The last two words being The End! I read the story to the kids and left them with the book to take home.: -

The eagle eyed among you will havs spied the absence of my decorative screen wall which blew over and smashed during the high winds last week.

Andrew tells me he was making a cup of tea for Gillian: -
On this day: -

1669 - Citing poor eyesight, English civil servant Samuel Pepys records the last event in his famous diary.
1868 - Dr James Moore (UK) wins 1st recorded bicycle race, (2k) velocipede race at Parc fde St Cloud, Paris.
1902 - Boer War Ends; Treaty of Unity signed, Britain annexes Transvaal.
1910 - Union of South Africa declares its independence from the United Kingdom.
1930 - Clint Eastwood is born - That makes him 90 today.

1935 - 7.7 magnitude earthquake hits Quetta in Balochistan, British Raj (Pakistan) killing an estimated 50,000 people.
1970 - 7.75 Ancash earthquake off coast of Peru kills 66-70,000 and sets off world's deadliest avalanche.
---
30th May

This from Gordon: -
I've just watched something I have never seen before.

A mallard duck was standing on a stone in the middle of the river preening and minding her own business. The duck with the 3 ducklings came swimming slowly down river feeding. Without warning the mother took off and at an altitude of about 4 inches flew right at the preening bird, which woke up to the situation just in time and took off vertically, being missed by a feather breadth. The mother then proceeded to attack every othe mallard in the vicinity, both ducks and drakes, none of which had taken the slightest notice of her untill she started to throw her weight around. Mayhem ensued for about twenty minutes. During all this the ducklings took no notice and continued scooping up the insects from the surface of the water. Amazing.

Maybe she thought the rest of them were breaking the lockdown rules.
On this day
1431 - Joan of Arc is burned at the stake

1806 - Future US President Andrew Jackson kills Charles Dickinson in a duel after Dickinson accused Jackson's wife of bigamy

(an unnamed source says her first husband was the umoire)



1911 - 1st Indianapolis 500 car race, Ray Harroun wins at 74.59 MPH (120 KPH)
1911 - William Gilbert

(Of Gilbert and Sullivan)

died in a gallant attempt to rescue a woman swimmer who was in difficulties.
1987 - North American Philips Company unveils compact disc vid

eo.
---
29th May

First of all read yesterday's #2
Now for today! So it's warm! So it's sunny! So what! Everyone is waxing lyrical about the garden and the Summer and how good it is to be alive and so on! Well I was trawling through some memorabilia last night and thought that I'd change the theme!

Picture it! 55 years ago! December! Five sisters of Kintail. Sgurr Fhuaran is the central and highest peak of the renowned ridge. A perfect cone, its west ridge is perhaps the longest continuous ascent route in Scotland. The peak is at 1,067m (3,500 ft). The first Falkirk Rover Crew decided that they would do a winter traverse of the ridge.

I was 20! Just a boy. That's me third from the left.

And this is what we traversed.
That was one amazing weekend which I will never forget.
On this day: -
1660 - On his 30th birthday Charles II returns to London from exile in the Netherlands to claim the English throne after the Puritan Commonwealth comes to an end.

(These things are all american! I'm sure it was the British throne!)



1886 - American chemist John Pemberton begins to advertise Coca-Cola in the Atlanta Journal.

1942 - Bing Crosby records "White Christmas", world's best-selling single (estimated 100 million copies sold)
1953 - Edmund Hillary (NZ) and Tenzing Norgay (Nepal) are first to reach the summit of Mount Everest as part of a British Expedition.
1985 - Amputee Steve Fonyo completes his Cross-Canada marathon at Victoria Columbia after a gruelling 14 months.

28th May #2

Gordon tells me that the lead boat of the flotilla into the gondola on TFW, and the first to rotate, at the opening by HM was The Falkirk Seagull Trust's Govan Seagull. This was granted to mark the contribution of (as it was then) The Seagull Trust in the campaign to have the canal network reopened.
He also tells me that Linda Noble delivered masks for Liz and him yesterday.
28th May

The photograph is of Victoria on the Falkirk wheel way back on Sunday 24th May 2002 ~ Hard to believe that this May marked the 18th birthday of the world famous only rotating boat lift. It seems only a few years since HRH Queen Elizabeth II performed the opening ceremony and allowed the Linlithgow Union Canal Society flagship Victoria to be one of the first boats to transit the wheel. Not that the Queen was on board; She had her own boat !!!

One might have thought that one would have wished to travel on one's boat named after one's Great Great Grandmother, but it was not to be.
Transcribed from the LUCS monthly magazine "Basin Banter"
On this day: -
1431 - Joan of Arc is accused of relapsing into heresy by donning male clothing again, providing justification for her execution.
1907 - The first Isle of Man TT races are held.
1917 - JFK's Birthday.

1934 - Near Callander, Ontario, the Dionne quintuplets are born to Olivia and Elzire Dionne, later becoming the first quintuplets to survive infancy.
1936 - Alan Turing submits "On Computable Numbers" for publication, in which he set out the theoretical basis for modern computers

.

1951 - Radio programme "Crazy People" (later titled The Goon Show) premieres on the BBC, created by Spike Milligan

1972 - Edward VIII dies
---
27th May

It's my big brother Alistair's birthday today! He'll be 82! He speaks Russian and was deployed in Gatow, West Berlin for many years flying on Nimrod reconnaisance aircraft. He is not allowed to tell us what he was doing!

We now have two fawns in the field next door! Here is number 2: -
1431
Yesterday I learned a new word which interested me! I think that there are many occasions when I might be able to use it! Ipse dixit: an unproven assertion based on the bare authority of some speaker; a dogmatic statement; a dictum!! According to the Oxford English Dictionary it was coined to describe Pythagoras by his contemporaries!!!

On this day: -
1679 - Habeaus Corpus Act (strengthening person's right to challenge unlawful arrest & imprisonment) passes in England.
1930 - The 1,046-foot (319-metre) Chrysler Building in New York City, the tallest man-made structure at the time, opens to the public
1937 - The Golden Gate Bridge San GFrancisco opens to pedestrian traffic.
1941 - The German battleship BIsmarck is sunk killing 2,100 men.

2006 - Earthquake strikes Java, Indonesia at 5:53:58 AM local time (22:53:58 UTC May 26) devastating Bantul and the city of Yogyakarta, killing over 6,600 people.
1995 - Superman (Christopher Reeve) is paralysed from the neck down after falling from his horse in a riding competition.
2014 - Maya Angelou dies.

(Maya Anjelou was a remarkable woman! If you don't know her Google her! She is, I believe, the most remarkable voice against racism the world has known.)



26th May

I have never been a great one for Facebook but since I undertook to look after the Club Facebook page I have been looking at the content on my own page. Yesterday I was "messaged" by my Cousin in law who is researching her family tree. She attached some photographs of Diane's Grandparents that we'd never seen. This prompted me to share information with her (she has the same grandparents as Diane) and that threw up some anomalies! While researching these anomalies I came across the "Stirling Directory and Almanac" which had the answer to all of our prayers hidden away within its depths: -

Does anyone know if you can still buy this stuff? Looks like a cure for Covid 19!

Also Andrew tells me (also on facebook) that: -

Historically, bread was divided according to status. Workers got the burnt bottom of the loaf, the family got the middle, and guests got the top, or the upper crust.
Now I can remember plain bread and the burnt crust was the upper one! And what's more they were both the worst bits! the best bit was in between! ...Come on Andrew you must do better!

On this day: -
1647 - Alse Young Hanged in Connecticut - The first person to be executed as a witch in the British American Colonies.
1897 - Bram Stoker publishes Dracula

1923 - The first 24 hour Le mans Race

1927 - Henry Ford and the Ford Motor Company produce the last (and 15th million) Model T Ford / Tin Lizzie
1967 - EMI releases "Sgt. Pepper's Lonely Hearts Club Band" a few days early in the UK; it would go to number one for 15 weeks in the US and 22 weeks in the UK
---
25th May

Yesterday was a momentous day! This little one arrived in the world.

We learned some time ago that immediately after birth the mother will hide the fawn away from prying eyes and initially we thought it was deserted but the mum keeps a close eye on her offspring from a distance and comes back to feed when necessary.
But that wasn't all! We had a belter of a sunset and a beautiful New Moon: -
You have to look for it but it is bang in the middle of the picture.

On this day: -
1720 - The Ship "Le Grand St Antoine" reaches Marseille, bringing Europe's last major plague outbreak. Kills around 100,000!
1907 - John Wayne's birthday.

1977 - Original "Star Wars" movie (Episode IV – A New Hope), directed by George Lucas and starring Mark Hamill, Carrie Fisher and Harrison Ford first released.
1986 - Hands Across America - 6.5 million people hold hands from California to NY.
2001 - 32 year old Eric Weihenmayer from Boulder Colorado becomes the first blind person to reach the summit of Mount Everest. (Didn't really appreciate the view though)

1703 - Samuel Pepys dies.

---
24th May

Last year at this time I crewed for Gordon on his boat . It was on the occasion of "The Canal Carnival" which involved a huge number of boats leaving the basin to travel down onto the Forth and Clyde canal and then west towards Auchinstarry.
The Scottish Canals boat "Maryhill" led the Flotilla which featured many smaller steam boats, narrow boats and rowing boats.
Canal enthusiasts from all over the UK had brought their boats to the event on trailers in order to take part.
People from as far away as Cumbria, the Lake District and even Bath showed off their boats to the delight of the general public gathered there to witness the spectacle.
On this day: -
1738 - John Wesley is converted, launching the Methodist movement; celebrated annually by Methodists as Aldersgate Day.
1819 - Queen Victoria is born.

1844 - Samuel Morse taps out "What hath God wrought" in the world's first telegraph message.
1941 - German battleship Bismarck sinks the British battle cruiser HMS Hood; 1,416 die, 3 survive.
1956 - 1st Eurovision Song Contest: Lys Assia for Switzerland wins singing "Refrain" in Lugano.
1976 - In the Judgment of Paris, wine testers rate wines from California higher than their French counterparts, challenging the notion of France being the foremost producer of the world's best wines
23rd May
How time flies!
We had our AGM on Thursday by ZOOM. It was, in my view, extremely successful. It's also got to go down on record as the shortest AGM ever!
The budget was unanimously agreed at £150 per head for the coming year and the £50 levy for PI which was to be collected annually in January has been suspended for the time being; there being sufficient funds in the pot for the foreseeable future.
During the course of the meeting Linda Noble asked if any member of the Club would like a mask and if so to let her know. She will happily make a mask for you. So lets keep Linda busy eh? Drop her an email with your order.

That having been said this generous initiative of Linda's brought back memories for me. I recall, (I think that it was the brainchild of David McKenzie ex rector at Falkirk High) we had on more than one occasion what we called a "Talentathon" where members of the Club offered their individual talents to other Club members in return for a donation to the Trust Fund.

Now! during the last two Council meetings we have had debates about whether we should be emptying the coffers when we don't know how or when we can start fundraising again. But no discussion has yet taken place about how we will return to fundraising. That aside I think that this presents an ideal opportunity to top up the funds.

Last time as I recall I offered a bespoke framed watercolour of any member's home and I think I recall correctly when I say that Ian Johnston offered a delivery of dung. Anything goes. So howsabout it? Can any of you offer your unique talent for the benefit of the Trust Fund? Let me know and I'll draw up a list for people to choose from.

On an entirely different note, Andrew has informed me that this week there were no reported new cases of wild Polio anywhere in the world! So far this year there have been 47 reported in Pakistan and 12 in Afghanistan. The last Polio case repoted in Nigeria was on the 20th August 2016.

On this day: -
1618 - Second Defenestration (look that one up in the dictionary) of Prague: Two Catholic Lords Regent and their secretary are thrown out of a window and amazingly are not seriously injured by the 70 foot (21m) fall. Triggers the Thirty Years' War.
1883 - Baseball game between one-armed and one-legged players at Recreation Park, Philadelphia, Snorkeys defeat the Hoppers 33-17.
Bonnie and Clyde are shot dead by police.

1941 - Bob Dylan is 79 today!

1958 - Mao Zedong starts the "Great Leap Forward" movement in China.
1992 - Italy's most prominent anti-Mafia Judge Giovani Falcone, along with his wife and three body guards were killed by the Corleonesi Clan with a half ton bomb near Capaci in Sicily

1998 - The Good Friday Agreement is accepted in a referendum in Northern Ireland with 75% voting yes.
---
22nd May

Again I'm having difficulty filling this spot. But as usual someone has come to the rescue. This time in the shape of Andrew. He apparently has a regular triste with his pals on a Friday night at the pub and they have decided to donate the money that they would otherwise have spent on pints, peanuts and passage to the food bank. He obviously had first hand knowledge of what the Foodbank needed so that was a great help. This is the boot of his car on the way to the Foodbank: -

It begs the question - "How much does he actually drink on these soirees?

On another matter when, yesterday, I used the word "Prosaic" in connection with LInda's description of her position It was intended to express admiration at the fact that the body of the text was "pertaining to or resembling prose"! it was not intended to be anything other than complimentary.
On this day: -

1933 - First modern sighting of the Loch Ness Monster by Aldie and John Mackay saw "something resembling a whale"
1946 - First US rocket (WAC Corporal) to reach edge of space fired from White Sands Missile Range New Mexico.
1980 - PacMan is released!

1987 - The first ever Rugby World Cup kicks off with New Zealand playing Italy in Aukland.

2012 - Tokyo "Skytree" opens to the public! It is the tallest "Tower" in the world (2,080.05ft) and the second tallest man made structure on earth after Burj Kalifa (2,272.4409ft)
2015 - The Republic of Ireland becomes the first Nation in the world to legalise gay marriage.
2017 - 22 people are killed at the Ariana Grande Concert in the Manchester Arena bombing.

21st May
It's that time again! Send your lunch money to the Trust Fund!
Linda is becomining all prosaic!: -

The sun is out.
The Azaleas are out.
I have a garden.
I have a roof over my head.
I am not alone.
I went for weekly shop today.
I have food everyday on my table (too much really).
Our sons and daughters in laws are in work.
Our grandchildren are healthy.
We have great neighbours.
We can pay our bills.
We have a television.
I can speak to friends either by what's app, Zoom, house party or by phone.

So yes, very grateful; but missing hugs and kisses from my family and friends, the nonsense chat, the laugh till you cry, the planning of where to go or do next, the glass of wine with my best friend, Rotary meetings, Seagull Trust .
I look forward to the empty calendar being filled in so I remember where and when , and wow this is a busy month !!!
Stay safe
Linda.
And on that note a quote from my hero: -

There is nothing higher,
that I can see,
Than the deep and full understanding and appreciation,
of the beauty around you!
Frank Lloyd Wright
On this day: -
1904 - Federation Internationale de Football Association (FIFA) forms in Paris1
1927 - Aviator Charles Lindbergh, in the Spirit of St Louis, lands in Paris after the first solo air crossing of Atlantic
1932 - After flying for 17 hours from Newfoundland, Amelia Earhart lands near Londonderry, Northern Ireland, becoming the 1st transatlantic solo flight by a woman. And what's interesting about that when she was in UK she spoke to the Rotary Club of Falkirk.
1934 - Oskaloosa Iowa becomes the first Municipality of the United States to fingerprint all of its residents!
1936 - Sada Abe is arrested after wandering the streets of Tokyo for days with her dead lover's severed genitals in her handbag!
2004 - Stanislav Petrov awarded World Citizen Award for averting a potential nuclear war in 1983 after correctly guessing Russian early warning system at fault.
---
20th May
Linda is Centre Stage today: -
I had a go at the three fold mask but found it quite uncomfortable, however, due to one of the earlier posts I had a go at the duck bill one - much more comfortable.
Unfortunately, my 40 year old sewing machine struggles with the thickness of the material at the loop part, but when I retired I purchased an overlocker to make my own curtains and such like and I also took lessons for around 8 years. So, after thinking about how I could work through the fact that my trusted old sewing machine was not coping; out came the overlocker!
WOW! I can now rattle through them.
The most time consuming is the cutting, but once I get that done I have a wee production line going.
Having been an amateur seamstress since I was a youngster I have all the gear including a special needle for threading the elastic. (editor's note: the "Special Needle" is called a "stick with a hole in it").
I have been a busy bee doing this as my immediate family and friends are all looking for them. Material was a bit of a problem but what with sheets, duvet covers an old trouser suit, frocks and some donations coming in the stock is building up . I believe they will be part of our norm till we have a vaccine.
For us ladies (Ladies???) never mind the lipstick get your mascara on! and gentlemen trim your eyebrows.
(did mine at the same time as my ears and nose!)
On this Day: -

1802 - Naloleon Bonaparte reinstates slavery in the French Colonies after it had been abolished during the Revolution.
1899 - Jacob German a New York Taxi Driver was arrested in the first US traffic violation for speeding along Lexington Street. He was doing 12 mph.

1902 - Cuba gains independence from the United States of America

1927 - At 7:40 AM, Charles Lindbergh takes off from New York to cross the Atlantic for Paris, aboard Spirit of St Louis (1st non-stop flight)

1927 - Saudi Arabia becomes independent of Great Britain in the Treaty of Jeddah.

1990 - Hubble space telescope sends its first photographs from space


2020 - It's Cher's birthday today! She is 74.

---
19th May

Good afternoon, I'm running out of stuff to write about. Hence the silence yesterday.
Inglis and Katherine are still bound over in Spain but he tells me that they hope to catch a flight home late June all going well. John Struthers has been painting his fences and weedkilling his drive while Ronald and Helen assure me that their neighbours do their shopping and they are both well and being well catered for
Gordon Daly tells me that the three ducklings are almost as big as their mum now.
Gordon (always a fount of knowledge) reminds us of the old saying "Ne'er cast a clout 'til May be oot!"! He rightly points out that the "May" in the saying does not refer to the calendar month but the blossom of the May tree or Hawthorn. The "May" is in blossom now so he says "ye kin a' cast yer clouts!"
I remember being in a hotel in Lincoln about this time of year three years ago and I overheard some English residents in the bar discussing the saying. They were certain that the "May" referred to was the Calendar month but as for "casting clouts" they hadn't the slightest scooby!
I took it upon myself to educate them, not only in the meaning and underlying dress codes but also in the way that the whole should be enunciated if it were to sound at all accurate.
By the Way I would recommend "The Castle" hotel in Lincoln to anyone that is visiting there. We had a beautiful room with a magnificent view of the Cathedral.
Still no sign of any fawns although the hinds are behaving very erratically.
There was a competition in USA for the most effective defence against this pandemic: -
On this day: -
1536 - Anne Boleyn, second wife of English King Henry VIII, is beheaded at the Tower of London on charges of adultery, incest and treason.
1897 - Oscar Wilde is released from Reading Gaol.
That reminds me! In 1985 I published through Falkirk Library a "Town Trail of Falkirk". It won the Scottish Libraries association Publication of the Year. Sorry Inglis but it was printed by the Monument Press in Stirling.
Part of the script describing the Steeple reads: -
"A steeply winding stair that leads to a grim chamber that was the Gaolers'..."
The monument Press however decided that I had made a typo and changed it to "Goalers'". This led Colm Brogan in his article the Glasgow Herald headed
"What's the difference between Falkirk and Benidorm? They're both well known tourist resorts except Falkirk"
to write: -
Since Falkirk has (and really does have) two football teams, it is appropriate that the goalers (a Falkirk term, presumably) should have such a grim if historic chamber"!
Well think again Colm! Falkirk is doing very nicely as a National Tourist Attraction.

---
17th May
I got a lovely phone call yesterday from John Struthers. Among the other things that we spoke about was books. I have a long held love of books! Not so much for the content but for the things themselves. When I designed a book binding Factory for Dunn and Wilson 40 years ago I met Tommy Valentine. Tommy was internationally renowned as a conservator of books and he taught me lots. He even let me see (but not touch) a complete set of the volumes of Audubon's birds. I think that there are something like 4 or 5 complete sets left in the world today.
Any how this is our reading place.
I treasure two of the books particularly. The first one is Rudyard Kipling's "Kim". When my maiden aunt died my father had the job of clearing the house. Before he could get there my cousins had emptied the house of anything that they thought was of any value. My aunt had been nanny to the Blackie family (the publishers) and on the bookshelf pretty well the only things left were two books; Kim and a leather bound volume of "The works of Robert Burns" both signed on the fly leaf by J. Blackie.
It turns out that the "Kim" is a first edition and worth in the region of £200. But I'd never sell it. It sits on the top row of the bookshelves well out of the reach of little hands.
The other is "The Forth Bridge" a "by subscription only" publication of the articles in "Engineering Magazine" at the time of the original Construction. It was published to commemorate the centenary of the Bridge in 1989.
On this day: -
1527 - Pánfilo de Narváez departs Spain to explore Florida with 600 men - by 1536 only 4 survive.
1792 - 24 merchants form New York Stock Exchange at 70 Wall Street.
1961 - Fidel Castro offers to exchange Bay of Pigs prisoners for 500 bulldozers.
1990 - The World Health Organisation removes "Homosexuality" from the list of psychiatric diseases.

2004 - Massachusetts becomes the first U.S. state to legalize same-sex marriage.
2012 - Donna Summer dies.

16th May

It's World Whisky Day!

To mark such an occasion here are some thirst quenching facts about the historic distillery Dallas Dhu set in the beautiful Speyside countryside:
Dallas Dhu was the idea of entrepreneur Alexander Edward in 1898 and it filled its first barrel on 3 June 1899.
The distillery closed during the First World War but was afterwards sold to J.P. O'Brien & Co. Ltd.
During this time fifteen men were employed, they were expected to turn their hand to anything from unloading barley to shovelling peat and rolling out the barrels.
The exception was the exciseman Maurice Walsh, who became famous. He is known as the author of The Quiet Man, which was made into a film starring John Wayne and Maureen O'Hara.
Production at Dallas Dhu ended in 1983 due to an excess of stock, falling demand, and an unreliable water supply.
We have so much love for Scotland and are looking forward to days out again. This site is a perfect one to add to your future travel plans. The marvellous mash tun, washbacks and still house of this fantastic site will be waiting for you when the time is right to visit once more.
On this day: -
1568 - Mary, Queen of Scots, flees to England

1888 - Nikola Tesla delivers a lecture describing the equipment which will allow the generation and use of alternating currents to transmit electricity over long distances.

1920 - Joan of Arc is canonised.
1929 - The first Academy Awards.
1943 - Operation Chastise: No. 617 Squadron RAF begins the famous Dambusters Raid, bombing the Möhne and Eder dams in the Ruhr valley with bouncing bombs.
1951 - The first scheduled flights by El Al from Idlewild airport in New York to Heathrow

---
15th May.

Since accepting the post of Public Image Chair I have consistently posted anything that we do that is worthy of note on facebook. Latterly of course that has been our amazing success with the Food bank project. But I also see a lot that is posted by other "Friends".
Gordon McInally was District Governor (from South Queensferry then) when I was first President. He has since gone on to be RIBI President and regularly speaks at Rotary events about "Hope and Homes for Children". Gordon posted the following today about a ZOOM Meeting that his Club had: -

"Great presentation from RI Staff Member John Hannes at this evening's meeting of Kelso Rotary Club. President Heather McInally was delighted to welcome visitors from as far afield as Canada, USA, Belgium, The Philippines and Germany as well as from within Scotland. In addition to toasting "Rotary the World Over", we were able to toast RI President Mark Maloney on this his birthday. Congratulations to Regine Rosen for winning the wine raffle."
So you see there is no reason why in these dire times we cannot continue our meetings in a true spirit of Fellowship, albeit at a distance, until this is all over.

Today's tip: -

I thought that I had created this tip all by myself until I heard a TV Chef recommend it the other day. Fair took the wind out of my sails. So it did!
For years now, when there has just been the two of us I have always bought mince in multiples of 250g (That being the weight that I consider to be required for mince and tatties, chile con carne or spaghetti bolgnese for two people). I proceed to freeze any excess in bags of 250g each. The bags I use are ASDA zip lock bags. I put 250g into the bag compact into a sausage at the bottom then roll it flat in the bag thus: -

I then pop it in the freezer. It economises in the space taken up and is much, much quicker and easier to thaw out when it is needed.

On this day: -
1252 - Pope Innocent IV issues the papal bull ad exstirpanda, which authorises, but also limits, the torture of heretics in the Medieval Inquisition. (benevolent soul that he was!)

1567 - Mary, Queen of Scots, marries James Hepburn (fourth Earl of Boswell) in her third Marriage.
1928 - Mickey Mouse prmieres in his first Cartoon "Plane Crazy"

1940 - Richard and Maurice McDonald open the 1st McDonald's restaurant in San Bernardino, California. (Where did Ronald come from then?)
1987 - The Soviet Union launches the Polyus Prototype Orbital Weapons Platform. It fails to reach orbit! (tee hee)

2010 - Jessica Watson at age 16 becomes the youngest person to sail solo, non-stop and unassisted around the world
14th May #3
We have just had our first "1,000 people reached" post on facebook: -
14th May #2
Today we had a Zoom informal meeting! The members that joined in were: -
Jim Carins, Sandy McGill, Andrew Niven, Tom Curry, Margaret Lyon, George Honeyman, Sandy Murrison & Bill laurie.
George told us about a Polish relative who came here during the war (and not the 1st WW). The Polish man, Ted, had married a relative of George and stayed in UK. He also spoke about a drive over to Poland with George as the driver.

We then heard other members' memories of their childhood in the years after the war. Sandy Murrison contributed most I think with his memories of the bombings of Aberdeen who suffrered terribly during that time.

Sandy McGill then held a quiz that lasted for around 10 minuets.
Apart from the quiz it was just like a table at one of our regular meetings. We had a great blether and a great laugh as well.
14th May
At yesterday's Council Meeting Margaret announced that it would be her last Council Meeting! While she still waits on the authorities allowing her to move, this is a milestone for the Club and she will be sadly missed.
After the party that she had (Ostensibly a farewell party) Margaret very kindly visited Diane and me with some leftovers from the party and (I don't know if she was aware of it) I noticed her eyes flare at the sight of my fridge covered as it is in magnets. This is a problem I have! I have to buy a magnet wherever I go. I thought that since I had nothing for yesterday I'd look at the accumulated memorabilia.
They include many Rotary memories from Menorca, Belfast, Nottingham, Bournemouth, Blackpool, Glasgow, Lytham, Brighton and Manchester along with personal memories from Portugal, Hong Kong, Bangkok, Australia (Perth and Sydney), New Zealand (all over), USA (LA, Chicago, San Francisco, Mojave Desert, Route 66, Grand Canyon, Joshua tree National Park, Oak Park, Scottsdale Arizona, Bear Run Pennsylvania, Miami, Naples (Florida)) Italy (Rome, Naples, Venice and Verona) Spain (Barcelona, Mijas, Malaga, Marbella and Gibraltar) Portugal, Morocco, France, Switzerland, lots of other Eurpean destinations and most of Great Britain from Mallaig to St Keverne in Cornwall and from Durness to Dover.
It's not until we are so constrained as we are that these things are put in proportion.
Keep safe.
On this day: -
1796 - English country doctor Edward Jenner administers the first inoculation against smallpox, using cowpox pus, in Berkeley, Gloucestershire
1870 - The first game of rugby is played in New Zealand between Nelson College and the Nelson Rugby Football Club.
1897 - The Stars and Stripes for ever is first performed in Public at Willowgrove Park Phillidelphia

1939 - Linda Medini becomes the World's youngest confirmed mother in medical History at the age of five.

1948 - Israel declares independence from British administration.
1955 - Eight Communist Bloc Countries sign a mutual defence Treaty called the Warsaw Pact.
---
12th May #2
My utmost admiration to the whole Club who enabled this and to Narek, Andrew and Jim for facilitating it. This is what £600 worth of aid to the foodbank looks like!
12th May
How time flies! This will be the 52nd post on this site since the beginning of the lockdown. I don't think any of us thought at the beginning just how drawn out this issue was going to be.

John Struthers tells me that he has been to the doctor: -
On the other hand my very kind neighbour sent me some fertiliser the other day: -
The benefits of Country Living show no bounds!
On this day: -
1789 - William Wilberforce makes his first major speech on abolition in the UK House of Commons, reasoning the slave trade morally reprehensible and an issue of natural justice.
1937 - The Duke of York is crowned King George VI.

1940 - Nazi blitzkrieg and conquest of France begins with the crossing of the Muese River.
1941 - Konrad Zuse presents the Z3 in Berlin. The worlds first working programmable fully automatic computer.
1943 - Axis forces in North Africa surrender
2002 - Former US President Jimmy Carter arrives in Cuba for a five-day visit with Fidel Castro becoming first President of the United States, in or out of office, to visit the island since Castro's 1959 revolution.
2008 - Wenchuan earthquake, measuring 7.8 in magnitude occurs in Sichuan, China, killing over 87,000, injuring 374,643 and leaving homeless between 4.8 million and 11 million people.
---
11th May
It's Harry Johnston's birthday today. And its a big birthday! Happy birthday Harry! You won't be able to celebrate the way that you might otherwise have done but enjoy yourself anyway.

11th May is also the anniversary of our trip to Nottingham last year to the RIBI Conference.

On this day: -

1310 - 54 members of the Nights Templar are burned at the stake as heretics.
1812 - Waltz introduced into English ballrooms. Some observers consider it disgusting and immoral.
1812 - British Prime Minister Spencer Perceval is assassinated by John Bellingham in the lobby of the House of Commons, London. Ironically, descendants of both later elected to Parliament at the same time.
1820 - Florence Nightingale was born.

1940 - Harry Johnston was born!
1987 - The first Heart-Lung transplant takes place in Baltimore.

2000 - India's population officially reaches 1 billion - Astha Arora named India's billionth baby.

---
10th May
I believe that Andrew has had an accident with electricity! He sent me photographs with no explanation. I can only assume that they are before and after him sticking his finger in an electrical socket.

Or maybe there's another explanation?

Jim Watson's daughter Joan has been doing a weekly shop for them since lockdown. On Thursday she emailed to say "don't have lunch I will get you a treat!" Jim and Anne expected something with the shop from Tesco but at midday a charming Irish gentleman delivered a wonderful afternoon tea from Finnigans in Vicar Street. Joan came round and they had a lovely socially distant tea in the garden.
On this Day: -
1752 - Benjamin Franklin tests the lightning conductor with his kite-flying experiment.
1863 - General "Stonewall" Jackson dies 8 days after being accidentally shot by his own Confederate troops.

1935 - My big sister Jean is born. Happy birthday Jean!
1954 - Bill Haley and his Comets release Rock around the Clock The first rock and roll record to reach number one in the Billboard Charts.

1963 - Decca signs Rolling Stones on advice of Beatle George Harrison.
1975 - Sony introduces the "Betamax" Videorecorder in Japan.

1994 - Nelson Mandela is inaugurated as South Africa's first black President.
---
9th May
I managed to cut the hedge yesterday! In the process I lost a screw from the blade of the hedge trimmer. It's lying somewhere among oodles of hawthorn clippings. I managed to find another that would do but have been advised that I might also have lost a spacer without which if I tightened the screw and tried to use the trimmer again it would probably seize up. That in my view is a perfect excuse not to be cutting any more hedges!

We had our weekly family quiz on Zoom last night. It's always great fun and President Jim has asked me to put a quiz together for next Thursday's meeting. Of course we will only run it if all those present are happy to participate. I spoke to George Honeyman after the meeting yesterday. He was annoyed that he couldn't get into the meeting but he had been using the link from last week. I pointed him towards the link that June sent out for the repetitive meetings and he looks forward to being there on Thursday.
During the course of the Zoom meeting last night Wendy (my daughter) told us that Jorja (her daughter 9 yo) was becoming curious about her wine. Wendy asked her to smell it and tell her what she thought it smelled like. Jorja sniffed pensively and replied "It just smells like Granny's House"!!!!!

On this day: -
1386 - Treaty of Windsor between Portugal and England (oldest diplomatic alliance in the world still in force)

1941 - British intelligence at Bletchley Park breaks German spy codes after capturing Enigma machines aboard the weather ship Muenchen.
1960 - US becomes the first country to legalize the birth control pill.
1986 - Tenzing Norgay dies.
---
8th May
Lots of stuff this morning: -

Firstly and most importantly, it's not only John Struthers's birthday today it's Margaret's birthday too! How cool is that. John tells me that having his birhday on VE day brings back memories of the locals having a celebration bonfire in the middle of the road at Wall Street / Watling Avenue in Camelon! Obviously that not only melted the tar but left a gaping hole in the road for the following morning.

About 5 or 6 years ago I was told to change my life style because my cholesterol was too high! There were the usual references to alcohol and exercise but I changed by shunning butter and margarine in favour of a spread that reduces cholesterol. It worked!

Fast forward five years and, one chicken and a chicken dinner later: -
The chicken cost me £3.00! we had our dinner last night with the legs, put two breasts in the freezer for another meal and made 10 plates of soup, eight of which will be in the freezer in the ubiquitous spread containers. And, no! Benecol is not paying me for this!
Yesterday I cut one hedge! This is the other side of the garden this morning. If my achievements can match my aspirations I will post an "after" picture of the same hedge tomorrow.
On this day: -
1660 - English parliament declares Charles Stuart to be King Charles II of England.
1933 - Mohandas Ghandi begins a 21 day fast in protest against British Rule in India.


1958 - "Dracula" film starring Christopher Lee as the eponymous vampire, directed by Terence Fisher is the first Hammer Horror film released
1980 - World Health Organization announces smallpox has been eradicated.
---
7th May
I've been cutting my Hawthorn hedge today. Normally my son, Peter, would come and do that but this "social distancing" doesn't really help does it. The hedge is the best part of 8 ft high and 5 ft wide so it's not the easiest thing to attack.

I've got one side of the garden done there's only the other side to do. I just do a bit at a time. There was a day when I'd blitz it in a oner. These days are gone.
Andrew has asked me "When you nod your head and say "mmhhm!" in passive approval how do you spell that?" Well I suppose asking the question audibly is one thing! asking the question in the written word seems somewhat daft! Any takers?

I got this on facebook. Posted by Ken Drummond from Larbert: -
6th May
I thought that I was the doyen of irrelevant nonsense but I have upstart competition in the shape of Andrew Niven who sent me this: -
Before The 17th Century, almost all cultivated carrots were purple!
The modern day orange carrot wasn't cultivated until Dutch growers in the late 16th century took mutant strains of the existing purple carrot and gradually developed them into the orange variety we have today. Before this, almost all carrots were purple with some mutated yellow and white carrots. These mutations were rarely cultivated and lacked the purple pigment anthocyanin.
It is thought that the modern day orange carrot was developed by crossing the mutated yellow and white rooted carrots as well as varieties of wild carrots, which are quite distinct from cultivated varieties.
Some think that the reason the orange carrot (was there only one?) became so popular in the Netherlands was due to the emblem of the House of Orange coinciding with the ongoing struggle for Dutch independence during the 17th century.
But it might also be that the orange carrots that the Dutch developed were sweeter tasting and fleshier than their purple counterparts, thus providing more food per plant and providing a better taste.
This next bit Andrew didn't send me but was obtained from "The World Carrot Museum" ( Now I bet you never knew that such a thing ever existed)
· FIVE TIME PERIODS IN THE DOMESTICATION OF CARROTS
o Until approx. 200 BC: Prehistoric/Egyptians/Greeks: The seed carrot period.
o Between 200BC & 1100AD: Romans/ Charlemagne/ Middle Ages: The Parsnip (Pastinaca sativa) – Skirret (Sium Sisarium) period.
o Between 1100 & 1600 Europe: The Anthocyanin carrot period. (purple/yellow/white)
o Between 1600 & 1950 The carotine carrot period (orange and other colours)
o 1950 onwards: The F1 Hybrid period.
Now don't say that you don't learn at this site!
On this day: -

1840 - World's first adhesive postage stamp, the "Penny Black", is first used in Great Britain.
1889 - Exposition Universelle in Paris opens with the recently completed Eiffel Tower serving as the entrance arch.
1937 - German airship Hindenburg explodes in flames at Lakehurst, New Jersey, killing 35 of the 97 on board and 1 on the ground.
1954 - Roger Bannister becomes the 1st person to run a 4 minute mile, recording 3:59:4 at Iffley Road, Oxford.
1960 - 20 million viewers watch the first ever televised Royal Wedding, of Princess Margaret to Anthony Armstrong Jones.

(¶ Puir auld Peter (Townsend) was her choice but he didny suit the boys, so they sent him up the creek! From "the Coronation Coronach" in the Rebels Ceilidh Song Book. Sung to the tune of The Sash)

1994 - Official opening of the Channel Tunnel

---
5th May#2
I don't know how I missed this yesterday: -
Thirty-three years ago today, on May 4, 1987, the U.S. Supreme Court ruled in the Duarte decision that Rotary International must admit women into Rotary clubs. ...
5th May
I received my masks today from Wendy: -
That's me kitted out for the shopping on Thursday. I knew that the sashes that I had kept from the Rotary International Convention in Glasgow would come in handy at some point.

I am becoming impatient! Kind of like an expectant father! There is a bevvy of heavily pregnant hinds in the fields adjacent to the house and it's about this time of year that I would expect to see the first of the new fawns. I am quite sure that the actual fawns were modelled on Disney's Bambi. There is an uncanny resemblance that demonstrates just how clever these animators were.

On this day: -
1821 - Napoleon dies in exile in St Helena

1891 - Music Hall (Carnegie Hall) opens in New York, Tchaikovsky is guest conductor.
1905 - The trial of the Stratton Brothers begins in London in the first case where fingerprint evidence is used to obtain a conviction for murder.

1955 - West Germany is granted full sovereignty by its three occupying powers.
1965 - First large-scale US Army ground units arrive in South Vietnam. (It's a tourist destination now! can you believe that?)
1973 - Secretariat wins the Kentucky Derby in 1min 59.4s which is a record that still stands today.

1981 - After 66 days on hunger strike, 26 year old Provisional IRA member and British MP Bobby Sands dies in the Maze Prision. Nine more hunger strikers die in the next 3 months.
---
4th May

I was watching a recorded programme of Countryfile last night. It included an item about someone in the highlands making scents that were in some way or another related to the Highlands, the Countryside and the outdoors. One of the scents was labelled "Highland Pineapple"! The presenter observed (rightly in my view) that there would be little chance of coming across pineapple in the Highland Countryside. The response to that was "If you walk through a thick growth of Gorse you will smell pineapple!". The last time I was in a thick growth of gorse (looking for a golf ball) all I could smell was blood! MINE!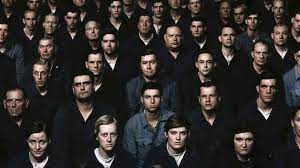 Gordon tells me that the mallard and her three offspring are still faring well. I think that the weather might just be kind enough as not snap back to the temperatures normally expected and these wee blighters will survive. That is if the mink ever leave them to prosper.
Last night I watched our swallows, (four or five of them now) wheeling and diving about the sky like Battle of Britain spitfires gorging themselves on the clouds of midges that gather at that time of the evening. They are not about to starve.
Later, after Countryfile, we watched BBC Young Musician Keyboard heat and I learnt a new word. One of the contestants was assessed by the (obviously well qualified) critic who was part of the presenting team thus: - "I was hugely impressed by his pianism!". Maybe its just that I'm not a musician but I've never heard of pianism before. I like that word even although my aging version of the Oxford English Dictionary refuses to acknowledge its existence.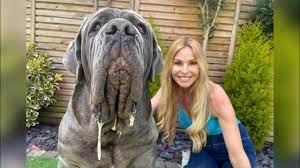 On this day: -
1776 - Rhode Island becomes the first American Colony to renounce alegiance to George iii

1814 - Napoleon arrives on Elba to begin his exile

1904 - Construction of the Panama Canal begins.
1972 - "The Don't Make A Wave Committee," a fledgling environmental organisation founded in Canada in 1971, officially changes its name to the "Greenpeace Foundation"
1979 - Margaret Thatcher becomes the first woman to be elected Prime Minister of the United Kingdom
1932 - Al Capone begins an eleven year prison sentence for Tax Evasion.
3rd May

I don't know what happened yesterday! I think that I simply forgot to come here!
On Thursday I posted a pattern for making your own masks. I was in the process of prodding Diane to see if she would maybe make some for us when my daughter called to ask for the sewing machine so that she could do just that. This is the result: -
While transferring the sewing machine, materials and such it was necessary for me to drive to Wendy and Derek's home via the M80 this is it mid day Saturday who says we are not observing the lockdown?: -
On this day: -
1903 - Bing Crosby is born

1926 - Britain's Trade Union Congress calls for the country's first ever general strike, begins at 1 minute to midnight in support striking coal miners, lasts 9 days
1937 - Margaret Mitchell wins Pulitzer Prize for "Gone With the Wind"
1945 - World War II: German ship "Cap Arcona" laden with prisoners sunk by Royal Air Force in East Sea, 5,800 killed - one of largest maritime losses of life.
1978 - First unsolicited bulk commercial e-mail ("spam") is sent by a Digital Equipment Corporation marketing representative to every ARPANET address on the US west coast
1999 - Stephen Hendry defeats Mark Williams 18-11 to win the World Snooker Championship for a record seventh time.
---
1st May

Well that's my screen wall finished now complete with inset butterfly.
On this day: -
1707 - Acts of Union came into force uniting England and Scotland to form the United Kingdom! "Sic a parcel o' rogues in a Nation!"
On that topic, Robert Burns's poem "Such a parcel o' rogues" was penned bearing in mind that a number of wealthy Scottish entrepreneurs had lost substantial amounts of money in the "Darien Venture" and it was they who were the subjects of the poem. Not the English as most people suspect. They sold Scotland down the river with the promise of reimbursement from the English purse!
1851 - Queen Victoria opens the "Great Exhibition" in London.
1931 - The Empire State Building Opens
1941 - Citizen Kane premiers at the Palace Theater in New York.
---
30th April
I've just been out for our weekly shop. The recommendation is that one should wear a mask! I don't have one! Ever the optimist I went to the medicine cupboard thinking that I might find something that would fit the bill. When we had Diane's mum staying with us we had a number of packets of Large tubular bandages which were for her legs. Sadly Mae passed away but we still have a stock!

I didn't use it though! It looks silly! When I got to the shop mask wearers were in the minority anyway. So! here is a pattern for making your own.

There was a suggestion in one of the "News for Clubs" emails I repeat the content: -
Finally I think there is a simple thing that we can do immediately, which would be positive and constructive.
We could encourage our fellow Rotarians and wider community to use 40 mins of their unexpected free time to go online and learn basic lifesaving skills at no cost.
Rotary District 1220's "Save a Life " Campaign developed a simple free online learning programme. This takes 40 mins with a certificate at the end and is suitable for ages 10 to 100 !!
https://www.virtual-college.co.uk/prepared
This would have many benefits including building confidence and resilience whilst combating boredom !!
I went to the address and qualified: -
ON THIS DAY: -
1789 - George Washington is inaugurated as the first President of the United States of America
1852 - Calamity Jane is Born.

1952 - Mr Potato Head is 1st toy advertised on television.
1989 - World Wide Web (WWW) is first launched in the public domain by CERN scientist Tim Berners-Lee
1994 - Ayrton Senna Dies

---
29th April #2
I've been taking tuition on how to insert photographs in the editing window so these are just trials: -
29th April
Good morning all. I spent yesterday cutting and splitting a whole pile of logs that my friend Logan let me have, clearing space for some more. It occurred to me that the Country as a whole has this notion of people who are over 70 being "Vulnerable"! Well I for one am over 70 and certainly don't feel in the least "Vulnerable"

LInda Pacitti, who always reads and comments on my blogs (much appreciated Linda) has sent me this! She says that Roberto sent it to her; perhaps recognising Linda in both categories.
Being my ussual pedantic self however I notice that Ben Franklin wasn't much good at English seeing as how "there is a bacterium" or "There are bacteria" and I suppose the Irish whiskey market was huge at that time.

On this day: -
1899 - Duke Ellington was born

1916 - Irish republicans abandon the post office in Dublin and surrender unconditionally, marking the end of the Easter Rising
1945 - US Army liberates 31,601 people from the Dachau Nazi concentration camp in Germany
1975 - USA begins to evacuate its citizens from Saigon in Operation Frequent Wind in response to advancing North Vietnamese forces, bringing an end to US involvement in the Vietnam War.

1980 - Alfred Hitchcock dies.

1990 - Wrecking cranes began tearing down the Berlin Wall at the Brandenburg Gate.

---
28th April #2
I have posted this on facebook because I thought that it was a great photograph (Do you think it has been doctored?) and a good laugh too! I notice that the chaffinch has a ring on too!

28th April
That burst of super weather during April has thrown up a few early birds! Literally in the first instance when Gordon told me about a sighting of newly hatched Mallards on the Carron.

Secondly, while I know a wee bit about birds I know nothing about plants but Margaret tells me that this violet that she recorded last week is the first this year and its early too! I hope that the weather doesn't turn nasty again. (Don't ask me why there are two images here! When I go the the edit page to remove one there are none!)

On this day: -
· 1770 - Captain Cook lands at Botany Bay
· 1789 – Fletcher Christian leads a Mutiny on the Bounty.
· 2020 – Jim Cairns has similar thoughts about a Mars Bar
· 1902 - Using the ISO 8601 standard Year Zero definition for the Gregorian calendar preceded by the Julian calendar, the one billionth minute since the start of January 1 Year Zero occurs at 10:40 AM on this date.
· 1926 – Harper Lee is born (Author of "To Kill a Mockingbird")
· 1940 – Glen Miller records "Pennsylvania 6-5000"
· 2004 - Shrek the sheep from Tarras, Central Otago, New Zealand, is finally shorn live on TV after 6 years avoidance; the fleece weighed 27 kg (60 lb)
---
27th April
Happy Birthday to Robert Hannigan who will be 77 today.

Michael White has let me have his Screen Memories Quiz again: -
He has very kindly included the answers too. If anyone is interested in the answers email me and I'll let you have them.
On this day: -
1667 - Blind and impoverished, John Milton sells the copyright of "Paradise Lost" for £10

1865 - Steamboat "SS Sultana" explodes in the Mississippi River, killing up to 1,800 of the 2,427 passengers in the greatest maritime disaster in United States history. Most were paroled Union POWs on their way home.
1904 - The Australian Labor Party under Prime Minister Chris Watson becomes the first Labor government in the world.
1945 - Italian partisans capture Benito Mussolini at Dongo (Lake Como)
1956 - Undefeated world heavyweight boxing champion Rocky Marciano, retires from the ring.
1967 - R.C. Duncan patents "Pampers" disposable nappies.
---
26th April#2
I forgot!: -

On this day: -
1865 - John Wilkes Booth dies. Less than two weeks beforehand he had shot Abraham Lincoln in the head and had shouted "Sic semper tyrannis" (ever thus to tyrants) "The South is avenged". Having been tracked to, and electing to remain in, a burning barn rather than surrender to the authorities he was then shot and killed in the burning barn by Corporal Boston Corbett.

1895 - Oscar Wilde sues the Marquess of Queensberry for libel over a sodomite slur!

1954 -

The New Polio Vaccine is given for the first time in a nation-wide polio vaccine test.

1986 - An

explosion and fire at the No. 4 reactor of Chernobyl nuclear power plant in Ukraine resulted in a nuclear meltdown.
26th April
It must be getting on for three years ago that I relieved George and Sheila Honeyman of a number of decorative concrete screen walling blocks in exchange for a donation to Wateraid. They have been lying in a pile at the side of the garage since then. Until the advent of Corona virus. I got this far over the last two days and then ran out of cement mortar. I have one more course to lay and then it's done.
Inglis responded to the post yesterday as follows: -
"Life in Spain continues although children are now allowed out having been forbidden to leave the house for the past 6 weeks. We are Not!
However, if you have a receipt to prove you've come from the super market with your daily
case of Rioja, the police will let you through the road block but only with 11 bottles!
Both well but look like being under house arrest for another3 weeks"
---
25th April
Through all of this it's easy to forget that Inglis and Katherine are still imprisoned in Spain. I am aware of their situation because they keep in touch and I appreciate their support for these daily blethers. Today Inglis has sent me a video which I have no idea how to embed here so I will post it on our facebook page. I think the jist of the Spanish is "We are all in this together!"

Also Valerie Dillon who was included in the email with Morrisons' phone number says: -
Sandy
Ii received my shop yesterday Linlithgow is 8.5 miles from Livingston (limit 10 miles) thank you! You order from a limited list (more than adequate) and pay on arrival. Impossible like the other Supermarkets to get a "slot" so something to be said for being elderly and vulnerable. Linlithgow Link left me a cherry scone and roll at my door! So with the volunteer service you gave the number for, all sorted!

I hope othere have benefited from the numbers! Gorgeous day. Swallows arrived at my friends' in Boness yesterday. They have the expected date in their calendar with a 4 day window.

Have a great day keep safe,
Valerie
Jim Watson tells me that his younger Daughter is is working at the coronavirus testing centre at Falkirk Community Hospital. He sent a photograph of the team and asks us to identify his daughter (No prizes he says)
And! On this day: -
1792 - The Guillotine is first used in France to execute Highwayman Nicolas Pelletier.
1917 - Ella Fitzgerald is born

1953 - Francis Crick and Jim Watson's discovery of the double helix structure of DNA is published in "Nature" Magazine

---
24th April
They say that "one swallow doesn't make a summer"! If that is the case, does it follow then that two swallows do?
Rather bedraggled swallows.

Yesterday saw the swallows' arrival back in our garage after their mammoth journey from here last year in September/ October down the East coast of Spain all the way to Africa, South of the Sahara, and back. They can reach speeds of up to 35mph during the journey, travelling up to 200miles every day, but average about 16-22mph during this time.
Few predators are agile enough to catch a swallow although hobbies and sparrowhawks are sometimes able to take swallows in flight. The biggest dangers they face are during their migration. They can be netted by humans as they cross Spain or die of starvation and exhaustion while Crossing the Sahara Desert.
The birds that own our garage over the Summer months will raise at least two broods of 4-5 each year but mortality in the first year is 70%-80% which explains why there are only one or two pairs return each year. Most swallows don't live longer than 3-4 years but the longest surviving recorded is 11 years.
All the more remarkable to see these beautiful birds return to their place of birth each year totally intuitively.
Last night saw the continuation of beautiful sunsets: -
Valerie Dillon was provoked by yesterday's remarks to write to me thus: -
"Sandy, the mention of Hamilton Street took me back to my childhood I have a poor memory but I did help in my Aunts shop at the top of the street on the left bagging sugar, patting butter, cutting the ration book tokens for the meagre rations, tins of broken biscuits. Hard times!
My uncle had the licenced grocers in the Main St. Customers paid into a "club" and it was queued out at Hogmanay Competition was the Coop with their "divi"!
My aunt's best friend was Mrs Myles (butchers) All before your time."
The photographs: -
Well done Tom Curry for getting them both right on the second tranche of photoghraphs. Andrew and Gordon were the only two who were prepared to see their images on line for scrutiny!

Thank you Gordon, Andrew and Tom.

Finally, on this day: -
· 1184 BC - Traditional anniversary of the Greeks entering Troy in the Wooden Horse.
· 1558 - Mary, Queen of Scots marries French dauphin Francis.
· 1599 – Oliver Cromwell is born.
· 1916 - Easter Rising of Irish republicans against British occupation begins in Dublin.
· 1981 - Bill Shoemaker wins his 8,000th race, 2000 more than any other jockey.
· 1942 – Barbara Streisand is born!
· 1986 – Wallis Simpson dies.
· 1995 – Ginger Rodgers Dies.
---
23rd April
OK so only two people sent me photographs and only one of these two has hazarded a guess at the identity of the other. He actually had two goes (Three if you count his wife's) So here are the same two people much later in life (But much much earlier than today)

On another note, my neice posted on facebook a few photographs of her garden which included some stained glass panels mounted within fencing. It reminded me that when we were renovating Hamilton Street in the late seventies I retrieved the following from the skip. It's a panel that would have sat on the inside of the lower sash of a sash and case window in flats whose front window was right on the edge of the footpath. It would have stopped nosey folk peering into your front room. Sadly this was the only one that I managed to retrieve. It's been lying in a cupboard all this time and Lisa has just given me some inspiration about what to do with it.

22nd April #2
I found this on Facebook and laughed!
22nd April
It's 10.4°C outside and that East wind is continuing to keep the perceived temperature lower than the bright sunshine would suggest. I recall about 1968 I used to travel from Camelon to Cumbernauld with two colleagues to work. One was an estimator and the other a retired Policeman come inventor of window ironmongery. They used to refer to the East wind of the ilk that we are experiencing as "a McGregor". I'd never heard of that phrase before then and have never heard of it since. Maybe some of you are aware of it and can enlighten us all about its oriigins.

Meanwhile.....
Great Stuff! Believe it or not I have contributors! And two of them have sent me photographs! Do you have any idea who these two are: -

I'll post later photos of them both tomorrow.

I now have a reply from LHS and will chat to Mhairi this evening to see how we can help. Her reply as follows:-
We are manufacturing the visors at school with our 3D printers and laser cutter and since Monday also trialling surgical face mask straps.
We were initially funded from donations of material which came in through a post on Strathcarron Hospice fb page and it has grown arms and legs since then.
I aim to send you a much more detailed response later this evening.
The visors are cheap to manufacture as the main components are polypropylene or acrylic with a PVC A4 size shield at the front. Each £70 can make up to 300 visors and Larbert round Table have just bought us £500 worth of polypropylene.
AND FINALLY

On this date
1564 - William Shakespeare is born
1616 - William Shakespeare dies!
1915 - 1st military use of poison gas (chlorine, by Germany) in WW I
1928 - Shirley Temple is born
1937 - Jack Nicholson is born
1981 - More than $3.3 million is stolen from the First National Bank of Arizona in Tucson in the then largest US bank robbery in history.
---
21st April
It has been one month since I started posting these daily ditties! And one month since we began donating our lunch money for the Food Bank. Please try to do this its a fantastic way for us to remain effective in the face of this Scourge. With the addition of the money that we would otherwise be paying for Speakers' lunches we can provide in excess of £300 worth of supplies to the Food Bank every Month.

In checking back to verify that it has indeed been a whole month I realise that yesterday's post was very nearly a copy of one of the earlier ones only instead of flowers we had birds. So apologies for that.
While I have been doing this I have been keeping an eye on Facebook for anything interesting and there appear to be a number of things always doing the rounds asking people to do stuff. The latest one is to post a photograph of yourself as a child and then as you are now for comparison. While I am not about to do that on Facebook I thought I'd just do it here. If any of you would care to reciprocate then email me with photographs and I'll post them. In fact, wouldn't it be fun if, once I had the photographs, I only posted the child photographs and asked you all to identify the adult. Then add the adult photographs after you've all had time to consider them. Here's mine : -
I have now had a response from Larbert High School by way of an email that I can correspond with about PPE rather than the Twitter thing which I don't have. Apparently yesterday they shipped out their 25,000thVisor. I have replied to the email asking how we can help and also asking a few pertinent questions, (Least ways I think that they were pertinent) I will report back once they reply.
This Day in: -
· 1509 - With the death of Henry VII, his eldest surviving son assumed the English throne as Henry VIII.
· 1838 – The birthday of John Muir largely responsible for the establishment of both Sequoia National Park and Yosemite National Park in California.
· 1918 - Manfred, Freiherr (baron) von Richthofen, Germany's top flying ace in World War I, was shot down and killed during a battle near Amiens, France.
· 1934 - The Daily Mail printed a photograph that reportedly depicted the small head and neck of the Loch Ness monster; the iconic image, widely known as the "surgeon's photograph," sparked an international sensation but was later revealed to be a hoax.
---
20th April
Who would have thought that this would have dragged out as long as it seems likely to. I'm not complaining it's all for the good obviously. I looked out of the window this morning and the Forth Valley looked pretty much the same as it always does in fine weather. Beautiful! I think that we are very lucky staying where we do with the views and the wildlife. The odd passing slurry tanker takes the edge off it every so often but that's the price you pay for country living. This was the view from my bedroom window this morning. Lockdown or not it looks just the same.

Over the piece I have tried to record as much of the wildlife as I can. In the following picture the top three photographs were taken this morning the rest are historical and form only a small fraction of what we are priveleged to share. The Sparrowhawk sat for quite some time apparently waiting on something to arrive at the feeder. He was obviously oblivious to the fact that it was empty and even if it hadn't been the fact that he was there made it a definite no go area.

19th April
Yesterday after I posted about my doughballs I got a lovely email from Anne Watson wishing that Jim had such culinary talents. She went on to talk about her Mother: -
"My mother was born in Camelon in a little cottage on the Main Street possibly where the car park for the Beefeater is. As you crossed the bridge from Falkirk there was the bonded warehouse on the left and a big billboard and then the semi-detached cottages her maiden name was Yuill. The bowling green was at the back and during the war years my grandfather was the green keeper. After she married and my father went to war we lived "Up the braes" for about 16 years and then in Fairlie Street in Camelon for many years. My mother had a Cousin Jenny O'Neil who lived in Stirling Road and when we visited we played in the Cemetery.
When you get old it is remarkable how much of your childhood comes back."
I remember Mrs O'Neil who stayed in one of the four in a block flats facing onto Nailer Road at the bottom of the Street as I recall. That is certainly on the way to the Cemetery which would have been accessed at that time by passing under the railway bridge and turning right on the North side of the railway.
That got me to thinking. I remember that the Camelon Pigeon Racing Club (The Doo Club) had a cottage in the same area of Main Street where Anne's Mum stayed, where they held shows. There was a steep incline down at the back to where the boolin' green was and that allowed these cottages to have a very useful basement.
Pigeon racing was fun. We would buy breeding stock and breed from that every year. The old bird races were first in the season. That is birds that were at least a year old. We would lift the bird from the nest and sit it in a basket where it could see the eggs lying unprotected. We'd then take the basket away out of sight of the nest so that the mate could sit on the eggs. They would fly like their life depended on it to get back to the nest.
This is me in my mid teens
We would take a basket of birds to the Camelon Railway Station on a Friday night where each bird would be identified by its aluminium ring (fitted very soon after hatching and not thereafter removable.) and fitted with a removable rubber ring with a number on it. That number was recorded against that of its permanent ring and the bird put in a communal basket.
Once the baskets were filled they would be sent to their destination for release. The races got longer and longer as the season progressed starting at Lockerbie (63 miles) and ending in Nantes or Rennes (in excess of 500 miles).
After release the birds would fly at an average speed of as much as 60 mph back to the home loft where the rubber ring would be removed and put in a capsule which in turn would be placed in a "Pigeon Clock". The time that the ring was inserted would be recorded and stamped inside the clock which would have been sealed on the Friday night.
Once all of one's birds had been recorded in the same manner the clock in its entirety would be taken to the Doo Club to be opened and the times registered. Every individual loft would have had its own position recorded so that each had a specific distance from the liberation point to be calculated with the time that the bird took to cover it.
The times were recorded by velocity in yards per minute and it was not uncommon for figures exceeding 1,600 to be so recorded.
18th April
Today is Robert Craigs brthday. It was remiss of me not to have recorded the fact that yesterday was George and Shiela Honeyman's Golden Wedding Anniversary.

Yesterday also saw us consume the HotPot with doughballs: -

It was only two wee tatties each honest!
Yesterday was also #BatAppreciationDay! We have 18 species in the UK, including the pipistrelle in this picture!
Bats really do get a bad rap, but did you know they're actually really important?!
1. They're pest controllers! All bats in the UK only eat insects, and they eat thousands of them every night.
2. They help us track changes in biodiversity! In the UK, some bats are used as in 'indicator species' by DEFRA to help measure targets around the population size of important species or the area of land managed for wildlife.
3. Bats are pollinators! Around the world over 500 different plant species rely on bats to pollinate their flowers - including some species of mango!
On RSPB reserves 16 of the known bat species found regularly in the UK have been recorded! RSPB Ayelsbeare Common in Devon has the highest number of bat species (13), and the rarest bat found on our reserves is the Grey long-eared Bat at RSPB Arne!
And How's about this for amusement: -
---
17th April
I have just read over what I wrote yesterday! "Dumplings"???? What on earth am I wittering on about! I never called them dumplings in my life before! They were "Doughballs".

That reminds me of when I first began work in Wilson and Wilson in 1961. For a paltry £96 per annum (that's £8 per month or £6-18/4d per month after National Insurance contributions see photie) I was "Apprentice Architectural Draftsman" charged with the responsibilty of answering the door, making prints (copies of the drawings), running out for 40 Gold leaf for Bertie Wilson (Past President of this Club 1938-39) and running out to the baker in Manor Street for elevenses for the senior members of staff. Often I would hear the strains of "Some day my prints will come" emanating from Donald Ross's office as I sweated to fulfil my task copying drawings in an atmosphere of raw ammonia.
We worked Saturday mornings then at 39 Vicar Street above the Bank of Scotland (Although I think it might have been the Commercial Bank then). On the floor above there were two Jewish ladies stayed; the misses Bulbin. The misses Bulbin would prepare their flat for Saturday (the Jewish Sabbath) on a Friday and Billy Bryce and I took it in turns to ascend the stairs on a Saturday morning to light their fire which had been set the day before. For this we were rewarded with a cup of tea and a scone (again prepared and laid out the day before. And before anyone says anything we boiled the kettle and poured the water into a pre-prepared teapot ourselves).

Anyhow I digress! Because we were at the pointy end of the Wilson and Wilson ship and were the first impression that anyone visiting the firm had of just what to expect beyond that portal, we were constrained to talk "properly". Now coming from Camelon I'd no idea that there was a "proper" and an "Improper" way to talk but I toed the line!

One day I was standing at the bus stop in Ochiltree Terrace waiting on the number 86 bus that would take me to Falkirk to my work and was in conversation with one of my contemporaries (see? proper use of the word) with whom I had been at school when he announced "You've got awfy posh all of a sudden!" I was gobsmacked! It was my first realisation that one should temper one's language to accord with one's surroundings. Kind of like not telling jokes in a daft Japanese accent while being the guest of the Japanese Consul at the Consulate! (For Raymond Morton's benefit)

So! enough of the "Dumplings" it's "Doughballs!

16th April
We had our ZOOM Council meeting with the following results: -

Our efforts with regard to assisting in the PPE Crisis is to be directed towards the initiative among the local High Schools headed up by Larbert High School. Sandy is to contact them to see how we can help.
Margaret and Sandy are in the process of handing over Treasurer Duties to Sandy and Sandy is in the process of handing over the secretary duties to June. This will all be achieved, hopefully within the next week. I will continue as PI, Editor and Webmaster! "AW NAW!" I hear you say! If anyone else cares to apply for the posts I will happily step aside.
It is hoped to have a Club meeting on ZOOM in two weeks time. You will be invited nearer the time but let me know how you feel about that. If you have an email address and are receiving these updates then you should be able to participate. President Jim and Andrew for instance took part in today's meeting by mobile phone! it's "Seemples"

I hate to quote the man publicly but Raymond says "If I can do it then anyone can!"
What can I bleat about today?
I am sure that Diane will not be upset at me divulging that because she cooked for me for over forty years, for the past 10-20 years I have been doing most of the cooking. Recently pretty well all of the cooking. I watched a programme last night about "Yorkshire Hot Pot" and so today I made a "Hot Pot". Cheap cuts of beef, vegetables stock all in a slow cooker. I even resolved to make Dumplings. I haven't had stew and Dumplings for ages.
I was doing my weekly shop this morning and asked a young assistant at Tesco "Where am I likely to find suet?" "Sewet?" she says. "whit's that?" Fortunately before I was required to explain (and I might have had difficulty) another assistant says "In the next aisle!". Phew!
Anyhow its been in the slow cooker now for four hours so I'd better get through and make the dumplings.
15th April

We will be having a ZOOM Council meeting tomorrow so if there is anything that you think we should be discussing let me know.

The maths thing yesterday still remians up for grabs although I did get a few replies. Needless to say the replies didn't agree either.
How's about the English language? It never ceases to amaze me that lots of people will say things like: -
"The data was regarded in the same way by him and I as a contemporary phenomena"

It took me a while to compose that sentence which includes the word "data" which is a plural and treats it as a singular. It includes the phrase "him and me" which should, to be grammatically correct, should be "him and me". It uses the word contemporary to mean modern when the Oxford english Dictionary defines it as follows this and finally the word Phenomenma is plural and should be phenomenon (if you consider "data" as singular)

Contemporary: -

adj. Living, existing or occurring together in time.
adj. Equal in age
adj. Occurring at the same moment of time or existing together at the same time.
This from the roots - Con
together
and tempor
time.
I am prepared to accept that in modern usage the word "data" has been accepted as a singular in much the same way as "media" (plural of medium) has come to be accepted as a singular group noun. I am also prepared to accept that "contemporary" has become commonly used to describe "modern". BUT I am not prepared to accept the demonstrably bad grammar that has stemmed from a parental directive that was intended to eschew the use of the equally wrong phrase "Diane and me are going to the pictures".

If you are in any doubt about what is correct then miss out the "Diane and" or the "him and" bits of the sentences and see if they still make sense.

Rant over! Now for today in history: -
1755 - Samuel Johnson's "A Dictionary of the English Language" published in London.
1912 – RMS Titanic sinks at 02.27am.
1955 - Ray Kroc opens first McDonald's Inc. fast food restaurant in Des Plaines, Illinois.
Famous birthdays: -
· 1452 Leonardo DaVinci
· 1894 Nikita Khrushchev
· 1889 Charlie Chaplin
· 1927 Benedict Xvi
Famous deaths: -
· 1865 Abraham Lincoln
· 1912 Edward Smith (Captain of the Titanic)
· 1850 Madame Tussaud
And finally did you know that Madame Tussaud, famous for her waxworks, perfected her art in the grimmest of 'schools' – the French Revolution - where she made models of guillotined heads.

14th April.

Some time ago my grandson tried to convince me that there was a hierarchy to the order in which mathematical calculations within a formula ought to be carried out. I asked him to tell me why that should be the case and he replied that that was what he had been taught in the maths class. That he actually believed the maths teacher was admirable but I could see no mathematical basis for the argument. This morning I have had a discussion on Facebook (my first ever). There was a post that asked what the result of the following calculation would be: -
60+60×0+1 = ?
My argument is 60 plus 60 times zero is zero! add 1 then you have 1 left!
Others argued (Like my grandson) that the multiplication is always done first and consequently got the following result:-

60x0=0 +60 +1 =61!
Makes no sense to me! What happened to brackets?
In my day we would have been constrained to order the calculation either like: -
(60+60)x(0+1)=121 OR 60+(60x0)+1= 61 OR (60+60)x0(+1)=1 OR any other way that you might want to do it but it would be incontravertible.

Is there a mathematician out there that can explain why people are thinking like this?
Quote of the Day: -
"I'd rather sit here admiring beautiful women and wanting what I don't have than having what I don't want!"
Quote from Robbie Munro's father in +William McIntyre's books.
On this day: -
· 1536 – Henry viii expropriates (dispossesses for public use) minor monasteries.
· 1721 - William Augustus (The Butcher) Duke of Cumberland was born.
· 1912 – RMS Titanic hits an iceberg off Newfoundland at 11.40pm.
· 1950 – The first edition of "The Eagle" is published.
13th April Easter Monday #2

I forgot all about this!
13th April Easter Monday

I was at a loss about what to post today until I remembered a video that Andrew sent me. The following is the transcript of the video: -
A university professor asked a class what gender computers should be. He split the Class in two with the gents in one room and the ladies in another and left them to deliberate. After a while they came back with their hypotheses: -
According to the men it should be feminine because: -
·

No one except their creator understands their internal logic
·

When they communicate with each other they speak in a code language that only they and other computers can understand
·

Every mistake you make is stored on their hard drive for later retrieval.
·

As soon as you commit to one you find yourself spending half of your pay cheque on accessorising it.
According to the women it should be Masculine because
·

In order to get their attention, you have to turn them on!
·

They have a lot of data but still can't think for themselves!
·

They are supposed to help you solve problems but half of the time they are the problem.
·

As soon as you commit to one you realise that if you had just waited a little longer you could have got a better model.
And for Andrew (because he's already heard all of that) and whose seventeenth Wedding Anniversary was yesterday: -
On this day in: -
1919 - British and Gurkha troops massacre hundreds of unarmed demonstrators in the Amritsar Massacre
1928 - German pilot Hermann Köhl, Irish aviator James Fitzmaurice and Baron Ehrenfried Günther Freiherr von Hünefeld, the expedition's financier, complete the first Europe to North America transatlantic flight, taking off from Ireland and landing safely on a small Canadian island.
1943 - Four convicts attempt to escape from the prison at Alcatraz. Two were drowned in San Francisco Bay after being shot and the other two were recaptured.
1964 - Sidney Poitier becomes the first black actor to win the coveted Best Actor Oscar for his role in Lilies of the Field.
1992 - Princess Anne files for uncontested divorce from Mark Phillips after 2½ years of separation.
1997 - 21-year-old Tiger Woods wins for the first time, the prestigious Masters Tournament by a record 12 strokes in Augusta, Georgia.
12th April Easter Sunday.

What can I say? Our garden is devoid of children and everything is quiet. It gives me space and time to think! Easter is a lot like Christmas! The reason for the celebration is lost among all the easter eggs and bunnies. I suppose that the time of year cannot be coincidental! I don't know about the chronology of the Crucifixion and subsequent happenings or what time of year that it actually happened. There's something about different calendars that runs in my mind. Spring is, however, the ideal time to be celebrating rebirth and resurrection when you see all that is happening around us. I think that this enforced isolation will give a lot of people time for thought in that regard.

Gordon Daly tells me about the regeneration in his garden: -

Yesterday and today we have had a pair of Mallards wandering around. Yesterday they were parading back and forth along the decking outside our living room, pausing every so often to peer in through the glass, then they inspected our little pond before wandering off back down the bank to the river. Today they have been wandering about on the street, and twice landed on the top of a neighbours leylandii hedge. Looking for a nesting site I guess.
The blue tits have started building in the nest box on our ash tree and the coal tits ditto in a hole in a tree across the river.
The woodpeckers are still visiting the fat filled coconuts but not as often as recently, I guess the insect world must be wakening up.
The newts in the pond are now in amorous mode, and the first pair of pondskaters have appeared.
Now going out to cut the last of the brambles and with luck get them burned this afternoon.
11th April #2

I have just received an email from one of our members asking if I had contact details for another Rotarian in the District. I was easily able to respond positively. What I did was log into the Club web site, I clicked on DMS, I clicked on "Search and email", I entered the man's name and club (Although the Club wasn't necessary) and hit return! Voila! Name, Address, Telephone number and email address. Seemples!

11th April

Being cooped up like this I began to think about holidays or the lack of them. I am sure that you all have at one time been in a queue at the bag check at the airport and, when stepping forward to the desk, being asked "Did you pack this case yourself?".
Well I have been investigating my family tree for a while now and most of my ancestors were in the "Service" industry. Dairy maids, shepherds, House maids and the like. It got me to thinking; what's the difference between a "servant" and an "employee"? I am sure that none of us has servants these days but I reckon that a "servant" is someone who does the stuff for other people that most of us would consider to be private and choose to do our self.
I mean don't get me wrong, having a butler is just the sort of thing that I could take to but sadly these days are gone. So! The next time I am asked "Did you pack this case yourself?" I am going to reply "Of course not! What kind of person do you think I am?"
On another note, my sister from NZ sent me this. Apparently all sorts of bodily fluids emanate from the ardent cyclist and will trail in his/her wake! So, when out cycling, the way to avoid being engulfed by these malodourous emanations is to "Keep your Distance". The chart tells you how far you need to be behind the source at different speeds to avoid collateral contamination.
On this day: -
· 1814 - Napoleon Bonaparte, Emperor of France abdicates the throne, and, in the Treaty of Fontainebleau, is banished to the Mediterranean island of Elba.
· 1960 - Jeremy Clarkson is born
· 1968 - US President Lyndon B. Johnson signs 1968 Civil Rights Act
· 1970 – Apollo 13, the third Lunar landing mission is launched
· 1979 – Ugandan dictator Idi Amin is overthrown
10th April
After a lengthy consultation with Chris, the mastermind behind the Rotary Web site Template, I have discovered that the problem was my browser. I have been using Firefox for ages and all of a sudden it is stopping me logging into the Falkirk Web Site. I can now get in easily with Microsoft Edge. If anyone has experience of a decent browser and can recommend I'd be happy to accept advice. Meanwhile: -
I am reliably informed by my son that today is the 250th anniversary of the day after Captain Cook landed in Botany Bay! If I had done this yesterday it would have been the proper anniversary.
On the 10th April: -
1919 - Zapata was assassinated (With a moustache like that I'm not surprised)
1953 - The worlds first 3D film opens in New York. House of Wax Starring Vincent Price.
1963 - The atomic submarine USS Thresher sinks in the Atlantic killing all on board.
1970 - Paul McCartney announces the breakup of the Beatles.
And finally you will all have had an electronic Easter card from me which is just intended to keep in touch without the need for post offices and stamps and the like. I promise it won't happen again.

8th April #4
Nothing much of note happened on this date except
1950 Vaslav Nijinski dies
1973 Pablo Picasso Dies
2013 Margaret Thatcher dies
8th April #3

This isolation thing isn't all bad! Not long after I last posted #2 I had a cry from the kitchen! "Sandy the Washing machine is broken again"! This had happened before! It would appear that something (probably a sock I thought) was stuck in the innards of the drainage system and every so often it choked the outlet. I had been unable to get the back off the machine so I just disconnected the drain pipe and blew down it! That had worked twice before but not this time. What to do?
Is going out for a new washing machine a "necessary Journey"?
Instead I opened the filter at the front and took it out but even though the machine was full of water nothing in the way of water came out! Odd! I thought. Then lying down on my side and shining a torch in to the orifice I see the problem! There's a £2 coin jammed beautifully in the bore of the drain being exactly the same size, if a micro millimetre bigger. It was jammed there by contact at the top and bottom of its circumference so when I poked it with a skewer it spun about the vertical axis like a throttle valve and I got two gallons of dirty water in my face.
So! Lots of flooding and soaking up, but with a pair of long nosed pliers the offending object was removed. I'll keep it for you Jim. But the best bit is while I might be a wee bit soggy I do not have the expense of a new washing machine and remarkably I'm £2 richer. What's not to like about that?

8th April #2

During this isolation thing I've, like many others, been doing stuff that has been needing done for ages. Yesterday I decided to repair my Hi Fi which consists of a turntable on top of a controller amp on top of a tuner on top of a CD player which in turn sits on top of a tape player! We've had it for yonks!
The trouble was that while the cd player was able to stack 6 cds and play them when requested, they had got stuck and nothing would play, go in, or come out! Anyhow properly taken to bits, cleared and rebuilt it worked and while looking for things to play on it I came across this.
This was for a concert in 1972 to celebrate the Centenary of the Burgh of Grangemouth. We went specifically to hear the Master play the Villa Lobos preludes (second last bit of the programme.) some 2 minutes into the prelude number one someone in the audience sneezed. Andres Segovia stopped playing, looked scornfully at the sneezer, then back down to his guitar and started again. Such was his reverence for the guitar. He spent his life transcribing classical music written for other instruments just so that the guitar could be recognised as a proper orchestral instrument. The Greatest! in my view. But clock the remainder of the year's programme. Bob Spears tells me that there was a "Pop Concert" on at the Stadium which he attended. He doesn't say who headlined then.

8th April

You couldn't make it up! (By Gordon Daly)
Oh yes you could.

We got an ASDA delivery today. After the van had left we discovered that the two sherry bottles still had the security locks on.
I phoned the ASDA 0800 etc help line to be connected to a lady in mid-west USA, who took my phone number and said someone would call me.
Nada.
Then I went to the ASDA web site. It said to call the local store and gave the phone number. I phoned and was welcomed by a machine which said that they were not answering the phone and to go to the web site.
Circular internet.
I then went to the web site of the makers of Bottlelox. It gave a phone number which was not answered and a link to someone who would answer a typed question. I explained what had happened and asked for advice.
Still waiting for an answer.
Then I went to my search engine where I found several U-tube videos made by folk who had obviously stolen bottles of booze and who gave instructions on how to open bottles which had Bottleloks fitted. I am not prepared to try any of them.
My next door neighbours have offered to take the bottles back and if all else fails we might take them up on that.
Maybe I need to set up a still and make my own booze. We can use the Carron for cooling water and we have enough shredded documents to keep a fire going for quite a time.
Anyone got any spare copper pipe?

7th April #3

Inspired by Katherine's email I have revisited my collection of Vinyl begun 50 years ago. This one os 40 years old and my grandson loves it!
7th April #2

We have just managed to arrange the payment to Cycling without age. I received a response from Christine sayin that her tardiness in reply was due to the fact that she was just out of Hospital after having her gall bladder removed. I responded by saying that "Cholecystectomy" has got to rank way up there in the good excuses table. This was her response: -

I can't thank your club enough for considering us. It is very much appreciated and will indeed contribute to the purchase of a container to house two trishaws in the grounds of Falkirk stadium to take people with mobility restrictions around the Kelpies.
Thank you!
I'm glad you appreciated my novel reason for tardy response! Unfortunately the procedure is hindering me more than I imagined. I've been in a fair bit of pain since as an infection was diagnosed after having to return to hospital just yesterday.
However still feel fairly lucky in the grand scheme of things around the world right now.
Keep well all of you!
Christine. X"
7th April

I've just had a great email from Andrew with a couple of facts about things that happened on this date historically. Good idea Andrew! I've added a few!
On this day in: -
1930 - The first steel columns were set for the Empire State Building
1934 - The Scottish National Party was founded
1966 - The USA recovered a hydrogen bomb that they had lost off the coast of Spain

1968 - Jim Clark dies at Hockenheim
2000 - President Clinton signed the Senior Citizens' Freedom to Work Act reversing a depression era law which forbade senior citizens to earn money without loss of retirement benefits.
2020 - The world is in lockdown as a result of a COVID19 Corona Virus pandemic.
I'm not sure what the weather was like at that time but in 1969 the temperature was 8.5C. (Pretty much the same as it is as I write.) The highest recorded temperature on this date is 21.4C and the lowest -3.8C.
Now tell me what would you have done without all of this Knowledge?
I don't have a suitable photograph today but if you look on the club facebook page (link at the bottom of the home page) I have posted an exercise video that Inglis sent me. Very useful piece of advice!
6th April

The other day, aware of the fact that I'm rabbitting on about what I am doing, I suggested that I was curious about how everyone was passing their time in seclusion.
Gordon Daly has been busy!:-

Shredding Bank statements
Looking for somewhere to put the shreds
Read 2 books that had sat on the shelf for a while
Pruned the Cherry Tree (I don't know whether that's some sort of Euphemism)
Pruned the Crab Apple
Planted Garlic and Onions
Cleared Brambles form the river's edge
Looking for somewhere to put the clearings

Found TV Channels that he never knew existed
Tom Curry Has also been busy
Gardening
Cleaned the gutters on the shed and the Greenhouse
Washed out a manhole
Sunbathed.
I know that Robert Craig has been hard at work with his mossmower and I need to do the same thing. While I was in the garden the other day contemplating just that, I saw literally hundreds of geese overhead. Immediately I took this photograph of them travelling North East they all turned round an went back the way they came!
5th April.

Isn't this weather great! I have power washed the deck, cleaned and deployed the Barbie and tidied my study. It's amazing what you can find when you least expect it! I've no idea how this managed to find its way down the side of the sofa! We were 5or 6 years into decimalisation when we moved here!
Anyhow I have also planted some rocket and hope to be harvesting this time next month. It says on the packet "Remember small sowings every three weeks ensure a continuous supply"
So having done all of that time for a wee bit R&R
If things aren't bad enough, I have it from a good source that terrorists have planted small bombs in hundreds of tins of alphabetti Spaghetti in the supermarket shelves. If these go off it could spell disaster!

4th April

It's my parents' Wedding Anniversary today! but I am an orphan, so there's no need for me to worry. Thinking about them though brings back memories of 3 Stirling Road in Camelon. My formative years include the Fishmonger who had a wee van with an open flat back where the fish was kept. He always came round to the back door. He'd climb the steps, knock the door and then retreat to the bottom before anyone answered. He was an extremely mannerly man I recall.
Andrew has been reminiscing too! He sent me this: -
If you are anything like me then if you cast your mind back to around 7am or so up until the late 80s you'd be very familiar with the jingle of milk bottles and the heavy clunk as they were placed on the doorstep. There's almost certainly a couple of foil topped glass milk bottles there, full of milk and replacing the empties that you'd put there the night before. Some of the tops may have been pecked, mainly by bluetits, although if you left some plastic cups by the bottles the milkman would have popped these over the top of the bottles to protect them. (I've no recollection of this bit! did we have "plastic cups" then?)
Andrew also adds "If anyone needs anything delivered or collected call, text or email Andrew or Gillian we'd be happy to help"

3rd April No 2

Making up for yesterday:
I have access to a paper, given to me by my niece, written by Vincent C.C. Cheng, Susanna K.P. Lau, Patrick C.Y.Woo and Kwok Yung Yuen for the American Society for Microbiology in 2007. It is a 694 page document. The paper is copyright protected and attributable solely to them. An extract from the conclusions (on page 683) reads as follows: -

"Coronaviruses are well known to undergo genetic recombination which may lead to new genotypes and outbreaks. The presence of a large resevoir of SARS-CoV-like viruses in horseshoe bats, together with the culture of eating exotic mammals in southern China, is a time bomb.
The possibility of the re-emergence of SARS and other novel viruses from animals or laboritories and therefore the need for preparedness should not be ignored"
This was published 13 years ago!
3rd April

A slight hiccup yesterday and earlier today meant that I couldn't log into the Template. Problem solved! they were doing "Maintenance"! I have however tried to continue my daily contact with you all by email the latest of which was this morning in which I made refernce to what we were doing to while away the time in isolation.

I am thinking now that it would be good if you were to let me know what you are doing. I could then let everyone else know.
We told CHAS that we couldn't give them any meaningful cash and offered them £52 being the cash that we haven't paid for speakers' lunches. I got the following lovely response: -
"This is so very kind of you and your group. It is a difficult time right now and we completely understand the decision to primarily help your local Community. To even be considered and the savings to come to us it means a lot.
KIndest regards
Kirsty Moran."
To add to my worries, my doctor has told me that I have to stop drinking. That will be a huge change for me because he has been my doctor for at least 20 years.
Ist April

Just as I typed that it ocurred to me that the date might be considered significant when you see the photo that I'm about to post. I did the weekly shop this morning and visited the Co-op in Bonnybridge. The place was deserted. Miriads of roller shutters on shop fronts. Admittedly two of them were bookies but the majority of the others are takeaways. There's at least three Indian, Two Chinese an Italian and two cafes all within a couple of hundred yards. I presume that the population of Bonnybridge is now taking lessons on home cooking because I could get none of my store cupboard stuff when I tried.

The photo of Bonnybridge High Street was taken "pano" with my phone and the chap in the front walked past as I took the photograph. I'm afraid that I must have missed one of his legs (he certainly had two) and his head appears to have been misplaced but Hey Ho on the way home I was reminded about the quote in my latest edition of Rotary Calling "Beautiful things happen when you distance yourself from Negativity"

Sorry about the quality of the photograph but they were running away from me and I didn't wish to disturb them further.
31st March,

Three months of the year gone already! and with all of this going on I have forgotten all about our monthly magazine Rotary Calling! That's next on the agenda. I have been fortunate in having contributions to this daily Blog from Lots of folk, the latest being Gillian Niven who has sent me this: -
Aparently Gillian met Jenny at RYLA and says she's a force to be reckoned with.
On the news front Inglis tells me that he and Katherine are locked down in Spain and that two return flights that they had booked were both cancelled. He says it looks like they are stuck there for a while but the local food and WINE (his capitals) suppplies are Good. Both are however healthy and well.

And finally a moral booster: -
30th March

It's amazing what extreme conditions like we are experiencing currently can do. All of a sudden I realise that my bank balance isn't reducing like it usually does! That got me to thinking about what I would normally be doing that I'm not doing now. The notion that one should only venture out for "necessities" looms large in that thought process. Last week when I went for our necessities I stood on the mark in the queue for the checkout and was aware of a chap behind me whose only purchase appeared to be two 24 can packs of budwieser which he was having difficulty carrying. I jokingly said "We are only supposed to be shopping for necessities" to be met with the reply "these are necessities".

Round about this time of year we'd also be buying Easter eggs for our annual hunt in the garden when all of the grandchildren would be here! Not this year. But then what's necessary about these things? Nothing. This lockdown has focused my mind on just what things are really necessary. Not eating out, not drinking wine, not theatre going, not indeed, anything to do with solely having pleasure. Although having said that there is one thing that springs to mind on the pleasure front that might just be considered to be necessary!

Stay safe it looks like we are in this for the long haul.
29th March

I have it from a reliable source that our Police force is being asked to operate as normal with NO PPE! Surely someone has lost his/her reason. How can you ask the Country to stay indoors, stand and applaud the NHS, avoid social contact at all costs and still expect our Police to carry on as usual with no protection. Admittedly there will have been a sharp fall in the Housebreaking figures but can you imagine apprehending an offender of whatever nature while maintaining a 2m distance or trying to stay 2m away from the passenger of your Patrol Car?

That's my Grump for the day. I looked out of my bedroom window this morning and was presented by Forth valley in all its glory. OK it might be infected but that doesn't take away from the beauty of it.
---
28th March

It's not getting any better is it? I was given a book by my sister in law "Sapiens A brief History of Humankind" by a chap called Yuval Noah Harari. I got half way through it and laid it aside. It wasn't until I saw him on the tele last night that I decided to return to read the rest. The book is about who we are where we came from and where we are headed.
It was obvously written before this Pandemic but curiously last night he took the view that what we are doing now will change the Human race for all time coming. Universities have been considering distance learning for decades, he says, all of a sudden they made it happen within a week!

Is it possible that we as a race will recede into the depths of technology to the effect that we no longer need physical social interaction? I hope not!
---
27th March

It is widely believed by those in the know that when Robert Burns referred to "Daisies" he was referring to what we know today as Daffodils or Narcisssi. This time of year always brings to mind his lines in "Epistle to Davy, a Brother Poet" when he says: -

"In days when daisies deck the ground, and Blackbirds whistle clear, with honest joy our hearts will bound to see the coming year!"

Despite all of the hardships and constraints put upon us by Covid 19 Mother Nature continues in her relentless regeneration nonetheless. My spirits are lifted when I walk round the garden and see the evidence of this.
26th March

Staying where we do it has only just occurred to us that not a lot has changed since we were constrained to "stay at home" . This morning however I tired of watching the continual repetitive reporting about Covid 19 and started scrolling through the channels to see what else was on the tele! I normally watch the news while I'm having my breakfast but like I say I tired of it.

ITV3 "Man about the house" 50 year old classic comedy that never gets less funny. Then it struck me that the beautiful Paula Wilcox, the perfect middle class foil to Richard O'Sullivan's baser instincts, and her classic "blonde" flatmate Sally Thomset are both, like most of us, in their seventies and somehow or another the characters have not aged!!!!!!! Well worth a visit.
then
now

I'm going to look for more of it.
---
25th March.

It occurs to me that being isolated as we all are we might not all have the incentive to rise in the morning and make an effort to look good! After all why bother when no one else is going to see us. I have this image in my head of a whole pile of gorillas queueing up at the hairdressers after this is all over.
For my part I take a great pleasure in doing quite the opposite! Shower shave shampoo all the four "sh"s aftershave, pedicure - the works! Take my socks for instance.
No one is going to see them (Well not unless I post the photo on a web site or something) but I got them for Christmas and it makes me feel good wearing them. They are called "Happy Socks"! Everyone could be doing with a dose of "Happy" these days.
On another note President Nominee Linda says: -
"Hallglen Primary School is providing a "Grab and Go" lunch box for all pupils! No need to be a pupil at Hallglen. The facility is for all pupils in the Catchment area. From looking at Twitter it would seem that most Primary Schools are doing the same."
---
24th March and even more Draconian measures imposed! Not without reason I say. Diane and I are managing quite well, as I said yesterday, our freezer is normally fairly well stocked but I visited Tesco in Camelon this morning for essentials like bread and milk.

I managed to buy almost everything I sought, apart from of course toilet rolls, but was amused to find that the shelves where the root ginger and Tomato puree might normally repose were starkly empty. Who stockpiles root ginger? And Tomato puree? I ask you who would have thought that the resident population of Camelon were so gastronomically gifted that they cook from scratch chinese and italian meals?

Not to worry! I was heartened to note that they have stuck striped black and yellow sticky tape on the floor at the checkout every 1.5m so there are wee boxes within which you must stay to keep your distance.
Now that I remember (a lightbulb moment) that's where I've heard the phrase before! The institute of Advanced Motorists advise you to recite "Keep your distance" twice while following another car. If you pass the point where the other car was when you started reciting before you are finished you are too close!

Watch this space and don't hesitate to contact me or any other Club member if you feel the need for whatever reason. Keep well.
Its the 23rd March!

Diane and I have been managing to comply with the regular advice being given by all of the relevant authorities. We normally keep the freezer well stocked so we are simply working our way through its contents. I can't understand why there is a compulsion to stockpile toilet paper. It's not as if you would die if you suddenly ran out of it. After all we didn't always have toilet paper.

Did you know that paper was invented by the chinese? and so it's not a stretch of the imagination to understand that they also invented toilet paper. The earliest recorded use of paper for personal hygiene is in China in the sixth Century. (AD that is) but it wasn't until the 14th century that, during the Ming Dynasty, they started to manufacture it specifically for that purpose. (Thinks!!! is that where the word mingin' comes from?)
In 1393 the Court ordered 720,000 sheets each 600mm x 900mm for the personal use of the Emperor.

The Emperor Hong Wu was particularly delicate in his habits and ordered 15,000 sheets especially soft and perfumed for his own use.

What you might have used before that depended on where you lived and your status within that community. If you were wealthy you might have used wool or a soft washable rag. The Romans used a wet sponge on the end of a stick. If you were not so well off a fistfull of grass, leaves or straw did the trick.

In some parts of Europe even today the use of toilet paper is considered dirty and unhygienic. The preferred option is a thorough wash in a bidet or such like thing.

Many places in the world rely simply upon the use of flowing water in a river or stream which not only carries the waste away but also allows washing at the same time. In India and parts of the middle East it is considered offensive to eat or pass food at the table with your left hand. It would appear that that is the hand of preference for such personal hygiene.

Thanks to www.Owlcation.com from where all this interesting stuff came.
---
Good morning all,
Its mothers' day! although many of you will be missing your family coming to you rather than missing a visit to your mum, it's still one of these times when family would normally gather together. I have just finished setting up a ZOOM meeting between Diane and our kids. The Grandkids loved the idea.

The weather seems to be trying to make up for the general misery attaching to this distancing stuff. The daffodils are growing in strength and number by the day

and my EPN crocuses are flourishing.

It's agood time to get stuck in about the gardening! But then its also a good time to sit on ones rear end with a good book.

---
It's Saturday 21st March 2020
How are you all feeling today? The situation with this virus seems to be escalating daily but there's no reason to get down about it. Even a youngster like me can remember sticking pennies on the frost on the window just so that we could see outside. No central heating, only one loo (and maybe even that outside) and no toilet paper either, just torn newspaper tied through a hole in the corner with sisal string.

Don't forget that you need to keep well. Enjoy the fresh air (just not too close to anyone else) Even if its just for a quick walk round the park.

If you are one of the many who are finding themselves working from home keep an eye on your sitting posture and try not to sit for longer than 30-45 minutes before standing up and moving around. You might even try some star jumps.

Linda Noble remembers leaner times too: -
"I remember when I was wee, a horse drawn carriage that was a Bakers Shop, an old bus converted into a chip van. my mum filling the boiler and heating the water and carrying pans of water to the bath in the summer when the coal fire wasn't on"