Rotary in Frome Garden Competition 2020
Thu 16th July 2020 at 14.08 - Mon 14th September 2020 - 12.00
Enter the Rotary in Frome "Best Garden in Frome and District" competition. Now with VIDEO available!! Latest update 3rd August 2020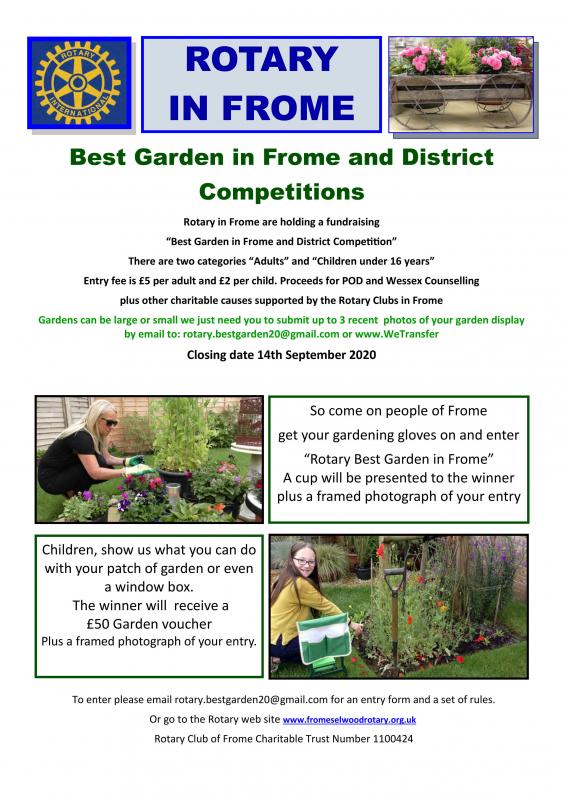 Rotary in Frome are holding a fundraiser


"Best Garden in Frome and District Competition"

Open to all (except Rotarians)
There are two categories "Adults" and "Children under 16 years"

Entry fee is £5 per adult and £2 per child.

Proceeds for POD and Wessex Counselling
plus other charitable causes supported by the Rotary Clubs in Frome
Rotarians are NOT allowed to enter this competition (see below specific section if you are a Rotarian for the Rotarians only competition)

The entry form for the general (Frome & District) competition, which includes the rules, is available here as a Word document to download.

WATCH a video about the competition

PDF of this poster is also available to download here.
---
---
ROTARIANS ONLY SECTION
There is a complementary competition for Rotarians (ONLY) to take part in; details and application here for the Rotarians ONLY competition. Do not use this form unless you are a Rotarian.

24 July 2020