Happy birthday to club's first centenarian
Honorary member Jim Jenkyn is 100 today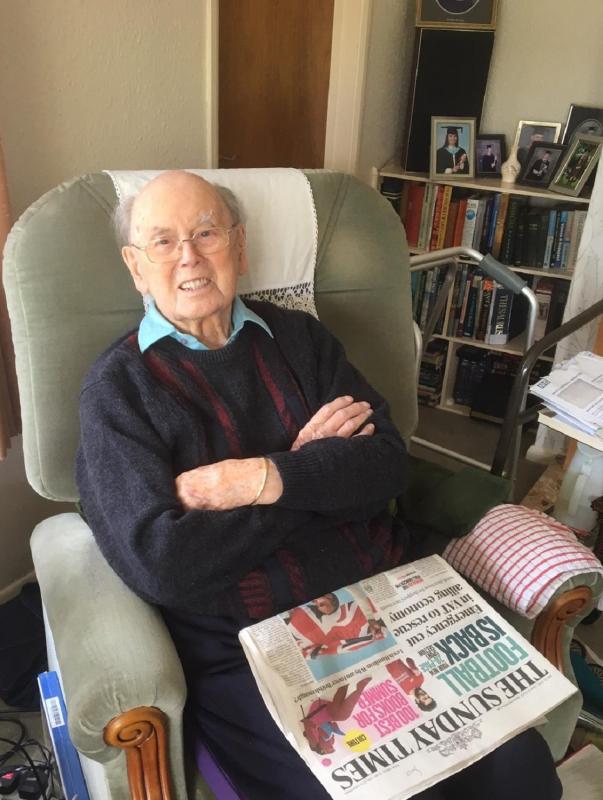 AN honorary club member and Hereford's only surviving head postmaster reaches his 100th birthday today - January 11.
Jim Jenkyn, who lives in Marden, held the post from 1978 until his retirement in 1981.
He is also believed to be the first member of the City of Hereford Rotary Club to reach his century landmark. He is now an honorary member of the club.
Jim was born in West Cornwall, just after the end of the Spanish Flu pandemic and grew up on a small farm.
He began his working life in 1937 as a telephonist and postal officer at Penzance Post Office before moving on to the Great Western Travelling Post Office from Penzance to Plymouth.
Jim survived a couple of hair-raising and potentially fatal incidents during those early years of World War Two, once being thrown against the curtain covering the open door by the movement of the train – and due to his youthful exuberance, probably trying his bowling technique, rather than sitting at his work! - and on another occasion being marooned on the Brunel Bridge in Plymouth when the train came to a standstill.
"It was during an air raid and we were very vulnerable, to say the least," he recalled. "One hit and we would have all gone."
Jim joined the RAF in 1941 and saw war service in Egypt and Palestine.
After hostilities ceased, he returned to the Post Office and was promoted to the rank of overseer and then superintendent in Plymouth.
He moved to Hereford with his wife Betty in 1974 when he was appointed assistant postmaster before being promoted to the top job four years later.
Jim and Betty were strongly involved in the local community – they were both lifelong members of the Methodist Church and Betty sang in chapel, choral and at the Three Choirs Festival.
Jim, meanwhile, joined the City of Hereford Rotary Club where he was elected as the club president for 1989/90, serving his period in office between those of Richard Hammonds and Bill Edwards who are both also still members of the club. Jim also joined the Hereford Probus Club on his retirement.
Jim and Betty also travelled extensively and Jim continued this after Betty died in 2014, taking trips to Cornwall and to France to visit family.
Although a hip replacement, knee problems and Covid have restricted his travel possibilities, Jim still loves keeping in touch with family and friends by email and has started to enjoy Zoom chats.
He has three daughters, six grandchildren and eight great-grandchildren. Due to the pandemic, he has yet meet some of them, two of whom were born in 2020.
Jim continues to follow his lifelong love of sport, particularly cricket and football, as well as doing crosswords and codewords.