Robert Benson, Headteacher
24 January 2019
Robert Benson, head teacher at Dover Grammar School for Girls, was guest speaker at Dover Rotary Club recently when he highlighted the pressures facing members of the teaching profession. This was reflected in the great difficulty in recruiting staff.
Mr Benson, responsible for the education of 890 young people from Dover and Deal, has a teaching staff of 60 and just over 100 overall. Although a girls' school there are 30 boys in the mixed sixth form.
One surprising fact was that although he had been in post only two and a half years (he arrived in 2016) he was one of the longest serving head teachers in Dover. He told that he was educated in a boys' school but that this was the third girls' school in which he had worked.
He submitted that his girls' school was greatly under-resourced, still with five mobile blocks and an absence of other amenities including those for sport. Yet, he added, there were proposals to completely rebuild Dover Grammar School for Boys (at Astor Avenue).
He thanked the Rotarians for their support for the school including the introduction of the successful Interact club and for the valuable prize given annually to a selected student.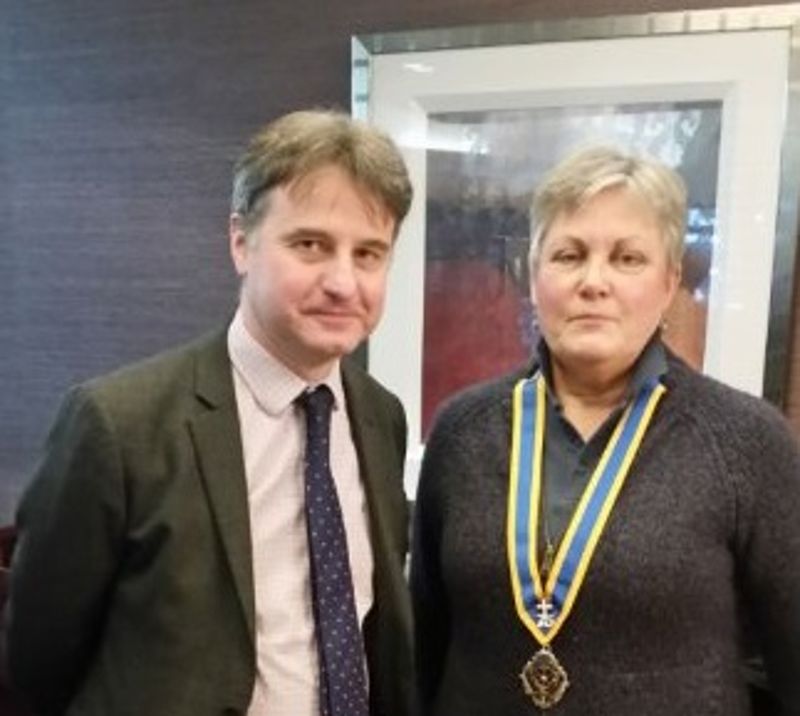 Terry Sutton on Lady Hester Stanhope
31 January 2019
Our member Terry Sutton told the strange story about eccentric Lady Hester Stanhope who lived at Walmer Castle and eventually starved herself to death in the Lebanon.
Lady Hester, the niece of bachelor prime minister William Pitt the Younger, acted as his hostess in London's Downing Street and at Walmer Castle when he moved there as Lord Warden of the Cinque Ports. After Pitt died she moved to the Middle East where she became something of an icon among local tribes.
Hester, dressed as a man in flamboyant Arab attire, became the first European woman to visit the fabled city of Palmyra. She gained widespread admiration as she rode into the city on her horse and became so popular that she was called upon to settle tribal disputes, as well as providing a home to refugees. Hester became known as the Queen of the Arabs.
Terry related her sad end. She slowly became angry with the world and turned nasty to her servants who deserted her. Visiting Europeans described her poor health and general run-down condition. One day Lebanon herdsmen, calling at her walled-up 'palace', found her dead. She had died from malnutrition.
"And so this lady, once a top socialite, died alone and friendless. Her fascinating life all ended in tears" concluded Terry.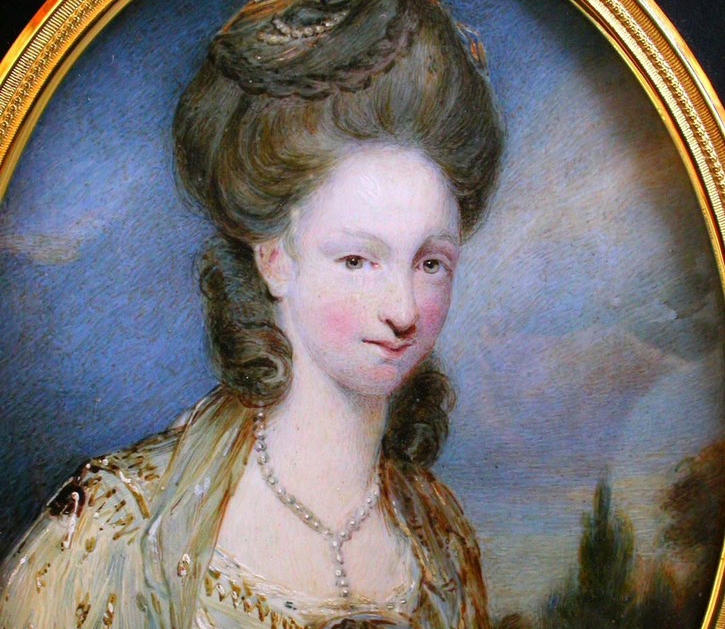 Community First Responders
21 February 2019
As you read this there's a team of trained "first responders" ready to dash out from homes or work to try to save your life if you have a cardiac arrest - a heart attack. And the four members in the team in Dover are all unpaid volunteers who even pay their own car expenses to speedily get to you.
One of the team is former fireman Stephen Bailey who was the guest of Dover Rotary Club in February when he explained how the Community First Responders initiative worked. The co-responders, using life-saving defibrillator equipment, work on the heart attack patient until the NHS ambulance arrives. The ambulance might have been miles away when the 999 call for help was made.
Stephen, a former Astor School student, told how volunteers in the team must have access to a car and be able to respond immediately to a call for help. Why does he take on the responsibility? He says: "There's no greater pleasure than saving the life of a member of one's own community."
Stephen and his colleagues would like to increase their Dover team numbers from four to 10. If you're interested in getting trained, contact Kent.CFR@secamb.nhs.uk
Community Action Day
23 February 2019
Rotarians from the town's two Rotary Clubs, Rotary Club of South Foreland and Rotary Club of Dover spent hours one Saturday morning clearing up litter and discarded items from the Buckland Estate area of Dover. Work parties split into three sections to clear rubbish from the length of the Green Lane footpath working from its top down, Melbourne Avenue and the section above Whitfield Avenue/Brookfield Avenue up to Melbourne Avenue. Organised by Vice President Tony Cook of the Dover Club and Rotarian Mike Prebble of the South Foreland Club a colossal amount of rubbish was bagged up, piled up and then taken away by Veolia operatives.
President of the Dover Club Barbara Stapleton was accompanied by District Governor Elect Don Soppitt and Past President Peter Sherred, Keep Britain Tidy Ambassador, in tackling the rubbish on the footpath bank between Shatterlocks School boundary and the bridge over the Dover Deal section of the railway line. Items collected overall included a pushchair, a scooter, a bicycle frame, a large wide screen television, large toys, clocks, bags of domestic rubbish, chairs, vases as well as the ubiquitous plastic bottles and cans and condoms!
Litter Heroes Ambassador for Keep Britain Tidy Peter Sherred said, "This was a tremendous effort by volunteers from the town's Rotary Clubs to celebrate the 114th Birthday of Rotary as well as showing the pride Rotary has for the town. This area was cleared two years ago and the worrying aspect of this latest effort is the sheer quantity of material collected which proves that many people simply use our open spaces as their personal dustbin areas for all their discarded rubbish large and small. It is a disgrace and shames the town. However, the result today shows what can be achieved by voluntary effort when people come together for a common purpose."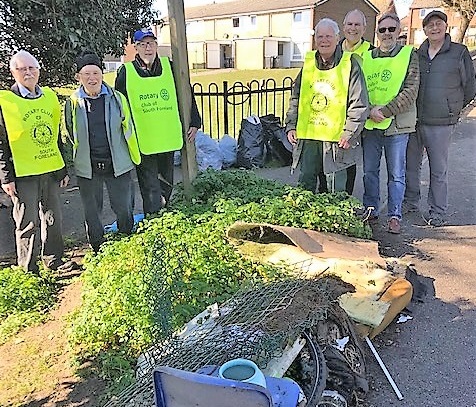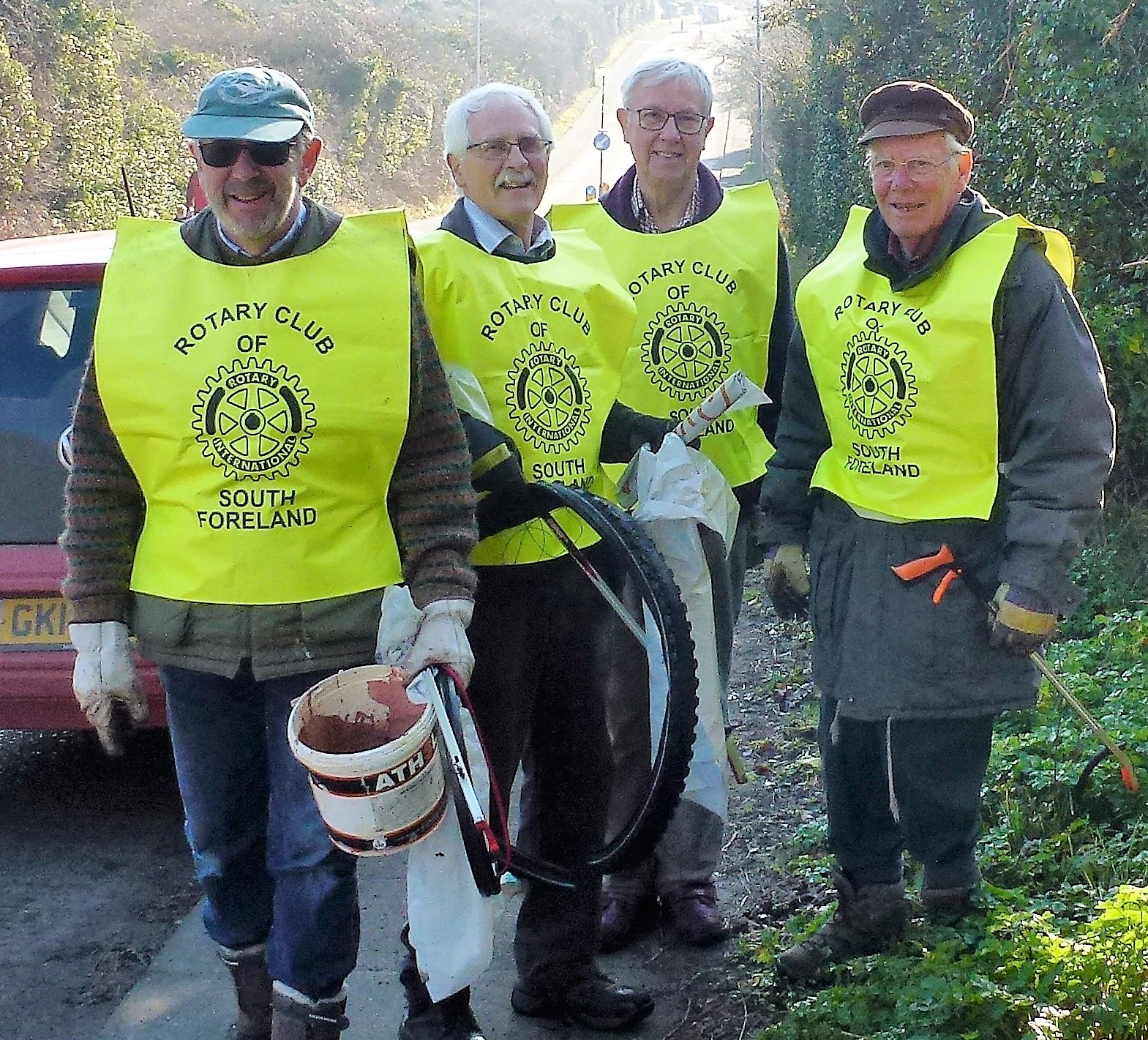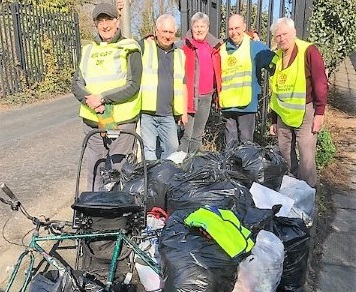 Battle of Britain Memorial
21 March 2019
Members of Dover Rotary Club joined with Rotarians from Sandwich visited the Battle of Britain memorial project on the clifftop at Capel on Thursday, 21st March 2019.
The Dover contingent took the opportunity to present to the centre a historically valuable portrait, The Last of the Few, depicting a Spitfire and signed by many of the pilots who fought in the Battle of Britain. The image was handed over to Patrick Tootal, honorary secretary of the Battle of Britain Memorial Trust by Rotarian Brian Flood on behalf of the Dover club.
Mr Flood, vice chairman of Dover Transport Museum at Whitfield, had cared for the photograph for some years but, as he said at the presentation, the Battle of Britain centre was a more appropriate home for it. The portrait had originally been given to Mr Flood's care by DG-elect Donald Soppitt. Giving thanks Mr Tootal said he had only once seen a similar copy.
The members of the two clubs, Dover and Sandwich, lunched at the Capel centre, were taken on a conducted tour of the site and enjoyed the "scramble experience" undertaken by pilots when taking off to fight enemy attacking aircraft.
The Battle of Britain Memorial site itself is open 365 days a year to those on foot (access is via the side gate) but the car park, shop, cafe and Scramble Experience are open as per the times shown below.
10.00am-5.00pm March to September
10.00am-4.00pm October to February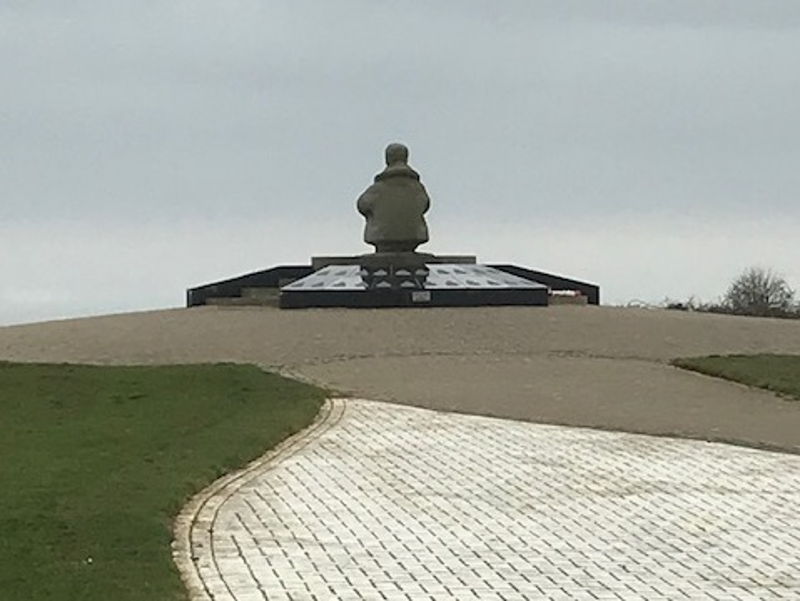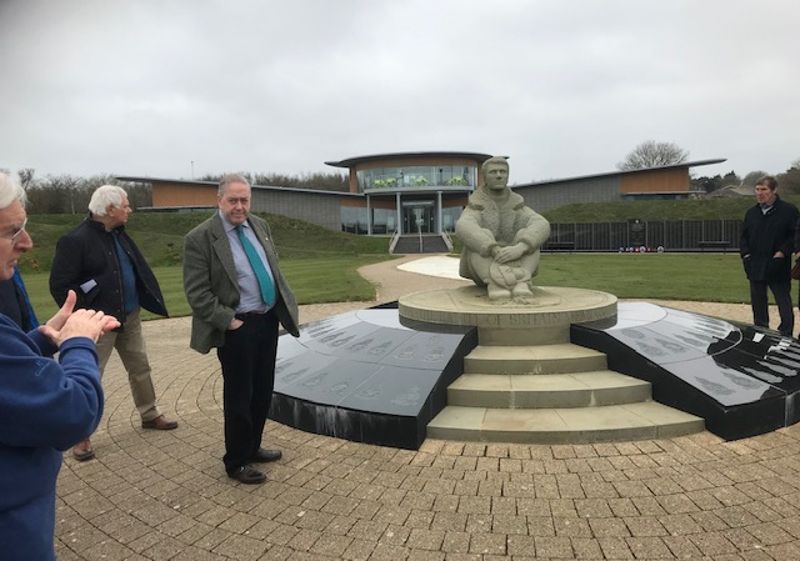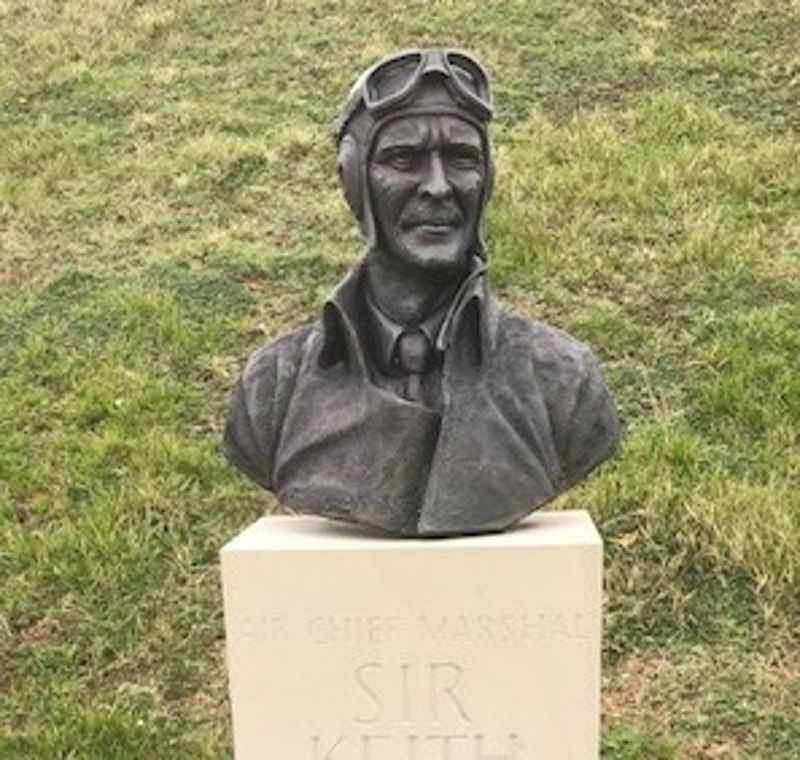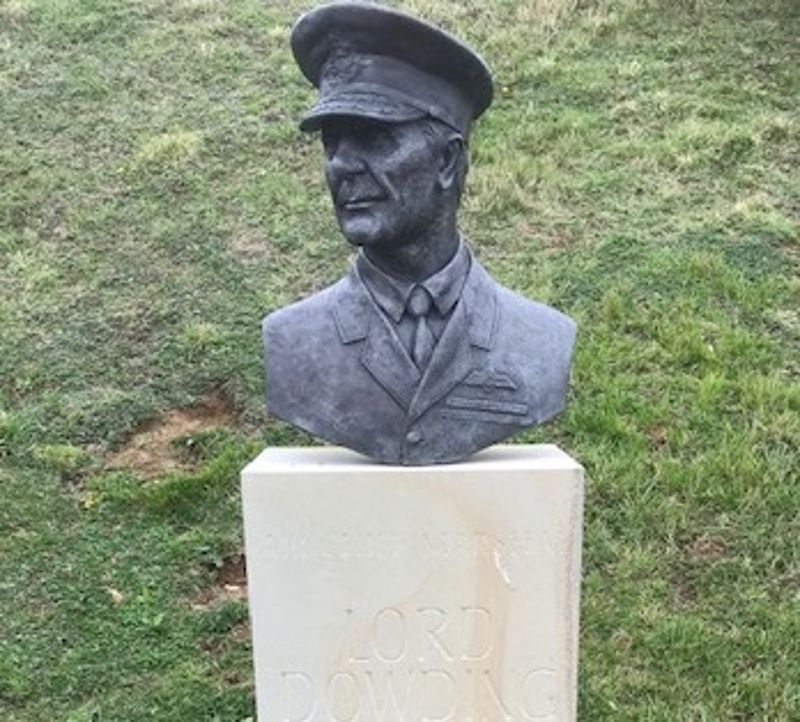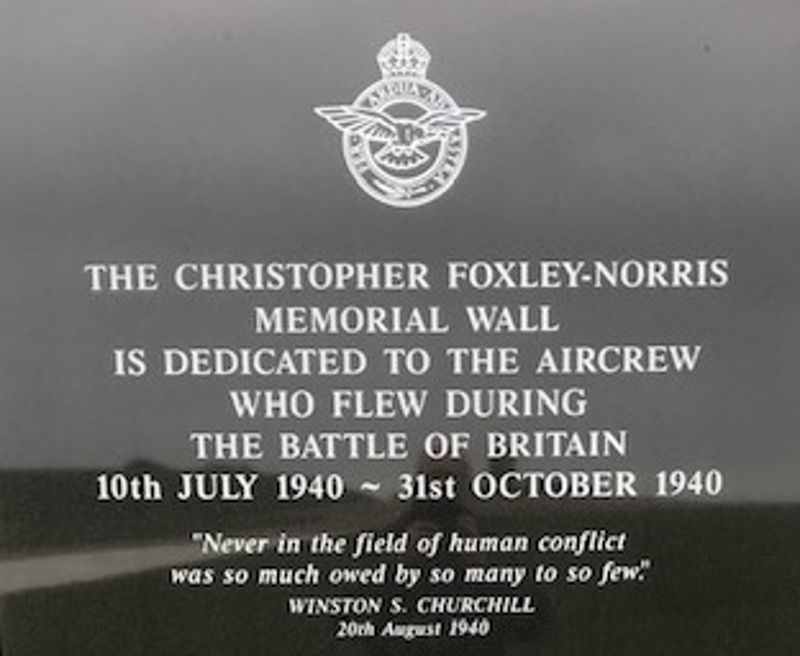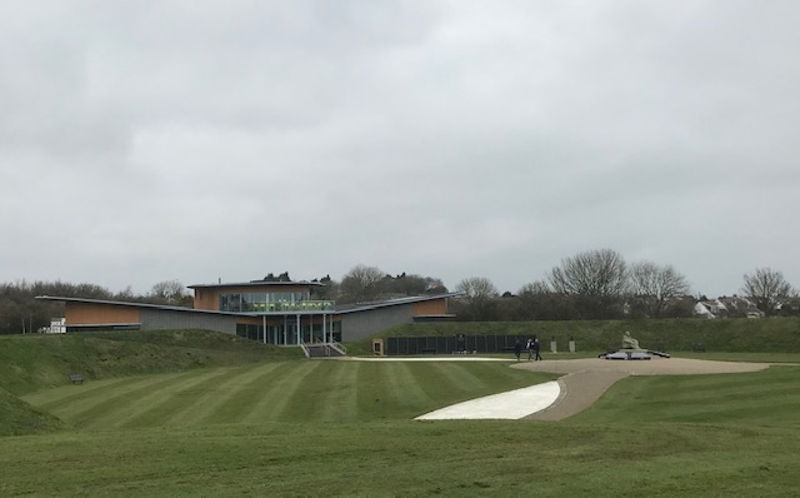 Harmony Therapy Trust
25 April 2019
Spread over Kent there are 120 professional therapists ready to provide holistic treatment to those suffering from life-threatening illnesses, for free. They work together through The Harmony Therapy Trust offering treatment to those with cancers, motor neurone disease, Parkinson's, MS, and chronic fatigue syndrome.
Founded in Sheppey the trust has already helped more than 2,000 and is now assisting 75 patients a month. But, says Fazlin Blakemore, the trust would like Kent people to know more about its work and availability. She and control practitioner Deborah Mulvany gave details of the trust's activities to members of Dover Rotary Club on Thursday, April 25th 2019.
Deborah explained, "We receive no NHS or government financial support so we raise funds by events, donations and seeking grants. Clients can receive therapy free of charge at various centres or a therapist can visit the patient at their home. The cost to the charity is around £100 per patient." Patients are referred by GPs, practice nurses, oncologists or hospital specialists.
Therapies offered include reflexology, Indian head massage, body massage, aromatherapy, stress management and relaxation sessions. Hypnotherapy, wig care and hair and scalp stimulation are also offered.
"We would like more people to know what we can offer," says Fazlin while Deborah says the aspiration is to widen the charity further than just Kent, maybe throughout the country.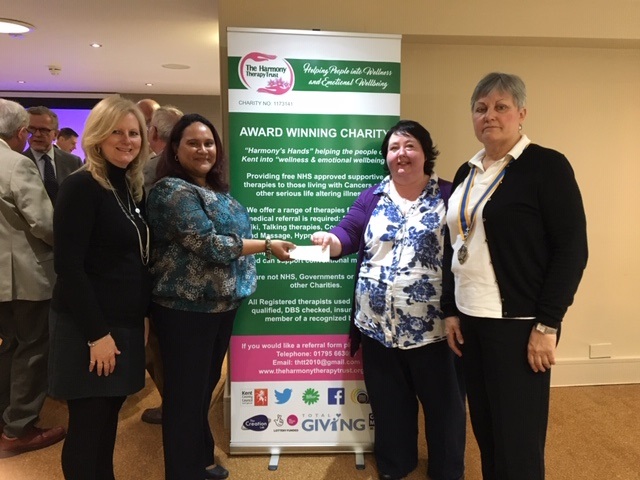 Clearance Days
04 May 2019
Teams from Dover Rotary Club were out and about at for a weekend in May clearing overgrown vegetation from gardens and walls where it was in danger of obstructing pedestrians. It was part of the club's Service to the Community campaign.
One big job tackled was clearing years of overgrown ivy from the Castle Hill Road wall that surrounds the gardens of Victoria Park. This wall overlooks the pavement taken by thousands of visitors heading for Dover Castle.
The club spokesman explained: "Each year Rotary Clubs set aside a day of community service. The Dover Rotarians have previously carried out litter clearance but this time, for a change, we tackled overgrown vegetation. In short it was a tall ask, a challenging exercise and the troops worked magnificently so the immediate task in hand was completed notwithstanding wind, rain, hail and even some sunshine thrown in for good measure. Actually people seemed genuinely to enjoy the experience and look at the results!"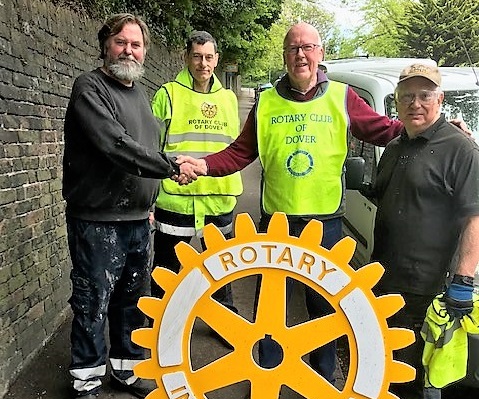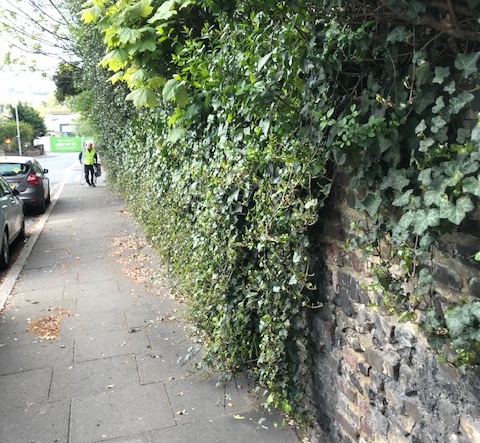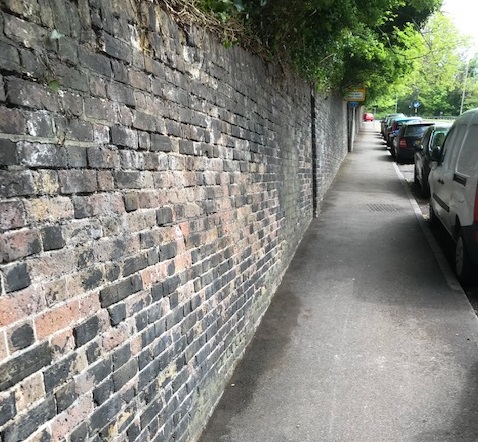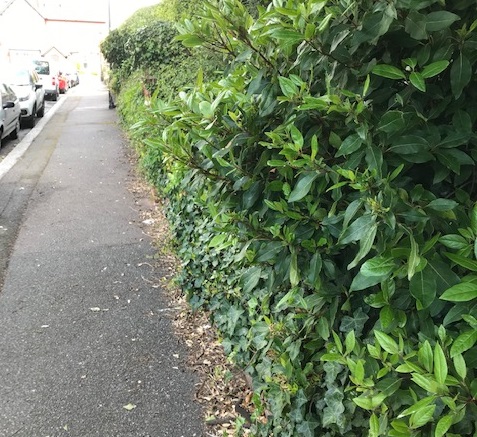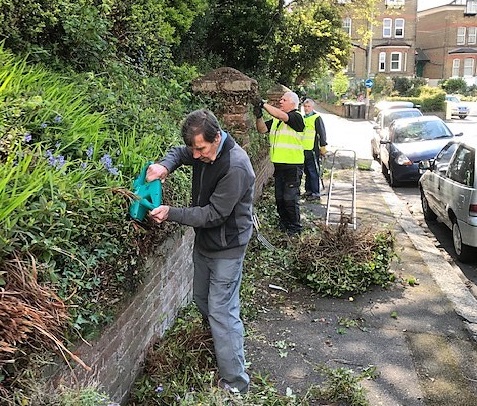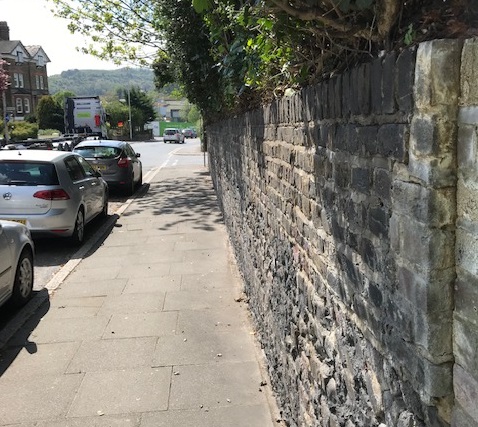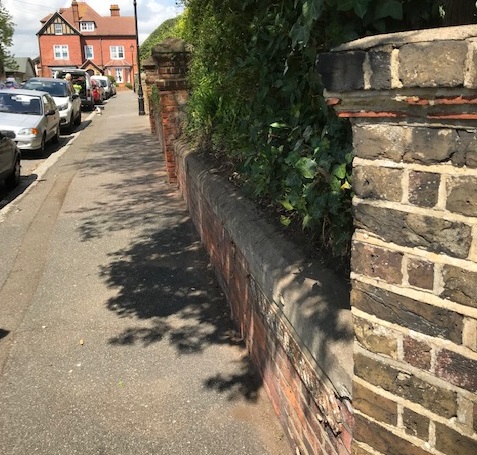 Cheque Presentation
12 June 2019
The proceeds of our St George's Day Dinner are presented to Porchlight representative Nathan Tough by members of our cluster clubs.
Read about Porchlight's work here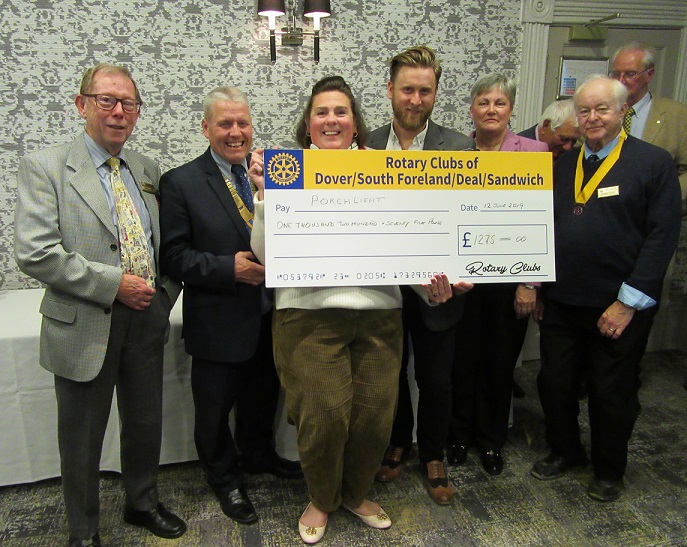 Dr Ajanta Chakravarty : Koshish Update
13 June 2019
Partly as a result of finance from Dover Rotary Club a school in India, set up for poor street children, is booming. Members of the club heard from Dr Ajanta Chakravarty, sister of club member Arnie Sanyal, how the Delhi-based Koshish School started with two boys in the year 2000. Today, with help from various sources, there were now 182 boys and girls receiving education there.
"If we had more rooms, we have four, no doubt there would be more receiving education there," explained Ajanta. She explained how there was resistance from fathers allowing their 15-year-old daughters remaining at the school. They could have gone off, got married and provide money for the family. But after the local government came up with a financial grant the fathers' attitude quickly changed.
Ajanta told how, as the first intakes prepared to leave school, further education including computer training was provided for them. As a result one early entry student was now working in the USA on multi-media activities.
Watch a short video about Koshish School here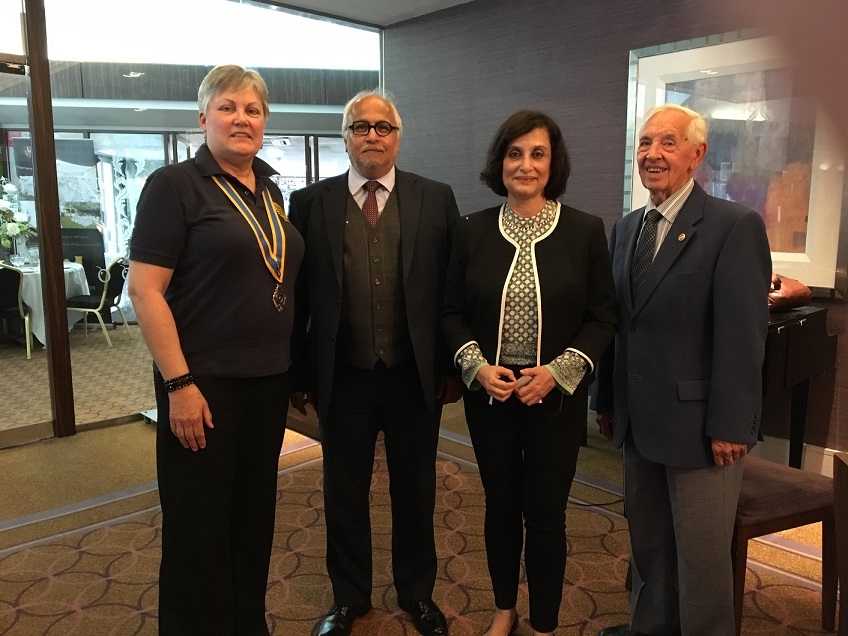 Dover Stroke Club
20 June 2019
Members of Dover Stroke Club received a £4,600 boost from Dover Rotary Club at a lunch meeting attended by Dover and Deal MP Charlie Elphicke. The money was raised at a popular event organised by Rotarian John Hunnisett at Dover Town Hall.
The presentation of the £4,600 cheque, by retiring president Barbara Stapleton, followed a talk by Stroke Ambassador Amber Garland who explained she was a 19-year-old student at university when she suffered a stroke. Ten years later she is still recovering. Her recovery was partly thanks to the help of a Stroke association.
Receiving the cheque was Peter Groombridge, chairman of Dover Stroke Club, that meets regularly at The Ark. The club was established in 1979, closed down and re-started in 2015. Mr Groombridge, who has suffered a stroke, explained the club provides a social outlet for those unable, or find it difficult, to take part in normal community activity. He urged other stroke victims to join the club.
The meeting, at The Leaf/Ramada, Whitfield, was the final one chaired by President Barbara who was about to hand over the presidency to Rotarian David Fisher. The Stroke Club was her selected charity.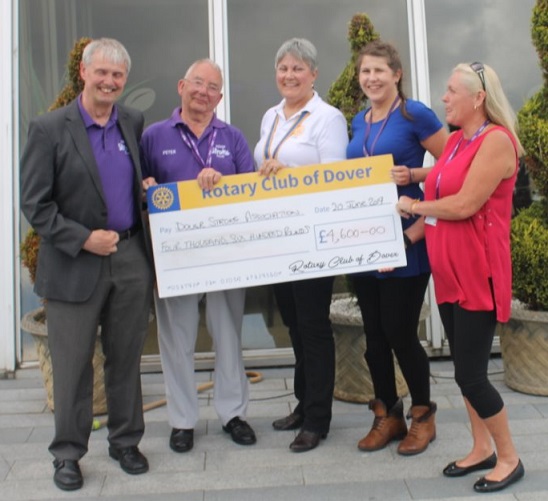 New Leadership Team

04 July 2019
President David Fisher chaired his first meeting at the Leaf Hotel, Whitfield on 4 July 2019, and outlined his plans for the first few months of his Presidential Year.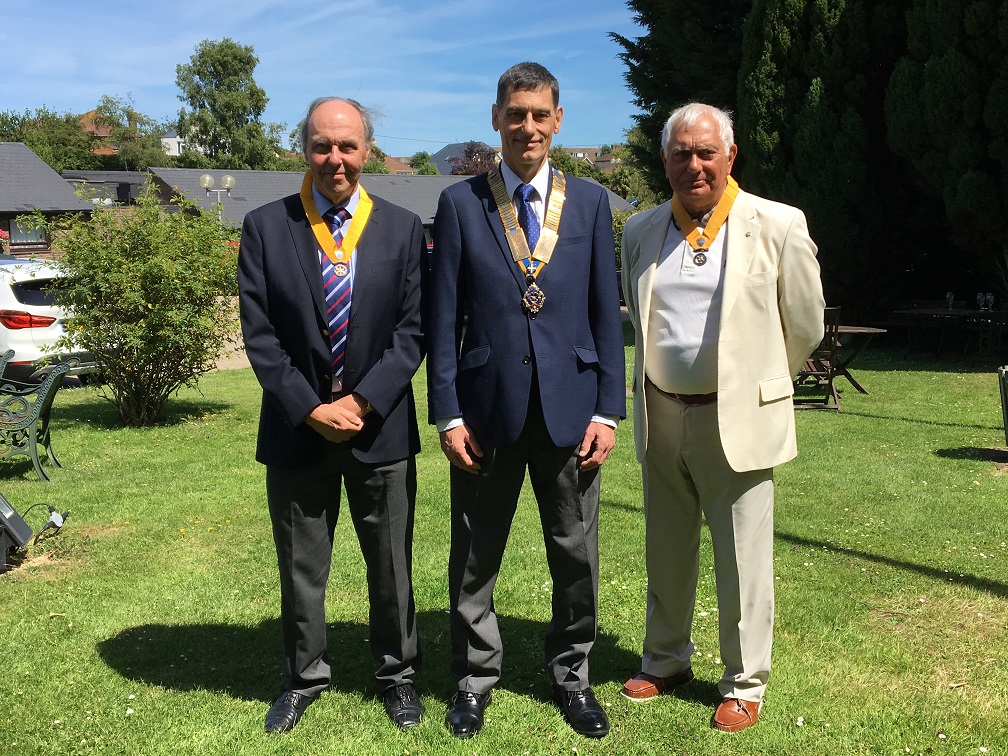 Vice President Ian Wright, President David Fisher, President-Elect Tony Cook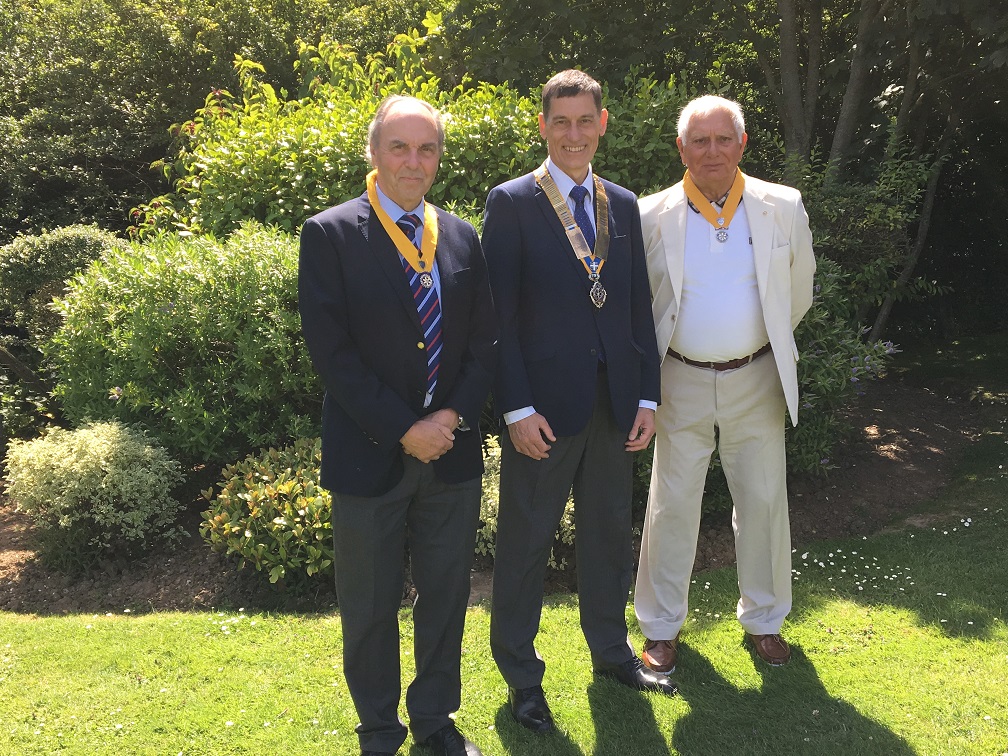 Dover Regatta

04 August 2019
4 August 2019 was Dover Regatta day, and the sun was back after the washout of 2018!
President David took the opportunity to visit Dover smART Project at their seafront premises and present them with our cheque for £250 towards their summer picnics.
A long day on the Rotary stand - 0600-1800 - but a good time was had by all!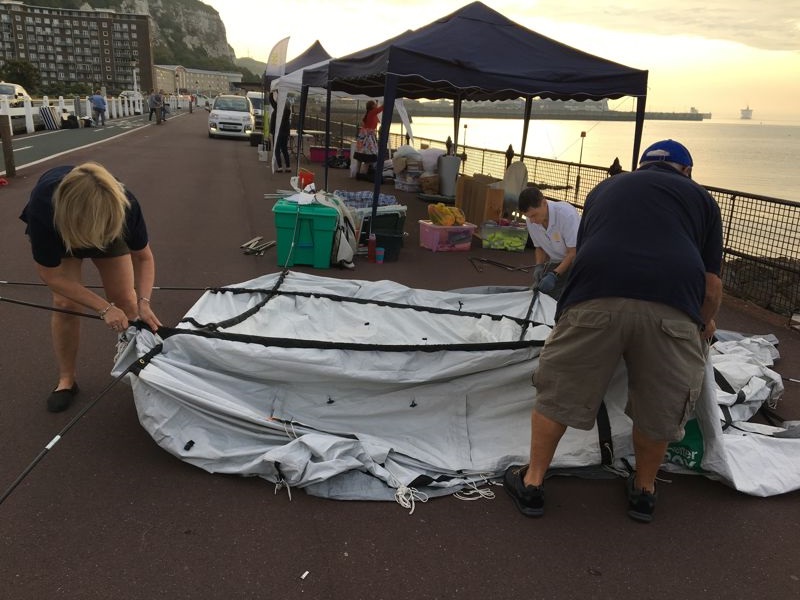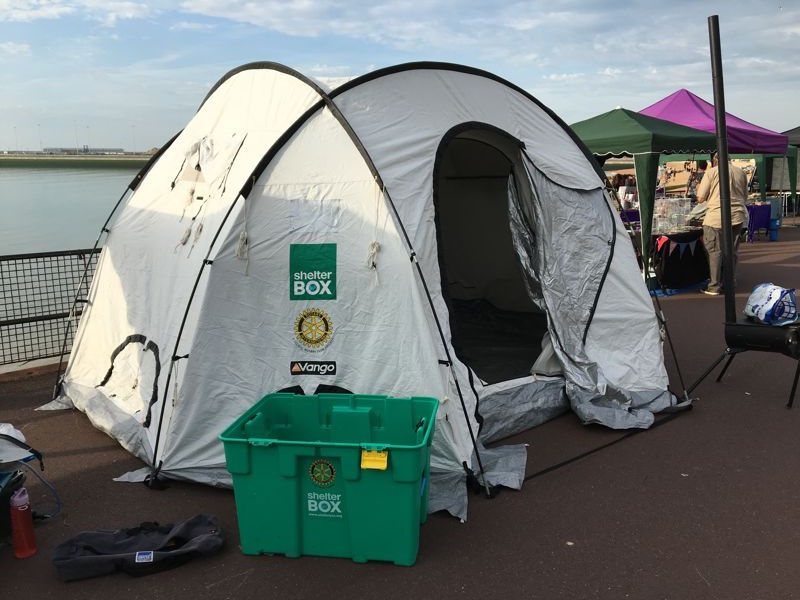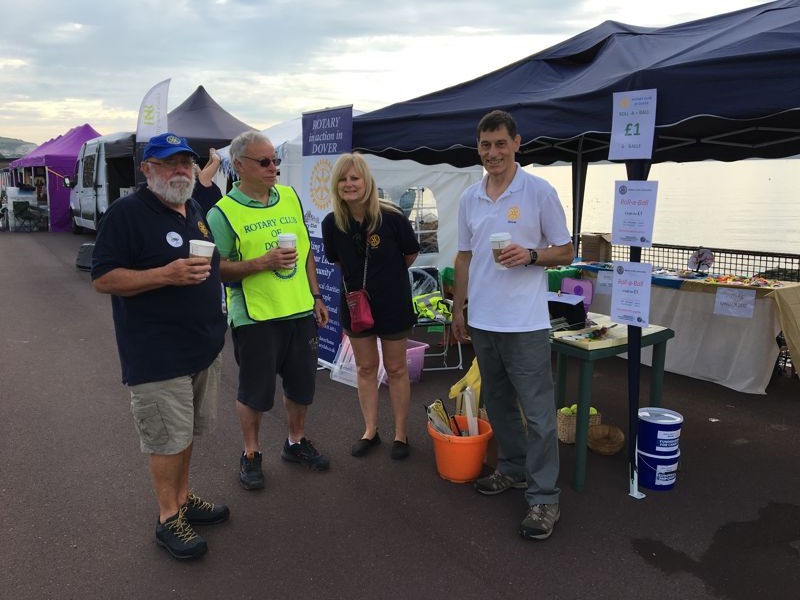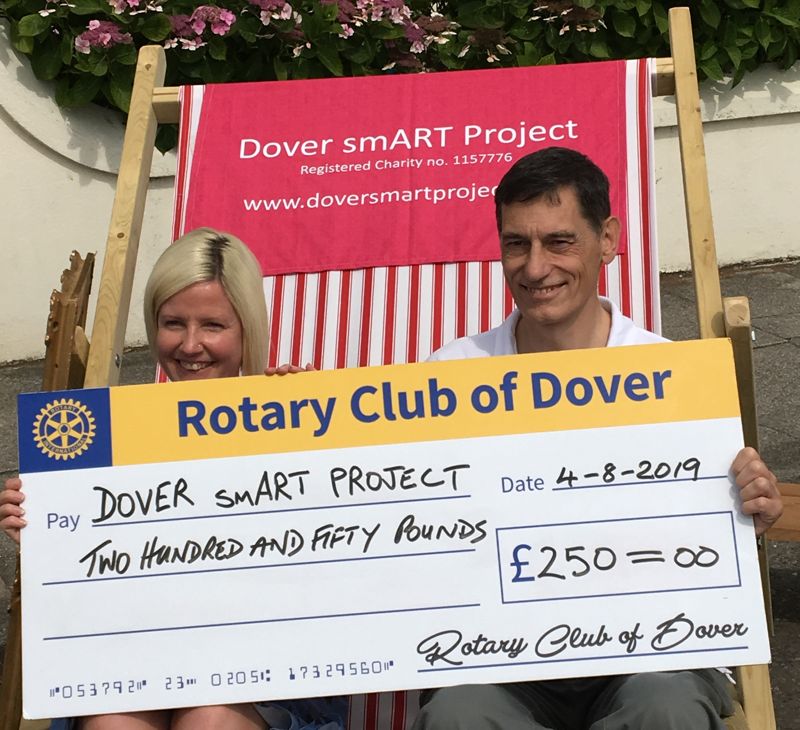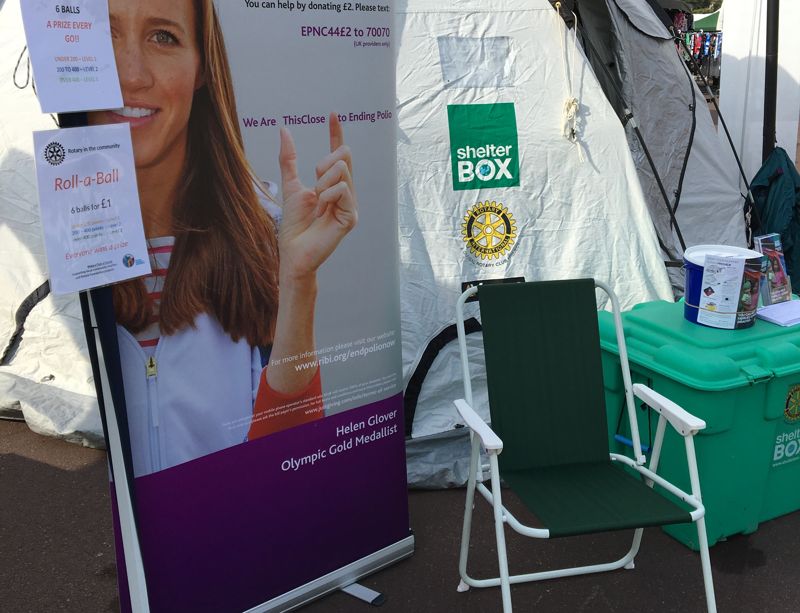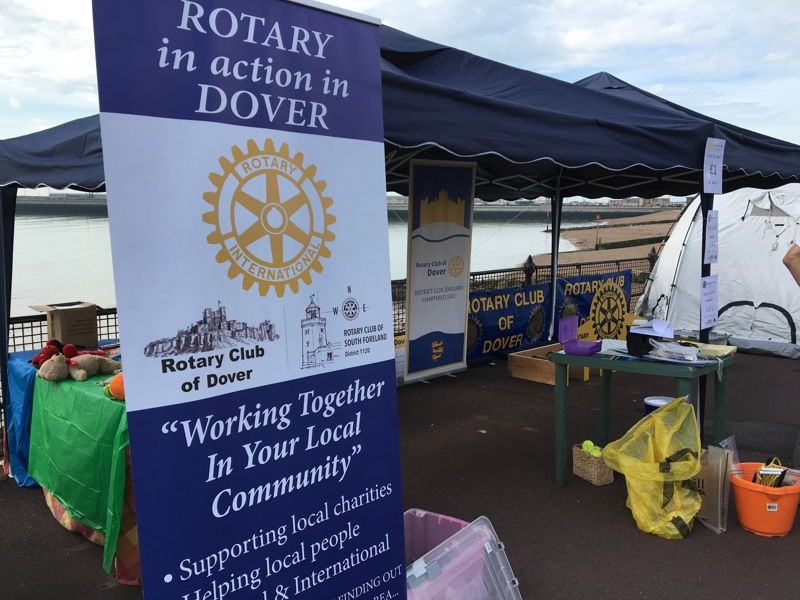 Dover SMART Project
07 August 2019
The Rotary Club of Dover is delighted to support the Dover smART Project, which does so much to support young carers and the community of Dover.
This year we have contributed to their summer picnics on Dover Seafront. It looks like a good time was had by all!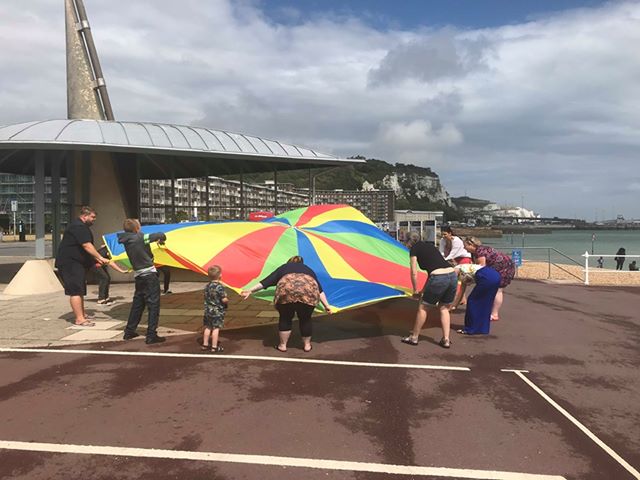 Richard Barton, Team Malawi
07 August 2019
Richard Barton, chairman of Team Malawi, the charity our international efforts have been focussed on during 2018-19 gave an update on their current activities.
Our fundraising activities throughout the year helped them to support Grace, a young woman who is training as a clinical officer, and the building of a classroom block at Nkunguni Primary School.
Past President Barbara (2018-19) and President David presented the club's cheque for £6,000 to Richard after lunch. The club will continue to support Team Malawi throughout the Rotary Year 2019-20.
Our International Chairman, Stephen Yarrow, writes:
I wish to thank everybody who contributed in any way during Rotary Year 2018-19 to events in aid of our international charity, Team Malawi.
As those who were present at lunch today will know, the funds we raise go an awfully long way in Southern Africa towards Team Malawi's twin aims of education and the relief of poverty. Richard Barton gave us a most interesting update on their projects. Grace Mwale, the young woman we are supporting with her clinical officer training fees, has recently done her first C-section. The classroom block at Nkunguni Primary School is taking shape, using bricks made and baked by the locals.
Richard also showed some images of a truck arriving with flood relief supplies following Cyclone Idai. Our Club, you may remember, sent £850 in lieu of a Shelterbox donation after the disaster in the spring of this year. The arrival of the truck was described by the villagers as a miracle.
Today we handed over £4,000 from funds raised during 2018-19 at dedicated international events plus a further £2,000 from the Club's Youth Opportunities Fund, a total of £6,000 which will have a positive impact on many young lives in Malawi.
We are continuing to support Team Malawi throughout President David's year.
Thank you!
Stephen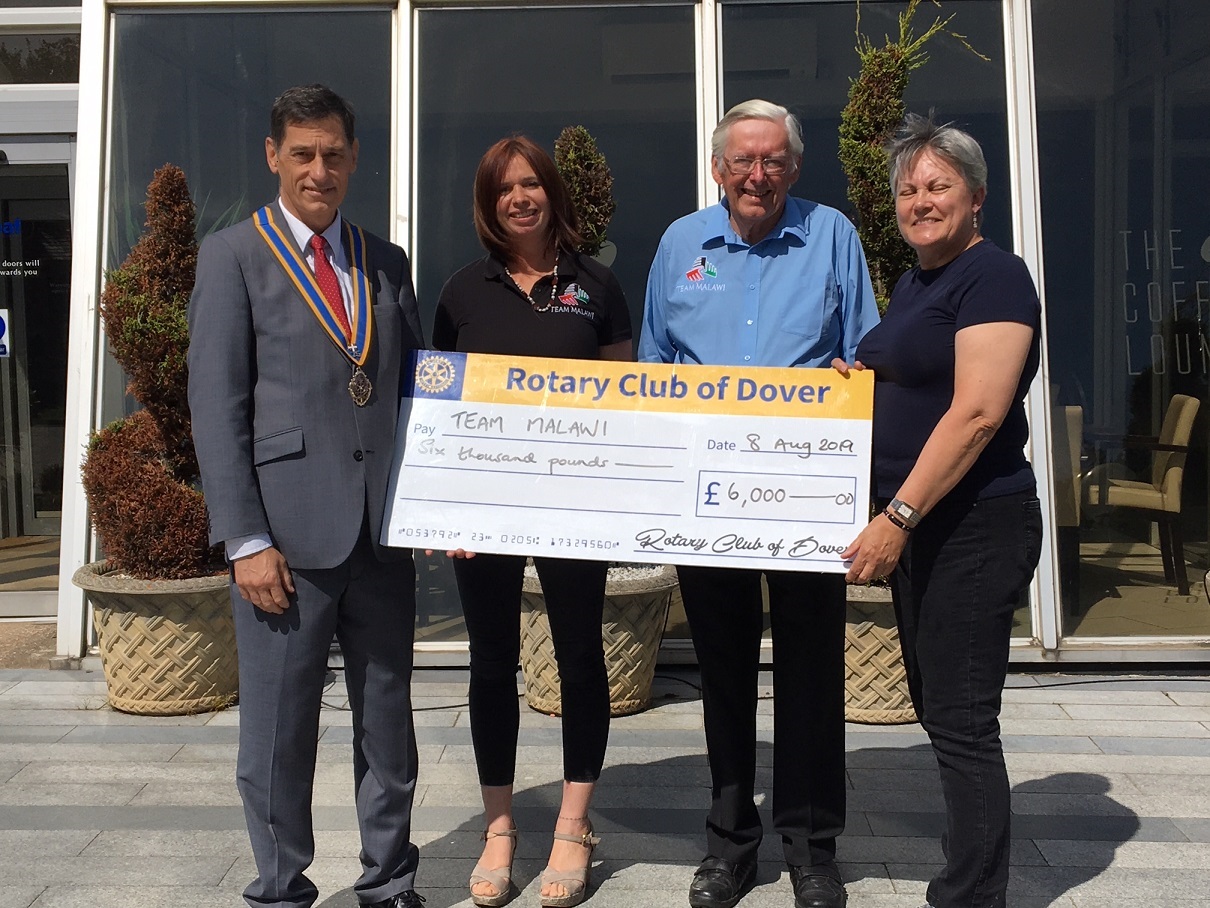 Interact Guests
12 September 2019
Charity fund raisers from Dover Grammar School for Girls, members of the school's Interact Club, were among the seven guests entertained at a meeting on Thursday, September 12, of Dover Rotary Club at The Leaf Hotel, Whitfield.
Interact president Hannah McNeill and fellow member Megan Anderton told of the "interesting experience" they enjoyed when attending a Rotary-sponsored RYLA scheme (Rotary Youth Leadership Award). Hannah outlined the range of events in which they took part and Megan (who wants to join the Royal Navy) spoke of the teamwork activities.
At the end of their presentation they revealed their Interact Club had raised £1,682 for three charities with a range of social events.
The girls then presented cheques of £600 each to the other guests, the representatives of Porchlight and Demelza House. The third charity to benefit will be the Rotary-supported charity Team Malawi.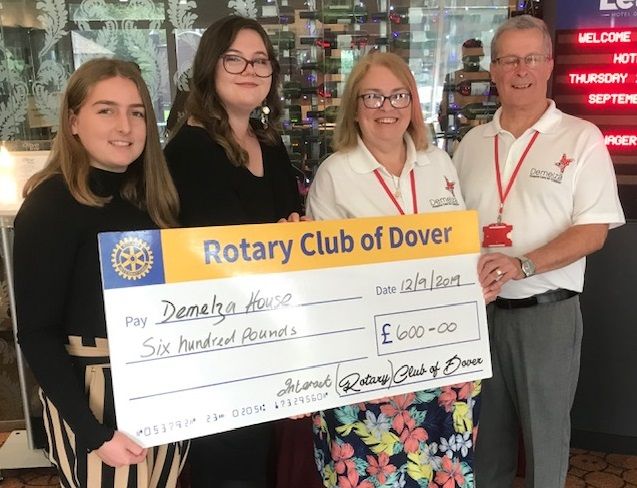 Dover Foodbank
26 September 2019
Past President Barbara hands over funds raised during her Presidential Year 2018-19 to Jonathan Wheeler of Dover Foodbank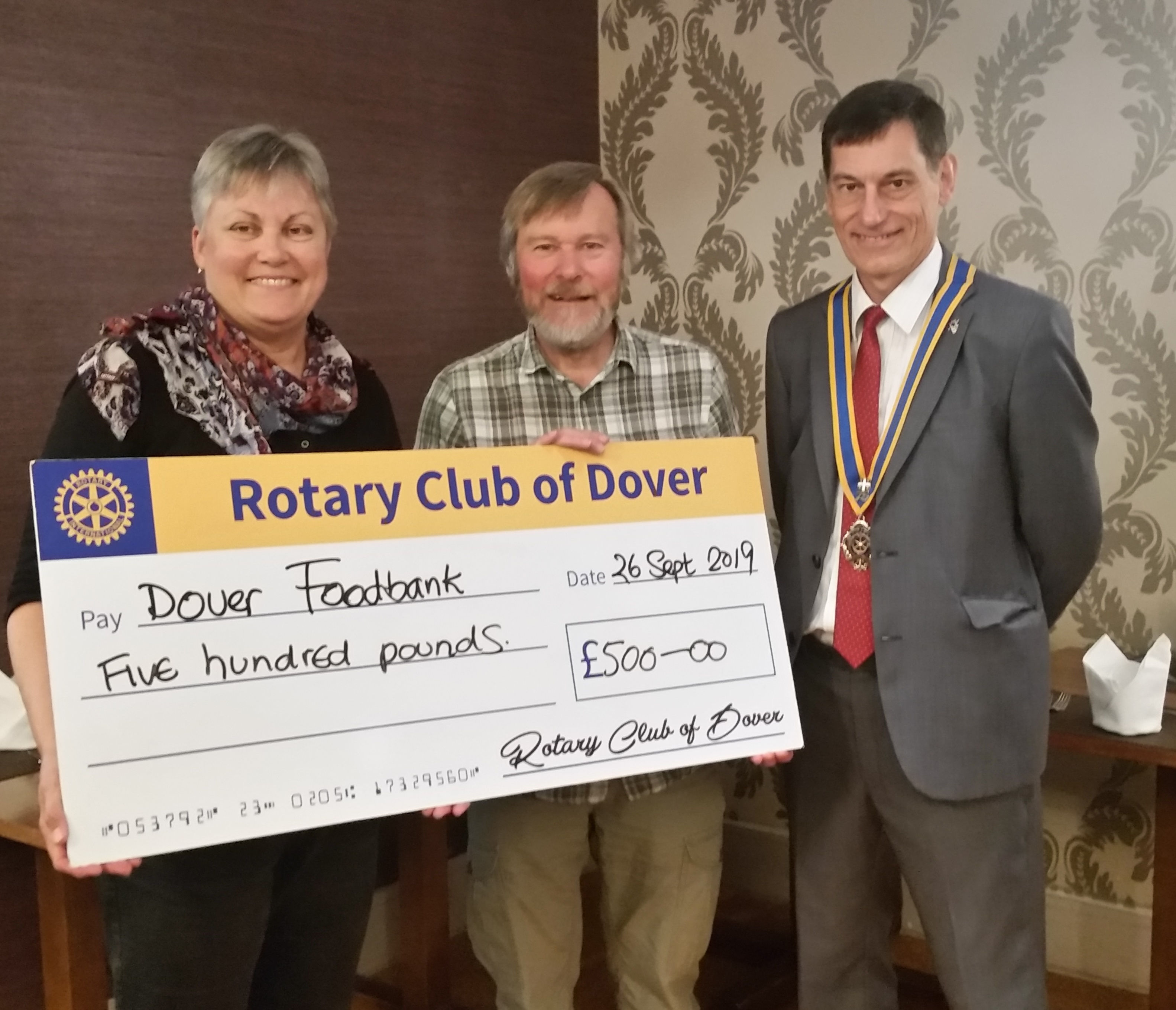 Rtn John Philpott, PHF
10 October 2019
President David Fisher was pleased to award a Paul Harris Fellowship to Rtn The Revd John Philpott, firstly for his service to the Dover community over 34 years, as Governor and Chairman of Governors at Dover Grammar School for Girls and Governor and Chairman of Governors at Guston Primary School, Dover.
Also, in recognition of his service over many years, as Chairman of the General Medical Council Ethics Committee.
John was President of the Rotary Club of Dover 2014-15.
Congratulations, John, and thank you for your service to the club and community.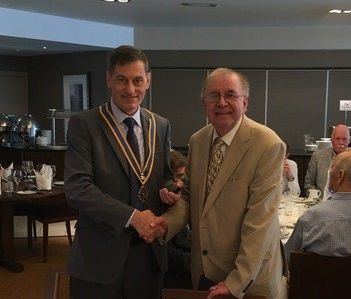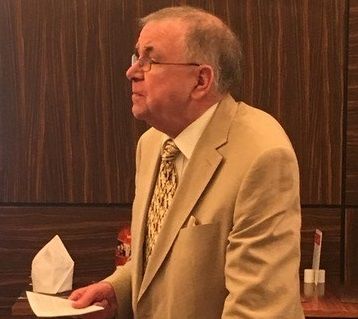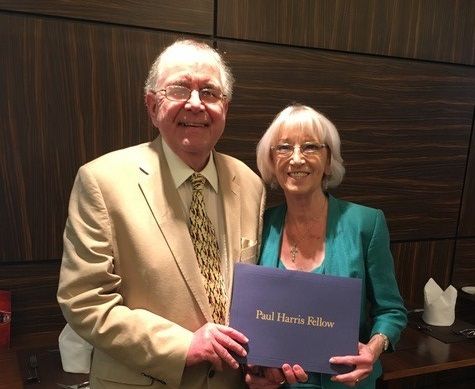 Nigel Press, MapAction
24 October 2019
Our members were told of a mapping initiative whose professional volunteers are ready, at a moment's notice, to fly abroad to bring relief to disaster zones.
Nigel Press, chairman of Map Action, explained it was an international disaster mapping charity working to ensure humanitarian responders have access to up to date maps and data.
He gave as an example an urban area hit by an earthquake where Map Action flew in to specify, with maps, which areas where the rescue workers could operate so that each group knew where to work.
"We help to make order out of chaos," said Mr Press.
He said the Map Action team was one hundred strong, with ten staff, who were able to ask their employers to release them to fly out, at a moment's notice, with technical equipment and data to a disaster area hit by an earthquake or a cyclone. The 15-year-old charity, he said, was financed by supporters and by international governments.
The professionally trained, skilled and dedicated volunteers, employed in a range of professions, regularly took part in simulated disaster exercises.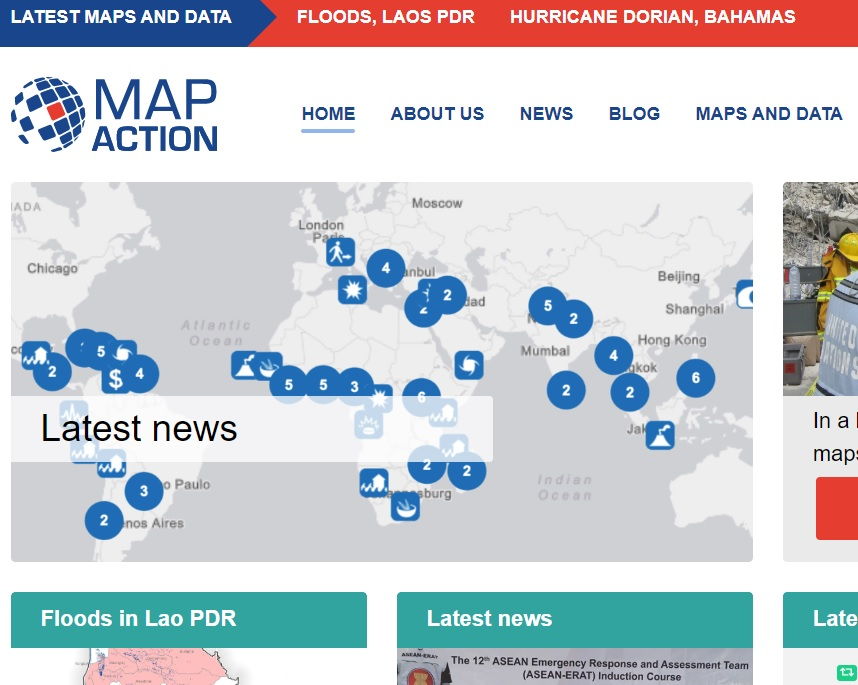 Kate & Theo Frost, Freedom for Theo
31 October 2019
A mother's determination to raise £30,000 for her disabled son was demonstrated at a meeting of Dover Rotary Club on the last day of October.
Mrs Kate Frost, the wife of a Dover carpenter and mother of three, told why she was devoting much of her life to raise £30,000 to pay for two years of physiotherapy for her six-year-old son Theo who has cerebral palsy. Theo is a pupil at Whitfield primary school. Members of Dover Rotary Club have given £500 towards the £30,000, now about £8,000 short of target.
Mrs Frost said originally she was aiming to raise £76,000 which would have paid to send Theo to the USA for an operation but since then the NHS had agreed to pay for the required surgery, following which there would be the need for at least two years of physiotherapy for which the £30,000 is required. She thanked those who had and were helping to raise the £30,000 including those at Astor school.
"Raising this money had been my whole life for some time now as I know it will completely change Theo's life, although the physiotherapy is likely to have to continue all his life" said Mrs Frost.
Freedom for Theo on justgiving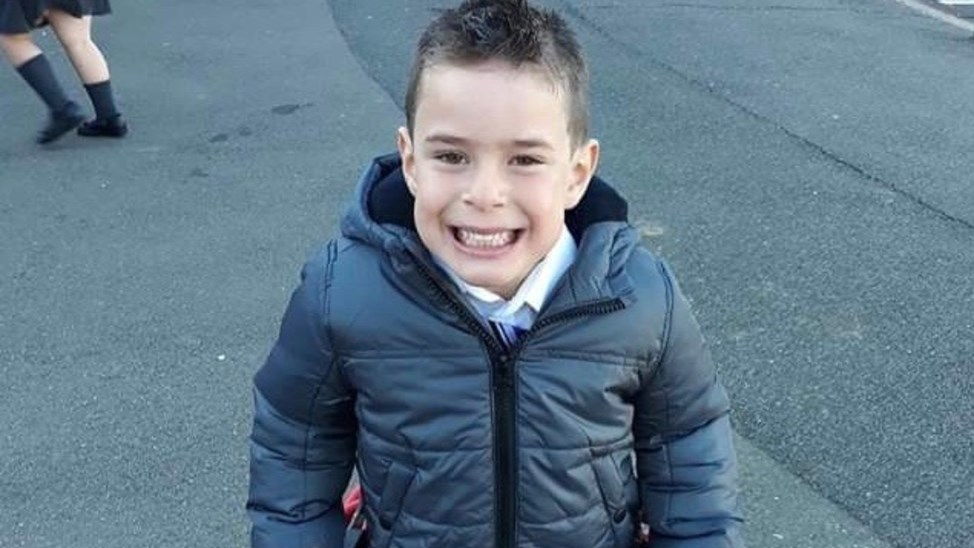 Thomas Walton, Life as a Junior Doctor
21 November 2019
Junior doctor Thomas Walton told members of Dover Rotary Club his aim is to be a surgeon but that could take up to 15 years costly training. Thomas, son of Dover District Council director Roger Walton, entitled his talk The Reflections of a Junior Doctor. He was introduced by his father, a member of the Rotary Club.
Thomas started his education at Kingsdown primary school before attending Sir Roger Manwood's at Sandwich where he was appointed head boy. He revealed his interest in medicine was boosted because part of his left leg was amputated as a child because of a problem at his birth.
Part of his medical training included a four week spell in New Zealand for which he was partly sponsored by Dover Rotary Club.
Thomas, married to a doctor, detailed the long career pathway ahead of him, and the cost (loans are available), the long hours (some of which are unpaid), and the work-home life balance. But, he added, the job was really worthwhile and intellectually stimulating.