John Smart, Thatcham & District Rotary, 3rd March 2022
It is very clear that Rotary has mobilised in an unprecedented speedy way to bring at least some relief to the suffering by way of gifts in kind, donations, taking in refugees, providing supplies, etc.
The Working Group from RotaryGB&I is part of Rotary's responses from the Western European countries plus other countries including US and Israel who are working together.
Rotary GB&I is setting up a Fund for RGBI Clubs to donate into which will be to provide support into Ukraine and the countries receiving refugees and that money will be channelled through local Rotary Districts and /or Clubs. Details are still being put together and will be issued as soon as possible. This is a significant initiative which deserves significant support from Clubs who do not have a strong alternative way for making a donation.

A parallel appeal will be launched for physical items to be sent to the same destinations, with an emphasis on the. medical related items listed here
Conversations are ongoing between RGBI and the BMA who are keen to work with us to provide medical assistance.
Shelterbox, which most Clubs in this District already generously support, have been quick off the mark and have people on the ground in Poland.
RC Windsor & Eton have personal connections with Romania and are putting together an initiative.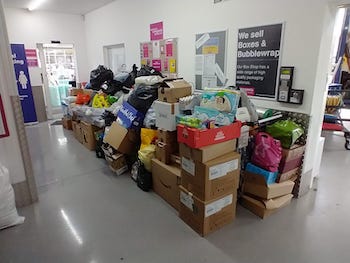 RC Thatcham & District have delivered (4th March) seven car loads of, mostly mother & child necessities, to the Ukraine Appeal set up by the Polish community in Banbury.