Karen Eveleigh, 1st May 2022
(based on the report from the Foundation for Farmers Services – link at the foot of this page)
Over 600 children in 10 primary schools in Ukerewe District in Tanzania have 204 new desks thanks to support from Newbury and Witney Rotary clubs and a £1,000 grant from the Rotary Foundation.

Newbury Rotary club has supported many education and health projects in Ukerewe over the years, with partners from Rotary and other organisations. Since primary and secondary education became free, more children have attended school and there has been a huge shortage of desks.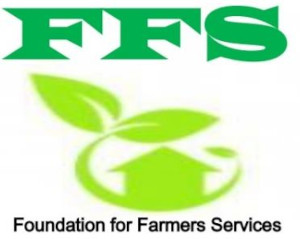 The local lead organisation for the project was the Foundation for Farmers Services FFS. This NGO is based on Ukerewe Island in Tanzania. This was phase three of the Desks for School Children project. The 204 desks were all funded by Newbury and Witney clubs, with the Rotary Foundation grant. The desks were built by the Bukongo Vocational Training Centre between December 2021 and March 2022.
From the FFS report:
"The desks were received by District Commissioner Hon. Col. Denis Finangali Mwila and handed over to the District Executive Director of Ukerewe District Council and distributed to schools with highly deficit by primary school education department. DC. Col. Denis F. Mwila during handover said 'we thank you very much for your contribution, you donors Rotary and you FFS. The government appreciate your support, it is third time you contribute over 200 desks to our schools and more than 2,000 school children (1:4) will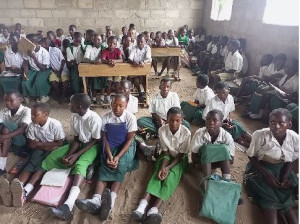 have a seat in the class from your contribution of 533 desks in two years. Thank you once again and I will assure you these desks will be supplied to the highly need schools, teachers and students must protect and take care to give it long-life'
."
As explained in the report:
"the main goal is to see every school child have a sit in a good class with a favourable learning environment, the situation which will increase school attendance, inspiration and motivation to the children on schooling."
Not only is this a fantastic project that makes a difference to the lives of a large number of children, but the recognition of the partner organisations is also brilliant. Every single desk has the FFS and Rotary logos on it.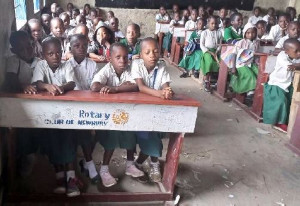 All of these children will grow up knowing the name Rotary. As Chris of Newbury Rotary said in a message to Witney Rotarians "You may remember that your club very kindly sponsored 10 desks. These have now been made and each one bears the name of your club. Hopefully some curious child will ask "where is Witney"….. and who knows?"
Keith from Witney Rotary said: "It is quite humbling what a difference a modest gift (from us) can make to the lives of people in other countries. We are glad to have helped."
The full report from FFS is attached here.
FFS Facebook Newbury Rotary Witney Rotary