Jane Milne, Didcot Rotary, 9th June 2022
Members of Didcot Rotary Club took 50 pupils from Willowcroft Community School in Didcot to the Cotswold Wildlife Park on Wednesday 8th June as part of KidsOut.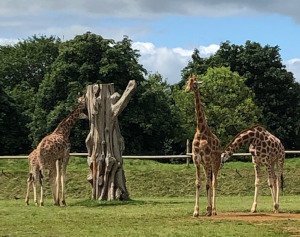 Rotary clubs across our Rotary district have supported KidsOut for many years and many of the groups have been treated to a day at the wildlife park.
Each pupil was given a KidsOut printed t-shirt.
Many children had never seen animals in a zoo or a wildlife park. They particularly enjoyed meeting the baby rhinoceros, giraffes, zebras and of course the penguins!
The children also enjoyed a ride on the train. One little boy said "it was the best day ever" when he arrived back at school.
The children were very excited to and from the wildlife park during an hours' coach journey. Thankfully no one had travel sickness.
A thank you letter arrived promptly later that day expressing their thanks to Didcot Rotarians.
Visit the Didcot Rotary website.