Karen Eveleigh, 1st June 2022
Witney Rotarians have long supported young people in Witney as well as disadvantaged people of all ages. The club was awarded a Rotary Foundation district peace grant to support a new project in the town organised by Aspire, a charity that works across Oxfordshire supporting people into work.
Keith Crawford from the club's Foundation team attended the training course:
"I went to the finish of the Construction Skills Certification Scheme H&S training day organised by Aspire and funded by Witney Rotary's Foundation Committee with the aid of a £500 Rotary Foundation District Peace Grant.
"Aspire had lined up a small group of their young people to attend the course and 6 showed up, which Aspire felt was not unexpected with the NEET (not in education, employment or training) young people whom they are helping, as they may lack self-confidence. Aspire were pleased that the 6 stayed for the whole day and passed the assessment. There is a further online assessment (covering the same ground, and which can be retaken if necessary) to be completed before they are finally awarded their certificates.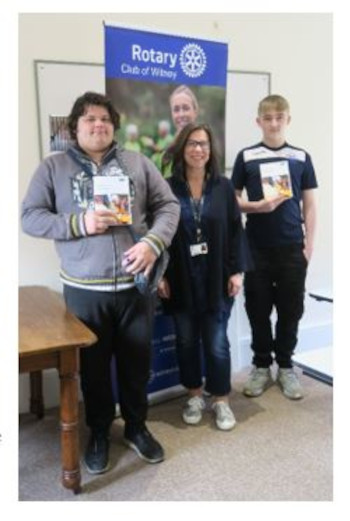 "Aspire obviously care about the youngsters, and the youngsters are aware that they have their best interests at heart. They liked the instructor who pitched the course at the right level. The youngsters were obviously bucked to have passed. I was told that the cohort included two young men who had been caught up in criminal activities and who see this as an opportunity to change their lives.
"Aspire work with the youngsters individually to match them with job opportunities, and if necessary an Aspire person will go to see a potential employer beforehand to prepare the ground. Aspire know that we in Witney Rotary are ready to contribute what we can about contacts in the building trade at the appropriate moment."
Keith's photo shows Sam, James and Lindsay Phillips of Aspire's Unlocking Potential project.
Ashley Farmer, also from Witney Rotary, reported back to the district Foundation team that gave the grant
"Many thanks to you and your team for their support. Our Foundation committee has really enjoyed and benefitted from the experience."
As explained by Ashley, Aspire Oxford is an employment charity and social enterprise working across Oxfordshire and the Thames Valley. They were known to the Rotary Club of Witney as they use a room at Witney High Street Methodist Church as an office. They are involved in helping young people in West Oxfordshire particularly those who are classed as NEET (not in education, employment or training) who can often suffer mental health issues. Aspire engage with these youngsters and have projects in place that show quick results and outcomes in order to maintain interest. This is important where the young people may be involved in, or exposed to, "county lines" as regular and consistent engagement improves mental health and confidence, reducing feelings of anxiety and isolation.
Read more on the Aspire website.
Visit the Witney Rotary website.