2018 SWIMATHON !
Tue 25th September 2018 at 10.30 - 11.30
The Launch of the 2018 Swimathon - get your goggles and flippers ready !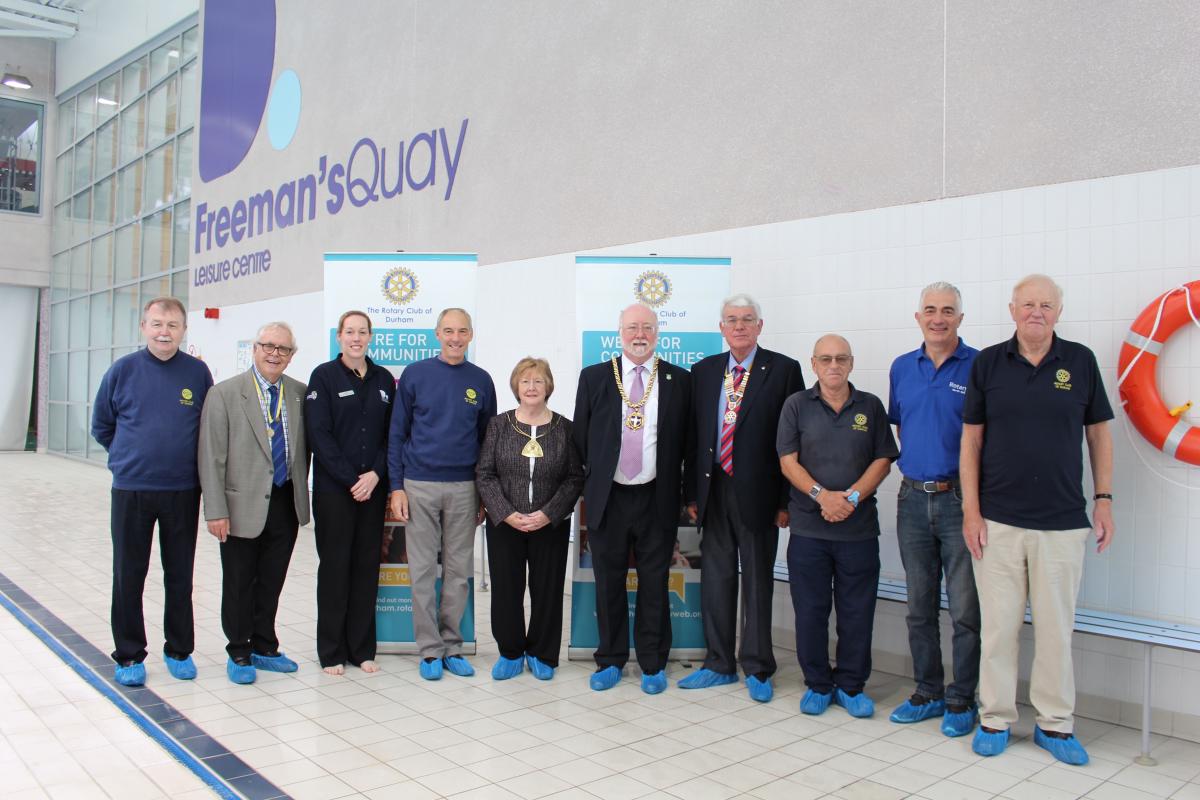 Appeal Launched for Charities to Take Part in the Durham City Swimathon 2018
The Right Worshipful Mayor of Durham, and the Mayoress of Durham, will meet with members of Durham's Rotary Club at Freeman's Quay Leisure Centre on Friday 25th September to appeal to the County's local charities to step forward to register for Durham City Swimathon 2018
The City's annual Swimathon, held at Freeman's Quay Leisure Centre each November, is organised jointly by The Rotary Club of Durham Charity Fund and The Mayor of Durham's Charity, and typically raises over £6,000 per year for local charities.
Participant teams, made up of individuals representing a variety of local charities across County Durham, are invited to swim for not only for the Mayor's and the Rotary Club's own nominated charities, but also for themselves, offering them a valuable opportunity to raise funds for their own organisations.
2018 is the eleventh Swimathon. Participants are invited to make up a team of between four to six swimmers from in and around Durham, who will swim as many lengths of the pool as they can in 30 minutes in order to raise money.
Previous events have raised over £63,000 for a wide range of causes. All sponsorship monies received will be shared between the Mayor's and the Rotary Club's own nominated charities, and the entrants' own nominated good causes.
President of the Rotary Club of Durham, Tony Ford, says:
"The annual Swimathon is one of our most popular and successful events, raising money for many worthy community causes. The event is open to all, and we are keen to welcome individuals, charities, friends and family to come and take part, to help raise funds for charities of their choice. All are welcome."
This year, the Swimathon will take place on Saturday 17th and Sunday 18th November 2017. All charities wishing to register for the Swimathon can pick up an application form from Freemans Quay Leisure Centre or download the application form from the Rotary Club of Durham' website, www.durham.rotaryweb.org.
Forms should be returned to :
The Event Secretary, Rotary Club of Durham, 8, Laburnum Avenue, Durham DH1 4HA
Or emailed to costellorotary@gmail.com or from the website of the Rotary Club of Durham – www.durham.rotaryweb.org
OR download the form below:
Entry Form [pdf] and sponsorship for