Oct 2015 Trophy Presentation - Cambridge United
Sat 17th October 2015 at 16.00 - 17.00
Official Trophy presentation in front of the Cambridge United crowd - Tommy McClafferty Homeless Football Tournament.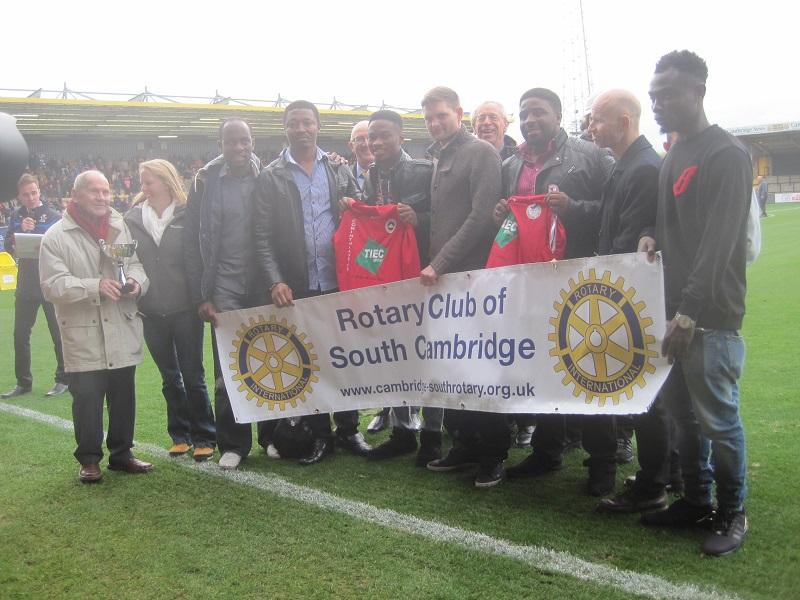 Great Day at Cambridge United Football Ground

(and they won their match vs Northampton 2-1!)
The Annual Football Match between local organisations that support the Homeless is organised and staffed by Cambridge-South Rotary Club. This year 8 teams fought it out with great energy and discipline. To make the event extra special the Cambridge United organisation supports the event and the official trophy presentation takes place on their hallowed turf at half-time during a home match.
Trophies were presented at half time infront of an enthusiastic crowd.

Tommy McLafferty cup to Winners - the Corinthians and

Player of Tournament to Clare Jolly (Cambridge Police Team).

There was a super report in the Cambridge United programme (P43) with 4 photos.
We were also joined by 3 of Jimmy's Night Shelter team (they were closely beaten on penalties in the exciting final).

Stuart Wood, Graham Daniels and Jez George of Cambridge United Football team congratulated the players.
see more about the Tournament Day